50 Mouth-Watering Pizza Recipes that Use Gluten-Free Ingredients
31. Three Ingredient Paleo Pizza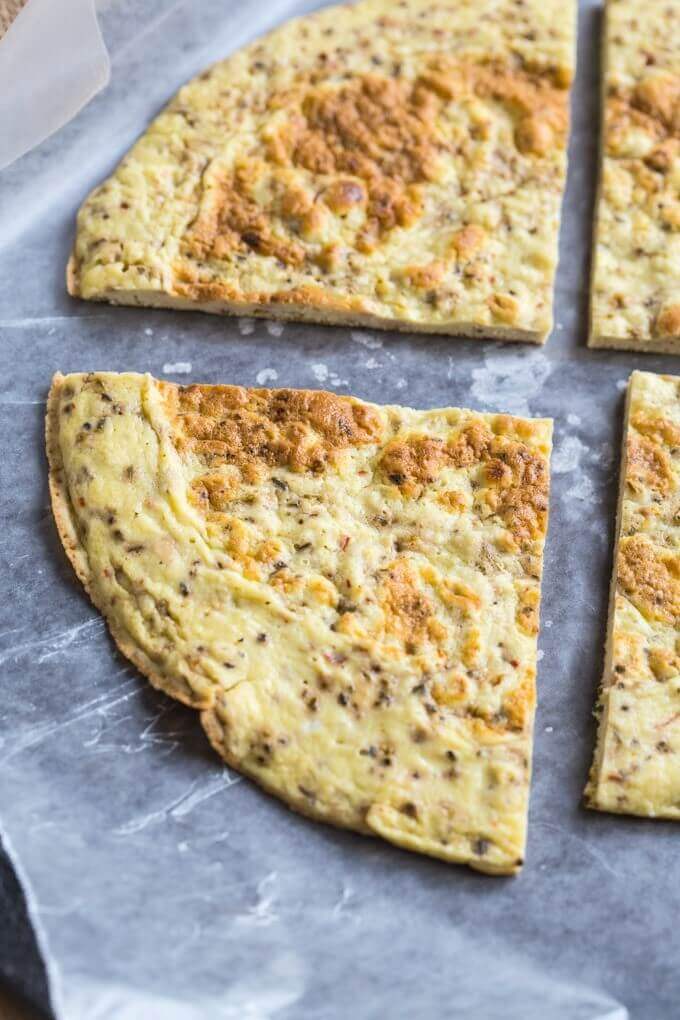 Many people who live a paleo lifestyle also tend to go light on gluten-rich foods as well. This recipe works very well for those who like to eat in the styles of either of these healthy dietary plans. This crust is a thin crust that is made from gluten-free food items and is baked to a crispy consistency that is golden brown in coloration. The dough contains items like flaxseeds and other herb flavorings that a traditional pizza might have. Since this is a paleo recipe no dairy products are used, but you can add any of your favorite dairy-free pizza toppings to this crust.
32. NY-Style Thin Crust Pizza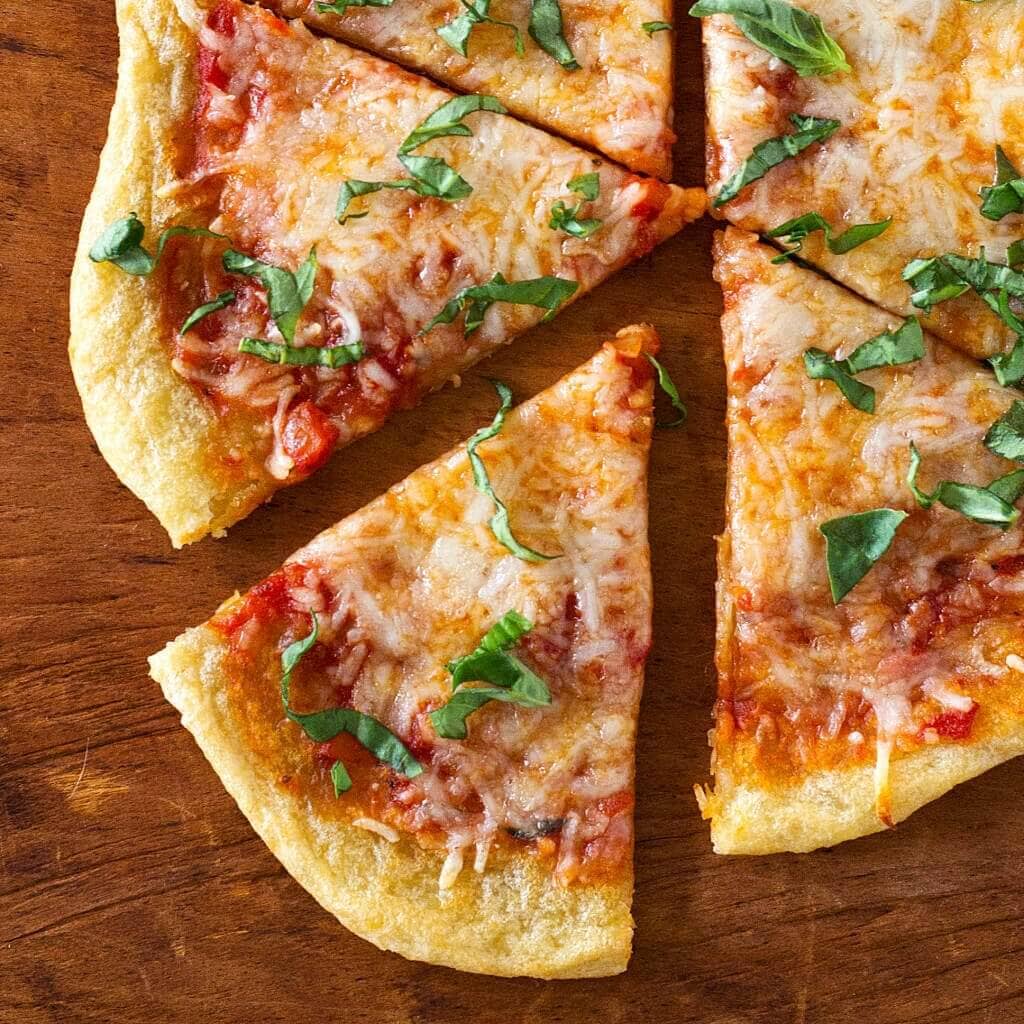 New York is known for its deliciously foldable pizza that's created with a thin crust. This is an easy recipe to create at home. All you need is gluten-free pizza dough that is coated with a marinara sauce and sprinkled with mozzarella cheese. If you want a real New York-style pizza, make sure that the slices are large and topped with an extra helping of cheese. To add a bit of freshness to this dish, slice some basil or oregano and place atop the cheese.
33. Vegan Pizza with a Lentil Crust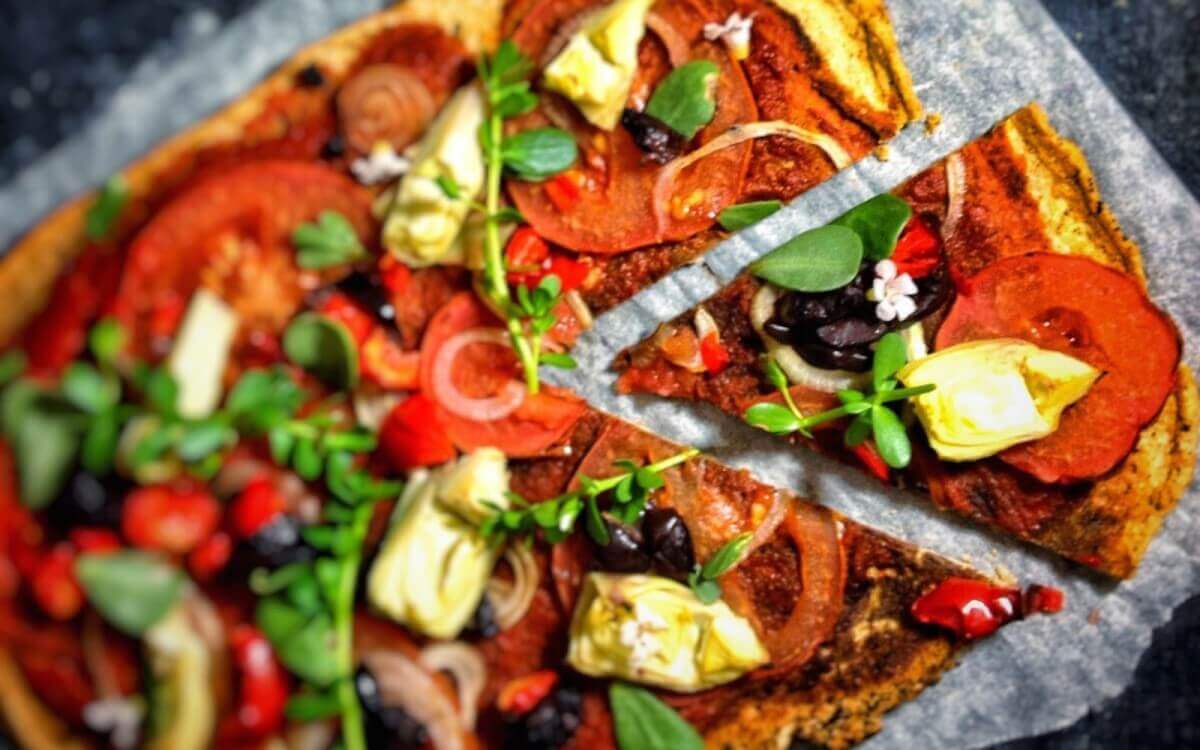 The next gluten-free pizza recipe uses lentils to create a deliciously thin crust. You'll have to grind your lentils down to make dough with water and bake it to form the base of the pie. A red pepper or sundried tomato spread serves incredibly well as a sauce rather than traditional marinara sauce. Some great toppings for this pizza include roasted tomatoes, onions, olives, red peppers, and artichokes. Garnish the pizza with fresh herbs and edible flowers for interesting color and flavor combinations. If this flavor is not perfect for your palette, you can also add a layer of vegan cheese before adding the other veggie toppings to this unique pizza.
34. Pepperoni Pizza Bites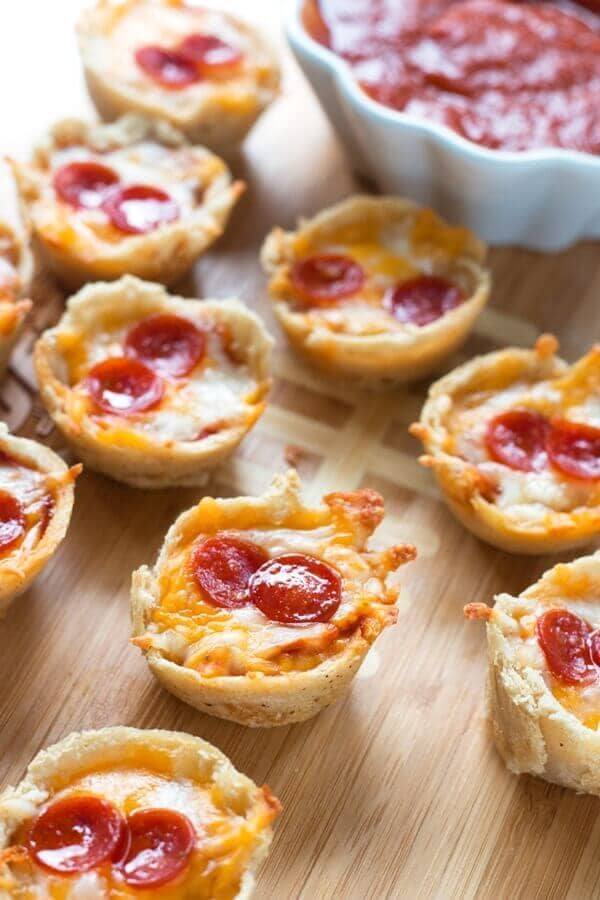 This unique gluten-free pizza recipe is a bite-sized appetizer that is perfect for entertaining guests. The cup that serves as the base of the bite is composed of a gluten-free option that could be polenta, cauliflower, or even sweet potato. Once you've crafted your dough out of gluten-free ingredients in miniature muffin tins, you can begin filling the bites. Start with your favorite pizza vegetable toppings and top with a mozzarella and cheddar cheese. Finally place a few miniature pepperonis atop the cheese blend.
35. Rustic Buckwheat Flat Bread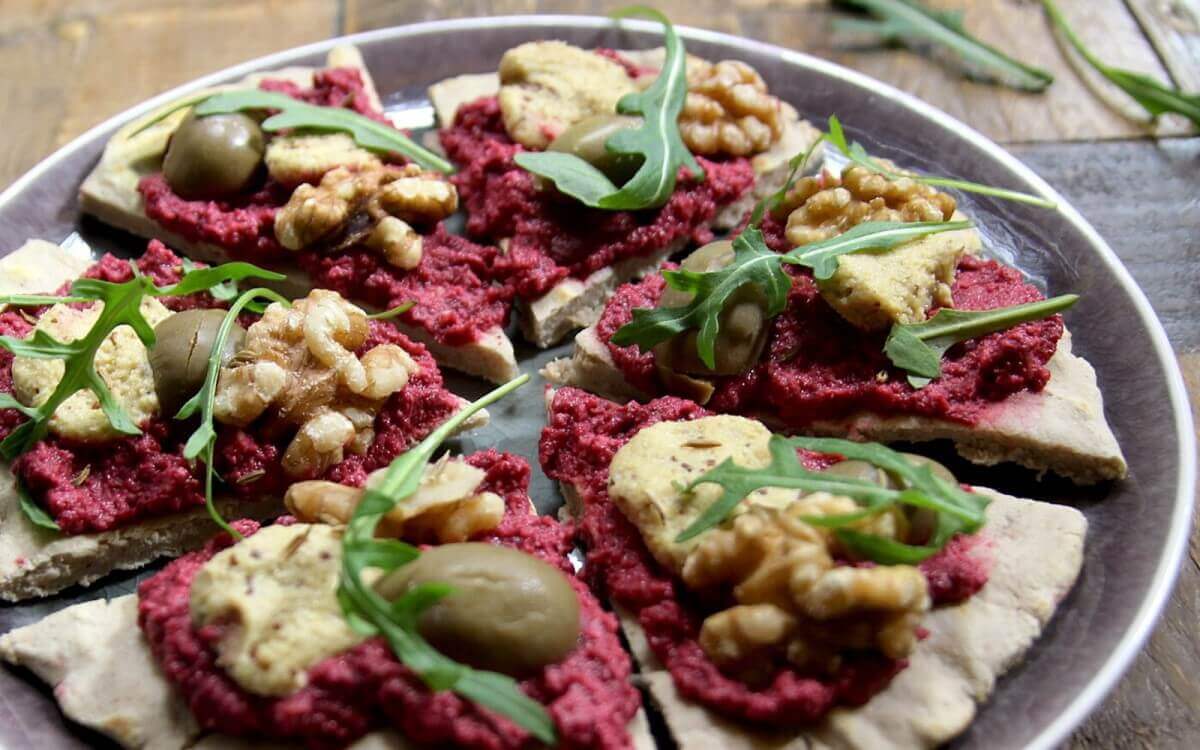 If you are looking for an extremely unique pizza idea, this rustic buckwheat flat bread pizza will provide you with a uniquely flavored dinner option that also happens to be gluten-free. Once the flatbread crust is created, a unique beet mixture serves as a delicious sauce-base for the pizza. You can add garlic butter, olives, crisp arugula, and walnuts to the top of the pizza to create a unique sweet, salty, and nutty flavor that is not often found on the gluten-free diet.
36. Ham and Pineapple Pizza with a Gluten-Free Crust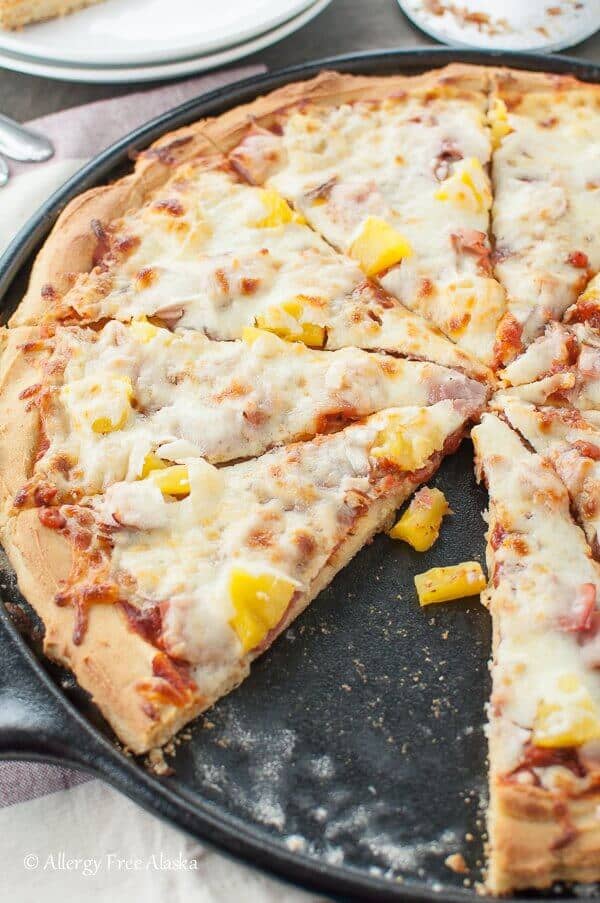 Crafting this Hawaiian-styled, gluten-free pie is very simple. This recipe utilizes a cast iron skillet that creates a deep dish crust that is crunchy on the outside and deliciously soft on the inside. The sauce is a tomato-based sauce, so you can use your favorite gluten-free pizza sauce or marinara. For this pizza, place the pineapple chunks and ham slices directly on top of the sauce, and then top the entire pie with a generous helping of fresh mozzarella. This allows the cheese to become a nice golden brown without the juices of the pineapple interfering.
37. Thin Crust Barbecue Chicken Pizza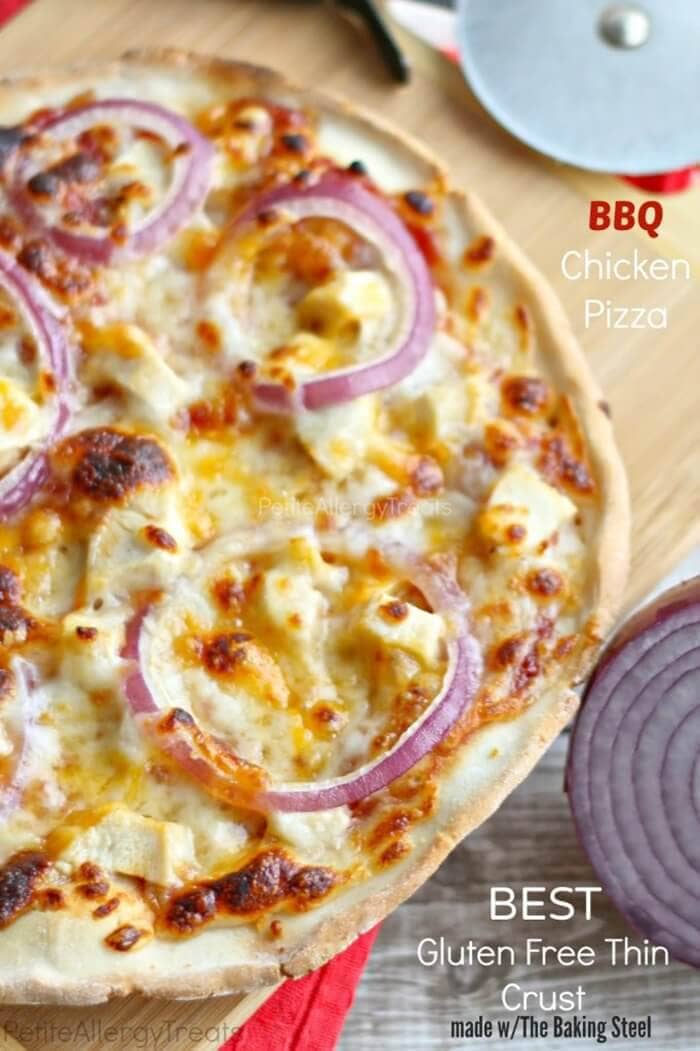 If you're looking for a new gluten-free pizza recipe that features a thin crust, this barbecue chicken pizza is loaded with delicious flavors. The pizza crust is made with gluten-free flour. The sauce, on the other hand, can be any variety of barbecue sauces. If you have the ability to grill the chicken, it will add a unique flavor to the pizza. If that is not an option, baking the chicken will do in a pinch. Once the chicken is on the pie, toss with a generous helping of mozzarella cheese, freshly sliced red onions, and a drizzle of barbecue sauce.
38. Veggie Pizza with a Quinoa Crust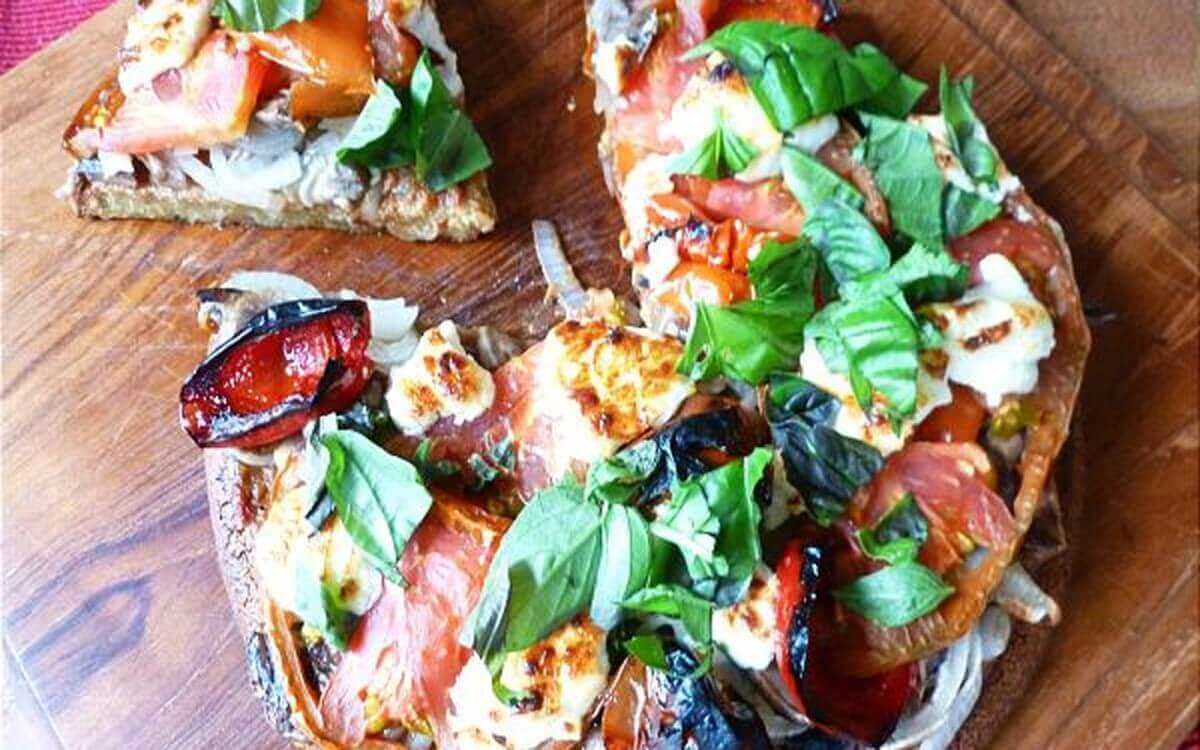 Quinoa is a superfood grain that is amazing for a gluten-free diet. Its unique dietary properties are perfect for a thin crust pizza. Since this is a veggie pizza, it needs lots of delicious veggies on top. Start with tomatoes, roasted red peppers, onions, cauliflower, olives, and fresh spinach. This unique combination of delicious veggie flavors really compliments the quinoa crust base. If you want, you can drizzle your favorite salad dressing on top for an enhanced flavor.
39. Coconut Flour Pepperoni Pizza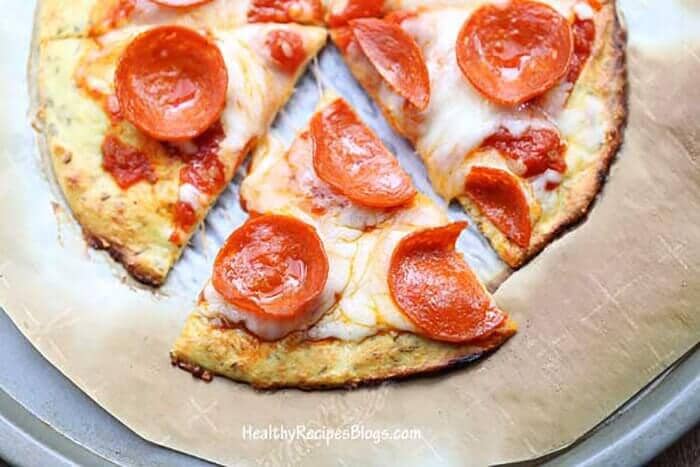 Using coconut flower adds a little bit of sweet creaminess to your pie when it is crafted into a pizza crust. This gluten-free recipe combines the traditional savory flavors of a pizza with the sweet flavor of the coconuty crust. The sauce for this gluten-free pizza recipe is a traditional marinara pizza sauce. Top the pizza with a healthy layer of mozzarella cheese and pepperoni. This is a great pizza to prepare in a brick oven; the crust, which is thin, will become cracker-like in crunchiness and will taste amazing.
40. Cheeseless Pizza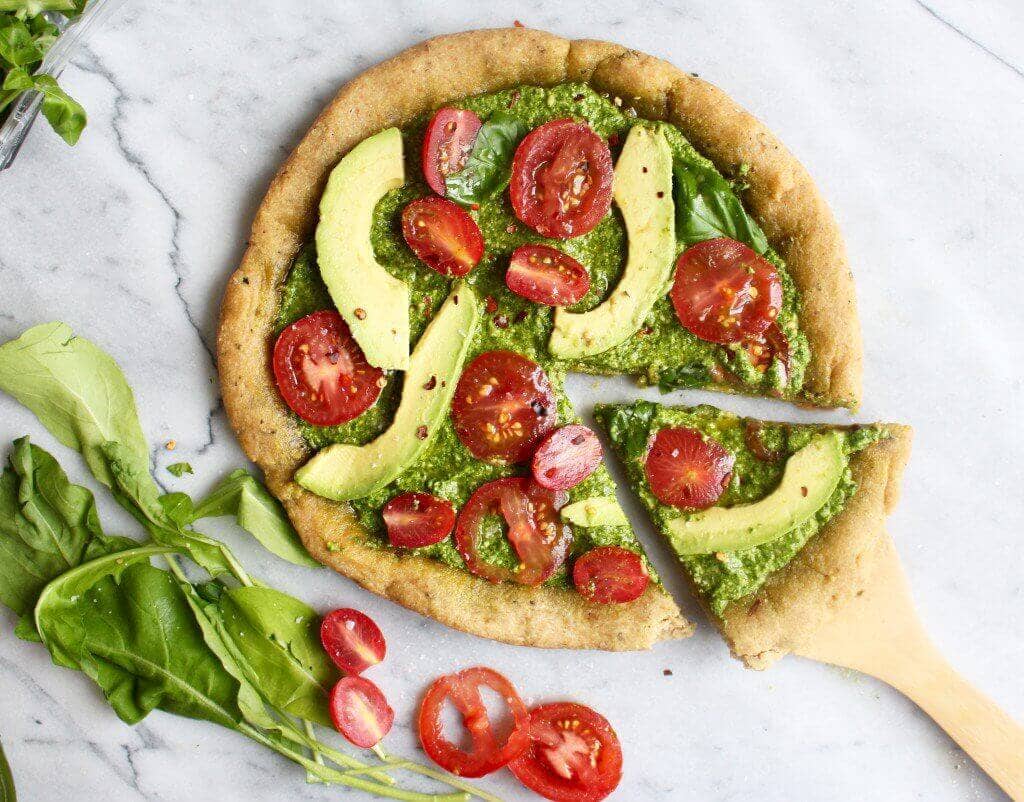 If you are on a gluten-free diet and cannot have, or do not like cheese on your pizza, then this recipe is perfect for you. The crust is comprised of gluten-free flower, but if you'd like a little extra texture, you can add flaxseeds to the dough. The sauce for this creation is a pesto and herb spread that adds a unique flavor to the crust. It is then topped with grape tomatoes, slices of avocado, and fresh spinach leaves. If you want to kick this dish up a notch, shake some red pepper flakes atop this pizza.
41. Roasted Veggie Pizza
This pizza utilizes a delicious blend of roasted vegetables as a unique topping that will delight the taste buds. The crust is made of a buckwheat flatbread that has been baked to a cracker-like crispness and has a delicious flavor that is also gluten-free. Roasted veggies provide a delicious earthy flavor atop the buckwheat. Some optional toppings are roasted red peppers, yellow peppers, mushrooms, onions, sweet potatoes, and spinach. If you want a sauce, forgoing the traditional tomato sauce can be ideal. Try creating a sweet potato paste that provides the same earthy flavors.
42. Black Mung Bean Curry Pizza with a Cauliflower Crust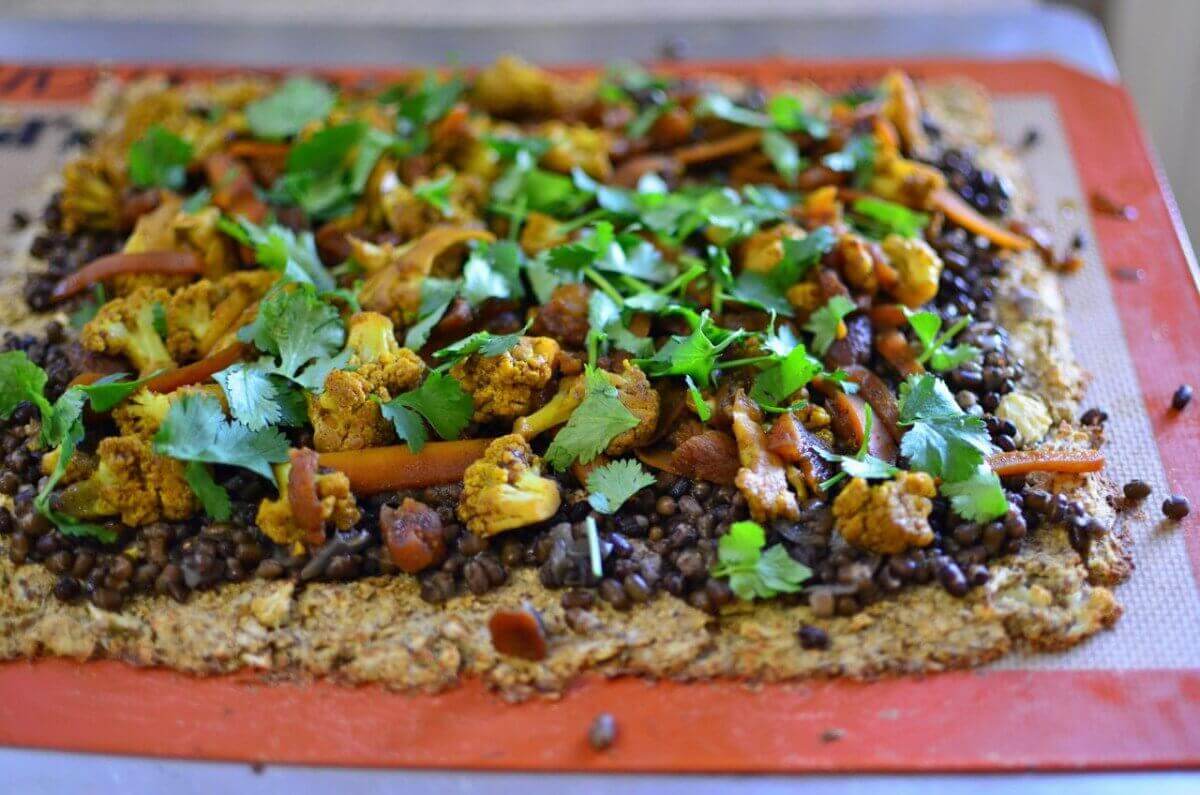 If you are looking for a uniquely Southeast Asian taste, then this pizza with its curry flavoring might be up your alley. In addition to the curry flavors, this pizza incorporates a cauliflower crust that is easy to make and bake to a fine crispness in your oven. Once the cauliflower mash dough is complete, rather than topping it with traditional tomato sauce, simply spread black mung beans over it. Mung beans are a delicious addition to any meal and are completely gluten-free. The topping that consists of carrots and more cauliflower must first be curried before being placed atop the mung beans. Garnish the whole thing with cilantro.
43. Vegan Gluten-Free Pizza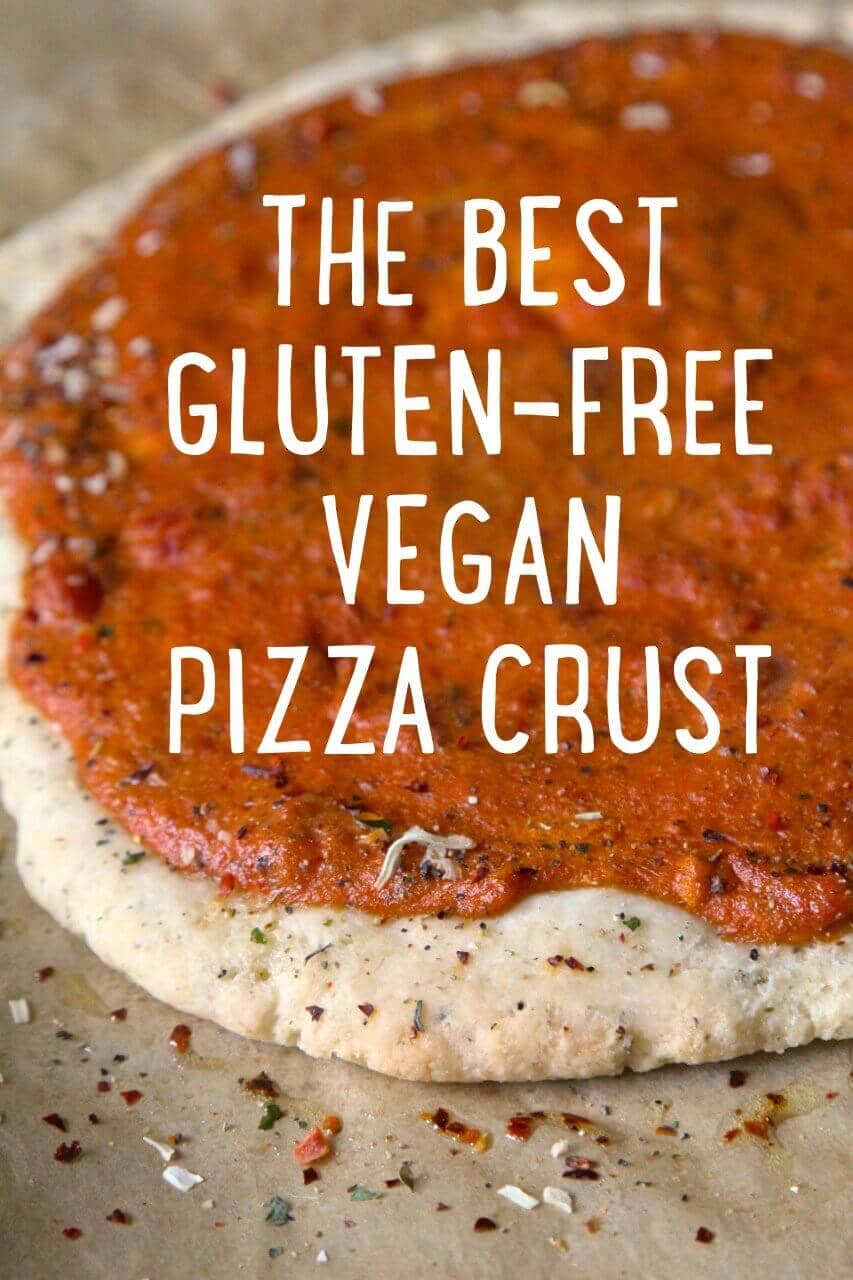 Crusts that use gluten-free flour are a great way to emulate the taste of traditional pizza, without the need to use traditional wheat. This particular crust is very customizable, you can even add extra flavor to it by incorporating herbs like oregano, red pepper flakes, and garlic. With the increased flavor from the herbs this pizza is perfect with a tomato-based sauce. The sauce can also contain some of the same herbs that you've used to flavor the crust for a very consistent taste throughout. After the sauce has been made, feel free to top the pizza with your favorite pizza toppings.
44. Tomato, Mozzarella, and Basil Pizza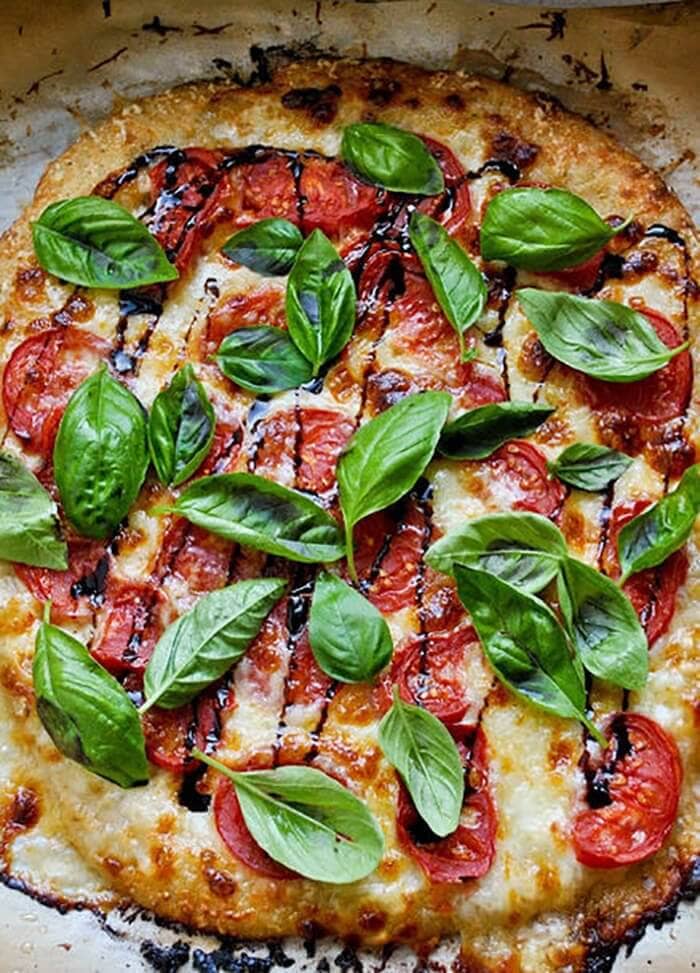 This next gluten-free pizza recipe on our list starts with an extremely thin crust that is made using gluten-free ingredients and is crispy enough to provide a unique crunch. It starts with a tomato sauce base and a layer of fresh mozzarella cheese. The pizza should then be topped with freshly sliced tomatoes before it is roasted in the oven to the golden brown level of crispiness that you prefer. Next, add some basil leaves that'll give the pizza a deliciously herby, fresh taste. To finish up the pie, drizzle the whole thing with a balsamic vinegar glaze.
45. Spinach Avocado Pizza with a Cauliflower Crust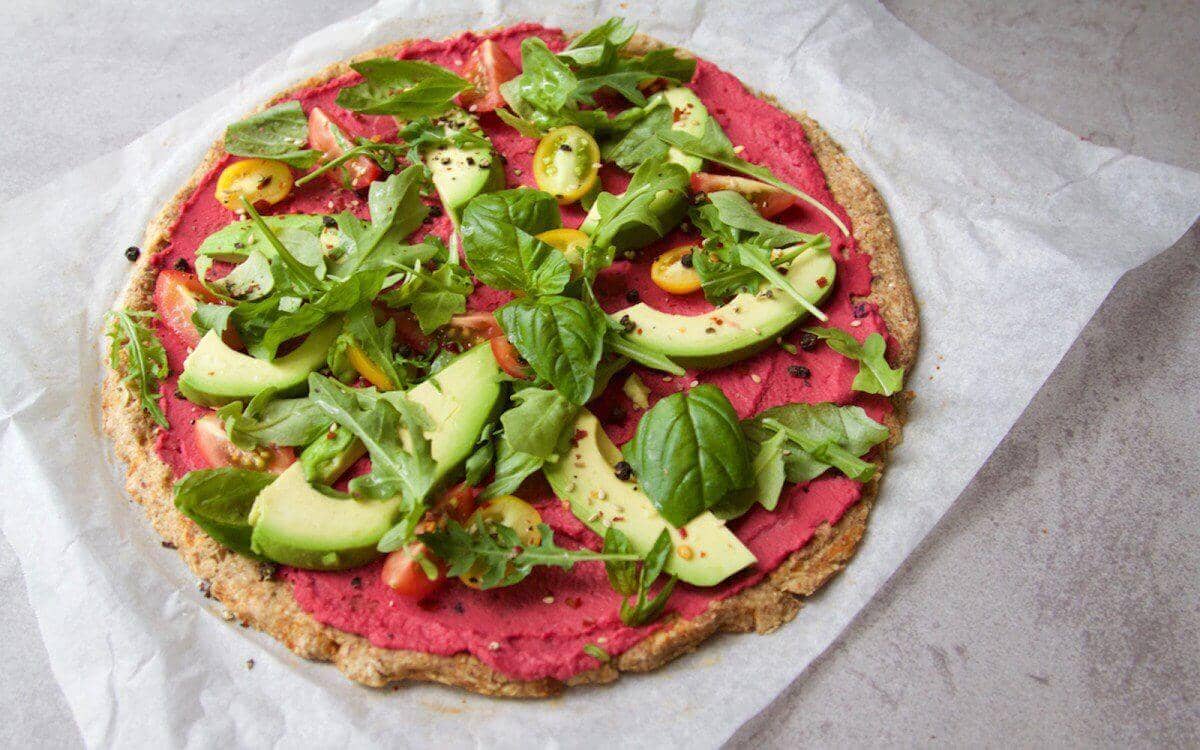 As you know by now, cauliflower makes a delicious pizza crust and is used in many of our gluten-free pizza recipes. Instead of a traditional pizza sauce, try using a thicker tomato paste or even a beet paste if you are seeking a very non-traditional flavor. There is no cheese on this pizza, so it's very paleo-friendly. Top the pie with slices of avocado, which will add a creamy flavoring to the entire pizza. In addition, sliced grape tomatoes, spinach, and fresh arugula top off the flavor profile of this delicious pie. If you want to add a bit of a kick, sprinkle some red pepper flakes over the pizza.
46. Low-Carb Pizza Bake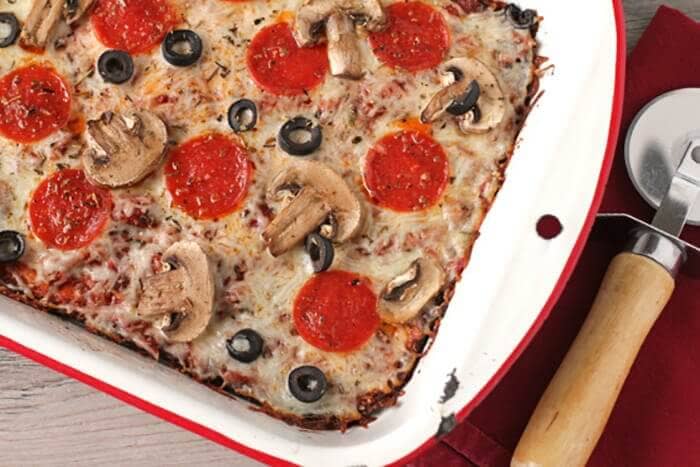 If you want to make a gluten-free pizza recipe that does not use a traditional crust, then this pizza bake is perfect. The fact that you can make this in your oven from start to finish really simplifies the pizza making process. The base of the bake contains all of the pizza toppings that you adore mixed with a delicious tomato-based sauce. These toppings are then covered with a mixture of fresh Italian cheeses and dried herbs. Finish this pizza composition with mushrooms, pepperoni, black olives, and any other toppings you desire.
47. No Cheese Gluten-Free Pizza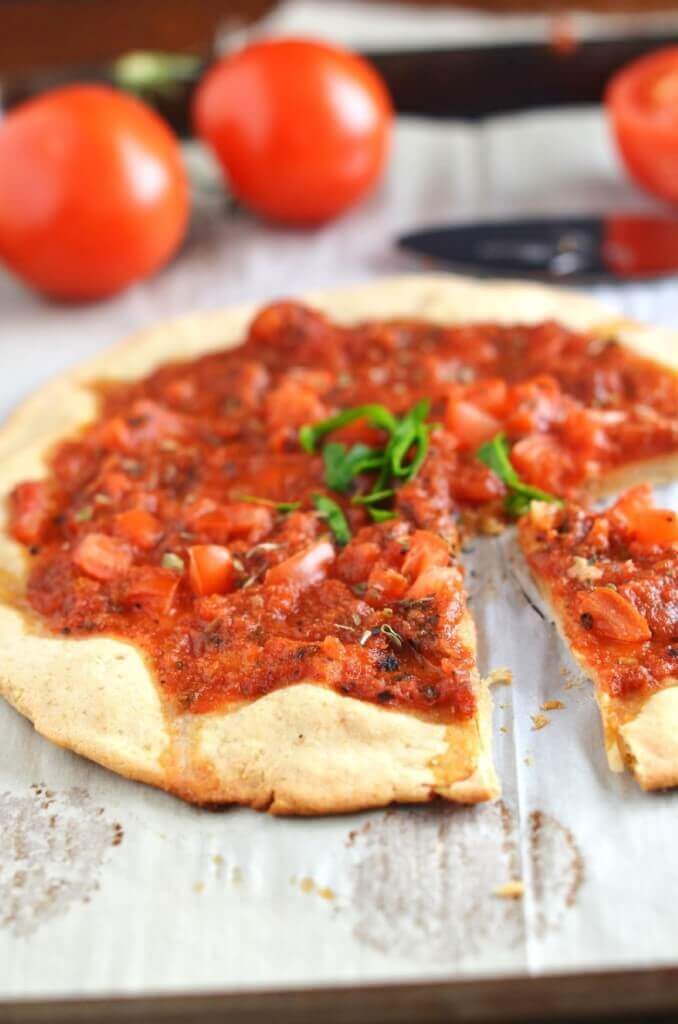 If you are looking for a gluten-free pizza recipe that is extremely flavorful, then this cheese-free pizza is an option that you may want to try. The crust is a traditional pizza crust that is made using gluten-free ingredients. The sauce is a tomato-based sauce that is packed full of herbs and spices that create an intense Italian flavor profile that you will love. It includes herbs like oregano, parsley, and basil. Top with fresh basil and chunks of tomato instead of cheese. Red pepper flakes will also make a great addition to this pie.
48. Lydia's Gluten-Free Pizza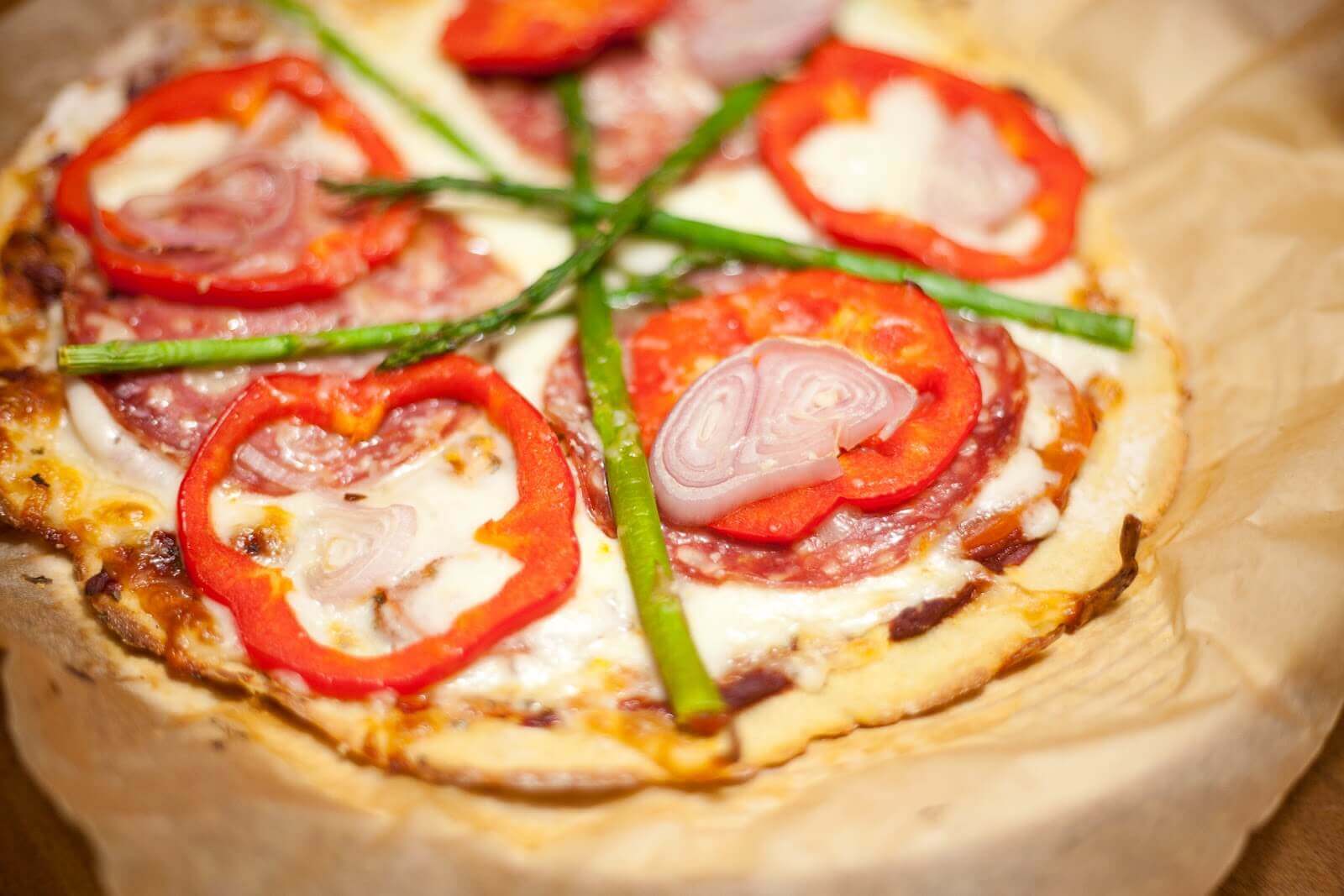 The next gluten-free pizza recipe on this list is one that is easy to create. The crust is made from gluten-free flour and it is created to be thin, crispy, and delicious. The sauce of this pizza is a traditional tomato-based sauce that is made more flavorful with the addition of dried Italian herbs. It is topped with fresh mozzarella slices that melt onto the crust to create a crispy cheese along the edge of the crust. Top the pizza with pepperoni, salami, red pepper slices, red onions, and asparagus if you desire.
49. Mushroom and Tomato Gluten-Free Pizza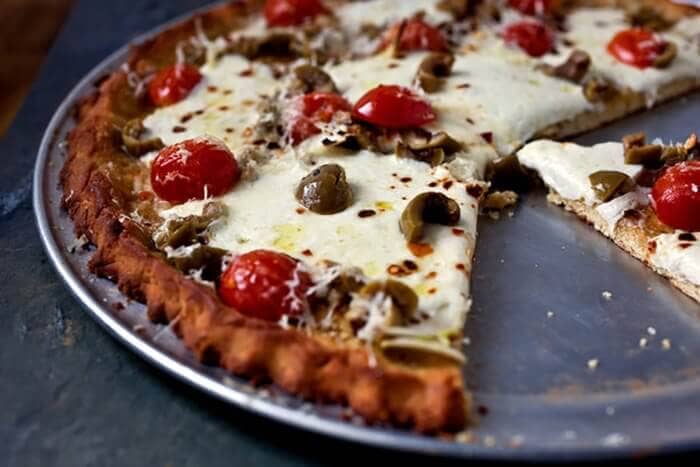 The next pie on this list is one of the best pizza recipes to try if you want a pizza that features an earthy, rustic flavor. The crust is thin and crispy, and it is designed more in the style of a sweet potato pie crust than a pizza; in fact, if you want to increase the earthiness of this dish, you can create the crust out of sweet potatoes. There is not a traditional sauce base on this pie, but it can be made with a pesto based sauce or a garlic herb spread. Then, top the pizza with a layer of mozzarella and parmesan cheese. Top the pizza with button mushroom slices and roasted grape tomatoes.
50. Deep Dish Pizza with a Falafel Crust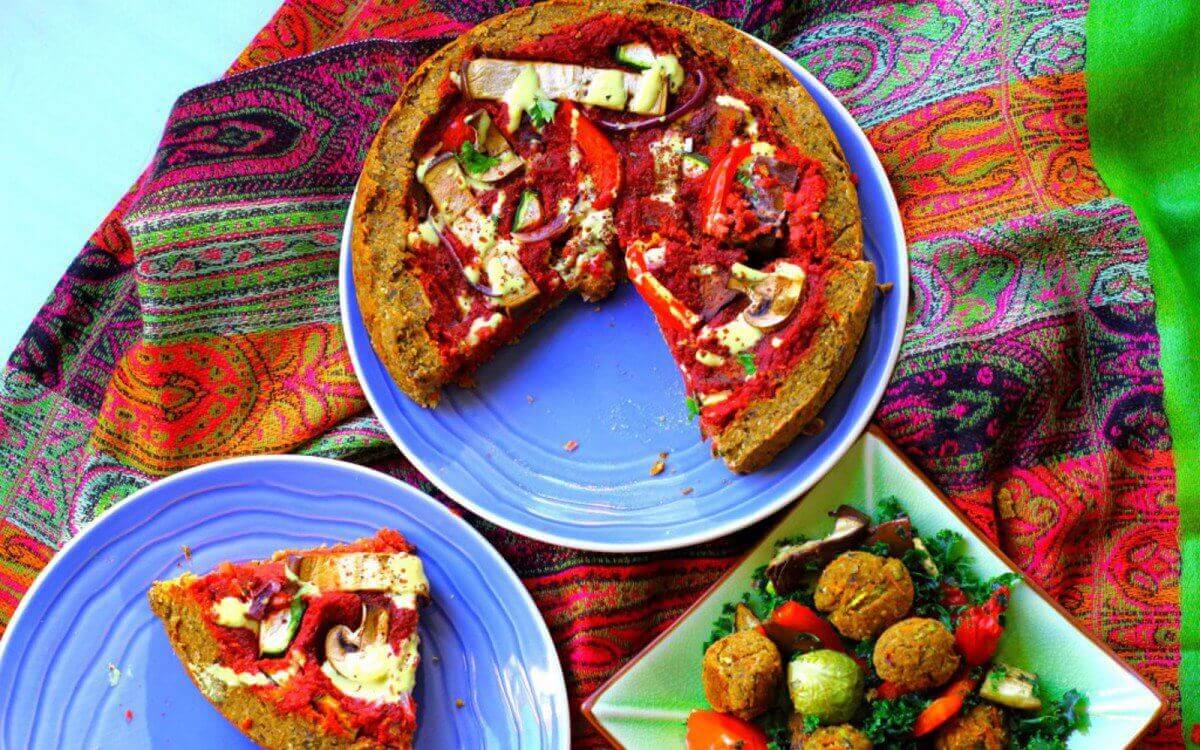 The final gluten-free pizza recipe on this list is one that uses a type of crust that we have not seen previously on this list. It is actually a falafel based crust that is made from chickpeas and other Mediterranean flavors. The crust forms a deep dish style pizza that is crisp and delicious. There is no cheese on this pie, as it features a flavor profile that is consistent with the traditional flavors of a falafel. Some topping ideas include some fresh vegetables like red peppers, red onions, mushrooms, and cucumbers.
Gluten-Free Pizza Recipes that You Will Adore
As you can see, the best pizza recipes vary greatly from one another, especially when you have a dietary restriction that you need to follow like a gluten allergy. Hopefully this guide has given you a plethora of pizza ideas that you can create in your kitchen. Being on a gluten-free diet does not mean that you have to deny yourself the foods you love; it simply means that you must be creative with your pizza creations. Maybe one of the gluten-free pizza recipes that are listed here will become a favorite that you and your entire family can enjoy.