50 Mouth-Watering Pizza Recipes that Use Gluten-Free Ingredients
21. Polenta Pizza with Cashews and Ricotta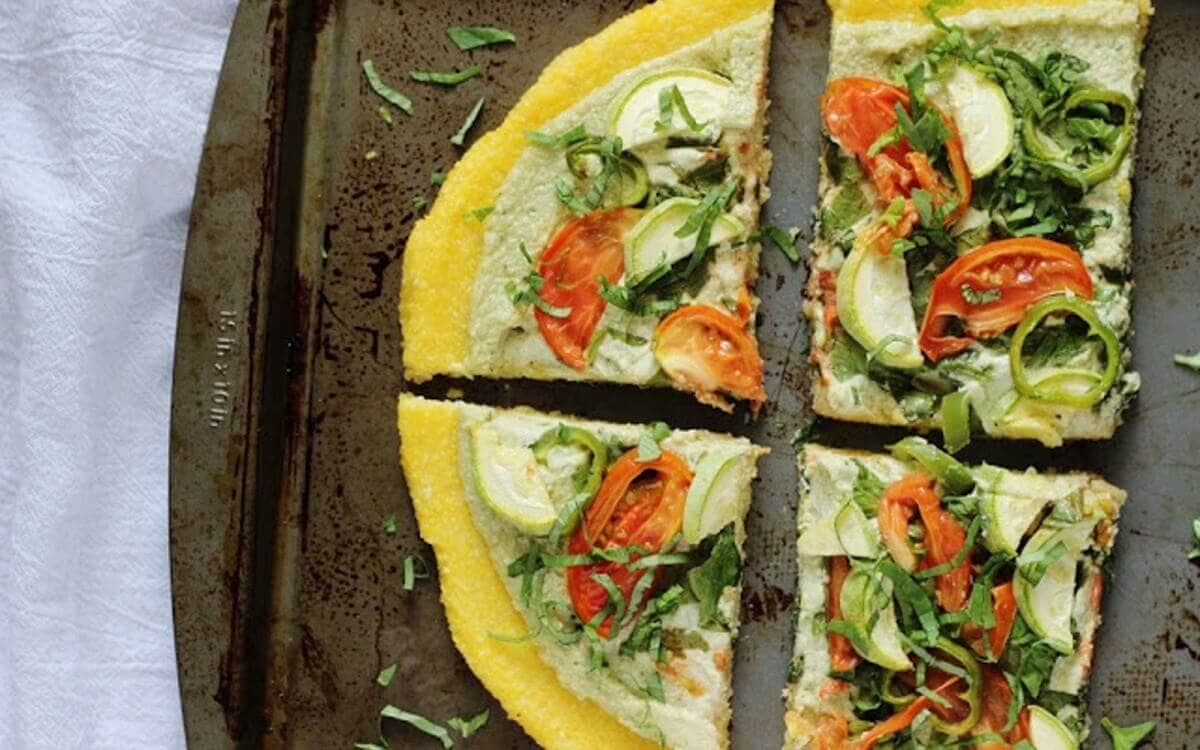 Of all the gluten-free pizzas on this list, this idea is one of the most unique. It has a crust that is comprised from polenta and cashews, which gives it a unique nutty flavor that you will love. You can top this creation with a cheesy herb sauce instead of using traditional marinara sauce. Vegetables like cucumbers, pepper rings, spinach, onions, and tomatoes are all perfect fresh toppings that add a lot of flavor to this dish. The cheese that works best for this pizza is ricotta, but if you prefer, you can skip the cheese because the flavor is already unique enough.
22. Vegan Pizza with a Cauliflower Crust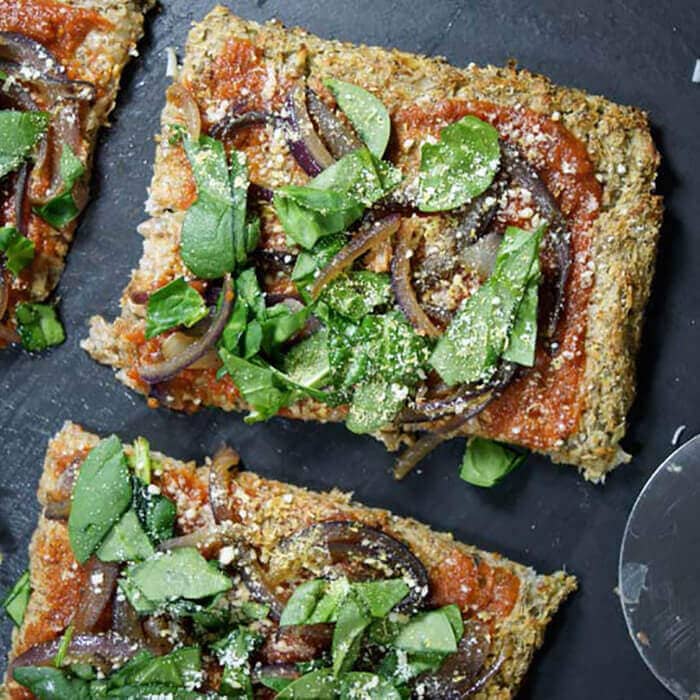 This vegan pizza is an easy recipe to create in your kitchen at home. This pizza has a lot of color and crunchiness, which makes it a really great meal idea for a fall evening. The crust is made from a cauliflower base that is browned and toasted with parmesan to create a crunchy texture. This pizza incorporates some delicious flavors with crispy green spinach and balsamic caramelized red onions. All of this is set atop a generous spread of basil marinara sauce and sprinkled with a light dusting of parmesan.
23. Cheesy Garlic Pizza with a Quinoa Crust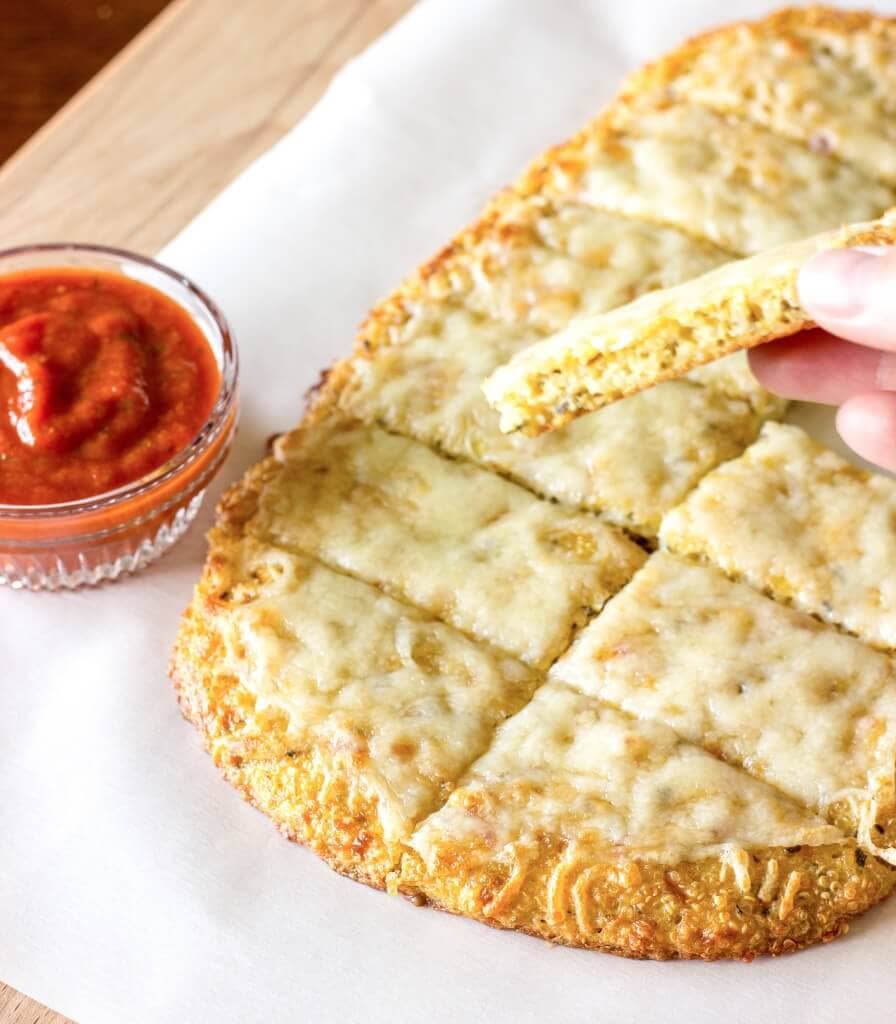 Another one of the gluten-free pizzas that are perfect for a quaint dinner for two at home is this classic cheese pizza. The crust of this pie is created from quinoa, which can easily be toasted to any degree of satisfying crunchiness that you prefer. The sauce is not a tomato—based spread, but rather it is a unique white sauce that is created using gluten-free food. Once the sauce is spread, sprinkle a fair amount of garlic onto the sauce and top it off with a helping of mozzarella cheese that is finely shredded.
24. Pepperoni Pizza Grilled Cheese Sandwich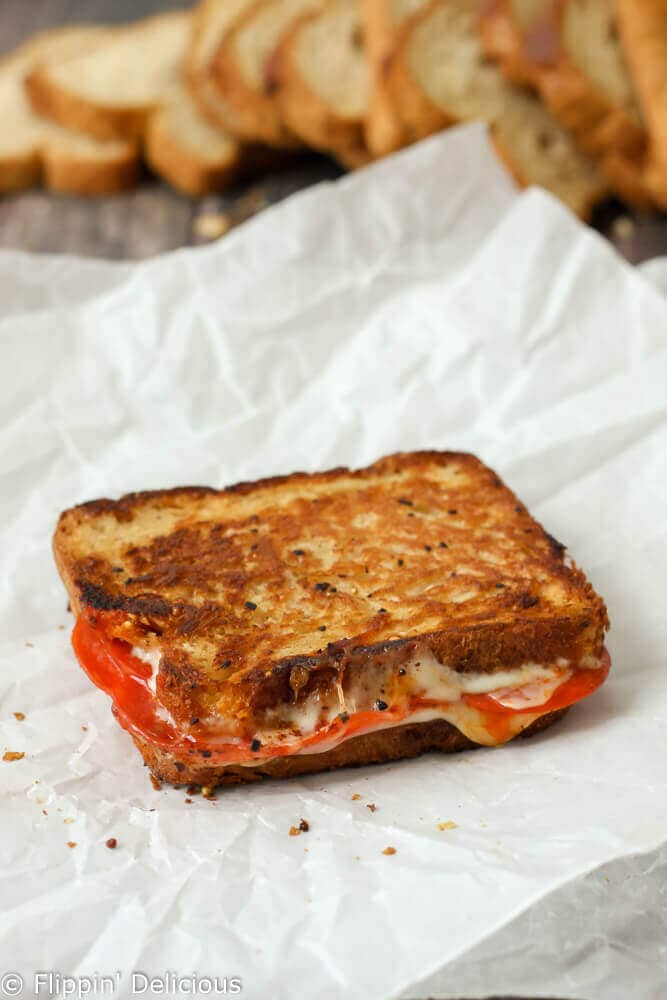 The next gluten-free recipe on this list is one that has all of the pizza flavors you love, but it is actually not a pizza at all. This meal idea is actually a grilled cheese sandwich that is filled with delicious pizza toppings. The toppings can be any meat or vegetable option that you desire, but the main decision that you need to make is the type cheese that you want inside the sandwich. Try a delightful sandwich that has a healthy helping of mozzarella cheese, tomatoes, pepperonis, and maybe even some basil. Toast the bread well to create the perfect toasted cheese sandwich.
25. Braided stuffed Spinach and Pepperoni Pizza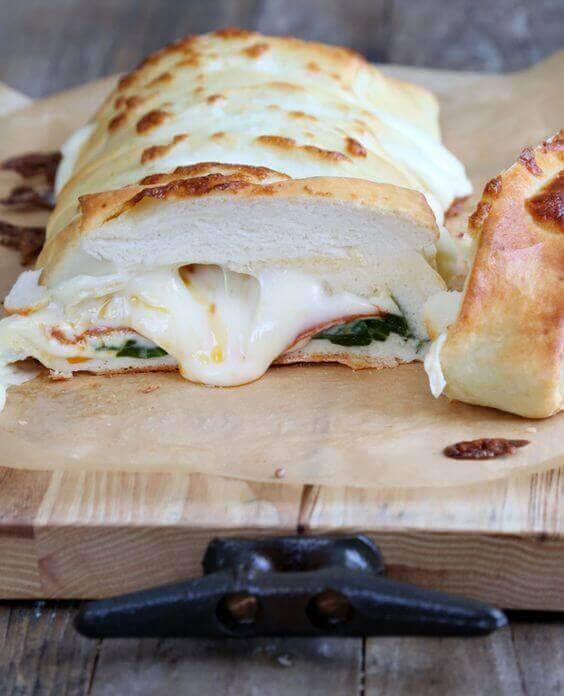 The next gluten-free recipe on our list is more like a Stromboli than a pizza, but since they are in the same family of Italian cuisine, they are welcome in this list. The dough is a gluten-free variety that is braided to hold in the pizza toppings. The toppings that work the best for this dish are a healthy dose of melted mozzarella, thinly sliced pepperoni or prosciutto, and green leafy spinach. If you are looking for that marinara flavor, this pizza is great for dipping.
26. Chicago-Style Deep Dish Gluten-Free Pizza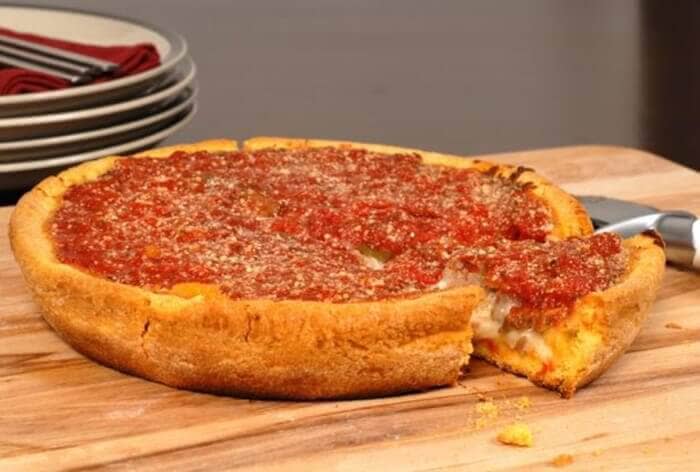 If you are looking for a Chicago-style deep dish pizza, but are on a gluten-free diet, this meal is perfect for you to create at home. The best way to create an authentic deep dish experience is to cook the crust in a cast iron skillet. A polenta crust works great for this pizza, but you can choose to use any gluten-free crust recipe that you enjoy. The sauce is a traditional tomato-based creation, but the feature that makes this pizza unique is the fact that the chunky tomato sauce is layered on top of the mozzarella cheese.
27. Blackberry Basil Pizza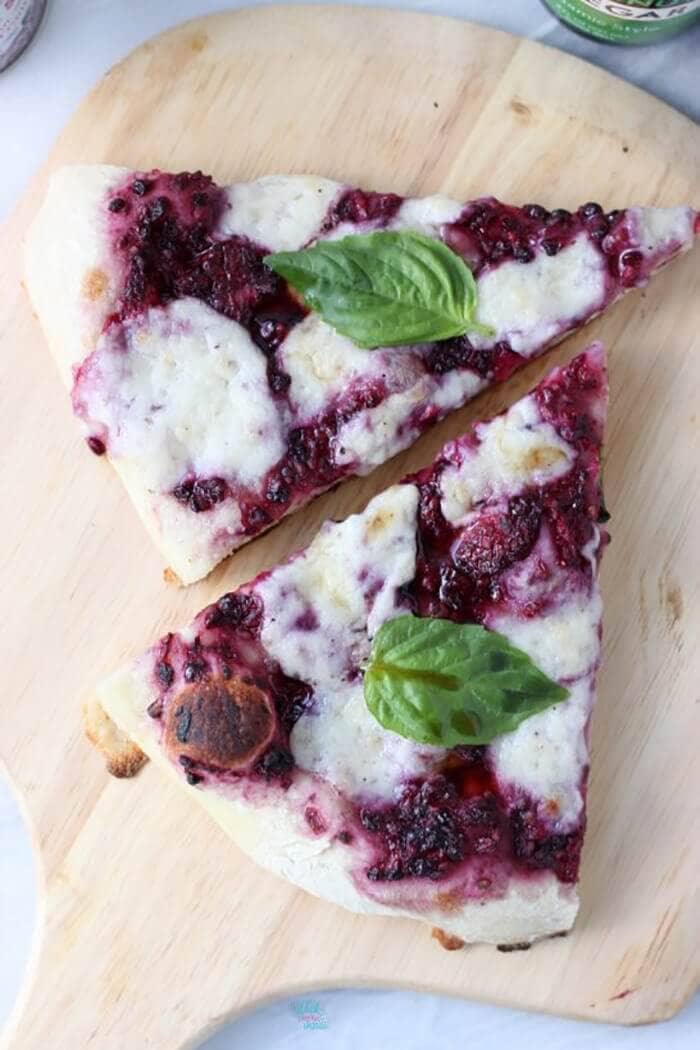 Another of the gluten-free pizzas that you must try is one that will satisfy your sweet tooth. This unique pizza is made with a gluten-free crust; any type of crust will do, but using coconut flour will give it a bit of sweetness. The pizza is then topped with blackberries and ricotta cheese, and then it is baked until the crust is crispy and the blackberries have broken down and spread across the pie. Before you dig in, add some fresh basil leaves as a flavorful garnish to the top of the pie.
28. Eggplant Hummus Pizza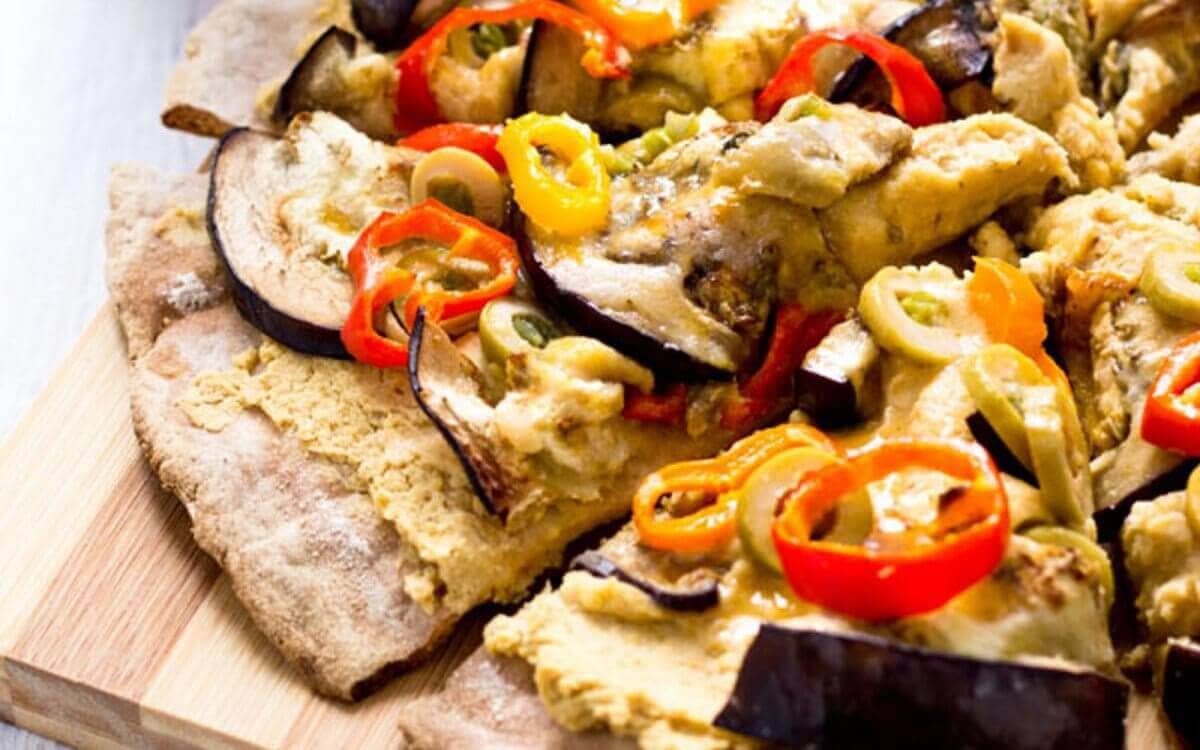 If you like eggplant, then this next gluten-free recipe is the perfect dish to create. The crust of this pie is made from gluten-free ingredients and baked until it is thin and crunchy. There is no traditional sauce on this pizza, instead the recipe calls for chickpea-based hummus. The variation of hummus that you select for the spread will change the flavor of the pizza. Top the hummus with roasted eggplant, roasted red and yellow peppers, olives, and mushrooms. If you like cheese on your pizza, sprinkle this pie with some parmesan.
29. Veggie Pizza with a Gluten-Free Crust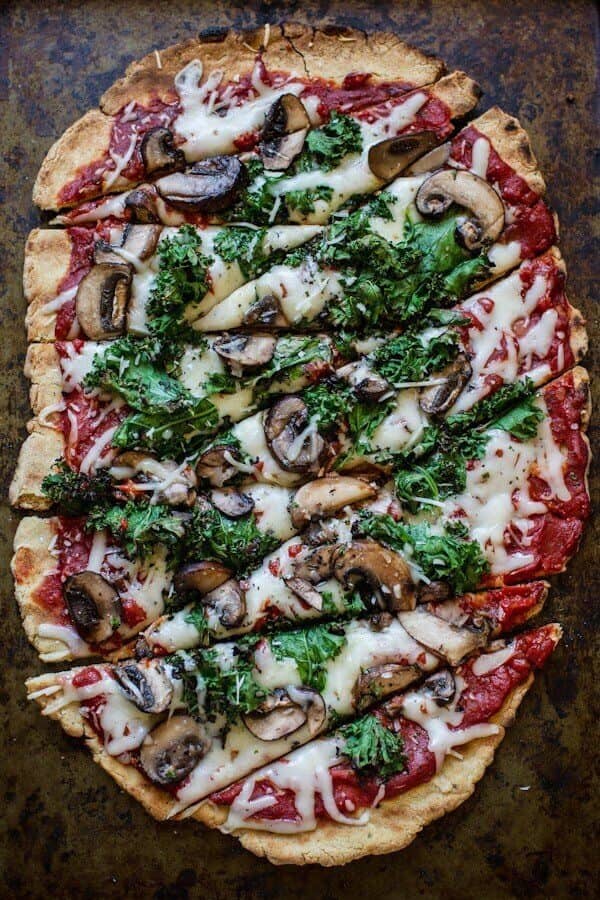 If you like fresh leafy green veggies on your pizza, then this traditional brick oven pizza recipe will hit the spot. The crust is thin and crisped to a perfect crunch, and it is comprised of gluten-free ingredients that can range from cauliflower to quinoa. The sauce is a tomato-based sauce, but since you are using leafy green vegetables as a topping, adding a bit of red wine to the sauce will be delightful. Once the sauce is spread, top the pizza with kale and a variety of mushrooms to complete its unique, earthy flavor profile.
30. Socca Pizza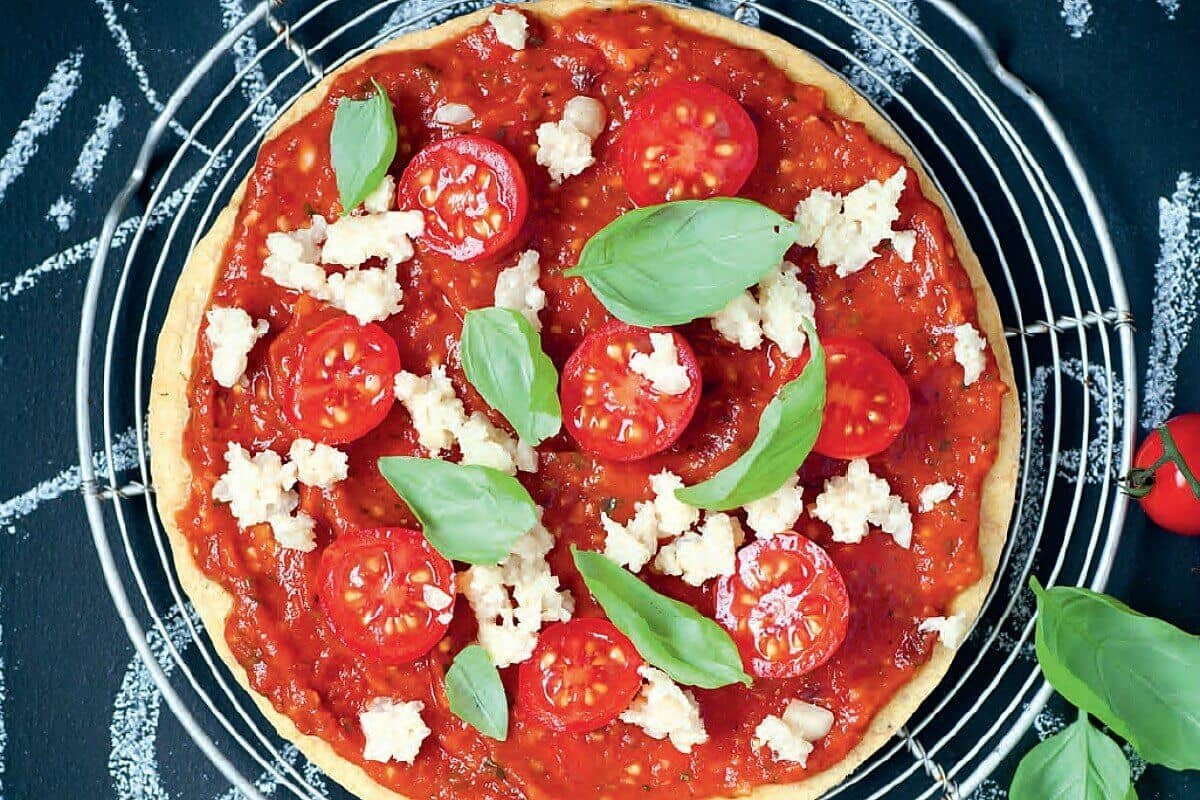 Socca is a unique type of flat bread that makes an exceptional pizza crust. It is comprised of chickpea flour and a few other simple ingredients. The sauce is a tomato-based sauce that is packed with Italian style herbs. Grape tomatoes and cauliflower top this delicious sauce blend and add beautiful color to the pizza. Fresh basil is the perfect garnish for this pizza. The flavor of this dish is perfect, but if you prefer a pizza with a bit of cheese, a sprinkle of parmesan will work wonders for this pie.
More gluten-free pizza recipe ideas on the next page…