19 Mouth-Watering, Yet Healthy Cucumber Drink Recipes
The age old adage "You are what you eat" has always been a go-to mantra for the health conscious. If the saying is true, it would be great to be cool and crisp like a cucumber, as opposed to bloated like a chocolate milkshake. Thankfully, the subtle flavor of fresh cucumber is both relaxing and rejuvenating. It's no wonder that cucumber has been used in the beauty industry for quite some time now. For example, think of spas getting rid of dark circles under your eyes with cooling cucumber slices. Why not bring together all that cucumber has to offer by cutting off two slices to soothe your tired eyes and using the rest of the cucumber to whip up an amazing cucumber drink to enjoy during your pampering routine at home? Take your pick from one of the many delicious recipes listed below!

1. A Minty Cucumber Cooler
Cucumber is a low-calorie snack chock full of vitamins and minerals. Mint freshens the breath and is full of antioxidants and phytonutrients that calm a sour stomach. This recipe results in an aromatic delicacy that is an emulsion of cucumber and mint as well as lime, honey, and a pinch of salt and pepper. It's surprising that for such a treat, all you have to do is through your ingredients in a blender and press start.
Find the original recipe here.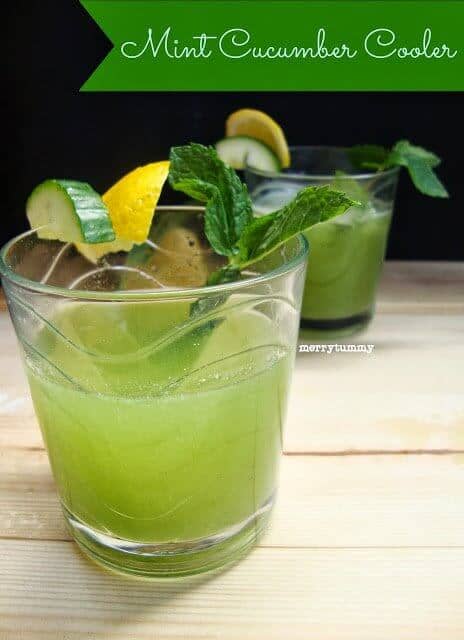 2. A Cucumber Basil Sparkling Limeade
This drink has got it all. The combination of cucumber with basil will tickle and tantalize your taste buds. Lime zest paired with a dash of sugar offers the perfect balance of sweet and sour. The carbonation from the chilled sparkling water adds just a little bit of extra pizzazz to round out what is sure to be your new favorite sipper. Stick a straw in it and savor it on a hot and humid summer afternoon.
Find the original recipe here .
3. A Cucumber Plus Other Greens Drink
If you're into juicing, give this drink a shot. It may look like medicine, which in all fairness is understandable because it is so good for your body, but it tastes wonderful. With the sweetness from the green apples and the hints of lemon and ginger, your vegetable hating toddler may even want some of this mystery green drink in their sippy cup. In fact, they'll never have any inkling that there was cucumber, kale, and celery hidden in their drink.
Find the original recipe here .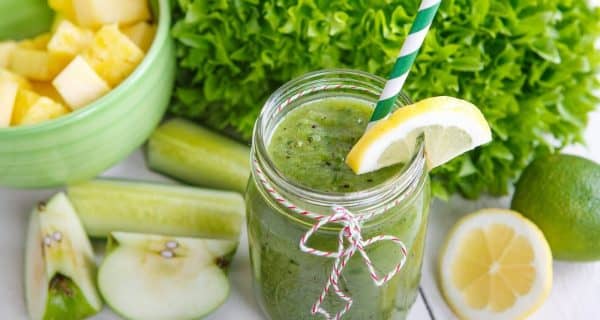 4. Rosemary Cucumber Lemonade
Did you grew up selling lemonade on your neighborhood streets for a dime a glass that was utterly saturated with sugar? Here's a healthy, plus vegan to bout, alternative to make up for the diabetic coma inducing lemonade of your wonder years. You can rest assured that this sophisticated version of rosemary-infused lemonade will leave you feeling light without the heavy conscience. Make a pitcher of it and serve it at your next pool party soiree.
Find the original recipe here .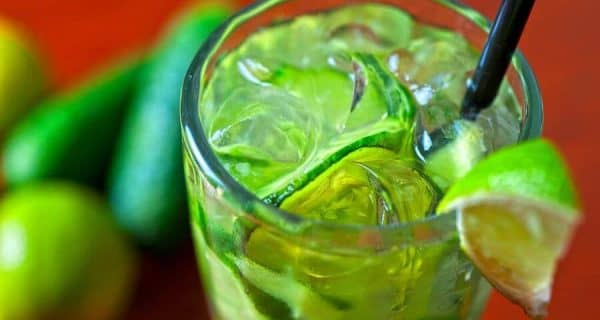 5. A Watermelon Cucumber Concoction
If you want to have a pretty pink cocktail minus the worry over whether or not red dye coloring additives created that gorgeous color, consider this cucumber with watermelon cooler recipe instead. Its quintessential pink blush is all natural as it's directly attributed to nothing but watermelon. If you're pregnant, watching calories from alcohol, or just not a big drinker, you can always replace the vodka with sparkling water for a virgin version of this cucumber drink.
Find the original recipe here .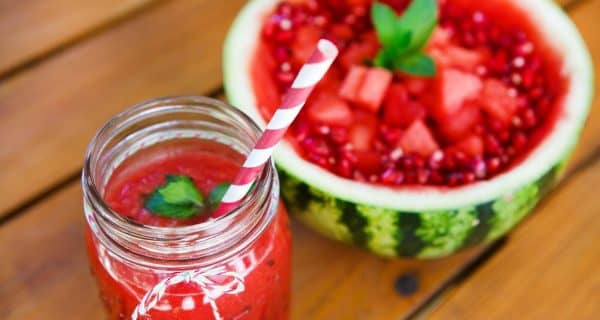 6. A Strawberry Cucumber Smoothie
Liven up your morning smoothie game with this new recipe. Whatever health regimen you adhere to, take comfort in the fact that this smoothie will work for you, even if you're vegan or paleo. Also, lactose sensitive individuals will be glad to hear it's made with almond milk. Even though it calls for almond milk, the end product comes out frothy and creamy and is so such much better for you than a high-fructose corn syrup loaded McDonald's milkshake. You'll be ready to start the day off right with this healthy meal that knocks out a serving of fruits and vegetables each.
Find the original recipe here .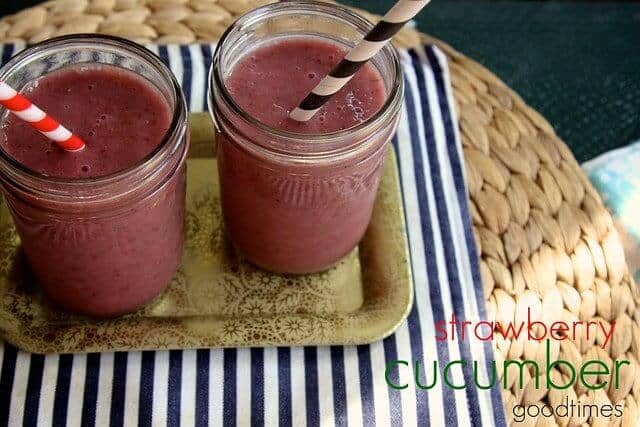 7. Lemon Cucumber Water
Getting in your 8 glasses of water a day can be quite a challenge at times. A handy trick to make water more appealing is to infuse it with herbs, fruits, and yes, even cucumber. This made at home flavored water is so much better for your body than store bought varieties that often have hidden sugar and unnatural flavoring agents. Rather than dangerous chemicals, this recipe uses ingredients you'd find fresh from your garden. Throw in the lemon, cucumber and a twig of lemon verbena with half a gallon of water, then let the flavors meld. That's all there is to it!
Find the original recipe here .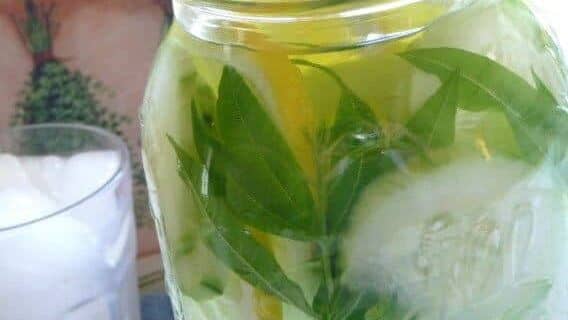 8. Cucumber Lemon Water with a Touch of Mint
Simple and elegant, this is sure to be your new favorite porch sipping drink. As a pro-tip, resist pouring yourself a glass for as long as possible because the longer the water sits, the more your flavors will infuse. Once it's done, you can drink glass after glass all weekend long and never have to worry about liquid calories, because there are none! Plus, you'll be doing your body a service by hydrating and detoxifying your system.
Find the original recipe here .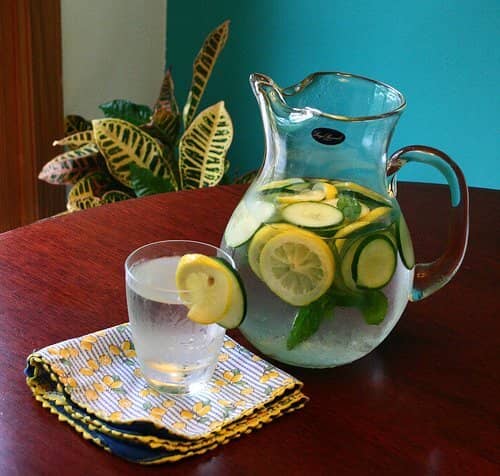 9. Cucumber Orange Water
There are a variety of fruit used to jazz up your water; orange is a classic choice. The addition of cucumber brings a little extra twist to this classic. As an added bonus, if you don't want to fuss with a juicer, blender or other kitchen appliance, but still want to enjoy a nice cucumber drink, here's your answer. The only thing you have to do is grab your oranges, cucumbers, and a cutting board. It's convenient, delicious, and the perfect fix on a lazy July afternoon.
Find the original recipe here .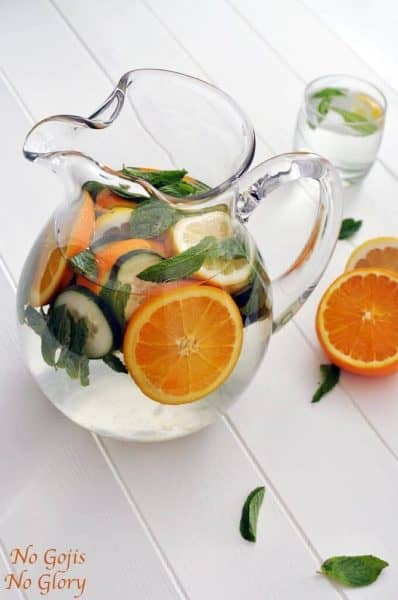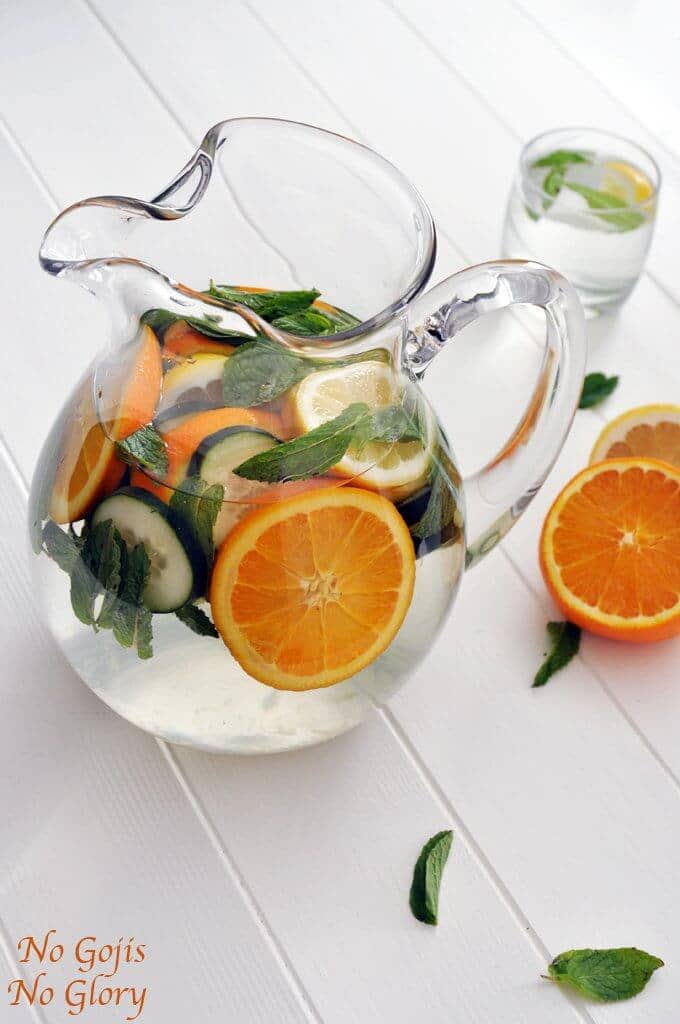 10. Pink Grapefruit Cucumber Cocktail
When pink grapefruit comes into season head to your local farmer's market and pick-up the whole stash, then throw yourself a Great Gatsby affair. After all, this funky little cocktail is a sure-fire crowd pleaser, especially at a roaring 20s party. That's because it's the perfect trifecta of sweet, savory, and sour. Be sure to top it off with a garnish of grapefruit and cucumber so it looks extra classy. Substitute gin for vodka or seltzer water, if you so desire.
Find the original recipe here .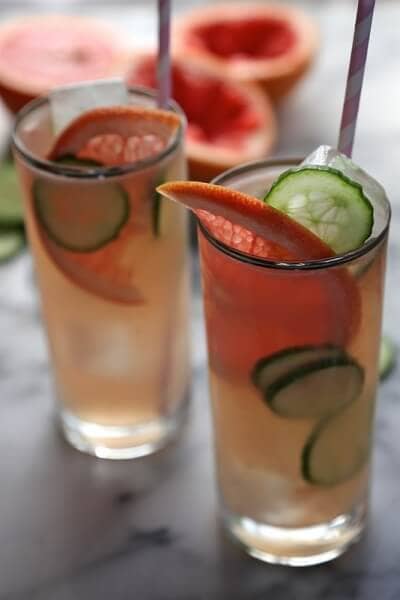 11. Cucumber Agua Fresca with Lime and Mint
In India, mango lassi is the drink to pair with spicy food. In Mexico, senoras drink agua fresca with a spicy dish. In Spanish, agua fresca literally means fresh water. This icy blended mix of cucumber, lime and mint fresh water is perfect to serve at your next fiesta or just during a family taco night. You should be forewarned though; make more than one batch because it is sure to be gone before you can say cucumber.
Find the original recipe here .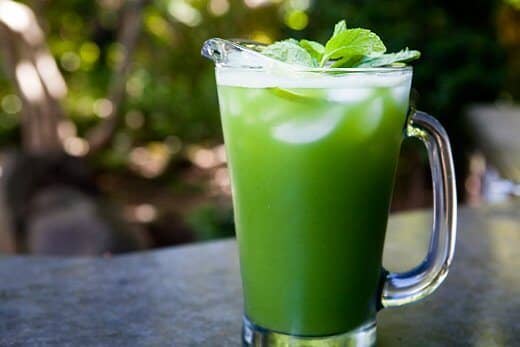 12. Strawberry and Cucumber Water
There are so many cucumber infused water recipes to choose from that all sound marvelous, so why not make one of each? Here's another one to throw into the rotation as well. As you know, strawberry and lime is a tried and true flavor combination that delights many. However, if you try these two flavors with cucumber, a sprig of mint and a dash of lime juice, you might never be able to have just plain old strawberry and lime again.
Find the original recipe here .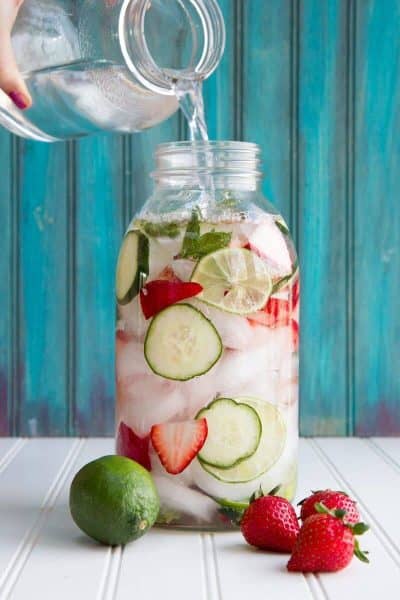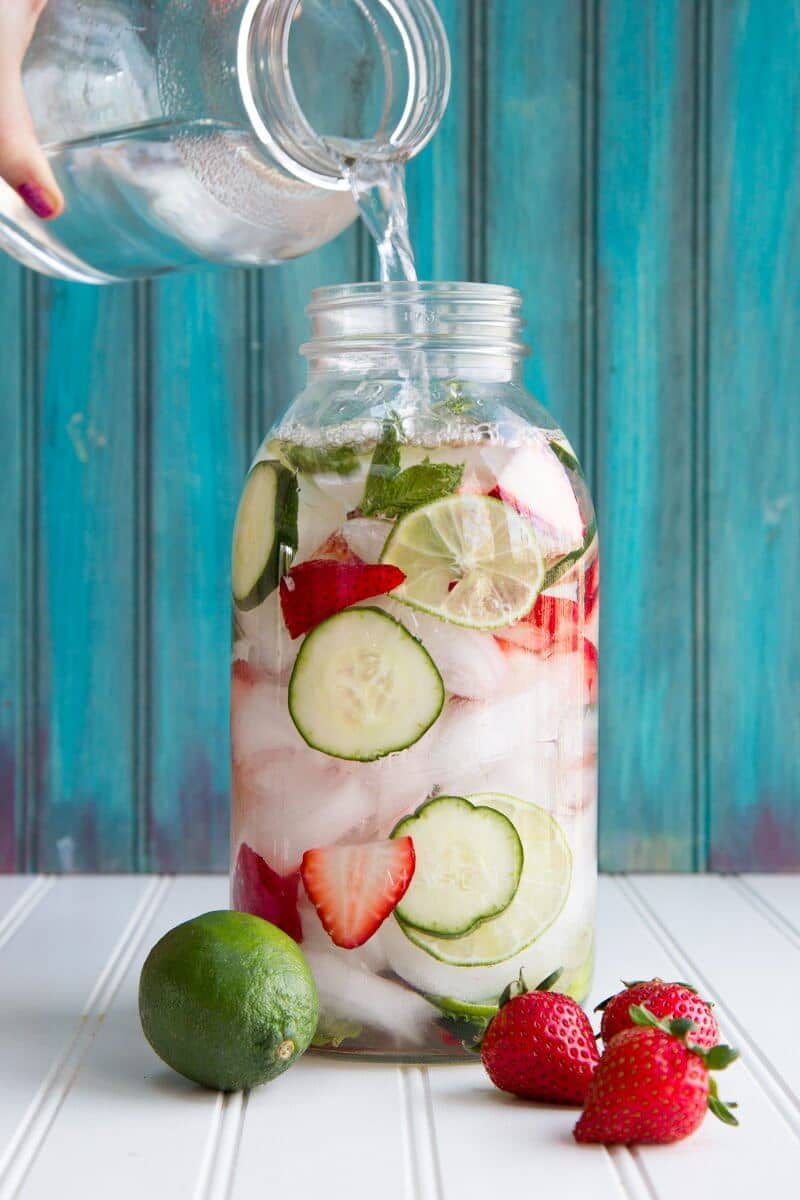 13. A Cucumber Watermelon Tonic
Watermelon and cucumber are very water dense and that leads to their subtle and refreshing flavors. Adding these subtle hints to tonic water really adds complexity to your drink. For an added kick, you can squeeze in the juice of a lemon or add in some crushed mint leaves. You can easily turn this drink into an adult beverage with a splash of gin or keep it the cool and refreshing accompaniment to your lunch.
Find the original recipe here .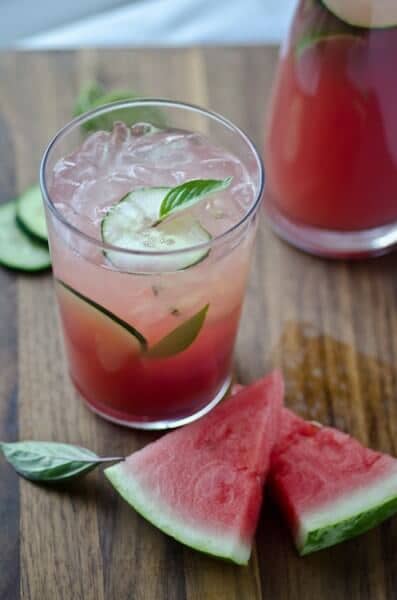 14. Cucumber, Pineapple, Banana and Apple Juice
When you buy store bought juice, it's more often than not from concentrate, which means it lacks that freshness you want. Even worse, sometimes fruit juices have adding sugars in them. Instead of risking this health nightmare, try making your own juice at home. You can cube up a pineapple and then throw your cucumber (and apples and bananas) into a juicer with their peels on for extra fiber and nutrients. The sweetness from the fruit makes it a breakfast favorite.
Find the original recipe here .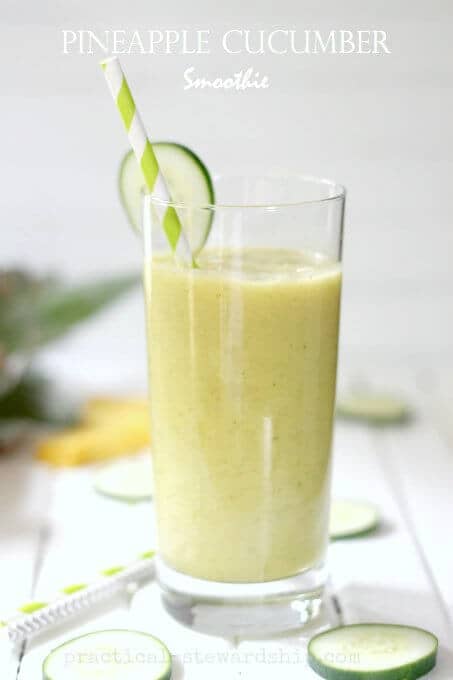 15. Cucumber Melon Cooler
Juice is not a drink solely reserved for breakfast, it can also be a great dessert treat. Even though you probably never imagined a cucumber drink as a dessert item before, after one taste of this recipe you may have it becoming a regular post supper sweet sipper. Here's the deal – If you bought a melon and wanted to serve it as dessert it can be a major disappoint when its overripe. Rather than fret, cube it up and through it in a juicer along with a cucumber and you have yourself an innovative and scrumptious dessert that's healthy too.
Find the original recipe here .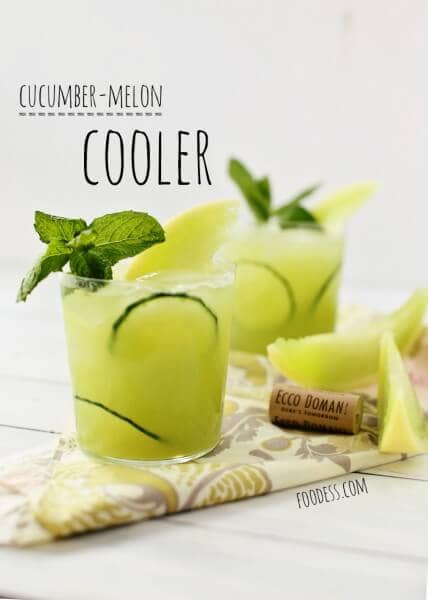 16. Cucumber Lemonade
Lemonade is a summertime classic. If it's one of your guilty pleasure, why not try a healthier version of it? All you need from the produce isle is a few lemons for their juice and zest as well as one large cucumber. Then grab some sugar and salt from your pantry and a couple ice cubes from the freezer. In no time at all, you will be enjoying this refreshing classic in a whole new way. All your friends will surely be asking for the recipe.
Find the original recipe here .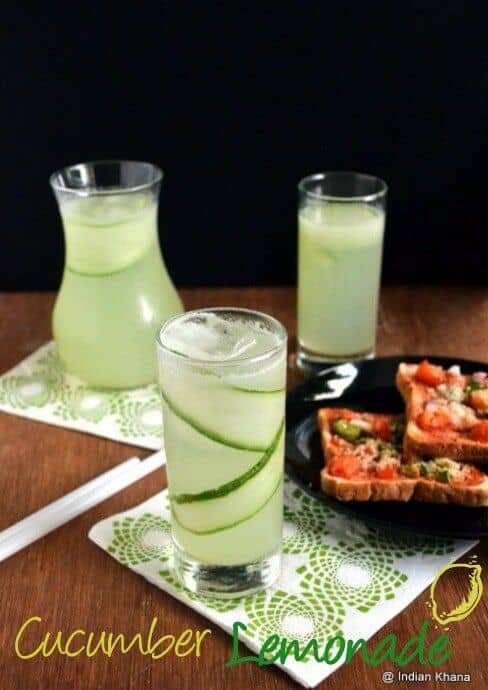 17. Cucumber, Ginger, and Orange Juice
Once 30 hits, wrinkles become an ever increasing worry. This cucumber drink is designed to combat wrinkles and give you healthy skin. There's no additional sugar required, the sweetness from the two oranges is more than enough. Leave the white pith on to get the full benefits. The zing comes from the knob of ginger. In just one glass, you'll be able to drink the equivalent of two cucumbers. That's plenty to keep your skin young and healthy.
Find the original recipe here .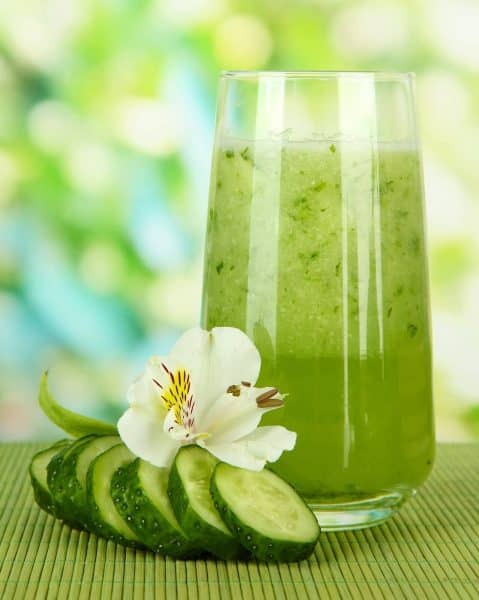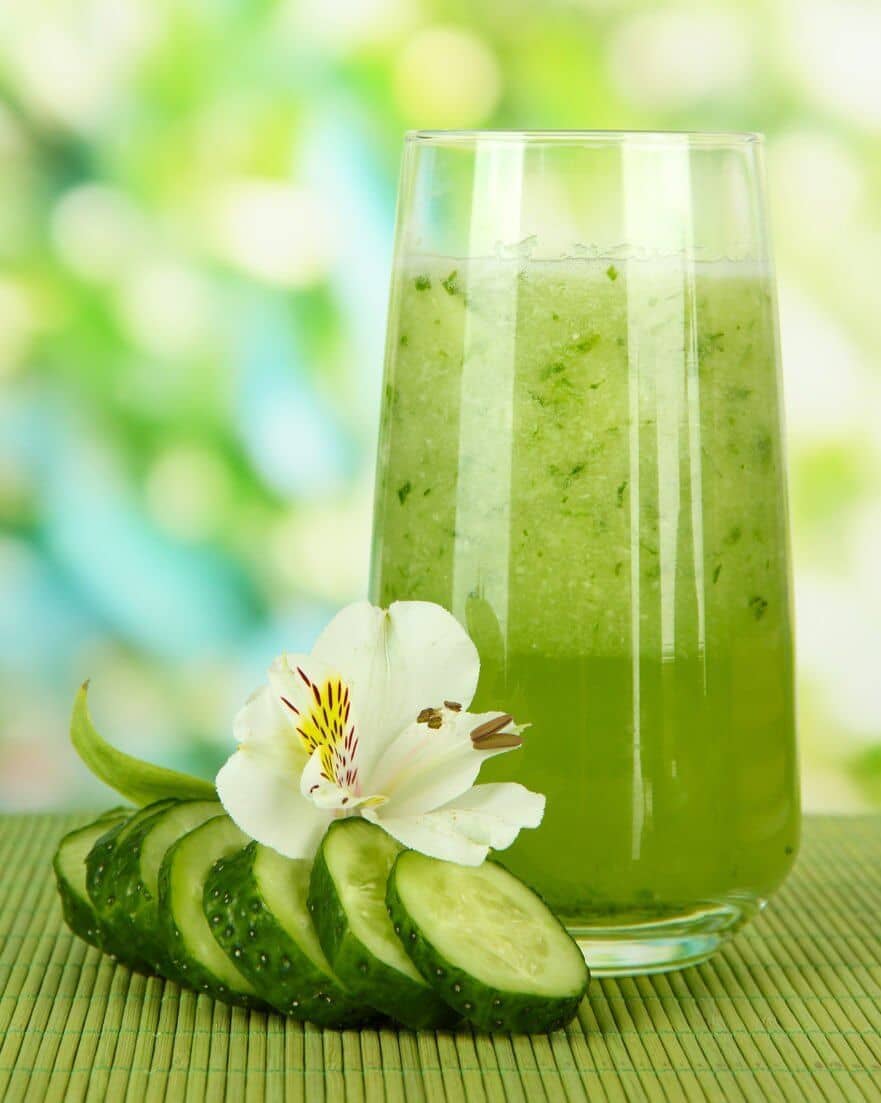 18. Spinach and Cucumber Smoothie
Popeye was a big proponent for eating your spinach. Not everyone is a fan of the green, leafy vegetable though. A good trick to disguise foods that are good for you, but not really to your liking is by putting them in a smoothie. Whip up spinach with cucumber, frozen banana, oranges, ice and a bit of vanilla and you'll have a green drink that will make you lick your lips. It's both seriously good, and seriously good for you.
Find the original recipe here .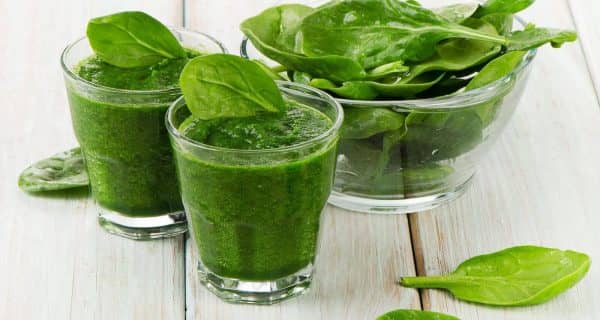 19. Spinach, Cucumber, Parsley and Cilantro Drink
The health benefits of this drinks is off the charts. Per Popeye's request, you get your spinach intake taken care of, but you also get the added detoxifying benefits of parsley, cilantro and lemon. In addition, you'll find ginger in this recipe to sooth an upset stomach. With all these great ingredients, it's almost too easy to forget about the cucumber. Be sure not to though, because this drink is using the water from the cucumber to mesh all the ingredients together.
Find the original recipe here .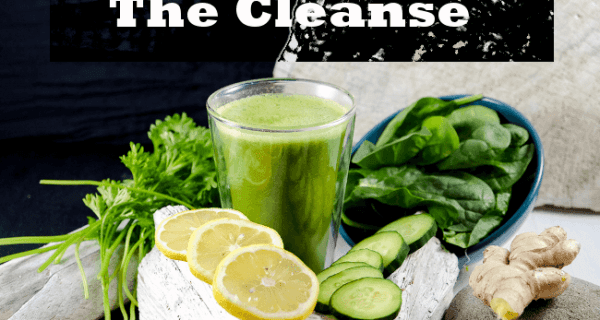 See more delicious detox waters here.