15 Delicious and Healthy Christmas Snacks for Kids You Can Make in Minutes
One of the best smells of the year is the smell of the baked goodies you're going to make when Christmas comes around. But since most of these treats will probably contain huge amounts of sugar, butter, and other such ingredients that can damage your children's young and undeveloped bodies, finding healthier snacks you can give them becomes a priority. Although grandma's delicious molasses crackles might be a family tradition, your kids will definitely appreciate a change in this holiday routine, especially if it comes with tastier flavors they'll enjoy.
Check out the following 14+ healthy Christmas snacks for kids we've listed below, which have been carefully hand-picked in order to ensure that your children will enjoy them.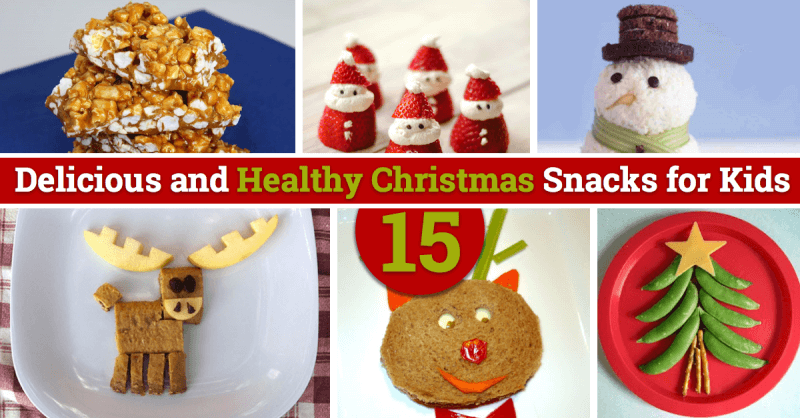 1. Popcorn Brittle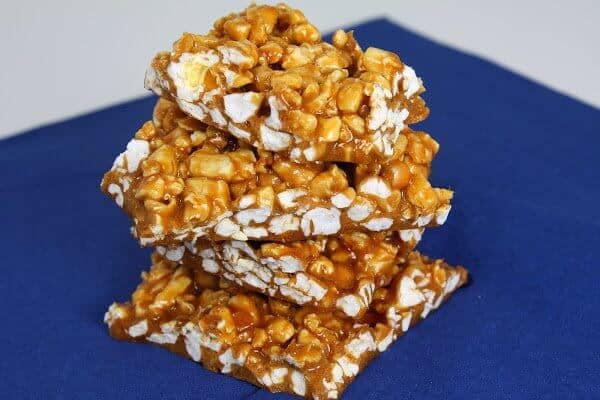 By replacing the nuts in the brittle with popcorn, you'll manage to substantially reduce the amount of fat contained in this super tasty treat, and also obtain a wonderful hybrid kids will fall in love with – part-caramel, part-brittle. While the popcorn is very little salty, the brittle will be sweet, crunchy, and soft, therefore making this snack not only healthy, but also delightful. Want a tip? You should better make sure to keep your children out of the kitchen when making the mixture, as they'll certainly want to dip their fingers in this creamy caramel delight. If you want, you can beautifully decorate your Christmas table with this popcorn brittle as well, especially if you make sure to layer two or three pieces, and wrap them with a colorful ribbon. Source recipe here
2. Oatmeal Toffee Cookies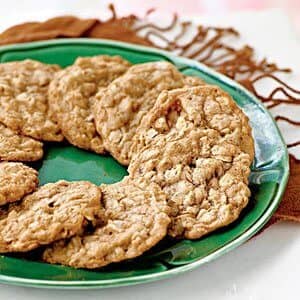 If there's one healthy Christmas snack you should be making for your kids, that's a platter of oatmeal toffee cookies, which are crunchy, slightly moist, and taste very much like candies. These cookies are made with brown sugar and a little bit of butter, which underscore the tawny sweetness of the surprise almond toffee inside. The vanilla extract will give this snack a softer and more elegant taste, whilst the oatmeal itself will make them a lot healthier, so you can confidently make some for your little ones. To top that off, you'll definitely love how easy to make this snack is, as it'll take you shorter than 20 minutes to have 2 dozen cookies perfectly browned. Source recipe here
3. White Chocolate Holiday Bark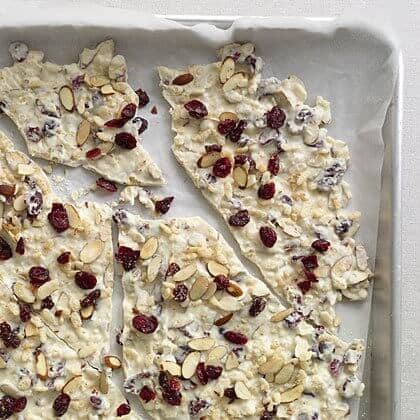 Although sweeter than most healthy Christmas snacks for kids you'll probably be making this year, this white chocolate bark will still bring lots of heart-healthy cranberries, as well as antioxidant-rich almonds that give it a crunchy texture. This snack doesn't use refined sugar, but unsweetened coconut instead, which saves a few calories while adding a plus of taste to this delicious treat. If you want to add variation and make your children eat more healthy fruits, try replacing – or adding extra – dried cherries to the mix, which are high in beta-carotene, and can also prevent health diseases. Along with a bit of vegetable oil, these white chocolate bark bites will be a tasty and incredibly healthy snack your kids (and guests) will fall head over heels for. Source recipe here
4. Frosted Pumpkin Cake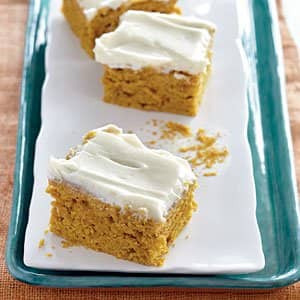 Although fall will be long gone when Christmas comes, who says that you can't still indulge your kids with pumpkin delights? This frosted pumpkin cake might be sweet, but it contains lots of ingredients that make it a healthy alternative to your average sugar cookies, including brown sugar, pumpkin puree, and only 1/4 cup of butter. At the same time, this cake features a frosting made with vanilla extract and 1/3-less-fat cream cheese, which will make it more visually-appealing, not to mention a lot tastier. The best part is that, in spite of its sweet flavor, your kids will feel nourished from the first slice of cake they're going to eat, so you'll never have to worry about potential weight gain. Source recipe here
5. Peanut Butter Pie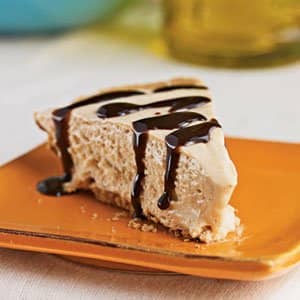 If your children don't like the taste of pumpkin, then you can still give them another extremely healthy snack to enjoy on Christmas. This peanut butter pie tastes very much like peanut and chocolate bars, but it has fewer calories, not to mention that it's not as fatty or abundant in sugar as your average holiday pie. Much to your delight, this snack is made with 1/3-less-fat cream cheese, fat-free whipped topping, reduced-fat peanut butter, reduced-fat graham crust, and fat-free chocolate sundae syrup. To enhance its visual appeal, you can use the sundae syrup to decorate the pie with all sorts of shapes and forms – your kids will definitely be eager to eat it between meals. Source recipe here
6. Hello Dolly Bars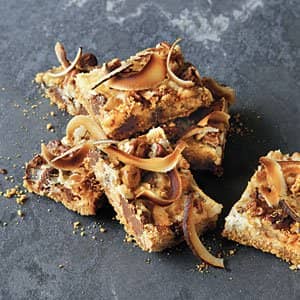 These Hello Dolly bars aren't only sweet, as their taste brings subtle salty notes that give it a unique aroma. Also known as seven-layer bars, these snacks can be easily made in 30 minutes or less, using only 8 ingredients that are basically easy to get, and very cheap as well. For this recipe, you'll need graham cracker crumbs, semisweet chocolate chips, butterscotch morsels, flaked sweetened coconut, pecans, fat-free sweetened condensed milk, and only 2 tablespoons of butter, which make it one of the best and healthy Christmas snacks for children. Since they're messy to make, you should better make sure to use parchment paper when baking them, so you can avoid making a sticky mess in the pan. Source recipe here
7. Chocolate-Cherry Heart Smart Cookies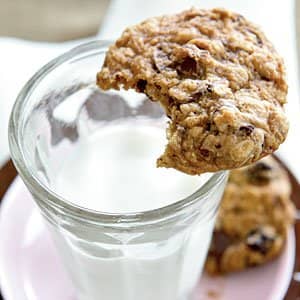 Chocolate and cherries go well together, and they're sure to be a big hit for your children this Christmas. These heart smart cookies don't use typical milk chocolate that's usually richer in unhealthy fats, but bittersweet chocolate that gives them a deeper flavor, saving a few calories at the same time. When you'll take them out of your oven, you'll surely appreciate their great visual appeal, which will definitely make your kids want to stuff their mouths with them. Stored in a beautiful tin, they'll surely be the perfect snack to eat in-between meals, and a much healthier way to satisfy your little ones' sweet tooth. Source recipe here
II. Fruit-Based Healthy Christmas Snacks for Kids
8. Santa Strawberries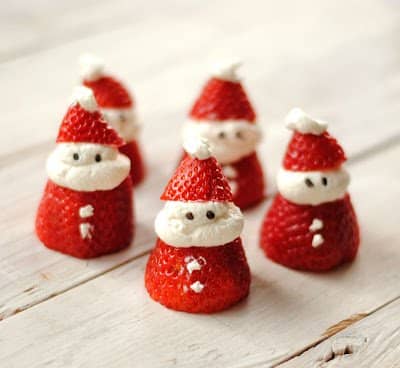 What if you could pair strawberries and whipped cream to create a wonderful and extremely healthy Christmas snack for your little ones? These Santa strawberries look adorable, and they'll most definitely the rock star of the upcoming holidays. The best part? You can easily make this sweet treat with a dozen strawberries, and just one cup of whipped cream, and some chocolate sprinkles if you want to make it look more aesthetically pleasing. To make them, cut the strawberries in halves horizontally, then use a teaspoon to make dollops of whipped cream in between the two halves. Use the chocolate sprinkled to make eyes for these lovely Santa goodies. Source recipe here
9. Seedless Grape Tree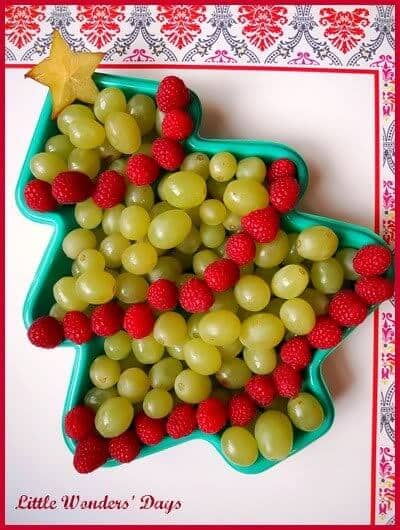 A snack doesn't have to necessarily require preparation – and this seedless grape tree is an extremely good example of healthy treat for your kids. There are basically countless ways to decorate your grape Christmas tree. To make it, use white grapes to lay the foundation of the tree, then play with raspberries and tiny slices of tangerines or clementines, which will make wonderful baubles and tinsel for this treat. Your children will certainly want to help you make this grape tree, and they'll surely be more willing to eat it, although it's made solely from fruits. Use a slice of starfruit to create the star tip of this splendid and nutrient-rich snack. Source recipe here
10. Chocolate Filled Raspberries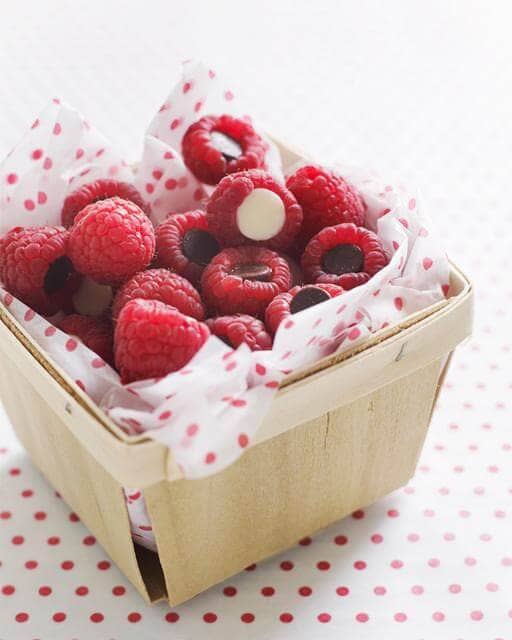 From the first moment you'll see these chocolate filled raspberries, you'll surely want to make your own. These aren't just healthy Christmas snacks for kids, but also a great way to pair white and dark chocolate with the antioxidant-rich raspberries, which will give the whole treat a nice, lovely flavor. But probably the part that you'll love most about this treat is how easy to make it is – with some chocolate chips and a few raspberries, you'll create a wonderful snack you can confidently give your little one to eat on Christmas. They're elegant, and can also make an original gift treat for Santa! Source recipe here
11. Cheesy Snowman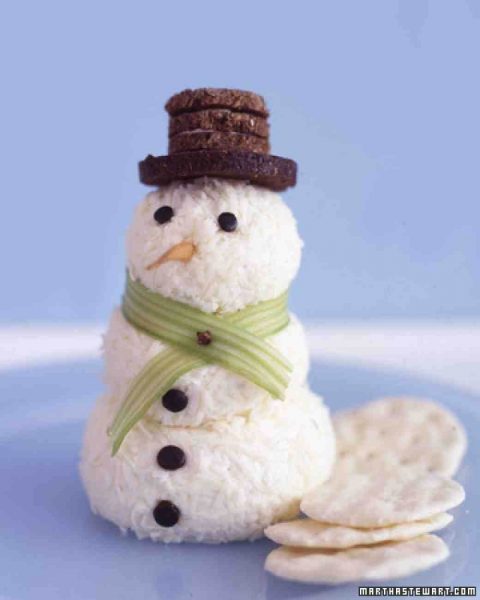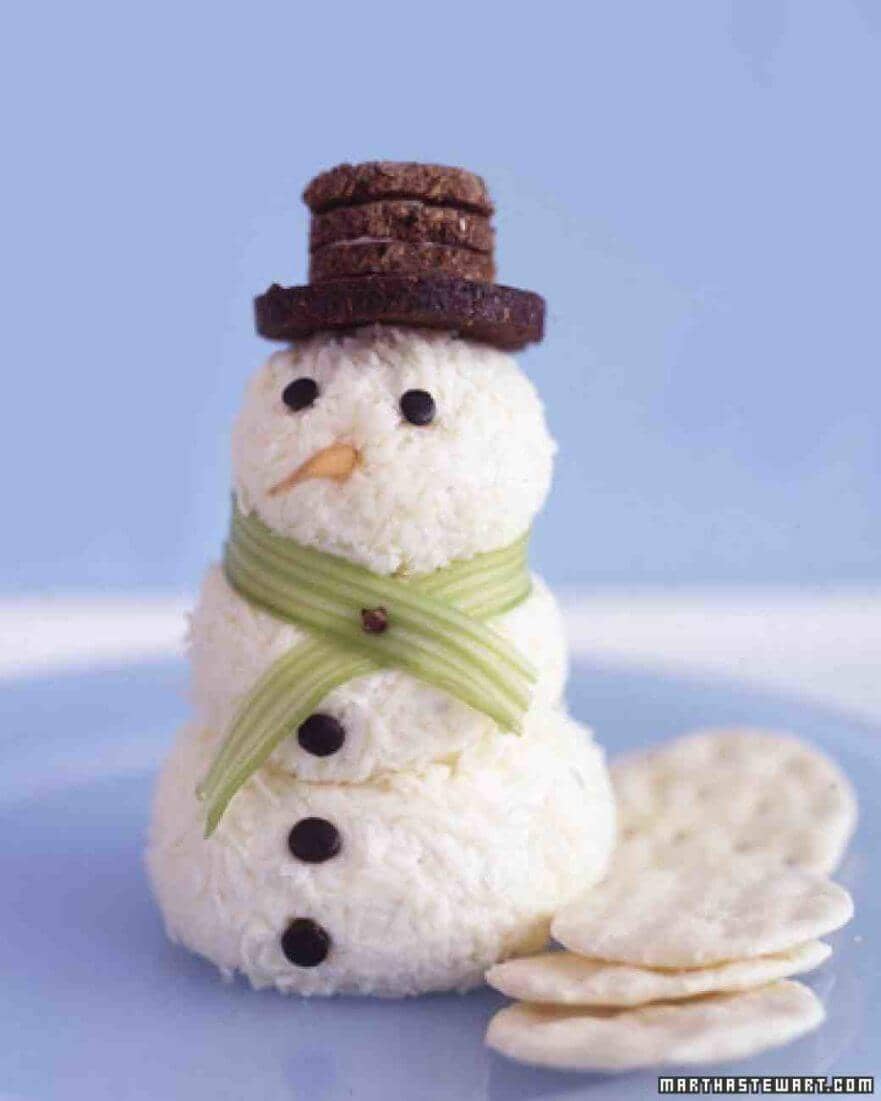 Snowmen are an important part of any Christmas, and this cheesy snack will enable your kids to enjoy one right in their plates. Decked out in a celery scarf, and pumpernickel chapeau, this snowman is going to make snacking a pleasure for your little ones. This goodie is made with cream cheese, garlic cloves, celery, cloves, pumpernickels, olives, and carrots, which make it completely healthy, and extremely rich in important nutrients such as beta-carotene, iron, magnesium, and selenium. If possible, don't tell your children about this snack, and make it a surprise – you'll be rewarded the moment you'll see their smile, and probably hear their hearts go thumpety-thump. Source recipe here
12. Santa Claus Crackers
Crackers are extremely healthy and low in calories, not to mention that they're also very nourishing for one's stomach. As such, you can confidently make these Santa Claus crackers for your children, who'll love the visual appeal of these tasty treats for sure. Use pepperoni for the hat, and attach it to the cracker using a dab of ricotta cheese, then spread on ricotta beard. Celery slices will help you make the moustache, whilst capers will allow you to make noses and eyes for your lovely little Santas. For a fluffy trim, spread a bit of ricotta at the base of the hat, which will beautifully garnish your treats, ramping up the visual appeal of this snack. Source recipe here
13. Rudolph Sandwich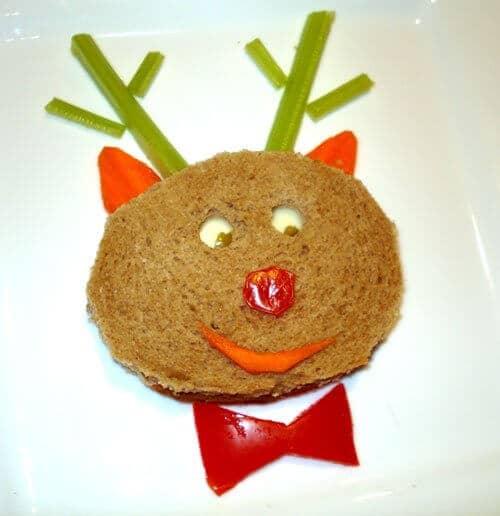 We all know and love Rudolph, the red-nosed reindeer – and you can now use it as inspiration for your next healthy sandwich. Encourage your kids to eat healthier by giving them the opportunity to play with carrots, peppers, celery, and raisins, as well as other such foods that can make wonderful adornments for their sandwiches. Use wholegrain bread to make them, as it's not made with all-purpose flour, and can save you a few calories that will count more than you can probably imagine. Source recipe here
14. Reindeer Snack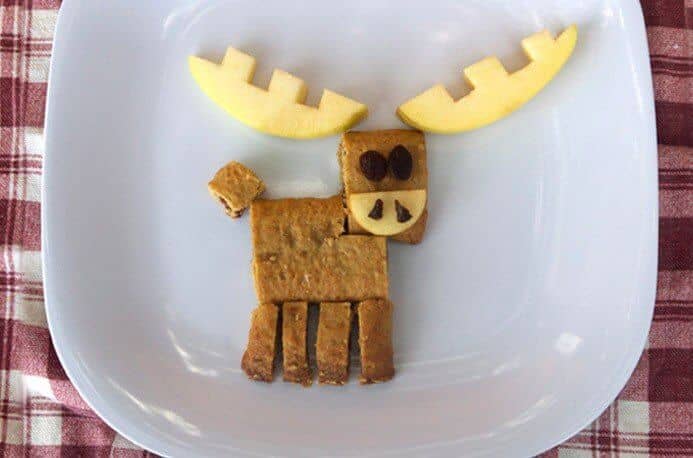 Here's another fun way of using a reindeer as inspiration for your healthy Christmas snacks for your children. Much to your delight, you'll need just a few ingredients to make this treat, and these including nutria-grain cereal bars, a few apple slices, and 3 raisins, which will help you decorate this tasty and nourishing fellow to make it look more real. Cut the cereal bars in several squares and rectangles in order to create the body of a reindeer, then cut two tiny squares out of 2 slices of apple to create the antlers. A small slice of apple will be ideal for the nose, whilst the two raisins will make splendid eyes for your little reindeer.
Source recipe here
15. Christmas Tree Snack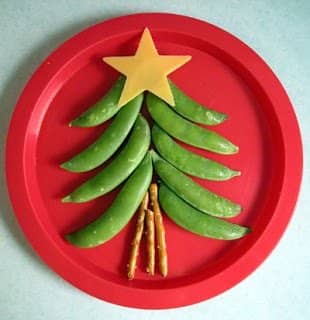 Yet another Christmas tree snack that's healthy, easy to make, and particularly appealing for children. To prep it, you'll only need snap peas, cheese, and pretzel sticks, which will add a salty taste to this otherwise fresh treat. Arrange about 8-10 pea snaps on a plate in the shape of a tree, adding a few shortened pretzel sticks as the trunk. Cut a star shape out of a piece of cheese, and use it as the tip of your Christmas tree. You'll need no longer than five minutes to make this snack, and your children will surely be more willing to eat the peas this way, even though they normally don't. Source recipe here
Conclusion
Just because Christmas is about baking delicious, buttery goodies, this doesn't mean that you can't take on a healthier approach, and try some of the above-mentioned healthy Christmas snacks for kids. While some might not be to your little ones' liking, others will certainly be very appealing, and you can ask them to assist you in prepping them if you want. You'll be able not only to help them eat healthier and nourish their bodies better than usually, but also to help them get creative, and perhaps develop a passion for cooking.