3 Tips to Survive the Holidays Guilt-Free
A couple years ago, I lost control during the holiday season. I thought being in the holiday spirit meant that I had to drink cider and hot chocolates, indulge in sweets and serve myself large helpings multiple times to be merry.
Keep reading if you:
Enjoy good food
Enjoy the holidays and time with your family and friends
Still want to achieve your weight goals
Most years, the holidays take control over me – and I'm not repeating my mistakes this year.
To me, the holidays are the time of the year I can let loose, spend time with my friends and family, and feel relaxed. Every turn I take, there are chocolates, cookies and candy coated everything – at parties, work and family gatherings. I want to enjoy myself, and I used to think that also meant that I didn't hold back what I eat.
Until I realized the consequences.
Unfortunately – and this is the reality – the holidays are a time of year that we can pack on significant extra pounds. It happened to me two years ago. I had a huge Thanksgiving meal, a gigantic Christmas Eve night, and an even bigger New Year's Eve brunch. And a lot of chocolates, indulgent party dinners and warm buttery desserts and fried snacks in between.
I wanted to enjoy myself and let loose during the holidays.
But when January 1 came, I felt so bad about the results of my decisions. I was stuck with a real extra 5 pounds to lose beyond what I started the holidays with. My pants were tighter, my shirts were more fitted than I wanted, and I would have to be more focused than normal in the weeks ahead.
So this year, I'm changing my ways. I'm ENDING 2014 feeling positive and energetic. And I really want you to do it with me. Are you up to feeling great about yourself over the next 2 weeks?
I'm still enjoying myself these holidays and I hope you are too – I'm spending a lot of time with my kids, and I'm hanging out with my family a lot. I'll have my share of sweets and other treats, because it is the holidays and that's the kind of food that's around, but I'm not planning to give in to food unconditionally to have fun.
I'm giving myself the gift to end 2014 feeling good about myself.
When 2015 starts, I'll already be on a positive note. I will know that I did a better job than last year. And that's a great win!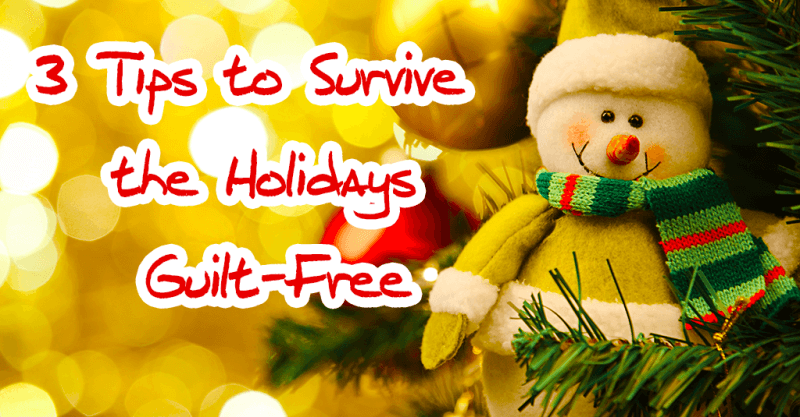 I have a few strategies I'm currently using on a daily basis which I want to share with you.
1. Plan to eat without guilt
There are going to be some meals that I want to eat whatever I want. I'm letting myself eat what I want without guilt during specific events. Over the next 2 weeks – pick 3 meals to eat whatever you want. My days are: Christmas Dinner, New Year's Day Brunch and an extra meal which will just come up. There will be plenty of pecan pie slices topped with ice cream and my brother-in-law's delicious (and bottomless!) Godiva Chocolate liqueur cocktail going in my belly on those days. Other days, I'm going to try my best not to go off track (but I'm not perfect).
2. Love and savor your indulgences
Make sure you really like what you're indulging in. Sometimes, the food on our plates is the food that you're supposed to eat for that event. Maybe there's a serving of mashed potatoes – but you don't really like mashed potatoes, or you don't really like THOSE mashed potatoes. Indulge in food you LOVE – not just any food that's available. This means that you don't want to indulge on everything – just a few select things.
3. Try smaller portions than last year and eat slowly
With so much eye candy and food to eat, try the food, but just in smaller portions than you may have eaten last year (if you're like me and you overdid it in the past). Have half of a biscuit, and a smaller scoop of noodles. Take 10-15 minutes after you have eaten to let it digest, and you will realize that you're not as hungry – and you WILL avoid feeling that dreadful super full feeling where you have to unbutton your pants before the night is over.
To help you even more, I have a special gift this holiday season! I've put together a Healthy Holiday Recipe e-book sharing 5 of my healthy and easy holiday recipes!
I spent over 3 years developing and perfecting my recipes, and they have been tested by dozens of people. Each recipe:
Keeps your immunity strong
Gives you more energy
Supports you to lose weight
They're also all extremely delicious! Among others, I share crockpot 3-bean chili, coconut green beans, and lemon garlic tilapia! I know you will love them.
You can get your free copy of Health Holiday Recipes here only for a limited time.
Happy Holidays!
[one_fifth]

[/one_fifth]
[four_fifth_last]Nagina is a weight-loss and energy food coach for busy, ambitious women. Nagina shares the recipes that helped her lose 40 pounds with a demanding career and 2 kids on her blog, masalabody.com. Nagina has a BA in Molecular and Cell Biology from UC Berkeley and a MBA from NYU Stern School of Business.[/four_fifth_last]