8 Great Healthy Christmas Recipes and Christmas Menus
The holidays are a time where it can be easy to go overboard with meals and consume too much. Men and women typically gain at least five pounds during the Christmas season. Here are 8 healthy Christmas recipes and Christmas menus to create this holiday season that are nutritious and delicious dishes to serve at dinner.

1. Roasted Garlic Potato Soup
For this soup, you will need 6 bacon slices, one onion, three carrots, 5 garlic heads, two cloves garlic, 6 cups of potato, 4 cups chicken broth, 1/2 tsp salt and pepper, one bay leaf, one cup milk, 1/4 cup parsley.
Heat oven to 350. Wrap each garlic head in aluminum foil and bake for one hour. Let cool. Separate cloves and put into garlic crusher. Throw out skins. Then cook the bacon until crisp in pan and add chopped onion, carrot, and two garlic cloves. Cook for five minutes and then add remaining ingredients except for parsley and milk. Bring to boil, then covering and reducing heat to simmer for 20 minutes. Take out bay leaf. Take the previous garlic pulp and two cups of the cooked mix and pulse in blender until smooth. Put back in the pan and add the milk, cooking over low. Remove from heat and garnish with parsley in bowls to serve! This soup is so rich and seasonal. Your guests will love it.
Source picture and similar recipe here!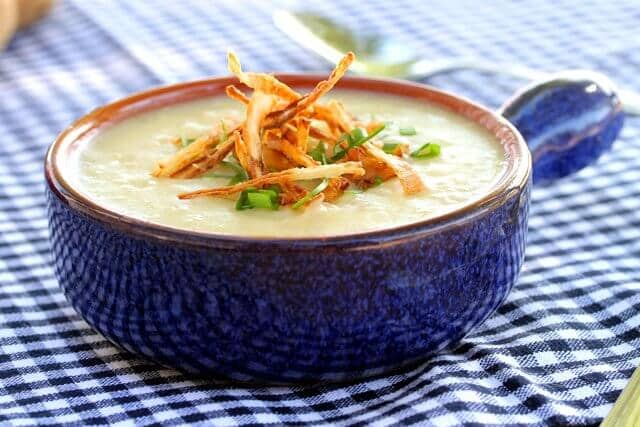 2. Herb Roasted Pork Tenderloin
For this recipe you will need a one pound pork tenderloin, 1 tbsp grainy Dijon mustard, 1 tbsp fresh rosemary, 1 tbsp fresh oregano, 1 tbsp fresh sage, and 1 tbsp of fresh thyme, along with 1/2 tsp ground pepper.
For all herbs, dry can be used if needed. First, heat oven to 450 F. Then chop herbs and spray a roasting pan with non stick spray, or olive oil or coconut oil spray if you prefer. Brush the mustard onto the tenderloin and mix the chopped herbs together in a bowl. Pat them onto the tenderloin so that it covers the entire loin and sprinkle pepper on top. Place the pork in the roasting pan and then reduce the oven to 350. Roast until a meat thermometer stuck in the loin says 145 F. This should take just over 20 minutes, but go by the thermometer. When it registers 145, take the pork out and let rest at least five minutes. Then cut into slices on a plate and drizzle with the juices from the pan.
Source picture and similar recipe here!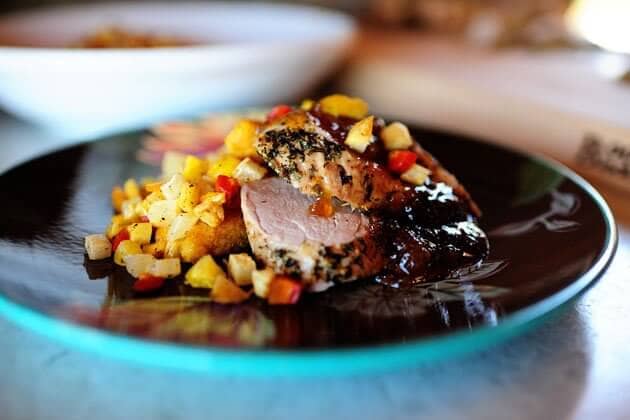 3. Broccoli and Cauliflower Roast with Garlic Cloves
For this dish you will need one head of broccoli and one of cauliflower, two heads garlic, salt and pepper, olive oil, and lemon.
Heat the oven to 450 Fahrenheit. Wash and cut the broccoli and cauliflower and peel the garlic. Toss the cut florets and garlic cloves in four tablespoons olive oil mixed with salt and pepper. Spread out on a pan (you may need two to have enough space). Roast for 15 minutes, then take out and flip florets. Roast another 15 or until golden brown. Take out and squeeze fresh lemon over the vegetables and serve on a platter for some of the best vegetables you've ever had in your life.
Source picture and similar recipe here!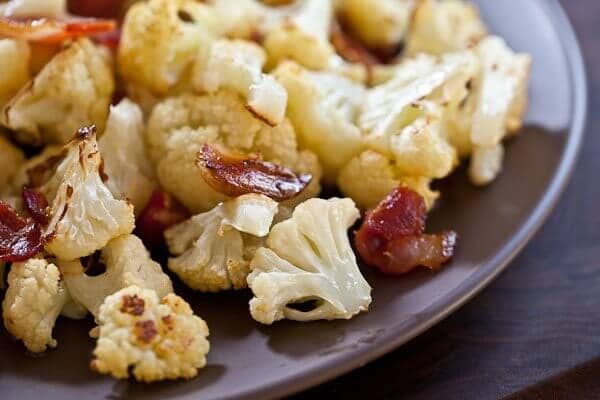 4. Fresh Cranberry Sauce
This fresh cranberry sauce will provide all the flavor that canned does not! You will need one bag of fresh cranberries, one cup of orange juice or water, and either one cup coconut sugar or one half cup of agave, whichever you prefer.
Combine all the ingredients in a sauce pan and bring to a boil. Then turn the heat down so the cranberries simmer until the berries pop. Chill in a bowl until ready to serve with a nice wide spoon! This sauce is flavorful and a holiday classic.
Source picture and similar recipe here!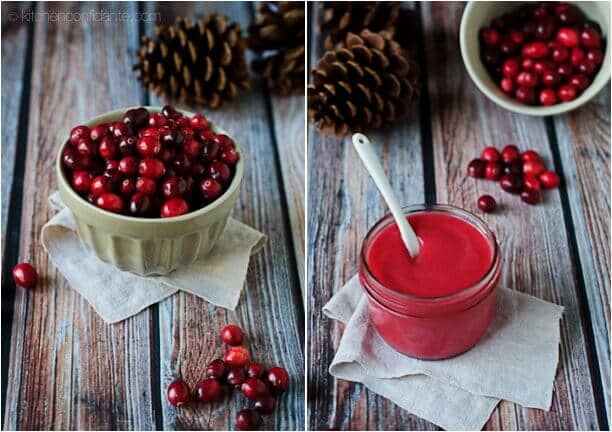 5. Healthy Parmesan Potato Puffs
You will need two pounds red potatoes, 1 egg, 1 tbsp butter, 1/3 cup grated Parmesan cheese(or your favorite cheese), 1/2 cup flour, 1/2 tsp paprika, 1/2 tsp garlic powder, salt, and vegetable oil. For the dip, you will need 1/4 cup bbq sauce and 1/4 cup Greek yogurt.
To make, cover potatoes with water in saucepan, bring to boil, turn down to a simmer, then drain and cook potatoes in the pan to evaporate remaining water. Put into a bowl and mash, adding all other ingredients except for the oil and dip ingredients and stirring. You can add your own herbs too if you like such as rosemary or oregano. Add the salt and heat up a skillet with half an inch of vegetable oil in it (you can also swap in coconut oil). Roll the potato mixture into small balls and add into the oil once it's simmering. Cook and flip when golden brown, two minutes each. Cook a few puffs at a time, staggering. Place onto a paper towel plate and sprinkle with salt. Mix dip together and serve!
Source picture and similar recipe here!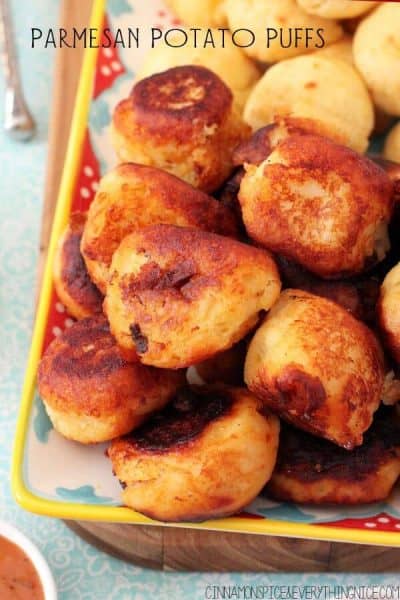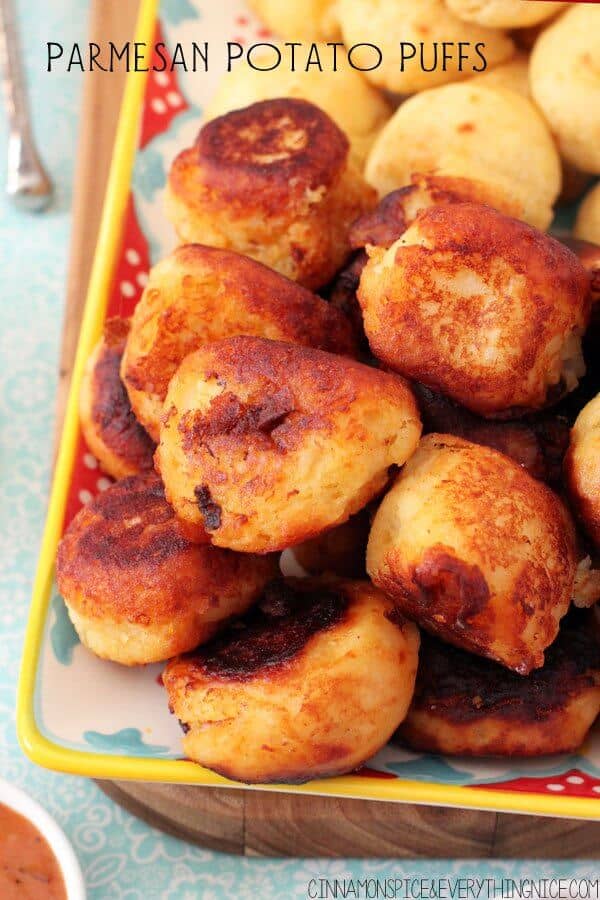 6. Avocado and Tomato Salad
You will need two red tomatoes and a yellow tomato for this, or just all red if you prefer. Ingredients also include 2 avocados, sea salt and pepper, olive oil, red wine vinegar, and fresh cilantro.
Slice the tomatoes and the avocado and place on a plate. Sprinkle the sea salt and pepper on top, then drizzle the food with olive oil and red wine vinegar. Garnish with a sprinkle of fresh cilantro on top. This dish is so delicious and extremely easy to make!
Source picture and similar recipe here!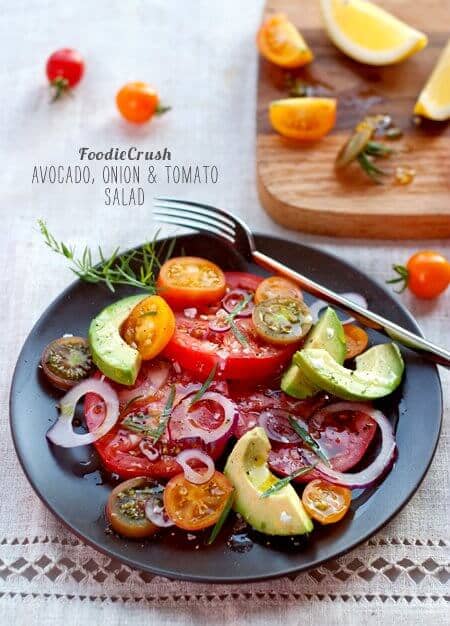 7. Parmesan Roasted Asparagus Spears
Take one bunch asparagus, sea salt and pepper, olive oil and grated Parmesan cheese and one lemon.
Preheat the oven to 400. Wash the asparagus and place them on a baking sheet. Drizzle one to two tablespoons of olive oil on top and season with salt and pepper. Put into the oven and roast the spears for 15-20 minutes. Take out and add Parmesan on top of the spears. Place back in the oven for about three minutes, until the cheese is melted. Add lemon wedges on the side to squeeze over these perfectly roasted vegetables.
Source picture and similar recipe here!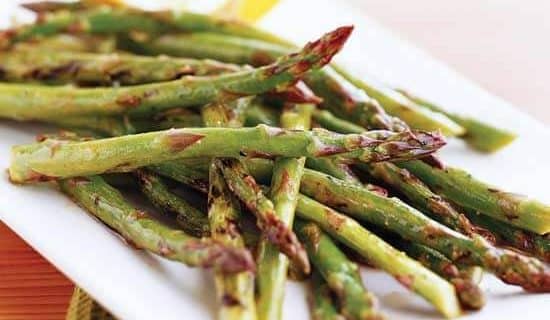 8. Broccoli and Turmeric Soup
The broccoli and turmeric alone in this amazing soup make it a health powerhouse. You will need 1 tablespoon coconut oil, 1 small white onion, 1 stalk celery, 2 tsp pink salt, 2 garlic cloves, 1 bay leaf, 1 head of broccoli, 1 tsp turmeric powder, 5 cups vegetable stock, 1/4 tsp grated ginger, 1/4 tsp cayenne, 1/4 tsp pepper, 1 avocado and half a lemon.
Melt the coconut oil in a pot over medium and add the chopped onions and celery. Sprinkle with 1 tsp of pink salt and cook for 5 minutes. Add the garlic and turmeric before the five minutes is up and cook on low, stirring often. Next add all of the ingredients except for the avocado and cover, coking on medium low for 25-30 minutes. Take off heat and add the avocado and blend the soup using an immersion blender. When smooth, add the remaining salt. Ladle into bowls and squeeze a wedge of fresh lemon over every bowl. This soup is extremely anti-inflammatory and very healthy, perfect for the holidays.
Source picture and similar recipe here!