13 Light and Healthy Christmas Dinner Ideas That Will Leave You Mouthwatering
Although Christmas is only one month away, you certainly have not started making preparations – and we are not talking about buying gifts only. The Christmas dinner is part of the tradition, meaning that you should plan what foods you are going to cook ahead of time, so you can offer your family and guests a great dining experience. Eating pork might seem like a good option when you do not have anything better to cook, but wouldn't it be more satisfying and enjoyable to prepare a delightful meal everyone will slowly savor and appreciate?
Check our top picks for the best healthy Christmas dinner ideas you should try cooking, and that will be greatly celebrated by all of your messmates.
1. Apple-&-Leek-Stuffed Pork Tenderloin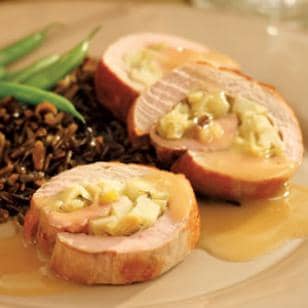 Take pork tenderloin from ordinary to elegant by stuffing it with apple and leek. This recipe will help you keep the filling inside while you brown and roast it, using applejack and brandy made from apple cider to give the pork tenderloin a deeper, more intense flavor in the pan sauce. Some other ingredients included on the list are thyme, garlic, extra-virgin olive oil, and Dijon mustard, which are all used to enhance the taste of this meal. Once you start prepping this dinner idea, you will have it done in about one hour, plus or minus ten minutes depending on how fast your oven will bake it. Source recipe here.
2. Salmon with Red Wine-Morel Sauce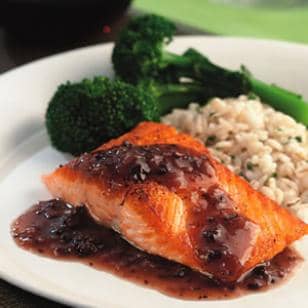 This salmon recipe uses mushrooms, which give it an almost meaty flavor that will definitely make your Christmas dining experience a lot more enjoyable. Enhance the taste of this intensely-flavored Christmas dinner recipe with broccolini, barley and parsley, and do not forget to add some extra apple cider vinegar if you see it fit. If you want to double the quantity of salmon that you will be cooking, you will have to first double the batch of sauce in a larger skillet, and cook 2 1/2 lbs of salmon in two batches, adding oil as necessary. Source recipe here
3. Garlic-Stuffed Standing Rib Roast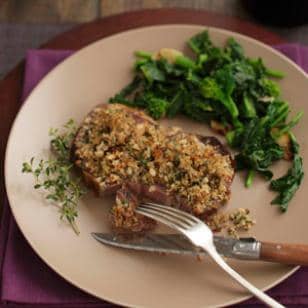 One of the best healthy Christmas dinner ideas you should be thinking about is this garlic stuffed standing rib roast, which necessarily begs celebration once holidays approach. Although you might find the meat quite expensive, you will soon realize that it is very easy to cook, and it rewards you with minimal prep, plus an amazingly juicy flavor that will leave you mouthwatering. To make this wonderful Christmas recipe, you will need to simply poke pieces of sliced garlic into the meat, season it with pepper and salt, and roast it. Make serving a delight by adding smashed potatoes and other greens to the plate. In the end, add a bit of savor to this already intensely-flavored dish by including Parmesan and horseradish breadcrumbs to the mix. Source recipe here 
4. Seven-Hour Leg of Lamb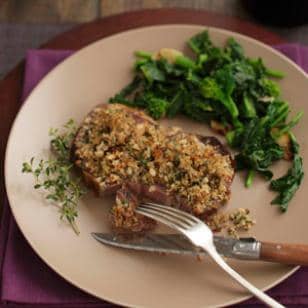 Who doesn't love the taste of lamb at a Christmas table? And most importantly, who doesn't adore the idea of eating fresh meat that is luscious, fall-off-the-bone tender, and very healthy at the same time? The seven-hour leg of lamb deserves its name well, as it describes the process of slowly cooking the lamb until it reaches an impressive tenderness that makes it easier to chew. Season the lamb with lemon, garlic, and other fresh herbs, and accompany it with creamy stewed white beans, which will make a brilliant garnish for this flavored food.
Source recipe here 
5. Roasted Quail with Muscadines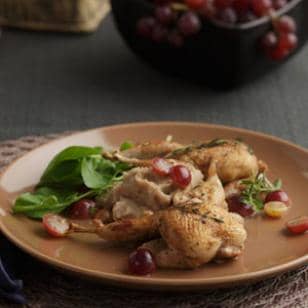 If this is the first time you hear about muscadines, then you should know that they are wild grapes native to the Southeast. If you cannot find them at local supermarkets, then you can go for regular grapes, which will be just as good, though not as flavorsome. Both types of grapes will make a lovely sweet-tart garnish for the rich quail, but you can always take on a traditional approach to cooking quail, and add a chestnut puree instead. This recipe is made with bourbon, white wine, reduced-sodium chicken broth, freshly ground pepper, and a bit of kosher salt. The appealing color of the grapes will certainly make your children love this meal, which makes it one of the most appetizing healthy Christmas dinner ideas you can possibly choose. Source recipe here
6. Roast Turkey with Potato Pan Gravy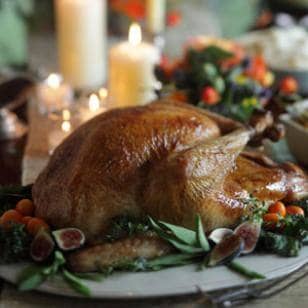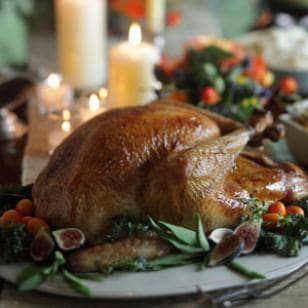 If you have already started looking for great healthy Christmas dinner ideas, then you should definitely mark this roasted turkey with potato pan gravy on your list, as it will certainly be a big hit at any holiday table. One tip you should keep in mind when prepping this recipe is brining the turkey for 12 up to 18 hours before roasting it, which will make it super-juicy and very tasty at the same time. Prepare the gravy in a mixer in order to give it a silky-smooth texture, and thicken it with potatoes instead of flour or cornstarch, which will reduce the amount of calories contained in this recipe. If you want to really make the turkey look its best, serve it with fig halves, greens, and thinly sliced lemon. Source recipe here 
II. Recipes That Help You Lose Weight
7. Apricot Citrus Stuffed Ham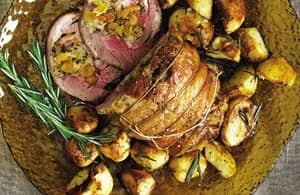 Christmas dinner is not supposed to be difficult to digest, so why don't you opt for a lighter recipe instead? This apricot citrus stuffed ham will be delicious, bringing important nutrients to the table – among which vitamin C is a favorite. To prep this recipe, you will need lemon and orange zest, dried apricot halves, brandy/bourbon, orange juice concentrate, and some lemon juice. The point is not making the ham taste bitter, but allowing the citrus juice and zest to mix with the meaty flavor of the ham, therefore giving the whole dish a new depth of flavor. Surround the ham with slices and halves of lemons and oranges, adding a few basil leaves to make the platter smell a bit spicy. Source recipe here 
8. Slow-Cooked Provencal Beef Stew
If you are going to throw a party and need some flavorsome healthy Christmas dinner ideas, the slow-cooked provencal beef stew is going to be an extremely suitable option for all of your guests. To make the beef stew taste perfect, let it sit for a day or two before serving, which will improve its aroma substantially, leaving all of your messmates to want more. Make the dish look even more appealing by choosing beautifully marbled meat, such as chuck, and consider surrounding the beef stew with pasta in order to ramp up aesthetics. You will surely need lots of ingredients for this recipe to be properly done, but the prep process is going to be much simpler than you can possible expect. Source recipe here
9. Citrus Ambrosia Salad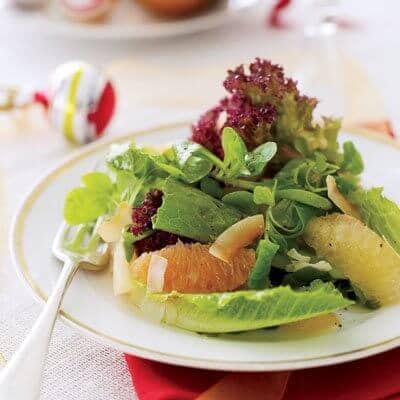 Take on a greener approach by choosing this citrus ambrosia salad, which will most definitely make your guests remember their holidays for a long time. This salad is juicy and very easy to make, not to mention that it has only 110 calories, so weight gain is not going to be an issue. The recipe is made with coconut flakes, refrigerated citrus segments, baby greens, limes, and olive oil, which are not only healthy, but also very flavorsome. The best part? You can easily make this citrus ambrosia salad if you are in a hurry, or if you need a backup plan in the event that you cannot serve the main dish you had in the menu initially. Source recipe here
10. Honey-Glazed Pork Roast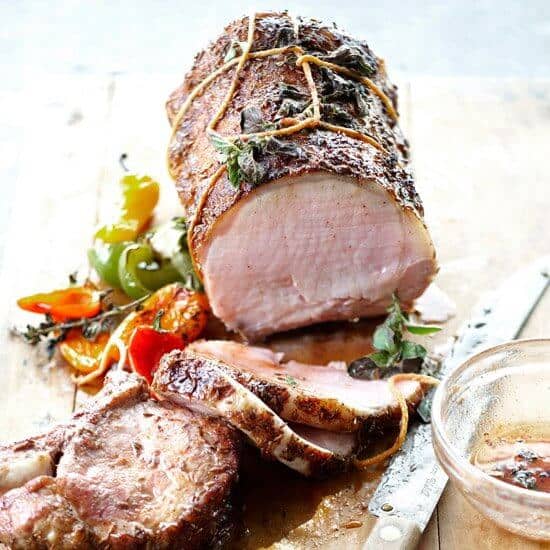 It's no doubt that this melt-in-your-mouth honey-glazed pork roast will be the star at your Christmas table. This recipe uses many ingredients that can actually promote weight loss, including paprika, oregano, and pepper, which have been said to boost metabolism substantially. On top of that, baking the pork will require you to use olive oil, which is much healthier than your average sunflower oil, aiding digestion as well. And although you might strongly oppose the idea of glazing this pork roast with honey and lime, you will be surprised by the intensity and great depth of flavor this dish will have. Source recipe here
11. Butternut Squash Lasagna with Shiitake Mushrooms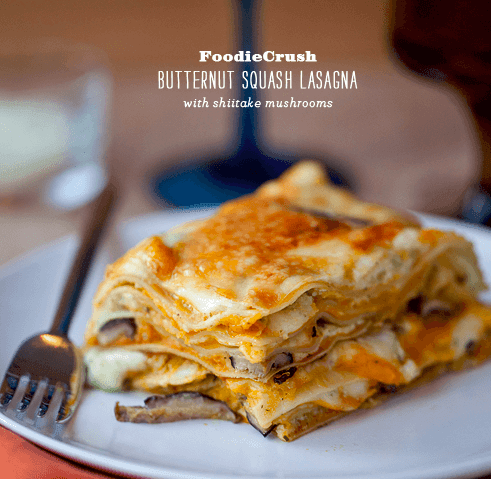 Lasagna is a common choice among people from all over the world, but what if you added Shiitake mushrooms to the picture as well? They have been extensively researched over the past few years, and scientists have actually proven them to help individuals shed pounds, which makes them a suitable option for any Christmas dinner. To offer you a brief overview of the ingredients you will need, these include all-purpose flour, fresh nutmeg, mozzarella cheese, lasagna noodles, butternut squash, and Parmesan cheese, which will all give the lasagna a slightly sweet yet salty, meaty taste. If there is something that your messmates will appreciate, that is the nice smell of this dish, which will make their dining experience a lot more pleasurable. Source recipe here
12. Smoked Pork Tenderloin with Bourbon-Rosemary Sauce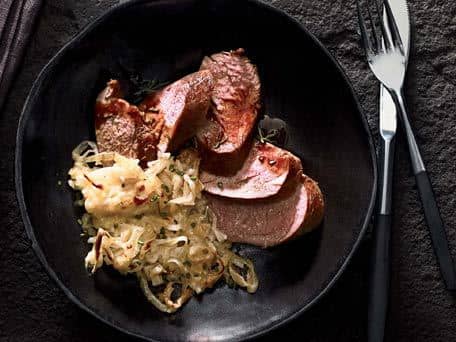 Back to pork tenderloin, this particular recipe is different from the first we listed, using a sauce that is made with bourbon and rosemary. Not only will this give the recipe a unique, spicy flavor, but it will make it easy to digest as well, which will be much appreciated considering how heavy most Christmas dinners are. Stovetop smoking is fast and will keep the pork tenderloin lean and juicy, allowing you to savor every bite. Since no frying is involved, and the amount of oil needed is minimal, you can be sure that this recipe will surely help you stay in great shape without even having to limit the amount that you can eat. Source recipe here
13. Roast Turkey Breast with Sage and Vegetable Stuffing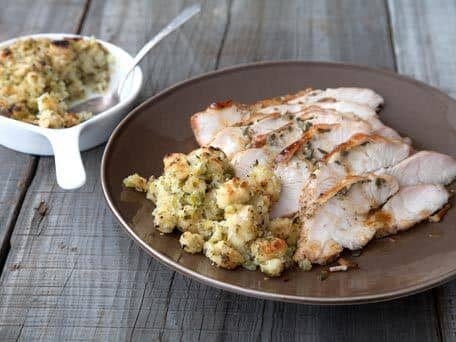 The last recipe on our list is this roast turkey breast, which is stuffed with sage and vegetables to make it healthier. You will be definitely stunned by the huge number of ingredients needed for prepping this recipe, and the amount of time required will also be quite long, but your efforts will be rewarded at the end. Some of the ingredients included on the list are sage, thyme, rosemary, carrots, onions, celery, shallot, garlic, baguette, eggs, and peppercorns, plus parsley and 2 tablespoons dry white wine that will add a special flavor to the dish. Source recipe here
Conclusion
When it comes to Christmas dinner, finding recipes that are both delicious and healthy might be a challenge. There are countless ingredients that contain fats, and knowing how to properly balance them with nutrients such as vitamins and protein will certainly make the most of any recipe. With the above-mentioned healthy Christmas dinner ideas, you should be able to make a smart choice, and cook only those foods that can truly make the upcoming holidays memorable. To top that off, switching over to healthier eating habits will permit you to relieve stress and get rid of extra pounds, so you can be happier on the night when Santa comes.