14+ Wonderful Healthy Christmas Cookies for Kids That Will Be a Huge Hit at Any Christmas Table
With holidays not very far away, one of the biggest concerns you might have is the amount of unhealthy sweets your children are going to eat. Truth be told, who can resist those visually-appealing gingerbread cookies, moist muffins, or attractively-decorated macaroons? Consuming excessive sugar isn't only damaging for their young bodies, but also particularly harmful for their sensitive teeth and gums. They will soon start feeling fatigued, their teeth will get weaker by the day, and they will start aging prematurely.
To keep them healthy without depriving themselves of delicious treats, we have listed the top 17 healthy Christmas cookies for kids you should be making.
1. Cranberry-Honey Spice Pinwheel Cookies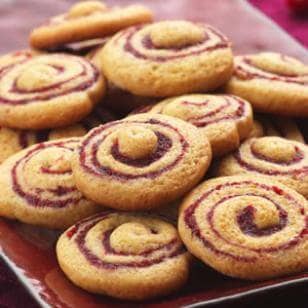 These cookies are not only very aesthetically pleasing, but they also boast a spicy taste, as well as a bright, zesty filling that will make your children love them. But the best part about these cookies is that you can prepare the dough today, freeze it, and pull it out of the freezer right on the Christmas Eve – all of these without compromising the appearance or taste of the cookies. These cranberry-honey pinwheel goodies are made with whole-wheat flour, low-fat milk, and honey, which are all known for their many benefits for one's health. To top that off, your kids will certainly enjoy the unique taste of these cookies, which are sweet enough to make them want more, but bitter enough to make them stop quickly.
Source recipe here
2. Boot Tracks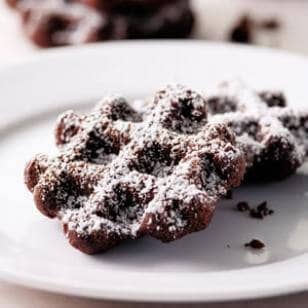 If you have a waffle iron handy, these boot tracks cookies are going to be a big hit at any Christmas table. This recipe is chewy and quick, and it will not require you to haul out the big mixer, or struggle with mixing dozens of ingredients in a specific sequence. To make these lovely boot tracks, you will need to use cocoa powder, canola oil, salted butter, vanilla extract, and whole-wheat pastry flour, which is much healthier than the average store-bought flour. Kids love these!
Source recipe here
3. Lusciously Nutty Holiday Logs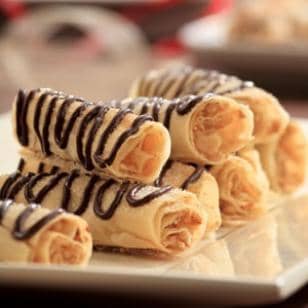 These cookies are not only visually appealing, but they also boast a unique aroma of dark chocolate combined with oranges, which will be a lovely addition to any holiday platter. Kids will most definitely love their fun shape, plus the delicious chocolate topping that gives them a tasty appearance. Some of the ingredients used for these nutty holiday logs include chopped walnuts, orange zest, cinnamon, and cloves, plus the phyllo dough that makes the cookies special. If chocolate is not allowed in your home, or if you want to add variety to the table, top these healthy Christmas cookies for kids with vanilla, or any other topping you have handy.
Source recipe here
4. Double Nut & Date Tassies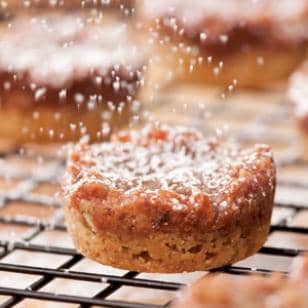 Quite similar to muffins in appearance, these nut and date tassies are very easy to make, and they taste amazing. They are made using whole-wheat pastry flour, walnuts, dried dates, light brown sugar, and reduced-fat cream cheese, which make them a healthy option for Christmas. Just looking at these lovely date tarts will make your mouth water, but once you start tasting these two-bite treats, you will soon find them extremely satisfactory and nourishing, bringing many important nutrients that are essential for your kids to develop healthily.
Source recipe here
5. Citrus-Kissed Honey Buttons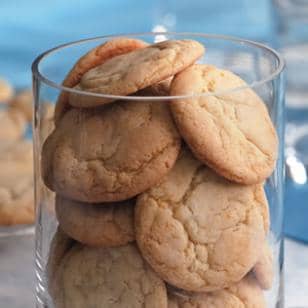 Besides looking great, these citrus-kissed buttons will be just perfect if you are looking for delicious healthy Christmas cookies for kids. With a tasty, buttery flavor, these goodies are not as rich in butter as your average sugar cookie, containing not only honey, but also lemon extract, orange and lemon zest. From the first bite right to the last, your kids will be able to take in substantial amounts of vitamin C plus other antioxidants, satisfying their sweet tooth while strengthening their immunity. All in all, you cannot go wrong with these citrus cookies!
Source recipe here
6. Joy Cookies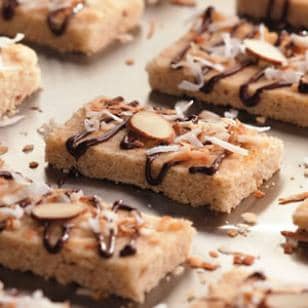 Reminiscent of Almond Joy candy bars, these joy cookies look and taste really good, especially due to their coconut-almond-chocolate topping, which gives them a unique flair. These are not, by any means, typical cookies, as they are similar to shortbread in texture, which is juicier, softer, and moister, therefore making your little ones literally stuff their mouths with them. The best part is that this recipe can make 4 dozen cookies, which is great if you need to feed at least 10 people at the same Christmas table.
Source recipe here
7. Gluten-Free Peanut Butter Cookies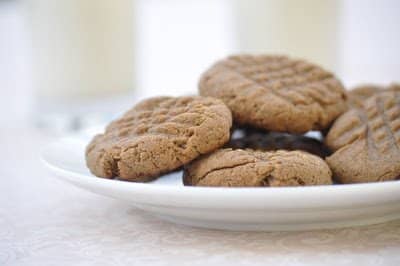 If you want a more traditional approach to Christmas goodies, these gluten-free peanut butter cookies will certainly be an excellent option you can go for. The flavor of these cookies is not masked by other ingredients, and their texture is chewy in the center but crispy on the outside. Since peanut butter itself is sweet, you might want to replace the sugar with a healthier alternative, such as coconut sugar, which has a low glycemic index, and can make the cookies less sweet. Some other ingredients used to make this tasty treat are vanilla, sorghum flour, organic peanut butter, and ground chia seeds, which are efficient at preventing your kid from putting on extra pounds.
Source recipe here
8. No-Bake Coconut Delights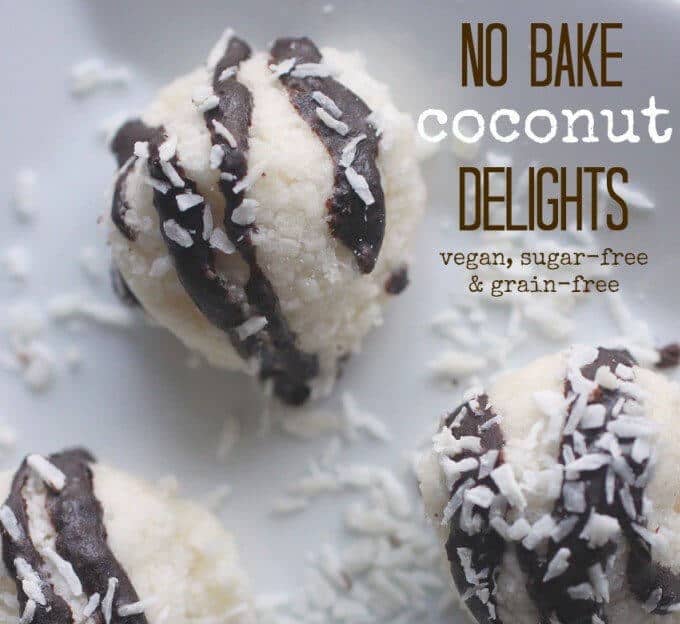 To make your children's Christmas taste really special, a good option you have is making these coconut delights, which require no baking. If there is something your kids will love about these coconut delights, that is their shape, which might make them look just like candies covered with nicely flavored coconut flakes. They are made with coconut oil, a sugar substitute like stevia extract, vanilla, and finely chopped nuts, which give them a unique aroma – even better than the old-fashioned Bounty bars we are all used to. Due to the fact that they do not require baking, you can easily create superb pyramids or other such constructions you can use as centerpieces for your Christmas table.
Source recipe here
II. Wonderful Cookie Recipes You Can Use for Decorative Purposes
9. Oatmeal Raisin Cookies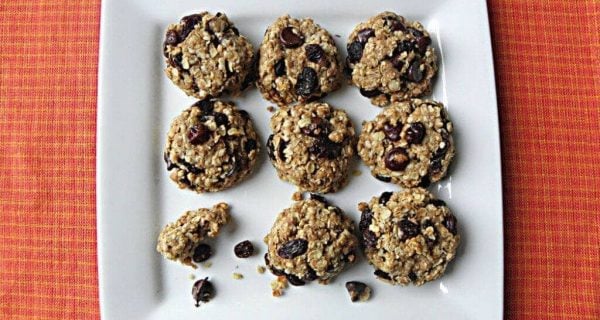 Instead of stuffing your children's mouth with totally unhealthy cookies, what about these healthy oatmeal raisin bites? They are made with less butter, no added sugar, and very few calories, meaning that they will keep your little ones perfectly healthy even after they have eaten a dozen. Probably the best part about these cookies is that you can easily make your kids eat raisins without having to force them in any way. Much to your surprise, they will surely love them, and Santa will certainly appreciate them as well.
Source recipe here
10. Tiramisu Cookies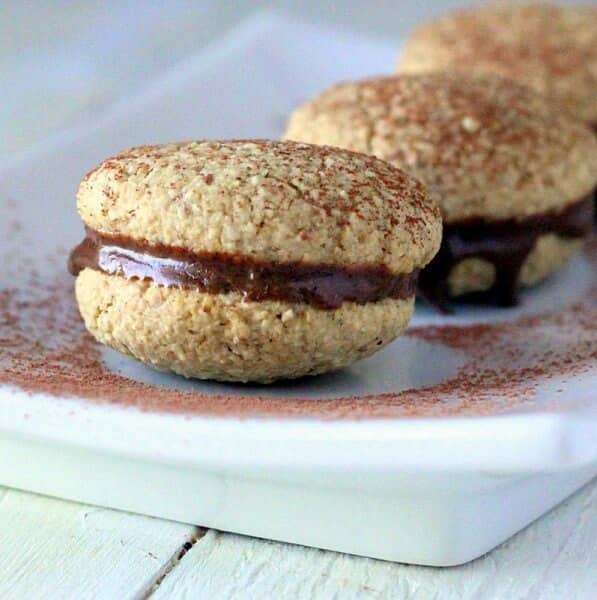 Although tiramisu is not the healthiest cake out there, these tiramisu cookies will be. They use brown rice flour instead of the average all-purpose flour, ground oats, organic canola oil, vanilla extract, and a bit of raw, unprocessed sugar, which makes them particularly healthy. If you look at these cookies closely, you will soon realize that they are very similar in appearance to the regular macaroons, and this will definitely make them more appetizing for your kids. But do not worry, you will not have to tell them not to eat these goodies, as they are healthy enough not to damage their bodies in any way.
Source recipe here
11. Thumbprint Cookies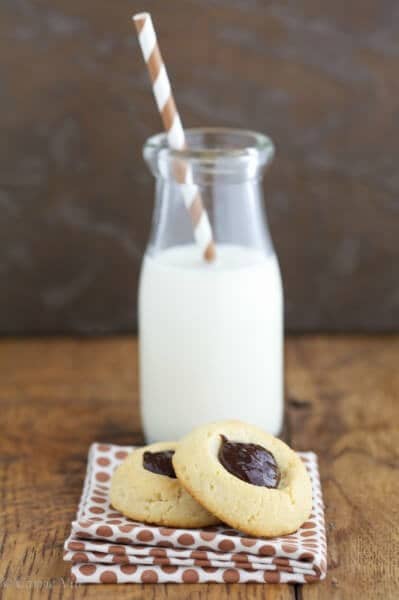 If you are looking for a simple cookie recipe you can easily make at home, these thumbprint cookies will help you cut preparation time in half. These Christmas treats use arrowroot flour, almond flour, coconut flour, unsalted butter, and maple sugar, which gives them a shortbread consistency, and a crispier texture that will make your kids love them. If you are willing to get yourself – and your kitchen – dirty, you can ask your little ones to help you make these cookies, as you will have to roll the dough into balls, and then use one finger to put an indentation at the top. Simple, but unexpectedly delicious!
Source recipe here
12. Raw Homemade Oreos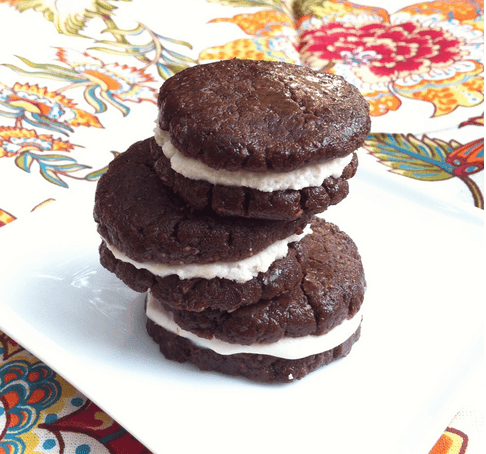 Children love Oreos – and honestly, who doesn't? However, the store-bought version of this much-loved cookie is unhealthy, containing lots of added sugar, colorants, and preservatives that will gradually destroy your little one's immunity. As such, one of the most delicious and healthy Christmas cookies for kids you should consider for the holidays are these raw homemade Oreos. They are made with walnuts, almond butter, coconut, cacao powder, raisins, dates, and vanilla extract, which do not come with many calories or excessive fat. As such, you will be able to successfully enhance your Christmas table, and make all of your guests taste the special flavor of your homemade Oreos. Source recipe here
13. Peppermint Bark Cookies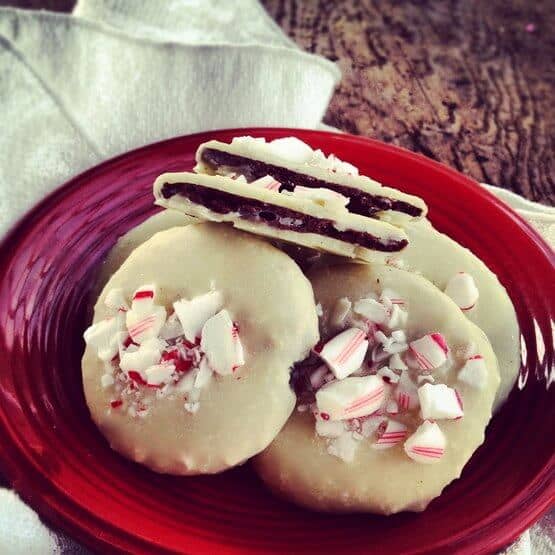 If there is something that tops Oreos, that is a peppermint and chocolate combo, like the one used for these delicious cookies. This recipe is not very complicated, and it actually uses fewer ingredients as compared to the ones above. Furthermore, the cookies look much more appealing due to the white topping on the outside, and the pieces of candy cane give them a very wintery, Christmas-inspired appearance that will beautifully complement any cookie platter. If you want, you can use these cookies for decoration purposes as well, because they will most definitely enhance the look and feel of your home at the same time.
Source recipe here
14. Organic Coconut Butter Cookies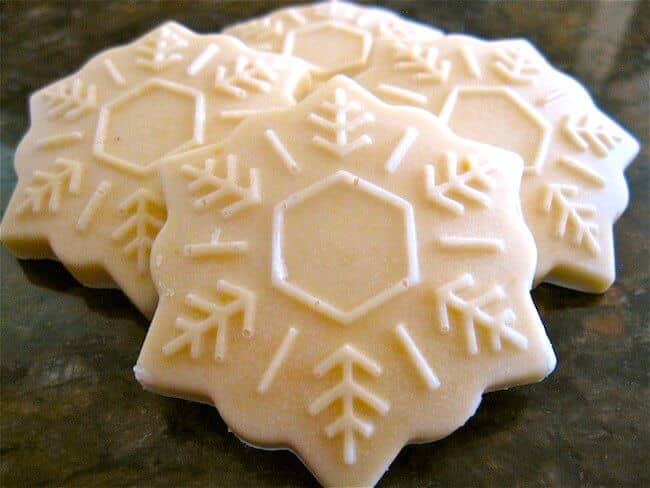 If your kids love coconut, then why don't you opt for these organic coconut butter cookies? Thankfully, they use very few ingredients, but this does not compromise their taste. You will definitely notice how subtly these bites are flavored, and how soft and creamy they are. There is basically no need to bake them, which will enable you to quicken the preparation process, and get them done faster than any of the above mentioned recipes. Be sure to have some molds handy, so you can shape these butter cookies as desired. Source recipe here
15. Gluten-Free Pumpkin Cookies with Chai Icing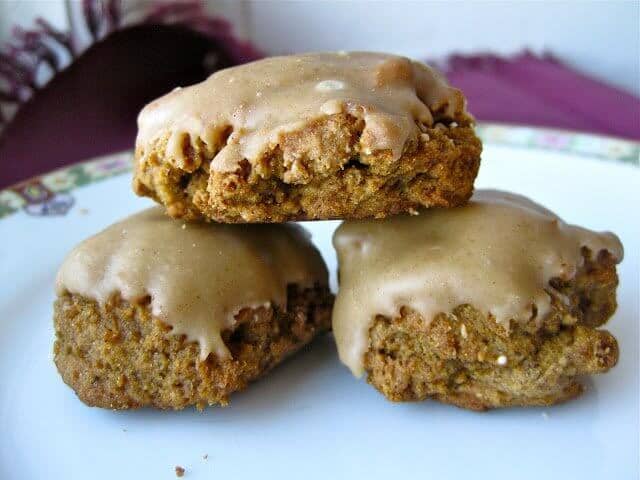 Although fall will be long away when Christmas comes, this does not mean that you cannot allow your children to enjoy these pumpkin cookies, which come with a delicious, mouthwatering Chai icing. For this particular recipe, you will be using different sorts of flour, including buckwheat flour, brown rice flour, sorghum flour, and millet flour, as well as coconut sugar, nutmeg, ground cloves, coconut oil, pumpkin, and vanilla extract. The Chai icing is completely vegan, so you can confidently enjoy these healthy Christmas cookies for children.
Source recipe here
16. Carob Dipped Pecan Shortbread Cookies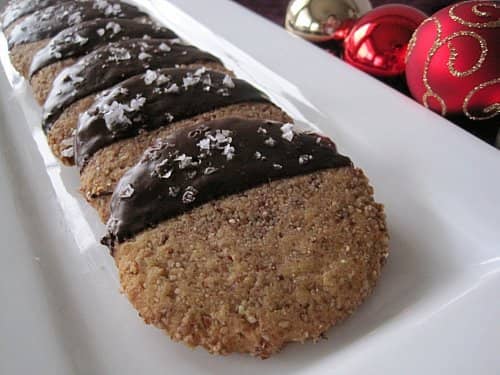 We have reached the end of the list, but still, these carob dipped pecan shortbread cookies remain a great recipe you can try on Christmas. Paired with the coconut delights from above, your cookie platter is certainly going to look very appetizing, especially for the little ones. Some of the ingredients needed for this recipe include toasted pecans, agave nectar, kosher salt, carob chips, and vanilla extract, which are all easy to get from any supermarket. Your kids will love how soft and fluffy these cookies will turn out, and you will surely have to make them again at some point in the future.
Source recipe here
Conclusion
Finding cookie recipes that are both tasty and healthy can be a lot more difficult than you think, but you will not have to worry about this aspect anymore. With the healthy Christmas cookies for kids we listed above, holidays will remain extremely pleasurable in their memories, and you will be able to boast with your new and enhanced cooking skills as well.