Whether the water you drink is acidic or alkaline depends mainly with the source. Natural water sourced from a spring is most likely acidic in nature and this applies equally for the water running out of the tap, even after municipal treatment. But what exactly is meant by the pH level of water and are the alkaline water benefits worth all the hype? We will deal with that shortly…
PH Level of Water: What it Means…
The PH scale is a progressive chart used by chemists and other scientists to classify how acidic or alkaline a substance is. A substance with a pH level of 1 is very acidic while another one with a pH level of 14 (which is on the opposite side of the scale) is a very strong alkali. Pure water which is neutral has a PH reading of 7. Substances which are weakly acidic have pH levels just below 7 while weak alkalis are rated at slightly higher than 7 on the pH scale.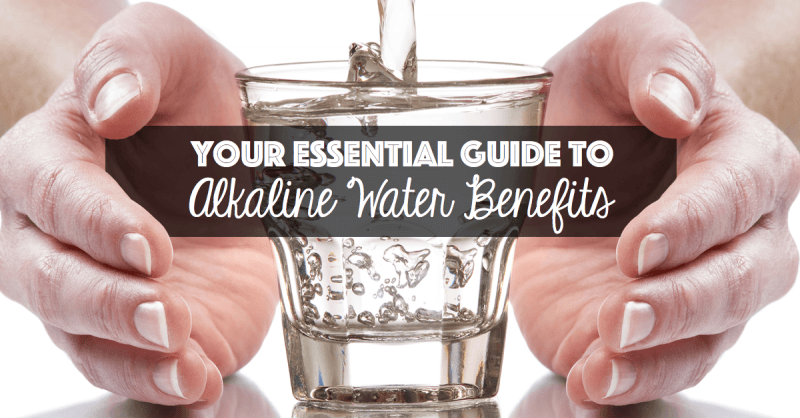 About 60% of the human body is solely made of water so the question of the composition and substance of the water you take in daily is crucial to your body's health. While some body organs and organ systems such as the gut are slightly acidic, there is medical evidence that the ideal pH level for the bloodstream is slightly alkaline at around 7.4, making the case for drinking alkaline water (forgive the pun)pretty watertight .
How Alkaline Water is Made
If all you wanted was to make tap water alkaline, all you would have to do is add an alkali to the water and that would be it. A common alkali in the home such as baking soda (sodium bicarbonate) can therefore arguably be used to make water alkaline though this may not be to the optimum pH level. The more practical solution for producing alkaline water at home is to install either an alkaline filter or a water ionizer.
Alkaline Water Filters
Also known as natural alkaline filters, these are simple devices which convert your water to a slightly alkaline solution by adding drops of alkali to it. In a manner of speaking, using a natural alkaline filter to raise the pH level of your water is not very much different from adding baking soda to it. Of course with the filter you are assured of a controlled rise in the pH level.
Water Ionizers
Water ionizers use the process of electrolysis to ionize water at the molecular level, guaranteeing ideal pH level without the need to add any minerals. Water ionizers are state of the art devices which offer the most foolproof way of raising the pH level of water to the recommended scale. Water alkalinized this way is often referred to as 'alkaline ionized water' (AIW) or 'electrolyzed reduced water' (ERW) to distinguish it from alkaline water obtained by the process of adding minerals.
What Makes Alkaline Water Special?
A number of properties inherent in alkaline water, specifically alkaline iodized water serves to make it especially beneficial to your health. The two most important properties are:
1. Negative Oxidation Reduction Potential (ORP)
ORP is a nutritional measure used to indicate how much high a concentration of antioxidant hydroxyl ions are contained in food. These antioxidant hydroxyl ions are crucial in fighting the concentration of free radicals in the body. Alkaline water contains a high -ORP potential especially if the pH value has been raised through a process of ionization. -ORP can also be found in fresh fruits and vegetables and the factor is the main reason why you are advised to take your fruit and vegetable juices as soon as they are made.
2. Micro-Clustering of Water Molecules
After electrolysis, water molecules collect together in clusters known as micro-clusters. These are said to help with enhancing the natural organic-solvent qualities of water. This has important implications in digestion as well as in other metabolic processes in the body.