Protect Your Health With Aluminum-Free Deodorants
Deodorant plays an essential role in your daily routine, but while your deodorant may be keeping you dry and odor-free, it could also be increasing your risks for serious health problems in the future. When you turn your store-bought deodorant container over, you'll most likely see a long list of ingredients you can't even pronounce, including one in particular that has gained a lot of press in recent years, aluminum.
Why is Aluminum dangerous in your deodorant?
Aluminum has been present in both aluminium chloride deodorant and antiperspirant since the late 19th century. While deodorant itself underwent various incarnations up until the late 1970s, aluminum has remained a primary ingredient due to its unique abilities to interact with the skin and sweat glands. Aluminum ions impact the eccrine-gland ducts right near your skin's surface. These ions are drawn directly into the skin, taking any water with them. As these substances enter the duct, it causes the opening to swell, effectively blocking them so sweat can no longer get out. Its this ability that often makes aluminum the first ingredient on many deodorant packages. In fact, many kinds of aluminum are used in these products including aluminum chloride deodorant, aluminum chlorohydrate, aluminum zirconium tricholorohydrex glycine or aluminum zirconium tricholorohydrex glycine.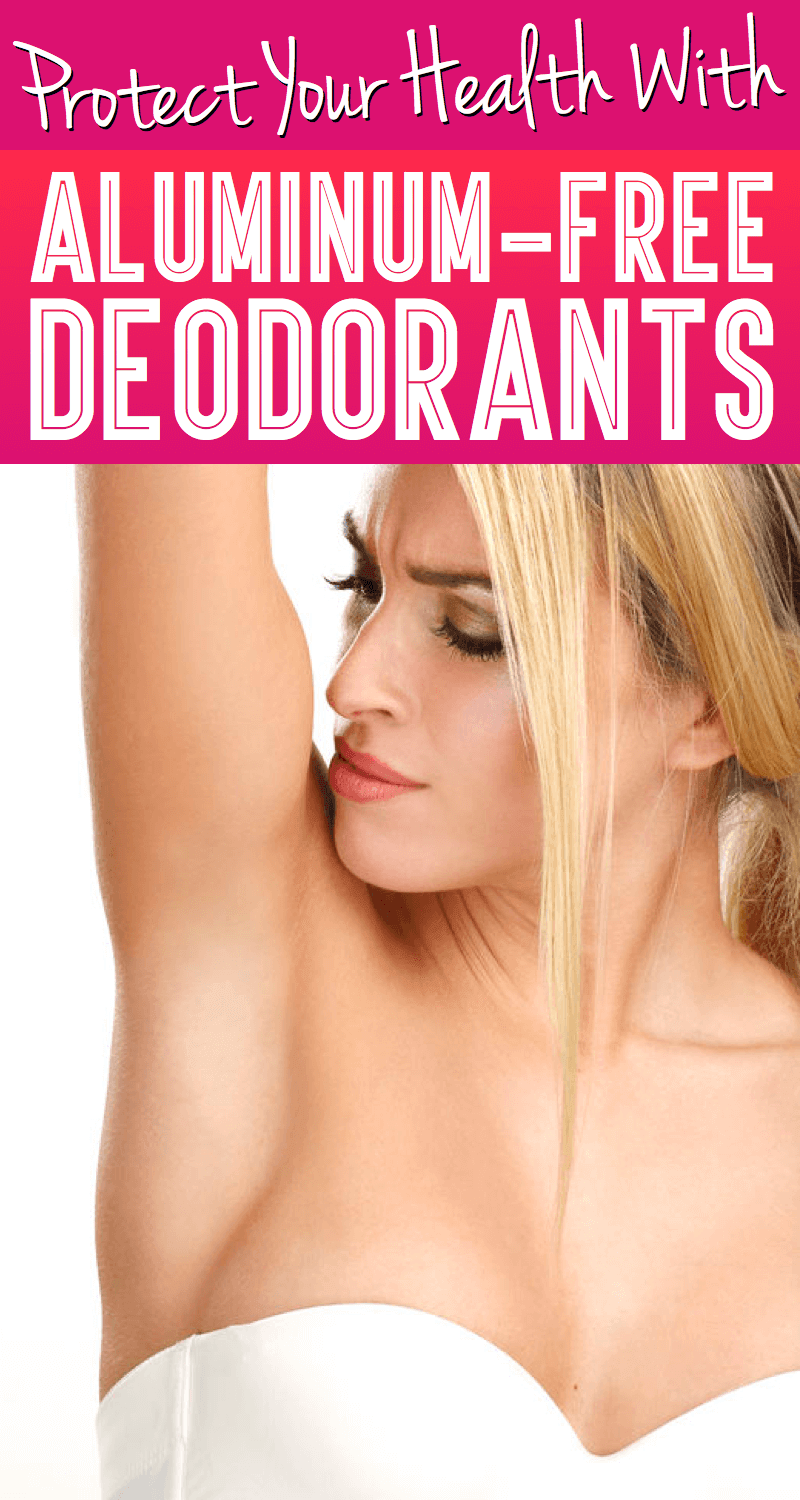 Dangers of using a deodorant containing aluminum
While the majority of Americans both male and female use deodorant on a regular basis, it's only recently that research has increased on the impact included aluminum has on the body. Unfortunately, research continues to support the idea of moving away from not only aluminum, but other added chemicals as well. Here's just a few reasons why you should make the switch.
⚠️Breast Cancer
One of the primary concerns regarding aluminum when applied to the armpits is breast cancer. The current theory is that the aluminum is absorbed by the skin and into the tissue near the upper portion of the breast. From here there are two main areas of thought. One is that the aluminum negatively impacts the DNA in the applied area, resulting in a greater risk for cancer cell formation. The other potential thought is that the aluminum interferes with the way estrogen works in the body. Problems with estrogen are a common linking factor in relation to the development of breast cancer. While this effect primarily impacts women, men are not immune from these breast cancer risks as well. More research is necessary to determine the full extent in which aluminum plays a role in cancer development.
⚠️Alzheimer's Disease
Aluminum's link to Alzheimer's disease comes from medical studies based on the deceased brains of patients afflicted by the disease. Looking closely at the brain, researchers found two to three times the levels of aluminum in those impacted by Alzheimer's than in a normal brain. The element was also found in neurofibrillary tangles within the brain, and rabbits injected with aluminum were more likely to form these tangles. As research regarding this disease has progressed, less emphasis has been placed on tangles and more on brain plaque and genetic risk factors in regards to disease development. However, aluminum in products like deodorant and in drinking water sources may still play a contributing role, even if it is not the primary reason.
⚠️Kidney Disorders
You may see a warning on the packaging of deodorants that include aluminum in its ingredients stating that those with kidney disease should talk to their doctor before using. This warning is more specific to those whose kidneys function below 30 percent, as they can't filter the higher levels of aluminum adequately, increasing risks for developing dementia.
⚠️Bone Problems
While the amount of aluminum is not enough to cause bone problems on its own, the absorption of the element from your deodorant can contribute to your overall aluminum exposure. Higher levels of aluminum in the body compete with the ability of your bones to absorb calcium. This not only alters bone mineralization, increasing your risks for developing bone diseases like osteoporosis, but it also elevates the level of calcium in your bloodstream. Too much calcium results in hypercalcemia, which can lead to the development of kidney stones or even kidney failure in severe cases. High calcium levels can also impact the electrical impulses running through your heart, resulting in abnormal heart rhythms.
What Else is Lurking in Your Deodorant?
Beyond aluminium in deodorant, many products use other potentially harmful chemicals to prevent sweating and reduce body odor. Two of the most common of theses ingredients are pthalates and parabens.
❗️Pthalates
Pthalates are chemical plasticizers, which are used in many conventional aluminum deodorant products to both help moisturizers better absorb into the skin, as well has help lengthen how long product fragrances lasts. Unfortunately, pthalates have been linked to a number of common health issues to varying degrees. Potential links include decreased sperm counts and quality, lowered testosterone levels, reduce female fertility, low birth weights and allergic reactions. Many aluminum free deoderant products are also free of pthalates, but not all of them. It's important to check your labels to ensure the product is free of these potentially harmful chemicals.
❗️Parabens
Parabens are used as preservatives to increase the shelf life of deodorant sticks. Like aluminum, parabens are absorbed by the skin and can impact cell function. More specifically, parabens mimic estrogen, an important hormone directly related to regulating cell growth.
Increased Dangers for Women
Not only are women more prone to some of the diseases aluminum can contribute to, they are also at a higher risk due to grooming practices. Women are more likely to shave their armpits than men. Applying deodorant after shaving allows for more of the ingredients in the product to be absorbed into the body, increasing exposure to the potentially harmful ingredients.
Alternatives
As aluminium free deodorants have grown more popular, so have the options and brand names. While originally a lot of the best aluminum free deodorant products were geared specifically for men, increasingly more manufacturers have now created lines for women, as well as various unisex scents.
1. Green Tidings All Natural Deodorant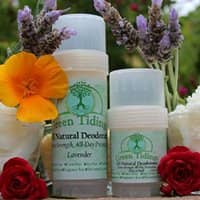 Natural deodorant
Aluminum-free
Calming, antiseptic
Antioxidants
Contains vitamins A, E, and F
Omega 3 and 6 fatty acids
Green Tidings products come from a factory facility in Southern California that take natural to a whole new level by even using solar power to run their facilities. Not only is the Green Tidings All Natural Deodorant aluminum free, it's also 100 percent organic and free of pthalates, mineral oils and parabens. The product is certified by the Leaping Bunny organization as cruelty-free as well. Unlike many conventional deodorants, this product leaves no stains. Green Tidings not only leaves your body odor free, but also is fragrance free, meaning it won't compete with other product smells or perfumes. However, for those that prefer a fragrance, there is a lilac scented option. The addition of ingredients like coconut oil leave your skin moisturized, while also acting as a natural anti-bacterial and anti-microbial to kill off many of the organisms responsible for body odor. Tapioca starch also acts as a moisturizer with its high levels of Omega 6 and 3 fatty acids, and ingredients like sodium bicarbonate (baking soda) work to help keep you dry. An added bonus is that Green Tidings takes natural all the way to its containers, using a BPA-free tube.
2. Arm & Hammer Essentials Natural Deodorant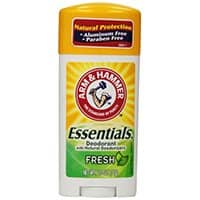 Natural deodorant
Aluminum-free
Paraben-free
Free of colorants
Contains essential oils
Animal-derived ingredients
This non aluminum deodorant comes from nationally-known brand Arm & Hammer based out of Princeton, New Jersey. Arm & Hammer has been making baking soda-based products since 1867, but this natural deodorant is a new item from their product line. Baking soda is a common ingredient in a lot of natural cleaning products, especially deodorant, due to its ability to absorb moisture and odors. Along with being free of deodorant aluminum, this product is paraben-free and includes natural oils to help condition the skin. The scent is unisex, with a clean scent, though some may find it more on the masculine side, similar to a sports scent. It's important to note that this deodorant does contain triclosan. Triclosan is a common chemical used in many products like hand soaps and toothpastes as a way to kill off germs. However, this ingredient is not natural, and countries like Canada have recently put limitations on the chemical due to its negative impact on the environment. continuing research also suggests that the triclosan may negatively impact how your thyroid glands work, though more research is needed to determine to what extent.
3. Soft & Dri Sweet Bliss Aluminum Free Deodorant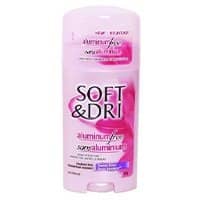 Natural deodorant
Aluminum-free
All-day odor protection
Targets the bacteria that cause odor
Won't stain clothes
Made by New Hall Laboratories out of Stamford, Connecticut, this Sweet Bliss advertises non aluminum deodorant safety for women. Like many deodorants without aluminum out there, this stick will not stain your clothing and not only helps neutralize odors, but leaves the skin with a feminine but not overwhelming scent. Multiple applications throughout the day may be necessary, as the odor-stopping ability of this deodorant does not seem to last as long as other brands. If you're looking for an all-natural product, this is probably not the best option for you, as it does contain other unnatural ingredients. The ingredient list includes many chemicals and potentially harmful ingredients including propylene glycol, PEG-6, methyl ether, dipropylene glycol and sodium stearate. While the product does not contain triclosan, it does have a similar chemical known as triclocarban, which is used as an anti-bacterial agent. Continuing research shows that this chemical may interfere with both development and reproductive hormones among other health risks.
4. Organic & Natural Deodorant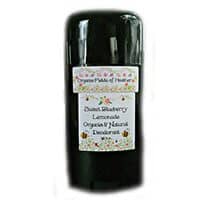 Natural deodorant
Aluminum-free
Coconut Oil
Aloe Vera
Organic & Natural Deodorant comes from Organic Fields of Heather out of Canby, Oregon. This all natural product not only helps reduce body odor without aluminum in deodorant, it uses 100 percent unrefined, organic, raw ingredients along with organic pure essential oils for scent. This deodorant is made in small batches, helping ensure quality. Each deodorant starts with a moisturizing base of aloe vera, coconut oil, cocoa butter and beeswax, after which various essential oils are added, depending on the scent. The Organic Fields of Heather line offers a wide range of scents ranging from Egyptian Jasmine and Fresh Mountain Spring to Sweet Blueberry Lemonade and Berry Vanilla offering a lot of personal customization in comparison to many other aluminum-free brands. You may need to apply several times a day during the first few weeks until your body adapts to the more natural deodorant. If you still experience body odor, it's suggested that you clean the armpit first with organic witch hazel or diluted apple cider vinegar before applying.
5. DeodoMom Roll-on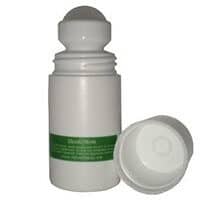 Natural deodorant
Aluminum-free
Alcohol-free
Paraben-free
Scent-free
100% vegan
DeodoMom Roll-on takes deodorant to its most simplistic form as a hypoallergenic lotion or liquid deodorant. For those who have extremely sensitive skin or serious allergies, this roll-on is not only a deodorant without aluminum, it is completely vegan and is verified as a business that does not use animal testing. The product also has no dyes, fragrances, parabens or alcohols, helping reduce breakouts and inflammation in the armpits. The lack of fragrance is also good for those who get headaches or are irritated by perfumes and other product scents. The deodorant features just two simple ingredients, water and magnesium hydroxide, a natural element often referred to as milk of magnesia that is so safe you can actually eat it. The effectiveness of this deodorant varies widely from person to person, with some users having great results with thin applications, and others needed multiple applications or not experiencing a difference in body odor at all based on their individual chemistry.
6. Lavanila The Healthy Deodorant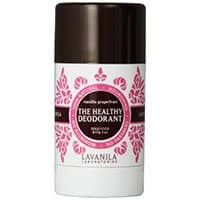 Natural deodorant
Aluminum-free
Long-lasting
Non-irritating
Allergy-tested formula
Dermatologist-recommended
The Healthy Deodorant comes from Lavnila Laboratories, a beauty company specializing in natural products. Most of the Lavanila product line uses vanilla from Madagascar for its aromatherapy and antioxidant properties, and the deodorant is no exception. This deodorant without aluminium line is also free of the parabens and propylene glycol found in many grocery store deodorants. A wide range of scents are available ranging from vanilla lavender and passion fruit to vanilla grapefruit and blackberry. The company recently released a fragrance free version as well for those who have sensitivity or allergies to fragrance products. Depending on your body chemistry and how much you sweat, you may need to reapply this product throughout the day. This deodorant is both allergy-tested and dermatologist recommended.
7. Schmidt's Natural Deodorant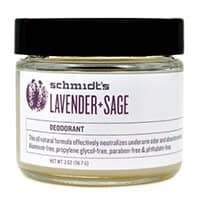 Natural deodorant
Aluminum-free
Paraben-free
Natural deodorant
Packaged in beautiful glass jar
Made in USA
With endorsements from celebrities like Alicia Silverstone, Schmidt's Natural Deodorant ranks as one of the most popular aluminum-free products on the market. Like many other natural lines, this product is free of not only aluminum, but also parabens and phthalates. The line comes in five different scents like lavender and sage or bergamot and lime, with a much earthier and herbal scent than most store deodorants. However, they still walk the line between unisex and feminine in their scents. The herbs and other natural ingredients work well as both antiseptics and antioxidants. A unique characteristic of this brand is that they're shipped in glass jars instead of plastic tubes. To apply the deodorant, you use the included spatula to cleanly remove the paste-like product from the jar. You then warm the product between your fingers and apply it to your underarms using your hands. While deodorants are meant more to reduce body odor, this product tends to act more like a natural antiperspirant as well, helping reduce overall wetness throughout the day.
8. Adidas Cotton Tech Aluminum Free Women Deodorant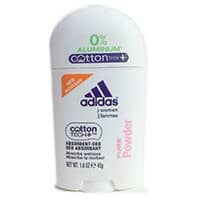 Alcohol-free
Aluminum-free
Non-staining formula
Dermatologist tested
Fresh scent
When you need more wetness protection, a powder product like Adidas Cotton Tech deodorant without aluminum can help. This dermatologist tested aluminum-free deodorant is developed with female athletes in mind, and uses cotton fiber technology to help absorb wetness, rather than chemical ingredients like most antiperspirants. However, those with sensitive skin may want to experiment with the product on a less sensitive area of skin than the armpits, as rashes and irritation have been reported with some people using this product, especially if used soon after shaving. The powdery smell may also be a problem for those with sensitivity to fragrance, as it does not have as light of scent as other similar products. If looking for a natural deodorant, it's important to note that this product does contain propylene glycol and triclosan among a fairly long list of other chemicals.
9. Ozone Layer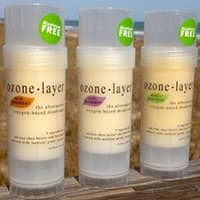 Natural deodorant
Aluminum-free
Alcohol-free
Paraben-free
Free of chemicals
Ozone Layer is a unique oxygen-based deodorant that uses patented technology to infuse natural hydrating and antibacterial ingredients like shea butter and beeswax with oxygen. Along with no aluminum, this product has no propylene glycol, alcohol or parabens and is not tested on animals. Ozone Layer comes in various scents both unisex and feminine, such as tea tree, jasmine, lavender, lemongrass, mint, coconut and eucalyptus. There is also an unscented version available. All scented products use high medicinal-grade essential oils, reducing the risk of reactions on those with sensitive skin. Not only can this deodorant be used to prevent odor, the technology in the stick is designed to kill odor-causing bacteria, making it one of the best deodorants without aluminum even after you're already experiencing body odor problems.
10. Crystal Body Deodorant Stick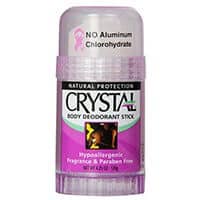 Aluminum Chlorohydrate-free
Free of chemicals
Free of fragnance
Free of perfumes
Crystal Body Deodorant comes from the Crystal Company based out of Burlingame, California. This stick is free of aluminum as well as parabens and fragrance chemicals. The product works primarily by active ingredients like ammonium alum and natural mineral salts to help create a protective barrier against bacteria after you get out of the shower. Ammonium alum works both as an antiperspirant and an antibacaterial agent, reducing sweat and killing of odor-causing bacteria. The mineral salts leave a layer of salt across your skin, creating an environment that is less hospitable for these bacteria to thrive on. To use the stick, you run the end under water to moisten it. Once wet, you run the stick across your armpit to create a thin layer. It's important to then store the stick upside down, as allowing the water to settle at the base of the stick may loosen it from its holder. Be gentle with the product as well, as if dropped, the crystal may shatter.
Aluminum in Your Deodorant: Why It's Time for a Change
When you're applying any beauty or skincare product to your body on a daily basis, it's essential to understand the exact ingredients that are used and how they can impact your body beyond their intended purpose. Deodorant is no exception to this rule. While deodorant has become an essential part of healthy daily grooming habits, ingredients like aluminum and other chemicals can unnecessarily increase your risks for health issues from kidney stones to cancer. Luckily, an increasing number of corporations have responded by producing products that are not only aluminum free deodorants, but that actually work as well. Not only do an increasing number of aluminum free deodorant products on the market now stop body odor, but they do so either while maintaining a pleasant feminine scent, or simply with no scent at all, allowing other products like perfume to shine through without competition. It's important to keep in mind that various products will work differently based on your individual body chemistry. However, by keeping an eye on the label ingredients and trying several until you find an aluminum free deodorant that works for you, you will guarantee that you'll not only stay safe, but you'll be able to keep your body odor under control regardless of what the world throws at you.
Resources
Web MD – Antiperspirant Safety: Should You Sweat it?Dr. Mercola – Are Aluminum-Containing Antiperspirants Contributing To Breast Cancer In Women?The Mayo Clinic – Hypercalcemia ComplicationsParabensThe Washington Post – Does Aluminum in Pans and Antiperspirants Lead to Alzheimer's Disease?Breast Cancer Fund – ParabensNatural Resource Defense Council – Triclosan and Triclocarban