50 Fast and Simple Gluten-Free Muffin Recipes that will Become Your All-Time Favorites
Do you know the muffin man, the muffin man …. Muffin lovers will be excited to try all of the wonderful gluten-free muffin recipes in this collection. Those following a gluten-free diet may have thought that they had to forego the delicious muffins because they typically contain wheat. But, now, there are muffin recipes that contain no flour at all, and there are many alternative flours you can use to make some of the tastiest muffins around. Gluten-free muffins can make a nutritious meal idea for everyday or special occasions. Since busy lifestyles require gluten-free foods that are fast and simple, you will find many easy recipes included in this assortment of the best muffin ideas.
Go Gluten-Free with these Amazingly Delicious Muffins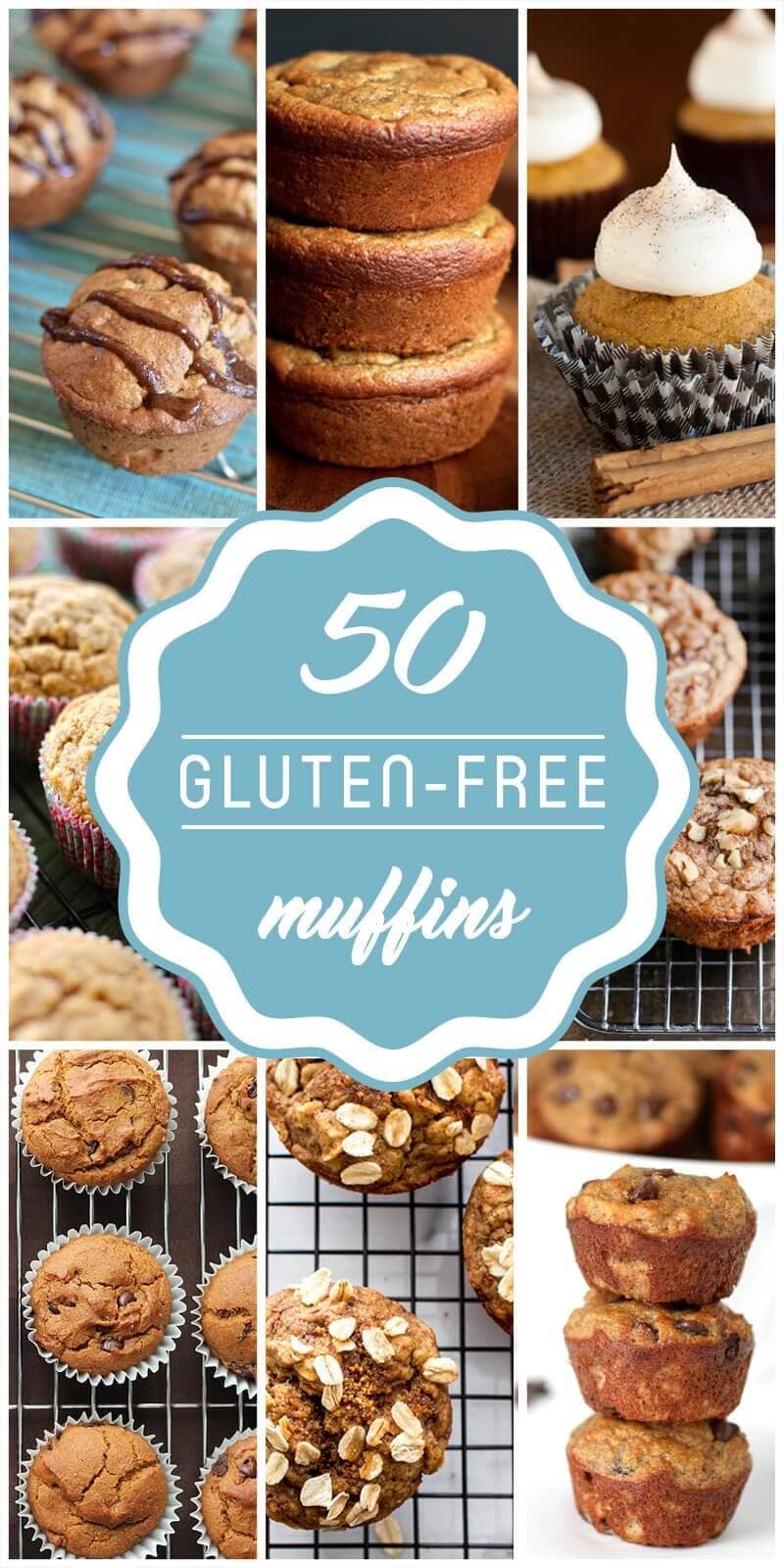 1. Low-Carb Egg Muffins for a Grab and Go Breakfast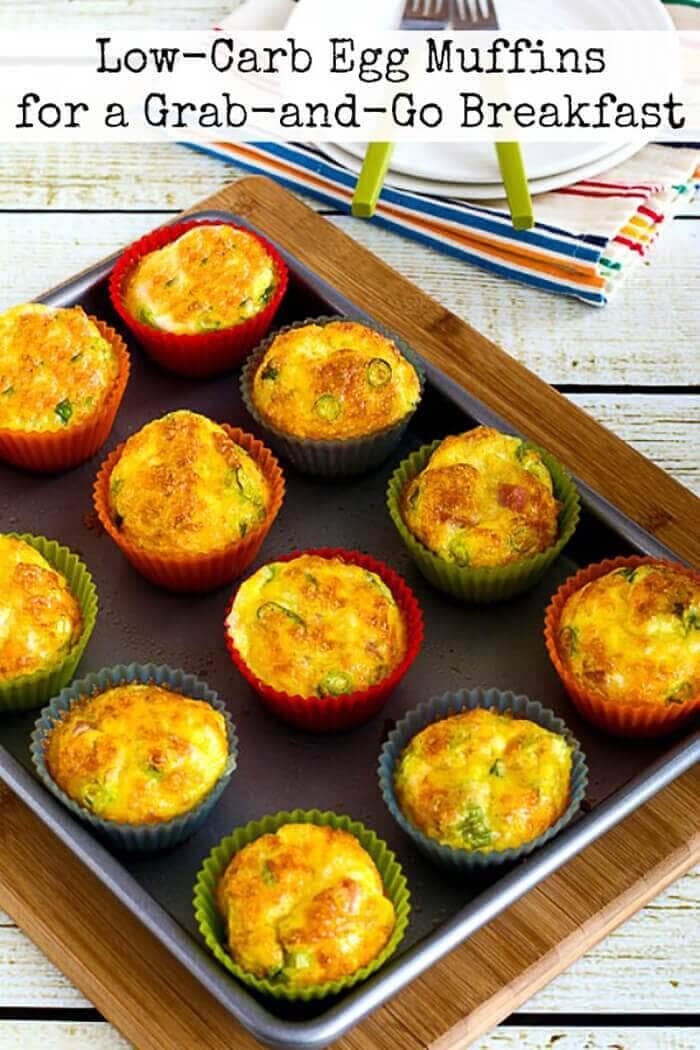 This perfect take-along breakfast is a naturally gluten-free muffin recipe. It is also very customizable, so it will be sure to suit your tastes. First, you choose a variety of vegetables that you like to eat and place them in a silicone muffin cup. You can decide whether you want to add meat such as chopped ham or Canadian bacon. Next, add your favorite cheese, and finally top the ingredients with beaten egg. Bake these for an egg muffin which resembles a mini quiche that you can eat fresh from the oven, or re-warmed the next day.
2. Banana Oat Greek Yogurt Muffins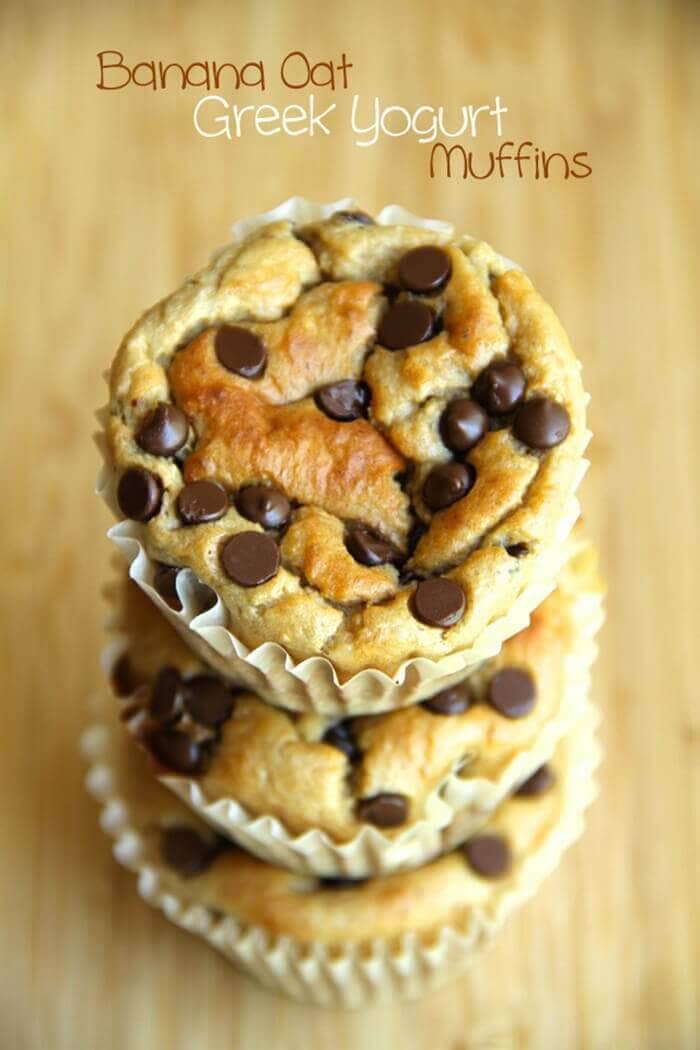 Made with no flour, nor oil, these muffins are a healthy breakfast treat. The Greek yogurt and bananas combine to keep the muffins moist while the oats give them shape. This recipe is simple to prepare using a blender or food processor. These gluten-free muffins are denser than many muffins, but they are still soft and chewy. Perhaps the greatest parts of these muffins is the chocolate chips that are sprinkled throughout. For an even healthier option, you could substitute blueberries for the chocolate chips, but chocolate lovers will enjoy them as is.
3. Flourless Peanut Butter Chocolate Chip Mini Blender Muffins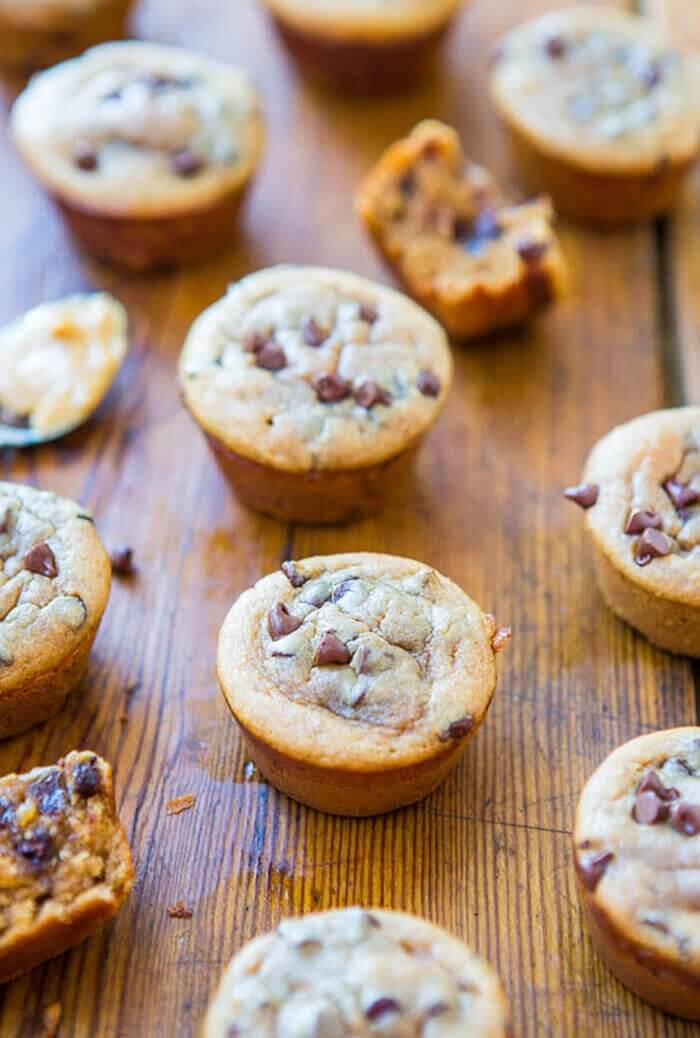 One of the best gluten-free muffin recipes, these mini delights taste every bit as good as their counterparts prepared with flour. Peanut butter and chocolate lovers will get their fix without adding any gluten, refined sugars, or oils to the recipe. A banana and egg as well as a pinch of baking soda give these muffins a soft, but bouncy texture that is expected in muffins. The mini size combined with the mini chocolate chips helps these muffins bake in under ten minutes, and they are so easy to pop in your mouth.
4. Double Chocolate Peanut Butter Mini Blender Muffins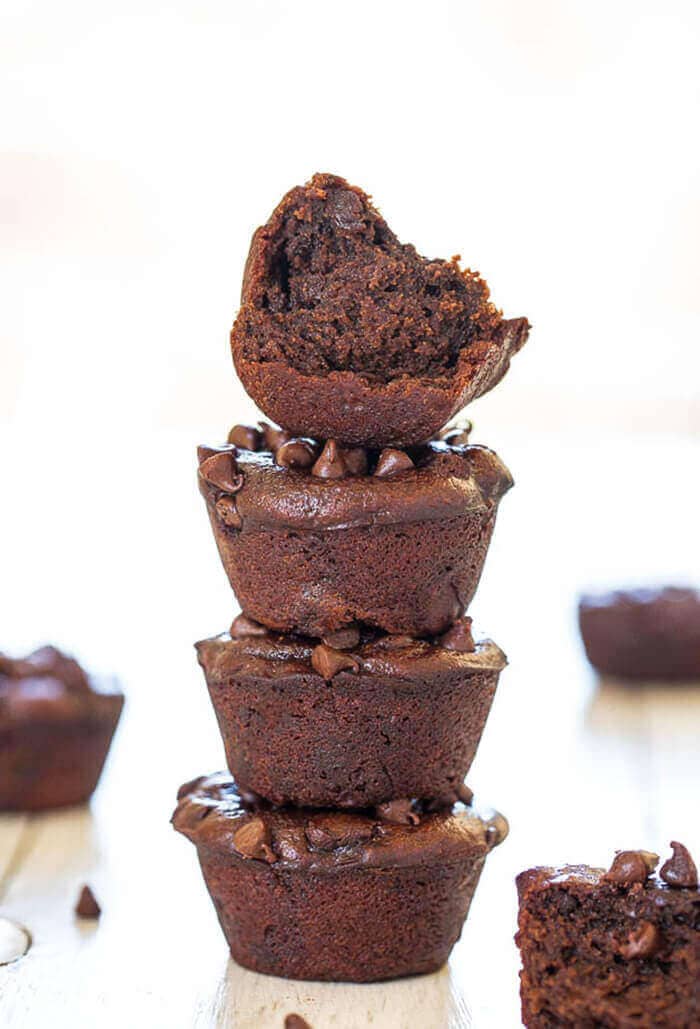 Chocolate lovers will be excited to see a chocolate version of the peanut butter mini blender muffin. The addition of cocoa powder to peanut butter, a banana, and a few other ingredients creates the moist muffins that are decadent and delicious. The mini chocolate chips just add something extra to the fun. With all the ingredients processed together in a blender, this gluten-free recipe couldn't be any easier to prepare. Plus, only a few tablespoons of honey and a ripe banana sweeten these, but they have more than enough sweetness to taste just perfect, for breakfast, lunchboxes, or a quick snack.
5. Flourless Pumpkin Pie Muffins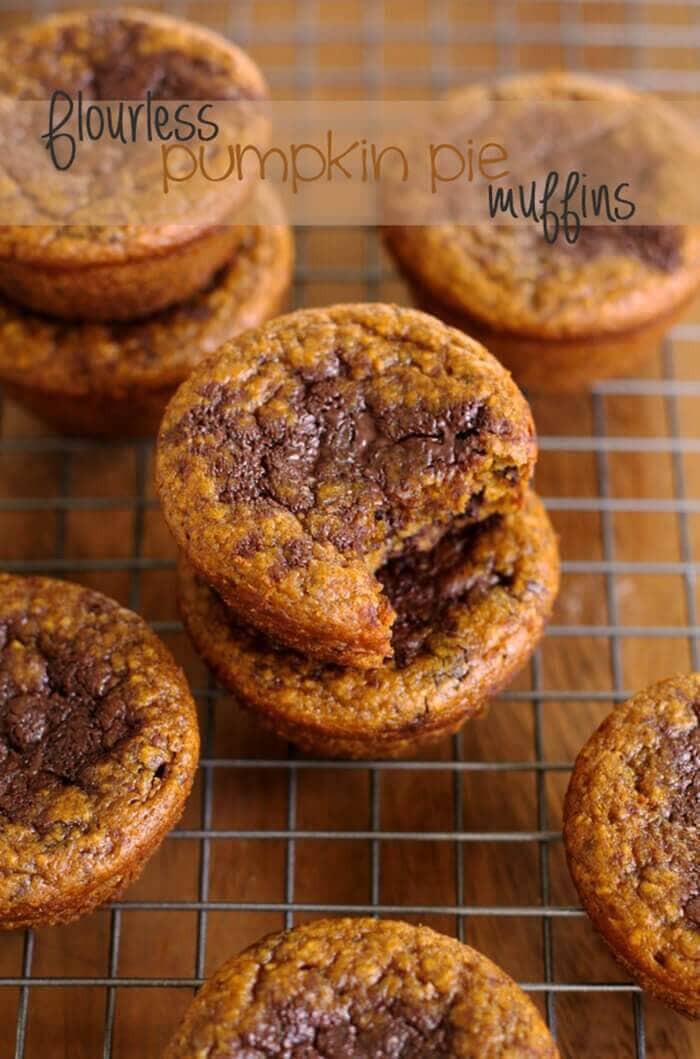 A gluten-free muffin recipe for pumpkin pie is perfect for the fall days ahead. The spices will be warming, and the pumpkin flavor is not to be missed. Plus, there is chocolate for the chocolate lovers in the crowd. The combination of ingredients, that does not include flour, results in a muffin that is more dense than a regular muffin, but one that has a doughy texture that just melts in your mouth. In addition, there is no need for added sugar or oil as the pumpkin will both sweeten and moisten these delicious treats. Your kitchen will smell so good while these are baking that it will be hard to wait until they are done.
6. Flourless Banana Bread Muffins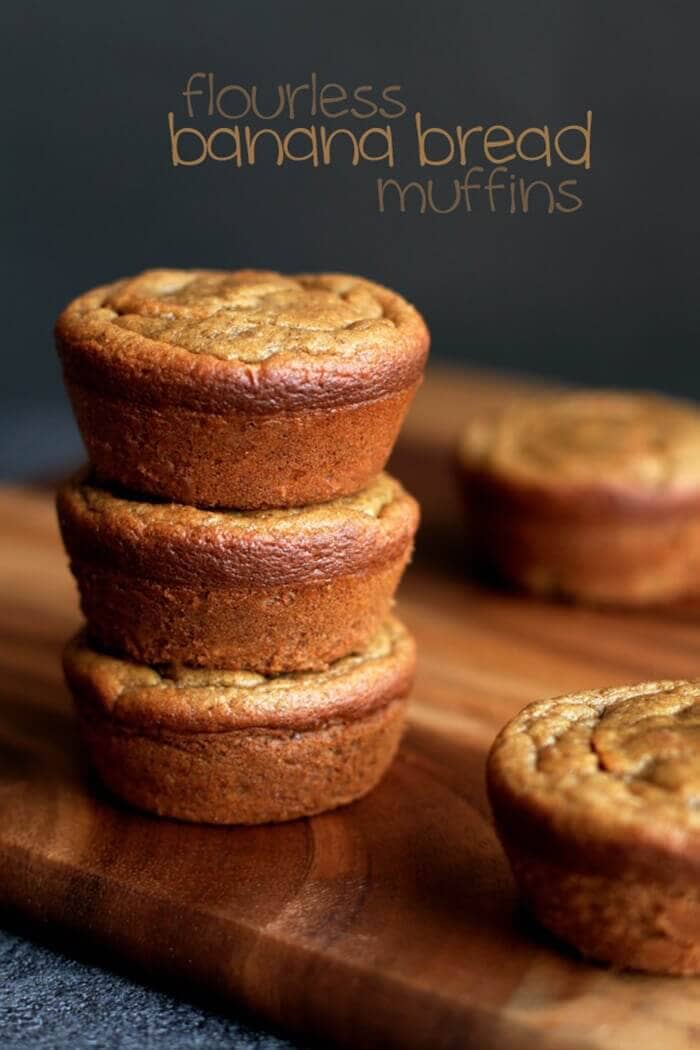 When you are looking for an easy recipe that is quick to prepare, look no further than these flourless banana bread muffins. They contain almond butter and almond meal that gives them a soft texture, so they taste just like a slice of banana bread. In addition, these muffins are healthy as they contain no added refined sugar or oils. While you can add some chocolate chips or slivered almonds to these delights, it is not necessary as the muffins have a delicious banana flavor all of their own.
7. Breakfast Muffins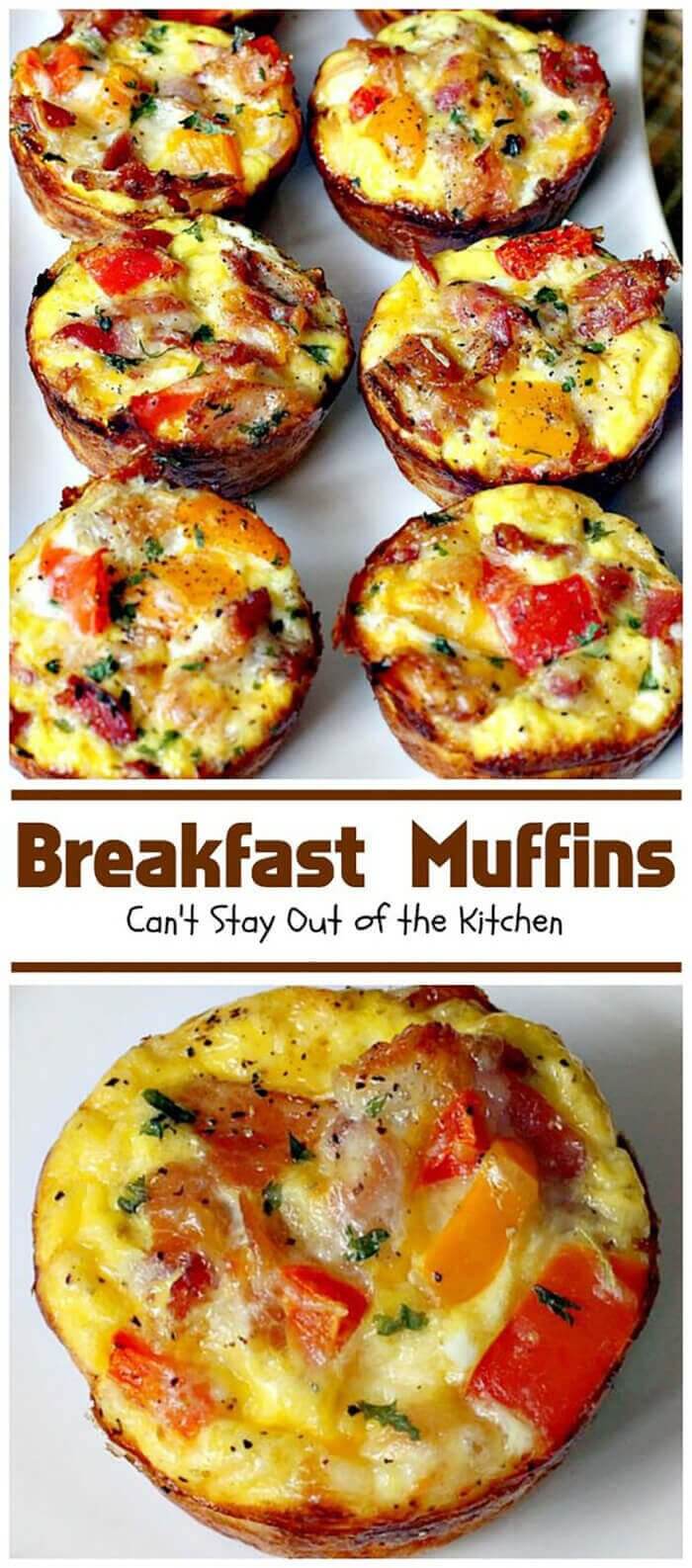 These muffins are a great meal idea for those on a gluten-free diet. They are festive and fun which makes them perfect for a holiday breakfast or any special occasion. Yet, they are so easy to make that they can be served any day of the week. They can easily be cooked ahead and reheated for an easy weekday breakfast. Made with a hash brown crust and topped with eggs, bacon, cheese, and bell peppers, these delicious goodies are full of flavor and good for you too.
8. Gluten-free Basil Parmesan Popovers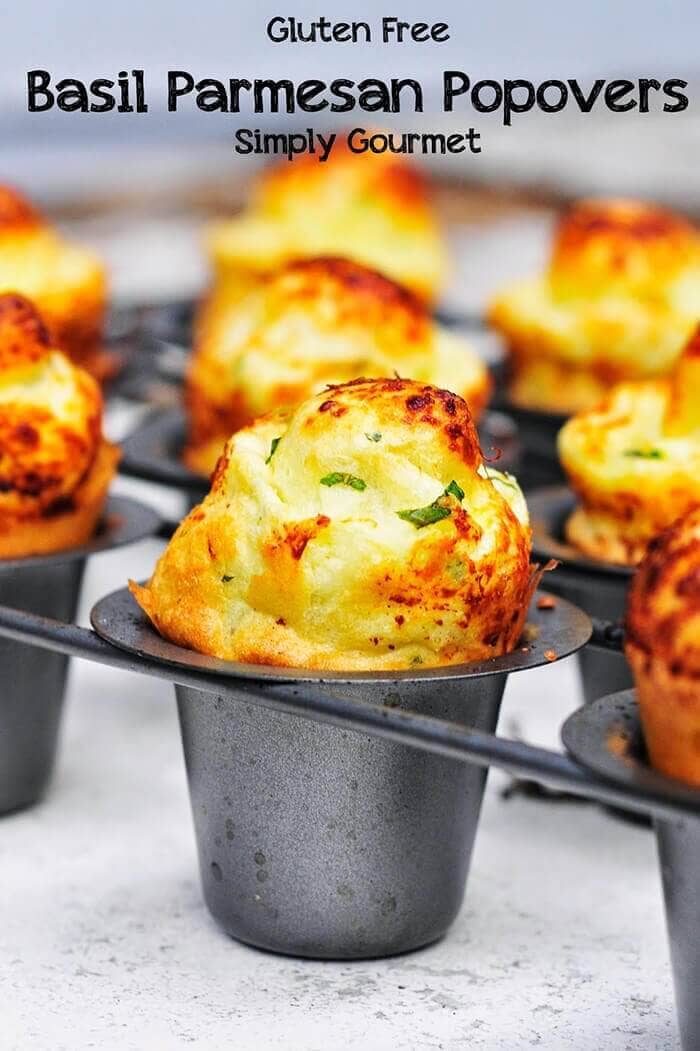 Popovers are made with simple ingredients that have been around for centuries. Gluten-free popovers are made with different flours, but still have the same effect. The outsides of these popovers are crispy while the insides are hollow. The tops popped over the top of the pans making them the perfect, tasty treat. These popovers are made with fresh basil because fresh herbs are the ideal choice. You can even experiment with different herbs like thyme or rosemary if you choose. Parmesan cheese takes these over the edge of decadent.
9. Paleo, Gluten-free, Grain-free Mini Muffins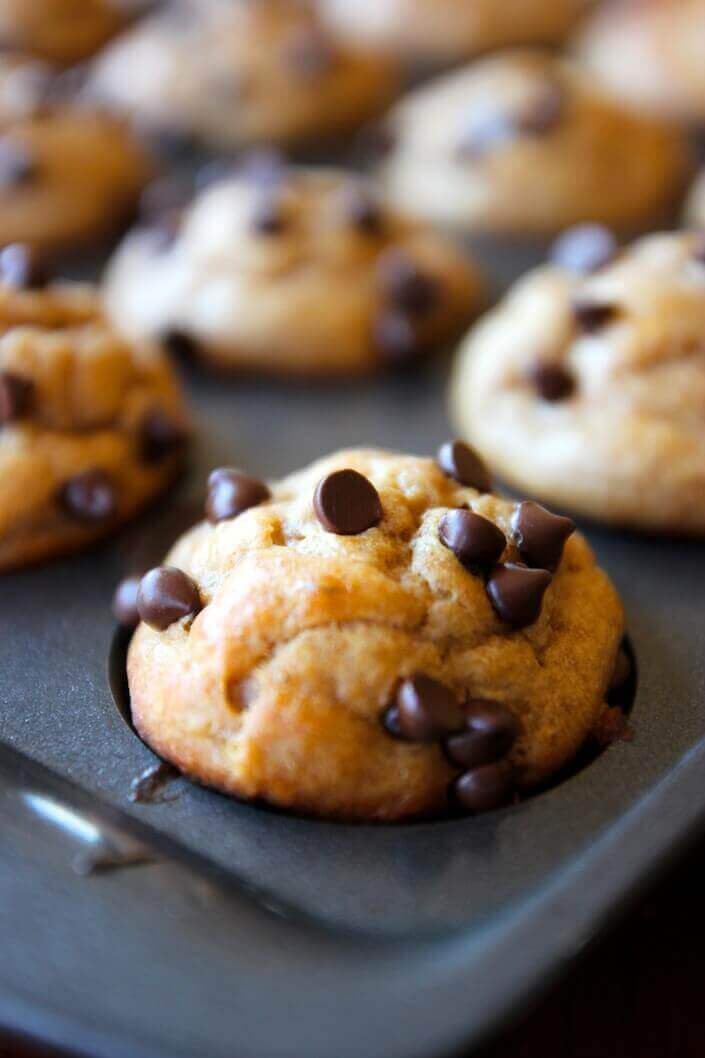 These totally grain-free muffins can be made regular size or as minis. Additionally, there are two version, one made with bananas and the other made with applesauce instead, so you can decide which one you prefer. It does contain the nut butter of your choice, so it has added protein. The taste and texture of these muffins is moist and flavorful. These gems can be topped with any gluten-free food such as dried fruits, nuts, chocolate chips or other toppings of choice plus they are exceptionally good with spreads such as apple butter or even more nut butter spread.
10. Gluten-free Chocolate Chip Muffins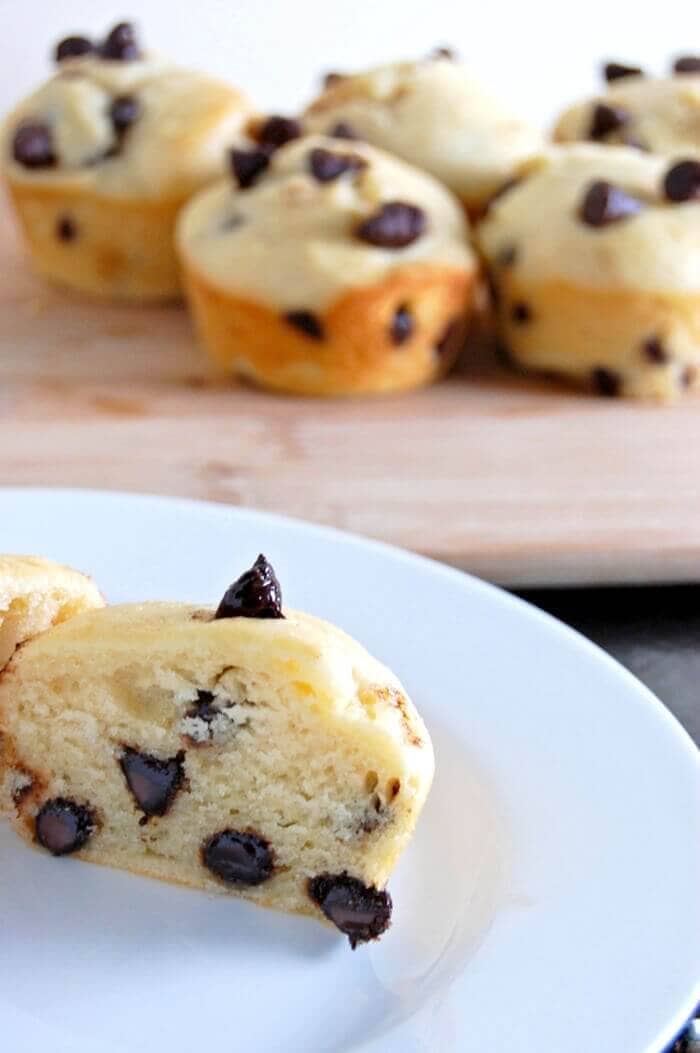 This gluten-free muffin recipe makes the tastiest chocolate chip muffins in town. The muffins are tender on the inside and perfectly browned on the outside. They are moist and decadent and rise just like muffins that are made with wheat flour. The secret ingredient is the flour mix that is used, and it comes highly recommended. These smell so good when baking, filling the whole kitchen with the glorious smells. Better yet, the recipe is very easy to mix together and bake.
11. Vegan Gluten-free Double Chocolate Muffins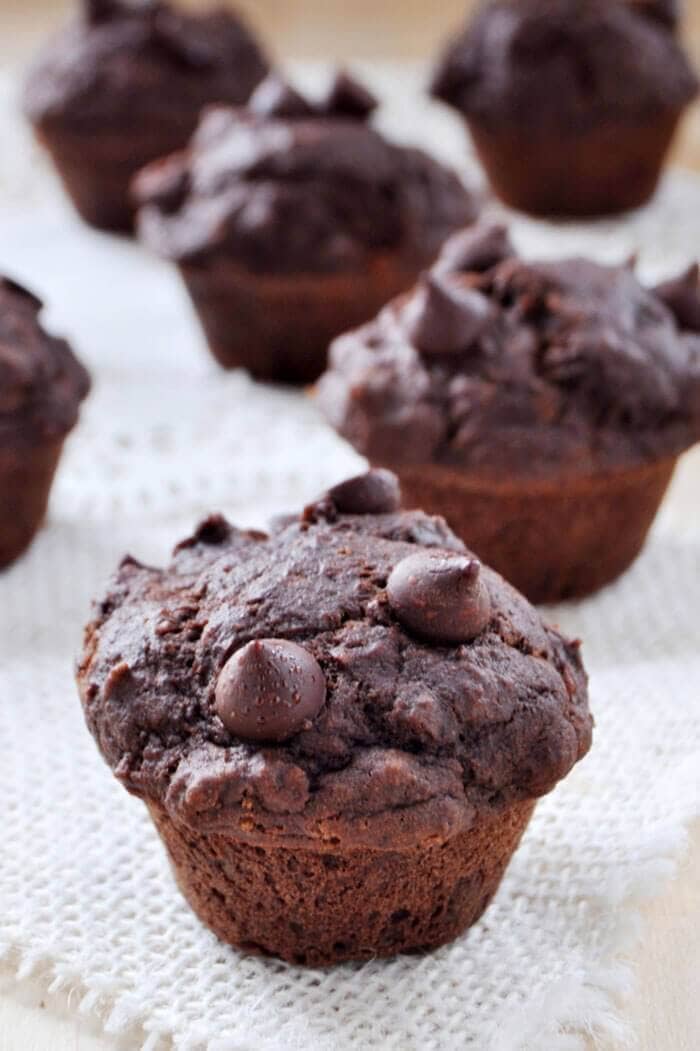 When you are looking for a muffin idea that is full of chocolate flavor, this is one of the best muffin recipes to choose. They are fudgy without being overly sweet. In fact, it only uses a small amount of maple syrup to sweeten the batch. Using a flour blend that contains no wheat allows gluten-free recipe to create muffins with a great texture while remaining part of a gluten-free diet. In addition, it uses an egg substitute to keep it vegan, but you could easily use a flax egg mixture if you would rather. Either way, this recipe is a great choice.
12. Pineapple Coconut Muffins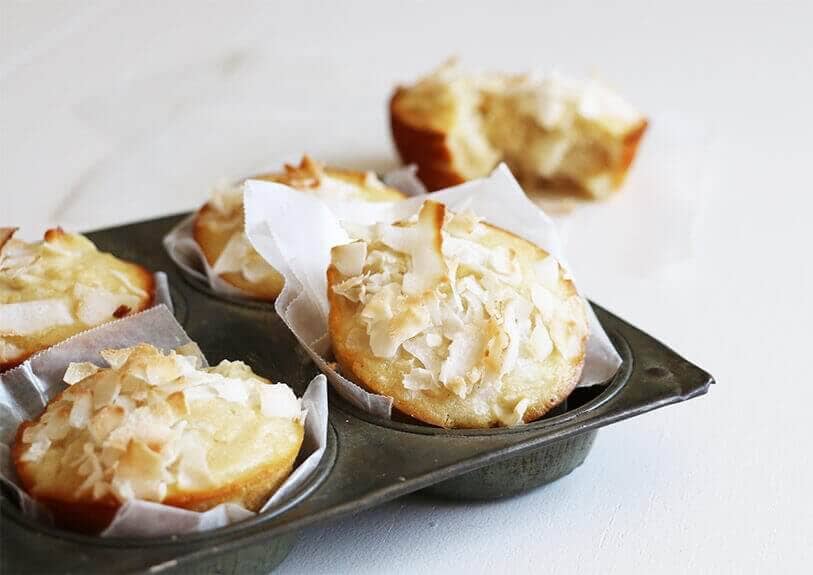 When you are looking for a muffin idea that will make a great snack, this one fits the bill. These are both kid and adult friendly for great on-the-go snacks. One of the great gluten-free muffin recipes, this uses oat flour in place of wheat flour for a pleasing taste and texture. You can buy oat flour or use a food processor to make your own from rolled oats. Best of all, the pineapple tidbits and coconut really give it a blast of extra flavor that will really make an impression. Add extra coconut on top for even more excitement.
13. Gluten-free Vegan Chocolate Banana Swirl Muffins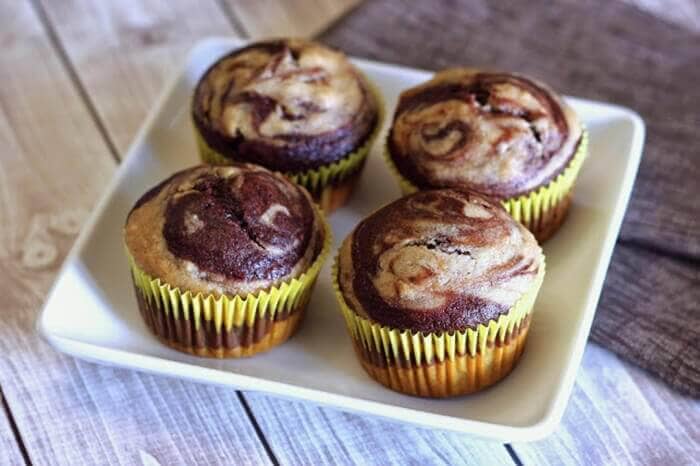 These muffins look so pretty with their swirl of banana batter and chocolate batter. It looks like they were difficult to make when in reality, this is an easy recipe to follow and prepare. The batter is made from bananas and gluten-free flour blend, among other common muffin ingredients, and then divided into two bowls. One bowl gets cocoa powder mixed in, and then a spoonful of each batter gets swirled into the muffin cup. The taste of both of these batters together is a delight to the taste buds. The muffins come out tender and light with two wonderful flavors in each bite.
14. Gluten-free Banana Muffins with Cinnamon Glaze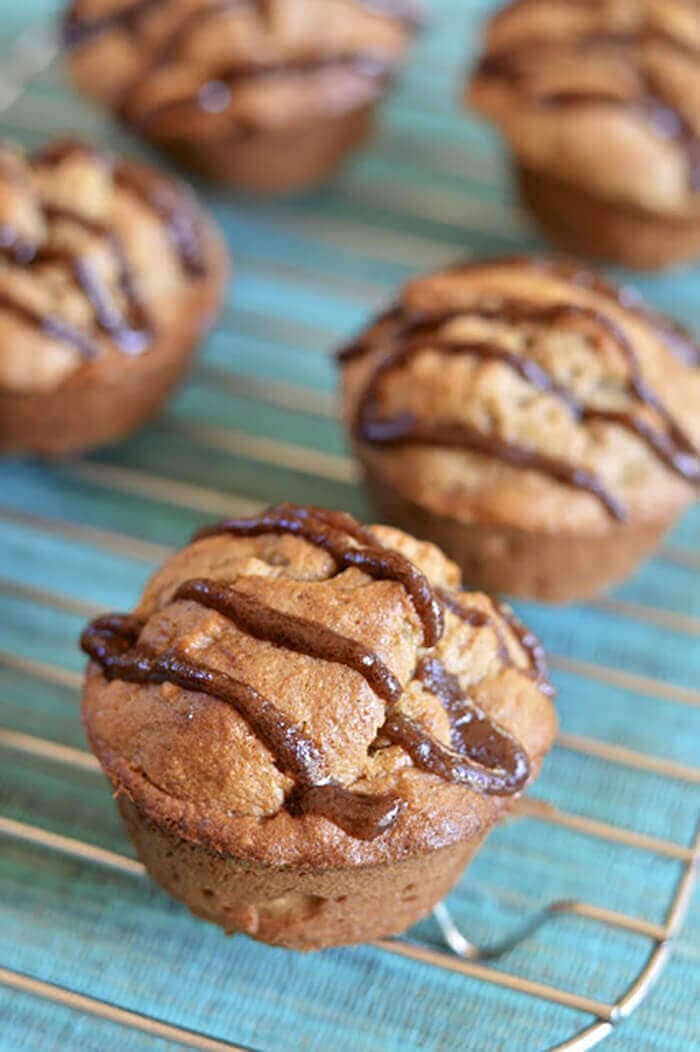 Oat flour is the key to making these muffins light and fluffy. Oat flour is the perfect gluten-free food, especially for making muffins. It really helps to make the texture of gluten-free muffins taste just like the regular versions. The mashed bananas really give the muffins a great flavor that goes really well with the cinnamon glaze. And, while the glaze is heavy on the butter and sugar, you only use a drizzle of the glaze on each muffin. A small drizzle goes a long way in giving these muffins the little extra punch that make them really special.
15. Pumpkin Applesauce Muffins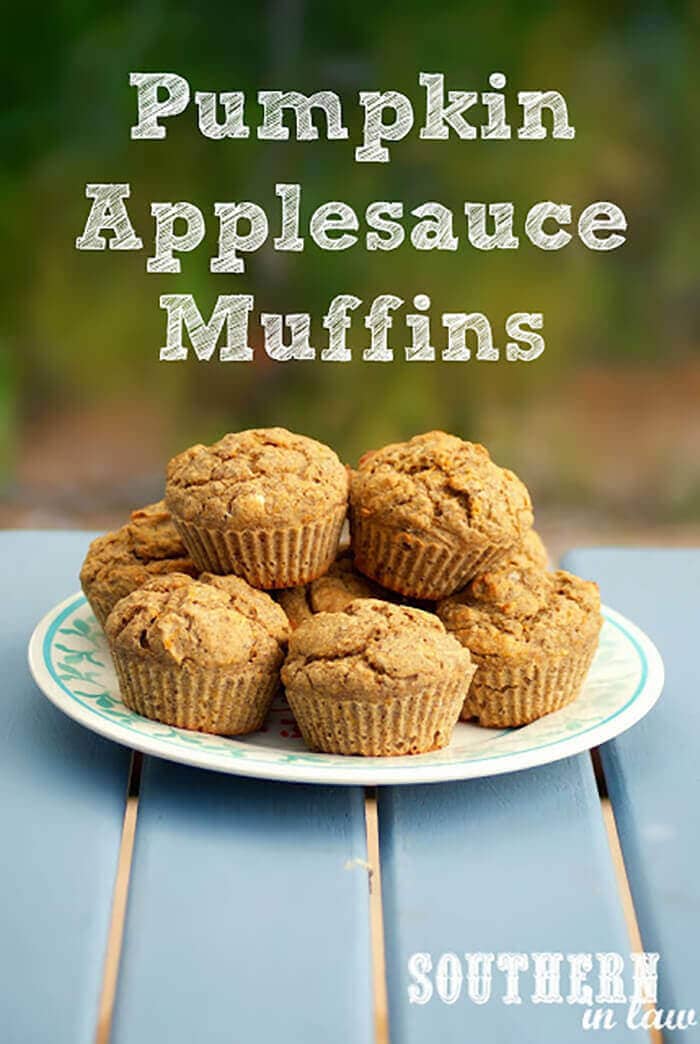 If you are looking for a gluten-free muffin recipe that contains delicious pumpkin, then this is the one for you. With a full cup of pumpkin plus another cup of applesauce, these muffins are moist and tasty. Whether you use fresh roasted pumpkin or store bought, the pumpkin flavor really comes to life. Plus, you only need a small amount of honey or maple syrup since the pumpkin and applesauce do most of the sweetening. These muffins contain lots of vitamin A from the pumpkin, making them a healthy snack or breakfast choice.
16. Carrot Cake Oat Muffins (Vegan and Gluten-Free)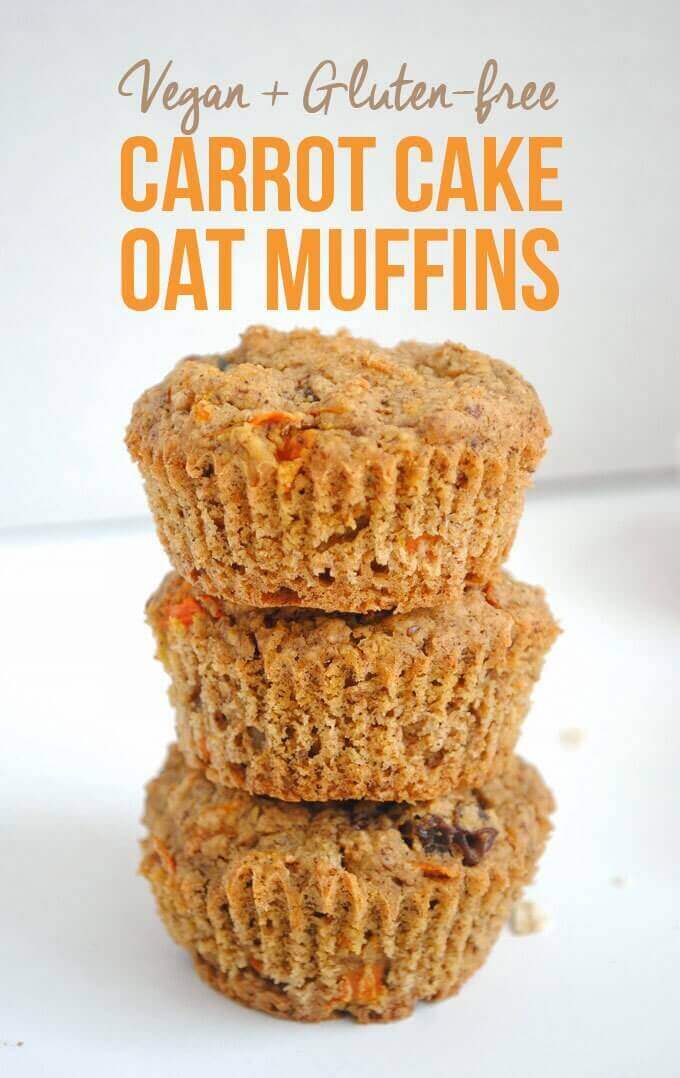 Carrot cake sounds like a dessert and these muffins could be considered icing or even some maple syrup on top. But, they have nutritious ingredients and not a lot of extra sugar, so they make a great tale-along breakfast as well. In addition, these muffins, like some of the best muffin recipes you can find, use oat flour to keep them gluten-free. Oat flour makes these muffins light and fluffy in a way that regular flour would not. With the addition of the tender sweet carrots and the raisins and walnuts, these muffins have a great texture with a bit of a crunch.
17. Lemon Zest Muffins Gluten-Free and Dairy Free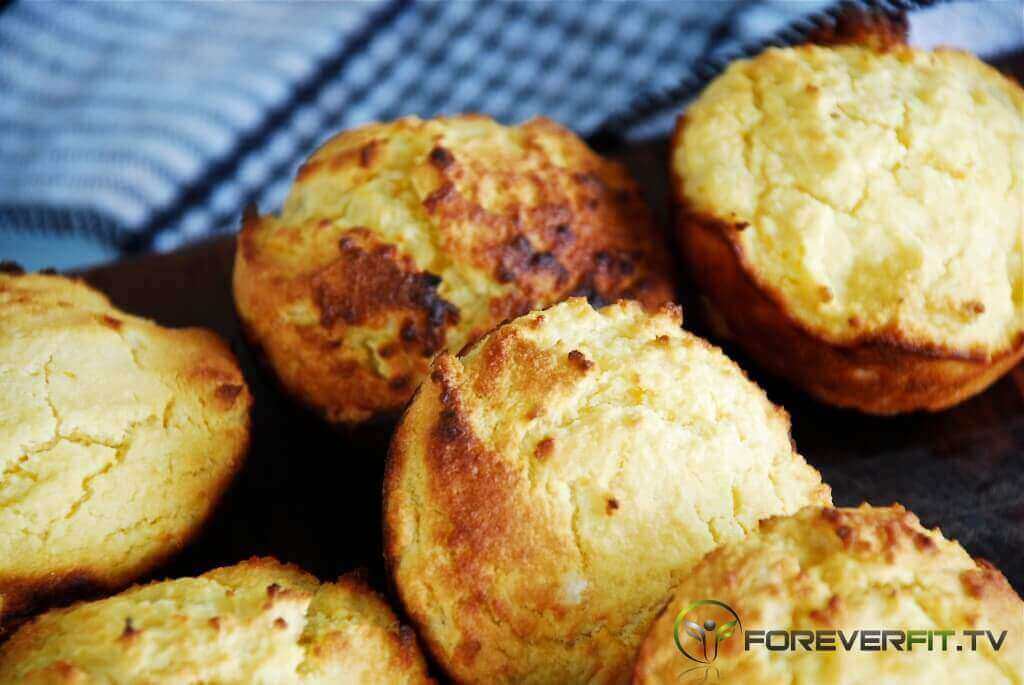 Imagine the fresh lemon smell wafting through your kitchen. That's what you get when you bake these muffins. They are a perfect accompaniment to a mug of tea or coffee and some fruit for a complete breakfast. The lemon juice and zest provide a robust zip to the muffins that really wake you up in the morning and give you a good feeling. Moreover, this gluten-free recipe combines several different types of gluten-free flours, so you get the most important qualities of each. The muffins turn out tender and light, and you will feel good about eating them.
18. Gluten-free Chocolate Chip Muffins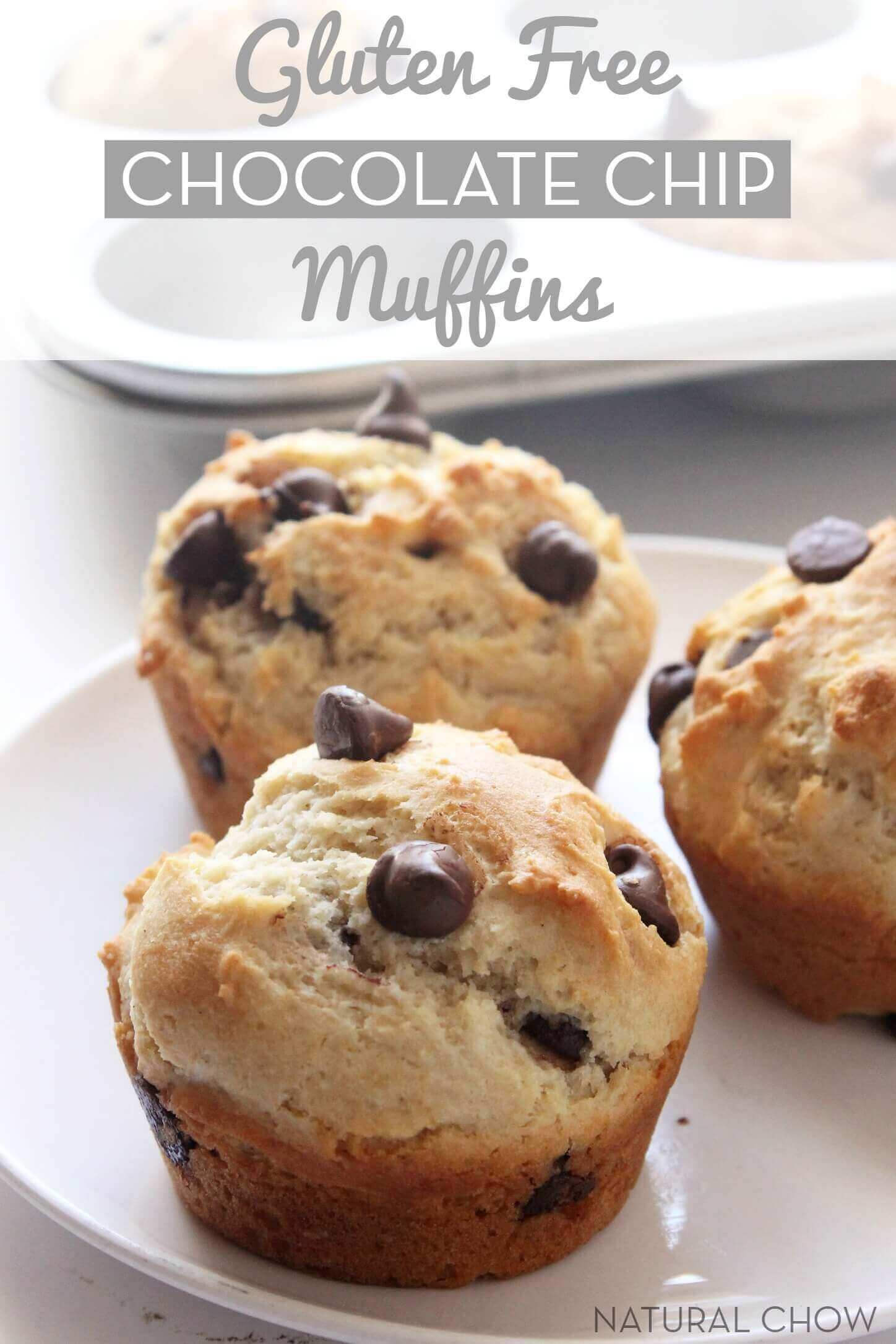 The best muffin recipes will yield muffins that are fluffy and light just like these chocolate chip muffins. The chocolate chips add a bit of fun to breakfast when you add these to your menu repertoire. Kids will love them as much as adults because they are tasty and fun to eat. Better yet, they are very simple to make. They do not require any unusual ingredients and they are simply mixed by hand and then baked in the oven. They also make a great snack or dessert item that is perfect for the gluten-free diet.
19. Gluten-free Carrot Zucchini Muffins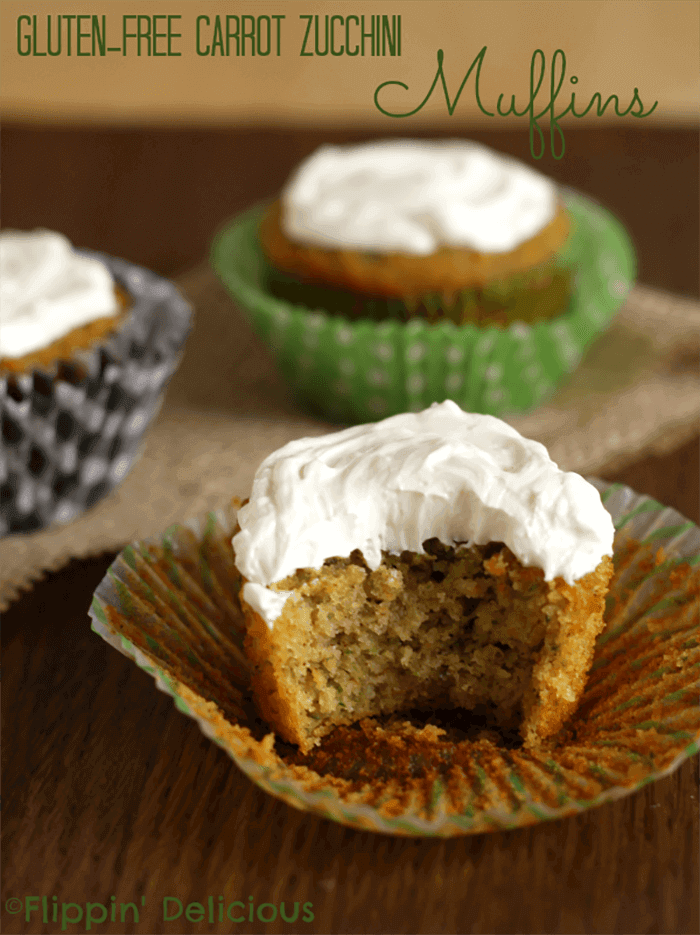 In many countries, vegetables make up a bulk of the breakfast meal. Veggies actually make a great breakfast, especially when they are baked into a mouth-wateringly good tasting muffin. The carrots and zucchini in this easy recipe add nutrients and fiber to start your day off right. The bulk of these muffins come from almond meal, a good source of protein. Rice flour rounds out the ingredient list and helps the muffins come out light while still remaining moist from the fresh veggies. Whipped cream cheese makes the perfect muffin topping.
20. Banana Almond Butter Muffins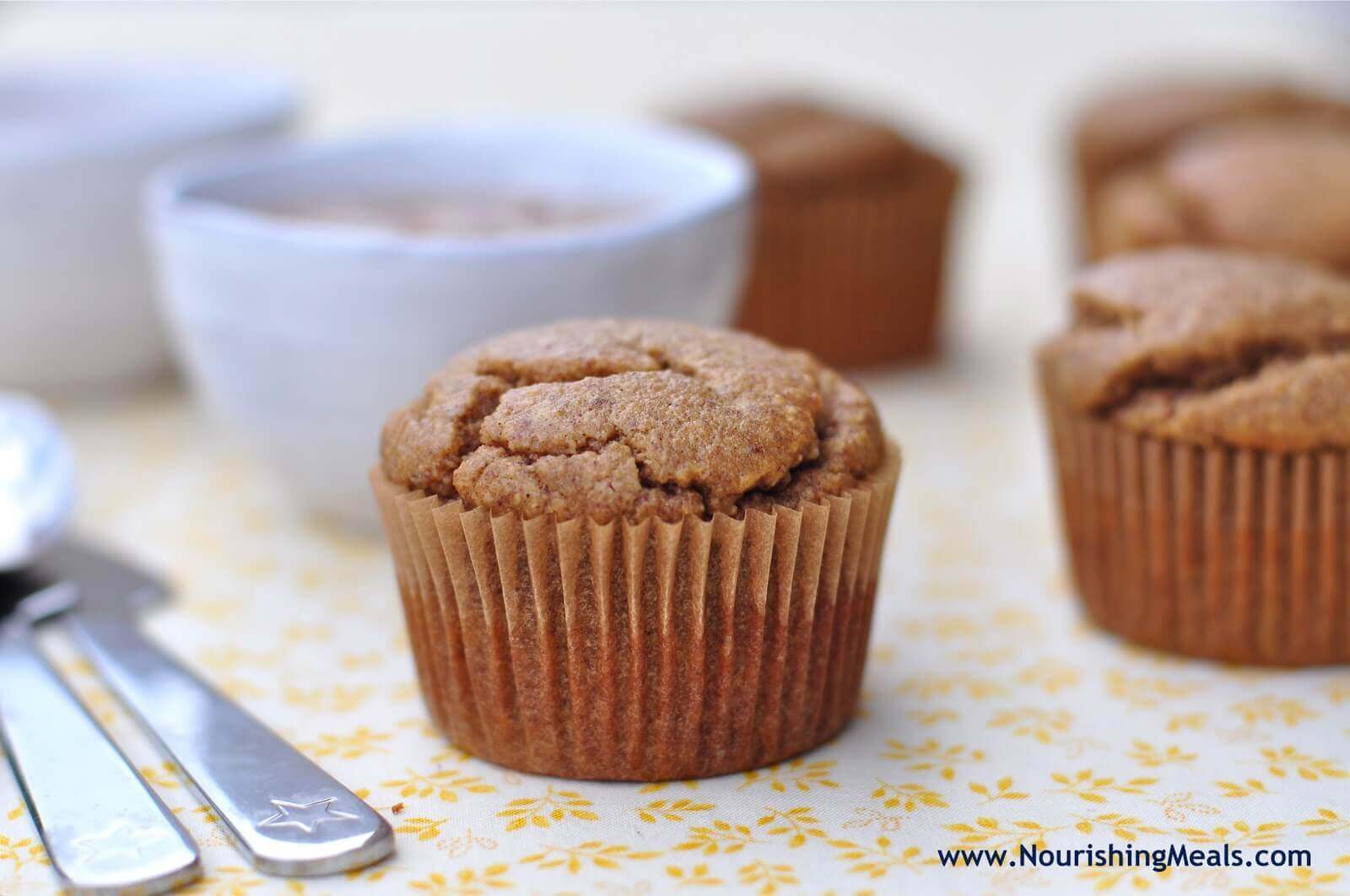 Grain-free muffins make a great meal idea for daily breakfasts. Since these muffins contain both almond butter and almond flour, they are therefore full of protein, over six grams. Protein helps keep you full throughout your morning, so it is always a good breakfast or snack choice. This particular gluten-free muffin does taste best when completely cool. You may want to bake them in the evening, so they will be perfect to serve the next morning. Additionally, these muffins have bananas, eggs, and maple syrup, among other ingredients, to give them more substance and a bit of sweetness.
21. Gluten-free Cinnamon Swirl Banana Muffins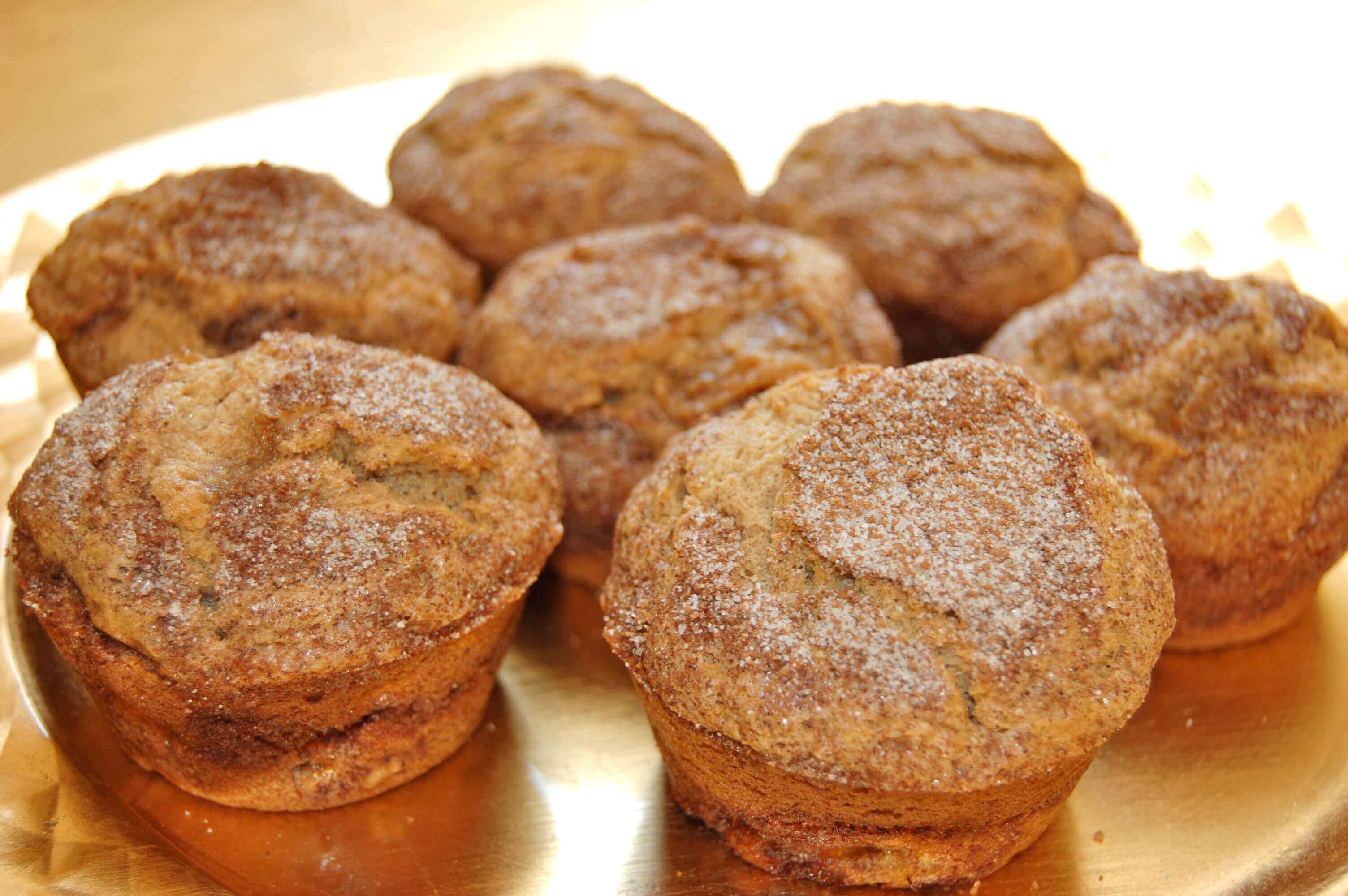 These are not your low sugar muffins, but you will be so glad you tried one of the best muffin recipes. They turn out beautifully moist and perfectly dense, and they are even nice enough to serve at a holiday meal. Yet, they are simple enough to make for a weekday breakfast or snack, too. Besides, your kitchen will smell so cinnamon-y good while they are baking that it will be hard to wait for them to come out of the oven. Using very ripe bananas will allow for even more flavor and sweetness. The cinnamon-sugar layer in the middle of the muffins really makes them taste extra special.
22. Gluten-free Peanut Butter and Banana Muffins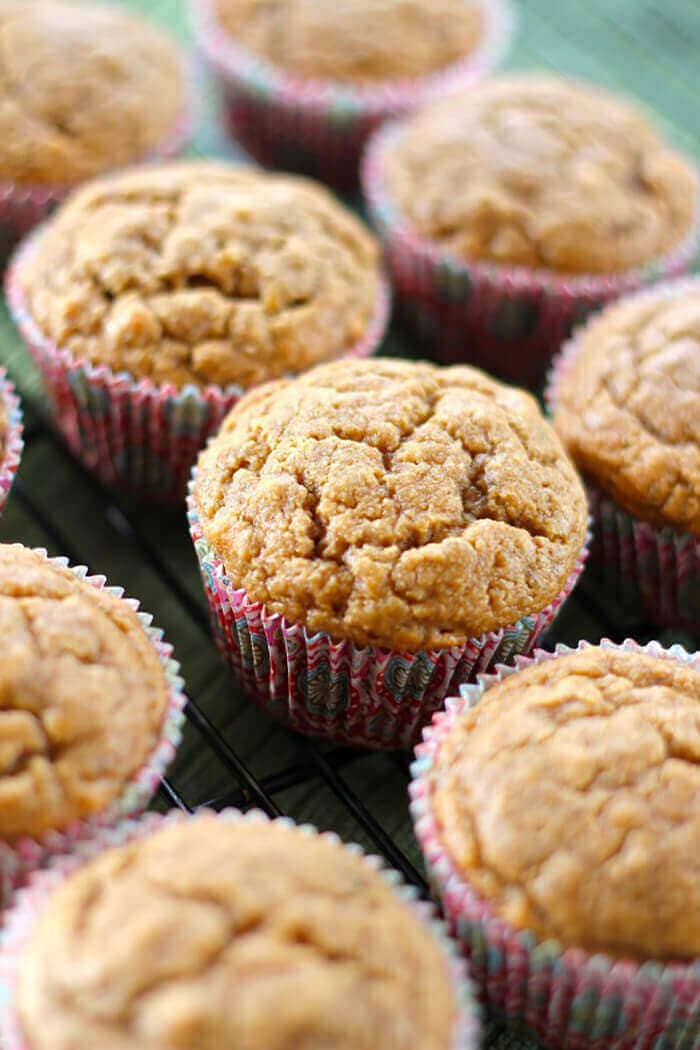 For peanut butter lovers, this is one of the best gluten-free muffin recipes. It uses a whole cup of organic peanut butter to give them a great tasting flavor. In addition, the banana adds just a hint of flavor that is just the perfect amount for these lovely delights. These muffins are a great breakfast option as they are healthy even though they may not taste like it. They contain over seven grams of protein and some needed fiber as well. On top of that, the muffins are not too sweet and only contain a small amount of added sugar.
23. Apple Cinnamon Baked Oatmeal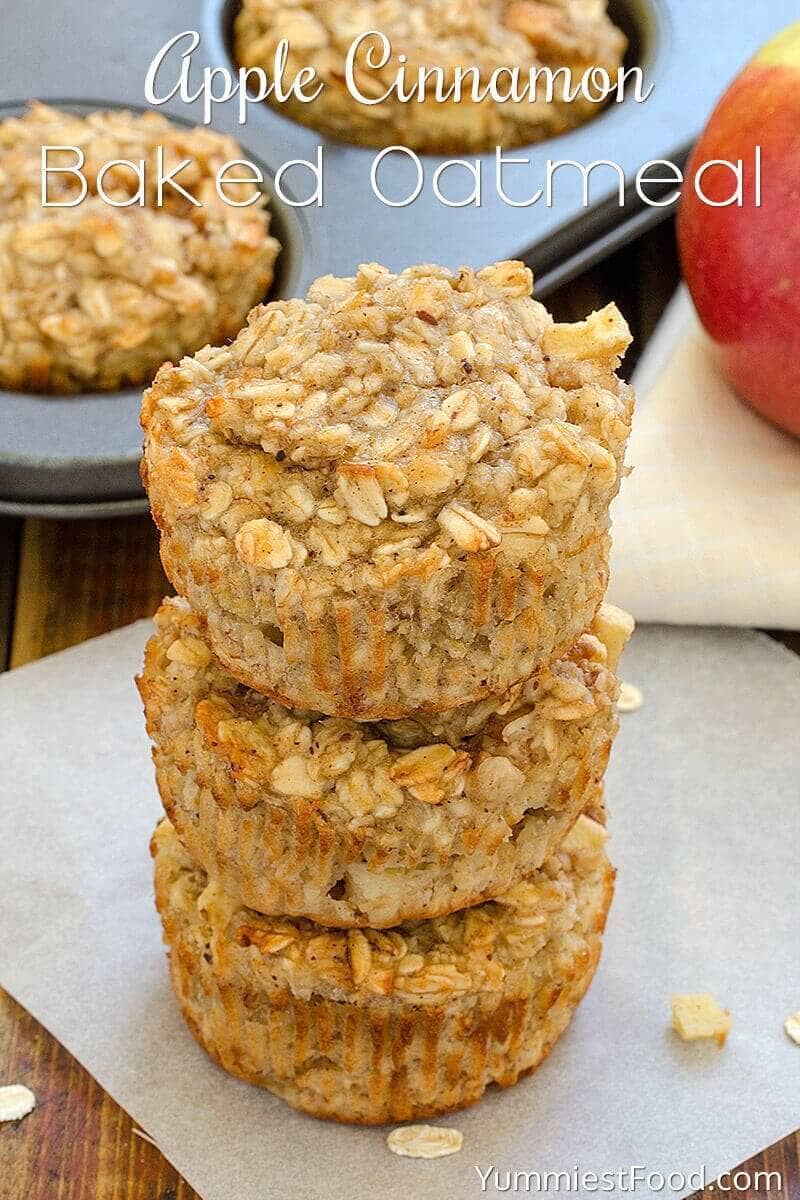 This baked oatmeal is a gluten-free meal idea that makes a perfect breakfast or great snack, especially when you are on the go. Since oatmeal is a naturally gluten-free food, it is a great base for a healthy treat. This recipe adds apples and cinnamon for a flavor combination that really pairs up well together and makes the oats taste especially enticing. Moreover the apple and some mashed banana give this recipe the extra moisture to make the muffins soft and pleasing to bit into.
24. Paleo Cinnamon Sugar Pumpkin Donut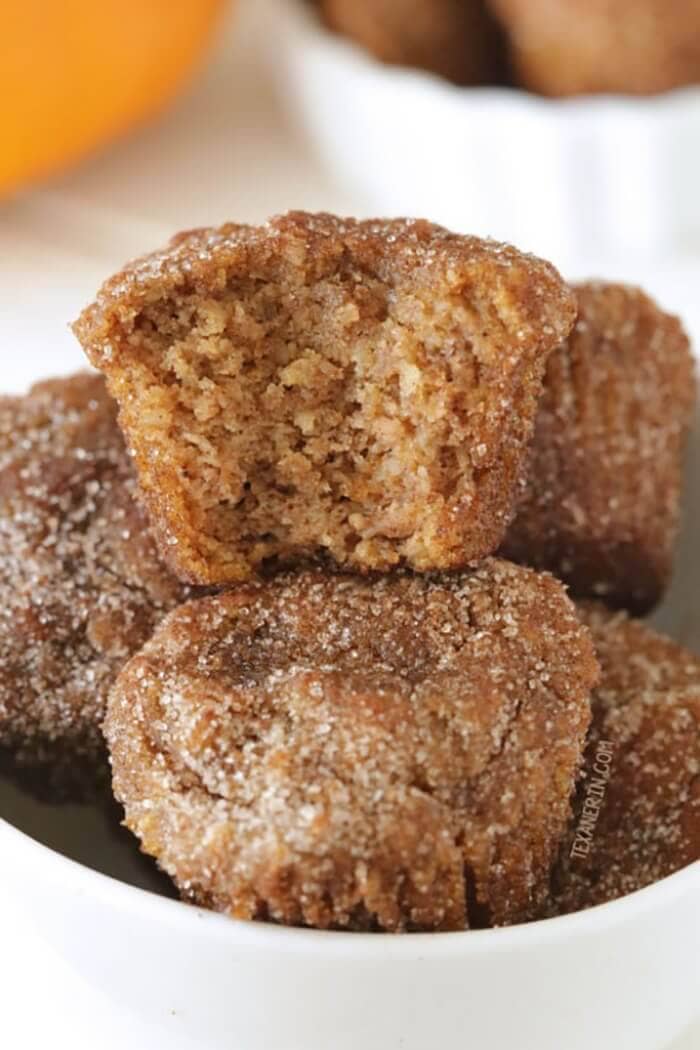 These donut holes are made in a mini muffin tin and are grain free, gluten-free, dairy free, and Paleo diet approved. This muffin idea is perfect for fall weather with its pureed pumpkin and pumpkin pie spices. It has a very warming flavor, and the texture is soft and moist. Best of all, you can roll these in coconut sugar after they bake to give them an extra boost of sweetness and a bit of fun for the kids and adults alike.
25. Apple Muffins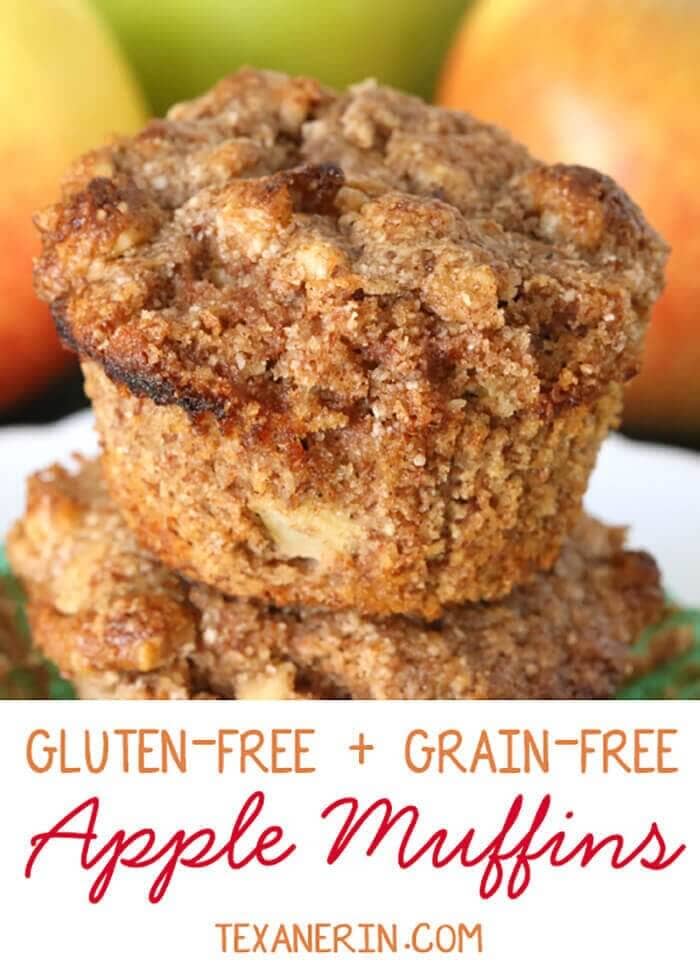 These apple muffins are one of the best muffin recipes you can find. Many grain free muffins can get soggy, but these definitely do not. They are perfectly moist with a great texture throughout. They rely on almond flour for their base and it helps them to stay together nicely. The diced apple in the mix adds a perfect sweet and tart taste that is just right for autumn. Add the streusel topping for a little more sweetness and you have a great breakfast or a lunchbox snack ready to go.
26. Paleo Banana Nut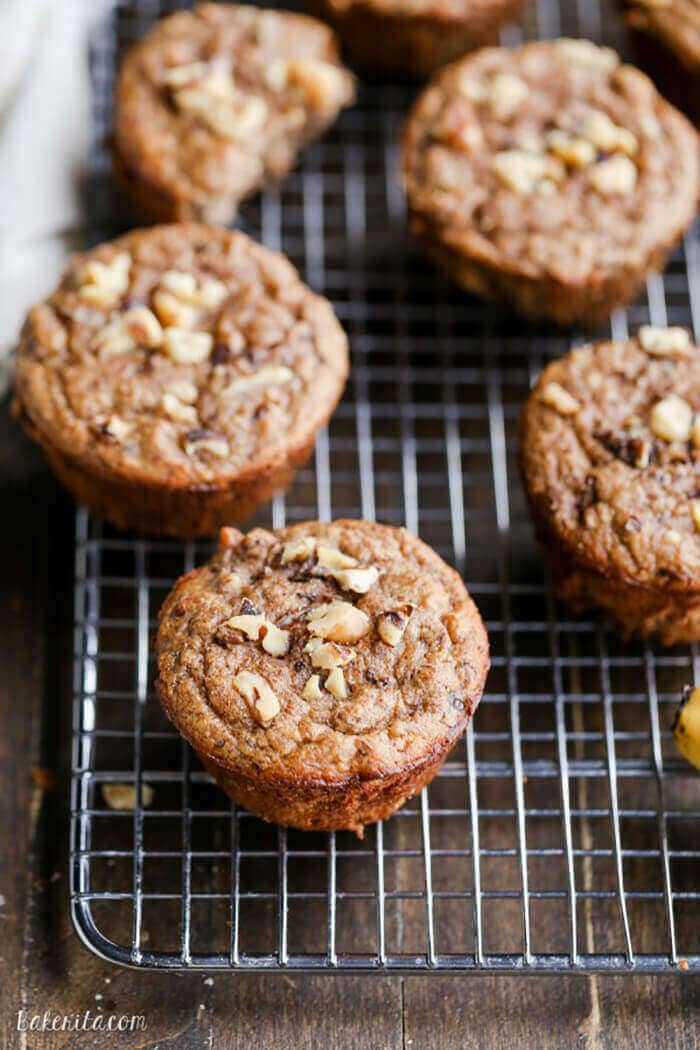 These Paleo style banana nut muffins will make your kitchen smell warm and delectable when these are baking. In fact, the cinnamon and banana scents combine together to fill the whole house. And, after the long wait, the taste is even better. The texture is fluffy and the nuts give the muffin a great crunch when you bite into it. The best part is that the banana gives these gems all the sweetness they need. The riper your banana, the sweeter your muffins will turn out.
27. Gluten-free Crust less Pumpkin Pie Cupcakes

Cross a pumpkin pie with a cupcake, and you will have these delicious muffins. Since a muffin really is just a cupcake that is eaten for breakfast, these can qualify. And, these are a great treat to eat for breakfast. Plus, since these require no crust and only simple mixing of ingredients, they are an easy recipe to prepare. They are even great when made a day ahead of time and stored in the refrigerator. This makes them perfect for every day, but they are also nice enough to bring to a holiday breakfast or a Thanksgiving dinner for dessert.
28. Healthy Oat and Blueberry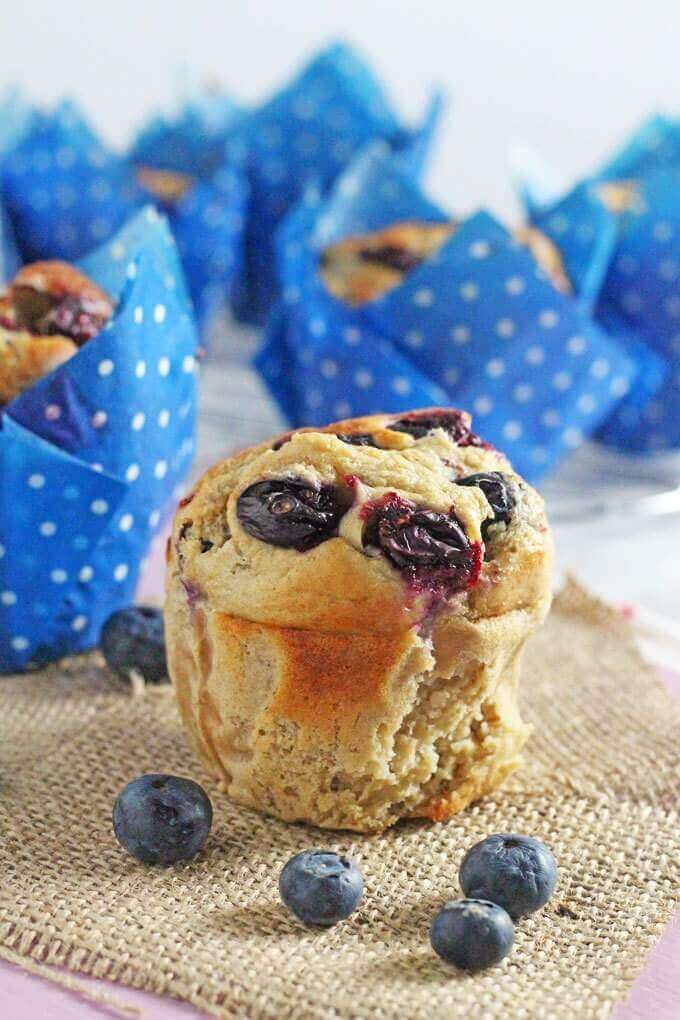 These super nutritious muffins are made with oats instead of wheat flour and are packed full of slow releasing carbohydrates in addition to a good amount of fiber. The oats make for a denser muffin with a great texture. They are filling and hearty. In addition, the blueberries burst as you bit into the muffin, and you will get a good serving of fruit. Another great feature of this gluten-free muffin is that is simple to make. Just toss all the ingredients into a blender then pop the filled muffin tins into the oven for a quick bake.
29. Gluten-free Blueberry Muffins with Almond Flour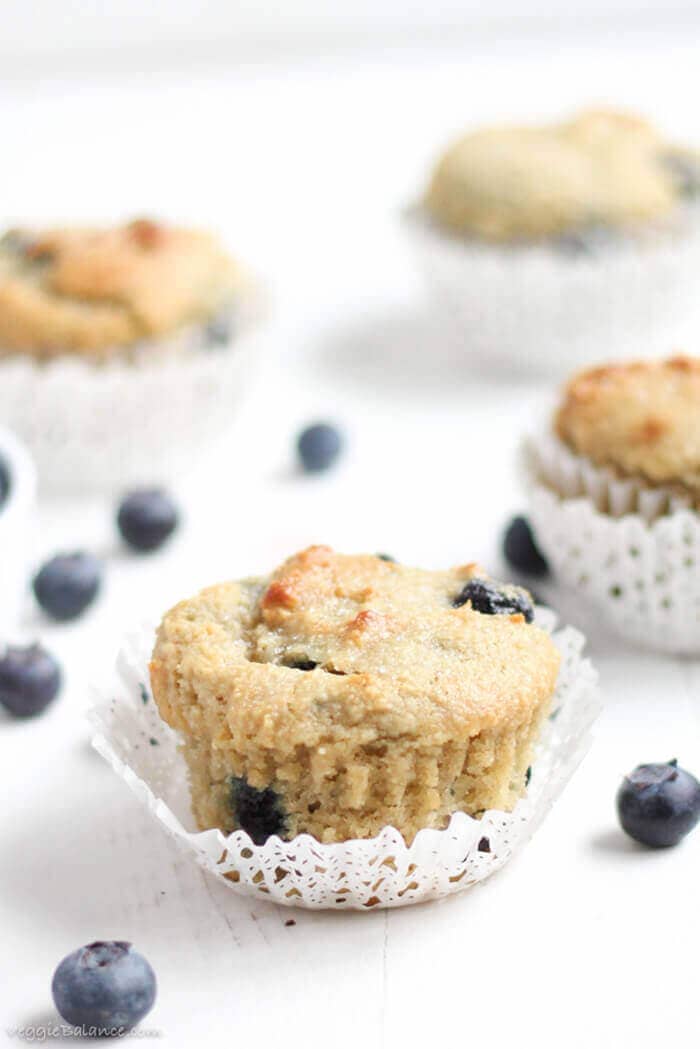 When blueberries burst in your mouth as you bite into this muffin, you will be in heaven. These dairy free, grain free, refined sugar free, and gluten-free muffins are moist and deliciously low in sugar. In fact the only sweetener used is a fourth of a cup of honey or maple syrup for the whole batch. Yet, they are just sweet enough to be irresistible. And since there are only seven ingredients in the whole recipe, it comes together quickly and you can eat them sooner rather than later.
30. Vegan, Gluten-free Pumpkin Spice Muffin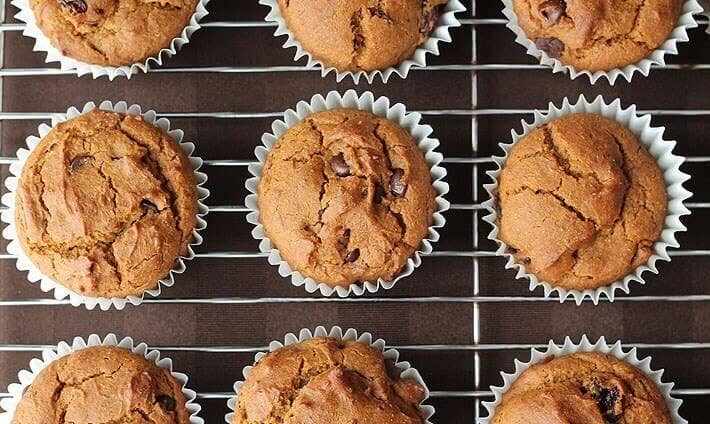 These pumpkin spice muffins are so good that you would never know that they are vegan and gluten-free. Perfect for the fall days and Thanksgiving treats, these muffins are actually one of the best muffin recipes to make all year long. These appetizing pumpkin spice muffins are a great meal idea for breakfast, and they are also perfect for a mid-morning snack, lunchbox dessert, or afterschool treat. Whenever you eat them, you will not be sorry you tried this recipe.
31. Gluten-free Pumpkin Cupcakes with Cream Cheese Frosting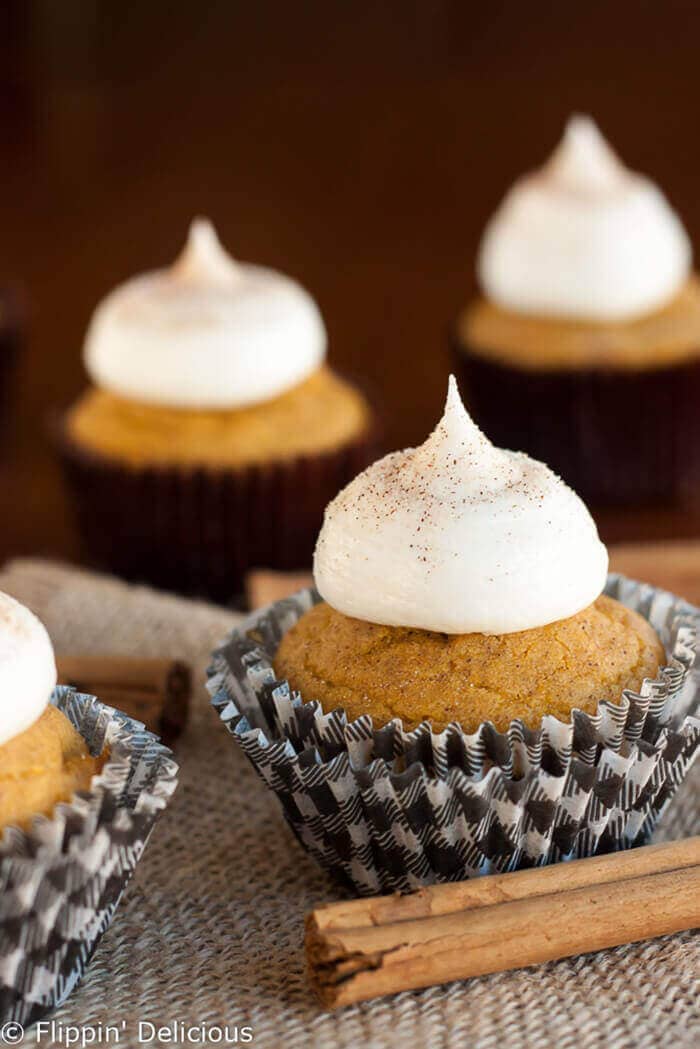 Pumpkin is the squash to have in the fall months. It is the perfect addition to baked goods because it is packed with nutritious vitamins and provides for a moist cupcake. These cupcakes make a decadently sweet breakfast that is packed with goodness. Or, they can be a holiday dessert for the Thanksgiving buffet dinner you are attending. Either way, this is an excellent muffin idea because they turn out moist and soft. The delicate ginger, nutmeg, and cinnamon pair super well with the tangy sweetness of the cream cheese frosting. They are so good that you may not be able to eat just one.
32. Healthy Flourless Pumpkin Muffins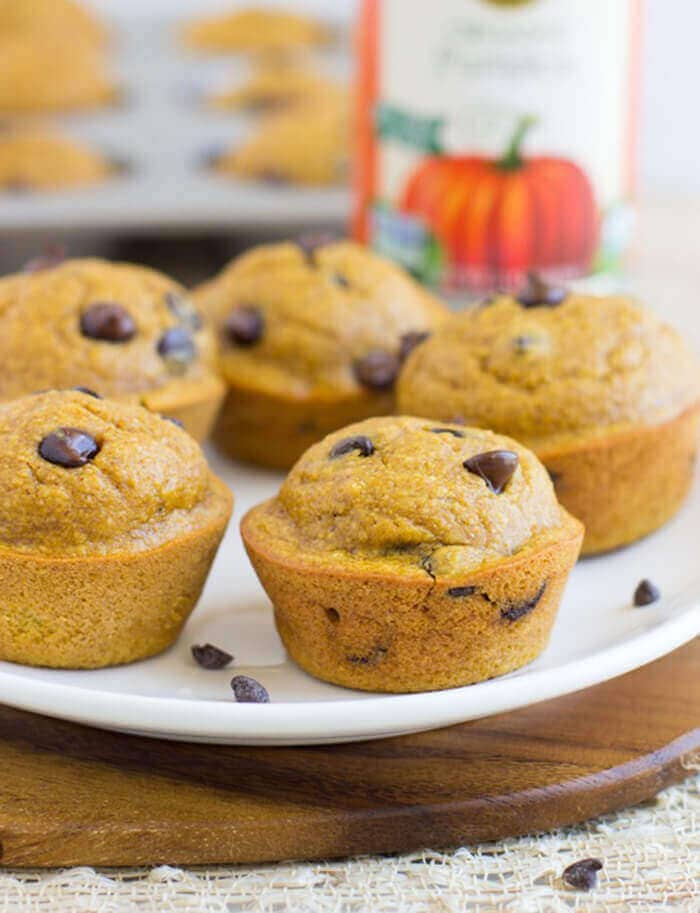 As a gluten-free, oil free, dairy free, and refined sugar free muffin idea, you may think these muffins would not have much flavor, but you would be very wrong. They are so full of pumpkin flavor that they are practically bursting. You will also find that this is a very easy recipe to put together. All the ingredients except the chocolate chips, get layered into the blender and blended until batter like. Then the chocolate chips or other mix-ins are stirred in and the muffins can be baked in muffin tins. The most exciting part is next: Eating the muffins.
33. Gluten-free Maple Pecan Muffins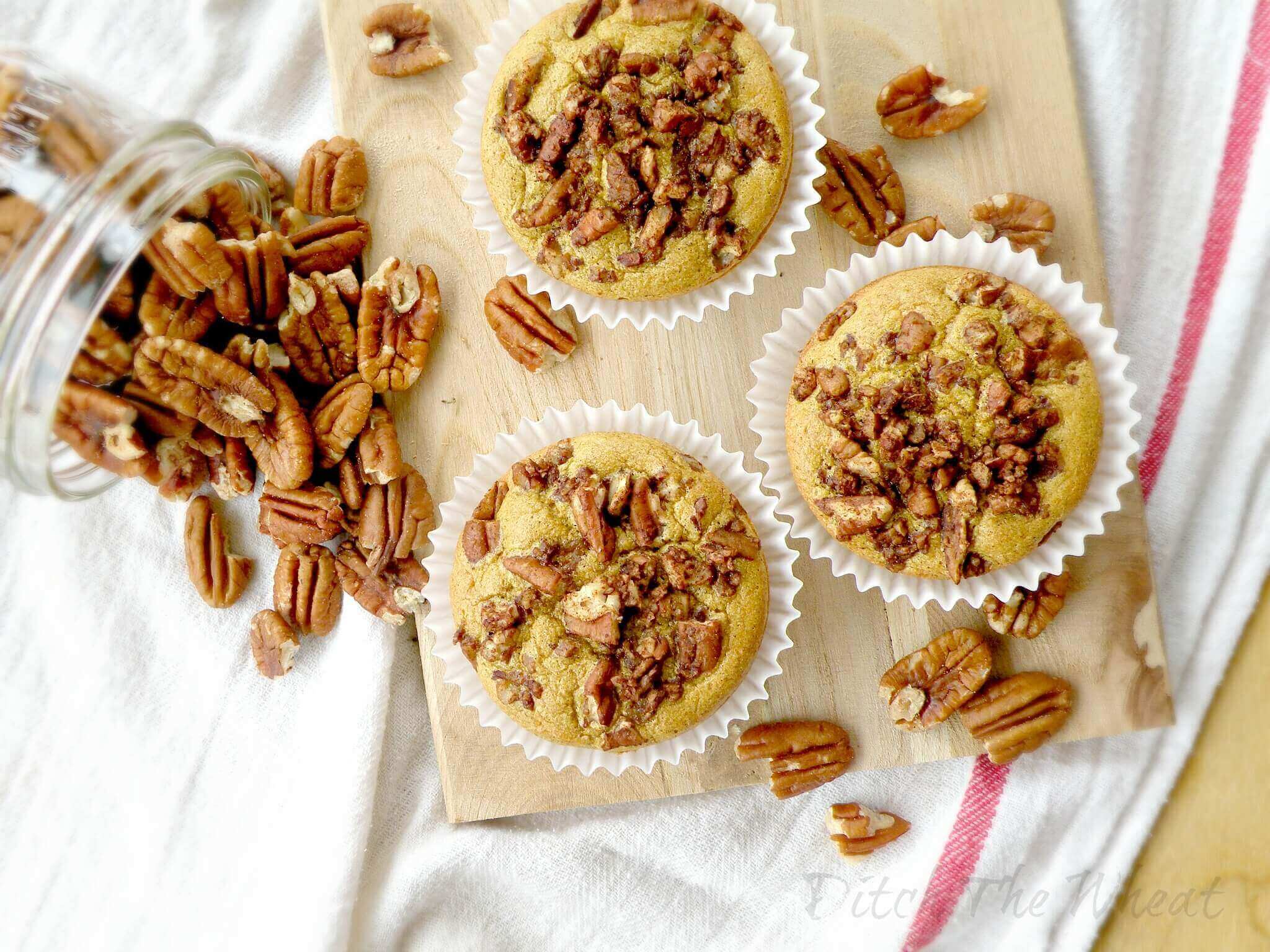 Coconut flour is the essential ingredient in these muffins. It is a naturally gluten-free food that helps to make the muffins light and fluffy. They even rise and have a domed top like a muffin made with traditional wheat flour. They other key step is to separate the eggs and beat the whites until they reach the stiff peak stage. The flavor and sweetness come from the pure maple syrup. To top off the muffins, another drizzle of maple syrup and some crushed pecans do the trick.
34. Gluten-free Banana Muffins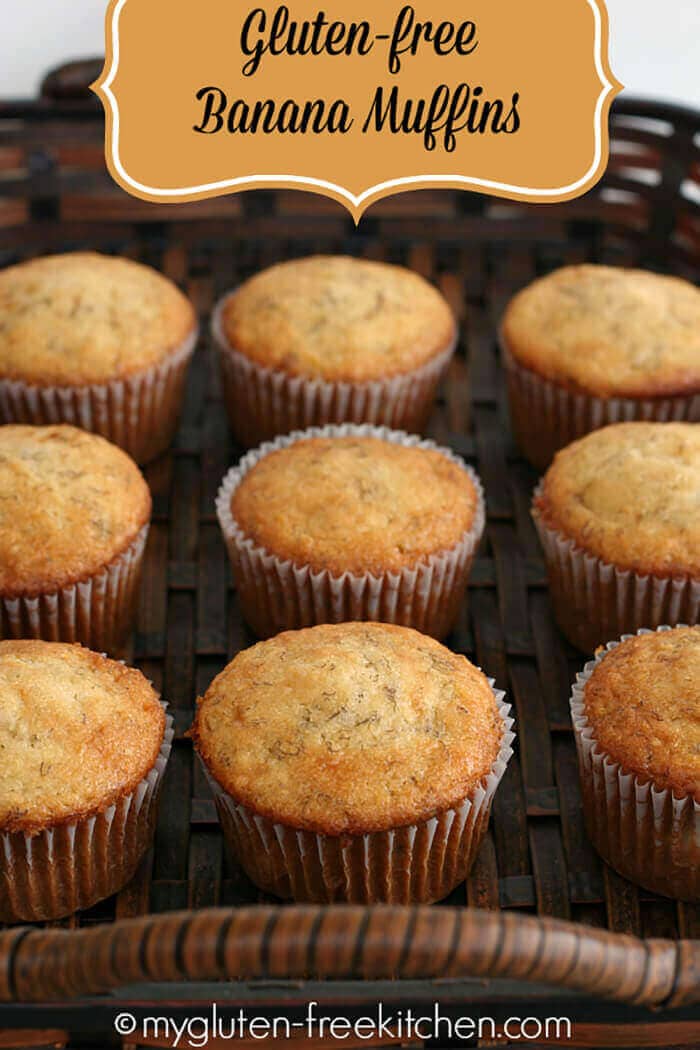 Over-ripe bananas equal a batch of banana muffins. Though these gluten-free muffins do have a significant amount of sugar, they will taste even sweeter when you use very ripe bananas. Using different blends of gluten-free flours will yield muffins with different textures yet they will all be delicious and very similar to muffins made with traditional wheat flour. They freeze beautifully, and they can be warmed up in quickly for an easy breakfast or snack. The recipe as-is makes about 18 muffins, but it is easily doubled, so you can always have some on hand.
35. Light Gluten-free Blueberry Muffins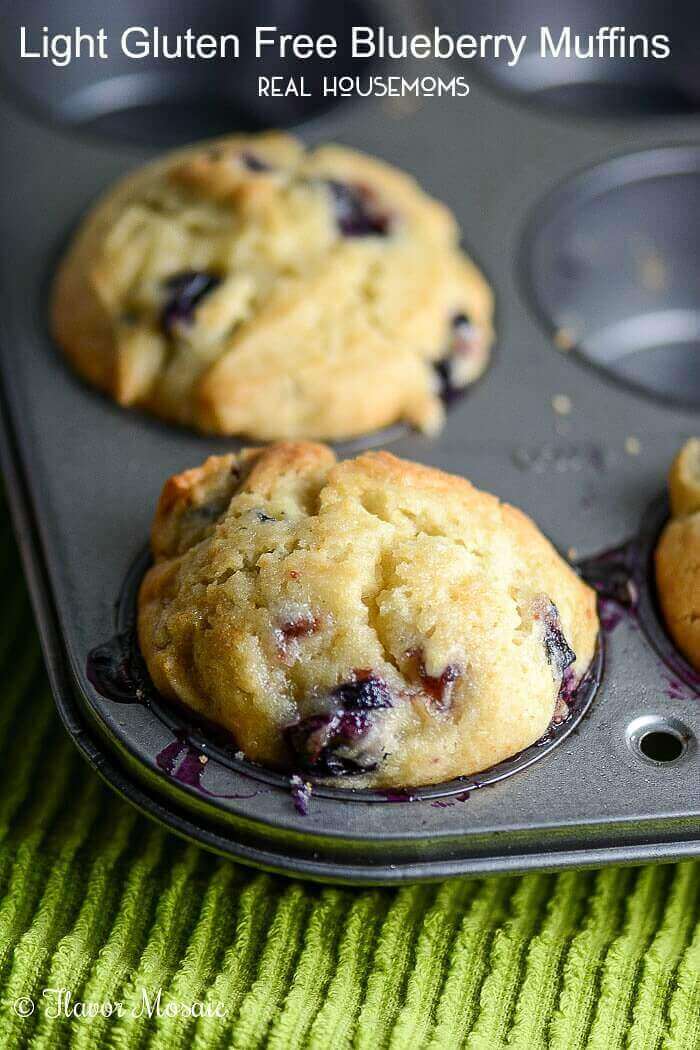 You will never know that these muffins were made from a gluten-free recipe. Moreover, though it is lower in sugar and calories, it still tastes fantastic. A few substitutions made these muffins light and delicious. For example, using almond milk, coconut oil, and sugar substitute, you can lower the calories significantly while still retaining all of the flavor. In addition, the blueberries add some fruit and a luscious tangy sweetness to the muffins. These are the perfect on-the-go morning breakfast for busy families.
36. Gluten-free Lemon Raspberry Muffins
The mouth watering tartness of lemon mixed with the tartly sweet raspberries makes a combination that cannot be missed. These muffins can be part of a gluten-free diet because they contain only a gluten-free flour mixture. They rise nicely with a domed top similar to typical wheat flour muffins. Yet, they are moist with the tart berries adding a burst of freshness to the package. Furthermore, these muffins are easy to prepare, and they are a crowd pleaser.
37. Gluten-free Cinnamon Roll Muffins
When you are looking for cinnamon rolls without all of the work, you should try these cinnamon roll muffins. You make them in a muffin tin, and they are an easy recipe and a great option for those on a gluten-free diet. The tops rise into a perfect dome and are slightly crispy thanks to the cinnamon sugar filling. The filling gets swirled throughout the batter so every bite has the cinnamon-sugary goodness in it. The muffin is tender inside and light throughout. You can choose to add a simple glaze or a cream cheese frosting to top it off, or you can leave it plain, and it is still great.
38. Classic Gluten-free Banana Muffins

Traditional banana muffins are not usually a gluten-free food option. Yet, one of the best gluten-free recipes for banana muffins can be found right here. Moist and tender muffins have the perfect texture, thanks to the use of buttermilk which reacts with other ingredients to tenderize these gems. It also adds a bit of moisture to the batter for the perfect consistency. But, of course, the star of this recipe is the bananas. The riper your bananas, the better your muffins will be. Extra spotty bananas are sweeter and provide the perfect flavor for banana muffins.
39. Gluten-free Spinach Muffins
For something completely different, spinach muffins fit the bill. While the color may be unusual, especially at breakfast time you will find that they are tender, sweet, and delicious delights. Adding spinach to your muffins is a great way to add more green vegetables to your daily breakfast meal. You will barely taste the spinach, but you will reap the benefits and get a sweet, delicious treat to eat. Their simple preparation uses a blender to combine the ingredients, and then, they cook up quickly. They also freeze well for times when you need to grab a quick snack on the go.
40. Grain free Banana Chocolate Chip Mini Muffins
Bananas are an important ingredient in this recipe. Not only do they add flavor, but they provide most of the sweetness that these muffins contain. Mini chocolate chips add the rest of the sweetness as there are no other added sugars, not even honey or maple syrup. Therefore, you want to make sure that your bananas are very spotty so that they will be as sweet as possible for these muffins. Cinnamon and nutmeg also add a nice spice to give these muffins extra flavor. You can replace the chocolate chips with nuts or dried fruits if you prefer. Because these are mini muffins, they bake quickly and can be on the table in less than 15 minutes from start to finish.
41. Gluten-free Lemon Poppy seed Muffins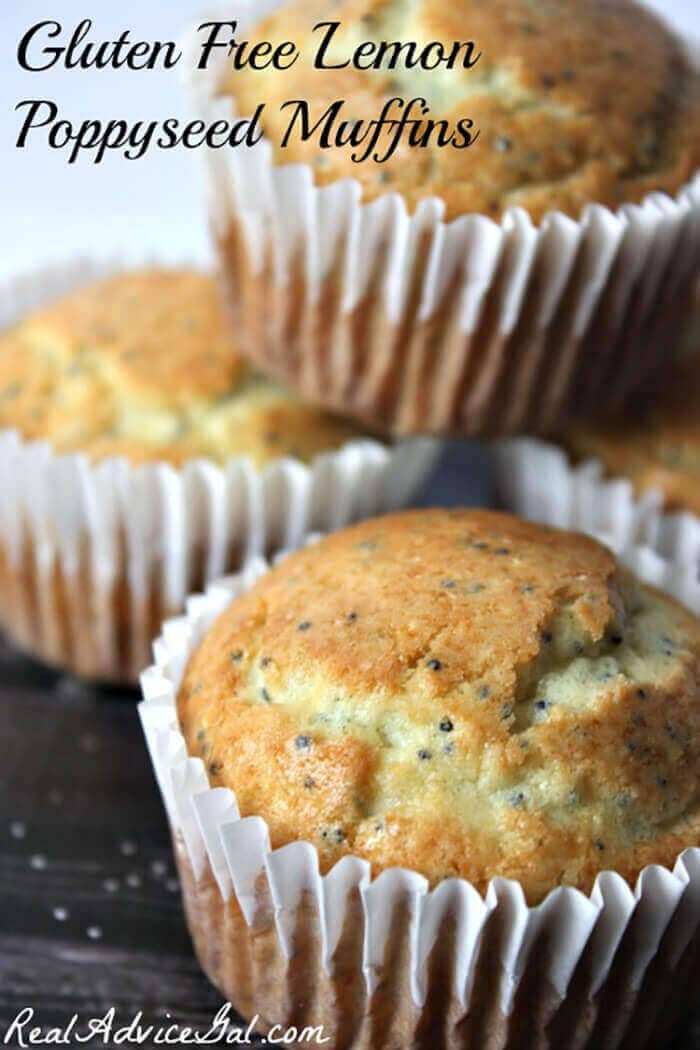 Lemon is such a pick-me-up kind of flavor that it is perfect for muffins. These muffins will be great for breakfast as their zesty flavor will help you wake up. Add a cup of coffee or tea, and you will be set to start a new day. The real lemon juice and lemon zest combine for a beautiful lemon flavor that really comes through in these muffins, and the poppy seeds give them an extra bang. These use a very straight forward recipe that is simple enough to follow. Plus, they are made with almond flour and coconut flour, so they are even perfect for the person on a gluten-free diet.
42. Bakery Style Double Chocolate Chip Muffins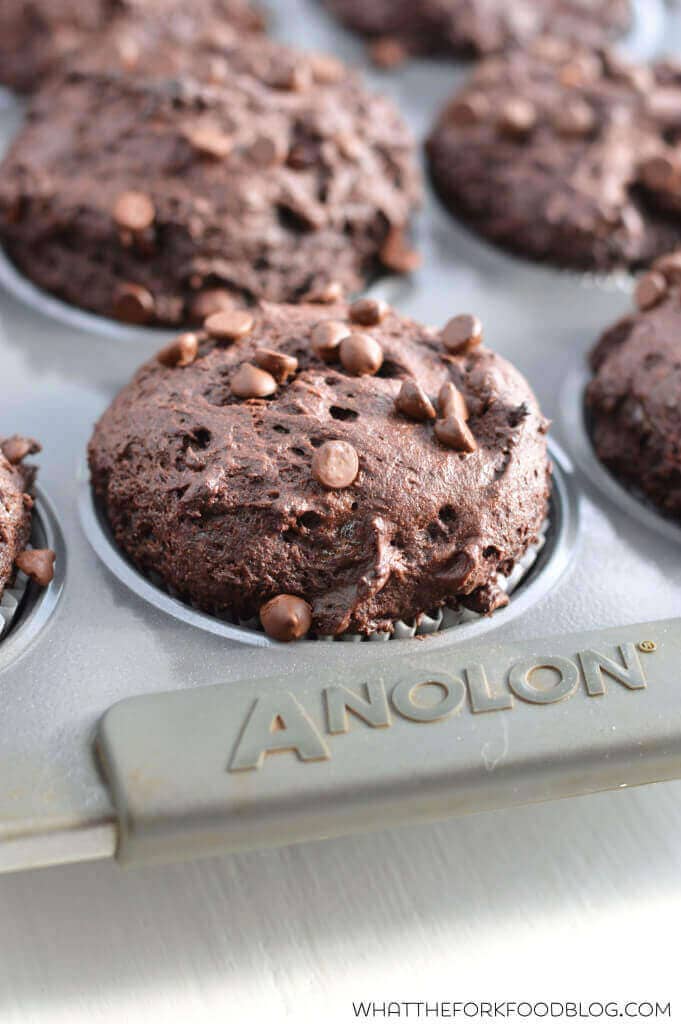 If you are looking for the ultimate in chocolate breakfast experiences, look no further than these tasty muffins. They look and taste like a gourmet muffin you would get at the bakery, but you can make them at home. They rise up with a nice dome and have an excellent texture. Using an all-purpose gluten-free flour and good quality cocoa powder will give you a batter that is rich and delicious. Adding chocolate chips just ups the chocolate factor for some of the finest muffins. Not only will these make your whole kitchen smell wonderful, but it will make it so hard for you to wait until they have cooled enough to eat them.
43. Gluten-free Eggnog Cheesecake Muffins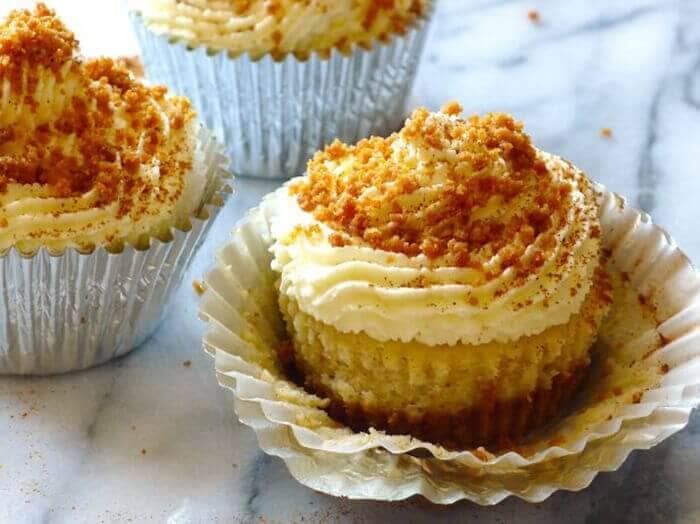 These eggnog cheesecake muffins are likely going to be served as a desert. Or, they could be a good afternoon snack for the kids or adults in your household. They are the perfect addition to any holiday dinner during the fall months. Of course, you could choose to eat them for breakfast, but they are very rich and creamy since they are made with cream cheese, eggnog, and heavy whipping cream. Yet, they are still made with gluten-free foods that result in a gluten-free muffin for those who need to eat that type of diet. You will love the wonderful medley of flavors found in these luscious cheesecake muffins. It'll be hard to eat just one.
44. Gluten-free Vegan Cornbread and Cornbread Muffins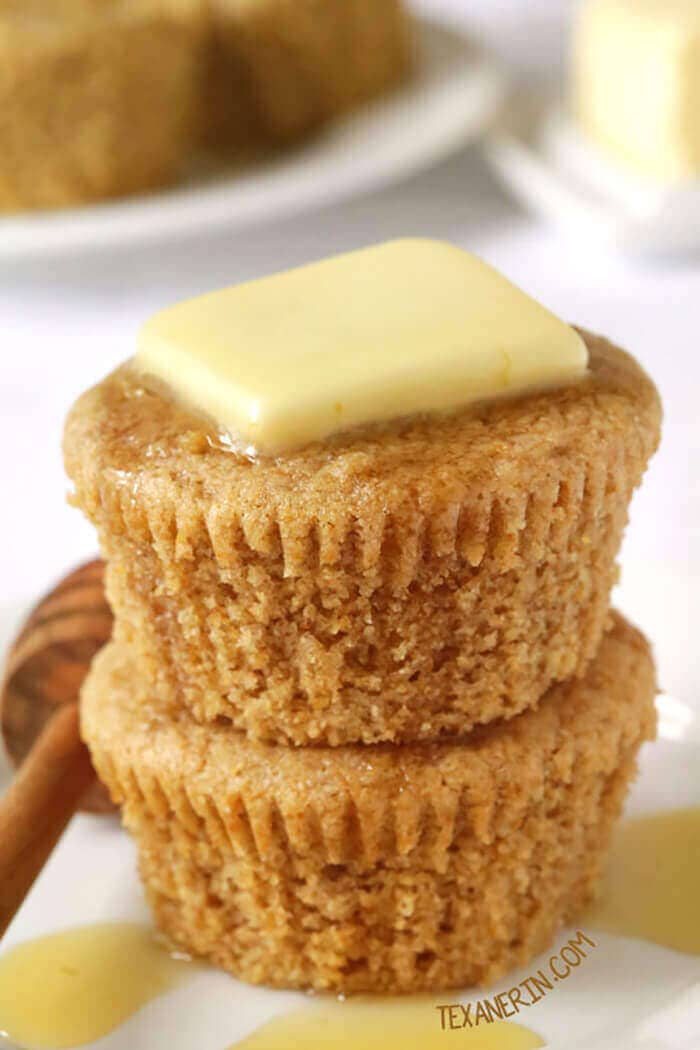 Cornbread muffins are the perfect breakfast or an accompaniment with dinner entrees such as chili. It would also be a great Thanksgiving option. This gluten-free muffin recipe has the perfect ratio of cornmeal to gluten-free flour. It has a great corn flavor without being gritty. It is also the perfect denseness while being moist and not too crumbly. The cake-like cornbread muffin has a light sweet taste and a vanilla flavor. When it comes out of the oven, you will find that they are very fluffy. They taste best when they are very fresh, so you will want to eat them soon after baking.
45. Gluten-free Carrot Cake Cupcakes

Carrot cake is a great holiday treat. And, here is a gluten-free recipe for carrot cake cupcakes made in a muffin tin that you can take to your next holiday gathering. These muffins are perfectly moist because they are loaded with fresh carrots. They are topped with a cinnamon cream cheese frosting that really makes them special. The secret to making these cupcakes so light and fluffy is to beat the oil, eggs, and milk until they are actually frothy before adding the dry ingredients. Yet, these cupcakes are never oily because they use just the right proportions of ingredients to keep them simply moist and luscious.
46. Easy Pumpkin Spice Muffins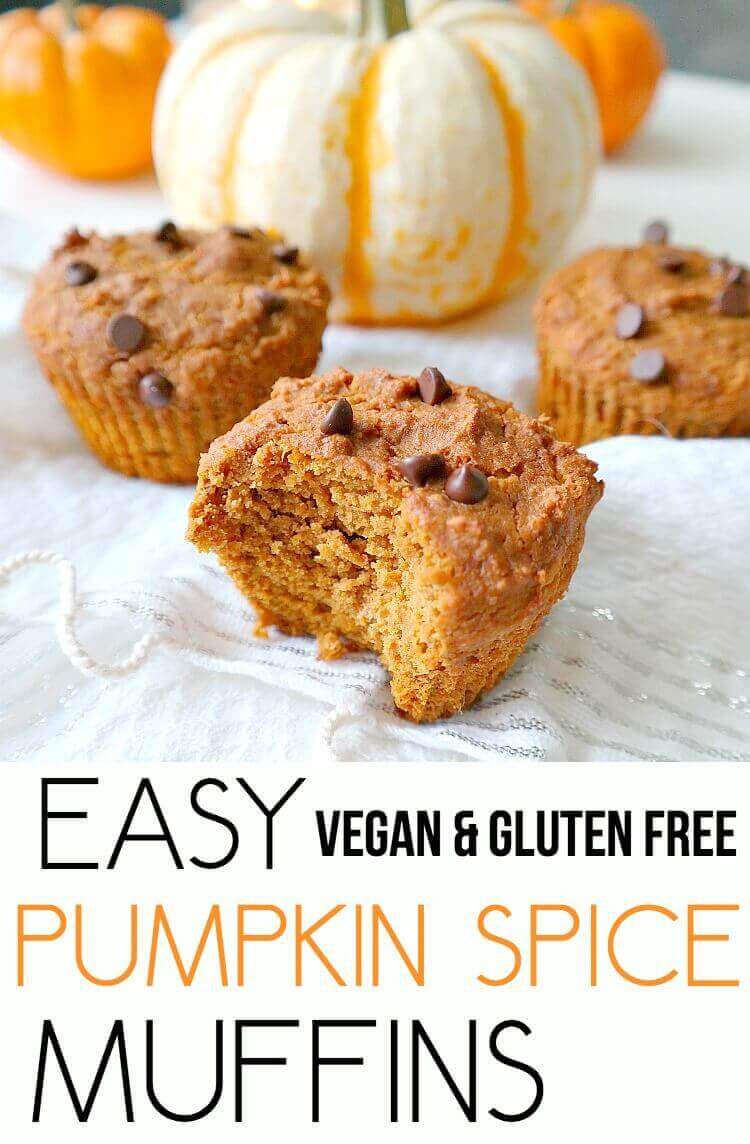 This gluten-free muffin recipe is special because it is vegan, oil free, nut free, banana free, and low in fat. This makes them ideal for almost any diet of lifestyle. On top of that, they are just plain yummy. They are full of pumpkin and warming spices that make the autumn days seem bright. They are a perfect start to the morning and make a great meal idea. They are also perfect for a snack in lunchboxes or anytime. They are beautifully moist and just the right amount of dense without being heavy. Even better is the fact that they are a healthy choice that actually tastes good.
47. Gluten-free Pumpkin Chocolate Chip Muffins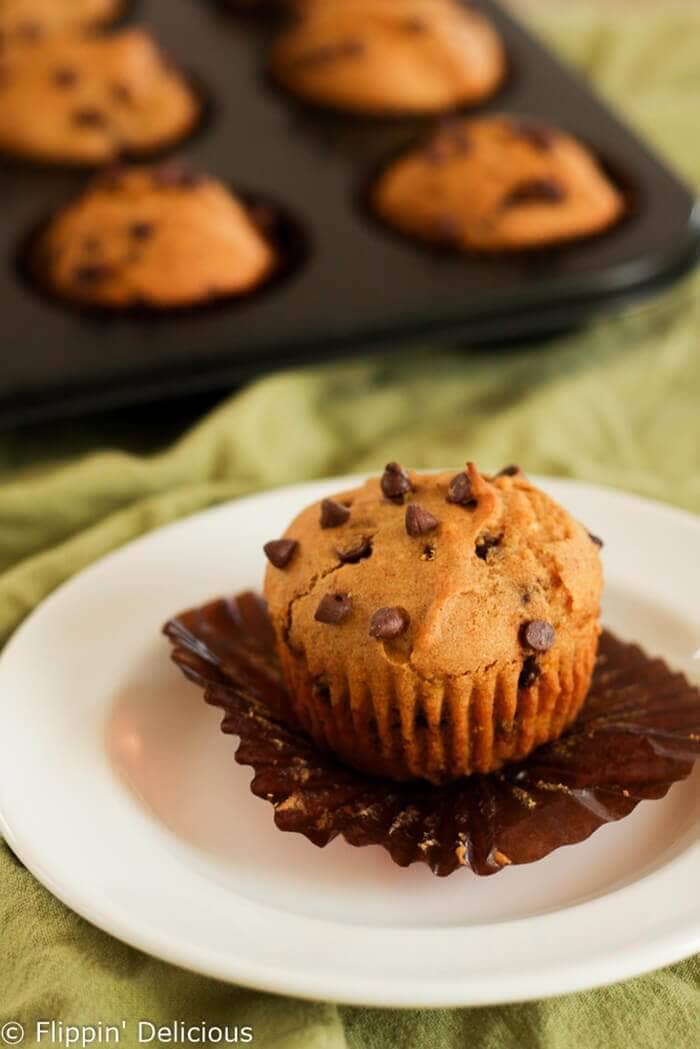 Pumpkin is not just for fall anymore. While it is perfect in the fall months and for holidays like Thanksgiving, this is a great gluten-free recipe to try any time of the year. Pumpkin puree is used to make the muffins moist and delicious. It also give the muffins a great flavor along with the warm spices like cinnamon, nutmeg, and ginger. These freeze really well, and you can defrost a few at a time for a breakfast on the go. The chocolate chips throughout are great and, for an added treat, sprinkle a few on top right before baking. They will look just like you bought them at an expensive bakery.
48. Flourless Sticky Cinnamon Bun Muffins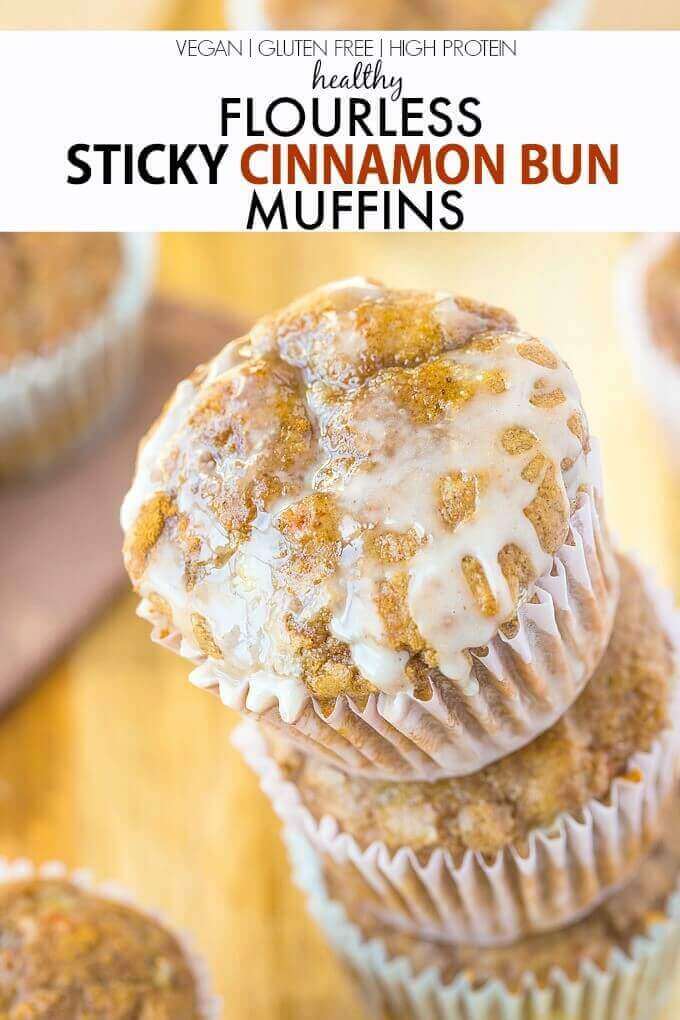 A healthier choice than the traditional cinnamon bun, these muffins will taste just like the sticky treat without the extra sugars or oils. Instead they use a sugar substitute such as natural stevia. It even works in the cinnamon bun glaze that is used to top the muffins. These muffins are a vegan and gluten-free recipe that is easy to make for a great snack anytime. You will find that these are so light and fluffy that it will be hard to tell that they are gluten-free.
49. Gluten-Free Banana Muffins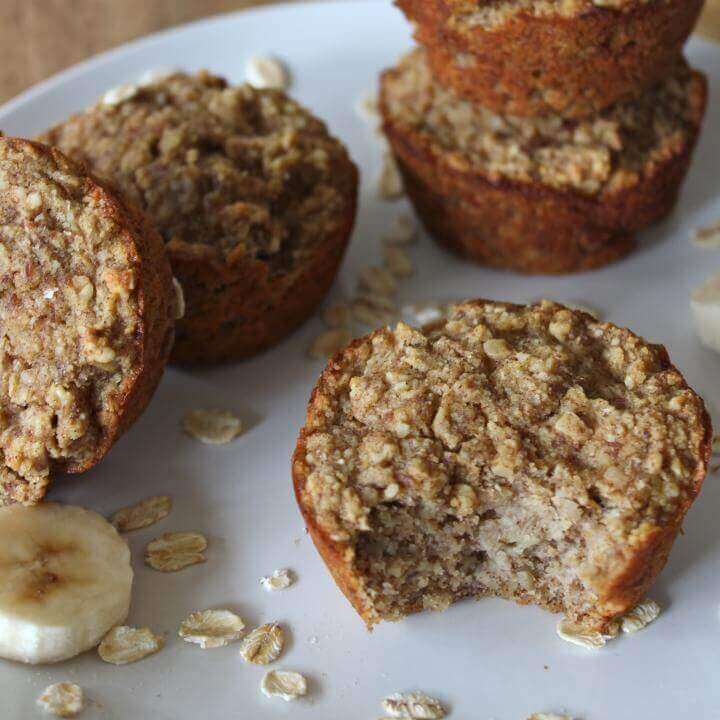 For a traditional banana muffin that uses a gluten-free recipe, this one is perfect. It makes a sweet treat for breakfasts or snacks that are suitable for anyone, even if they eat a gluten-free diet. Two large bananas give the muffins a lot of flavor while helping to keep them moist and delicious. In addition, the muffins are just a little bit dense the way that a good banana bread should be. They are not overly sweet since they have no added sugar. Yet, they really are just right. You will love the way that these muffins have the perfect balance throughout.
50. Gluten-Free Banana Oat Muffins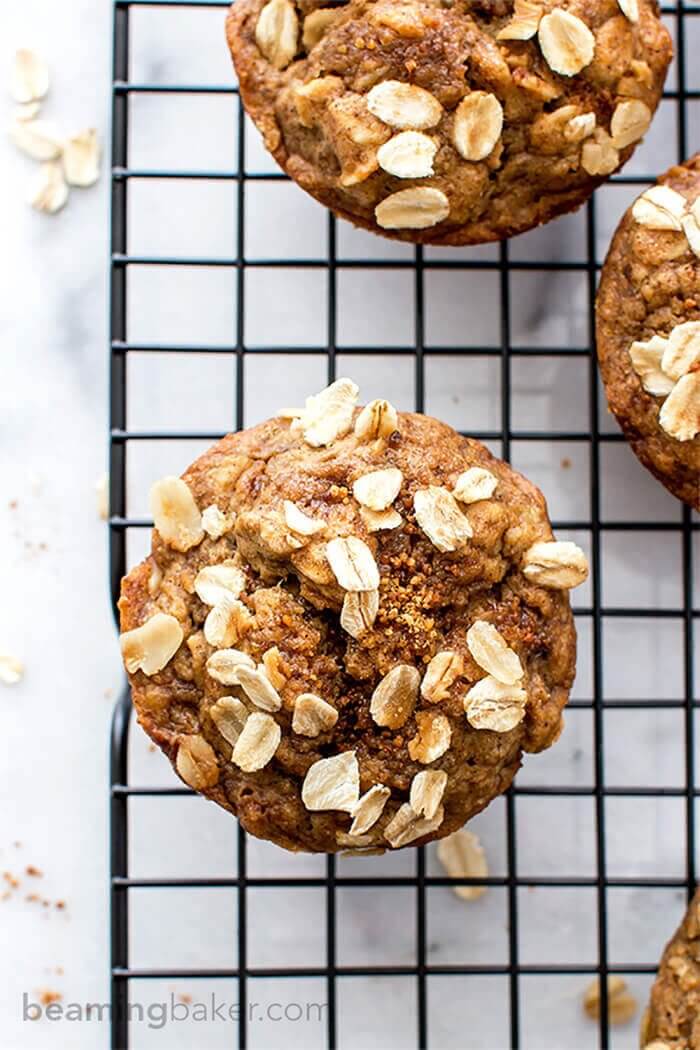 Banana oat muffins that use simple ingredients and are easy to make are always a hit. When they taste really great, that is even better. These muffins are all of the above. In addition, they are vegan and gluten-free so they can fit into a variety of lifestyles. Using gluten-free rolled oats makes these muffins a little bit dense, but it is perfect for achieving the great banana bread texture. They are rich and lightly sweet. Plus, the simple ingredients mix up in one bowl for a hearty, whole grain muffin that is so luscious you'll want to eat the whole batch.
Muffins are the perfect breakfast treat for busy mornings and busy lifestyles. They are also great for snacks at any time of the day. When you eat a gluten-free diet, it seems like it will be hard to find good muffins, but baking them in your own kitchen is the answer since most varieties are very easy to make. While you may have to do a little bit of experimenting with gluten-free flour blends, you will find that it is worthwhile because you will have some very tasty and fun treats to share with your family and friends on holidays and even on your average weekdays. Gluten-free muffins are a wonderful addition to your baking repertoire.