50 Gluten-Free Lunch Recipes that You Will Fall in Love With
If you're getting tired of eating the same old thing for lunch every single day, you need to change things up a bit by trying some new gluten-free lunch recipes. This is especially true if you've only recently started following a gluten-free diet. You've probably found a few favorite gluten-free foods and have stuck with eating those. The problem is that it gets boring and you start thinking about going back to old patterns of eating.
Break Out of Your Rut with these 50 Gluten-Free Lunch Recipes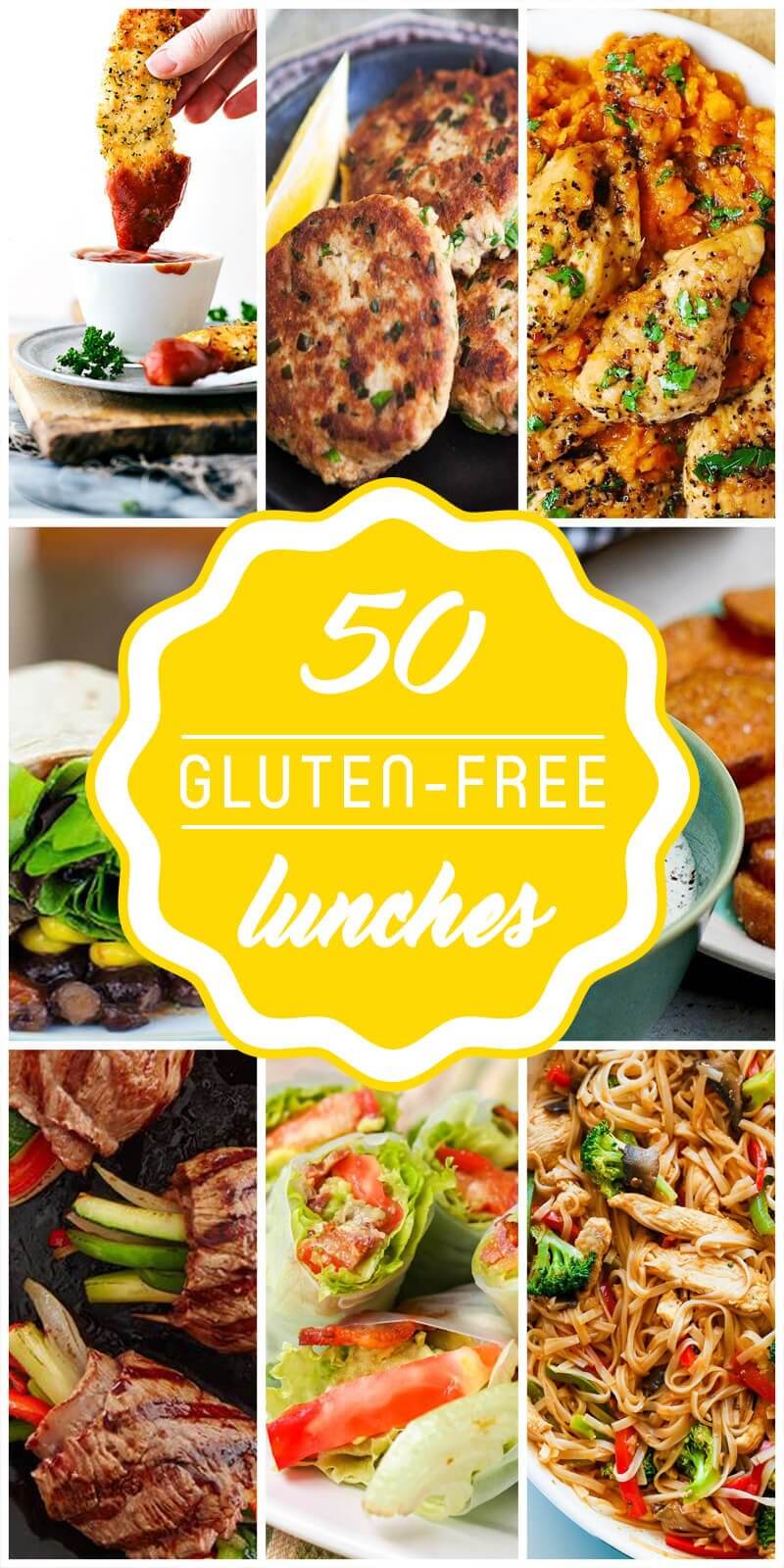 This is not good for your body. Fortunately, we've collected some of the best lunch recipes from around the web for you to try. Some of these are naturally gluten-free lunches you might have forgotten about while other recipes might be completely new to you. No matter what your tastes are, you're sure to find many tempting lunch ideas from our list. Take a chance and try something completely new.
1. Chicken Broccoli and Mushroom Stir Fry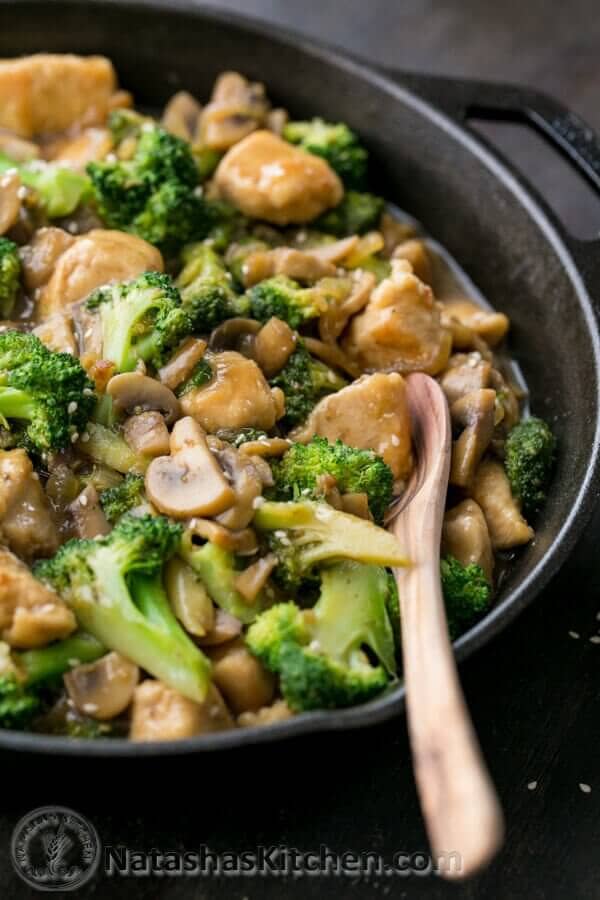 This delicious stir fry has a rich flavor with Asian undertones. The addition of chicken broth and honey really tone down the flavor of the soy sauce, so it's a good choice for those who aren't too sure about traditional Asian dishes. Serve this gluten-free recipe over rice or another type of grain to make it a heartier meal. It's sure to fill you up for the entire afternoon.
2. Creamy and Cheesy Chicken and Rice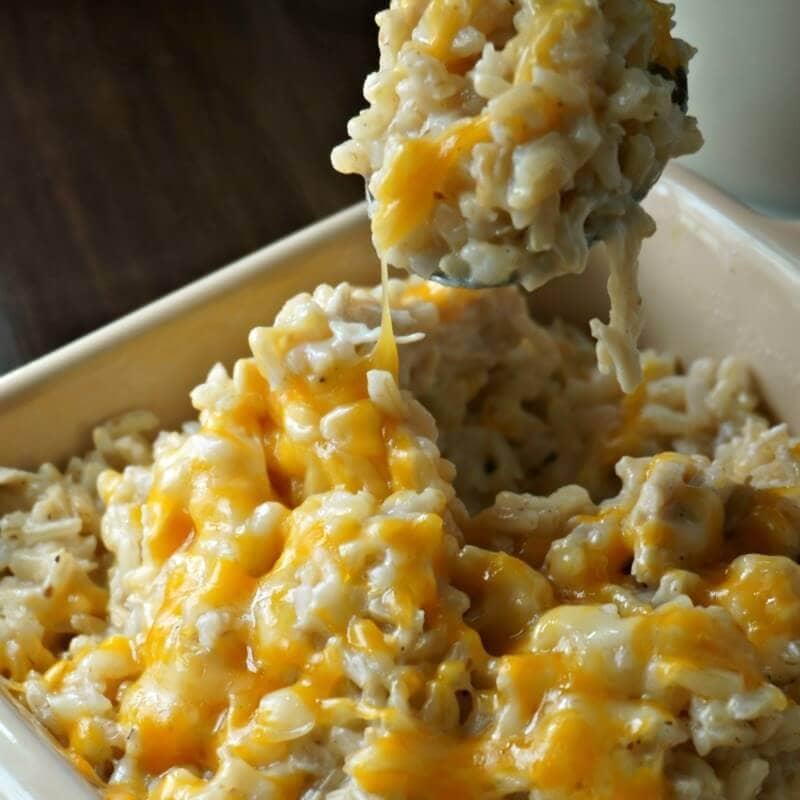 If you're looking for something creamy and comforting on a cold day, look no further than this gluten-free lunch recipe. With the protein in the chicken and the burst of flavor from the cheese, you'll be in heaven from the minute you take your first bite. Best of all, this recipe doesn't call for using a "cream of" soup, so it's more nutritious than other types of creamy rice recipes.
3. Quinoa and Spinach Stuffed Tomatoes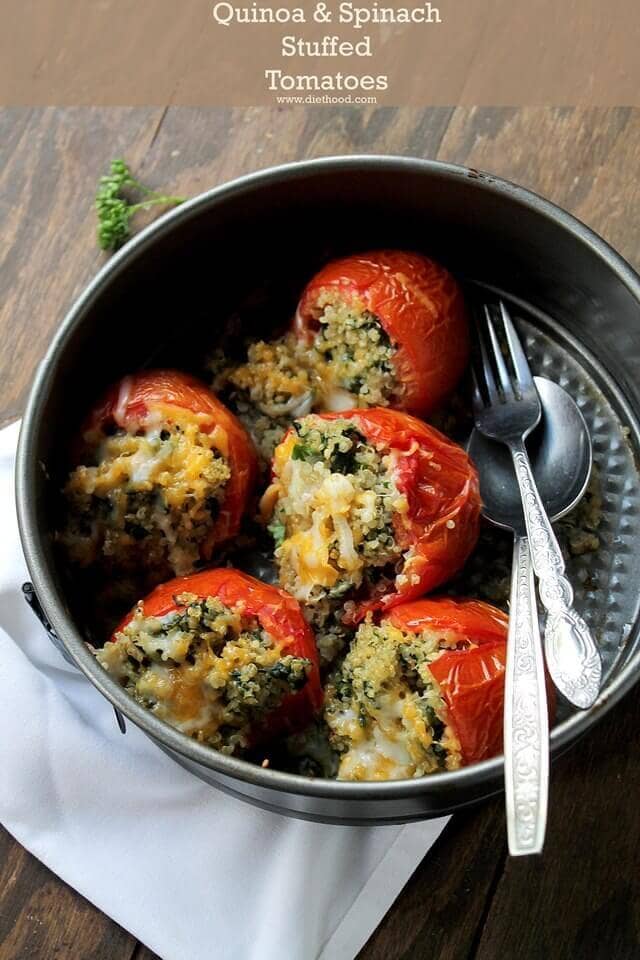 Anyone looking for a recipe that will impress lunch guests and use up some of those tomatoes from the garden needs to take a look at this recipe. With the flavorful quinoa mixture topped with a bit of cheese set inside an edible "bowl," your guests will ooh and ah over your prowess in the kitchen. They don't have to know how easy it was to make something that's this delicious and gluten free.
4. Ranch Chicken Salad Recipe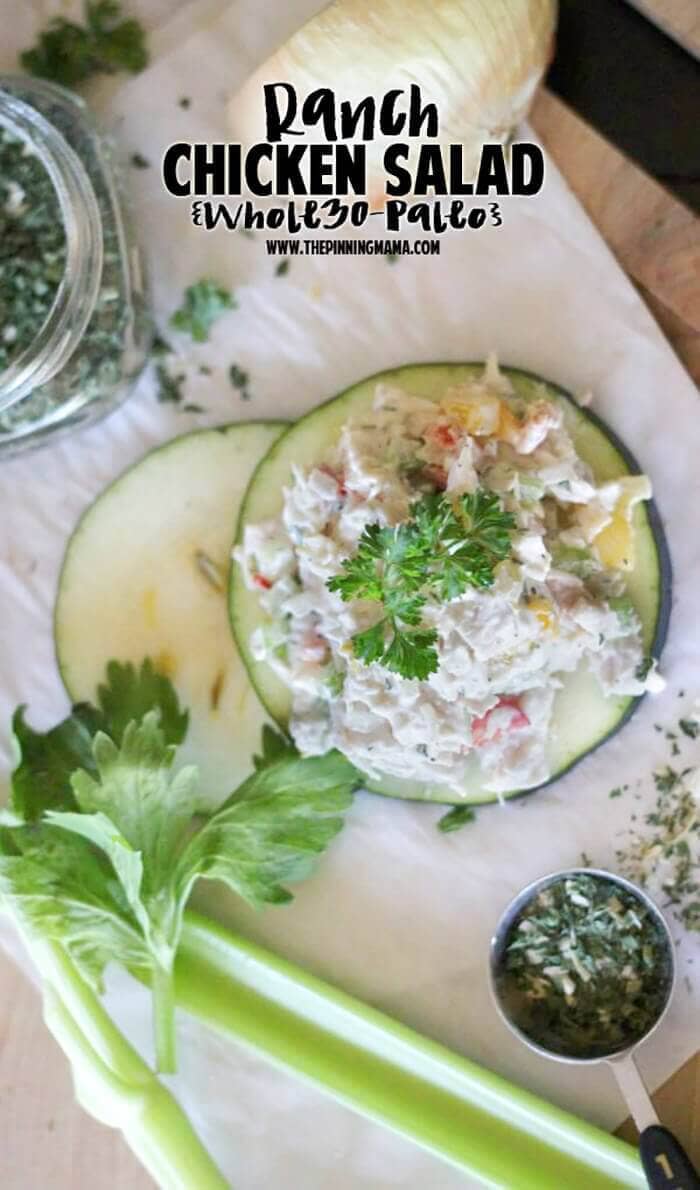 There are few people who don't love the taste of ranch dressing, so this gluten-free recipe is sure to be a hit with the whole family. It's incredibly easy to whip up using canned chicken, so this could just become your go-to recipe for those days when you're just not sure what to make. Perhaps the nicest thing about this recipe is its versatility. For those who are gluten-free, you can serve it on a slice of cucumber, as pictured on the blog, or wrap it in a lettuce wrap. If you have others in the family who can handle the gluten, though, you can serve it as a sandwich. This makes it a great meal idea for the whole family.
5. Maple-Glazed Chicken with Sweet Potatoes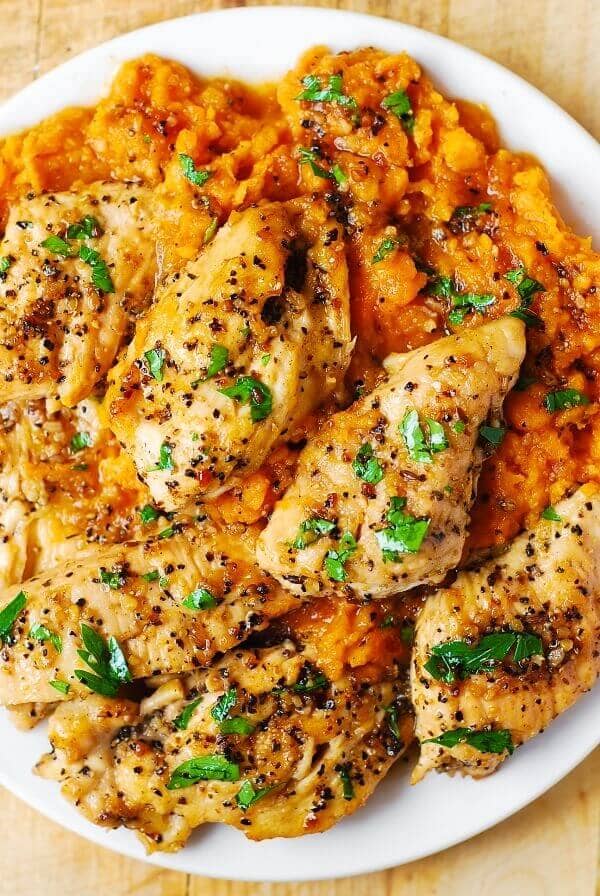 This gluten-free recipe is the perfect blend of sweet and savory. The chicken pairs nicely with the maple glaze, and this in turn goes well with the sweet potatoes. This person has chosen to serve the chicken over a mashed sweet potato, but you don't have to do that. Instead, you might roast the sweet potatoes in the oven, then serve them on the side. If you do this, you could give the potatoes a maple gaze as well, or let them also take on that sweet and spicy flavor by coating them with a Cajun spice. Either way will be delicious.
6. Chicken Stir-Fry with Rice Noodles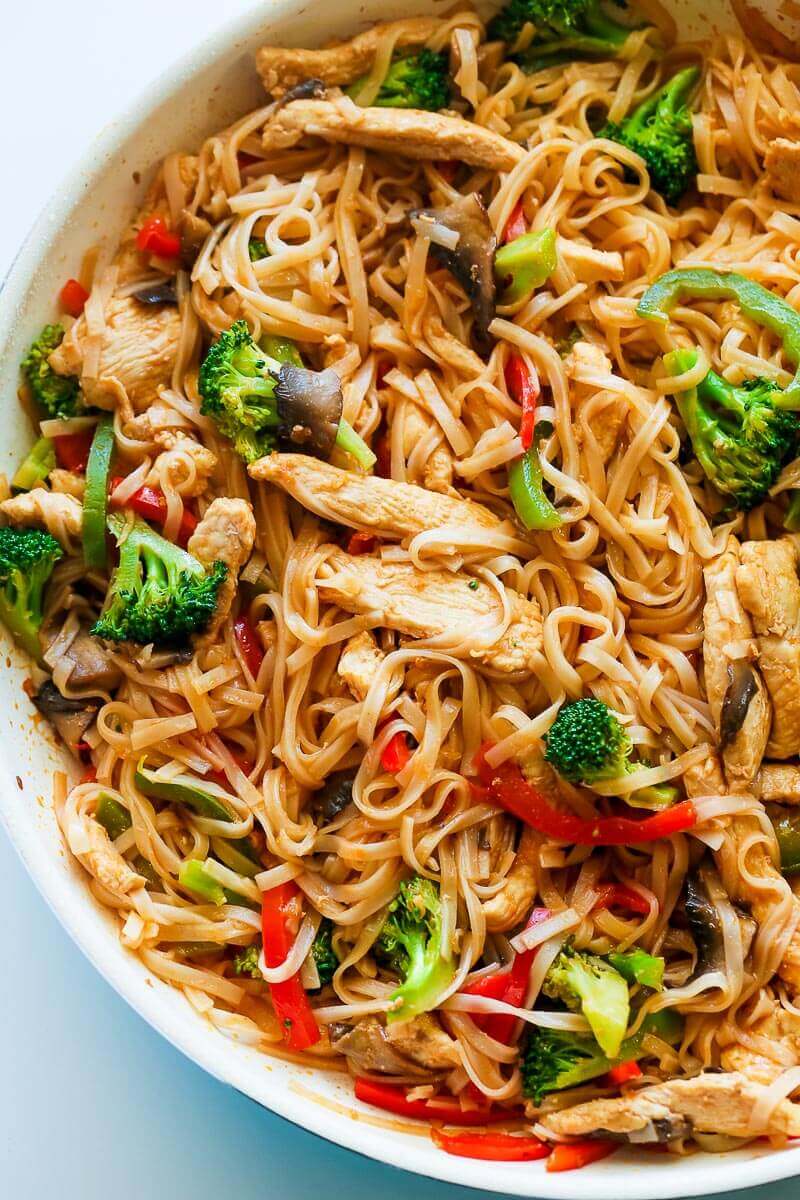 Sometimes you just feel like a big bowl of warm noodles, but if you're on the gluten-free diet, you know that spaghetti and noodles are off-limits. Consider giving this comforting dish a try. Anyone who loves the lo mein that you can get at a Chinese restaurant is sure to agree that this tastes great, and using rice noodles rather than the traditional wheat-based noodles makes it gluten-free. Since these noodles cook up quickly, you could be sitting down to a yummy lunch after just a few minutes in the kitchen.
7. BLT Summer Rolls with Avocado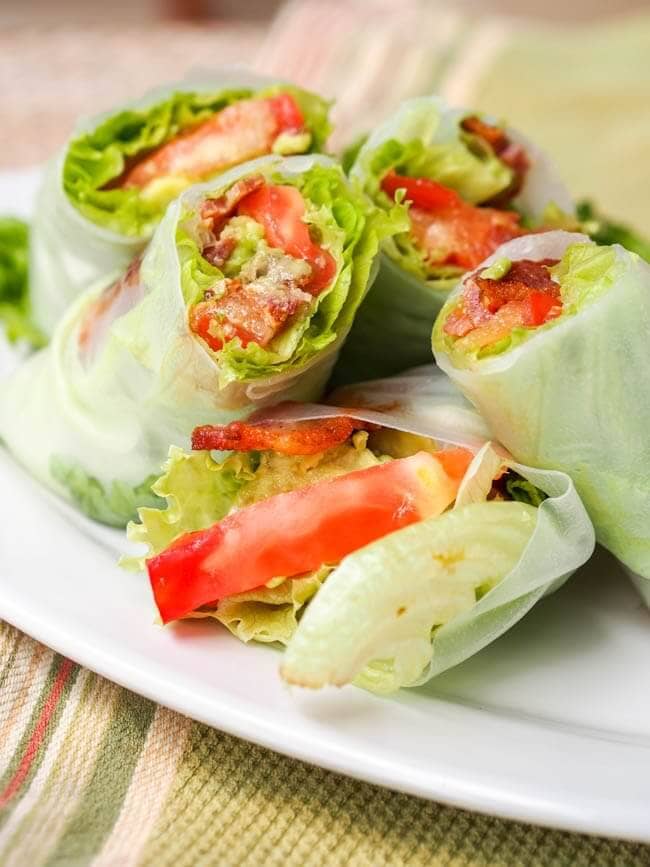 Capture the traditional summer flavor you love in a BLT by using rice paper rather than bread. This meal idea is a nice twist on the classic recipe, and it's an incredibly easy recipe to make. Another good thing about this dish is that it looks great, so it works well when you need a gluten-free food to serve at a lunch buffet. On the other hand, it's just as nice to gobble up the entire plate yourself. It's all about choices, and you don't have to feel guilty about any choices you make here.
8. Creamy Spinach Sweet Potato Noodles with Cashew Sauce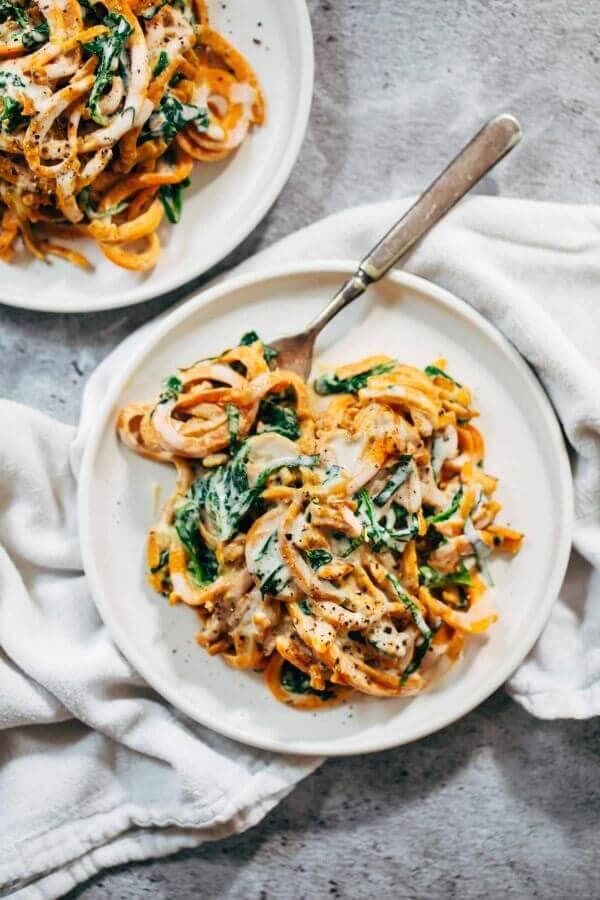 If you plan on sticking with the gluten-free diet long-term, you need to purchase a spiralizer. This allows you to turn any hard vegetable into noodles instantly, giving you an extremely healthy way to get your noodle fix. You've probably heard of people making noodles from zucchini, but making them from sweet potatoes is a great alternative with a delightfully surprising taste. Here, the creamy sauce made from cashews really makes the meal stand out. It's perfect for a vegan, but you could also choose to add some extra flavor with bacon or another type of meat. Serve these noodles as a side dish or as the main course.
9. Ground Turkey Sweet Potato Skillet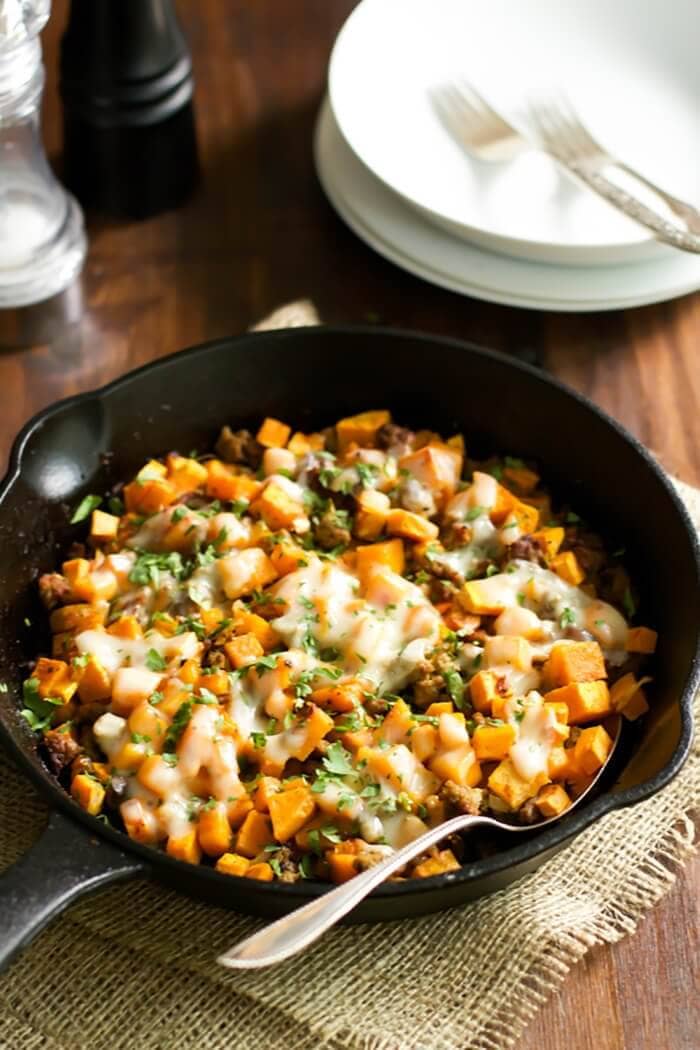 Skillet meals are so nice to make because you only end up with one pan to clean up after the meal. Using sweet potatoes in this gluten-free lunch recipe gives the dish a sweeter flavor than you'd find with regular white potatoes, but it also boosts the nutritional content. Substitute beef or pork if that's what you have on have, but don't discount the health benefits of turkey. It's a great way to get your protein. When you're making this recipe, don't skimp on the cheese. That little topping really brings all the flavors together.
10. Creamy Lemon Chicken with Asparagus and Mushrooms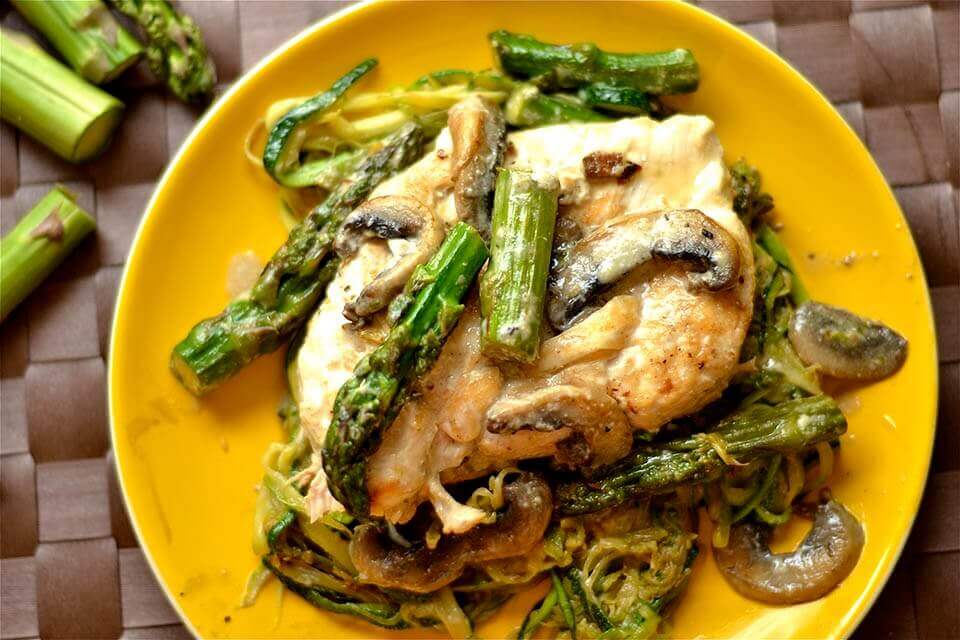 This deliciously decadent lunch idea uses coconut oil and coconut milk rather than the butter and milk that would be traditionally used to make a dish super-creamy. That means that it's better for you and your family. The lemon taste is mild, adding just the right amount of flavor to the chicken, and the creamy sauce means that your kids might actually enjoy eating their vegetables this time around. Serve it along with your favorite side dish. Rice, quinoa and veggie noodles could all pair nicely with this dish.
11. Tuna Patties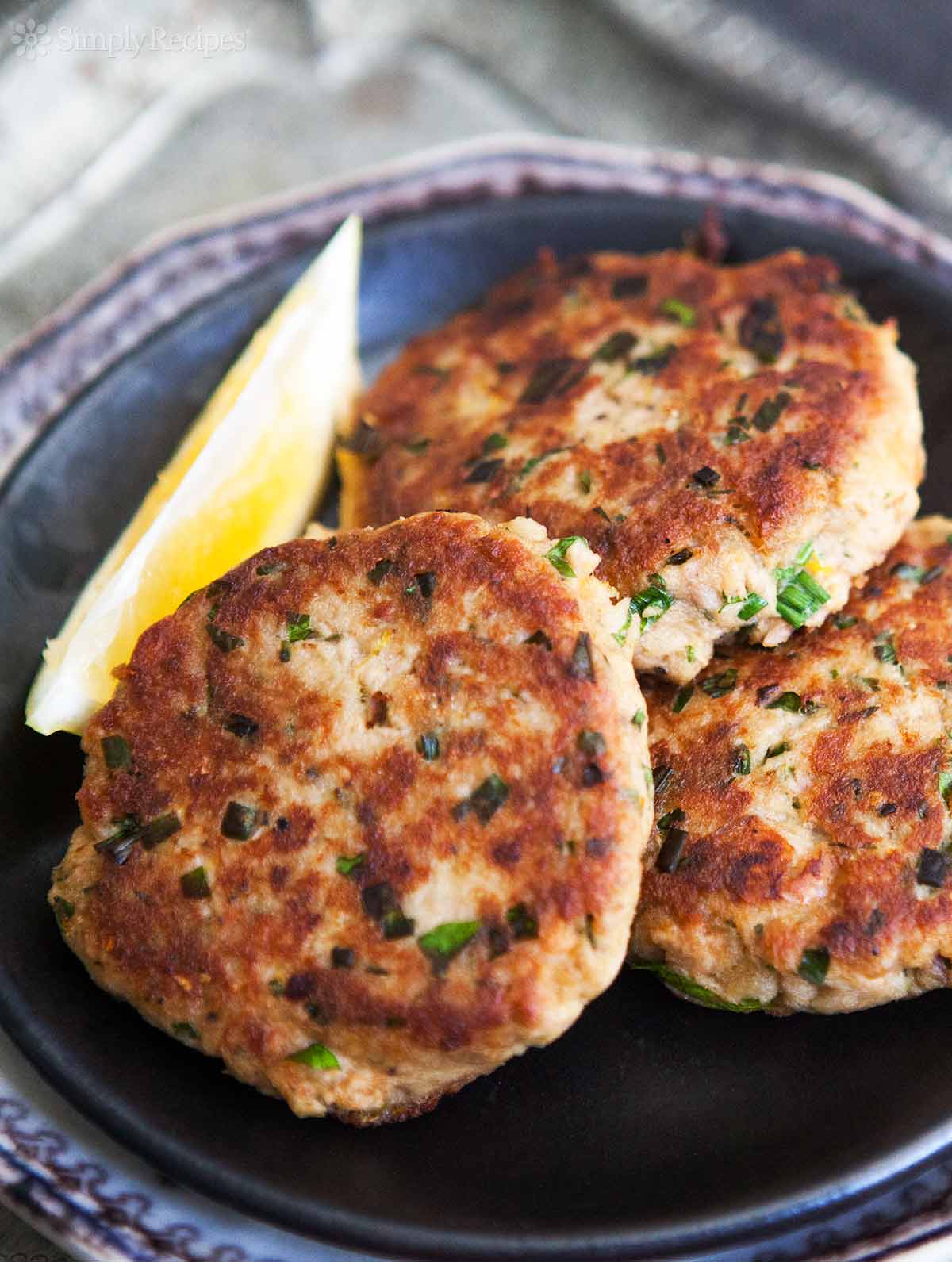 Tuna patties are a nice twist for those who love tuna but are getting tired of tuna salad. You may have even eaten many as a child, as this type of recipe was popular in the past. This lunch idea is easy to make, but you can also double or triple the recipe to have leftovers to reheat the next day. They'll still taste great. Serve these with a side of rice and some steamed vegetables for a full meal. Kids may even like them served on slider rolls as mini-burgers.
12. Vegan Gluten-Free Lasagna (Lasagne)

Lasagna is the perfect comfort food for a cold day, and many people have fond memories of eating this dish at big family gatherings. This vegan and gluten-free recipe uses thinly sliced zucchini instead of pasta to have the same effect without the gluten. The result is a more nutritious version of the classic dish that's guaranteed to please. If you're not vegan, you can simply use regular ricotta and mozzarella rather than the vegan versions. Make this recipe on the weekend so that you'll have leftovers for the rest of the week. It's also a good dish to make when you want to bring something over to a neighbor's house.
13. Lasagna Stuffed Peppers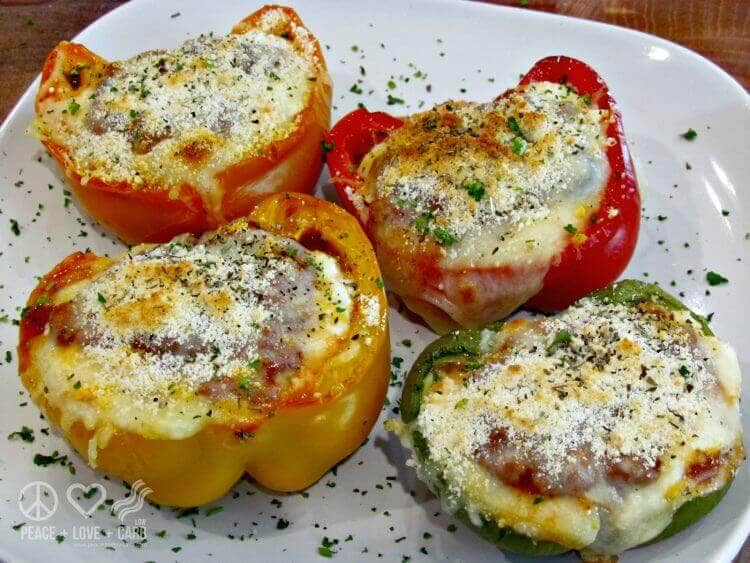 Speaking of lasagna, this meal idea is another take on the classic dish. In the traditional version, it's the noodles that help the dish hold its shape when it's served. Rather than relying on the noodles, this recipe has you place all of the ingredients that truly give lasagna its taste – the sauce, meat, and cheeses – into a pepper. The pepper acts as a small bowl, holding all the cheesy deliciousness together until you bring it up to your mouth. Think of this as a lasagna in a bowl – a bowl that you can eat.
14. The Best Creamy Roasted Tomato Soup

Soup is such a classic lunch food that it's surprising you don't see it included in most gluten-free lunches. In most cases, the ingredients are naturally gluten-free foods, and the warmth that comes from the soup can be the perfect pick-me-up on a cold day. This version is suitable for vegetarians and it really takes the flavor up a notch. Rather than using canned tomatoes or tomato paste, the recipe calls for fresh tomatoes roasted to perfection in the oven. When blended with the garlic and other spices, it really hits the spot. If you're gluten-free, you can't really pair this with a sandwich, but you could make it a heartier meal by pairing it with a good salad or by adding some beans and vegetables to the soup.
15. Sweet Potato Chips with Creamy Lemon and Dill Dip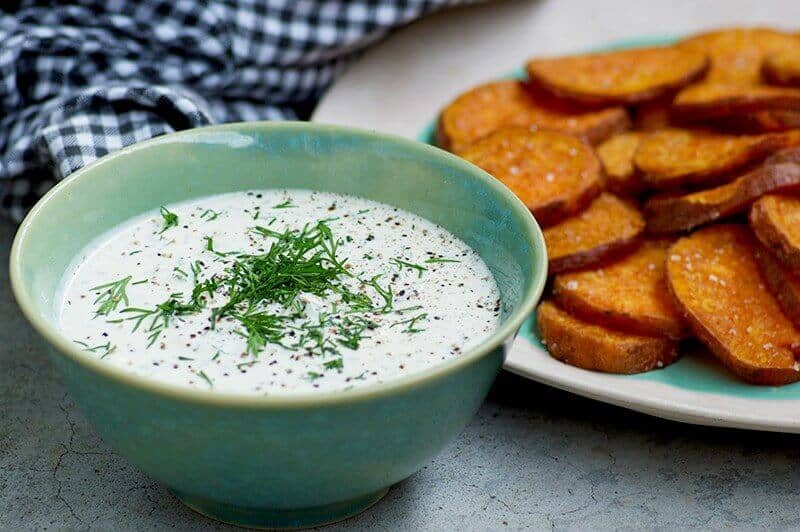 This gluten-free recipe is more of a side dish than something you'd eat on its own, but that doesn't mean it should be left off the list. The sweet potato chips are a healthy alternative to regular potato chips, and baking them in the oven means that you're using less oil than the fried versions you buy in the store. The dip completes the dish, making for a unique flavor combination. Since it's made from cashews rather than yogurt, it's compatible for a vegan diet as well.
16. Best Ever (Easy) Baked Meatballs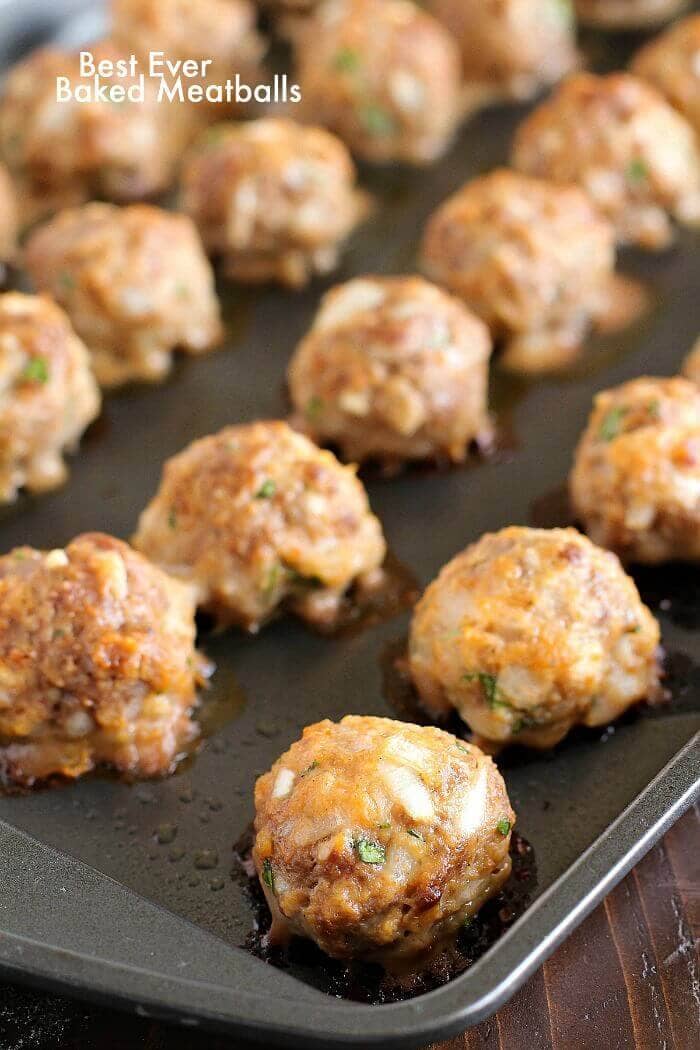 Traditional meatballs are made with breadcrumbs, and this recipe could be made gluten-free by using a gluten-free version. You can usually buy this in the gluten-free food section of the grocery store. By baking the meatballs rather than frying them or cooking them in a pan on the stovetop, you're able to make as many meatballs as you need at the same time. This shortens your cooking time and makes your kitchen smell divine. Serve these meatballs on top of "zoodles" or spaghetti squash and you'll feel like you're eating the real thing.
17. Black Bean Wrap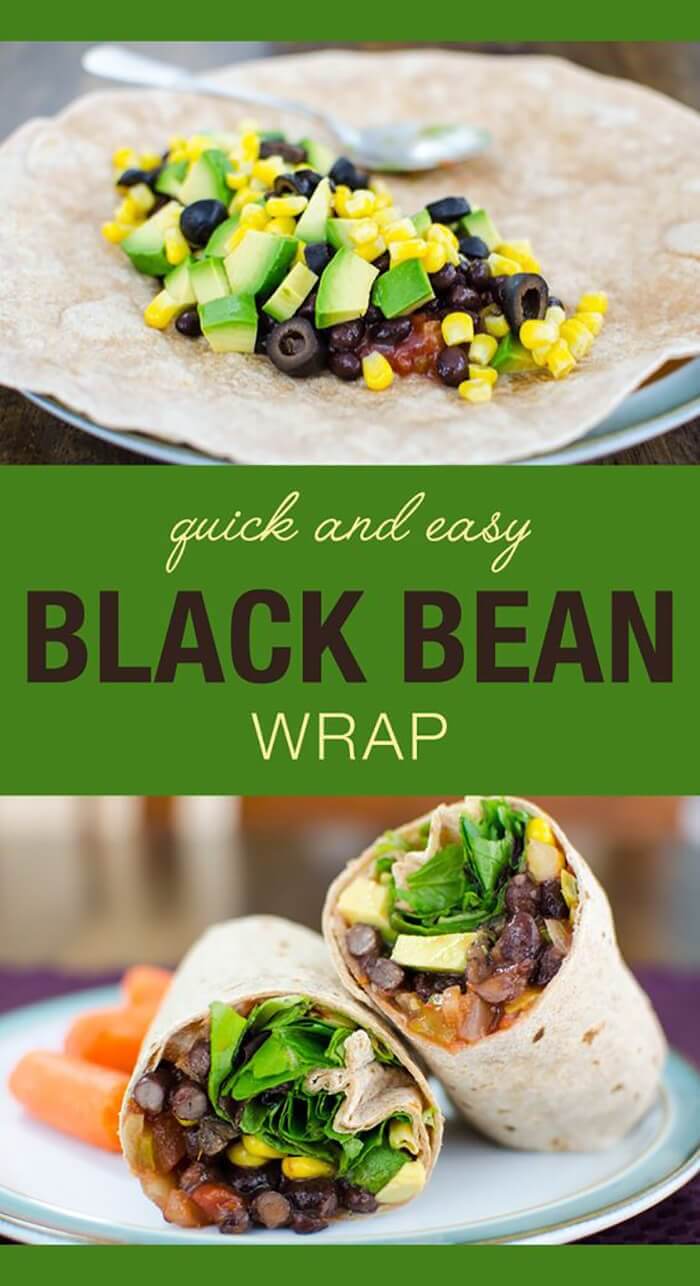 Add this easy wrap to your list of the best lunch recipes. Using canned beans and store-bought salsa, along with a few other simple ingredients, you can quickly whip up a delicious lunch. Wraps work well on their own, but you can also pair it with roasted potatoes or steamed vegetables if you want a little more. Look for gluten-free tortillas at the store or consider using large lettuce leafs instead. That would give it a different taste, but it would make it lower in calories if you're watching what you eat.
18. Creamy Sun-Dried Tomato Chicken Recipe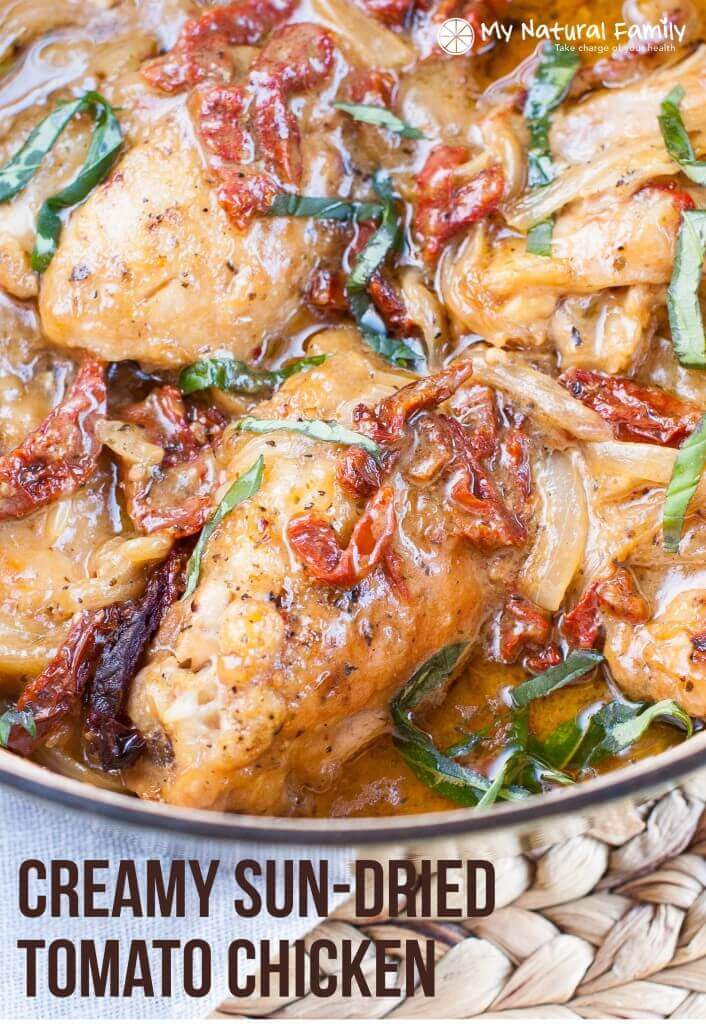 If you're looking for a hearty dinner that you can use as lunch the next day, this gluten-free recipe should make the top of your list. It has a deliciously rich taste, but the creaminess comes from coconut milk rather than regular milk, so it's a bit more nutritious and fits well with many different types of diets. This will go well over rice or quinoa, but you can also eat it on its own. It just depends on what you feel like that day. Best of all, the flavors start to really soak in overnight, so this is even better the next day.
19. Balsamic-Glazed Steak Rolls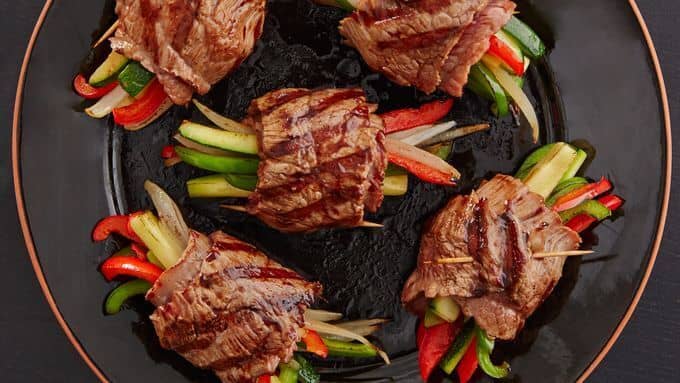 A lot of people think of veggies as a side dish to the meat, but this great meal idea has a different take. You slice the veggies into little sticks, then wrap them up in thin strips of steak. Since you need to pre-cook the veggies and prepare the balsamic glaze, this recipe takes a bit more time to prepare, but the results are well worth the effort. It's a nice dish to throw on the grill during the summer, especially when you're getting sick of hamburgers. Pair this with your gluten-free grain of choice or a nice baked potato for a delicious meal.
20. Easy Chicken Parmesan Bake Recipe

When it comes to making lunch, you usually just want an easy recipe that is filling and tastes great. This recipe certainly satisfies all of those requirements. You simply layer all of the ingredients in a single pan, throw it into the oven and take out a ready-to-eat meal after about an hour. You can prepare the ingredients, then do other things while it's cooking. This blogger shows the recipe served on top of spaghetti, but you can substitute a gluten-free version or vegetable noodles. It's also good enough to eat on its own.
21. Roasted Broccoli Quinoa Salad with Honey Mustard Dressing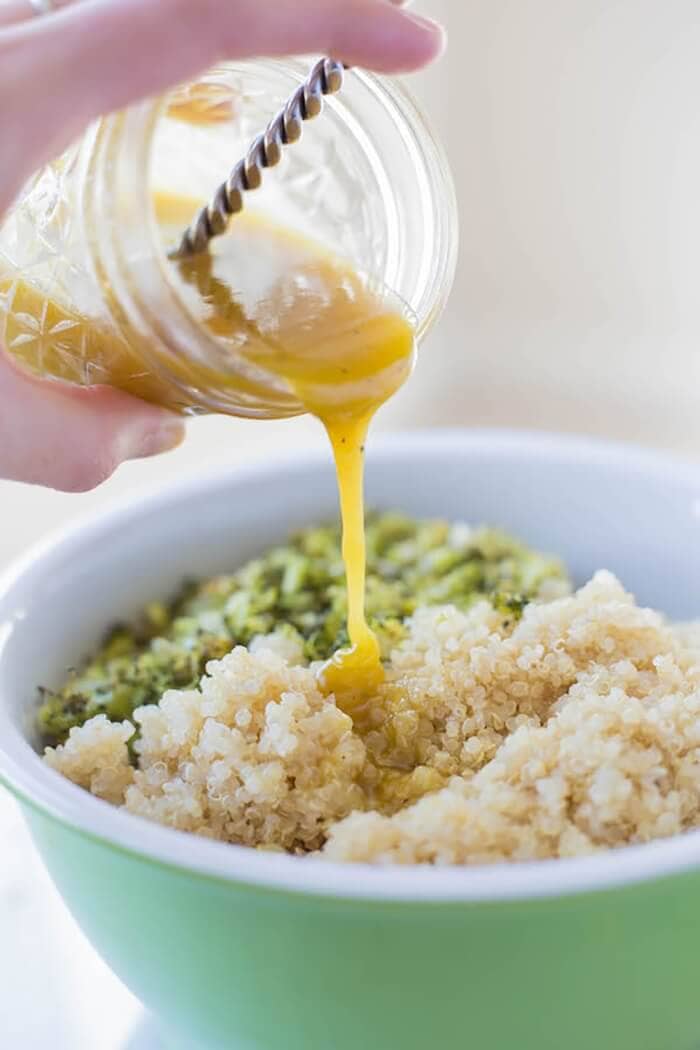 Quinoa is a nutritional powerhouse and anyone following a gluten-free diet should make sure that it's regularly seen on the table. With this great lunch idea, roasted broccoli is then chopped in a food processor until the pieces are just as tiny as the quinoa. That makes them blend together nicely, with each bite containing just the right amount of broccoli and quinoa. What really makes this delicious, though, is the honey mustard dressing, which is a nice change from the types of Italian dressings that you typically find on veggie-and-grain salads like this one. It's a nice one-dish meal.
22. Ham Cheddar Chowder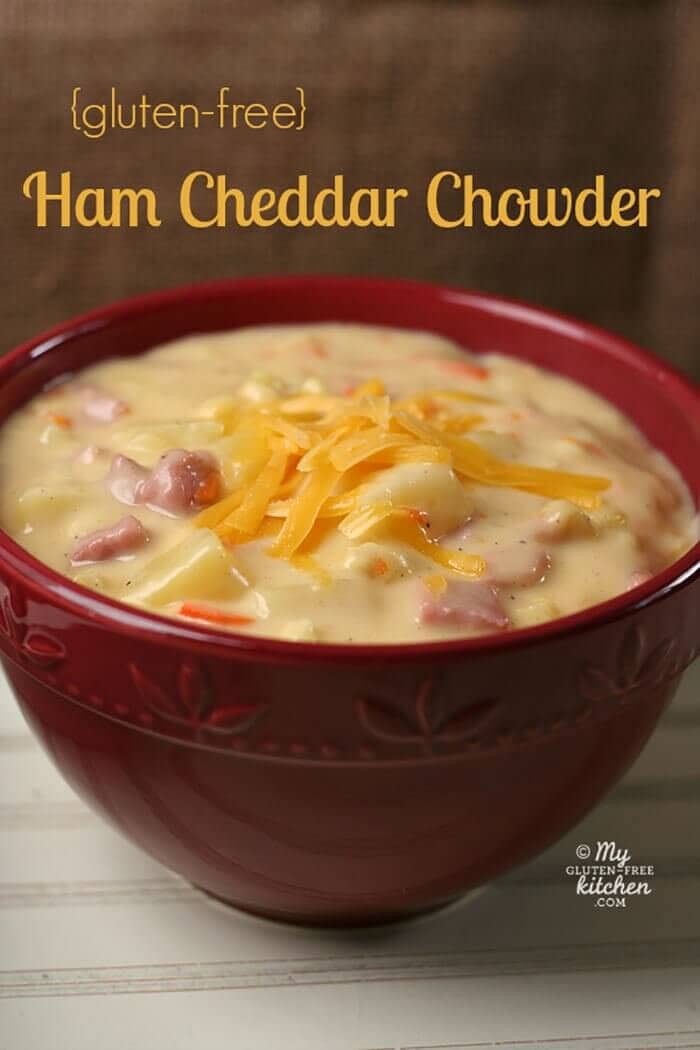 Ham and cheddar just seem to go together, so it's no surprise to find them paired in this warming chowder dish. The thickness of a chowder always makes it feel more filling than a broth-based soup, so this is a nice lunch idea for a cold day when your belly really needs a bit more. With the protein from the ham and cheese, you might not need anything else to feel satisfied, but you could serve this with any number of side dishes to feel completely satisfied.
23. Superfood Quinoa Bowl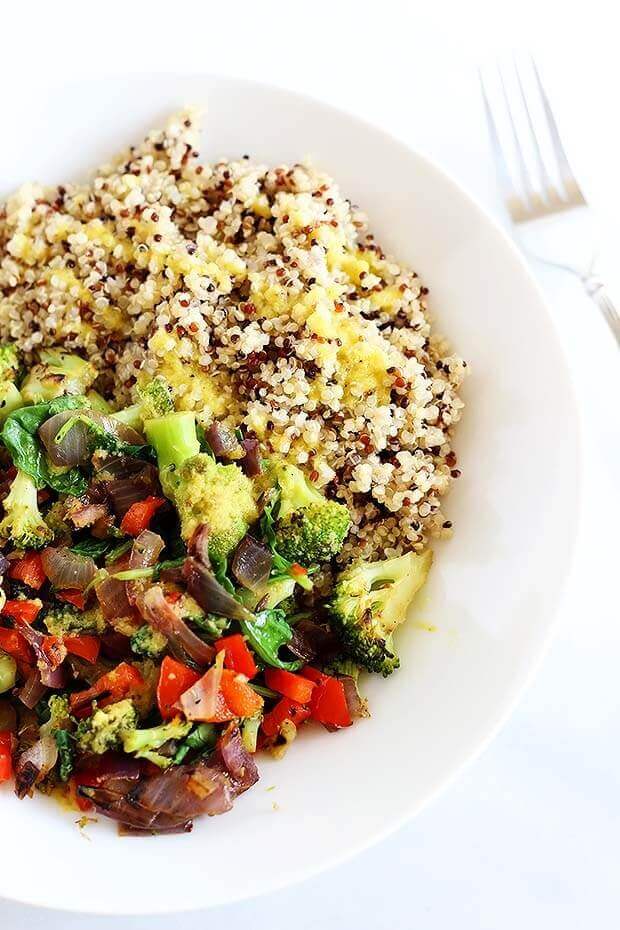 When you take a bunch of nutritious foods like broccoli, baby kale, and peppers and put them on top of the incredibly healthy quinoa, you get a dish that really packs a big punch. The dressing gives the dish a lot of flavor and helps everything blend together well. One of the best things about this gluten-free lunch recipe is that it will taste just as good served cold as it would hot. That allows you to feel happy about eating it during all seasons. Once you've tried the bloggers version, remember that you can change it up based on your tastes and what you have on hand. Any other vegetables will taste great in this recipe.
24. Chicken and Wild Rice Casserole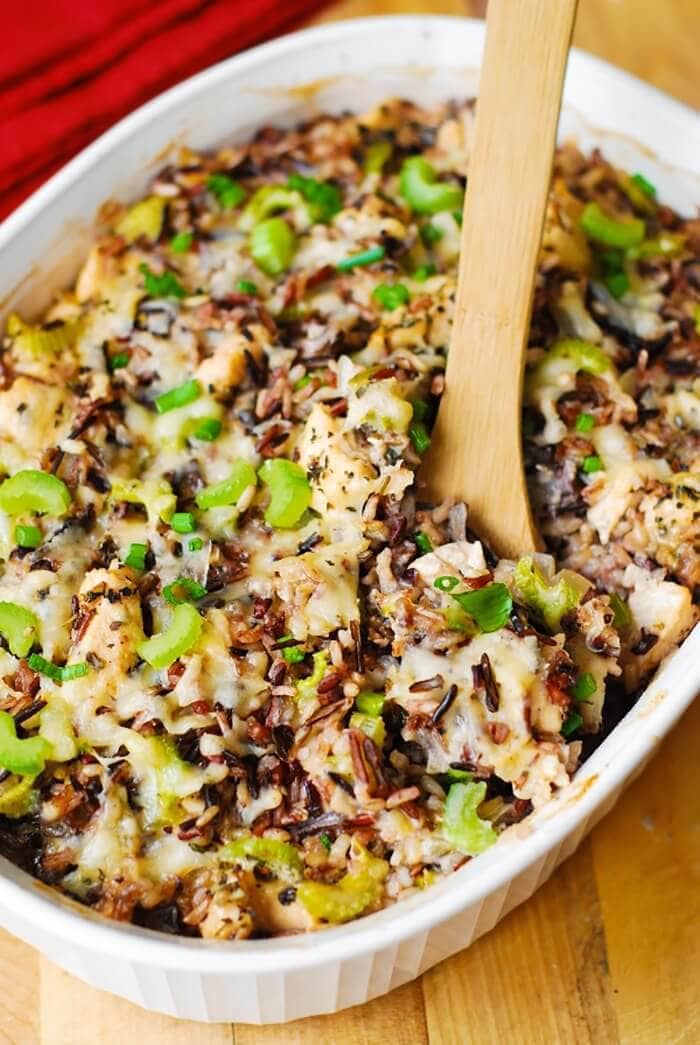 There's nothing quite like a casserole to give you that feeling of being back home in your mom's kitchen. This gluten-free version is an updated – and healthier – version. Wild rice gives you a lot of variety in texture and a great nutty flavor. The color also adds a lot of interest to the dish and might make kids more willing to give it a try. Of course, no casserole would be complete without the taste of cheese, but you'll find that there's only a small amount of parmesan for flavor. This reduces the overall amount of calories when you compare it to some of the traditional casseroles.
25. Vegan Mexican Chopped Salad with Avocado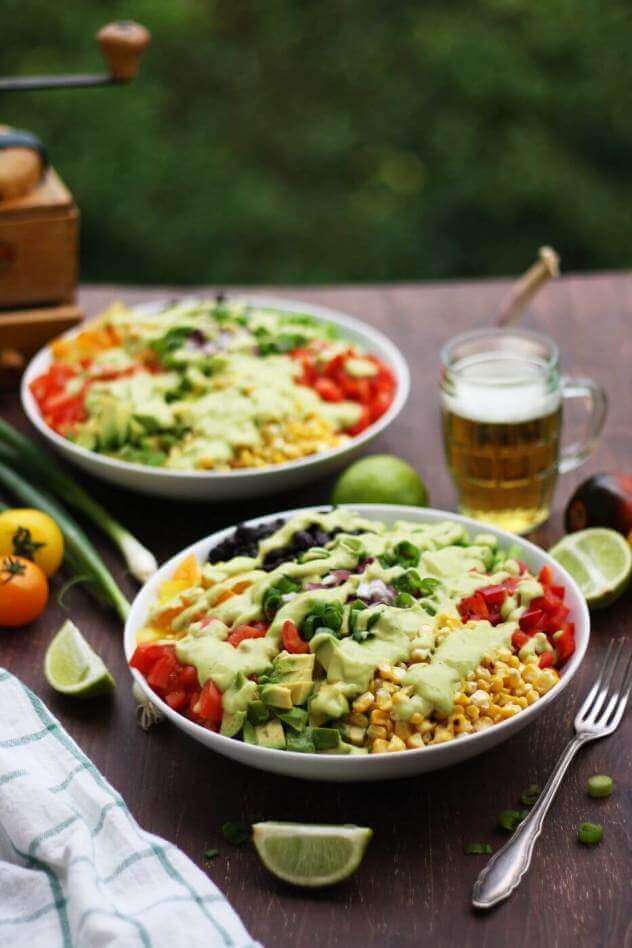 Chopped salads are so fun because you're able to get so many flavors in each bite. This Mexican-inspired dish is sure to please almost everyone. One of the challenges of following a vegan diet is finding creamy versions of salad dressings. Sure, oil-and-vinegar based dressings are nice, but sometimes you just want a bit of a change. This salad has an easy recipe for a creamy avocado-based dressing. Since avocados are packed with healthy fats and other nutrients, you're adding flavor along with nutrition. What could be better than that?
26. Garlic Parmesan Chicken Tenders
If you're looking for an updated version of the chicken nugget, you'll love this grown-up version. With a blend of garlic and parmesan in the coating, you'll find a unique flavor that will make this one of your favorite gluten-free lunches. Your kids will gobble them up as well. Make sure, though, that you're looking for a gluten-free panko. These "bread" crumbs are slightly different than the more traditional breadcrumbs, and really do make a difference in the final taste. They make your chicken tenders crispier without frying, so you save on calories.
27. Rice and Bean Casserole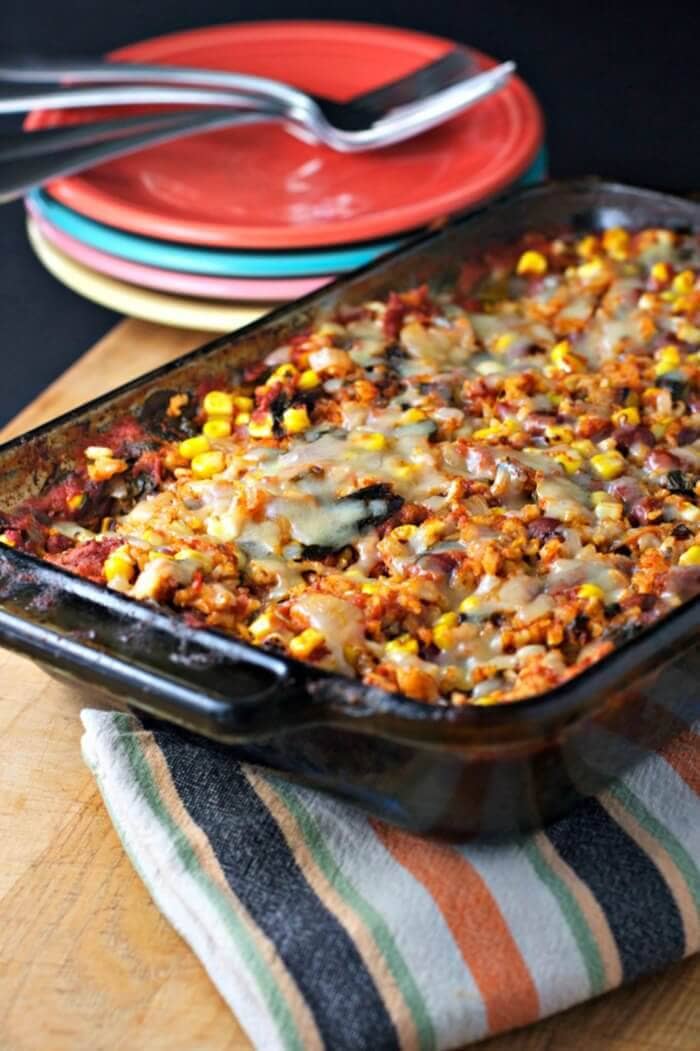 In this casserole, you'll find that comforting warmth with a robust Tex-Mex flavor. This meal idea is one of the best ways to get your kids to eat their beans. You get some veggies in the casserole as well. As it's written, the recipe works well for those following both a vegan and a gluten-free diet. Use regular cheese if you're not vegan, though. Daiya cheese is a popular cheese substitute for those who are vegan, but you'll probably prefer the real stuff if that's what you're used to eating. Either way, this is a healthy meal that's inexpensive to make.
28. Taco Salad with Creamy Cilantro Dressing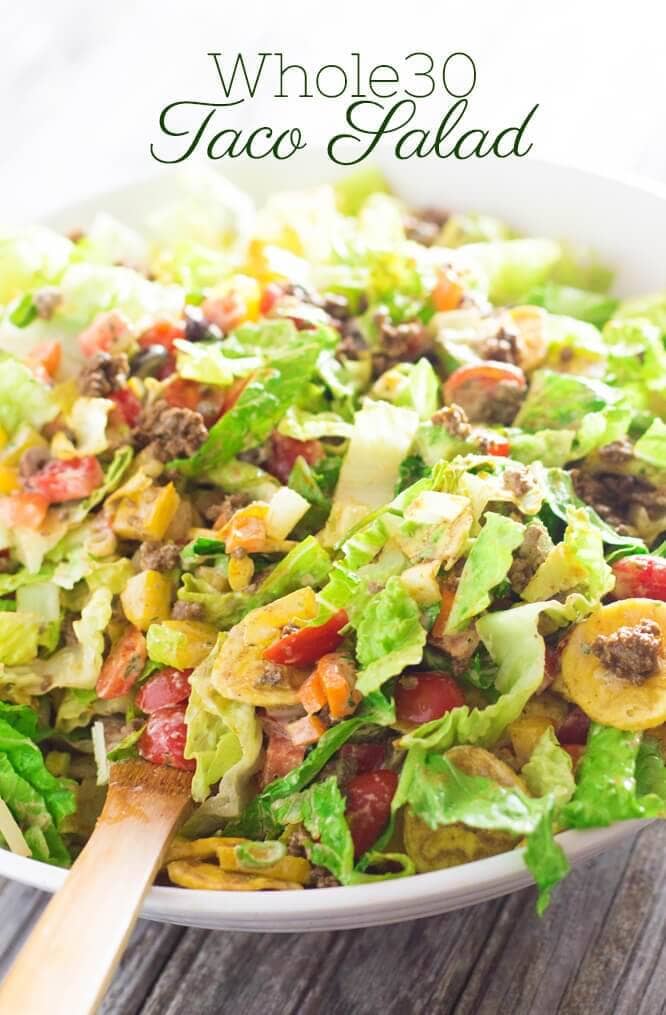 Everyone loves tacos, but the taco shells are often so small that you can't fit a lot of the good stuff inside. That isn't a problem with this taco salad, which ditches the shell altogether. You'll get everything you love about tacos in a big bowl, so this will quickly become one of the best lunch recipes you have up your sleeve. It's the creamy cilantro dressing that really makes this salad stand out from the rest, though. The dressing is a little sweet and a little spicy, which makes it just about perfect. Make it spicier or milder to suit your own tastes.
29. White Bean Shepherd's Pie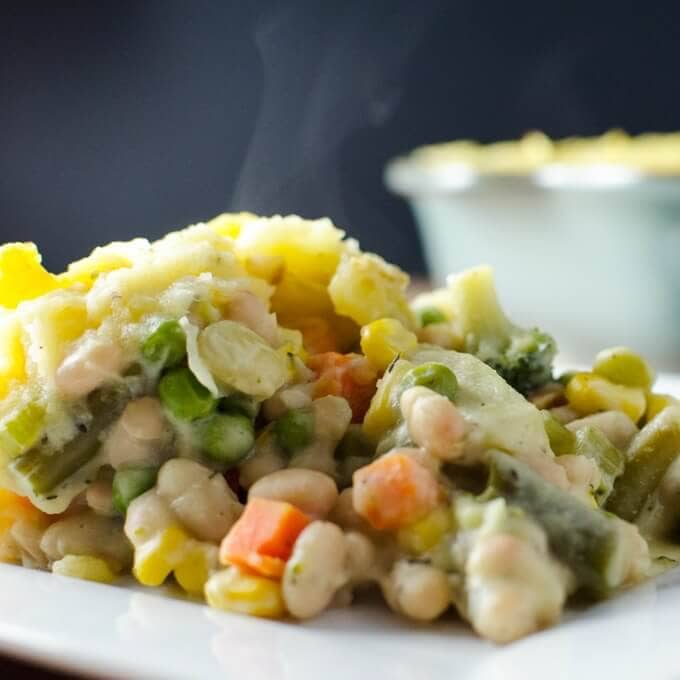 This lunch idea is nice for anyone who's been missing the classic taste of a chicken pot pie. As a shepherd's pie, it doesn't have the flakey crust that you can't have on the gluten-free diet. Using white beans rather than chicken or another type of meat makes the dish inexpensive while still being filling. Surprisingly, the creaminess in this version comes from a sauce made from cauliflower rather than one made from milk. That's a great way to sneak in some extra vegetables without significantly altering the expected flavor of the dish. You're sure to love this one.
30. Creamy Chicken Tortilla Soup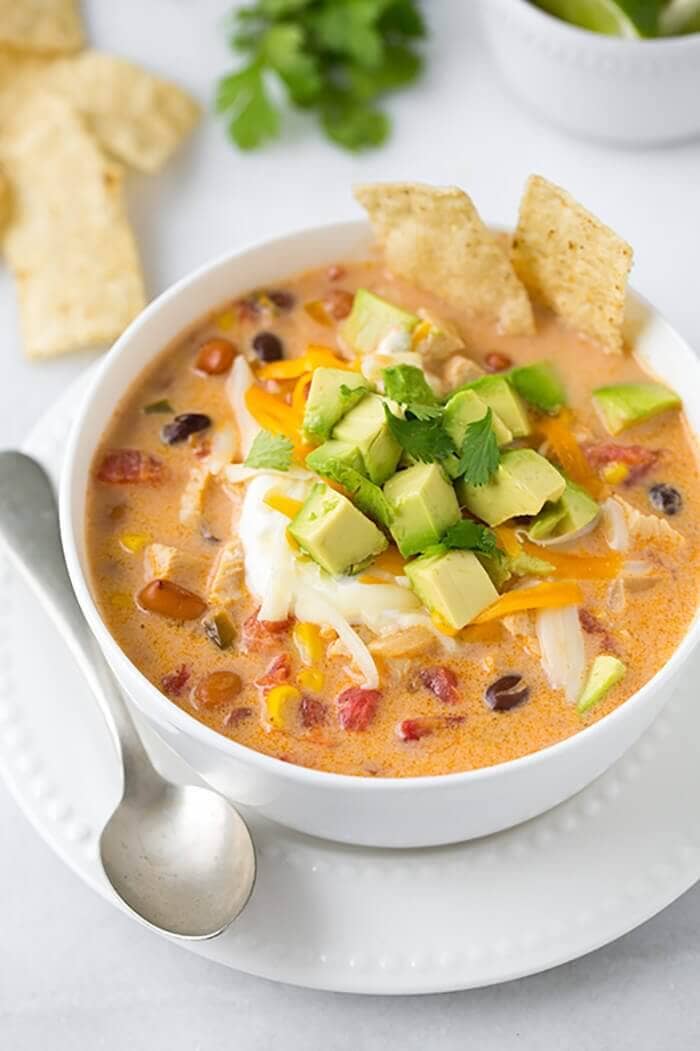 This tortilla soup is creamy and filling, including chicken and beans along with some vegetables. The broth has a nice Mexican flavor, and you can make it a bit spicier if you like. Remember that the cream added at the end will mellow any flavor out a bit. To make this a truly gluten-free food, you have to carefully read the labels of your ingredients. The masa harina and tortilla chips you use should be gluten-free varieties.
n
31. Sticky Sesame Cauliflower Wings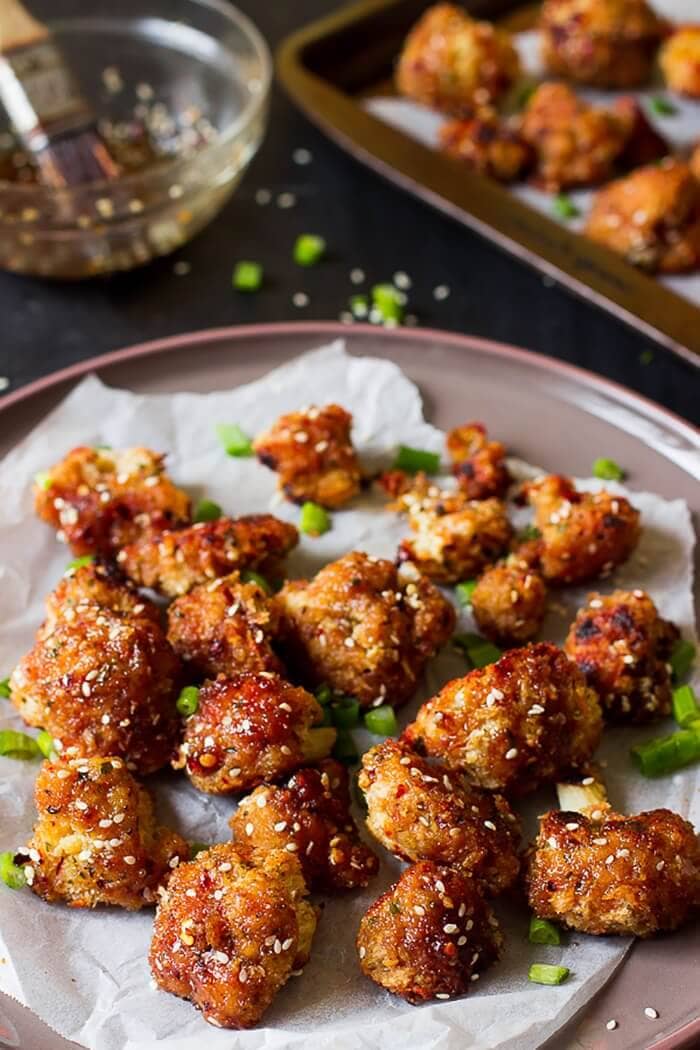 If you haven't tried them yet, you'll find that cauliflower wings are a surprisingly tasty substitute for real chicken wings. Best of all, they're a lot healthier. This version has a spicy-sweet Asian flavor to them. They're nicely crisp on the outside while being chewy on the inside. You should be forewarned, though. This recipe really tastes best when it's freshly cooked. It's not something that you want to make ahead because it loses the crunchiness that really makes it great. This makes it the perfect recipe for weekend lunches.
32. Vegan Slow Cooker Black Bean Soup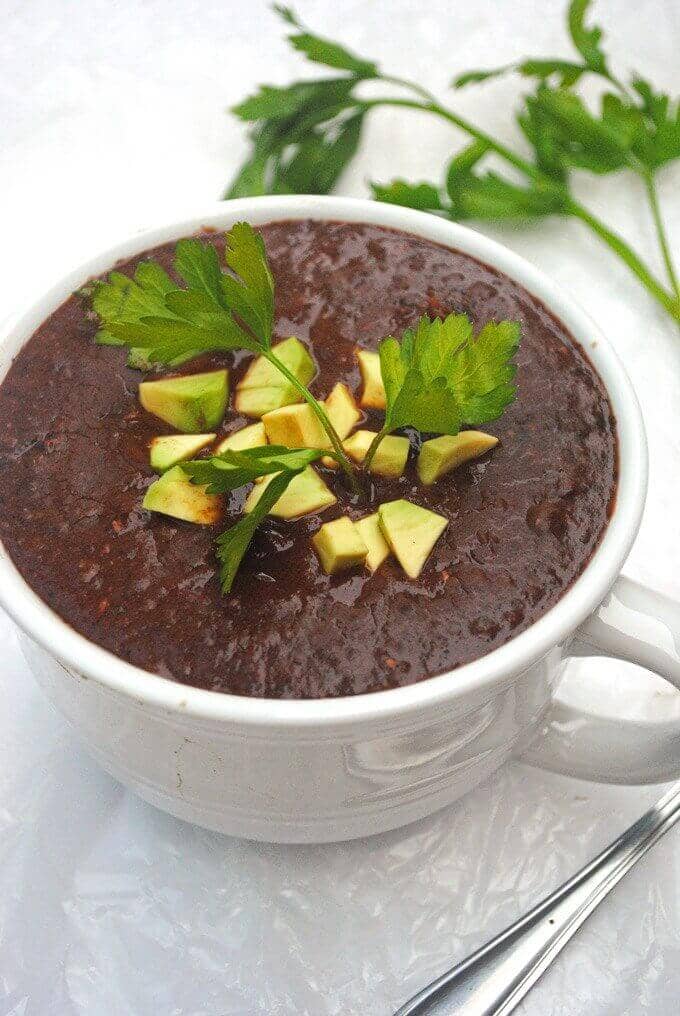 Everyone loves a nice warm meal without slaving over a hot stove. With this easy recipe, you won't have to work hard to get a homemade soup you'll love. Simply put all of the ingredients in the slow cooker and turn it on. As it's written, the recipe should take about six hours to fully cook, but you can probably shorten the cooking time by using canned beans rather than dry beans. Just remember that you might want to decrease the salt, since there's usually salt in canned beans. Throw this in the slow cooker in the morning, or prepare it the night before so that you have something warm to take with you to work the next morning.
33. Gluten-Free Korean Pancakes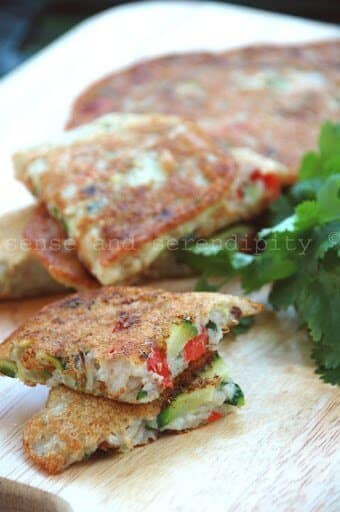 The term "pancake" might be a bit misleading, since the Korean version of a pancake is a far cry from what most Americans are used to. Still, you might find that this lunch idea is a nice surprise and a good change of pace. These Korean pancakes are made from beans and have a savory taste that's very unique. If you've never tried them, you're in for a big treat.
34. Paleo Egg Rolls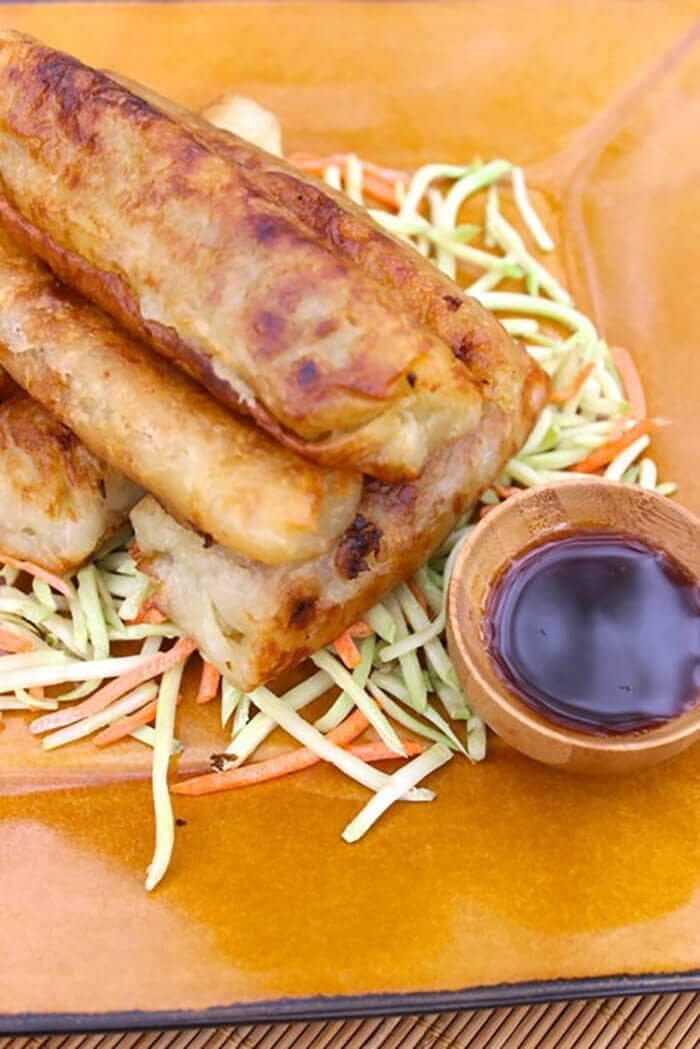 Traditional egg rolls aren't exactly a gluten-free food, but after you whip this up in your kitchen, you'll be able to enjoy the taste you love without ruining your diet. These egg rolls have you making your own dough for the rolls using yucca plant rather than flour. It sounds complicated, but it's a lot easier than you might think. Since their pan fried in avocado oil, they'll have less calories than if they were deep fried. Try browning them without the oil if you want to reduce the calories even more.
35. Spaghetti Squash and Bacon Dish

Spaghetti squash is a popular gluten-free alternative to traditional spaghetti, but this is a new way to prepare it. First, the preparation suggestion to slice the squash into rings is a bit unique, but it produces a firmer "spaghetti" and longer strands than you're used to getting when you make spaghetti squash. When mixed with bacon and goat cheese, you get a new flavor that's several steps above the usual marinara sauce. This gluten-free recipe works well as either a side dish or a main dish, and it's easy to bring it with you to work and heat up in the microwave.
36. Sun Dried Tomato and Mozzarella Quinoa Burger

If you're getting tired of all of your old standby gluten-free lunches, it's time to give this twist on a vegetarian burger a try. As you know, quinoa has that unique nutty flavor that makes it so delicious. When paired with the sun dried tomato and mozzarella in this recipe, you get a veggie burger that has a pizza flavor. It's sort of like a pizza and burger in one. That means that it's likely to be a big hit with the kids, so don't be afraid to share the recipe with the whole family. One thing to note is that the burgers will have the same texture as the quinoa. If you don't like the idea of that, you might be able to change it up a bit by blending all of the ingredients in a food processor instead.
37. Black Bean and Beef Enchilada Casserole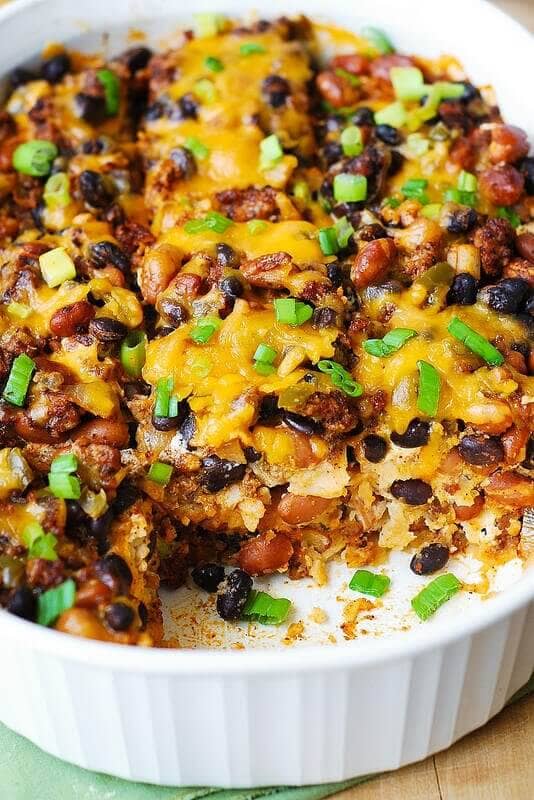 This gluten-free lunch recipe has all of the elements of an enchilada without all of the prep work you usually have to deal with. Rather than rolling the ingredients into each individual tortilla, you spread out tortillas on the bottom of the pan. When you serve it up, you get a small taste of the tortilla with a lot more of the delicious "filling." Of course, if you're making it gluten-free, you have to take care to use gluten-free tortillas. Not all are safe for the diet.
38. One Skillet Mexican Quinoa Casserole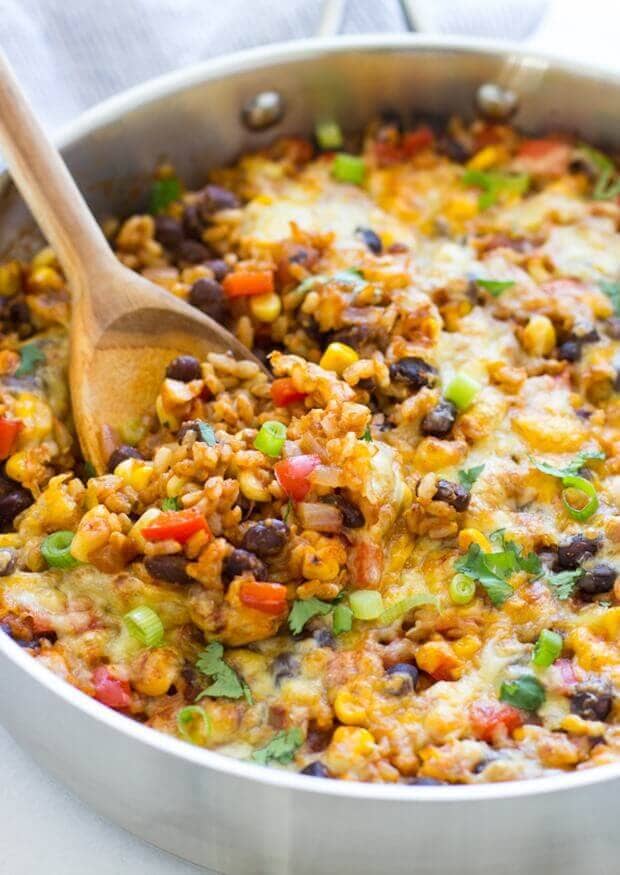 One-pot meals are so nice because you don't have to spend a lot of time cleaning up. This is one of the best lunch recipes for those who love quinoa and Mexican flavor. It substitutes quinoa for the more traditional rice, which adds protein and flavor to the meal. The blogger suggests you serve it with a dollop of guacamole on top, which will give it extra creaminess. If you don't want to take the time to make your own guacamole, substitute a store-bought version to capture the same flavor without the work.
39. 15 Minute Sesame Ginger Noodles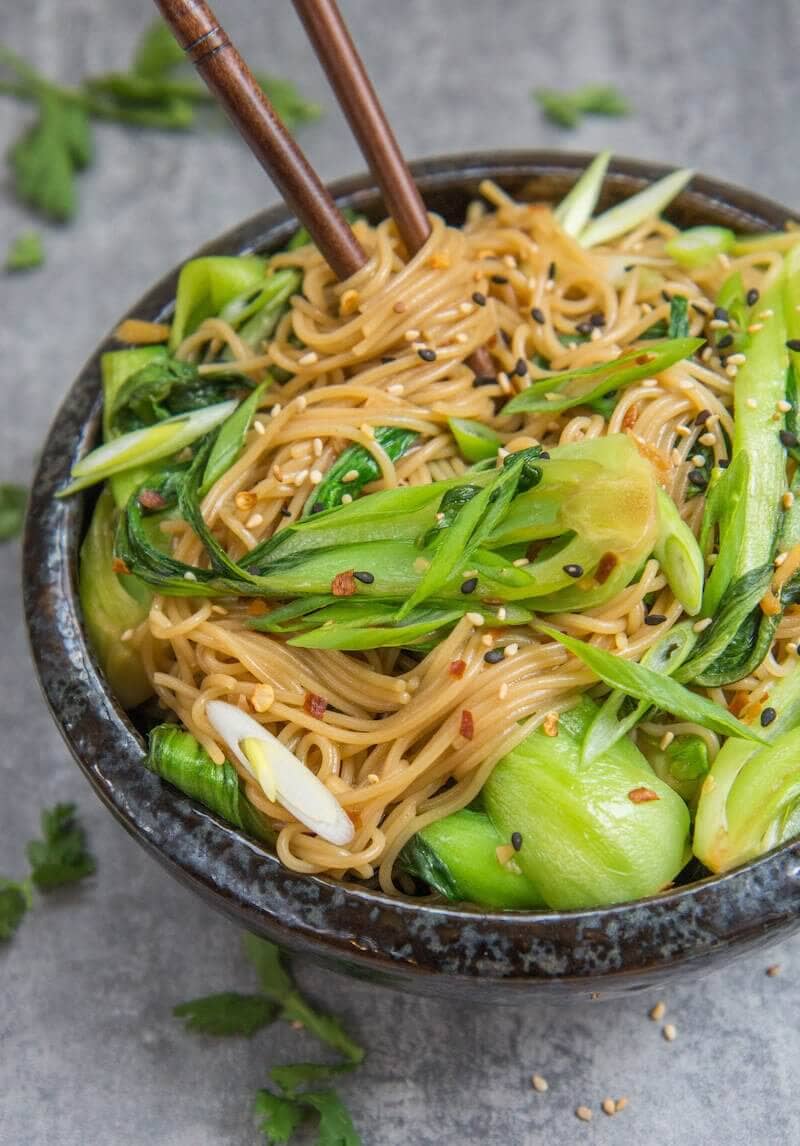 It seems that the best gluten-free lunches are the ones that are the easiest to make. Whether you're looking for something to eat at home or trying to plan something to take with you, you don't want to spend a lot of time cooking the midday meal. These sesame ginger noodles hit the spot when it comes to time and flavor. The recipe calls for brown rice noodles, which are safe if you're gluten free, but you can also try making the dish with noodles made from zucchini if you're looking for something a little different.
40. Chicken Pot Pie Soup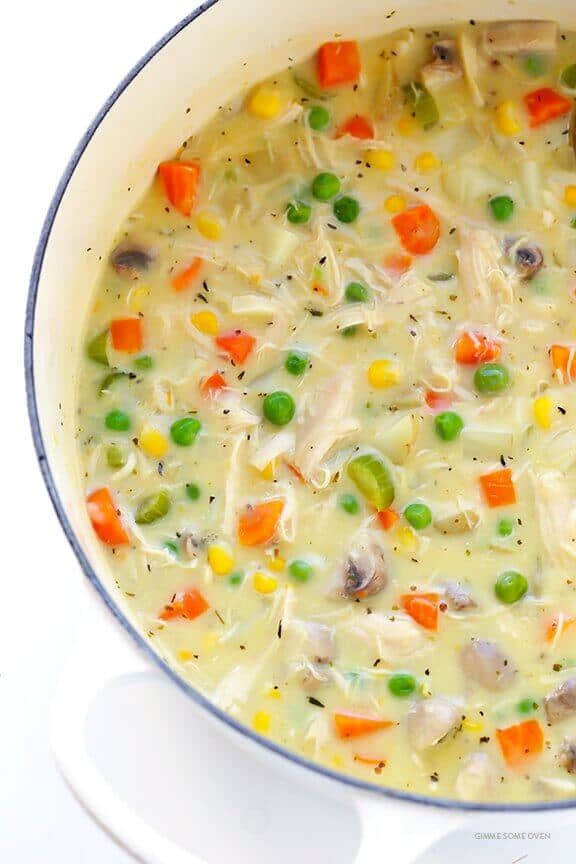 This chicken pot pie soup is a great meal idea for those times when you want something warm and comforting. It's like eating a bowl full of the insides of a chicken pot pie, but the good news is that this version is a lot more nutritious. By chopping up the vegetables and chicken into very small pieces, you're able to get a little taste of each ingredient with every bite you take. Your kids will probably like this soup so much that you might have to fight them for the leftovers.
41. 3-Ingredient Slow Cooker Taco Chicken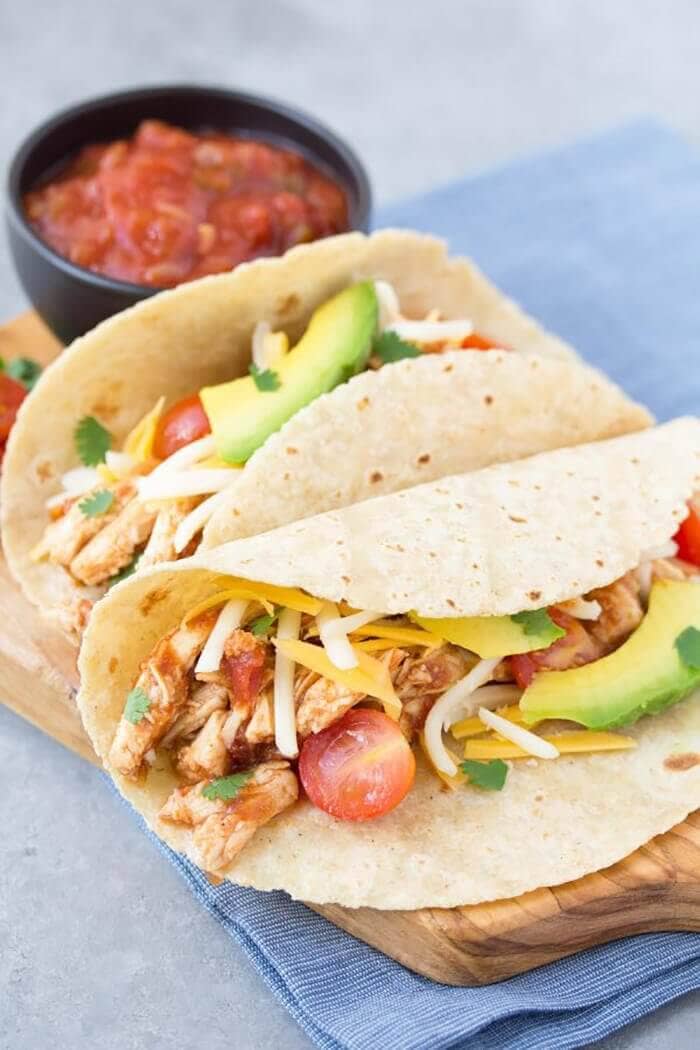 Slow cookers make everything easier, but when you have a gluten-free lunch recipe that's only three ingredients, it's even easier. The nice thing about this is that there's absolutely no prep involved. You simply have to put the chicken, spices, and salsa into the slow cooker and go about your day. When you're ready to eat, you can serve this up in some gluten-free tortillas – topped with sour cream, avocado, and cheese of course – or you could even cut the chicken into smaller pieces and use it on top of a salad. Either way, it's delicious.
42. Crustless Broccoli Quiche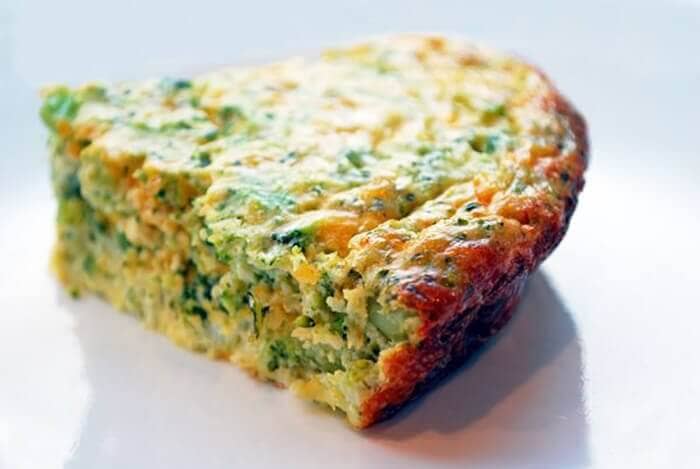 The ingredients in the filling part of a quiche are healthy on their own, but adding the flour-based crust definitely takes some of that away. In this crustless version, you don't have to worry about gluten, but you also don't have to worry about those empty calories. It's packed with yummy ingredients and will hold up well in the refrigerator, so you don't have to worry if you're making this for one. Have the leftovers throughout the week.
43. Black Bean Flautas with Avocado Dipping Sauce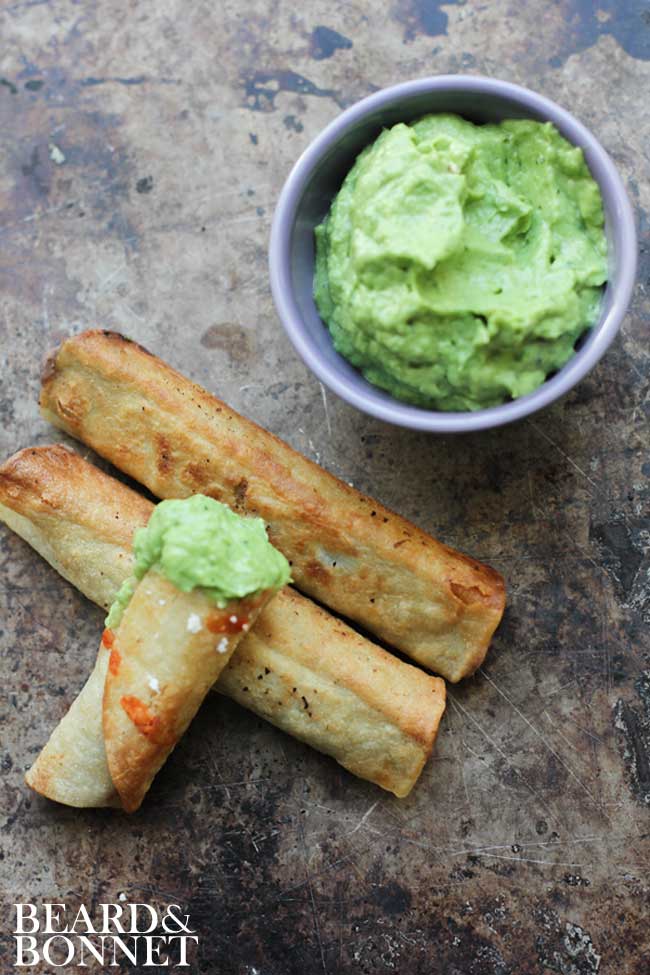 These flautas make for a fantastic gluten-free lunch recipe, but you can certainly eat them any time of the day. They have a delightfully crispy outside with a smooth inside from the beans. Dipping them in an avocado sauce makes for a taste explosion. They keep in the refrigerator, but you should reheat them in a pan rather than trying to heat them up in the microwave. The pan helps them maintain the crispiness whereas the microwave would make them soggy. You still get the same flavor, but it's not quite right.
44. Slow Cooker Hawaiian Chicken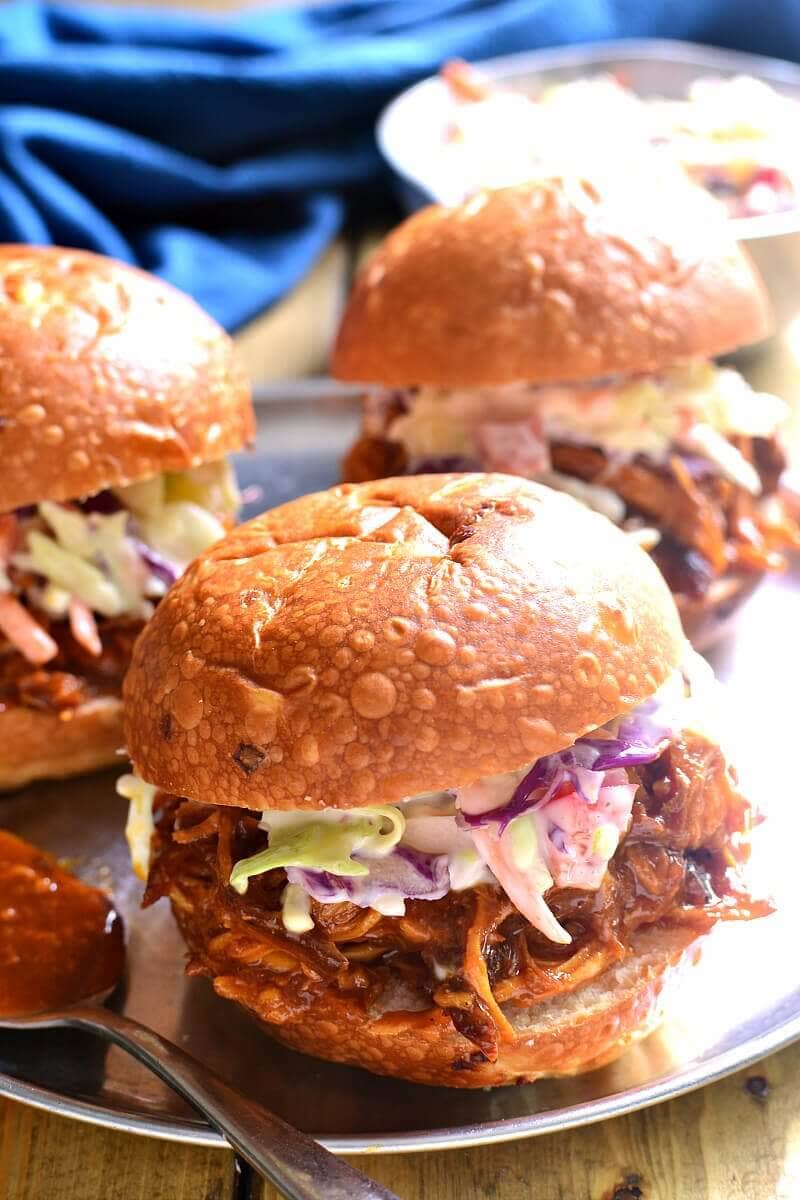 This slow cooker Hawaiian chicken has a taste all its own, with an interesting blend of salty (from the soy sauce and Worcester sauce) and sweet (from the pineapple juice). The recipe calls for shredding it and serving it as a sandwich filling, but that's not necessary if you're gluten-free. Instead, you could wrap it in a gluten-free tortilla or even serve it on top of a bowl full of rice.
45. Black Bean Stuffed Sweet Potatoes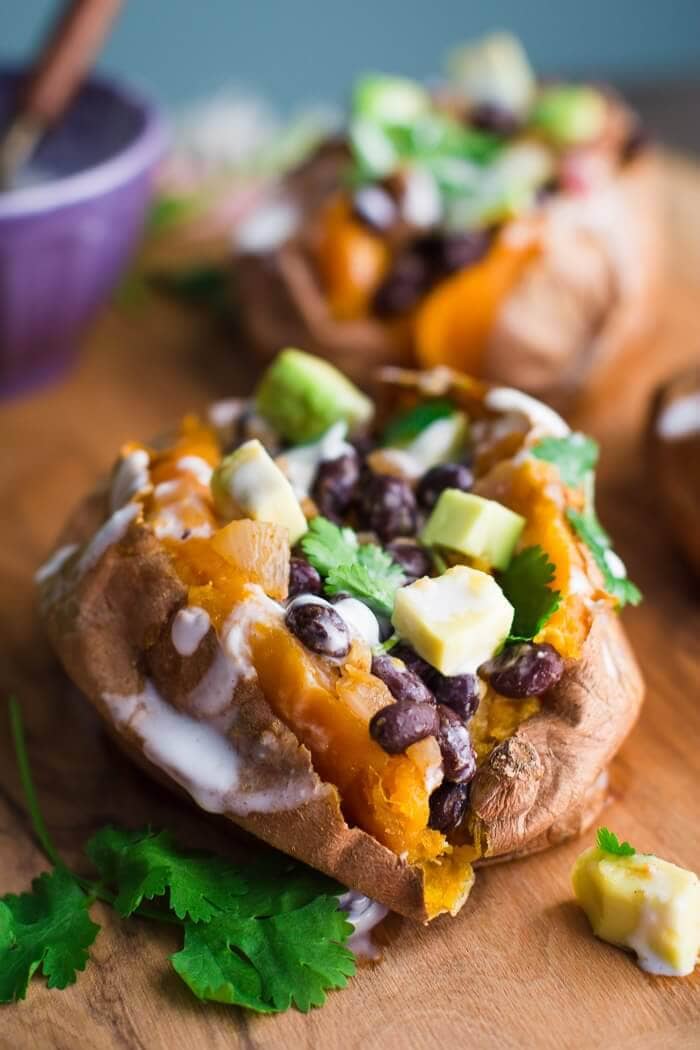 When you think about topping a baked potato, you probably think about things like sour cream and bacon bits – things that aren't always that healthy. This easy recipe turns that idea on its head, taking the healthier sweet potato and stuffing it with a black bean filling. The result is a filling meal that's perfect for lunch. It's great reheated in the microwave, so think about bringing it to work with you. You're sure to feel energized rather than sluggish after enjoying this meal.
46. Thai Style Buddha Bowl with Peanut Sauce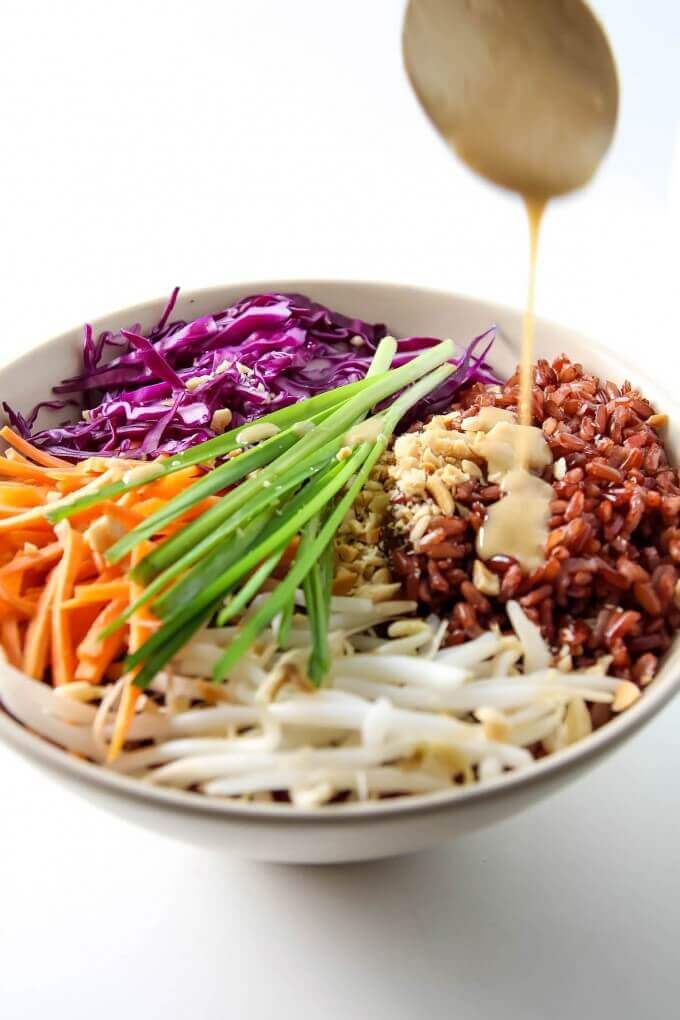 A "Buddha Bowl" is basically any dish that starts with a grain and piles a lot of vegetables on top. In this version, you get to use red rice, which is a nice alternative to white or brown rice. You then add some of your favorite veggies and top it off with a Thai-style peanut sauce. If you've never made peanut sauce before, it's nothing that should intimidate you. You'll need a few specialty products from the Asian section of the grocery store, but once you have those, it's simply a matter of mixing them all together and pouring it over your bowl. Yum.
47. Braided Stuffed Spinach and Pepperoni Gluten-Free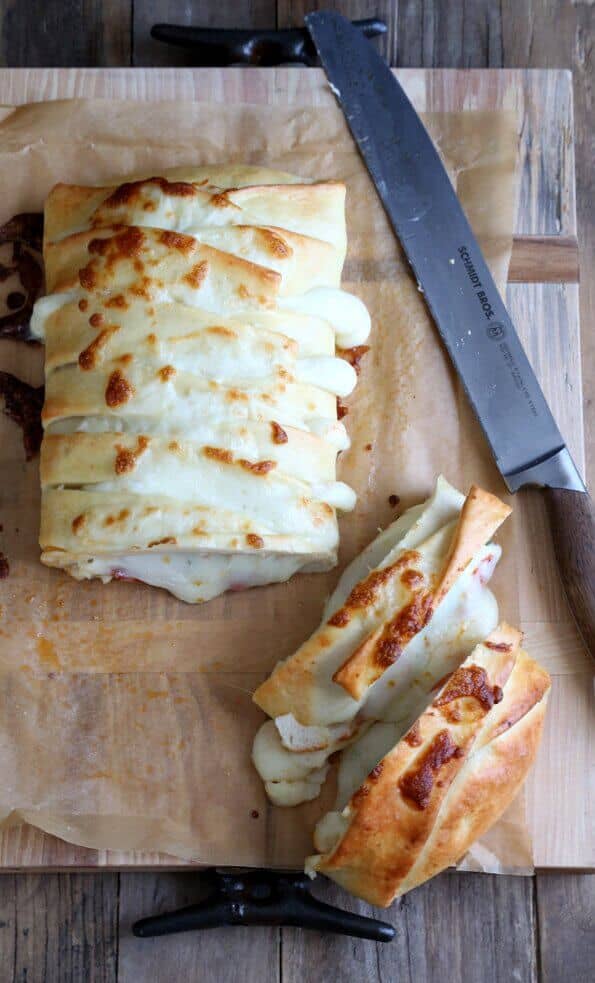 When you think about gluten-free lunch recipes, you rarely think about having a pizza. Most gluten-free pizza crusts are made from things like cauliflower and while they serve as an occasional substitute for the real deal, you know that they don't really taste the way you want them to. Enter this recipe, which uses gluten-free flour to make its pizza dough. Though it looks pretty fancy, it's actually an easy recipe to pull off and will really give you that pizza taste you've been craving.
48. Warm Chickpea and Sweet Potato Salad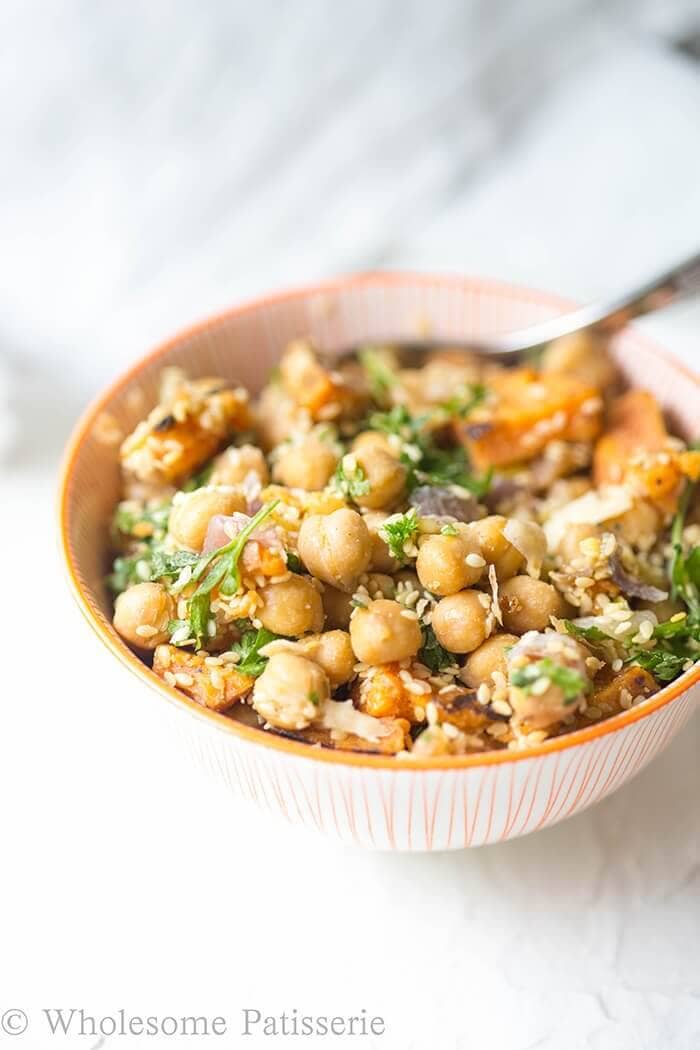 If you thought that a dish had to be cold to count as a "salad," think again. This warm and inviting dish is going to be one of the best lunch recipes you try this week. The sweet potatoes add some natural sweetness to the recipe, but there's a bit of cayenne pepper that really gives it an unexpected kick. Let it sit overnight in your refrigerator and the flavors will really meld together.
49. Spicy Chicken Cobb Sandwich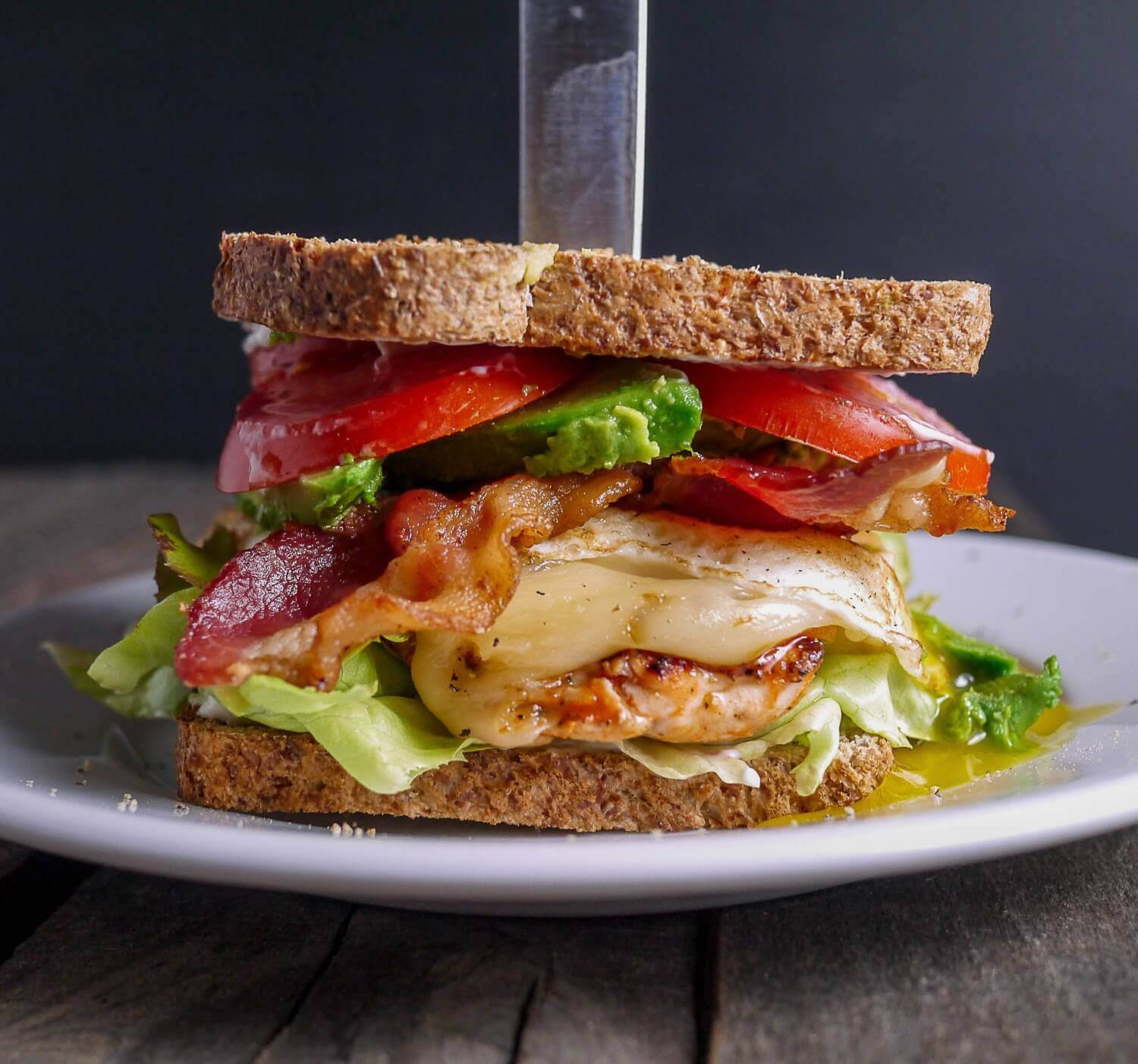 The blend of spices in the chicken in this gluten-free lunch recipe are perfect for those who like that extra kick. Layered with the cooler flavors of tomato and avocado, the spice gets mellowed out. This recipe is made on bread, but you can make it gluten-free by using gluten-free bread or even just eating it mixed together in a bowl. For this, it's all about the taste, not how it's served.
50. Citrus Chicken Quinoa Salad
We end this list with something that's quite unexpected. This gluten-free lunch recipe is packed with vitamins, but rather than adding a bit of citrus juice for the flavor, you have actual pieces of orange tossed right in with the savory chicken and quinoa. This gives the easy recipe a burst of sweetness that's unmatched.
Fall in Love with the Gluten-Free Lifestyle with These 50 Lunch Recipes
As you can see, there are plenty of ways to fill up your belly on the gluten-free diet. Whether you prefer to stick with naturally gluten-free foods or like to try recipes that use substitutes to re-create your favorite dishes, we're certain you've found a few new favorites among the recipes we've shown you. Happy eating!