50 of the Most Inspirational and Delicious Gluten-Free Donut Recipes
Being on a gluten-free diet often makes it difficult to avoid the sweeter treats in life and to come up with gluten-free donut recipes. Donuts are such a common American food that everyone loves. They the perfect party pleaser or breakfast choice for a rushed morning when there is no time to prepare something from scratch. However, donuts traditionally have gluten in them, which some people cannot tolerate. So how can you enjoy donuts while on a gluten-free diet?
50 Ways to Enjoy Donuts on a Gluten-Free Diet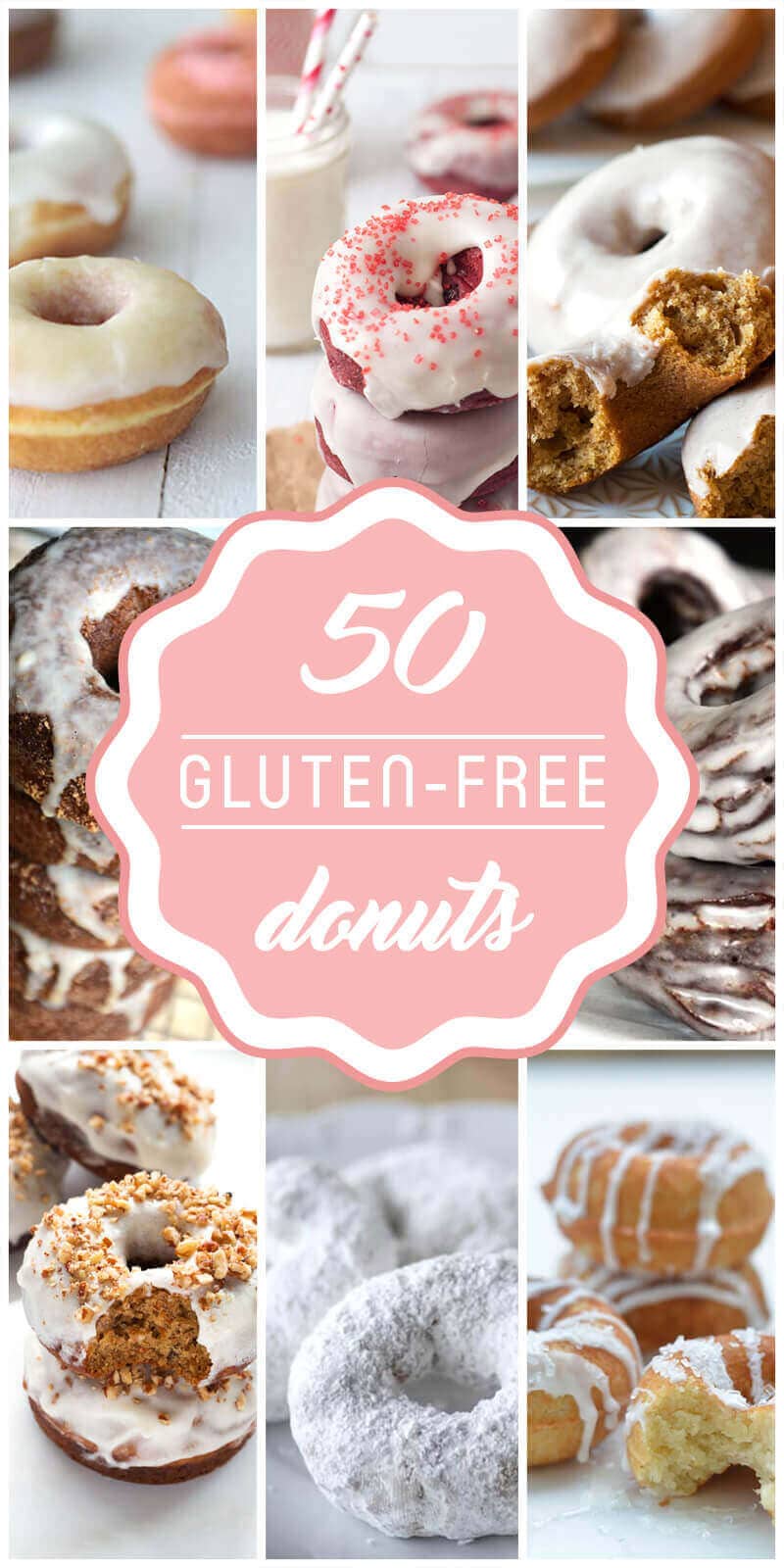 You can make some gluten-free foods that taste just as great as their gluten-filled alternatives. These 50 gluten-free donut recipes will likely make the regular rotation in your baking habits. Using gluten-free ingredients, and gluten-free food, these recipes create everything you may often crave about donuts. As you work on your gluten-free diet, be sure to not deprive yourself of treats such as donuts. Gluten-free foods can be just as delicious as regular foods. If you are looking for a great donut idea, this is a perfect place to start.
1. Pumpkin Cinnamon Sugar Donuts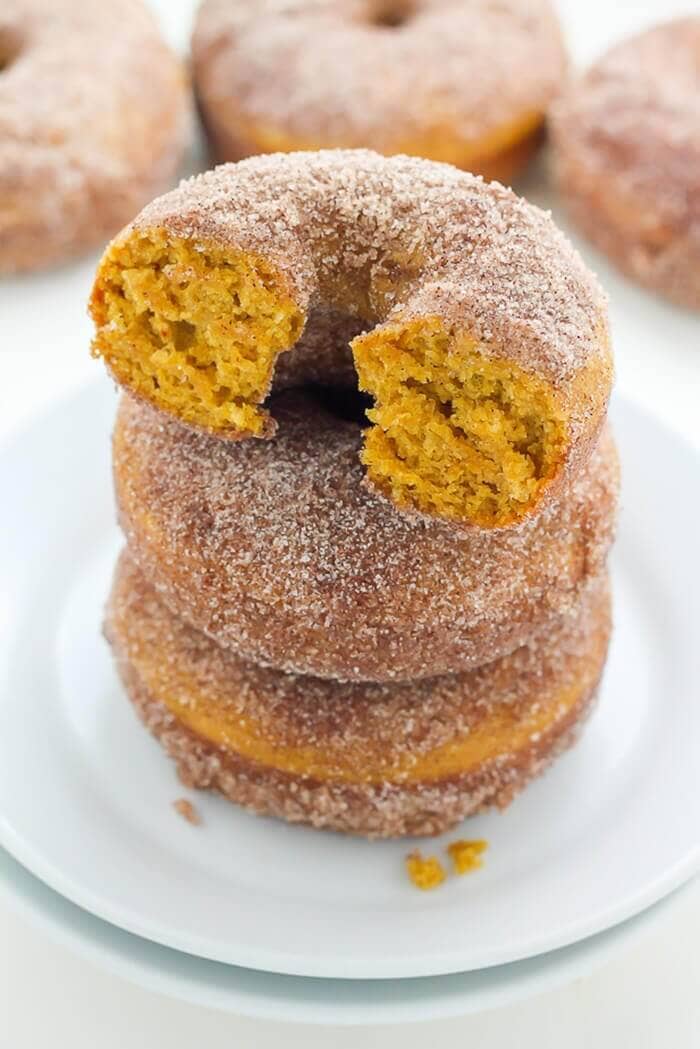 While some donuts require a messy pot of oil, along with the careful placement of raw dough to avoid injury, this easy recipe results in donuts that are just as tasty, but easier to make! Sometimes when you try to bake donuts instead of fry them, they come out a bit too dry and even cake-like, but these are firm on the outside and fluffy on the inside, making a perfect mixture of textures for a fall-inspired recipe. This gluten-free donut recipe is great to have around during a fall weekend.
2. Glazed Gluten-free Donut Holes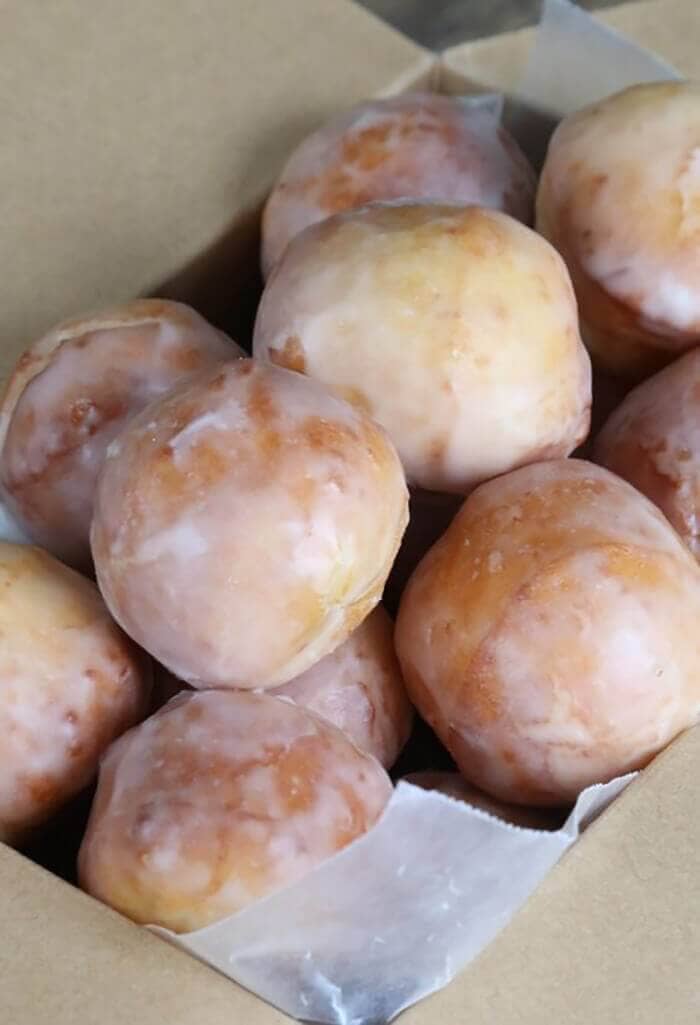 These small tastes of heaven resemble why people flock to places like Dunkin' Donuts. However, when you are on a gluten-free diet, that is not so easy. When making this gluten-free donut recipe, note that they do not have to be rolled into perfect circles to make them turn out to be a treat. You can use a small scoop or even a cookie cutter to separate the dough into pieces. Rolling the dough with your hands can actually compress the dough a bit too much, resulting in a dense donut.
3. Gluten-Free Pumpkin Doughnut Holes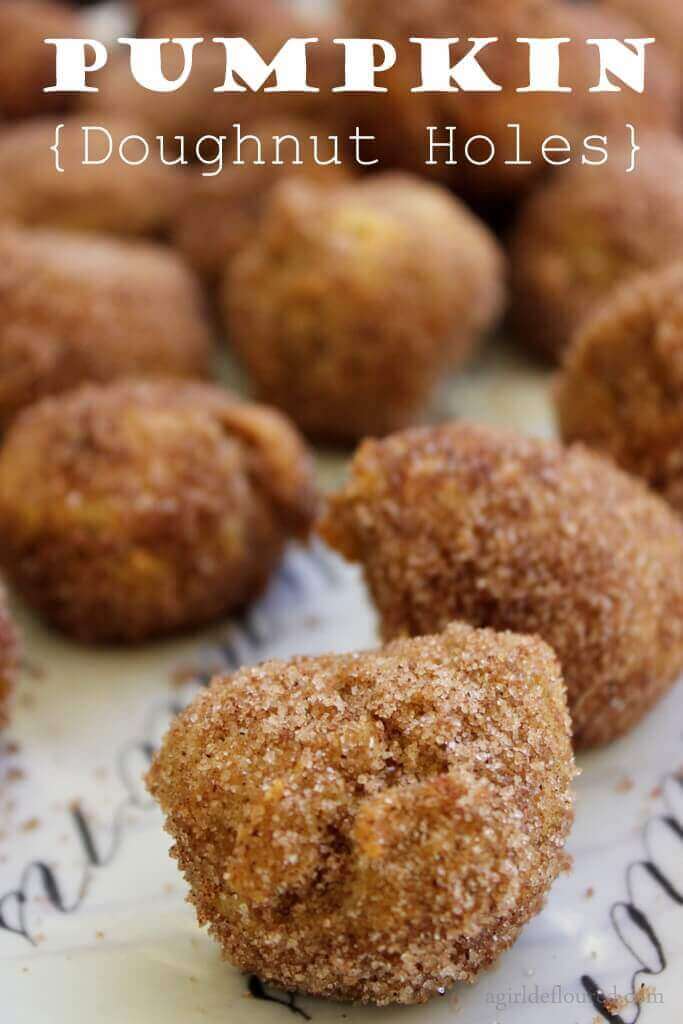 Serving these fresh and hot, sprinkled with a little cinnamon and sugar, makes for a perfect gluten-free food paired with a cup of hot coffee. These doughnut holes come out to be a mixture of tender and spicy, and are surprisingly baked with no specialty pans or cutters, rather than fried. This donut idea can be served plain, but since they are best eaten the same day they are made, add some vanilla ice cream to them if you have leftovers for dessert after dinner, making for a great meal idea.
4. Baked Pumpkin Mini Donuts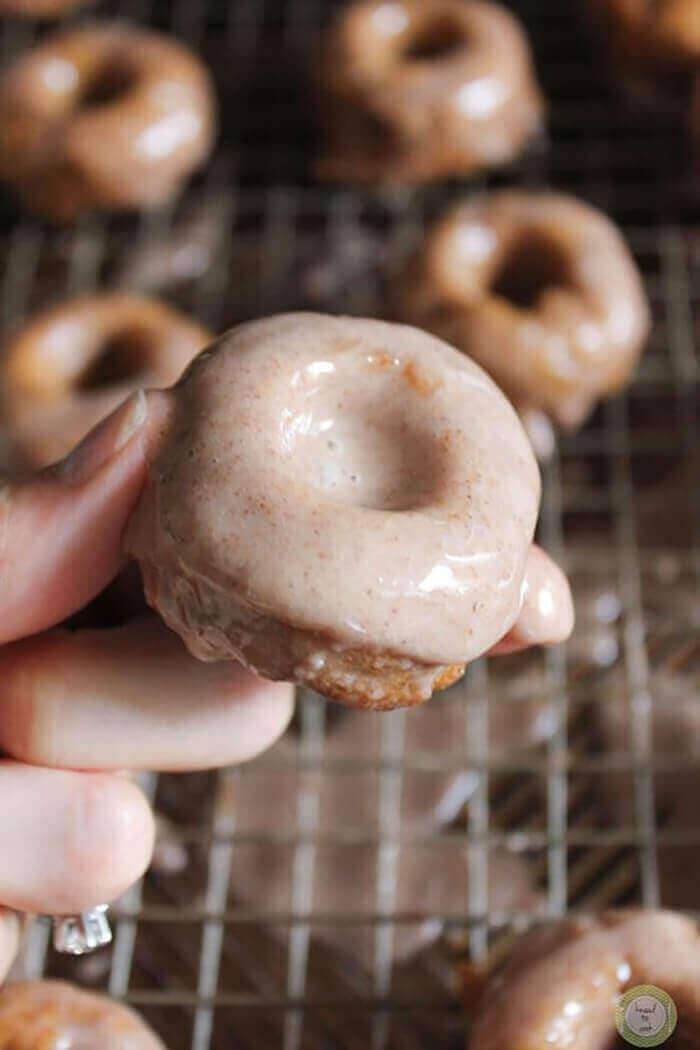 This gluten-free donut recipe is not only free from gluten, but is a great meal idea for those who are dairy free as well. Sometimes when working in the kitchen with gluten-free flour, you may come across a distinct taste that is not as desirable as regular all purpose flour. In these donuts, however, you do not notice a difference in the taste, because they include a delicious glaze that makes them exceptionally tasty. If you wish, you can omit the glaze and these mini donuts are still a treat. If you want to add some additional sweetness, but not as much as the glaze adds, just sprinkle some cinnamon and sugar on top of the wet dough before baking them. These mini donuts are a great donut idea for kids.
5. Yummy Gluten-free Vanilla Cream Doughnuts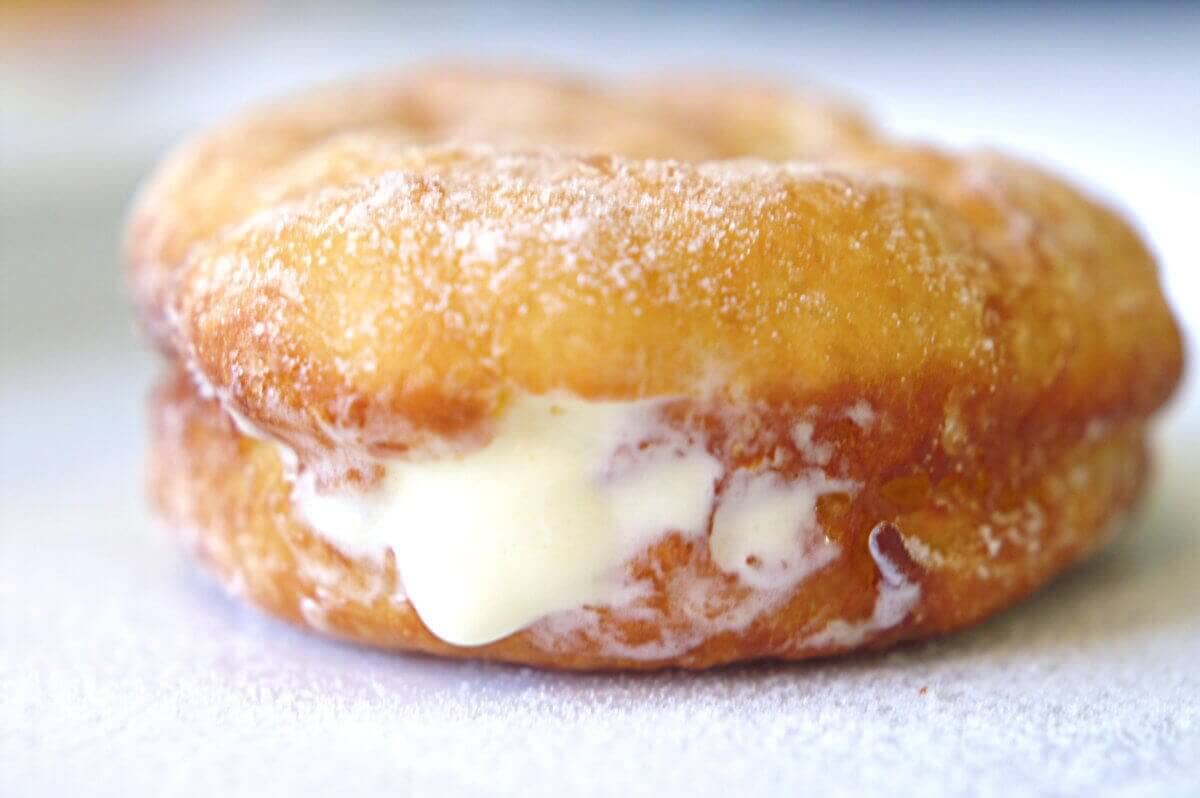 This gluten-free donut recipe is impossible to be identified as "gluten-free" unless you are involved in making them. The taste of this gluten-free food makes gluten intolerance seem like a breeze! With a thin and crunchy crust encompassing a light, fluffy dough, these doughnuts are out of this world. Add in the fact that they have a sweet creamy vanilla filling, and you are in heaven. These doughnuts are well worth the effort they take to make, and will impress any visitors.
6. Gluten-free Baked Apple Cider Donuts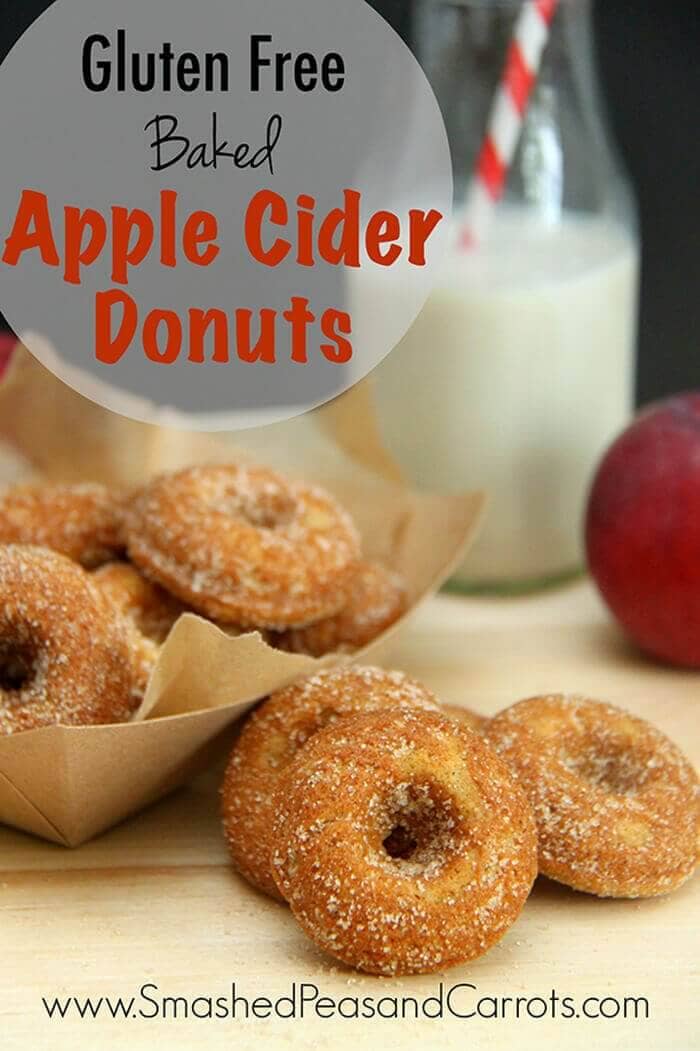 You don't need to wait for fall to come around to start thinking about a great donut idea or enjoying these baked apple cider donuts. This easy recipe creates donuts that are baked with gluten-free flour any time of year. With the reduced apple cider in this gluten-free donut recipe, it makes the donuts have a strong apple taste that is hard to resist.
7. Dairy-Free and Gluten-free Baked Red Velvet Donuts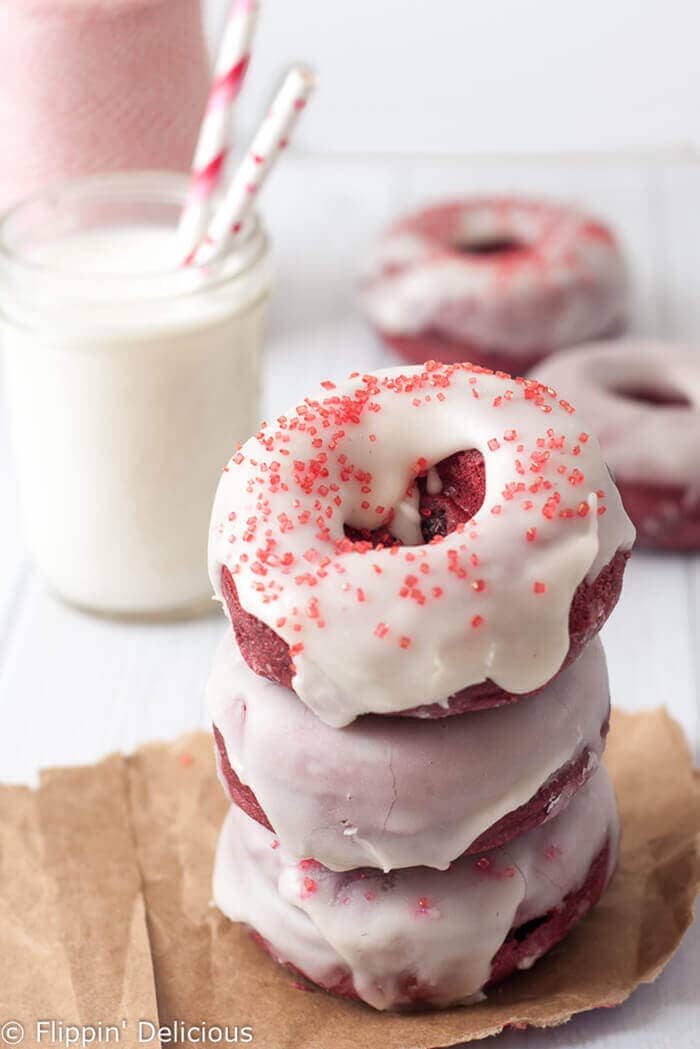 Red velvet anything is all the rage these days, so it is important to have a recipe that incorporates this flavor into a gluten-free food! This dairy free and gluten-free recipe results in a slightly sweet, moist baked red velvet donut, made sweeter with a cream cheese flavored glaze. Having a donut pan makes these very easy to make, but if you do not yet have a pan, you can bake them in a greased mini muffin tin to create little donut holes that will be equally delicious.
8. Healthy Flourless Cinnamon Bun Breakfast Doughnuts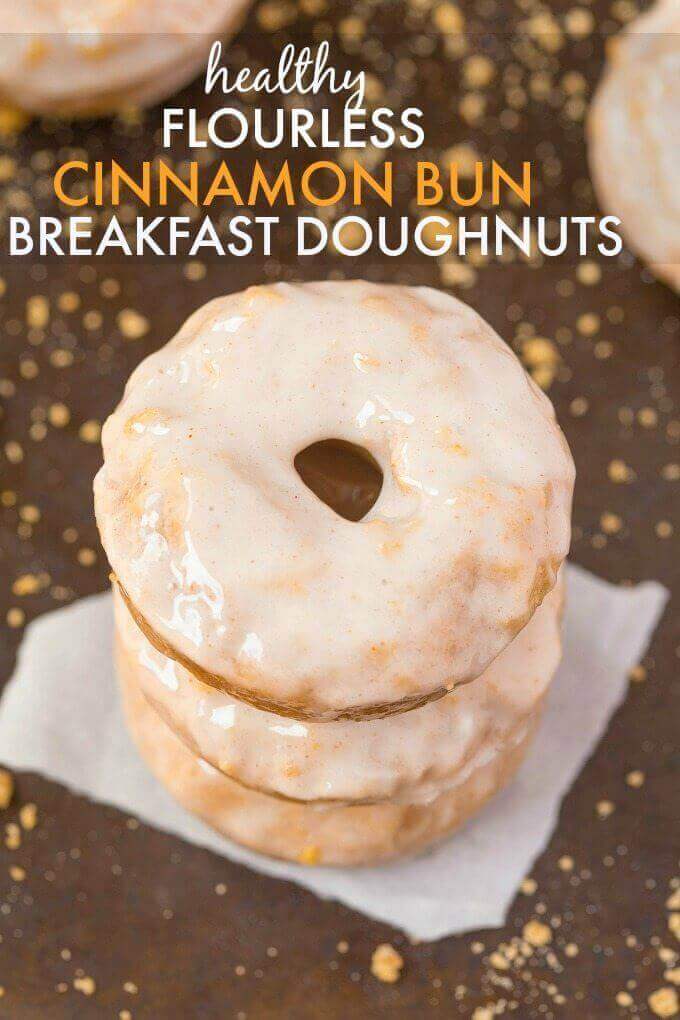 These easy and delicious baked doughnuts taste and smell just like a classic cinnamon bun that you could find permeating the air in the mall. Coming in doughnut form, these are specifically designed to eat for breakfast. They are health conscious in the sense that they have no butter, oil, flour or sugar. This recipe creates a naturally vegan, gluten-free, sugar free, and dairy free treat that can be enjoyed by all.
9. Two-Ingredient Pumpkin Donuts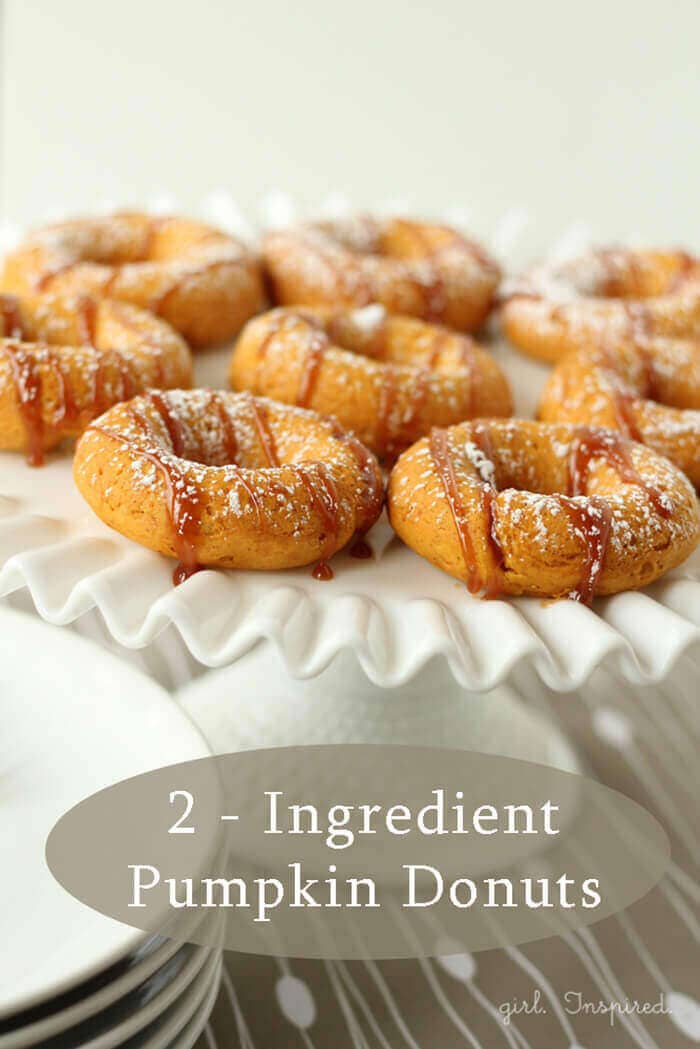 Using only a single can of pumpkin puree with a box of yellow cake mix, you can have pumpkin donuts hot out of the oven in minutes. While this simple gluten-free donut recipe is not the healthiest option, they're definitely tasty and much healthier than fried donuts. You can always add some optional ingredients to spice them up a bit, such as cinnamon, nutmeg, cloves, chocolate chips, diced apples, powdered sugar, or drizzled caramel. When making these donuts, remember that you do not need to add the ingredients that are listed on the box that are advised to make a cake. Use only the cake powder with the pumpkin puree.
10. Baked Maple Donuts (Grain-Free)
This delicious baked donut is low in carbohydrates, gluten-free, and is a great source of fiber. While leaving out some of the junk that makes other donuts unhealthy, these are still moist and cakey, and even add the delicious hint of maple flavor. These are recommended to be made with coconut flour, which is low in carbohydrates, high in fiber, and gluten-free. Coconut flour makes baked goods especially moist, which is great for donuts. Each of these donuts only has 70 calories, but has 4 grams of fiber and 5 grams of protein, making it a great start to your day.
11. Best Ever Gluten-Free Donuts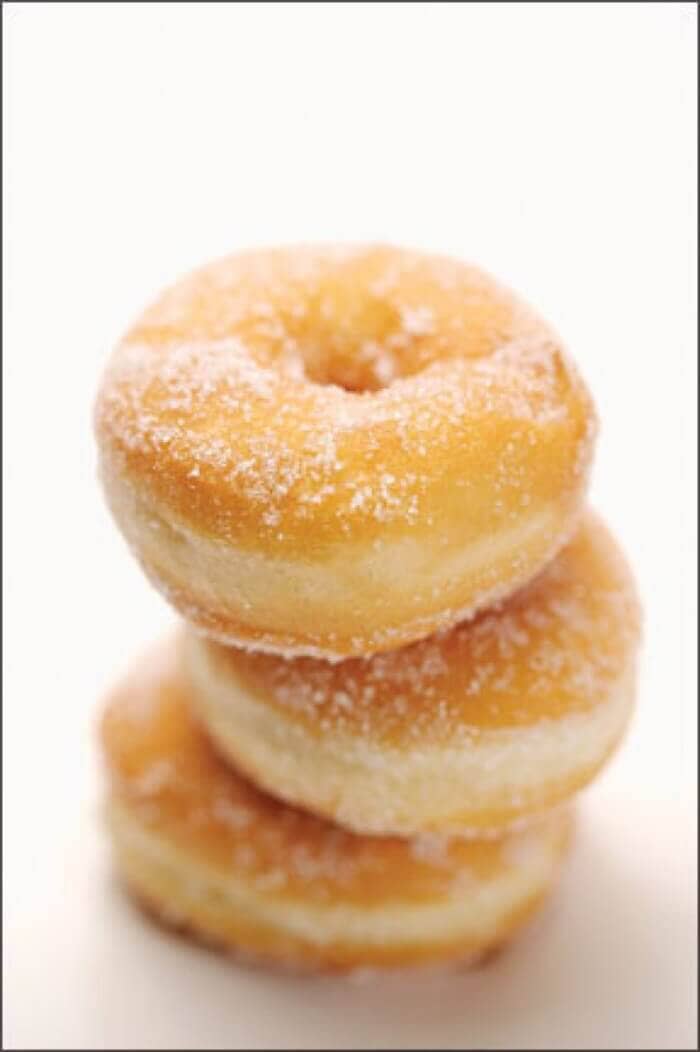 These gluten-free donuts, which were originally made by the Culinary Institute of America, incorporate many different flours to result in a warm and light donut. Their inclusion of chickpea flour makes these donuts high in protein, and adds a slightly nutty taste. Chickpea flour has twice the amount of protein as whole-wheat flour, and six times as much protein as all-purpose flour. It is also a great source of folate, vitamin B-6, magnesium, iron, and potassium.
12. Vegan and Gluten-Free Krispie Kreme Donut Holes Copycat Recipe

This is a great modified donut idea, inspired by the ever so popular Krispie Kreme Donut holes that everyone is always raving about. This gluten-free donut recipe, using gluten-free flour, creates an authentic result that tastes as good as the real deal. With only thirty minutes from start to finish and clean ingredients, such as coconut oil and bean juice, there is no reason to not make these on a regular basis.
13. Cinnamon Sugar Baked Doughnuts (Gluten-Free)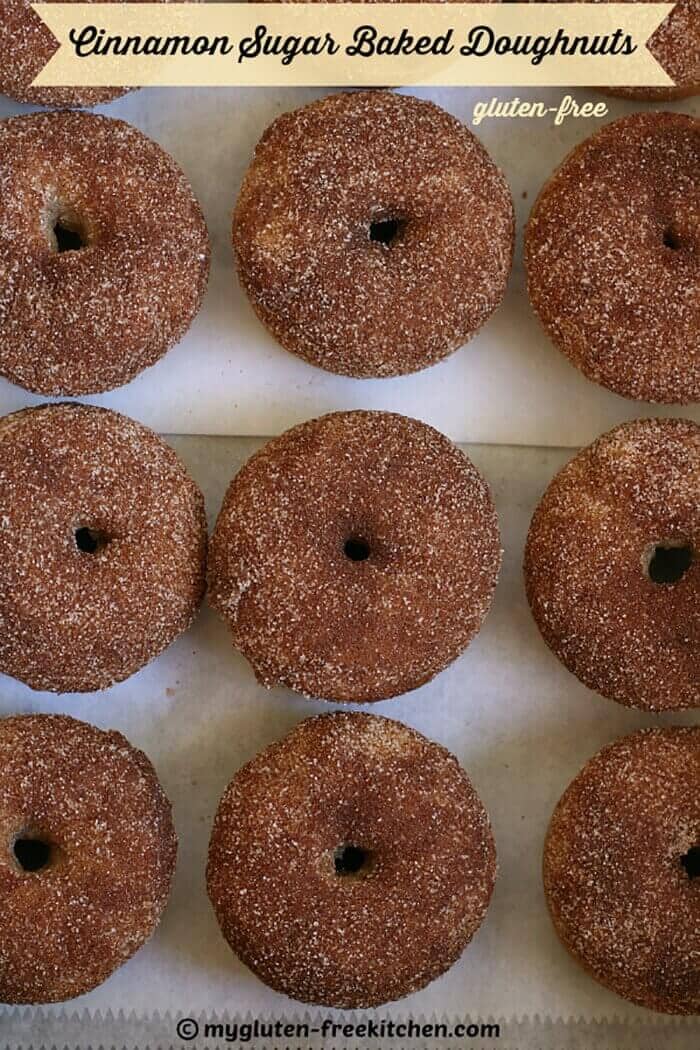 These gluten-free cinnamon sugar doughnuts were born from a mixture of several recipes that all had their benefits, they just needed to be incorporated together to be made into the best recipe. These are best baked in a nonstick mini donut pan, but can also easily be adjusted to bake in a full sized donut pan. This would just add a few minutes to the cooking time. The best way to neatly insert the batter into the pan is by using a Ziploc bag. Put the batter into the bag before cutting off the corner, and then squeeze the batter into each cavity of the pan.
14. Quick and Easy (Baked) Cake Mix Donuts Recipe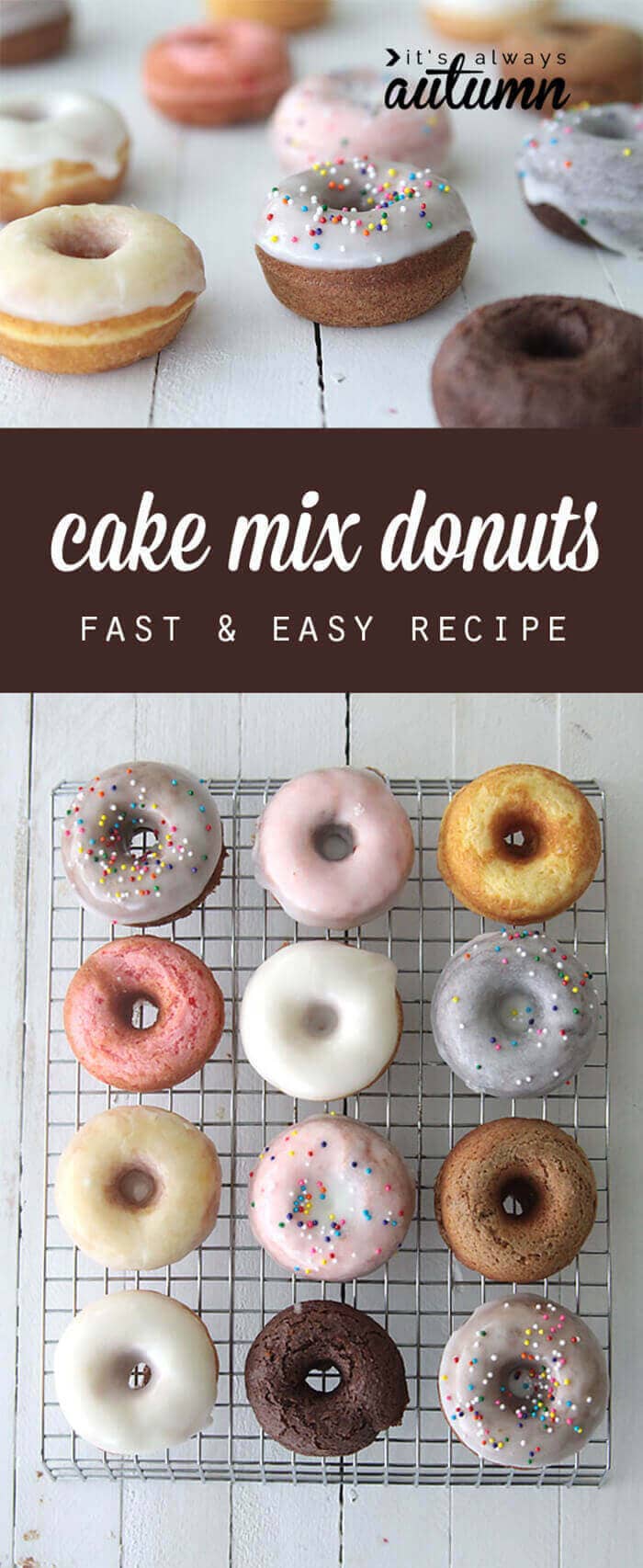 This gluten-free donut recipe is great for children, because it is so easy to make and doesn't take up too much time! These can be substituted for cupcakes or cakes for birthdays also, because they can be made in all different flavors. Starting with a cake mix, you can pick your favorite flavor, such as: vanilla, red velvet, carrot, chocolate, strawberry, white, lemon, etc.! For the fall season, a spice cake mix makes for great, festive donuts that can be topped with an easy glaze. Remember that cake mix donuts do not taste exactly the same as donuts that you might buy at the store, since they are baked. They are similar to "cake donuts" that you would buy, but they do not have the same consistency as a typical fried donut. However, the taste of these donuts varies very much, depending on which cake mix you choose.
15. No Fail Gluten-Free Donut Recipe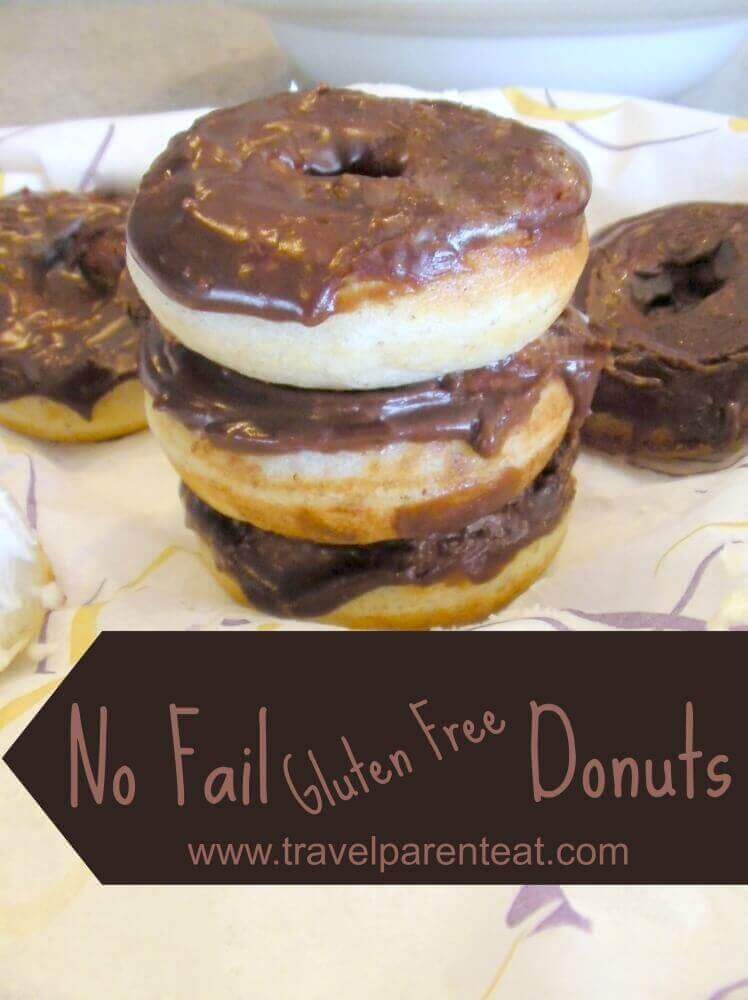 This recipe is classified as "No Fail" because if you follow the directions, it is almost impossible to mess up. Even if your dough does not rise as you would expect, remember it will continue to rise as it is baked, so all is not lost. Gluten-free flours don't need the proofing time that regular flours require, so they are likely to turn out, even if there is some difficulty with the proofing process. Once the dough is placed into the hot oil, it will expand and end up tasting like a donut that has been yeast-risen. These donuts turn out to be yummy and soft, with just a little bit of a spring to them, which makes them similar tasting to a yeast-risen donut.
16. Gluten-free Vanilla and Powdered Sugar Donuts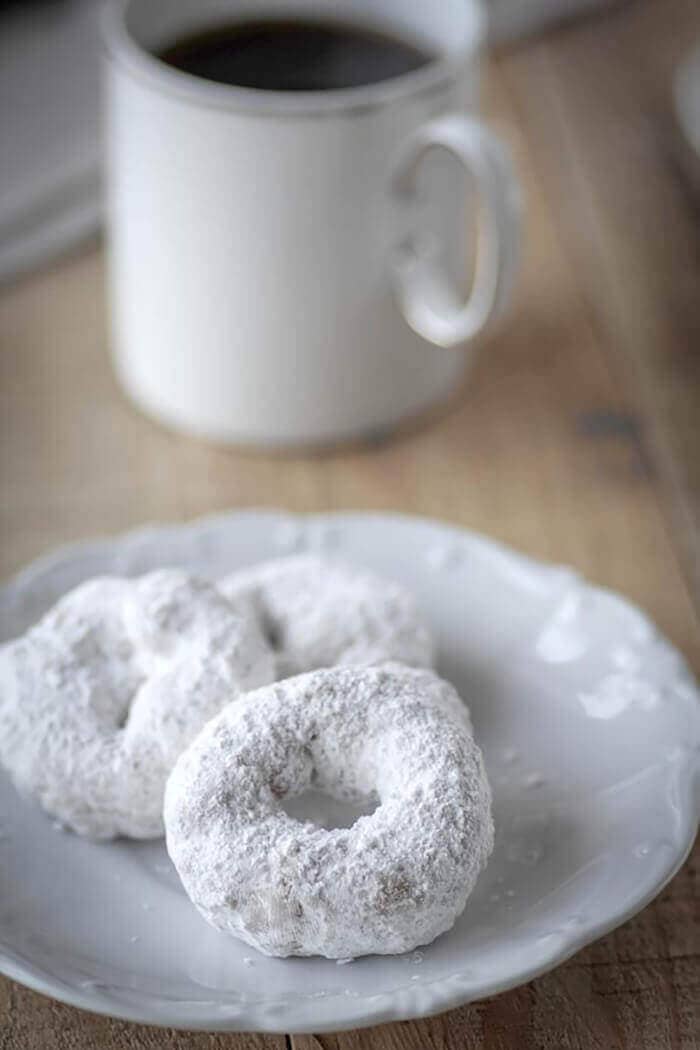 These donuts involve a base that is fried in coconut oil, giving them a subtle coconut flavor that is mildly sweet. Once cooked, these donuts get a thorough shake in powdered sugar and vanilla powder. The vanilla powder can be omitted if you do not have any on hand, these donuts still come out to be a light and delicious treat. However, for the sake of the original recipe, the vanilla powder is added with the intention of putting a sophisticated spin on the average powdered donut.
If you do not wish to use coconut oil in this gluten-free donut recipe, it can easily be substituted for a more mild flavored oil, such as canola oil, grapeseed oil, or sunflower oil. Also, when the donuts are almost finished cooking, you may notice that there is a reduction in the amount of bubbling that the oil is doing around the donut, which is normal.
17. Gluten-Free Donut Holes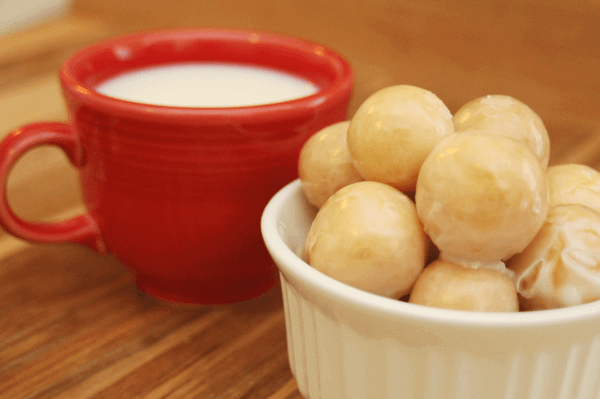 It is important to keep in mind that while gluten-free donuts may seem like a dessert food, they are widely recognized as a breakfast food. So don't look too far into the ingredients and cooking methods of donuts! Apparently, gluten-free Bisquick Mix works really well well for making donut holes. This makes it even more breakfast friendly…right? Let these donut holes cool before adding the glaze, so the glaze firms up on them and adds a crispy texture on the outside.
18. Coconut Flour Chocolate Glazed Donuts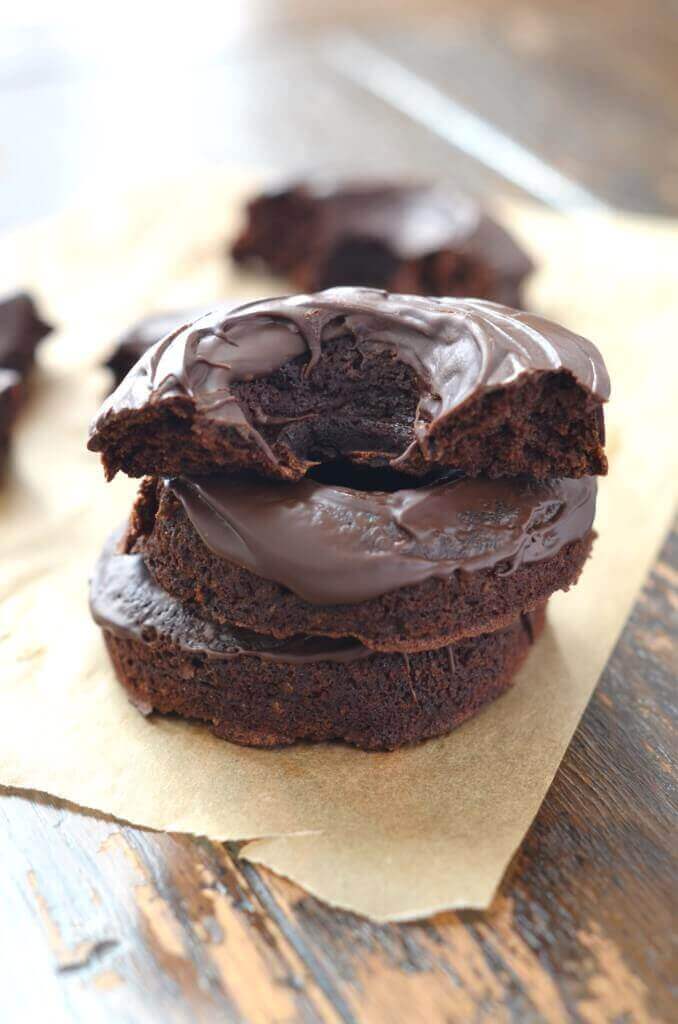 These are healthier than donuts tend to be; and you can play around with different ingredients to make them suit your own tastes. These Coconut Flour Chocolate Glazed Donuts are free from grain, dairy, gluten, oil, nuts and eggs! These donuts are sure to go fast, as they are moist and chocolatey, which is always something that people are reaching for more of. While pumpkin puree is one of the ingredients, these donuts do not have a pumpkin flavor. This recipe can also be made into donut holes. These donuts will even last a few days in the refrigerator in an air tight container, just be sure to wait until they are cool to put them in the refrigerator.
19. Double Chocolate Donuts (Vegan gluten-free Dairy Free Egg Free)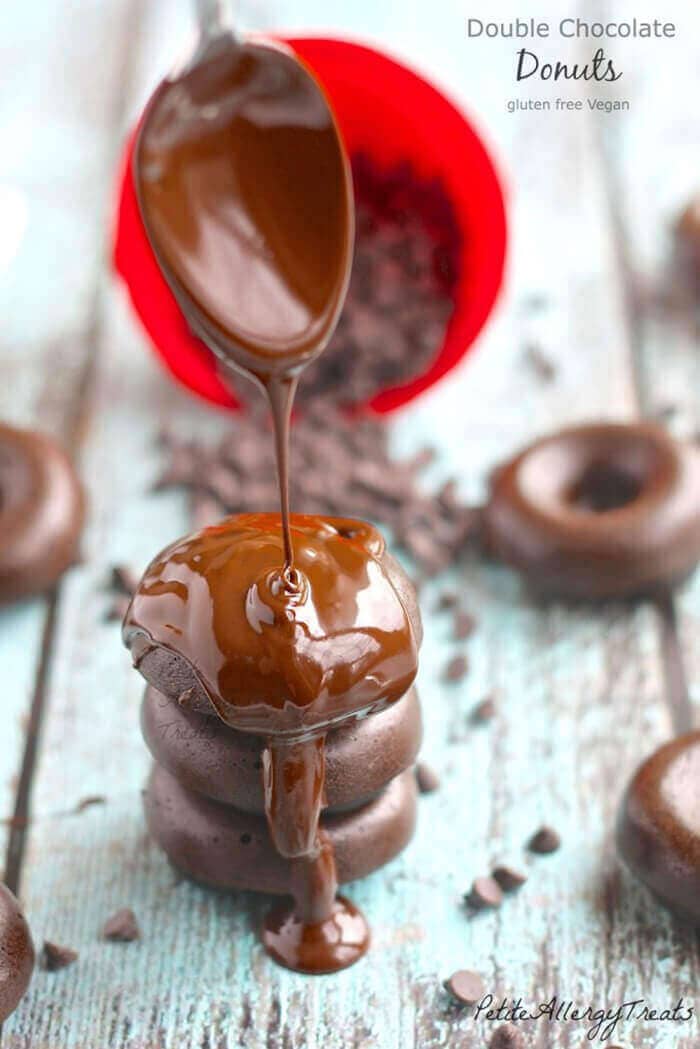 These gluten-free donuts are delicious right after they are cooked, but they also freeze very well, so you can make them in large batches and eat them throughout the weeks. This can make things easy for busy mornings when you don't have time to cook a breakfast from scratch for yourself or the kids. With only two tablespoons of oil, with applesauce covering the rest of the moisture in these, they are a much healthier option than other donuts. This is among the best donut recipes that incorporates chocolate.
20. Snickerdoodle Doughnut Gems (Gluten-free, Baked Mini Doughnuts)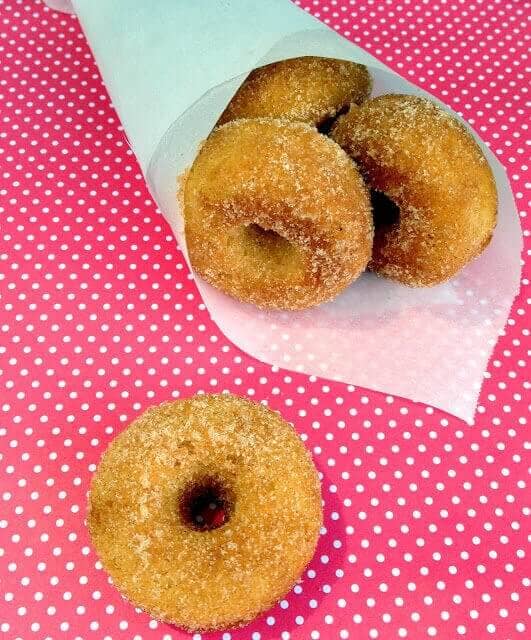 These flash-fried donuts may not be exceptionally good for your health when they are cooked in oil, they can also be baked if you are looking for a more diet-friendly option. Flash frying these donuts makes the naturally light and cakey donut that is baked taste more similar to raised doughnuts. All of this to say, the batter is versatile depending on your preferences. You can substitute sour cream in this gluten-free recipe for plain green yogurt to cut down on fat and add some additional protein as well. These work well for a gluten-free diet because they are so versatile, so can be tailored to your liking.
21. Strawberries n' Cream Blender Baked Donuts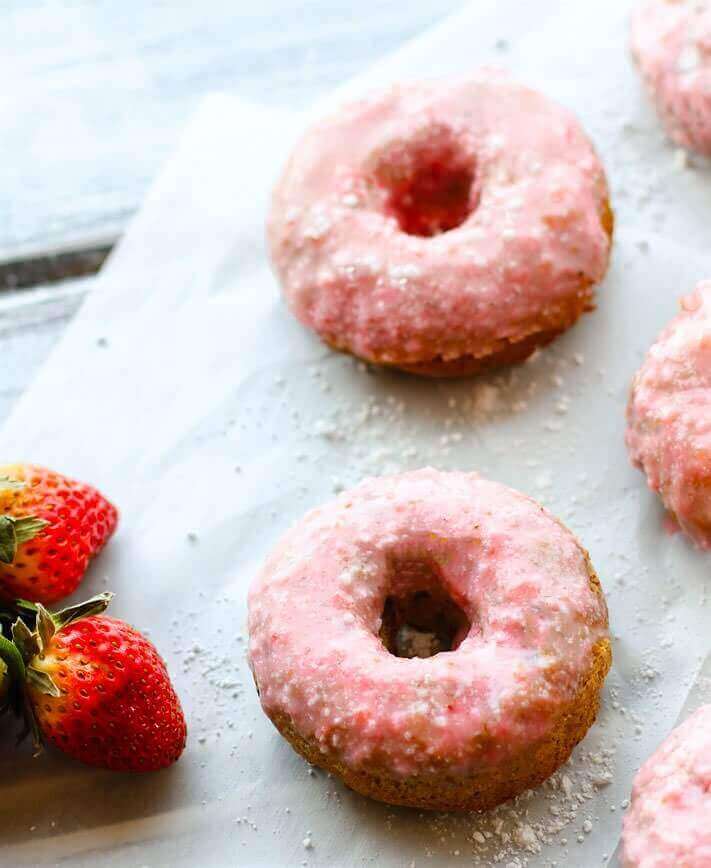 This recipe proves that guilt-free donuts do exist! This is one of the best donut recipes for summer. These donuts are not only gluten-free, but they are also packed with protein and easy to make. They are great for children, breakfast, or quick snacks on the go. It may be hard to believe, but oftentimes energy bars are a lot worse for your health than these strawberries n' cream baked donuts, due to the fact that the donuts have better nutrients along with other perks than a typical energy bar. These donuts are indeed created in a blender. Just like making a strawberries n' cream smoothie in a blender, this is the same concept, except for the addition of baking the batter after it is blended. To make this recipe a bit healthier and higher in protein, replace heavy whipping cream with a lighter protein packed greek yogurt, which is also full of flavor.
22. Gluten-Free Pumpkin Spice Donuts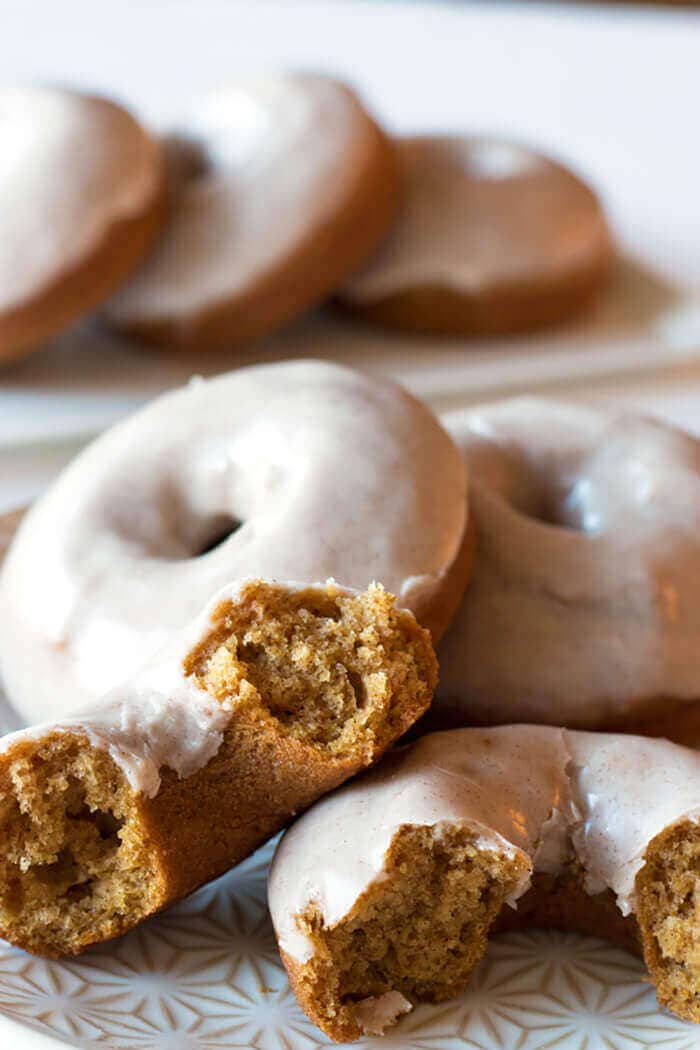 Because these donuts are baked and not fried, feel free to grab more than one. Baking these donuts makes them slightly more cake-like, with out the crispy and crunchy edges. But, since they are baked, you are able to enjoy more of them! One of the best things about these gluten-free pumpkin spice donuts is the maple cinnamon cream cheese glaze. This glaze is a mixture of cream cheese frosting and a powdered sugar glaze, packed with spicy cinnamon and a rich amber flavor. Don't be shy about glazing the entire donut, it definitely helps to spread the flavor around.
23. Samoa Donuts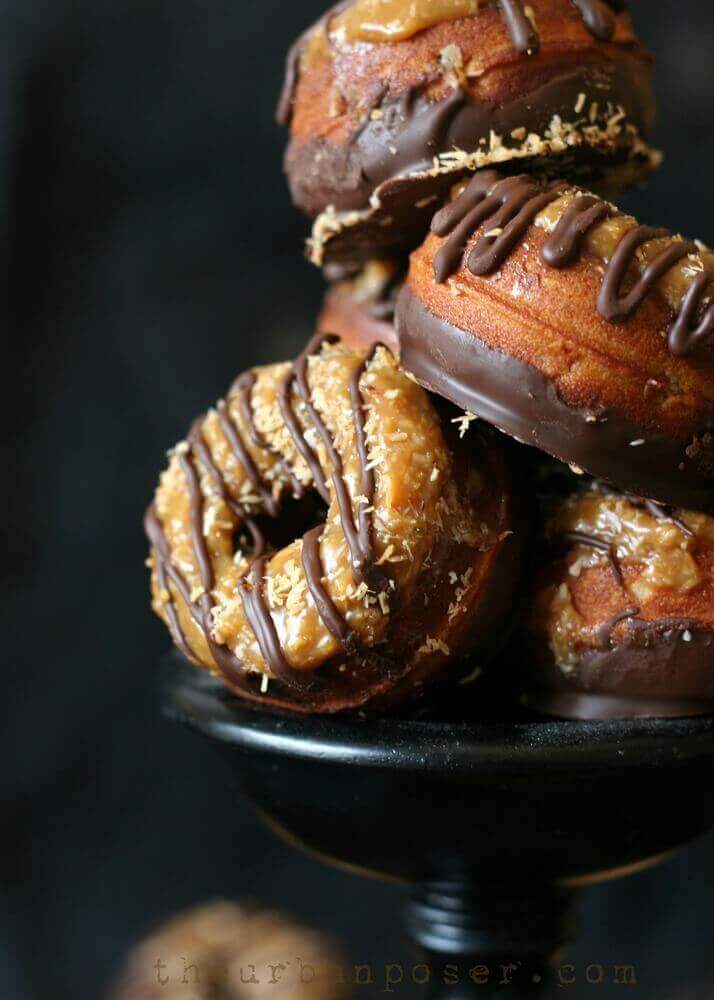 The purpose of the Paleo diet is to eat a diet that is based on the types of foods that early humans had access to. This largely consists of meat, fish, fruits, and vegetables, excluding dairy, grain, and processed food. But what's to say that people from our past did not enjoy a sweet treat every once in a while? While this gluten-free recipe may seem daunting with the number of steps, this Paleo friendly version of the girl scout cookie mixed in with a donut comes together beautifully. The steps are simple and some can be done ahead of time so you are not overwhelmed when making these treats. You can substitute coconut oil for the butter that is listed in the ingredients to make this treat a bit more health-conscious.
24. Gluten-Free Pumpkin Spice Donuts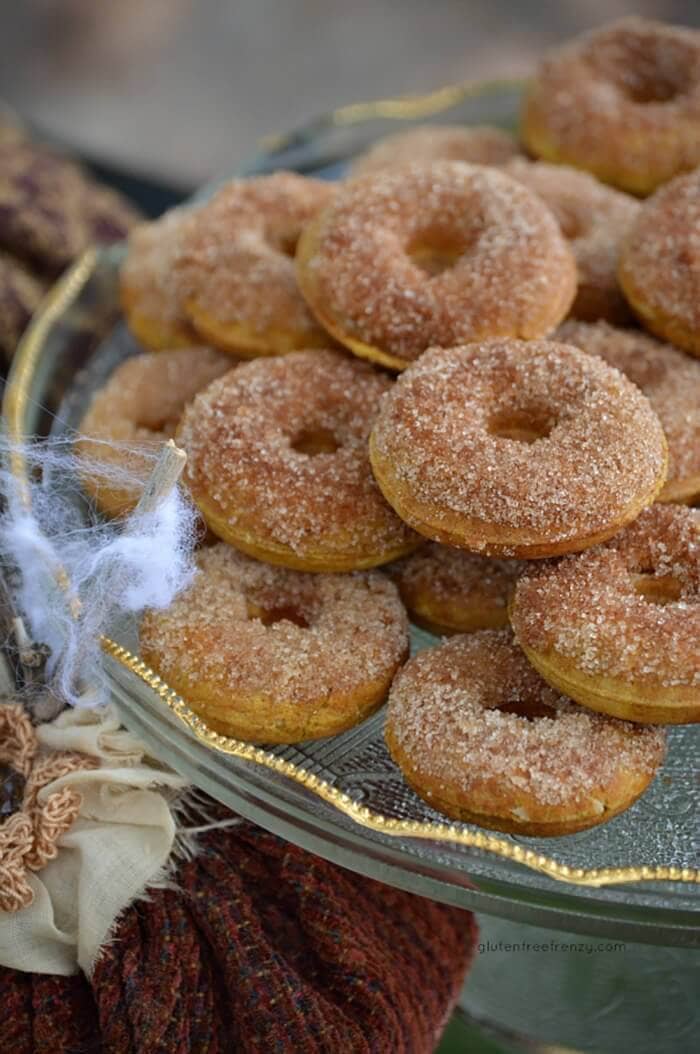 These gluten-free donuts create a nice balance of cinnamon, pumpkin, nutmeg, and made-from-scratch donut dough. They are easy to make in a mini donut maker, but can also be easily made in an oven. Even for people who are not too fond of pumpkin, this is a great recipe, as the pumpkin flavor is not too overpowering. The fall flavors come together nicely to make a well rounded gluten-free donut.
25. Gluten-free Apple Cider Doughnuts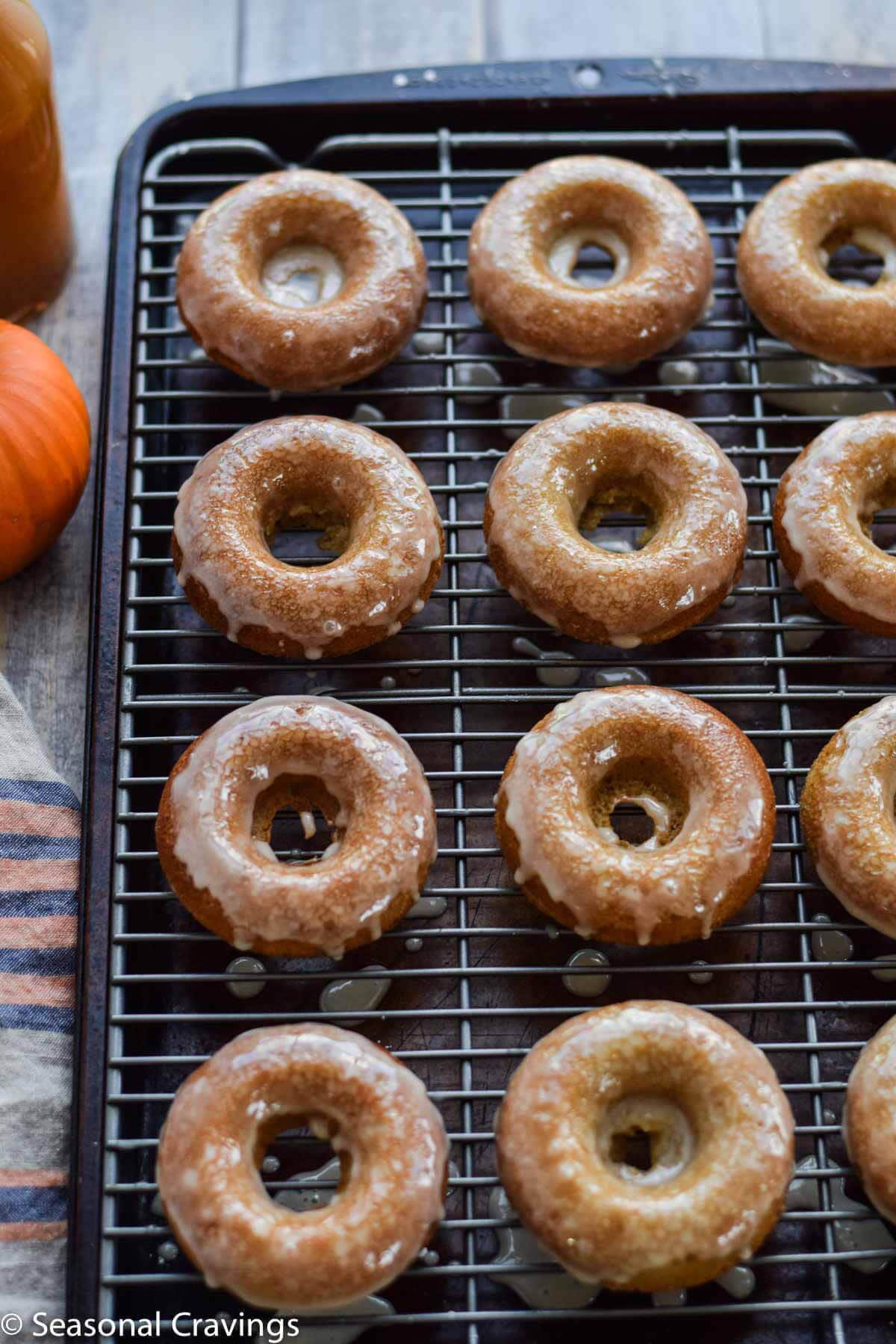 These gluten-free apple cider doughnuts are great if you are looking for a sweet, after school fall treat. They are great for children, who will never suspect they are gluten-free! These light and fluffy donuts are full of fall apple cider flavors. For this particular recipe, it is best to use Bob's Red Mill 1 to 1 gluten-free Flour. This will result in the closest taste that you can get to regular all purpose flour, and it is packed with quality ingredients. Make this gluten-free recipe for breakfast, or put them in your child's lunchbox for dessert. Be wary of keeping them around the house, because they are hard to put down!
26. Gluten-free Lemon Doughnuts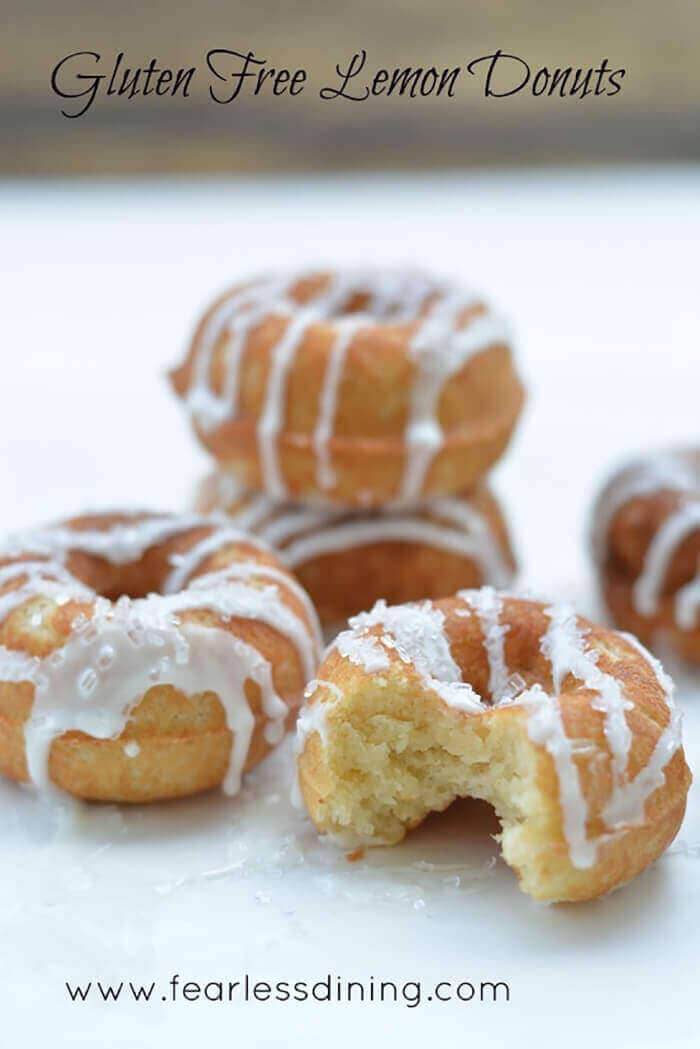 These moist and delicious tangy lemon mini donuts are quick and easy to make with a donut maker, but can also be made in the oven. To keep these donuts extra moist, use applesauce, and reduce the amount of sugar in this gluten-free recipe. You can also use almond meal, which will add some protein to prevent a sugar crash after eating a few of these. These donuts can be iced, frosted, or just eaten plain!
27. Double Chocolate Vegan and gluten-free Donuts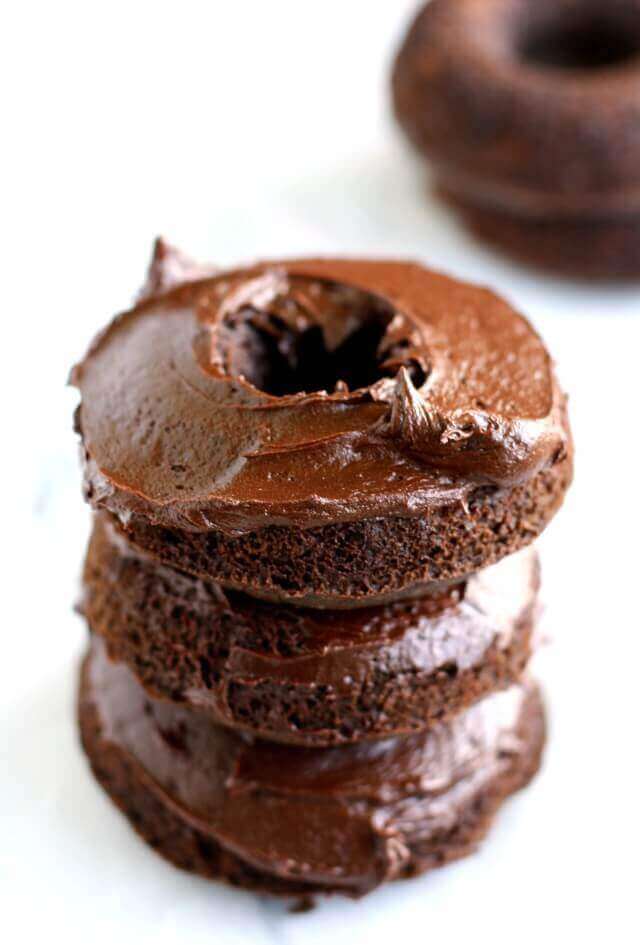 These Gluten-free donuts are topped with a rich chocolate frosting and they are also vegan and nut free! Their soft and tender texture makes them a decadent treat for both adults and children. If they sound a bit rich, feel free to omit the frosting and dust them in powdered sugar instead, or just eat them plain. If you do choose to frost them, which you should, wait for them to be completely cool so the frosting does not melt off.
28. Apple Cider Glazed Donuts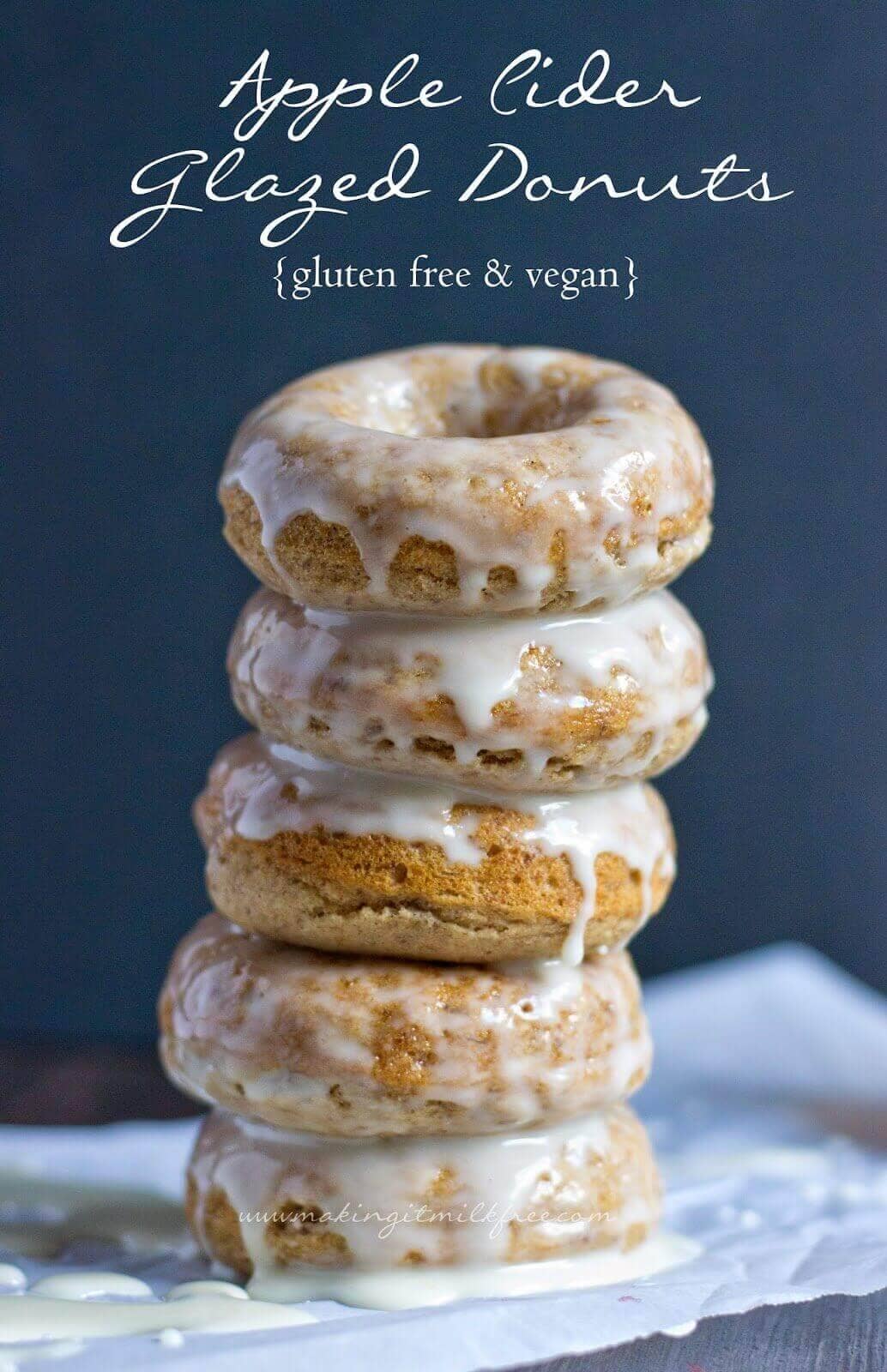 These cake donuts are simple to make and really delicious. Children love these donuts and may grow to expect them on a regular basis! The best part about this gluten-free recipe is that the flavor can be slightly altered with some simple substitutions. While the recipe calls for bananas, this can be easily substituted with applesauce or even with pumpkin puree. This also makes these donuts a great treat to tailor to the current season. This apple cider glaze is great for fall.
29. Old Fashioned Sour Cream Donuts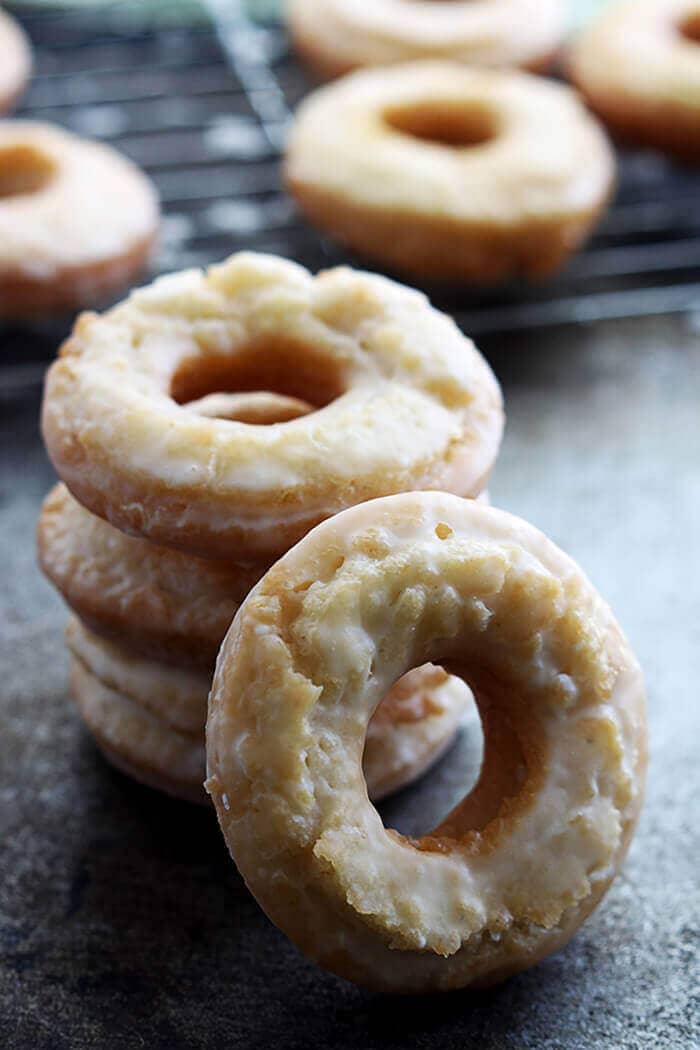 These soft and fluffy donuts are reminiscent of the olden days when sour cream donuts resulted from the best donut recipes. This gluten-free recipe creates a cake-like donut that tastes like it is fresh from the bakery. They're a little crunchy and a bit cracked on the outside, which helps them soak up the thick glaze that is added on at the end. If you want extra glaze, wait for the first layer to dry and then re-dip the entire donut for a second layer of shiny glaze. The inside of these donuts is soft and cake-like, and is a bit denser than yeast donuts. Another benefit to these donuts is that they take a lot less time to make than yeast donuts.
30. Baked Maple Donuts with Cinnamon Sugar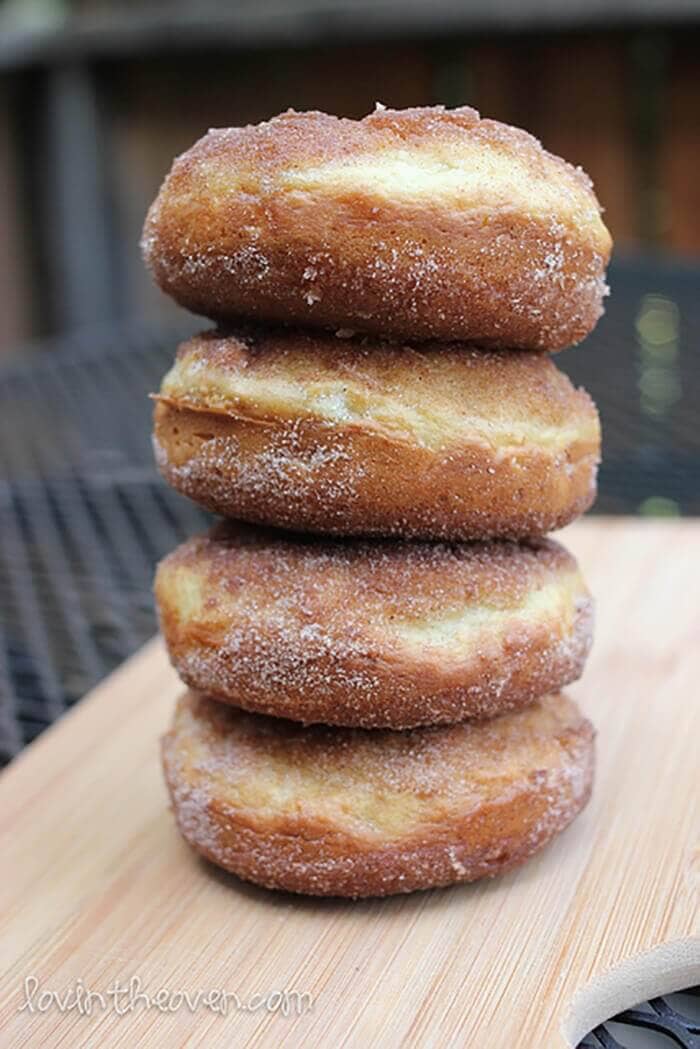 You know how sometimes you come across a donut that is just too rich and greasy? This is not that donut. These are light, fluffy, and flavorful, without compromising taste or texture. You can't tell the difference between these baked donuts and fried donuts, besides the fact that they are much less greasy and are less likely to leave you with a stomach ache. This gluten-free recipe is easy to make, especially with a donut pan, and a great place to start if you are new at making your own donuts.
31. Gluten-Free Vanilla Birthday Cake Donuts (11 Ingredients)

These fun and festive donuts are one of the best donut recipes for a substitute for a traditional birthday cake or any other celebration cake. With the appropriate inclusion of sprinkles, these light vanilla donuts are dipped into a glaze prior to the festive treats being added on top. These gluten-free vanilla cake donuts are easy to make, and a great project to work on with your kids in the kitchen who may be on a gluten-free diet. They require less than ten minutes of baking time before coming out tender, warm, and flavorful. The best part about them is you can mix up the colors of sprinkles you are using depending on the occasion!
32. Blueberry Cinnamon Cake Donuts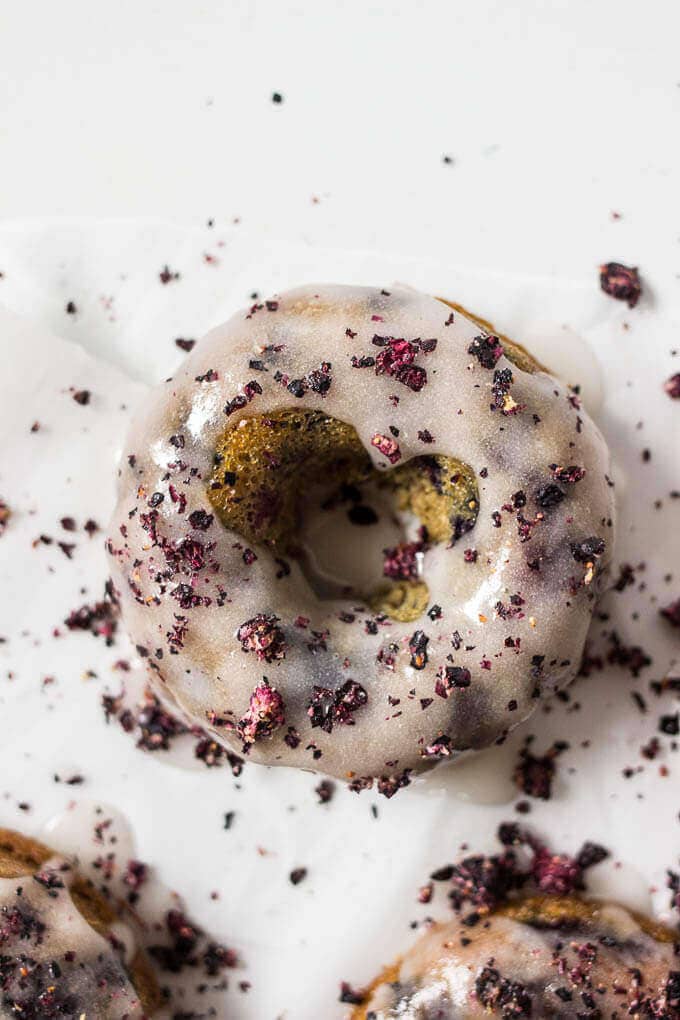 These donuts call for a combination of flours, including sorghum, tapioca, and almond flours. Sorghum is a wonderful whole grain, gluten-free flour to use, due to its versatility. It also has great health benefits. Not only is it an antioxidant, but it also is high in fiber, helps balance blood sugar, and helps decrease inflammation in the body. The tapioca flour makes these donuts light and sweet, making them a great cake donut. Finally, the almond flour adds a punch of protein and creates a great crumb-like topping. These blueberry cinnamon cake donuts are delicious on their own, or can be fancied up a bit with the addition of some glaze and chopped blueberries. This is among the best donut recipes that incorporate fruit.
33. Cinnamon Sugar Donuts
Similar to the delicious small donuts you eat at a fair, these cinnamon sugar donuts go for a little dip in a hot tub of boiling coconut oil. Once they are crisp and golden brown, they are dunked in a thick mixture of cinnamon and sugar. Because these are so decadent, they make for a great gift! These donuts are fun to make because they cook up perfectly crisp on the outside, while staying soft and doughy on the inside, which is precisely what you want from a fried donut. There is not much that could make these donuts any better.
34. Gluten-free Yellow Cake Donuts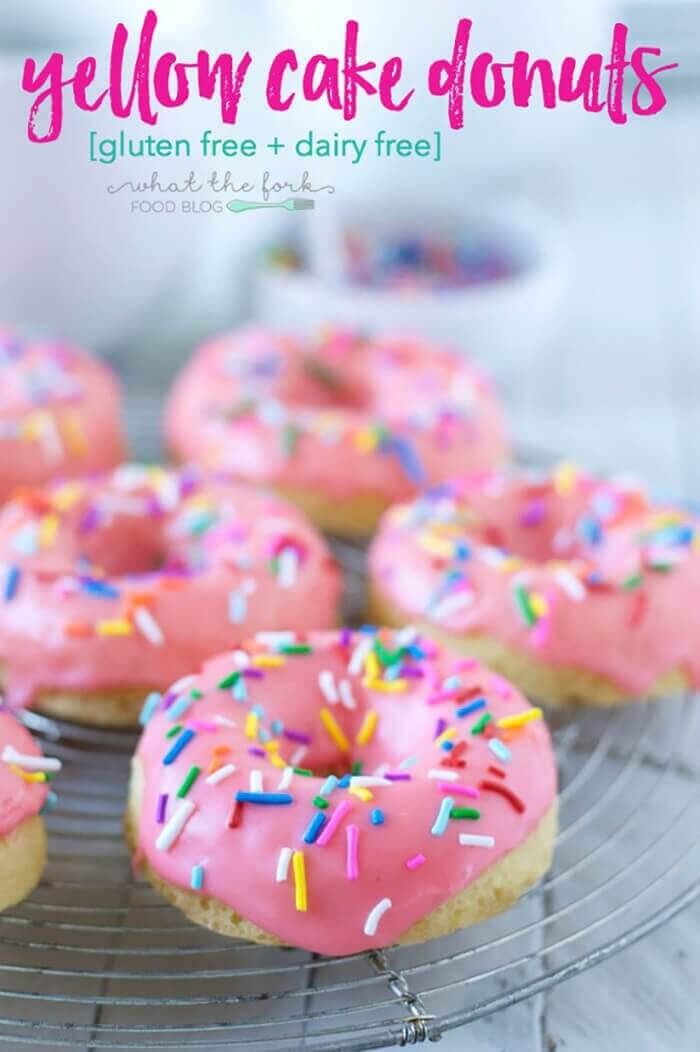 These donuts are not your average beige donut. They're a colorful dairy free treat that are also free from gluten and baked to perfection. With the use of all of the ingredients for a perfect yellow cake, these donuts are then coated in bright icing before being topped with sprinkles. It is customary to use pink icing, but you can choose your color depending on the occasion. You can even leave the white if you wish. Put as many or as few sprinkles on the donuts as you feel necessary. No matter your preference, these donuts are a fun and festive way to make any occasion special.
35. Peanut Butter Banana Donuts with Chocolate

Although the name of these donuts doesn't make them sound particularly good for you, they actually do have some health benefits! These donuts have a dark chocolate glaze on top of them, which is then topped with a light drizzle of peanut butter. They're baked and gluten-free, while also being free from refined sugar, and any animal by-products, which makes them better for you than your typical donut. Bananas and peanut butter make for a great food combination, so it seems like a natural progression to unite these ingredients into a donut.
The banana in this recipe does a great job of replacing eggs, as the moisture of the banana and its binding power make eggs irrelevant here. The banana adds some sweetness, so with only a few tablespoons of maple syrup, these donuts are sweet enough. If you are not vegan, you can always substitute honey for maple syrup.
36. Gluten-free Strawberry Doughnuts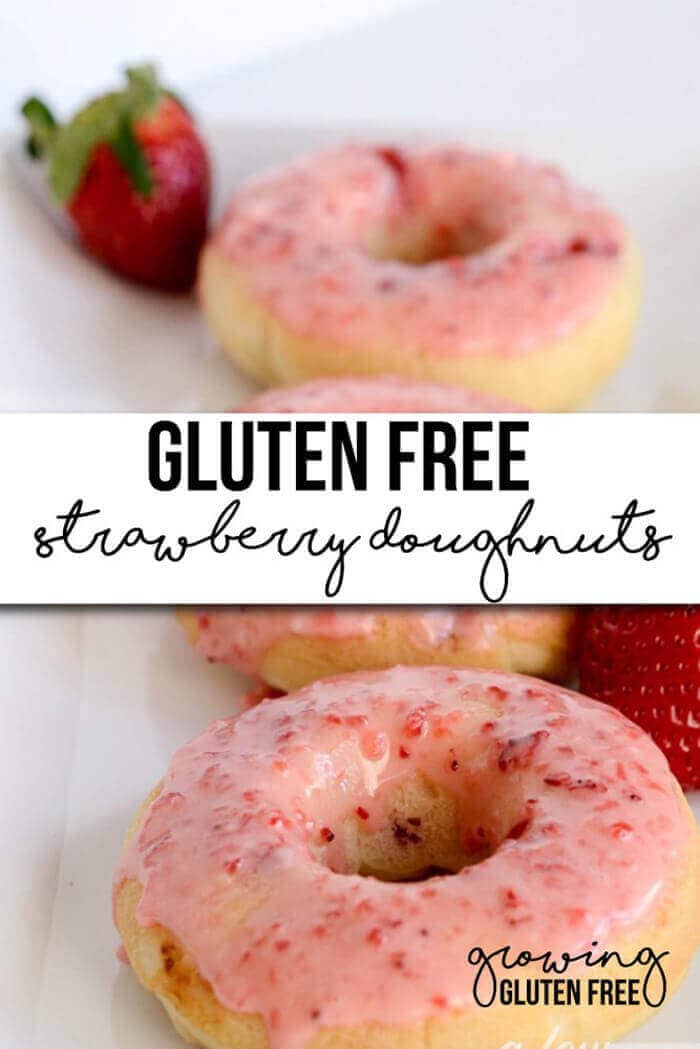 These strawberry donuts are not only beautiful, they are also tender and full of flavor! These donuts are also extremely easy to make. The batter takes mere minutes to put together before being spooned into a greased donut pan and baked. These donuts are so pretty, once they come out of the oven, you may be hesitant to add the glaze! However, the glaze is thick and adds a whole new level of strawberry taste to these fresh and delicious donuts. Remember to let these donuts cool out of the oven before adding the glaze, and don't be afraid to add a second coat!
37. Gluten-Free Baked Chocolate Glazed Donuts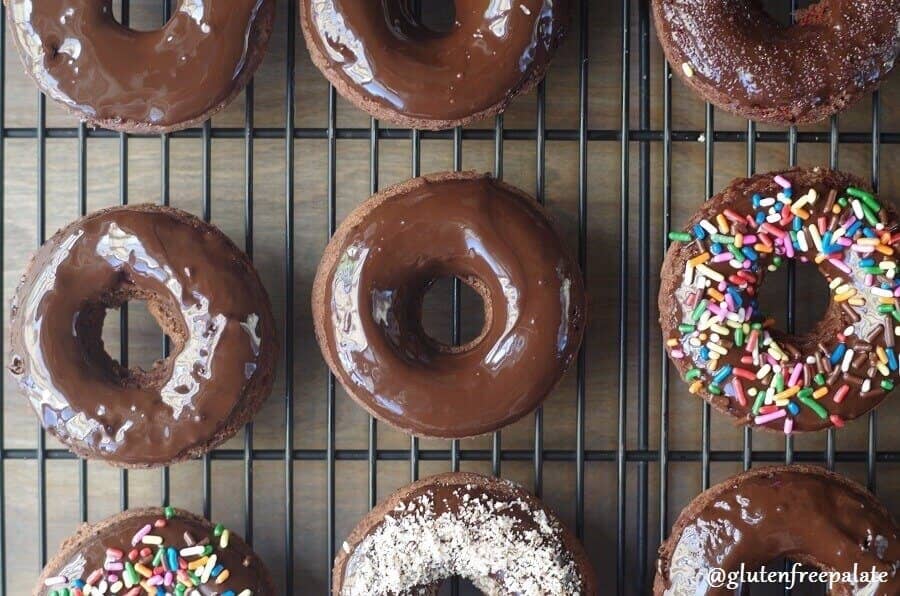 These decadent donuts melt in your mouth and can be catered to your dietary needs. While they are already gluten-free, they can be made dairy free as well by using dairy-free milk and coconut oil rather than cow's milk and butter. To make an extra thick glaze, add a bit more powdered sugar to the recipe than it calls for, and just keep incorporating the ingredients until you come to your desired consistency.
38. Gluten-free Powdered Sugar Doughnuts

The only problem with these doughnuts is that they are too easy to make. This can cause a problem if you taste these light donuts and realize just how delicious they are. Make sure these donuts are still warm before dipping them in powdered sugar, so the sugar is sure to stick on the donut. If you want to make these donuts dairy free as well, substitute the cow's milk for almond milk.
39. Gluten-Free Cake Doughnut Holes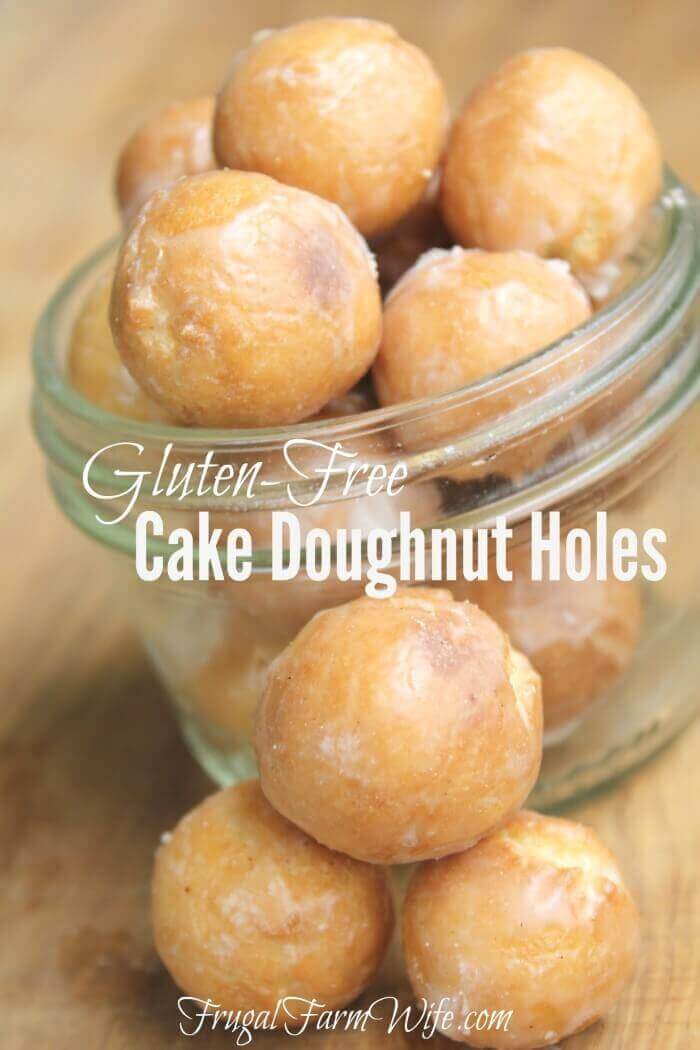 Light and fluffy donuts are easy to love, with yeast donuts being a popular favorite. However, sometimes you do not want to sit around waiting for yeast donuts to rise in the kitchen before you are able to indulge. This may be one reason why cake donuts became popular. Cake donuts are slightly sweeter than yeast donuts, and a bit more dense. They are definitely easier to make, and always delicious. The great thing about these donuts in particular is that they do not necessarily need to be created into the shape of a traditional donut. Making these donuts into donut sticks makes them perfect for dunking into any kind of icing or glaze that you wish. You can also roll these up into donut holes, mixing them up the night before, and then refrigerating them until the morning when you are ready to fry them up for a fast and easy meal idea for breakfast.
40. Chocolate Gluten-free Cake Mix Donuts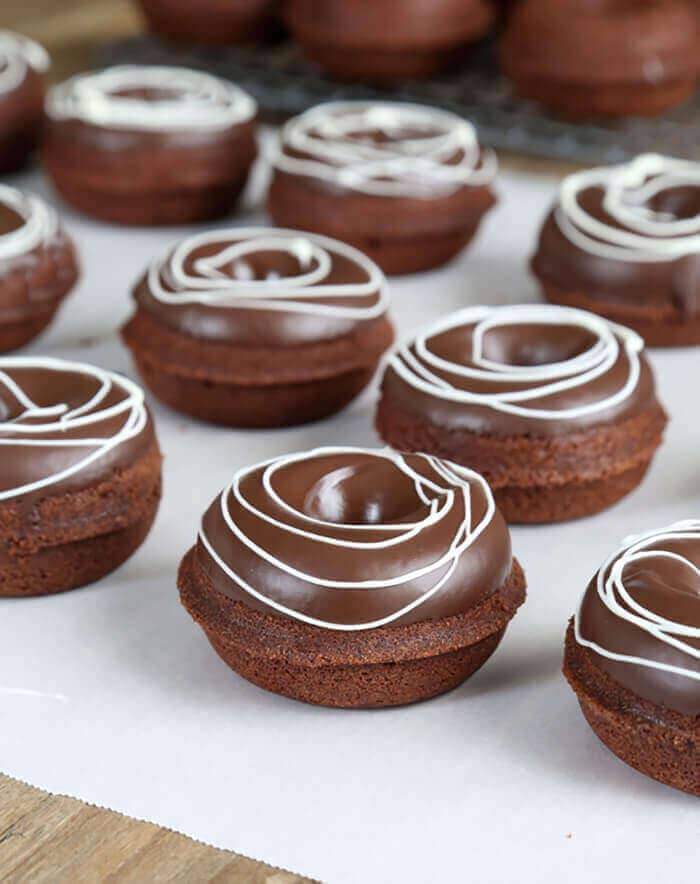 These cake mix donuts involve nothing more than a gluten-free chocolate cake mix and four additional ingredients. This is an easy recipe to make in your kitchen. You can even make your own gluten-free chocolate cake mix if you want to go that route. While the glaze in this recipe is simply thinned chocolate mixed with coconut oil, feel free to use the glaze of your choice, as long as it is smooth and thick, but still easily pourable. These can be made in a donut maker or in the oven, whichever is preferable to you. Just make sure the donuts are cooled before adding the chocolate glaze.
41. Chai Spice Coconut Flour Paleo Donuts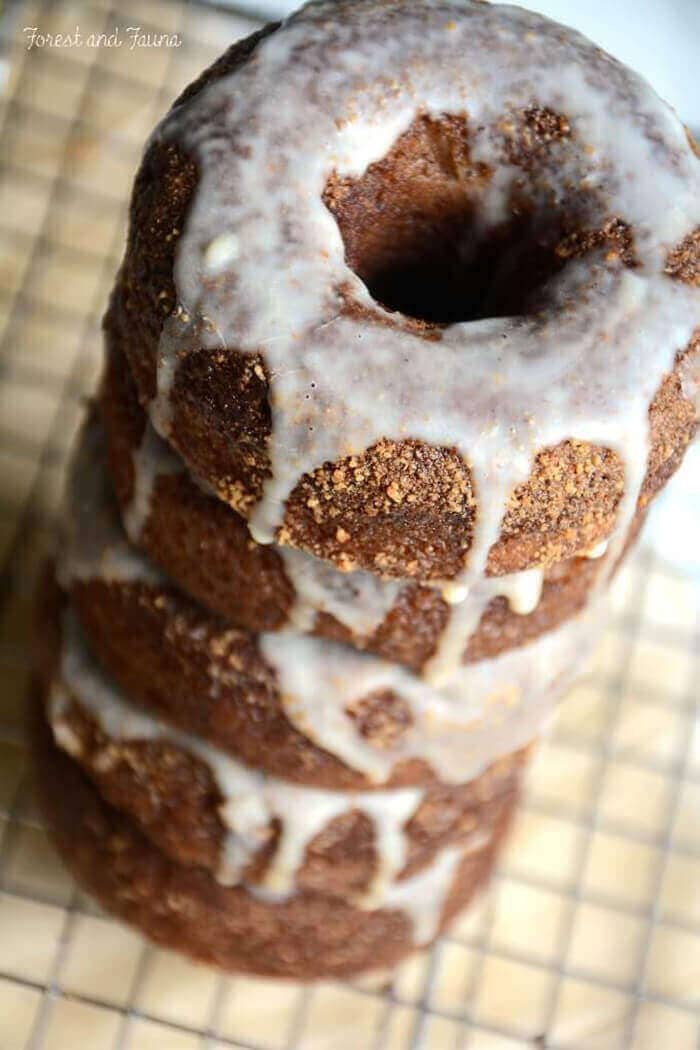 These donuts are essentially guilt-free, as they are low in carbohydrates and baked. Using coconut flour, these paleo donuts are full of all the right ingredients to help you power through your day. There are two ways to coat these donuts. You can either roll them in a simple sugar and spice blend, or make an easy coconut oil icing glaze to add a bit more moisture to your donuts. When it comes to the chai spices, adjust them as necessary to suit your taste.
42. Gluten-Free Carrot Cake Donuts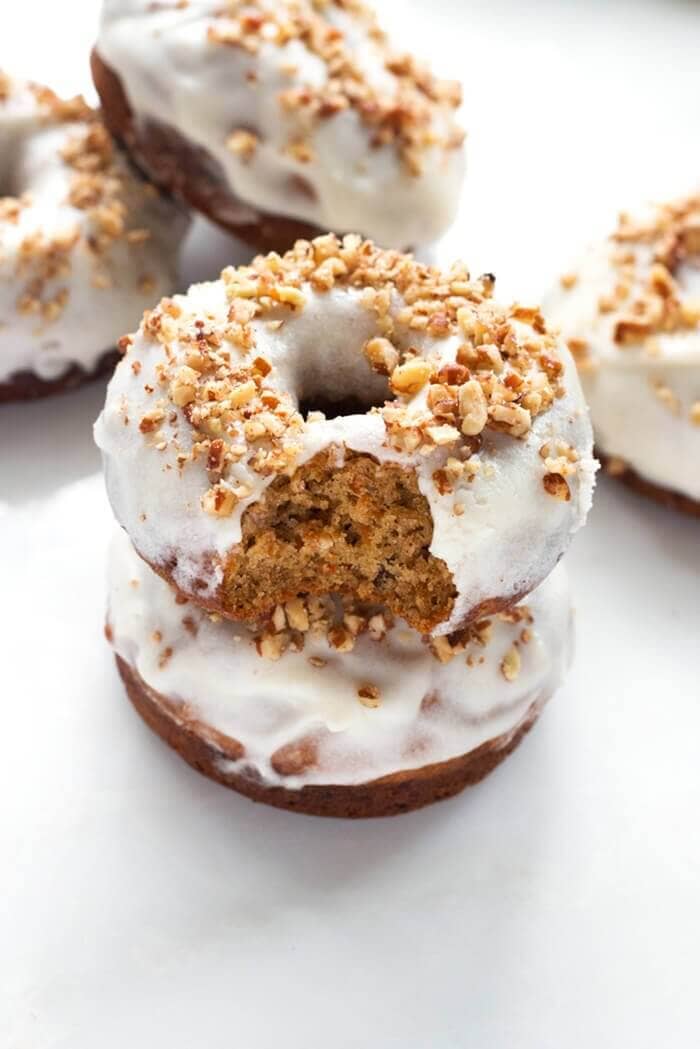 These are a perfect treat for any time of year, but especially for Easter and spring time. This easy recipe for baked gluten-free carrot cake donuts make for a healthier option than a typical carrot cake. While these do have a bit less sugar and oil than a typical carrot cake, and the icing runs thinner than the normal cream cheese icing you have grown to love, these donuts are still rich, and certainly a special treat. So blame your second helping on your body's deficiency in carotene.
43. Gluten-free Chocolate Chip Donuts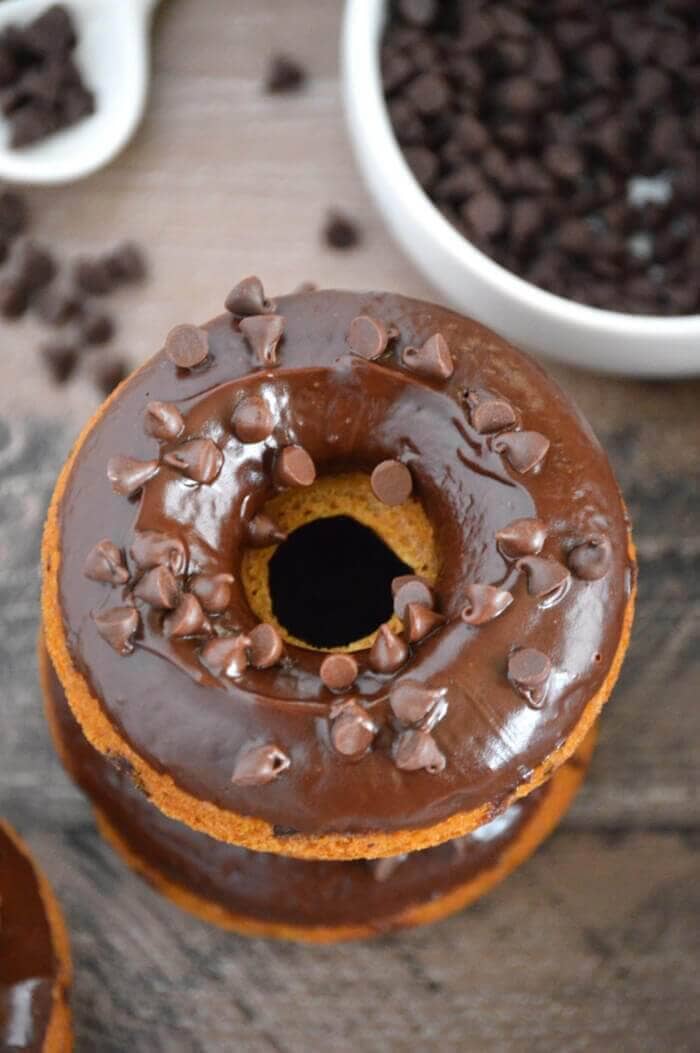 These gluten-free donuts with chocolate chips are a delicious way to begin your day. They are not too sweet, while still being full of chocolate flavor. These can be made dairy-free as well without giving up any of the decadent flavors by using coconut oil. Also, you can substitute the white sugar for honey if you want to make them a bit more natural. After dipping the cooled donuts in the glaze, be sure to top them with some extra chocolate chips to add a bit of a bite.
44. Glazed Chocolate gluten-free Biscuit Donuts
Starting with a gluten-free biscuit dough ahead of time, these donuts come from an easy recipe that you can whip together at the last minute to create a flaky, yet sweet, treat. It is very important to not leave out the glaze in these donuts. While the donuts by themselves are chocolaty and rich, they are only mildly sweet. The glaze also works to protect to biscuit, keeping it fresh throughout the day. Make sure the glaze you put on this donut is thick, to add all the extra flavor that this donut deserves. You can make and freeze the dough or this donut recipe for up to two months, so it is a great thing to have on hand in case of an emergency.
45. Maple Doughnuts (Gluten-free, dairy-free)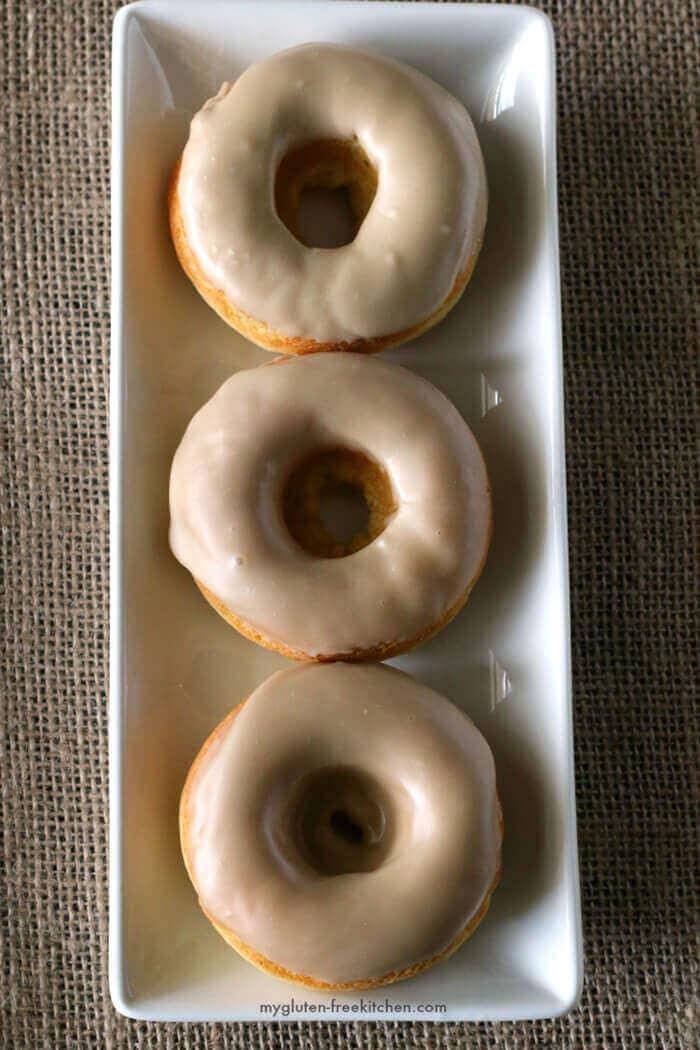 While these donuts could easily incorporate dairy, they can also be made dairy-free for those who prefer that. To make these donuts moist without adding dairy, just substitute milk with a non-dairy yogurt alternative. Use vanilla extract to add extra flavor to these donuts. While baked donuts tend to be a bit cake-like in texture, these are more soft and yeast like, making them feel closer in texture to a fried doughnut, minus the grease. Use a normal sized donut pan to make these donuts.
46. Gluten-free Vanilla Doughnuts with Mini Chocolate Chips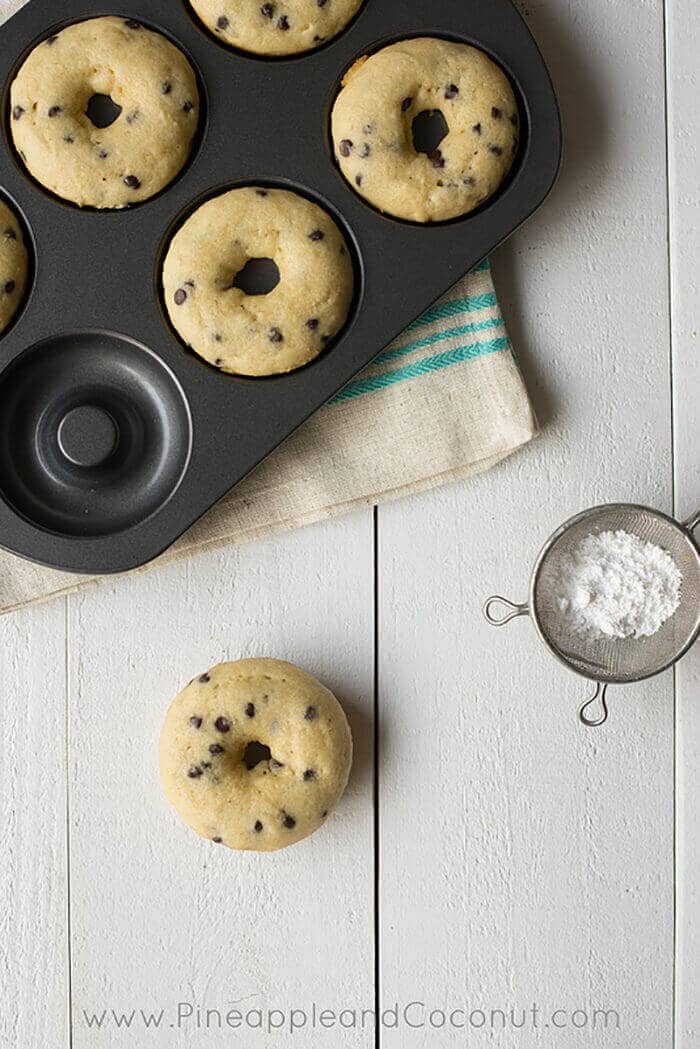 It is difficult to tell that these donuts are gluten-free, due to the mixture of gluten-free flours that are used in the recipe. Even people who are not gluten-free for health reasons choose to eat these donuts because they are so delicious. If you are baking these in two separate donut pans, you can bake them simultaneously in the oven right next to each other. However, if you only have one donut pan, be sure to let the pan cool between batches, and clean it fully and reapply the coconut oil so the second batch of donuts does not stick to the pan.
47. Healthy Baked Blueberry Protein Donuts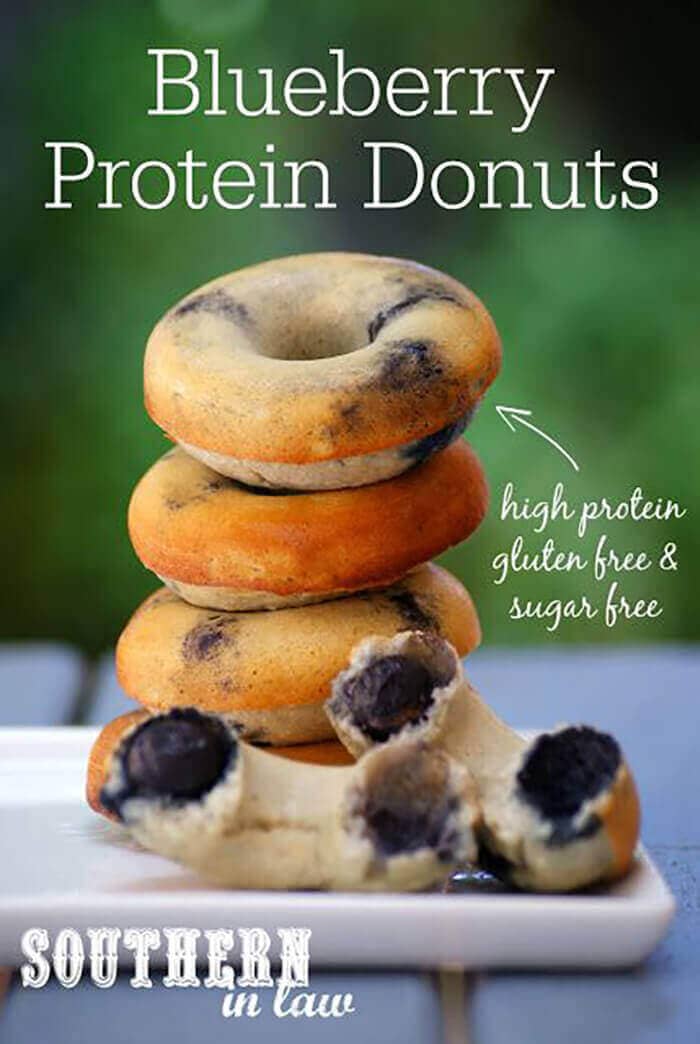 The best part of this recipe is that it is fast, portable, and an easy recipe. During a busy holiday season while you are rushing from party to party, these will survive the trip and be sure to please the guests. This can also act as an on-the-go snack option that is packed with protein, low-sugar, and delicious. Using protein powder and frozen blueberries, these guilt-free treats are a great snack to children and adults alike. You can adjust the sweetener to your liking or just use 2-3 tbsp of honey instead of white sugar.
48. Gluten-free Zucchini Chocolate Donuts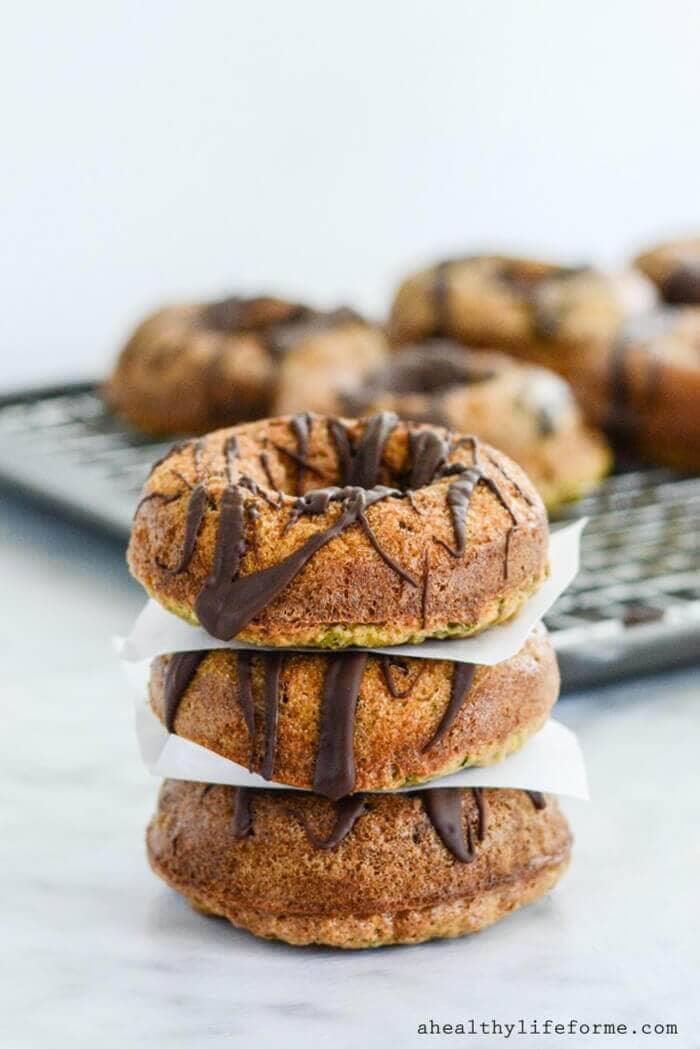 It is funny how you can sneak vegetables into hidden places with no one even noticing. Zucchini is one of those vegetables that is so versatile that it can easily be added to baked goods without anyone giving it a second guess. These gluten-free zucchini chocolate donuts are not only easy to make, but they are a delicious treat that can be made both dairy free and paleo friendly as well.
49. Baked Gluten-Free Apple Cider Doughnuts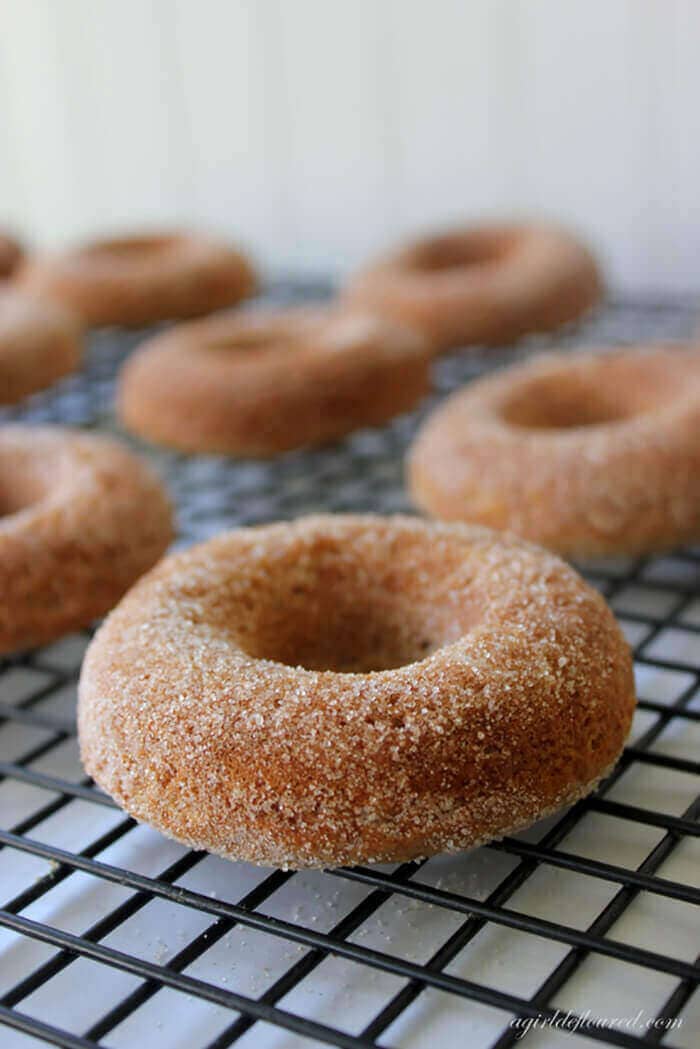 There can be an argument made for the fact that cider doughunts are the quintessential autumnal treat, especially when in the presence of apple cider and a hayride. Any unfiltered apple cider is perfect for this recipe, as it ends up being reduced, and therefore very potent. The longer the cider simmers, the thicker it gets, so make sure to keep a close eye on it before it turns into a solid.
50. Gluten-Free Vegan Vanilla Cream Donuts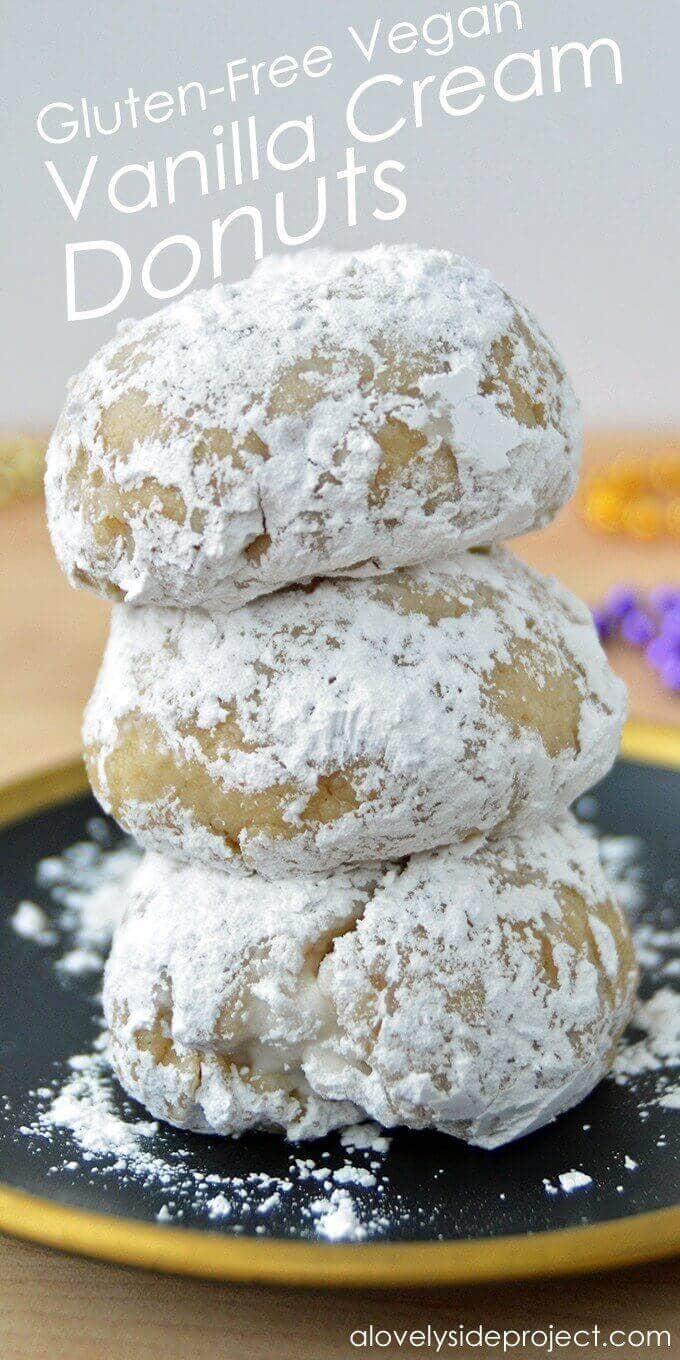 This recipe is a healthier version of a fried powdered sugar donut. Just switch out the regular AP flour for your my favorite gluten-free flour to make this a gluten-friendly treat. The coconut cream inside is reminiscent of the fattening and sugary hydrogenated oil filling at Dunkin Donuts, but it is much healthier. You can use several tools to make these donuts, including a pan, a parchment-lined baking sheet, or just a greased muffin tin. What comes out in the end is a mildly crisp outer shell filled with a soft, sweet creamy center.
Finishing off a great meal idea with a gluten-free donut can change the dish from being slightly boring to becoming exciting. Get inspired by your meal idea to lead you to the donut recipe you want to conquer. Find an easy recipe and gather the family in the kitchen to work together to create not only delicious food, but also great memories.