50 Gluten-Free Dinner Recipes to Make You Forget You're Eating Healthy
There's no denying that our world today is in a 'gluten-free hype', so it makes sense that many are seeking out new and fresh gluten-free dinner recipes to try out. Now, admittedly, it can sometimes be a challenge to stick to that diet when a craving for those less-than-healthy dishes hit. However, if this list sets out to prove anything, it's that you can satisfy those cravings and still keep your health.
50 Shockingly Delicious Dinners that are Gluten-Free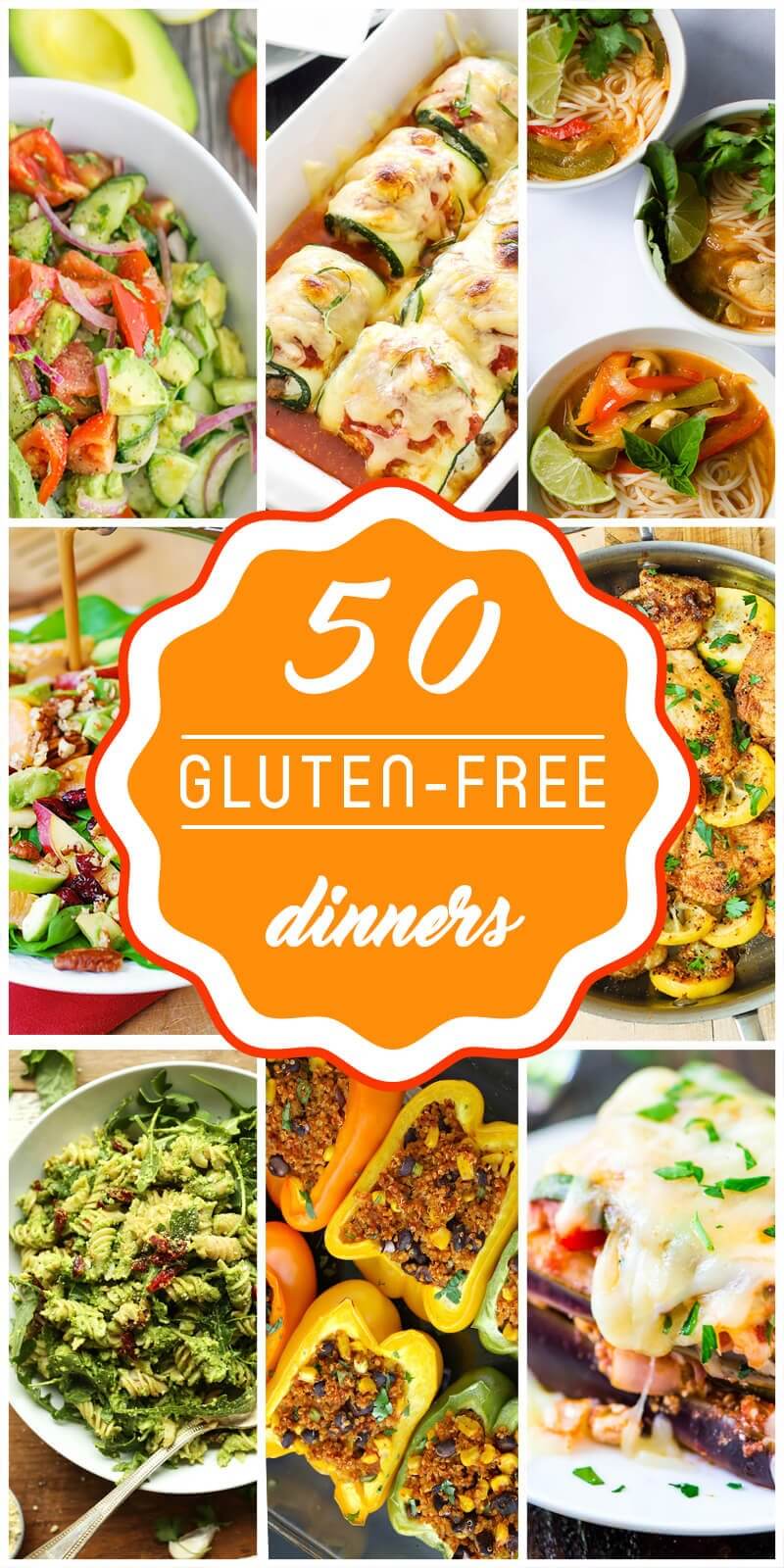 These 50 gluten-free recipes for dinner serve to keep you on your path of healthy eating while introducing you to a variety of meals that incorporate different flavors from different cultures. So, experiment, have fun, and best of all, stay healthy.
1. Italian Roasted Garlic & Parmesan Potatoes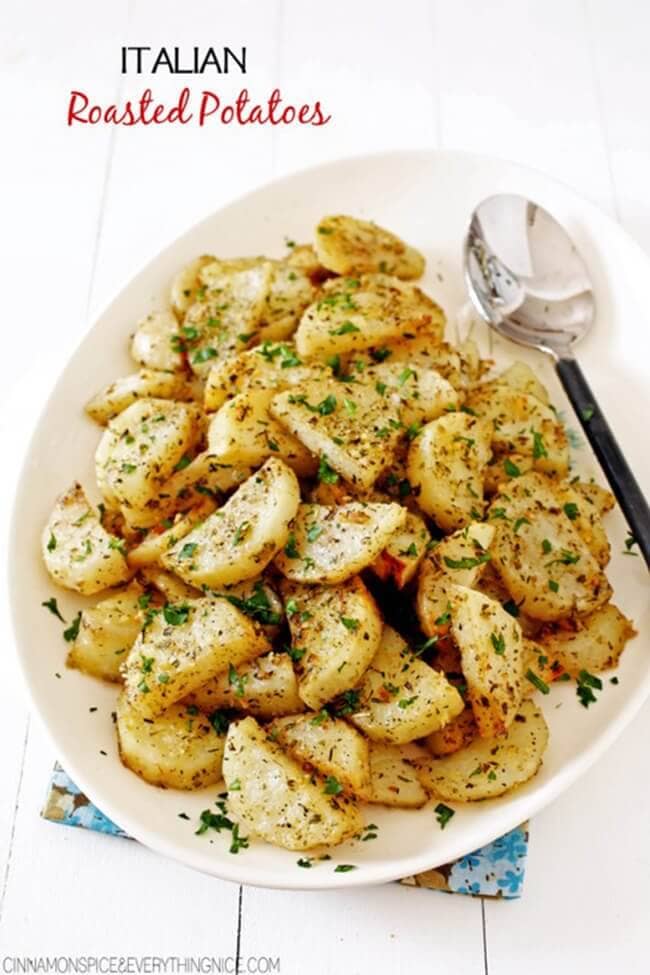 Such an Italian-styled dish would normally come out near the lower end of the health spectrum, but not this take on it. This great and flavor-packed dinner recipe calls for the potatoes to be cooked on top of each other rather than spread out on a baking sheet, so you won't exactly get a crunch with each one. However, crunchiness is not the end goal here. Instead, you want the potatoes immersed in the olive oil and for these incredible flavors to soak in. The end result is just wonderful: you have soft, melt-in-your-mouth roasted potatoes that are tasty, healthy.
2. Lemon Chicken Skillet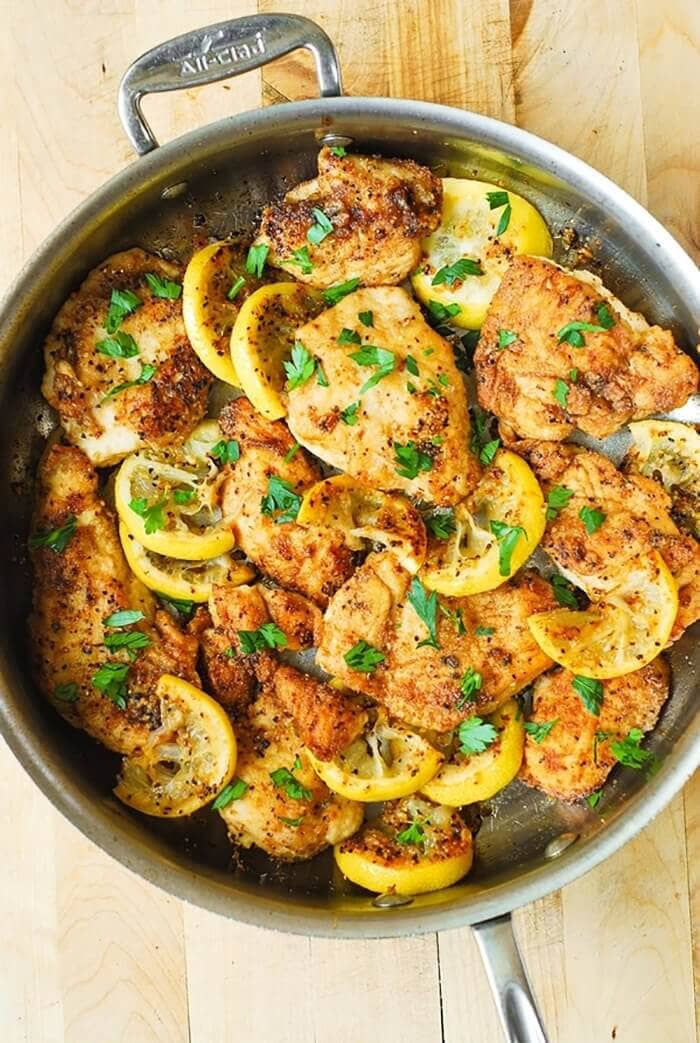 Chicken breasts are always a good, versatile choice, and there are many ways to turn this protein into a flavorful meal. You can make use of gluten-free flour to help this already healthy dish be even better for yourself. This is such a quick and easy recipe as everything is cooked in the same skillet, which helps to infuse the chicken with the rest of the delicious ingredients such as fresh lemons and lemon pepper. To top it all off, the slices of lemon throughout makes for a dazzling presentation that is sure to get everyone rushing to the table.
3. 20 Minute Honey Garlic Shrimp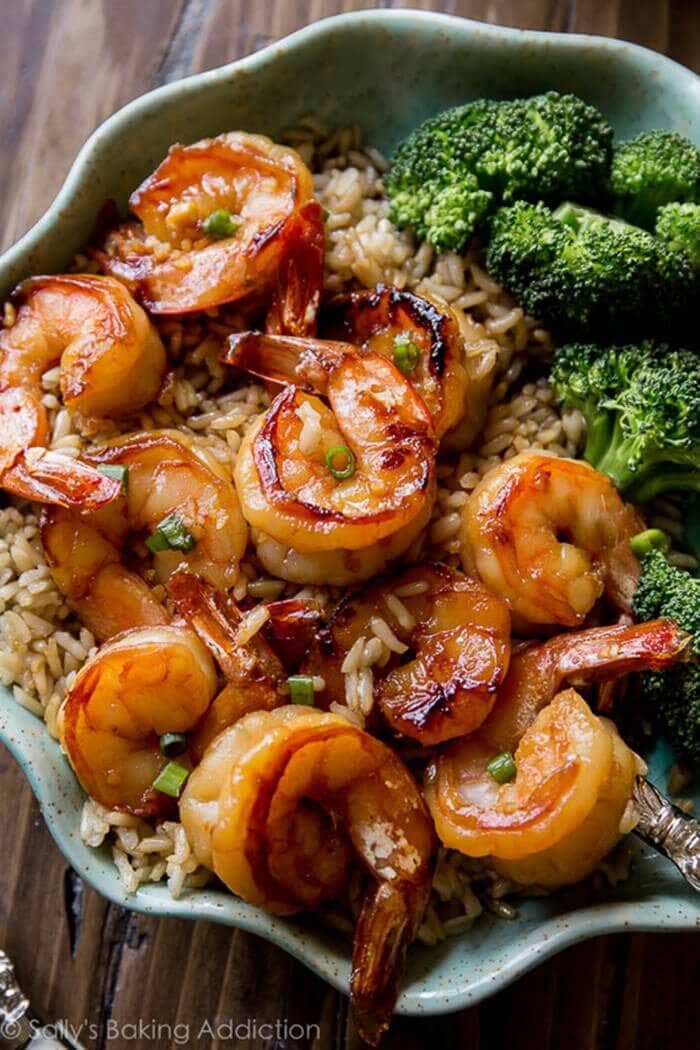 If you need to cook a good, healthy meal, but don't want to spend a lot of your time slaving away in the kitchen, then this honey garlic shrimp dish is the one for you. Seafood alone is always a good go-to quick meal as, usually, it takes little time to whip up, and the shrimp in this case is no different. The marinade of honey, garlic, and soy sauce does wonders to the taste buds. Have your shrimp bask in it for 15 minutes or up to 12 hours. Either way, you'll get in all of that great flavor.
4. Cowboy Caviar Recipe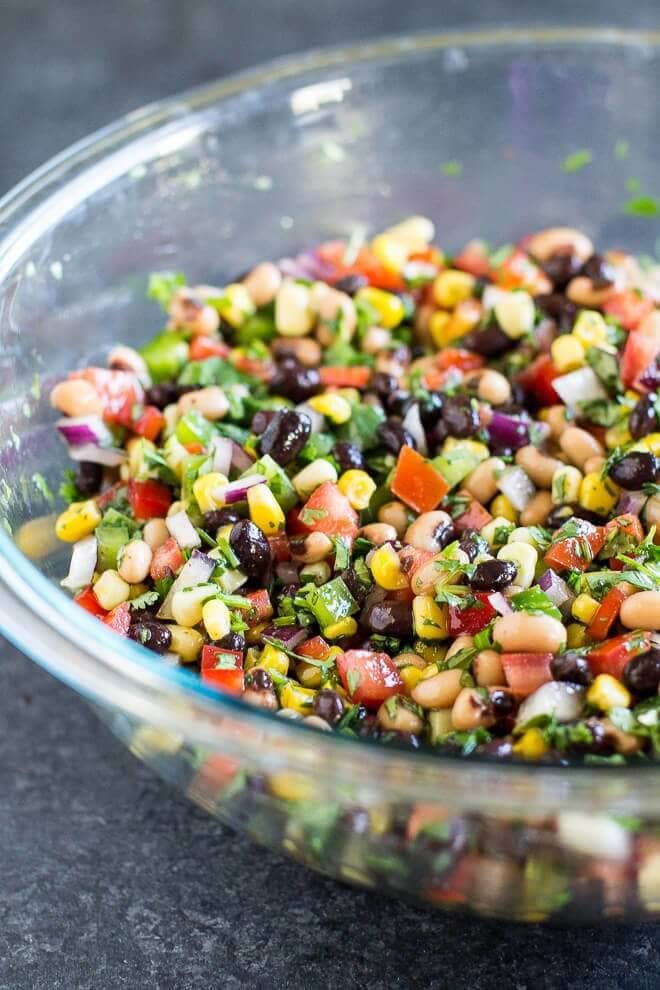 Not only is this excellent, easy-to-make appetizer a gluten-free recipe, but all of it is naturally vegan as well. The combination of fresh vegetables, black-eyed peas, black beans, and sweet and spicy dressing packs a powerful punch. All of the veggies from the corn to the peppers help give this dish a fun and colorful appearance too. Also, the dish is amazingly flexible concerning how you want to present it. You can serve it up as a salsa, a dip, or even a fresh salad, all of which work as great choices for your next backyard barbeque or any get-together.
5. Broccoli Feta Fritters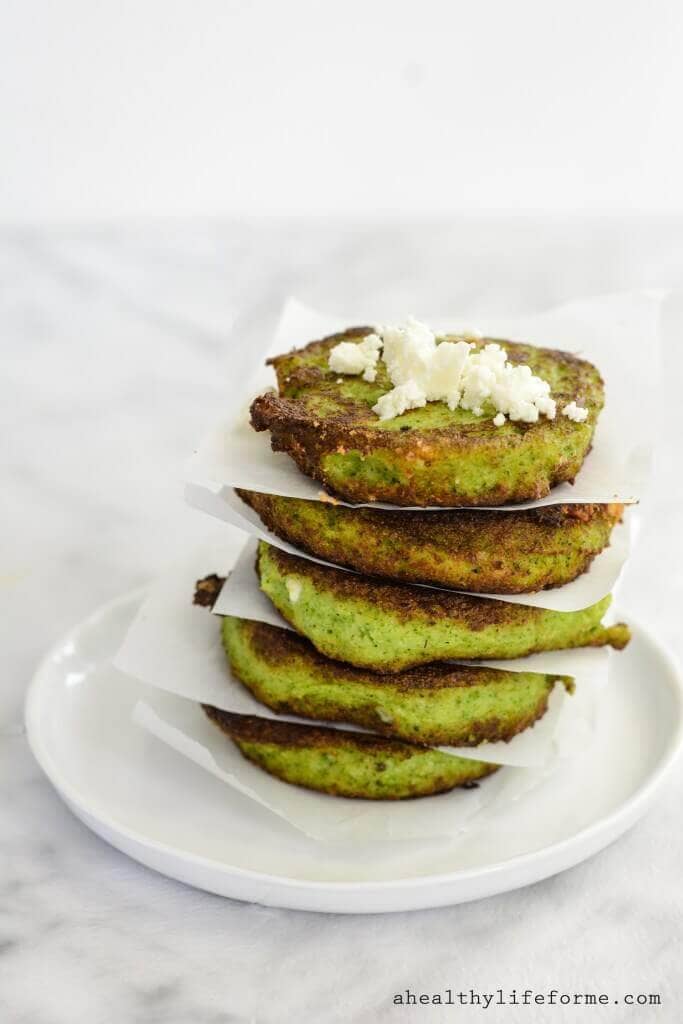 Every healthy eater knows that broccoli is a potent veggie that packs wonderful, nutritional value, and should be incorporated into a diet frequently. Even so, the green vegetable can get a little plain over time, so to curb that, try your hand at sprucing up mealtime with these delicious and fun-to-eat fritters. The use of the feta not only gives the broccoli a lovely, slightly salty yet creamy taste, but once fried, rounds out the fritters with a crisp, crunchy bite. This is definitely an easy recipe to put together, and it allows you to eat healthy and enjoy it.
6. Zucchini Lasagna Rolls
If you can spare a bit more than the usual 30 minutes in the kitchen to cook up some tasty gluten-free food, then you should take a look at these zucchini lasagna rolls. Now, zucchini is certainly no substitute for pasta, but it can still deliver as much incredible flavor as the traditional lasagna dish, and in a healthier fashion. Once that rich flavor combination of ingredients like ricotta, Italian sausage, and marinara sauce are rolled together with the zucchini, it can make you forget that you're even eating healthy in the first place. It's beautiful to look at too.
7. Cucumber Tomato Avocado Salad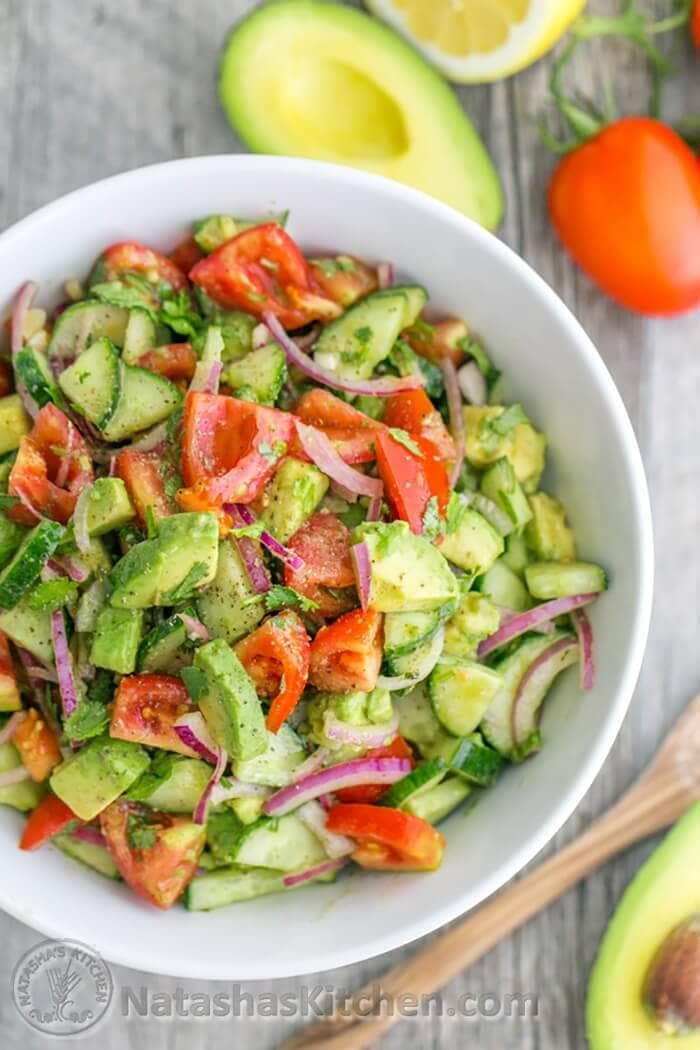 When you're in the mood for a cool, fresh taste of summer, this salad will hit the right spot. It's filled with perfect, fresh summer ingredients like sliced cucumbers and chopped tomatoes. The addition of red onions and avocados all dressed with lemon juice and olive oil adds some wonderful layers of flavor to it. It's everything you can wish for in a salad: a great crunch from the cucumbers, a splash of juices from the tomatoes, and the delicious creaminess from the avocados. You can serve this gluten-free dinner recipes as the perfect side dish or the main attraction.
8. Quinoa Chicken Nuggets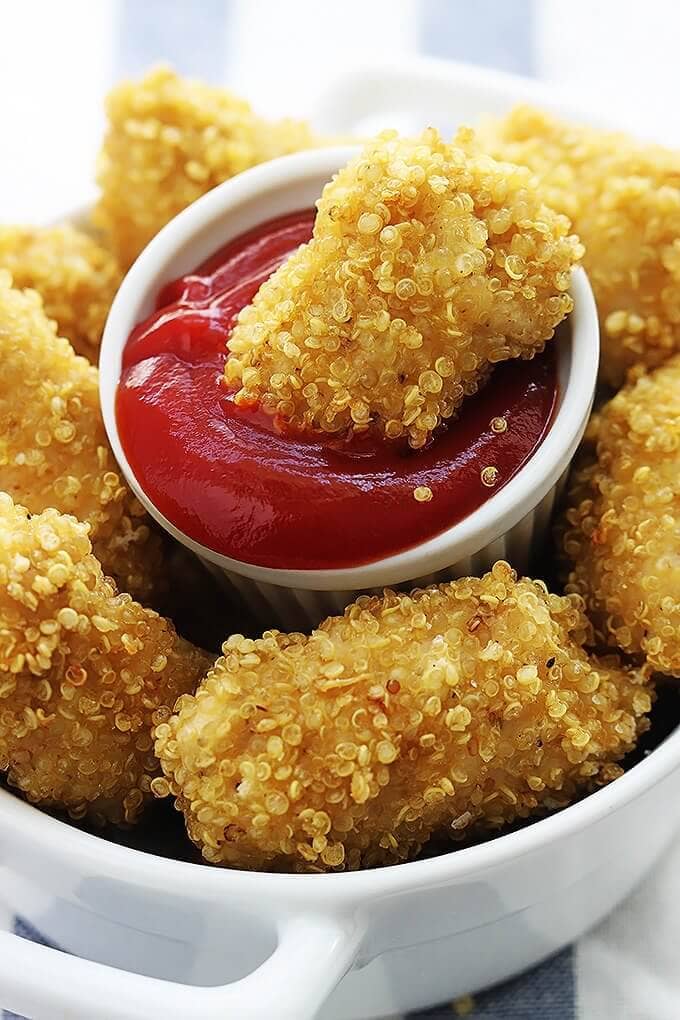 So, you have a taste for some chicken nuggets, and yet you don't want to go the traditional route when it comes to the coating. What better way to use up some of that extra quinoa lying around than as breading for your next batch of nuggets? This gluten-free recipe removes the use of breadcrumbs entirely as the substitute of cooked quinoa delivers a health-punch while still serving up all the right protein alongside some great extra nutrients as well. To top it all off, they come out having an amazing crunch. Quinoa is a fun spin on chicken nuggets.
9. Apple Cranberry Spinach Salad with Pecans, Avocados (and Balsamic Vinaigrette Dressing)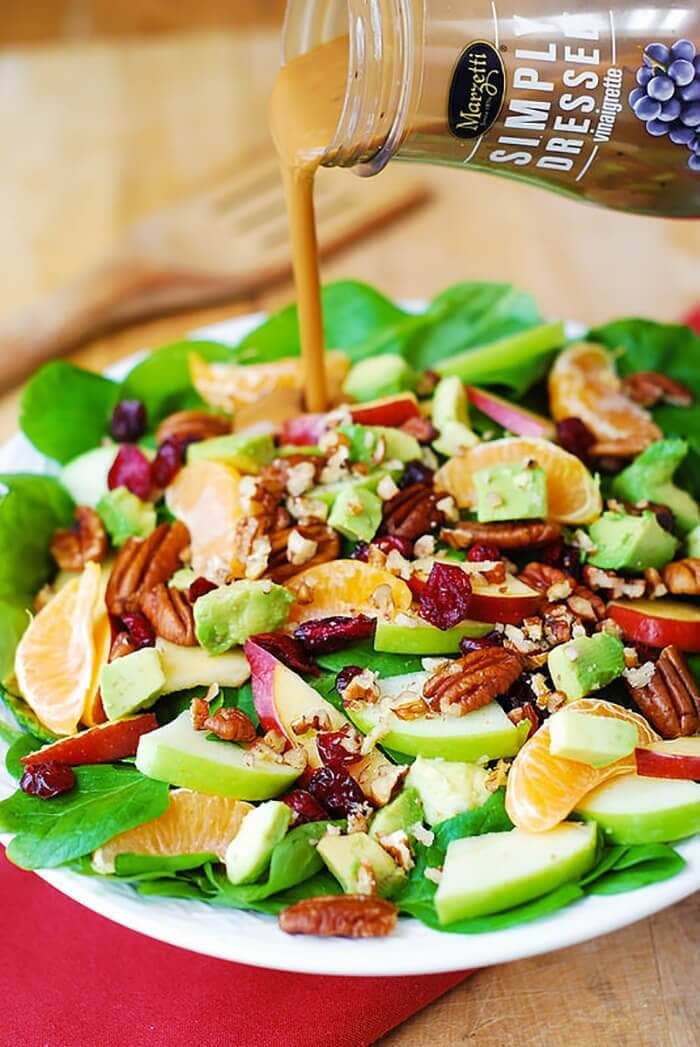 Now, here is a salad that is sure to have anyone coming back for seconds and thirds. The combination of ingredients, though quite simple, help to make this a beautiful, tasty, and healthy dish. In the salad are fresh fruits, dried cranberries, nuts, and fresh produce. All of the delicious flavors are brought together and enhanced even further thanks in no small part to the amazing dressing. It's a highly nutritional salad with a gorgeous and vivid presentation, and works as the perfect dish for anyone on a gluten-free diet or even someone who just wants to start eating healthier.
10. PF Chang's Mongolian Beef Copycat Recipe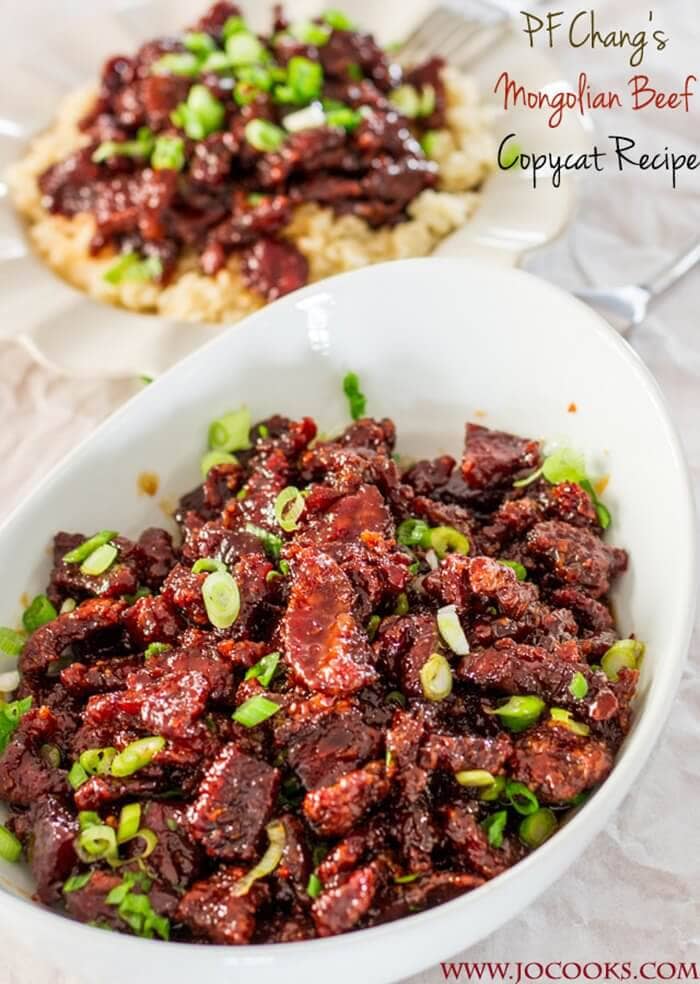 We all have that one restaurant dish that we wish we could eat all the time without having to leave the kitchen. Well, PF Chang lovers are in luck thanks to this copycat recipe of their famous Mongolian Beef that taste as good, if not better, than the original. Think about having those tender pieces of beef coated in sweet, thick, and a little bit salty sauce whenever you wanted; it's like eating delicious beef candy. This is an easy recipe to follow, and one that can be healthier than the original as you can better control your salt content.
11. Crazy Good Peanut Noodles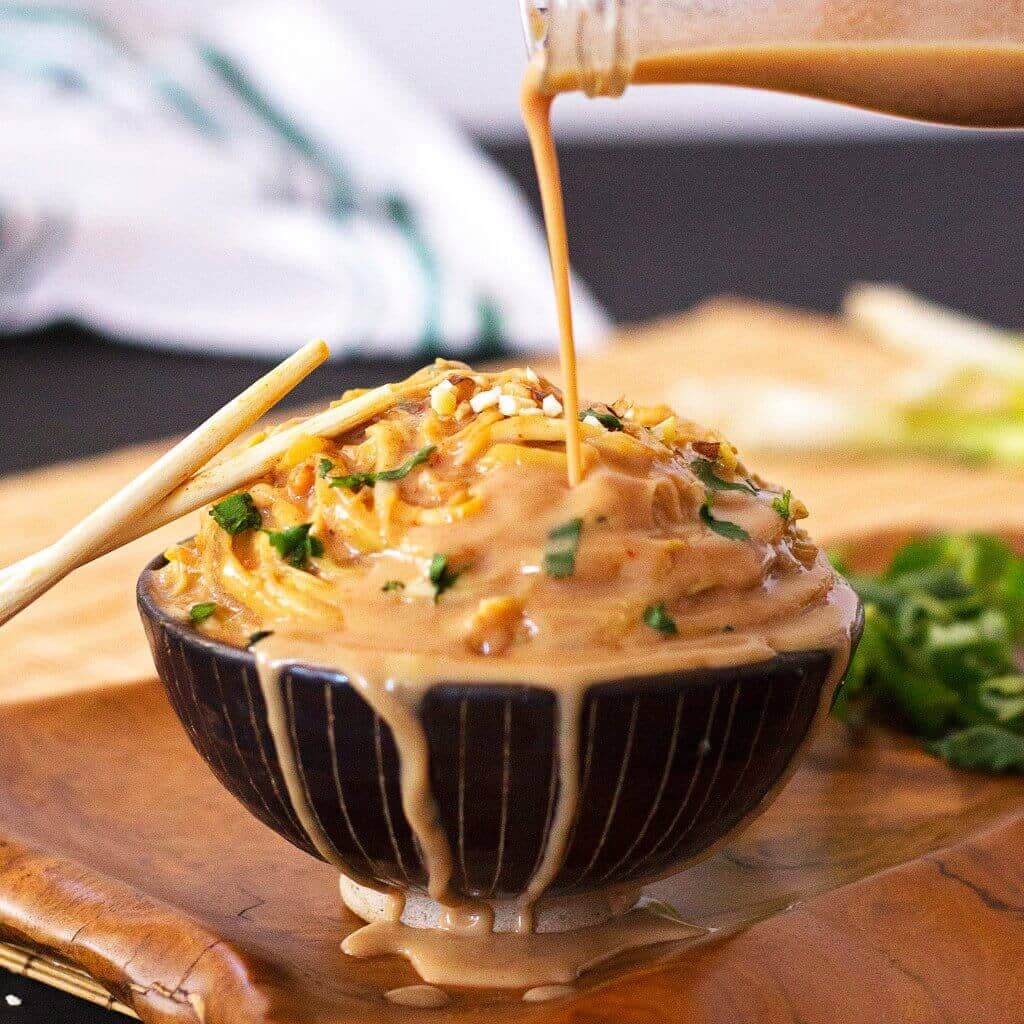 Noodle-lovers can rejoice over this insanely healthy, quick to make, gluten-free recipe that will definitely have you slurping up seconds. If you want, you swap out the peanut butter in favor of almond butter, and you will still come away with that genuine peanut noodle taste. The dish is loaded with amazing flavor, and once those noodles bathe in that incredibly tasty sauce, the flavors really explode. Now, you can get your fill of delicious warm noodles lathered in creamy sauce without having to sacrifice a gluten-free diet, and it can all be done in around 15 minutes or so.
12. Red Curry Noodle Soup
As far as gluten-free dinner recipes go, this one is for those who have a strong craving for some good Thai curry but don't want to hit up an authentic restaurant. The noodles in this dish soak in all of that smooth curry flavor that's packed with delicious spices that aren't too spicy, as well as tasty herbs, all piled together with healthy, fresh veggies and chicken. If you don't want to go the full homemade route, you can make use of store bought curry paste and, once blended with the coconut milk, can still make an appetizing red curry.
13. Chicken Stir Fry with Rice Noodles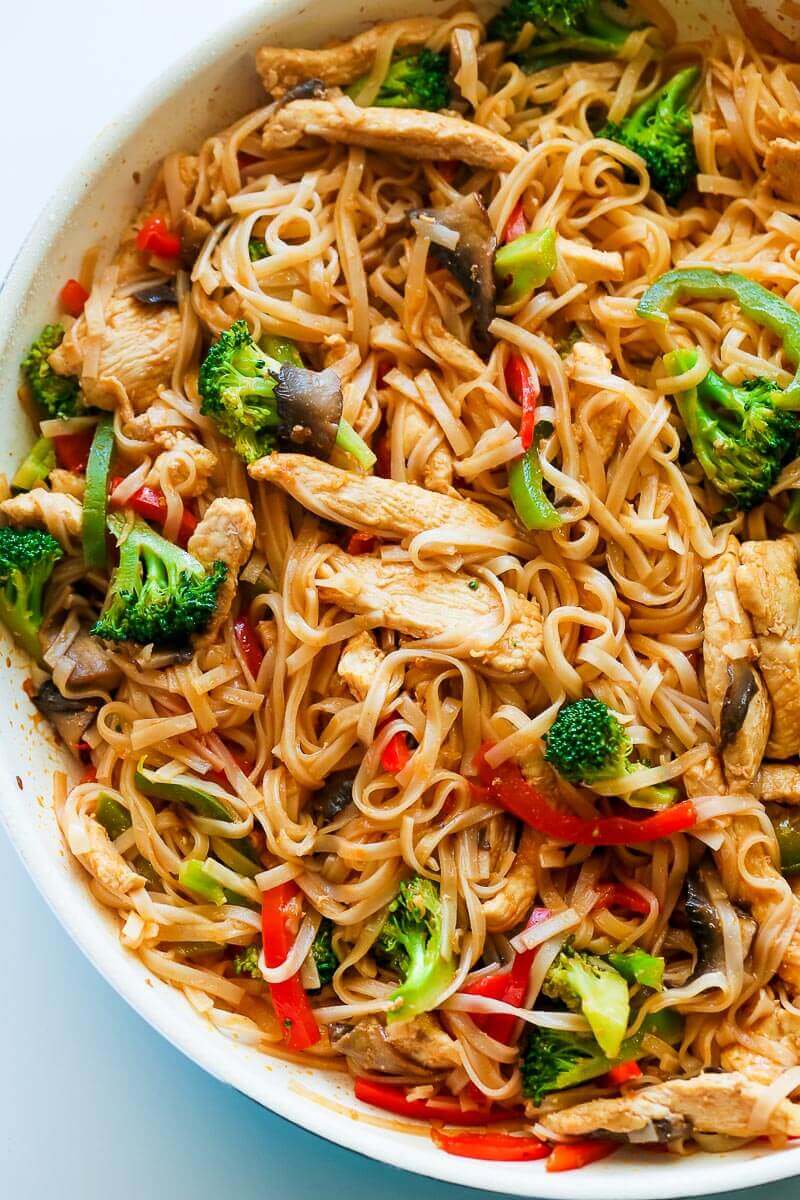 If you want to whip up this super easy recipe for chicken stir fry, then all you need is a wok or a skillet and the healthy ingredients. The broccoli alongside the red and green peppers makes this dish easy on the eyes with its beautiful, bold colors, while the combination of tender chicken and other great Asian flavoring sends your taste buds into a delightful frenzy. Creating your own sauce with components like chicken stock and soy sauce mixed up with ketchup and cornstarch makes all the difference when it comes to taste. Finish with sesame oil and enjoy.
14. BLT Summer Rolls with Avocado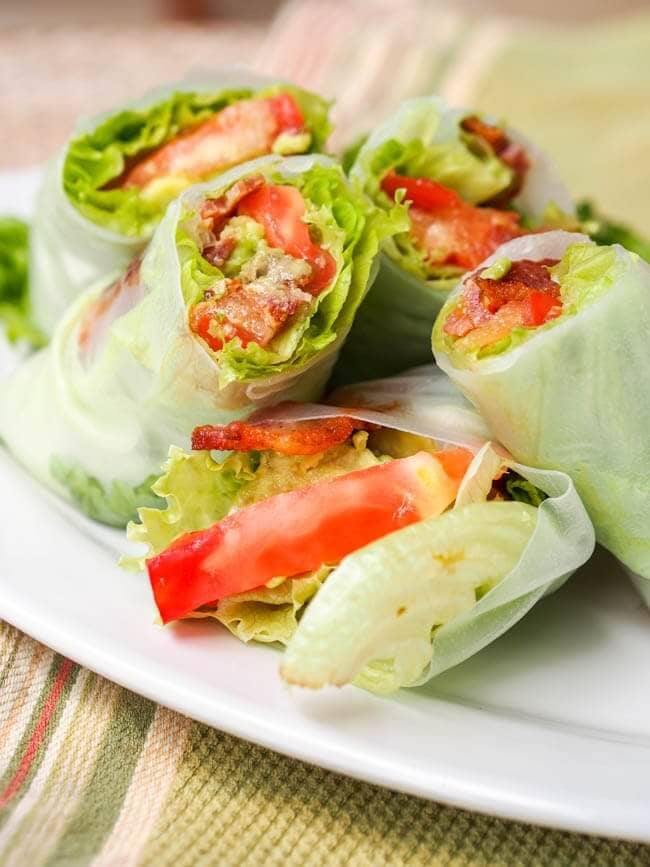 Sometimes, all you want is a good BLT, but not the high carbs and diary that come with it. Well, you're in luck thanks to this amazing deconstructed BLT that uses gluten-free food, and there's no bread to take away any of the flavors. It takes little time to make as it only uses six ingredients, and the only one you have to really cook is the bacon. The mayonnaise and avocado are creamy, the tomatoes amazingly juicy, and the lettuce adds further coolness while the bacon gives it a nice crunch all wrapped in the delicate rice paper rolls.
15. Baked Miso Chicken Wings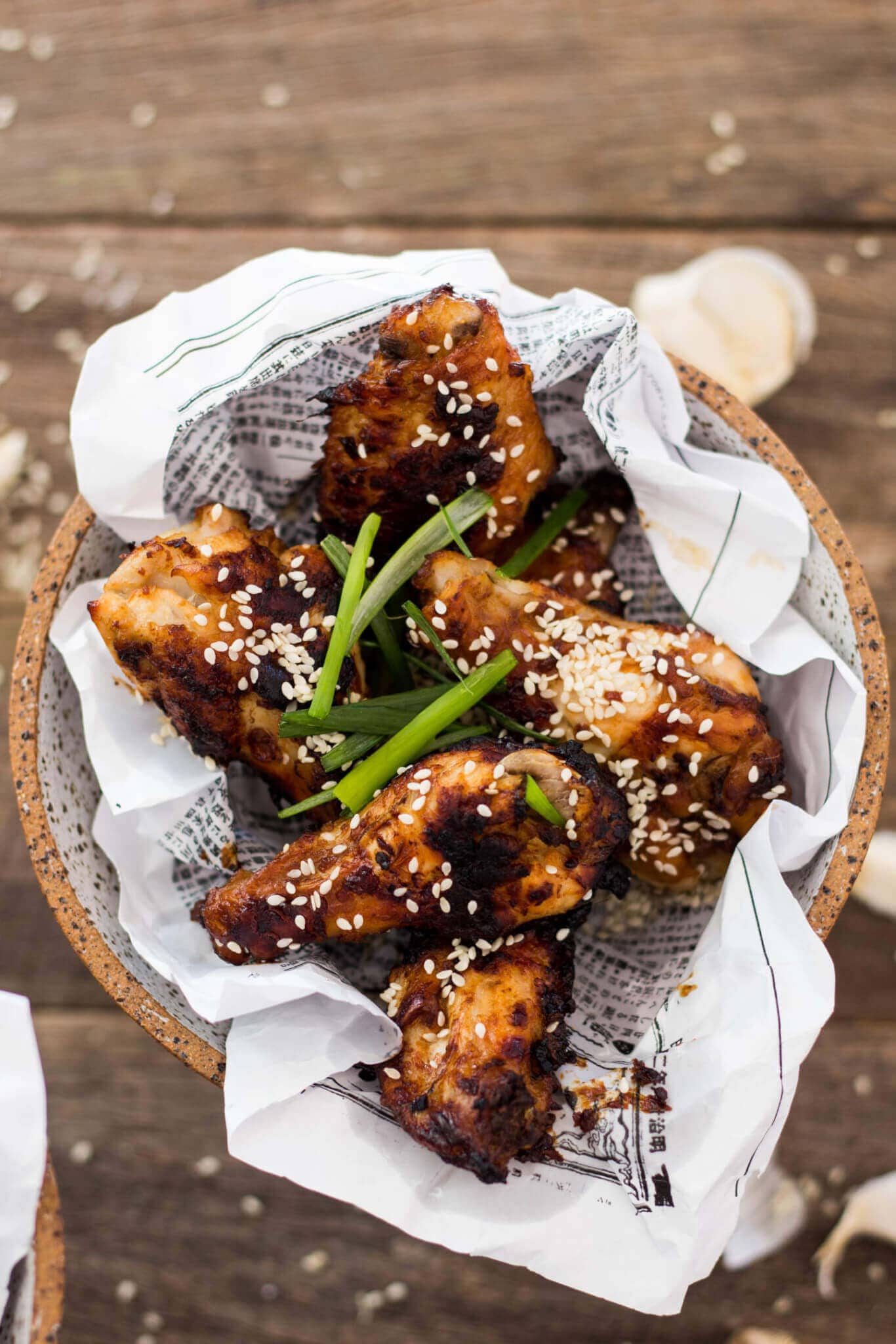 Chicken wings are always good to have around as an appetizer or a light meal later in the day, but if you want another way to make them that gives them a healthier kick, then try this easy gluten-free dinner recipes. Miso is versatile, so there are many wonderful ways you can use this ingredient that is already rich in nutrients. White miso in particular provides this dish with a nice sweet touch which is only enhanced by the sticky, syrupy honey. It takes little time to make, and you can shave off more time by marinating the meat overnight.
16. Asparagus Sweet Potato Chicken Skillet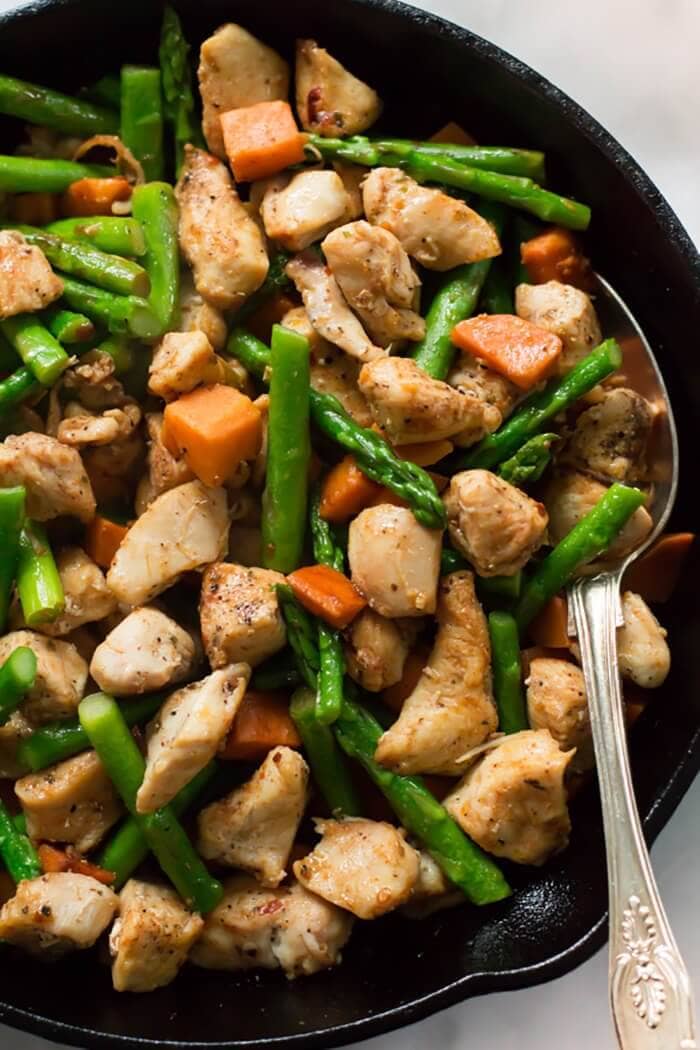 When you're after a healthy weeknight meal but want to curb the amount of work you do, then it should take you little time to make this great gluten-free recipe. Beyond the seasoning, this dish only contains three primary ingredients—sweet potatoes, asparagus, and chicken—so it's beyond easy to create. Honestly, the only real work is chopping everything up. This is an amazing dinner recipe that doesn't sacrifice any of the great flavors for the healthier twist. If you want to add a little more heat, then feel free to pour in as much red chili flakes as desired.
17. One-Pan Pesto Chicken and Veggies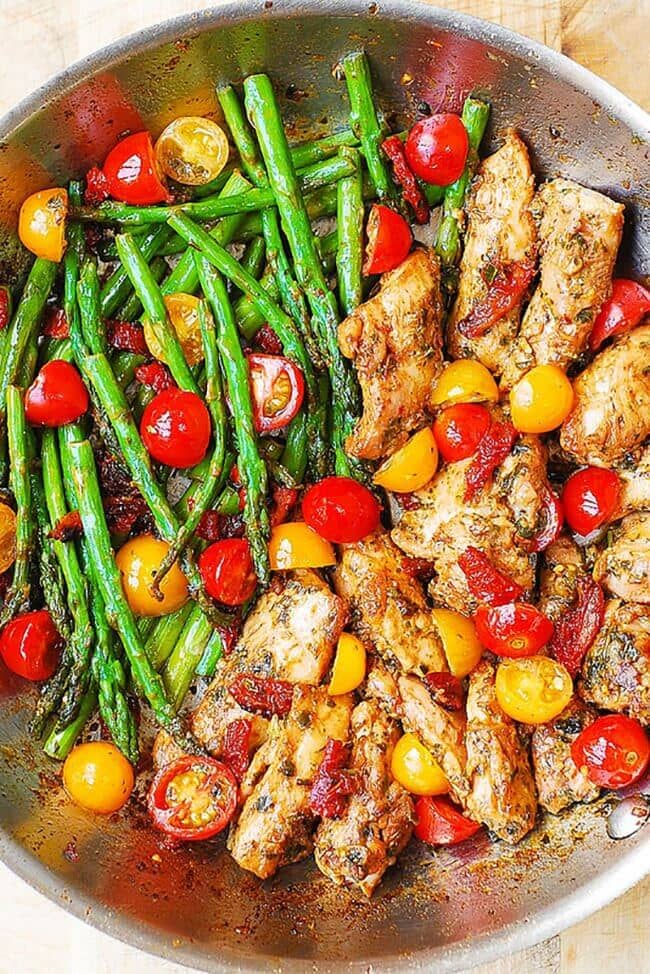 Yet more gluten-free dinner recipes that will have you out of the kitchen and enjoying it in 30 minutes or so, this one-pan pesto chicken and fresh vegetables will give you all of the fiber and protein you need while keeping everything else just as healthy with its boneless, skinless chicken. This is a great light meal with vivid-colored vegetables and an amazing basil pesto coating over the chicken that, when all mixed up, is utterly delicious. It's a recipe that shows gluten-free food is anything but boring, and instead can keep its nutritional value without giving up any taste.
18. Slow Cooker White Chicken Chili Recipe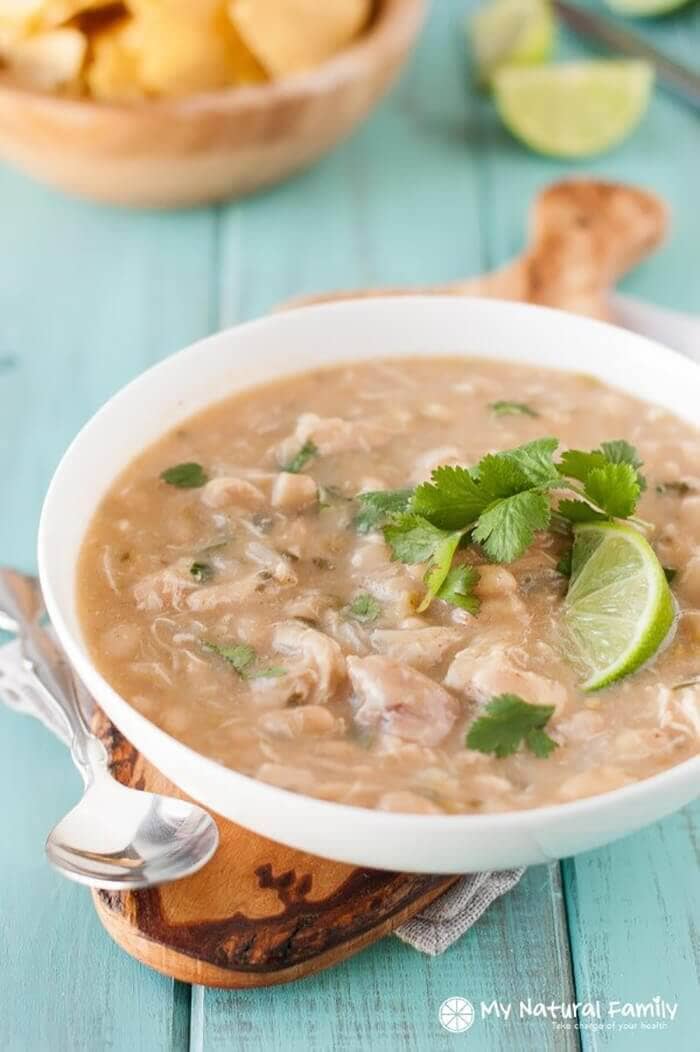 Who doesn't crave a nice, steaming bowl of chili, especially on those colder days? Well, here's a gluten-free recipe made to warm you up and excite those taste buds with its rich, hearty flavors. It's a pretty easy dish to make too with simple ingredients like diced green chilies, yellow onions, and of course the skinless chicken. After mixing everything, throw it all in the slow cooker, and let it do the rest of the work throughout the day. That way, all the flavors soak in, and it also fills your home with enticing aromas of cumin, garlic, and chicken.
19. Cheesy Quesadilla Roll Recipe
If you're on a gluten-free diet, enjoying something like quesadillas can at first seem a distant dream, but this recipe here will prove you don't have to sacrifice health for some great food. If you don't desire the taste of corn tortillas, then you should be able to find some gluten-free tortillas in the store instead. Either way, you can fill these with your chicken, cheese, and guacamole, and grill them up. This gluten-free dinner recipes is that simple, and it all takes little prep time to start. Finish it with a dipping sauce made of ranch dressing and guacamole.
20. Moroccan Chicken Bowls with Nectarine Sauce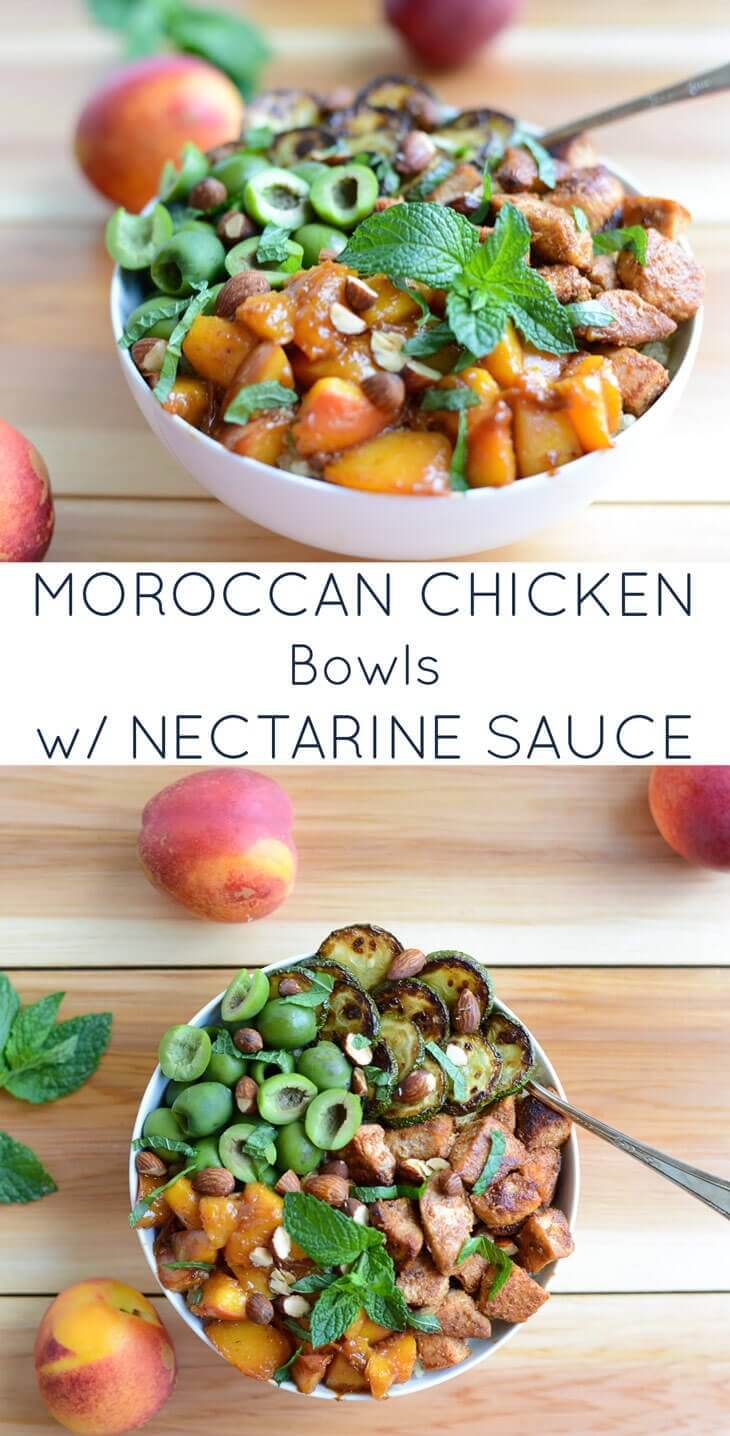 Inspired by traditional Moroccan chicken tagine, this dish replaces some of the conventional ingredients found in the original (e.g. swapping out dried apricots for nectarines), and it cuts down the cooking time, but it still comes away with some incredible flavors. The chicken is lathered in what's usually found in a tagine like cumin, paprika, and cinnamon. As for the sauce, it combines lemon juice, the optional use of honey, and, of course, dried nectarines. This is a naturally gluten-free recipe and, if you decide against serving this atop something like brown rice or couscous, can be paleo-friendly as well.
21. One Pan Roasted Lemon Pepper Salmon and Garlic Parmesan Asparagus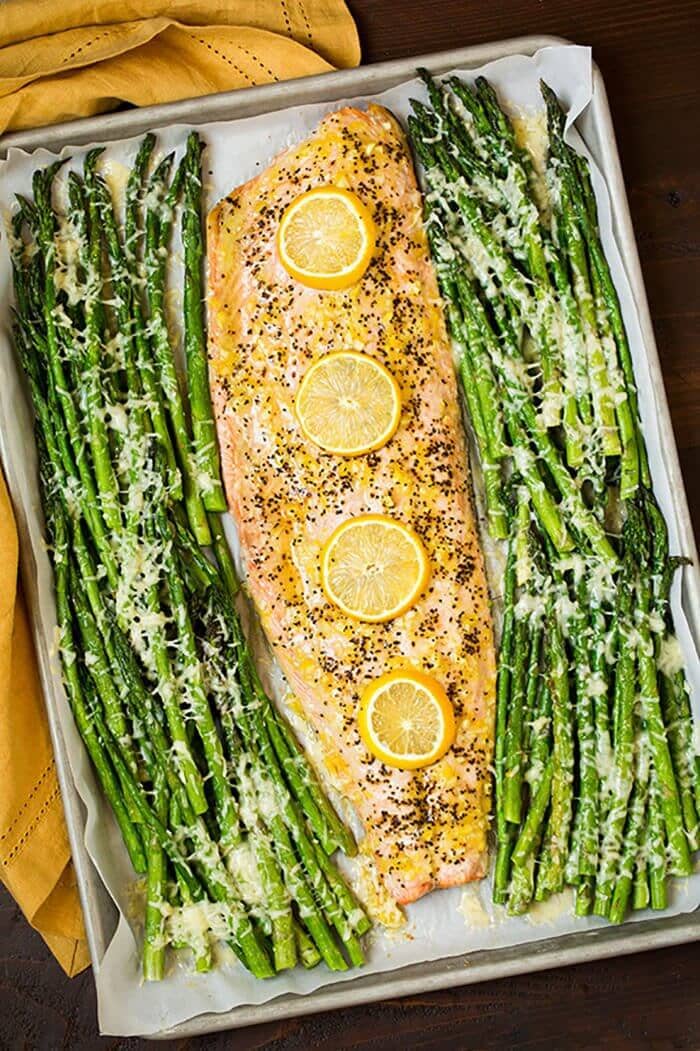 More and more often, one-pan meals are becoming the go-to when you seek something that is not only quick and simple to put together, but a meal that also has minimal clean-up so you're not stuck in the kitchen for longer than necessary. To top it off, this is incredibly healthy, and it's an easy way to enjoy salmon and asparagus together. The lemon and parmesan also work absolutely wonderfully off one another. Prep time is quick and easy, and about 15 to 20 minutes later, you have delicious, healthy, gluten-free food that even the pickiest of eaters should enjoy.
22. Chicken, Asparagus, and Bacon Skillet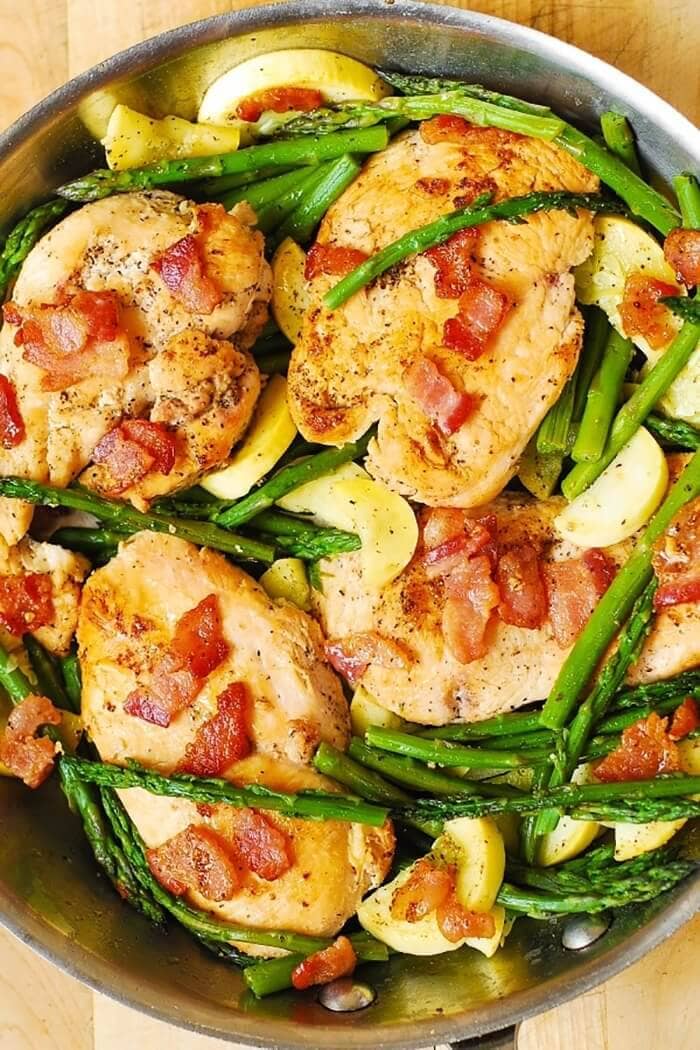 This chicken, asparagus, and bacon skillet gluten-free dinner recipes has everything you need to eat a healthy, paleo-friendly dish that's loaded with flavor. It has only six main ingredients, and the entire meal is done in just two steps (three if you count mixing them together in the end). In short: this is the definition of an easy recipe. Both the asparagus and the yellow summer squash can be cooked together, while the chicken and the bacon are paired off with one another. Once everything is all mixed up together, you'll be enjoying a healthy dish packed with great flavors.
23. Roasted Brussels Sprouts, Cinnamon Butternut Squash, Pecans, and Cranberries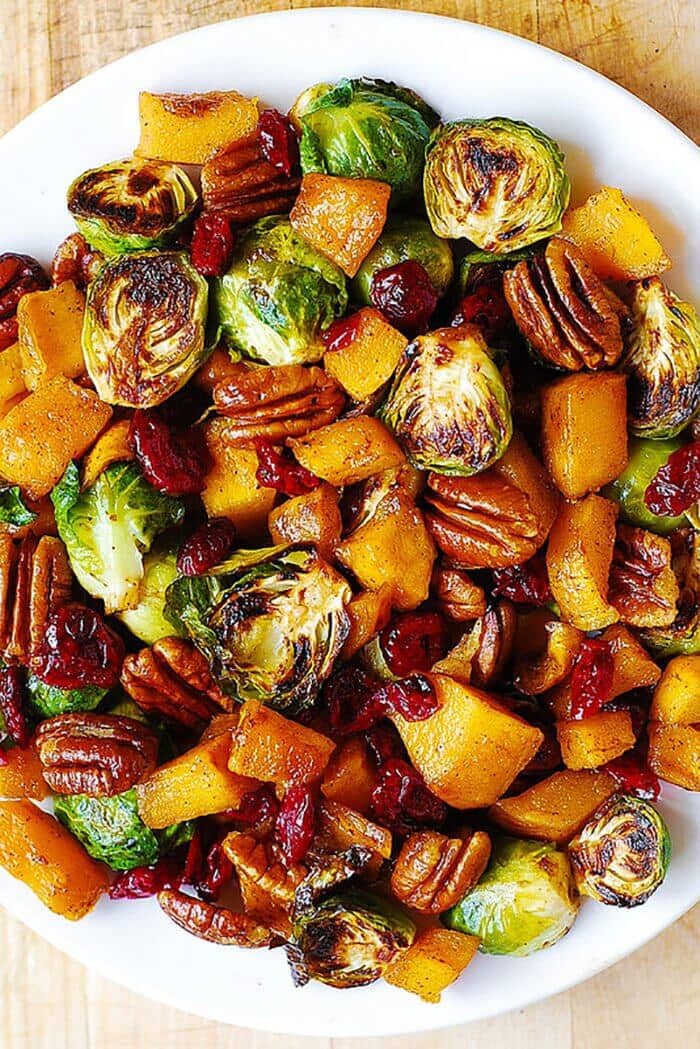 This seasonal dish will have your kitchen feeling like it's Thanksgiving or Christmas day, and it even works well as an all-around vegetarian meal to have at any time of the year. This meal is filled with nothing but gluten-free food, and although the sight of Brussels sprouts can send some away, when they're roasted, the flavor meshes perfectly with the rest of the components. Even the butternut squash gets wonderfully tender, and with the addition of pecans and cranberries, it gives you so many different textures to enjoy. For a sweeter punch, consider drizzling on some maple syrup.
24. Paleo Whole30 Chicken Tenders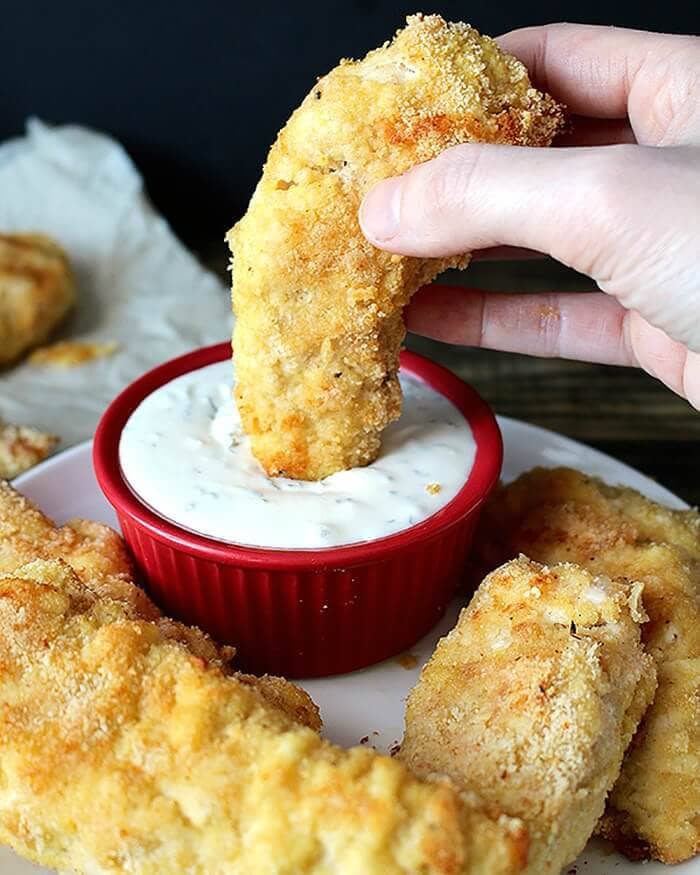 It's always fun to mix up classic dishes, especially ones we may have loved as children, and this healthy spin on the time-honored chicken tenders will certainly wake up your taste buds. These are made with no diary and gluten, and give you minimal carbs while still getting the protein chicken brings. When it comes to breading these delicious tenders, there is a 3-step process that's simple to follow, so be sure to lay everything out beforehand in order to go dry-wet-dry. This gluten-free recipe takes little time to cook, and is amazingly crispy and juicy even without dipping sauce.
25. Hoisin-glazed Chicken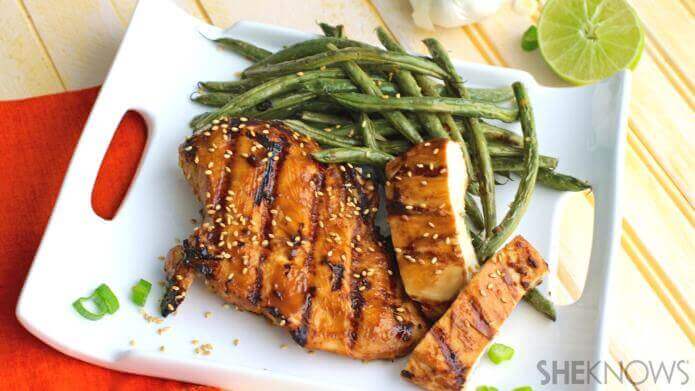 This gluten-free dinner recipes is perfect for those who opt to make their own glaze for their grilled chicken rather than using store bought condiments or sauces. A homemade glaze is easier to control, and you know everything in it is both healthy and tasty. The hoisin sauce is tangy and thick, and the peanut butter helps give it a creamy texture and a great nutty taste. With the addition of hot sauce, the glaze has a nice spicy edge to it as well. It may contain quite a few ingredients, but it's still a relatively easy recipe to follow.
26. Moroccan Lamb Tagine with Pumpkin & Quinoa Gluten Free Recipe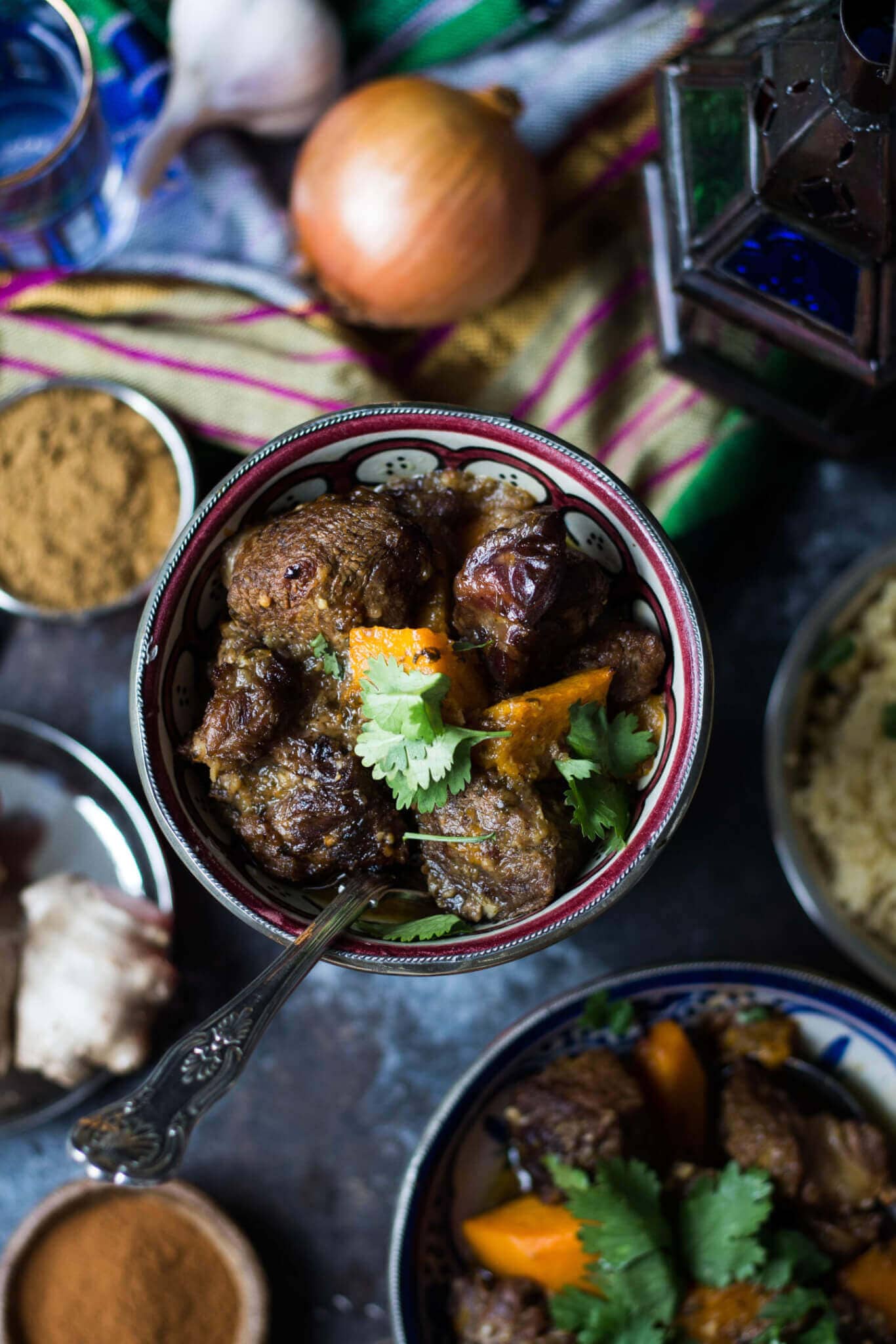 As everyone should have that warm, one-pot meal ready, especially for the winter months, this gluten-free dish packed with Moroccan flavors comes in handy. The spices on the marinade like cumin and cinnamon elevate the tender lamb, and the butternut pumpkin mixed in just ignites a flavor explosion in your mouth. As for the quinoa, it practically inhales all of the juices from the lamb and pumpkin to the point that you may forget that this gluten-free food gives you as many nutrients as it does. A warm, delicious dish like this makes it easy to forget it's incredibly healthy.
27. Parmesan-Herb Roasted Potatoes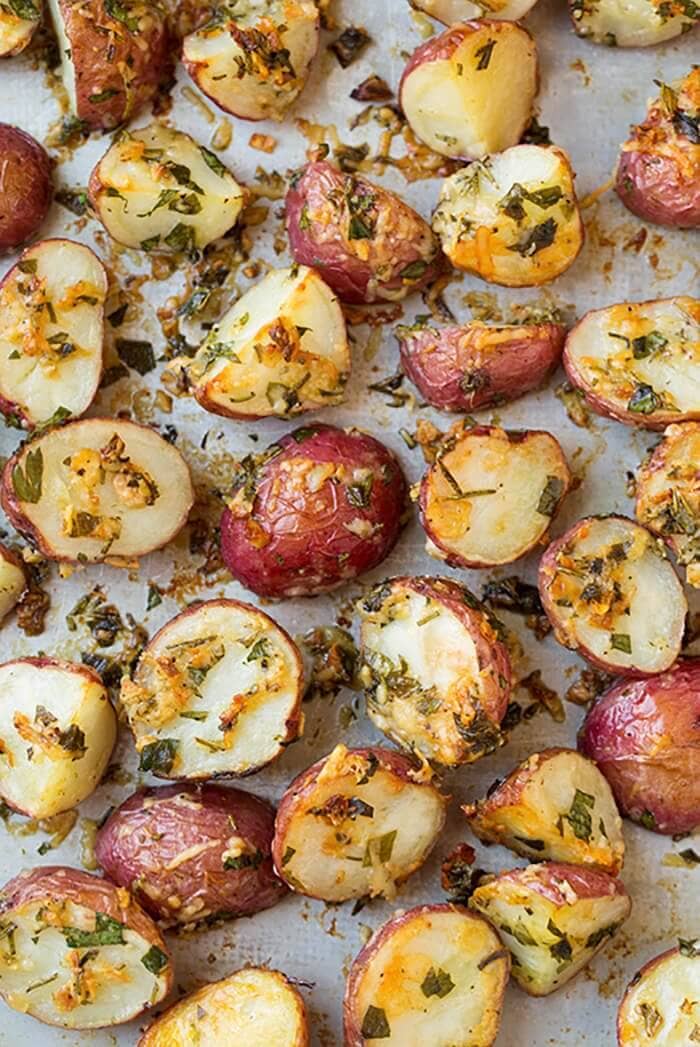 These great little roasted potatoes work well with those who want an inexpensive way to maintain a gluten-free diet. Also, they are super easy to prepare thanks to a short list of ingredients and the fact that baby potatoes are faster to chop. You can have this in the oven in less than 5 minutes, and ready in around 40. They cook up amazingly crispy on the outside with a great taste thanks to the herbs and especially the parmesan, while the inside is just so deliciously soft. This is a dinner recipe best served warm out of the oven.
28. One Pan Lemon Parmesan Chicken and Asparagus (Video)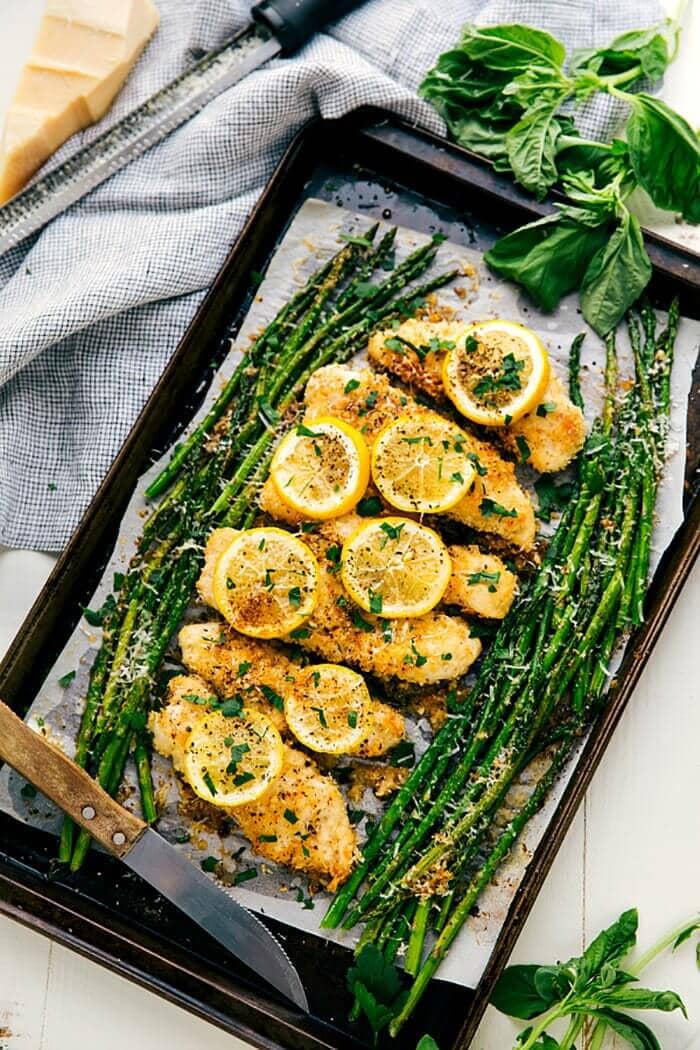 The fresh Spring flavors in this one-pan meal really stand out, and the healthy ingredients used make this a great gluten-free recipe. Thanks to the lemon garlic butter, everything is already bursting with that lemon taste. If you want to enhance that even further, then feel free to top the chicken with a great lemon glaze that consists of butter, honey, olive oil, and lemon juice and zest. Even without it though, the asparagus and the lightly breaded chicken are incredibly tasty. The chicken comes out crispy and very moist, so this is one easy recipe you shouldn't be without.
29. Maple-Glazed Chicken with Sweet Potatoes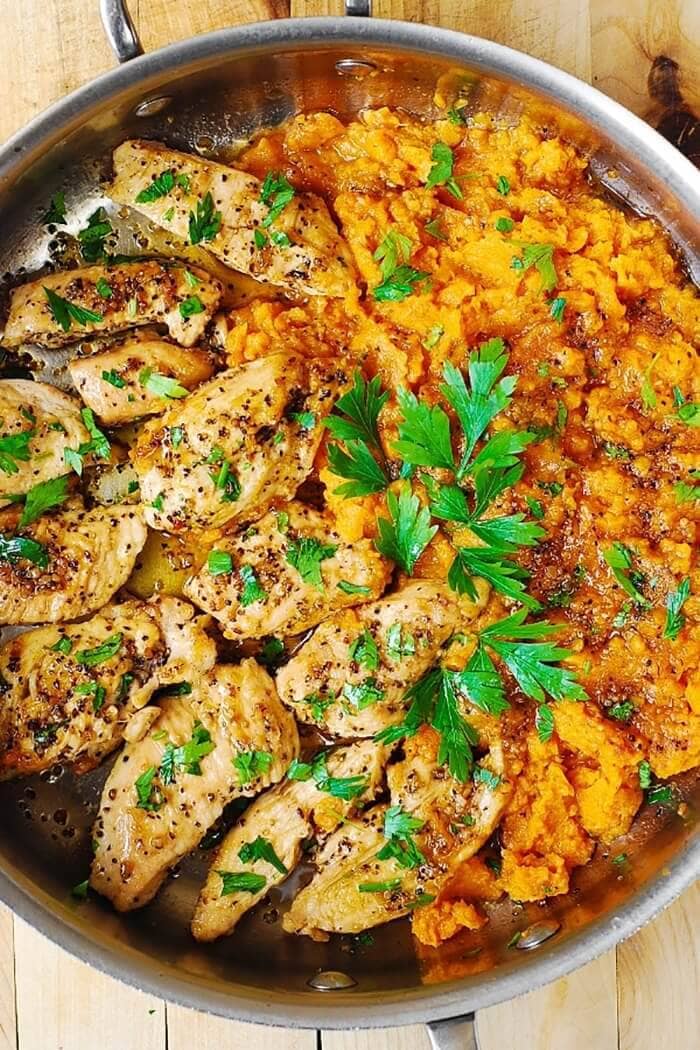 When you're on the lookout for comfort food, Fall-inspired dish are always a joy to make, more so when it's all healthy, so this gluten-free dinner recipes is just about perfect for the occasion. It uses a Montreal steak seasoning blend that works wonders, and the butter and olive oil really lets it all soak into the chicken. Then, there's that sweet maple glaze to add another layer of flavor. It all comes together on top of a bed of sweet potatoes. This dish here is the prime example of how both savory and sweet can live in absolute harmony.
30. Mexican Quinoa Stuffed Peppers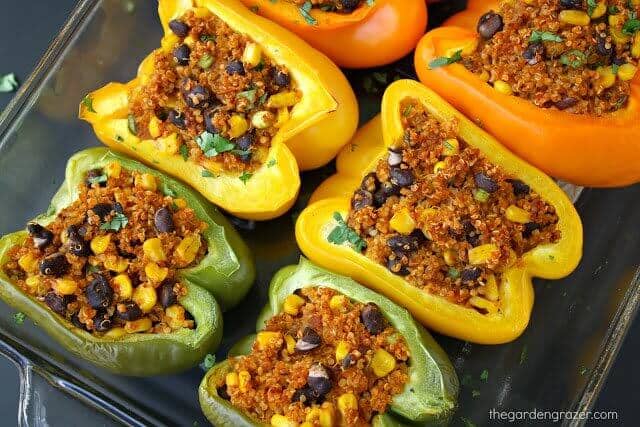 These stuffed peppers highlight the remarkable versatility of quinoa, and in a way that works for vegans, anyone eating a gluten-free diet, or even those Meatless Monday eaters. This is a fairly simple meal, and the stuffing is loaded with great Mexican-styled ingredients (e.g. green onions, salsa, and black beans). Mixed with the quinoa, it all looks beautiful inside the colorful peppers, and gives off a presentation fit for a party. The nutritional yeast helps to give it some cheesiness without all the diary. Eat the peppers as-is out of the oven, or slather them up with your favorite toppings.
31. Cajun Mahi Mahi with Mango Pineapple Salsa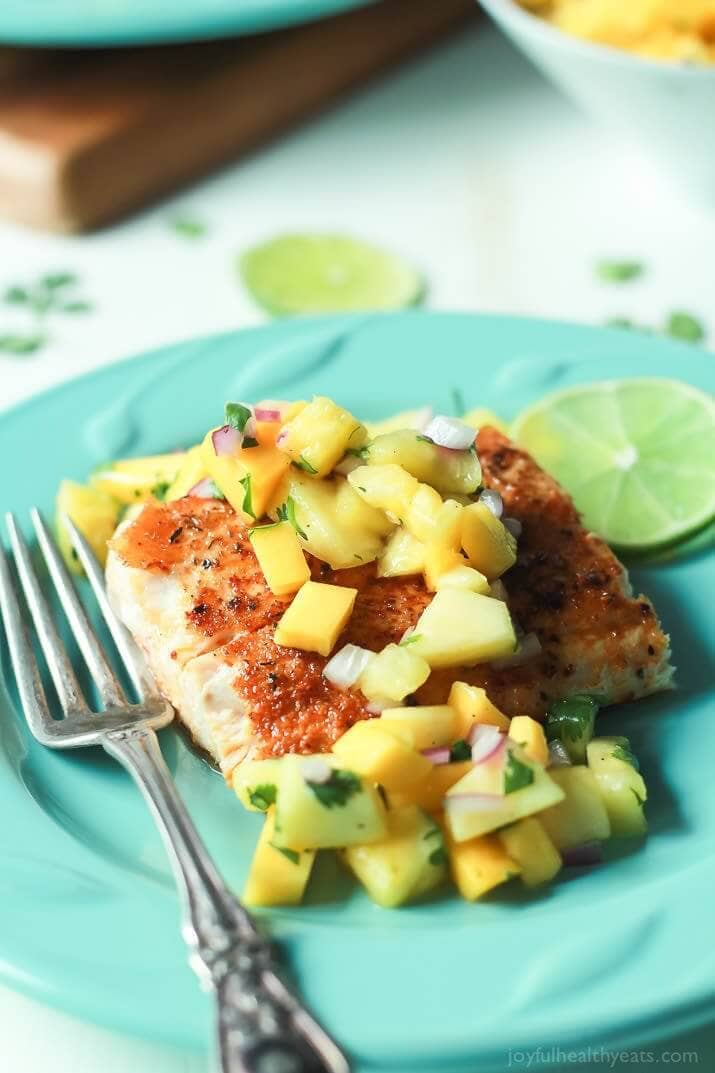 The flavors in this healthy dish will send your taste buds on a Caribbean tour. It's such an easy recipe, and it takes little of your time to put together. The salsa made up of pineapple and mango adds the sweet factor, and the lime juice also provides the salsa with a welcoming bite. As for the Mahi Mahi, the pan sear gives it a great crispy crust while the center of the fish is left gratifyingly tender, and the Cajun seasoning serves as an excellent use of spice. This is a dinner recipe you'll want to keep on rotation.
32. Cilantro-Lime Black Bean Shrimp and Rice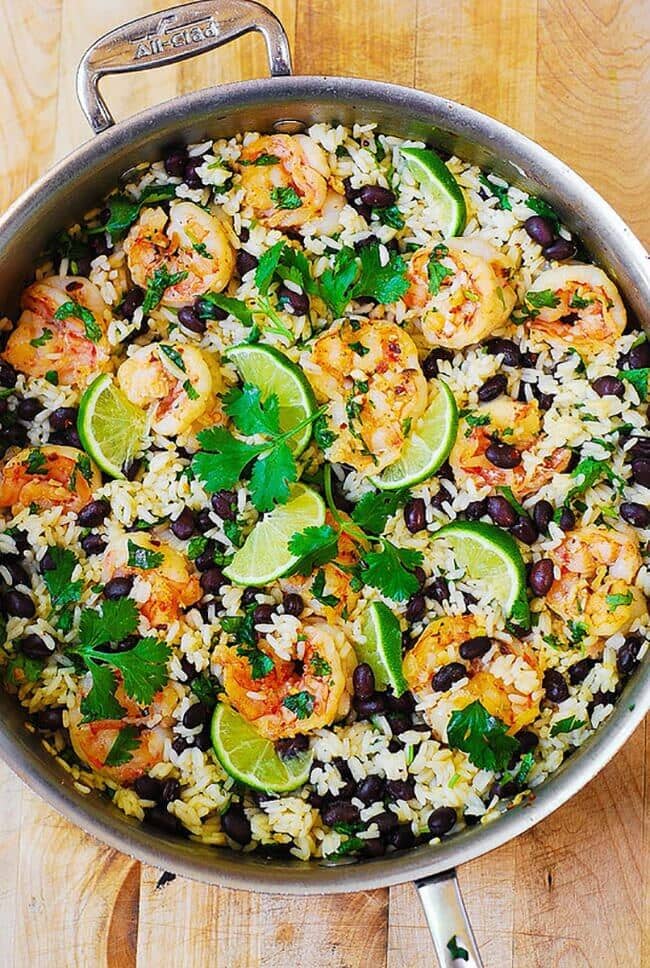 There are many rich and hearty gluten-free recipes, but sometimes you crave a dish on the lighter end of the spectrum. Then, this shrimp, bean and rice meal will do the trick, and it's even done in one pan to make for a quick cooking and clean-up. The ingredients are nice and bright, and the cilantro and lime juice that coats the shrimp really refreshes the senses. Cilantro and lime are further used with the black beans, and everything is put together with the rice, making this gluten-free food the perfect light meal to balance out those warmer Summer nights.
33. Crispy Baked Tacos with Pineapple Salsa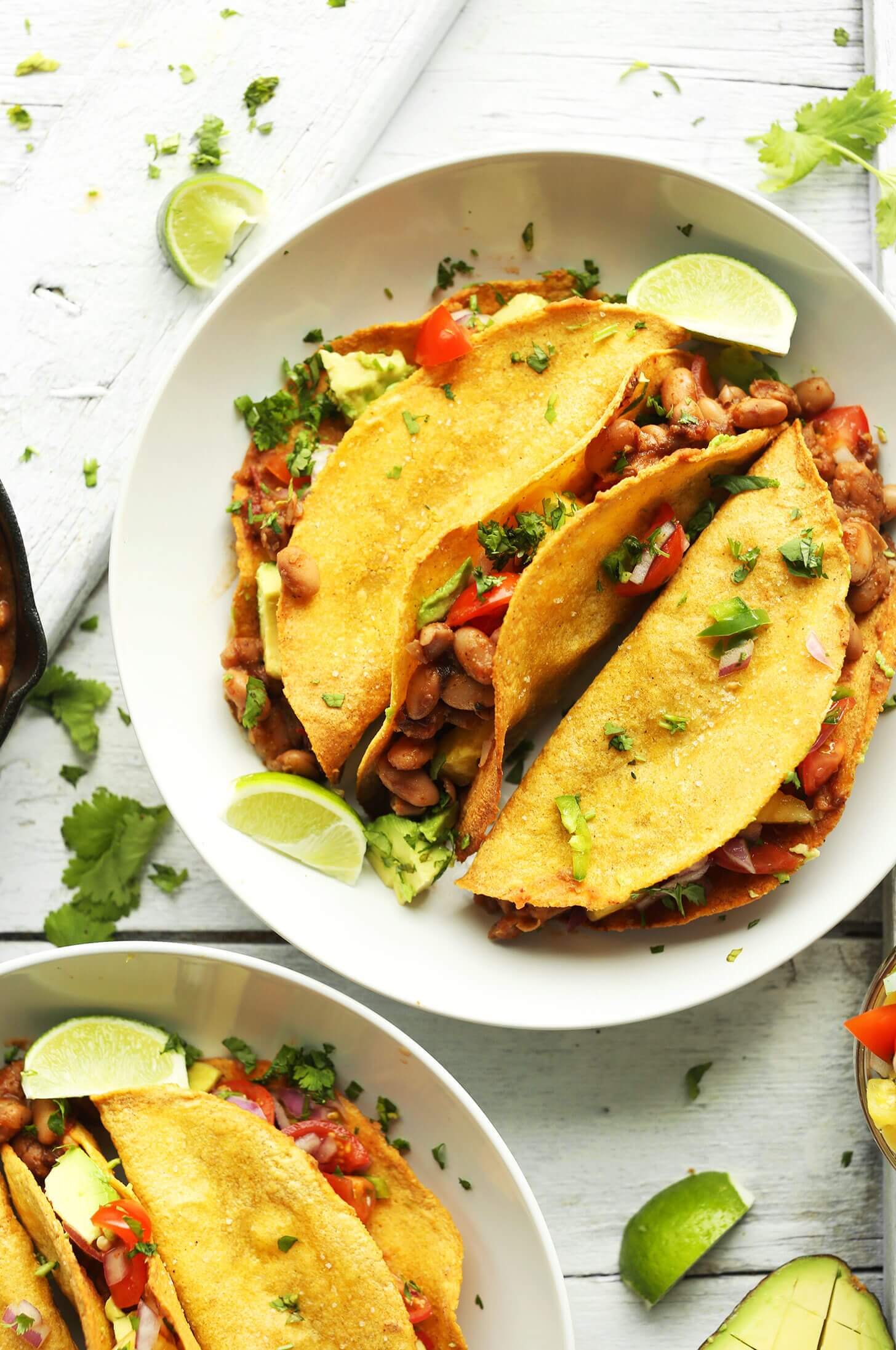 It is quite easy to cook up these loaded tacos while still maintaining a healthy diet. To start, the tacos don't need to be fried in order to come out crispy as baking the shells will leave them with a great crunch and a lovely golden color. Now, for the filling, it's stuffed with savory pinto beans and a fresh, homemade salsa made with ingredients like tomatoes, pineapples, and red onions. Think about throwing some jalapeños in the salsa to give it some more heat. It isn't mandatory, of course, but a good addition to an already tasty dinner recipe.
34. Slow Cooker Korean Beef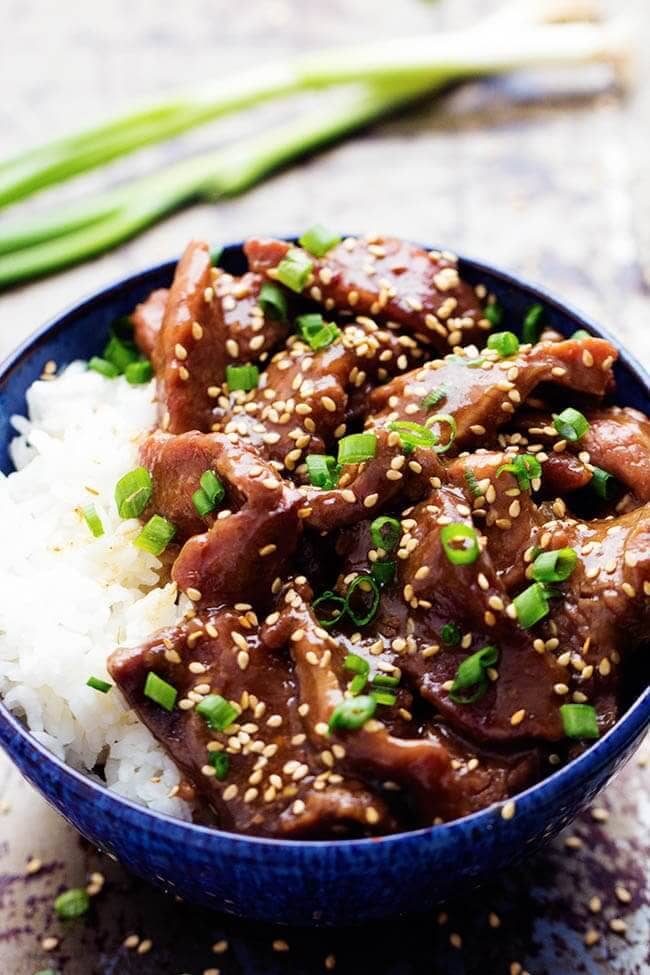 Cooking up beef in a slow cooker just about guarantees the meat will be succulent and tender, and this dinner recipe for Korean beef really shows just how supple the meat can get. Several wonderful ingredients coat the flank steak. From beef broth and sesame oil, to red pepper flakes and onion, everything just blends together to create a spectrum of delicious flavors. The longer it stews around in the slow cooker, the more those flavors seep into the meat. You can finish it with rice and garnish with some green onions if you prefer, or just enjoy the beef.
35. Ground Beef and Tater Tot Casserole Recipe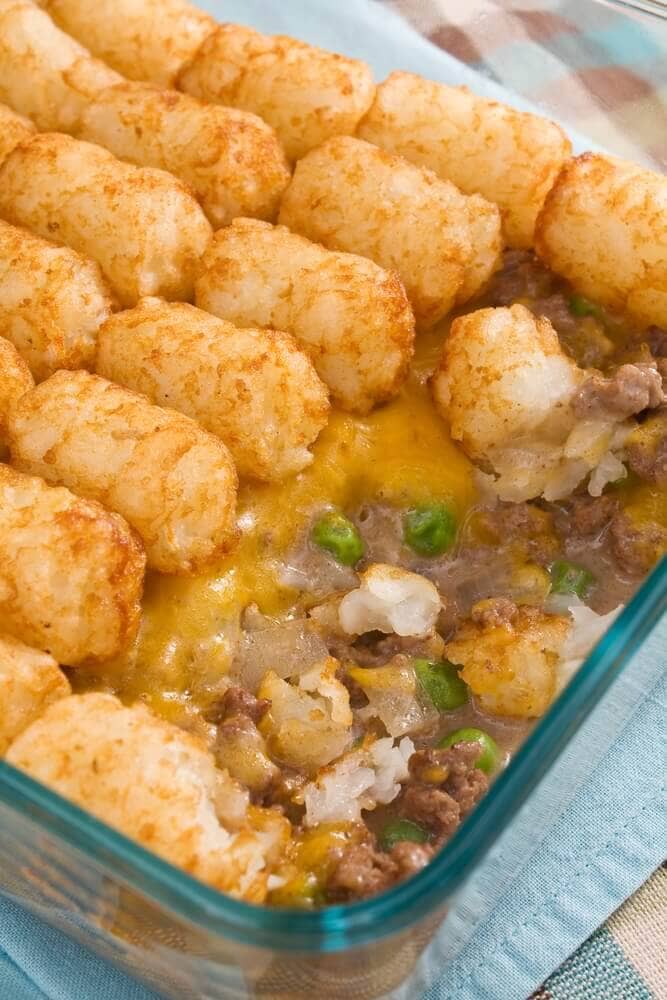 If you are ever in a pinch and need a weeknight meal that you can throw together quick, a casserole will rarely let you down. It's the perfect type of dish to throw a lot of tasty ingredients into, and this gluten-free dinner recipes made good use of it. The chili powder and Worcestershire sauce helps to give this a lot of nice flavoring, and the shredded cheese is always good to add in a dish, especially one with potatoes. A casserole is a good way to enjoy a hearty meal while sneaking in some healthy components without anyone realizing.
36. Swedish Meatballs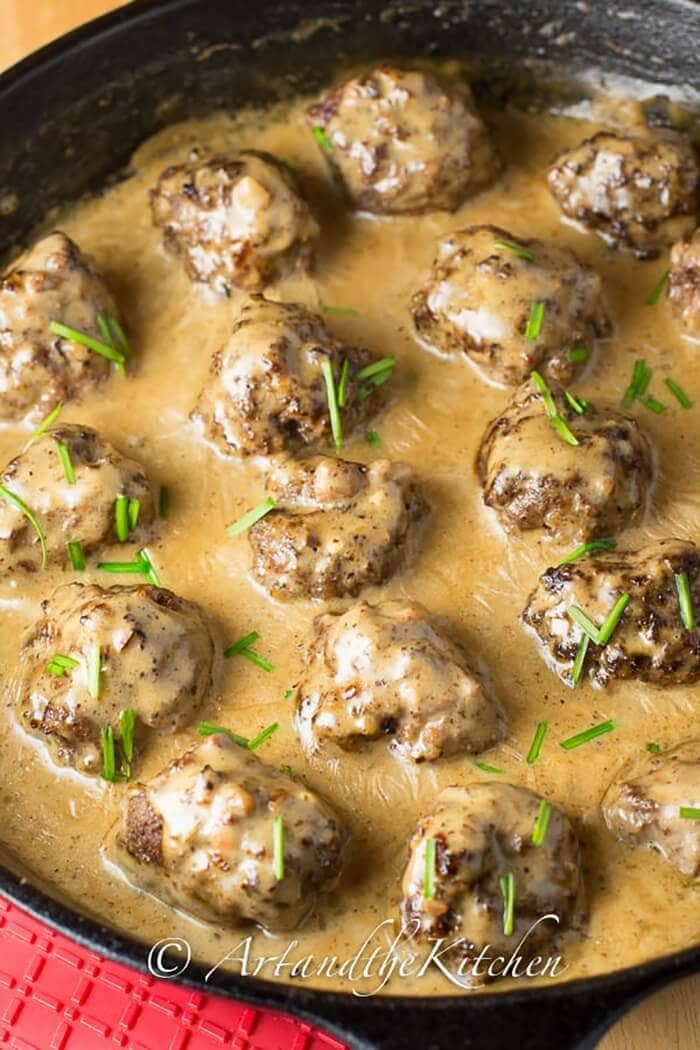 As far as gluten-free dinner recipes go, these Swedish meatballs accompanied with a great sauce will surely become a fast favorite. The prep work and cooking take some time, but in the end, it's worth it. Plenty of flavors are added to the meatballs alone due to the garlic, oregano, and sautéed onion. What gives this dish an even bigger flavor boost is that much of the delicious meatball remnants left behind in the skillet can be used in the sauce. The sauce is rich and creamy, and the Dijon mustard and Worcestershire sauce help thicken things up a bit.
37. Gluten Free Chicken Laksa Recipe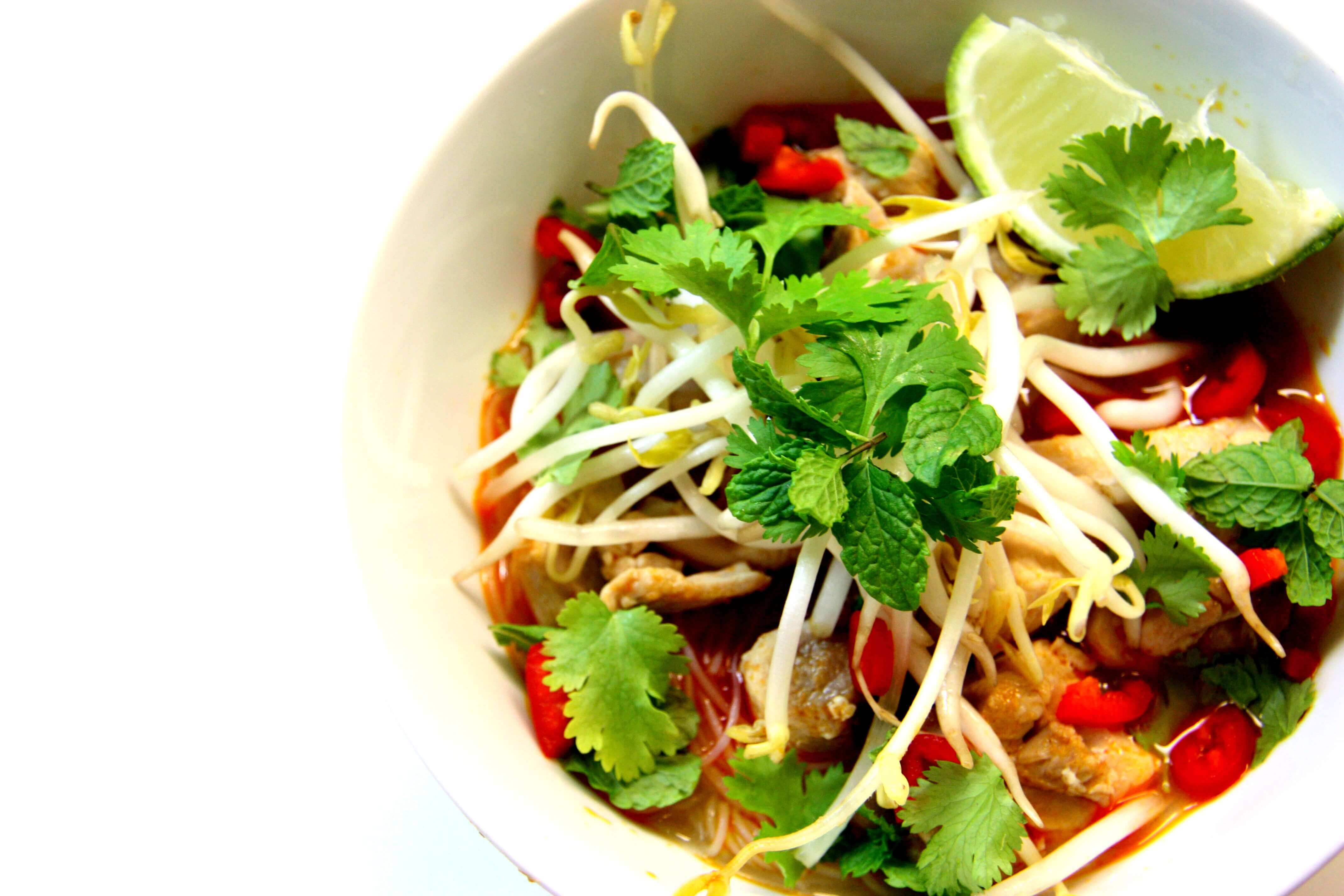 This twist on the popular Malaysian dish makes use of gluten-free ingredients so that, in the end, you're left with a warm, healthy bowl of soup that's low on the calories but high in flavor. The tastes in here are so complex since the recipe calls for a variety of ingredients like fish sauce, red chili, coconut milk, and mint leaves. They all blend together to provide you with a delicious mix of salt, a bite of spiciness, some sweetness, and even a little sour taste. The ingredients list can seem intimidating, but this is still a simple dinner recipe.
38. Chicken Potato Bake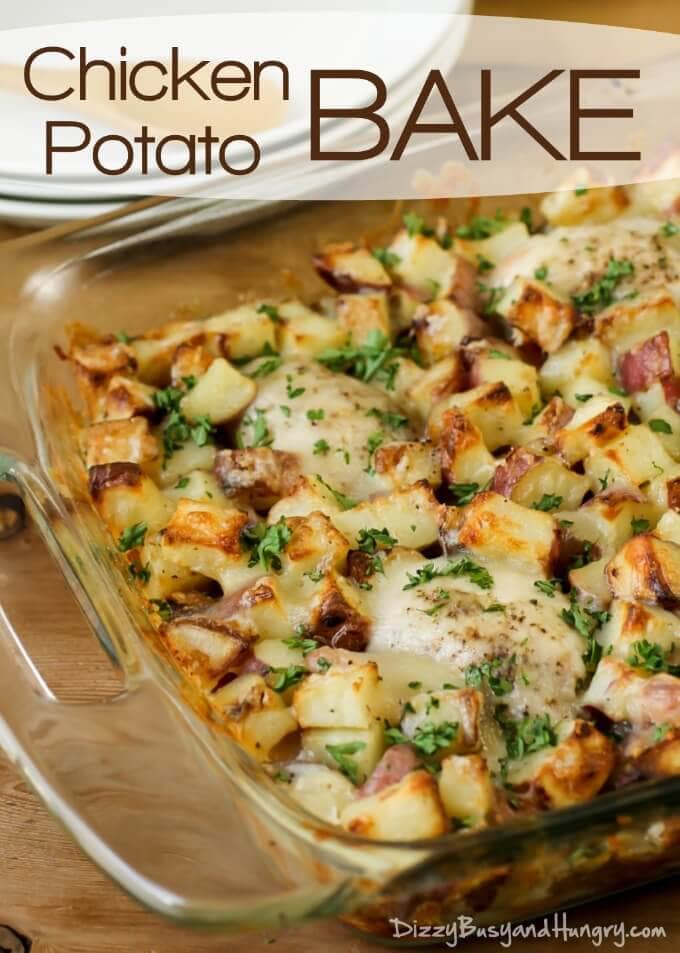 This dish continues with the time-honored tradition of pairing up meat and potatoes, also with the bonus of cheese. A good handful of ingredients come together for this hearty, gluten-free dinner recipes. The potatoes are tossed in a mix of olive oil and garlic, and come out with a beautiful golden hue. Now, you don't have to do much to the chicken beyond placing the pieces in between the potatoes, but if you want, give only the top layer a light brush with olive oil. With everything bundled close, the chicken gets juicy and the potatoes are rich with flavor.
39. Mexican Zucchini Burrito Boats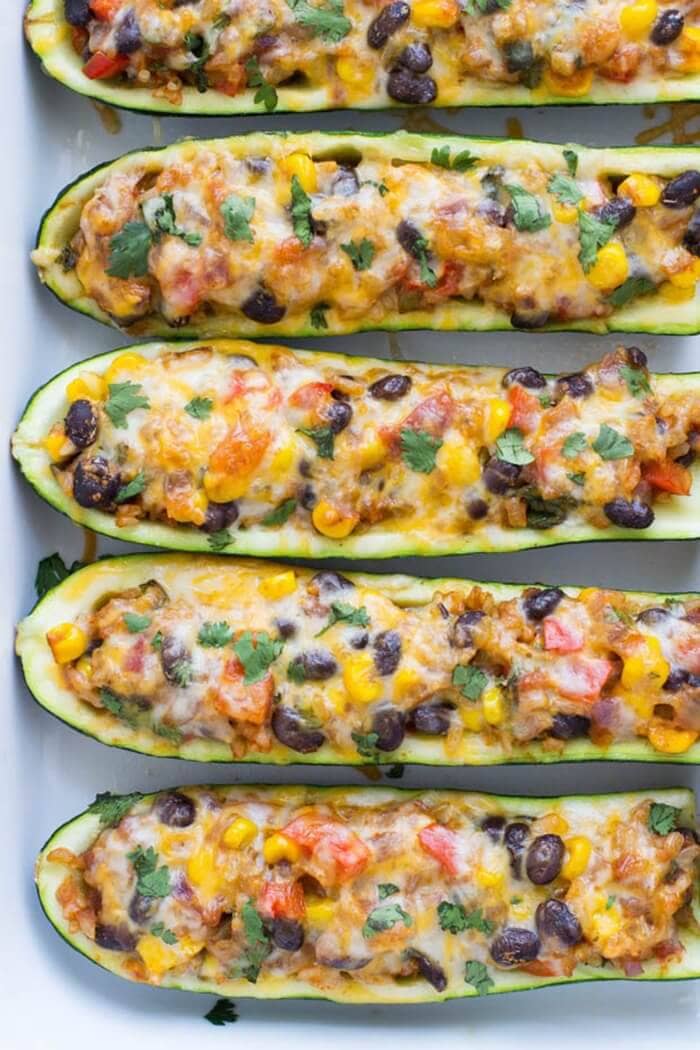 These are such a cool, unique way to satisfy your craving for a burrito bowl without the bowl and without the meat. The zucchinis are stuffed with brown rice, black beans, peppers, corn, and everything else you will usually find in a burrito (besides the meat!). It can get rather spicy, but the intensity of the kick is something you can easily control through the amount of salsa in the mix as well as whether you choose to use jalapeño or another pepper. This dinner recipe is loaded with fantastic Mexican flavors, and the appearance is so colorful and fun.
40. Mongolian Beef Noodle Bowls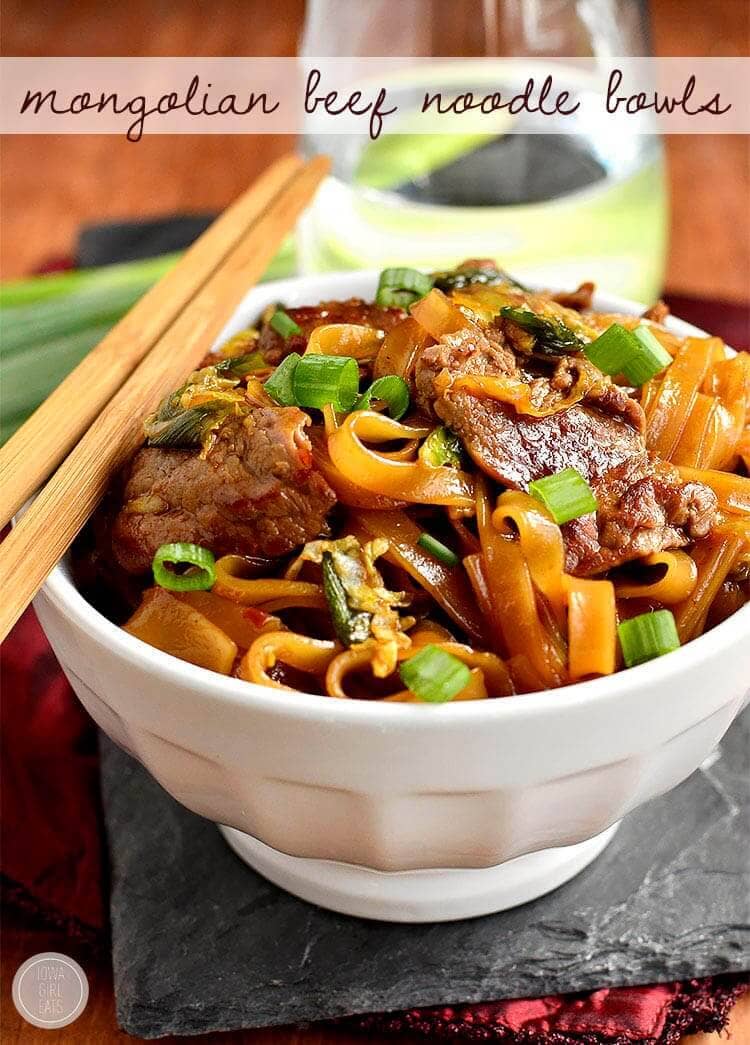 Typically, you would pair Mongolian beef up with the likes of steamed rice, mixing it all together in one bowl, but this dinner recipe trades that out in favor of rice noodles. This is a dish that is just bursting with flavor, and the fact that you cook it using gluten-free food makes it nice and healthy. It has just the right amount of sweet and salty. As long as the flank steak is cut properly against the grain, the meat will end up incredibly tender, and it meshes perfectly with the chewiness that you get from the rice noodles.
41. Gluten Free Chili Lime Mango Marinated Chicken Bowls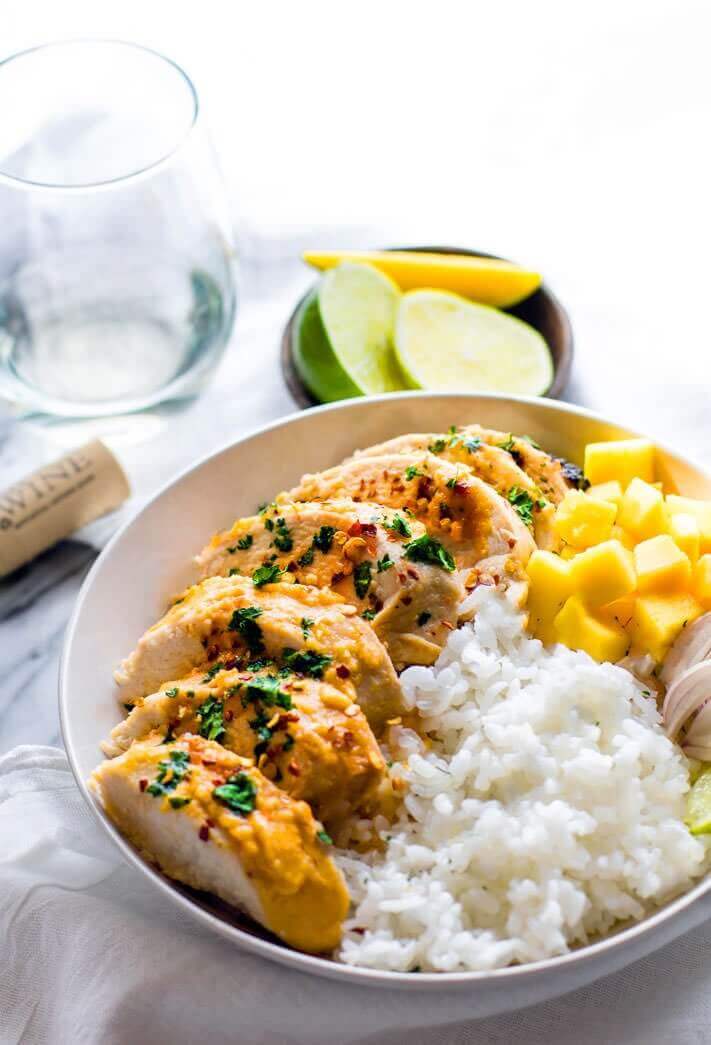 Now, this recipe calls for an incredible way to utilize wine to help bring out the flavors while still keeping everything healthy and gluten-free. Even better, it's simple enough that those who have never cooked with wine can easily follow along. White wine is used here—the suggestion is Pinot Grigio—as it blends in great with the fruits; it adds a little bit more sweetness without it being overbearing. On top of the fresh taste, the marinade lathered over the chicken breasts gives the dish an appealing presentation. It's a great gluten-free dinner recipes that balances sweet and zest.
42. Butternut Squash Black Bean Enchiladas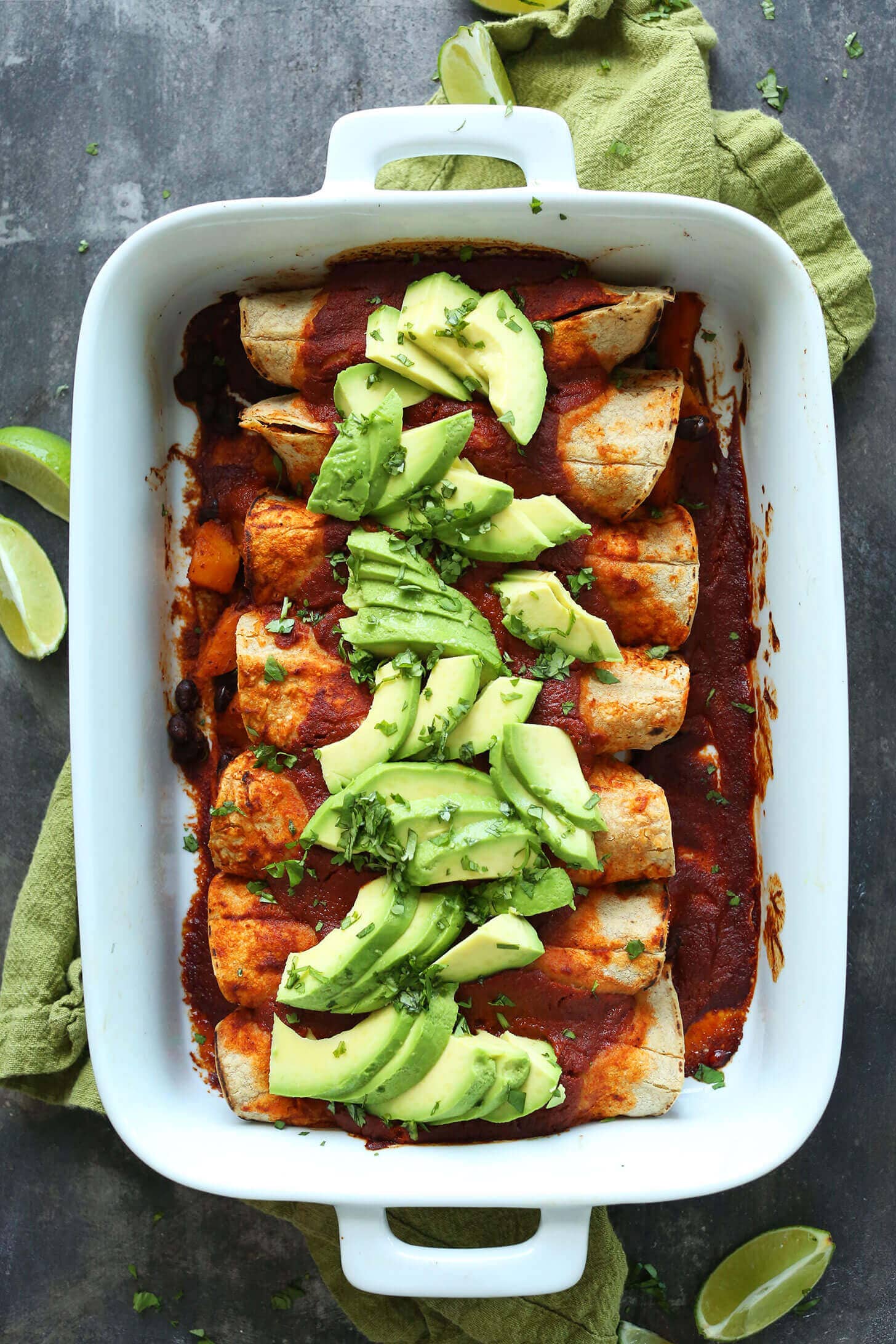 Butternut squash and black beans are a phenomenal pair, and they can be filling too. This is a dinner recipe that is just so unbelievably good, healthy, and vegan-friendly, and it's all simple to come together as there are only about 10 ingredients to use. The enchiladas turn out crisp on the outside, while the filling keeps it tender on the inside. You get a sweet taste from the butternut squash, and a great smoky flavor thanks to the sauce. For the finish, sliced avocados or toasted pumpkin seeds are just a couple of things that go great on top.
43. Greek Chicken Salad Recipe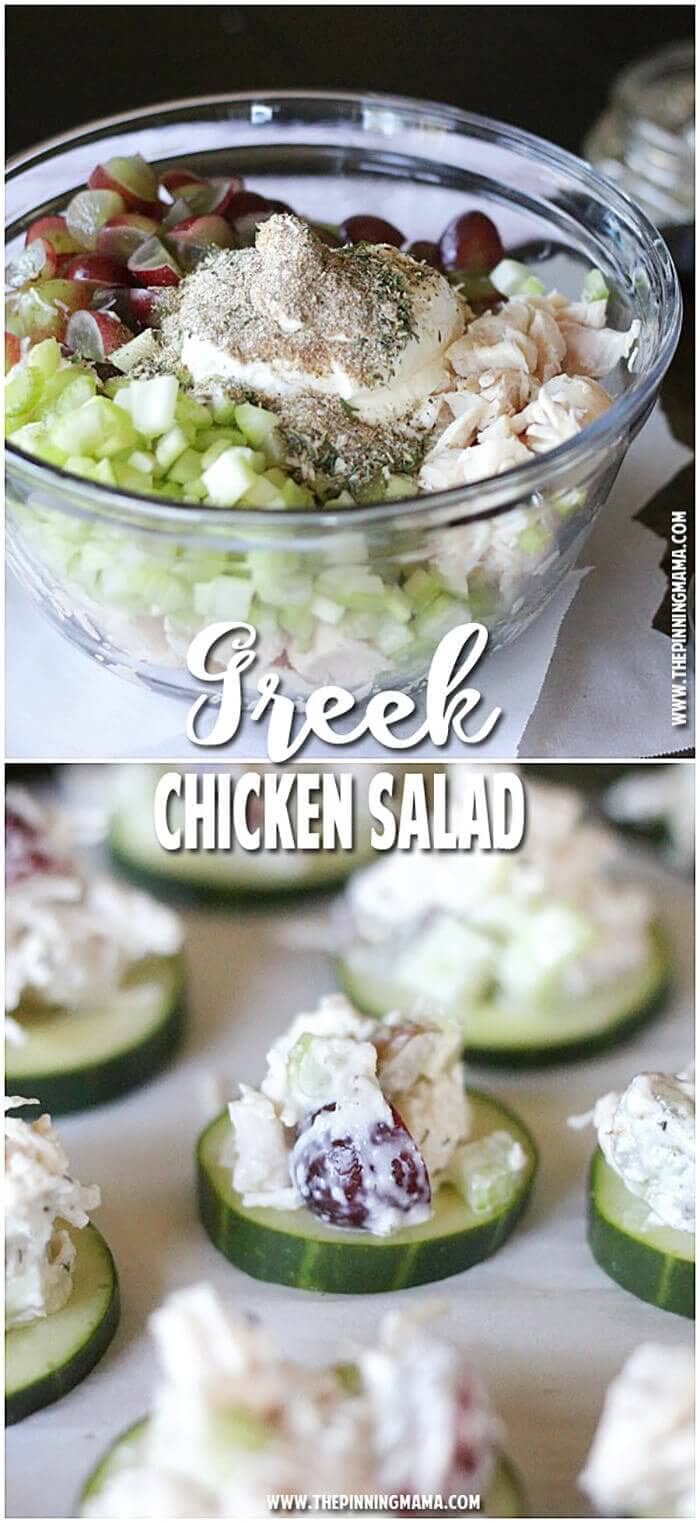 If you want to turn a regular lunch into something to look forward to, then this salad will do the trick, and it works for anyone on a paleo, Whole30, or gluten-free diet. Greek seasoning goes well with many things, and in this chicken salad with the grapes and celery, adds an overall fresh taste. The recipe is simple enough, and if you go for chicken that is pre-cooked, then all that's left to really do is chop, mix, and enjoy. If you refrigerate it for a couple of hours though, the flavors really do soak in a lot more.
44. Pea Pesto Pasta with Sun-Dried Tomatoes & Arugula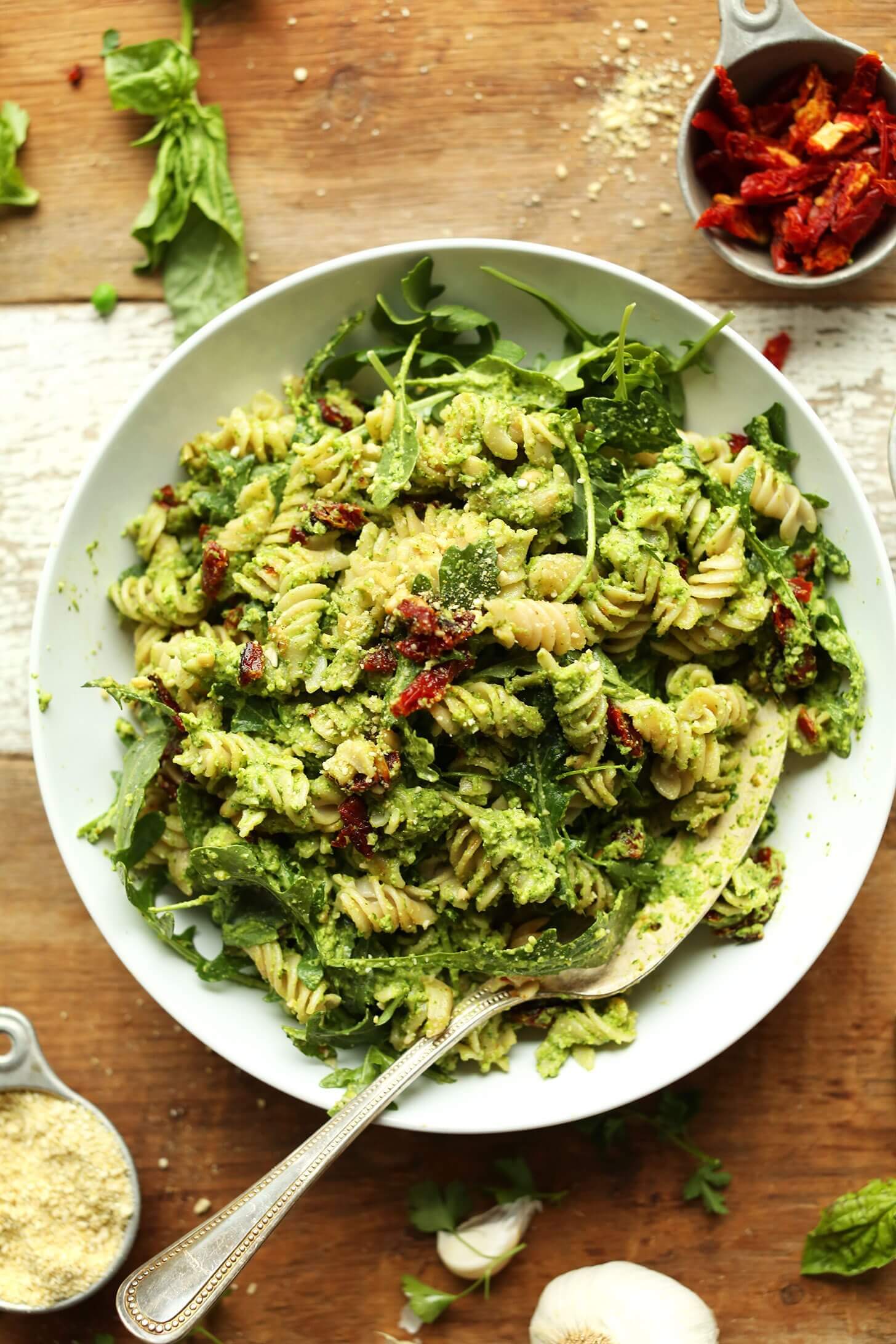 A vegan pasta meal that is filled to the brim with taste and protein seems unheard of, but this dinner recipe delivers just that. Italian flavoring really stands out here, especially in the pesto that's made with things like Italian parsley, basil, and garlic. When it comes to that protein boost, the peas added in with the pesto are what elevate it, and it also helps give the pesto an amazingly creamy texture. Through it in with some gluten-free pasta and the arugula and sun-dried tomatoes, and you have a great healthy meal that's filling, tasty, and rich in protein.
45. Spaghetti Squash Lasagna Bake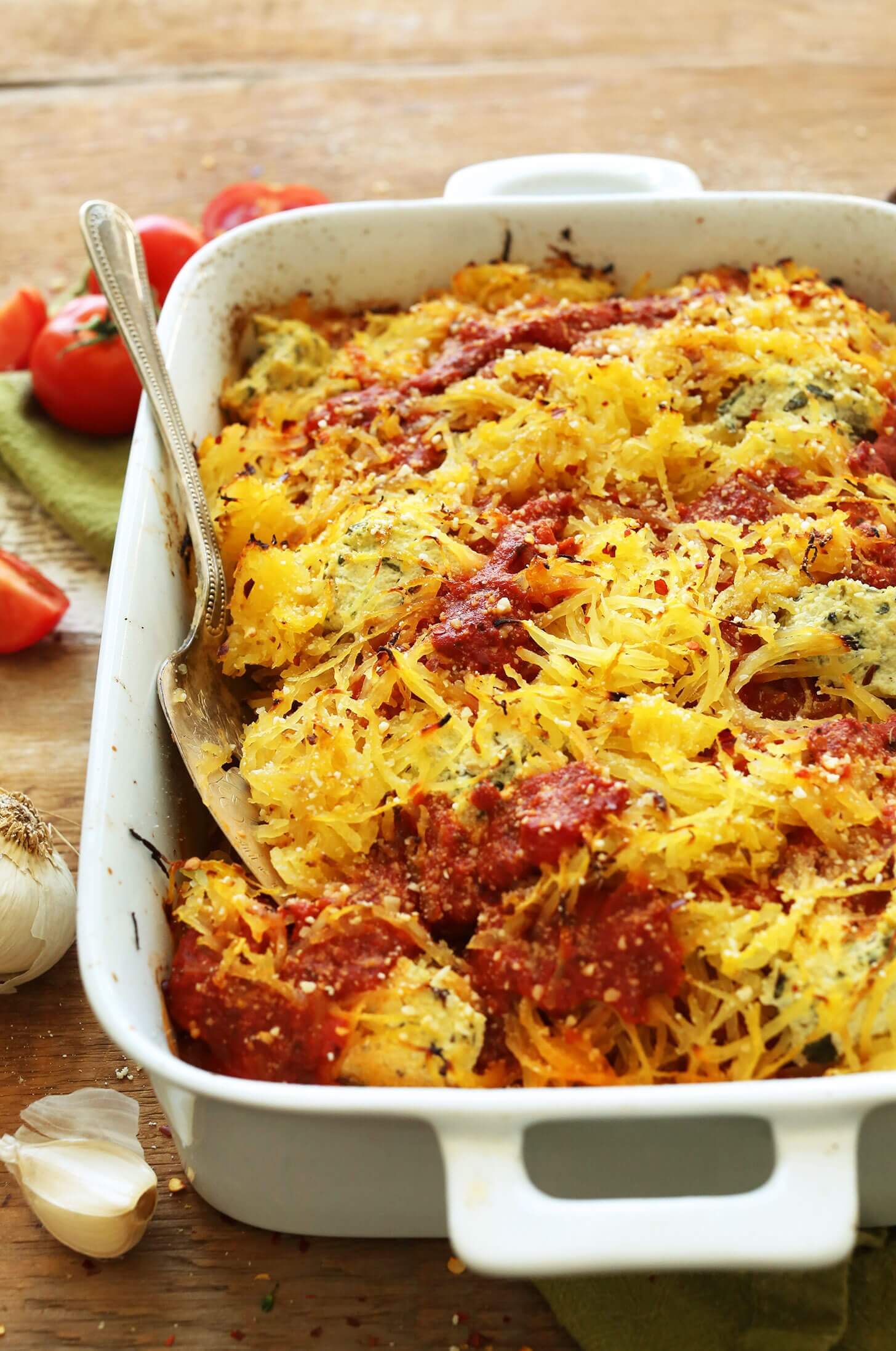 Spaghetti such is such a delight to cook with as it's so light, healthy, and versatile that it just makes perfect sense to use it in a dish inspired by lasagna. The vegan parmesan cheese and nutritional yeast act to give it a nice cheesy-like appearance and texture, and that tofu ricotta is another way to for a vegan meal to serve up those great and needed helpings of protein. It all winds up so creamy and delicious, and it makes enough that it is the perfect dinner recipe to serve a crowd and anyone on a gluten-free, vegan diet.
46. Crock Pot Low Carb Lasagna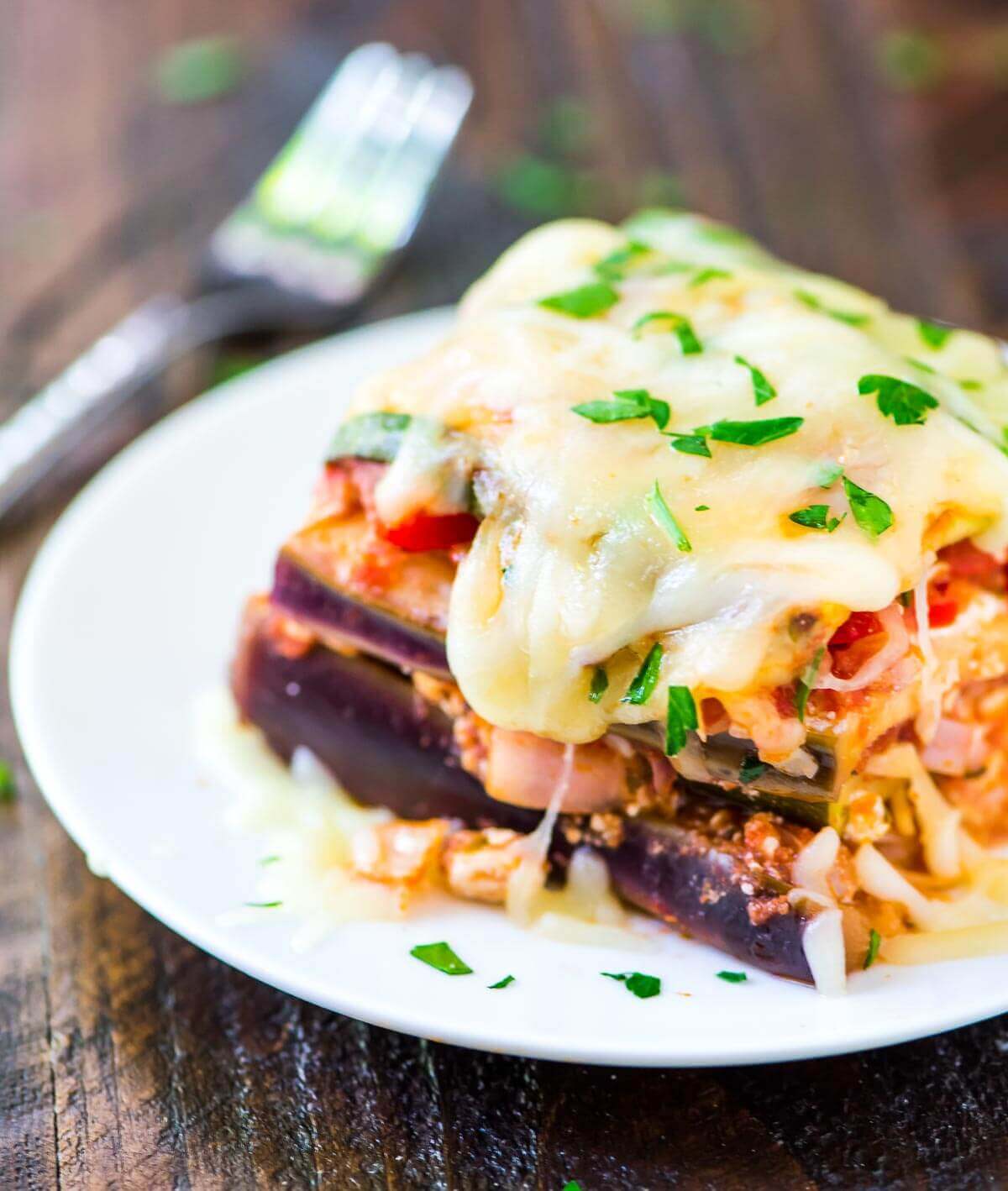 There are many ways to make good use of fresh summer veggies for a healthy dish, and this crock pot lasagna is one of them. Rather than noodles, this easy recipe uses slices of zucchini and eggplant. Some excess water may pool at the bottom, but it can be prevented by broiling or grilling the eggplant and zucchini beforehand. Extra liquid or not, the veggies still come out great, and the filling of red onions, sweet bell peppers, and cheese is absolutely delicious. It's a great way to have a rich, healthy meal with the versatility of the crock pot.
47. Caprese Grilled Chicken with Balsamic Reduction Recipe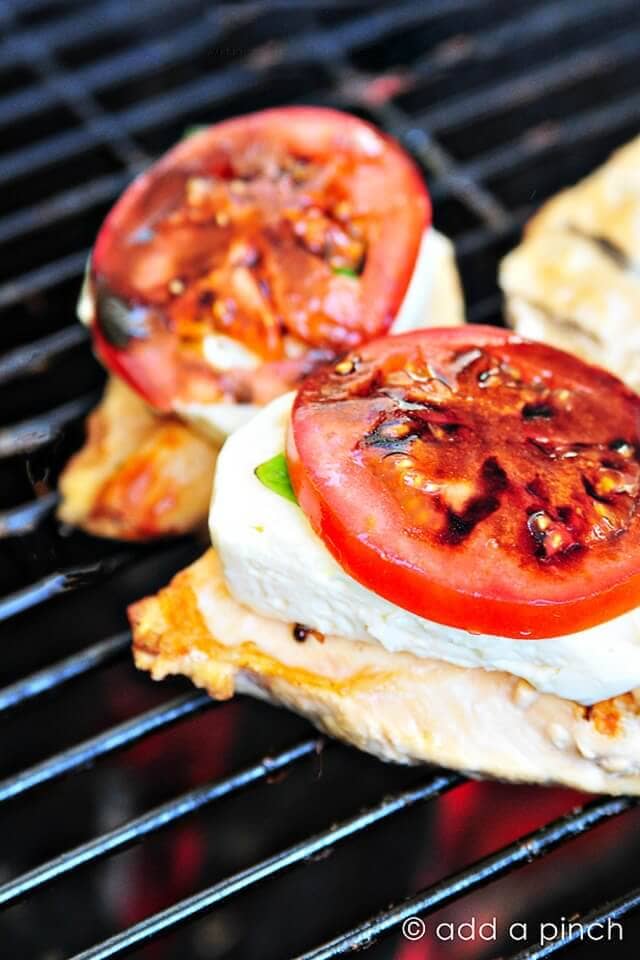 This spin on a caprese salad is perfect when you want something healthy, hearty, and quick to whip up. The list of ingredients is short, and it doesn't take long to make, so it works great as a lunch or a light dinner recipe. Caprese salad looks great on its own, and combined with the chicken, the presentation is as appetizing as the taste. The mozzarella gets nice and gooey as it melts from the heat of chicken, and that drizzle of balsamic over the slices of tomato and basil leaves drips right over the cheese and to the chicken.
48. Zucchini Pasta Lasagna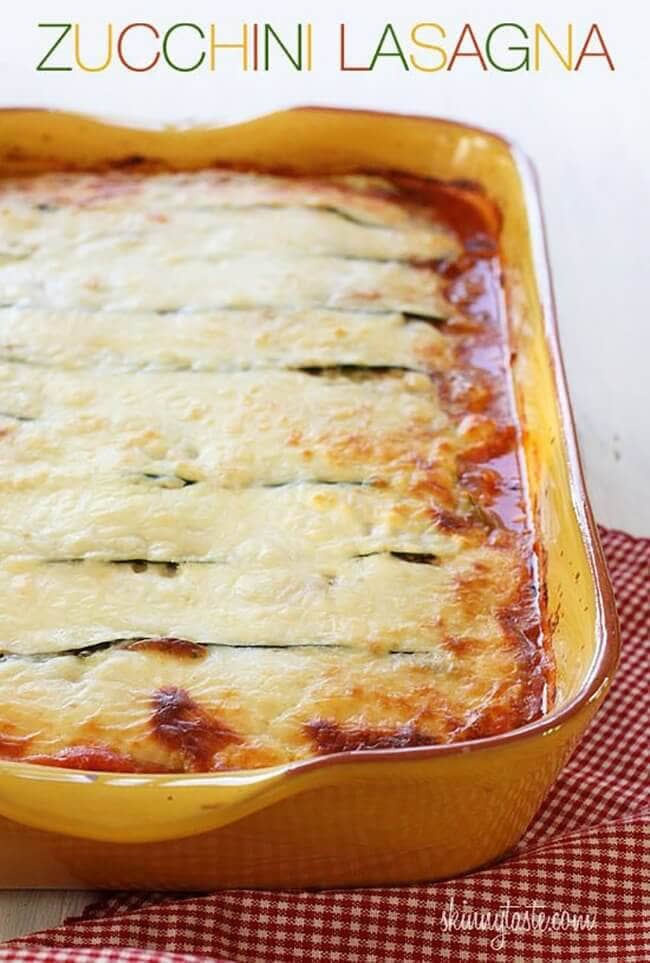 There's hardly a replacement for pasta, but the zucchini (or eggplant if you like) is used so wonderfully here that it won't even cross your mind that vegetables are substituting for noodles. Just give these slices of zucchini some salt and a nice grill to get out some of that water, and layer them with the Italian-seasoned meat sauce and the ricotta and parmesan cheese mixture, and you've got yourself an incredibly tasty lasagna dish. It's a perfect gluten-free dinner recipes when you have a craving for Italian food but you don't want the carbs that can come with it.
49. Gluten Free Curry Noodle Soup Recipe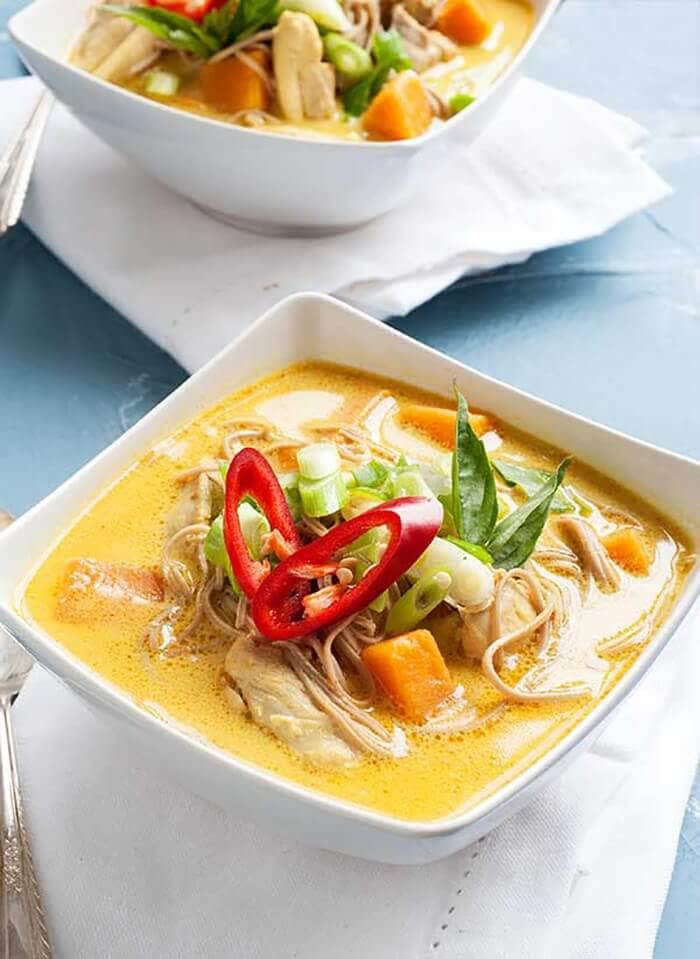 A warm bowl of soup works wonders on the body, in particularly during those cold nights, and this gluten-free soup recipe can satisfy the soul and ignite the taste buds, all the while being incredibly good for your health. The noodles are grain free as they are made from beans, and deliver a good amount of protein. With the peppers, chili garlic sauce, and the curry powder, the soup gets a nice kick in the spice department. The vegetables and skinless chicken further add to the booming flavors and nutritional value of this soup that serves as great comfort food.
50. Chicken Quinoa Burrito Bowls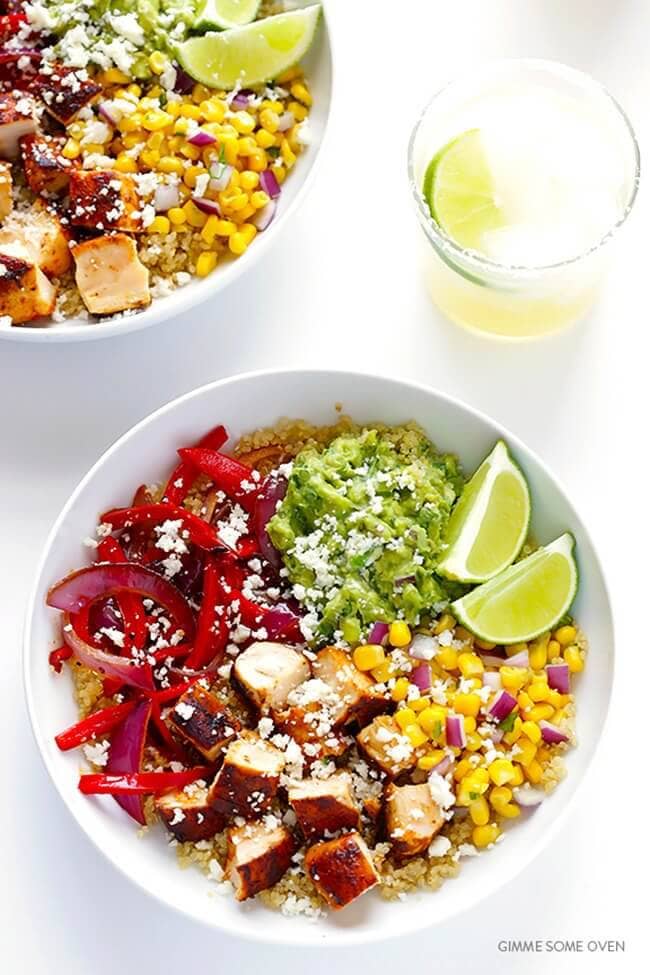 When you want to bring the taste and feel of a Mexican restaurant into your kitchen, these burrito bowls will do the trick. There's a twist on it, however, and that's in its use of quinoa instead of rice which keeps them loaded with protein without any gluten. Cooking them in chicken stock gives them some extra flavoring, but the meal still tastes amazing even without once you mix in the guacamole, chicken, corn salsa, and the beautiful sautéed veggies. Finish with a nice sprinkle of any kind of cheese, and you have one tasty and healthy gluten-free dinner recipes.
As this list demonstrated, you do not have to give up on creating complex and bold flavoring for gluten-free dinner recipes. You don't have to put yourself in a box either when it comes to recipe choices while following this diet either. So, make soups and salads, noodles and lasagna. Throw in a lot of spice or none at all.
Recipes are meant to be tweaked and adjusted to suit your preferences. You can substitute many ingredients, swap out grain entirely, and still present a beautiful, delicious dish. After all, cooking requires some creativity, especially when going about it gluten-free. As long as you can get your hands on the right ingredients, your choices are just about endless.