50 Best Gluten-Free Dessert Recipes that will Satisfy Your Sweet Tooth
From cookies to pies to cakes, almost all of the traditional dessert ideas are filled with flour. If you're following a gluten-free diet, that makes these delicacies off-limits. Fortunately, you won't have to suffer for long. With the rise in popularity of the gluten-free lifestyle, you'll find that many bloggers are on the hunt for the best dessert recipes that fit the diet.
50 Gluten-Free Desserts so Good They'll Make You Cry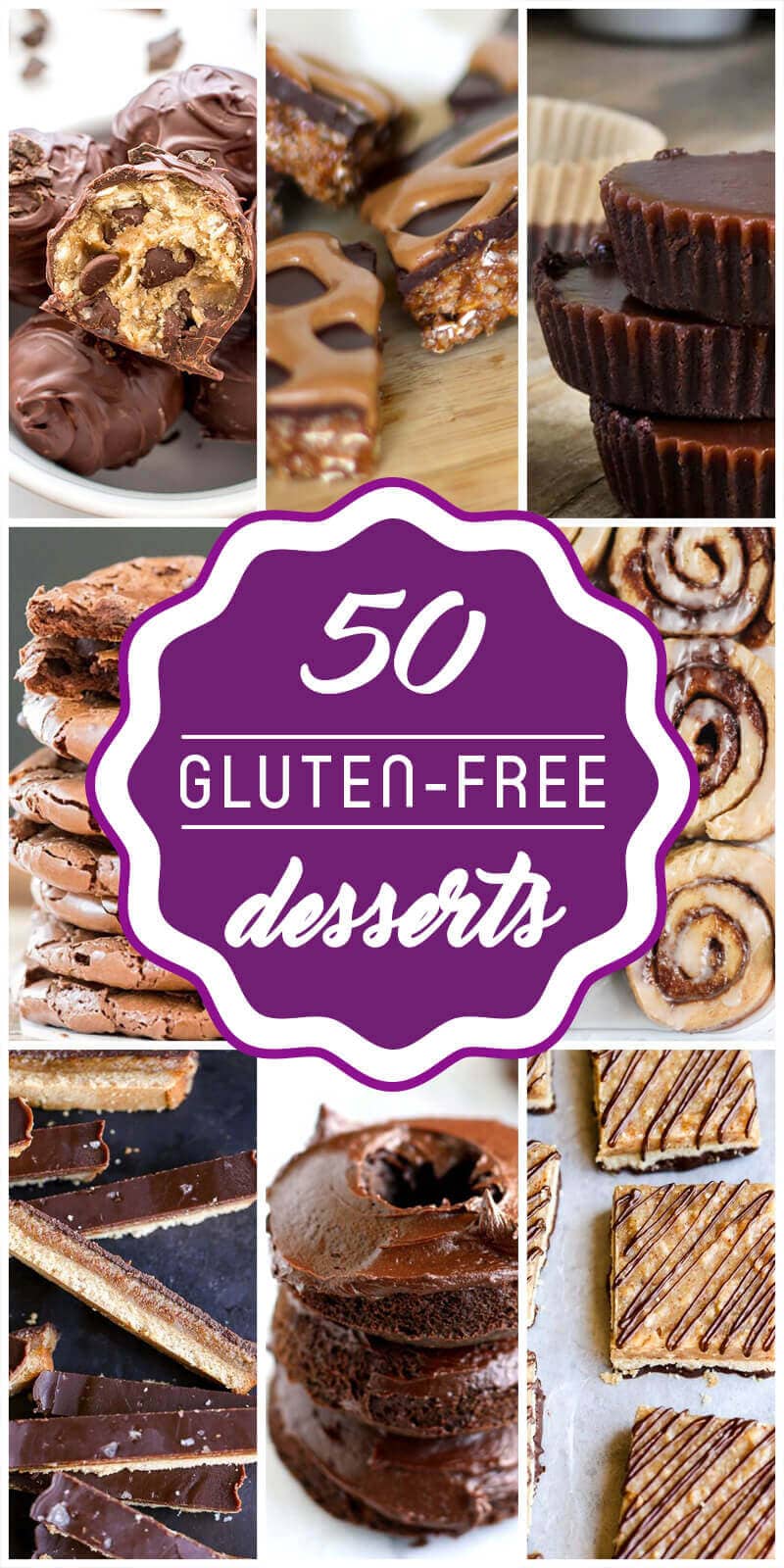 We've scoured the internet in search of some delicious gluten-free desserts to tempt your taste buds. We understand that everyone has a favorite style of a desert, so we've tried to include gluten-free versions of some of the most popular types of desserts, whether you like ice cream, candy, fruity desserts, or the ever-popular cake. With a list this large, you're sure to find something you want to try. In fact, you'll probably want to try all of the recipes.
Stock up your kitchen with some of the most-used ingredients in gluten-free recipes. You'll probably want plenty of almond flour, coconut flour, dates, nuts, and cocoa powder on hand so that you won't have to go out to the store. Luckily, most of the ingredients you'll need are readily available in the grocery store, especially if they have a section for gluten-free food. With these delicious recipes, you'll even be able to trick your family and friends. No one will be able to guess how healthy they really are.
1. Coconut Oil No-Bake Cookies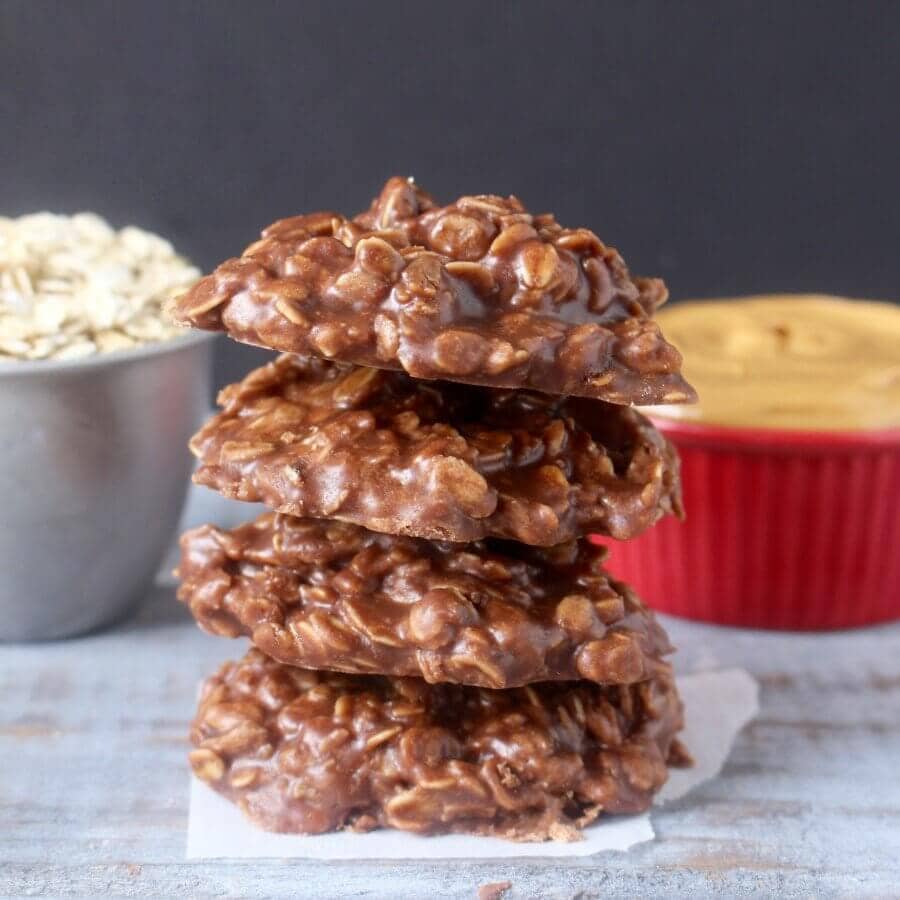 If you're already familiar with the idea of no-bake cookies, then you'll find this gluten-free recipe comforting. The coconut oil makes them a bit healthier than the ones your mom used to make, but can be tricky to work with. Remember that coconut oil tends to liquefy at around 76 degrees Fahrenheit, so you'll want to store them in the fridge and keep them cool during the summer months. Also, oatmeal isn't naturally gluten-free. You'll have to carefully check the label to be sure you bought the correct kind. These work well as an afternoon snack for the kids.
2. Homemade Twix Bars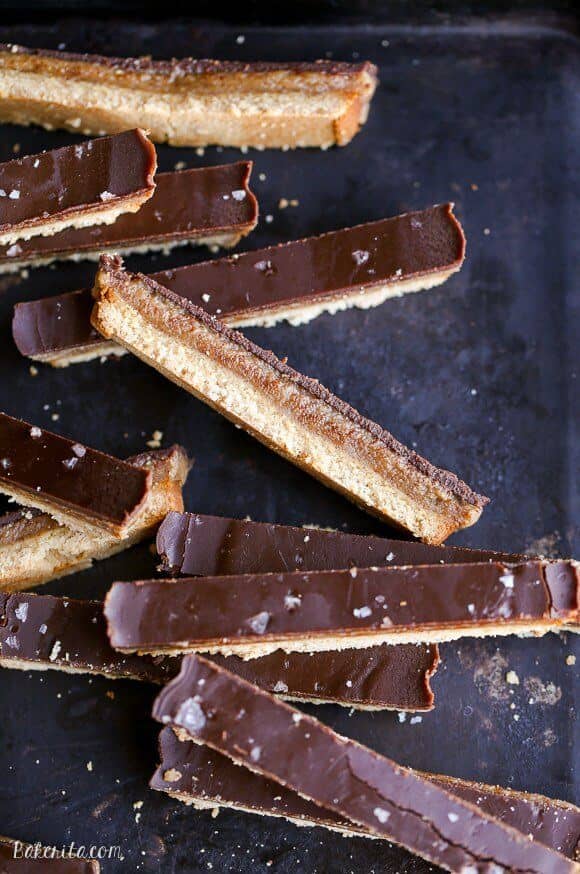 Who doesn't love the gooey caramel and crunchy cookie texture of a Twix bar? If you're gluten-free, you may have thought your favorite candy bar was a thing of the past, but now you can eat one. With several layers to the bars, it's not exactly an easy recipe. Each layer has to be prepared separately. However, you'll find that they're well worth the trouble and the wait. As-is, the recipe tries to make your life easier by having you apply a single layer of chocolate over an entire pan. That means that the chocolate doesn't cover the full bar. If you like a little more chocolate with your Twix bar, consider cutting these bars while they are the shortbread and caramel, then dipping them in melted chocolate instead.
3. Fudgey Paleo Brownies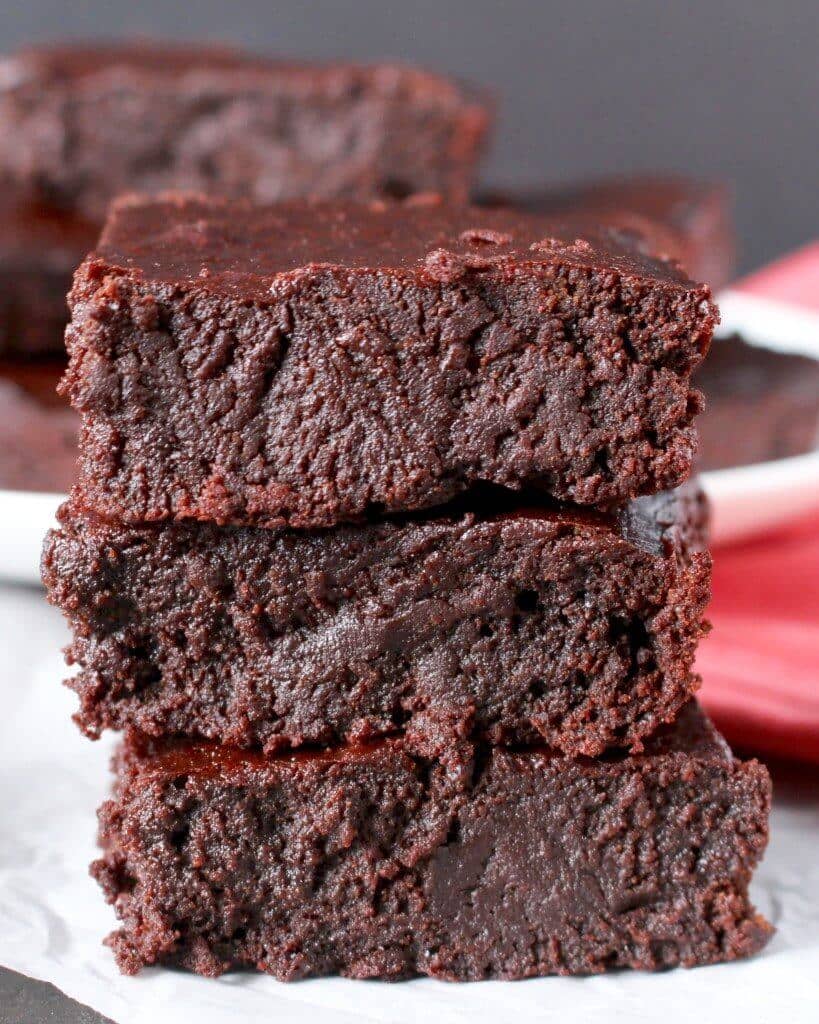 Using coconut oil, real melted chocolate instead of cocoa powder, and almond flour, these brownies are about to knock your socks off. They're delightfully gooey with a rich chocolate flavor that's simply the best, and you can make them vegan by using agave or maple syrup instead of the honey. If you're feeling really indulgent, serve them warm with a small scoop of ice cream on top. This gluten-free dessert recipe is sure to be the talk of your next dinner party.
4. Wendy's Copycat Frosty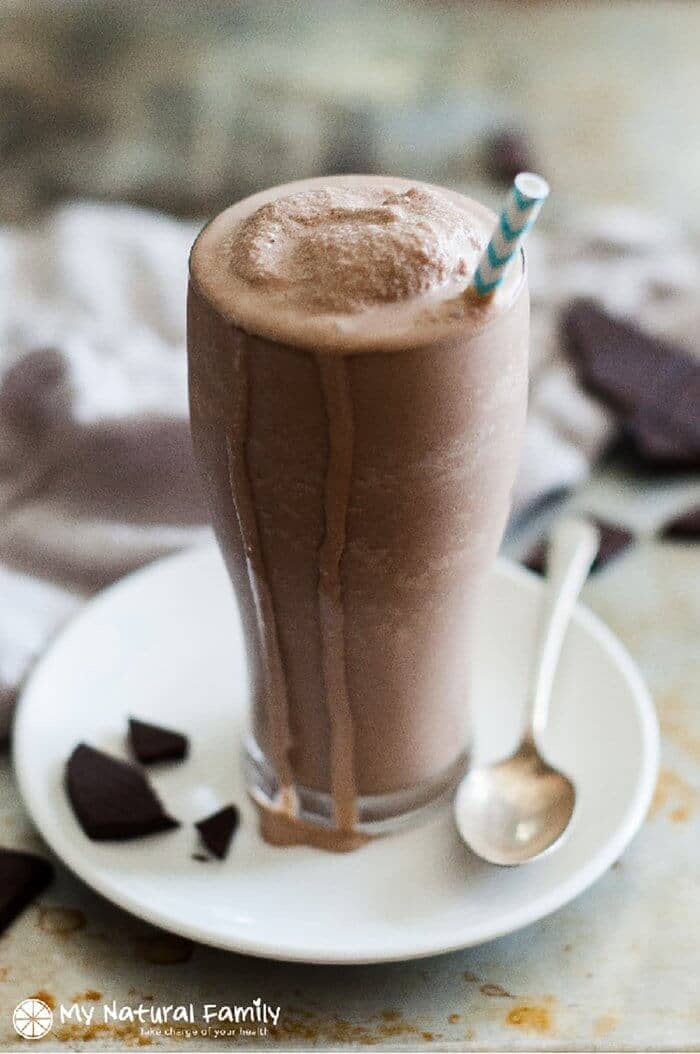 The famous frosty drink served at Wendy's is a favorite. It's part ice-cream, part milkshake, and a cheap treat when you're out and about. While the real version is indeed a gluten-free food, even the small versions are high in sugar, calories, and fat. This homemade version is far healthier and easy to make. The banana gives it a creamy texture, but you could substitute something like avocado if you don't want the banana flavor to overpower the dessert. Additionally, adding a scoop of gluten-free protein powder could turn this into a great after-workout snack or replacement meal idea.
5. Cheesecake Bites

While the ingredients in these lovely little cheesecake bites don't quite make them a healthy treat, the small size makes them perfect those who are counting calories and wanting something a little indulgent. Of course, that assumes you can eat just one, which just might be impossible. The crust is made gluten-free by using crushed gluten-free cookies. This means that you can easily change up the taste of the dessert by using different types of cookies. Experiment with gluten-free graham crackers, Oreos, or shortbread cookies to see which ones you like best.
6. Coconut Oil Rice Crispy Treats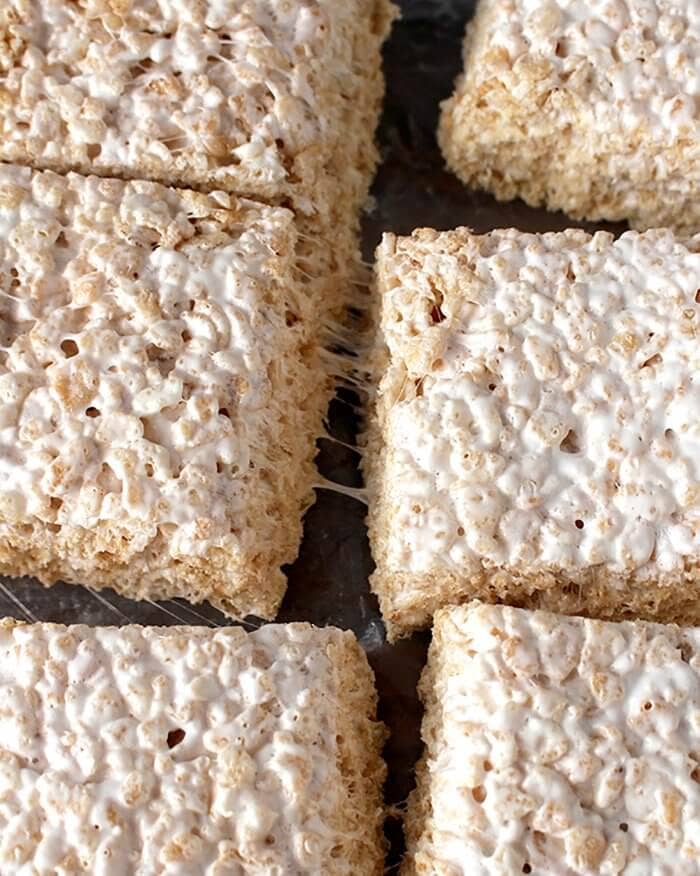 Rice Crispy Treats are a classic kid favorite, and your gluten-free kid can now enjoy the same treats as his friends with an even healthier version. This recipe uses coconut oil instead of the traditional butter, which gives the treats a rich flavor. Be careful as you buy the cereal for the bars. Kellogg's Rice Krispies used to be gluten-free, but they no longer are. You need to carefully look at the labels if you truly need a gluten-free version. As long as you purchase the cereal from the gluten-free food aisle, you should be OK.
7. Peanut Butter Oatmeal Chocolate Chip Cookies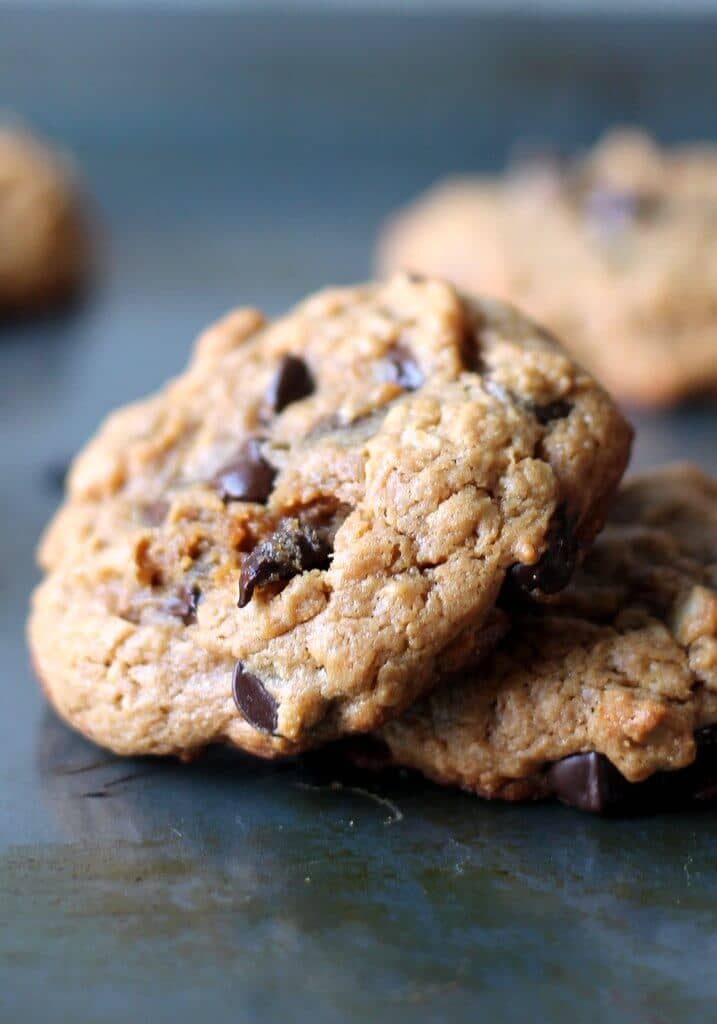 This is another easy recipe that's made gluten-free simply by paying attention to the ingredients you choose. It's a classic recipe made slightly healthier with the omission of butter. Since it uses all oatmeal rather than a combination of oatmeal and flour, you don't have to try too hard to make it gluten-free. As long as you buy gluten-free oatmeal, you're good. In fact, you probably have all of the ingredients for this delicious cookie in your pantry already, so go ahead and whip yourself up a batch.
8. Chocolate Chip Cookie Dough Truffles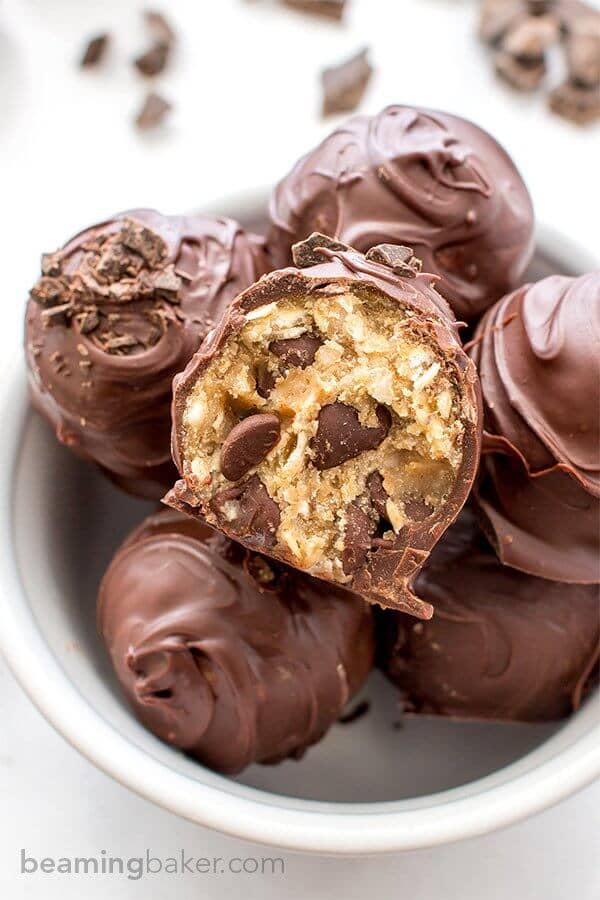 Use this gluten-free dessert recipe when you want to impress all of your guests. They're vegan and gluten-free, but so delectable that no one will know the difference. Almost everyone loves to sneak a few bites of chocolate chip cookie dough, but the raw egg in traditional recipes means that you're risking illness. As a vegan recipe, you don't have to worry about that at all. Perhaps the best thing about these truffles is that they aren't very hard to make, but they look really fancy. Try sprinkling some colorful sugar on top for an even cuter look.
9. 3-Ingredient Flourless Chocolate Cake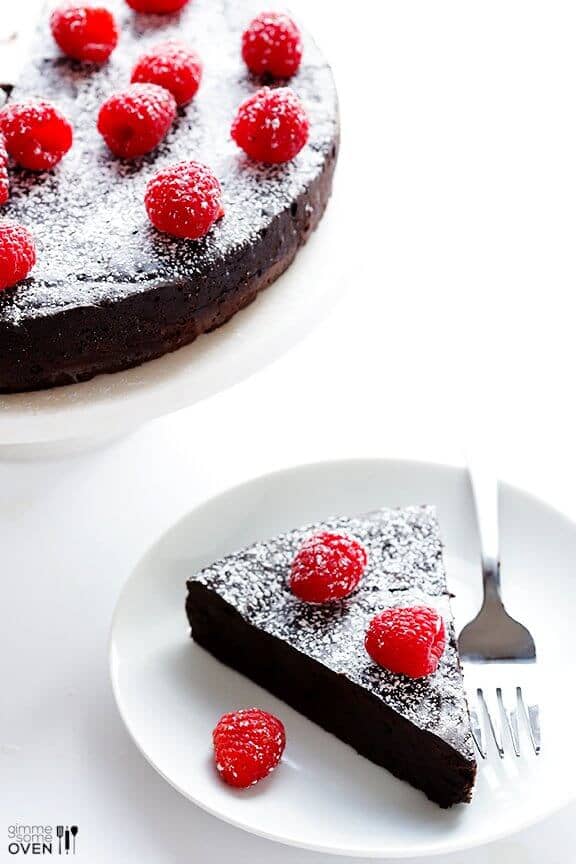 When you're looking for a truly decadent dessert idea, give this little recipe a try. With just three ingredients – chocolate, butter, and eggs – you're able to create an incredibly rich chocolate cake that's suitable for those with gluten allergies. The key to getting this right it to use an electric mixer to beat the eggs until they double in size. You probably won't be able to do this by hand. A fun thing that the blogger mentions is being able to adjust the taste of the cake by choosing different types of chocolate, such as one with a chili spice or a blend of dark and white chocolate. Experiment a bit to find what works for you.
10. One Bowl Gluten Free Banana Bread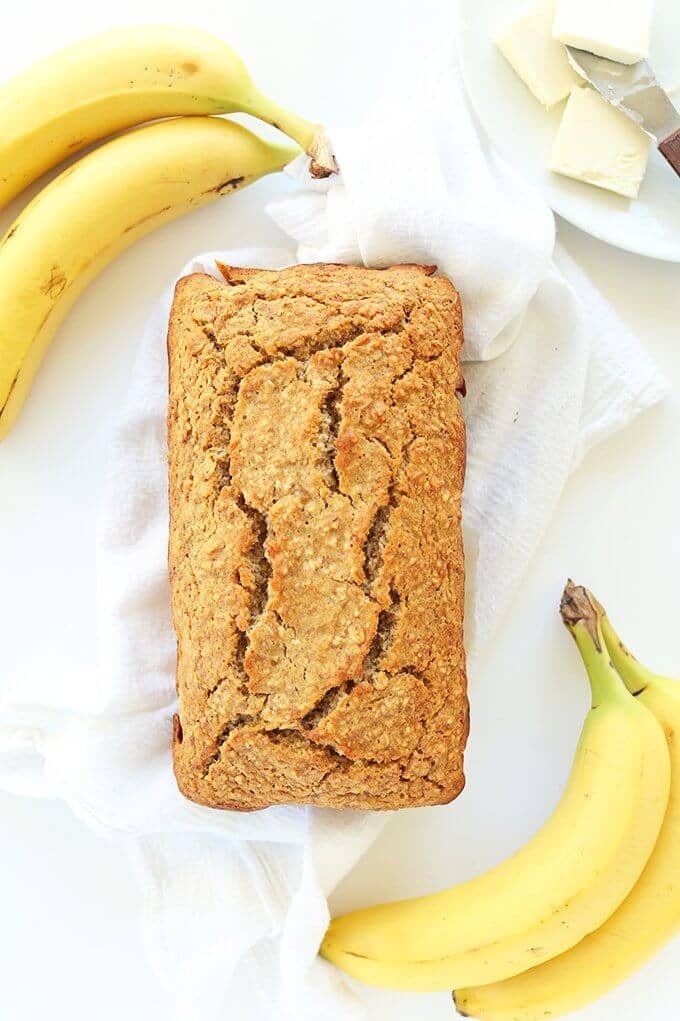 It's hard to screw up a loaf of banana bread because the flavor of ripe bananas overpowers all of the other ingredients. You can often leave out an ingredient you don't have, and the loaf will still come out great. That's what makes it one of the best dessert recipes for any cook. This recipe calls for a blend of gluten-free oats, almond flour, and a store-bought gluten-free flour replacement. However, you can probably play around with those ingredients to suit your tastes. This recipe is a great way to use up those overripe bananas when you're sick of putting them in smoothies.
11. No Bake Pumpkin Spice Latte Bites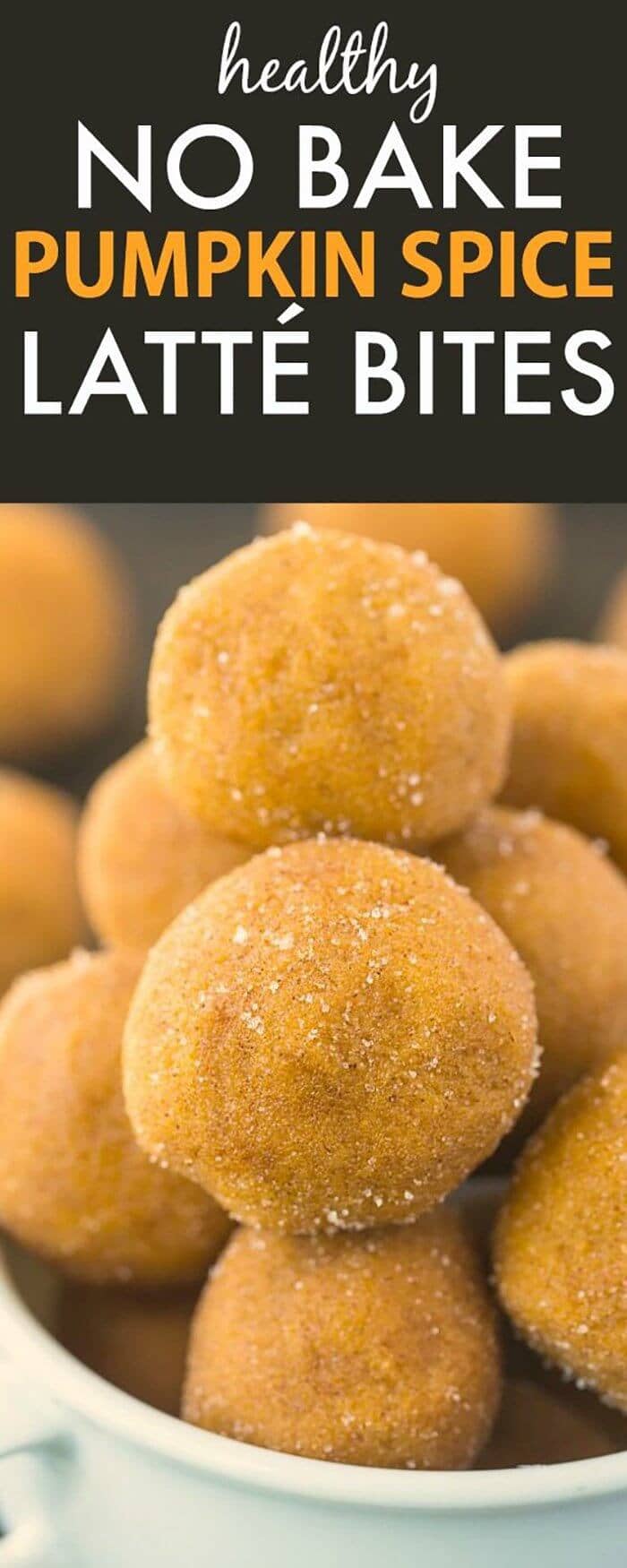 If you're the type of person who loves settling in with a pumpkin spice latte once the colder weather hits, you're going to love this little recipe. The nutritious bites almost look like little doughnuts, but they're full of gluten-free foods for those who need to eat this way. Best of all, the blogger offers several substitutes you can use to make the recipe paleo-friendly or more suitable to your tastes. Pair this with a real pumpkin-spiced latte and you're in for a real treat.
12. Vegan Apple Pie Bars (Gluten Free)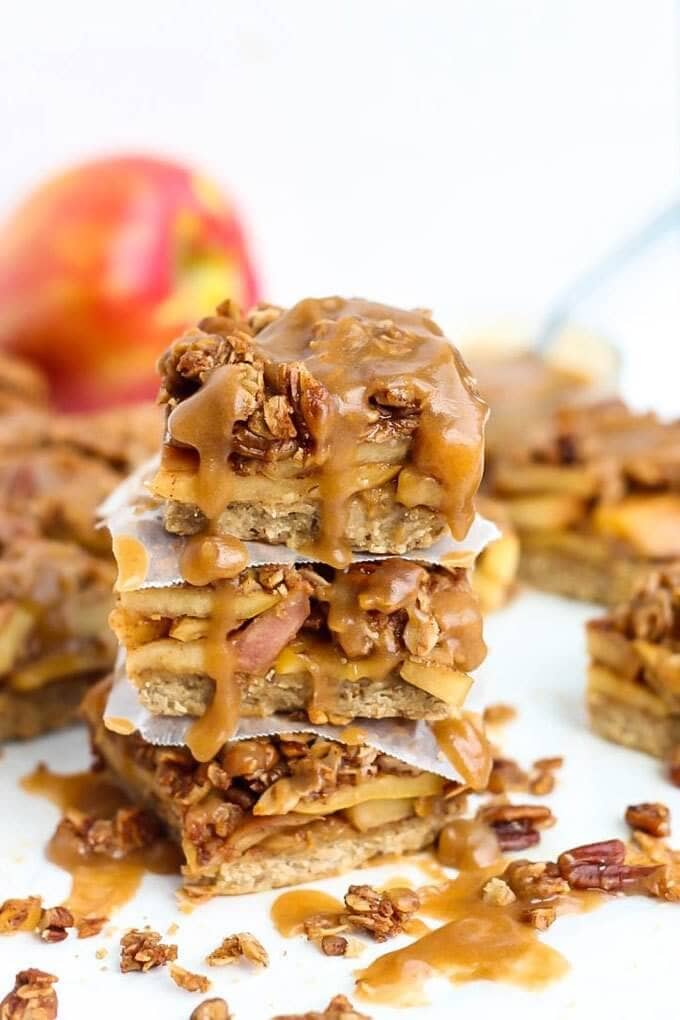 If you're looking for a crowd-pleasing dessert that goes with just about any meal idea, look no further. These bars are vegan, look beautiful, and are even better than real apple pie. Rather than using the traditional pie crust, this gluten-free recipe calls for a topping made from the nuts of your choice. If you need the recipe to be nut-free, you can simply use seeds instead. Perhaps the most decadent part of the dessert, though, is the rich "caramel" sauce on top. It's made from dates instead of sugar, so it's much more natural than traditional versions. That can be your secret. The guests would never guess that this is made from gluten-free foods.
13. 11 Ingredient Oreo Cake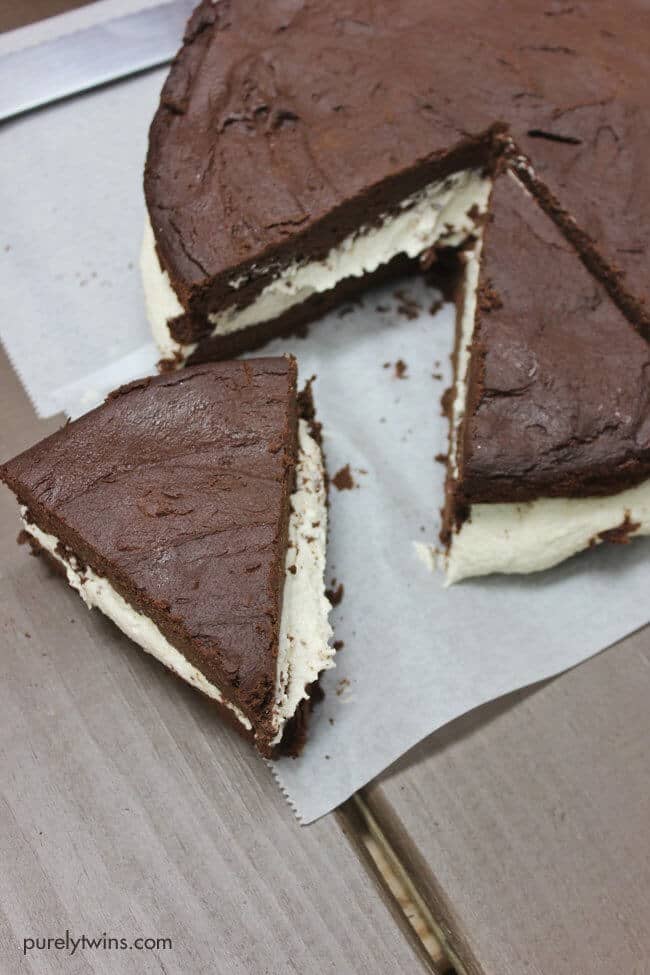 When you hear "Oreo cake," you tend to imagine something that has pieces of the traditional cookie inside it. That's not what you'll find here in this easy recipe. This large, double-layer cake actually looks like a giant Oreo. The ingredient list is somewhat flexible, allowing you to use ingredients you have on hand rather than the ones that are specifically listed. There are also quite a few options when it comes to the frosting that goes in between the layers. Simply choose the one that looks yummiest to you.
14. Healthy Peanut Butter and Chocolate Krispy Treats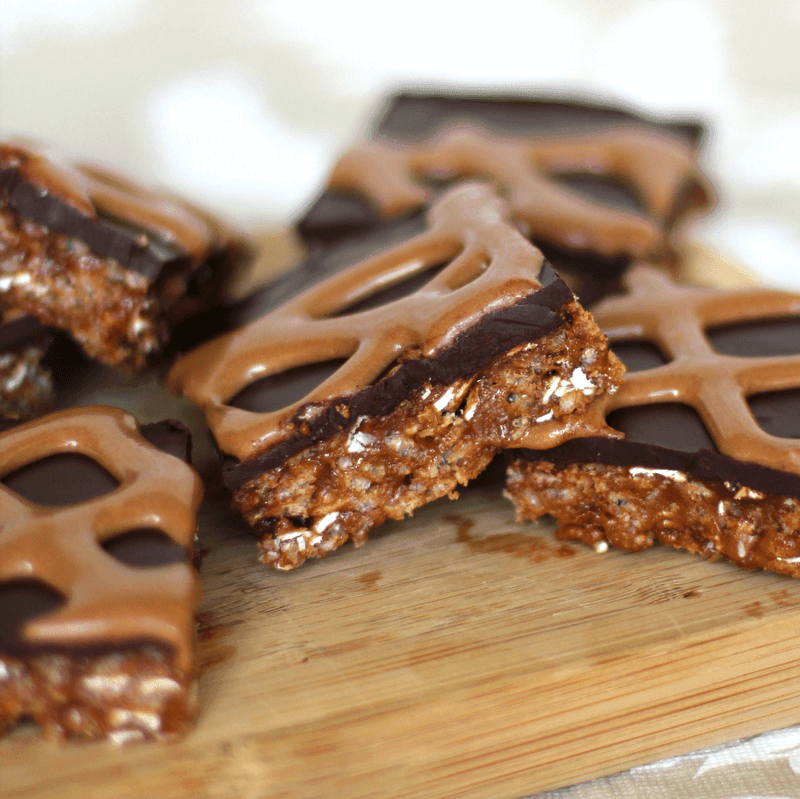 Check out this indulgent upgrade to the classic rice krispy treat. It uses brown crisped rice rather than the white version, making it a bit more nutritious. However, this is no ordinary treat. Once the treats have set, you then spread a layer of melted chocolate over the top, then use a pastry bag to drizzle a peanut butter topping in a flowing design. Once finished, you have the chewy texture of the treats paired with the harder chocolate and peanut butter topping. This dessert idea is sure to make all peanut butter lovers happy.
15. 4-Ingredient Peanut Butter Cookie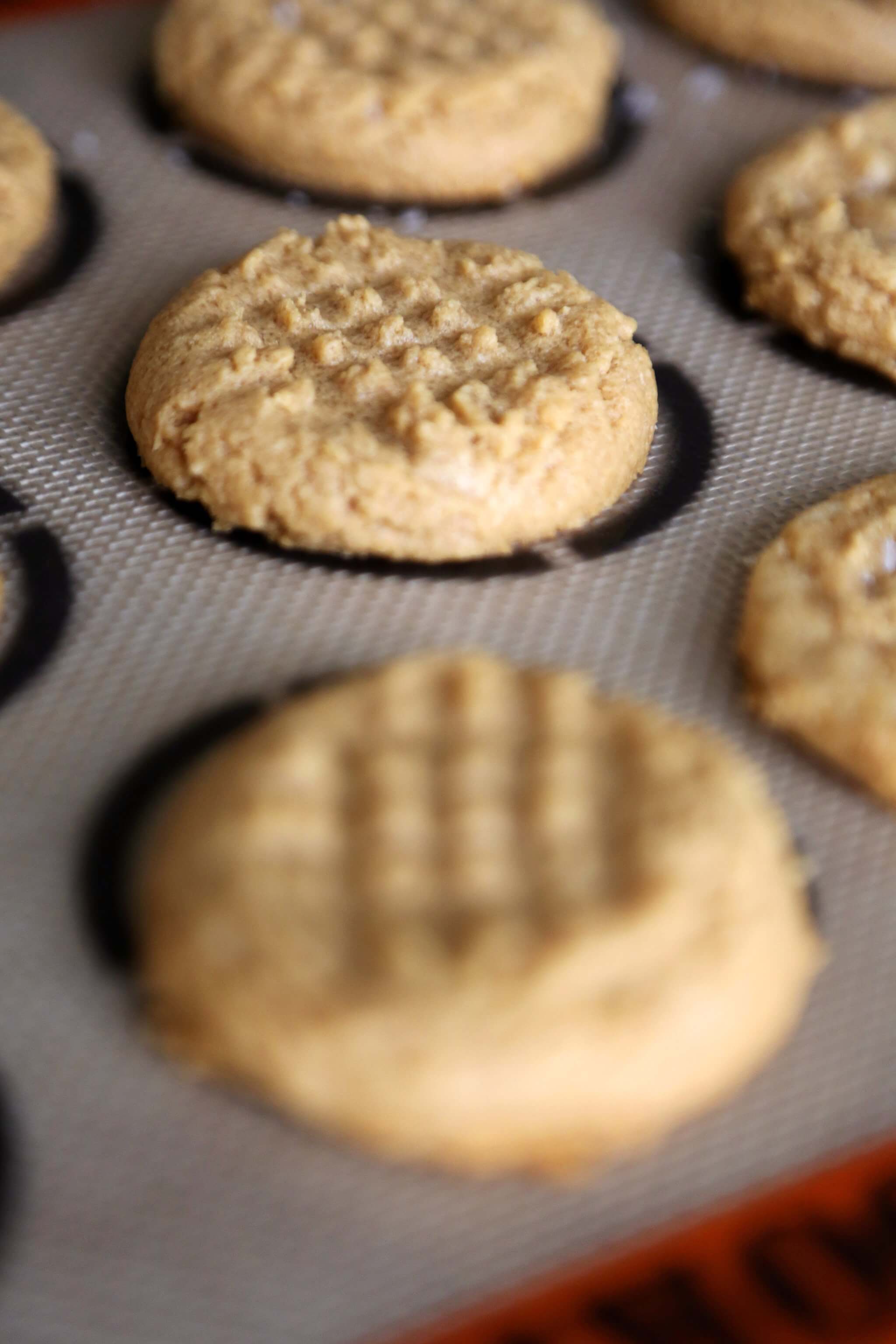 This easy recipe has just four ingredients, and none of them are flour or a flour substitute. You only need peanut butter, eggs, sugar, and vanilla. What could be simpler? Since it makes use of such basic ingredients, it's the perfect recipe to whip up when you weren't expecting guests. Despite the simplicity – and lack of flour – they really do shape up into a decent cookie. If you want a bit of extra sweetness, you can add a Hershey's Kiss when they come out of the oven. Consider doubling the recipe because they're sure to go quickly.
16. 4-Ingredient Chocolate Chip Cookies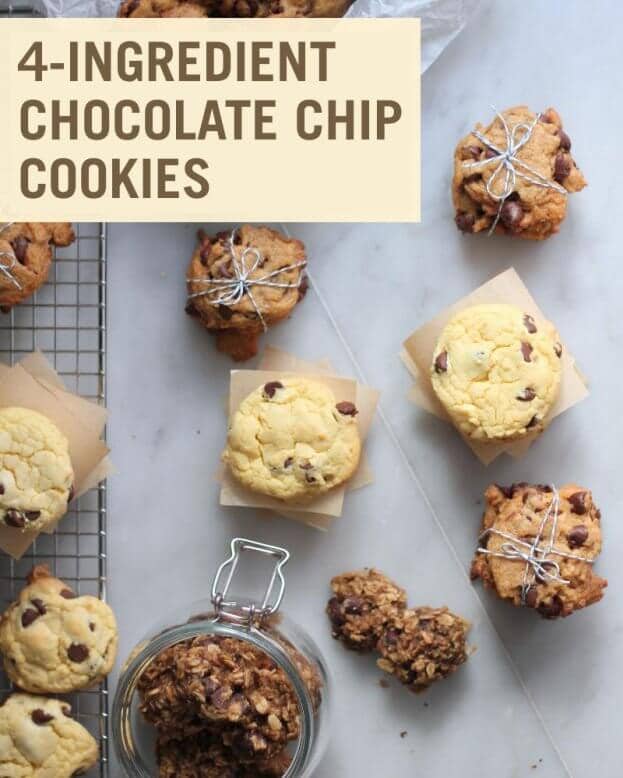 Who doesn't occasionally get a hankering for some chocolate chip cookies? With just a few ingredients, you could be sitting down to your favorite treat. When you visit this site, you'll find a few different 4-ingredient gluten-free dessert recipes that you can try, including dairy-free and vegan version. This allows you to pick and choose the recipe based on any dietary restrictions you or your friends have. Experiment with them find your favorites, but pay attention to the ingredients, which aren't necessarily gluten-free. The last version is the most like real chocolate chip cookies, but many will love the other versions as well.
17. Healthy Cake Batter Energy Bites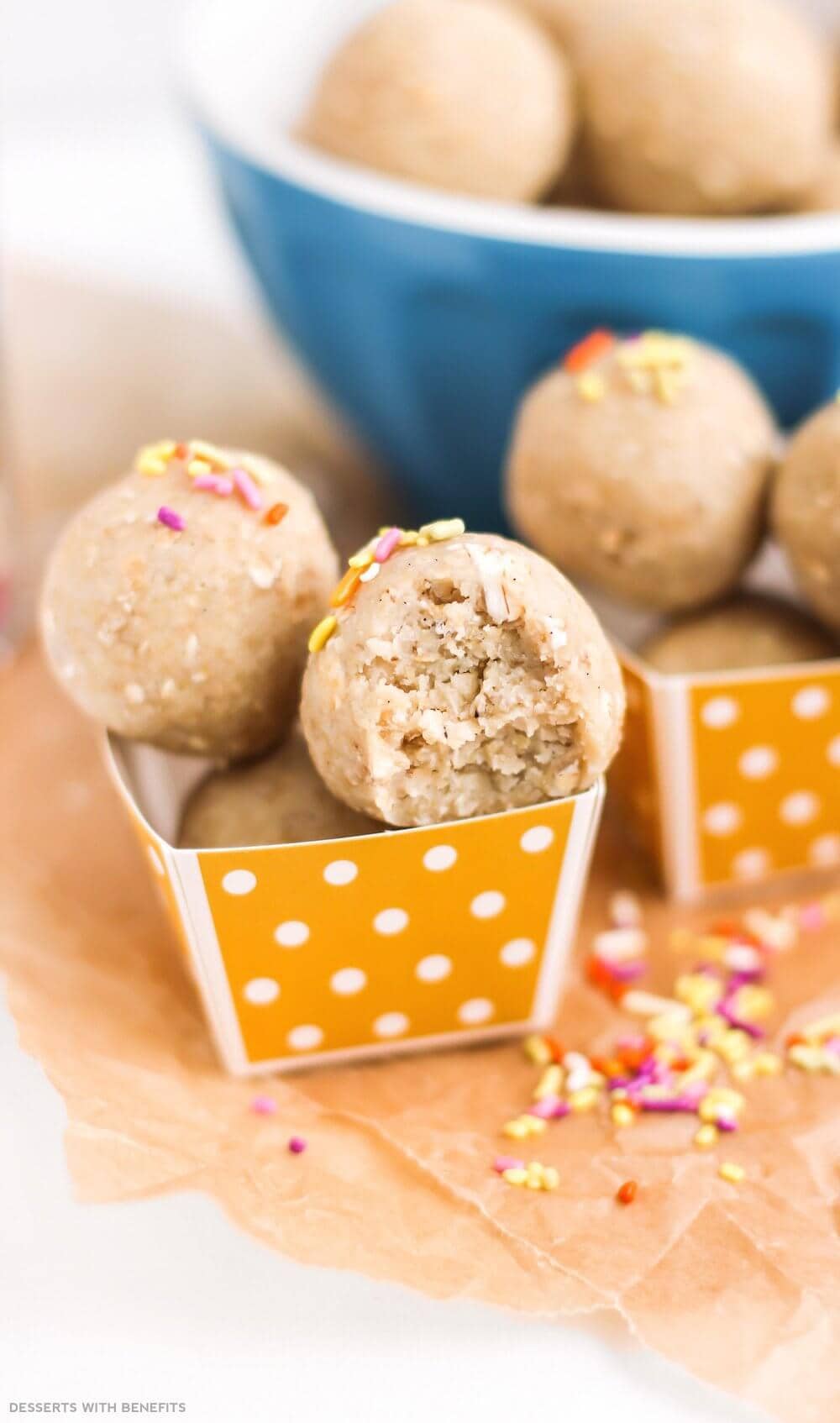 If you love licking the bowl after making a cake, you'll love this updated take on the idea. The secret to this recipe is the inclusion of "cake batter nut butter," but don't worry. This isn't another expensive ingredient you have to buy that's only good for one gluten-free recipe. It's simply adding a bit of extra flavor to a regular nut butter. Once you have that, you can easily whip up a batch of these. Adding sprinkles to the top gives them a festive feeling, which might be just what you're looking for at a birthday party or other special event.
18. Brookies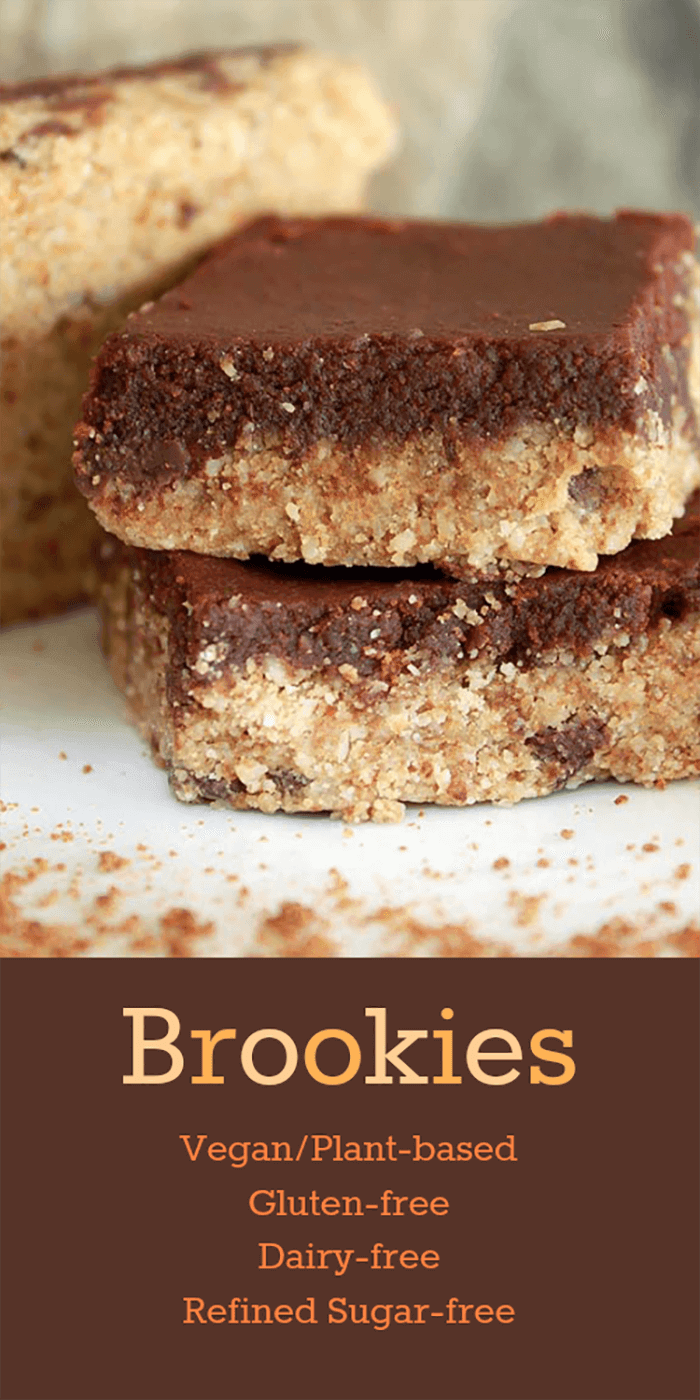 When you can't decide between brownies and cookies, it's a "brookie" that you want. The layer of chocolate chip cookie topped with a layer of brownie makes this the ultimate dessert idea for those with a sweet tooth who have to stick to gluten-free foods. The good news is that this version has better ingredients than most of the other recipes you've seen. The ingredients are gluten-free and the recipe does not call for any processed sugar. If you need to, you can make it vegan as well. Warm your kitchen up on a cold day by baking up a batch of brookies.
19. Double Chocolate Vegan and Gluten Free Donuts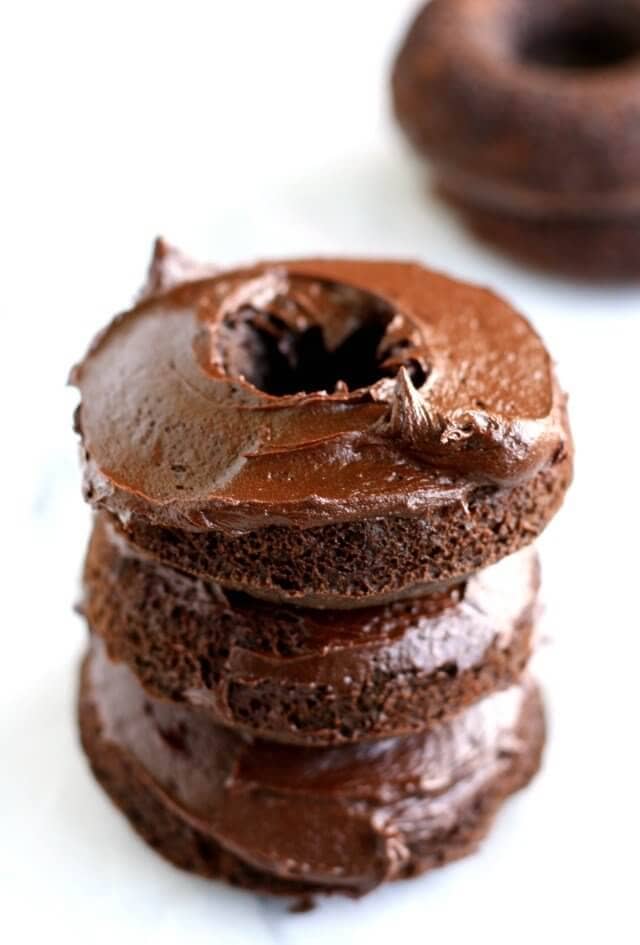 If you've been missing your trips to the donut shop after going on a gluten-free diet, you'll be enthralled with this recipe. It requires a donut pan, but this can be a good investment for someone who's committed to the diet. There are many other recipes to make delicious donuts that taste just like the real thing. This vegan version creates a rich chocolate cake-like donut that's sure to please. When you top it with the included frosting recipe, you'll be in heaven. Try making up a batch of these for your family on a lazy weekend morning.
20. The Best Sour Cream Cheesecake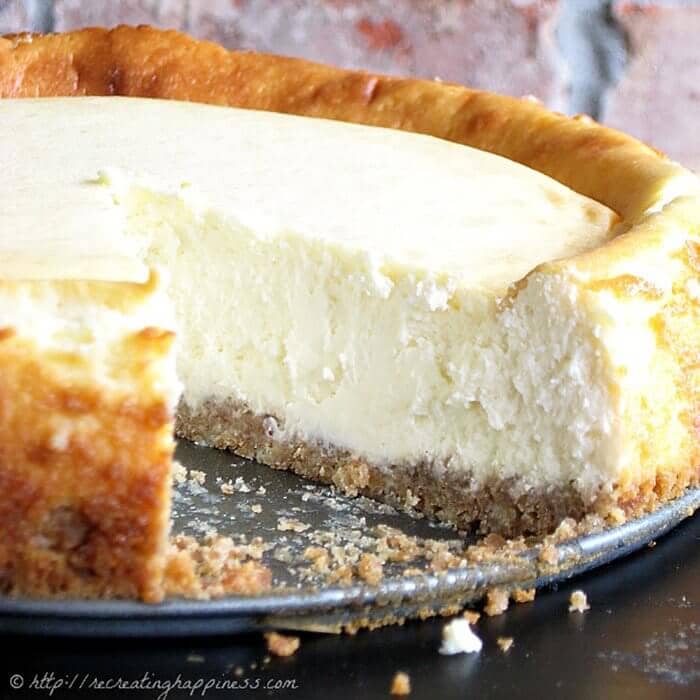 One of the problems with gluten-free desserts is that the ones that look the best often seem like a lot of trouble to make. You won't feel that way with this recipe. It starts with a basic "graham cracker" crust, though you don't have to use graham crackers. In fact, the blogger suggests using a crust made from Chex cereal or using shortbread cookie crumbs. Then, you simply add the other ingredients into a mixer and pour on top of the crust when ready. It's surprisingly simple to make a cheesecake that even New Yorkers will love.
21. No Bake Pumpkin Cheesecake Bites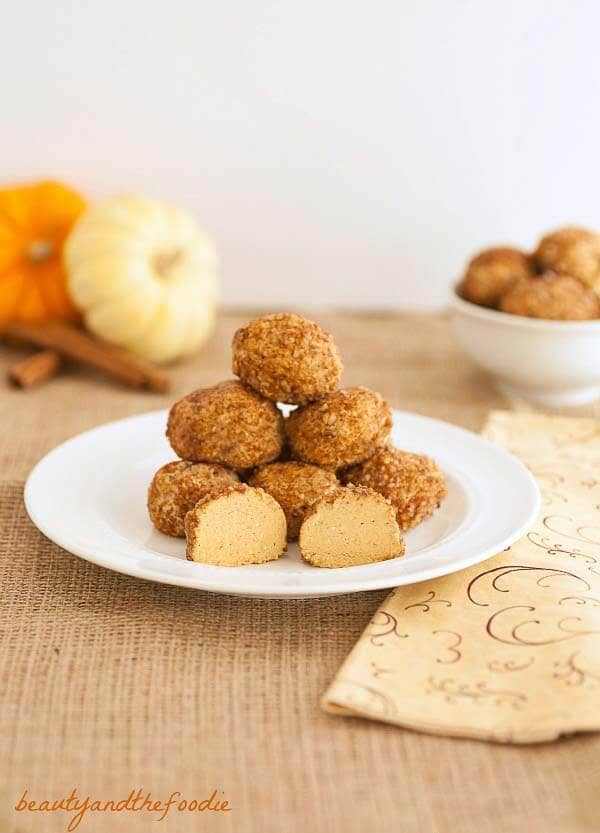 Small and sweet, these little pumpkin-flavored cheesecake bites are the perfect mid-afternoon snack, and they're easy to bring on-the-go. They need a bit of sweetener, but you can make choices that fit in with different types of diets, such as using Swerve for low-carb diets or coconut sugar for paleo diets. Once you make the bites, you roll them in a crunchy topping, giving this treat a good texture balance. You don't need a large kitchen to make these, and you won't even have to fire up the oven, making them a great treat to enjoy in the summer. Just make sure to store them in the freezer so that the cream cheese doesn't spoil.
22. Raw Lemon Meltaway Balls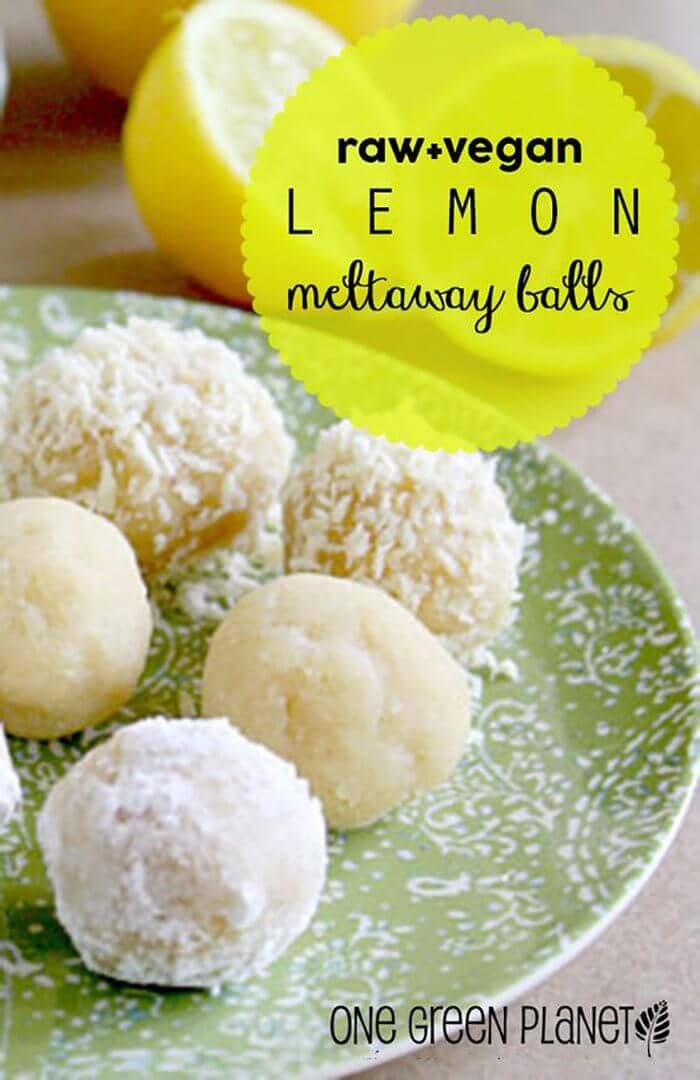 As the name implies, this gluten-free dessert recipe is guaranteed to melt in your mouth. It has a delightfully tangy lemon flavor to it, which can be a nice contrast to other desserts that typically focus on chocolate or caramel flavors. It's just something a little different. Another great thing about this recipe is that there are a few variations, like rolling them in sugar or coconut and cooking them slightly in a food dehydrator or oven. The choice is yours to make.
23. Vegan Gluten-Free Carrot Cake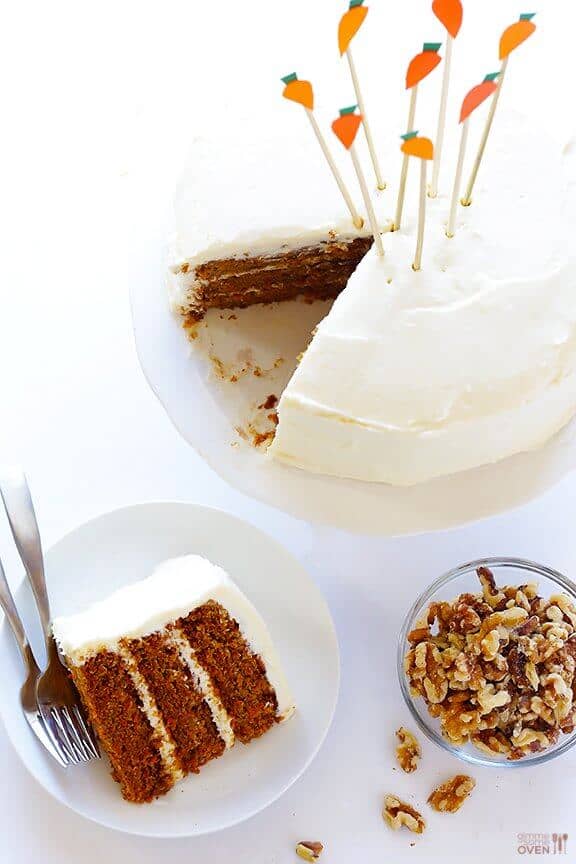 The spiciness of a good carrot cake with a thick layer of cream cheese frosting is one of the classic flavors of the colder months. Unfortunately, it's hard to make a version that's gluten-free, vegan, and delicious. This recipe rises to the challenge. By using a basic gluten-free flour blend, you don't have to change up many aspects of the traditional carrot cake recipe. The tricky part, though, is the frosting. Rather than using a vegan cream cheese, the blogger makes her own version from a vegan buttercream frosting. The result is one of the best dessert recipes to please all types of people.
24. Carrot Cake with Cream Cheese Frosting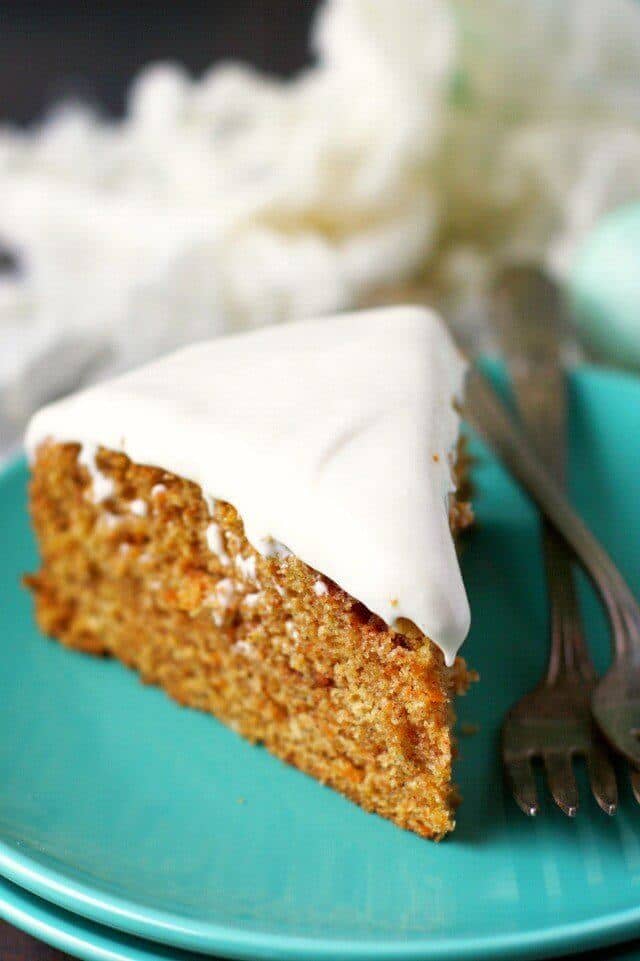 This gluten-free recipe is another version of a delicious carrot cake. It's also vegan and makes use of vegan cream cheese for the frosting. That's good news for you, as it makes the frosting incredibly easy to make. They recommend the Daiya brand, which is known to be a good cheese substitute. If you're worried that the cake itself is going to be a little plain, remember that you can add nuts or raisins to the batter. Both are typically welcome additions to any carrot cake recipe.
25. Pumpkin Pie Parfaits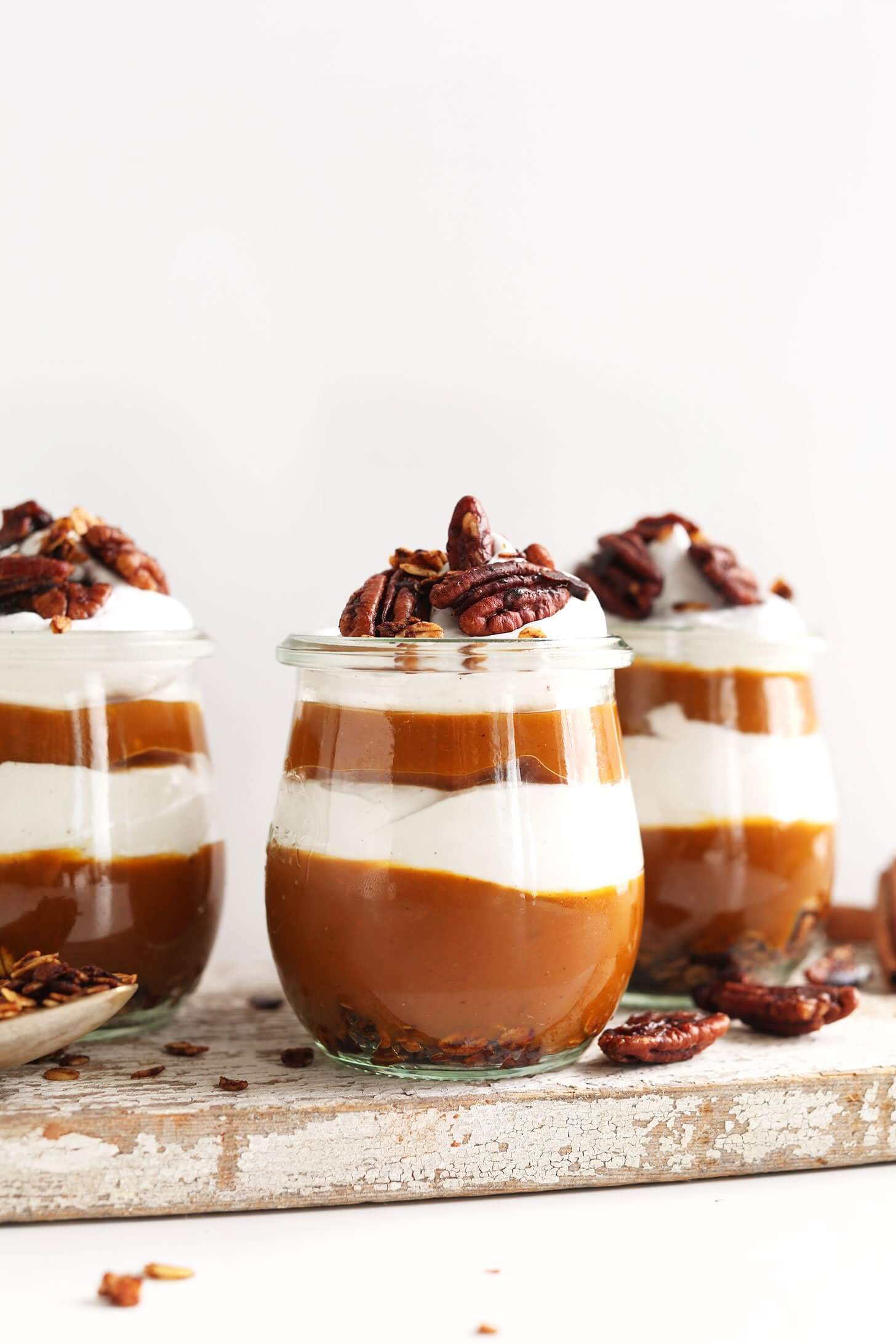 Parfaits are a sadly neglected type of dessert idea, which is a real shame. They can be surprisingly good for you and their contrasting layers always look great in a clear dessert cup. Consider this pumpkin pie parfait as a gluten-free dessert for your holiday celebration. It alternates layers of a spicy pumpkin butter with a smooth whipped cream. Nestled in the bottom, you'll find a crunchy granola blend that makes the dessert complete. It's a fantastic dessert that the kids are likely to love just as much as the adults in the family. If you have the ingredients on hand, it's also easy enough to make up a single serving for a late-night treat.
26. Healthy No Bake Superfoods Breakfast Cookies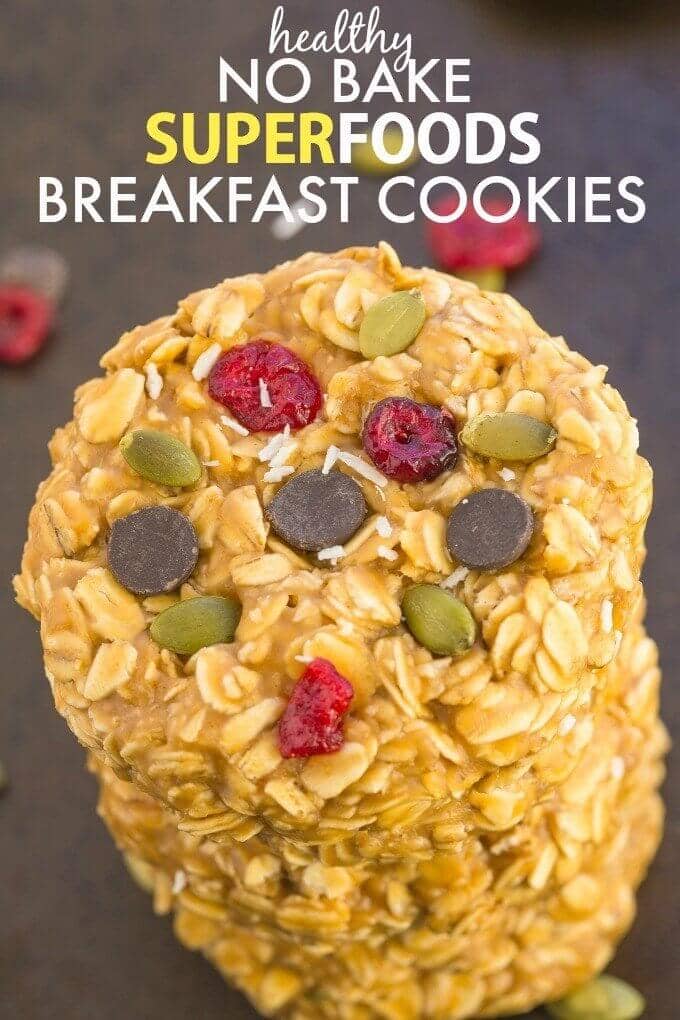 If you've been looking for meal ideas that are nutritious but taste more like desserts, you've got to try this delicious breakfast cookie recipe. With peanut butter, nuts, and protein powder, it will have that protein boost that you're looking for in the morning to keep you feeling full until lunch. Dried cranberries and a few chocolate chips give these no-bake cookies a touch of sweetness, but you should feel free to use other dried fruits to change the taste a bit. Make these in the evening and you'll have something that you can just grab on your way out the door in the mornings.
27. Chocolate Shell Vegan Ice Cream Sandwiches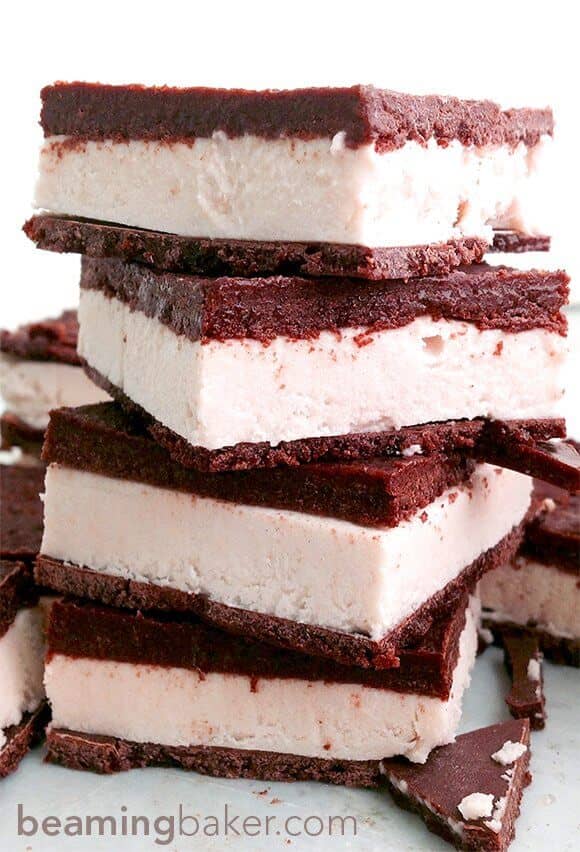 This gluten-free dessert recipe might take a long time to make, but it's worth the effort if you've been dreaming of the perfect ice cream treat. The "shell" part is significantly thicker than the type of shell that you usually find on ice cream bars, but that makes it easier to hold like a sandwich when you eat it. They firm up quickly, though, so it's important to make each layer in stages. The ice cream filling isn't really ice cream at all. It's a vegan version made from nuts. If you don't want to go through the trouble of making your own ice cream, though, you could try a store-bought version instead.
28. Samoa Bars (Gluten Free, Paleo & Vegan)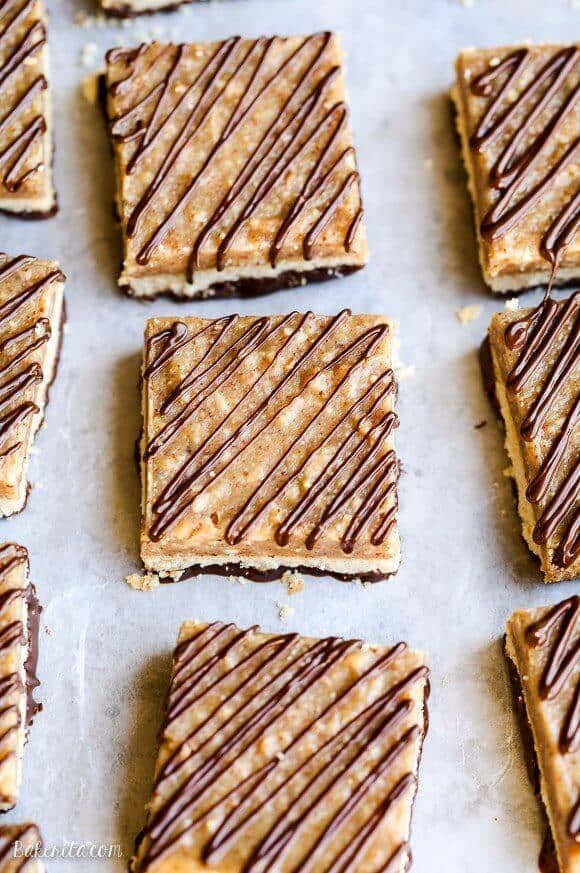 Samoa cookies are one of the most popular types of Girl Scout cookies. If you've never heard of them, it's probably because you come from a part of the country where they're called "Caramel Delights" instead. No matter what you call them, they're simply delicious, with a melt-in-your-mouth base and a gooey caramel/coconut topping. Here you can find a gluten-free recipe to make up a batch that tastes just like the real thing. What you might love most about this version is that you're cutting them into bars, which means that each serving is going to be bigger than the usual cookie.
29. Chocolate Banana Bread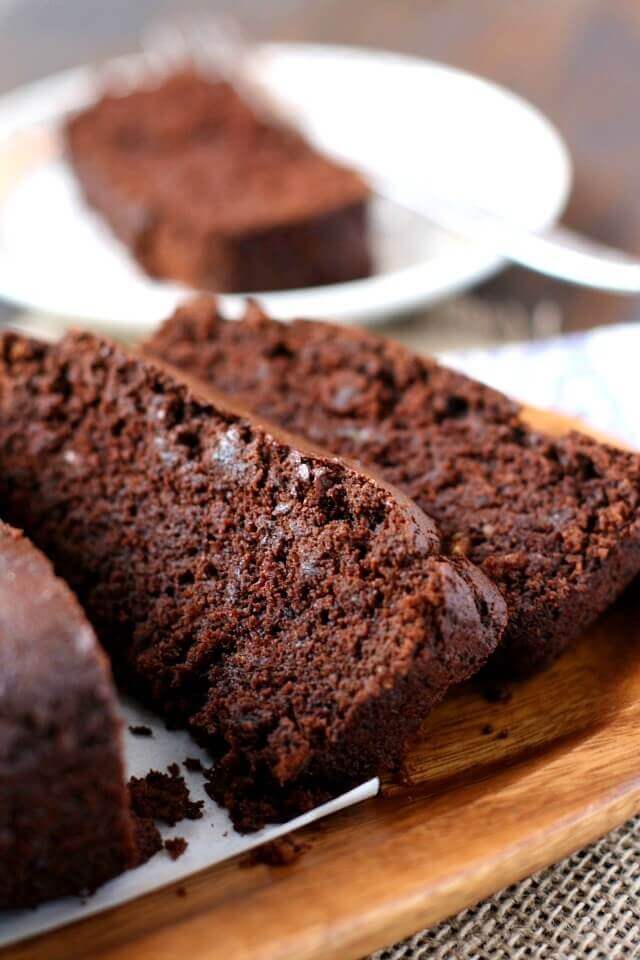 This twist on the classic banana bread is perfect for anyone looking for gluten-free desserts that are sure to taste good. As we've mentioned before, it's hard to go wrong with a banana bread recipe, but you'll find that the addition of cocoa makes this loaf a bit more cake-like than your usual banana bread. As-is, the recipe is free of refined sugar, but you can use that if it's all you have on hand. For a breakfast meal idea, make these a bit more portable by cooking them in muffin wrappers, but watch the cooking time because muffins take significantly less time to cook.
30. Flourless Smore Cookies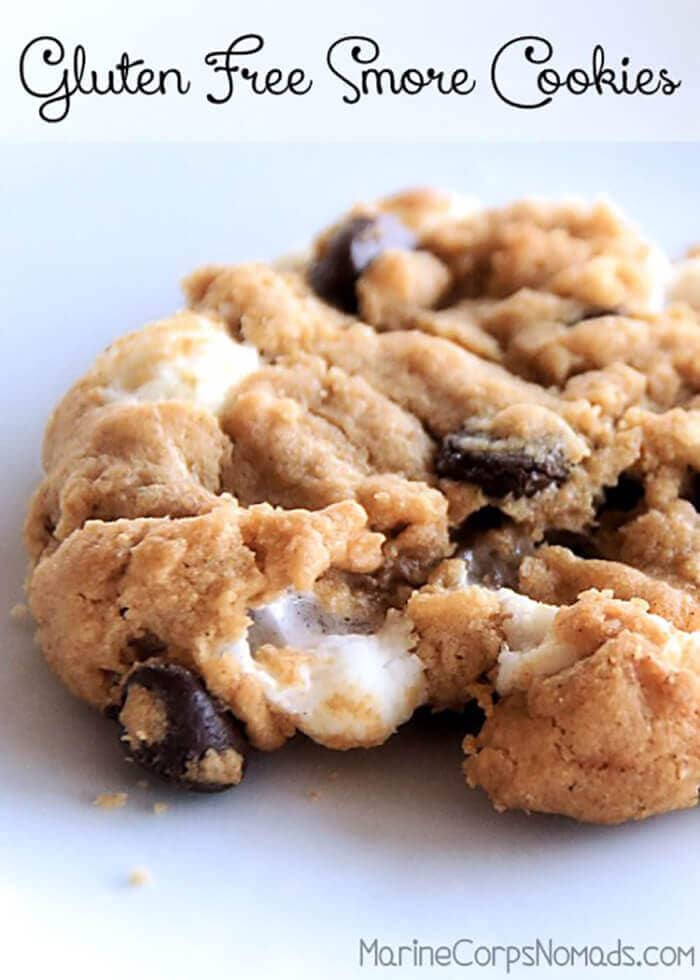 After baking up this delectable gluten-free food, you'll surely be asking for s'more. They're a cookie version of the popular campfire treat, with chocolate chips and marshmallows baked right into the cookie. As you might expect, these are going to be best warm, so don't be shy about eating a few right out of the oven. Once they've cooled, consider throwing them in the microwave for a few seconds before you eat them to melt the marshmallows and chocolate chips into the melty texture you're after.
31. One Bowl Gluten Free Chocolate Cake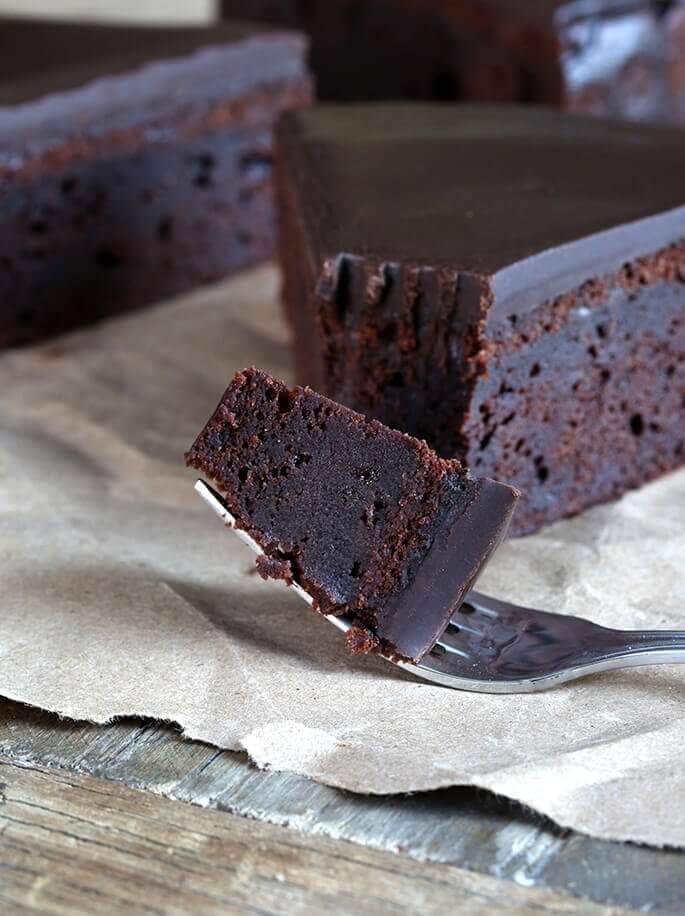 No one wants to make a big mess in the kitchen when baking a yummy dessert, but that's often what happens. With this recipe, you'll get everything you want in a cake without messing around with separate bowls for your wet and dry ingredients. It makes use of a gluten-free flour mix, but also includes a bit of xanthum gum, which will give the cake a better texture. Sometimes, it's hard to make a cake a day or two in advance because it will dry out by the time you want to eat it, but this cake holds up well in the refrigerator over time.
32. Baked Pumpkin Mini Donuts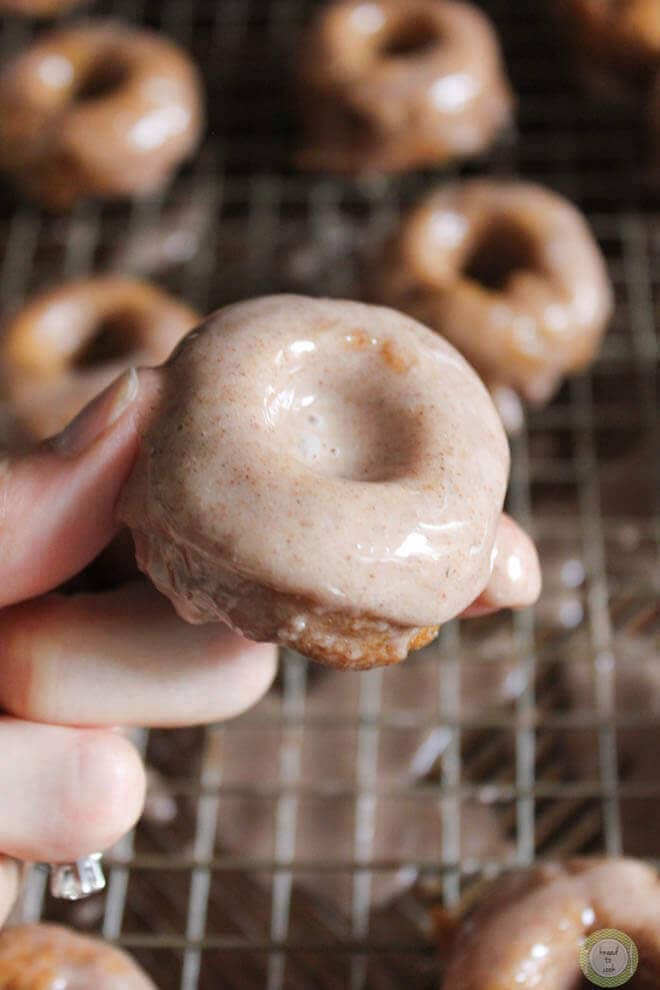 Here's another use for that donut pan we mentioned. Most of the donuts at the donut shop are fried, which means they're high in calories. When you bake them, you're getting fewer calories. However, this easy recipe doesn't skimp on flavor. You'll get the ubiquitous pumpkin flavor that's always so popular in fall in every single bite, and the light glaze sweetens the donuts without feeling overly heavy. Serve these at breakfast or as an afternoon treat with a warm cup of coffee.
33. Paleo Apple Crisp
Apple crisp is one of the best dessert recipes to make during the fall. At the peak of apple season, you might have bushels of apples bought cheaply at the local farmer's market to use up. There's no better way to use them than in this paleo-friendly apple crisp recipe. Instead of the typical crumble topping that incorporates flour, this version uses a blend of almond and coconut flour, along with coconut sugar and coconut oil. Guests will note that the topping has a slightly different flavor than the usual variety, but most will prefer this taste.
34. Flourless Fudge Cookies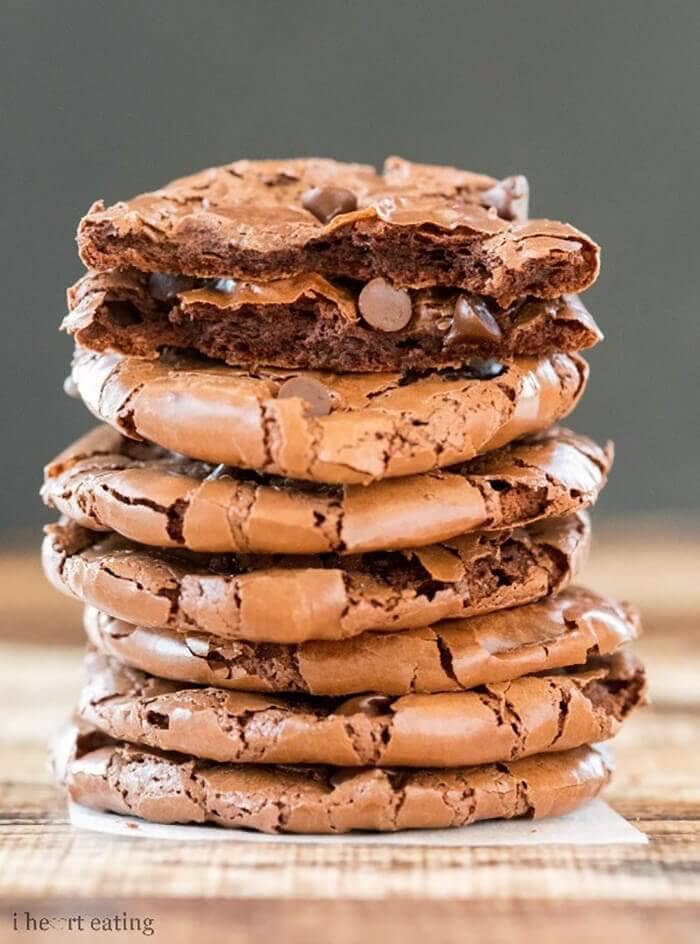 With a list of healthy ingredients and just under 70 calories per cookie, these fudgy cookies are a great idea for those watching their weight. Since they don't have any flour, it's important to note that they're not going to have the same type of texture that most cookies have. The outside is a bit crispy while the inside is chewy like a brownie. However, they're still a nice dessert idea that's a bit of a change of pace.
35. Easy Vegan Gluten-Free Waffles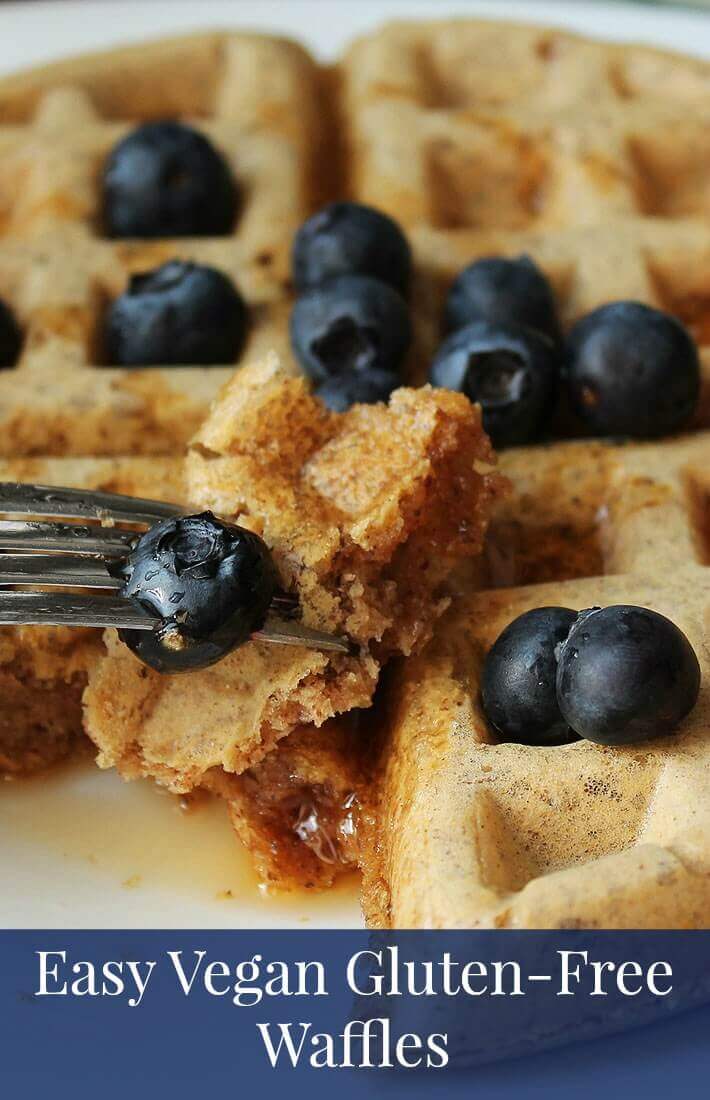 Waffles might be a favorite breakfast meal idea, but you could also serve them up as a dessert if you change the presentation a bit. Despite having no wheat flour and no eggs, these waffles cook up nicely, with that crisp exterior you're craving. The blogger suggests putting finished waffles into a warm oven to keep them warm while preparing other batches. To make these a really yummy dessert, serve with fresh fruits and whipped cream or even consider topping them with ice cream. The cold and warm combination is sure to please.
36. Flourless Fudgey Peanut Butter Brownies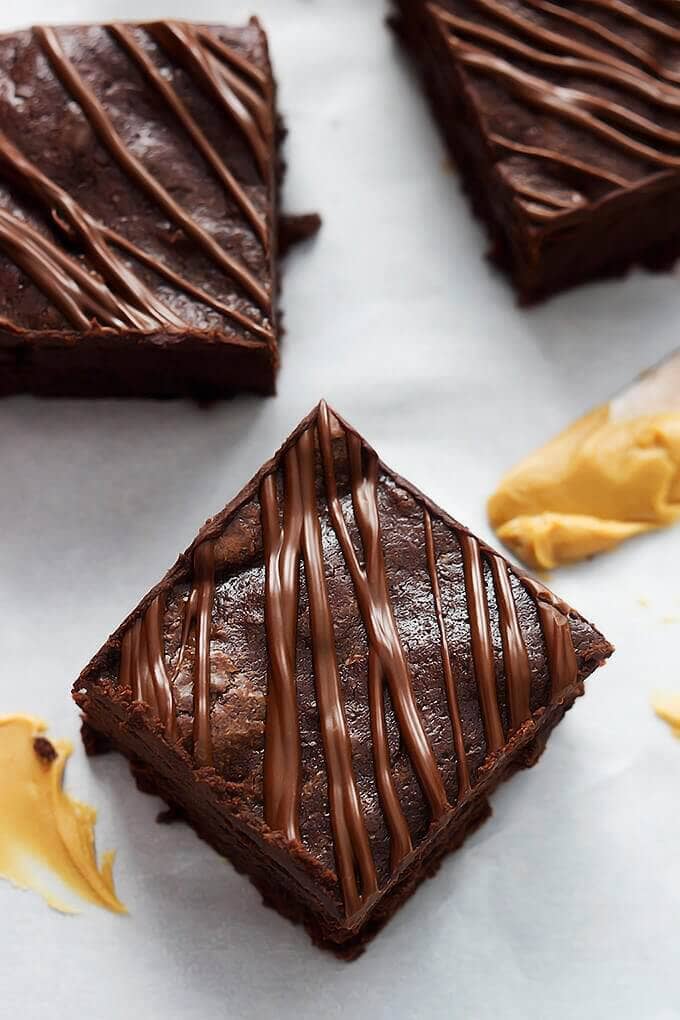 Few tastes go together as well as peanut butter and chocolate, so these peanut butter brownies are sure to be a classic hit. The peanut butter is baked inside the brownie rather than placed on top as a frosting, so the flavor can come as a bit of a surprise. The way that the chocolate is drizzled on top really gives this gluten-free recipe a certain something that would make you just as happy to serve it at a dinner party or potluck as it would to serve it to your family as a snack. If bringing it as a dish to share, make sure to ask about nut allergies and use a better nut butter if necessary.
37. Paleo, Gluten-Free & Original Pumpkin Scone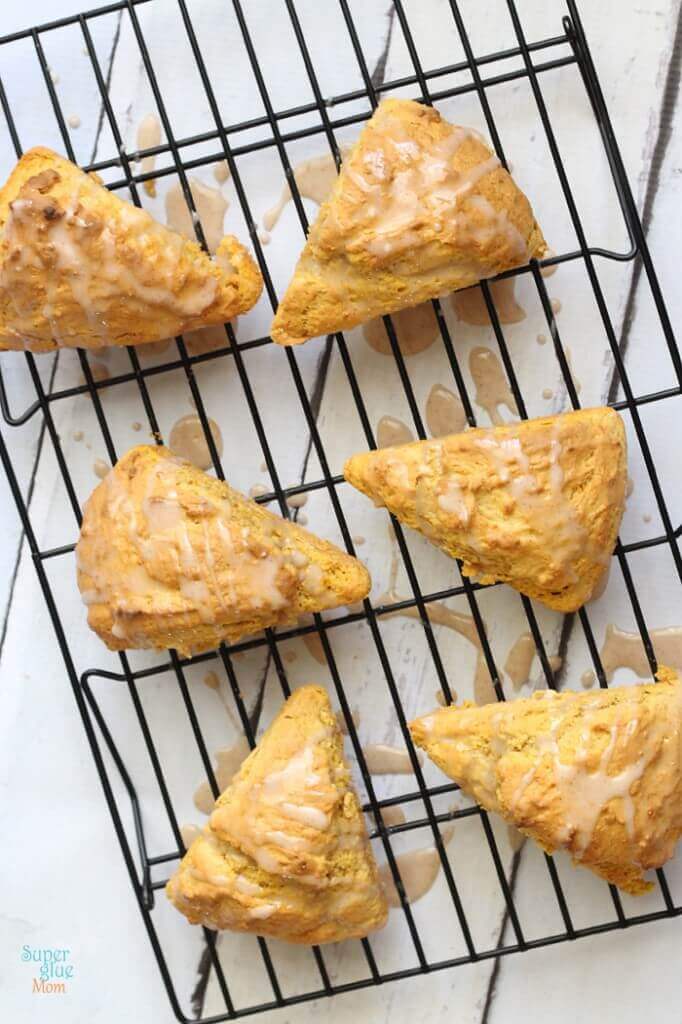 Since they're not quite as sweet as many of the other gluten-free desserts, scones never seem to get the love they deserve. If you've tried a scone and haven't liked it, maybe you just haven't tried the right recipe. This one is certainly worth a try, especially if you're on the hunt for some new favorite gluten-free foods. It has a rich pumpkin spice flavor and a light glaze on top to sweeten it up. It's perfect to serve alongside a small cup of coffee after a delicious meal.
38. No Bake Gluten Free Cupcakes: Chocolate Caramel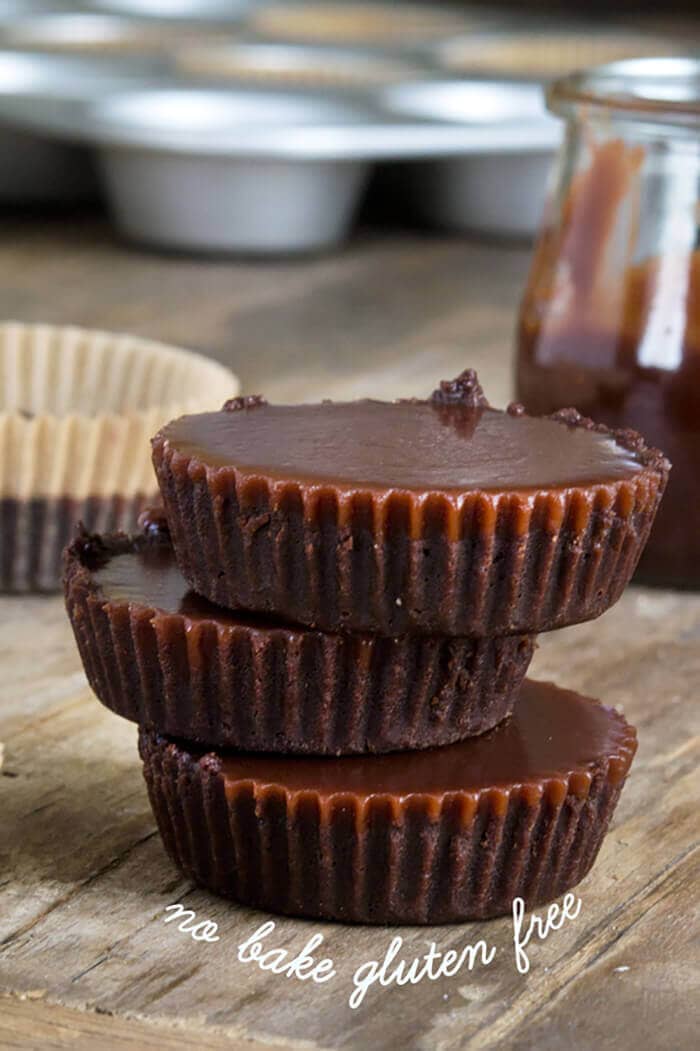 This no-bake "cupcake" has a lot going on. It looks more like a peanut butter cup than it does a cupcake, and not baking it means that you're never really going to get that true cake texture. That doesn't mean that this gluten-free dessert recipe isn't going to be a hit with those on a gluten-free diet, though. They're chewy and have a deep chocolate flavor that pairs oh-so-well with the caramel on top. If you really want them to look nice, be sure to use the blogger's tip about pressing them down with a small jar. That gives them a nice flat top rather than one that has your fingerprints all over it.
39. Old Fashioned Cake Doughnut Mini Muffins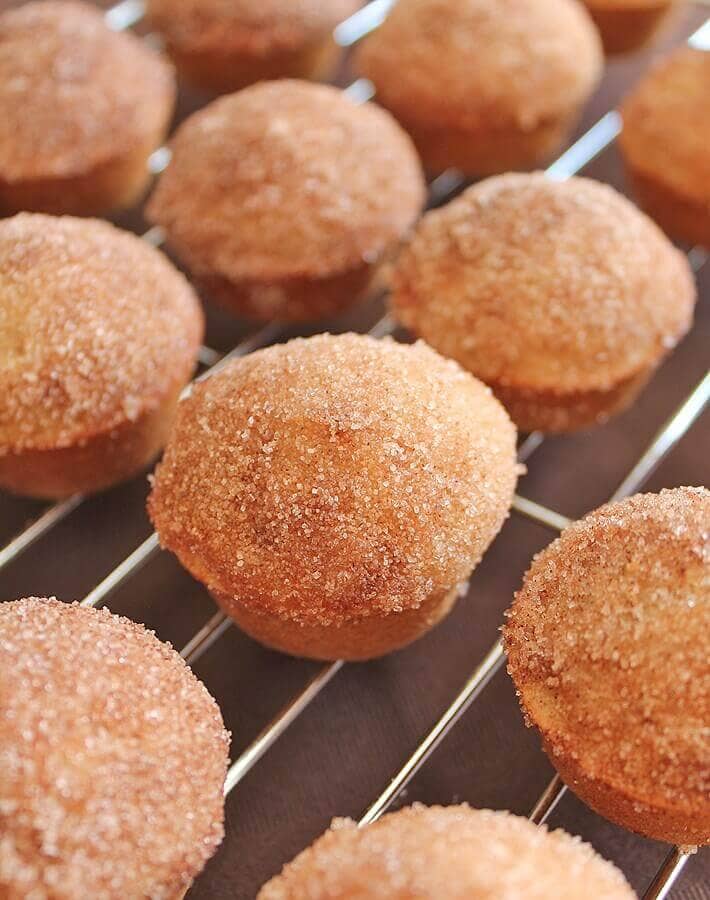 If you don't have a donut pan and don't think that it would be worth your while, you might still be able to get your donut fix with this little gluten-free recipe. Instead of the donut pan, you use a mini muffin pan to create bite-sized donut holes without the calories that come from frying. After rolling them in the cinnamon and sugar mixture, you'll find that they're just like the donuts you used to eat when you were a kid. Try pairing the donuts from this easy recipe with some apple cider for that traditional fall combination.
40. Nut-Free Flourless Chocolate Cake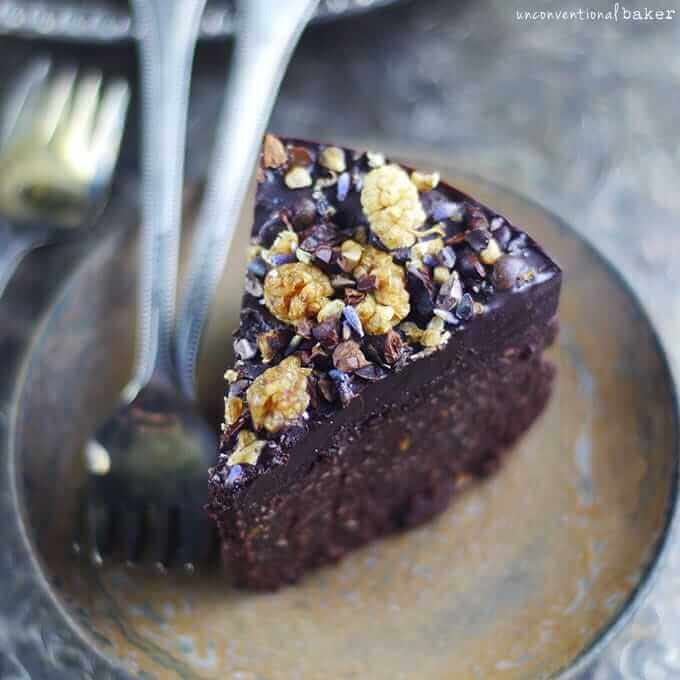 These days, people seem to be suffering from a wide variety of allergies. Not only do many people have problems tolerating gluten, but many also deal with allergies to nuts, eggs, and a variety of different things. Surprisingly, this cake was made using mulberries as the base of the cake. The fruit gives the cake a texture that holds up well when cutting and serving. Since the ingredient isn't always easy to come by, you might want to seize upon the opportunity when it comes up.
41. Flourless Gluten-Free Chocolate Cake with Chocolate Ganache Glaze
Often, people following a gluten-free diet have a tendency to focus on all the things that are missing from a recipe. How can a cake truly be a cake if it doesn't have any flour in it? When you make this cake, though, you'll start to taste the things that you're really gaining from your gluten-free lifestyle. Without flour, the chocolate flavor in this cake really stands out. It's rich in a way that you simply don't find in more traditional cake recipes. Once you try this gluten-free dessert recipe, you'll never be tempted to try a regular cake again.
42. Gluten Free Shortbread Cookies – 5 Ways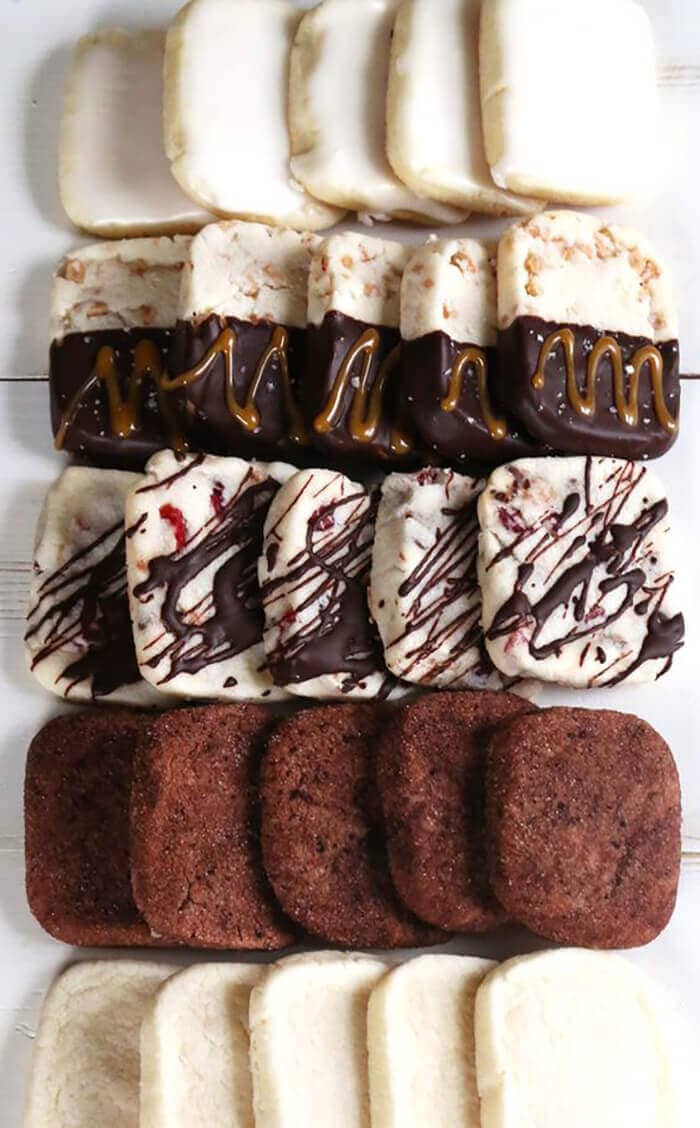 Shortbread cookies are full of that deep, buttery taste that melts in your mouth. This site offers five different gluten-free recipes for the popular cookie. Rather than switching up the main ingredients to accommodate different dietary restrictions, though, this list of recipes offers ways to slightly alter the taste, including lemon, caramel, berry, and mocha versions. We've seen other recipes that make use of crumbled shortbread cookies to create a bottom layer, so it would be good to keep this recipe on hand as a starting point for those.
43. One Bowl Chocolate Hazelnut Cake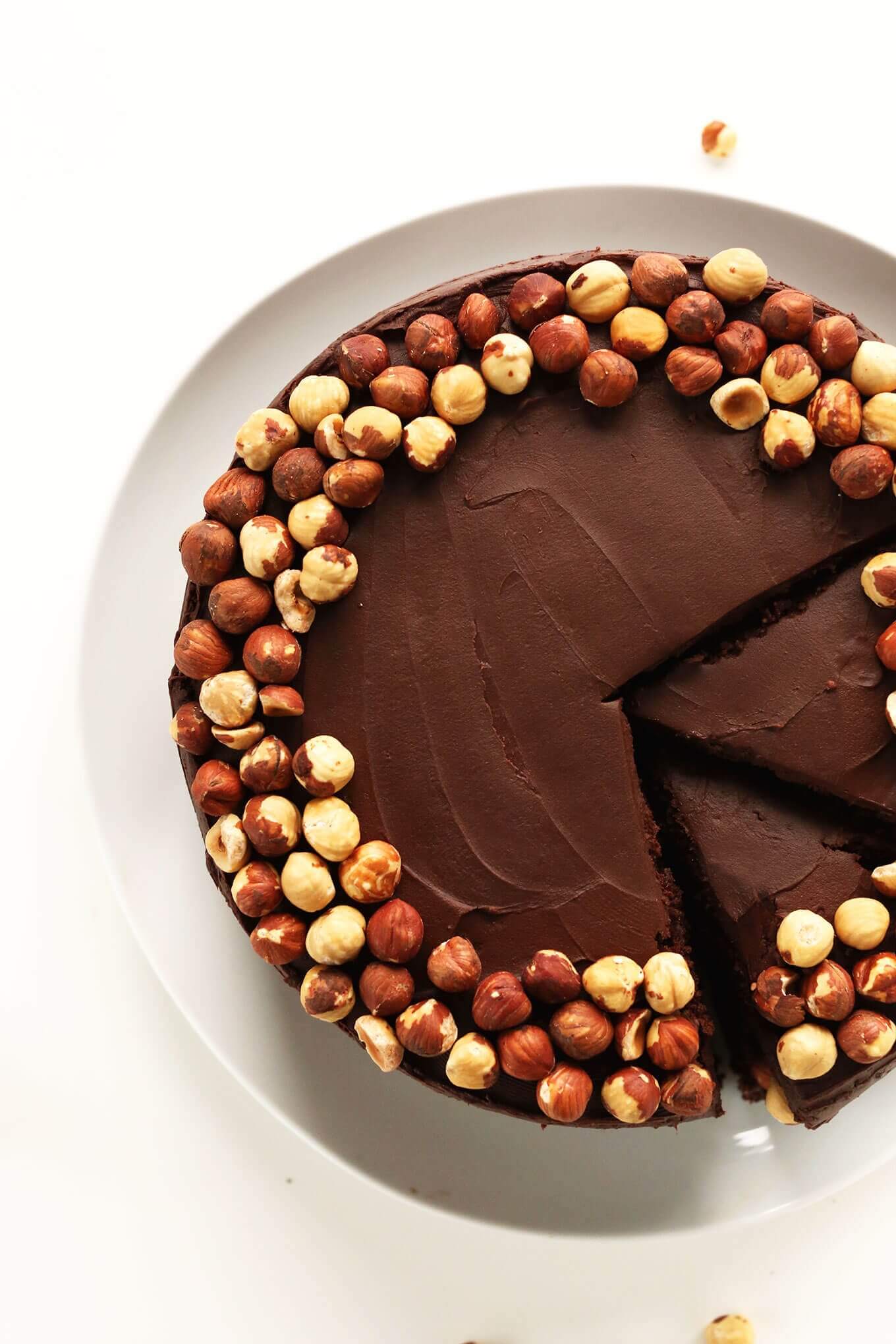 Perfect for birthdays or other special occasions, this gluten-free dessert recipe produces a moist cake with a flavorful taste. You'll find that the chocolate and hazelnut combination reminds you of Nutella, but there's actually no Nutella in the ingredients list. The blogger adds some height and a decorative look to the cake by topping it with roasted hazelnuts. It gives you just a taste of what's inside.
44. Chocolate Banana Protein Mug Cake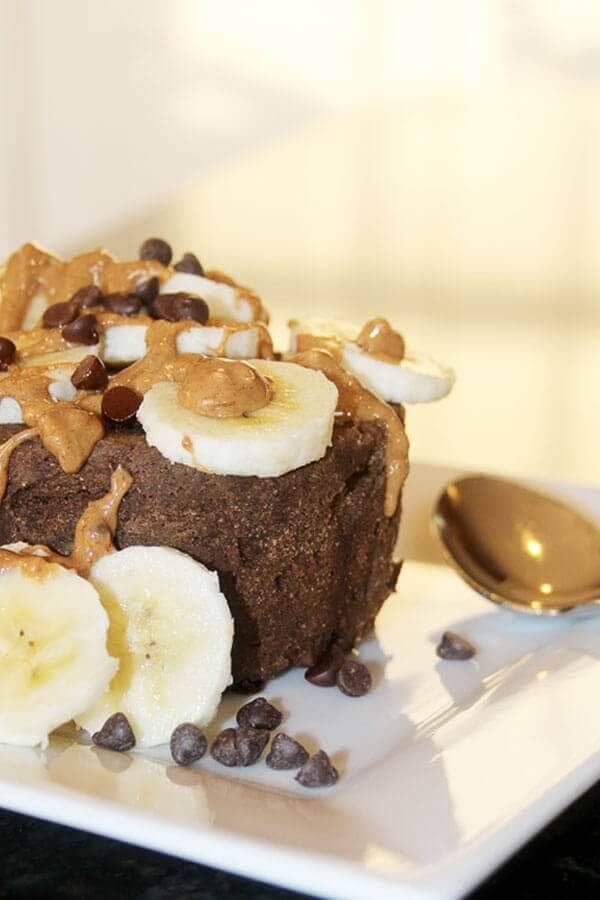 It's hard to make a lot of gluten-free desserts when you're single. Gluten-free doesn't necessarily mean low in calories, and it's tempting to eat an entire cake or batch of cookies if you don't have anyone else to help you eat them. That's what makes this recipe for a single serving of chocolate cake so appealing. Mix a few simple ingredients in a mug and you have a cake in about two minutes. The nut butter and bananas that top the cake in this recipe add to the flavor, but you can easily choose a different type of topping if bananas and peanut butter aren't your thing. Perhaps you'd prefer a chocolate frosting or a raspberry syrup.
45. Vegan Chocolate Chip Pumpkin Cookies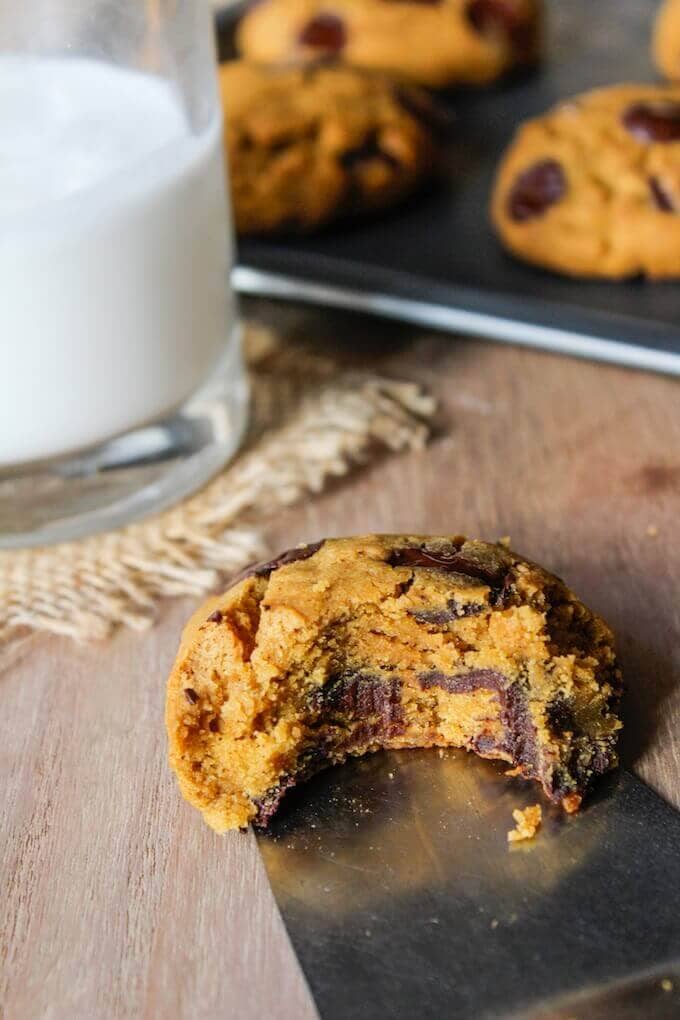 It's hard to get tired of the basic chocolate chip cookie recipe, but if you're feeling ready for a different taste to tempt your taste buds, try this pumpkin-flavored version. This is an easy recipe to whip up in your kitchen, and the results are delicious. Pumpkin puree helps the cookies stay moist, which is sometimes hard in vegan dishes. If you're making these for a vegan friend, it's important to recognize that chocolate chips aren't necessarily vegan. You'll have to buy a special version.
46. Apple Cinnamon Quinoa Bites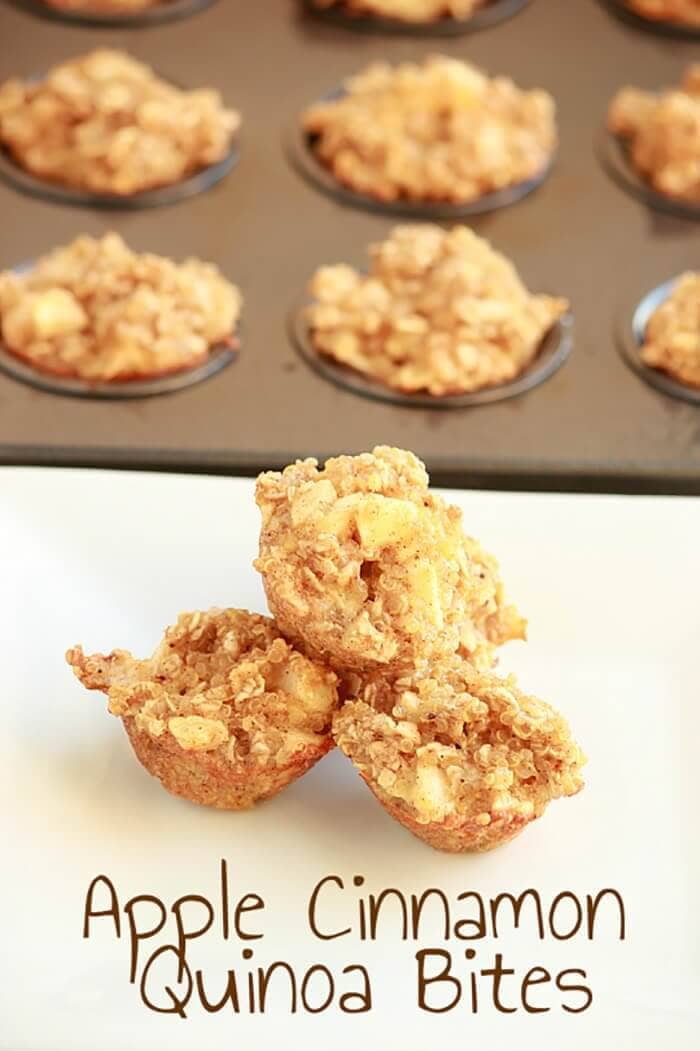 Low in sugar and high in flavor, these little quinoa bites are a nice meal idea for those who want something they can take with them. They're a nice change of pace if you've been trying to use up all of your apples. Kids will love the taste, and they're definitely more nutritious than a lot of other grab-and-go breakfasts. When it comes to the morning rush, it's better to have something easy, so try to make a batch of these on the weekends. It will last throughout the week.
47. Chocolate Covered Strawberry Chia Pudding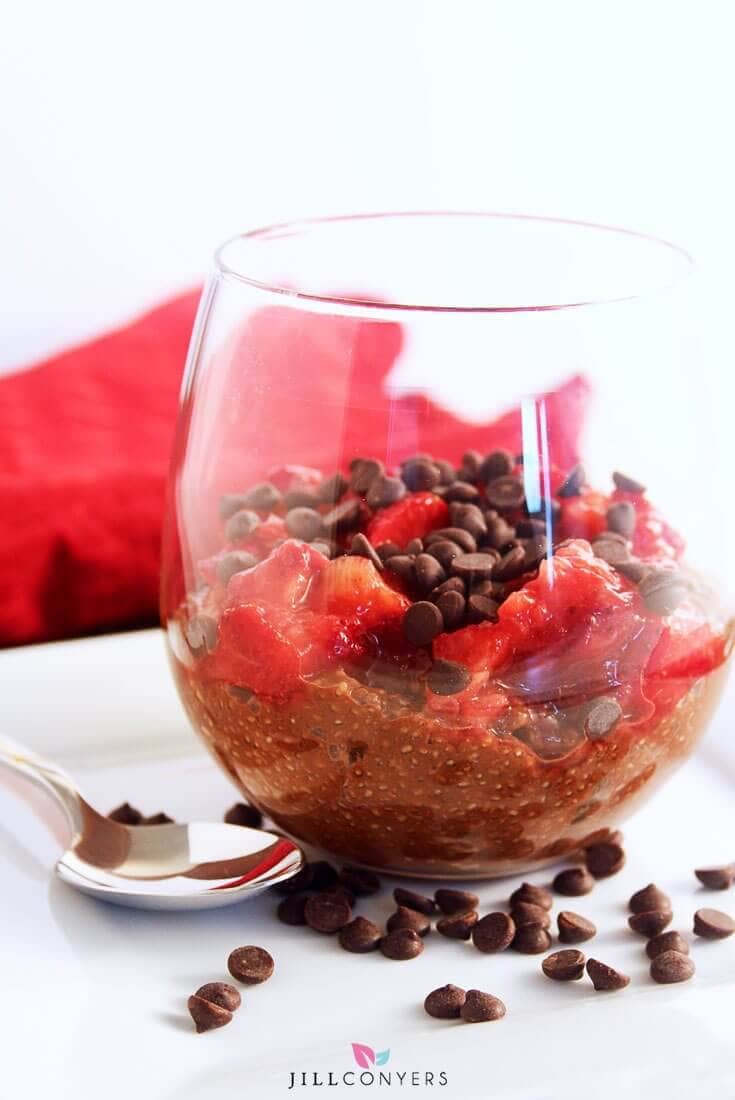 Traditional pudding might be gluten-free, but that doesn't mean it's good for you. This updated version has all-natural ingredients and little sugar. The texture of chia pudding is quite different than regular pudding, though, so it's important to keep your expectations in check. If you typically enjoy tapioca, then you'll probably like chia pudding as well. Fortunately, the blend of dark chocolate and strawberry juices in this dessert idea is easy to love.
48. Dairy Free + Gluten Free Cinnamon Rolls with Vanilla Bean Glaze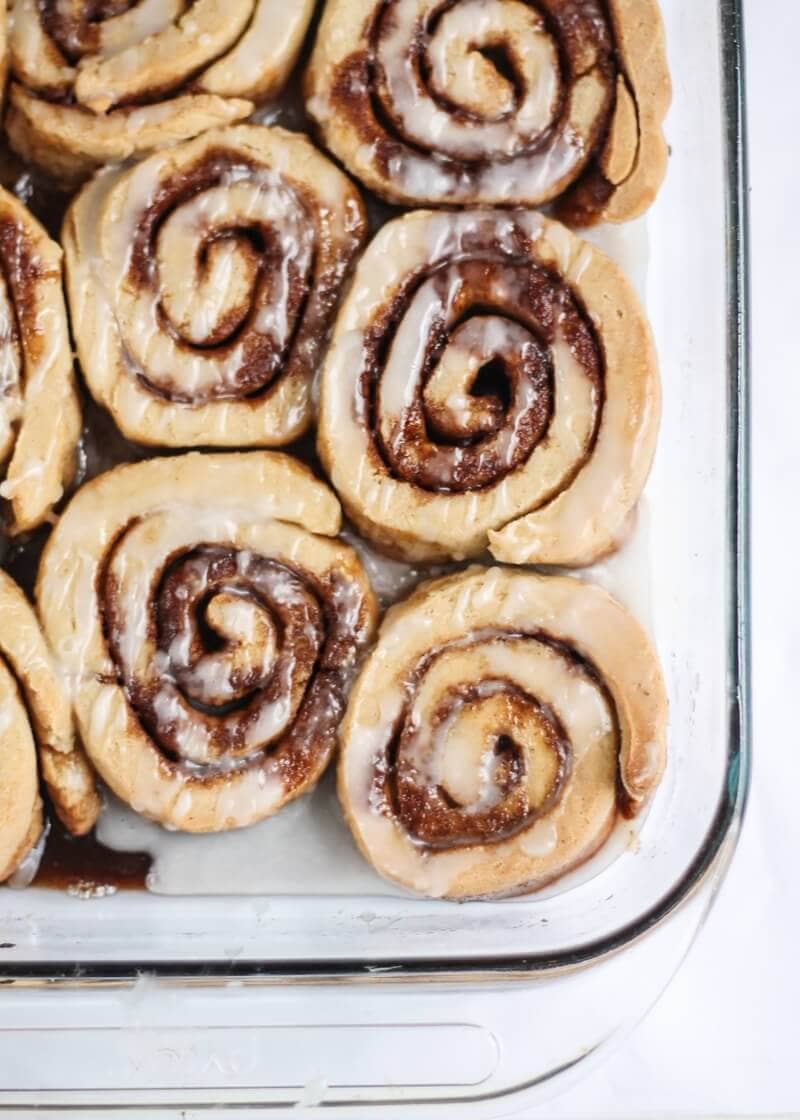 Your family will be jumping out of bed when the delicious cinnamon smell wafts into their rooms. There's nothing quite like a fresh-baked cinnamon roll in the morning, and this gluten-free recipe doesn't disappoint. However, there's no reason that you have to think of cinnamon rolls as a breakfast dish. This is also a great gluten-free dessert recipe that will go well for any type of meal. It's a great choice when you're craving something with a strong cinnamon flavor.
49. Pecan Pie Bars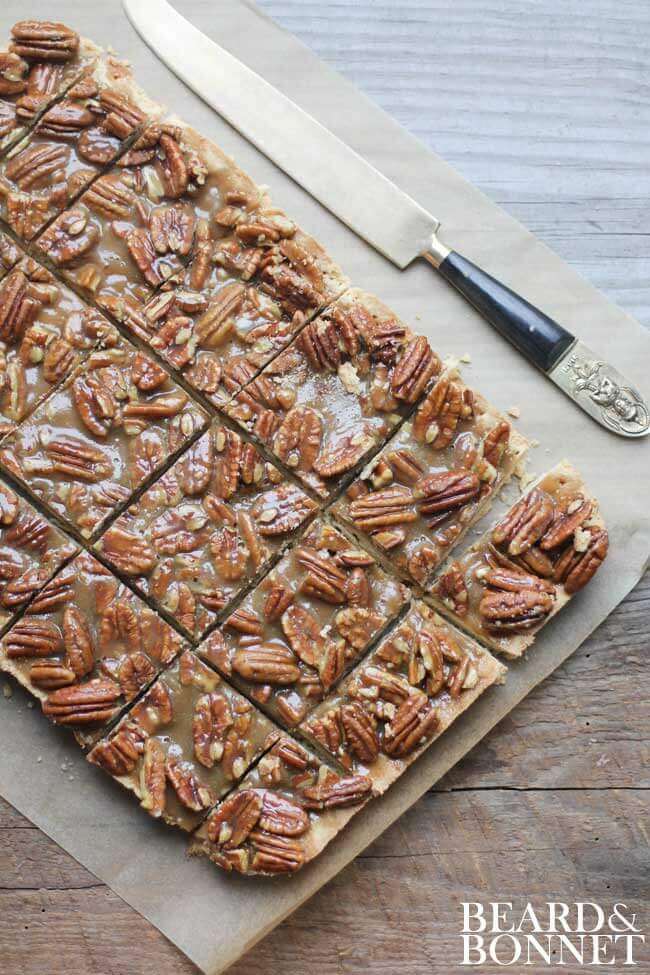 With a thick cookie-like crust, these pecan pie bars are one of the best dessert recipes you'll ever try on a gluten-free diet. The rich topping is just like the one your mama used to make, but being in bar form makes them a lot easier to eat. Consider this the perfect crowd-pleaser to finish off a holiday meal or a big summer barbeque. It goes so well on all occasions.
50. Mini Berry Tarts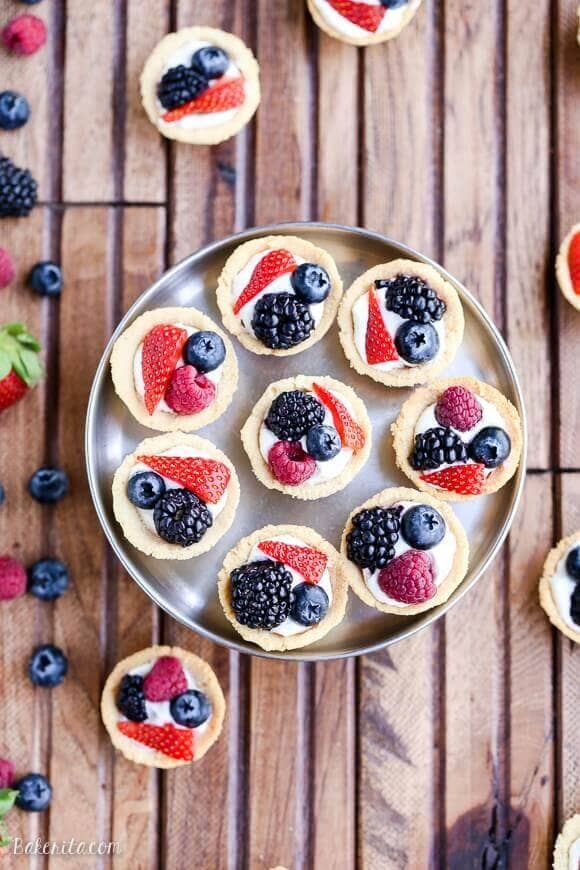 Fruit tarts are a delightfully light-tasting way to end a meal, so you find them here at the end of our list. This version has a crust that will melt in your mouth, and the bite-size portions are perfect for those looking for "just a little something sweet." You can easily make these using any fresh fruit, so it's smart to go with whatever's in season. When it comes to fruits that might be a bit large for the top of a tart this small, try dicing them into smaller pieces. This will also release some of the flavor.
Following a gluten-free diet doesn't have to mean that you can't enjoy some of your favorite desserts. You simply have to find a way to make them fit the diet. With all of the gluten-free dessert recipes available, you're never going to feel deprived again.