50 Awesome Gluten-Free Cracker Recipes for Any Occasion
The term gluten-free crackers is a little vague. There are sweet crackers, salty crackers and the bland kind you eat when you have a stomach ache. However, one thing we can all agree on is that they are crackers. Whether you sprinkle them over soup, slather them with cheese, tapenade or other spreads, or pop them in your mouth as is, crackers are special.
Top 50 Sweet and Savory Gluten-Free Cracker Ideas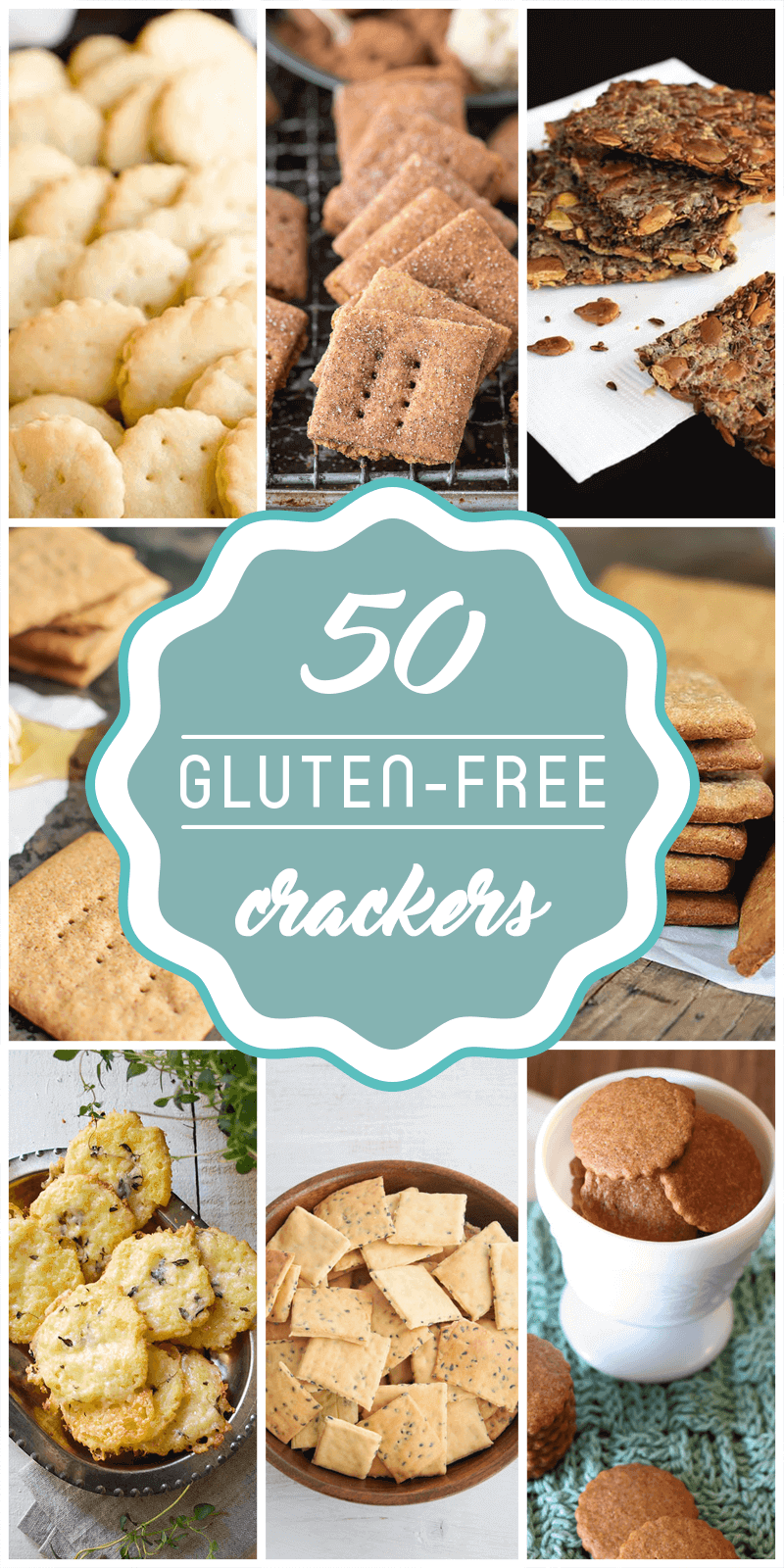 These essential little snacks and ingredients in larger recipes are, unfortunately, mostly made of wheat. However, for those times when you want a s'more or the familiar taste of an old favorite cnexracker, these gluten-free recipes are sure to hit the spot. Just as no two cracker varieties are ever truly alike, you're sure to find a gluten-free cracker recipe on this list that is not only intriguing, but will become a family favorite for years to come.
1. Gluten-Free Cheez-It Crackers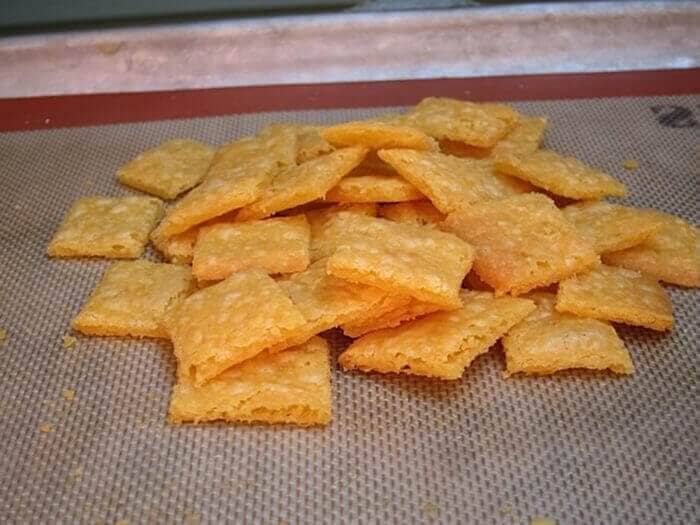 What is it about a box of Cheez-Its? Sure, they come in all sorts of different flavors, shapes and sizes now, but the original will always be the best. They're so salty, crispy and crunchy to hit all the right spots when it comes to savory cravings. That isn't even mentioning the cheesiness. This gluten-free cracker recipe for copycat Cheez-Its may not look exactly like the real thing, but they taste even better! Made with all-natural, real ingredients, they're a tasty, cheesy snack to feed the family!
2. Gluten-Free Sweet Potato Crackers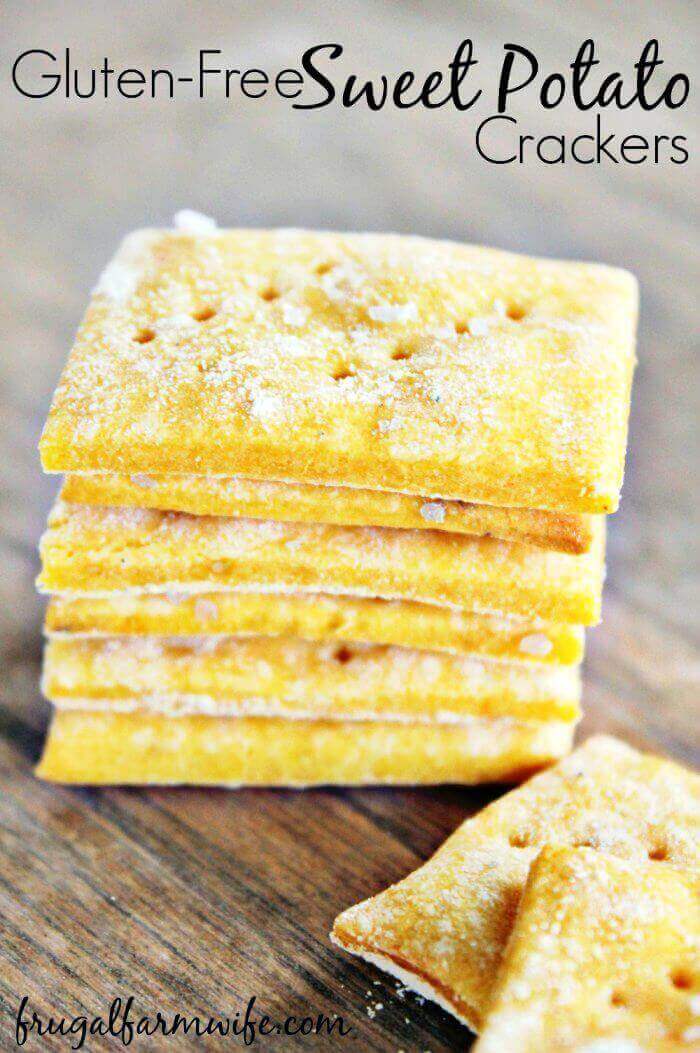 What's better than a gluten-free cracker that tastes incredible? How about one that combines great taste and alternative flours with the nutrition packed inside sweet potatoes? Of course you could also use other seasonal vegetables, such as pumpkin or squash, but sweet potatoes go so well with the light sprinkling of coarse salt. This is a great fall and winter snack to accompany a steaming mug of tea or coffee. It's also great as an after-school treat for the kids with some hot chocolate or other warming beverage.
3. 3-Ingredient Gluten-Free/Paleo Crackers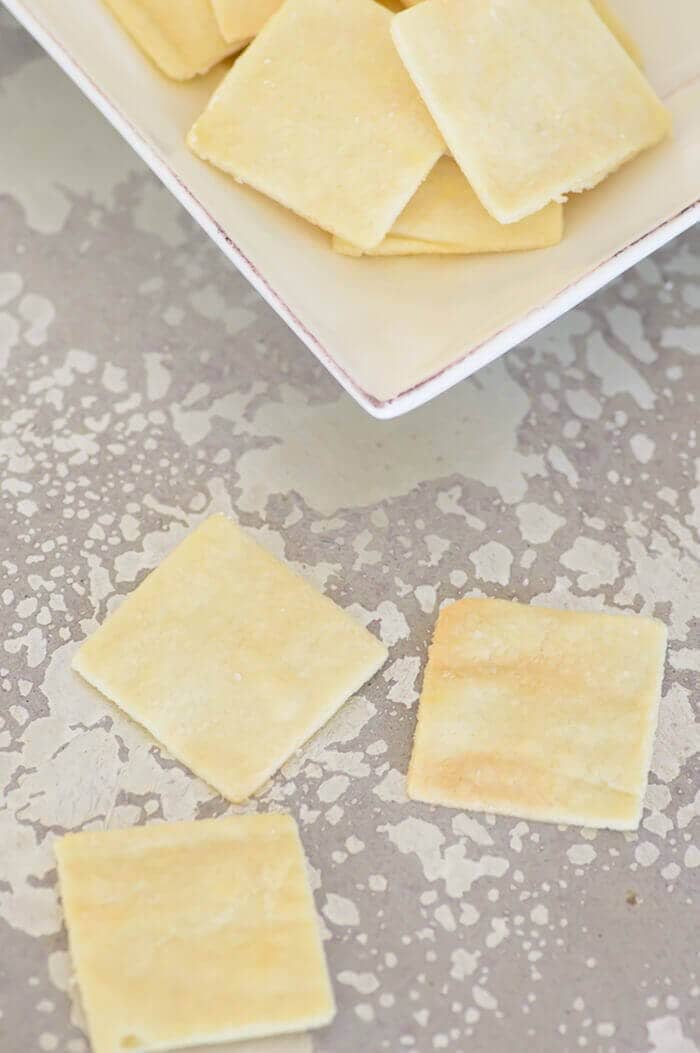 Talk about an easy recipe! With only three different ingredients, this cracker idea is positively ingenious! They're crispy, salty and perfect for dipping. They also fit into a paleo diet, so you know there's nothing unhealthy or chemical-laden about them. This is truly a cracker you can feel good about eating and feeding to your loved ones. Try it with any of your favorite dips or spreads. These gluten-free crackers can really hold their own while at the same time complementing the flavors of hummus, guacamole or anything else you might happen to have on hand!
4. Easy Gluten-Free Cracker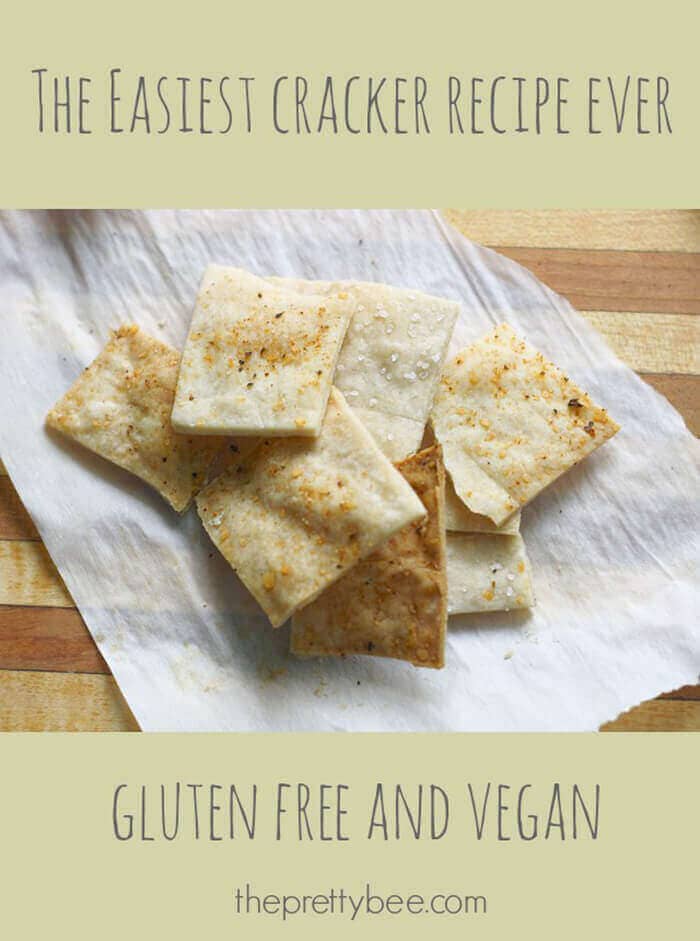 This easy recipe will have you and your loved ones enjoying warm, delicious gluten-free crackers with a half an hour. With just a few ingredients that you likely already have on hand and your favorite seasoning, this may just be your new go-to recipe. Because the cracker base is so easy, you can use just about any seasoning you like for a never-ending array of different flavors. You can also go with the classic sea salt for a more saltine-like cracker that's great for sprinkling on soups or spreading with peanut butter!
5. Gluten-Free Soda Crackers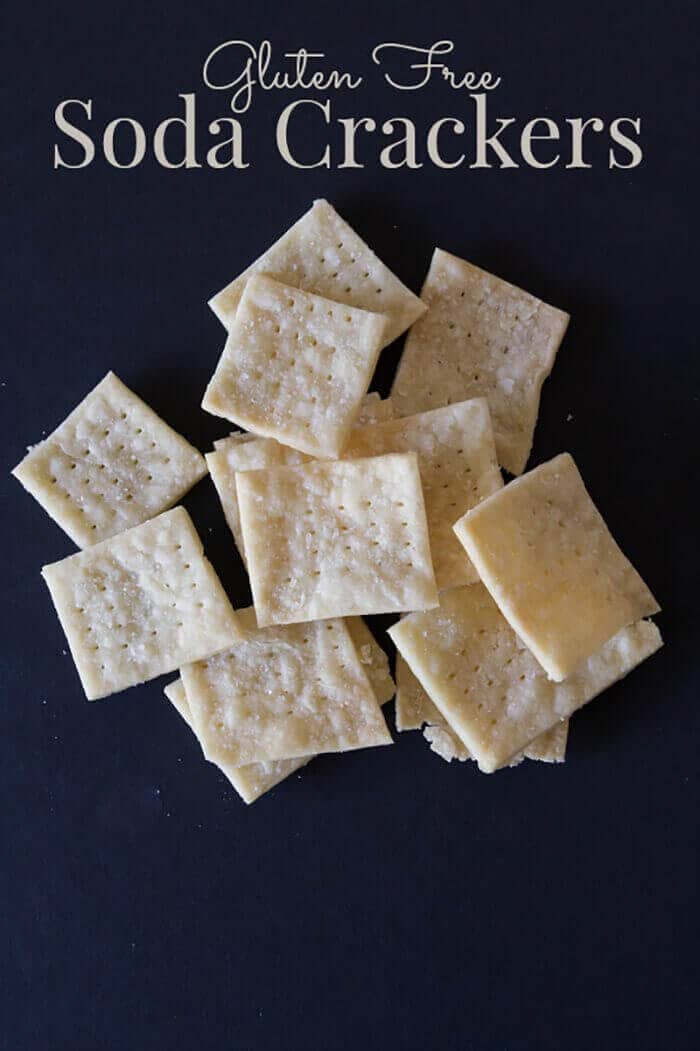 Soda crackers, also called saltines, are the quintessential bland cracker for any time. This recipe, with only five ingredients that you probably already have in your kitchen, is a perfect counterbalance to strong-flavored dips and soups. They're also great on their own, or when topped with cheese or savory spreads. The most important thing about this gluten-free soda cracker recipe is getting the dough very, very thin. Thicker crackers will still taste good, but they won't have the same crispy texture of the classic variety. For an authentic look, be sure to use the tines of a fork to poke the familiar holes in the tops!
6. Homemade Crackers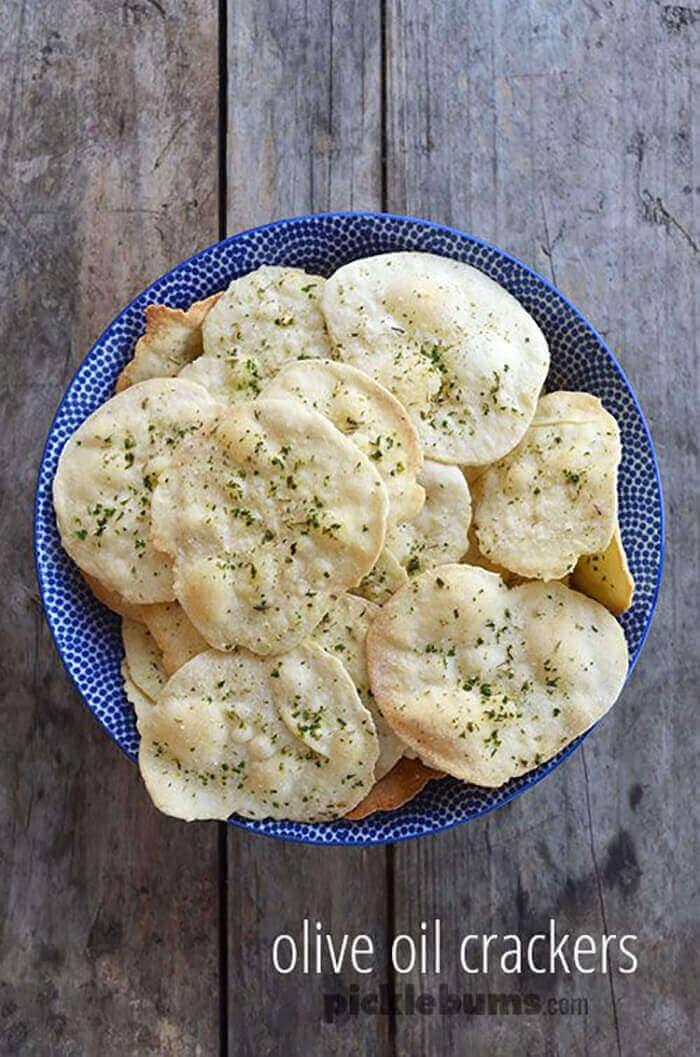 The charm of this homemade gluten-free recipe lies in its simplicity and the ability of the resulting cracker to be dressed up or down, depending on personal taste. For such a quick and simple recipe, these crispy, thin little crackers really impress. You can use either fresh or dried herbs to make a savory little cracker that goes well with almost anything you can think of! They do take a little time, as each individual cracker is rolled out by hand. However, that results in an eclectic mix of near-circles and perfect textures! Perfect for crunching through whenever a snack is called for.
7. Gluten-Free Crackers: "Wheat" Thins Copycat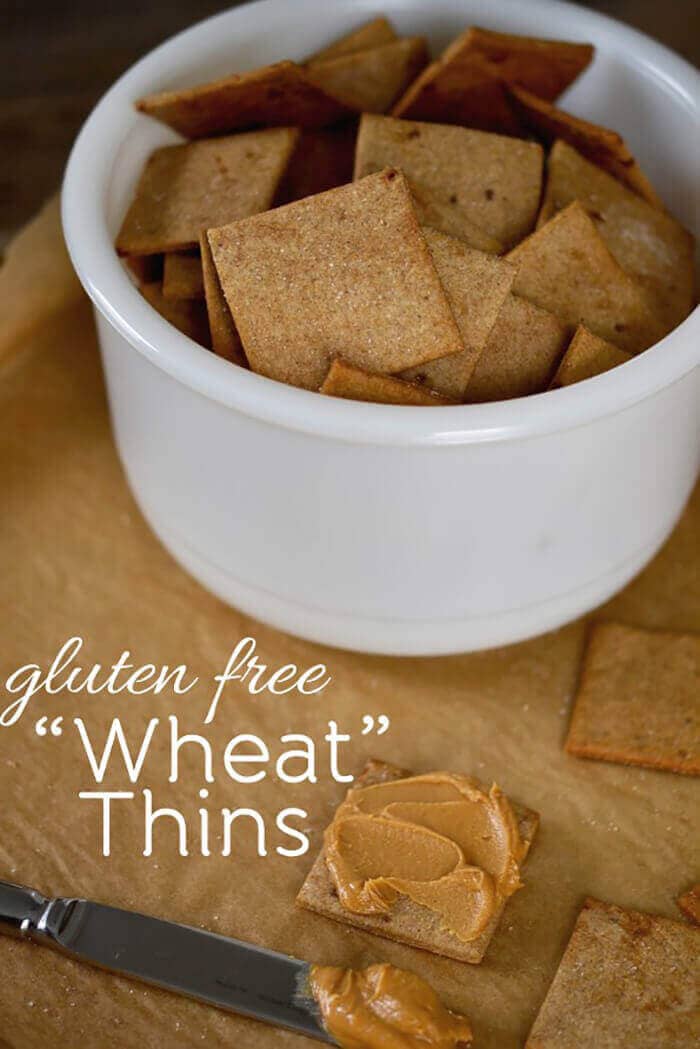 Wheat thins are a very popular cracker choice, and for good reason! They're crispy, crunchy and go great with sweet or savory toppings. Unfortunately, like just about any food with "wheat" in the name, they don't quite have a place in a gluten-free diet! If you miss the infinitely versatile crunch of the classic wheat thin cracker, this recipe is fast, easy and makes a ton of crackers in a single batch. There are even a few handy tips included for getting the cracker dough rolled out to the perfect even thickness – no pasta roller required.
8. Gluten-Free Graham Crackers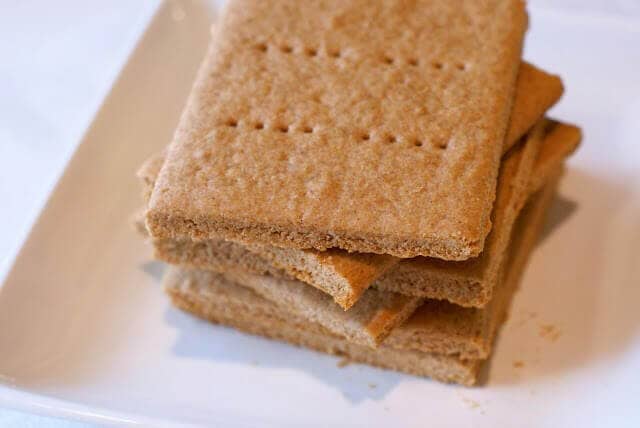 There's nothing quite like the classic graham cracker. It's a staple of childhood, from making s'mores by a campfire to dipping in a mug of hot chocolate on a cold winter day. Familiar, comfortable snacks like graham crackers can call to mind so many pleasant memories, making this gluten-free cracker idea delightful for both children and adults. You can do just about anything you'd usually do with graham crackers, as well. Eat them plain, crumble them up for the perfect cheesecake crust, sprinkle on ice cream. The only limits are your appetite and imagination!
9. Ritz-Style Gluten-Free Crackers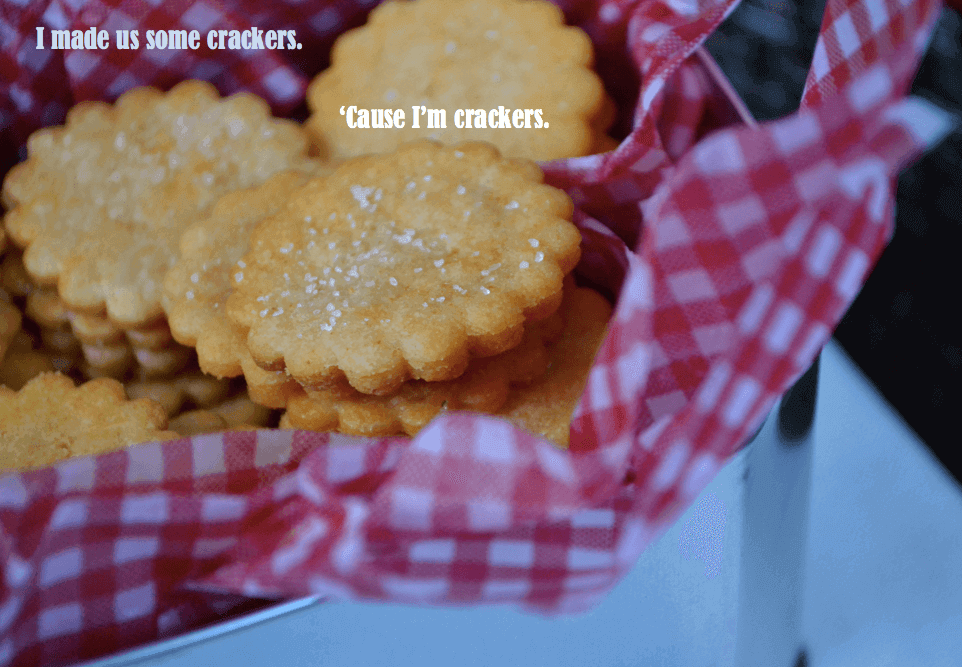 Speaking of nostalgia, the rich, buttery taste of Ritz crackers is something just about anyone can identify with. This gluten-free cracker recipe is not only easy, but is surprising close to the real thing! You can cut them in little squares, but for the most authentic look, look for a fluted biscuit cutter or small cookie cutter. Perfect when eaten on their own or topped with cheese, smoked meats or even peanut butter, this gluten-free recipe makes a great after-school snack or base for a party appetizer.
10. Homemade Ritz Crackers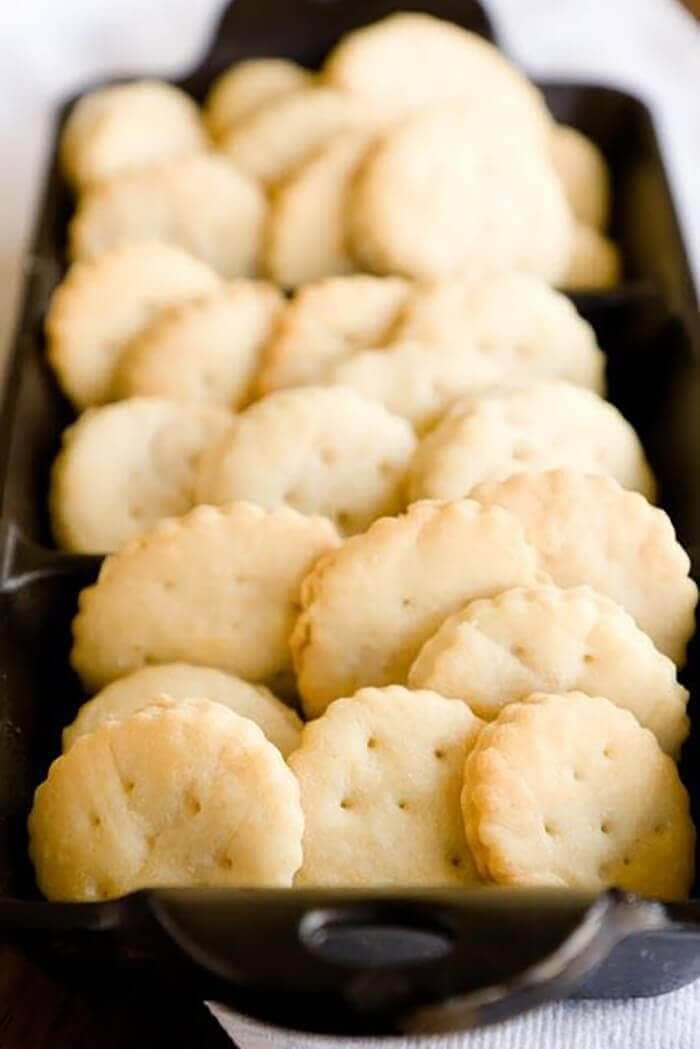 This recipe is the result of a true labor of love! After many different attempts, mixing up various ingredients and techniques, this is one of the best cracker recipes. Then again, when the maker is passionate about the project, how could it be anything else? This is a very flaky, buttery cracker that can be incorporated into your favorite meal idea or enjoyed as a snack on their own. Try tucking a little bag into your children's lunch for a tasty, shareable snack that's free of gluten and all the processed chemicals found in the real thing.
11. Endurance Crackers – Vegan and Gluten-free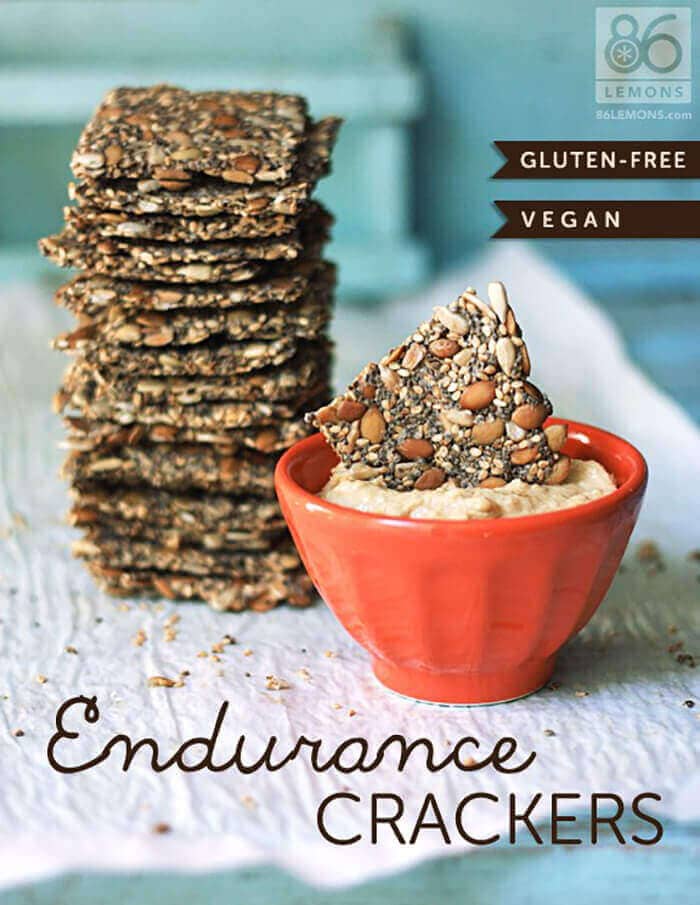 In addition to being insanely good for you, this gluten-free cracker recipe has a huge dose of protein and fiber. With a ton of different seeds and no refined sugars or carbs, you get pure energy. These delicious crackers fit a gluten-free diet as well as a vegan one. They're the perfect tasty little morsel to enjoy when you want a midday snack, but need something healthy as well as filling. These will keep you going through a busy day all the way until dinnertime! Spread them with some hummus or peanut butter for additional protein and flavor.
12. Homemade Graham Crackers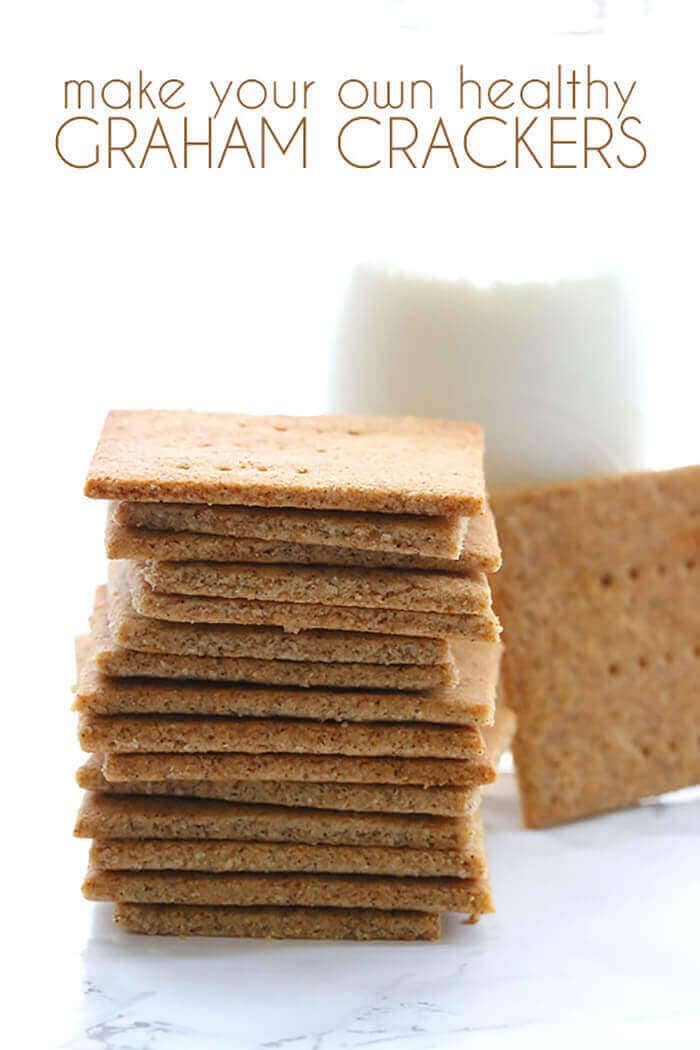 If you love graham crackers, you probably know that the perfect specimen is one that is a little sweet, with a hint of spice. They should also be crisp and firm, but not shatter when bitten. These gluten-free graham crackers are all of that and more. They combine the perfect thin, crispy texture with a hint of molasses for the signature color and flavor of a traditional graham cracker. With no added preservatives, these delicious childhood favorites will have your kitchen and home smelling wonderful. The best part? You probably have just about all the ingredients you need already in your pantry!
13. Gluten-Free Graham Cracker Recipe

I know what you're thinking – who needs so many different graham cracker recipes? Well, not all graham crackers are made equally, and if you prefer a slightly chewier texture and fluffier cracker, this is the recipe for you! More closely resembling the slightly soft Nabisco type, this gluten-free cracker recipe is perfect for making s'mores! It has a little more give than the crispier recipes, and requires more ingredients. However, for a tailor-made graham cracker experience, look no further! This recipe is also easy to flavor with cinnamon, honey or even chocolate to get your favorite taste.
14. Gluten-Free Crackers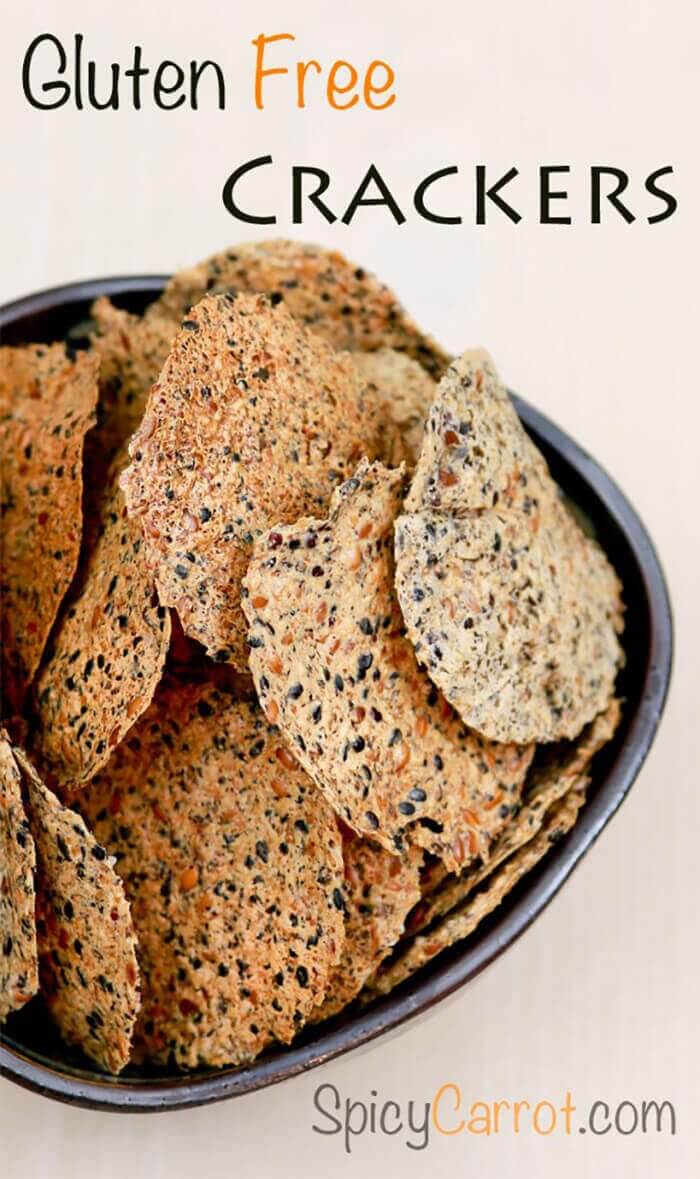 The only thing better than a delicious gluten-free cracker recipe is one that is also good for you. With a ton of different seeds and alternative grains, these healthy little crackers taste great, with a nutty flavor, and have a lot of protein and fiber. The recipe is a little more involved than some of the others, due to cooking some ingredients before adding them to the dough, but the result is more than worth it. Dip them in hummus or guacamole or pop them in your mouth straight from the oven! Even the most picky eaters will like these salty, nutty little crackers.
15. Rosemary and Sesame Paleo Crackers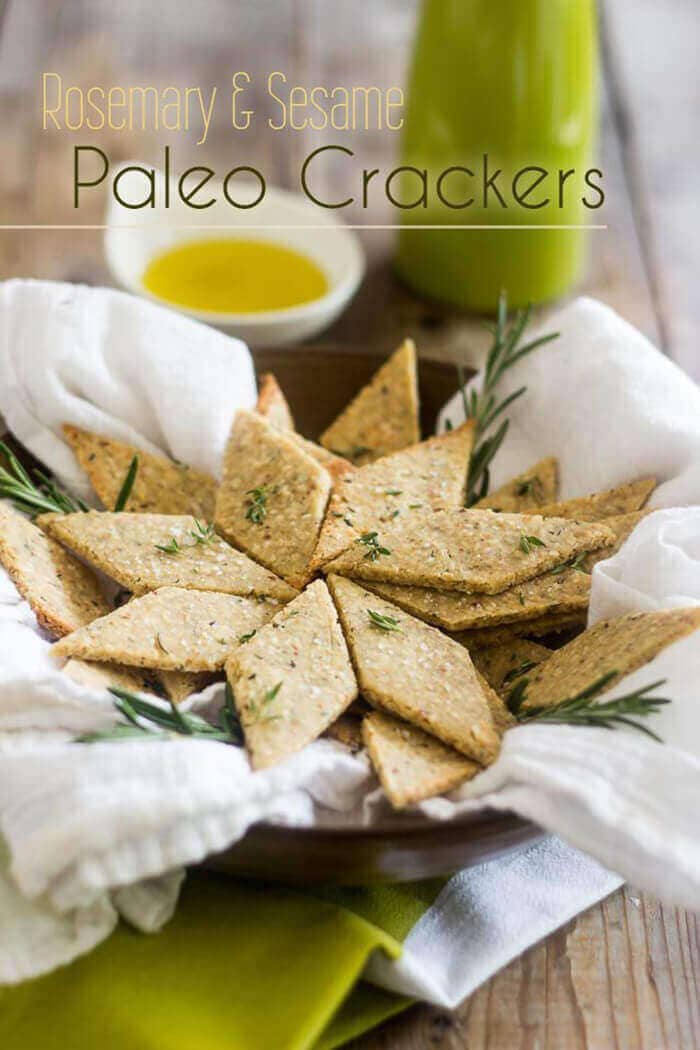 These little crackers are simply beautiful. With a golden brown color and flecks of deep green rosemary, they look like the fancy crackers you might find in specialty shops. However, by making your own, you can not only save money and make a sophisticated cracker, but one that also fits in with a gluten-free diet. The rosemary goes extremely well with toasted sesame seeds, giving a rich, grown-up flavor. In fact, these crackers are so delicious; they require absolutely no embellishment at all! The savory flavor and delicate crumb are a delight to eat all on their own.
16. Homemade Gluten-Free Vegan Animal Crackers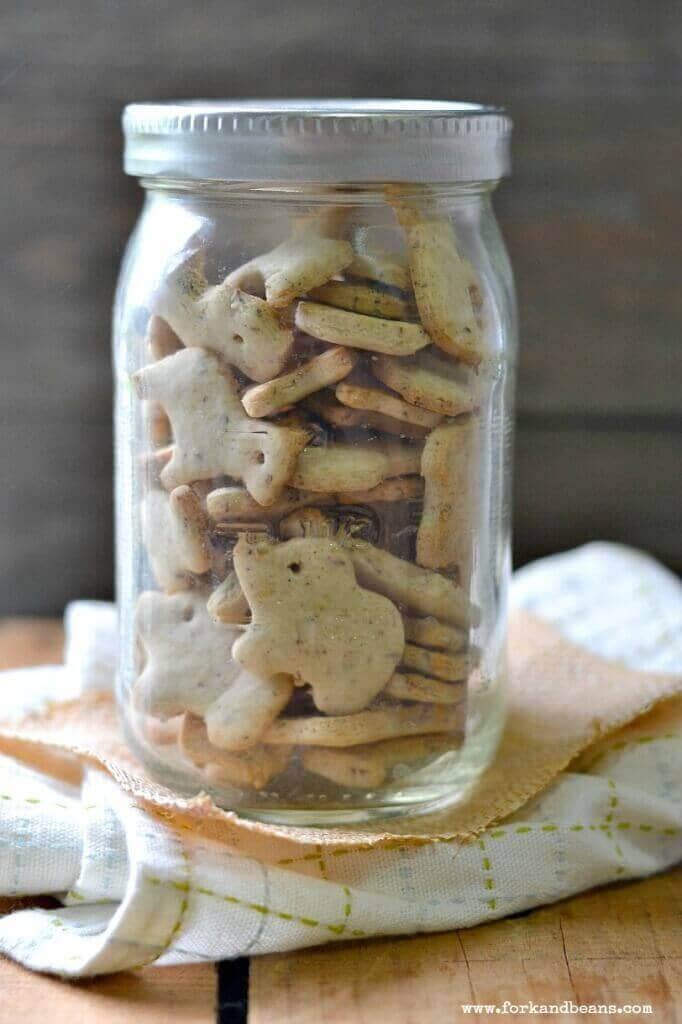 The classic contention about animal crackers is that they're more of a cookie than a cracker. However, this childhood favorite may not come in a fun circus-themed box, but they do taste an awful lot like the real thing. Perfect for those with dietary restrictions, this gluten-free food is also egg and dairy free. Kids love the fun animal shapes, and getting them to help cut out the crackers is a great way to get them involved in the whole process. This recipe makes a lot of crackers, so they're great for sharing and packaging in advance for school lunches.
17. Gluten-Free Garlic Parmesan Crackers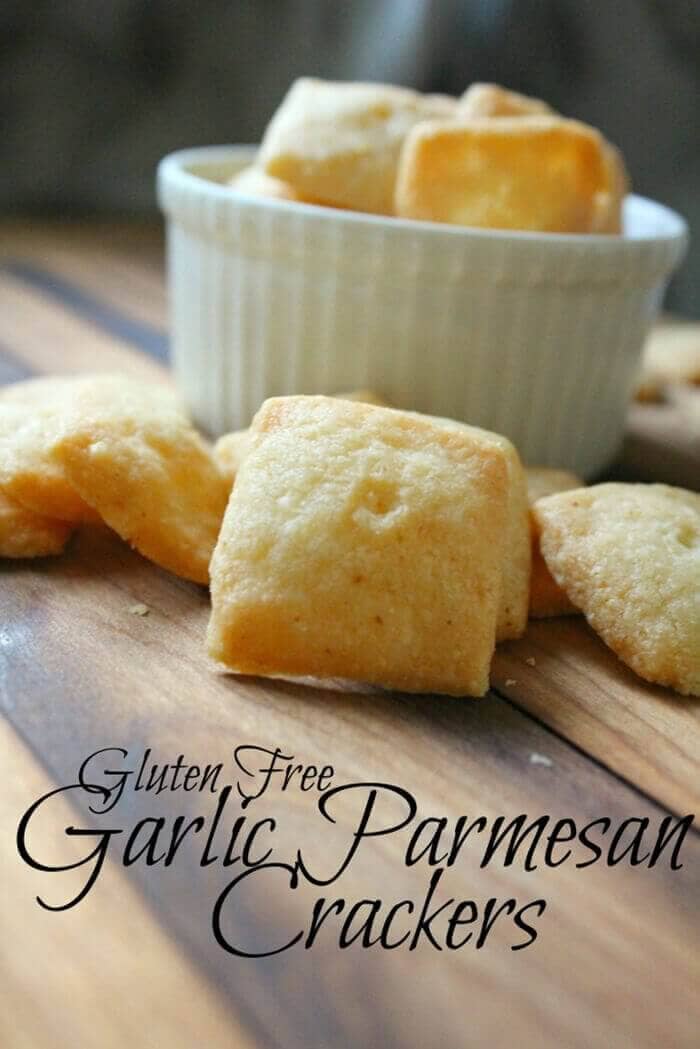 Is there a better food combination than garlic and parmesan? How about when they join forces in a tasty little gluten-free cracker recipe? These grown-up little crackers are light and puffy, with an exquisitely crunchy exterior. They're perfect when sprinkled over a hearty tomato soup for a great cool-weather lunch or dinner. With no additions necessary, this fantastic little recipe is also great on its own. Be careful, they are a little addictive, so you may find yourself eating them as soon as they're pulled out of the oven!
18. Easy Oatmeal Crackers (Gluten-Free and Vegan)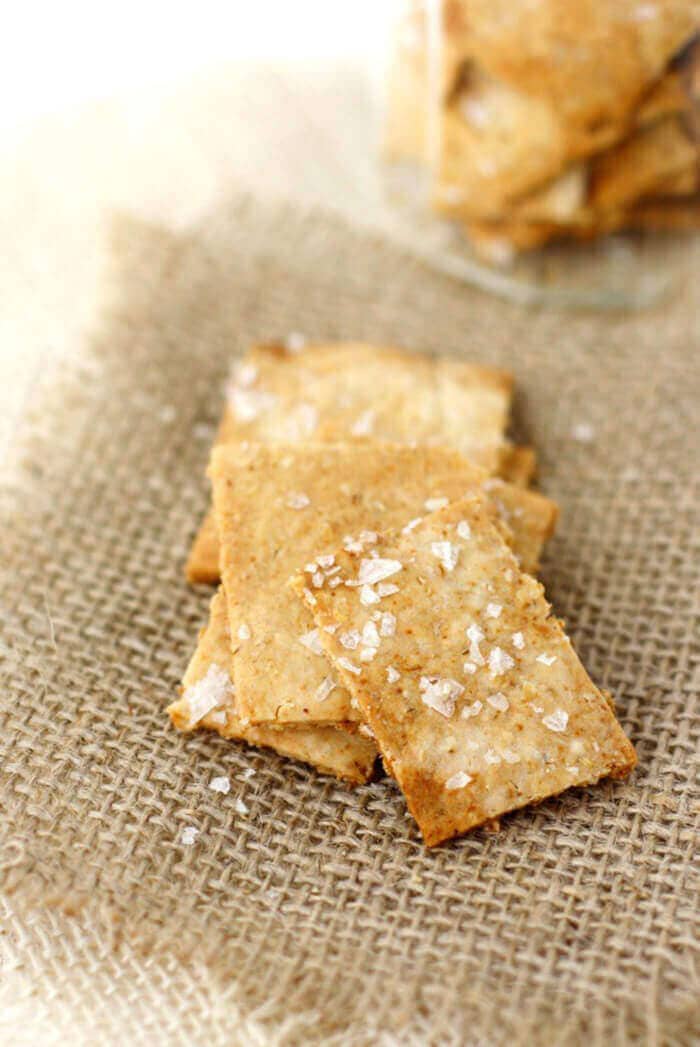 As an alternative to the standard gluten-free flour blends on the market, oat flour packs a huge amount of protein and fiber. While still crunchy, the way a good cracker should be, the oatmeal also lends a slightly chewy texture. These are utterly wonderful when spread with a little peanut butter for a morning or afternoon snack. They're good for you, delicious and will keep you going until your next meal! They're also very easy to customize. Use different spices or flavorings to tweak this recipe to your exact favorite taste.
19. Gluten-Free Honey Graham Crackers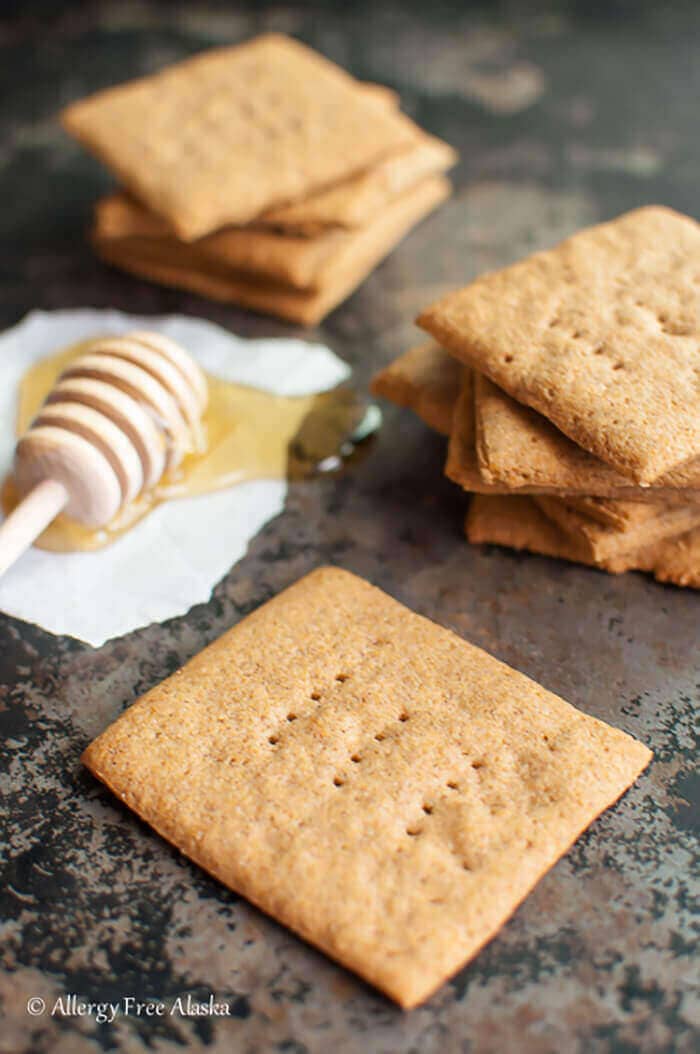 Though there are many different flavors of graham crackers on the market these days, the original honey flavor will always be a favorite. This recipe uses real honey for a sweet, summery flavor that's perfect for making s'mores around a campfire. Light, slightly puffy and featuring a satisfying crunch, this gluten-free food is the best complement to fluffy marshmallows and warm, oozing chocolate. You definitely don't have to be a kid to enjoy these perennial favorites. Use a fork to poke the familiar holes in the top of these crackers for a more authentic look.
20. Healthy Homemade Graham Crackers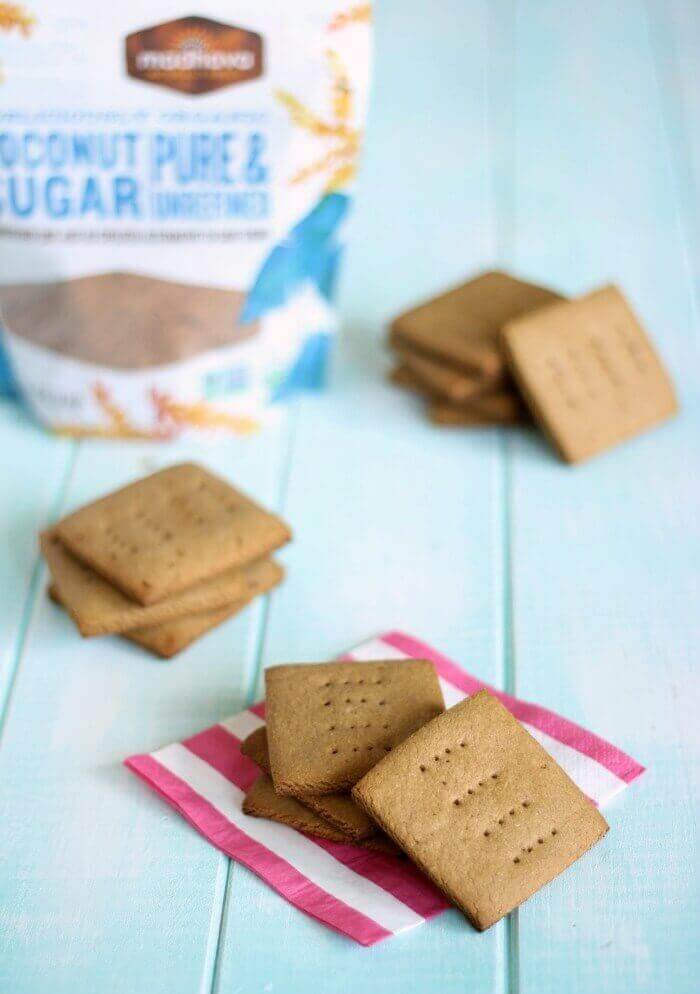 If you're looking for a gluten-free graham cracker recipe that not features no wheat, but is also good for you, look no further! This gluten-free cracker recipe uses natural coconut sugar for a familiar, sweet taste without all the adverse health effects of using refined white sugar. It's also a much more environmentally friendly alternative to regular sugar, as the process of creating it uses far fewer natural resources. These graham crackers are not only good for you, tasty and fit into a gluten-free diet, but are also great for eco-friendly families looking to make less of an impact!
21. Grain-Free Gluten-Free Graham Cracker Recipe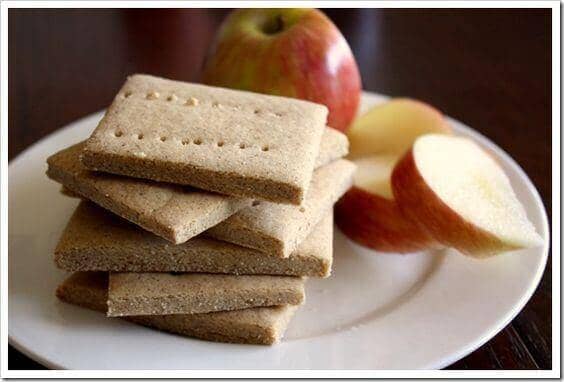 These lightly-spiced graham crackers are surprisingly easy to make. They look utterly professional, with crisp, straight edges and tiny perforations. The intricate, delicate flavor comes from using high-grade cinnamon, as fresh as you can find. After all, with so few ingredients, you want the ones included to really shine. Due to the mixture of coconut flour and almond flour, these crackers are a little more dense than the store-bought variety. However, that just makes them more filling, and the alternative flours have far more health benefits than traditional white flour. Plus, they taste great when smeared with a little of your favorite nut butter.
22. Gluten-Free Graham Crackers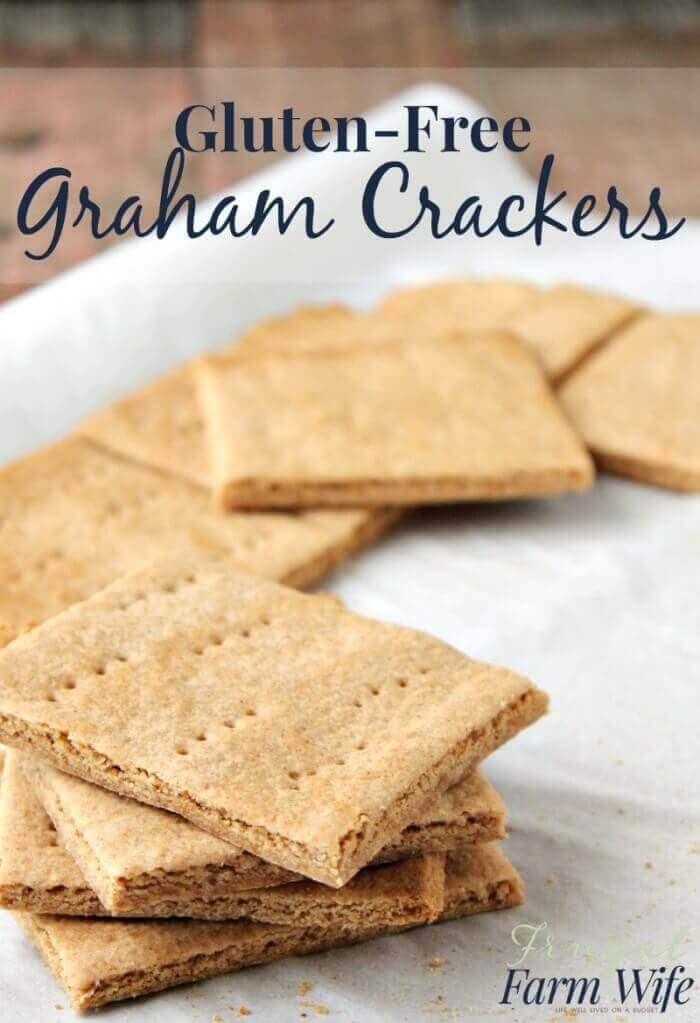 While not as good for your health as many other gluten-free crackers, this fairly easy recipe does taste incredibly close to the real thing. If you miss the real taste of honey-laden graham crackers, this is the gluten-free recipe for you. For everything from s'mores to pie or cake crusts, to even dunking in a cold glass of milk as an after-school treat, these graham crackers can do everything the store-bought variety can do. For a little extra treat, sprinkle the tops with a cinnamon-sugar mixture before popping them in the oven.
23. Graham Crackers (Gluten-Free)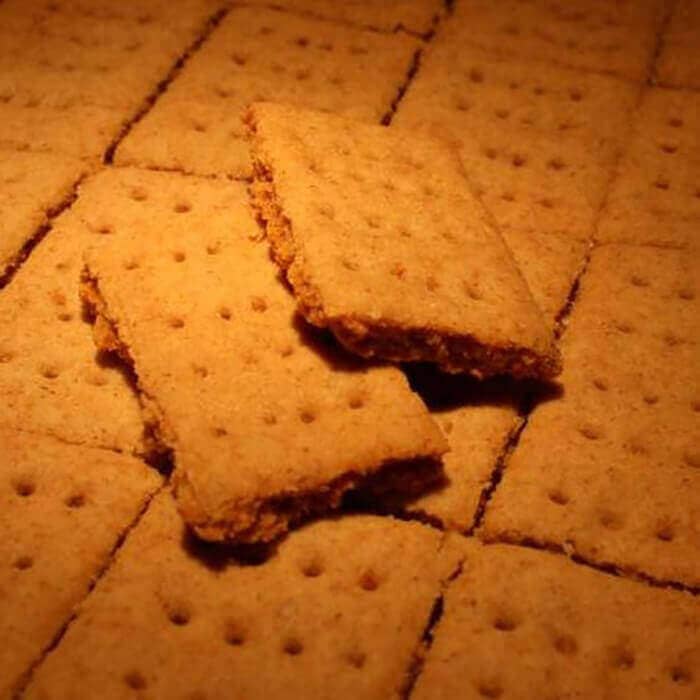 If you do a lot of gluten-free baking, chances are that you already have all the necessary ingredients in your kitchen. One of the best things about this gluten-free cracker recipe is that the flours called for can be easily substituted with your favorites. Just be sure that the volume is the same to get the familiar, crunchy texture. Kids love these crispy crackers, sweetened with natural honey, raw brown sugar and real vanilla extract. Try crumbling these crackers over some ice cream for an extra-special sweet treat! With alternative flavorings, this recipe can also be made to fit a vegan diet as well as a gluten-free diet.
24. Brown Sugar Cinnamon Graham Crackers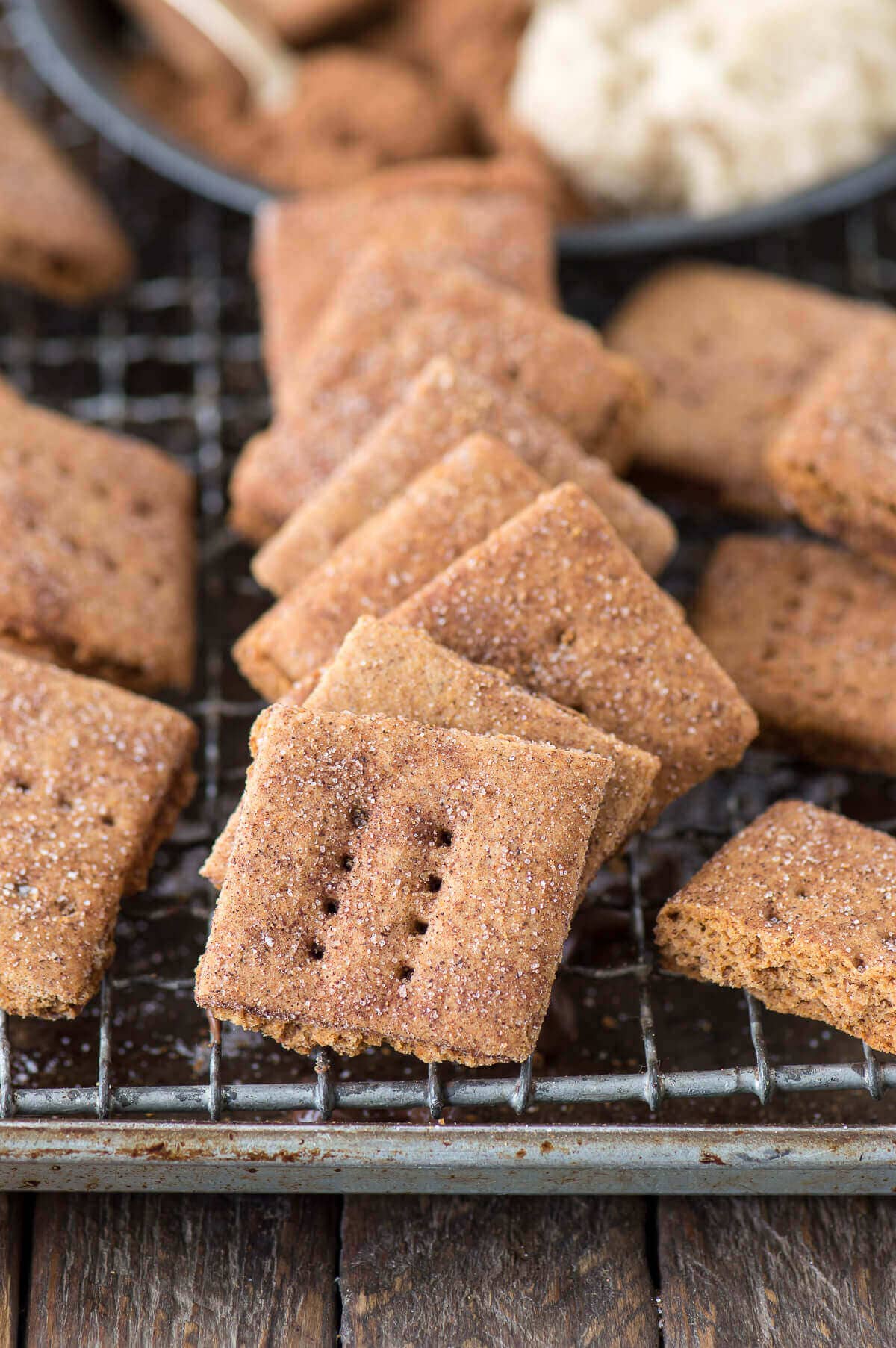 While this isn't the easiest or healthiest recipe on this list, these brown sugar cinnamon graham crackers are incredible. Kids and adults will love them, and the recipe makes a lot of these little squares of joy. There are a ton of fun steps to this recipe that children especially will love to get involved with. They can play around with poking holes, making designs or spelling out initials. The cinnamon and brown sugar sprinkling is particularly inspired, taking this gluten-free recipe to the next level of flavor and texture.
25. Gluten-Free Honey Graham Crackers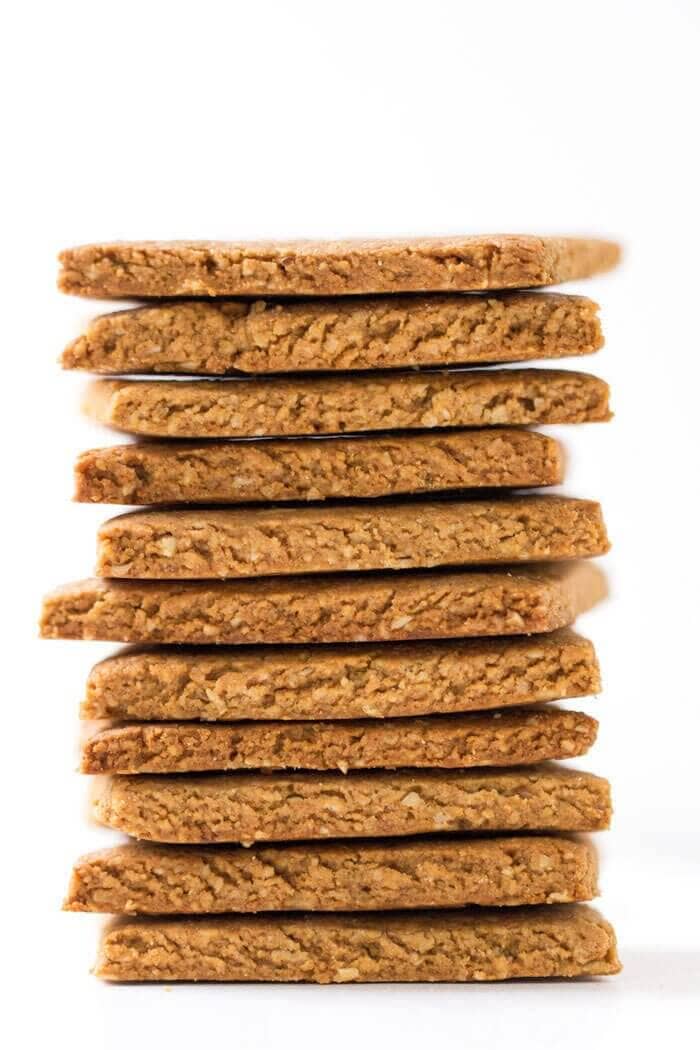 This gluten-free food recipe calls for less sugar and other sweeteners than others on this list. That, combined with the coconut milk, protein-rich quinoa flour and home-made oat flour makes this a very beneficial treat. Honey is great for you, so this is a completely guilt-free indulgence that makes a fantastic little snack for everyone in the family. Try dipping them in your favorite nut butters or spreading them with a little unsweetened applesauce for a delicious, nutritious afternoon snack.
26. Gluten-free and Grain-free Cheese Crackers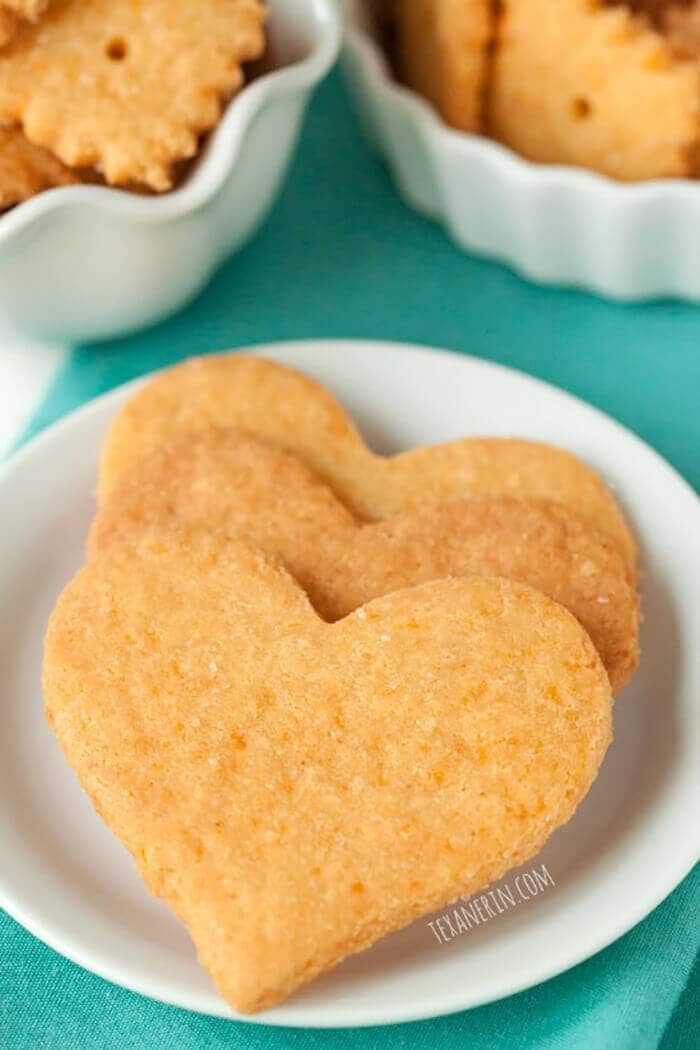 A lot of common gluten-free flours can leave baked goods with a funny aftertaste, but the sheer amount of cheese in this gluten-free cracker recipe means no one will ever notice. Instead, you're left with a super-cheesy flavor that's reminiscent of Cheez-Its or Goldfish crackers. Much like those other popular snacks, it's impossible to eat just one of these! The recipe makes a large batch, but it you're planning to share, it might be a good idea to double it. They're also pretty customizable. Adding in ingredients like onion, garlic or black pepper gives a much more sophisticated depth of flavor.
27. Multi Seed Crackers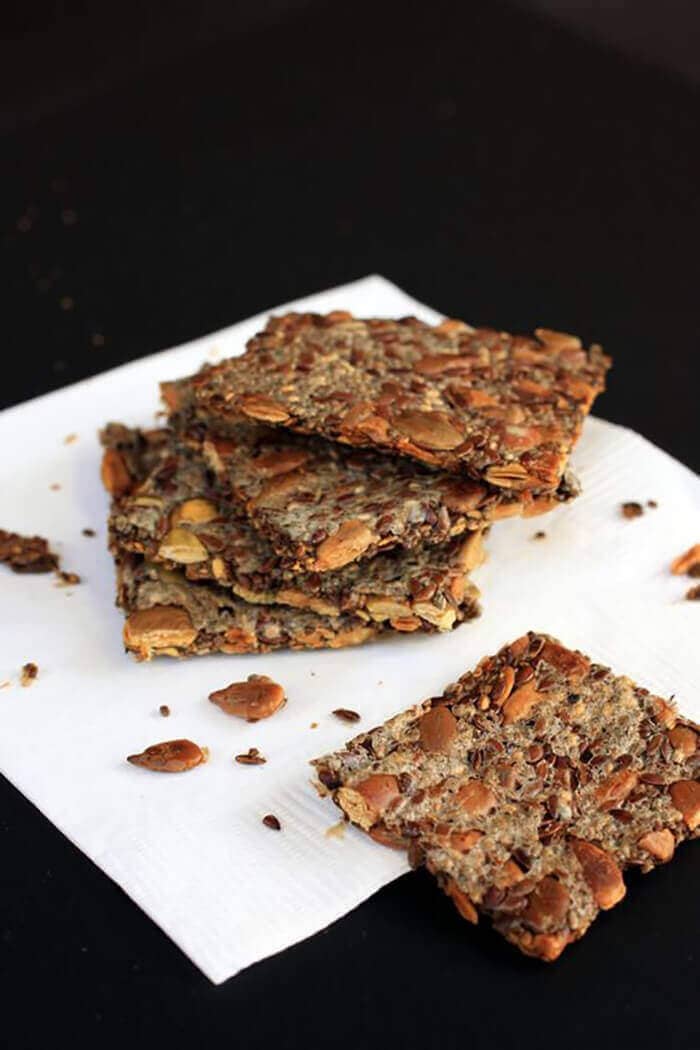 In addition to being gluten-free, these crackers are insanely good for you. They combine a ton of different seeds with a multitude of health benefits to give you a crunchy, delicious snack whenever you need a burst of energy. Eating a diet rich in seeds is one of the easiest ways to stave off unnecessary hunger and keep your body feeling great. They're high in fiber and have complementary flavors, so you get a tasty treat that you can feel good about feeding to your family!
28. Sesame Cheese Crackers Low-Carb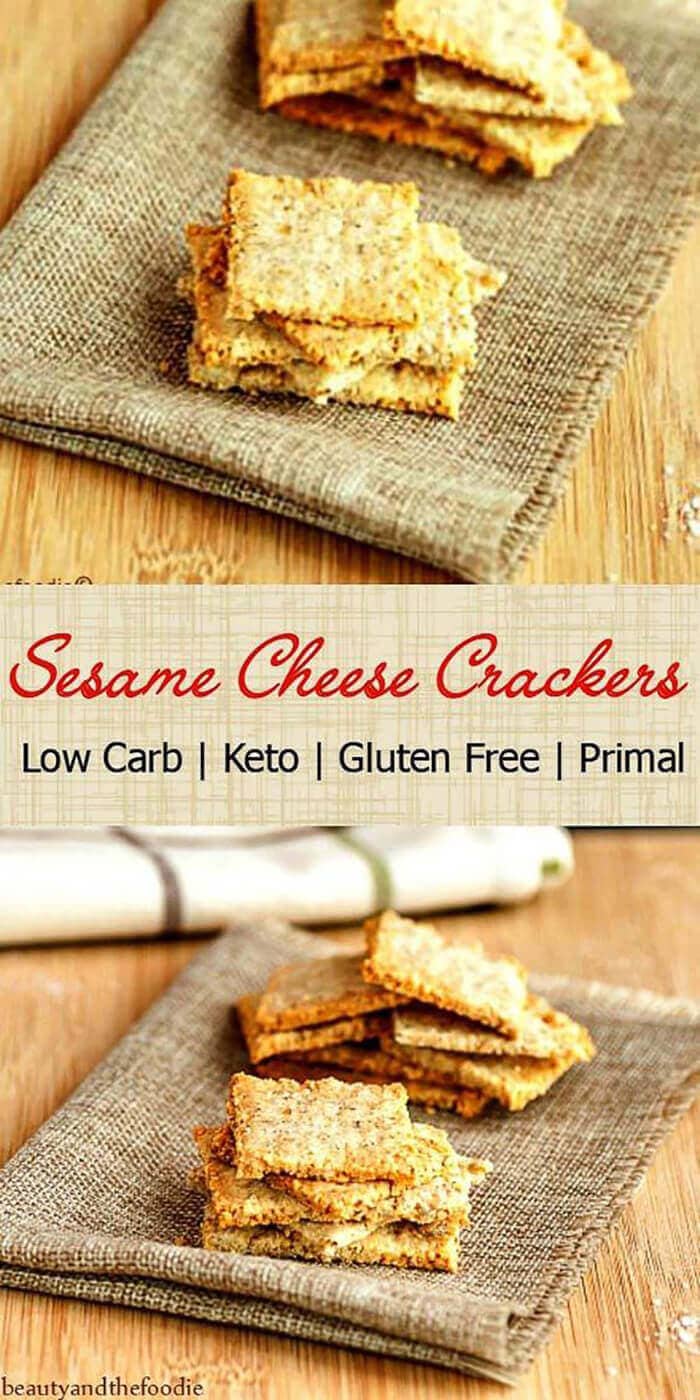 Adhering to a gluten-free diet can be exhausting sometimes. For those stressful days when you just want a carb-filled meal idea, these crackers will really hit the spot. They're very cheesy and have a slight nutty flavor due to the sesame seeds. For an even more intense flavor, try toasting the sesame seeds before baking this gluten-free recipe. Your whole kitchen will smell heavenly, and like the best cracker recipes out there, they're very easy to make with easy to source ingredients.
29. Cheese Thyme Crackers (Gluten-free, Low Carb)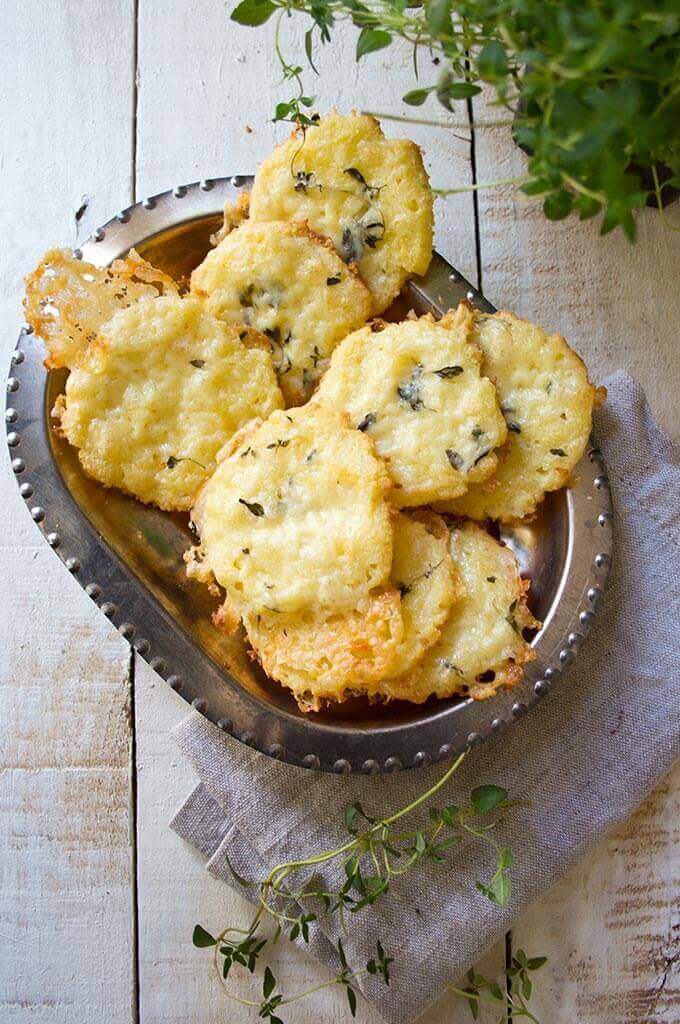 While coconut flour may seem like an odd choice for a savory cracker, using strongly-flavored cheeses will quickly overpower the strong coconut taste. By combining cheddar, parmesan and thyme, you create a crispy, thin little cracker that's enjoyed by young and old alike. Indeed, these little crackers are equally at home packed into a school lunch or enjoyed alongside an evening glass of wine. Try serving these at your next party – they won't last long!
30. Pumpkin Sunflower Seed Crackers
Most gluten-free crackers are great for a little snack or afternoon treat, but these pumpkin sunflower seed crackers are very substantial. The different seeds get an update from the slightly unusual hemp heart, but the result is incredible! Very different from a delicate soda or water cracker, these are more like a crispy cracker packed full of your favorite trail mix. With their salty, savory flavor, they make a great accompaniment to a smear of goat cheese and thinly-sliced apple or pear. For an extra-special meal idea, try these crackers as a bread substitute with your favorite sandwich fillings!
31. Gluten-Free Graham Cracker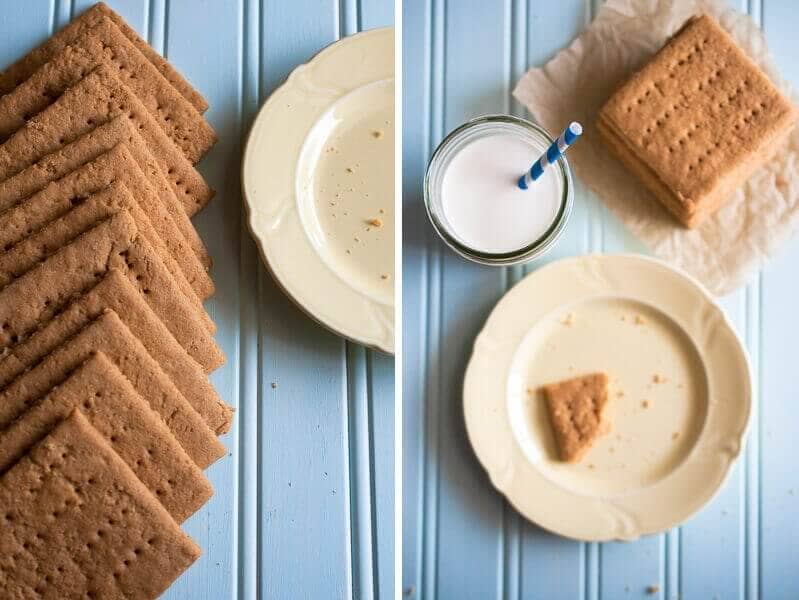 Very often, gluten-free flour mixtures have an unpleasant taste that makes baked goods with fewer ingredients taste off. The almond flour used in these gluten-free graham crackers gives a slight nutty flavor that works really well with the honey and cinnamon. The result is a dense, crispy graham cracker with a sweet, but not too sweet flavor. This gluten-free cracker recipe also stores really well, meaning you can make these in advance, or in a big batch and keep them for several days.
32. Gluten-Free Cheese Crackers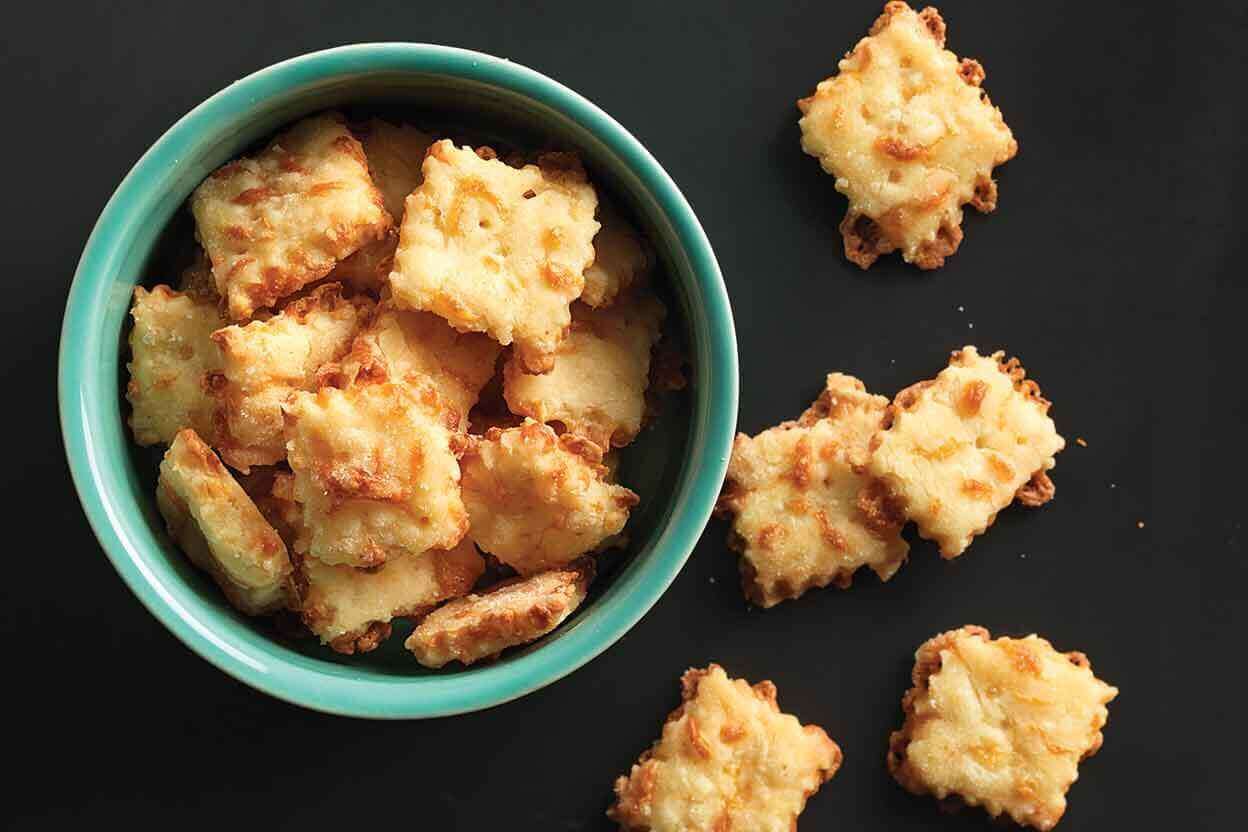 This recipe might look involved, and features a long ingredient list, but the technique is actually quite simple. It also makes a huge amount of gluten-free crackers. Unlike many cheese crackers that feature just a hint of cheesiness over a bland cracker base, these guys use fresh cheddar and other seasonings for a flavor you just can't ignore. They're perfect for anyone who loves cheese. If you adhere to a gluten-free diet and miss cheesy crackers, these are a lifesaver. Plus, you can use any cheese you like, and there are no preservatives or other bad-for-you ingredients!
33. Gluten-Free Garlic Crispy Rice Crackers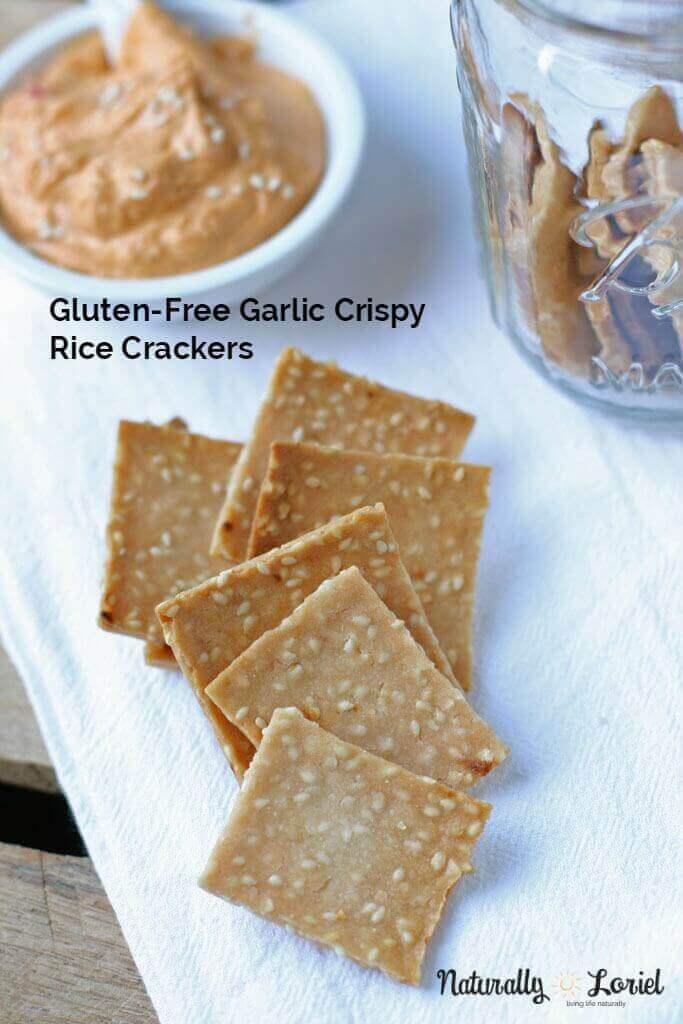 The unique flavors contained in these gluten-free crackers are really reminiscent of Asian snack crackers. They're delightfully crisp, crunchy and surprisingly good for you. The dough may be a bit fiddly to work with the first few times you make this recipe, but it's easy and fast enough that you can create the perfect crackers within an afternoon! Just be sure to use the unsweetened rice flour, as that can have a really big impact on the taste. For a slightly different twist, why not try black sesame seeds? They also look more striking.
34. Paleo Graham Crackers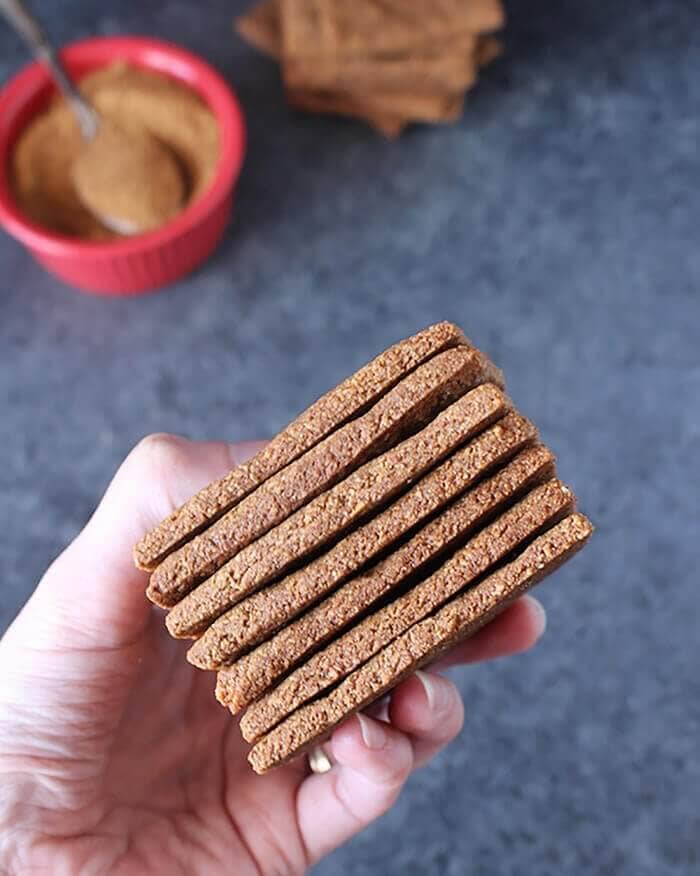 These graham crackers are a little different than the others on this list. They fit into a paleo diet as well as a vegan and gluten-free diet, so all ingredients are purely natural – nothing refined or processed! This is great news for those who want to avoid preservatives and processed foods. The all-natural sweeteners in this gluten-free cracker recipe give it a subtle flavor, one that isn't too overpowering. That, combined with the light and crispy texture makes these crackers perfect for spreading with jam or jelly for a small snack.
35. Gluten-Free Chickpea Crackers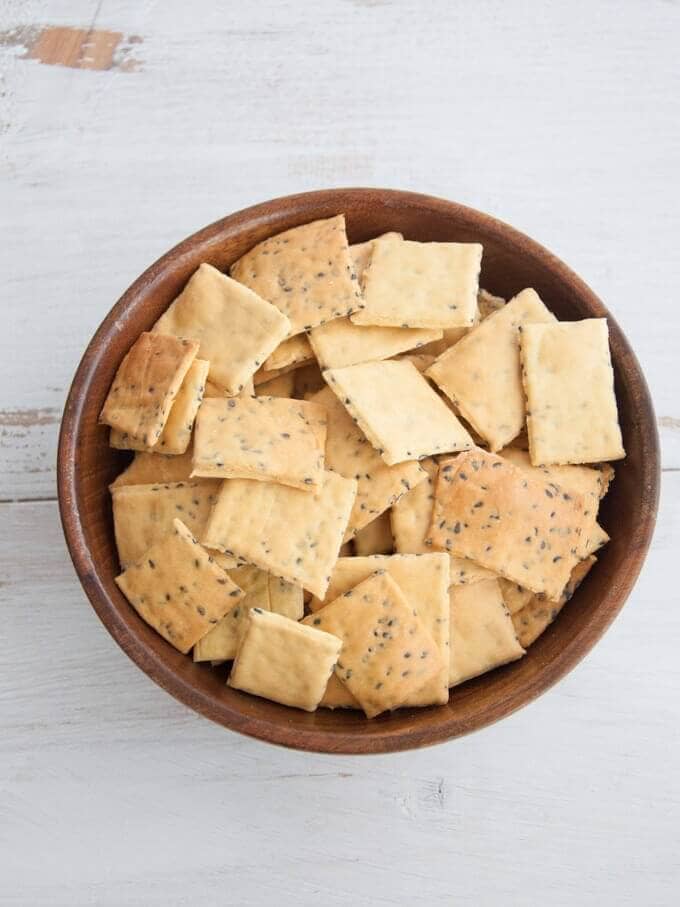 These crackers look incredible, and they are! They're very high in fiber and protein, because instead of the common gluten-free flour mixes many people use, they are made of chickpea flour. This makes them much healthier than most gluten-free crackers. However, chickpea flour also has a very strong chickpea flavor. If you aren't the biggest fan, that's something to consider. The black sesame seeds in this recipe not only look great, but give a subtle flavor that makes these crackers very sophisticated – just right for a more grown-up palette.
36. Gluten-Free Cheddar Crackers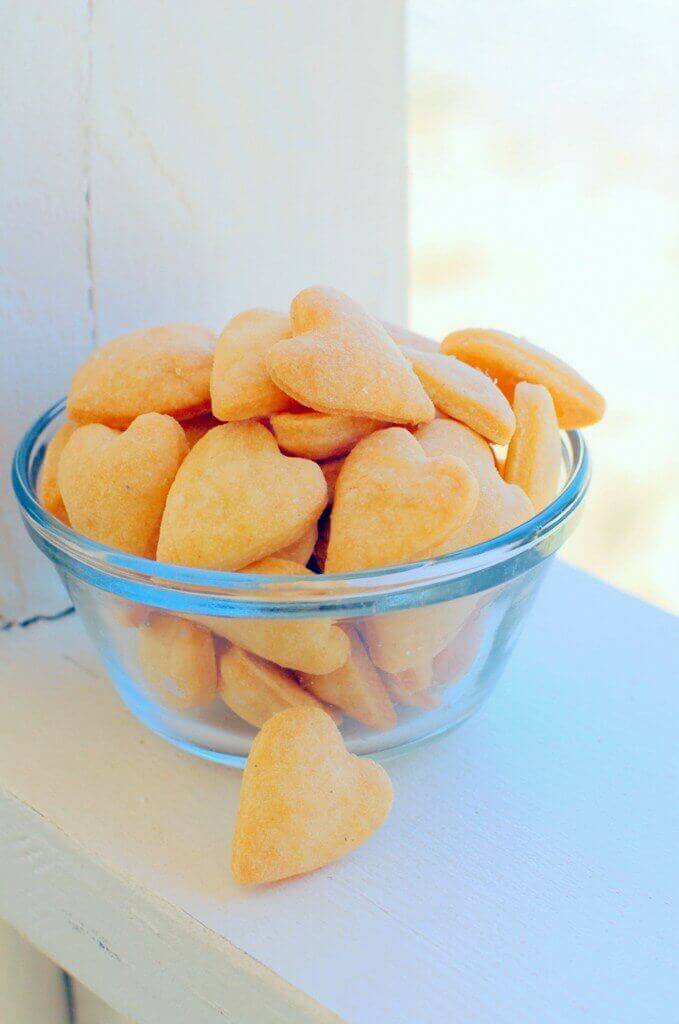 What is it about Goldfish Crackers that make them so irresistibly delicious? If you think it's the intense cheese flavor, puffy, crispy texture and fun shapes, then this gluten-free cracker recipe is about to change your life. Perfect for tucking into a school lunch or munching on as an afternoon treat, you can make these gluten-free crackers in any shape you like. Mix up the cheese flavors for a brand new take on an old favorite. Kids will love getting involved in the kitchen making their own shapes. This is a simple recipe that will quickly become a family favorite.
37. Garlic Hummus Crackers – Vegan and Gluten-Free
Is there a better combination than hummus and garlic? Sure, it doesn't make for the best-smelling breath, but as far as taste goes, they're a match made in culinary heaven. Combining these two flavors in a bite-size, crunchy little cracker is the perfect way to take your favorite snack on the go. You can use any flavor of hummus you like, and this easy recipe comes together in under a half an hour, meaning you can experiment and find your perfect flavor without waiting too long! If you're a really big hummus fan, these are perfect for dipping for a double dose of hummus!
38. Gluten-Free Vegan Mini Graham Crackers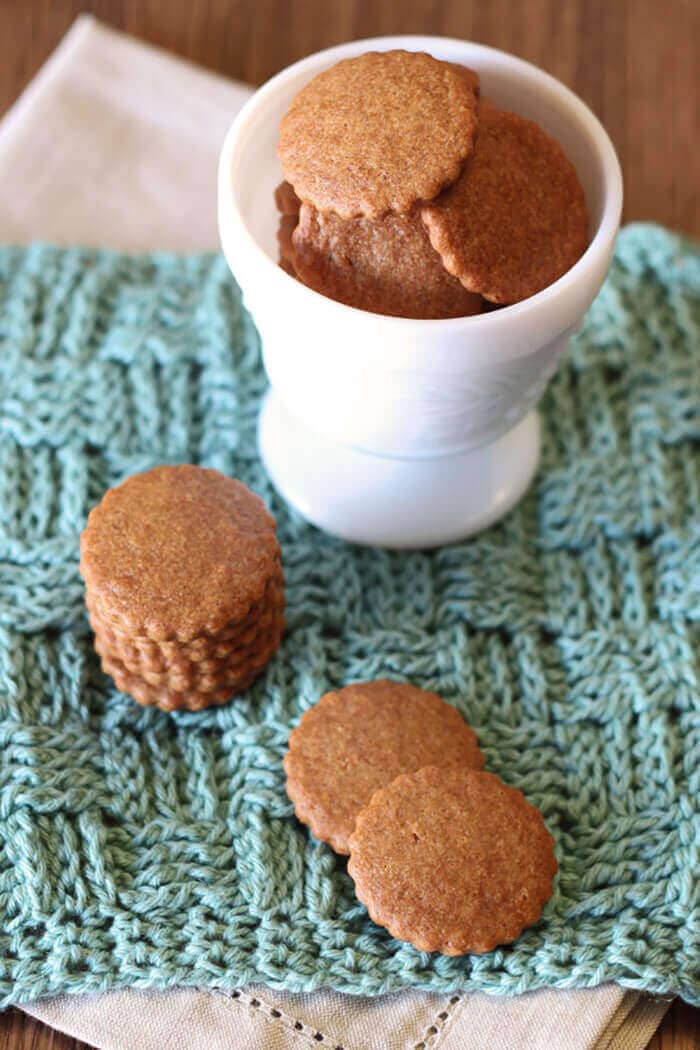 This adorable little gluten-free food is a little closer to a cookie than a cracker, but when you taste their incredible flavor, you won't even care! They're perfect for people with various food allergies or intolerances. That's because in addition to fitting a gluten-free diet, they're also free of refined sugar, eggs, dairy, soy and nuts. With just a few ingredients, you can have these heavenly little crackers that not only taste amazing and are the perfect size for snacking, but also much healthier than many store-bought alternatives.
39. Easy Crackers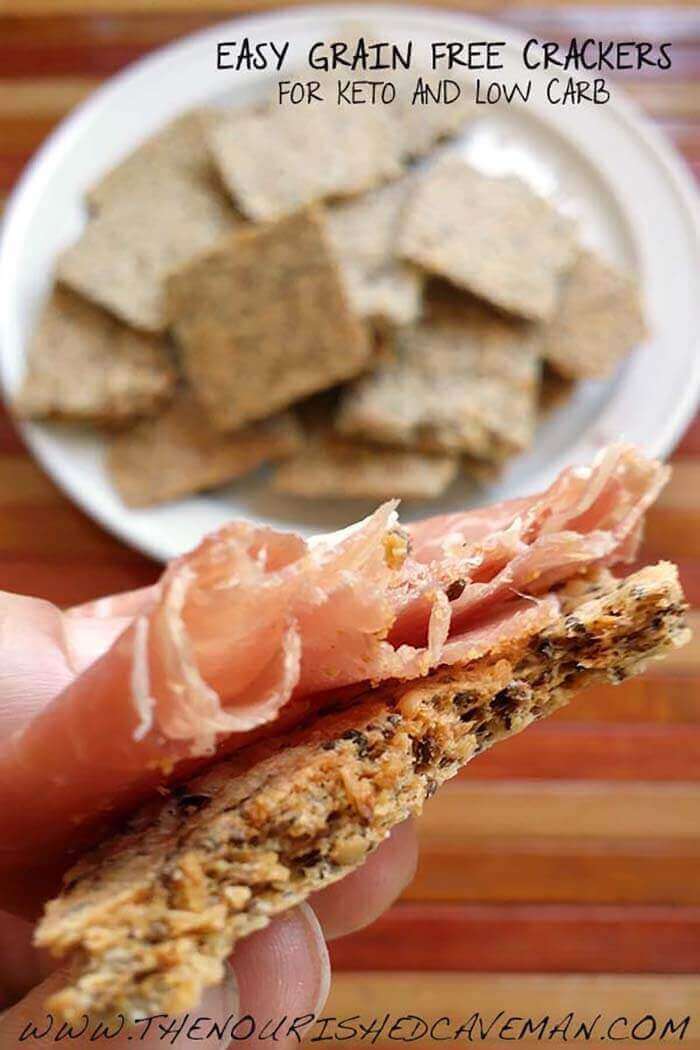 When we say this recipe is easy, we really mean it! The profusion of seeds give it a great crunch, while also giving you a lot of protein and fiber. While this may not be the most kid-friendly cracker, the neutral flavor makes it great for toppings. Set these out as an appetizer at a party with healthy toppings, like smoked salmon, mashed avocado or your favorite all-natural nut butters. They're very simple to make, and everyone will be asking for your recipe. The perfect snack, these little crackers will keep you full and satisfied until your next meal.
40. Homemade Grain and Gluten-Free Saltine Crackers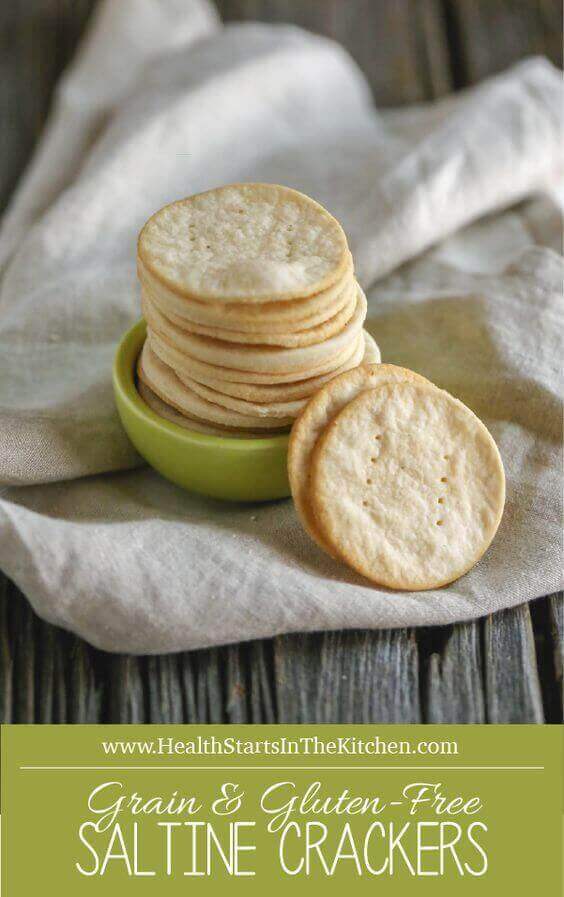 This simple recipe uses a fairly uncommon type of flour. Cassava flour is derived from the yucca plant, a South American root vegetable. If you've used tapioca flour before, it's basically a more refined, bleached version. Cassava, on the other hand, is a whole food. It's very healthy and almost indistinguishable from traditional wheat flour. It bakes up beautifully and makes this gluten-free food crispy, light and perfect for toppings. With just five ingredients and 20 minutes, you'll have perfect crackers right from your own kitchen!
41. Valentine Red Lentil, Beet and Flax Seed Crackers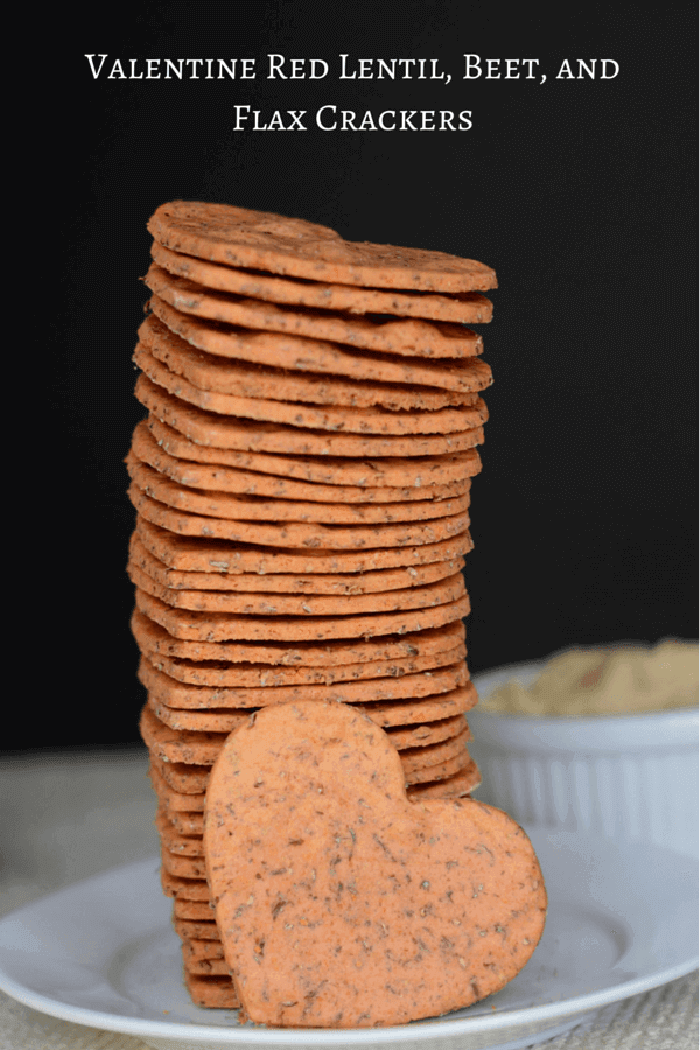 For a fun, seasonal meal idea, why not start with a lovely little cracker that's perfect for a gluten-free valentine? Their bright hue, adorable heart shape and delicately sweet flavor is a perfect alternative to wheat-laden appetizers. Because of the lentils and flax seeds, this is one of the best cracker recipes if you're looking to incorporate more protein and dietary fiber into your daily life. The best part? Kids love these crackers just as much as adults, so it's easy to get even picky eaters to get more nutrients.
42. Soaked Gluten-Free Graham Crackers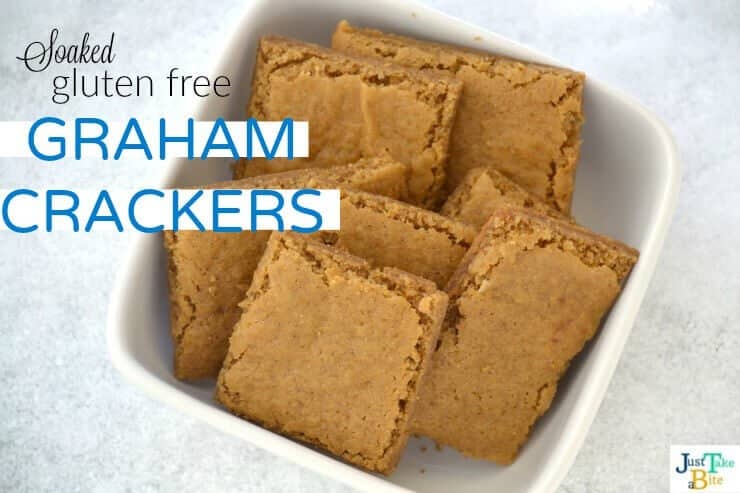 These may look a little different than your standard graham crackers, but make no mistake – they still taste amazing! One issue with working with gluten-free flours is that they can be really heavy, making even the best cracker recipes come out of the oven dense and difficult to chew. Enter the process of soaking the grains first. This makes them much easier to work with and gives you a lighter, crisper texture. It may mean you have to plan in advance to make this recipe, but the results are so worth it.
43. Easy Paleo Graham Crackers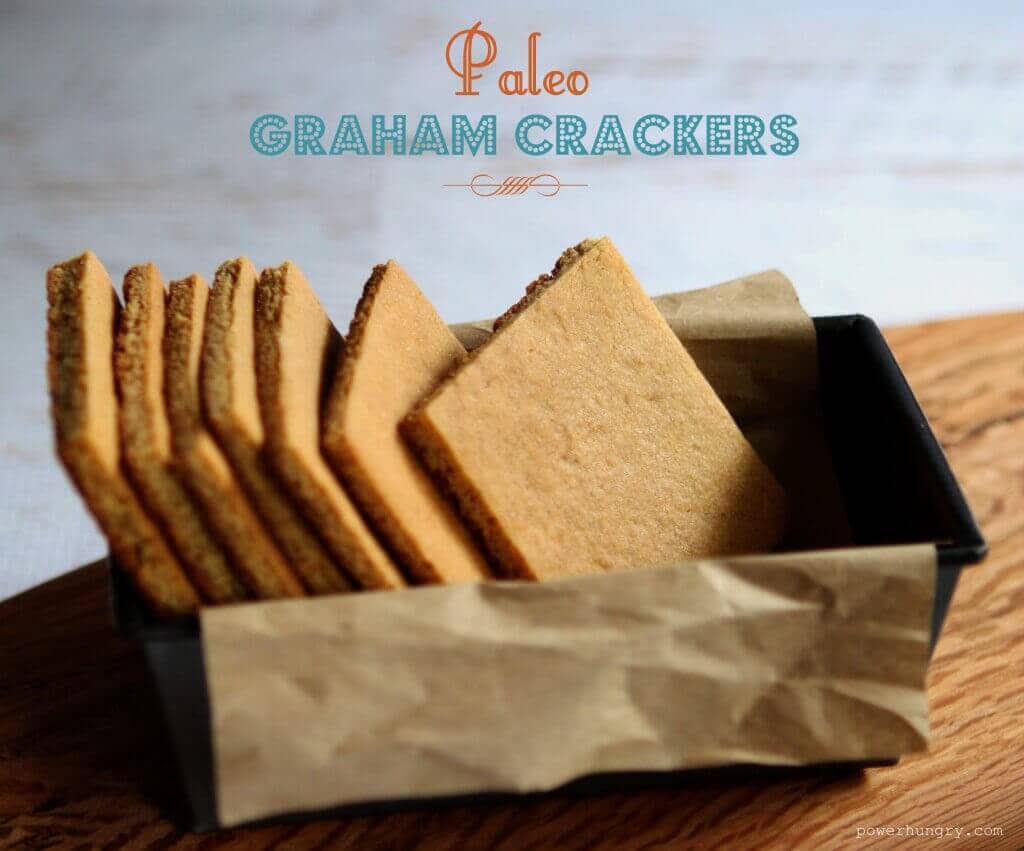 This is such an easy recipe, featuring few ingredients. Therefore, it's very important to use the highest-quality materials you can find. Real, pure maple syrup and coconut oil are what give this gluten-free cracker idea their subtle, unique flavor. It's one that will appeal to just about everyone and is great for spreading with peanut butter. Tuck a few into your bag for snacking on during the afternoon. They'll provide energy without being too heavy, staving off mid-afternoon hunger pangs without spoiling the appetite.
44. Gluten-Free Vegan Pizza Crackers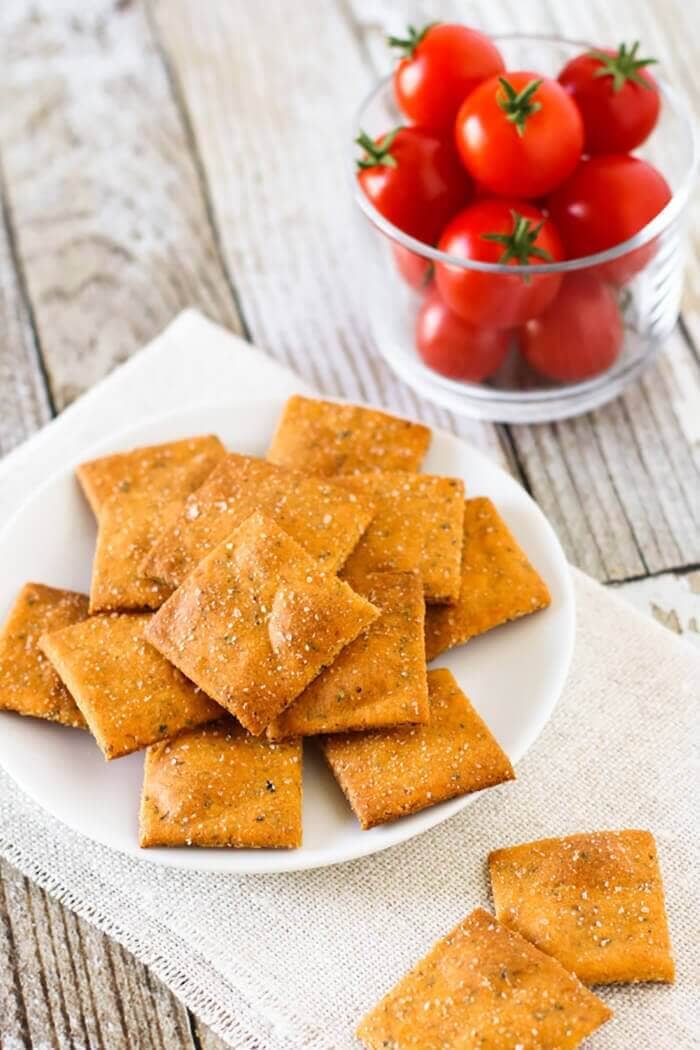 The flavors in a good, simple slice of pizza are just that – simple. Just tomatoes, basil, garlic and oregano, so how do they manage to taste so incredible together? If you love this classic combination, you'll love this cracker idea. All the flavors of pizza in a crunchy, bite-size snack that's perfect for tucking into a school lunch or providing fuel during the work day. The recipe requires a little work, but once you smell these crackers baking up, you'll see that it was all worth the labor.
45. Animal Crackers Recipe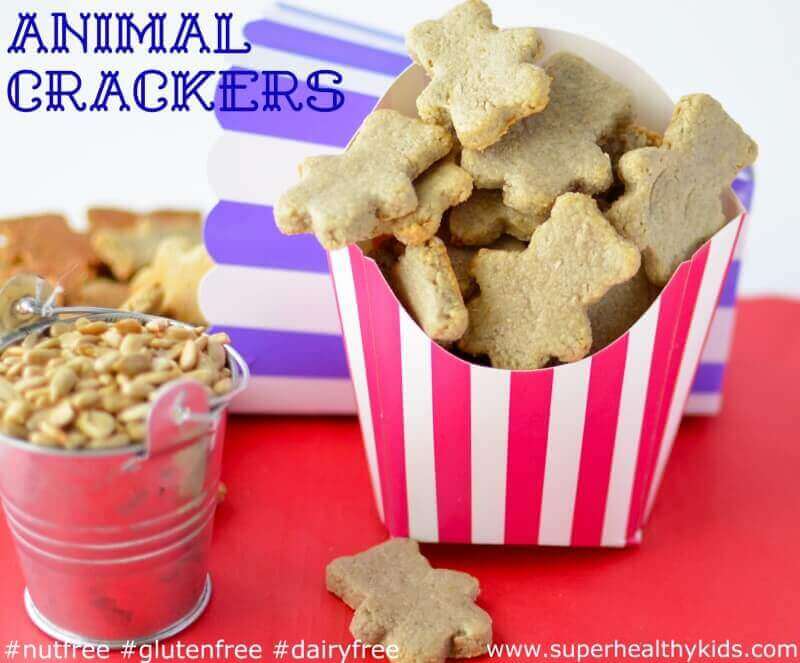 If the name and look of this recipe reminds you of the store-bought animal crackers, you probably think they'll be sweet. However, this recipe has a slightly nutty flavor. That's because instead of using a gluten-free flour, the main ingredient is sunflower seeds. They have a huge amount of nutrients, making this cracker idea perfect for health-conscious families. Kids will love helping out in the kitchen, rolling out dough and cutting their own crackers. For a special treat, they can even decorate the cookies with a little melted chocolate or coconut shavings!
46. Rosemary Crackers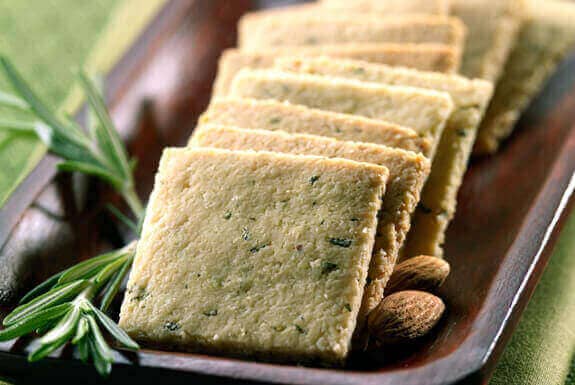 The many appearances of crackers made with almond flour on this list should tell you something. It may be an expensive alternative flour, but it has a subtle taste and fantastic texture that make it great for crispy crackers. When combined with the heavenly aroma and taste of fresh rosemary and high-quality olive oil, almond flour is perfect. This easy recipe is perfect when you want a delicious, light snack but don't want to wait too long. If you bake often, chances are you already have all the ingredients in your pantry, as well. Experiment with other types of herbs for different flavors profiles.
47. Gluten-Free Crackers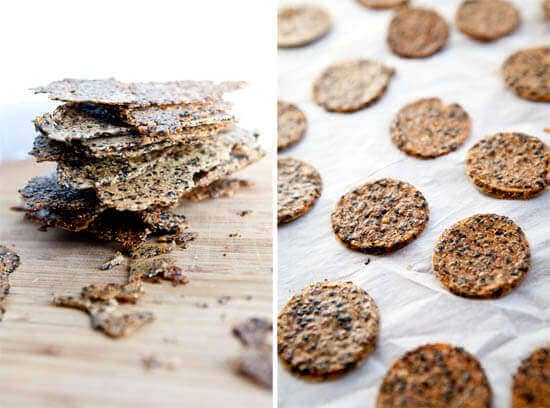 This is another insanely healthy gluten-free recipe. With a ton of different seeds and healthy, whole grains, these thin, shatteringly crisp crackers make for a perfect snack. They also store really well, so you can keep them for days and pull them out when you want an easy, delicious meal idea. Top them with sweet spreads like Nutella or jam, or savory ones like hummus or cheese. They're also great on their own, providing a very satisfying crunch. This recipe is also great for vegans, as they contain a lot of protein.
48. Simple Quinoa Crackers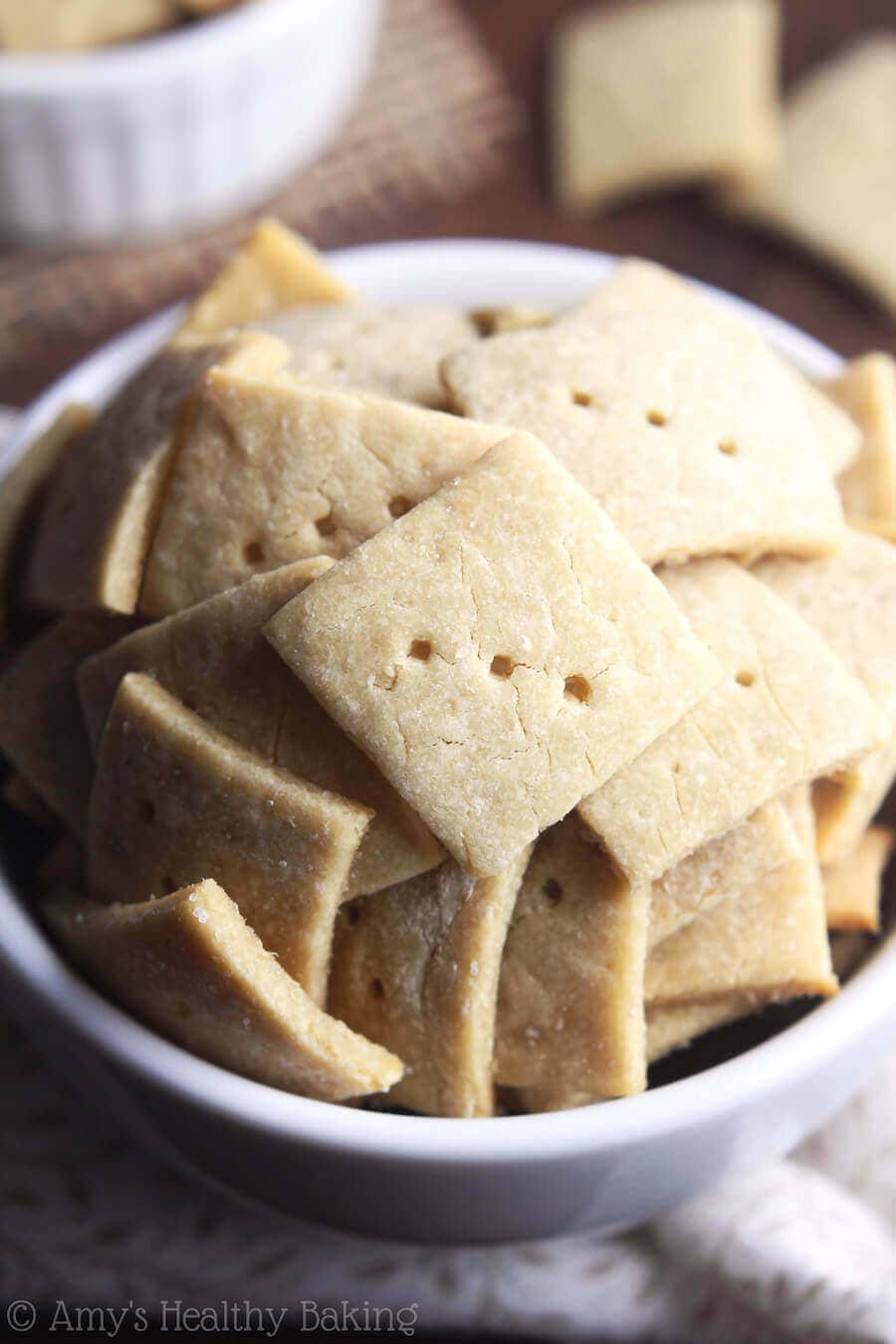 It's no surprise that the best cracker recipes are the ones that are simple to make, are good for your health and are absolutely scrumptious. These little crackers, with the surprise main ingredient of quinoa, do all that and more! They also look great, with a pale color and fine texture. You may have difficulties sourcing the required quinoa flour, but you can also make your own in a food processor. It may have some lumps, which you can either sieve out or leave in for a more unique texture. You'll love dipping these neutral-flavored crackers in just about anything!
49. Kale Rosemary Super Seed Crackers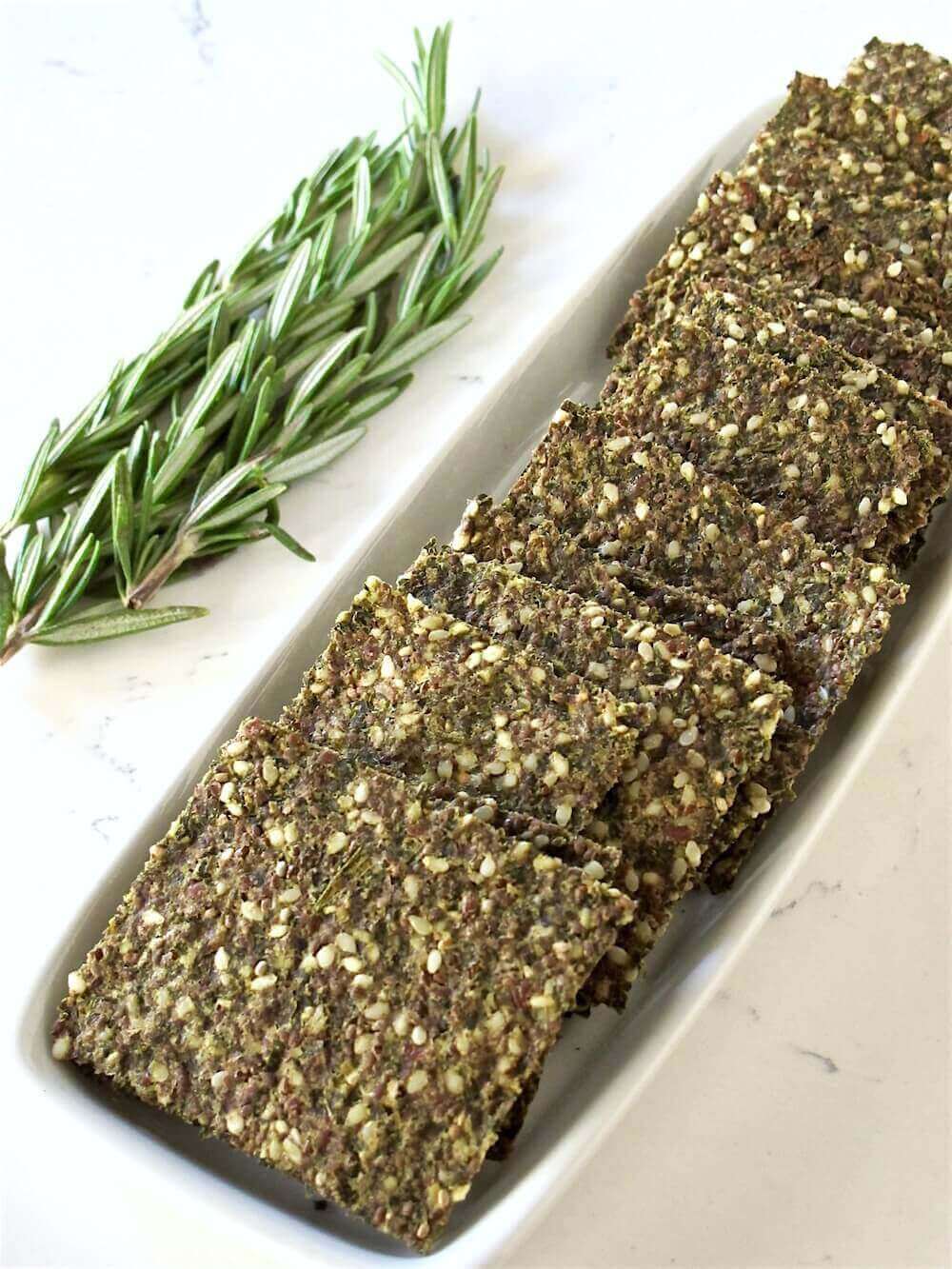 Talk about unique! Kale is just about everywhere these days, as more and more people are recognizing its versatility and health benefits. When its paired up with fragrant rosemary and a handful of high-fiber and protein seeds, it's even better. While you may not think of leafy greens when you think of crispy crackers, this gluten-free recipe just might surprise you! They bake up perfectly and pair well with a large assortment of savory spreads. They have a bit of a strong flavor, so they're also quite enjoyable on their own.
50. Homemade Flax and Hemp Seed Cracker Recipe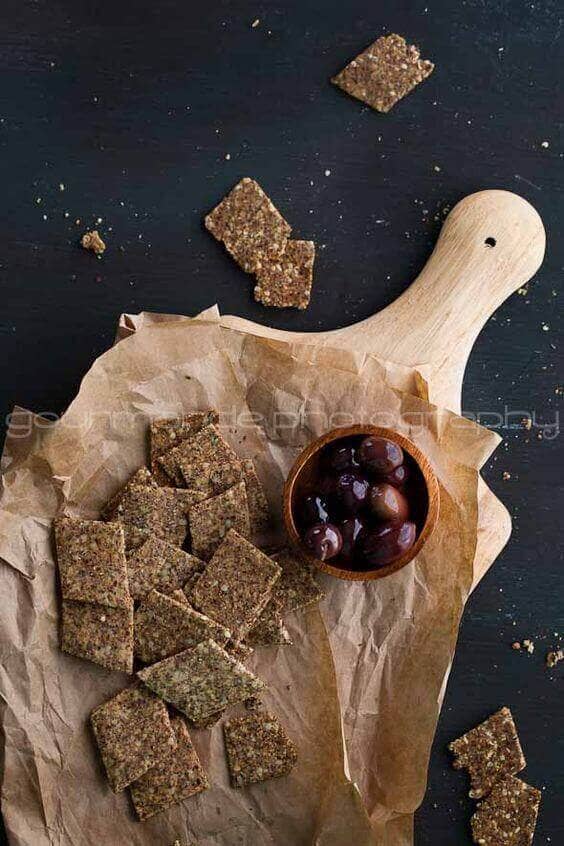 If you love crackers that have a little heft to them, you'll love this gluten-free recipe. With all-natural ingredients and a dense, crunchy texture, these crackers will definitely fill you up. For an easy meal idea, pair these crackers with a thin slice of cheese or a smear of mashed avocado. The profusion of seeds and almond flour give these crackers a robust nutty flavor. The whole hemp seeds lend a rustic air that may not be too kid-friendly, but is perfect for a more grown-up snack.
50 Best Gluten-Free Cracker Recipes
Adhering to a gluten-free diet no longer means that you have to forgo your favorite snacks. Whether you want an easy recipe or something more involved, you'll find something perfect on this list. There are a ton of child-friendly options that are just as delicious and more wholesome than their store-bought counterpart, so little ones don't have to feel left out.
If you want more adult fare, there are many options available for that, as well. Gluten-free food is no longer the boring, hard-to-find genre it once was. Now, as it becomes more available, experimentation is increasing and you can expect to find recipes for your favorites updated with your gluten-free lifestyle in mind. So go ahead, indulge in a tasty treat or make a delicious recipe even better for you and your family!