50 Best Cookie Recipes for a Gluten-Free Diet
Looking for your new favorite gluten-free food recipe? You've come to the right place! Cookies are one of the simple pleasures in life – sweet, satisfying little discs of happiness. However, many existing gluten-free cookie recipes are difficult to adapt to a gluten-free diet. Simply changing out the flour often results in an unpleasant texture or a taste that just doesn't work with the rest of the ingredients. Luckily, we've compiled a huge list of cookies that are not only free of gluten, but also tasty enough to satisfy even the most severe of cookie cravings. They make a perfect accompaniment to any meal idea or can be enjoyed on their own.
50 Cookie Recipes You Won't Believe are Gluten-Free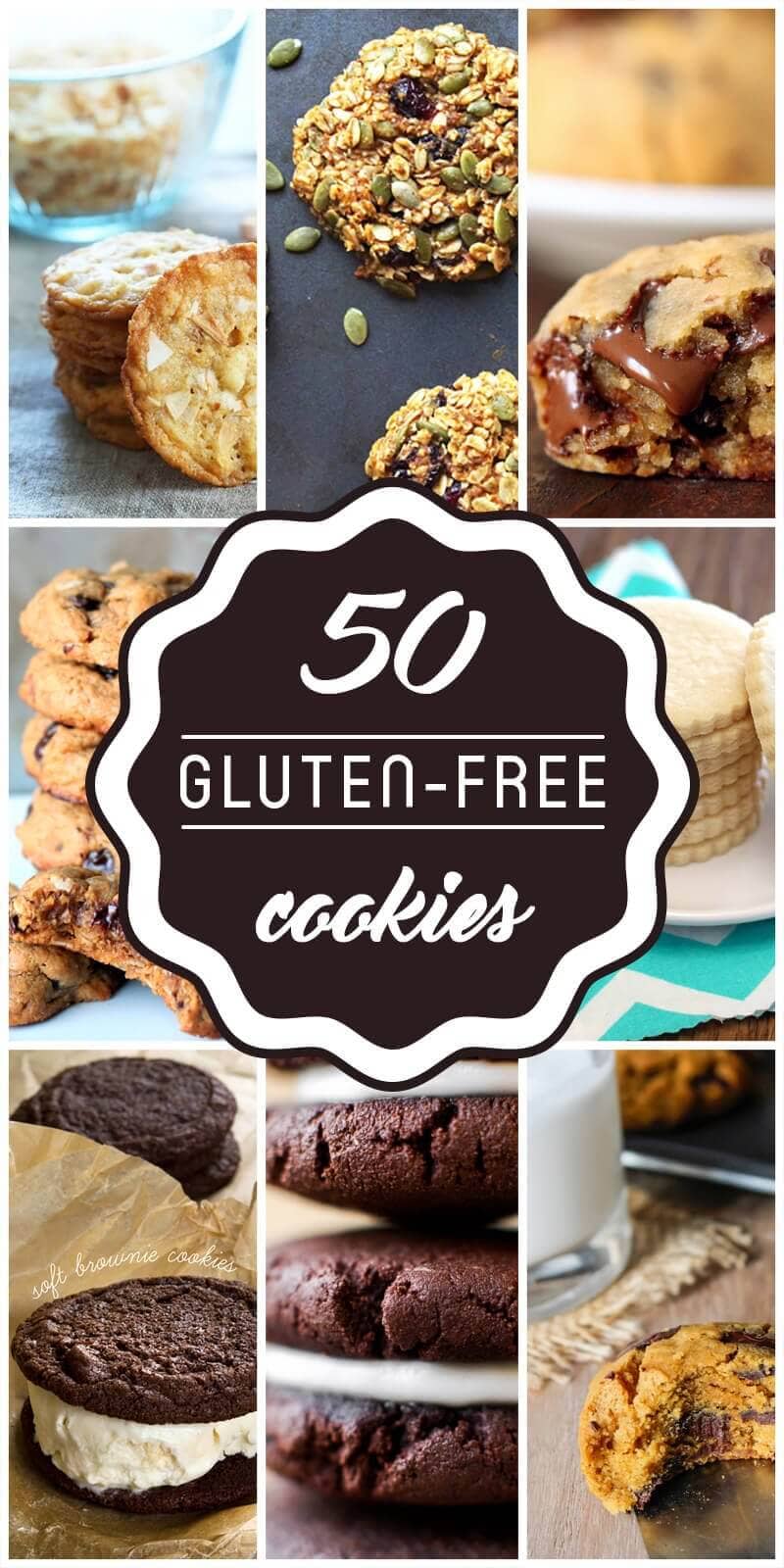 Read through this list of the 50 most decadent, scrumptious and surprisingly good for you gluten-free cookie recipes that feature absolutely no gluten. Whether you need to supply cookies for a bake sale and want to provide a gluten-free food option or simply want to keep a stash of treats around the house, you'll find something you simply must try.
1. Coconut Oil No-Bake Cookies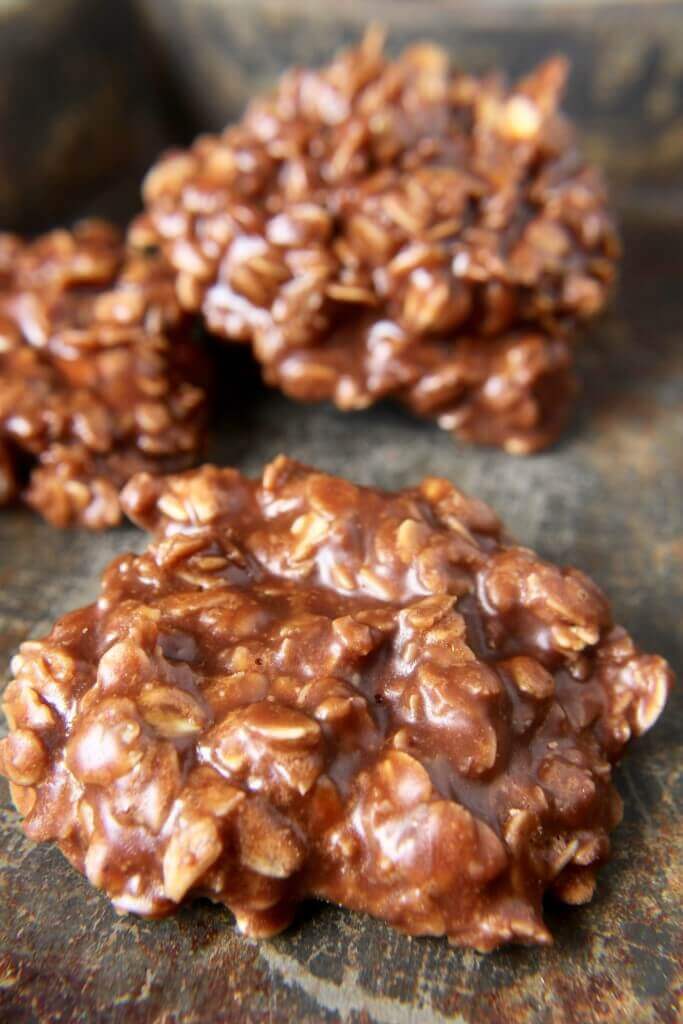 In addition to being a gluten-free recipe, these delicious cookies are also vegan! The coconut oil adds a ton of good fats without being too overpowering. If you love the combination of peanut butter and chocolate, you have to try these! The fact that they're no-bake cookies also makes them perfect for the summer. Who wants to turn on the oven when it's already a billion degrees outside? Simply pop these beauties in the refrigerator and you have an incredible, cool snack whenever you want. They keep very well in an airtight container, either in the refrigerator or a cool, dark cupboard.
2. Lemon Gooey Butter Cookies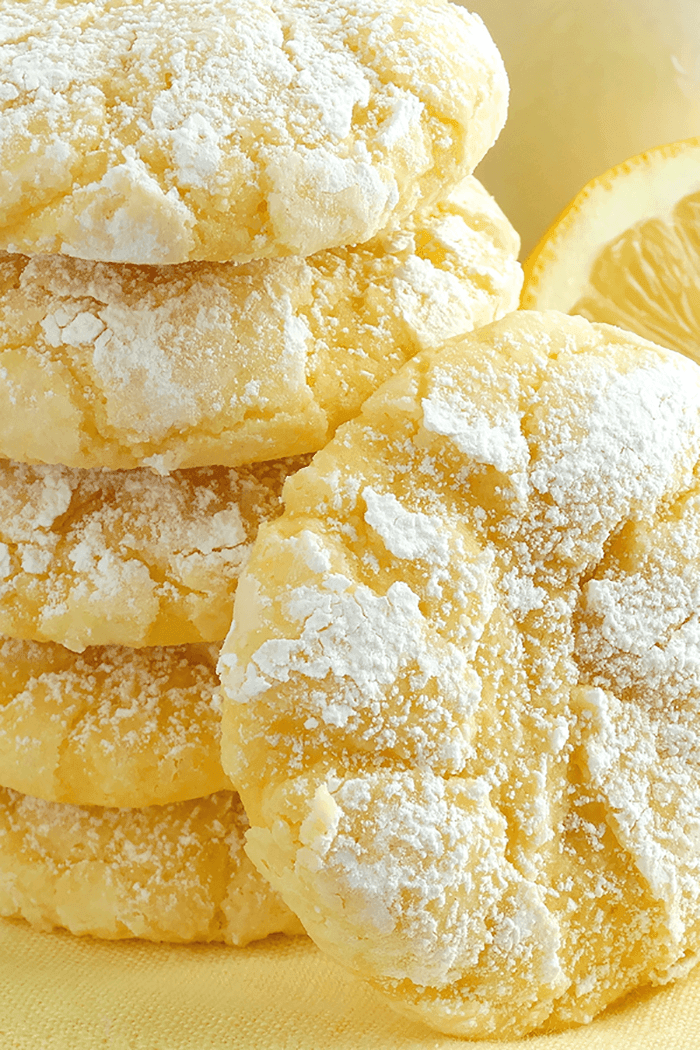 These lemony cookies are like lemon bars, but without the gluten-laden crust. Instead, you get that soft, gooey center just bursting with lemon flavor surrounded by a crackly exterior that provides just the right amount of resistance as you bite into it. Due to this recipe's use of three different sources of lemon flavoring (juice, zest and extract), there's nothing subtle about it! It's sweet and tart and hits just the spot when you're craving some citrus. The only real problem? You may enjoy the batter so much there won't be any left over for the actual cookies!
3. Peanut Butter Oatmeal Chocolate Chip Cookies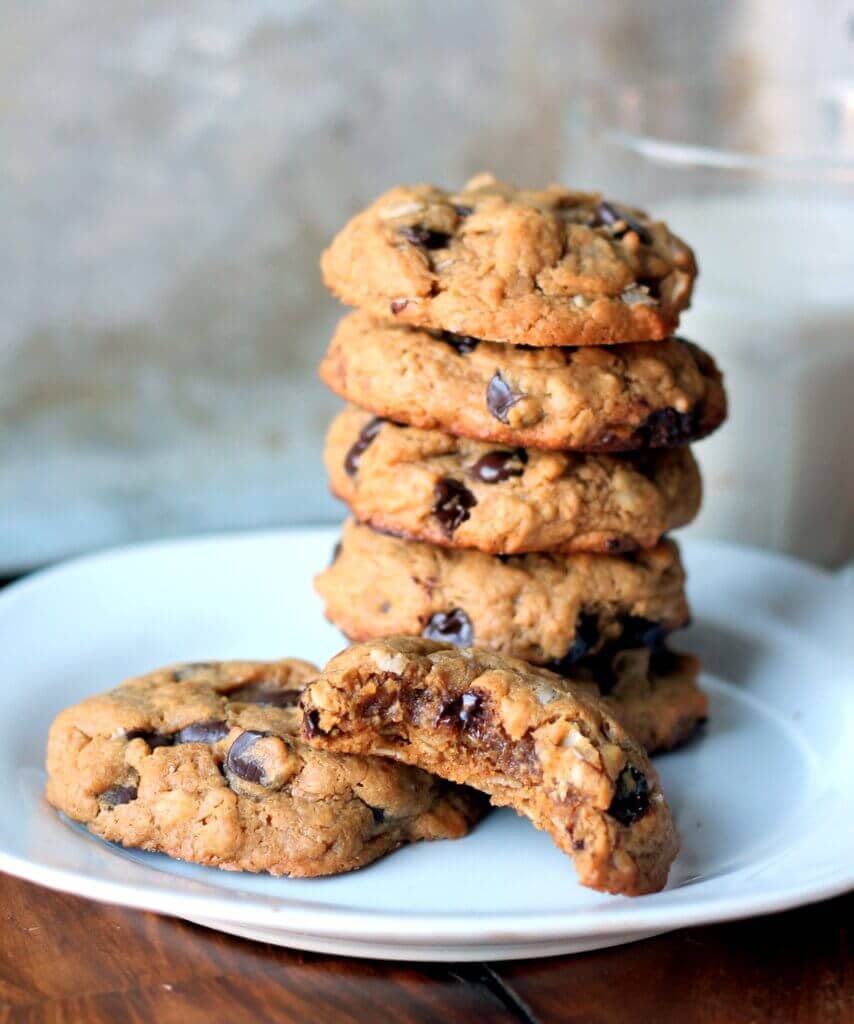 Do you love your cookies thick and chewy? How about full of rich peanut butter and chocolate goodness? If so, this is the recipe for you! It takes the three most popular types of cookies – ones that appeal to everyone – and combines them in a bite-sized moment of absolute bliss. The oats add a chewy texture while the peanut butter makes the dough ever so slightly sticky, just enough for the middle to stay soft and chewy. Because there's no flour, this gluten-free recipe is dense, decadent and absolutely right for those moments where you just want a little nibble to feel full.
4. Flourless Peanut Butter Cookies

If you prefer a no-frills peanut butter cookie to fit your gluten-free diet, this easy recipe is incredible. With just seven ingredients that you likely already have in your kitchen and a short bake time, you can enter peanut butter heaven in a matter of minutes. Like most flour-free recipes, this one is great when just slightly under baked. Think of a fudgy brownie, a little crisp and chewy around the edges with a soft, almost gooey center. If a fudgy texture and rich taste appeal to you, try this recipe – it makes a great dessert for almost any meal idea!
5. Banana Coconut Cookies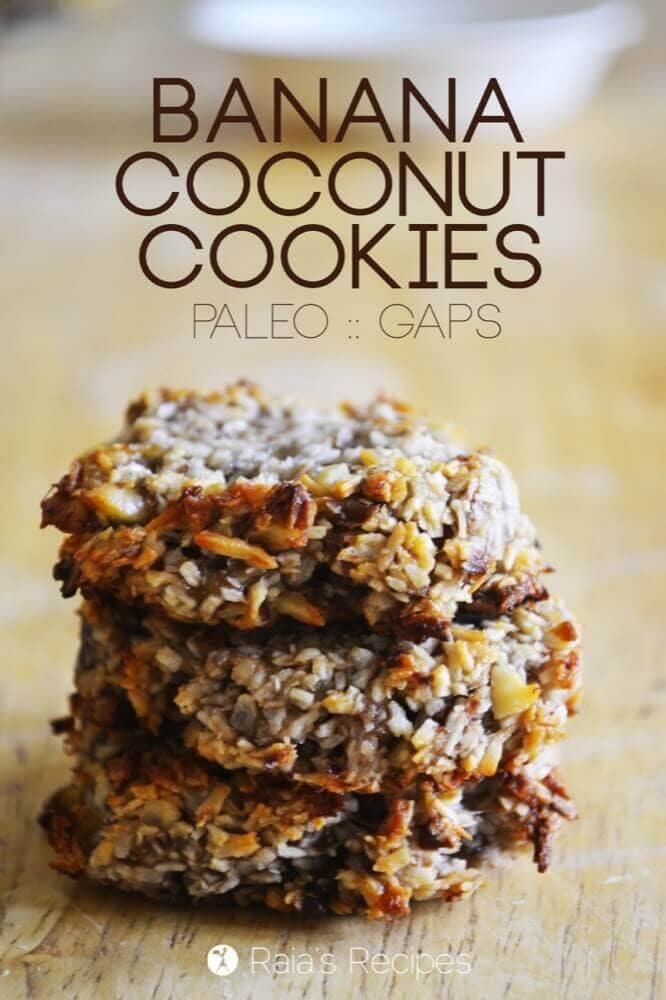 For those busy, hectic mornings where nothing seems to be running on time, having a fast and easy recipe handy can be a real lifesaver. How about a breakfast meal idea that's not just quick and simple, but good for you to boot and perfect for grabbing when you find yourself rushing out the door? These banana coconut cookies taste great and have all the benefits of high-fiber oats and fresh bananas – no spoon required. The most amazing part of this gluten-free food? You get the fun of having cookies for breakfast! They're a great way to get kids to eat healthier without even realizing it.
6. Gluten-Free Peanut Butter Cookies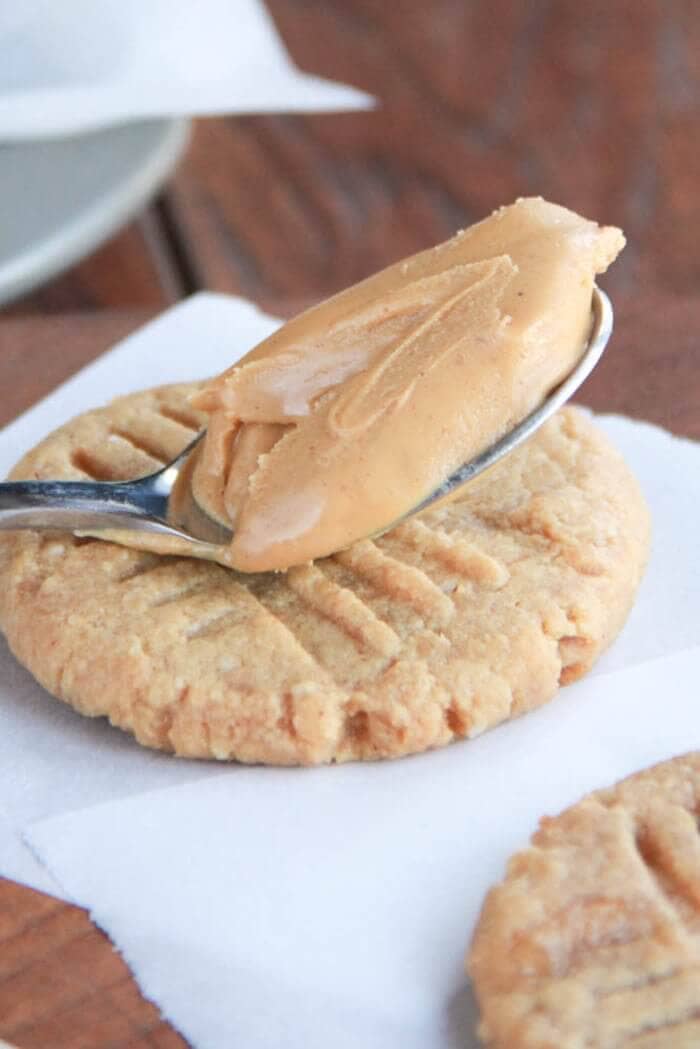 Gluten-free peanut butter cookie recipes are pretty common, but what sets these particular cookies apart is the use of almond flour. It lends a delightfully chewy texture and you get a double dose of incredible nutty flavor! Because this recipe also uses the natural sweetening powers of honey, it's also a much healthier and low-cal version of the old favorite. Want a perfectly recognizable peanut butter cookie? Don't forget the criss-cross pattern across the top!
7. 4-Ingredient Chocolate Chip Cookies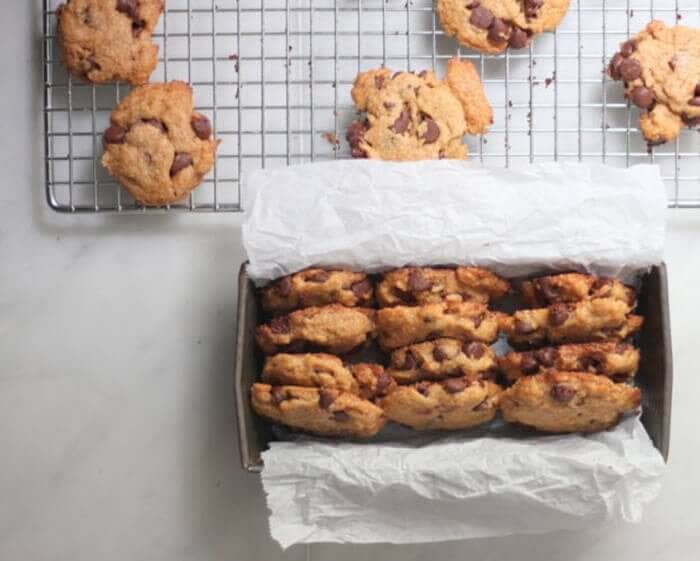 Ah, the classic chocolate chip cookie – is there any more beloved sweet treat? A perennial favorite of school bake sales and children's parties, chocolate chip cookies never fail to put a smile on people's faces. However, with so many different food allergies and intolerances, how can you be sure to suit everyone's needs? Not to worry! This easy recipe comes with several different variations, so you can tweak and substitute as needed to accommodate just about every different diet, without sacrificing great taste or delicious texture!
8. Pumpkin Breakfast Cookies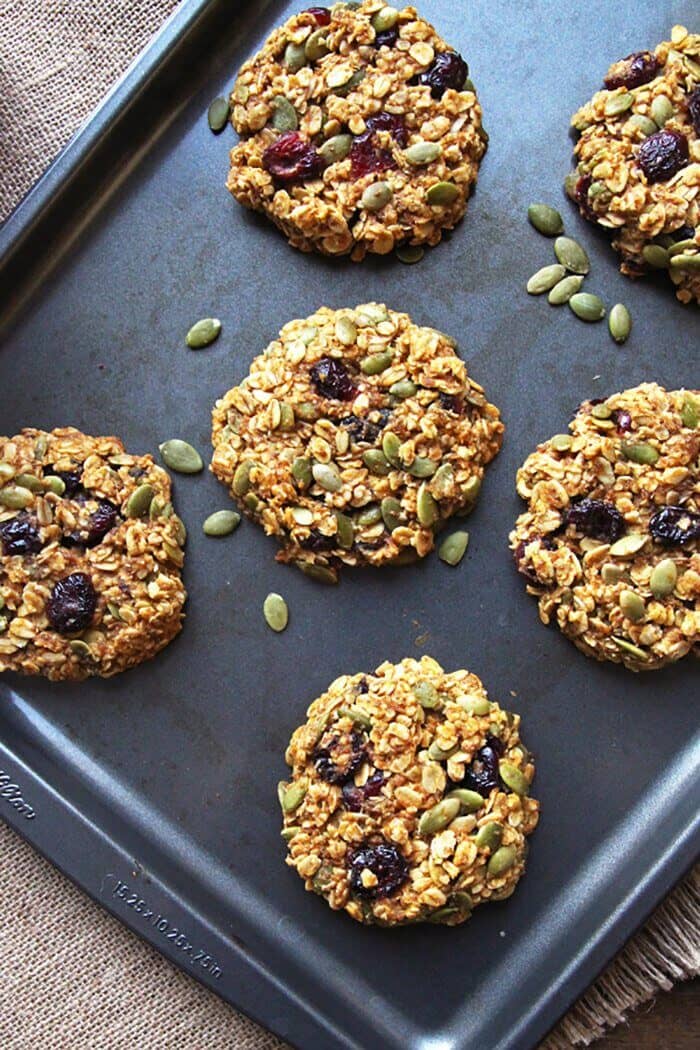 Nothing says fall like a big dose of delicious pumpkin mixed with some dried fruit and seeds. These breakfast cookies pack a high-energy kick and because they're easily made ahead of time and are handheld, are perfect for that other well-known aspect of fall – getting the kids out the door on time! These breakfast cookies have all the delectable flavors of a warm bowl of oatmeal with all your favorite add-ins, but go easily from your kitchen to the door. For an easy meal idea, this is a sure winner.
9. Peanut Butter Chocolate Chunk Cookies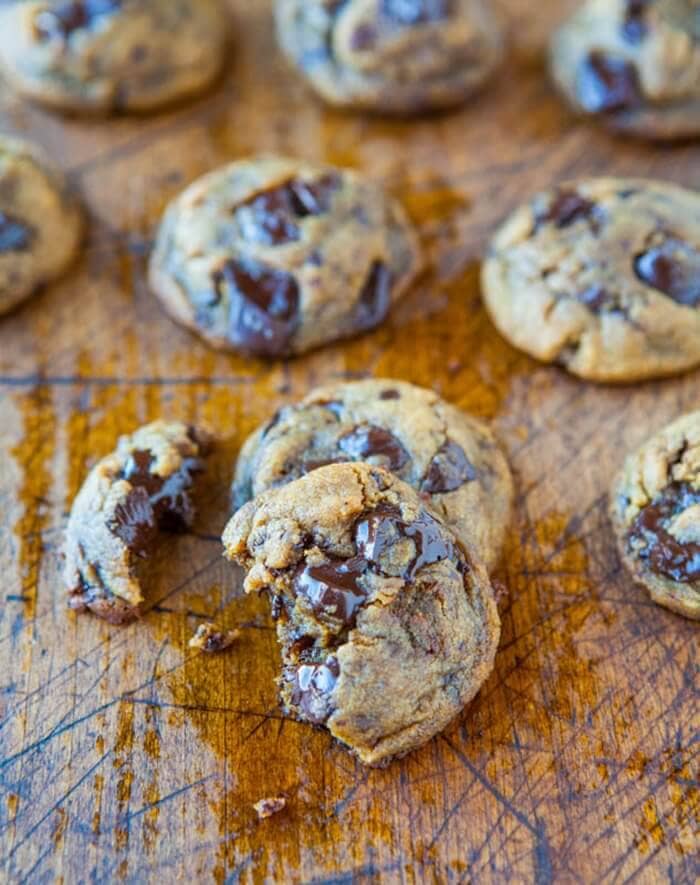 Are you a fellow believer in the beauty of combining peanut butter and chocolate? If so, then this is one of the best cookie recipes to hit every sweet spot. They are not only heavy on the peanut butter and chocolate (a favorite gluten-free food), but come together so fast and easy you won't believe it! The big, hearty chunks of dark chocolate come out of the oven warm and melty, like little reservoirs surrounded by thick, chewy peanut butter cookie to make your kitchen smell like heaven. This cookie idea features results that are so rich and decadent but come together so easily you may find them a little dangerous!
10. Gluten-Free Pumpkin Cookies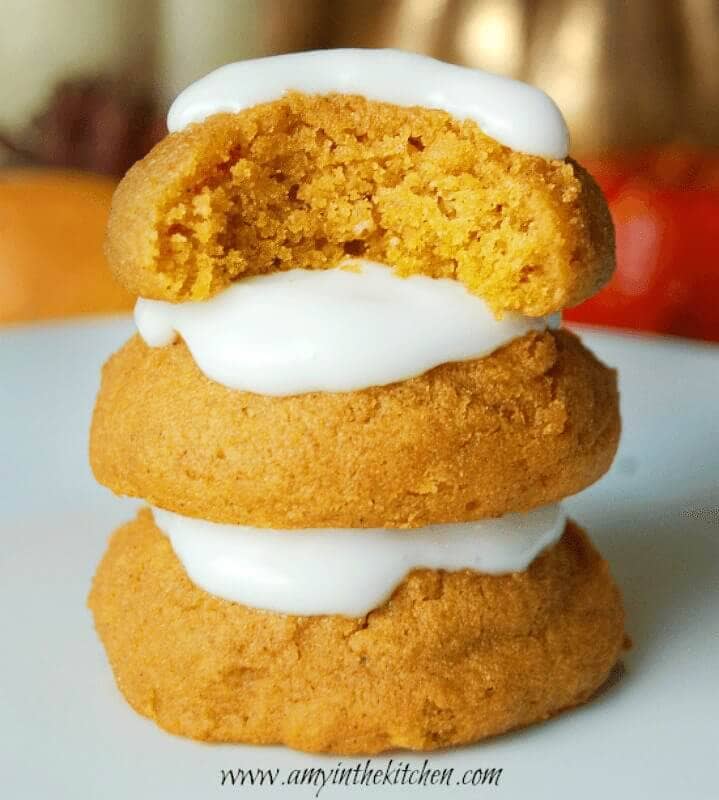 As soon as the leaves start to change and you dig out your cozy sweaters, what's the first flavor that comes to mind? Pumpkin, of course! Pumpkin pie or scones are pretty popular, but what about cookies? Pumpkin puree gives these cookies a soft, airy texture, perfect for enjoying alongside a warm mug of tea or spiced apple cider. In addition to being free of gluten, this recipe is also low on calories and they keep really well in an airtight container, making them perfect for gifting!
11. Flourless Smore Cookies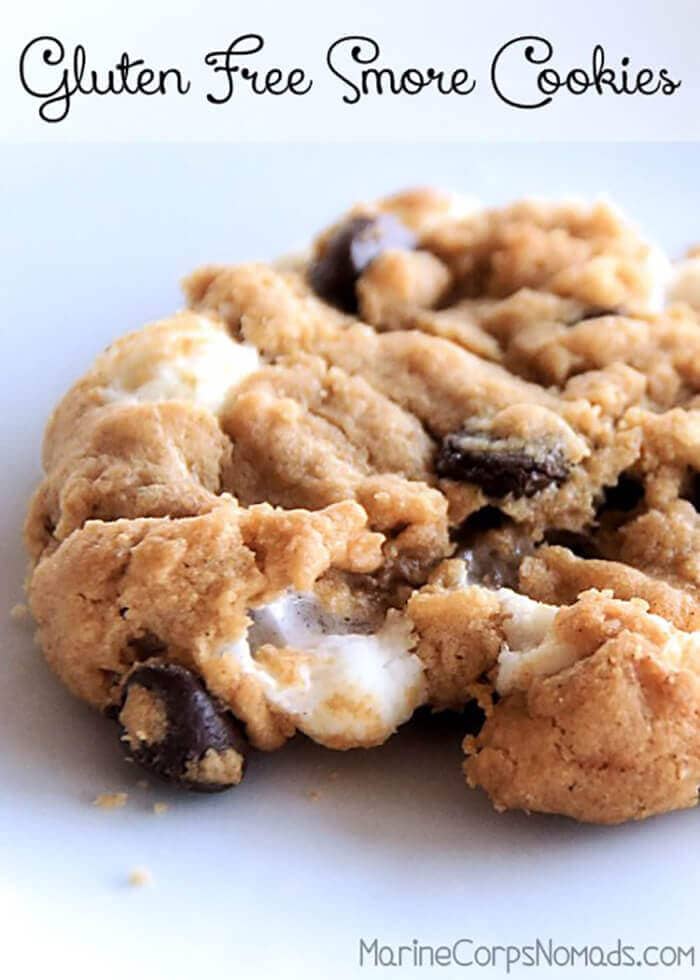 There's nothing better than a hot and fresh smore while sitting around a campfire with loved ones. However, there isn't always a campfire when you need one! Don't worry, you can still enjoy the marshmallow and chocolate combo of the classic smore in the comfort of your own kitchen! This recipe features a dense, chewy flourless peanut butter cookie dough surrounding soft pockets of marshmallow and chocolate for a taste that'll take you back to your favorite camping trip!
12. Healthy Cinnamon Carrot Cookies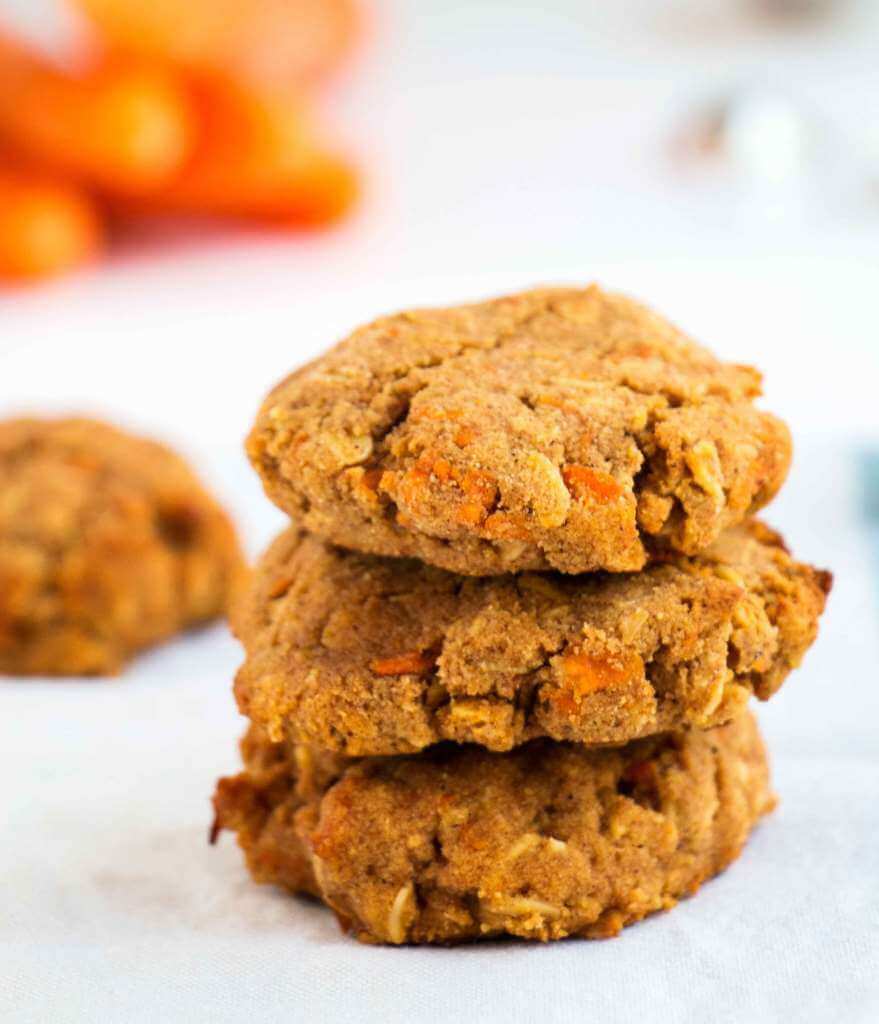 I know what you're thinking – a cookie that's good for you can't possibly taste good. The things that make cookies as delicious as they are also happen to be the things that make them unhealthy. Well, you haven't tried these healthy cinnamon carrot cookies yet! This gluten-free recipe is also vegan and combines veggies with natural sweeteners and the nectar of the gods that is coconut oil. Oats give these cookies a chewy texture while the cinnamon, nutmeg and other spices lend a carrot-cake flavor in cookie form. These are great for dessert or the main course!
13. Chunky Monkey Quinoa Breakfast Cookies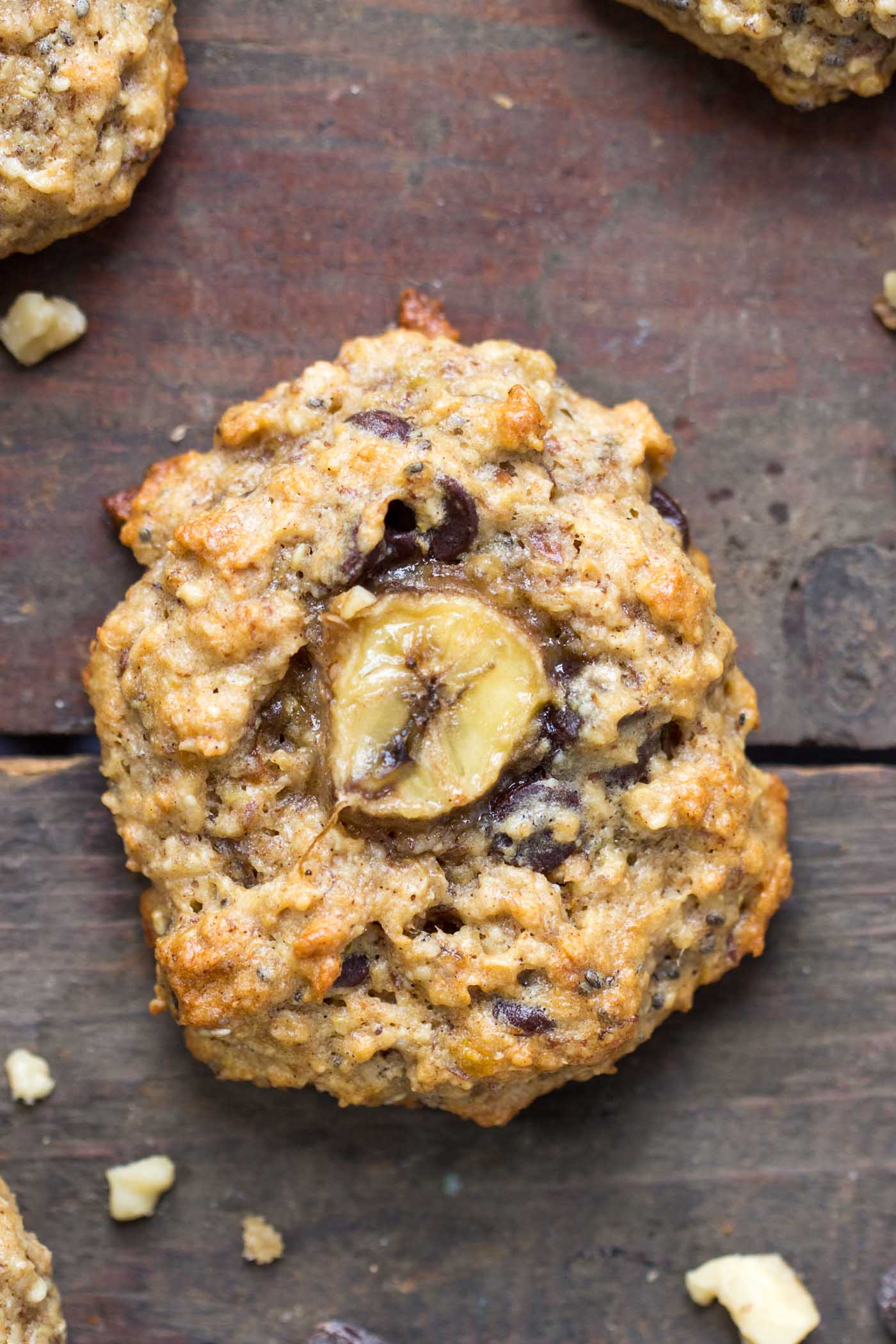 Let us count the ways in which these breakfast cookies are amazing, shall we? First, they combine chocolate, peanut butter and banana, creating a trifecta of delicious flavors. Next, the main ingredient is quinoa! That's a whole lot of protein to keep you going from breakfast all the way to lunch. Last, they're cookies. For breakfast. Because being an adult means you get to not only have cookies for breakfast, but also get to choose ones that taste great and are great for you!
14. Chocolate Pecan Coconut Cookies
Love something a little more dressed up than your average cookie? This otherworldly combo of chocolate, coconut and pecans is a decadent explosion of taste and texture. Crunchy pecans offer a buttery flavor with a little bite, while the sweet bits of chocolate melt in your mouth. You'll want to share these cookies, so make up a big batch for everyone to partake! They can easily be made vegan, as well, if you have other dietary restrictions.
15. Gluten-Free Chocolate Chip Cookies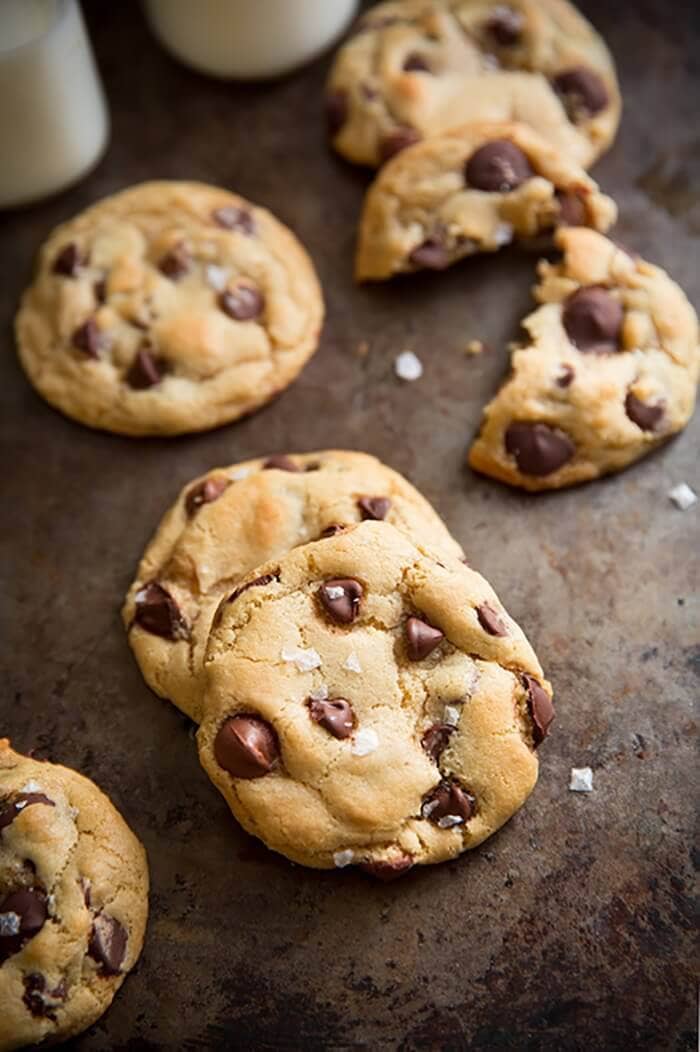 If you've tried other gluten-free chocolate chip cookie recipes before, you probably noticed that they're either not really like a chocolate chip cookie, or the alternative flour throws the texture way off base. This fantastic recipe uses a combination of several different gluten-free flours and starches to give you a texture that is less dense than a flourless cookie and fluffier than one made with a single alternative flour. The best thing about these chocolate chip cookies is that no one will even guess they're completely free of gluten!
16. Thin and Crispy Gluten-Free Coconut Cookies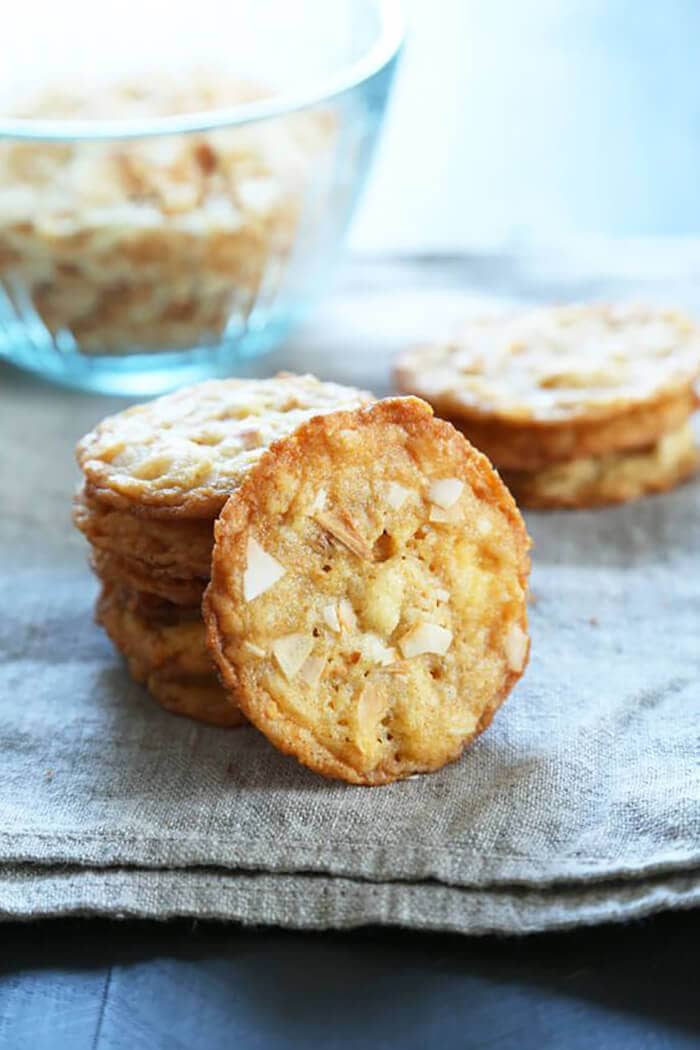 These thin and crispy cookies are exactly like the kind you see in fancy tea shops, accompanying a steaming cup of earl grey. This cookie idea is so delightful you won't believe they have such an easy recipe! They're delightfully crisp with just a hint of chewiness from the coconut, making them the perfect little bites to accompany warm drinks or cold ice cream. A sprinkling of shaved almond on top adds to the fancy feeling, as well. Because they're so small, you can even have more than one without feeling guilty about it! And yes, you will definitely want more than one of these crispy, chewy, coconut flavored pieces of happiness.
17. Pumpkin Snickerdoodles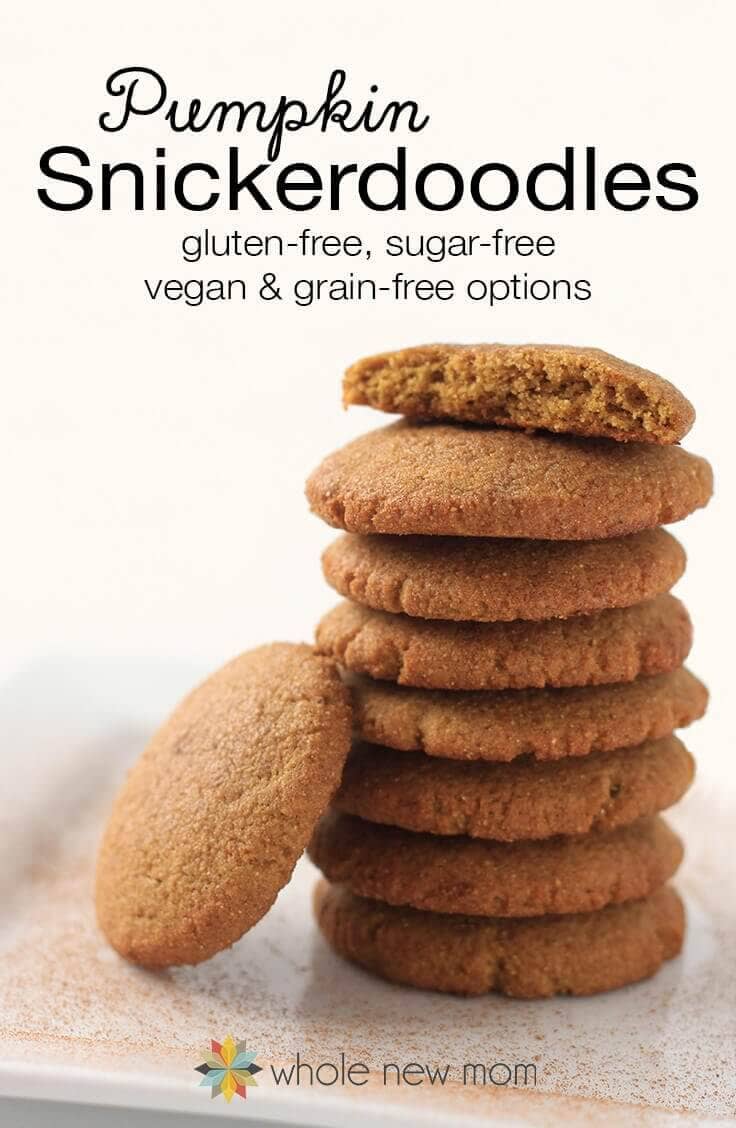 Snickerdoodles are one of those simple cookies, but with a really distinct combination of flavors. Adding the wonderful, autumn-style flavors of pumpkin and extra spices really take this classic recipe to the next level! This is the perfect recipe to trot out for a holiday party because they're not only seasonal and a great crowd-pleaser, but there are included variations to suit a wide range of different dietary restrictions, including sugar-free and even vegan! Whether you choose to share them with guests or hoard the whole batch to yourself, this is a fantastic recipe that can't be beat.
18. Healthy Gluten Free Chocolate Chip Cookies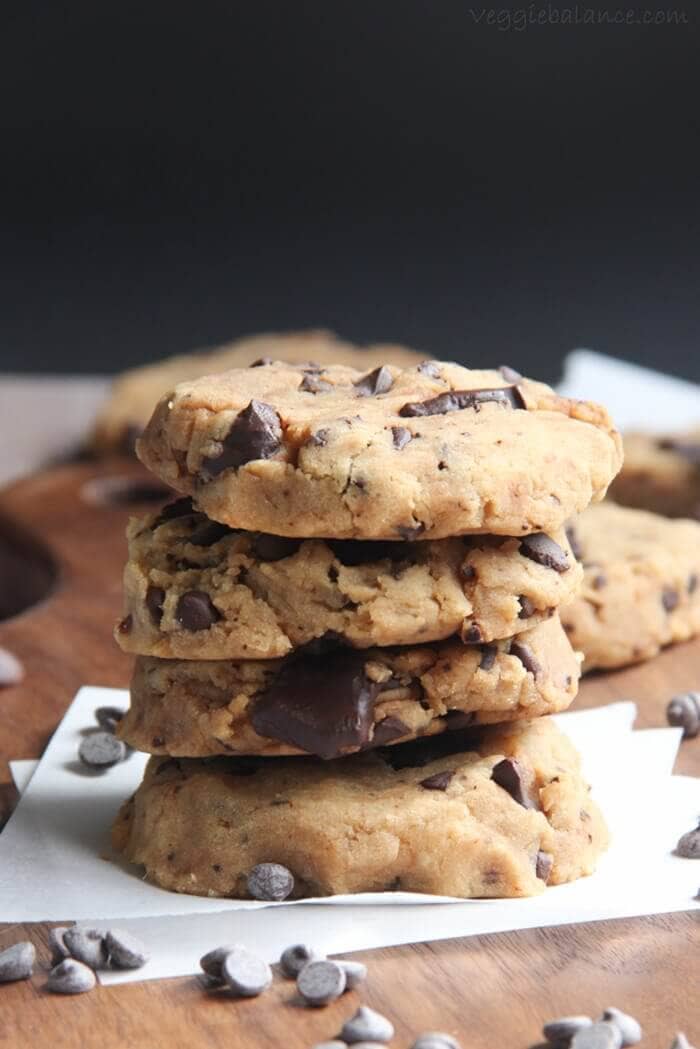 Chocolate chip cookies are one of those things that no one should have to live without. Really, what is life without that classic little treat? This recipe is not only gluten-free, but also low calorie and actually healthy. They're also really dense and rich, so a little bit goes a very long way when it comes to satisfying cravings! The use of natural sweeteners and very high-quality dark chocolate creates a rich flavor that's simply perfect for a more grown-up sweet tooth.
19. The Original Peanut Butter Chocolate Chip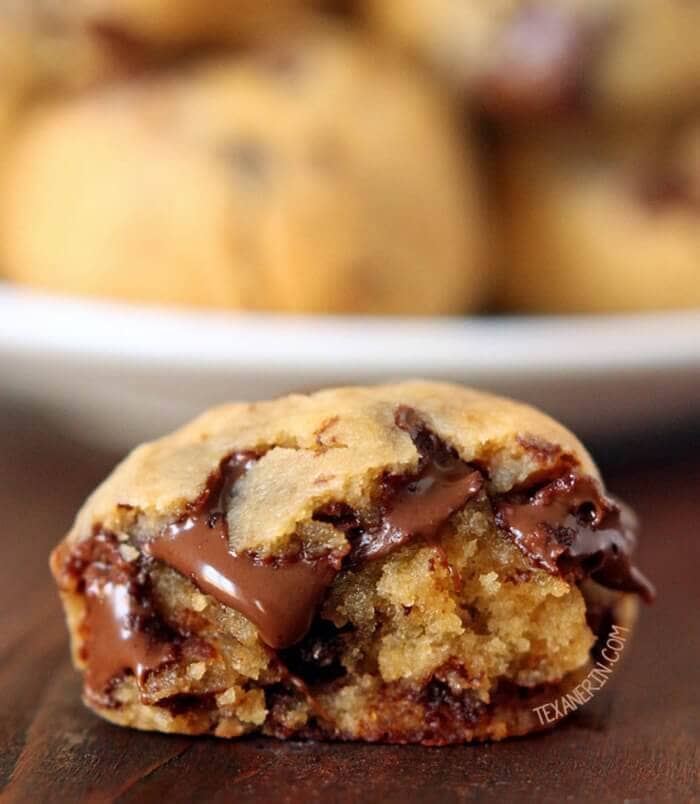 You may have tried to make gluten-free cookies using chickpea flour before, only to be disappointed by the lackluster results. This recipe also uses chickpeas, but instead of dry flour, you puree canned chickpeas! The result is a dense, melty bomb of peanut butter and chocolate – you can't even taste the chickpeas. Making these cookies in small, bite-size pieces is perfect, providing you a small treat whenever you need one. Just make sure to enjoy these guys warm to take full advantage of all that melted chocolate!
20. Vegan Chocolate Chip Pumpkin Cookies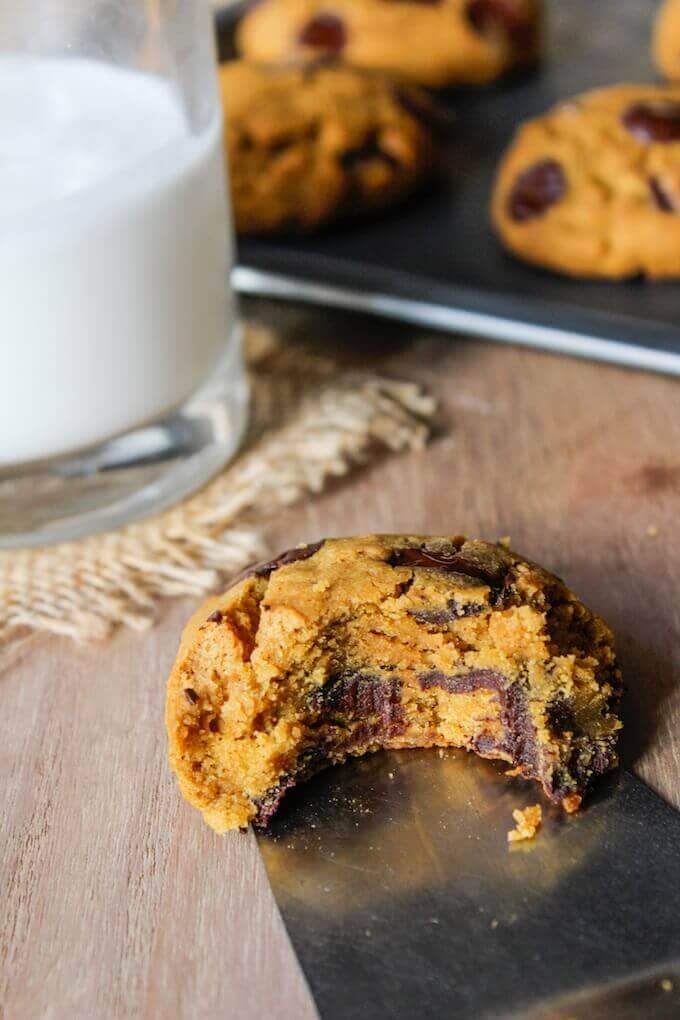 Are you a chocolate chip cookie purist who thinks the original simply cannot be improved upon? Let me introduce you to these chocolate chip and pumpkin cookies. They're not only vegan and gluten-free, but bring a little autumn-style flair to an old favorite. These moist and flavorful cookies are the absolute most incredible gluten-free food to enjoy with a steaming mug of tea and a good book on a cool day. Bake up these cookies on a crisp fall day and your home will be filled with the soul-warming scents of pumpkin, spice and melted chocolate.
21. The Best Chewy Gluten-free Chocolate Chip Cookies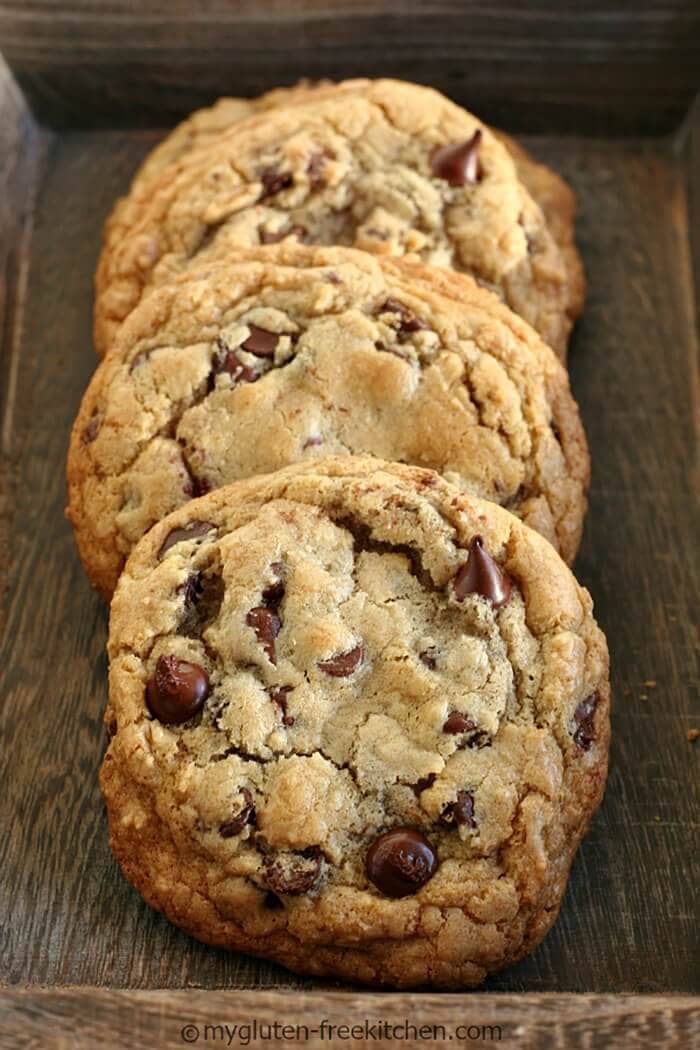 While there are a lot of different chocolate chip cookie recipes featured on this list, this particular one results in a cookie that no one will even be able to tell is gluten-free! If you prefer the classic chewy texture of a traditional chocolate chip cookie, then this might be your new favorite gluten-free recipe. It combines the browned butter technique that gives regular cookies that hint of nutty flavor and a secret addition of cream cheese to smooth out any noticeable flour differences. This recipe definitely takes the top prize for a gluten-free version that's almost identical to the original.
22. Paleo Lemon Cookies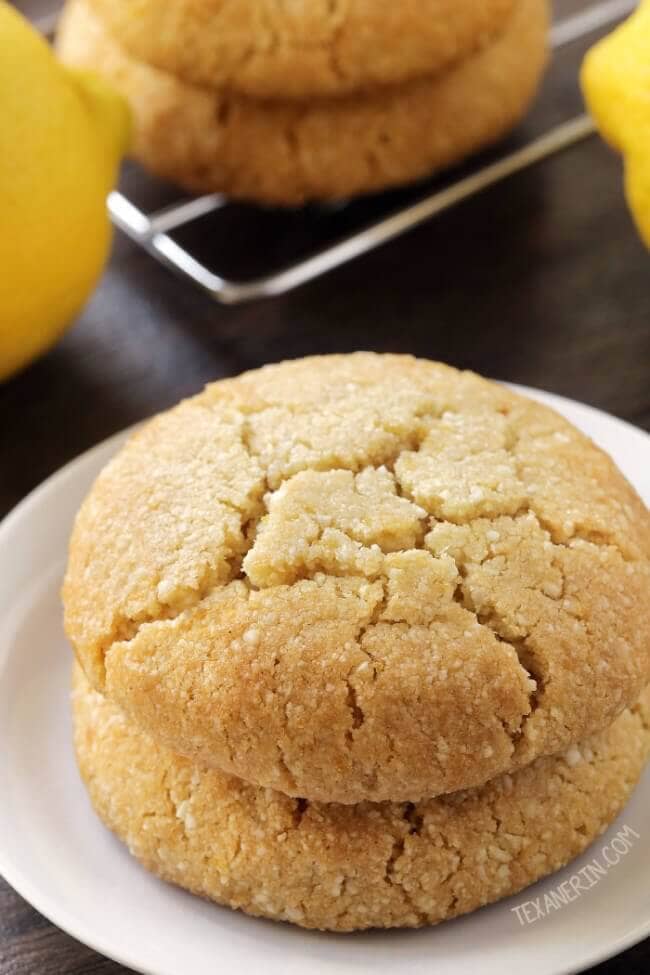 What's better than a light, airy little lemon cookie? Almost nothing, really. For those days when you want a sweet treat but don't want to indulge in a heavy, calorie-laden option, these paleo lemon cookies are perfect. Because they fit into the paleo diet, this is not only a gluten-free recipe, but also vegan! A lot of gluten-free baked goods rely on dairy and eggs to give a smooth texture, so if you are lactose intolerant or follow a vegan lifestyle, this might just be your new favorite indulgence. Just be sure to have extras on hand for sharing!
23. Gluten Free Soft Frosted Sugar Cookies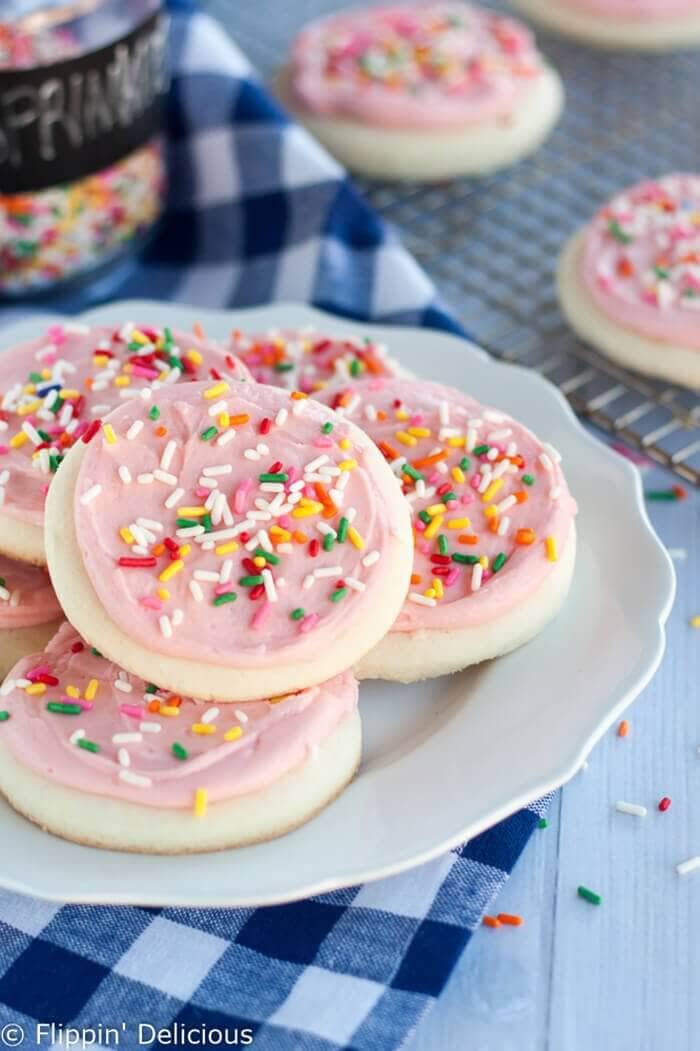 Nothing says childhood bliss quite like a big, soft sugar cookie with a dollop of sweet frosting on top. They're a mainstay of holiday get-togethers, birthday parties and anywhere there's a large group of children aching for a sugar fix. This recipe results in thick and chewy sugar cookies that are amazing on their own, but hit new heights of greatness when topped with colorful frosting and sugar sprinkles. This dough is great because it can make drop cookies or be rolled out and cut with cookie cutters! Make this your go-to Christmas cookie and you'll put a smile on every guest's face!
24. Creamy Pecan Pralines Recipe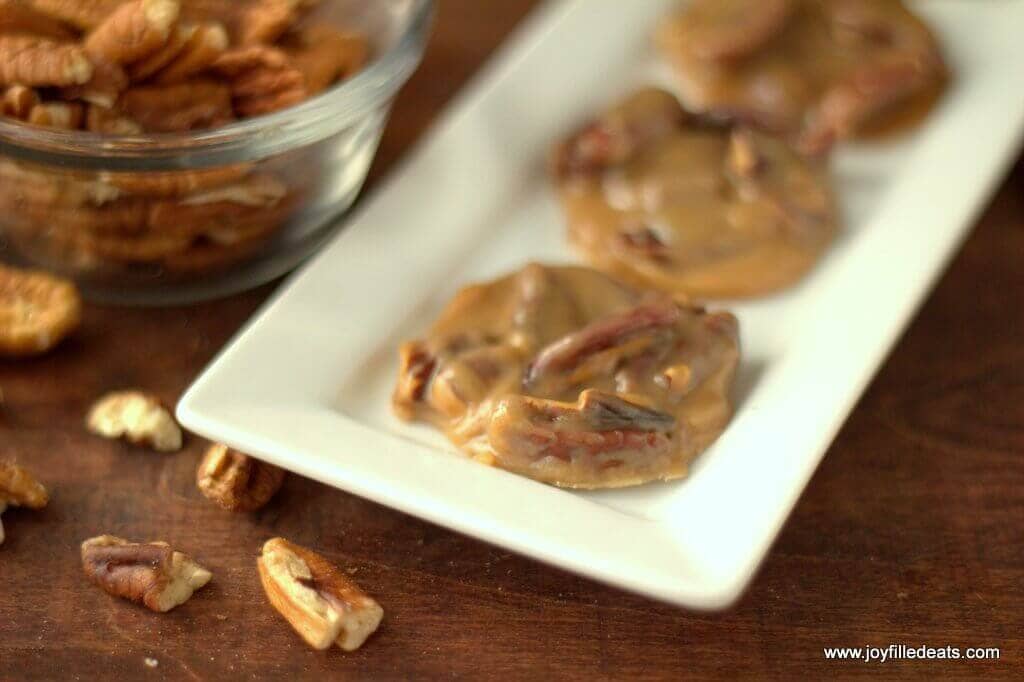 I know what you're thinking, that pralines aren't cookies in the strictest sense of the word, and you're absolutely right. These aren't actually cookies. However, these beauties are so mind-bogglingly delicious that after one bite you won't even care. This recipe is decadently soft and creamy with crunchy toasted pecans and the sweet joy of caramel throughout. Be warned, though, that while these pralines fit into a gluten-free diet, they are definitely not a low-cal treat! Then again, we all need to treat ourselves to a little full-fat and sugar every now and then.
25. Soft Gluten Free Brownie Cookies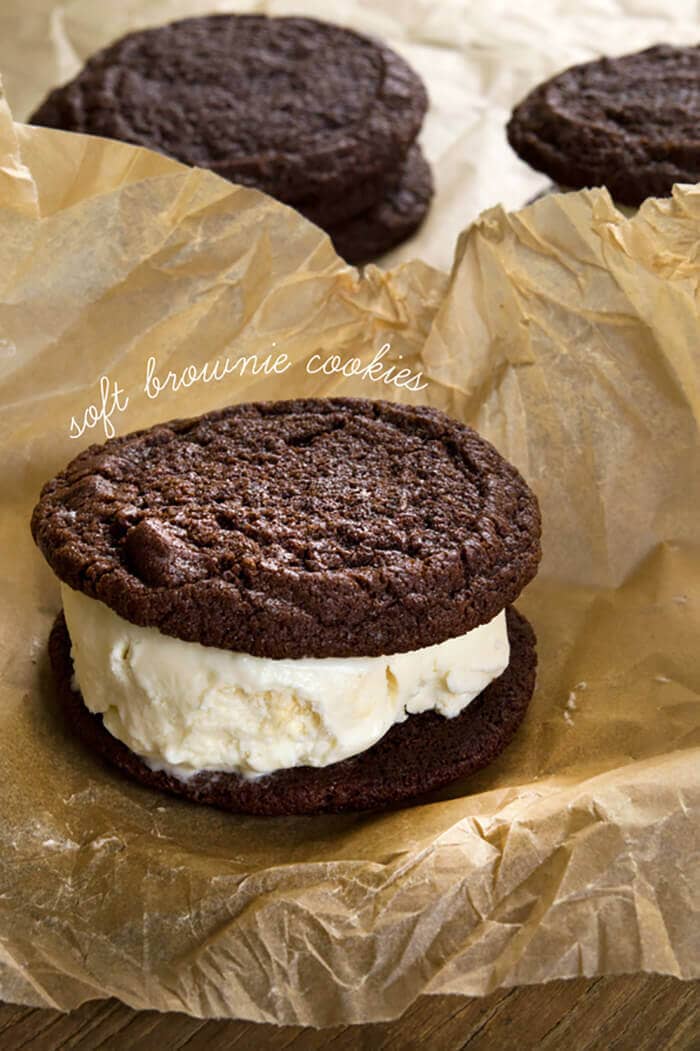 What happens when you cross a cookie with a brownie? Magic happens. The best kind of delicious, comforting magic imaginable. This gluten-free recipe for brownie cookies results in treats that are easier to store than brownies with less crumbling, but retain that dark, fudgy taste that all the best brownies have. To make the most of these thin, chewy cookies, make ice cream sandwiches. They'll hold their shape, won't break like a crispy cookie, and offer a delicious counter-texture to soft ice cream. They're also easy to make, since you just roll the dough into a cylinder, chill it and then slice! No cookie cutters needed.
26. Gluten Free Lemon Meltaway Cookies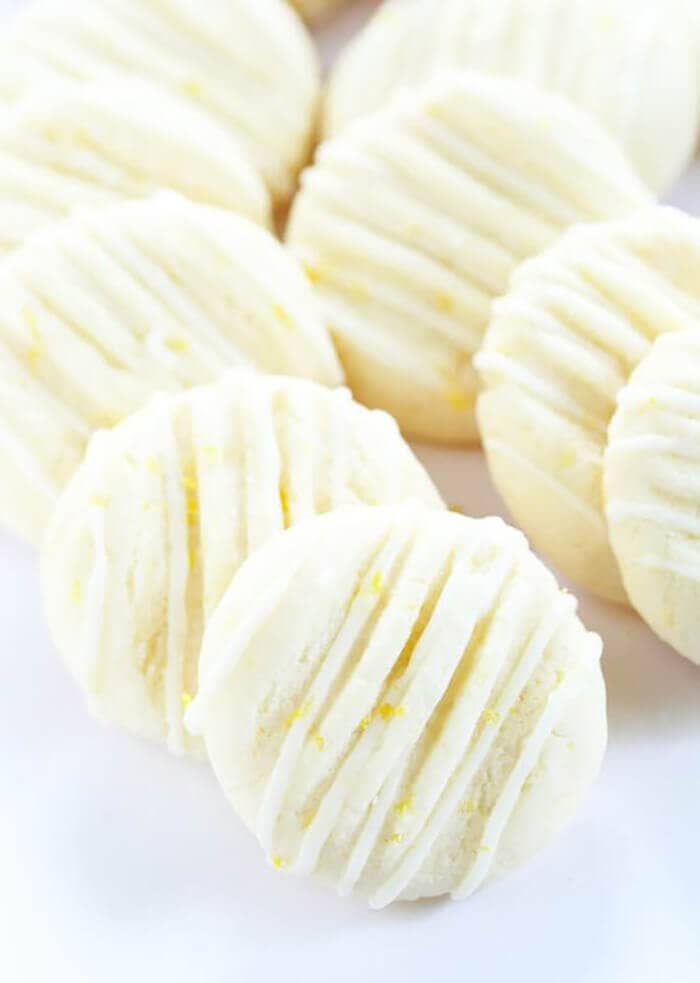 Are you craving a light, soft cookie that just melts in your mouth? This is an easy recipe that comes together in a matter of minutes. They just burst with lemon flavor, sourced from a combination of fresh lemon zest and juice, sure to please kids and adults alike. If you prefer a little extra lemony kick, drizzle these gluten-free cookies with a simple mixture of lemon juice and confectioner's sugar. You can enjoy these truly heart-melting little cookies in under a half an hour!
27. Double Chocolate Cookies with Chocolate Chunks
If you're a serious chocoholic, this double chocolate cookie recipe is just calling your name. Deep and rich with melting chunks of dark chocolate, just one of these gluten-free cookies is enough to satisfy even the most severe of chocolate cravings! As for texture, the crisp, chewy edges of these cookies protect a soft, almost brownie-like center. You definitely don't want to overbake these cookies in order to preserve their soft middles. Using dark chocolate and almond flour keeps this recipe from being tooth-achingly sweet, so they're perfect for a more grown-up palate.
28. Gluten Free Lemon Crinkle Cookies
What is it about lemon cookies that make them so irresistible? This is a ridiculously simple recipe with just a few ingredients that comes together in about a half an hour. If you're sitting at home wishing you had a sweet treat, it's likely you already have everything you need already! Just don't skip the confectioner's sugar, because as the cookie bakes and spreads, that's what creates the "crinkle" part of a crinkle cookie! If you're feeling adventurous, try switching out the lemon extract for a different flavor. The almond flour provides a great vehicle for any of your favorite flavorings.
29. Flourless White Chocolate Chip Macadamia Cookies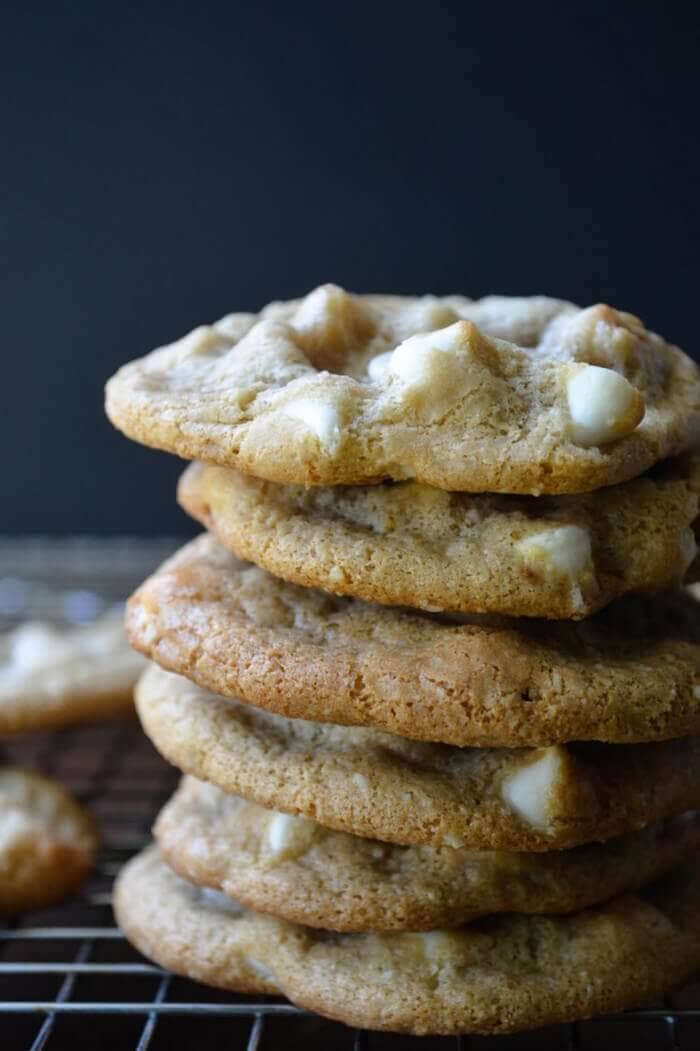 If you love cookies that contain the heavenly pairing of peanut butter and chocolate, chances are you'll find an equally big spot in your heart for this gluten-free cookie recipe. They've switched it up by combining macadamia butter and white chocolate for a brand new spin on an old favorite. This gluten-free cookie recipe is awesome when you make the cookies big, with large chunks of white chocolate and chopped macadamias (in addition to the macadamia butter). Their larger size allows them to crisp up around the edges while staying soft, moist and fluffy in the middle.
30. Chewy Sugar Cookies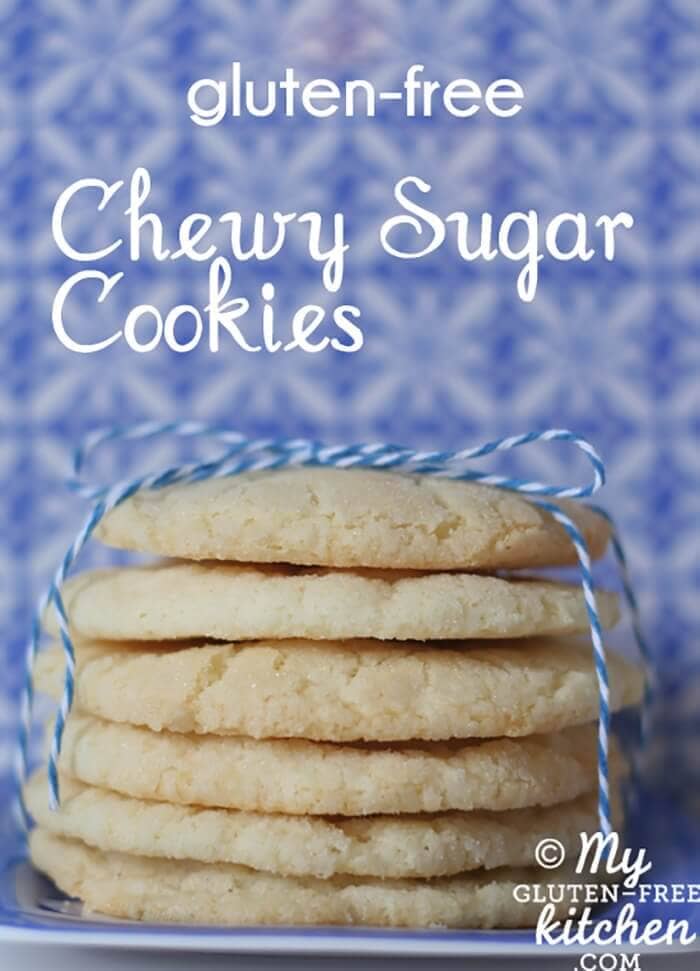 If you're looking for a basic sugar cookie recipe that is both soft and chewy, check this one out! These gluten-free cookies are soft, sweet and buttery at the same time for a classic sugar cookie taste that can also become the base for something much fancier. For better results, use real butter and the highest-quality gluten-free flour you can find. Add in dried fruits, nuts or flavored extracts to put a unique spin on this old-fashioned favorite. Just don't try to use this recipe for cut-out cookies, as it's far too soft, even when chilled.
31. Almond Flour Snickerdoodles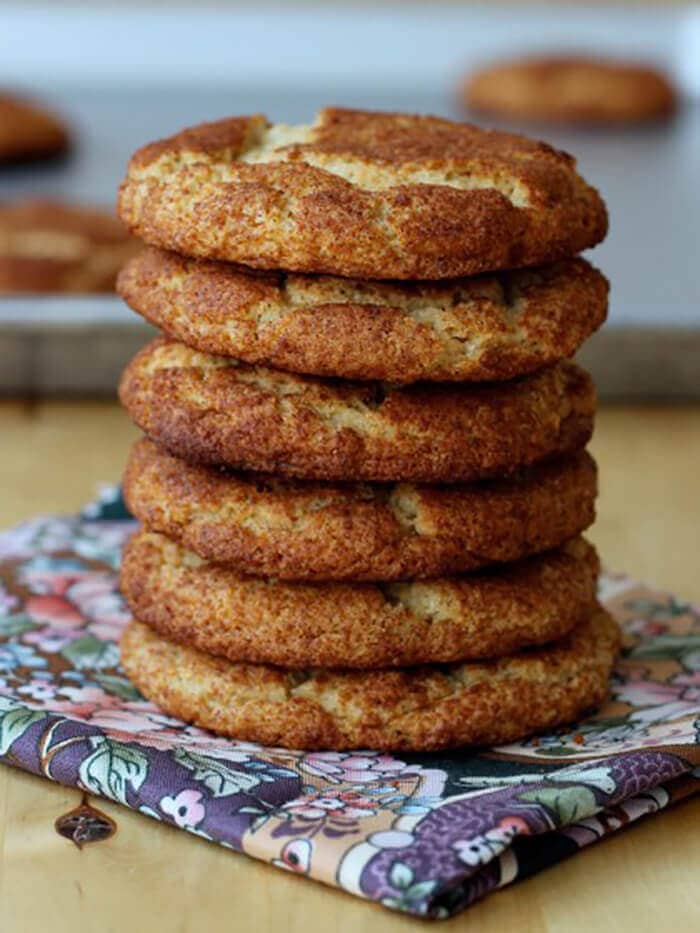 What is it about snickerdoodles that makes them such a surefire crowd pleaser? Is it the slightly tart bite of cream of tartar? The soft, pillowy texture? The caramelized cinnamon sugar coating? Maybe it's a combination of all three. This gluten-free cookie recipe combines all of the above qualities and marries them with almond flour, injecting a subtle nutty flavor that's sure to appeal to everyone who tries them! While you make this recipe, you might want to roll the dough in the cinnamon sugar mixture more than once for that extra little kick of spiced sweetness.
32. Chewy Chocolate Chip Cookies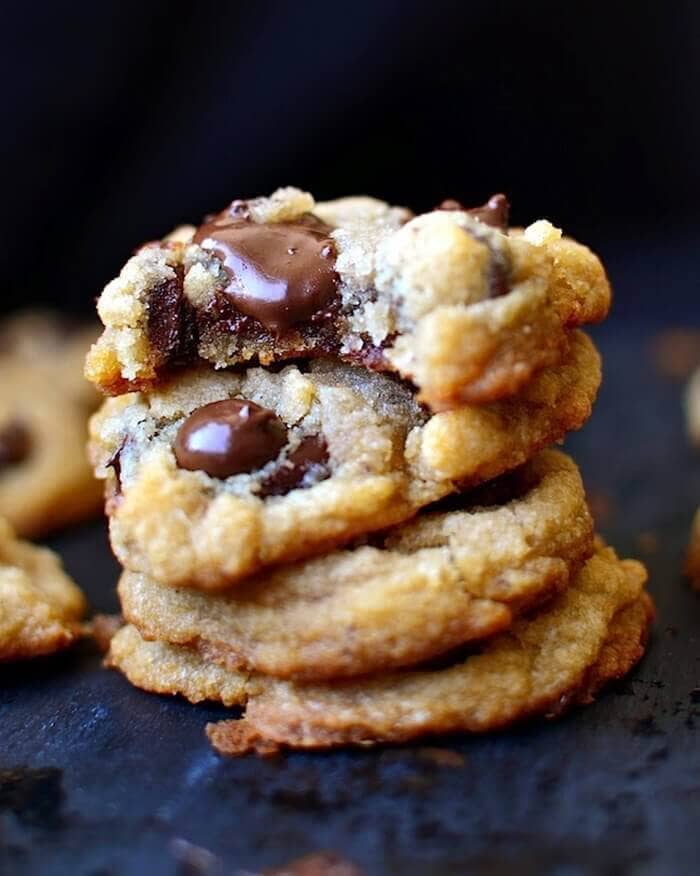 When it comes to chocolate chip cookies, everyone has their own favorite. That's why we have so many different versions on this list – so you can find the one that fits your idea of one of the best cookie recipes! This one combines several different flours and offers vegan alternatives to some ingredients so you can make it however you like. One thing is for sure, if you prefer a dense, chewy cookie just oozing with melted chocolate, here's a winner! Letting the dough rest for a while before baking is the real secret to getting the flavors to meld perfectly, so don't skip that step!
33. Flourless Double Chocolate Chip Cookies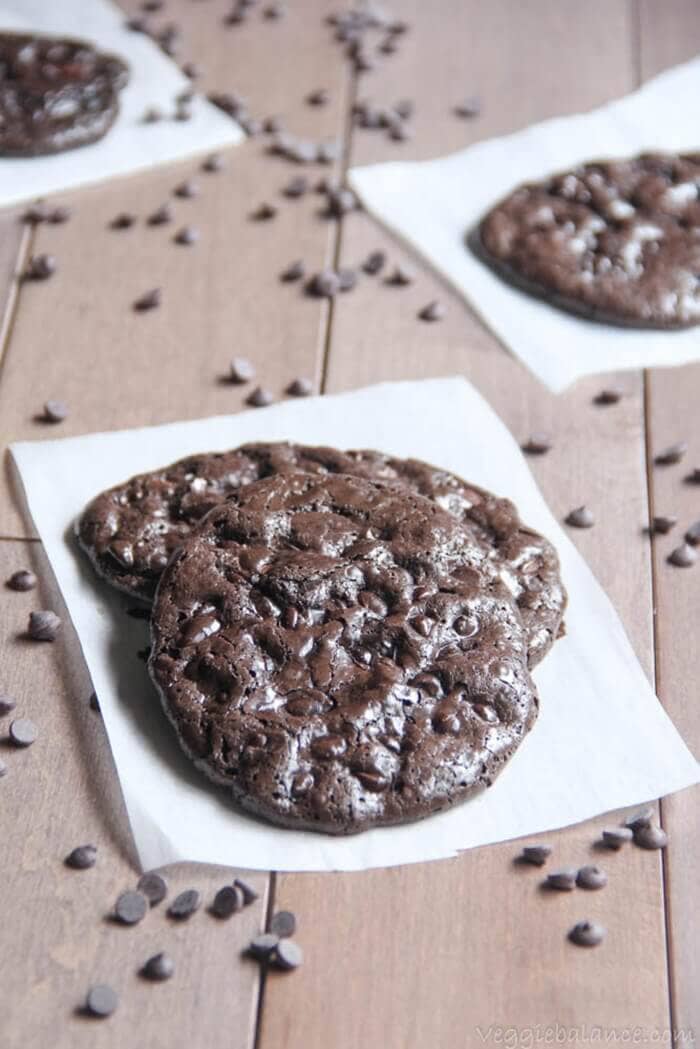 Sometimes all you want in life is to indulge in a little chocolate. Or a lot of chocolate, it's your call. These huge, flourless cookies have that perfect glossy chocolate top that cracks delightfully when you bite into it, yielding into a soft interior dotted with little chocolate chips. This is one of the best cookie recipes because there are very few ingredients, and because they're flourless they won't get big and puffy. Instead, they'll spread out into a thin, chewy cookie with a soft center. Use the highest quality chocolate you can find for the best results! If you like, add some chopped nuts for a little extra crunch and flavor. This is a gluten-free recipe with guaranteed amazing results!
34. Gluten-Free Thin Mint Cookies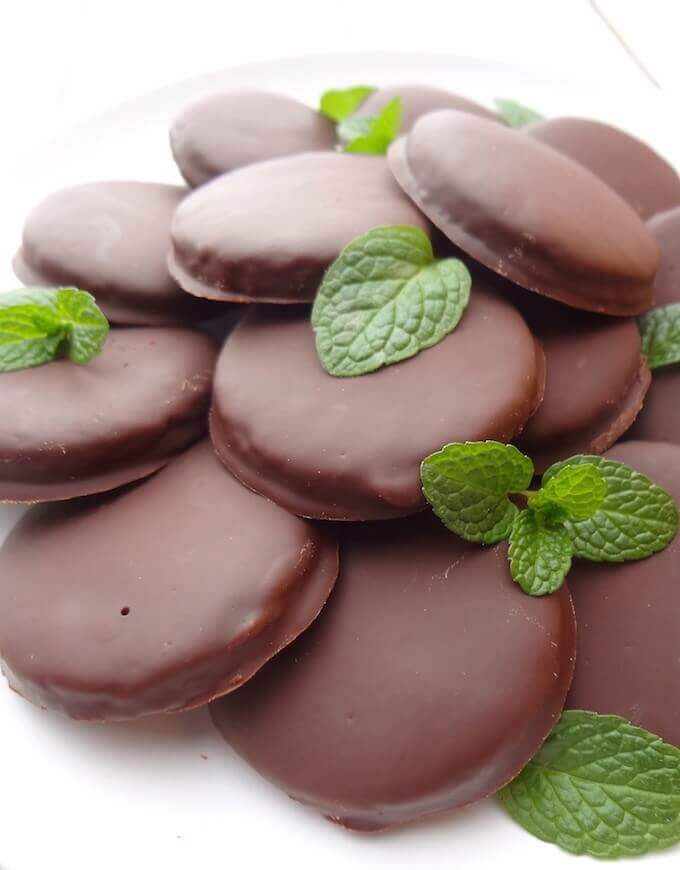 Girl Scout cookies are one of the greatest parts of life, but what about when there isn't a troop to be found? If you want to be able to enjoy their popular thin mint cookies all year round, this is one of the best cookie recipes for you! High quality mint extract and the best vegan melting chocolate you can find make these gluten-free, vegan alternatives taste just like the real thing! Store them in the refrigerator or even the freezer to prevent the chocolate from melting and sticking together. This gluten-free cookie recipe also makes a lot, so it's great for sharing.
35. Gluten Free Vegan Oreos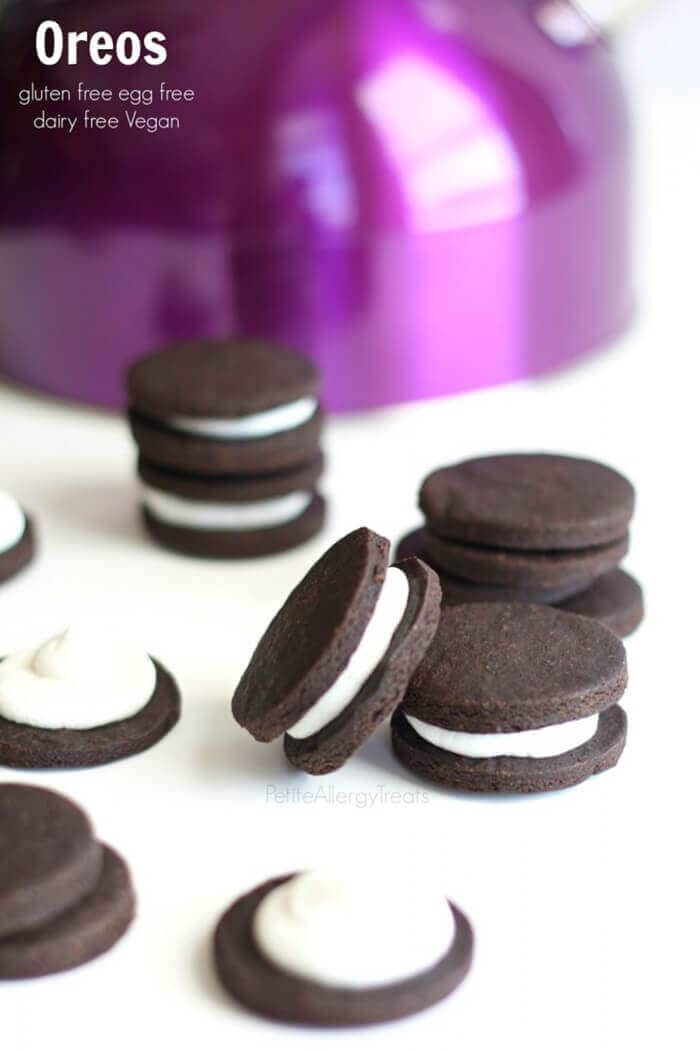 Here's another copycat recipe that tastes just as good (if not better than) as the real thing! The rich, dark chocolate flavor is perfectly balanced by the vegan cream filling, though these crispy cookie bites would also make great cookies for bite-sized ice cream sandwiches. This is a bit of an involved recipe, involving a lot of different ingredients and four different flours, but the results are totally worth it. If you love Oreos, you'll love this recipe. Play around with different fillings to imitate some of the fun seasonal flavors Oreos sometimes come in.
36. Easy Vegan Oreos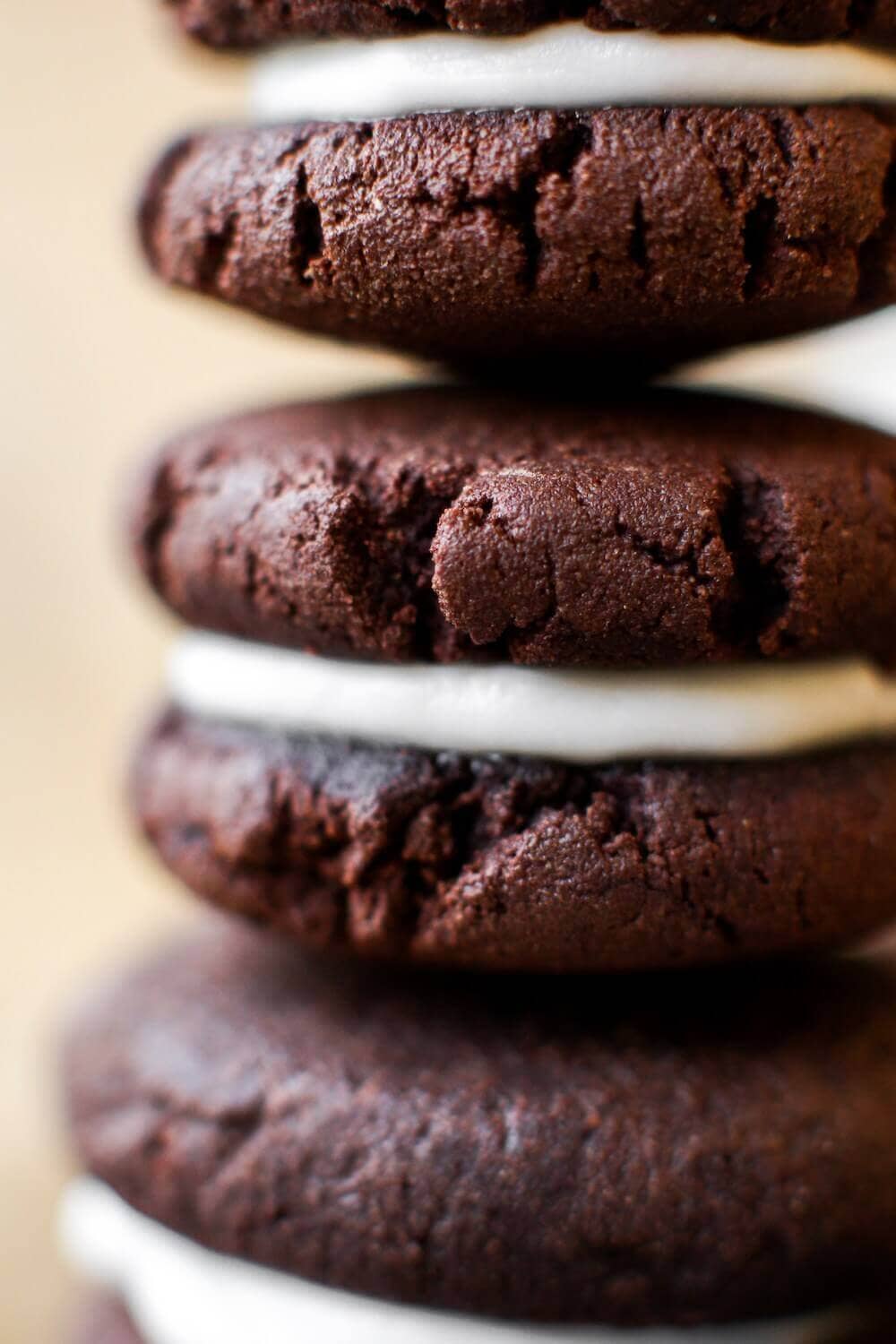 Another gluten-free Oreos recipe? Why not? If you want a super-simple option for making Oreos, this gluten-free cookie recipe has just 3 ingredients in the cookie part – maple syrup, cocoa powder and brown rice flour. It's insanely easy to make these cookies, and the recipe even offers a ton of different ideas for filling your cookies. Coconut cream, peanut butter cream, chocolate peanut butter cream, even a slice of banana for a healthier treat. Really, the possibilities are only limited by your imagination and dietary concerns!
37. Gluten Free Vegan Sugar Cookies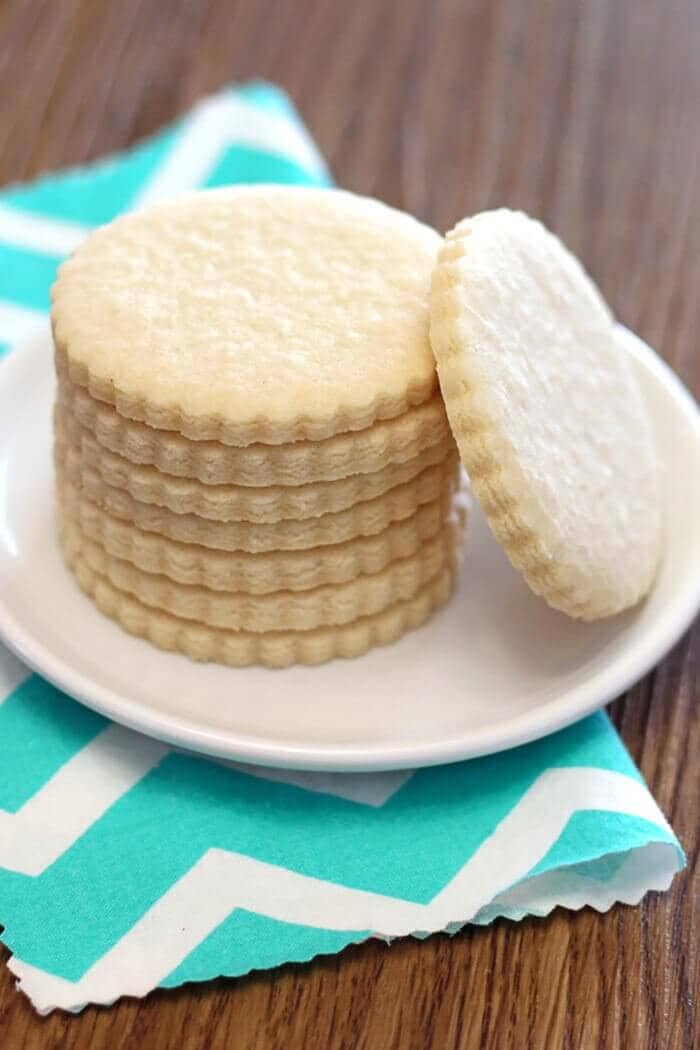 Have you despaired of finding a good vegan sugar cookie that's also gluten-free? Then you haven't tried one of the best cookie recipes we found! The trick is apparently in using confectioner's sugar rather than cane sugar. This gives a super-fine consistency to the dough so that it can be rolled out without crumbling. Using a high-quality coconut oil gives this gluten-free cookie recipe a soft, chewy texture without being hard or greasy. With very few ingredients and a simple prep, you can be decorating your holiday cookies in no time! Get the kids involved to make it a fun family activity to fit into any healthy meal plan.
38. Soft and Chewy Raspberry Thumbprint Cookies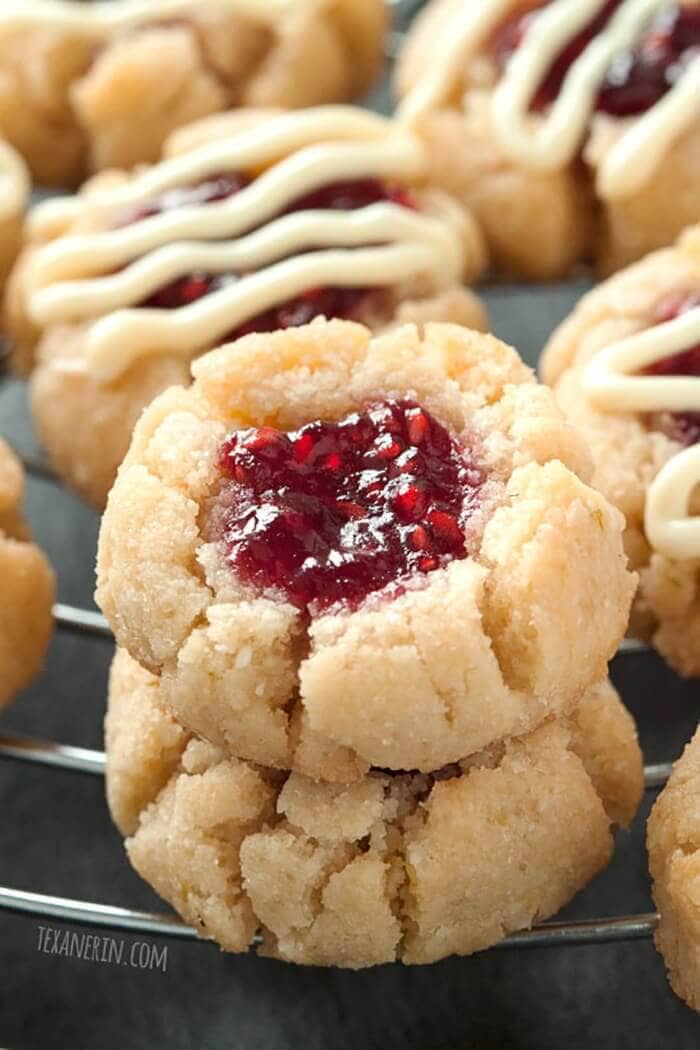 While traditional thumbprint cookies rely on a massive amount of butter to give them their flaky, tender texture, this recipe uses coconut oil to suit a dairy-free meal plan. This super simple gluten-free cookie recipe combines almond flour and coconut flour for a slightly nutty flavor that works perfectly with the raspberry jam. Not a huge raspberry fan? Swap it out for a different flavor, or press a piece of dried fruit into the center of each cookie before baking! This is a healthy treat that can satisfy any sweet craving you might have!
39. Gluten Free Shortbread Cookies dipped in Chocolate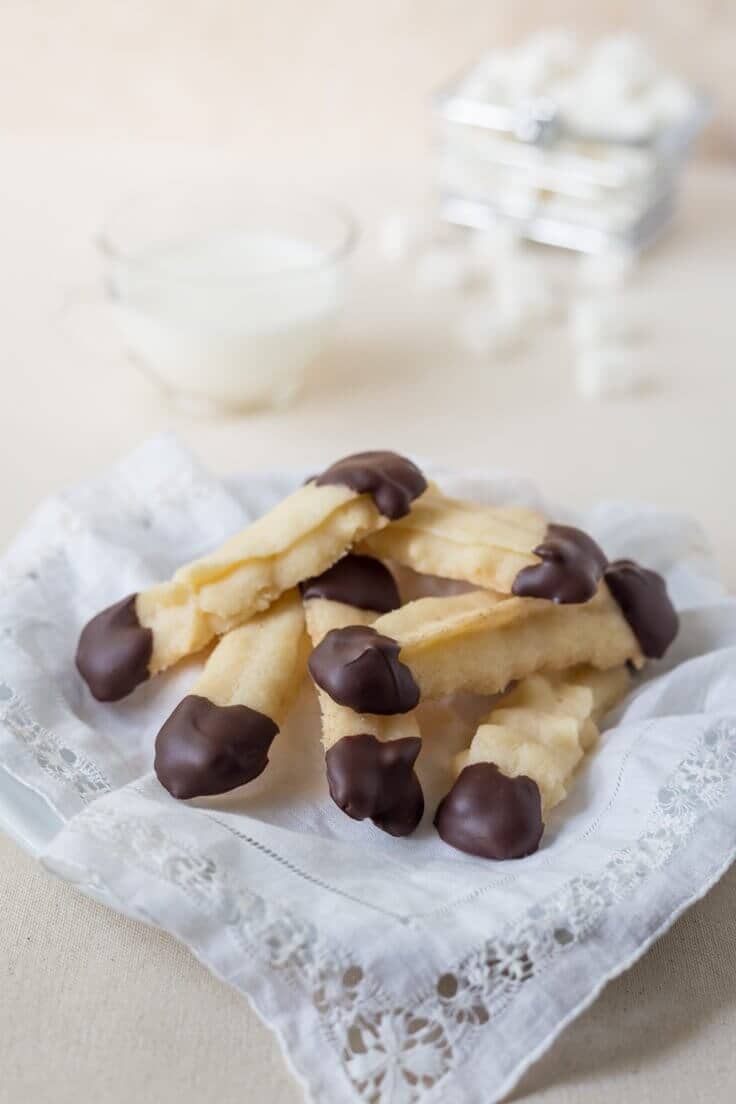 These chocolate-dipped shortbread sticks may look extra-fancy, but they're actually quite easy to make! Perfect for a refined tea or just enjoying as a relaxed snack, these 6-ingredient little cookies combine gluten-free flour and dairy-free butter for a rich buttery taste without the extra calories or fat. The chocolate coating takes these cookies from boring to special, so use the highest-quality melting chocolate you can find. If you don't want to pipe the dough, or don't have a piping bag/star tip, you can just roll little dough logs or cut them into thin rectangles.
40. Coconut Almond Cookies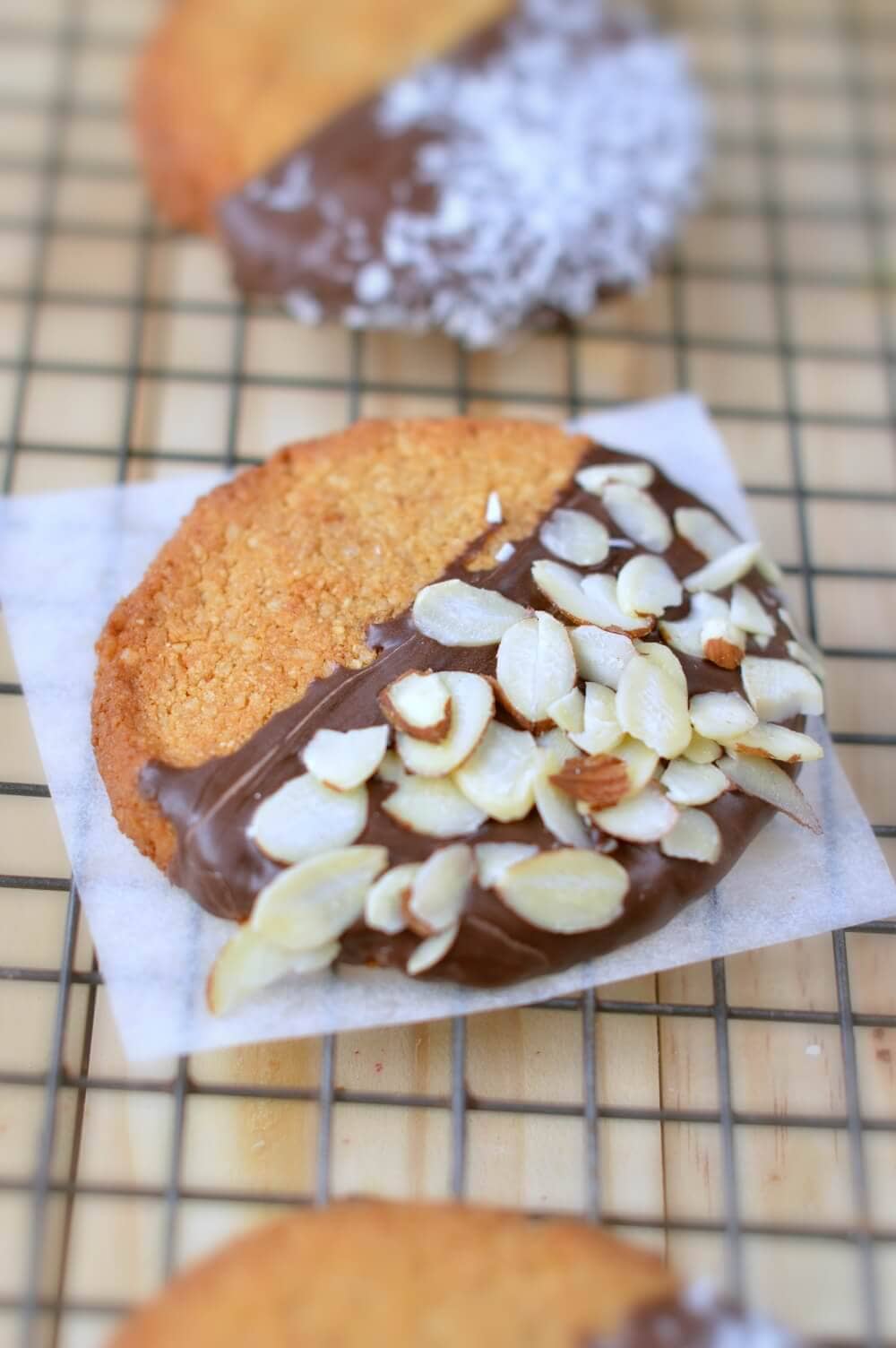 This easy recipe only looks complex. The truth is, the cookie dough is just a few simple ingredients you probably already have, including coconut, almonds, an egg, coconut oil and your choice of sweet syrup processed with some spices until well blended. No bowls, spoons or special equipment needed! You could make these cookies in a smaller size than the recipe calls for, but with the chocolate coating and sliced almonds, you'll definitely wish you'd made them bigger! This combination of heavenly flavors will make anyone following a gluten-free diet very happy.
41. 4 Ingredient Ginger Nut Cookies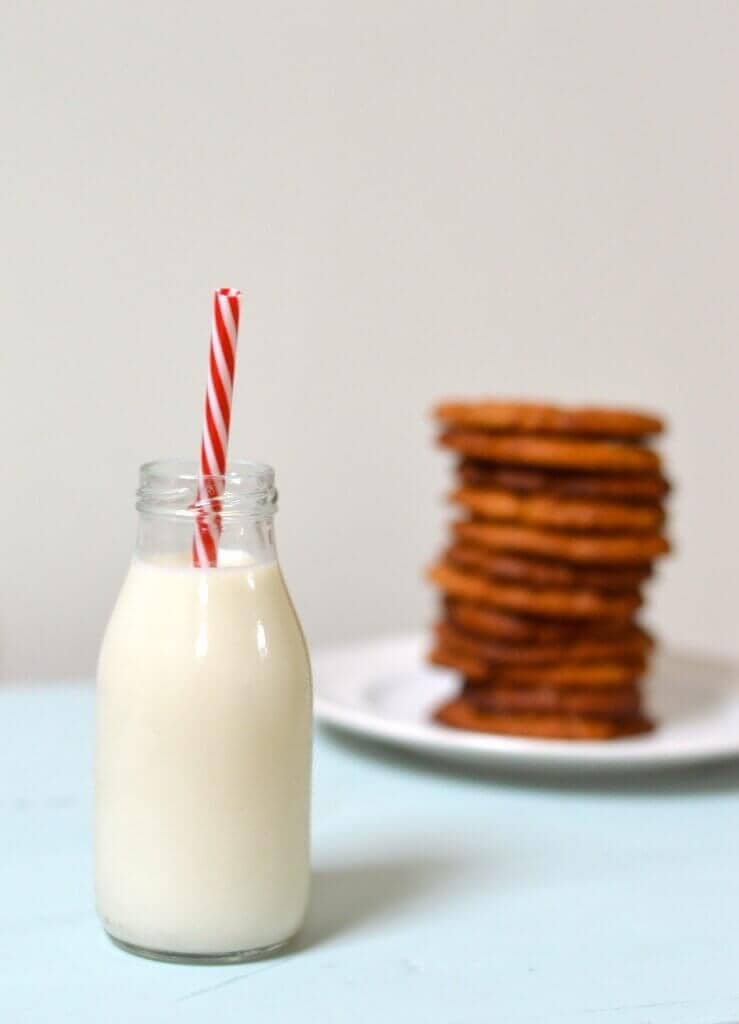 With just four ingredients, this must be the easiest gluten-free cookie recipe in the world! The best part is, you probably have everything you need right in your pantry. With just a little nut butter (cashew, peanut, almond, whatever you prefer), some sugar, an egg and ginger you can enjoy this crisp, sweet little cookie in under a half hour. Not a huge fan of ginger? Swap it out for dried fruit, coconut, chocolate chips or whatever else you prefer! The simplicity of this cookie makes it perfect for customizing to your taste.
42. Almond Butter Oatmeal Chocolate Chip Cookies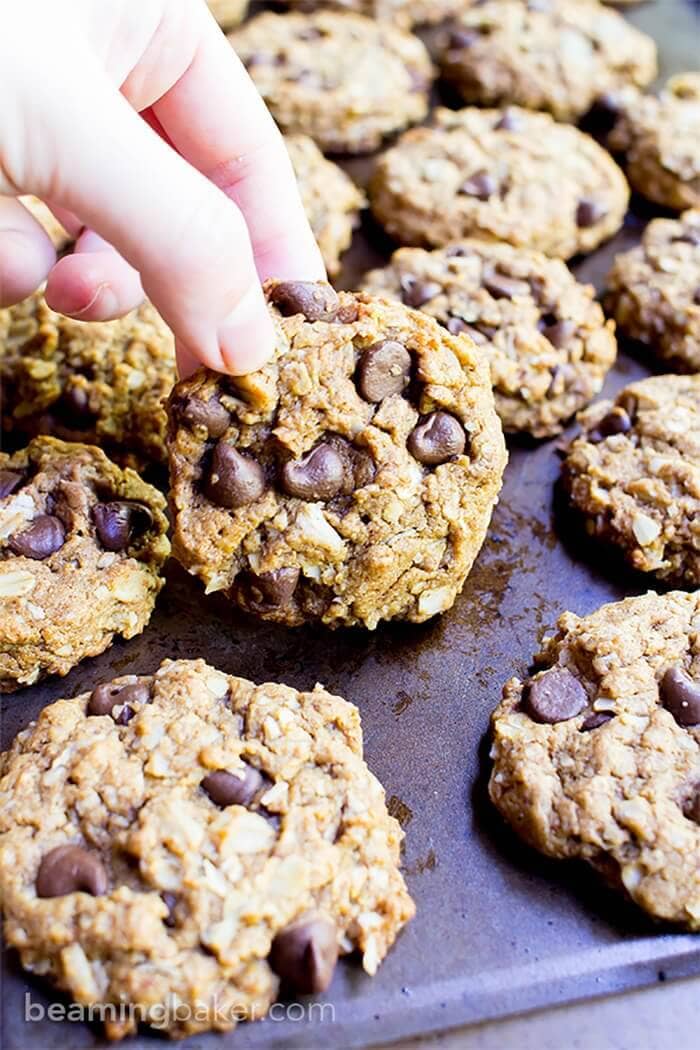 If you want the perfect combination of chewy texture, high protein and satisfyingly sweet chocolate, look no further than this recipe! These gluten-free cookies exchange the more common peanut butter for almond butter, an intriguing twist that makes this recipe perfect for when you want something that is both familiar and comforting, but also a little unexpected. And, because they contain no dairy, they're also perfect for those on a vegan meal plan!
43. Gluten Free New York Times Chocolate Chip Cookies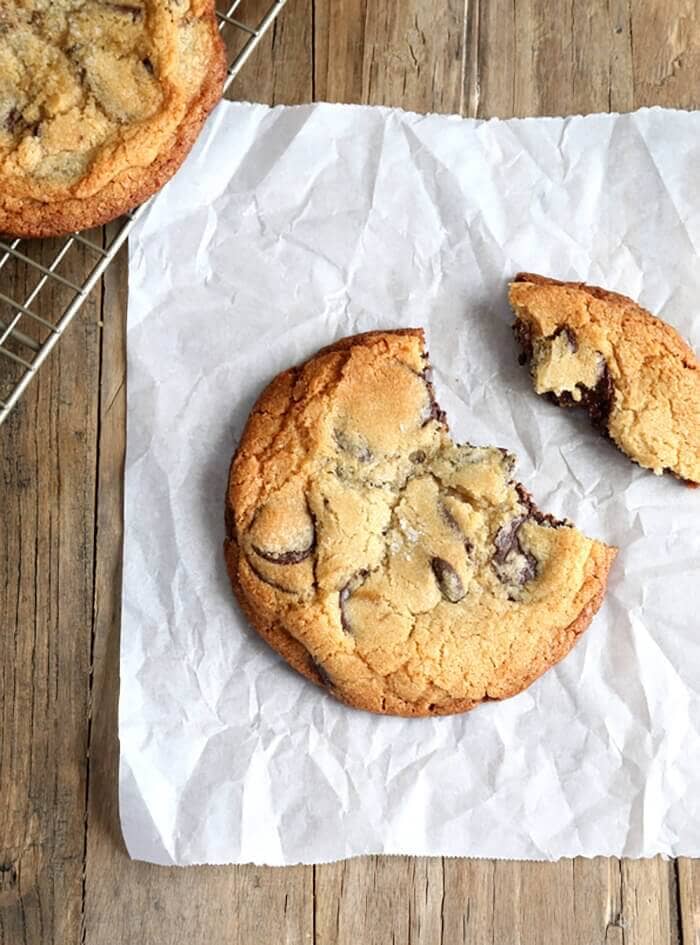 If you're craving a big, rich chocolate chip cookie that hearkens back to your childhood, here it is! These monster cookies are not for those watching their calories, as they use a lot of real butter and sugar, but they do fit into a gluten-free diet. You'll want to chill the dough before baking, but it's totally worth it. Instead of dropping the dough on the sheet, this recipe calls for you to roll them into balls. That's because they spread quite a bit in the oven, developing a crisp and chewy exterior that gives way to a soft and moist center. The sweetness of the chocolate is tempered by the coarse sea salt sprinkled on top before baking, so don't skip it!
44. Flourless Peanut Butter Cookies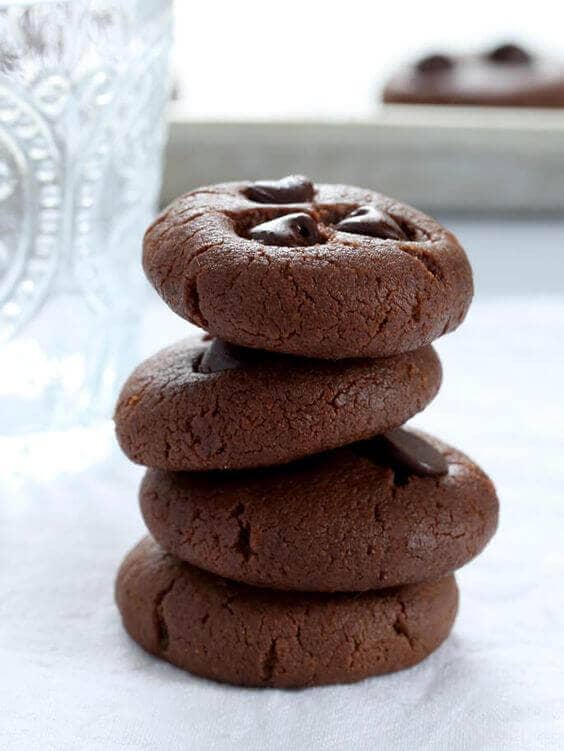 These cookies are so much more than a standard peanut butter cookie. The addition of high-quality cocoa powder and chocolate chips takes these cookies to a whole new level. The fact that the recipe itself is so easy is just icing on the cake! Because there's no flour at all in these cookies, you'll want to make sure your ingredient measurements are perfect. You'll be glad you did when you bite into one of these soft, almost decadent bites of chocolate and peanut butter bliss!
45. Soft Gluten Free Cream Cheese Cutout Sugar Cookies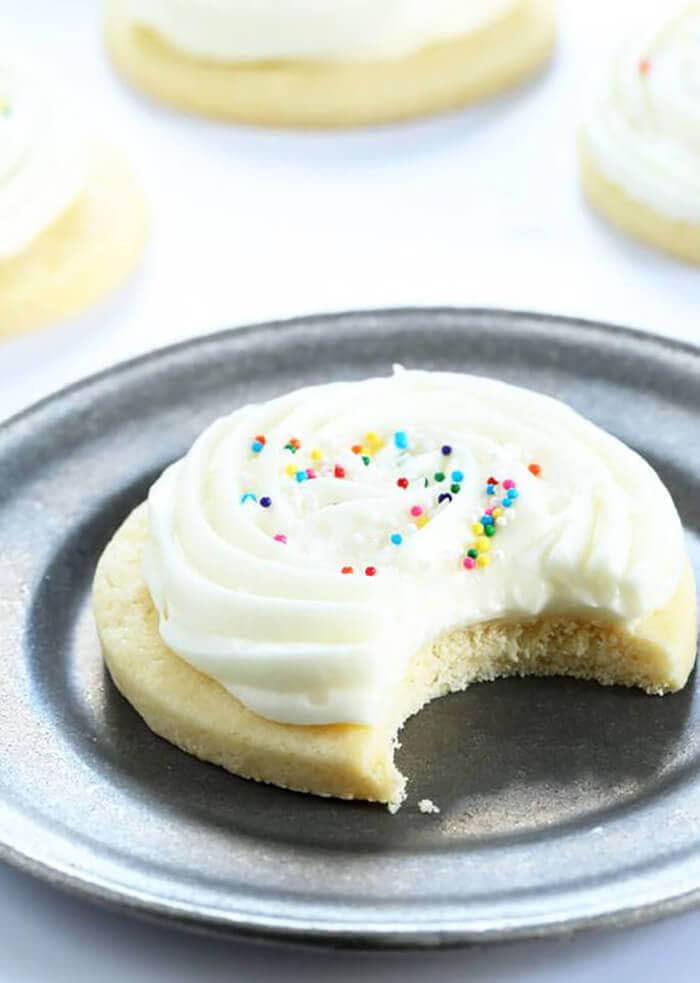 Looking for a cutout cookie recipe that's not only gluten-free but results in a soft, moist cookie? This recipe combines a small amount of ingredients and results in a cookie that's soft and chewy, but dense enough to hold its own against as much frosting as you prefer! Be sure not to omit the cream cheese in this dough. It not only adds to the texture, but makes these incredible cookies taste almost like a cheesecake. Combining cookies and cheesecake? Yes, please!
46. Chewy Ginger Molasses Cookies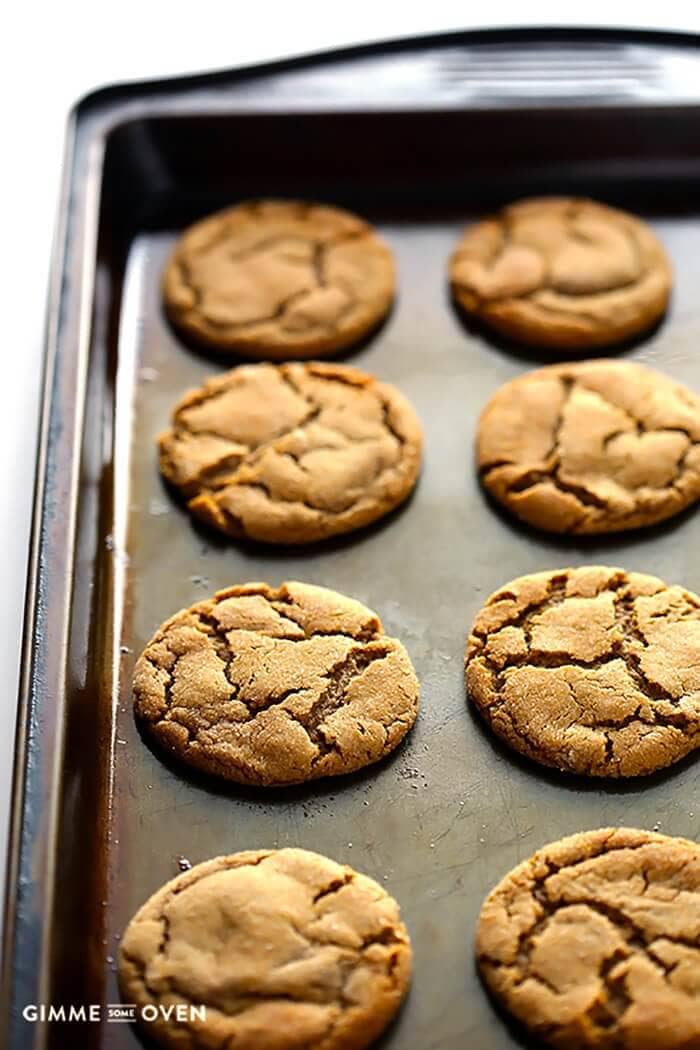 If you prefer a more grown-up cookie recipe that's less sweet and just a little bit spicy, these chewy ginger molasses cookies hit the spot. Rolling the dough in the cinnamon sugar ensures a beautiful cracked exterior with a caramelized coating. They have a fantastic texture and the combination of ginger and molasses makes for a refined flavor that's perfect for pairing with a mug of tea or coffee during the colder months. They also store really well, so make a great choice for a cookie swap or just for packaging up into holiday gifts!
47. Low-Carb Almond Crescent Cookies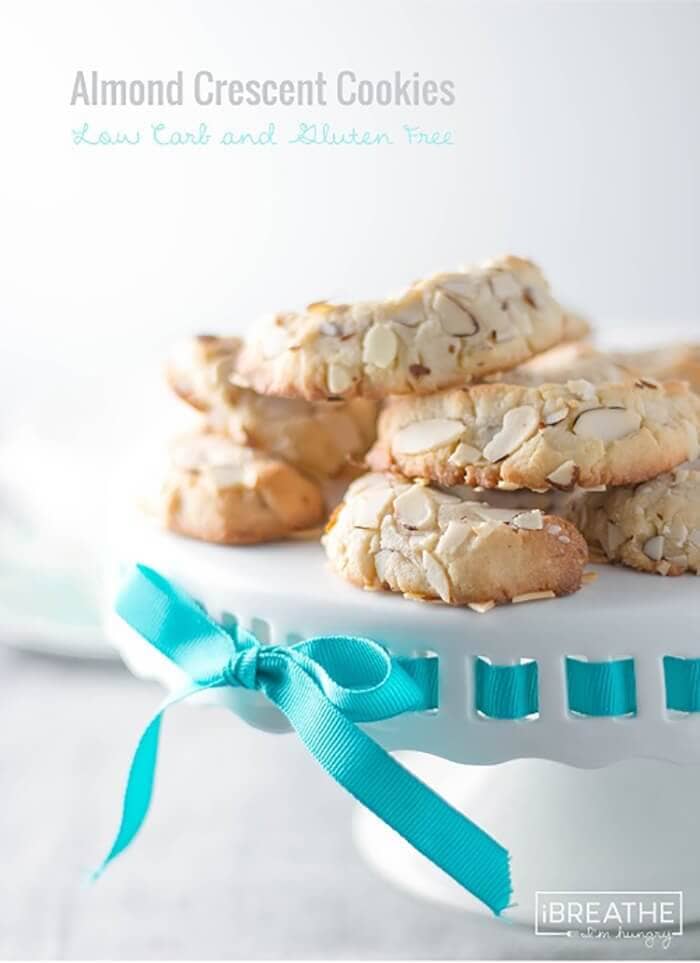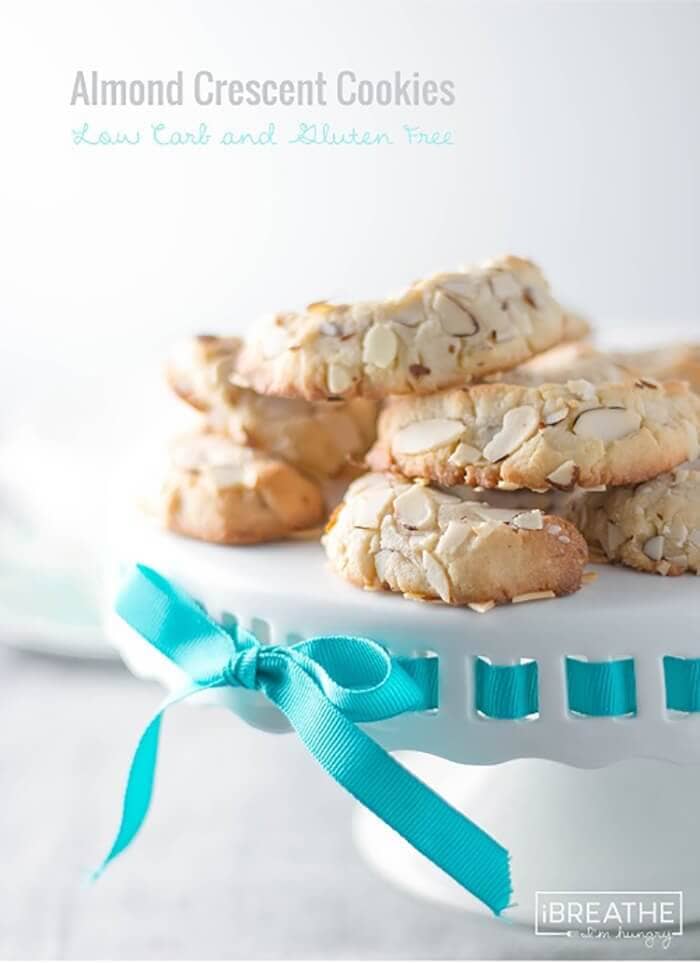 If you're a fan of these traditional Italian cookies, you'll love this low carb (and gluten-free!) version. A light, buttery cookie with a delicate crumb and the refined, nutty flavor of almonds, this cookie recipe is sure to be a hit! With just 7 ingredients, you'll be cranking these classic holiday cookies out of your kitchen like a machine. If you have children, they'll love helping you shape the dough and rolling it in the sliced almonds, almost as much as they'll love helping you enjoy the results!
48. Peanut Butter Whoopie Pies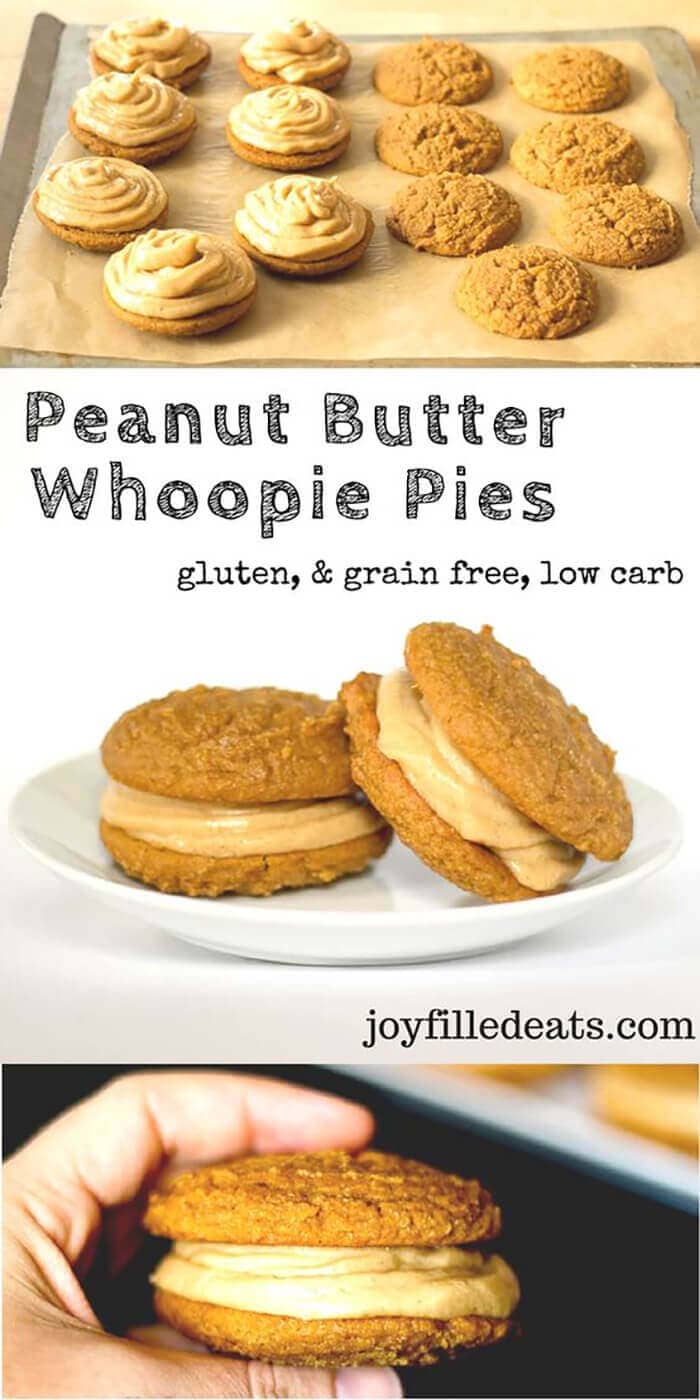 Let's be honest. Whoopie pies are so much more than a cookie. No, instead you get two whole cookies and a rich, fluffy peanut butter filling. The reason peanut butter is so popular in gluten-free food is that it binds all types of gluten-free flours perfectly and has a strong, delicious flavor that can cover any odd tastes from alternative flours. These cookies use peanut butter in a way that is incredible. Peanut butter cookies lovingly wrapped around a luscious peanut butter frosting center. These guys are big, but if you want a big dose of sweetness, they'll hit the spot like nothing else!
49. Gluten Free Chocolate Mint Cookies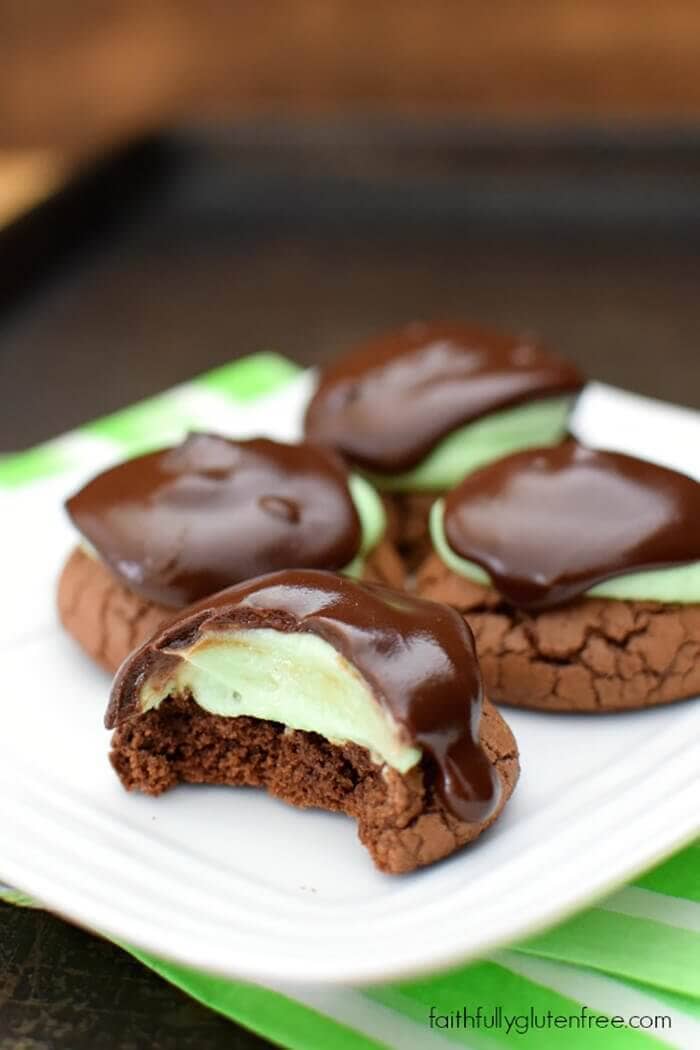 We all know gluten-free doesn't necessarily mean healthy, but with this decadent cookie idea, you won't even care. The pairing of chocolate and mint is perfect for the holidays, and these little cookies will please anyone, gluten intolerant or not! This gluten-free cookie recipe is quite long and requires a lot of preparation, but the soft, brownie-like cookie with two different frostings is quite worth the extra work. This is not your everyday snacking cookie, but it is a perfect recipe to trot out for special occasions.
50. The Best Damn Gluten Free Vegan Chocolate Chunk Cookies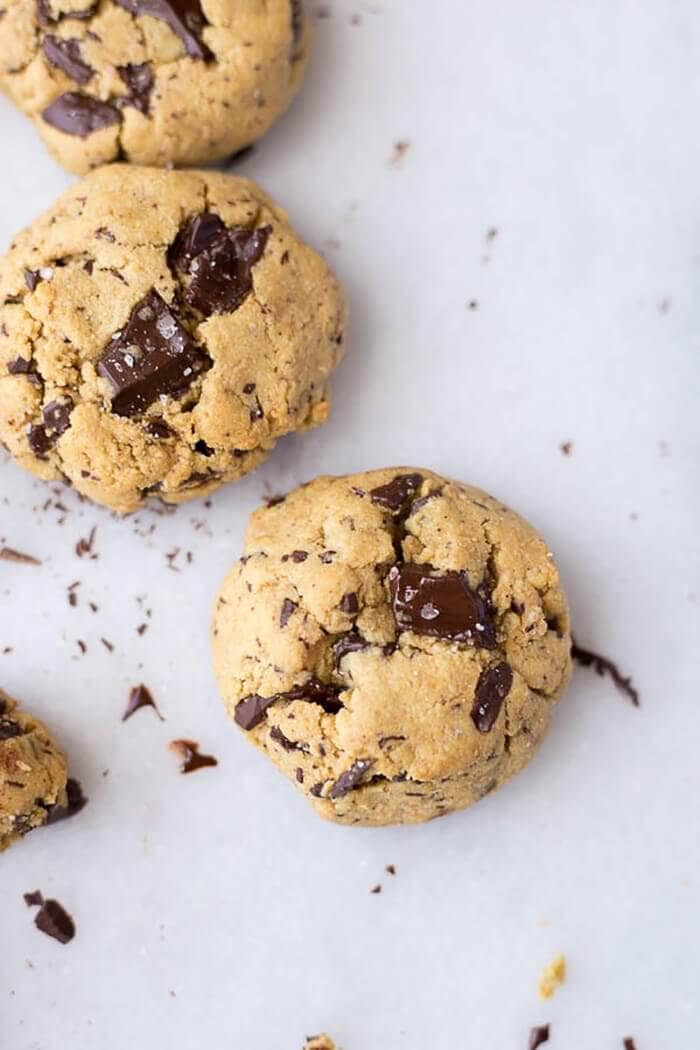 The best cookies? Once you try them, you'll see why this cookie idea deserves such a prestigious title! They're not only gluten-free, but fit a vegan meal plan, as well. And they're easy to make. Simply combine your wet ingredients, blend in your dry and fold in some chocolate chips! No chilling, rolling or specialty ingredients required. Because this is such an easy recipe, you'll want to use the best ingredients you can find. This is a huge crowd pleaser that suits various dietary restrictions, so you'll reach for this recipe often!
If you thought following a gluten-free diet meant you had to give up all your favorite baked goods and childhood cookie favorites, hopefully this list has given you some cookie idea inspiration! Whether you like chocolate, peanut butter, lemon or anything in between, there's a recipe for you on this list.
Just remember, whenever you plan out a gluten-free meal idea, leave room for a little sweetness after the fact. Dietary restrictions may be a pain, but there's no reason you should have to go without.
So go forth, find the perfect cookie idea to make for a bake sale or party, or even to enjoy alongside your favorite hot beverage. You definitely won't be disappointed with the results!