50 Gluten-Free Chocolate Recipes You can't Live Without
These gluten-free chocolate recipes are some of the best chocolate recipes we have every laid our eyes on. Whether you have chosen to stick with a gluten-free diet to live a healthly lifestyle, enjoy gluten-free food or simply want to try out gluten-free chocolates, you are sure to find a gluten-free chocolate recipe that will complete any meal idea. You can indulge guilt-free and allergy friendly, thanks to these creative chocolate recipes. You should never go without dessert, so get into your kitchen and get ready for chocolate heaven.
The Gluten-Free Chocolate Lovers Guide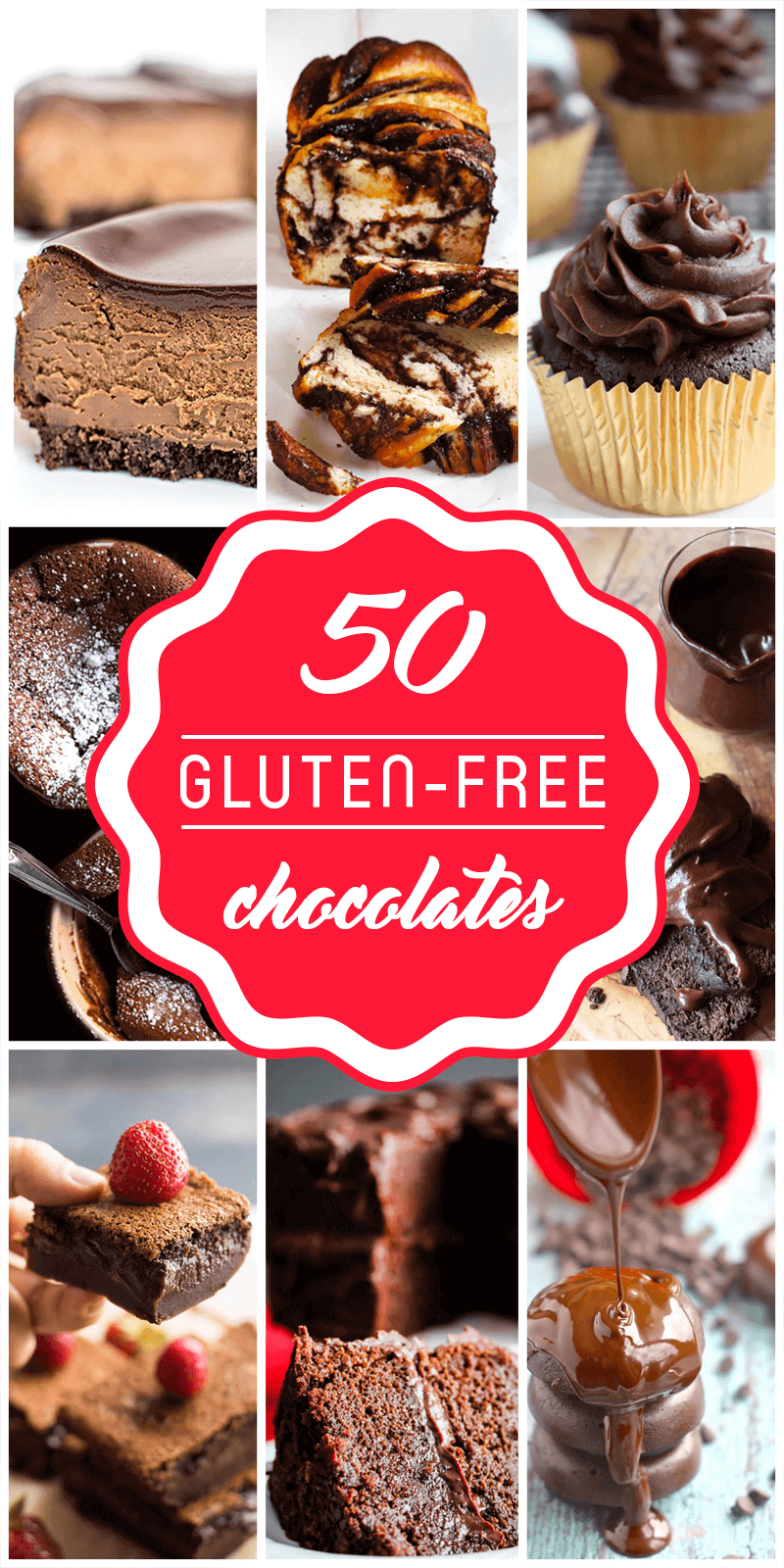 1. Cheesecake Bites

You won't believe that these mini morsels of chocolate covered cheesecake are actually created using a gluten-free recipe. Gluten-free graham cracker crumbs create the perfect crust, while decadent cream cheese builds the base of creamy chocolate idea. The creator of this recipe suggest the addition of a small amount of sour cream for those that want to add even more of a depth of flavor. However, this recipe bakes quicker and is absolutely delicious. Plus, we love that you don't have worry about the cake cracking since each bite is dipped in chocolate! This fool proof recipe is sure to please even the pickiest of sweet tooth, even if they aren't on a gluten-free diet.
2. Chocolate Cheesecake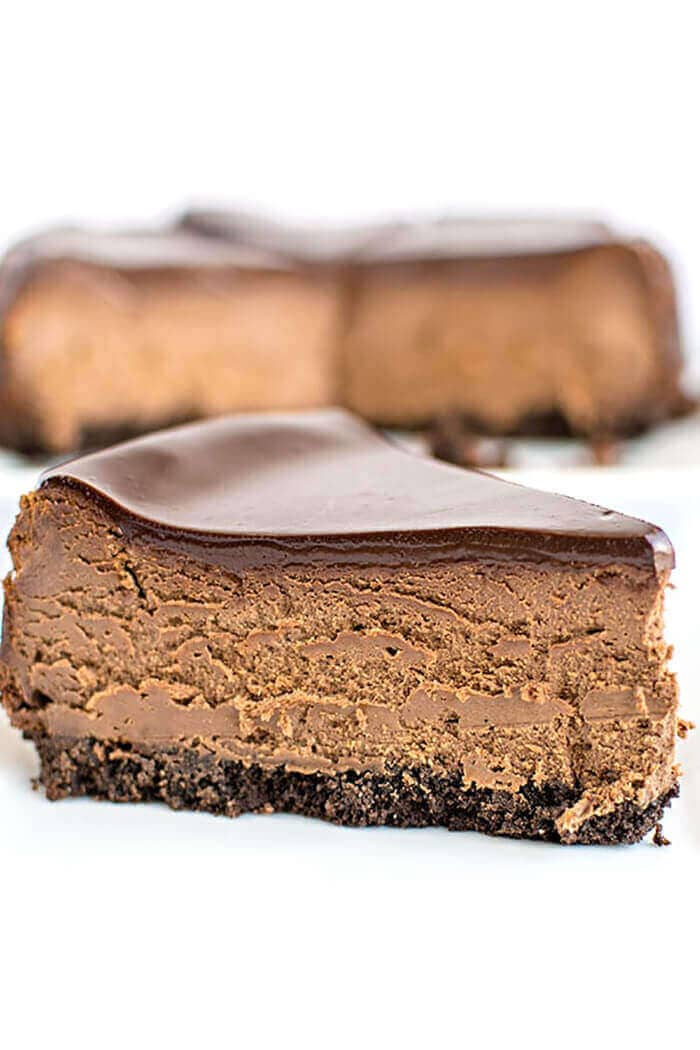 Gluten-free chocolates are one thing, but this easy recipe blows our mind. This recipe takes indulging cheesecake a step farther by becoming infused with chocolate. The traditional chocolate cheesecake recipe is then topped with a rich chocolate ganache. As if that was not sinful enough, gluten-free chocolate graham cracker crust build the foundation of this delicious dessert. We love that this recipe uses semisweet chocolate to make the taste even richer. This will become one of your favorite recipes because not only is it delicious, but is so easy you won't know how you lived without it.
3. Coconut Oil Chocolate Chip Cookies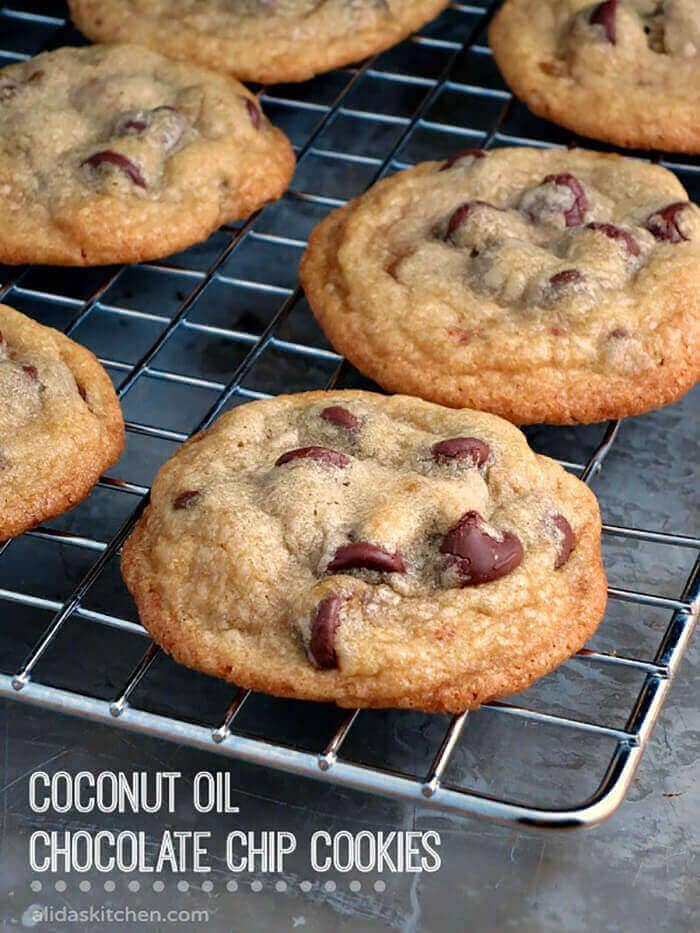 For those that love a delicious chewy chocolate chip cookie, this is a recipe you will fall in love with. The use of coconut oil, granulated sugar and brown sugar help create a chewy texture. The recipe calls for the perfect amount of semi-sweet chocolate chips to make sure you get the perfect amount of chocolate in each bite. These cookies are perfect for parties, picnics or just because. You can easily turn this recipe into a gluten-free treat by substituting the all-purpose flour for almond flour or buckwheat flour.
4. Chewy Chocolate Chip Oatmeal Bars

This recipe is a unique twist on a traditional oatmeal chocolate chip cookies. The creator of the recipe explains that she was inspired to make a bar version to help reduce the prep time. After all, there is no need to scoop or bake individual cookies. This recipe involves baking an entire pan of buttery oats and chocolate. Many assume that oatmeal contains gluten. However, instead of containing gluten, it has a protein called avenins. You can enjoy these delectable bars completely guilt-free. Some suggest also adding butterscotch or cinnamon chips for an extra pop of flavor.
5. Gluten-Free Chocolate Zucchini Muffins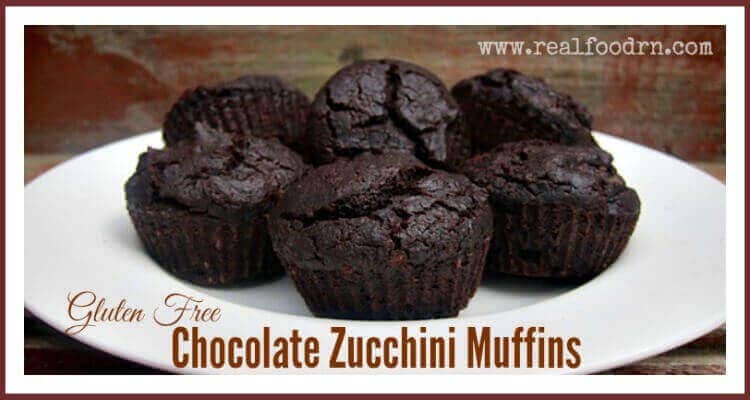 If you haven't tried chocolate zucchini muffins before, you are missing out. The zucchini creates an extremely moist cake texture, but there is no vegetable taste at all! This specific recipe takes the traditional chocolate zucchini muffin recipe and transforms it into a gluten-free treat. The use of chocolate chips and cocoa powder create a decadent chocolate taste. The original creator of this recipe shared a fun twist on this gluten-free chocolate recipe. She recommends adding a small amount of your favorite coffee to the mix for a mocha version. Who can resist coffee and chocolate? These would make the perfect dessert, snack or breakfast treat. It definitely is one of the best chocolate recipes we have tried.
6. 2-Ingredient Nutella Brownies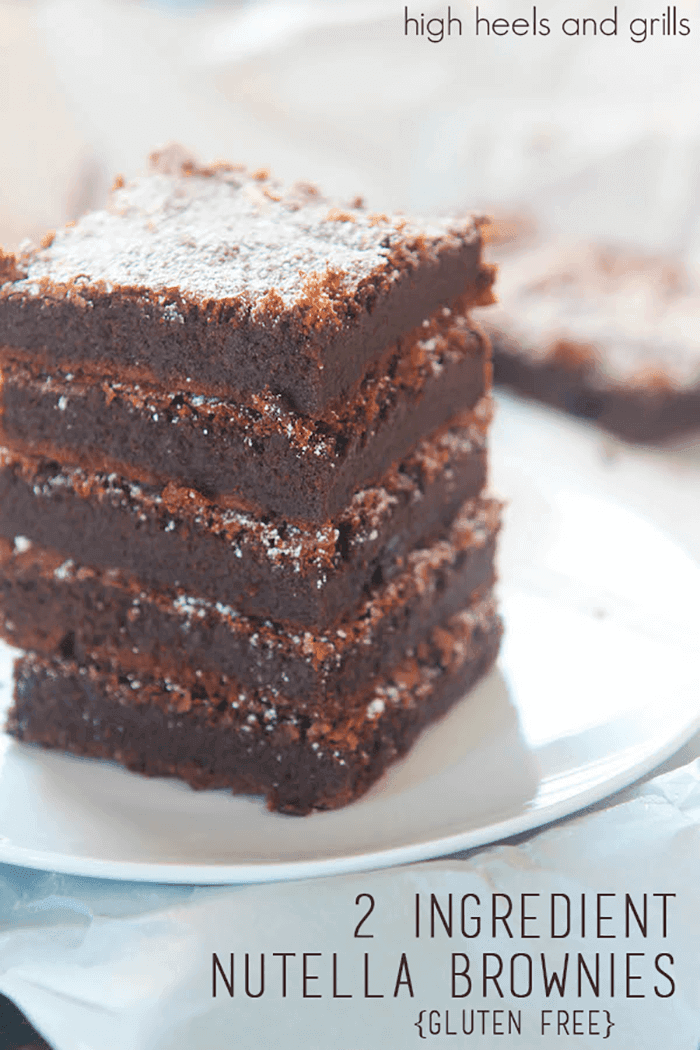 Anything involving Nutella is usually a huge hit, but these gluten-free brownies are absolutely irresistible. Not only do they taste great, but they couldn't be any easier to make. The easy recipe only calls for a mere two ingredients! Some people think gluten-free food means complicated ingredients and an intricate meal idea, but this chocolate idea proves them wrong. All you will need is 4 large eggs and a cup of irresistible Nutella. These brownies are not the super sweet kind, but when dusted with powdered sugar these brownies will satisfy anyone's brownie craving! Plus, the Nutella spread offers up the perfect amount of moisture. Stop settling for store bought gluten-free brownies and treat yourself to these unique treats.
7. Gluten-Free Hershey's "Perfectly Chocolate" Chocolate Cake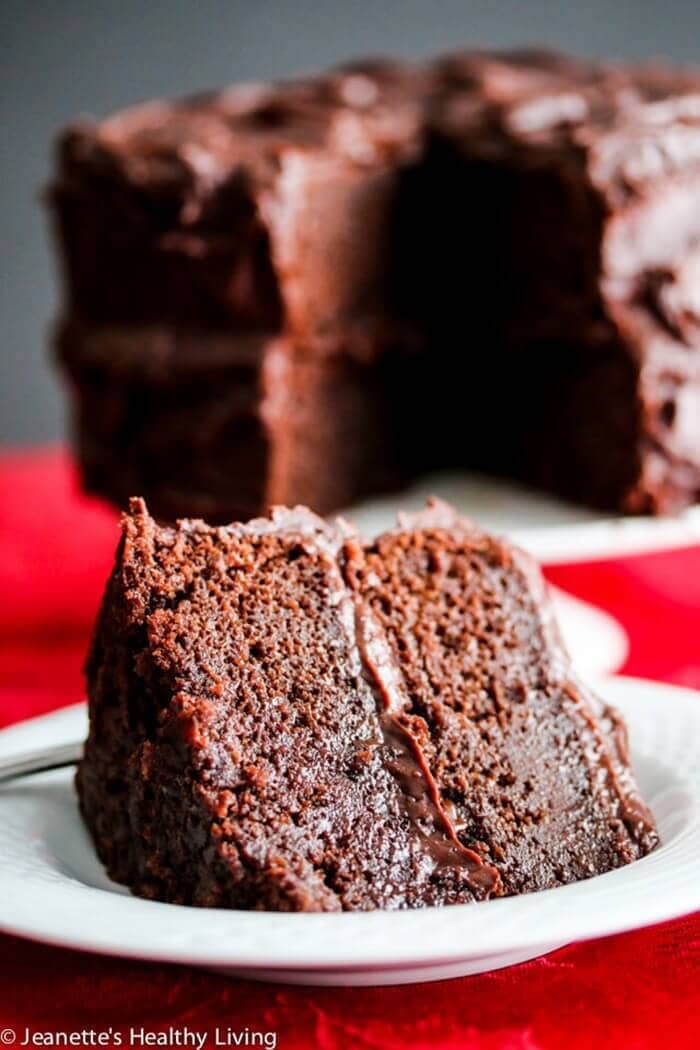 Nothing says decadent than a big chocolate cake. This delicious cake would be the perfect sweet star on your holiday feast table. This recipe has become a breeze to make because of the introduction of Hershey's line of gluten-free baking ingredients. These allergy-friendly ingredients allow you to make traditional desserts without sacrificing taste. In fact, your guests won't even be able to tell that you used a gluten-free chocolate recipe. This cake is so decadent and rich, just a little slice will be the ultimate treat. Extremely moist and fudgey, this cake is one of the most chocolately recipes around. Whip one of these cakes up for the holidays and the chocoholics in your life will love you forever!
8. Flourless Fudgey Peanut Butter Brownies

Chocolate and peanut butter are one of the greatest flavor combinations to ever hit the kitchen and this brownie recipe makes them the stars. Chewy and extremely rich, you will not believe that these brownies are completely free of any type of flour. The addition of semi-sweet chocolate chips and creamy peanut butter make this one delicious dessert. Finish these bad boys up with a drizzle of chocolate and peanut butter and we are sure no one will be able to resist. We can not wait to give these amazing treats a try!
9. Gluten-Free Chocolate Babka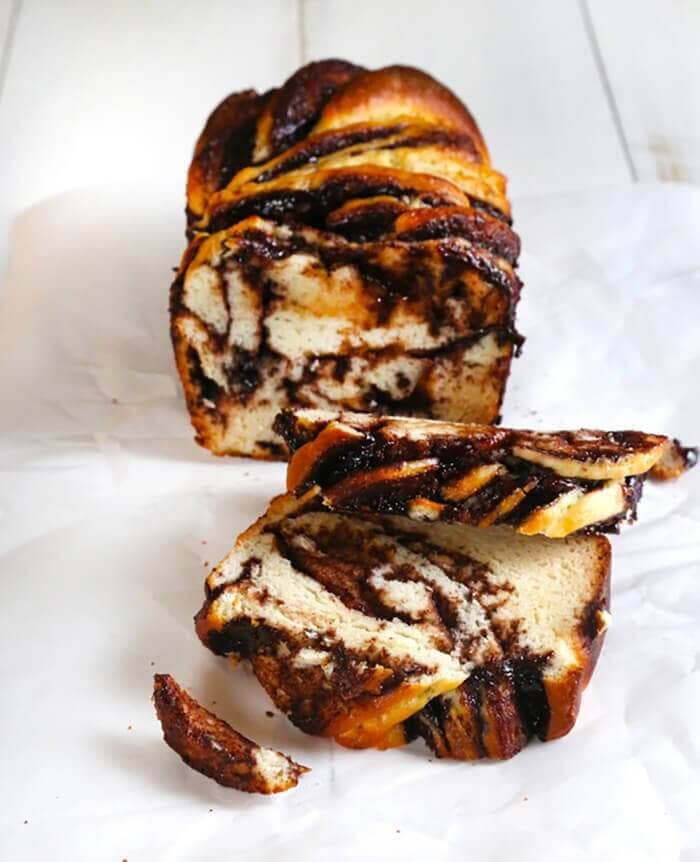 You might of not heard of babka. This delicious sweet yeast bread is extremely popular in New York. However, this gluten-free chocolate recipe takes this traditional treat and adds in a rich braid of decadent chocolate. The gluten-free recipe promises a moist and tender bread with a chocolately filling using another homemade recipe. Others have suggested substituting the chocolate sauce with Nutella. Either way, you can't go wrong with this chocolate babka. If you haven't tried babka before, this is the perfect easy recipe to use to introduce you and your family to this one of a kind treat.
10. Vegan Chocolate Crunch Bars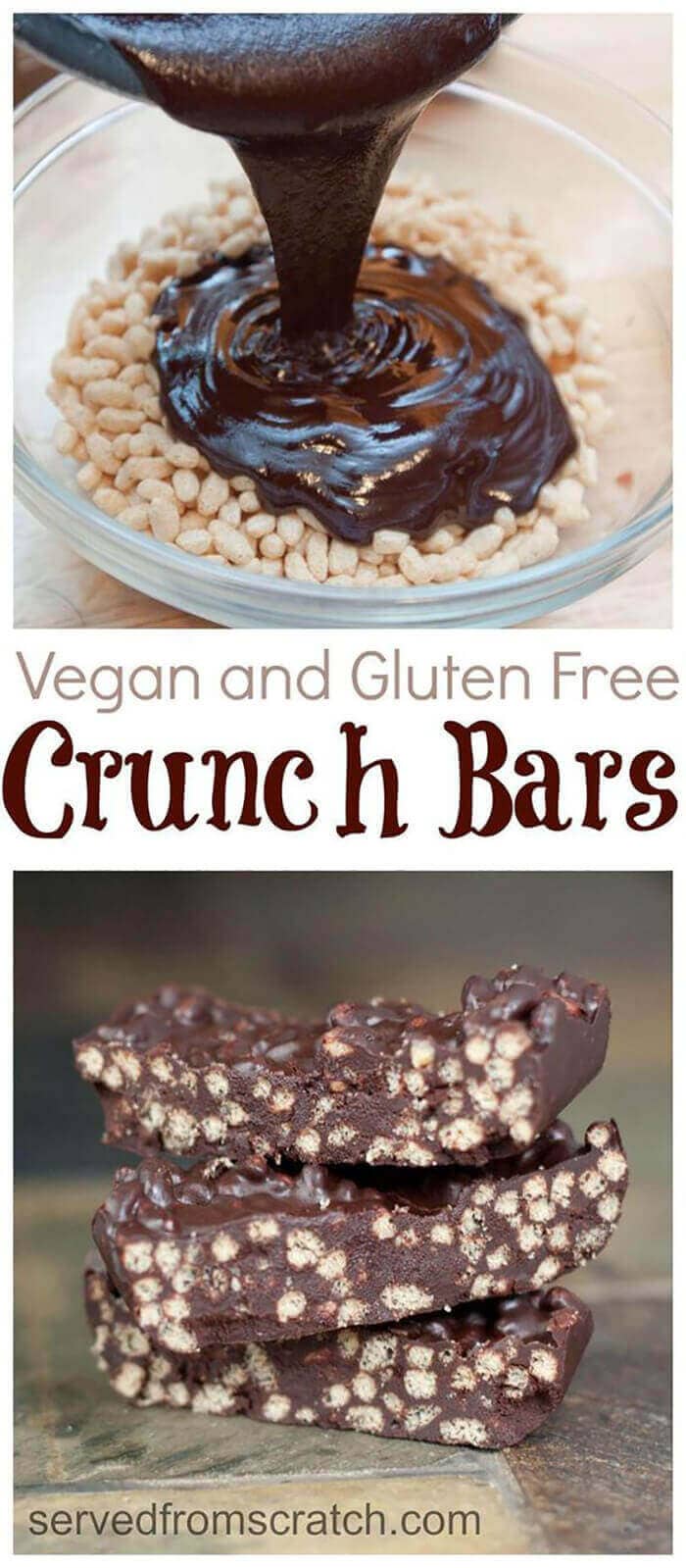 Not only is this a gluten-free chocolate recipe, it is also vegan! Think of this fun and easy recipe as a homemade vegan twist on the classic Crunch chocolate bar. Coconut oil, vanilla extract, cacoa powder and maple syrup are melted together and then poured over organic rice cereal. It is really that easy. Once you have combined all of the ingredients, simply pour into a parchment paper-lined pan and let it set in the freezer. A quick cut into bars and they are ready to serve. We promise everyone will love these one of a kind crunchy gluten-free chocolates. We think a few of these bars wrapped up in festive paper would make a great small gift for not just those on a gluten-free diet, but those that have never tried gluten-free food before!
11. Brookies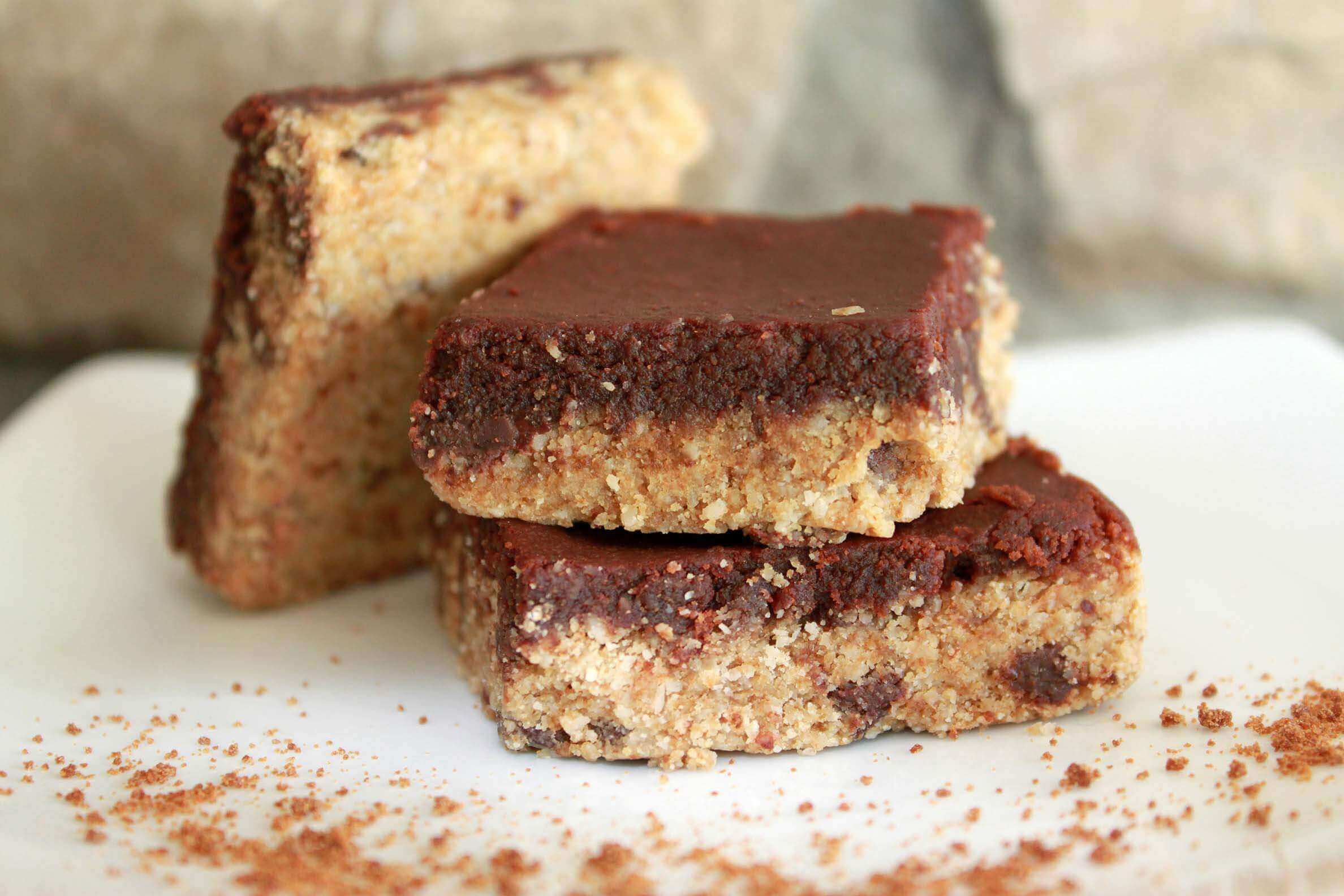 The name itself is intriguing. However, once you feast your eyes on this amazing cookie and brownie combination, you won't be able to get into the kitchen fast enough. This easy recipe is packed with flavor, but is gluten-free, dairy-free and absolutely allergy-friendly. A chocolate cookie bottom with a brownie top, this is one of the best chocolate recipes we have ever seen. While the finished product looks pretty intricate, this is an extremely easy recipe. You can feel good about indulging in one of these delicious squares. With no refined ingredients, you can savor the fresh and unprocessed taste of these two classic flavors in this gluten-free food.
12. One Bowl Gluten-Free Chocolate Cake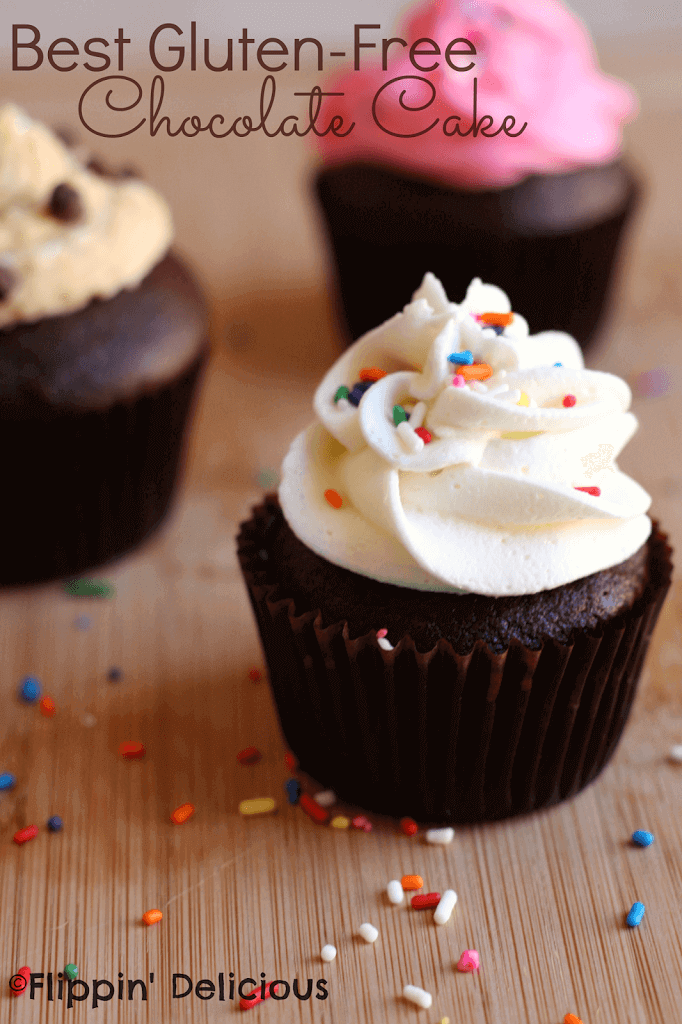 Not only do does this chocolate cake recipe create a moist delicious cake, but you only have to use one bowl to make it. Anything that means less dishes is sure to be a great idea during the holiday chaos. The rich chocolate taste rivals that of a decadent devil's food cake. The recipe is extremely versatile. It can be used to make layers of cake, cupcakes or muffins. Also, it can be combined with a number of any flavors. Whether you prefer strawberry, marshmallow, carmel or other frosting combination, this recipe is sure to please. The use of high-quality gluten-free flour makes the perfect go-to recipe to make a classic dessert that is allergy friendly.
13. Flourless Chocolate Zucchini Muffins

This is another moist and irresistible chocolate zucchini muffin recipe that will have you guests amazed that it contains a vegetable! Not only does the creator of this recipe promise that these are some of the softest muffins you will make, she also promises an intense chocolate flavor. The subtraction of flour in the recipe results in a denser product. This is because the flour is present to fluff the muffin up. However, you won't miss you. In fact, you will appreciate the fudgier texture. We know we do! Why would you pass up the opportunity to up your vegetable servings while eating chocolate? It is the perfect chocolate idea to complement any gluten-free diet.
14. The Best Vegan Gluten-Free Chocolate Cupcakes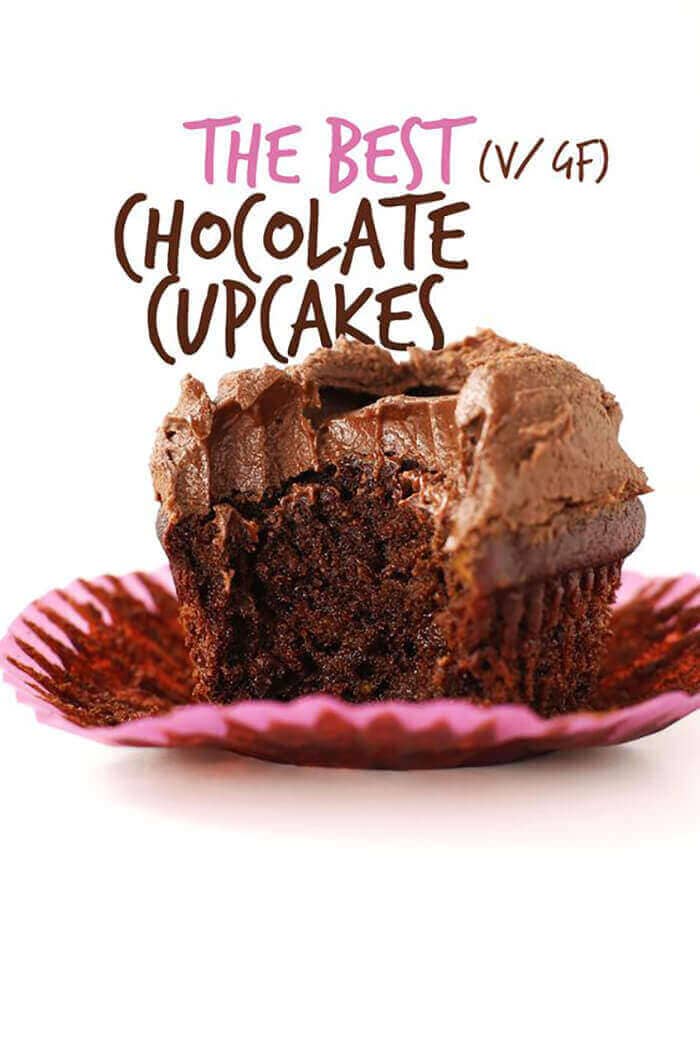 Another fantastic vegan and gluten-free recipe that you need to add to your baking arsenal. At first, we were bit alarmed by the number of ingredients needed, but these cupcakes are so easy to make. You only need one bowl! The creator of this amazing gluten-free recipe says the secret is the addition of beet puree and gluten-free flour blend. The puree lends a rich color and moisture. Plus, you can't forget about all of those great health benefits, such as fiber and plenty of vitamins. This recipe also includes a simply fluffy fudge frosting that looks so good, you will have to resist licking the bowl. Actually, you can do whatever you want to do. We won't judge.
15. Fudgy Gluten-Free Egg-Free Brownies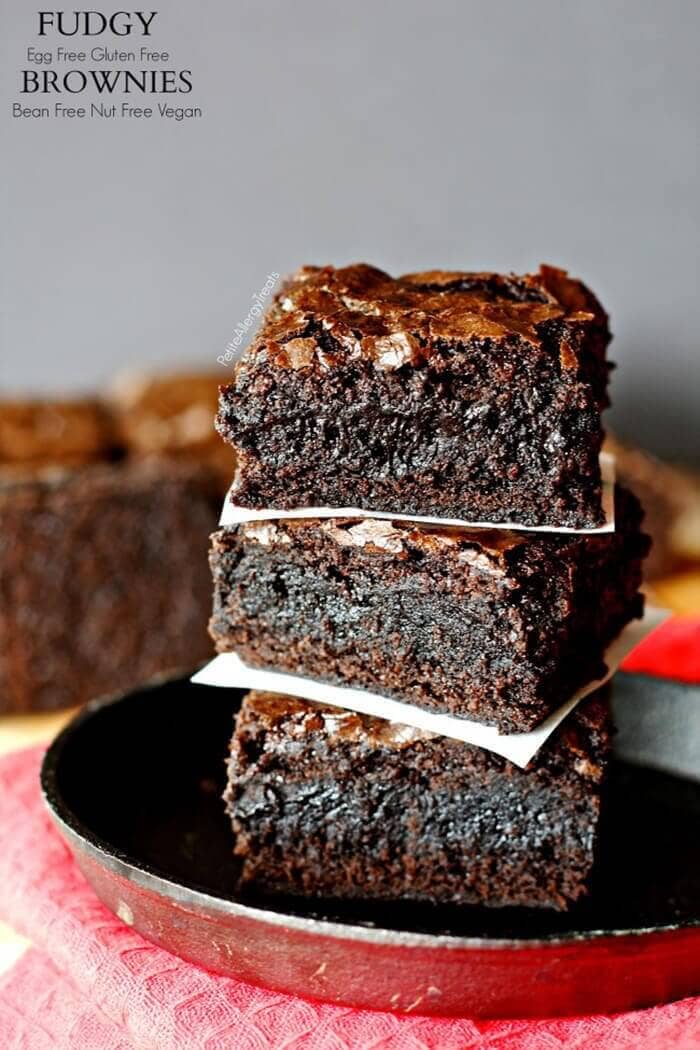 You can never have enough brownie recipes. In fact, you should try out as many as possible until you find that specific one that just speaks to. However, we think you might find what you are looking for with these egg-free brownies. These morsels are as allergy-friendly as a chocolate recipe can get. They are gluten-free, dairy free, egg free, soy free and nut free, making these a great dessert option for parties and get togethers. These brownies are so rich, some have even said they are too fudgy. We really don't think that is possible, but to each his own. Anyways, if you love decadent chocolate, you need to whip up a batch of extra moist brownies. No one will know they are so allergy-friendly unless you tell them.
16. Gluten-Free Three Layer Chocolate Cake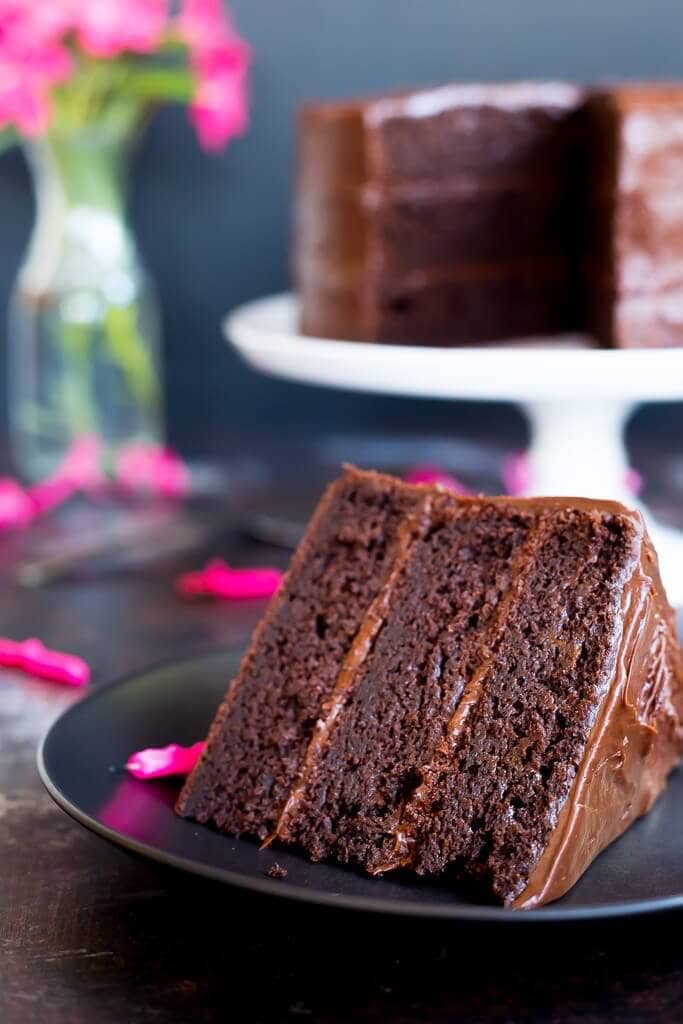 When you think of a classic chocolate dessert, do you think of a huge layered chocolate cake? Even those on a gluten-free diet shouldn't have to go without. Well then, this is the gluten-free chocolate recipe you have been wait for. This recipe was given an almost perfect rating by thousands of commenters. Three layers of moist chocolate cake joined together by a rich creamy frosting. You really can't get much better. This is the perfect recipe to use to make a unique homemade birthday cake or an easy dessert for a large group of chocoholics. Those that live a gluten-free lifestyle might not partake in cake, but no one should have to live without cake. So, go whip up one of these cakes up and throw a party.
17. Flourless Chocolate Cookies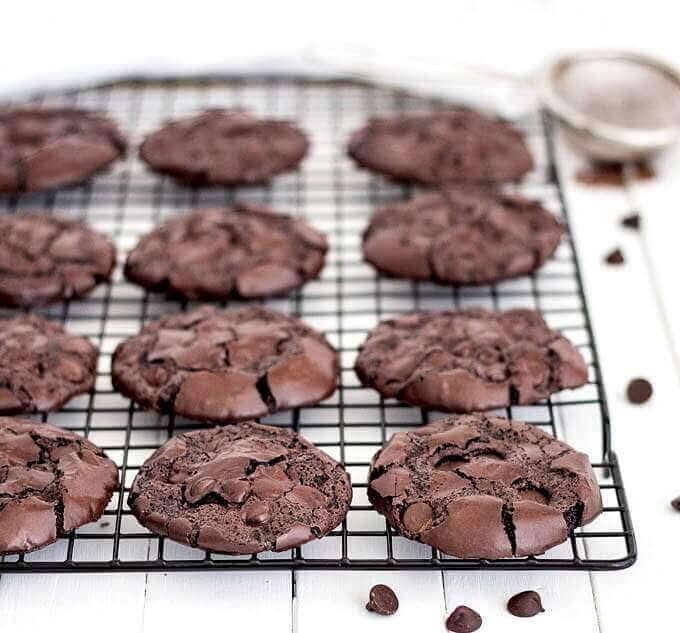 These rich and chewy cookies are almost reminiscent of a brownie. However, they will satisfy anyone's cookie craving. A crispy outside with a moist and chewy center will make you reach for more before you have finished the one you are holding. Not only does this recipe not contain flour, but it so easy to make. You will only need one bowl and there is no need to get out that big mixer. The best part is the ingredient list. You probably already have the simple list in your pantry. So, there is no time to waste. Go make some of these chocolate cookies! These cookies not only taste amazing, but would look like the perfect holiday cookie. Add a dusting of powdered sugar for a festive look that your guests will love.
18. Vegan Chocolate Cupcakes With Vanilla Bean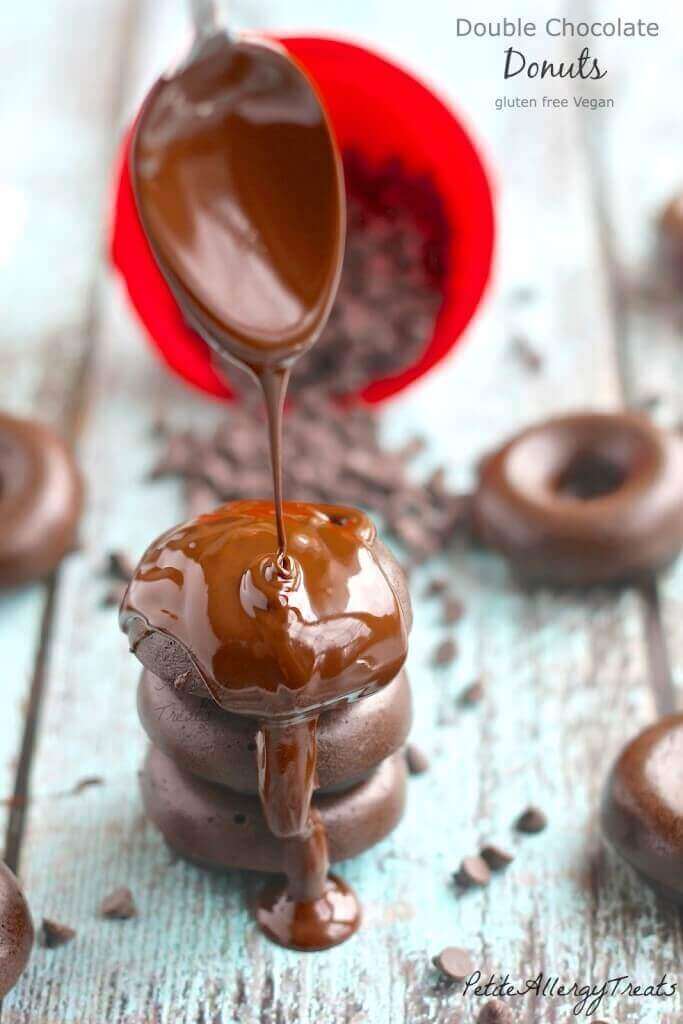 When a dessert recipe calls for chocolate and vanilla, you know you are in a for a special treat. These deliciously moist chocolate cupcakes are topped with a homemade vanilla bean frosting. The entire dessert is gluten-free and vegan friendly, which is hard to come by. You can also substitute vanilla extract for the vanilla bean, but why would you want to do that? Those specks of vanilla bean give the cupcake a delicious sophisticated look. The cupcakes are so easy to whip up that they would make a great weekday treat. Imagine the look on your family's faces when you serve up a platter of these chocolate morsels. We suggest making an extra batch and keeping in the fridge for stomp those random sweet tooth cravings or treat an unexpected guest.
19. Gluten-Free Chocolate Cake With "Cheesecake" Frosting and Cookie Crumble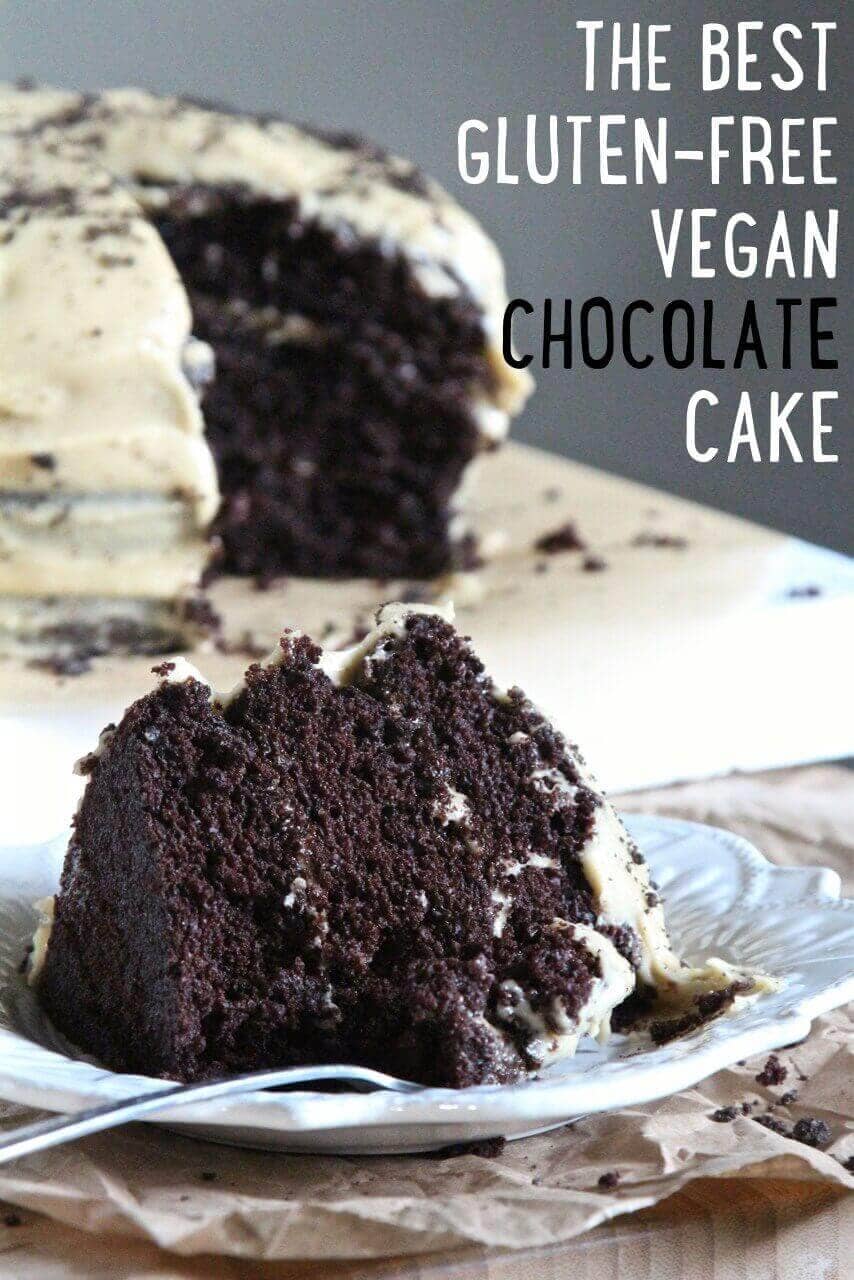 Holy cow, the title of this recipe alone will make your mouth water. You might be wondering how you can combine these flavors into a gluten-free food. However, we promise this is extremely friendly for a gluten-free diet. Combining three classic dessert flavors to create one sweet masterpiece is something we couldn't wait to do. Add in the fact that this recipe is gluten-free and you have a winner. The chocolate cake is made with rice flour and natural sugars and creates a super-moist and super chocolatey finished product. Despite its name, the "cheesecake" frosting is dairy free and completely allergy friendly. It is made with a combination of cashews, almond milk and coconut oil. Garnish the finished product with crushed gluten free cookies and you have a cake that is ready to party. We also think this recipe would also make some great cupcakes as well.
20. Decadent Chocolate Cake With Whipped Chocolate Frosting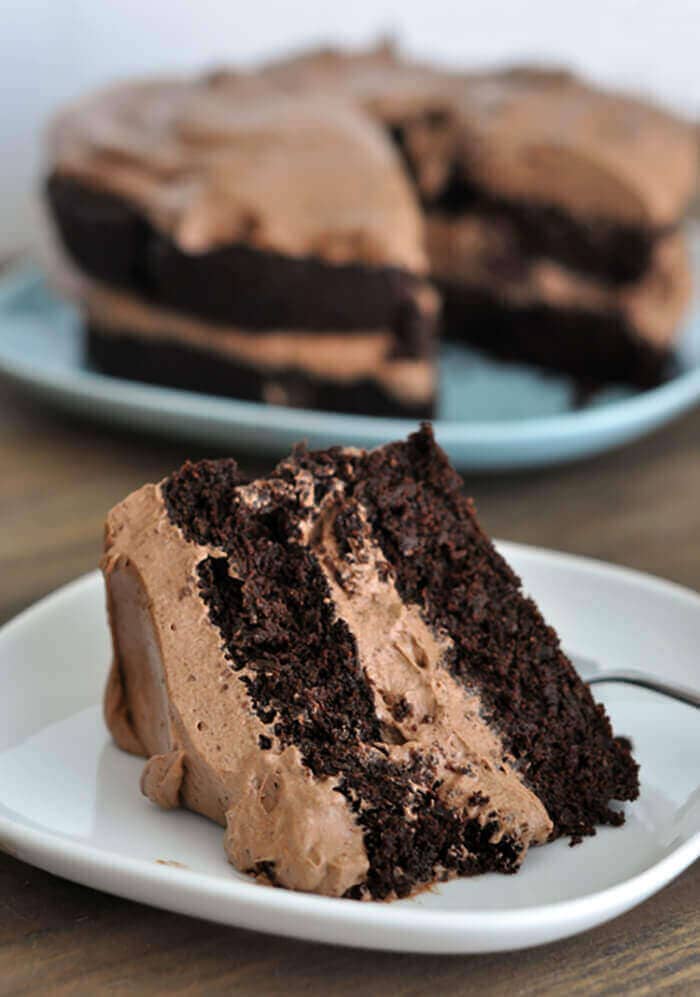 All of these gluten-free chocolate recipes have promised a decadent result. However, this chocolate cake ups the decadent level with an amazing whipped chocolate frosting. Not only is this recipe flour-free, but it uses quinoa. Quinoa is more than just a great meal idea, it can help create amazing gluten-free chocolates. We had never experienced quinoa in a cake, but we promise you will be pleasantly surprised. You can't taste it, but it is a great substitute to flour. The whipped frosting is the icing on the cake, literally. You will have to resist eating it by the spoonful. We also suggest the addition of a dusting of powdered sugar for a adorable presentation. This will become your new go-to chocolate cake recipe. Next time you can't think of a meal idea to use up that extra quinoa, use it to whip this easy recipe.
n
21. Brownie Trifle
A trifle is always a great dessert to put together. With its beautiful layers, this is so much more than a simple dessert. This brownie trifle looks absolutely delectable and tastes just as irresistible. The use of Nestle Toll House baking mix makes this recipe easy to whip up, but still looks likes you spent hours creating it. Basically, the work is layering rich brownies in between creamy chocolate pudding and whipped cream. The great thing about this trifle is the opportunity to mix it up and add whatever flavors you deserve. Be adventurous and add a splash of Baileys to the chocolate pudding for adult twist. Top it all off with a generous sprinkle of chocolate shavings and you will be sure to be the hit of the party. No one will know this is a gluten-free food.
22. Best Homemade Gluten-Free Chocolate Cake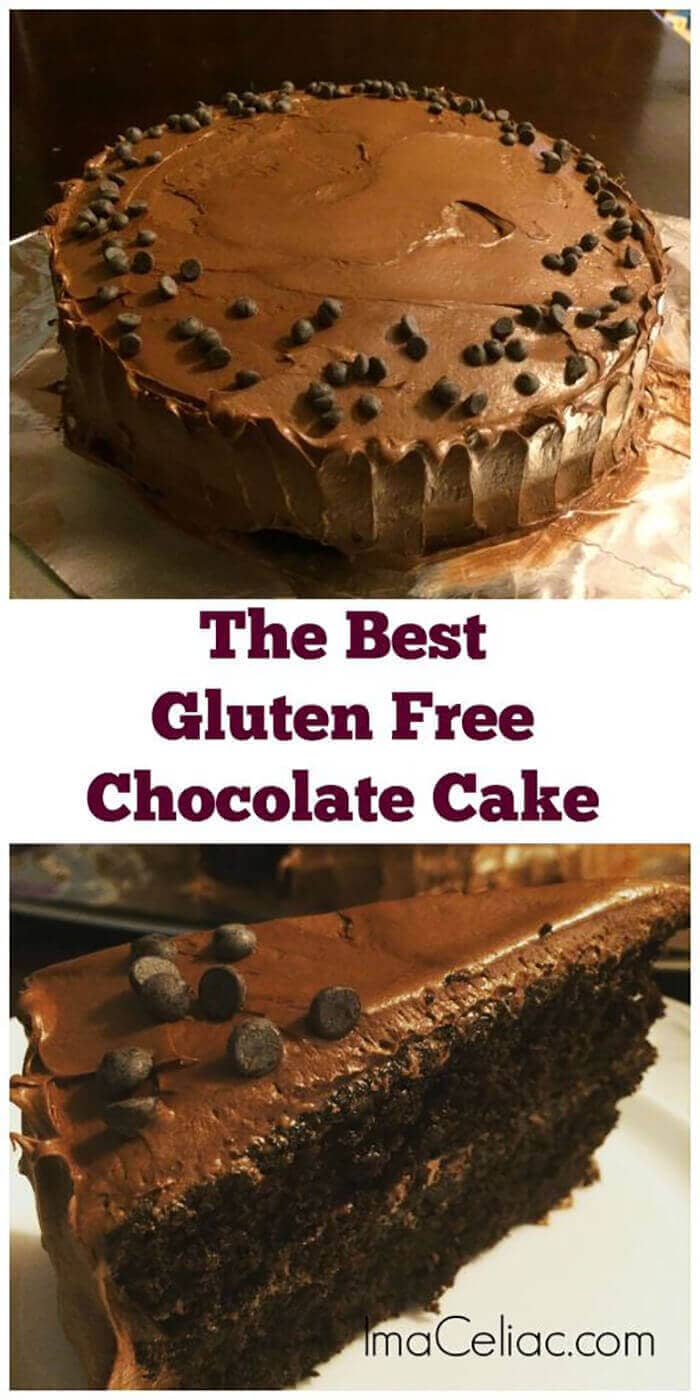 While all of these recipes promise to the best one you have ever tasted, this chocolate cake recipe is sure to be a crowd pleaser. The recipe was created by a chef that is living with Celiac Disease. She has made it her mission to make delicious recipes that fit her dietary needs and she is sharing her chocolatey creation with you. It is extremely easy to make and tastes much better than any gluten-free cake mix on the market. Plus, you can make it a family affair by letting the kids join in to make the cake with you. This end result tastes exactly like a traditional chocolate cake!
23. Chocolate Fudge Crinkle Cookies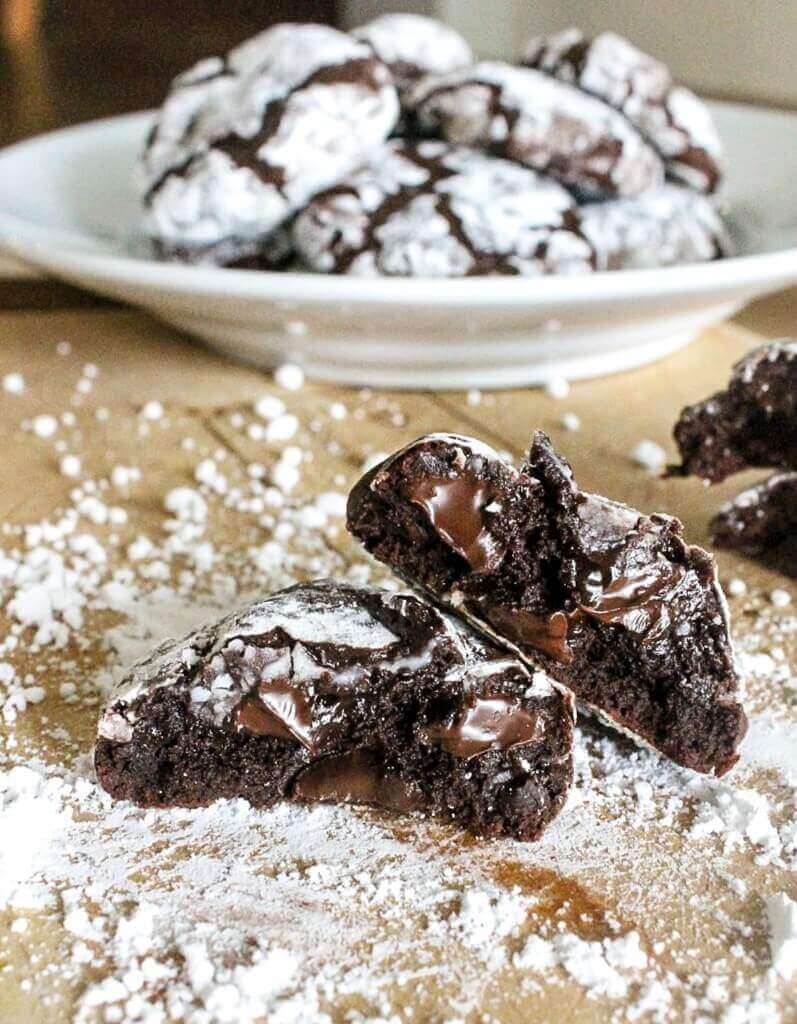 If you love gooey chocolate (and who doesn't?) then these crinkle cookies are for you. These naturally gluten-free treats make the perfect gift or family dessert. These cookies are extremely rich with a deep chocolate flavor that will please even the pickiest of chocoholics. They come out of the oven with a cracked and crispy top, but inside is a mouthful of melty gooey chocolate. Once cool, dust the entire batch with a generous serving of powdered sugar and you will have a platter of most beautiful and delicious gluten-free cookies you have every laid your eyes one! This is one of the best chocolate recipes to indulge on a gluten-free diet.
24. Raw Peanut Butter Cups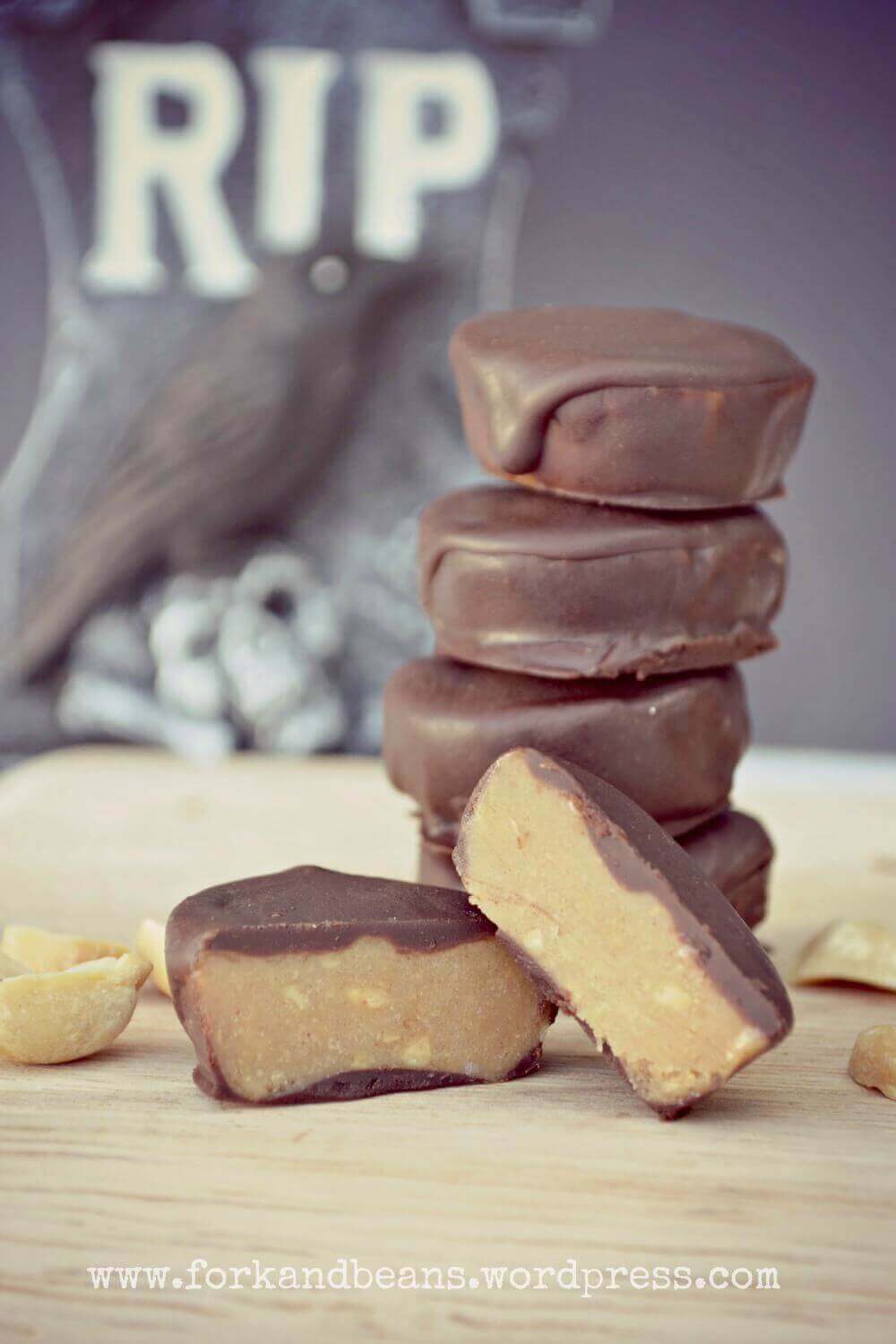 Yet another recipe that combines our two favorite flavors: chocolate and peanut butter. These raw candy bar creations actually taste like the popular candy, Reeses Peanut Butter Cups. You know, except without the processed sugar and preservatives. If you don't mind the recipe not being 100 percent raw, you can omit the use of raw peanuts and substitute peanut butter. Heck, you can even use almond butter. However, if you stick to the original recipe you can be sure that the finished product is gluten, egg, dairy and refined sugar free. This recipe will yield about a dozen medium-sized peanut butter cup morsels. They are extremely easy to make. Simply mix, mold and allow to set. Finish up by dipping each cup in raw chocolate and you have created your very own raw peanut butter cups!
25. Black Bean Fudge Brownies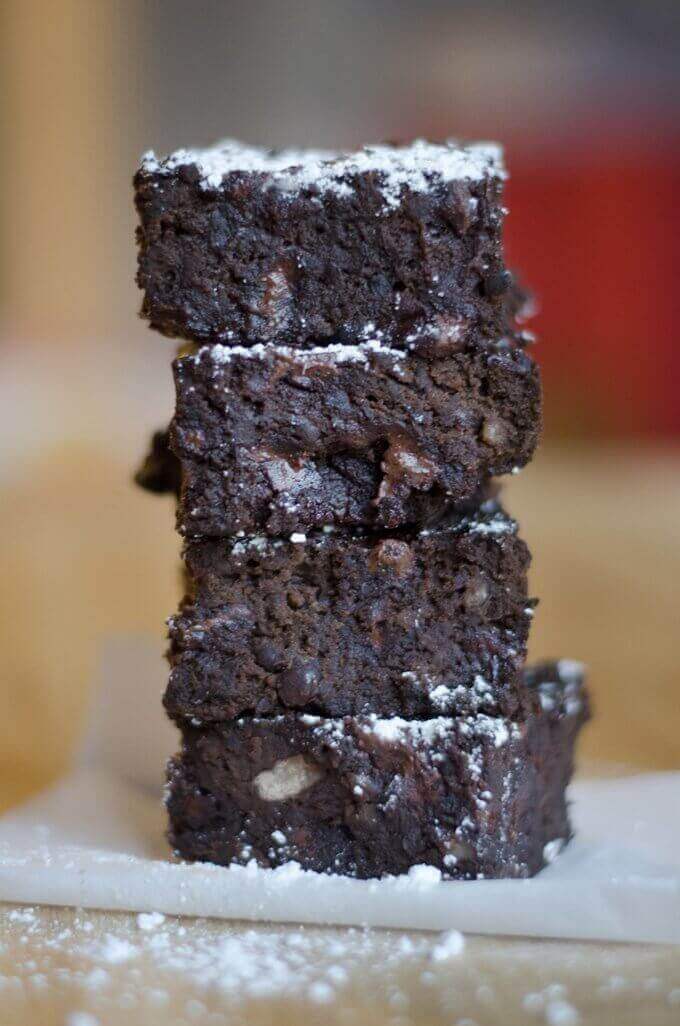 Black beans are more than a vegan meal idea. They are also a common ingredient in gluten-free chocolate desserts. However, this black bean fudge brownie recipe is far from common. The rich chocolate flavor will have you guessing if this really is a gluten-free treat. Which is surprising when you realize that these brownies have half of the calories of a traditional brownie. Not to mention, they also contain more protein and iron. How awesome is that? Once you take your finished brownies out of the oven, make sure to give them a generous dusting of powered sugar to top it off. Then, enjoy one of these gooey and delicious brownies. You deserve it!
26. No-Bake Chocolate Peanut Butter Protein Balls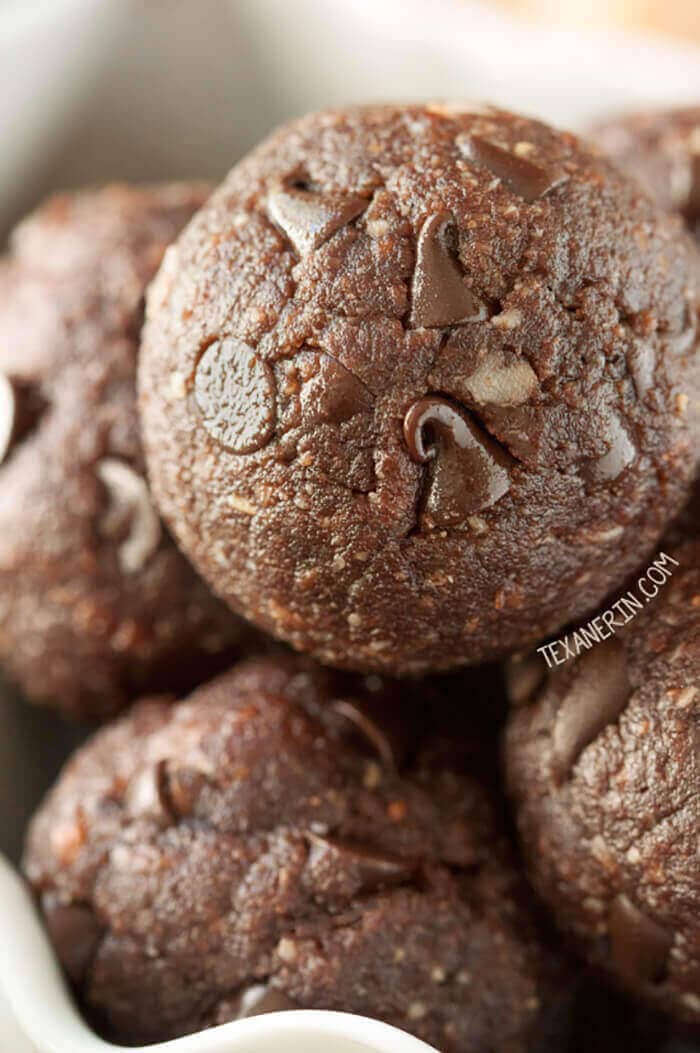 This unique recipe is also grain-free and vegan friendly, so we were immediately intrigued. While you probably won't be serving these up for dessert, they make a great choice for a healthy snack when you are craving something sweet. You can also make these peanut butter protein balls into a paleo friendly treat by substituting almond butter. These are an extremely easy treat to make for a quick breakfast meal idea. Simply mix your ingredients and roll them into balls. You can place the finished product in the fridge and keep it there for a quick energizing snack. These would also make a great on the go breakfast. While they will stay good in the fridge for a week, you can freeze them to make them last even longer.
27. Super Easy 3 Ingredient Chocolate Mousse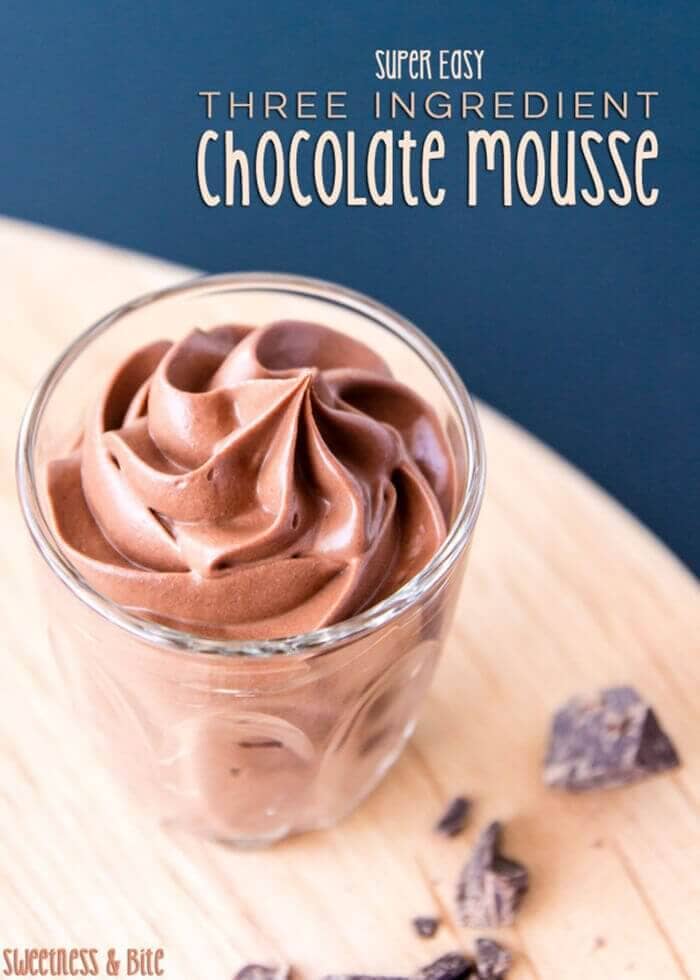 A smooth, creamy and cool mousse can make for a great dessert option. This recipe make it even easier to prepare by only using three ingredients: cream, chocolate and vanilla. Traditional mousse recipes call for eggs and careful stirring and folding. Who has time for all those extra steps? With this egg-free recipe, all you will need to do is heat and mix your ingredients. After a chill in the fridge, a simple whip with a handheld mixer will create those beautiful whipped peaks. With a 2 parts cream to one part chocolate ratio, you will be totally satisfied with the end result. Pipe this delicious mousse in pretty serving glasses. You can immediately serve this mousse up. However, we suggest letting it chill in the fridge a little longer to make it set even more firmly.
28. Fudgy Flourless Brownies

This flourless brownie recipe contains melted chocolate and cocoa powder and is topped with a rich chocolate ganache. How could you not make it? We also love that this is not just a gluten-free, but also paleo friendly. The cook behind this recipe was inspired to create a delectable no-flour brownie without using flour alternatives or the normal alternatives, like avocados or beans. She wanted to make a recipe with normal baking ingredients most people have on hand. The end result uses a simple combination of chocolate, butter, eggs, sugar and cocoa powder. This recipe results in amazing dense and fudgy brownies. The simple chocolate ganache on top adds the perfect finishing touch.
29. Flourless Chocolate Souffle
Also known as soufflé au chocolate, you might be a bit intimidated by the world soufflé. Granted, this recipe is a bit more intensive than the other gluten-free recipes on this list. But, we promise you will be so pleased with the end result that you will forgive us. This chocolate soufflé is extremely delicate and has the perfect light and fluffy texture. The taste is sinful with a rich decadent chocolate flavor. You won't be able to get enough. In fact, we think this flourless version is a great alternative to the traditional recipe. This recipe would make the perfect ending to a small dinner gathering or family meal. This specific recipe yields about four servings and is perfect for a small batch dessert.
30. Flourless Chocolate Cupcakes With Chocolate Cream Cheese Frosting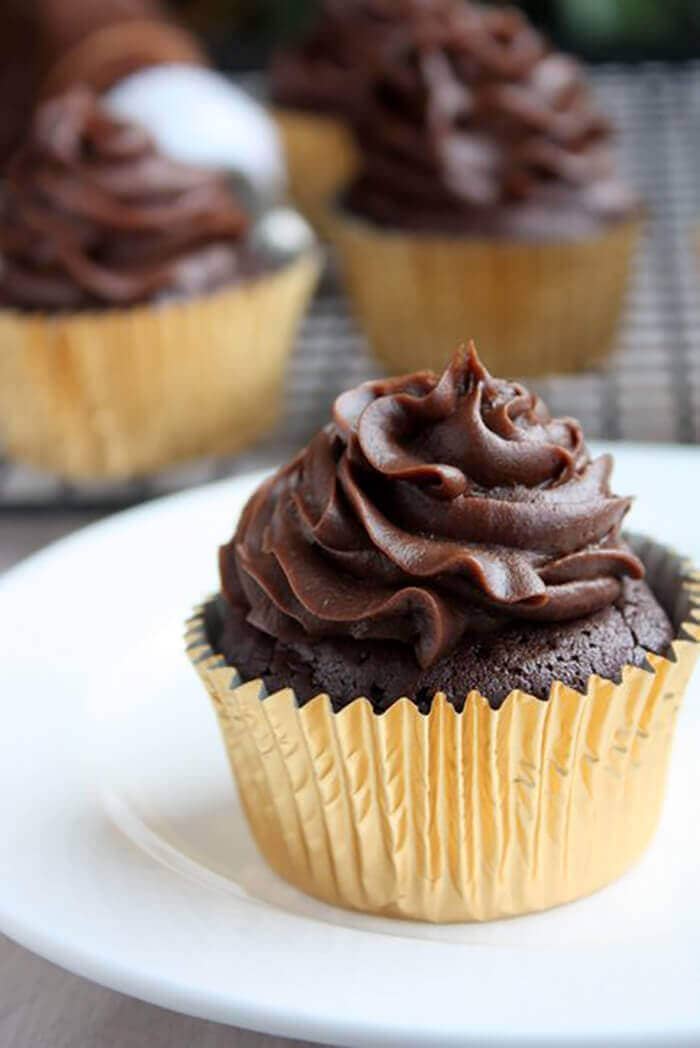 Anything with combining cream cheese and chocolate has our attention! This recipe is completely flourless. You don't even have to think about flour substitutes. You can even substitute the butter with a dairy free alternative to make this even more allergy friendly. These cupcakes are dense and extremely chocolaty. We love that they have a great cakey texture, despite not using any flour. Not only does this cupcake recipe only consists of a few ingredients, but it only yields about 8 cupcakes. This is perfect for those that want to make an indulging treat but don't want dozens of chocolate temptations laying around the kitchen. These delectable morsels are topped with a delicious creamy frosting that you will want to out on everything.
31. Chocolate Zucchini Bread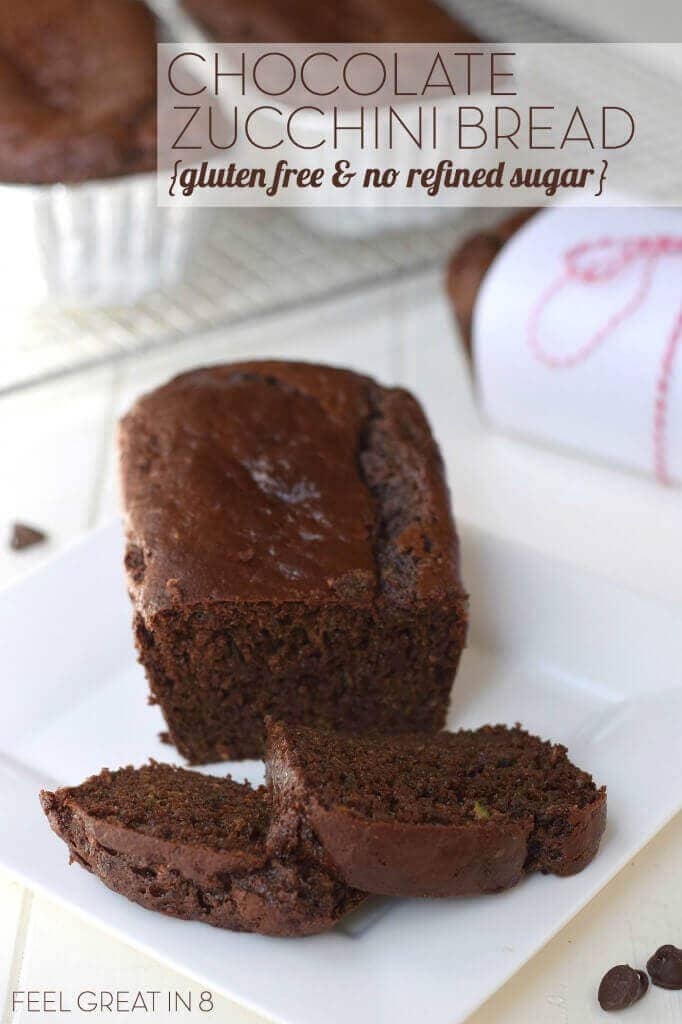 It's our sneaky vegetable friend, zucchini and he is back to lend his healthy taste-free moisture-giving deliciousness to yet another gluten-free chocolate recipe. High in protein and fiber, gluten-free and made without refined sugar, you will be shocked out how irresistible this bread is. The creator of this recipe recommends using mini loaf pans to bake this bread in to make sure it cooks through and stay moist throughout. These are extremely easy to make and taste great. They make a healthy (and chocolaty) quick snack or on-the-go breakfast. Plus, the adorable mini loaf shape make them great small gifts for neighbors, friends and loved ones. You can also keep leftovers in the fridge for about a week.
32. Vegan Chocolate Donuts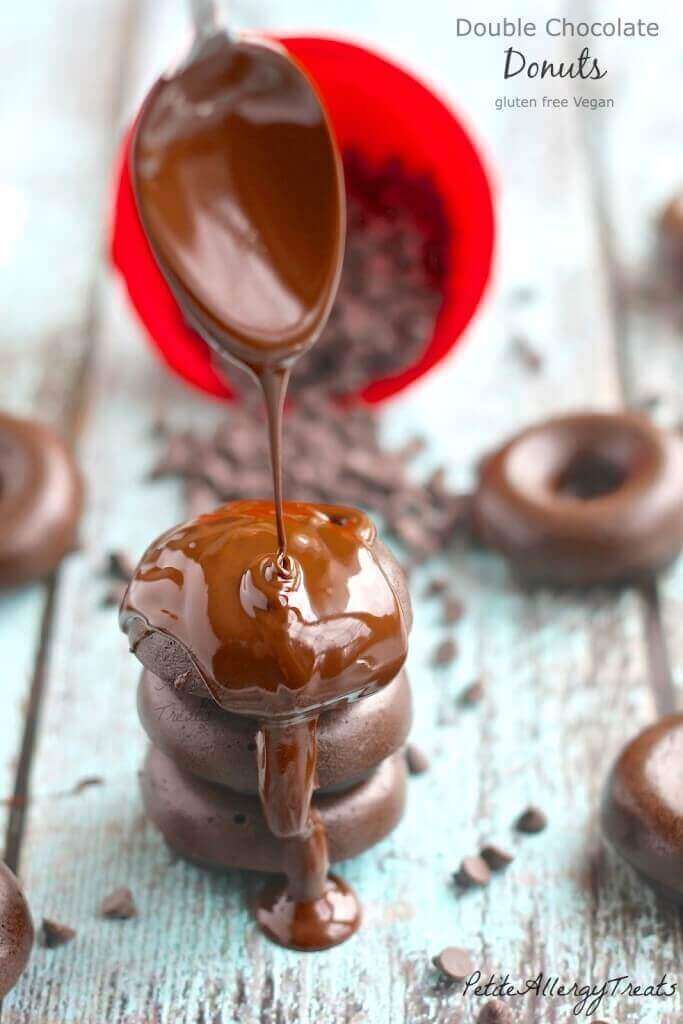 Who can live in a world without donuts? This recipe lets pretty much anyone enjoy this classic treat that is vegan friendly. gluten free, dairy free, egg free, soy free, tree nut free and peanut free. Despite being so allergen friendly, they are absolutely delicious and are perfect for any chocolate or donut craving. The great thing about this recipe is that they are easy to freeze. We recommend making a few extra batches to keep in the freezer to whip out on those busy days when you need a quick breakfast or sweet treat. This is one of the best chocolate recipes to use up those gluten-free chocolates. We love that this recipe allows you an indulgent treat for less calories, sugar and added fat than the real thing!
33. Flourless Oatmeal Chocolate Chip Cookies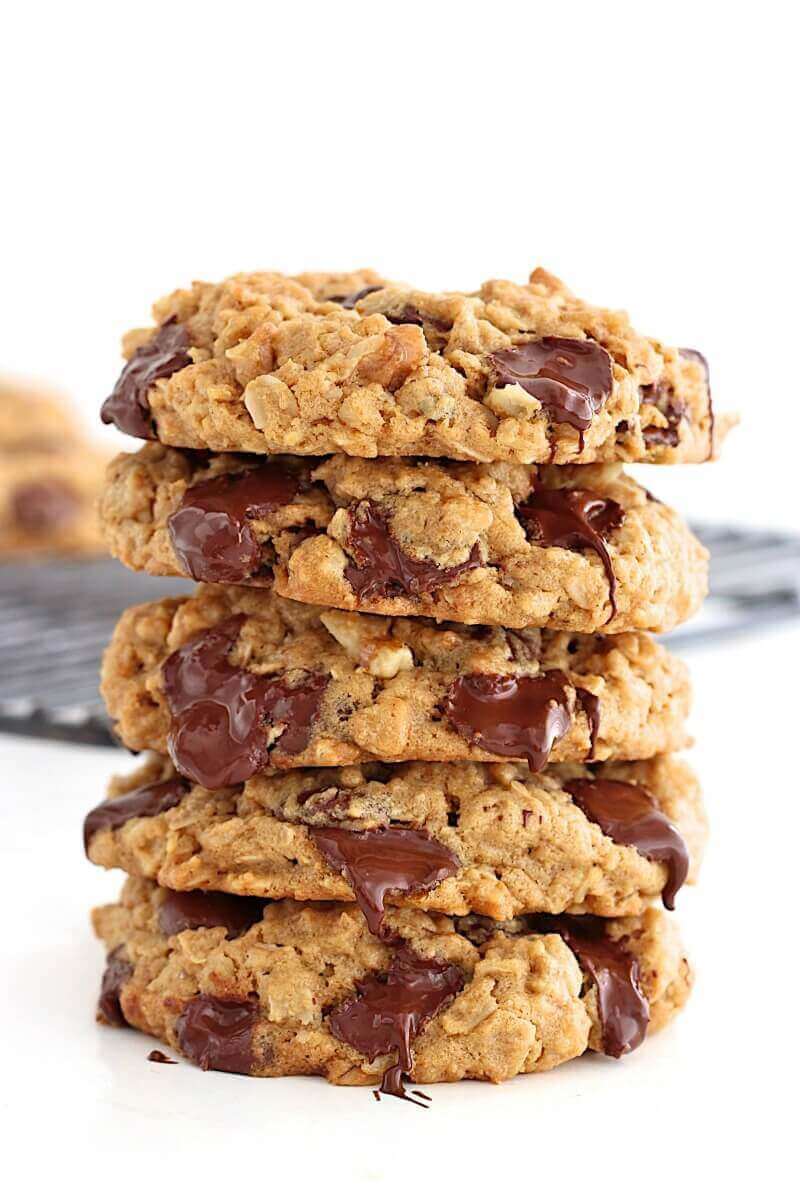 You won't even miss the flour in these amazing oatmeal chocolate chip cookies. They owe their great flavor and texture to the use of peanut butter, oats and walnuts. These cookies are chewy, chocolatey and absolutely irresistible. You can prepare and bake them all in less than thirty minutes, which is great chocolate idea for those busy cooks. We love that the recipe yields 20 large cookies. They are the perfect size for a party. We would even give a dozen of these treats as a slighty healthy gift to that cookie lover friend everyone has. Plus, you can rest assured that anyone can enjoy them guilt-free, thanks to the allergy friendly ingredients.
34. Double Chocolate Copycat Kit Kat Bars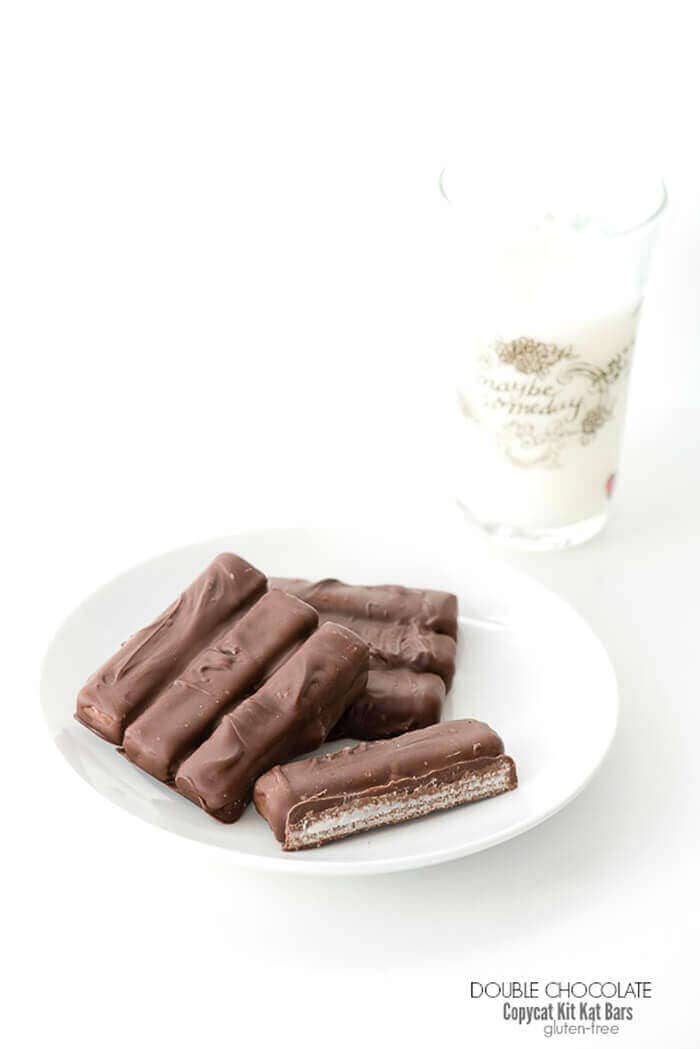 A chocolate idea that recreates one of our favorite candy bars with extra chocolate and gluten-free? Sign us up! The irresistible crunch of the classic Kit Kat bar is recreated by gluten-free wafer cookies. You can even find the kind that resembles the break apart look of the traditional candy bar. We love that all you have to do is dip these cookies in chocolate to create an incredible gluten-free indulgent treat. Simply dip each cookie in melted chocolate and place together on a parchment-paper lined sheet. After a quick chill in the fridge, the chocolate should be hard and you can break apart the wafers just like the candy bar. What a perfect solution to enjoy a classic candy while adhering to your diet restrictions.
35. Gluten-Free Chocolate Cupcakes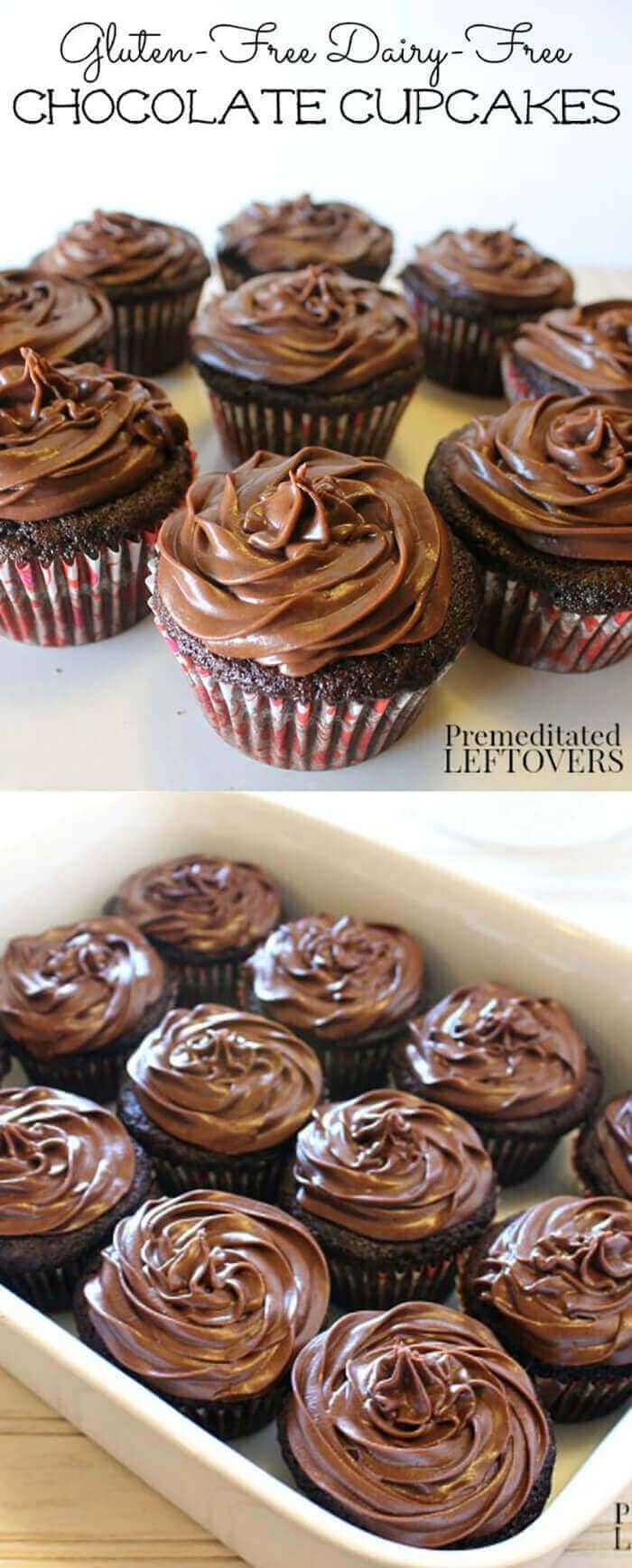 This unique chocolate cupcake gluten-free recipe makes some adjustments that create a rich chocolaty flavor and moist texture without gluten or dairy. The use of hot water helps bring out the richness of the chocolate, while the creator of the recipe uses safflower oil as an alternative to butter. Some have suggested that you can also use coconut oil. However, don't forget that coconut oil will give your cupcakes a slight coconut flavor, so if you aren't a coconut fan don't do it. Once you have baked your cupcakes, finish them off with a simple dairy free chocolate frosting for a classic chocolate cupcake experience. This recipe is perfect for parties and entertaining. It results in 30 cupcakes, which means there will be plenty to go around or plenty of leftovers, whichever you prefer.
36. Gluten-Free Chocolate Peanut Butter Bars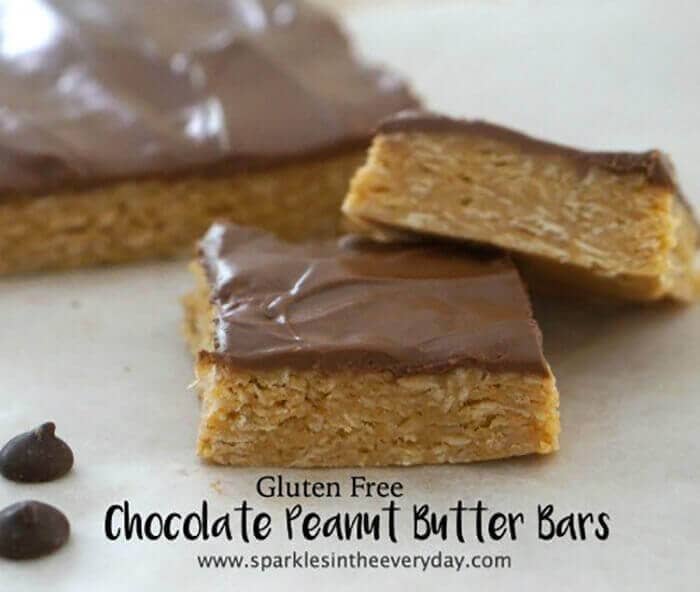 There is that perfect flavor combination of chocolate and peanut butter again. This no-bake bar dessert will quickly become one of your favorites. The recipe is extremely easy to follow and the ingredient list is short and pretty simple. Cream peanut butter and oats come together to build the foundation of this dessert. The addition of honey, coconut and vanilla lend a sweetness that you just can't resist. The bars are finished off with a simple topping made of peanut butter and melted dark chocolate. All it takes is combining the ingredients in a pan, topping with that delectable chocolate topping and allowing it to set in the fridge. You are left with a fuss-free, gluten-free and irresistible treat!
37. Homemade Gluten-Free Granola Bars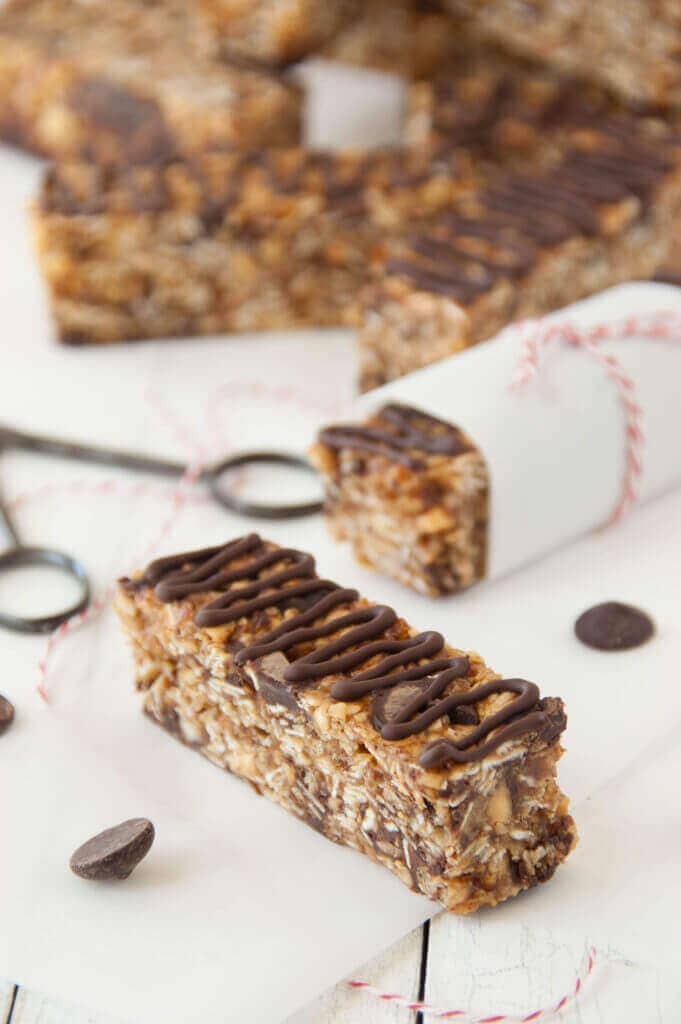 There are plenty of gluten-free granola bars on the market. But why buy the processed pre-made stuff, when you can easily create these wholesome homemade versions in your very own kitchen? These almond butter chocolate chip granola bars are perfect for breakfast, quick snack or really anytime your sweet tooth needs some attention. Rolled oats and rice cereal create an amazing texture and the flavor is reminiscent of an oatmeal chocolate chip cookie. Once you bars are set and made, don't forget to pipe on some melted chocolate for a quick drizzle. It will send these bars over the top and you will be so glad you did. Store in an airtight container and grab a bar anytime you need a quick and healthy chocolate fix.
38. Gluten-Free Chocolate Cookies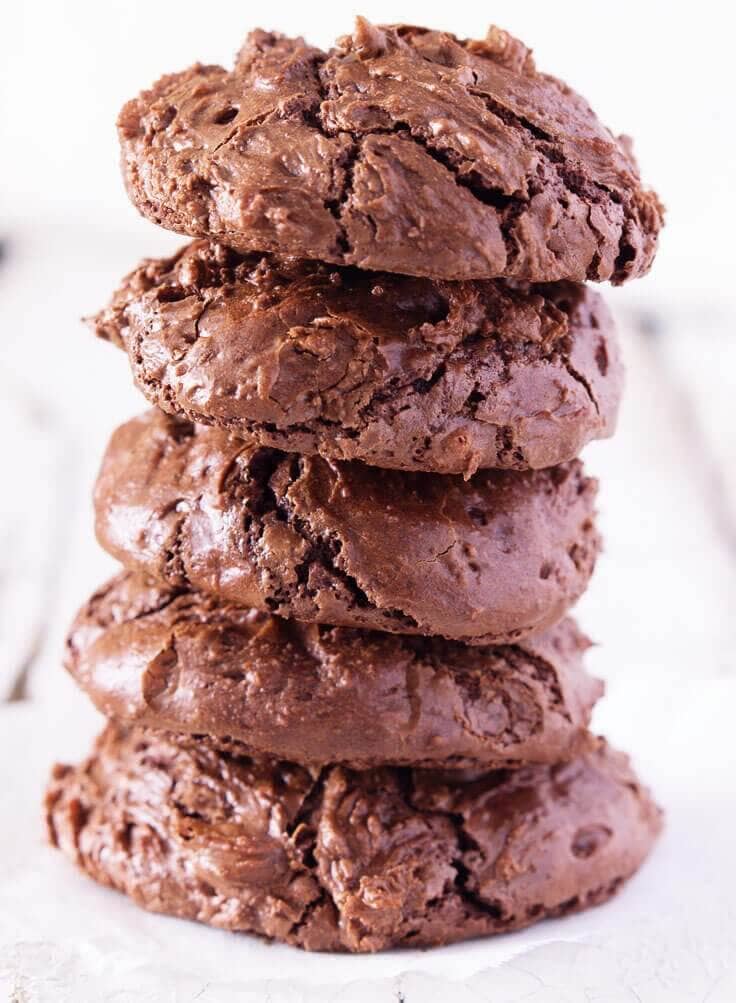 These fudgey decadent cookies are almost brownie-like. The simple ingredient list will shock you when you taste how delicious these cookies are. Egg white, cocoa powder and chocolate chips are the stars of the show, but the addition of cornstarch and powdered sugar add a little something extra to the cookie's texture and flavor. The addition of chocolate chips are optional, buy why not? These are the perfect chewy chocolate cookies and are the perfect gluten-free indulgence for when that sweet tooth strikes. Plus, this gluten-free chocolate recipe makes around 2 dozen cookies. So, you will have plenty to share and keep plenty for yourself. That's a win win situation in our books.
39. Gluten-Free Vegan Chocolate Chip Cookie Bars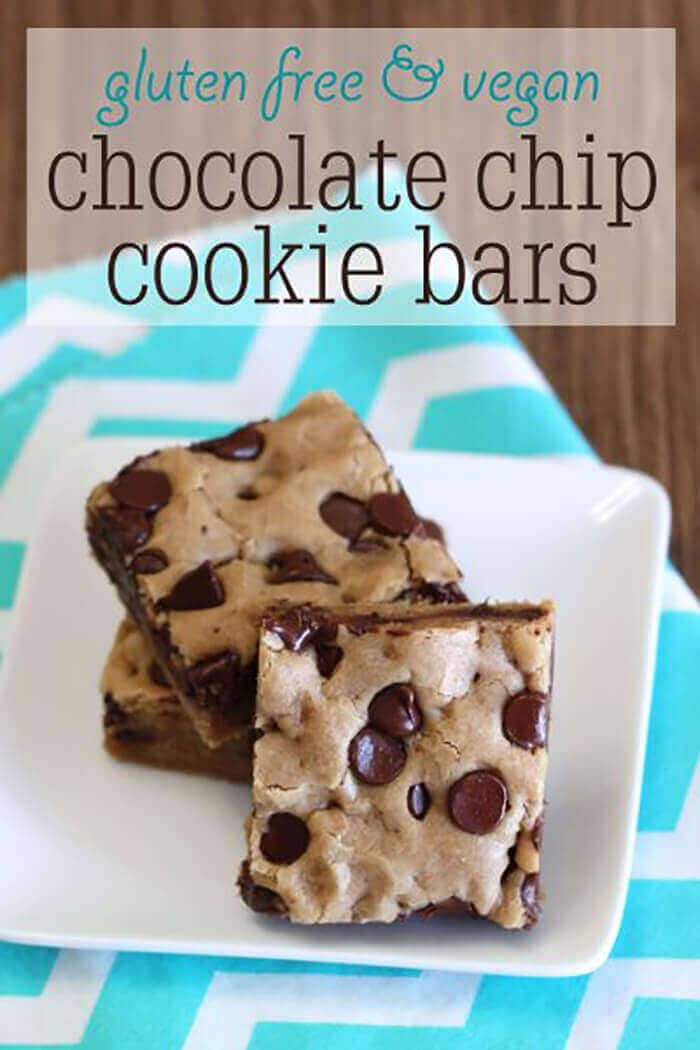 The creator of this recipe call these chocolate chip cookie bars the ultimate lazy twist on baking cookies. All you have to do is press the cookie dough into a pan. No need to scoop and measure each cookie out. Once baked and cooled, you can simply cut into squares or bars. Plus, this recipe is completely free of gluten, egg and dairy. They are so irresistible and are perfect to bring to a party or potluck. This recipe has been given an almost perfect rating by hundreds of commenters. It would be silly not to give this gluten-free chocolate recipe a try. This recipe yields about 24 bars, so you will have plenty of chocolatey goodness to share with everyone.
40. Chocolate Fudge Sauce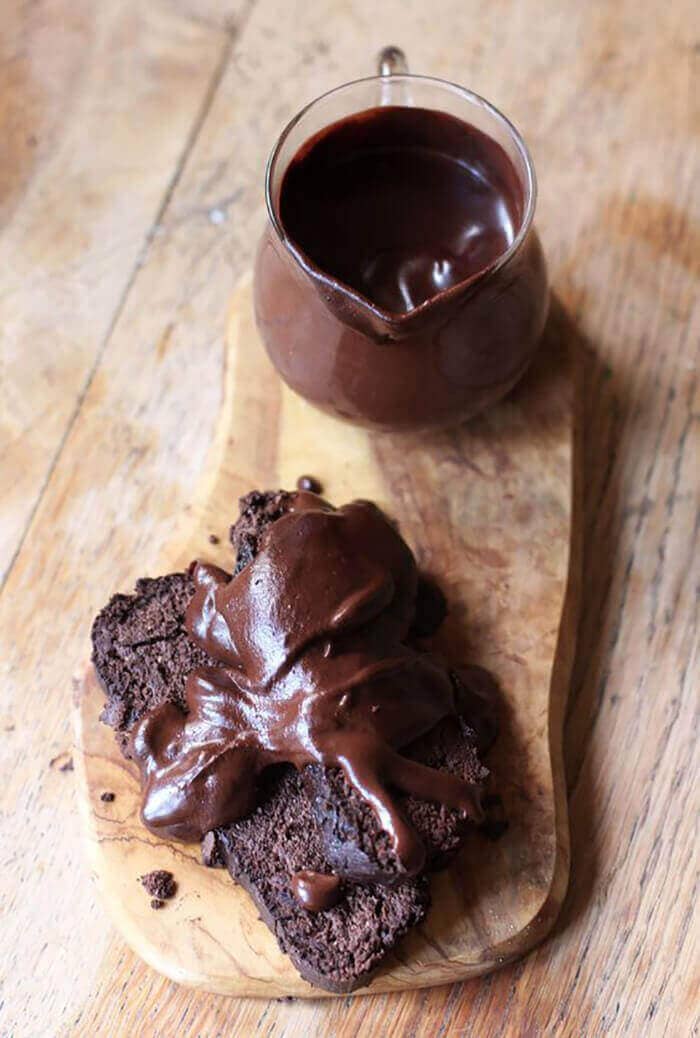 Are you looking for the perfect topping for pretty much any dessert. If you can think of something that could use some chocolate, this sauce is just for you. Ice cream, cake, cookies or pretty much any other dessert ever would benefit from this rich decadent sauce. This recipe is extremely easy to whip up, which could be a bit dangerous once you become addicted to it. All you will need to do is blend your ingredients until smooth and heat if you want to serve the topping warm. It really is that easy! The finished product is a thick dark sauce, but the author points out that you can make it runnier with the addition of more oil. You can adjust it to your liking without messing with the perfect flavor. The great thing about this recipe is that it can be customized to fit any need. Add in peppermint, raspberry or citrus for a fun twist on chocolate topping. The options are endless. Get creative and enjoy!
41. Bagels With Chocolate Chips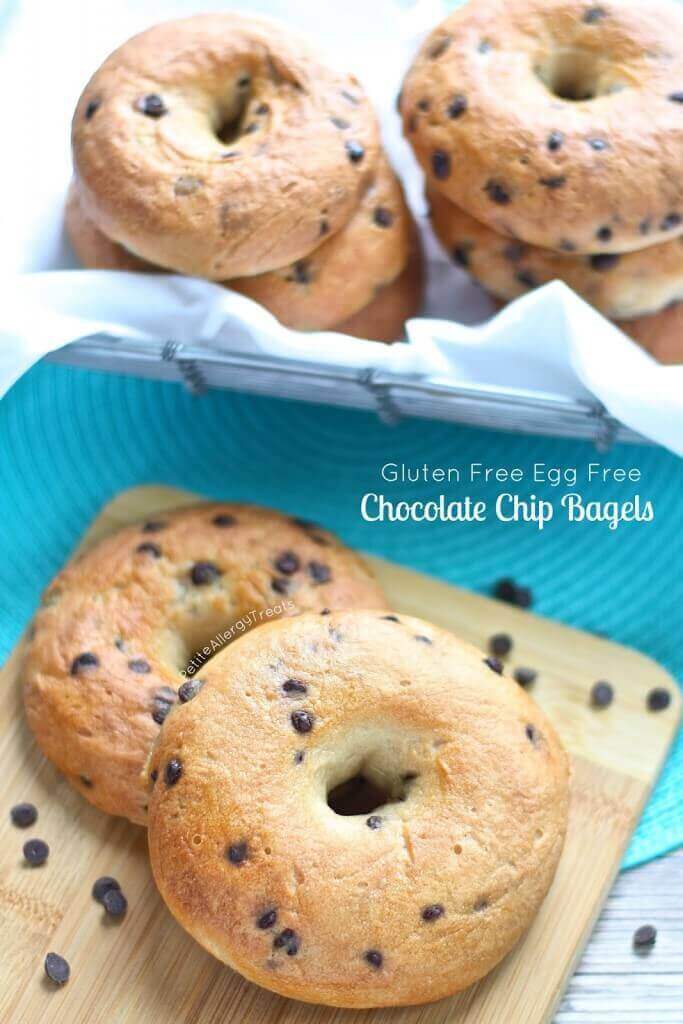 Nothing beats a warm fresh bagel in the morning (or anytime)! With this gluten-free recipe you can make these delicious chocolate chip bagels in your very own kitchen. No need for the overly processed and preservative-laden pre made bagels from the grocery store. These egg-free beauties will become your new favorite breakfast obsession and a vegan friendly option that your entire family will love. This recipe results in six large bagels, which are the perfect amount if you ask us. This recipe is a bit more intensive than the others on this list, but it is nothing that you can't handle. Set aside some time to whip up this chocolate chip bagels. After the first bite, you will be so glad you took the time to create this delicious creations.
42. Chocolate Banana Coconut Chia Pudding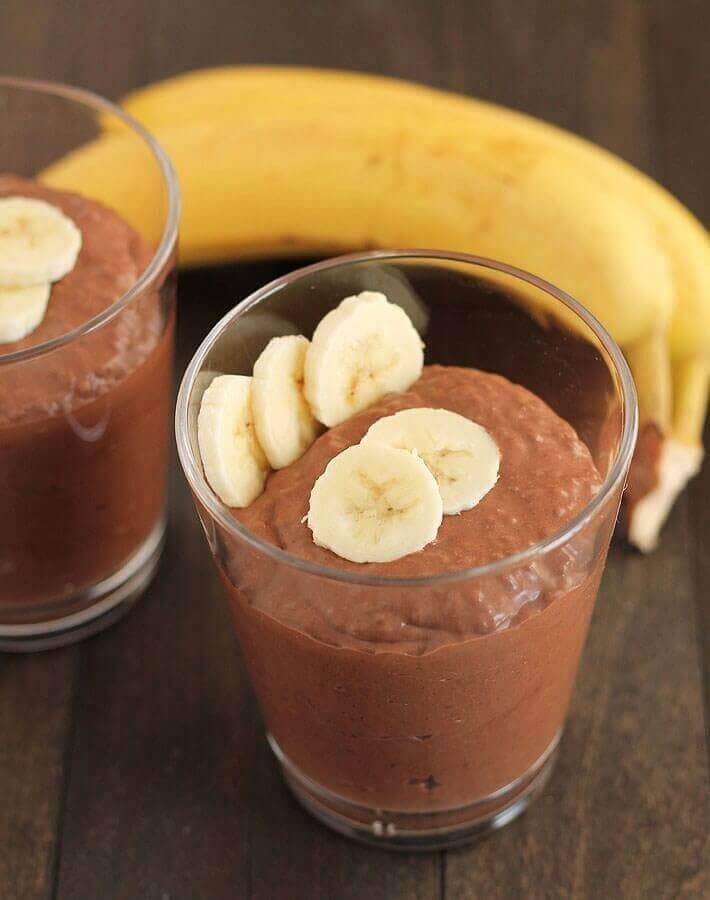 This pudding recipe makes a great breakfast idea. It is sweet, filling and you will fall in love. The ingredients are simple and nutritious, so you can enjoy this treat guilt-free. The use of bananas and dates create a natural sweetness. The use of cocoa powder rounds out the sweetness factor. The preparation of this chia pudding is extremely easy. The most intensive part is allowing it to set. It takes a little time, so the creator of this recipe recommends preparing it the night before and allowing it to set in the refrigerator overnight. Full-fat coconut milk give this pudding the perfect amount of creaminess. We also suggest that you try grounding the chia seeds before adding them into this pudding to change up the texture.
43. Dairy Free Raspberry Chocolate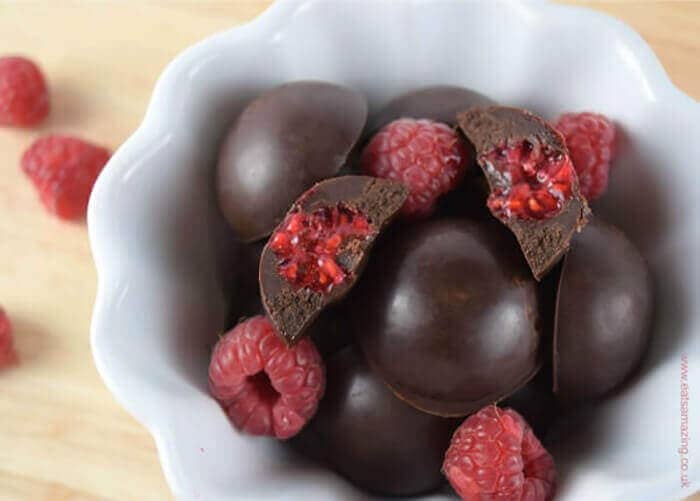 Chocolate and raspberry is one of those unique flavor combinations that just go together so well. The use of coconut oil chocolate makes this recipe a breeze to whip up. The creator of this recipe promises that you prepare these morsels in under twenty minutes. These homemade chocolate recipe creates a much healthier indulgence than store-bought chocolate. Plus, it is a fun process of dropping the rich chocolate mixture into the mold and adding a fresh raspberry right into the middle. If you want the chocolates to set quicker, place them in the freezer for about fifteen minutes. If you are willing to wait a little longer, you can let them set in the fridge. If you aren't serving these up immediately, place them in the fridge until they are needed.
44. Gluten-Free Flourless Chocolate Cake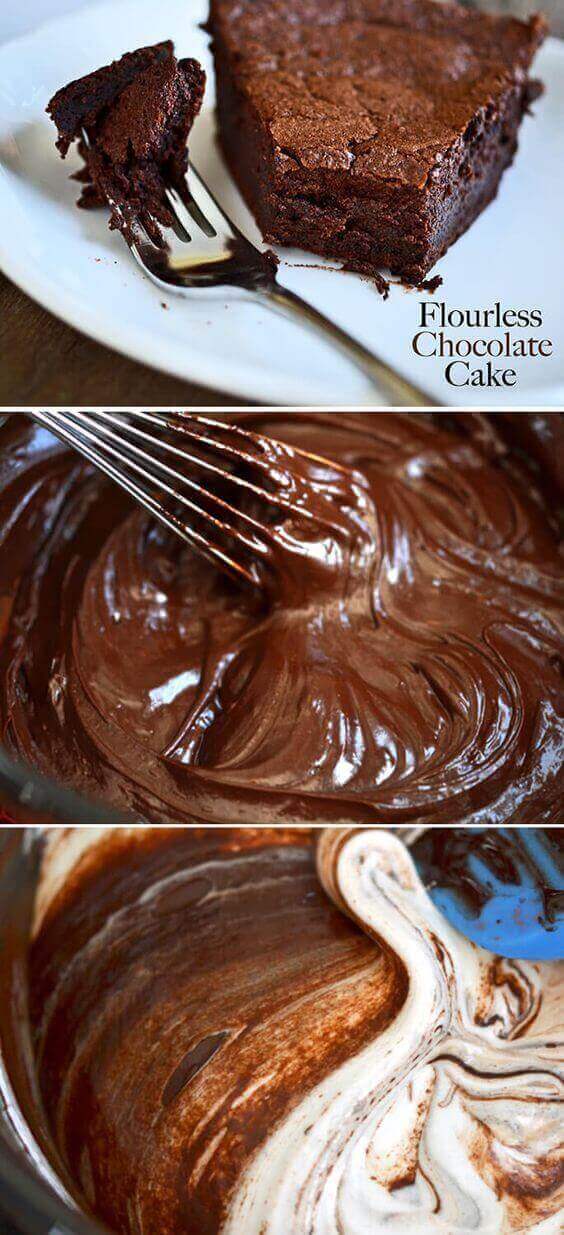 This recipe is yet another option for a allergy-friendly chocolate cake. This specific variation does not use any type of flour or flour substitute which results in a denser fudgier consistency. All you will need is chocolate, butter, eggs, cocoa powder and sugar. Those are basic baking ingredients that most of you already have in your kitchen. This cake recipe is one of our favorites because of the addition of melted chocolate. The cook behind this recipe explains that this cake will crack just a bit after baking but that is nothing that a dollop of whipped cream will not fix. After baking, she also suggests letting the cake cool and firm up in the fridge for about an hour. This will make the cake more stable to work with and allow you to place it nicely on a serving dish.
45. Raw Chocolate Caramel Slice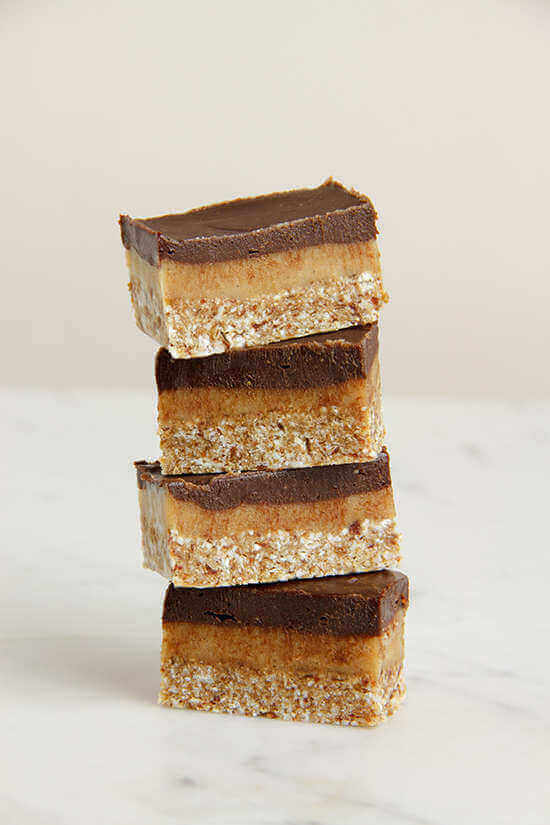 This is another purely raw recipe that can be adapted for those that don't want to do a 100 percent raw recipe. You will fall in love with the way this recipe combines salty and sweet with caramel and chocolate. It also variation of a classic slice recipe still has the satisfying crunch thanks to buckwheat flour biscuit base. The addition of dates and sea salt make for a perfect layer. The unique caramel base is absolute perfection. For those that have never experienced a slice, this is the perfect place to start. It is perfect for guilt free indulgence. The top chocolate layer really finishes it off and make it absolute perfection.
46. Incredible Chocolate Pudding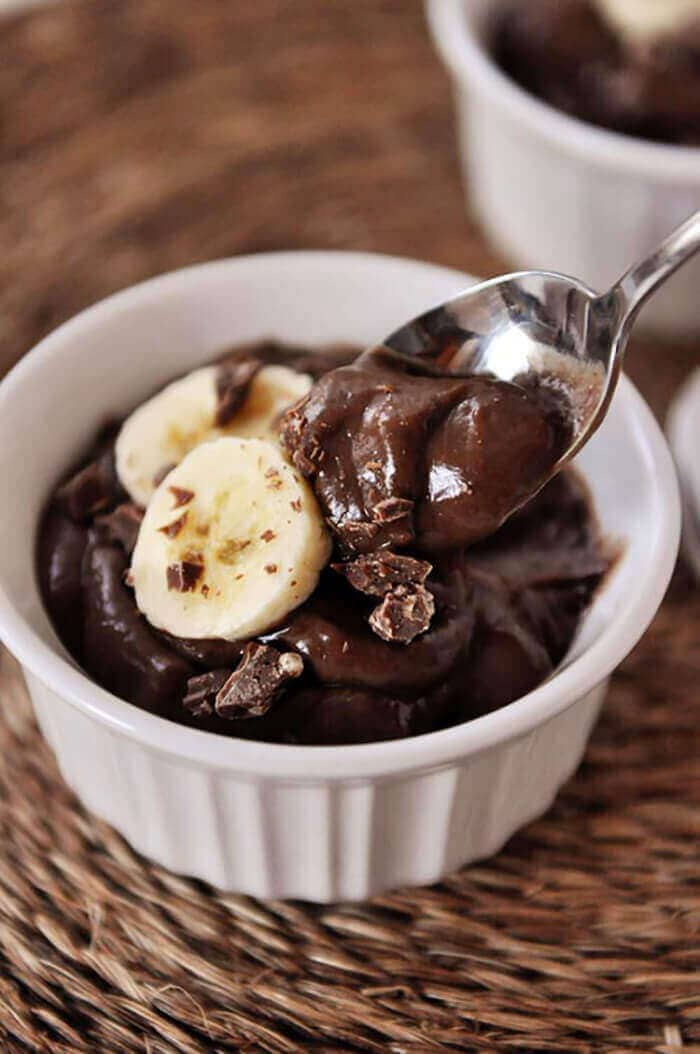 The secret to amazing chocolate pudding comes from the use of dark chocolate almond milk. The result is an extremely light and creamy pudding that is sure to please. It is a huge plus that is is also egg, dairy and gluten free, which is extremely important for those with allergies. Garnish the finished pudding with sliced bananas or chocolate shavings, whatever floats your boat. We also love that this pudding is much lighter than others because of omitting the use of eggs. The pudding will thicken up quickly in the fridge. You can also make this a peanut-free recipe by omitting the peanut butter, but beware that it will not be as thick. Some have suggested adding cornstarch for added thickness.
47. Loaded Chocolate Brownie Cookies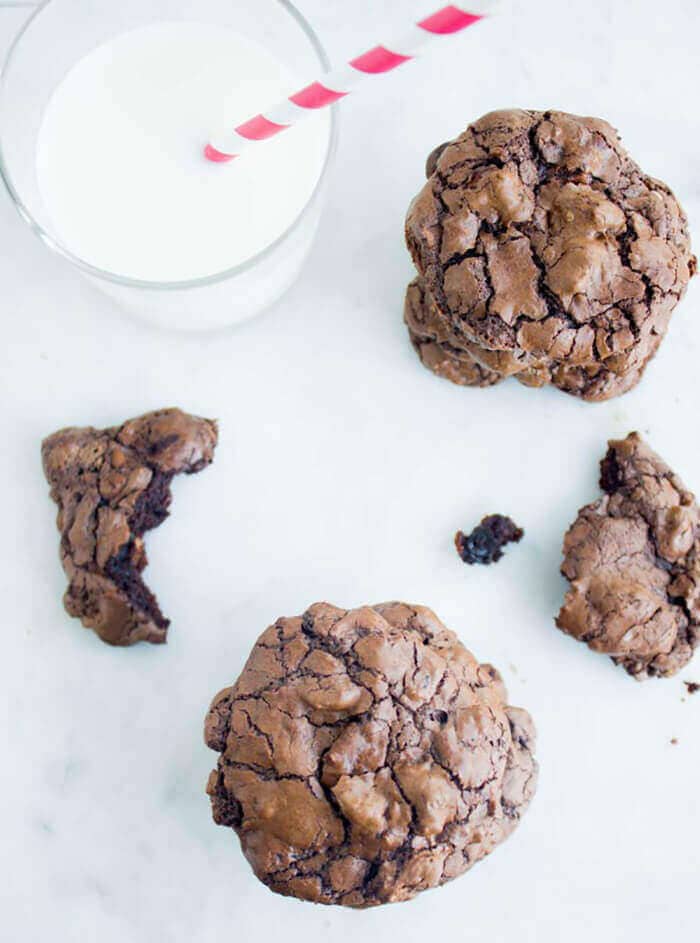 Any dessert with loaded in the title usually means a lot of indulging and guilt. However, this loaded chocolate brownie cookie recipe can be enjoyed guilt free. These cookies are light and satisfying with a crispy outside and chewy center. They are absolutely irresistible. They are almost too good to be true. Especially when you realize they don't contain any flour and only two tablespoons of butter. Don't pinch yourself, you aren't dreaming. The addition of chocolate chips, hazelnuts and cranberries make these some of the best homemade gluten free cookies you have ever had. After baking for a mere ten minutes, these morsels are ready to enjoy with family and friends. Plus, this recipe makes the perfect amount of cookies!
48. Easy Gluten-Free Chocolate Cake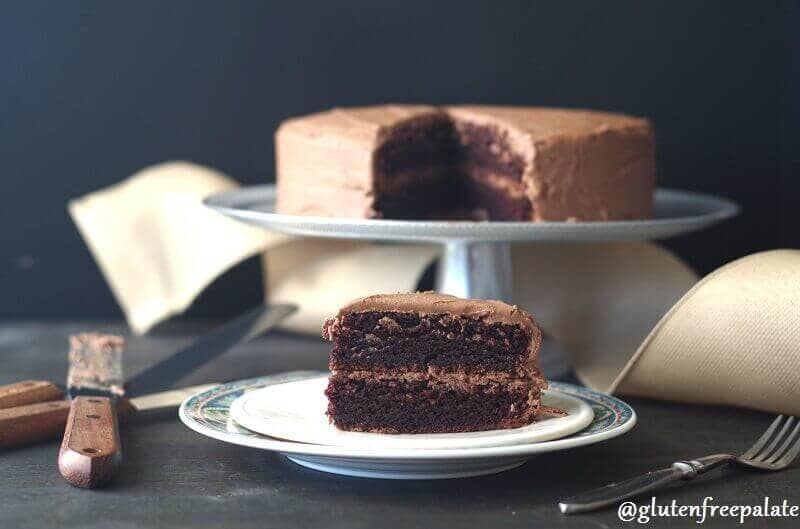 This made from scratch chocolate cake is so easy to make, you won't know how you lived without it. Even those that aren't very gifted in the baking department, you can make this delicious cake. It literally takes fifteen minutes to prepare and about 35 minutes to bake. How can you resist? With some simple ingredients, one bowl and a cake pan, you can have homemade gluten free chocolate cake with little hassle. We love the use of boiling water to help bring out a richer chocolate flavor. People won't be able to tell that this cake is allergy friendly, so everyone can enjoy guilt free.
49. Gluten-Free Chocolate Magic Custard Cake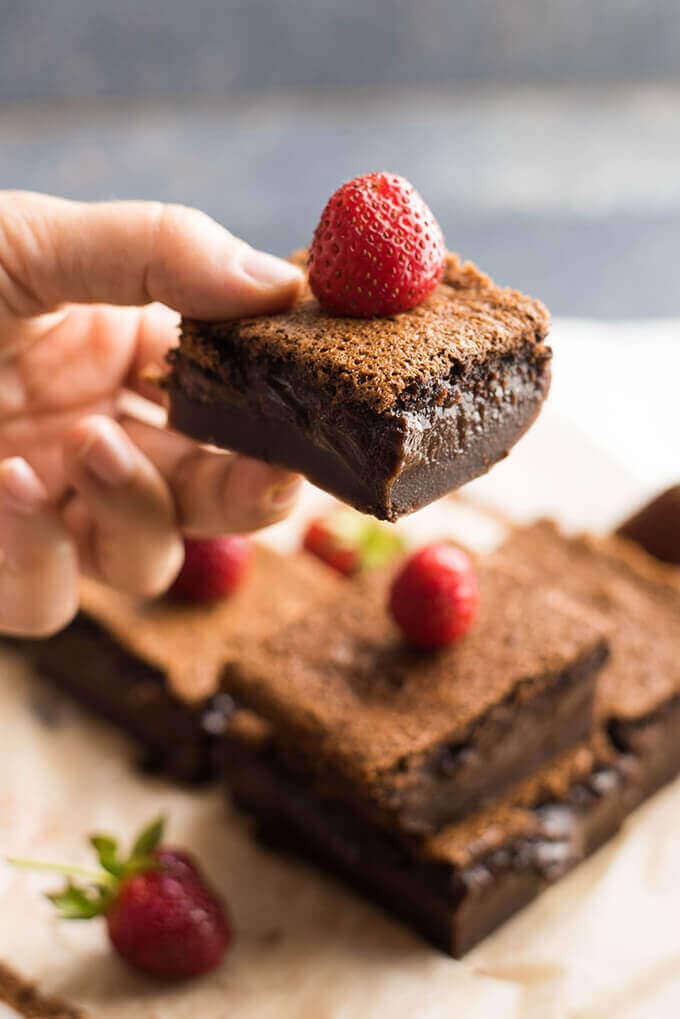 Admit it, the title has you intrigued. One taste of this unique cake and you will fall in love, we promise. The liquid batter goes into the oven and comes out a beautiful cakey texture. Hence, where the magic comes from. The silky center makes for a truly decadent treat. The brown color is absolutely beautiful. The cake really is magical in taste and appearance. You can see the three different layers of gooey chocolatey goodness. Once your cake is finished, you can top off it off with a number of things, such as powdered sugar, whipped cream or fruit. Get creative and enjoy some chocolate magic.
50. Double Chocolate Gluten-Free Zucchini Bread

One more chocolate zucchini bread recipe for the road, because this one is absolutely amazing thanks to double the chocolate. One taste of the moist chocolate bread and you won't believe that it is hiding two full cups of healthy vegetables. This is the perfect dessert for those picky children. They think you are serving up a delicious chocolate treat, but you can rest assured that these pack a hidden nutritious punch. A cracked crust reminds you of a delicious brownie and that fudgy center reminds you of chocolate cake. This double chocolate gluten-free zucchini bread recipe is a must try!
50 Reasons Gluten-Free Doesn't Mean Dessert Free
Living a gluten-free lifestyle does not mean sacrificing flavor. You can still enjoy your favorite foods by tweaking the ingredients to fit your dietary restrictions. Thanks to a number of new gluten-free product to hit the market, creating allergy friendly recipes are no longer a hassle. Treat yourself, family, friends and other loved one to an indulgent and decadent treat without the guilt. Nothing says love more than a huge piece of chocolatey goodness that anyone can enjoy no matter what. Show you care by making a gluten-free version of a classic chocolate treat today.