50 Irresistible Gluten-Free Chocolate Cake Recipes
Up until recently, gluten-free chocolate cake recipes were a rarity, with difficult to find ingredients and often lackluster results. Fortunately the organic culinary world has upped its game, resulting in a treasure trove of gluten-free food options ranging from traditional chocolate cakes to brownies, custards, mousses, and even some unusually delicious concoctions with veggies playing a sweetly surprising role in the ingredients line-up.
Death by (Gluten-free) Chocolate: 50 Cake Recipes To Die For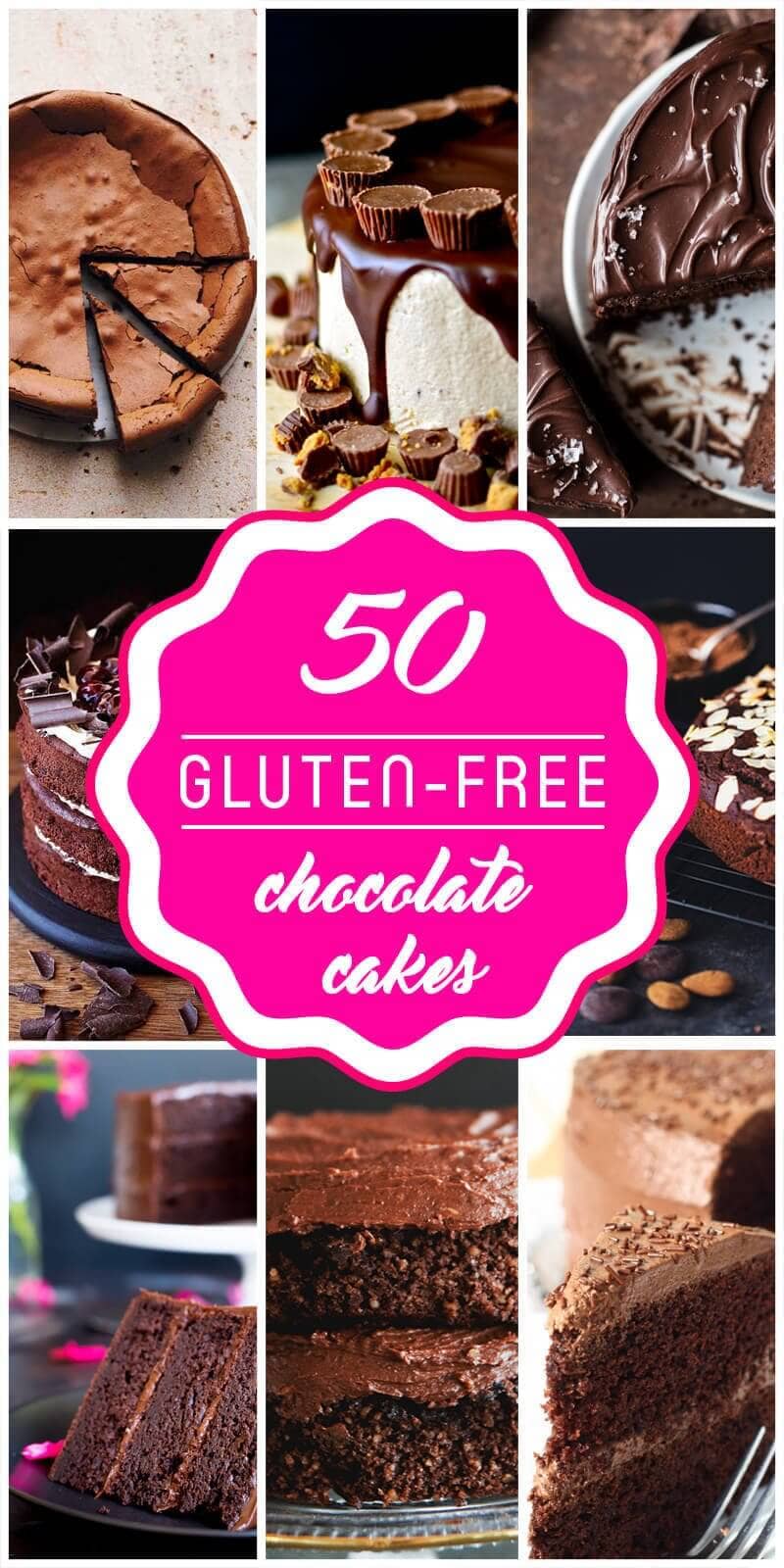 So what is gluten and why are so many people avoiding it these days? For starters, gluten refers to the name of the proteins present in grains like wheat, rye, barley, and spelt. (Grains such as buckwheat, amaranth, millet, and quinoa do not contain gluten.) There are two primary gluten proteins, gliadin and glutenin, and the gliadin is what causes reactions in those with gluten sensitivities. Gluten is what makes the bread dough rise, giving it its elasticity and chewy texture.
The most harmful form of gluten intolerance is celiac disease, an autoimmune reaction to gliadin proteins entering the digestive tract, resulting in nutrient deficiencies and uncomfortable, if not dangerous, digestive problems. People with gluten sensitivities may experience stomach pain, fatigue, bloating, and depression as well.
A gluten-free lifestyle has been proven successful for those with a gluten intolerance, but is often hard to adhere to due to the sheer abundance of ingredients in our everyday food items containing the protein. For example, most breads, pastas, cookies, pastries, cereals, sauces, beers, and processed or pre-packaged foods contain gluten, and gluten-free items are famously more expensive than their counterparts, further deterring those pursuing a gluten-free diet on a modest budget.
Today there are a number of gluten-free meal idea options at restaurants and grocery stores, as well as simple substitutes and alternatives that can be found right in the kitchen. The art of baking is little more than following an equation of ingredients that lead to an expected (and yummy) outcome, and helpful gluten-free recipe guides are a fantastic way to adjust the equation to create equally delicious–but much safer–desserts everyone can enjoy.
These 50 gluten-free chocolate cakes and chocolate cake recipes feature top rated favorites, from black forest cakes to zucchini bread variations, along with a number of traditional chocolate cake options everyone will instantly recognize and love.
1. Chocolate Ooey Gooey Cake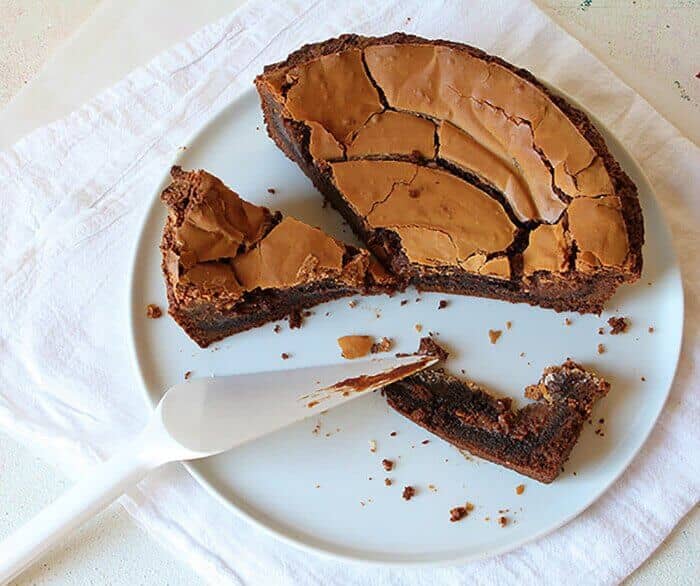 What better way to star the countdown than with a recipe that boldly proves that gluten-free desserts are just as mouthwatering as the more popular ones? Lovers of rich gooey chocolate brownies will go crazy for this gluten-free chocolate cake recipe. With a thin top layer of delicate flakiness and an "ooey gooey" molten center, this cake is a must for those with a no-holds-barred approach to chocolate. Perfect for late night cravings and parties, this cake is only the beginning of what lies ahead on this list. Additional Tips: Make sure you grease and line your pan with parchment paper before pouring in the batter, and remember that it's usually recommended by the baking elite to keep all ingredients at room temperature before mixing in. For example, cover your butter and cream cheese and let them sit out a few hours to avoid chilly lumps or worse, the need to melt by hand, which can upset the cooking time. Because this cake is considerably rich (whoop-whoop!), a little bit will definitely go a long way. If you're looking to cut some of the sweetness try topping with a scoop of low fat frozen yogurt or slightly acidic berries and fruit syrups.
2. Flourless Chocolate Espresso Cake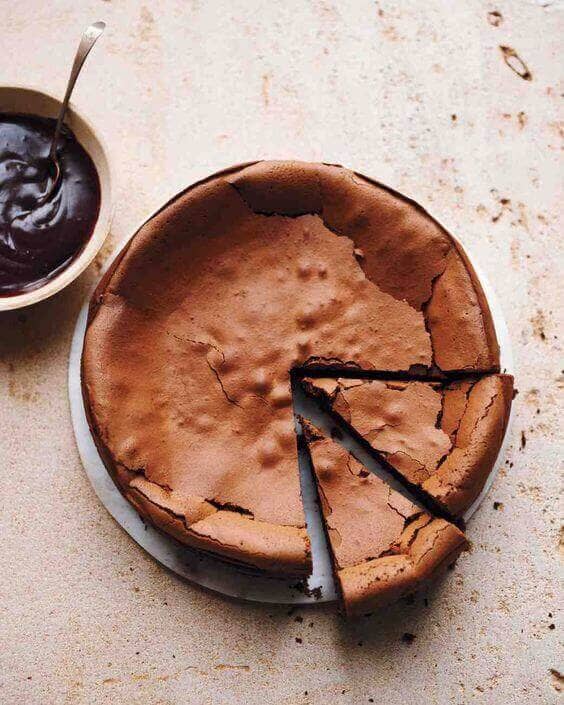 Leave it to domestic goddess Martha Stewart to perfect a cake that satisfies both your chocolate and caffeine cravings. This easy recipe is great for those on a gluten-free diet and looking for a healthy way to indulge, with an extra pick-me-up coffee boost of course. Barista Tip: while it may be tempting to use the rest of that coffee that's been sitting in the pot since morning, don't! Stale coffee is just like stale anything, it's completely lacking in flavor and freshness. Make sure to brew your espresso fresh, using a quality brand and proper equipment. It may sound fussy but you'll be ever so grateful once you taste the difference.
3. Peanut Butter Cup Flourless Chocolate Cake Roll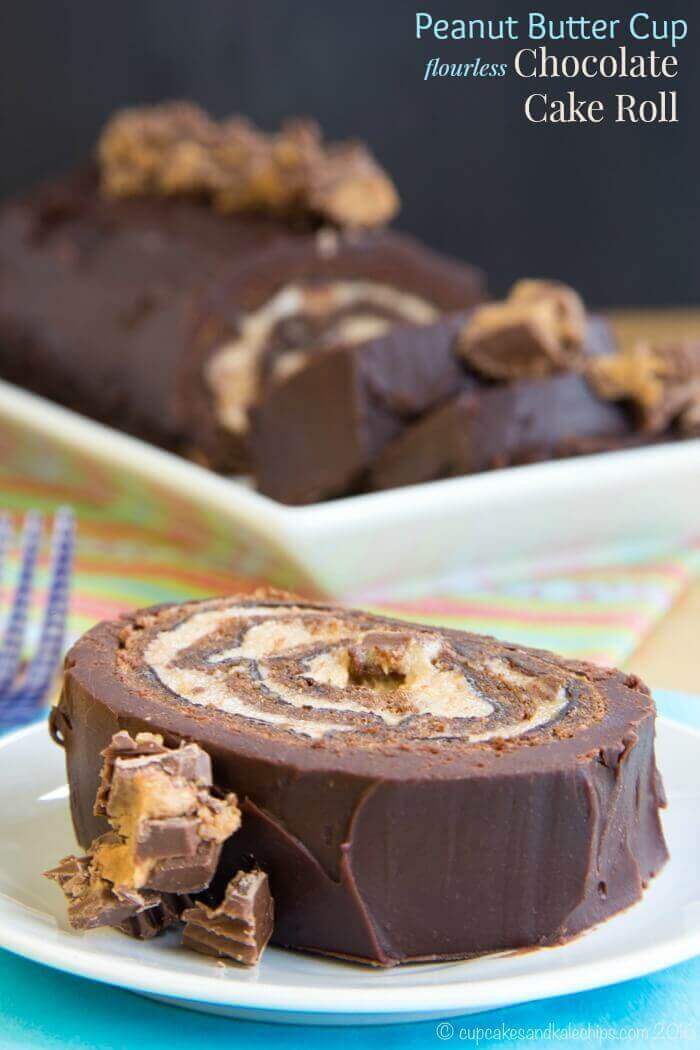 Halloween may be over and your gluten-free diet on a roll itself once again, but let's face it: there are few things in life as yummy as peanut butter chocolate cups. This flourless chocolate cake roll packs the Reeses-esque punch you crave without breaking your flourless regimen, and is perfect for serving up at kids' parties, girls-night sleepovers, and themed bridal showers. Additional Tip: this cake is definitely on the gooey side, which can quickly translate to messy with particularly enthusiastic noshers. If you're looking for tidier ways to serve trying chilling the cake in the fridge for a bit before setting out.
4. Flourless Chocolate Peanut Butter Cup Cake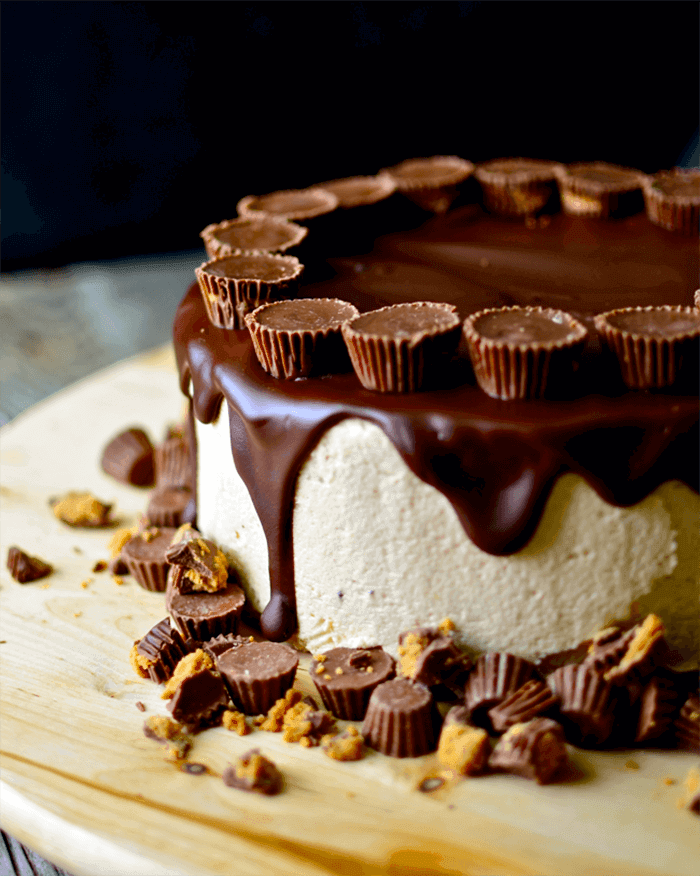 A more traditional take on the aforementioned peanut butter cup cake roll, this is one of the best chocolate cake recipes to keep on hand for birthdays and festive gatherings. With minimal prep time and easy ingredients, this is sure to be a regular on your meal idea dessert list! Serve with a chilled glass milk or cup of hot cocoa for the ultimate after school or all around cold weather treat.
5. The Easiest Gluten-Free and Vegan Chocolate Cake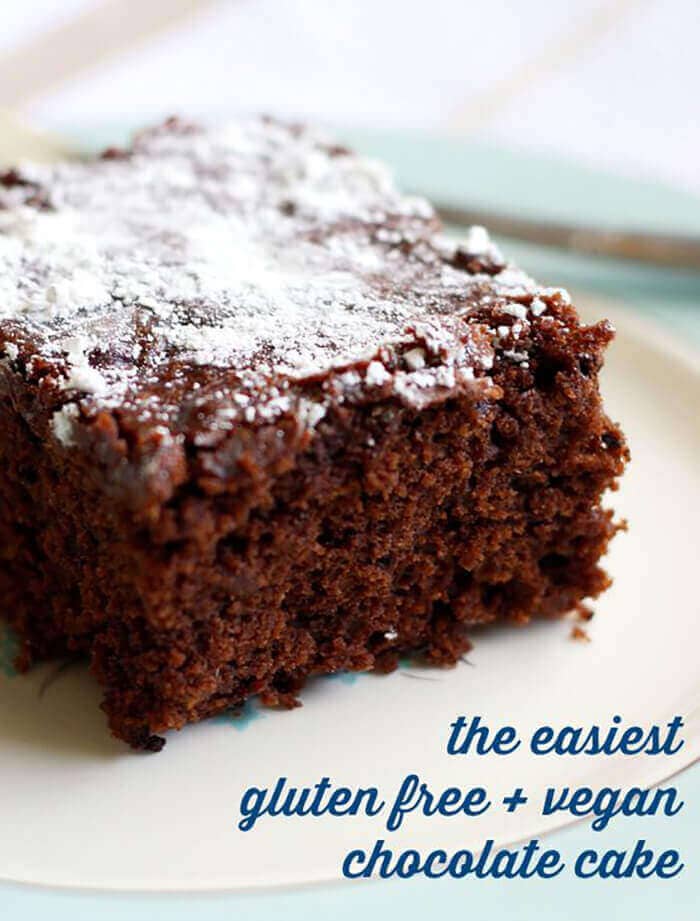 A great chocolate cake idea for the gluten-free and vegan alike, this easy recipe is a must-have staple in your dessert arsenal. The unlikely combination of baking soda and vinegar gives this cake a nice fluffy moisture without the addition of eggs, with an even more pleasnt prep-and-bake time of just 32 minutes. This cake can pretty much be complimented by any dessert condiment or beverage, from various fruit compotes and frozen yogurts to coffee or wine pairings.
6. Chocolate Turtle Poke Cake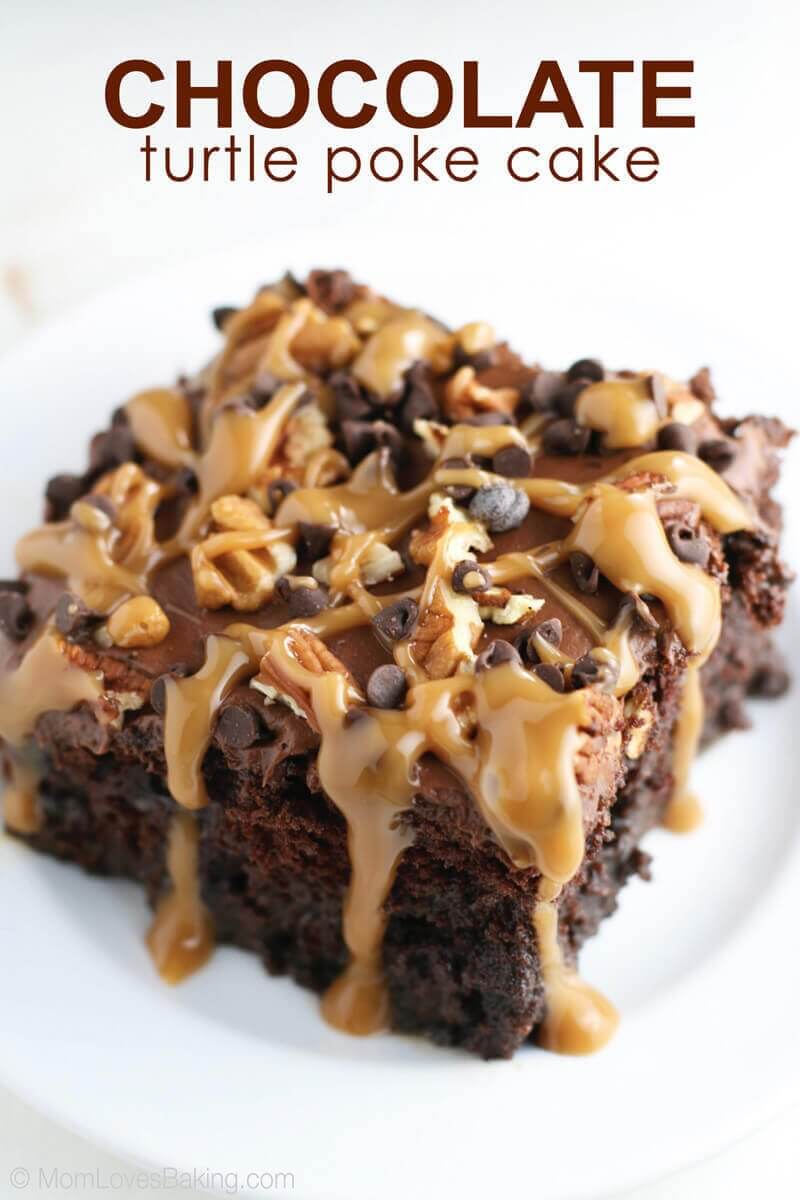 Just mentioning turtle cake brings on the threat of some serious drooling. With the holiday season bringing special limited edition caramel and chocolate flavored Eagle Brand sweetened condensed milk varieties, now is the perfect time to try this healthy but insanely addictive chocolate cake idea. Don't worry if you can't find the caramel or chocolate Eagle Brand editions, you can always substitute one cup of condensed milk with a cup of your favorite caramel flavored syrup. This cake can be served right out of the oven or chilled with a scoop of artisanal gelato; either way it won't last long.
7. Quadruple Chocolate Mousse Cheesecake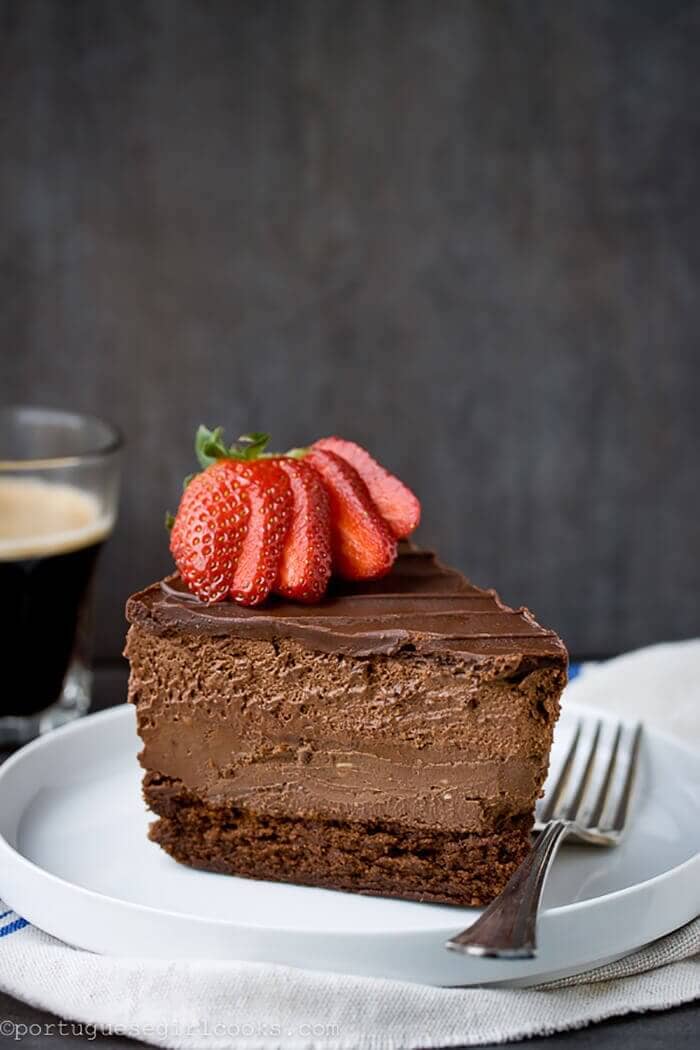 This gluten-free chocolate cake recipe offers up the tastiest of both dessert worlds: chocolate mousse and cheesecake. And best of all it's a 100% gluten-free food, which means it can be served up any time, and for any palette. While relatively rich, this chocolate mousse cheesecake isn't too sugary, with one slice more than enough to satisfy your sweet tooth. Additionally, this chocolate mousse cake can also be put in the freezer for a decadent frozen treat option.
8. Decadent Gluten-Free Chocolate Cake Recipe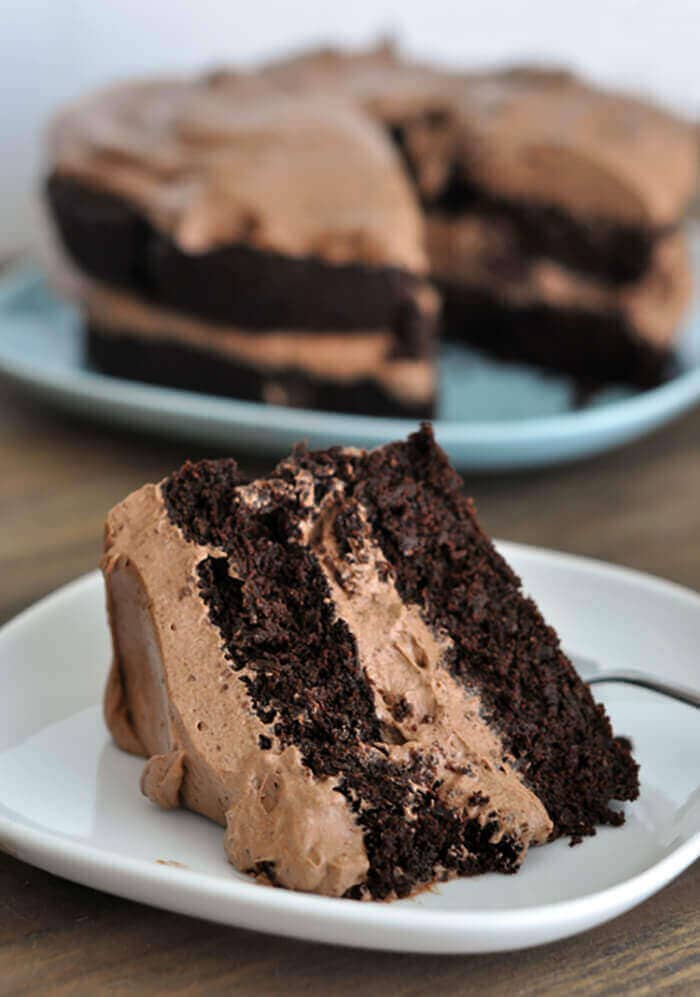 With the holidays just around the corner and all the treats you know and love on full display, it can be hard to accommodate those on a gluten-free diet or looking for more healthy dessert options. This is one of those chocolate cake recipes for such occasions, as it not only satisfies the chocolate lover in all of us, but includes everyone–and isn't that what the holidays is all about?
9. Flourless Gluten-free Chocolate Cake with Chocolate Ganache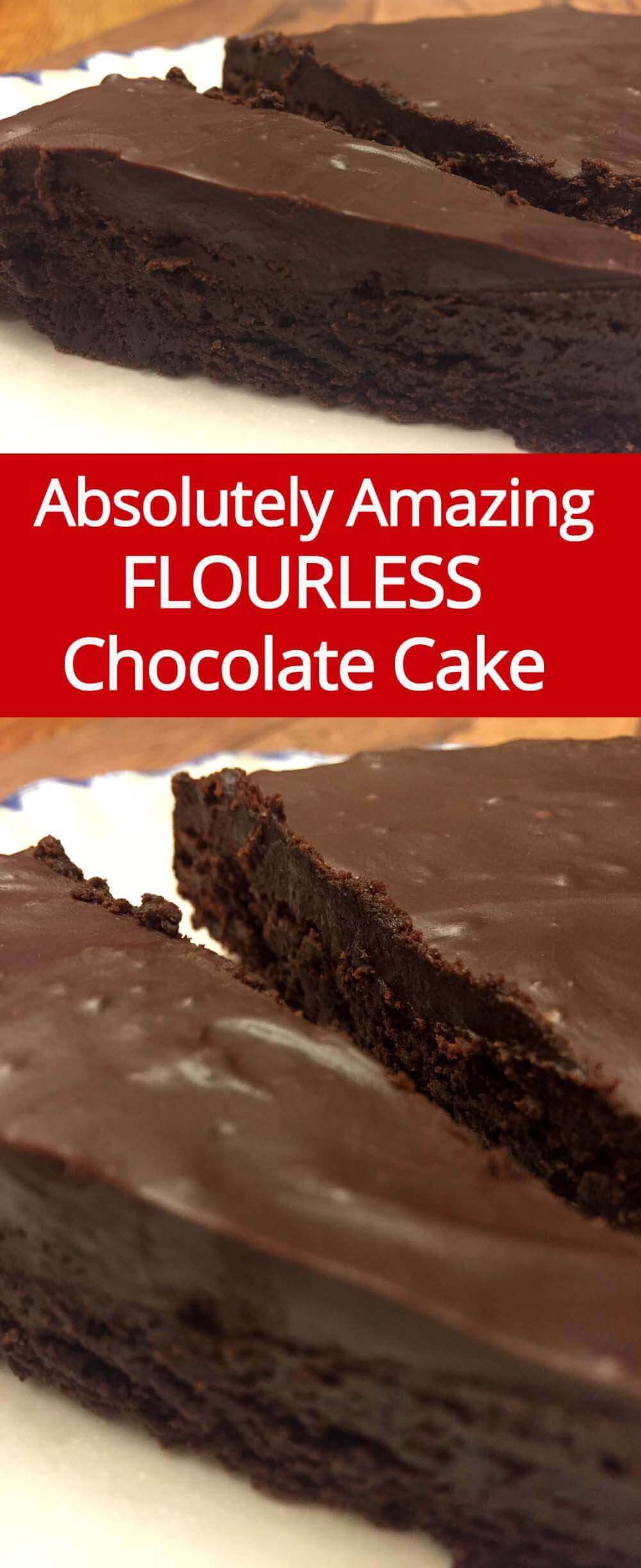 Boasting a super concentrated dark chocolate flavor, this gluten-free recipe is for those who are serious about their chocolate. Made with just sugar, butter, eggs and a big dose of cocoa, this flourless cake is perfect for passover and health-conscious get-togethers, with a taste that's sure to leave people wondering if you're telling the truth about this kitchen indulgence.
10. Coconut Flour Chocolate Cake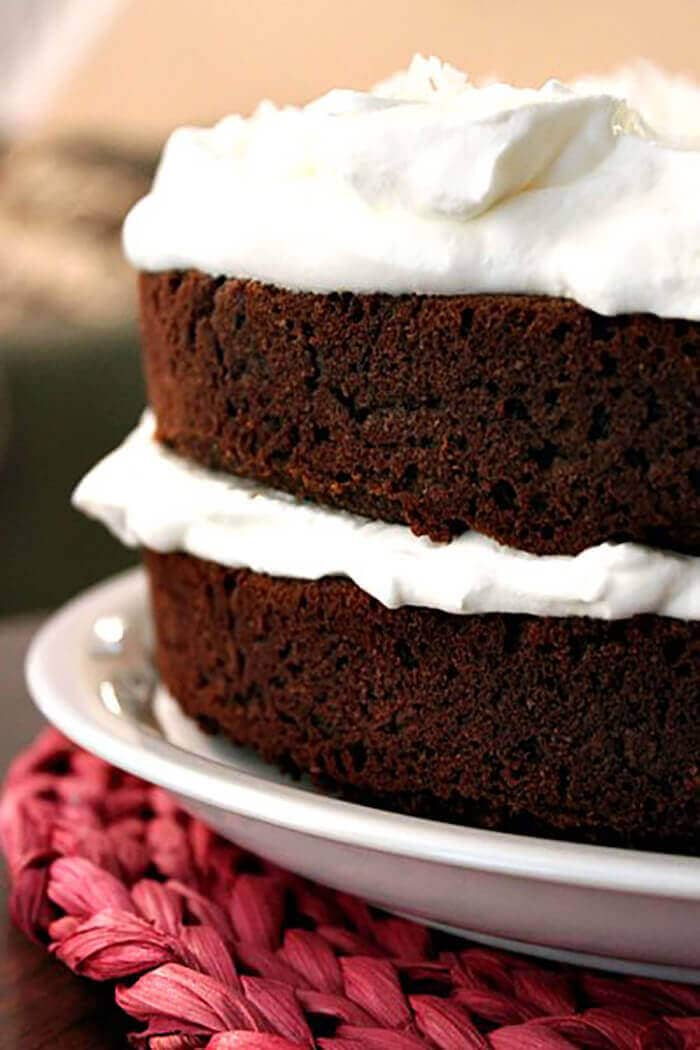 Coconut flour is a kitchen miracle for those on a strict gluten-free diet, with a yummy tropical flavor that makes it ideal for incorporating into gluten-free chocolate cakes. This coconut chocolate cake is both light and moist, and best served with a whipped cream topping and coconut flakes for the ultimate afternoon tea cake. Additional serving ideas can include Caribbean fruit preserves or your favorite fruity frozen yogurt. You can even try a dollop of rum for a more grown-up version.
11. Chocolate Swiss Roll Cake

Remember Swiss rolls from your childhood, those little packages of chocolate-and cream goodness you just couldn't get enough of? Well this chocolate swiss roll cake is the adult–and gluten-free–answer. It's a bit more complicated to make than the other gluten-free chocolate cake recipes listed here, but so worth the effort. Show it off at office parties or surprise a friend on their birthday; this deliciously nostalgic upgrade is sure to win you points.
12. 3-Ingredient Flourless Chocolate Cake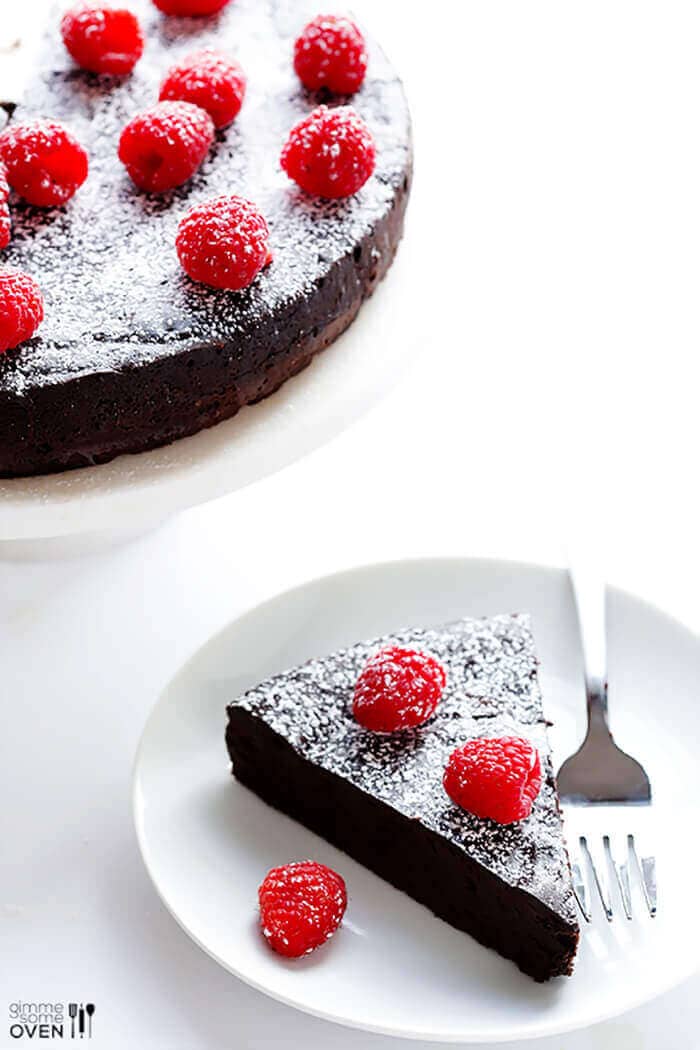 No, the that's not a typo; there really are only three ingredients in this easy recipe. Eggs, semisweet chocolate, and butter are all it takes to whip up a delicious chocolate cake that packs all the taste of a traditional cake without the harmful additives. Top with a scoop of low fat frozen vanilla yogurt, sweet sauce, or serve as is for a miraculous (and much easier) twist on a dessert favorite. This recipe is so simple you can even let the kiddies take a turn preparing it, just make sure to always supervise.
13. Double Chocolate Zucchini Cake Brownies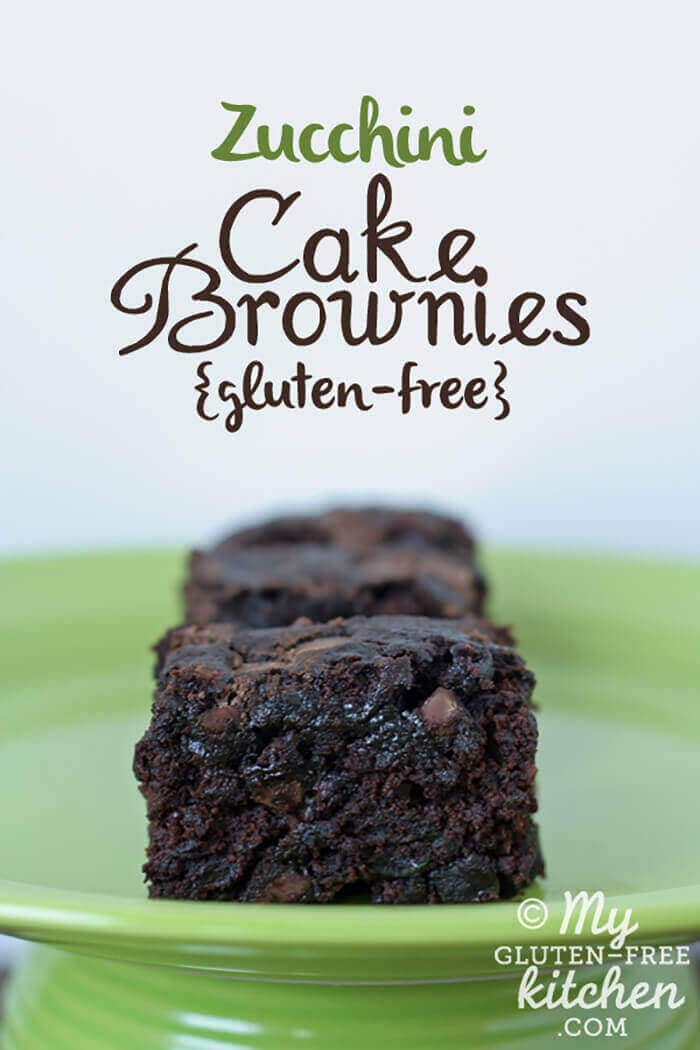 Part zucchini, part brownie, and a whole lotta cake is the best way to describe this gluten-free chocolate cake idea. A nice alternative to overly-sweet desserts, these subtle but absolutely scrumptious gluten-free chocolate cakes are sure to be a hit at gatherings and family meals. When serving to particularly picky eaters, be sure to slice the green skin of the zucchini entirely off and slice as thinly as possible when blending into the batter in order to obtain the smoothest possible (and undetectable) texture.
14. Grain-free Dairy-free Chocolate Cake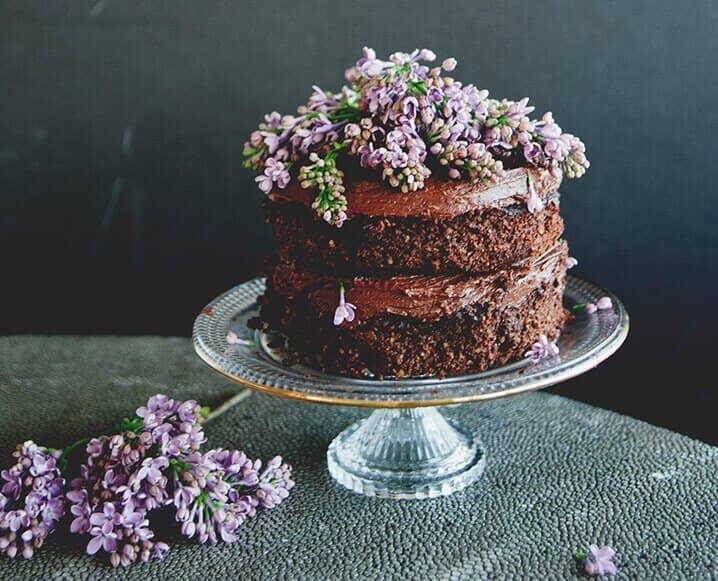 It's always a good idea for the gluten-free household to keep some tried-and-true dessert recipes stashed away, and this one's no exception. Perfect for cake bases and dairy-free sundae creations, this is one of the best chocolate cake recipes for those looking for something both healthy and helplessly delicious. You can also try dividing into squares or making into cupcakes for individual servings. Tip: as with all cakes, allow the cakes to thoroughly cool before frosting them. Place one cake layer on a plate and even spread a small amount of the chocolate ganache on top. Layer the second cake over the caramel one and repeat with a layer of ganache, and remember to cool in the fridge for a bit before serving.
15. Gluten-free Fudge Cake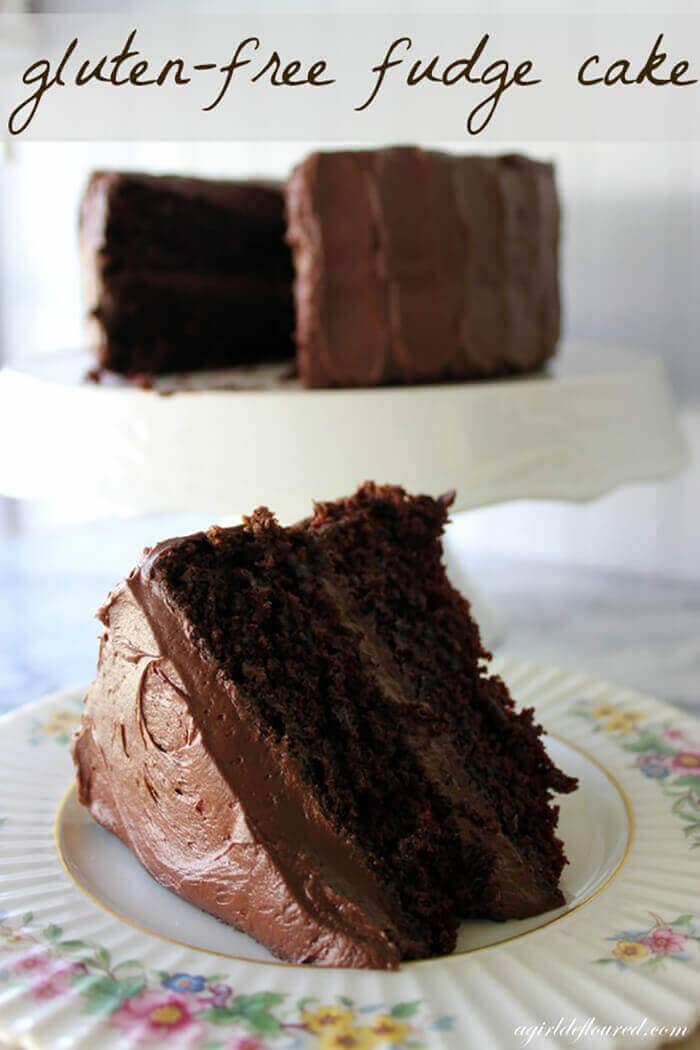 This is the definitive chocolate cake you see in lifestyle photo spreads and 1950's sitcoms; it's everything chocolate cake was intended to be. Rich, moist, and oh-so-fudgy, this gluten-free chocolate cake recipe is so good you won't believe it's also gluten-free. We won't tell if you won't!
16. Peanut Butter Flourless Chocolate Cake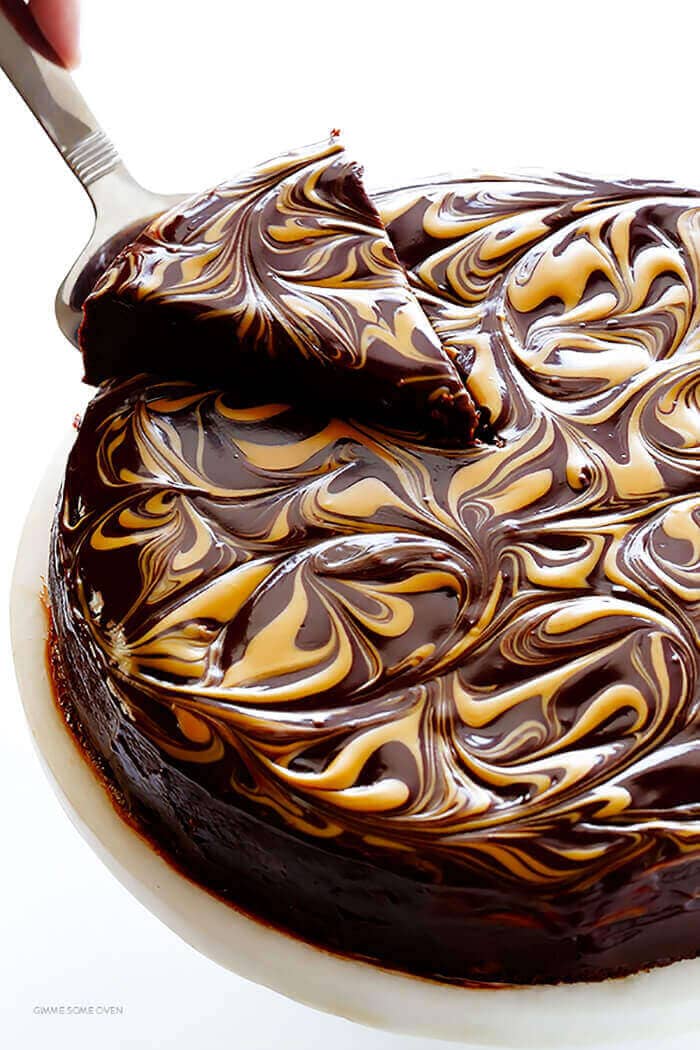 Flourless cakes can be a hard sell, and even harder to take the place of all those yummy cakes we know and love and have since chosen to forgo in our pursuit of a gluten-free diet. This peanut butter flourless chocolate cake is one of the best chocolate cake recipes out there, combining rich chocolate ganache with gooey peanut butter and drizzled decadently over a fluffy chocolate cake base.
17. Spiced Dark Chocolate Cake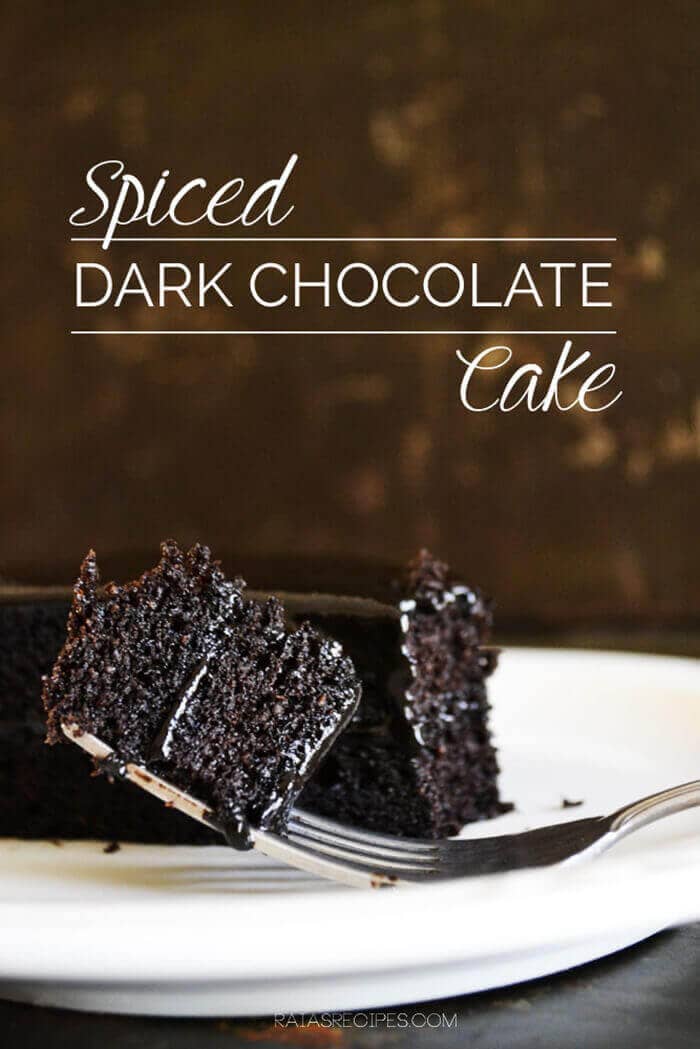 Spiced cakes are perfect for chillier seasons and holiday offerings, and are ideal for those who prefer a more grown-up take on the classic chocolate cake tradition. This spiced dark chocolate cake carries an almost gingerbread taste with its hints of cinnamon and ginger, and is downright irresistible when paired with a piping hot toddy or cider. This cake is also fantastic served with a spoonful of whipped dairy-free cream and sprinklling of crystalized ginger and candied fruit pieces.
18. Blueberry Chocolate Cake

This vegan, gluten-free, low-fat, and sugar reduced blueberry cake is a deliciously healthy way to indulge your chocolate cravings and get a good boost of antioxidants thanks to a juicy helping of blueberries. Great for breakfast parties and afternoon breaks, this blueberry cake proves you can never have too much of a good thing! Tip: drizzle with organic blueberry syrup for an extra helping of berry taste.
19. Gluten-Free Three Layer Chocolate Cake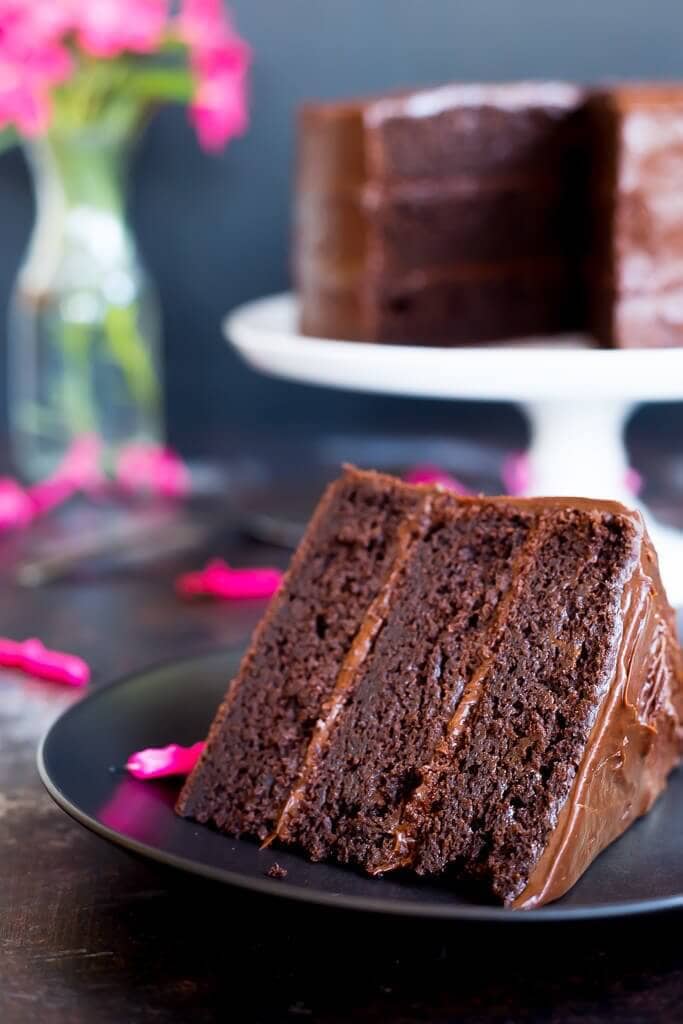 Everyone knows that the #1 rule where chocolate cakes are concerned is, the more layers the better. This three layer chocolate cake does not disappoint, and serves up all the goodness of a traditional cake without the unhealthy additives or allergy concerns. The addition of Greek yogurt gives this cake its heavenly moistness, with store-bought and homemade frosting options available as your dietary concerns and personal preferences dictate.
20. Decadent Chocolate Cake With Whipped Chocolate Frosting

Who would have thought quinoa was the secret ingredient in this sinfully good gluten-free food–and cake no less? Quinoa is a nutritionally rich grain favored for its particular protein that contains all nine essential amino acids. Additionally, quinoa offers a sizable serving of fiber and iron, with only 111 calories in each 1/2 cup serving of cooked quinoa. Topped with clouds of whipped chocolate and boasting a moist gooey base, this chocolate cake will certainly make believers of even your most skeptical chocolate-loving friends. You can also break this recipe down into individual cupcakes, proving that good things do come in small bites!
21. Chocolate Orange Cake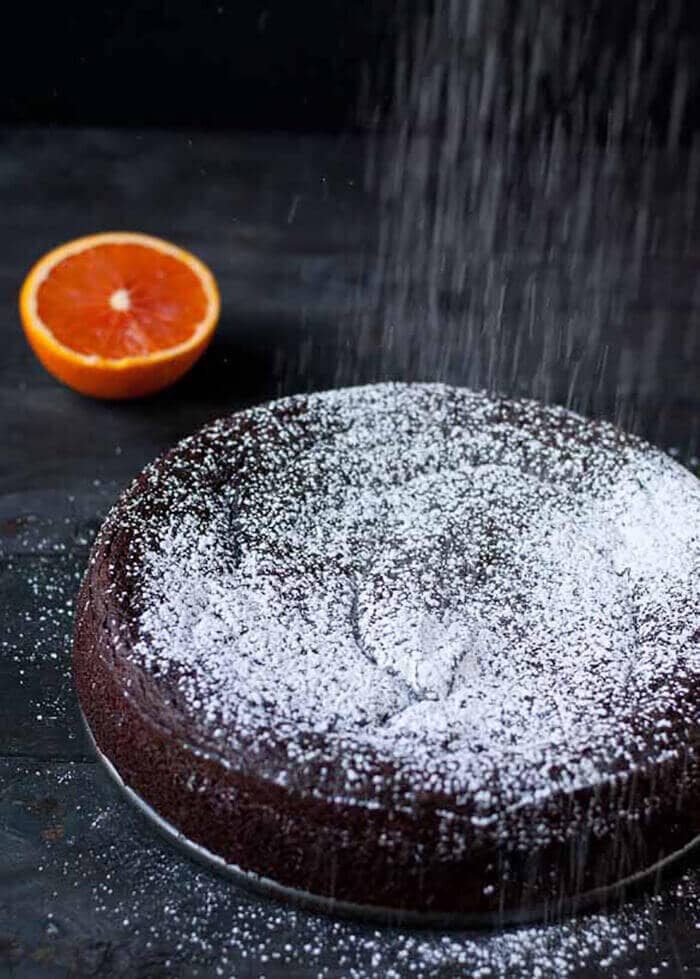 We all remember those chocolate oranges you broke into slices by whacking them on the table, and now here's a cake that evokes a similar sensation (without the aggression, of course.) This 7-ingredient chocolate cake boasts a zippy citrus zest and beautiful texture thanks to the hazelnut flour, and is light enough to serve as an everyday treat for coffee breaks and visitors. Serve with your favorite fruits and preserves, or with a side of creamy yogurt. For a more sophisticated taste you can also spruce things up with a sprinkling of Grand Marnier or fruit-flavored liquor.
22. Chocolate Hazelnut Biscotti (Low-Carb and Gluten-Free)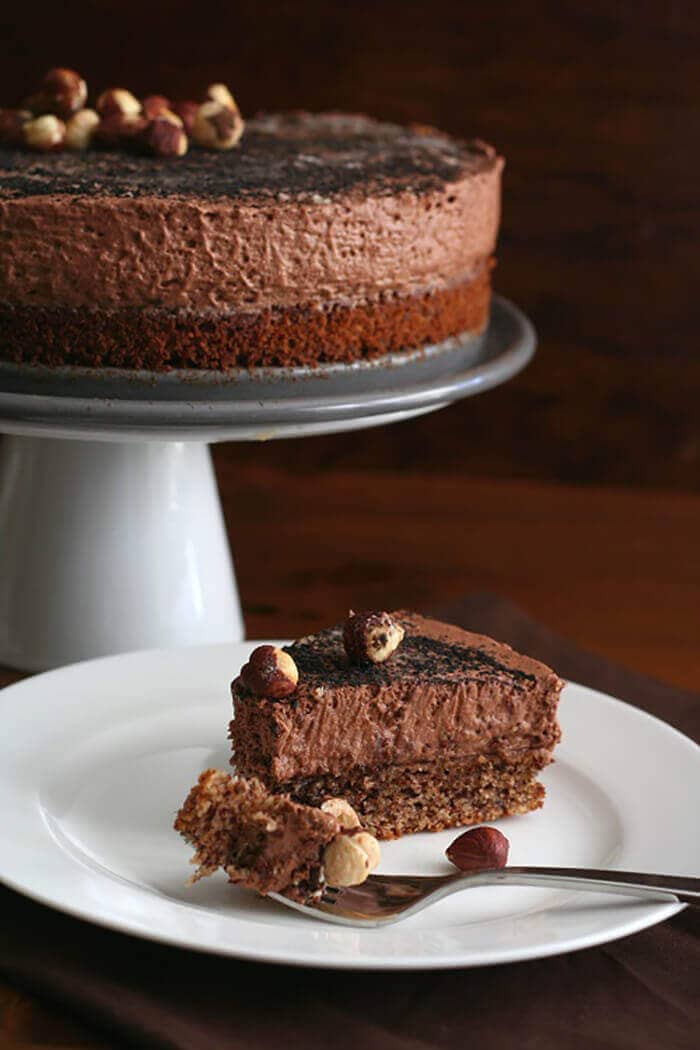 The Italians have long savored their biscotti, with Westerners adopting the cafe classic only in recent decades. A crispy and delicious alternative to a heavier serving of dessert cake, this easy recipe yields over a dozen biscotti slices that are perfect for dunking into espresso or enjoying with a lighter breakfast. These are also great for adding to teacher goody bags, as well as serving to guests and clients; one thing is certain, these nutritious biscotti biscuits won't last long in any capacity. Tip: add some extra hazelnut extract for a particularly Nutella-like taste.
23. The Best Homemade Chocolate Cake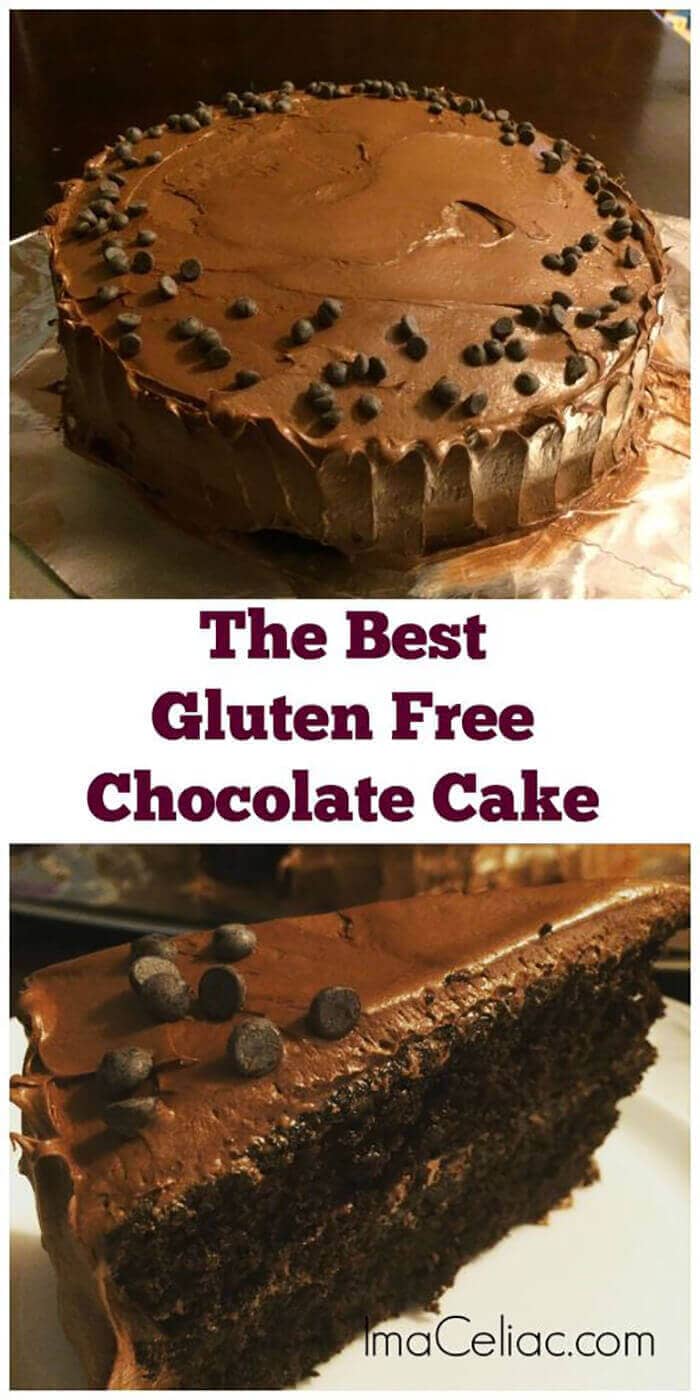 This gluten-free recipe makes a lofty claim, and decidedly lives up to it. Great on its own or used for cupcakes and other chocolate creations, this is a gluten-free food that deserves a place of honor in your kitchen. Particularly good for sheet cakes, this recipe truly adapts well to any dessert inspiration, and pairs well with all beverages and dessert condiments.
24. Chocolate Lover's Zucchini Cake

Zucchini bread meets its match with this fantastic chocolate cake idea. With its gooey consistency and heavenly chocolate frosting, you might just forget you're eating your veggies with dessert! A touch of cinnamon in the ingredients adds a pleasantly spiced flavor, while a variety of serving options are possible. For a quintessential comfort food breakfast option, pour the batter into individual muffin tins and serve alongside your favorite breakfast spread.
25. Gluten-Free Black Forest Cake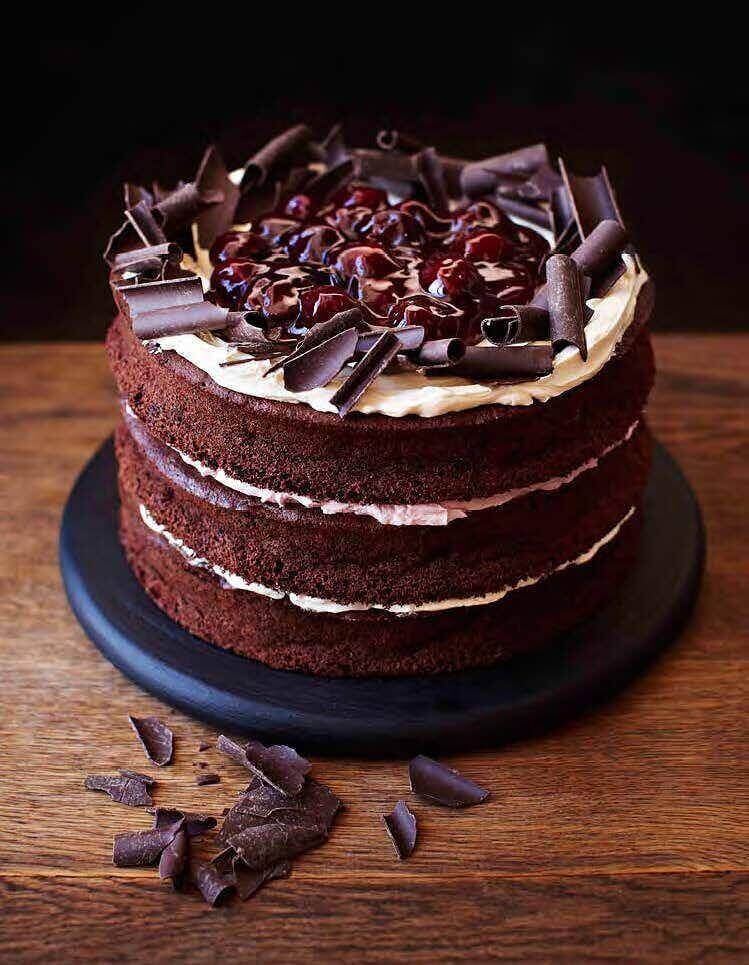 Black forest cake isn't actually named after the famed Black Forest of southwestern Germany, but from the region's own liquor distilled from especially tart cherries. Nothing wears its chocolate badge quite as loud and proud as black forest cake, and those following a gluten-free diet plan can rejoice with this sweetly rich cherry-chocolate masterpiece. And what's more, this easy recipe can be whipped up for any occasion, and is sure to take center stage with even the most die-hard chocolate fans. And with Valentine's Day just around the corner, what better choice for serving with a kiss to your sweetheart?
26. Chocolate Cake With Peppermint Coconut Cream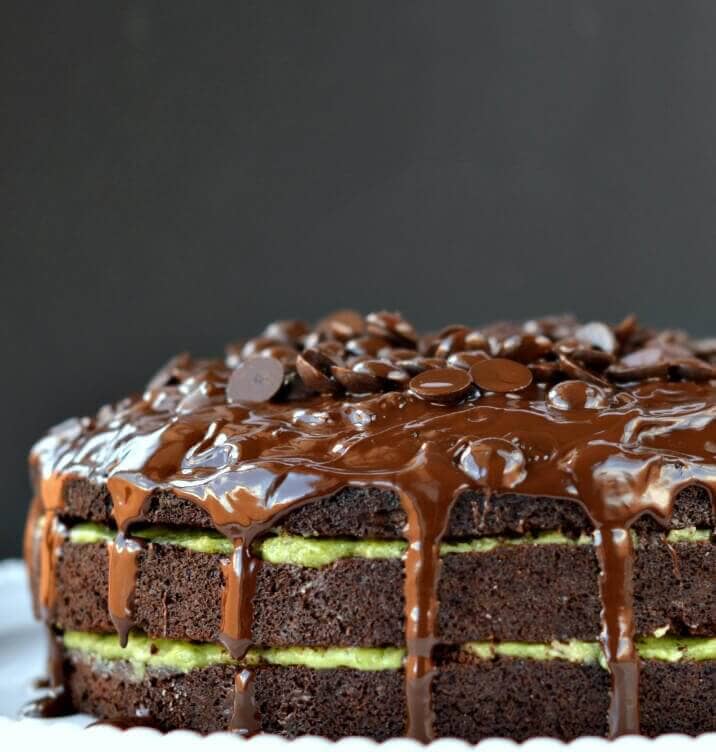 Christmas parties don't know what they're in for now that this gluten-free recipe has arrived on the holiday dessert scene. Don't be fooled by this cake's mouthwatering layers of oozing chocolate and grasshopper green mint, it's also gluten and sugar-free, as well as low carb, making it the definitive guilt-free treat this season. Kids will especially delight in the colors and tastes of this fun and peppy cake, and for particularly small hands you might want to make a special batch of cupcake versions for individual servings.
27. Best Ever Gluten-Free Chocolate Cake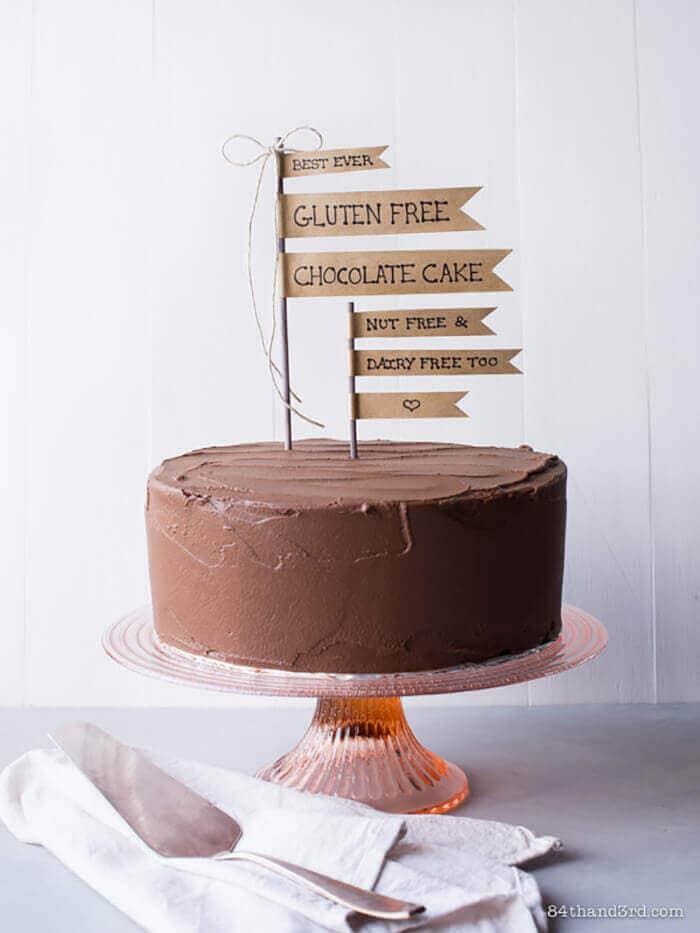 Another ambitious declaration, this gluten-free diet delight is nut free, dairy, and soy-free, with a non-buttercream vegan frosting that literally tastes better than its original counterpart. This cake is great for picky children's parties and health-conscious gatherings, with a taste that more than deserves its title. As with many of the more traditional chocolate cakes listed here, there's plenty of wriggle room to play around with your own versions and serving options, so don't be afraid to experiment!
28. Vegan Chocolate Cake With Creamy Chocolate Almond "Buttercream"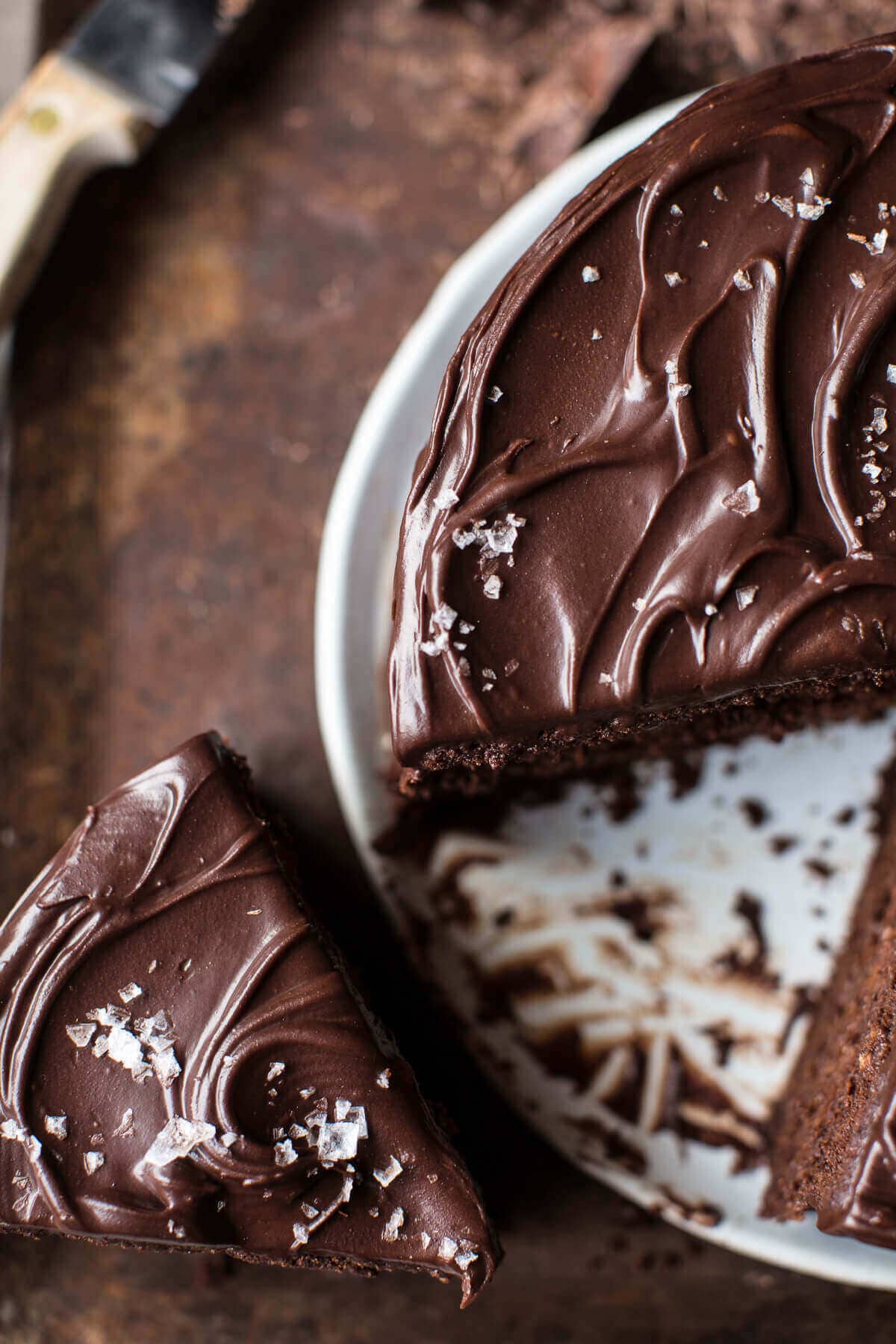 Layered with an unbelievably delicious butter-less "buttercream" frosting, this cake takes, well, the cake when it comes to meal idea dessert additions. Maple syrup and coconut oil lend this cake its darkly sweet richness, while the use of almond or cashew butter give it a delightfully nutty taste. Perfect for serving with a cup of tea or crisp white wine, this is definitely a dessert that errs on the side of elegant comfort foods.
29. Raw Vegan And Gluten-Free Black And White Chocolate Cake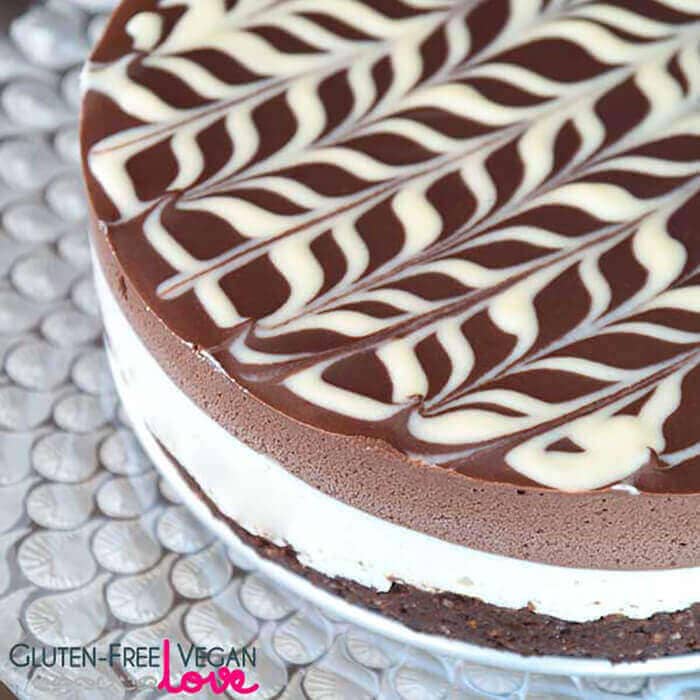 This Paleo cake completely defies the myth that Paleo equals plain. Gluten and refined sugar-free, this raw vegan cake is everything you want in a chocolate mousse with the added benefit of using only wholesome ingredients. Easy to make and a naturally gluten-free food, this black and white cake is sure to be a favorite in the kitchen repertoire. Thanks to its attractively tasty black and white components, this is the kind of cake you take to New Year's parties or cocktail affairs, though even the most sophisticated of guests won't resist licking their fingers.
30. The BEST Flourless Chocolate Cake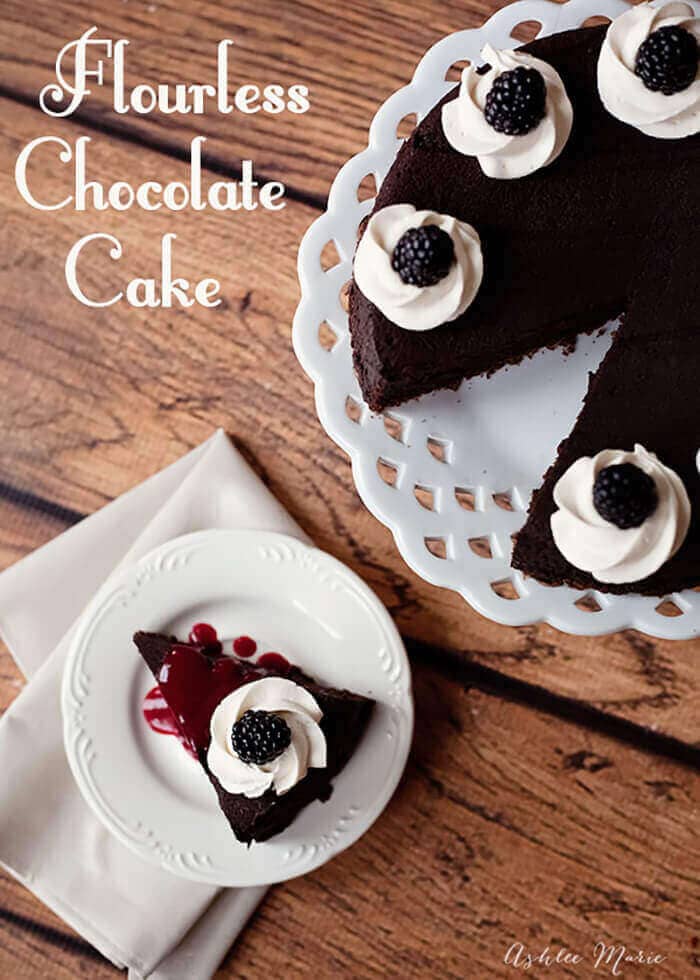 Everyone should keep a solid flourless chocolate cake recipe on hand for last-minute guests and potluck contributions, and this one doesn't disappoint. A surprising mix of brownie and custard, this dense and delicious chocolate cake just begs to be topped with seasonal berries or drizzled with a rich chocolate ganache, and can also be served with a scoop of your favorite frozen yogurt or organic preserves. Either way, with a title claiming to be the best in bold caps, this is definitely a gluten-free recipe not to be missed.
31. Gluten-Free Chocolate Cake With Cinnamon And Chili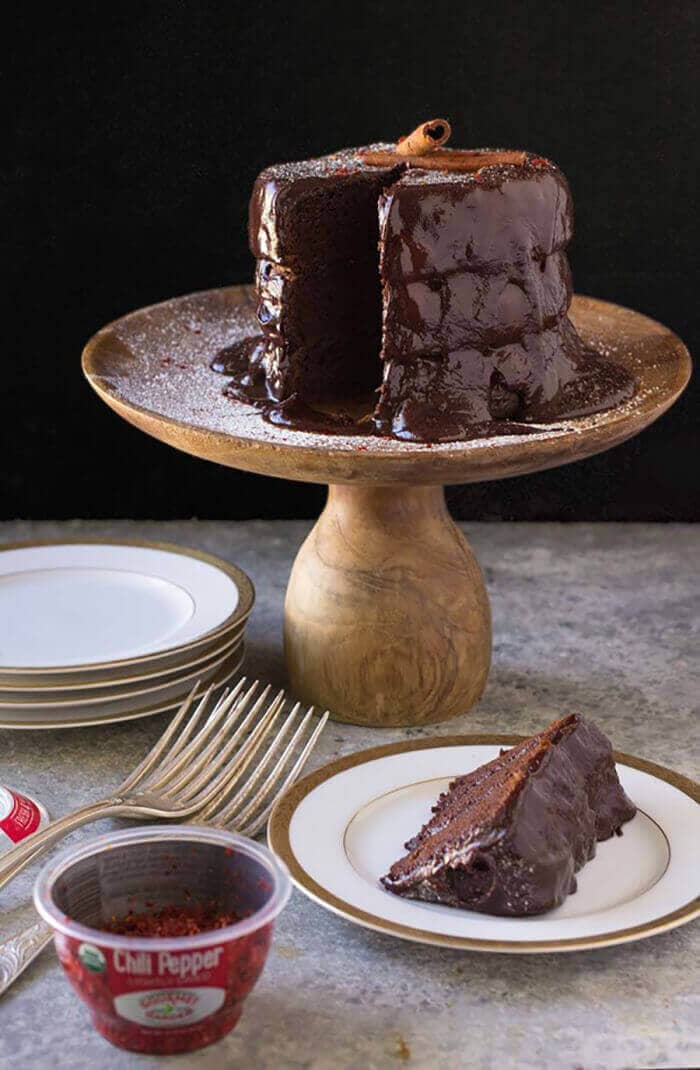 If you could eat Mexican hot chocolate with a fork this would be it. A rich and sinfully spiced chocolate cake with all the tantalizing flavors a cultured soul could crave, this cake comes with the added bonus of being a 100% dairy and gluten-free food. Spiced to perfection and every bit as rich as you'd expect, this cake makes a sophisticated addition to dinner parties and special festivities. Exceptional when served up at holiday parties, you can also add a dollop of rum-spiked whipped cream for sinfully satisfying good measure.
32. Gluten-Free Vegan Chocolate Cake (Dairy Free)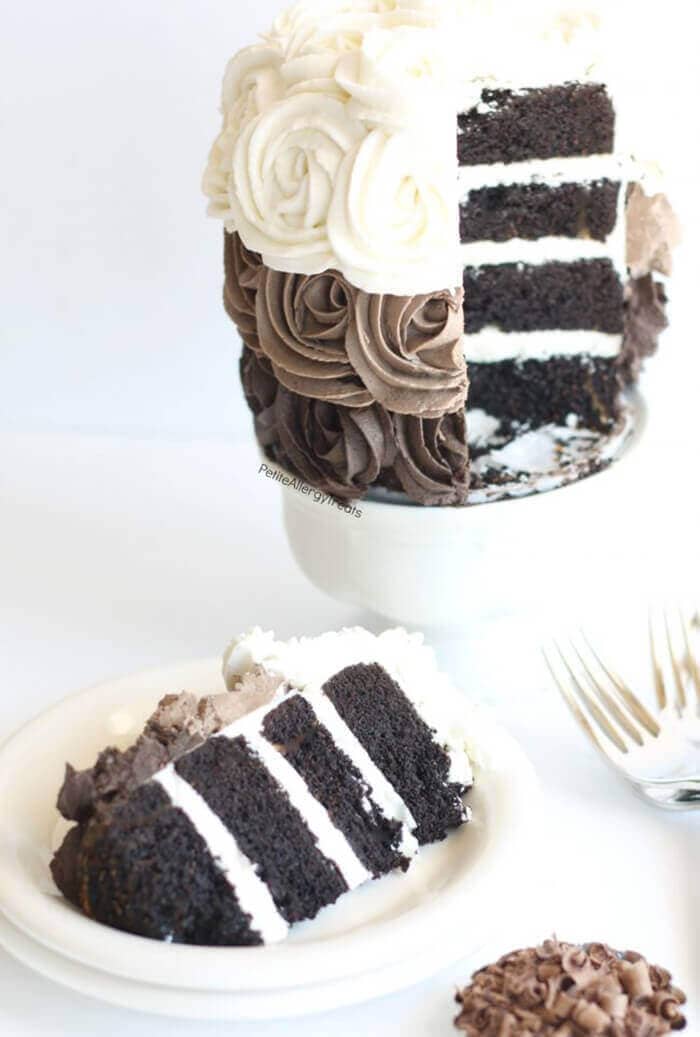 For those who prefer a portion-polite gluten-free chocolate cake recipe, this adorably delicious miniature 4 layer chocolate cake was made for you. Super easy to make and absolutely gluten and dairy free, this mouthwatering vegan treat makes a cute (and tasty) thank you surprise or tea-for-two cake. Wedding parties looking for a charming spin on the wedding cake tradition can also place one of these cuties on each of the tables–the possibilities are truly endless.
33. Crazy Cake Gluten-Free Chocolate Cake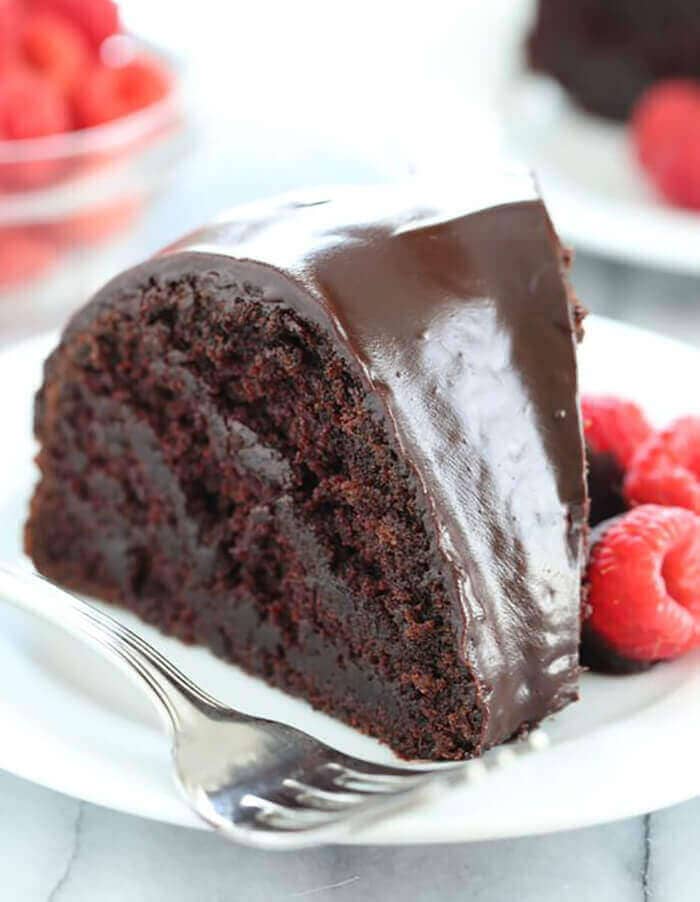 The name may be a head-scratcher, but this gluten, egg, butter, and chopped chocolate-free cake is truly a marvel to behold, its creation based on a Depression era recipe, when eggs and butter were short of supply and far too precious to waste on desserts. Using almost none of the traditional chocolate cake ingredients but certainly an appealing portion of red wine, the result is a moist and tender "wine" cake that adds a whole new layer (no pun intended) to future cocktail food and grown-up Christmas parties.
34. Gluten-Free Chocolate Avocado Cake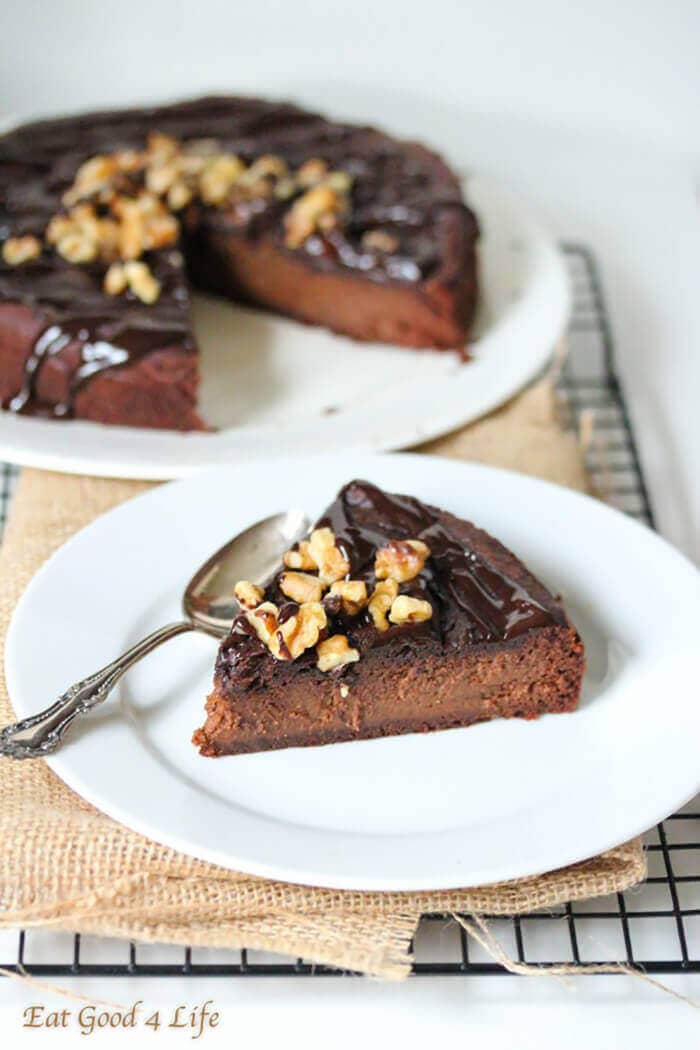 You may be wondering if this unconventional cake will taste like a spoonful of gaucamole but don't worry, it's got all the fudgey yum of a classic chocolate cake with all of the healthy goodness you'd want from a gluten-free chocolate cake recipe. The avocados add a nice density to the cake, while the subtle sweetness keeps it from going too overboard on the sugar, making it the perfect choice for those who prefer a bit more substance to their desserts. Tip: while some may be inclined to use overripe avocados due to their convenient softness, it's actually best to use just-ripe ones, as the taste is far more neutral and easy to disguise.
35. Flourless Chocolate Caramel Cake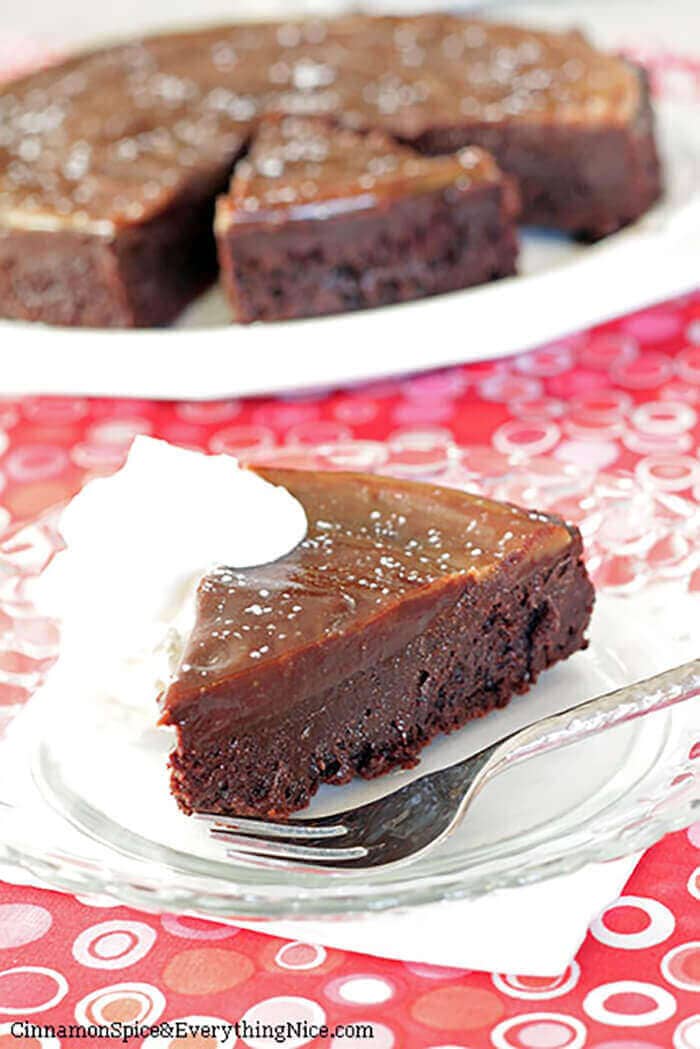 Chocolate and caramel are a natural match made in heaven, and this brownie-like meal idea is great for the gluten-free table spread. With a no-nonsense prep time and fluffy caramel-rich result, this fluffy chocolate cake makes the perfect base for sundaes and layer desserts, as well as individual brownie servings. You can also incorporate the special edition holiday Eagle Brand condensed milks mentioned above, so stock up on a few cans if you're able.
36. Super Moist Gluten-Free Chocolate Cake Recipe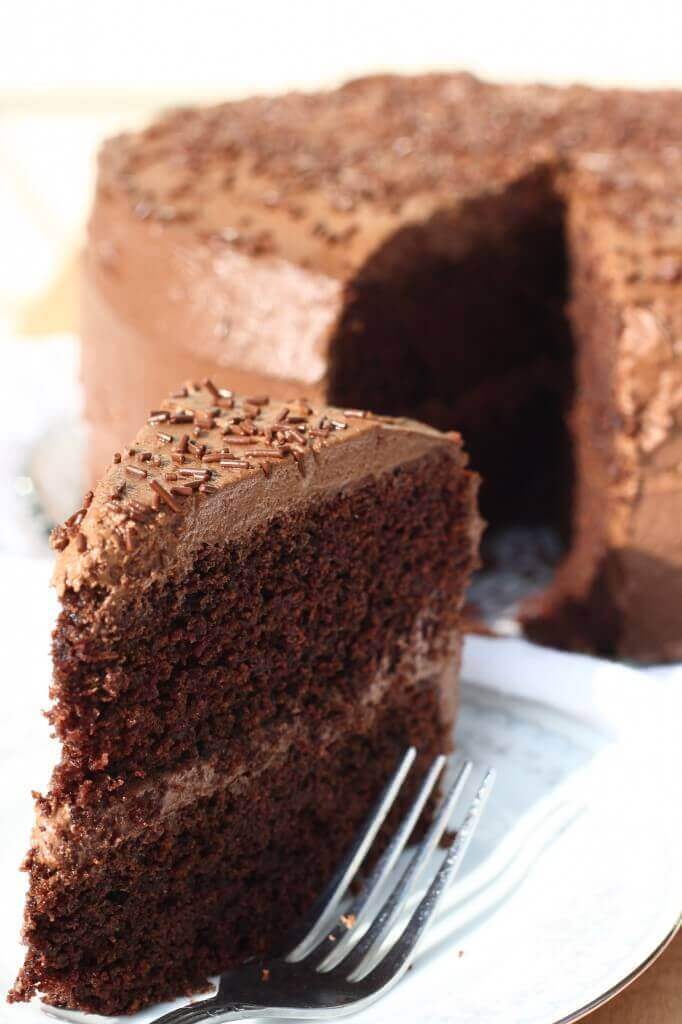 It may sound like an oxymoron, but if you've learned nothing else from this post it's that moist, gooey gluten-free chocolate cakes abound, you just have to know how to find them and, most difficult of all, choose just one to start with. This super moist chocolate cake is made using a homemade gluten-free flour mix that is quick and easy and best of all, yields the kind of cake that's even better than the classic you grew up with.
37. Chocolate and Almond Cake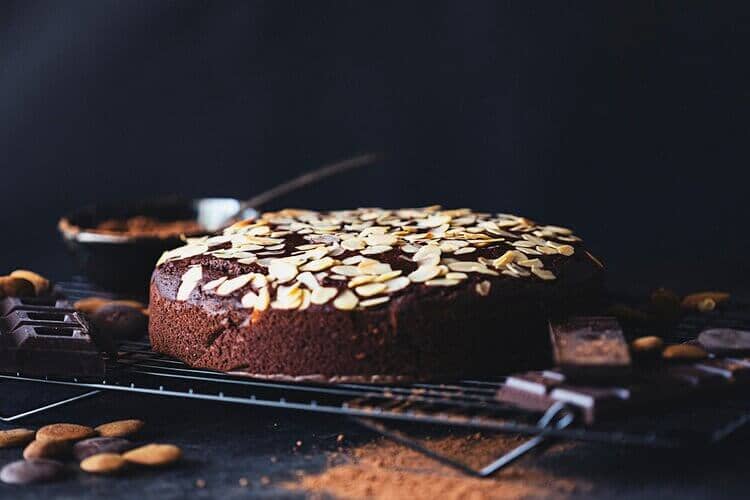 This cake is so rustic and satisfying you could almost include it in your breakfast line-up along with other gluten-free food staples. Fluffy and light with just the right amount of sweetness, this naturally sweetened chocolate cakes is 100% plant based, making it a go-to for healthy dessert lovers. Paired with your favorite herbal tea or marmalade spread, this cake is definitely a meal unto itself.
38. Flourless Black Forest Chocolate Cake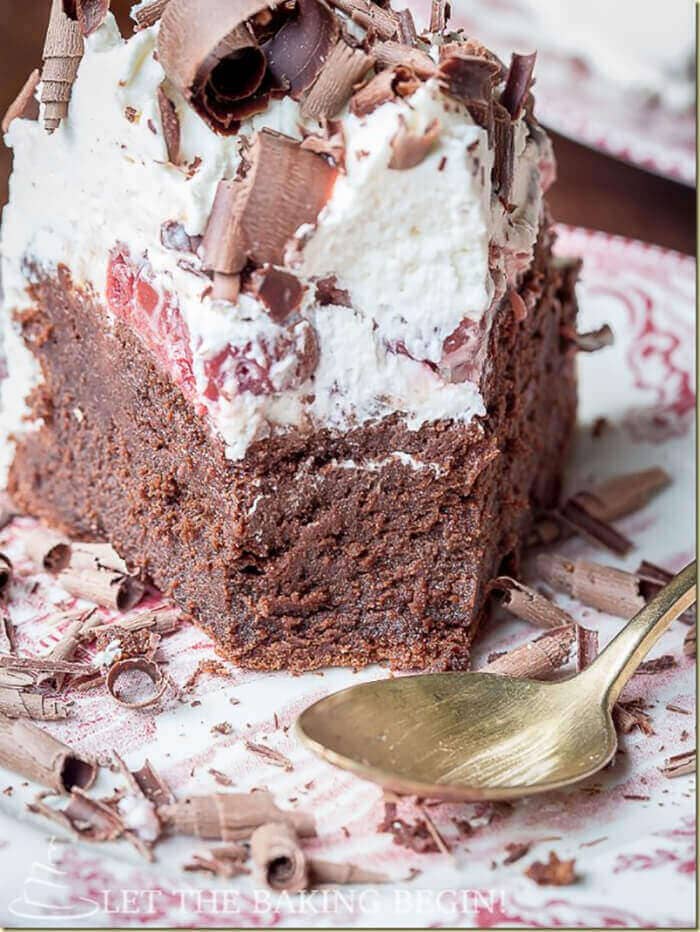 Yep, another fabulous black forest cake to add to your chocolate cake idea roster. This flourless cake is a simpler version of the one listed above, and perfect for those looking for an elegantly healthy way to indulge in a decadent craving. With a richly dense base of flourless chocolate cake balanced by subtly sweet Chantilly cream and tart cherries, this cake joins the list of potential Valentine's Day treats and possible wedding cake options.
39. Flourless Chocolate Cake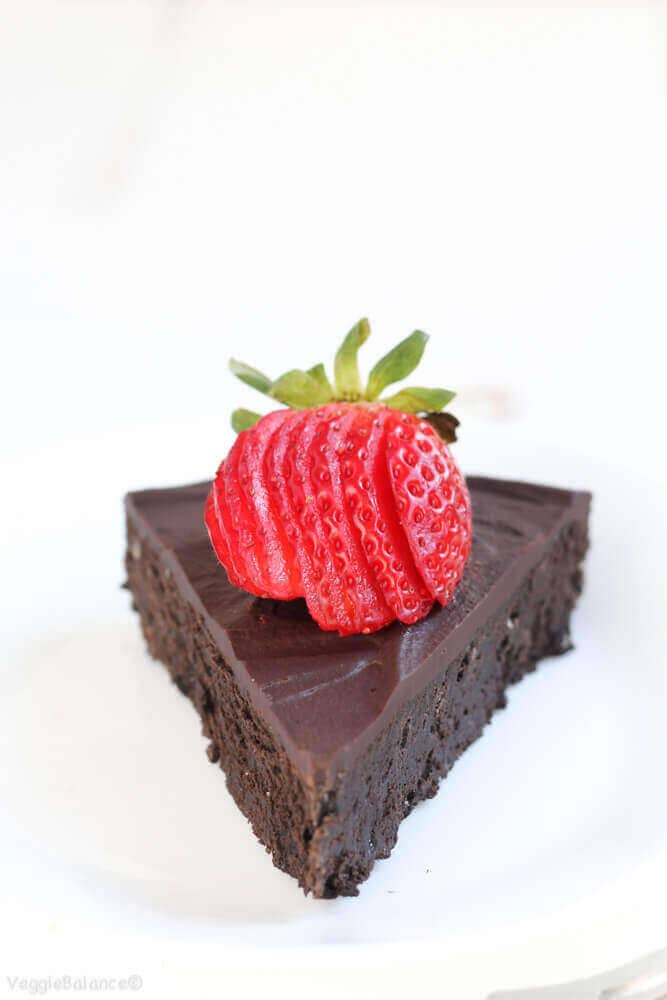 A no-frills but full-on fudgy, gluten and dairy-free cake with no refined sugars, this is the chocolate cake that was made to impress with its infinite possibilities. Top with homemade ganache or drizzle with caramel for a decadent dessert, or serve with a side of fresh preserves or organic ice cream for an afternoon treat. Whichever route you choose to take it, this flourless cake is the ideal starting point for all your gluten-free creations.
40. Gluten-Free Chocolate Babka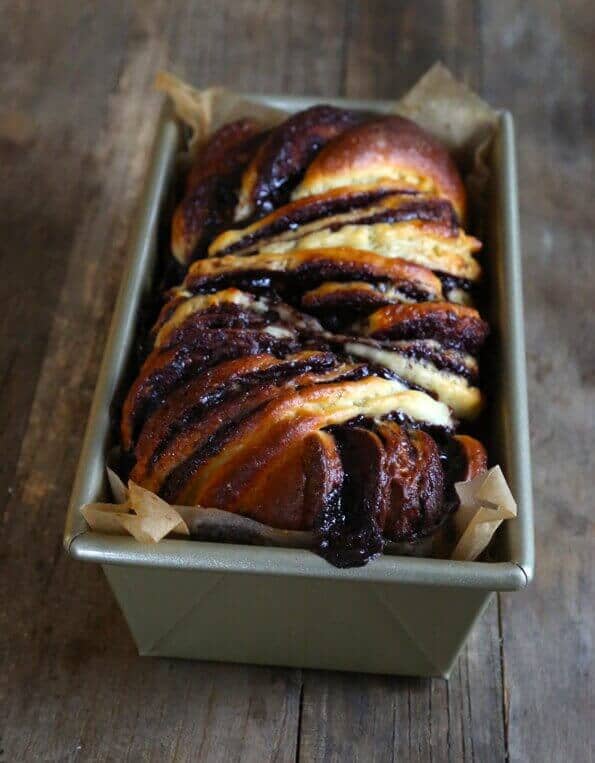 You may only know it from the famous babka episode of Seinfeld, but chocolate babka is a real thing and definitely worth the hype. Babka is a traditionally sweet yeast bread braided with Nutella or dark chocolate and served as a dessert or meal addition. This gluten-free variation takes on a more cake-like taste and texture, and is sure to become a family favorite in your holiday kitchen. Best served right out of the oven, guests can enjoy this warm comfort food with coffee, egg nog, or a nice red wine.
41. Dark Chocolate Zucchini Cake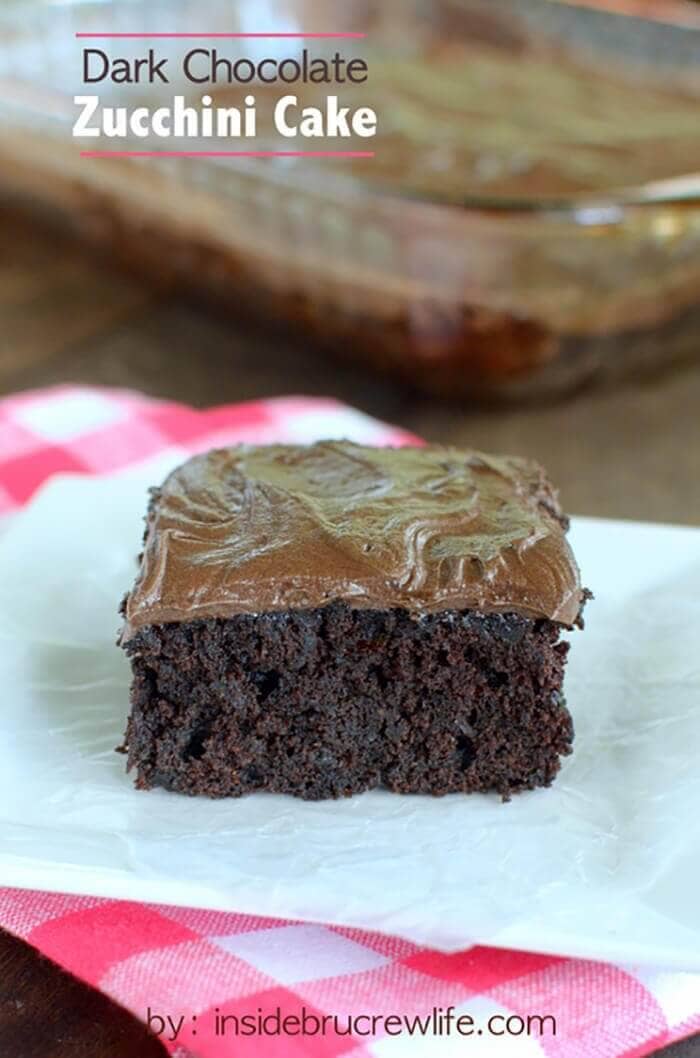 Double the chocolate means this "veggie" cake will disappear fast at family gatherings and parties. Serve as a delicious dessert spotlight or divide into individual ramekins or cupcakes; this cake is subtle enough to even double for a brunch treat. With its rich and wholesome taste and texture, no one will suspect they're eating something as healthy as it is divine!
42. Gluten-Free No Bake Chocolate Cheesecake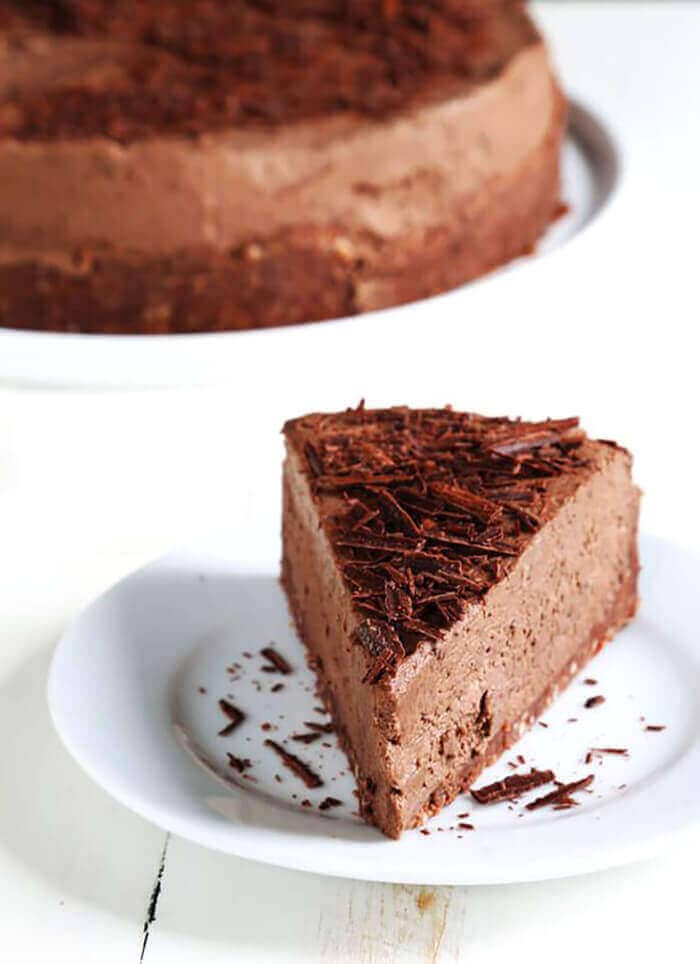 The name says it all: no baking, but a whole lotta chocolatey goodness. This no-bake chocolate cheesecake won out over standard no-bake desserts, and for good reason. Not only is it easy to make and 100% gluten-free, but crowd-pleasingly good. Served with a gluten-free cookie or graham cracker crumb base, it's everything you want in a fluffy, whipped cheesecake, and suitable for all ages and dietary concerns.
43. Chocolate Almond Cake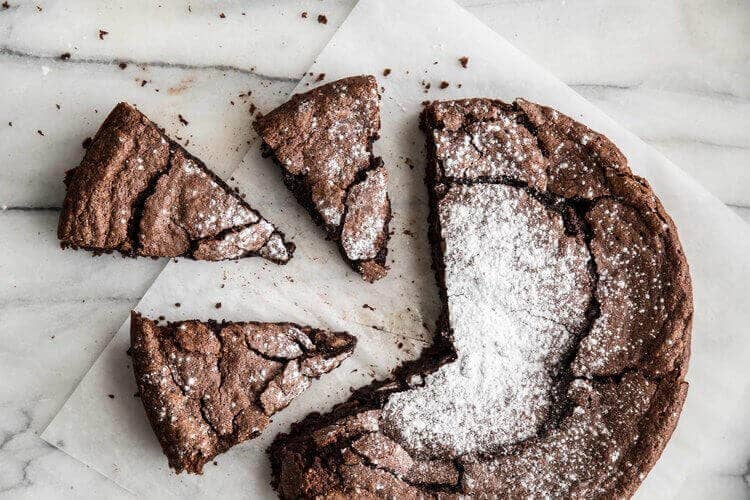 This gluten-free chocolate almond cake uses almond flour for binding and texture, with dark, semi-sweet, or milk chocolate base options to give it just the right amount of chocolate you prefer. With a slight custardy texture and nutty almond finish, this cake reigns supreme among gluten-free chocolate cakes for its simplicity and simply delicious taste.
44. Gluten-Free German Chocolate Cake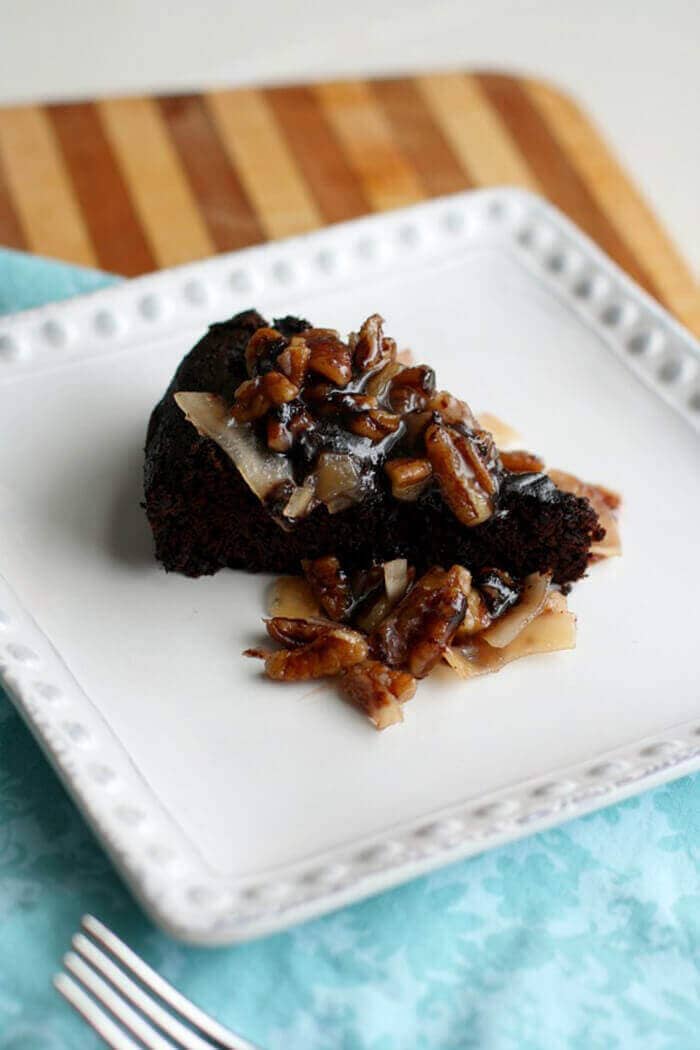 This decadent dessert favorite is filled with all the gooey coconuty chocolate taste German chocolate cake is famous for, while still holding its place as a gold-star gluten-free recipe. With no eggs and purely organic ingredients, this cake can be served as an extra rich addition to special occasions and holiday gatherings, and is perfect paired with strong coffee or a robust red wine.
45. Easy Flourless Chocolate Cake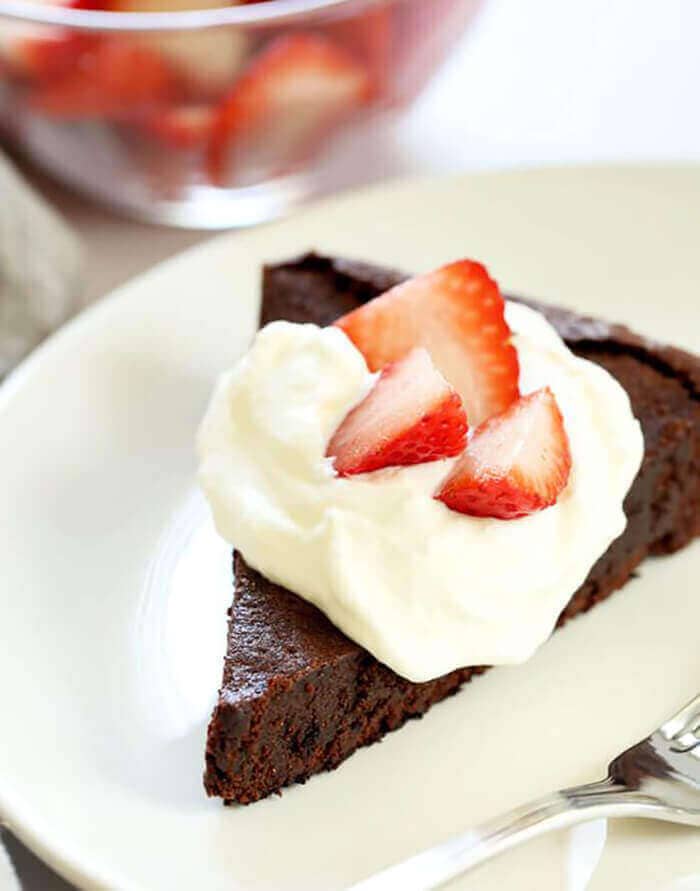 This cake is great when you're in a pinch, using only dark chocolate, butter, cane sugar, egg whites, and cocoa powder. You don't even need to use any fancy tools or systems; just toss the ingredients in, stir, and bake. Great for cupcakes, sundaes, or after school treats, this cake is an easy recipe that does't skimp on the yumminess.
46. Chocolate Beet Cake With Chocolate Avocado Frosting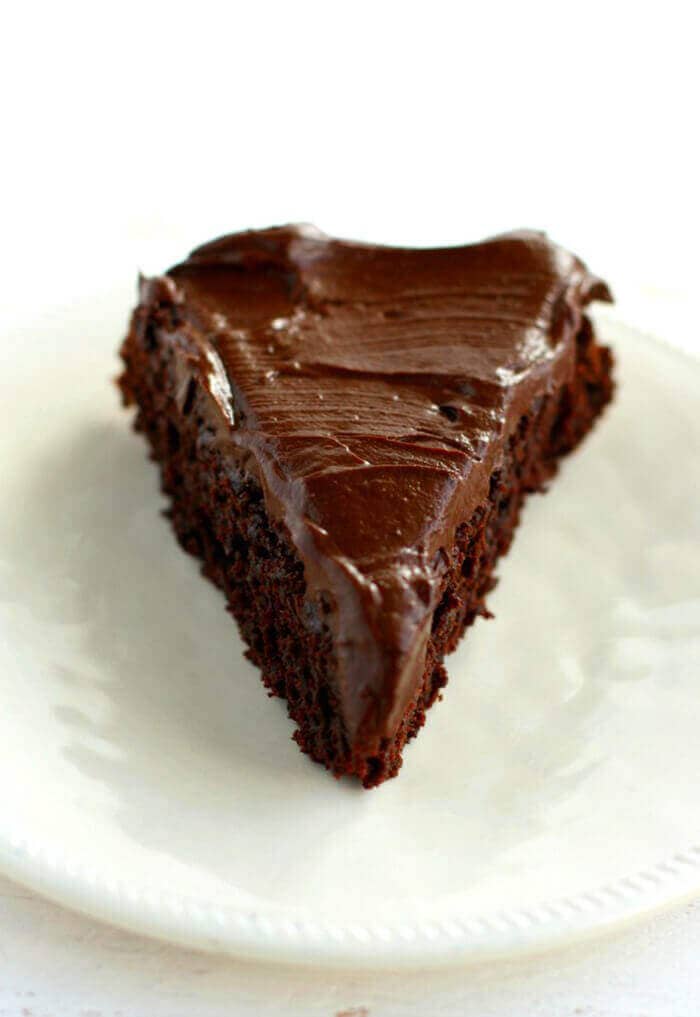 Gardening just got delicious with this all natural chocolate beet cake with avocado frosting. Far from being a salad but serving up its own side of veggies, this super-moist gluten-free chocolate cake recipe is far from your standard garden fare. The beet puree is what gives this cake its rich color and slight tang, along with some considerable nutrients, but if you're out of beets or aren't a fan you can easily use any type of fruit puree such as apple sauce or prune puree.
47. Grain-free Chocolate Cake with Dark Chocolate Ganache Frosting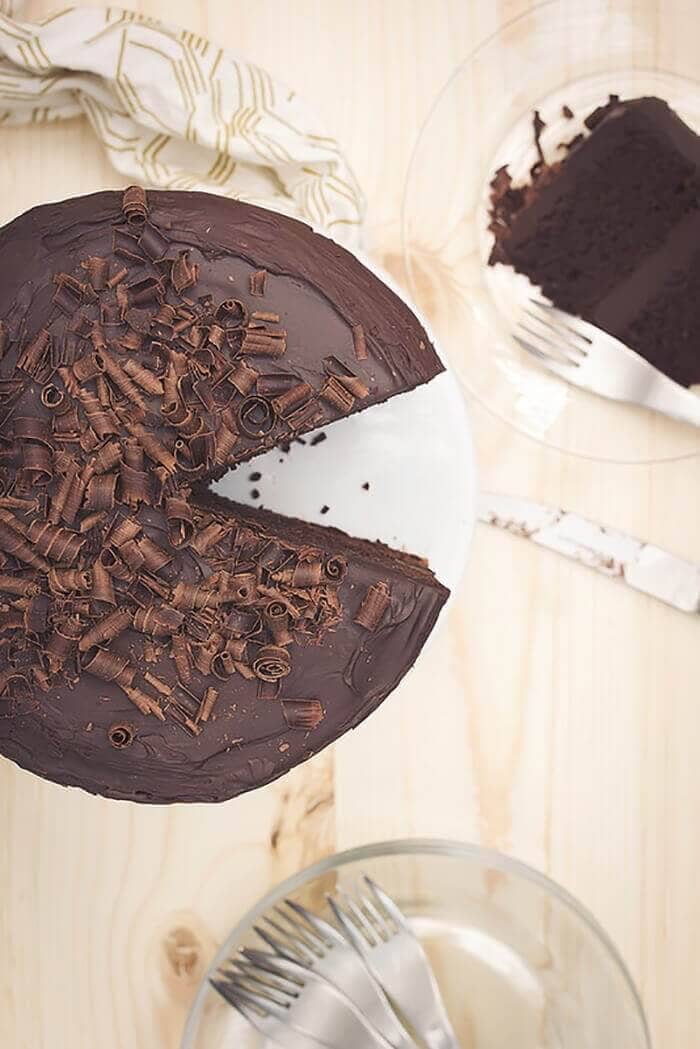 This two-layer grain-free chocolate cake with dark chocolate ganache is rich and fudgey, with a slightly grainy texture just like a cake made from flour. Gluten-free devotees will marvel at how decadent this cake is without being too overpowering, with just the right amount of sweetness to satisfy your sweet tooth without threatening a trip to the dentist. Tip: Whip up the ganache ahead of time and frost as you would a regular cake for more thickness, as opposed to a more traditional ganache "drizzle."
48. Vegan Chocolate Cake With Whipped Ganache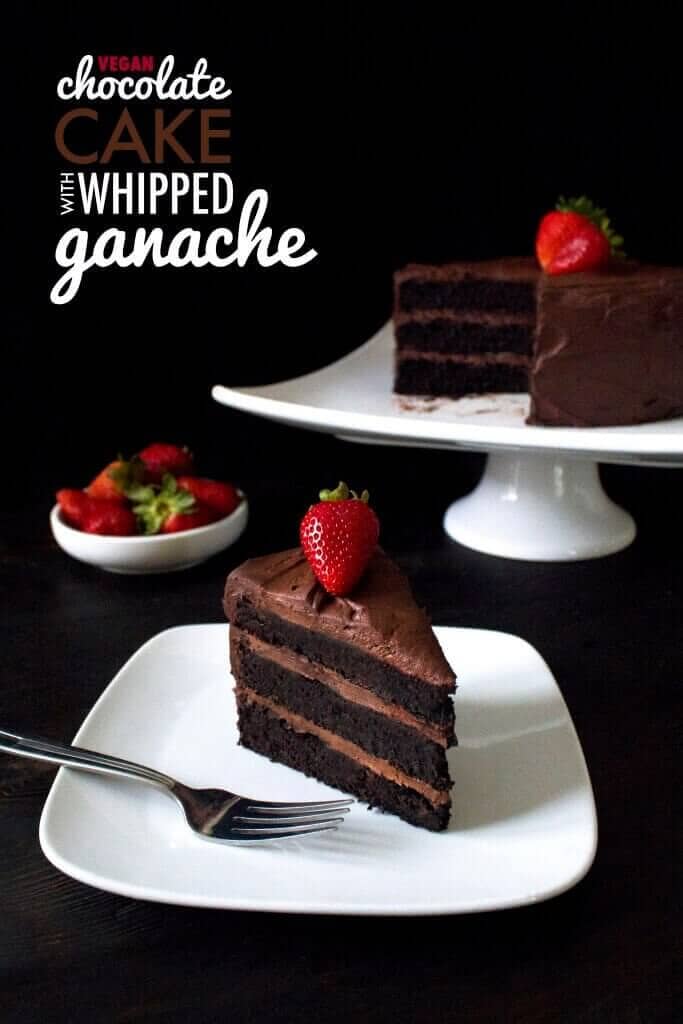 Gluten-free flour, pure maple syrup, coconut oil, flax meal, and mashed avocado make this yummy vegan chocolate cake one of the best chocolate cake recipes for those who prefer their sweets on the organic side. Perfect for incorporating into a gluten-free meal idea, this rich ganache-topped cake is excellent served on its own or with a side of fresh berries or fruit compote.
49. Gluten-Free Chocolate Magic Custard Cake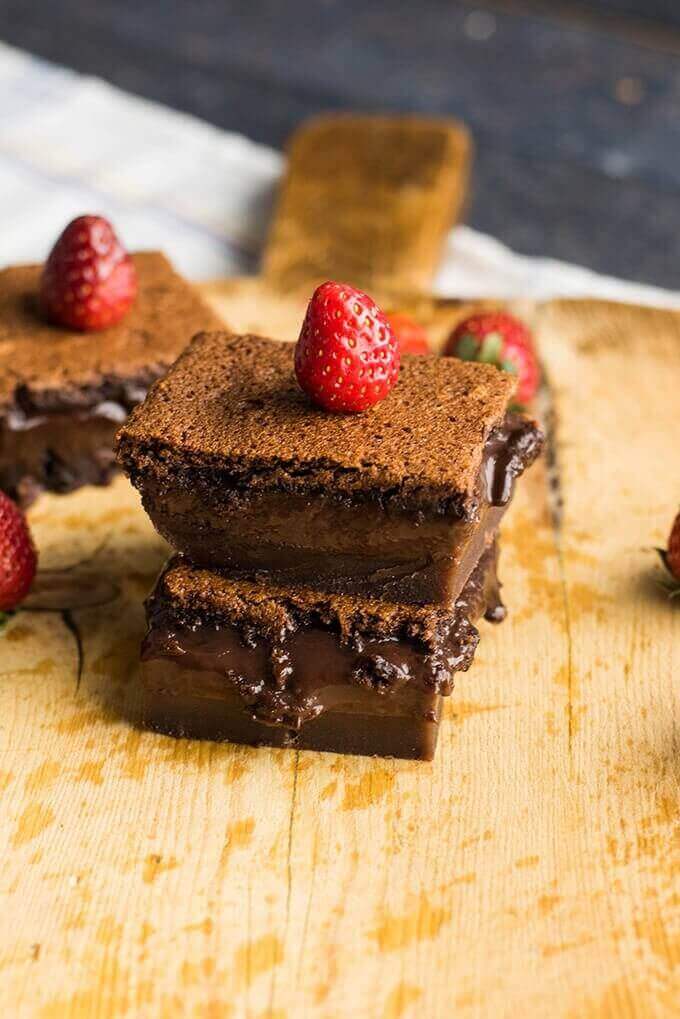 This cake is everything it promises from the first bite: rich, ooey-gooey chocolate with a consistency that's sure to win the hearts of pudding lovers everywhere. Some helpful tips to keep in mind when preparing this yummy custard cake: cold eggs are easier to separate, so separate them first then leave them be at room temperature for a bit while they reach. The temperatures of the other ingredients are also important; the eggs will cook at a faster rate if you use melted butter or hot milk, which is a no-no where this gluten-free chocolate cake recipe is concerned. Make sure you keep this one refrigerated if you don't want too much goopiness after it's left out–which isn't necessarily a bad thing either!
50. Chocolate Sweet Potato Cake (Vegan, Gluten-free, Oil-free)
So far you've seen cakes on this list utilizing everything from avocado to beets and zucchini, so why not throw in a sweet potato and pitted dates and try this fabulously easy recipe that tastes even better and packs a few good-for-you benefits? The warm blended sweet potato adds a thick and fluffy consistency while the pitted dates keep the frosting on a slightly tangy, acidic side. Serve this unique cake with all your holiday favorites for a new spin on a time honored dessert, and with Thanksgiving just around the corner there's no better time to make a debut.
Indulging Gluten-free Style: 50 Decadent Chocolate Recipes
Desserts definitely aren't off limits for the gluten intolerant these days, and these gluten-free chocolate cakes are a prime example of just how creative you can get without sacrificing the results you deserve. And while the gluten-free diet may not be necessary for the majority of us, it's important to recognize the pros and cons of opting for a gluten-free lifestyle. Celebrity fads and touted trends always carry a dubious component, and gluten-free living has unfortunately joined the list of "trending" diets.
So here are some of the cold hard facts: according to studies conducted in the last decade, about 1 in 100 people (roughly 1%) have celiac disease, with about 0.4% of Americans carrying a doctor-diagnosed wheat allergy. An even larger group of people is estimated to have a non-celiac gluten sensitivity, which may produce similar symptoms to varying degrees.
Furthermore, people without gluten allergies may consider doing away with gluten ingredients and food items for the overall benefit to their health, though it's worth noting that studies have yet to conclude the benefits of a gluten-free diet for those without an allergy to gluten proteins.
So does all of this mean you shouldn't enjoy gluten-free cakes and goodies if you won't have an allergy? Certainly not! Gluten-free and/or flourless qualities aside, many of the recipes listed above contain naturally good-for-you ingredients like zucchini, beets, prunes, avocados, and coconut oil, as well as better alternatives to refined sugars and flours. A good gluten-free recipe not only fulfills that one requirement, but also finds healthier ways to substitute ingredients that aren't beneficial to any of us, gluten intolerant or not. In short, the best chocolate cake recipes offer everything you crave while keeping the less than desirable aspects as few as possible.
The next time you find yourself looking for a more nutritious way to treat yourself, your family, and friends, take a look at these amazing chocolate cake recipes and see for yourself just how enjoyable the gluten-free sweet tooth can be.