50 Fantastic Gluten-Free Carrot Cake Recipes You Must Bake Now
Carrot cakes remind us of smells from Grandma's kitchen, decadent Easter spreads and perhaps a childhood favorite birthday cake flavor. With their aromatic spiciness and soft texture from refined flours and sugar, carrot cake seems impossible to replicate with gluten-free ingredients. So often, new gluten-free bakers feel bewildered as they turn from all the gluten filled recipes they've known and loved to a completely new world of ingredients and techniques. Perhaps your first attempts at gluten-free baking turned into colossal flops: heavy, lumpy, flavorless and gritty.
50 Fabulous Gluten-Free Carrot Cakes the whole Family will Love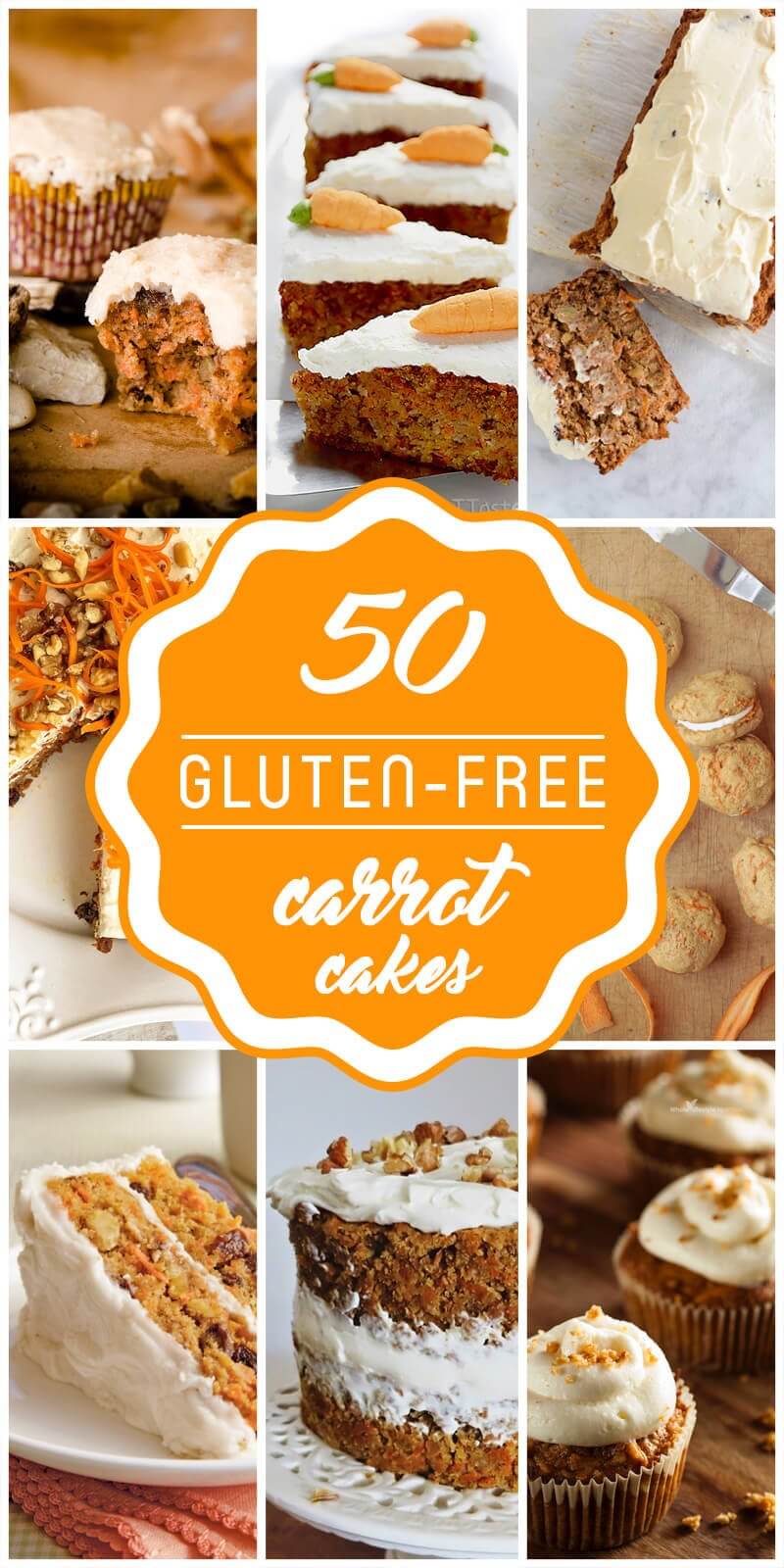 Never fear, with these top 50 gluten-free carrot cake recipes you'll find new favorites, twists on unique dessert ideas and tantalizing flavor combinations. From simple gluten-free cake mix hacks, to homemade cheesecake, donuts and cookies based on this much-loved dessert, you'll find a gluten-free recipe to satisfy any carrot cake craving. Check out the recipes for ice cream cake, carrot cake whoopie pies, and even a decked out tri-layer cheesecake.
The extensive step-by-step directions in these 50 top recipes will guide you through discovering new, tasty, baked goods that your family will beg you to make often. For those with additional allergies, be sure to check out the vegan, egg-free, dairy-free, and nut-free options.
1. Carrot Cake Loaf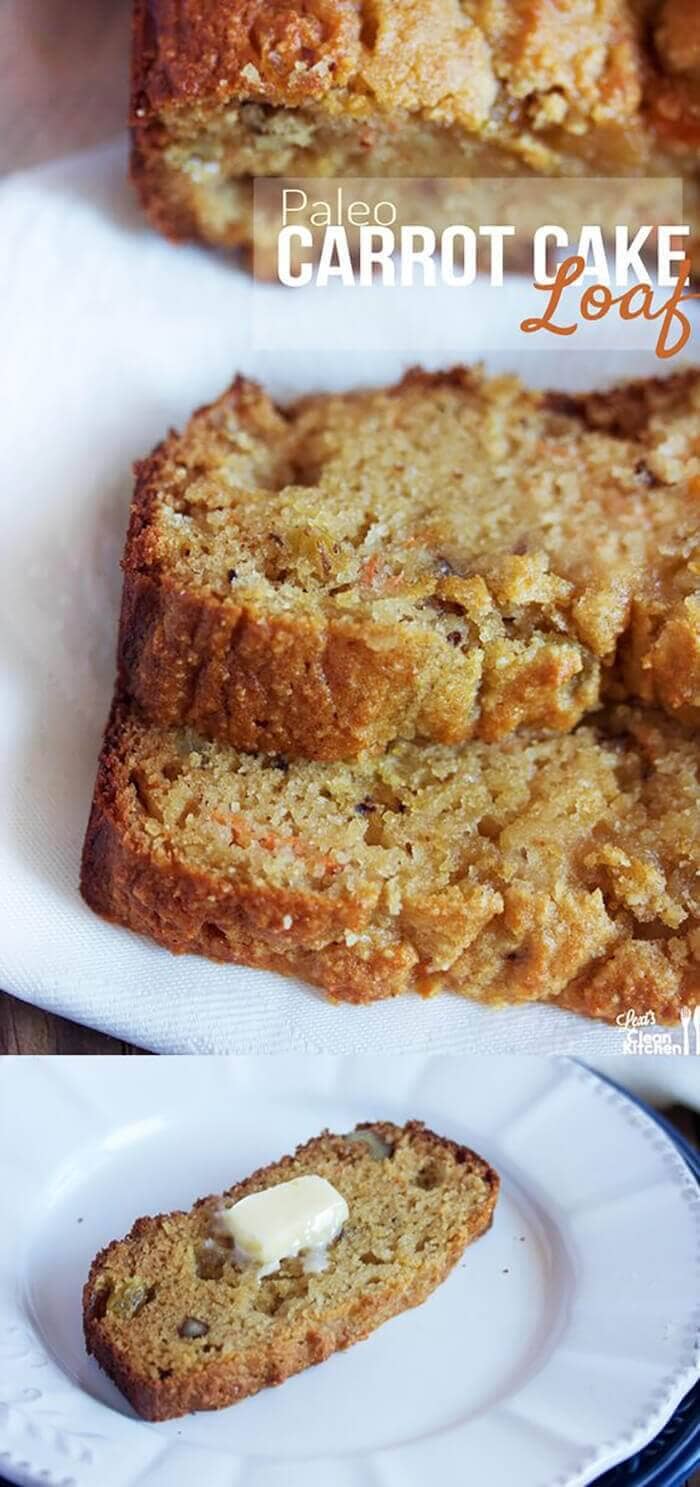 You'll stop missing the delicious, soft carrot cake of your carb-laden years when you take a bite of this gluten-free carrot cake loaf. Perfect for a holiday brunch, smear this healthy, paleo bread with a dab of butter or go dairy-free by toasting it and dipping it in some honey. This recipe features basic ingredients any kitchen would contain, like almond meal, honey and coconut flour and bakes into a thick hearty loaf. You kitchen will smell so amazing from the cinnamon, walnuts and other spices as this cake bakes, that you may decide you don't even need a frosting for it.
2. Vegan Gluten-free Carrot Cake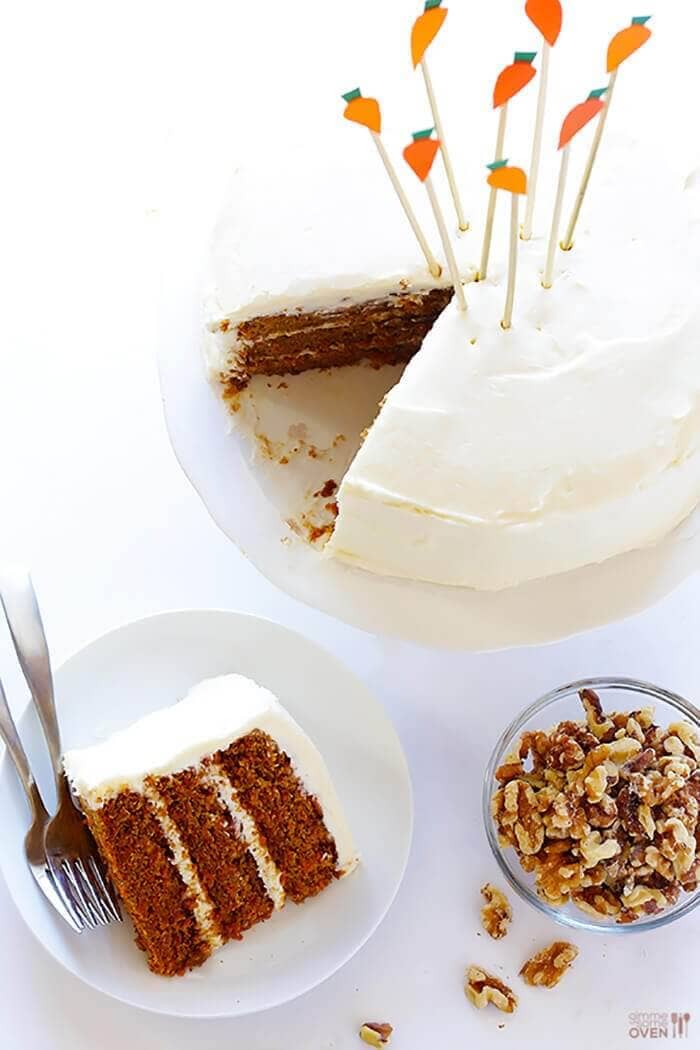 Celebrate a special occasion with this egg free culinary delight. Your guests will never guess that the cream cheese frosting is dairy free, but apple cider vinegar is the secret ingredient that works magic and gives it that classic cream cheese pop of tanginess. You'll find the convenient Bob's Red Mill gluten-free baking flour blend used in this recipe in most grocery stores. This cake's delicate blend of spices will have you coming back for seconds… and thirds.
3. Clean Eating Carrot Cake Oatmeal Cookies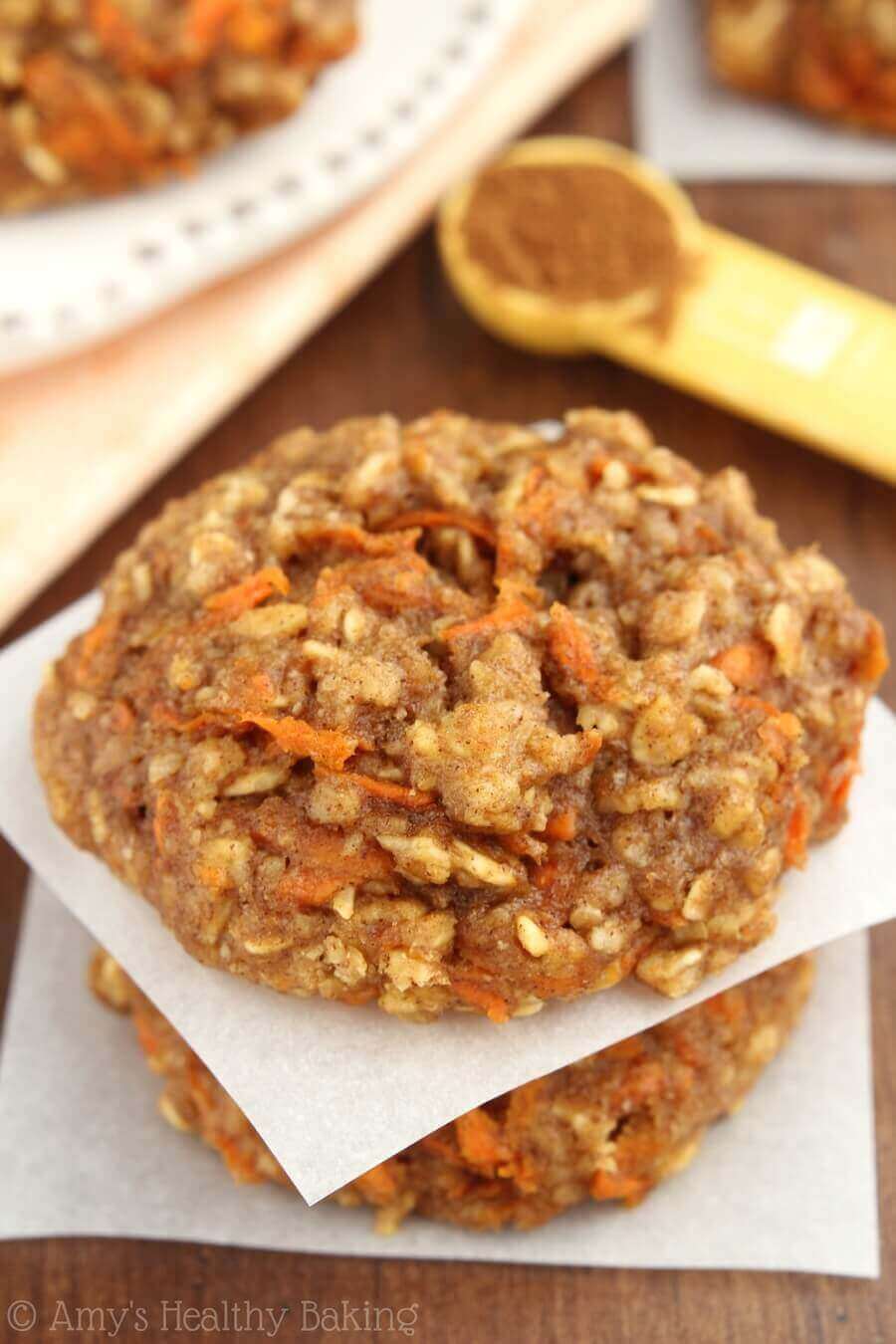 You may be dying for carrot cake but probably shouldn't eat that 12 serving monstrosity by yourself. Enter these delicious (and portion controlled) carrot cake oatmeal cookies. Made from simple, whole ingredients, these soft oatmeal cookies will have you thinking that Grandma has come to stay. Unlike Grandma's cookies, however, these little nuggets boast a healthy twist and are delicately sweetened with maple syrup. Check out the dairy-free ingredient suggestions as well. Chewy perfection awaits you when you throw together a batch of these delicious treats.
4. Healthy Carrot Cake

No need for frosting here, this gluten-free cake is so delicious that you could eat it plain. Bursting with walnuts and healthfully sweetened with a stevia blend, your blood sugar AND your taste buds will thank you for sampling this treat. Guests and family will never know, as they bite into a hearty slice, that they're eating a balanced high-protein meal. You may choose to tell them about the Greek yogurt and protein powder in this robust cake, but I'd prefer to keep it a secret and let them think they're indulging.
5. Gluten-free Carrot Cake (Moist and Fluffy)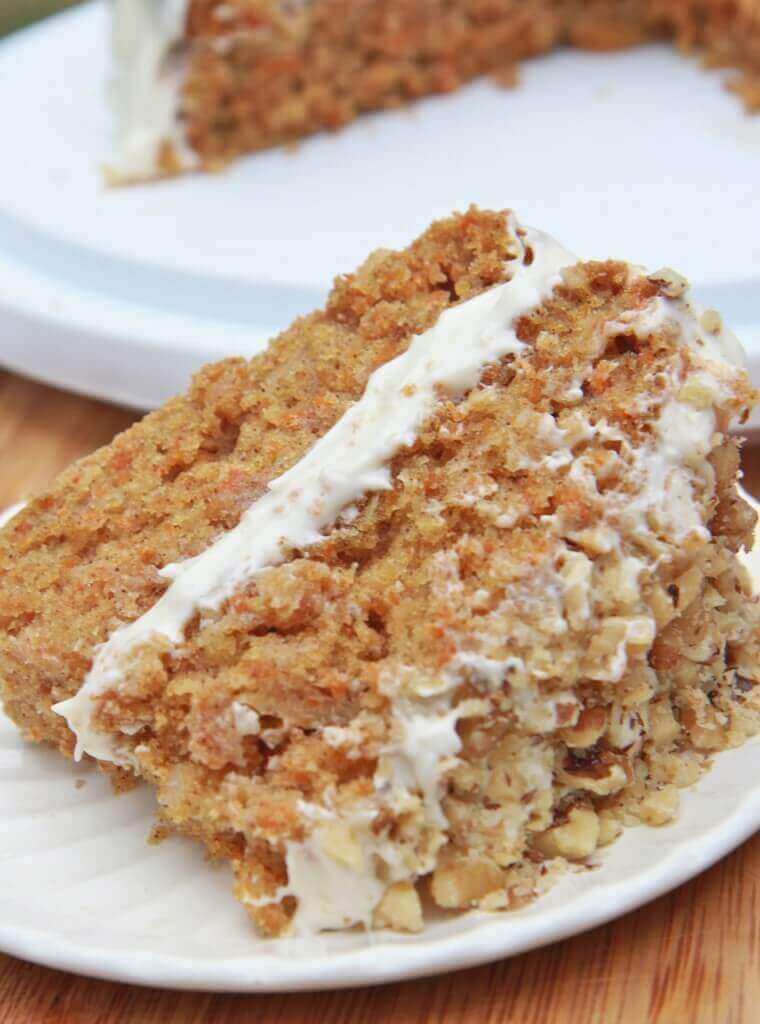 Fork up a bite of fluffy deliciousness and creamy goodness without even a touch of grit, and forget that you've gone gluten-free for a moment. The secret to this layer cake's fluffy texture is- who knew- rice flour. Follow the recommendation to use Pamela's Artisan Flour blend in this recipe and create your own carrot cake masterpiece. This recipe is awesome for serving at events with gluten-free guests and people with no sensitivities. Friends and family won't even realize you've made a cake that everyone can enjoy. This recipe is also chock full of baking tips to guide you to the portal of carpe diem carrot cake-hood.
6. The Best Hummingbird Cake
This gluten-free cake is an adaptation of a classic Country Living recipe including pineapple and roast banana. No one is sure why it has such a fanciful name, but its tropical flavors may hint at Jamaican roots. I would describe this cake as a cross between a rich fruit cake and a summery carrot cake. This decadent triple layer cake is decked out with fluffy cream cheese icing. Whether you're a southern belle or not, this cake is a must-bake for its unique flavor combination and luscious fruity texture.
7. Moist Carrot Cake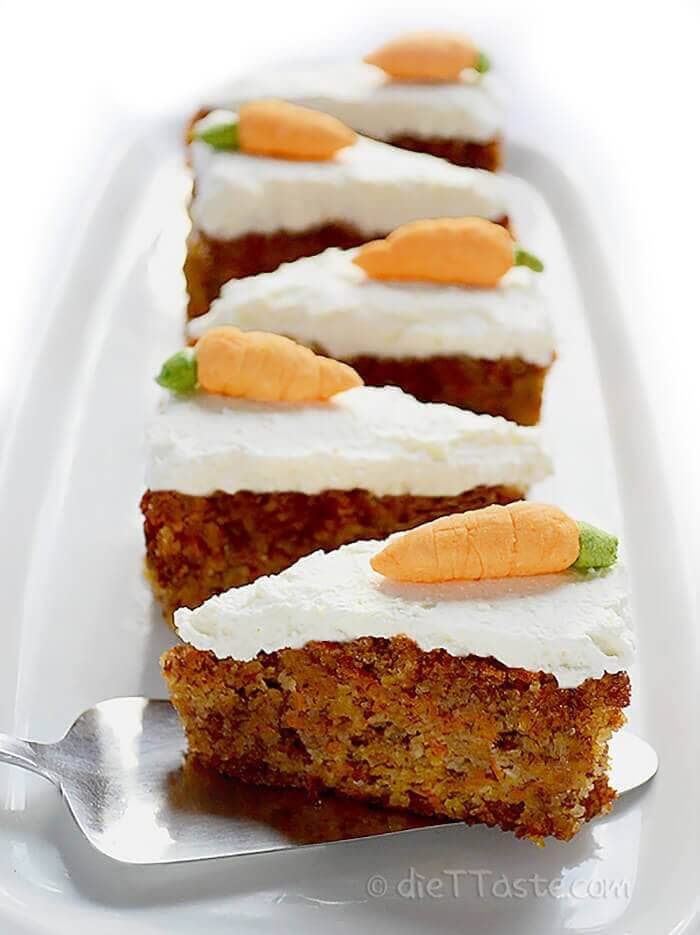 No running to the grocery store for unheard-of specialty ingredients, this simple gluten-free recipe makes a single layer cake with just basic almond flour from your pantry and plain yogurt as a base. With a basic two-bowl mixing method, you'll have its tasty warm goodness whipped up in no time and ready to eat. Perfect for a quiet evening at home, this is a small dessert that fits in an 8X8 pan. Top it with an easy recipe for a basic cream cheese frosting. Voila, you've got an easy dessert for any weeknight.
8. Gluten-free Carrot Cake with Cream Cheese Frosting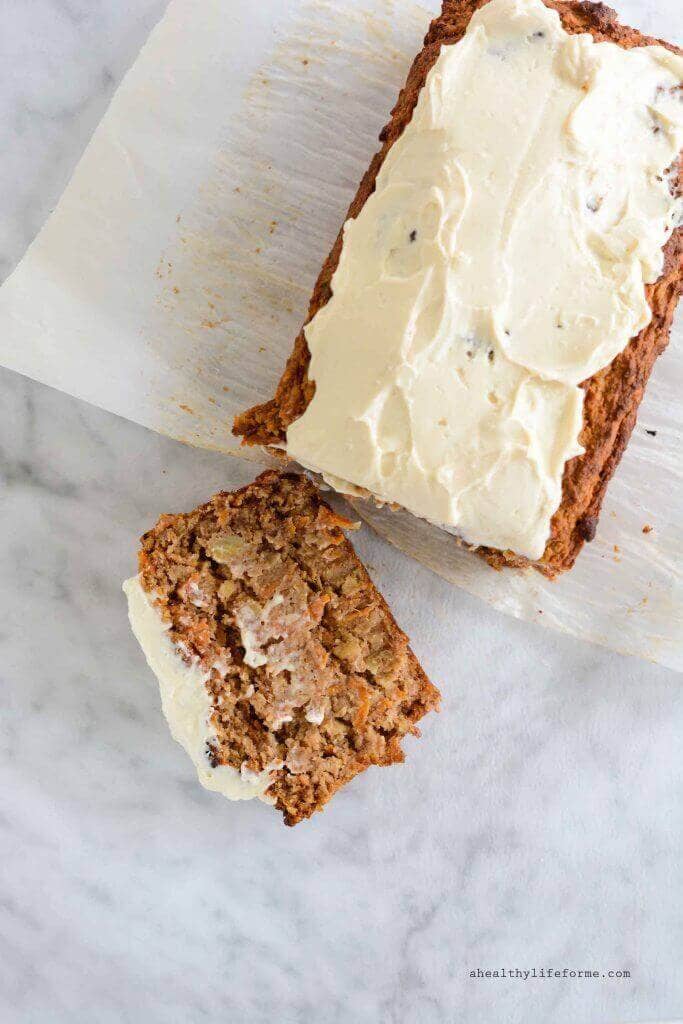 This recipe boasts a whopping 3 cups of grated carrots, so you'll be sure to get an extra dose of that beta-carotene from this healthy treat. Bob's Red Mill gluten-free pizza crust mix is the recommended gluten-free flour blend, but if you want to try a homemade blend, directions are given for the amount of xanthan gum necessary to make this delicious recipe with good texture and crumb. This recipe will make 36 cupcakes enough to feed a small army.
9. Paleo Diet Carrot Cupcakes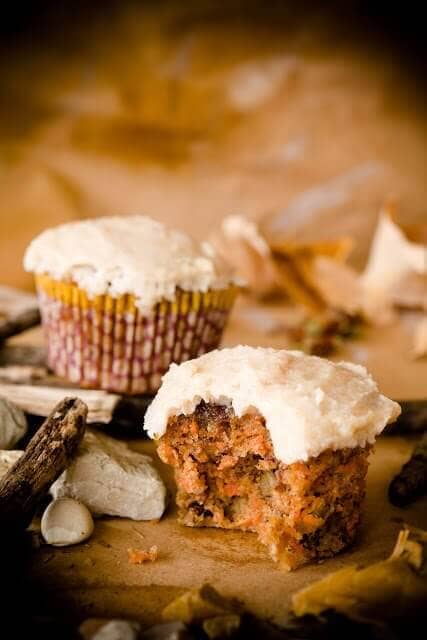 Breaking away from the mold of basic cream cheese frosting, these cupcakes feature a unique coconut oil and maple syrup icing recipe. We all know at least one cream cheese hater so perhaps this is the recipe to bring them around to enjoying carrot cake. The shredded carrots are accompanied by the usual spices, but, in addition, this recipe features the delightfully warm and aromatic flavor of cardamom. The sweeteners, pureed dates and maple syrup, complement the cardamom by adding caramel and woodsy undertones. Delight your taste buds with this unique, rich trio of flavors and you won't miss the processed, fake carrot cakes of your pre-diet days.
10. Gluten-free Carrot Cake Vegan Cheesecake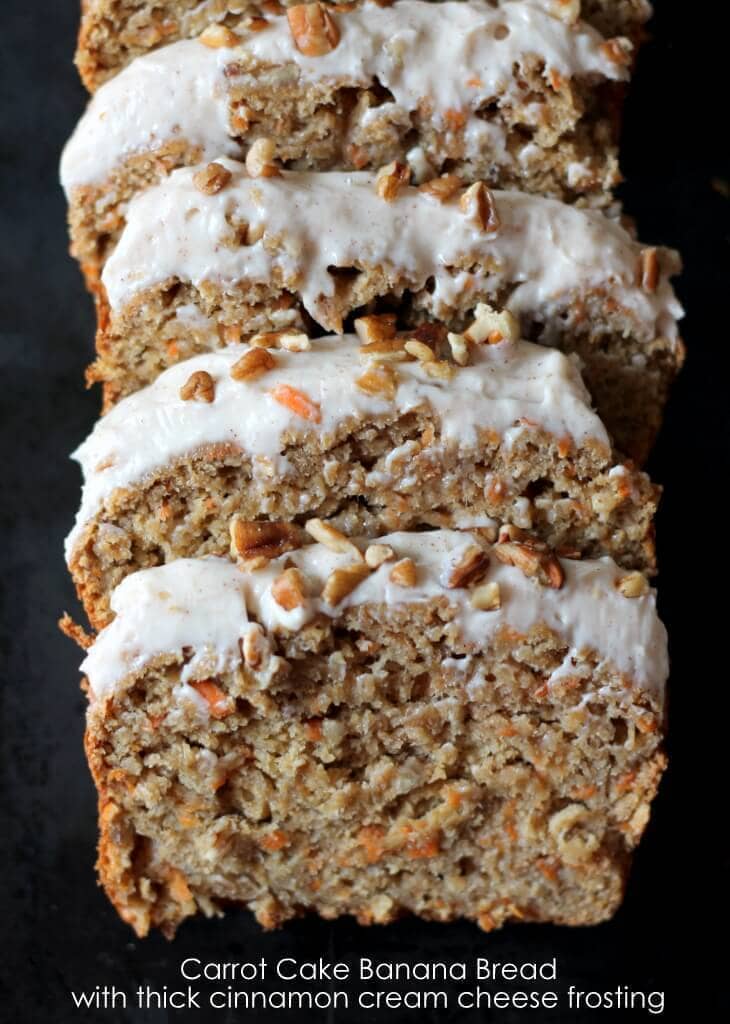 There are many gluten-free cheesecake recipes, but paleo is a different story. Making a baked cheesecake without dairy or eggs, well, requires ingenuity. Whipped nut creams, carrot baby food, and agave are the secret ingredients that create this creamy, baked "cheesecake". Set on a crisp coconut flour crust, the smooth filling is baked to perfection. You'll need to plan ahead when creating this carrot masterpiece, as it requires chilling overnight before applying the dollops of whipped coconut cream. This cheesecake takes time and organization to create, but presents impressive results.
11. Carrot Zucchini Muffins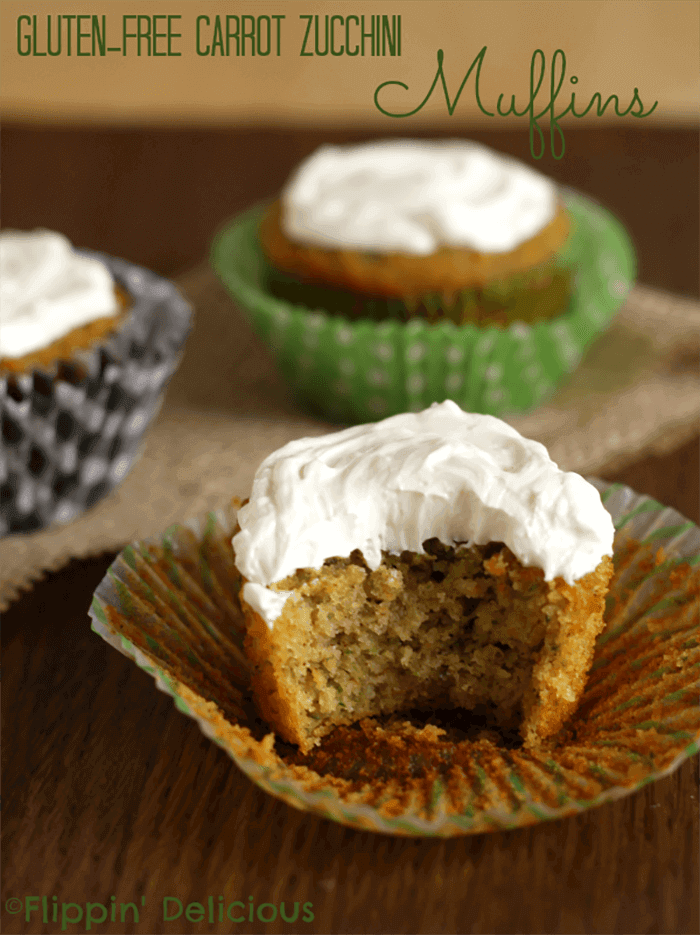 Who knew getting your veggies could be so delicious? Packed with carrots and zucchini, this easy recipe for gluten-free muffins and cream cheese frosting are delicately sweetened with all natural honey. A little rice flour gives these muffins a lighter texture, but you can substitute almond flour if you want to be completely grain free. Sneak those kiddos one of these muffins, and cut out that sugar laden breakfast food.
12. Low Carb Carrot Cake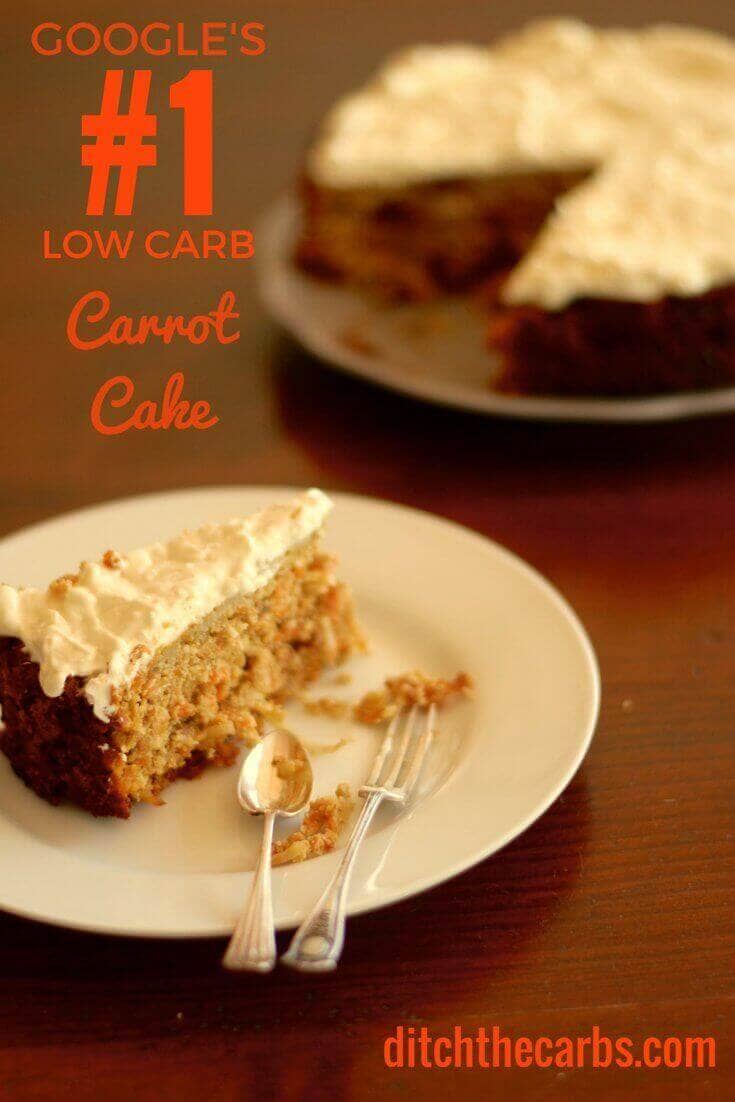 This versatile gluten-free carrot cake recipe can even be made nut-free by subbing ground sunflower seeds for the almond meal. Topping Google's results for low-carb carrot cake searches, this recipes has become very popular with anyone looking for grain-free options. Sweetened with stevia, this cake is very gentle on your blood sugar which makes it a must have for your low carb recipe box.
13. Flourless Morning Glory Muffins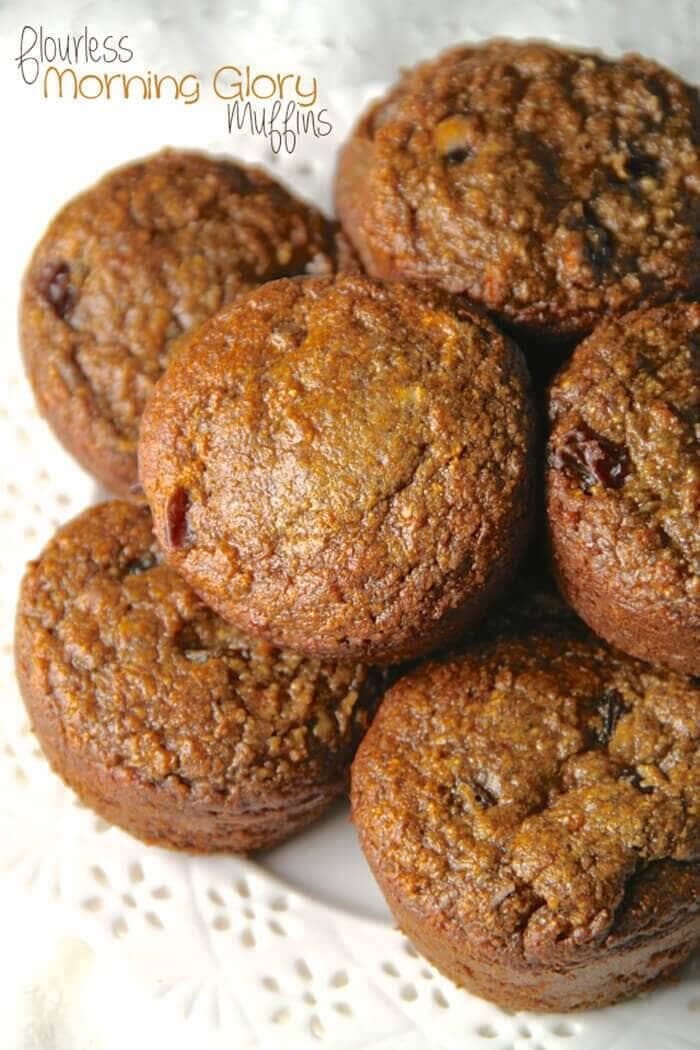 Originally created by the Morning Glory Café in Nantucket, these namesake muffins were filled with apples, coconut, pineapple, and just about any other fruit the chef might seize upon. Thankfully, this delicious, fruity concoction lends itself well to flourless cooking. These muffins are probably one of the easiest recipes in this list to mix up. With just the touch of a button, you can whip up this easy recipe in your blender. That's right, this simple low fat low carb recipe involves just one tool, and the results are a hearty muffin that will keep you going for hours.
14. Carrot Cake Granola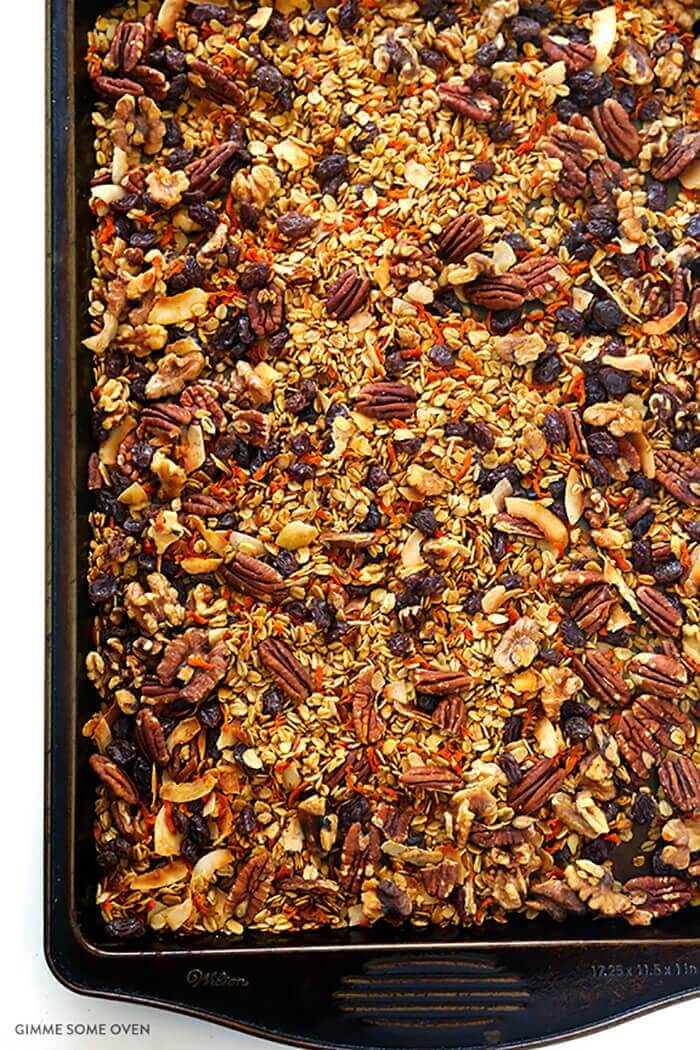 Step aside pumpkin-flavored everything because this recipe takes your spring carrot cake cravings to a whole new level. With a little roasted carrot, some maple syrup to bind the other ingredients and the cinnamon-y spice combination, you can have a gluten-free cereal that's delicious and economical. This easy recipe lends itself to lots of customization, as you could add coconut, chocolate, sunflower seeds, dates and a host of other ingredients to this base for amazing combinations. For breakfast or a snack, just a bite of this convenient, healthful granola mix will satisfy your sweet tooth without ruining your diet.
15. Gluten-free Carrot Cupcakes with Honey Cream Cheese Frosting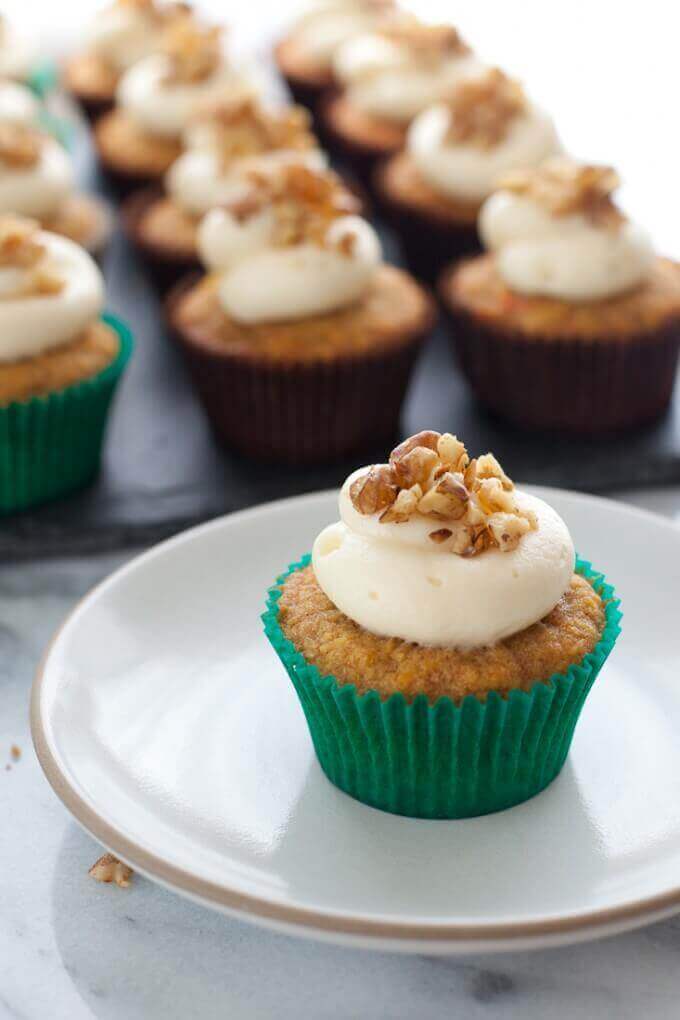 This recipe is a little more difficult than most, but you'll find the texture and flavor amazing. The chestnut flour adds to the complex nutty flavor, and gives this cake a fluffier texture than almond flour. Combined with the sweet rice flour and economical oat flour, you'll find this recipe takes the cake for a light fluffy texture. Seasoned cooks will see that this concoction includes a favorite old-time cake ingredient, buttermilk. The cake itself is sweetened with refined sugar, but the icing uses honey for a unique flavor. While many gluten-free carrot cakes are dense and spicy, this recipe focuses on subtle flavorings and creating a light and airy crumb.
16. Raw Carrot Cake Bites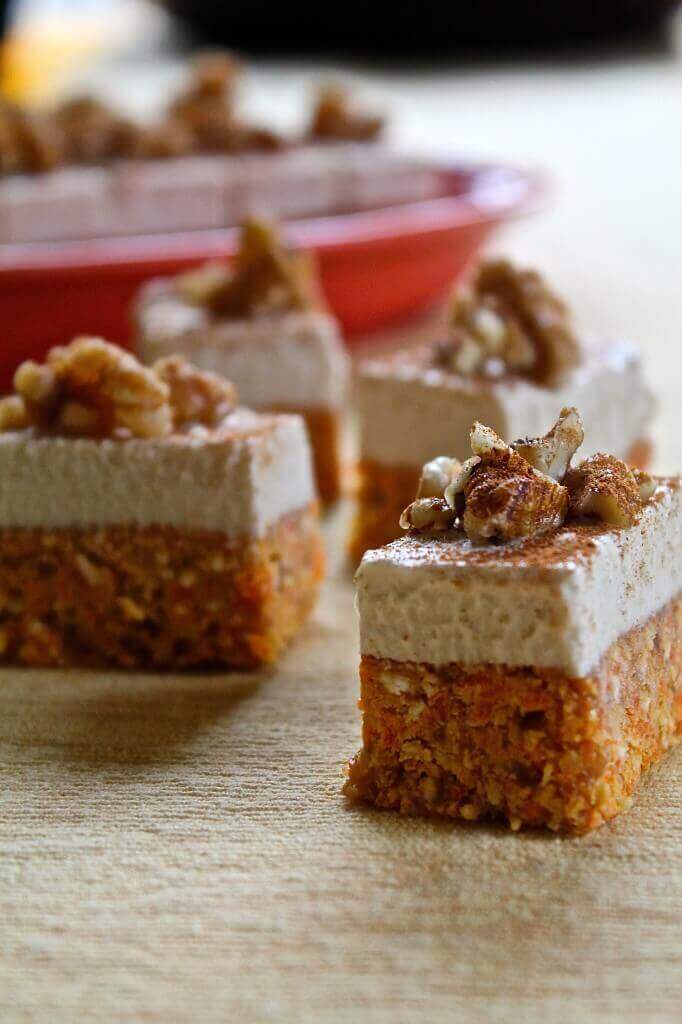 These convenient, two-layer vegan squares are gently sweetened with dates and have a delicious crunch of walnuts, coconut and carrots. For a truly fresh tasting snack, try whipping these up in your blender- no baking required. The dairy-free cashew cream requires a little preplanning due to needing overnight soaking. Be sure to note the fact that cashew cream can take as long as 10 minutes in a food processor to develop the whipped consistency you want in a topping. Reminiscent of icebox cake, these delicious, vegan bars are a great healthy option.
17. Gluten-free Carrot Cake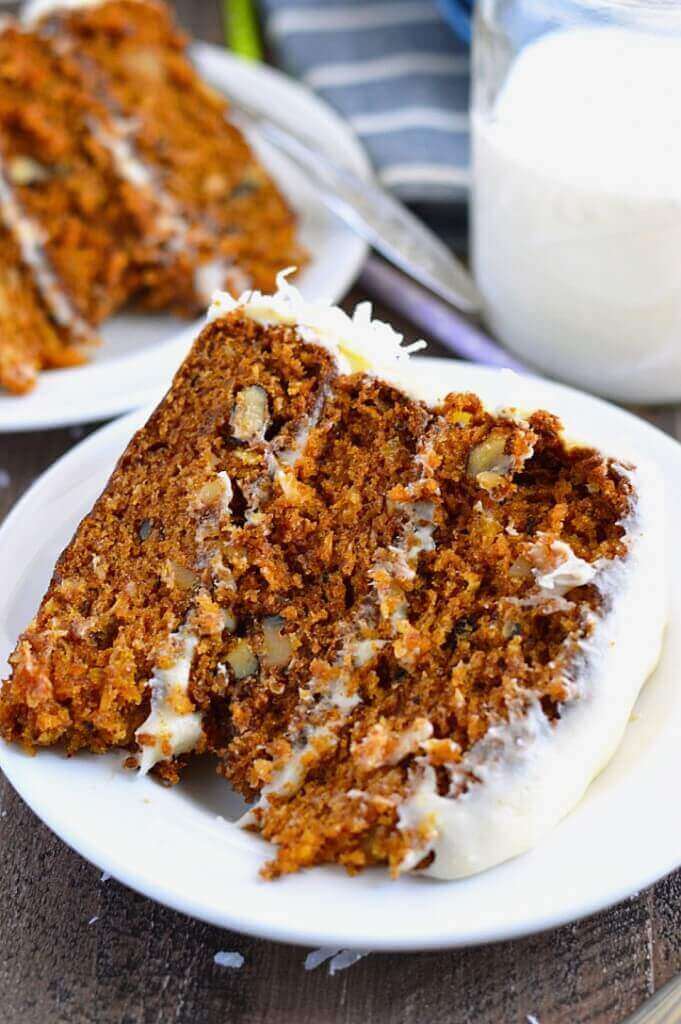 Gluten-free and dairy free, this recipe involves the extra step of cooking the carrots first, but it's a show stopping three layers thick. If you are pressed for time, you could substitute pureed baby food carrots which gives a similar result. While many recipes call for a number of flours, this one cuts down on time and mess by just using Bob's Red Mill 1-to-1 baking flour mix. Bursting with pineapple, coconut and walnuts, this gooey, rich cake is frosted with just a thin layer of dairy free icing.
18. Paleo Carrot Cake Cupcakes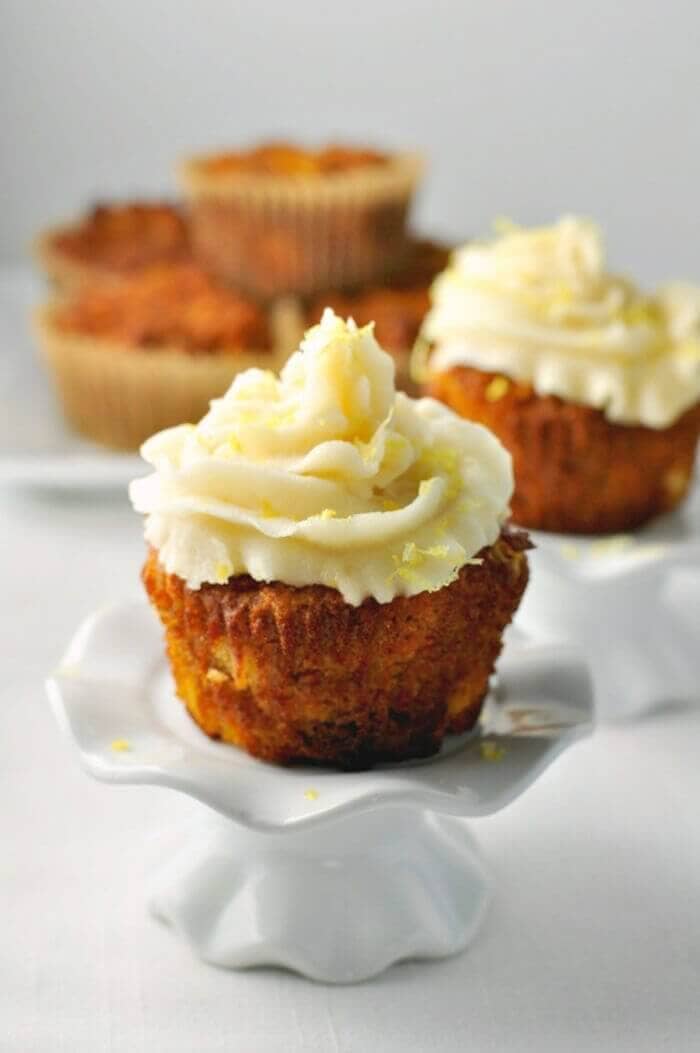 The star of this recipe is the ginger coconut butter frosting that tops these delectable carrot cupcakes. Complementing the freshly grated ginger is optional lemon or orange zest in this delightful, fresh tasting frosting, which is super simple to whip up in a food processor with a single step. Since they're paleo, the cupcakes are sweetened with all natural maple syrup. Walk away from refined sugar, dairy and grains, and take a bite of these delicious carrot cupcakes with a pop of ginger.
19. Paleo Carrot Cake Cookies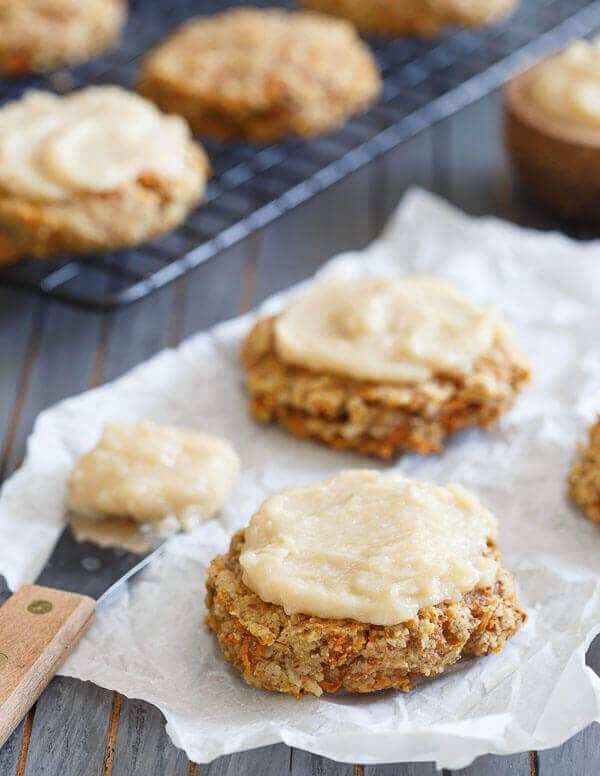 These textured paleo cookies feature lots of healthy fats and dairy-free "Cream Cheese" icing. If you love carrot cake, but love frosting even more, this easy recipe will give you the perfect icing per square-inch of carrot cake ratio. The simple icing is made from soaked cashews whipped into a cream. Sweetened with pure maple syrup, these iced cookies are a great treat for the whole family to take on the go.
20. Grain-free Carrot Cake Cupcakes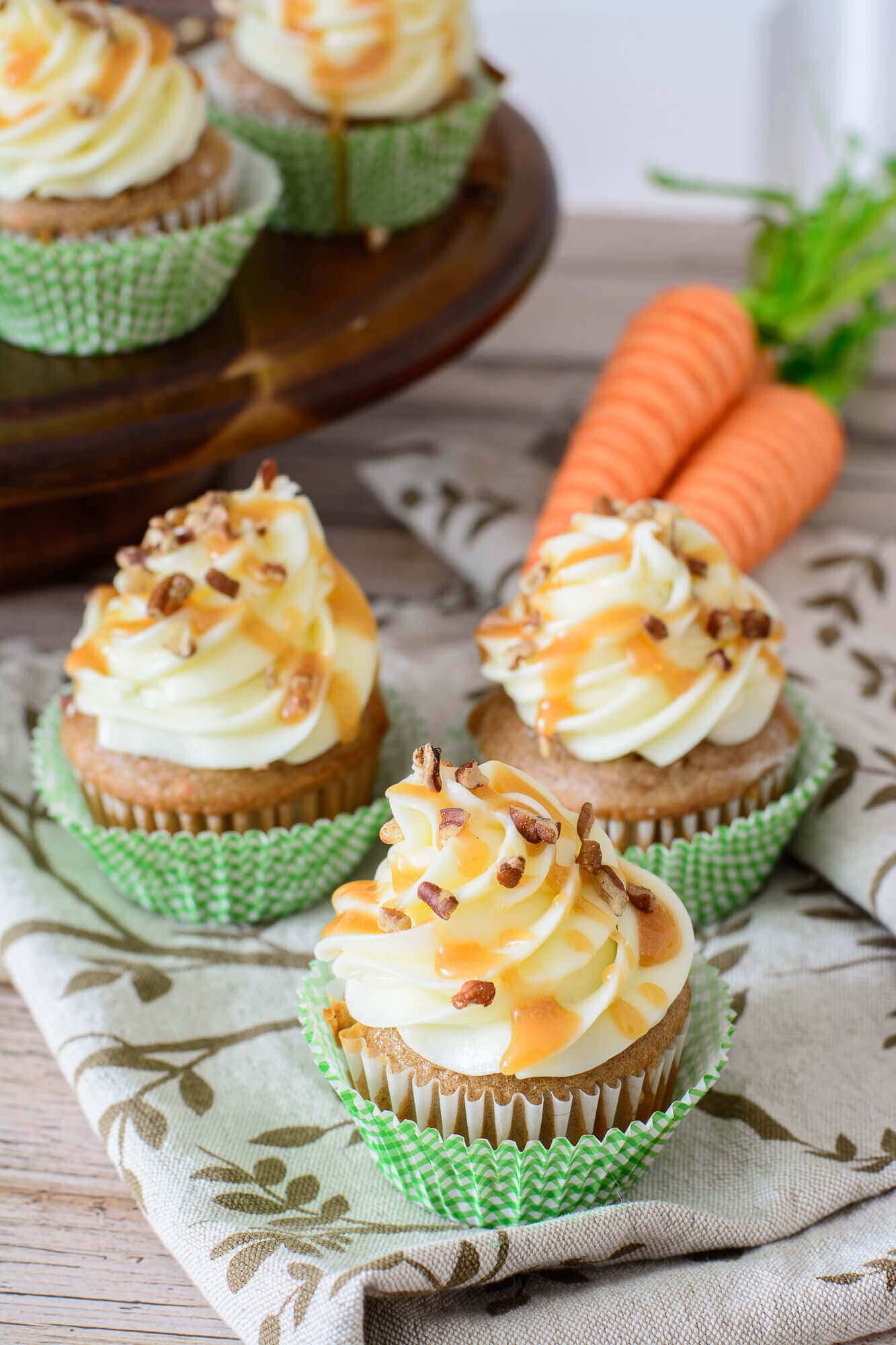 Grain-free with a dairy-free option, these cupcakes contain apple sauce for moisture and, as gluten-free options go, are fairly low fat. The frosting is a simple buttercream, though it can be made with margarine if you are also dairy-free. These cupcakes are a basic recipe, using just almond and coconut flour, and will have a heavier texture than some of the recipes that include rice flour.
21. Carrot Cake Sandwich Cookies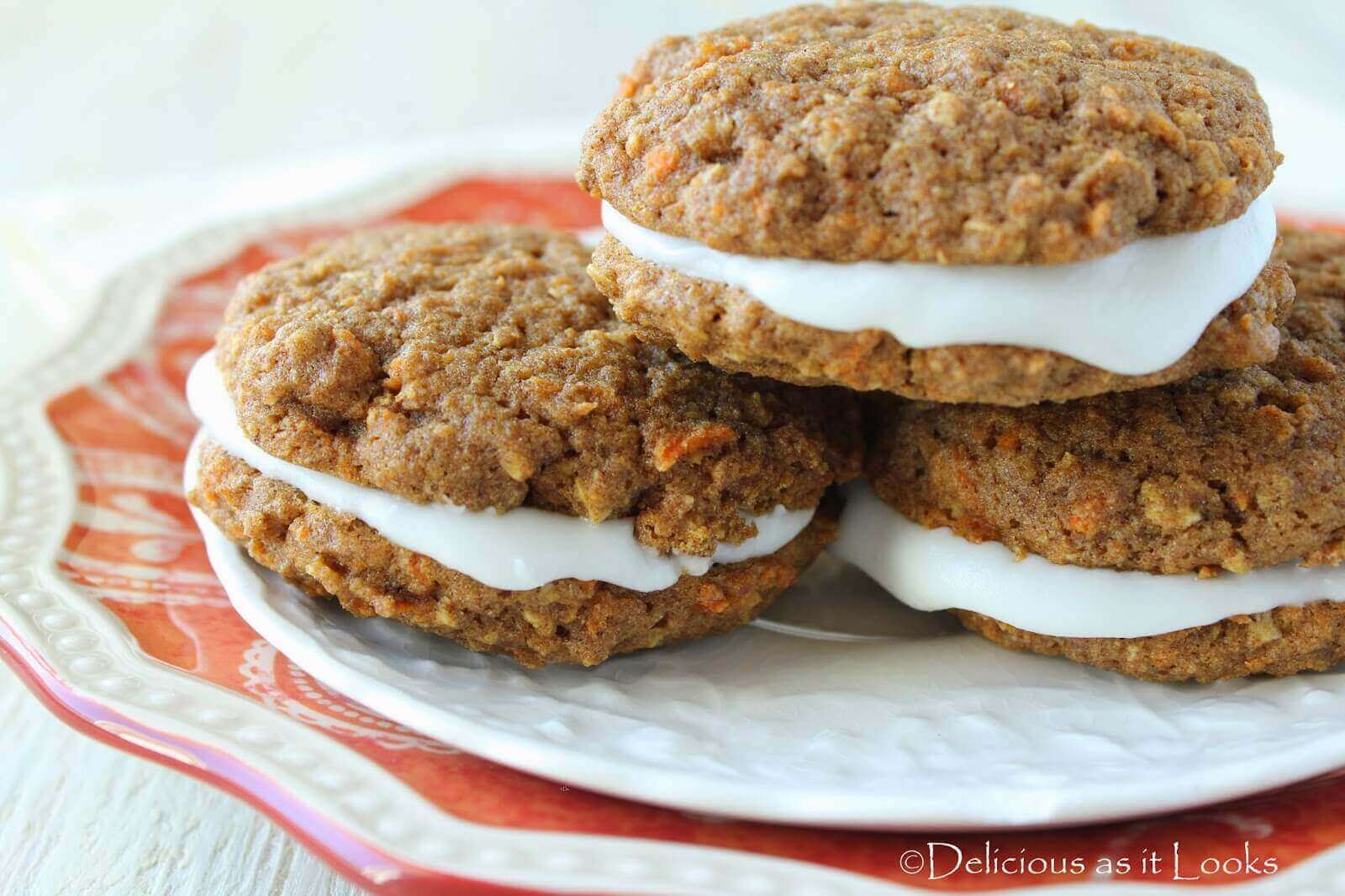 "Chia eggs" replace chicken eggs in this vegan whoopee pie recipe and provide the stickiness that holds this batter together. A blend of gluten-free flours, including sorghum, teff and oats, will give these cookies a soft texture without the heaviness of the typical almond flour. You may never have heard of teff, it's an ancient grain from Africa that is high in protein and fiber. Sandwiched together with a coconut oil based buttercream, these delicious cookies are both good and good for you.
22. Gluten-free Dairy Free Decadent Carrot Cake

This recipe requires a number of specialty ingredients: tapioca starch, sorghum, brown rice flour, palm shortening and xanthan gum. The xanthan gum is a popular ingredient in gluten-free cooking because it replaces the gluten from wheat flour really well. While it's titled decadent, you could make this a relatively low fat dessert if you chose not to frost it. Applesauce gives it a moist texture, so it only uses 1/3 cup of oil in the cake itself.
23. Gluten-free Carrot Cake with Whipped Cream Cheese Buttercream Frosting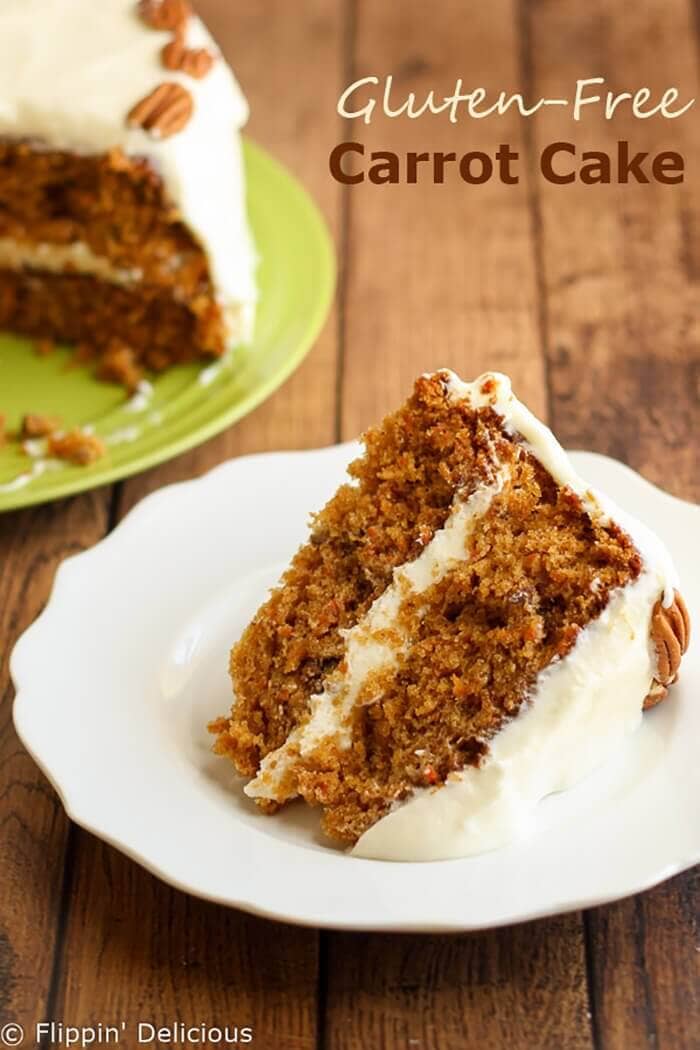 Load up this cake with add-ins, because it's been formulated to accommodate a whopping 1 ½ cups of them! Raisins, golden raisins, dates, coconut… the options are endless for customizing this rich cake. With a made from scratch gluten-free baking blend and ingredients found in most pantries, like brown sugar and vegetable oil, this cake will please the taste buds of even your sugar-loving mother-in-law.
24. Third Time Lucky Carrot Cake (Peachy Palate)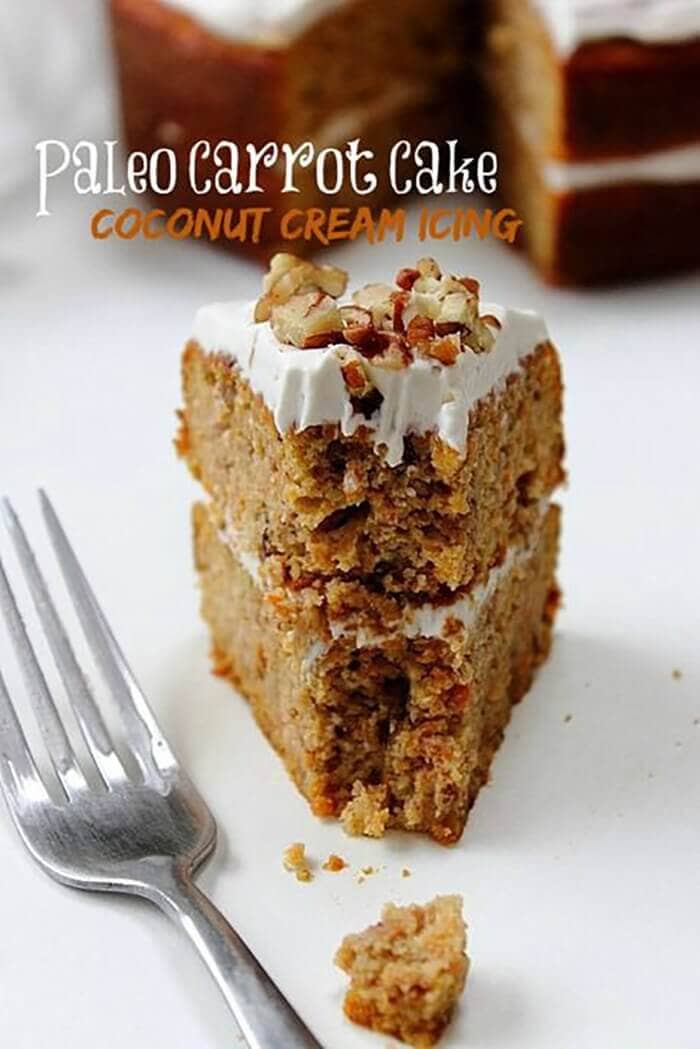 Hate cream cheese? This soft, fluffy icing is made from coconut milk and maple syrup, and has a gentle sweetness instead of the sharp tang of cream cheese. Made with 2 ½ cups of almond meal, you'll find this cake fine textured and just very slightly sweetened. No need to drag out cups and bowls, this is a 3 step food processor recipe. This easy cake recipe rates high on convenience and appearance.
25. Carrot Cake Mini Whoopie Pies with Honey-Orange Cream Cheese Icing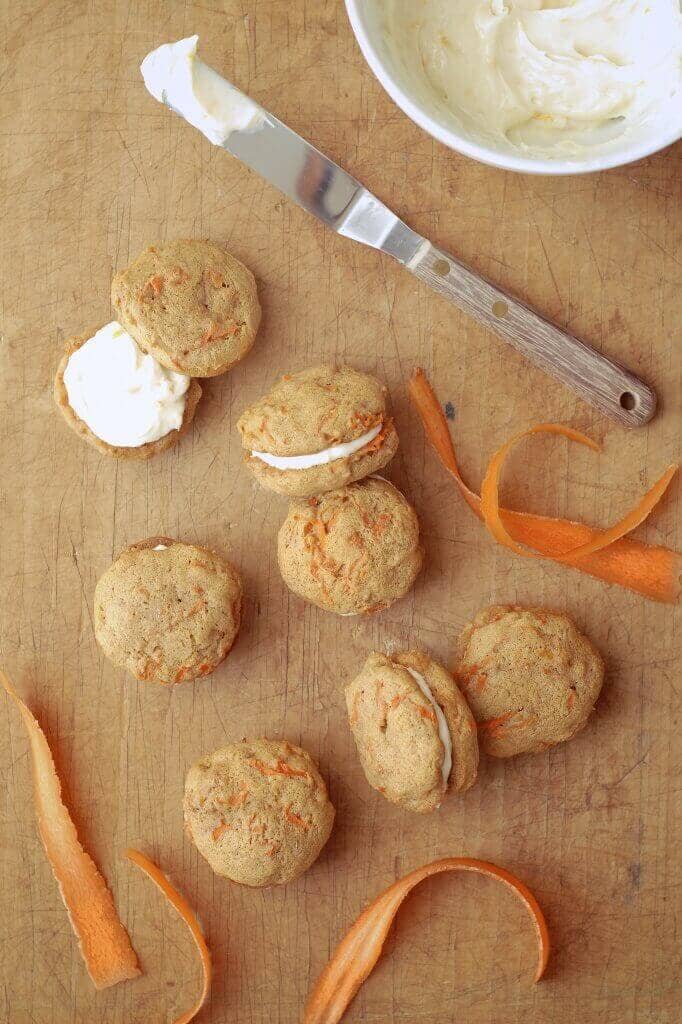 Yum, who doesn't love a whoopie pie? This handy recipe uses a gluten-free flour blend from Glutino instead of requiring you to measure out 3 or 4 different types of flours for the perfect blend. The dough is not overly saturated with carrots or other fruits, so you get a real cookie-like texture. The soft cream cheese icing squishes out delightfully from these sandwich cookies. With the rich flavor of butter and brown sugar and the unique citrus-flavored buttercream, these treats have the classic taste of spring.
26. Almond Carrot Cake with Lemon Cream Cheese Frosting (Gluten-free)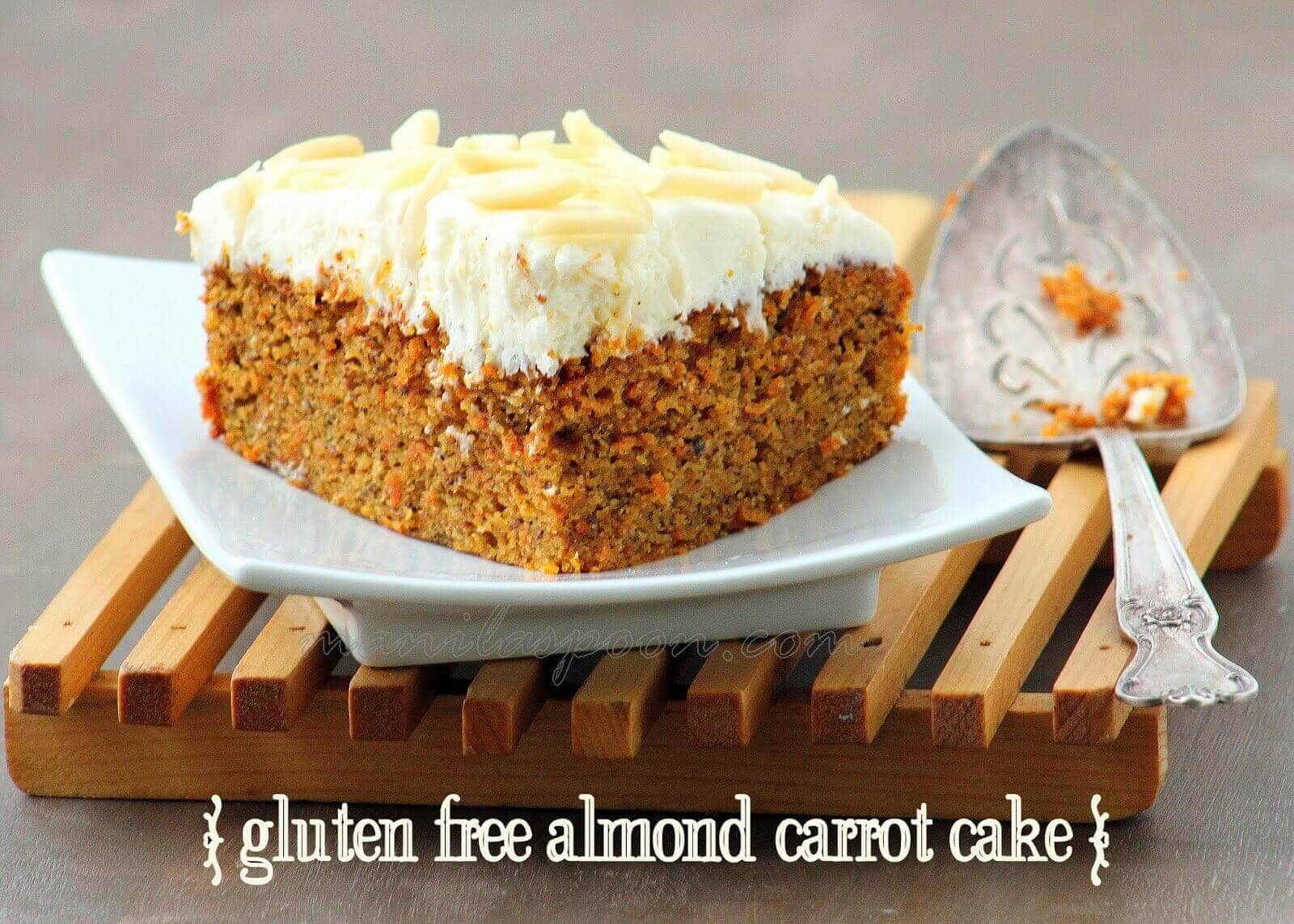 No food processor is necessary for this traditional carrot cake recipe with a twist. With sweeteners used in traditional cooking, this recipe is an excellent choice for beginner gluten-free cooks. While many of the recipes in this list produce a huge 3 layer cake that will feed an army, this cake is proportioned for smaller families and bakes up in an 8X8 square pan. The best part of this recipe? The flavors improve with age and it lasts up to 4 days in the fridge.
27. Gluten-free Carrot Cake Cupcakes

This budget-friendly recipe only calls for two specialty ingredients- xanthan gum and a gluten-free baking mix. With dairy-free options outlined in this easy recipe, you can create this treat for those with multiple allergies. I love the idea of using macadamia nuts instead of walnuts, for a unique, tropical, crunchy twist. Building on this delicious carrot cake base, you might garnish these with other tropical fruit like dried pineapple, papaya, coconut or dates.
28. Gluten-free Carrot Cake
This dairy free and nut free carrot cake uses muscovado sugar, an unrefined sweetener that gives this cake a deep, rich molasses flavor. You'll need a food scale for optimal results with this recipe, as it's difficult to measure flours accurately by volume. The orange flavored dairy free buttercream melds perfectly with this soft, fruity cake. In addition, this recipe has many helpful cooking tips for the brand new gluten-free baker.
29. Carrot Cake Oat Muffins
These spicy, rich, vegan, gluten-free muffins pack a fiber filled punch with flax seed and ground whole oats. Containing a mere 2 tablespoons of healthy oil, these low fat, hearty muffins keep you going for hours while not busting your calorie limit for the day. Oatmeal may have you thinking bland and boring, but these flavorful muffins delight the taste buds with sweet carrots, warm spices and plump raisins.
30. Paleo Carrot Cake with Cashew Coconut Buttercream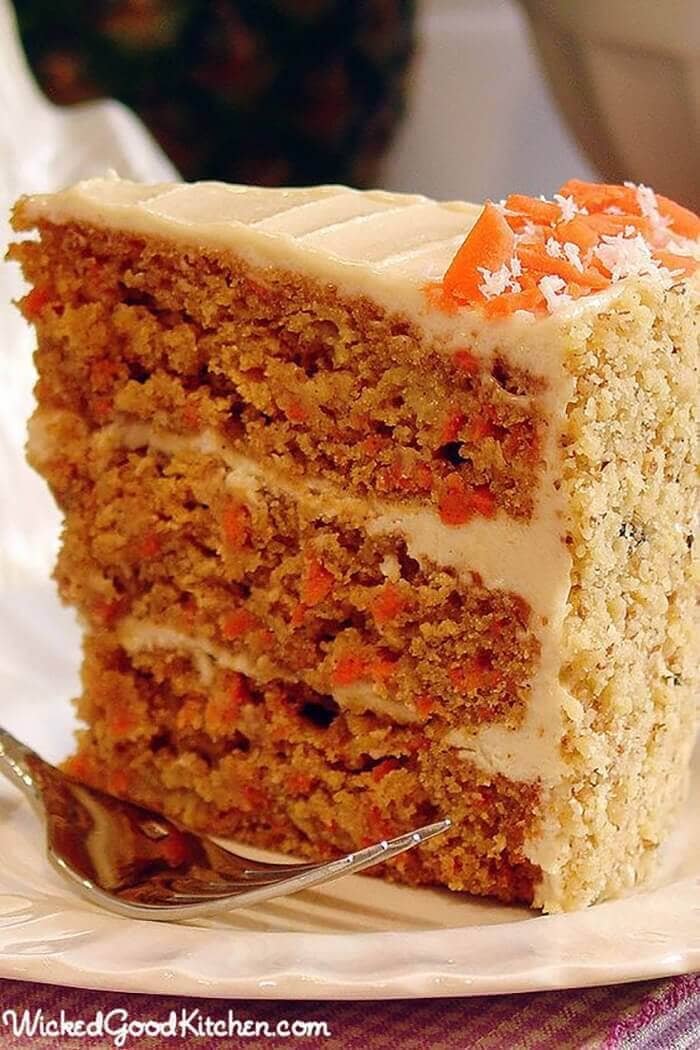 Sweet, tangy pineapple is the star player in this dairy free carrot cake. The secret to this fluffy layer cake is the generous portion of arrowroot starch called for in the recipe. Sweetened with agave necter, this recipe cleverly adds just enough rich molasses to trick your taste buds into thinking you're eating brown sugar without spiking your blood sugar. Its "buttercream" icing, made from cashew and coconut butter, is sweetened with only honey and requires a few extra minutes in the fridge to get a good texture for spreading.
31. Paleo Carrot Cake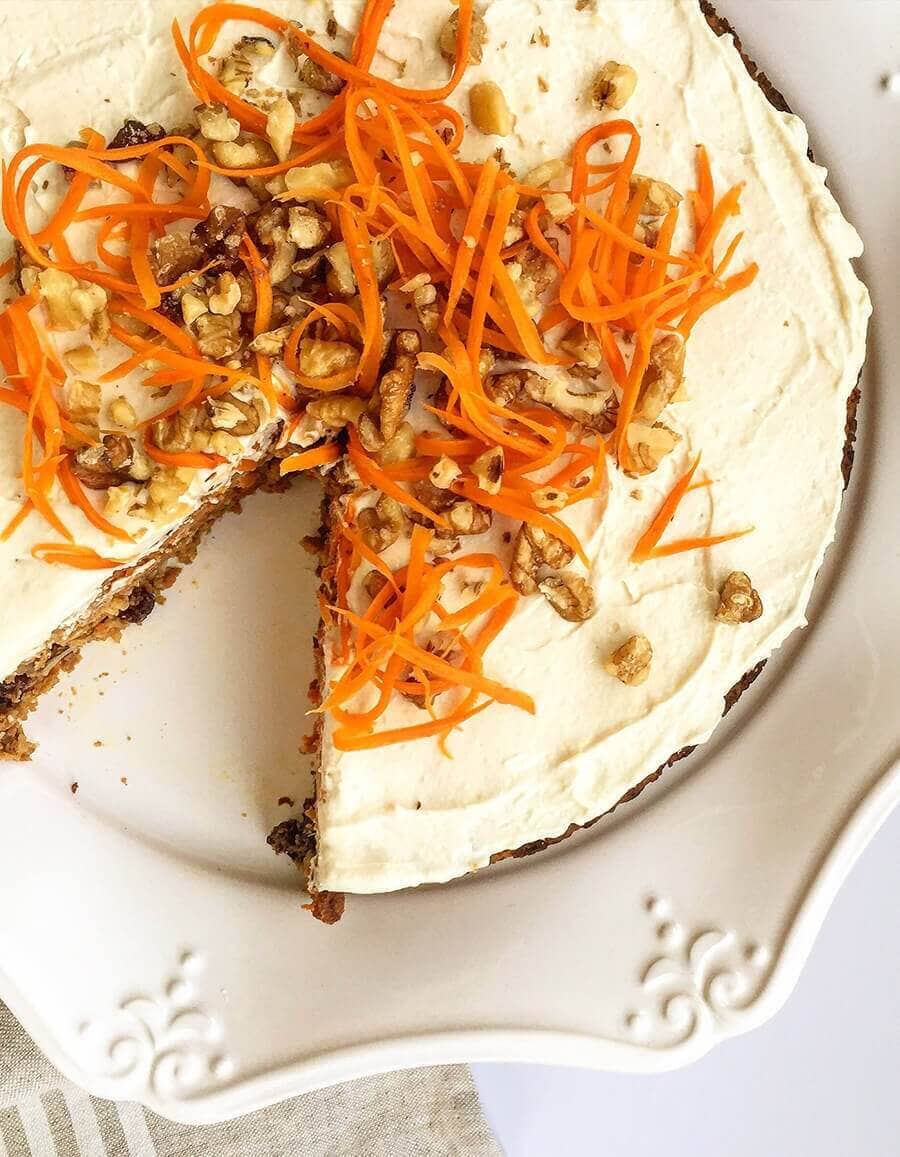 This heavy, dense carrot cake is baked in a spring form pan (which has removable sides for ease in serving), and stands apart from store bought carrot cakes with its thick, chewy texture. You'll need a food processor to chop the fresh apples, dried dates, raisins and carrots. Unlike many recipes that have mix-ins left whole and have a chunky texture, this recipe blends the dates and raisins with the processor as well, so that they are the predominant sweetener of this carrot cake. This is not a light fluffy bakery style carrot cake- rather, consider it closer to a Lara bar crossed with a pound cake or breakfast bread.
32. New and Improved Carrot Cake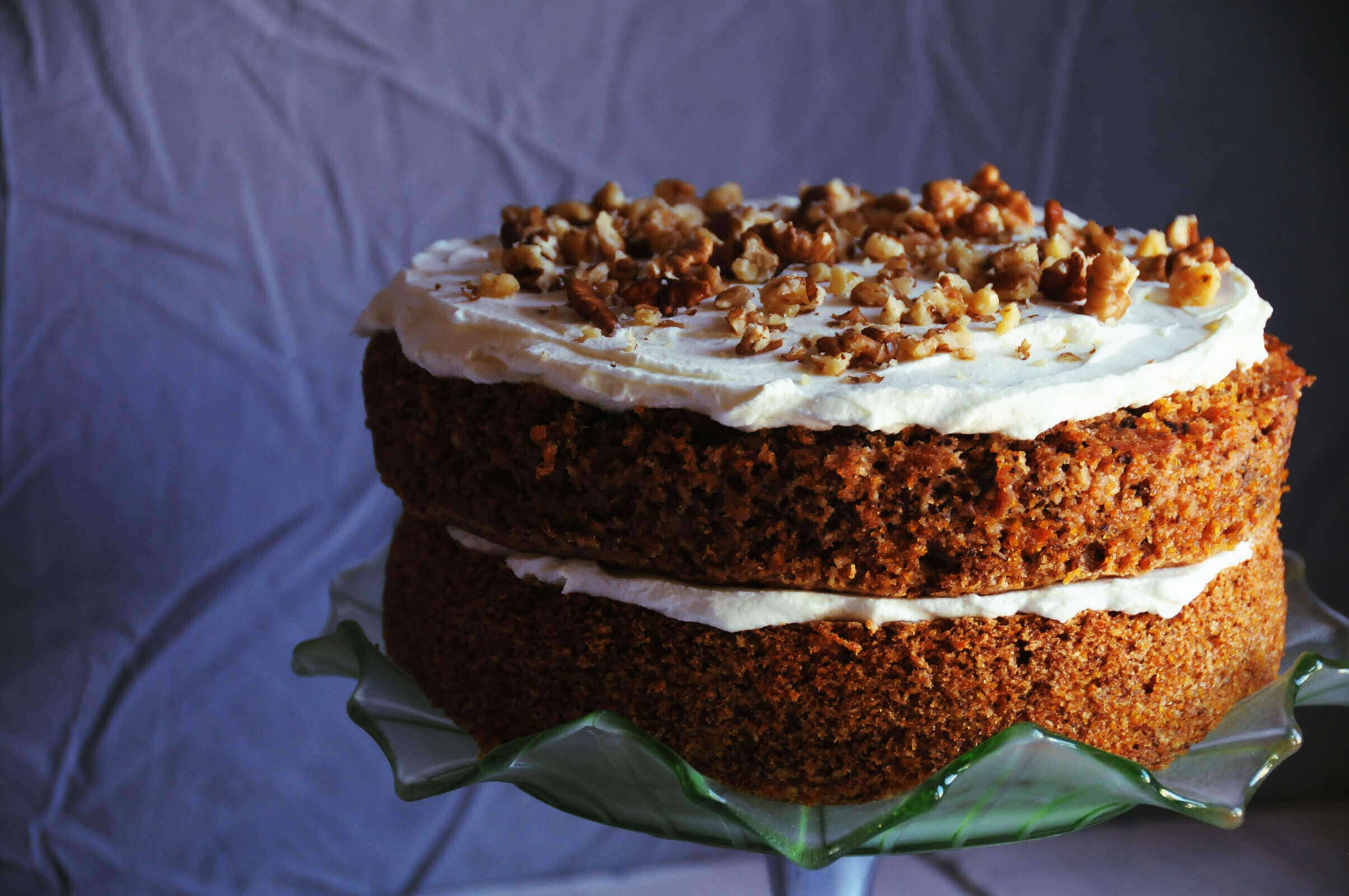 This recipe is measured by weight instead of cups and teaspoons. You'll find, however, that recipes measured in grams are more reliable and the consistent results are well worth the hassle of pulling out a food scale. Rather than the heavier nut flours, you'll find a homemade gluten-free flour blend and buckwheat flour makes this recipe have a more cake-like texture. Of course, this blend also leaves open the option to make this cake nut-free for those with allergies. Spread this two layer cake with the smooth, buttery icing, and your guests will hardly believe they are eating a gluten-free cake. Expect a light, fluffy cake for the effort you'll put into baking this cake for your next special occasion.
33. Gluten-free Carrot Cake Cupcakes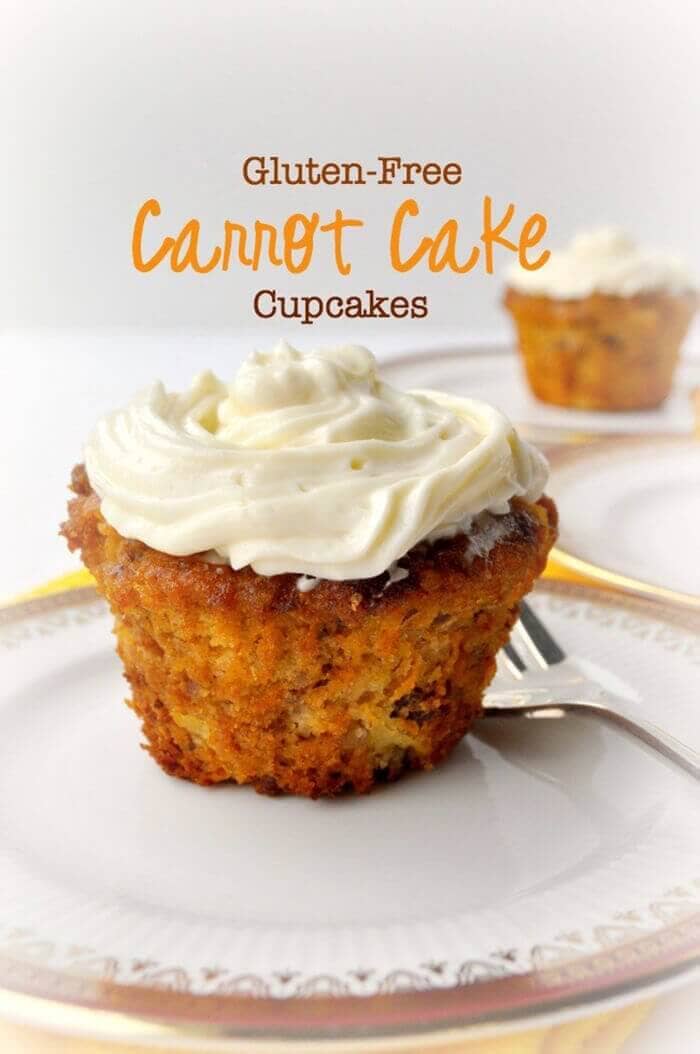 Anyone who has baked gluten-free breads knows that coconut flour is a great option for lightening up heavy nut flours. This recipe has an excellent balance of these two very different flours. Of course, the amount of coconut flour is fairly low because it's extremely absorbent. Crushed pineapple, honey and maple syrup make these cupcakes moist, sweet and delicious. Serve plain or with whipped cream for a delicious, easy snack.
34. Gluten-free Carrot Cake with Cream Cheese Frosting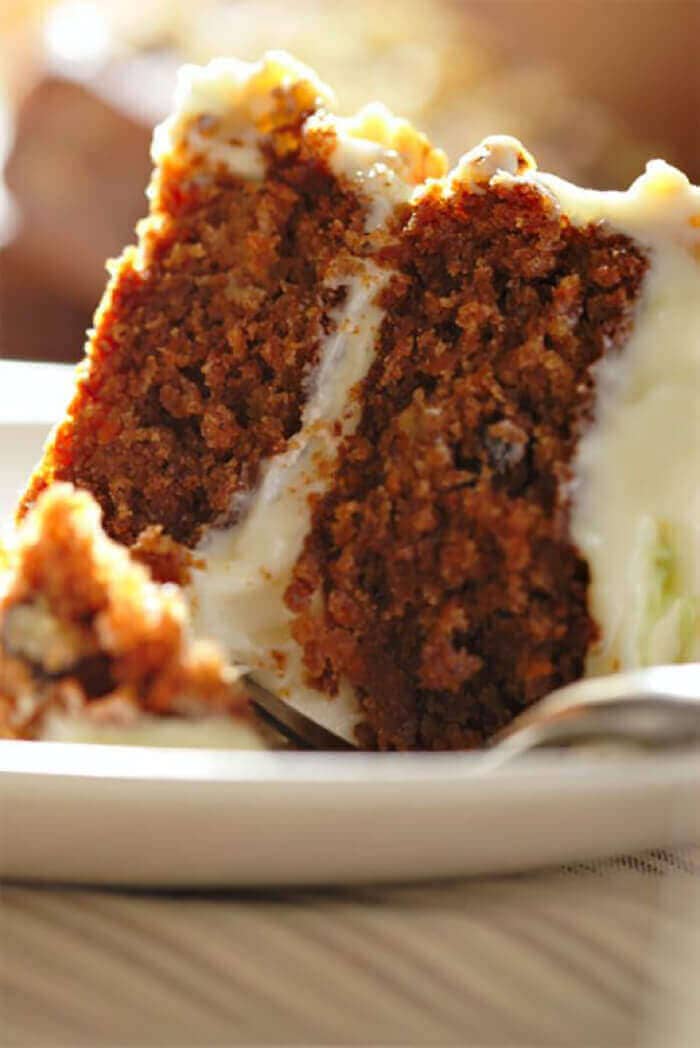 Mashed ripe bananas are the secret weapon in this amazing recipe, and give an additional sweetness beyond the natural maple syrup and honey used in this gluten-free carrot cake recipe. Sans the frosting, this loaf cake is a paleo recipe that will delight the perpetual dieter in need of a dessert or breakfast bread they don't have to feel guilty about. With a dash of cloves, this cake will fill your home with sweet aromas while baking, and makes the perfect accompaniment to an afternoon cup of coffee or tea.
35. Paleo Carrot Cake with a Coconut Cream Frosting
Fresh grated ginger brings a bold, vibrant flavor to the table with this paleo, nut-free carrot cake. Utilizing affordable coconut flour, this cake recipe is easy on the pocketbook, and looks delicious. Be sure to put a can of full fat coconut milk in the fridge the night before you bake this cake, so you can quickly whip up the dairy-free frosting. Toasted coconut flakes gives it an easy, crunchy topping.
36. Gluten-free Vegan Carrot Cake Blondies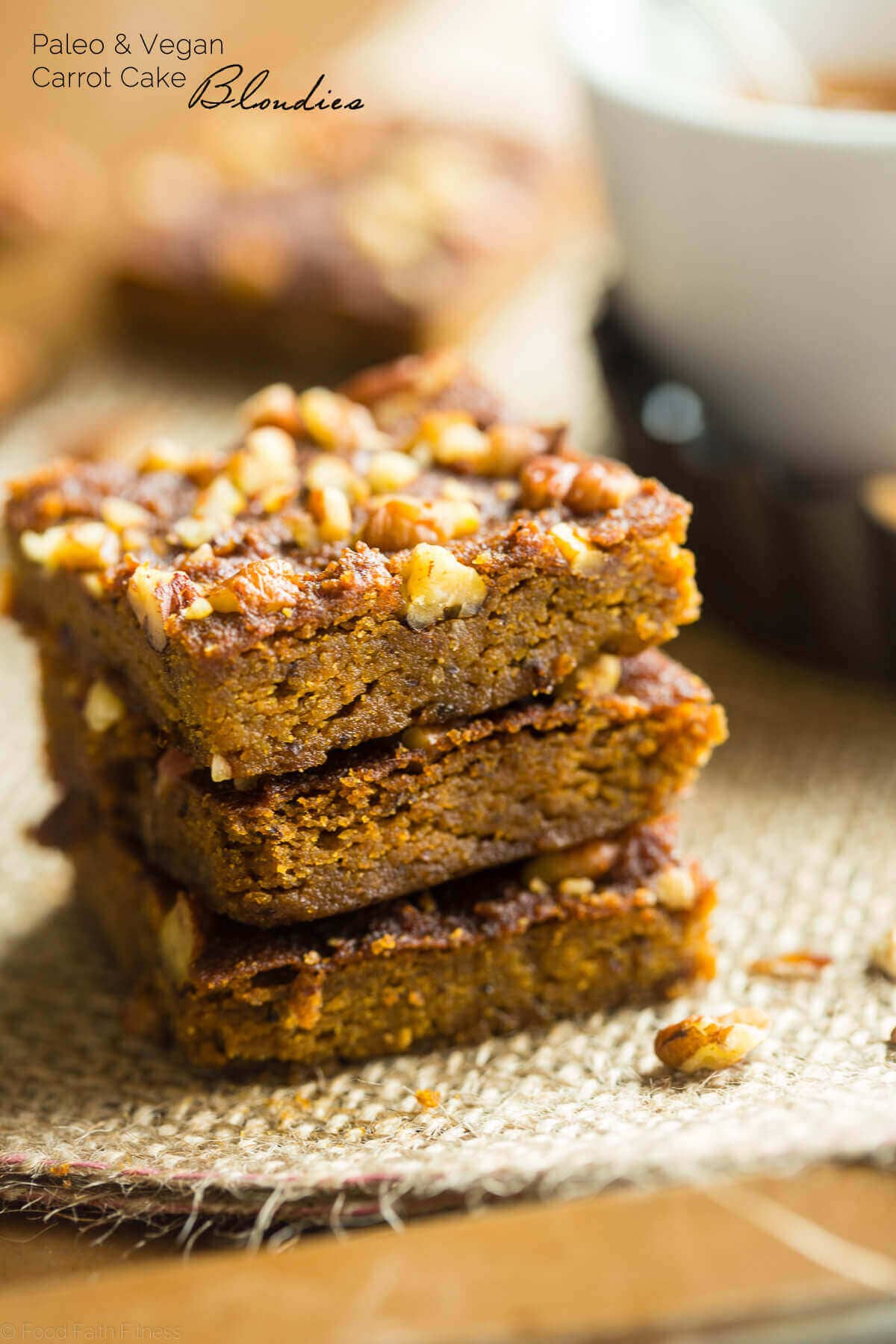 A blondie with only 100 calories sounds like foodie-meets-diet-heaven, and these vegan carrot cake treats do not disappoint. The secret ingredient that makes these blondies stand out is avocado. Creamy and buttery, this veggie's green color is skillfully disguised with carrot puree in the cookie batter. While many carrot cake recipes are full of rough textures, you'll find these bars smooth with a crusty exterior that melts in your mouth. Your vegetable-phobic children will never guess the healthfulness of these awesome cookie bars.
37. Gluten-free Carrot Cake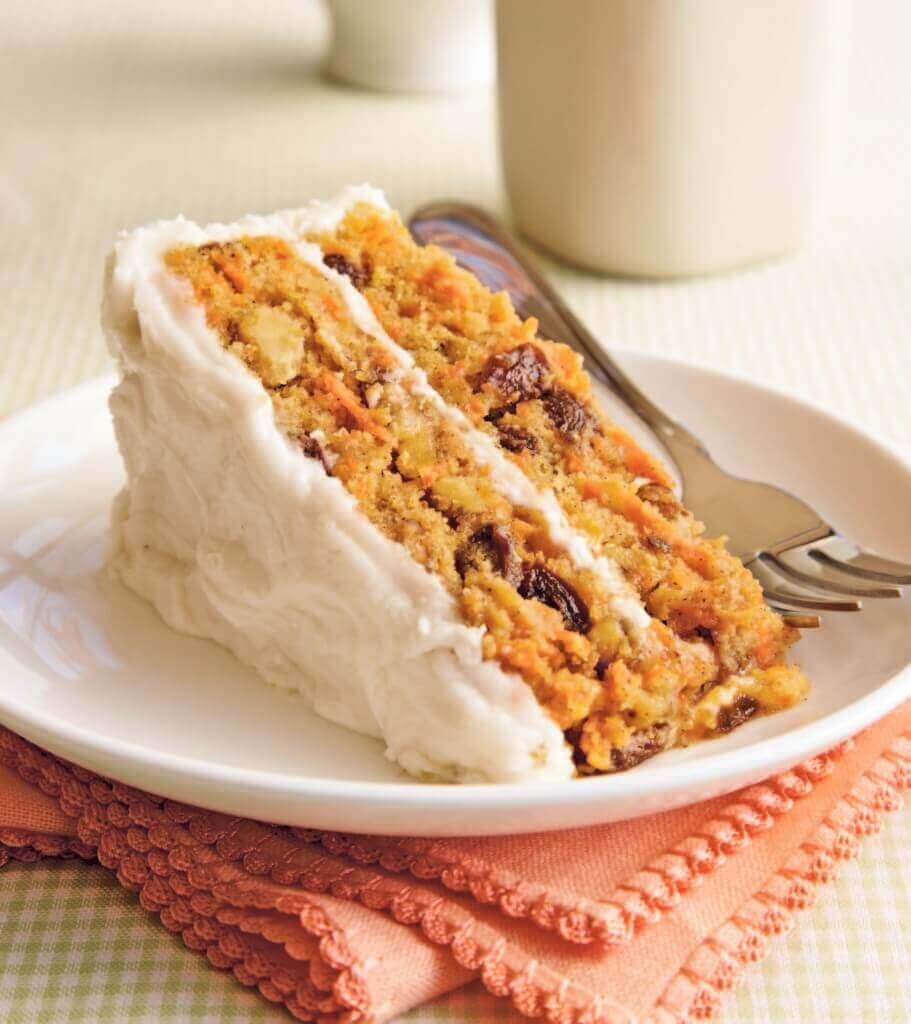 This recipe is so crazy easy, it almost doesn't seem gluten-free. Hooray for a gluten-free cake mix hack! Just a few additional ingredients takes a store bought gluten-free yellow cake mix to homemade carrot cake nirvana. Orange juice and zest gives this cake a special zing and instant pudding lends a texture similar to pound cake. For the new GF baker, or even an expert who needs a convenient option, this recipe will make you the hostess with the mostest.
38. Gluten-free and Grain Free Carrot Cake Cupcake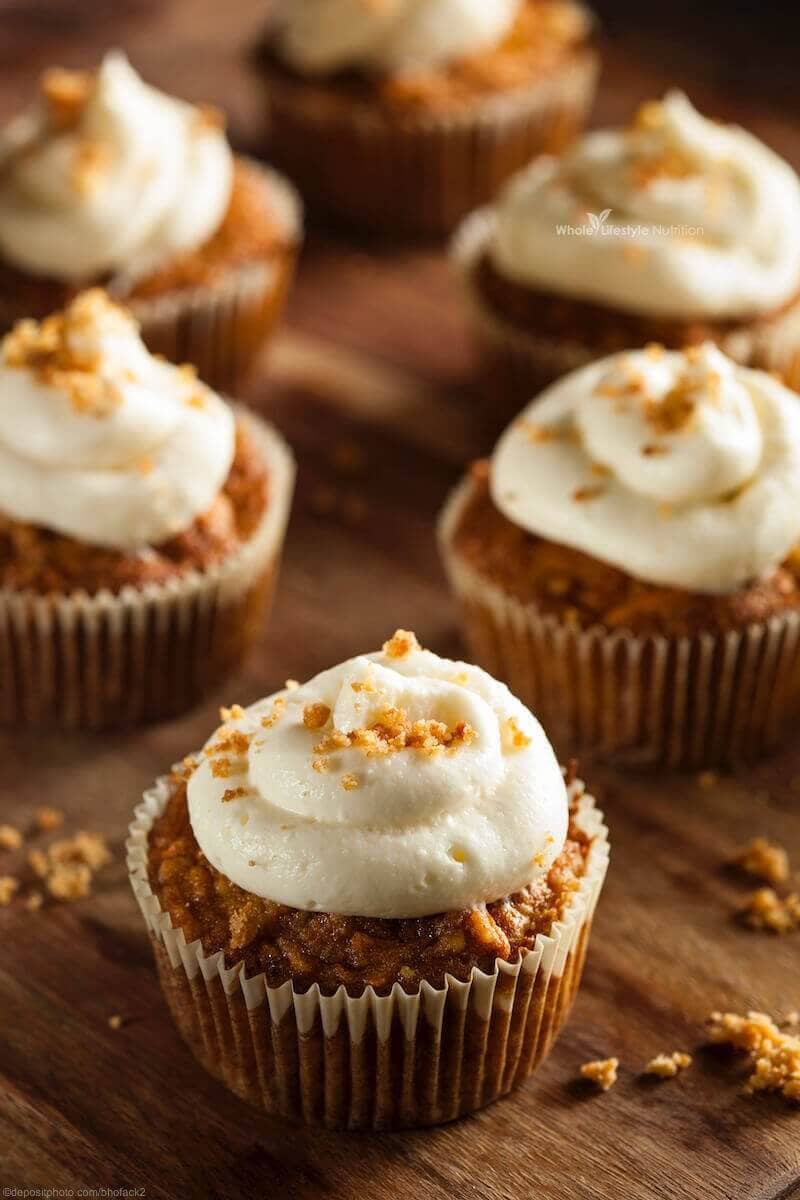 Containing a mere 10 grams of carbs per serving, these carrot cupcakes work great for a variety of low glycemic index diets. This recipe contains just a quarter cup of coconut flour, and has a nut-free option. While these cupcakes are made with honey, you can also substitute grade B maple syrup for a smokier, richer flavor. No complicated cashew cream icing decorates these gems; the frosting is a basic cream cheese recipe that will remind you of your pre-diet days.
39. Carrot Cake Muffins with Maple Orange Frosting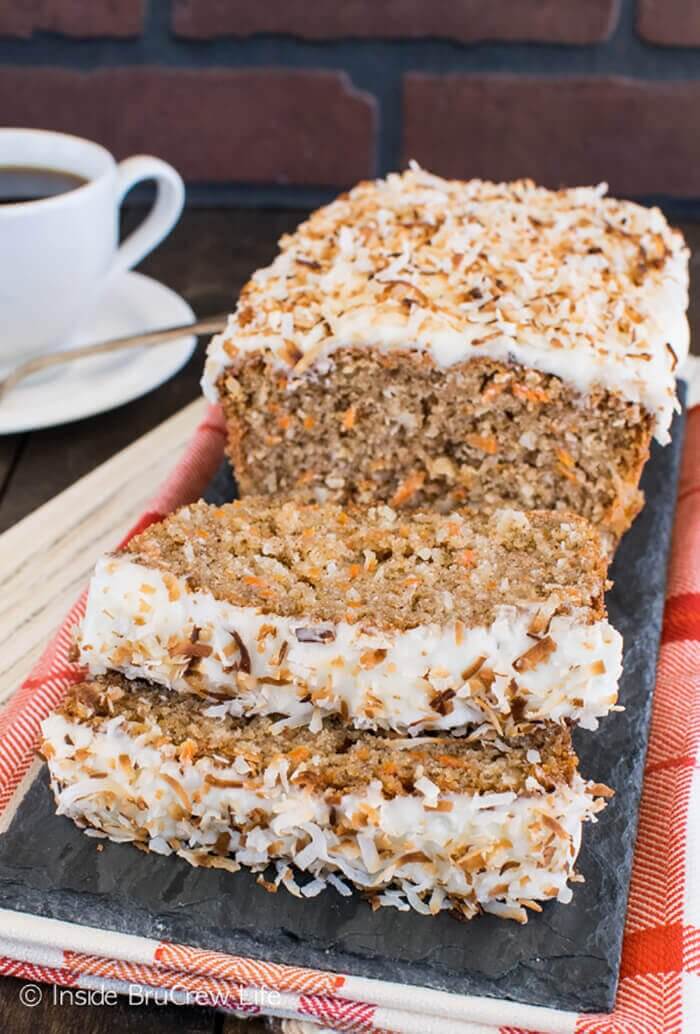 These muffins incorporate a new superfood ingredient, baobab, to increase the potassium and fiber in your diet. While you may be eating it for its nutritional benefits, it has a delicious citrus flavor, so there's no need to disguise it, and it complements carrot cake well. Add-ins include cranberries, but you could use gogi berries if you wanted to build upon the exotic baobab twist. The icing is vegan, and uses a creamy base made of soaked cashews that have been whipped. With a little coconut oil and some orange zest, this delicious citrus frosting tops off these cupcakes perfectly.
40. No Bake Carrot Cake Protein Bars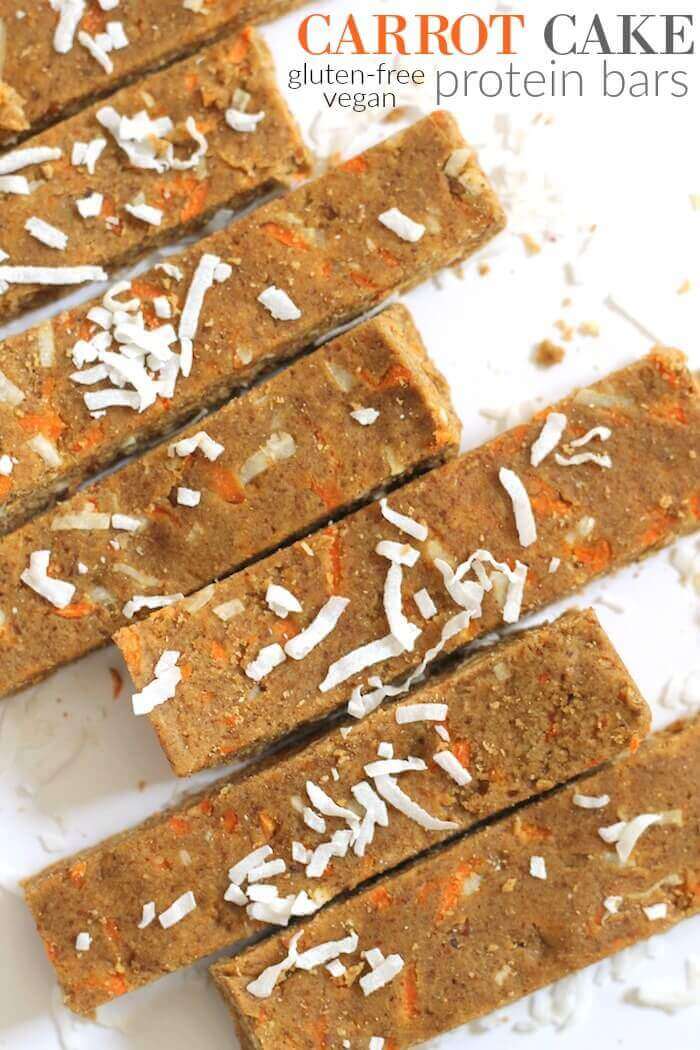 Cut out the overpriced, gunky, store-bought protein bars and whip up this recipe for a fresh, raw vegetable bar you can snack on. Using homemade oat flour (oatmeal ground in a blender), these bars are easy on your wallet and high in fiber. The coconut and carrots give them a great texture, and they're generously sweetened with maple syrup. Avoid the harsh, chemical aftertaste of a prepackaged protein bar and give this recipe a try.
41. Sweetener Free, Sugar Free, Grain Free, Gluten-free Carrot Cake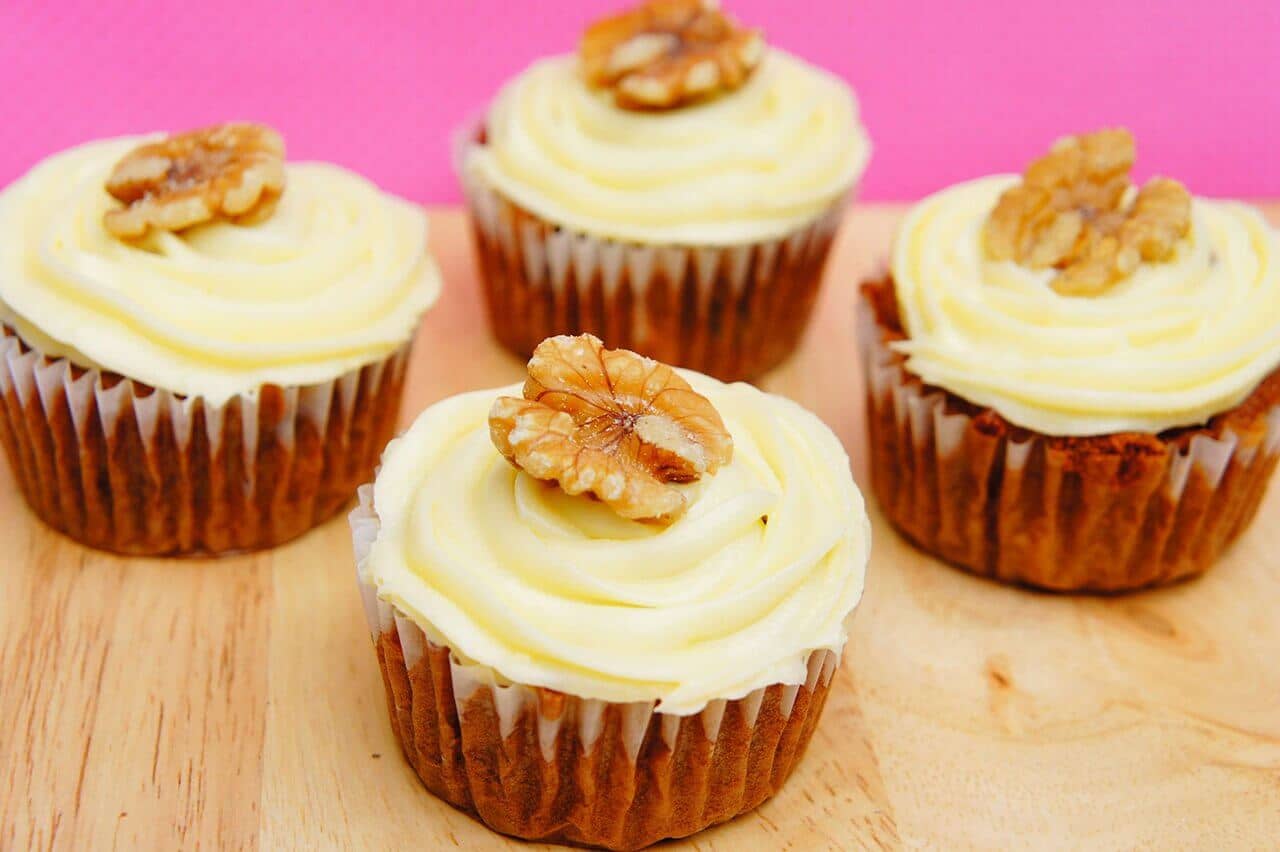 This unique recipe calls for absolutely no sugar or sweetener. If you enjoy a savory cupcake, you might like this rich, unsweetened carrot cake. The frosting recipe is also very unique, as it uses unsweetened coconut flakes that you process into a paste and then whip with butter. You'll get a very tiny hint of sweetness from the carrots and coconut milk, but otherwise do not expect this to turn out like a typical cake you'd eat for dessert.
42. Gluten-free Carrot Cake Cupcakes with Cashew Cream Frosting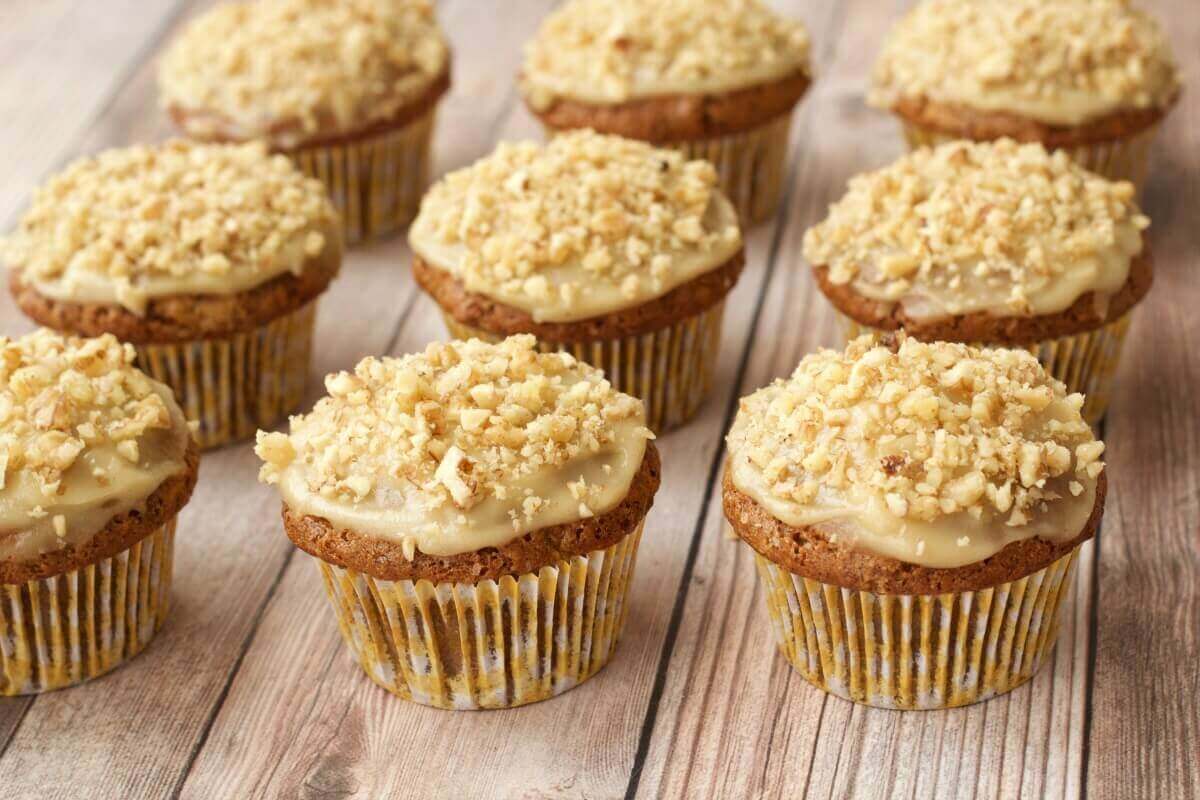 Gluten-free and vegan, these cupcakes feature a side recipe for flax eggs. They use a convenient baking mix. For the texture-phobic child, they're great because they don't call for other fruity ingredients like pineapple, coconut or raisins. You'll want to soak the cashews in hot water while you're baking these cupcakes so they're ready to be used for the vegan buttercream frosting. The cashew cream topping is closer to a glaze than a fluffy whipped frosting, but makes a professional looking but easy presentation with sprinkled on chopped walnuts.
43. Celebration Carrot Cake with Cream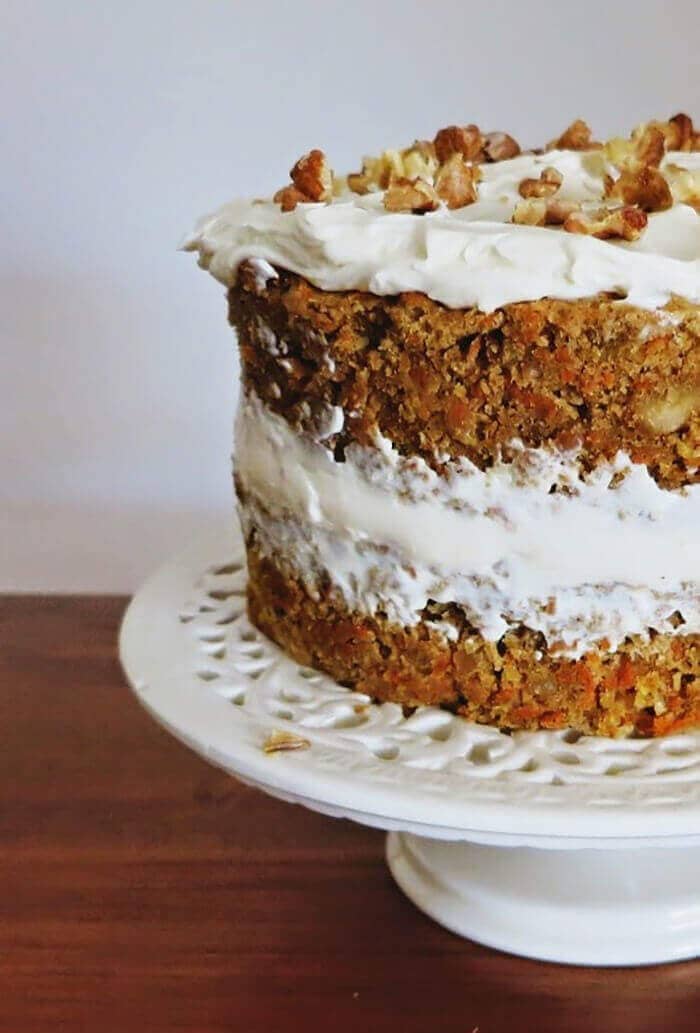 This delicious recipe calls for several specialty sweeteners: muscovado and caster sugar. No fears if your pantry is depleted, however, because you can easily substitute brown sugar for these less refined options. The tangy, smooth icing recipe includes Greek yogurt and lactose free cream cheese. It's only very slightly sweetened with rice malt syrup, a vegan sweetener that is similar to honey. The tangy frosting contrasts really well with the sweet molasses-y flavor of the muscovado sugar in the cake. Finally, this cake recipe has options to make it lactose free if you have a sensitivity.
44. Grandma's Best Dairy Free Carrot Cake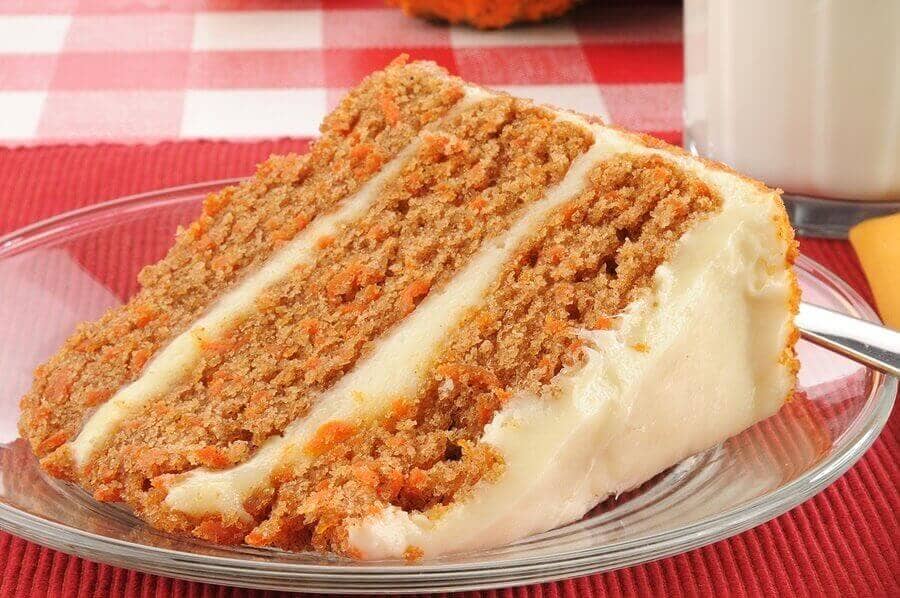 This awesome cake is an allergen sensitive take-off from a Taste of Home recipe. While the recipe does call for flour, the baker in this blog post suggests using a flour mix that does not include xanthan gum for a delicious dairy-free cake. This cake does not include an icing recipe, but it does have numerous suggestions for variations to accommodate other allergies.
45. Gluten-free Carrot Cake Donuts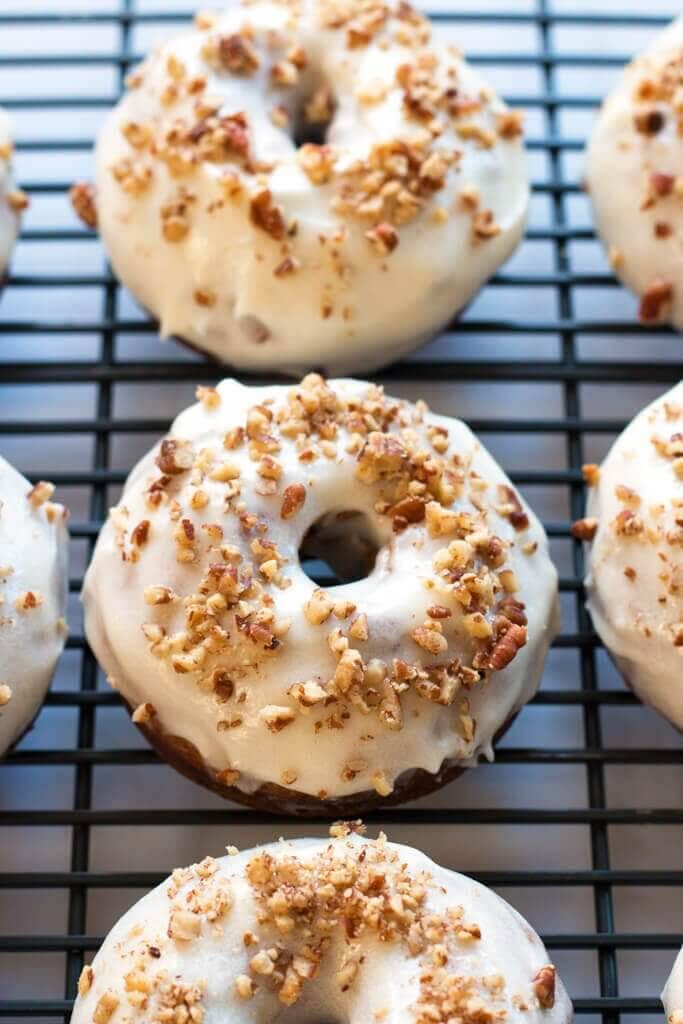 If you've been on a gluten-free diet for very long, surely donuts top your list of foods you miss. Sure, you can buy some in a freezer section at your grocery store, but they generally have the texture of a brick and require taking out a loan on your retirement to afford. These soft, spicy, carrot cake donuts will delight your taste buds fresh out of the oven or cooled and drenched in gooey cream cheese icing. Toasted pecans sprinkled on top will sum up this trifecta of deliciousness. Baked in a non-stick "donut pan" instead of deep fried, you can feel good about eating donuts on a daily basis. Don't hesitate to try this recipe, you can be enjoying fresh, hot donuts in just minutes.
46. Vegan Spiced Carrot Cake (Gluten-free)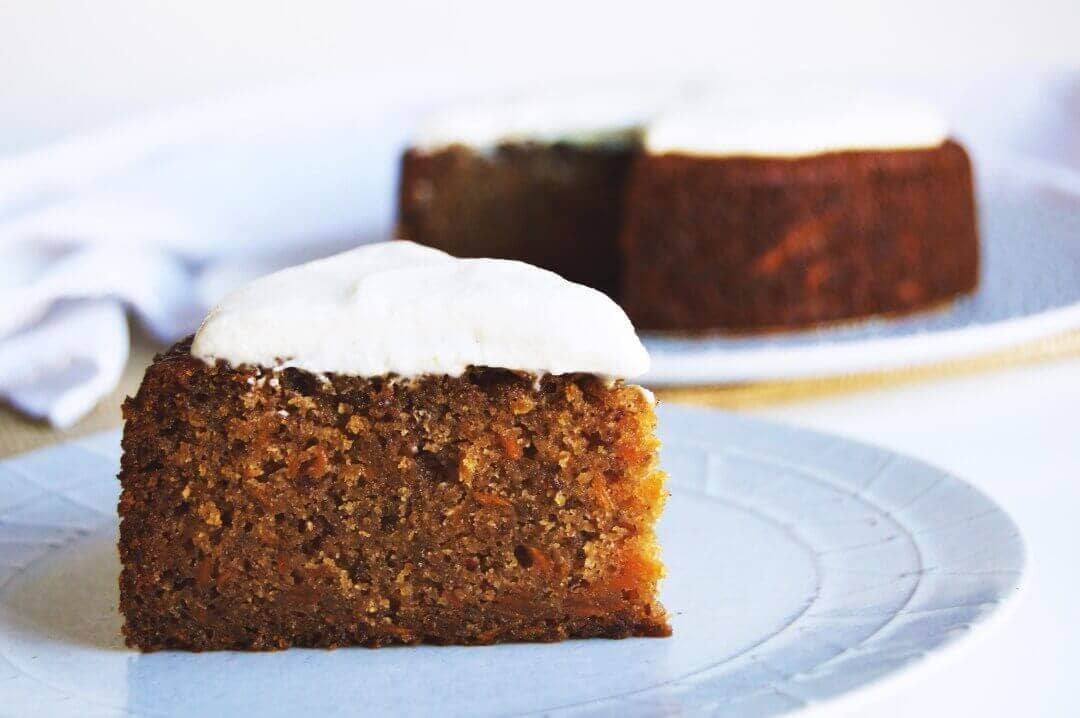 Dairy free and egg-free, this thick, fall cake has a generous portion of spices. The recipe calls for wheat flour, however, Dove's Farm white flour is recommended as an excellent substitute to make this cake gluten-free. Soaked macadamia nuts are the key to whipping up the dairy-free buttercream, but be sure you use a high quality blender or food processor. Homemade nut creams are very versatile, but require powerful blending for nearly 10 minutes to get a perfect, creamy texture.
47. WOW Cake Company Gluten-free Carrot Cake Mix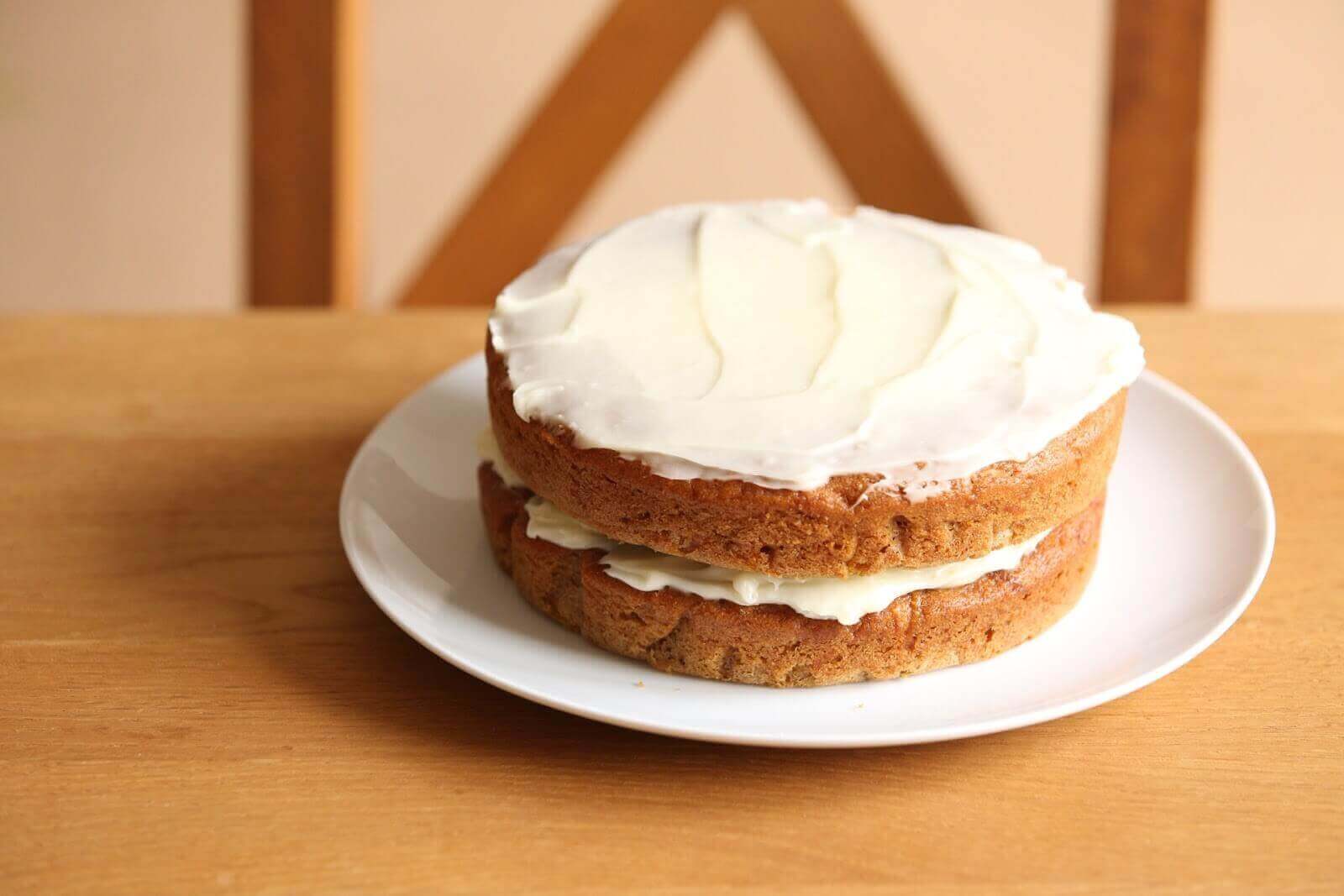 WOW is a gluten-free cake mix company, and, based on this recipe, I'm ready to go buy one of their mixes for myself! This easy carrot cake mix calls for just 3 additional ingredients- carrots, eggs, and butter. If you love a homemade cake, but not the mess, this pre-made carrot cake mix is a great way to save time and not have to buy all the spices that typically go into a carrot cake. Top this cake off with your favorite icing recipe, and you'll impress everyone at your next gathering.
48. Carrot Cake Ice Cream Cake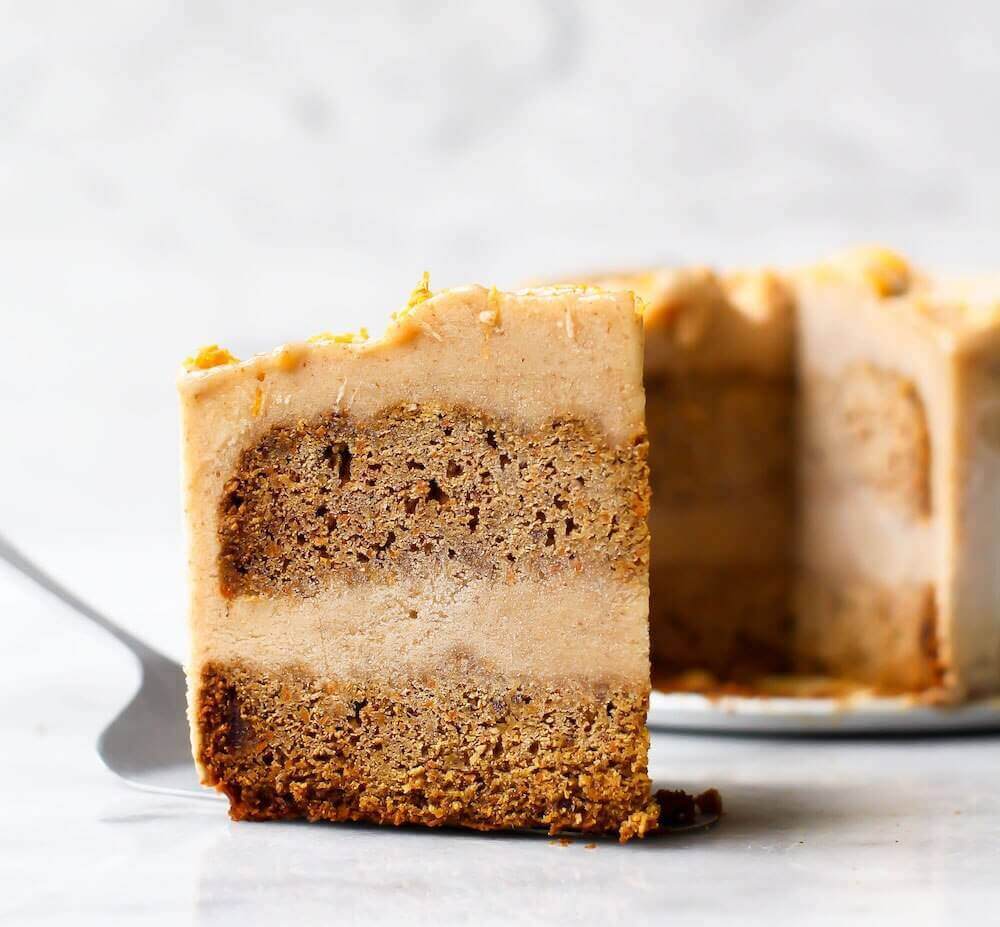 Is it possible to make an ice cream cake without dairy, oil or gluten? Dig in and try this amazing banana based ice "cream" carrot cake. Sweetened with date paste for a caramel flavor, the frozen bananas are blended and then whipped with a light coconut cream for the ice cream portion of this recipe. The layers are thin enough to be the perfect balance of cake to ice cream, and they are sweetened with coconut sugar and pureed dates. The coconut sugar in the cake offsets the sogginess that too much date sweetener might give. The coconut sprinkles are naturally colored with brilliant carrot juice, so you can feel awesome eating this healthy alternative to a store bought ice cream cake full of fat, refined sugar, dairy, artificial colors and flavors.
49. Gluten-free Layered Carrot & Cheesecake Cake

Your belly is going to thank you for making not just one cake, but the two that comprise this impressive holiday dessert. A real, baked, gluten-free cheesecake creates a luscious middle tier sandwiched between the two layers of carrot cake. Stack these babies up and slather them with a sour cream and cream cheese frosting. This recipe also has dairy free options for the individual with several allergies. Truly, you are not eating rabbit food with this amazing concoction, but something that any guest would enjoy, gluten-free or not.
50. Easy Gluten-free Carrot Cake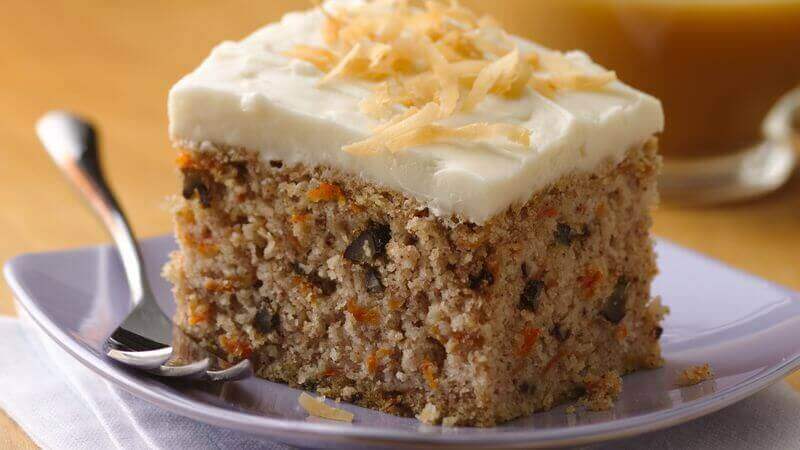 Thank goodness for Betty Crocker! Yes, you love your healthy recipes that use 25 specialty ingredients, but some days you just wish you could take things easy. Betty Crocker has developed this recipe using only a gluten-free yellow cake mix, the usual ingredients for mix cake, a few spices and a cup of carrots. Such a simple and easy recipe will mean less time in the kitchen for you.
If you've tried a Betty Crocker gluten-free cake mix, you know that they've really perfected the texture and gotten very close to a regular cake flavor. This cake mix hack will have family and friends thinking you've dumped gluten-free cooking, but you'll know this recipe is just as healthy for them as any pureed nut flour concoction. Check out the comments as well, as happy readers shared vegan options and numerous add-ins that they love. Happy baking!
50 Fail-Proof Gluten Free Carrot Cake Recipes for Spring
These 50 best gluten-free carrot cake recipes are a result of many hours of testing and baking, and, as you can see from the comments, readers find them delicious and reliable. Easy recipes are included that even the most novice baker can enjoy creating with confidence. With step-by step instructions and explanations of baking techniques, you'll find your vision of gluten-free baking expanding and you'll love watching friends enjoy eating your grain free creations.
Whether you're searching for a trimmer waistline through a paleo diet, avoiding grains to combat chronic disease, or simply looking for whole, fresh foods, these carrot cake themed recipes will fill your home with amazing smells and delight your family and friends. Seasoned bakers will find new ingredients to expand their repertoire of baked desserts and breads.
Brand new converts to this style of cooking will find these 50 best gluten-free carrot cake recipes full of helpful tips, detailed instructions, explanations of new ingredients and tricks to please the pickiest taste buds. From decadent three layer cakes to simple icebox snack bars, these carrot cake themed recipes enable you to stay creative in the kitchen and provide your family with fresh, wholesome food. So, what you are waiting for? Hurry to your kitchen now and start baking!