Get Your Chocolate Fix with these 50 Delicious Gluten-Free Brownie Recipes
Almost everyone loves a good brownie and with these gluten-free brownie recipes, you'll be able to get your fix while still following the gluten-free diet. With a few simple ingredient swaps, it's fairly easy to change any brownie idea into a gluten-free recipe.
Knock Their Socks Off With These Good-For-You Gluten-Free Brownies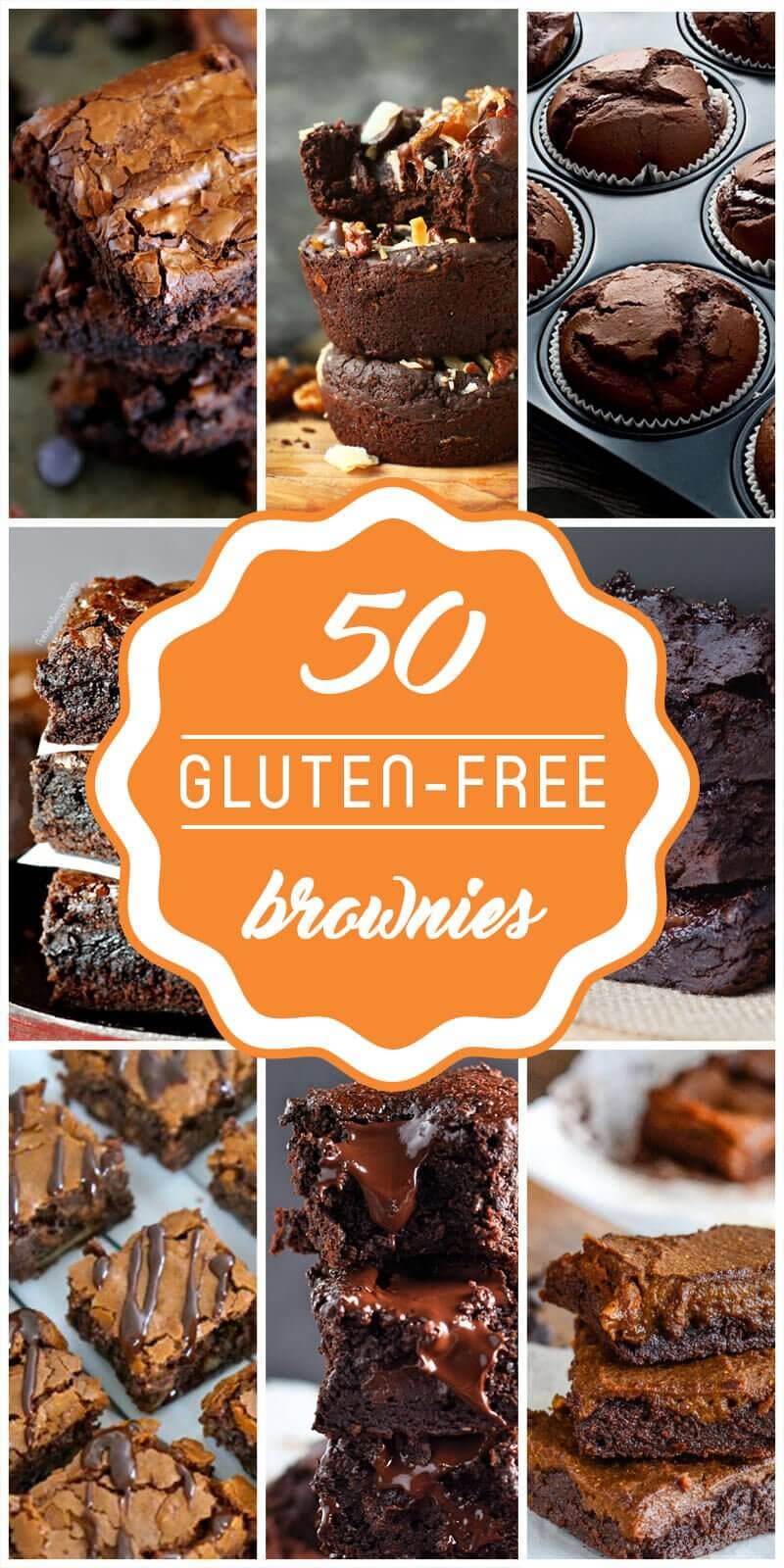 We know that there will always be a debate about which type of brownie is the best. Some people prefer a rich, fudgy taste while others like their brownies to be more cake-like. Some people like frosting on top of their brownies. Some like to mix it up with mint or peanut butter flavors melded into the recipe. That's why we've searched the web for some of the best brownie recipes that are completely gluten-free.
As an added bonus, many of the recipes swap more nutritious ingredients for the flour that's typically used when making brownies. The result? A good-for-you brownie that won't leave you feeling guilty about asking for seconds. Take a look at these pictures, test the recipes and find several new favorites. You'll even find that the results are so delicious that even those who don't care about gluten-free food will gobble them up.
1. Flourless Brownie Muffins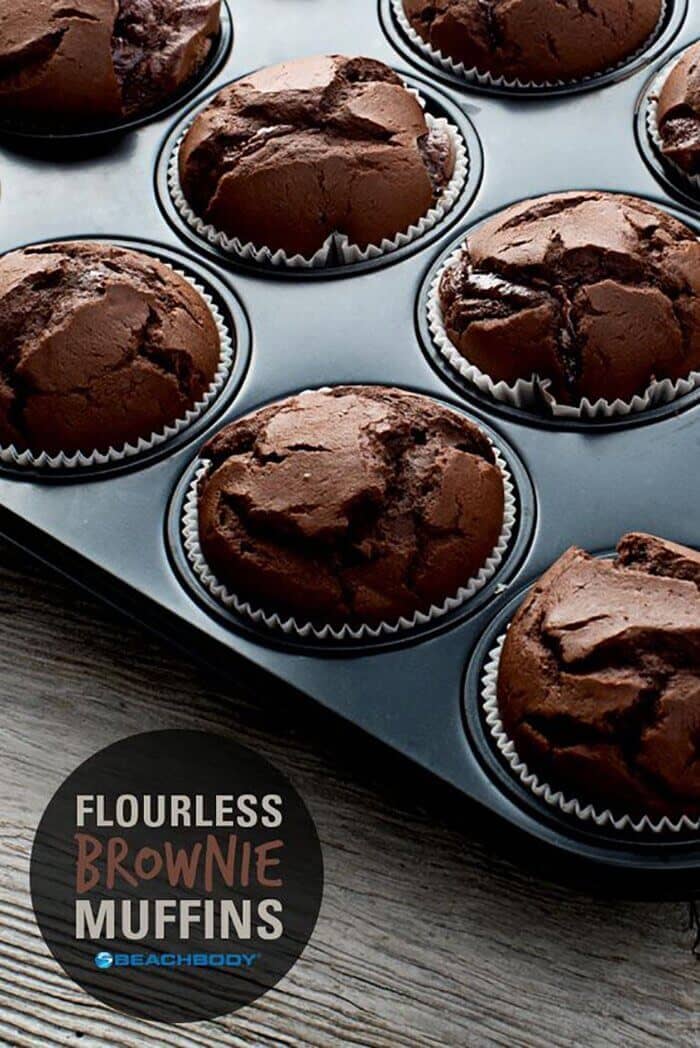 Baked into the cupcake wrappers, these brownies are cake-like and easy to take with you as an afternoon or mid-morning treat. It's pretty surprising to find a brownie idea on the BeachBody site, since the company has such a strong focus on eating clean and getting into shape, but when you look at the list of ingredients, you'll see why this recipe can fit into your diet. It uses chickpeas instead of flour and coconut oil instead of vegetable. You can definitely have your brownie and eat it too.
2. Fudgy Avocado Brownies with Avocado Frosting
Avocado brownies are totally a thing, and you can see how tasty they are when you check out this easy recipe. Most people know that avocados are full of the "good fats," so recipes that use them are replacing some of the traditionally bad fats with this nutritional powerhouse. The result is a nice fudgy brownie. The blogger here has chosen to use coconut flour in lieu of wheat flour, and this is a great choice for sweet recipes since it adds a unique flavor. Finally, the brownie gets topped off with a frosting made avocados, cocoa powder, and maple syrup. What's not to love?
3. Fudgy Paleo Brownies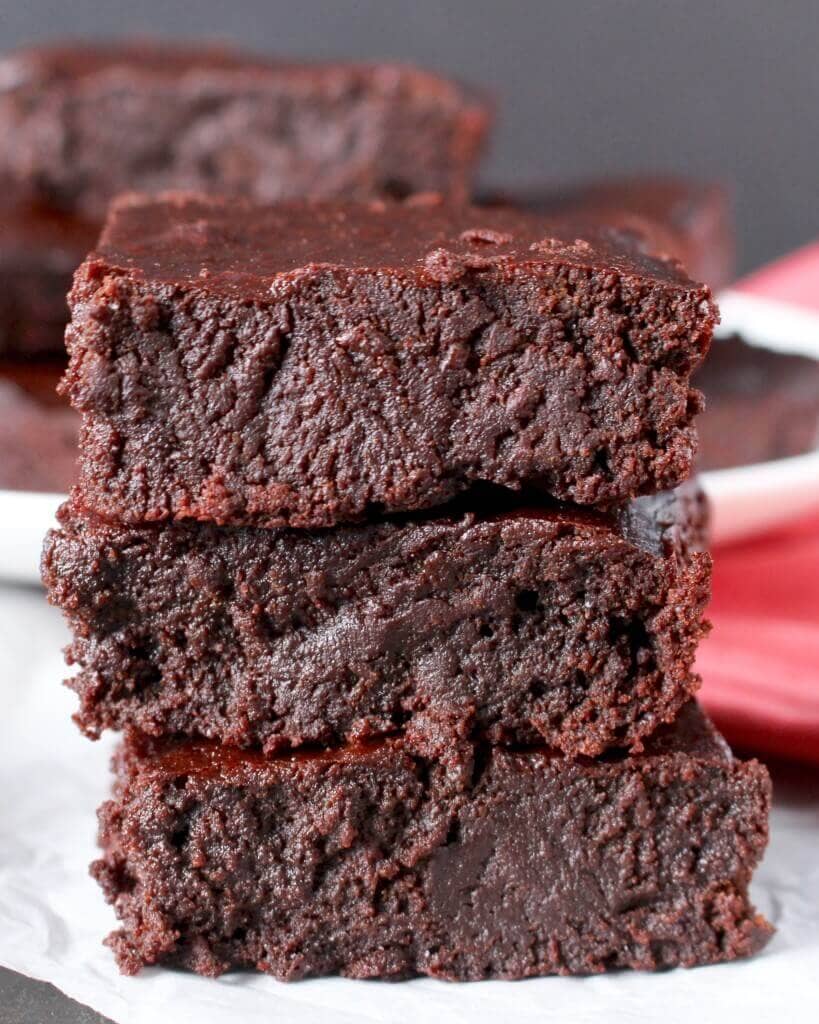 With both cocoa powder and melted chocolate, this is one of the best brownie recipes on our list. It also uses coconut flour, but there's not a lot of it, so the taste isn't too overpowering. This small amount of flour is what gives the dessert such a gooey consistency. It's going to just melt right in your mouth. They're also dairy-free and have a small kick of espresso, making them the perfect treat to go along with an afternoon coffee. However, if coffee isn't your thing, you can easily leave this ingredient out and still enjoy the chocolatey flavor.
4. Flourless Double Chocolate Brownies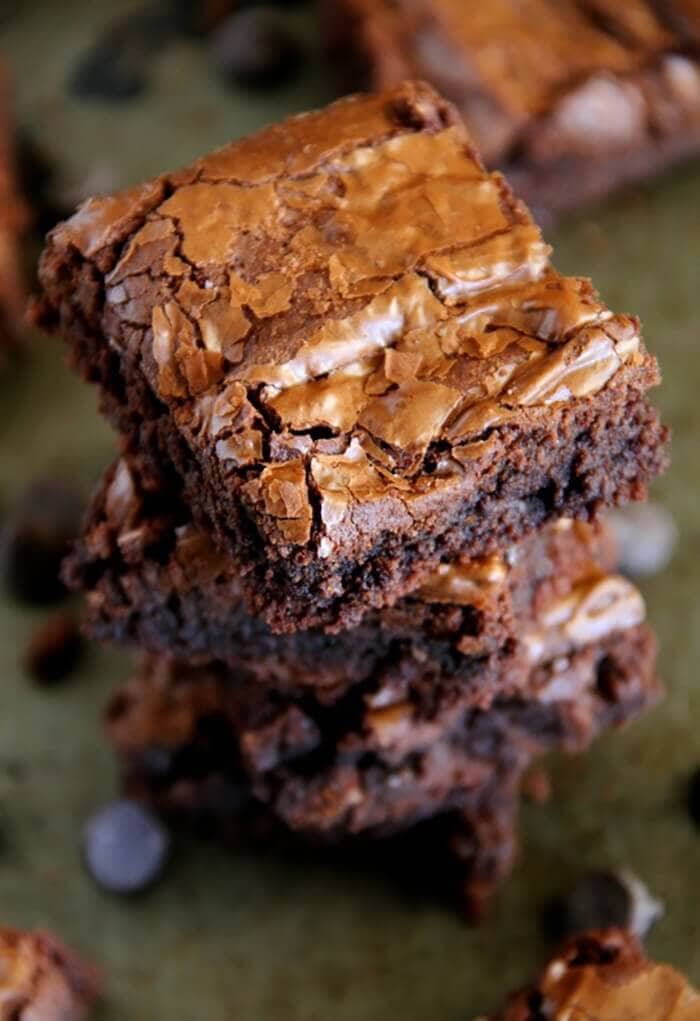 If you want to fool your friends who don't follow the gluten-free diet, give these brownies a try. As you can see in the picture, they have that nice, thin, crackly texture on the top that makes it look and taste like the type of brownies your mom served when you were a kid. With melted chocolate chips and cocoa powder, you're getting a deep chocolate flavor that you won't easily find in a box. Without flour, these brownies are incredibly moist and sure to please the pickiest eater.
5. Buckeye Brownies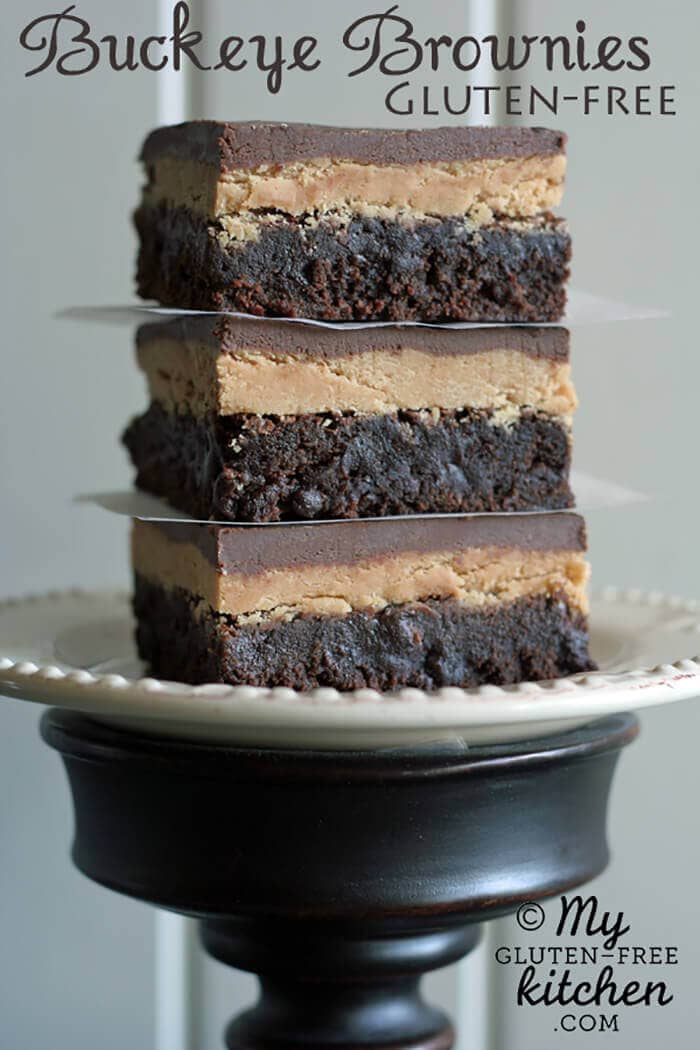 Buckeyes are a bit like a peanut butter cup, and they're a popular treat to make around the holidays. You're sure to find them on plenty of cookie platters, but with this brownie idea, you'll get a gluten-free version of the treat. It starts with a layer of gooey brownies, followed by a sweet peanut butter layer, and topped off with a crisp chocolate-peanut butter glaze. It's a delightful twist on both brownies and buckeyes, so you might just have a new holiday favorite on your hands.
6. Gluten-Free Brownies
Sometimes, you just want the classic brownie flavor, and this gluten-free brownie recipe doesn't disappoint. It simply replaces traditional flour with a gluten-free flour with a result that's just what you were looking for. It's easy to make, but you want to take care not to overcook the brownies. The key to a nice, soft brownie is baking for a long time at a lower temperature. It can still pass the toothpick test even though it might look uncooked, so give it a test when the timer goes off. Allow it to cool fully for better cutting.
7. The Ultimate 1-Minutes Protein Brownie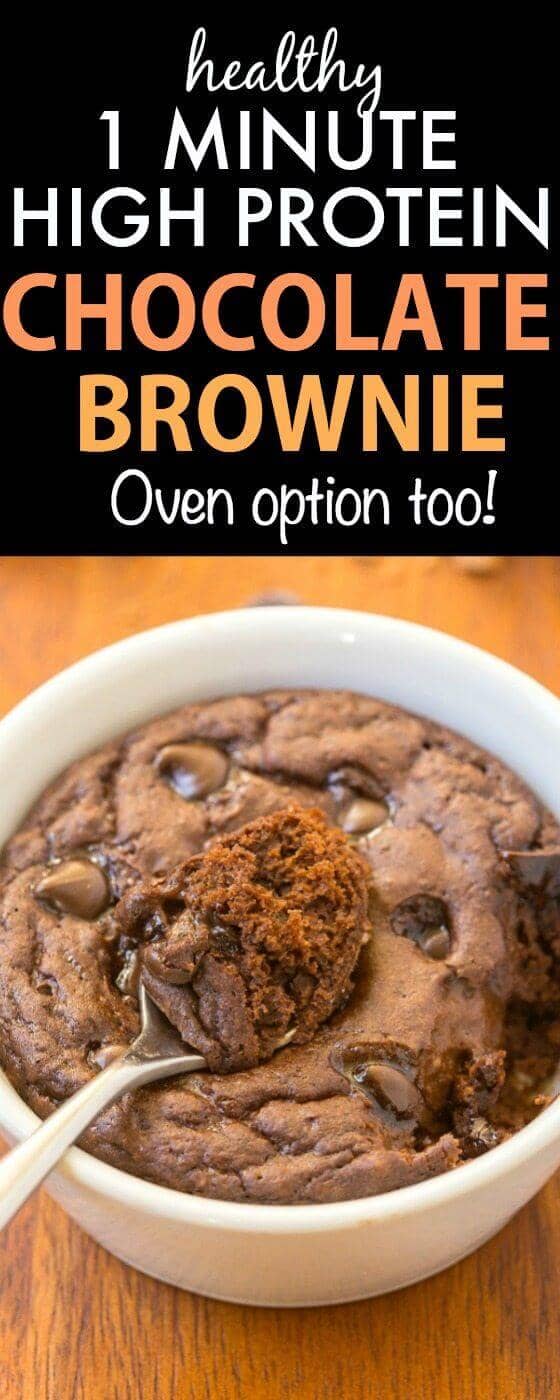 Everyone knows how hard it is to get that late-night craving for brownies and not have any in the kitchen. You want a brownie, but you don't want to go through all the trouble and time of making up a full batch. You also don't necessarily want junk food sitting around to tempt you. Enter this delicious and easy twist. Using just an egg, a scoop of protein powder, and a few dashes of other common ingredients, you can have a single brownie in about a minute. It's a good snack any time of day, but with all the protein, you might want to use it as a post-workout meal idea.
8. Gluten-Free Almond Butter Blondies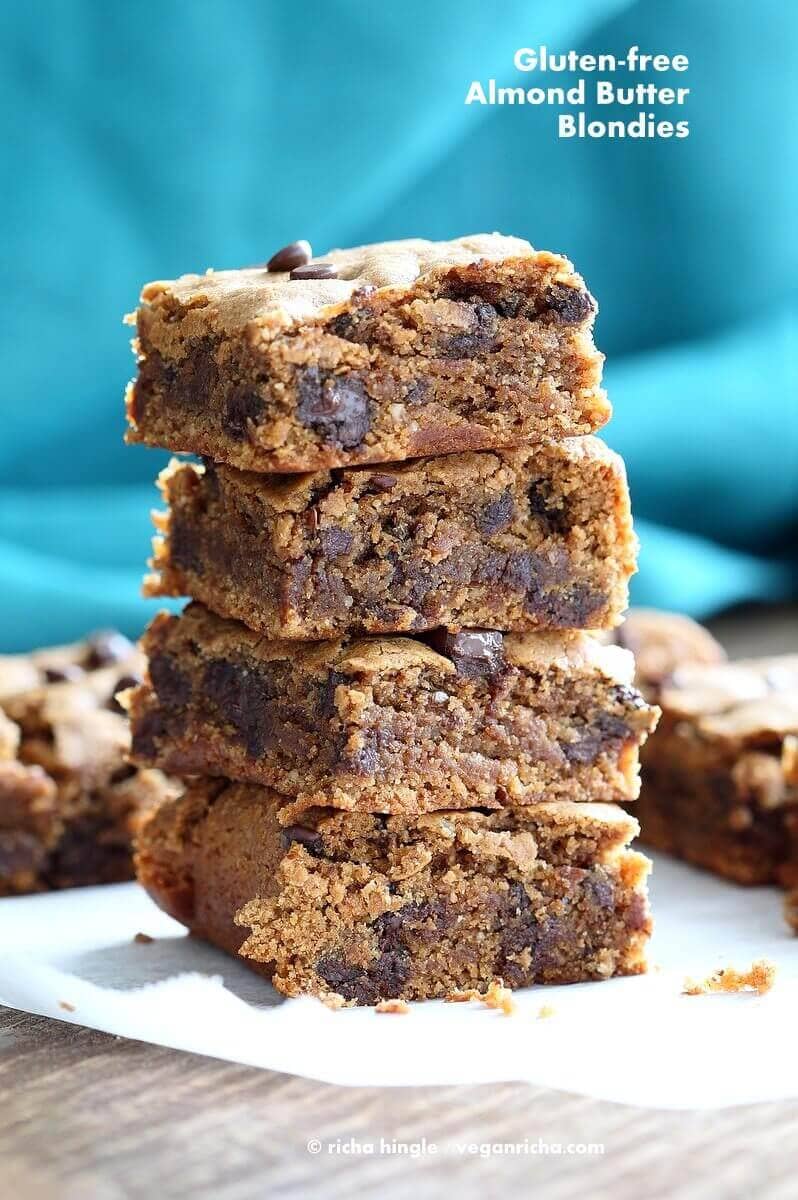 Purists might argue that "blondies" – brownies made without the chocolate flavor – don't really qualify as brownies, but you can't argue that this gluten-free recipe isn't delicious. The almond butter gives it a nice nutty taste that's safe for those with a peanut allergy. Flax seeds boost the fiber content in this recipe, and you'll love the unique touch that the dash of cinnamon adds. It's not chocolatey like a real brownie, but it's good for the occasional change.
9. The Best Gluten-Free Brownies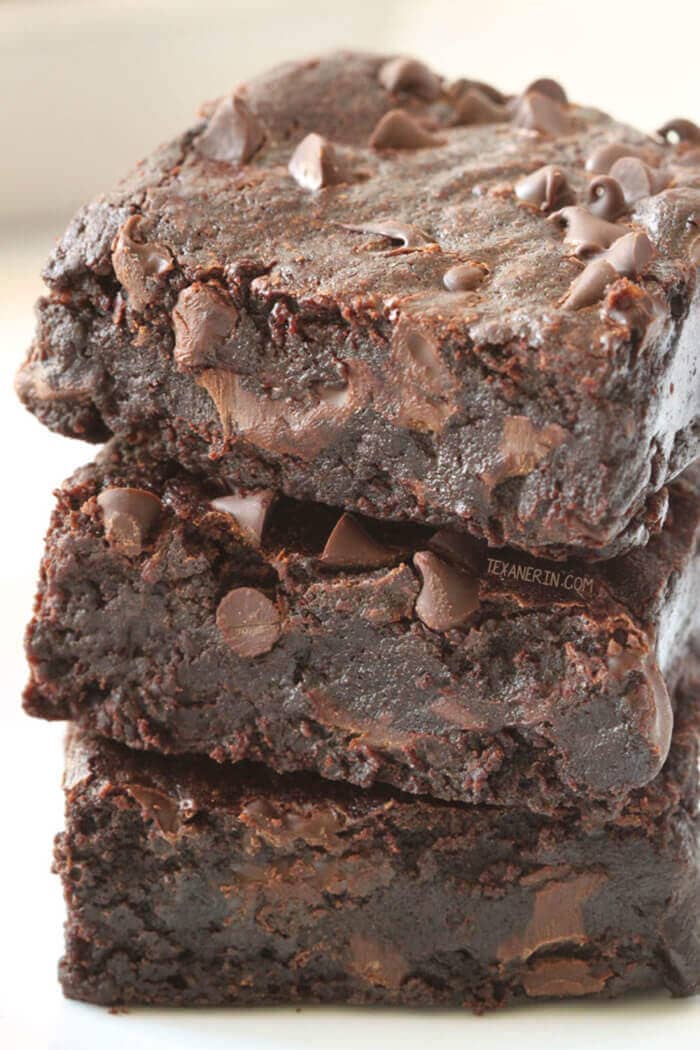 Perhaps the hardest part about following gluten-free recipes is that everyone has their own personal preferences when it comes to replacing traditional wheat flour. When you're experimenting to find some great new recipes, it often means that you end up needing a wide variety of flour types filling up your cupboards. Sometimes, you use the flour for a single recipe and it sits at the back of your cupboard until you finally decide to throw it away. What's especially nice about this brownie recipe is that you can use any type of gluten-free flour you have on hand and still get results that taste great. If you've been looking for a way to use up one of those specialty flours you bought, you've found it.
10. Flourless Fudgey Peanut Butter Brownies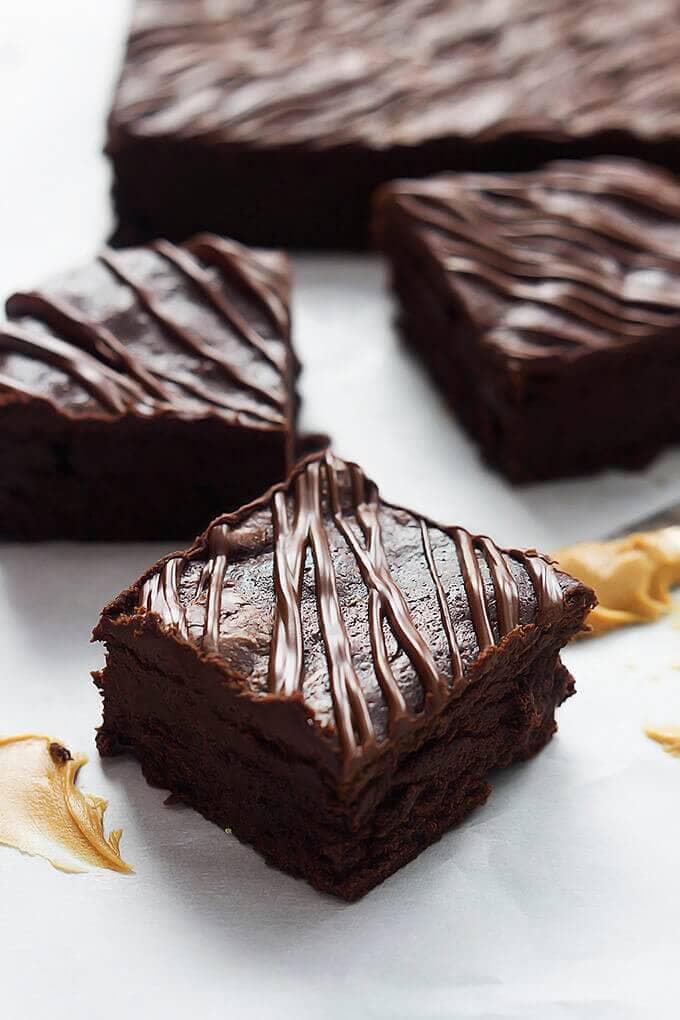 These brownies look absolutely fantastic, which makes them go well as a dessert for any meal ideas you have for a party. What's most intriguing is the peanut butter inside. Both the brownies and the chocolate drizzle on top have a small amount of peanut butter baked inside. Since it's not obvious from the color, it's a surprising taste when you bite into it. These are nice served cold, but they'll melt in your mouth if they're at room temperature.
11. Chocolate Chip Almond Butter Bars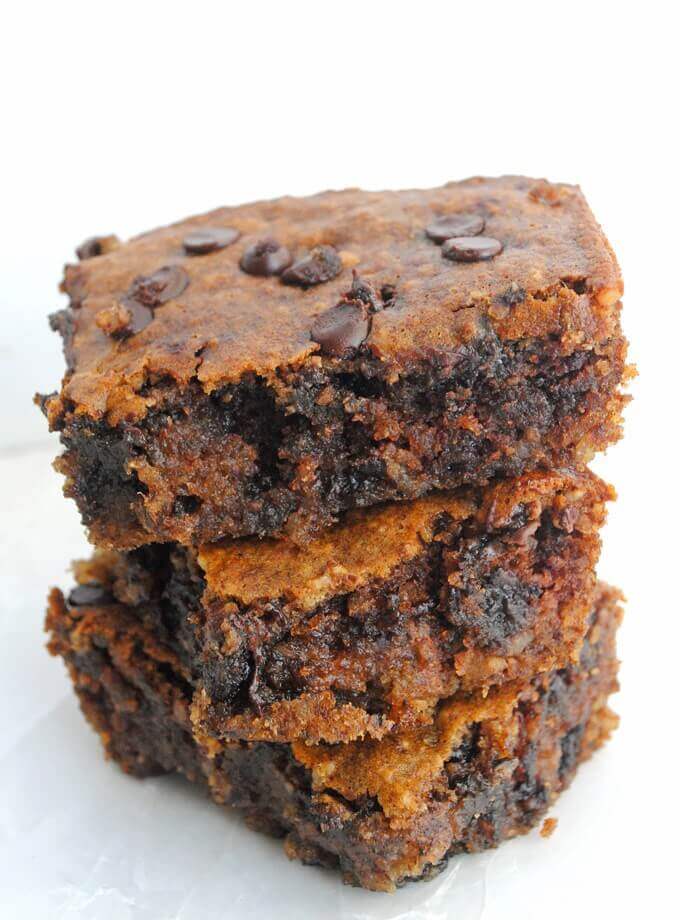 This brownie idea uses many different substitutions in the ingredient list, which results in a brownie that's a lot better for you than the traditional version. You get applesauce instead of oil, dates instead of sugar, and oat flour instead of wheat flour. The almond butter also adds a bit of healthy fat and flavor. Despite this nutritious list, you'll find that the brownies are delectable and will please the kids as well. You'll probably find yourself coming back to these gluten-free brownies again and again.
12. Healthy 4 Ingredient Flourless Sweet Potato Brownies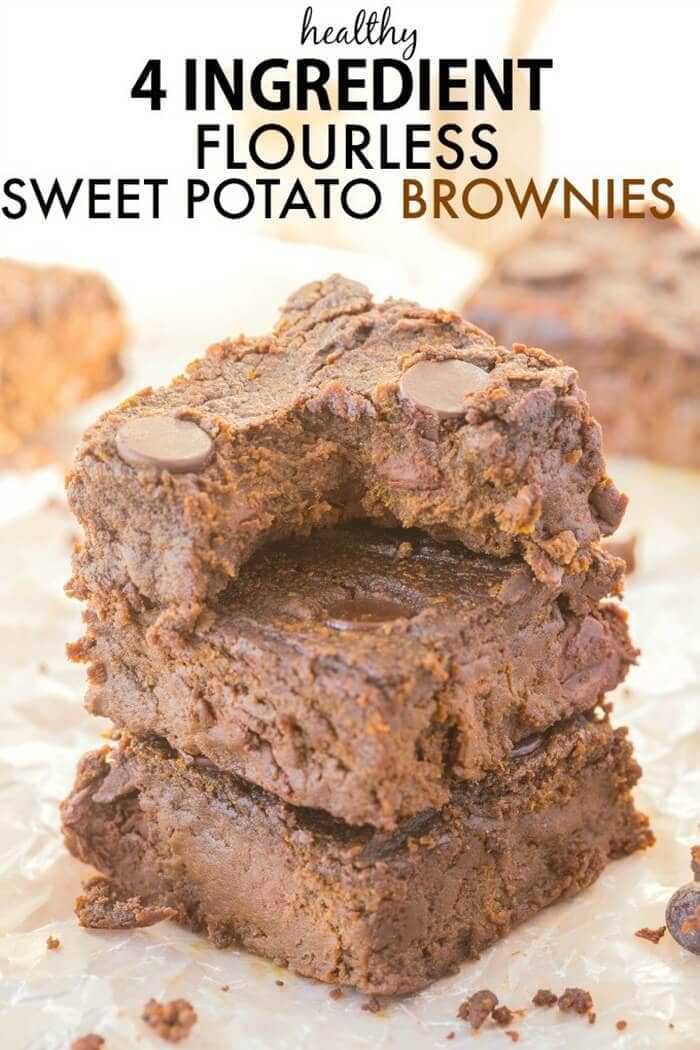 A lot of recipes call for various gluten-free flours to make the baked goods, but you don't necessarily need to use them. In fact, this gluten-free brownie recipe has just four ingredients, and the main ingredient is a baked sweet potato. Talk about adding extra nutrition to a food that's usually a decadent treat. The key is to mix everything together really well so that the chocolate flavor is infused throughout the entire pan. Chocolate chips are an optional fifth ingredient here, but it's a good idea to include them. They really add a good burst of chocolate flavor to the dessert.
13. Brookies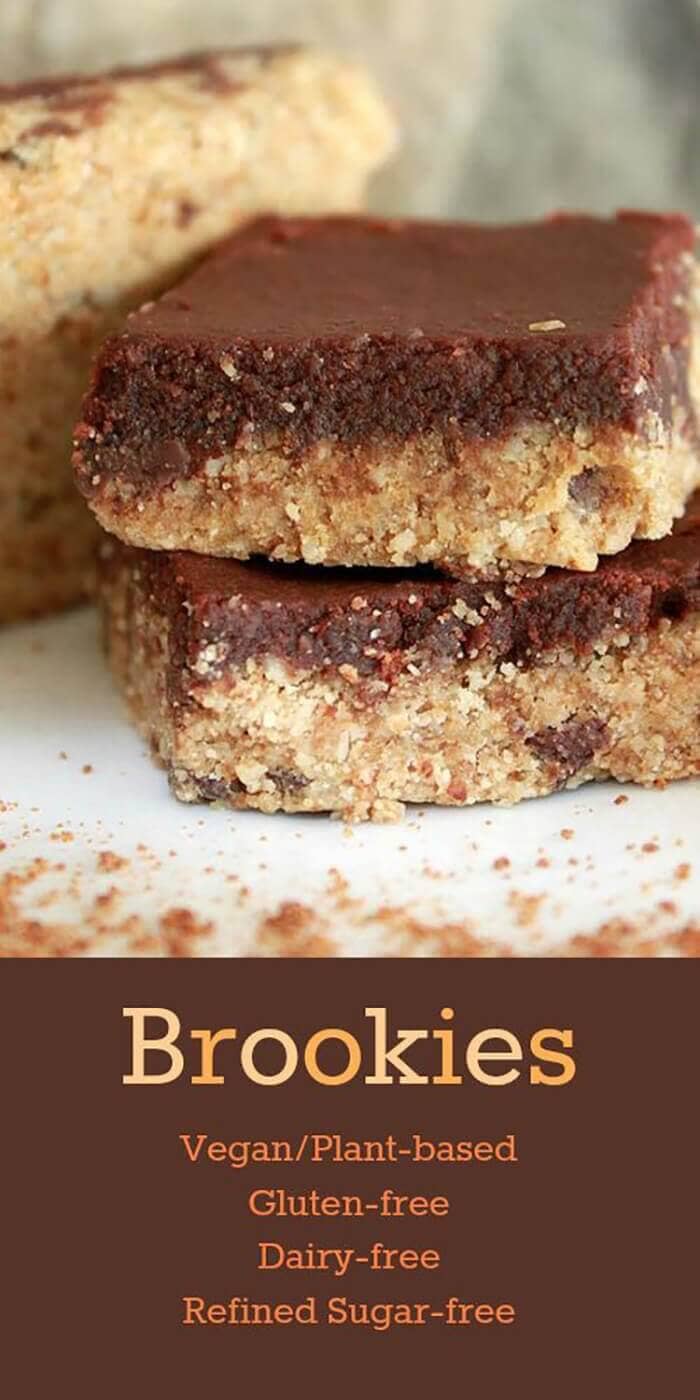 If you can't decide whether you're feeling like brownies or cookies, then you need to whip this recipe up in your kitchen. It's a layer of brownies and a layer of cookies, giving you both delicious tastes in each bite you take. The double layers mean that you have to do a bit more work and clean a few more dishes, but the results are well worth the effort. Try making these up for your next potluck or when you know your kids' friends are all going to be coming over after school. It's a surprisingly delicious gluten-free food.
14. Four Ingredient Flourless Protein Brownies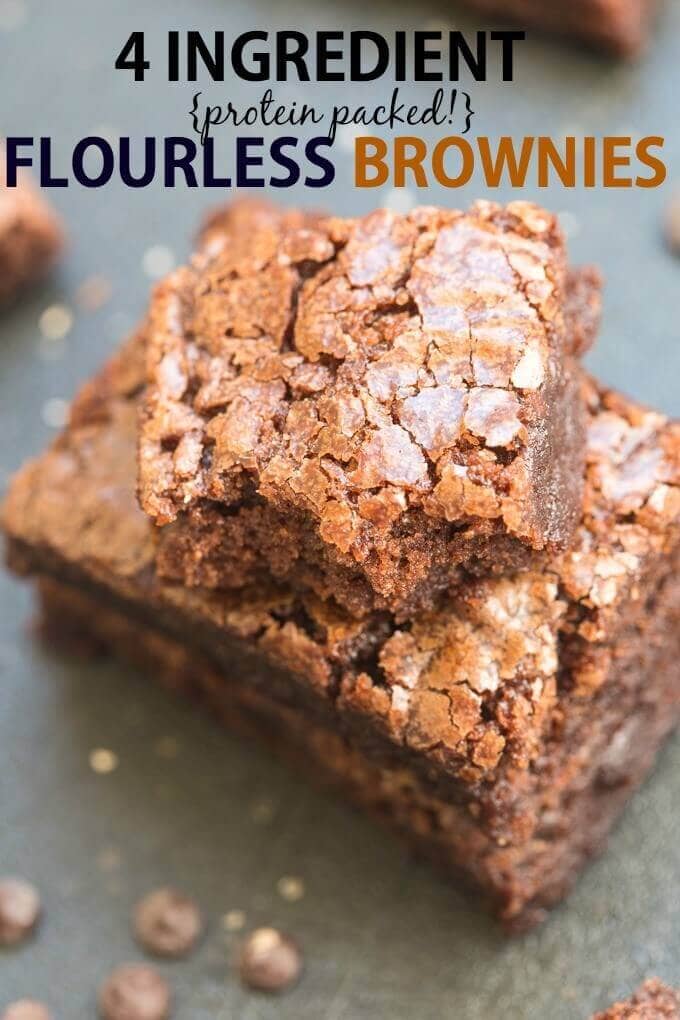 These brownies get their moist texture from overripe bananas, which you might think would overpower the chocolate flavor. Fortunately, that isn't the case here. Peanut butter blends nicely with the bananas and chocolate for a unique new brownie idea. With the inclusion of protein powder, you'll find that this packs a powerfully nutritious punch that you don't have to feel guilty about. Check out the blogger's recommendations for protein powders, since different styles of those can really affect the flavor. Some protein powders simply leave a bad aftertaste in your mouth.
15. Healthy Fudge Brownies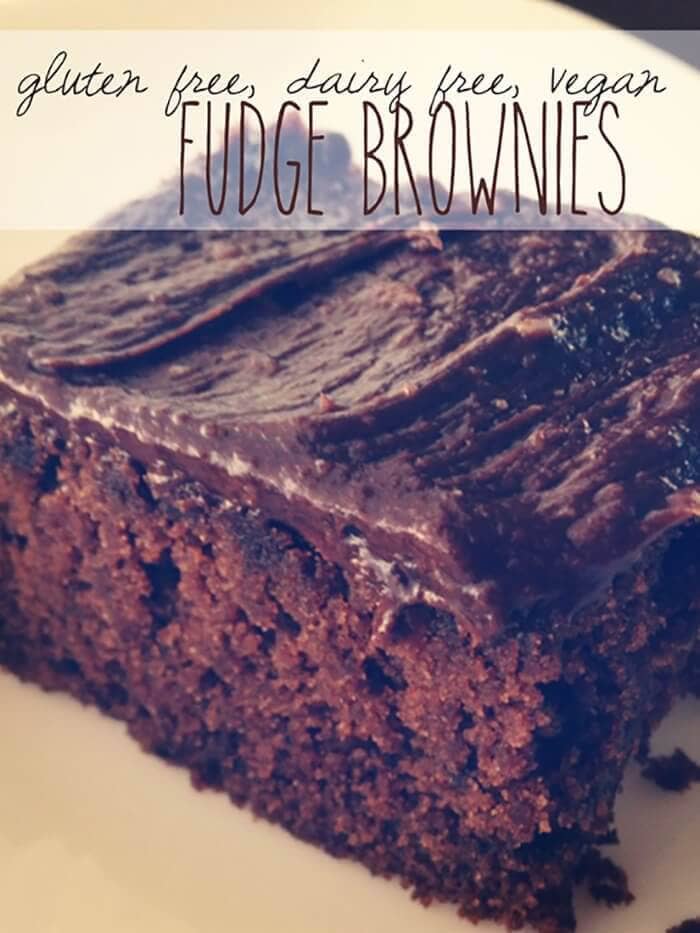 This particular gluten-free brownie recipe is great for those who are on an extremely restricted diet. It's gluten-free, dairy-free, egg-free, soy-free, and sugar-free. Phew. While eliminating all of those ingredients sometimes makes for a dessert that's lacking in flavor, you won't find that here. These brownies are yummy whether you choose to add the frosting or keep it off. They're sort of cake-like, so you'll want to make these for anyone who prefers that style.
16. Soft Gluten-Free Brownie Cookies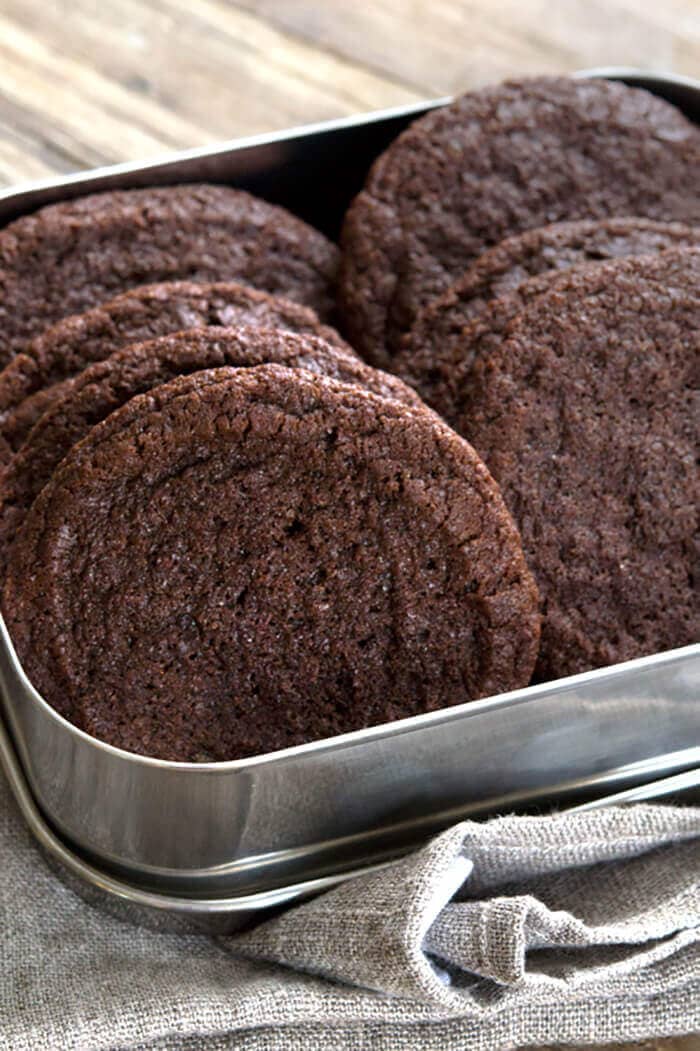 If you're starting to get a little sick of brownies, you might need to go to the doctor. Just kidding. We know that there can indeed be too much of a good thing. However, you might want to give this easy recipe a try instead. It produces some soft cookies that are reminiscent of a brownie, so it's kind of different, but also kind of the same. In any case, you have to try the blogger's suggestion of using these as the outside of an ice cream sandwich. This is the perfect gluten-free treat for a warm summer's day.
17. Gluten-Free Brownie Cookies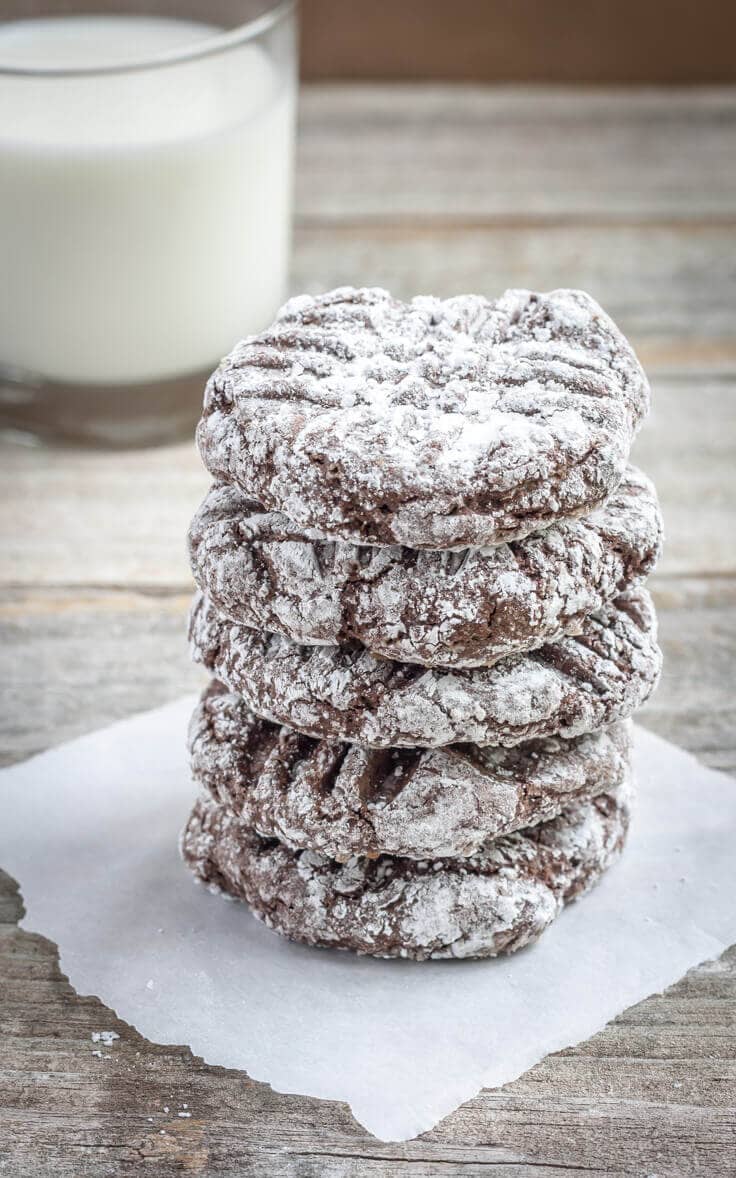 Alternatively, you can give this recipe for a brownie-like cookie a try while still sticking to your gluten-free diet. It also creates a delicious cookie, which is nice because it means you won't have to deal with cleaning out the brownie pan once the brownies are gone. Simply cover your baking sheets with parchment paper and there's practically no cleaning at all. With the nice dusting of powdered sugar on the outside of this version, you get a very nice treat with a flavor that's slightly unique.
18. 4 Ingredient Fudge Protein Brownies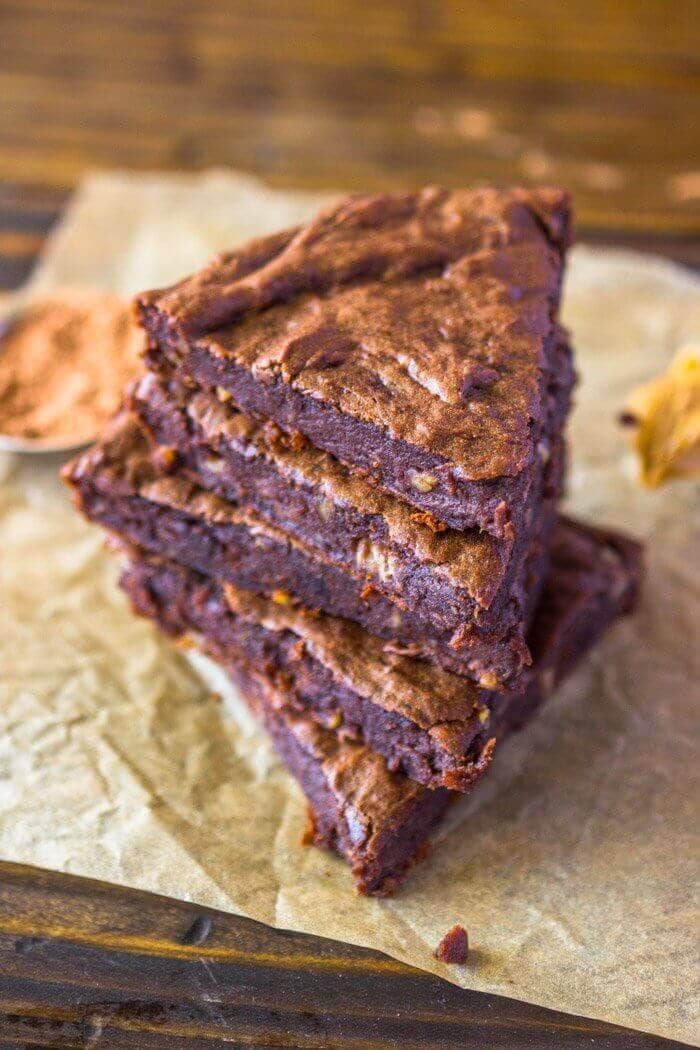 Some of the best gluten-free foods are ones that don't require a million ingredients. That's what you get with this nice four-ingredient recipe that uses protein powder as the main "flour." Choose chocolate flavored powder for an extra-rich chocolate taste that's sure to please the crowd when you bring them to your next family gathering. All of your friends and family will be so surprised to find out how nutritious these fudgy brownies are.
19. Oat Flour Brownies (Gluten-Free)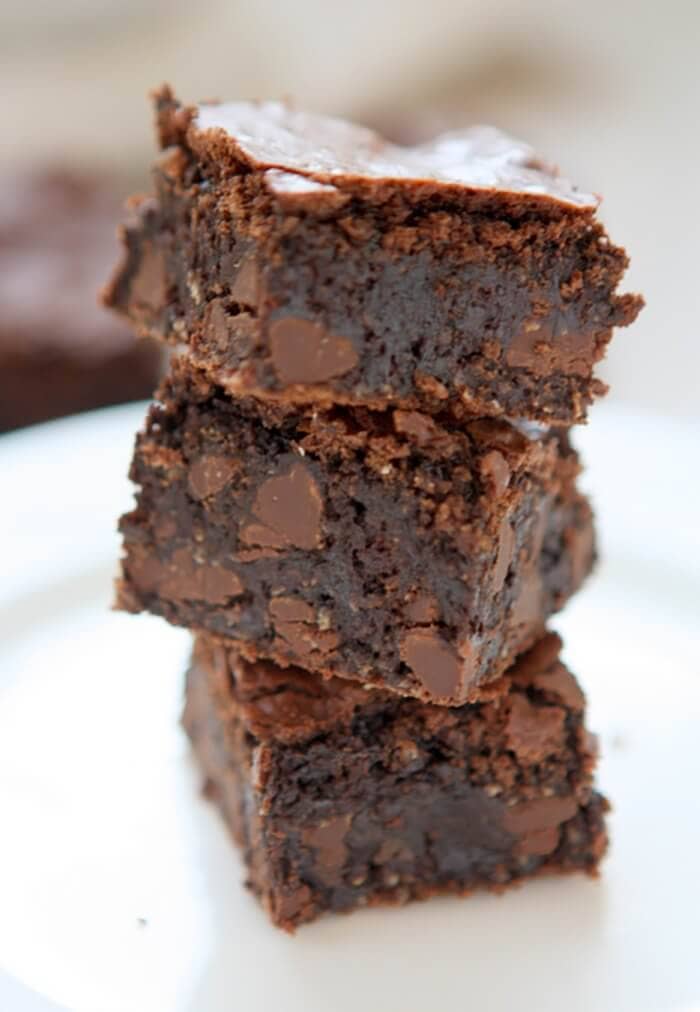 Oat flour works nicely in this recipe, but you need to make sure you're buying it from the gluten-free food section so that it's truly gluten-free. You'll find that this is an easy recipe with a classic brownie flavor. It's sure to make your kitchen smell nice as you bake it on a cold winter day. The small bit of espresso imparts a bit of a flavor kick, but you don't have to include it if you're worried about serving it to the kids. The recipe still works without that ingredient. Choose these gluten-free brownies when you just want something like the brownies you remember from your childhood.
20. Healthy Brownie Batter Dip for One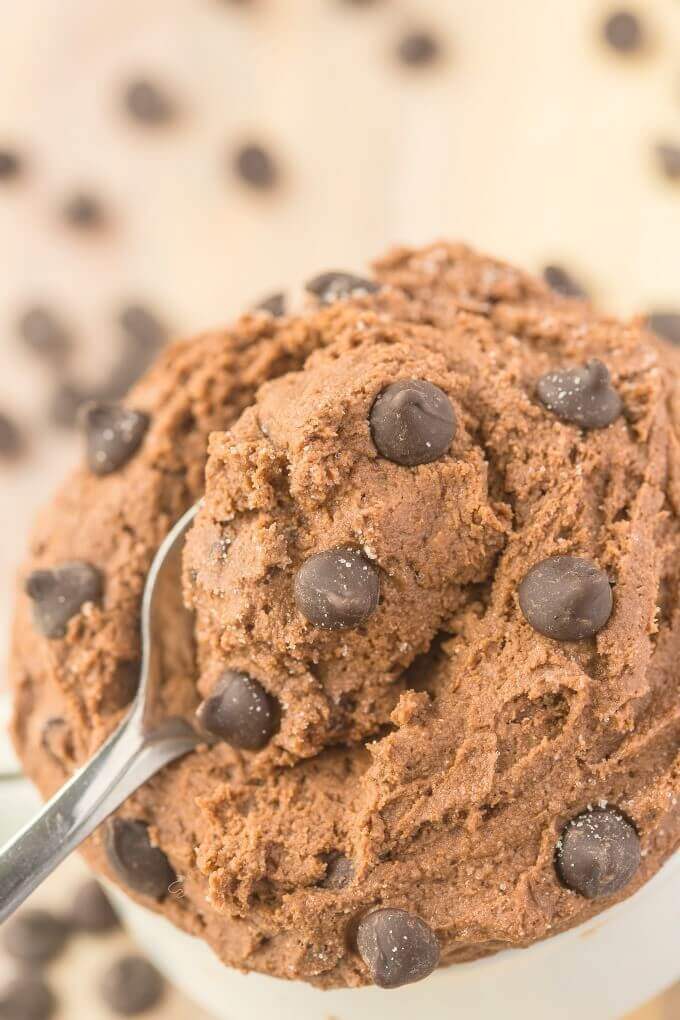 If you've spent your fair share of time licking the bowl after making brownies, you're going to love this idea. It makes a "brownie batter dip" out of nutritious ingredients like bananas, sweet potatoes, and protein powder. You can use it as an actual dip, alongside apple slices or gluten-free cookies. However, you also don't have to be shy about eating it straight out of the bowl. Unlike the usual brownie batter, this version is good for you and could serve as an excellent meal idea for breakfasts when you really want to treat yourself.
21. No Bake Death By Chocolate Protein Bars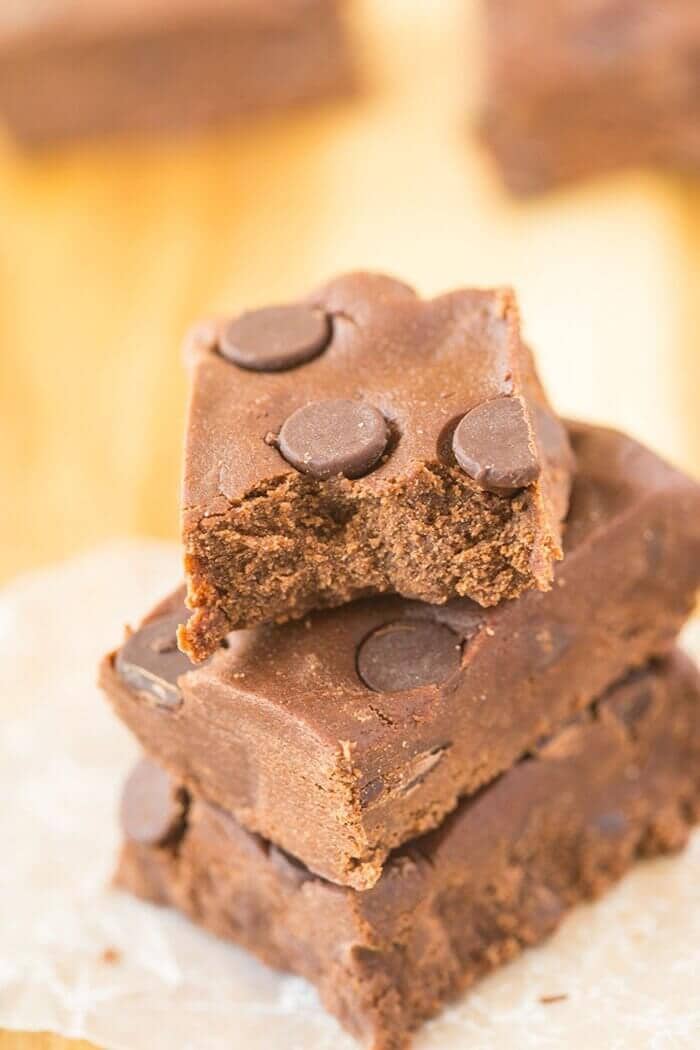 When the weather is hot, you don't want to turn the oven on and heat up the kitchen, so this gluten-free recipe is a good choice for the summer time. There's a lot of chocolate taste in these bars, so you'll like having them in the refrigerator for a quick treat. What's especially nice about this particular recipe is that the blogger lists a lot of possible substitutions to make the recipe work for different types of diets. For instance, you can use coconut flour instead of oat flour to make it more paleo-friendly. If you're looking for a good-for-you way to get your chocolate fix, this is it.
22. Gluten-Free Brownies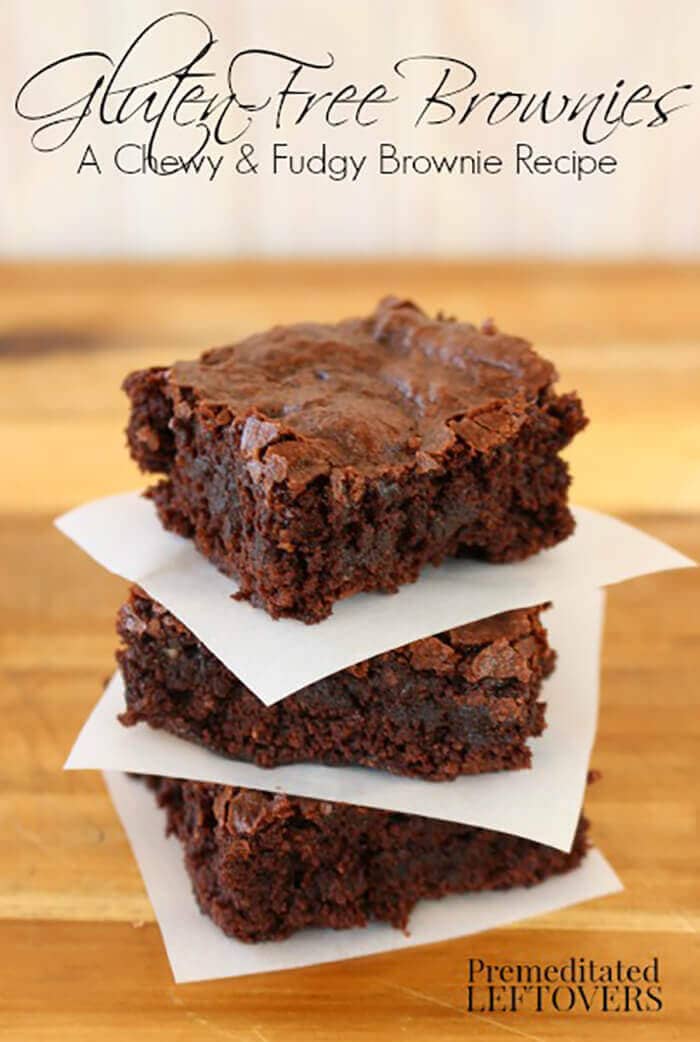 Use this gluten-free brownie recipe when you want a fudgy, chewy brownie with great flavor. It substitutes rice and tapioca flour for the wheat flour to make them gluten-free, but also includes potato starch and xanthan gum. These two ingredients help give the dessert its traditional texture, so resist the urge to leave them out. It's part of what makes the recipe come out so well. In fact, few people will be able to guess that these are anything other than a traditional brownie.
23. Healthy 3 Ingredient Flourless Brownies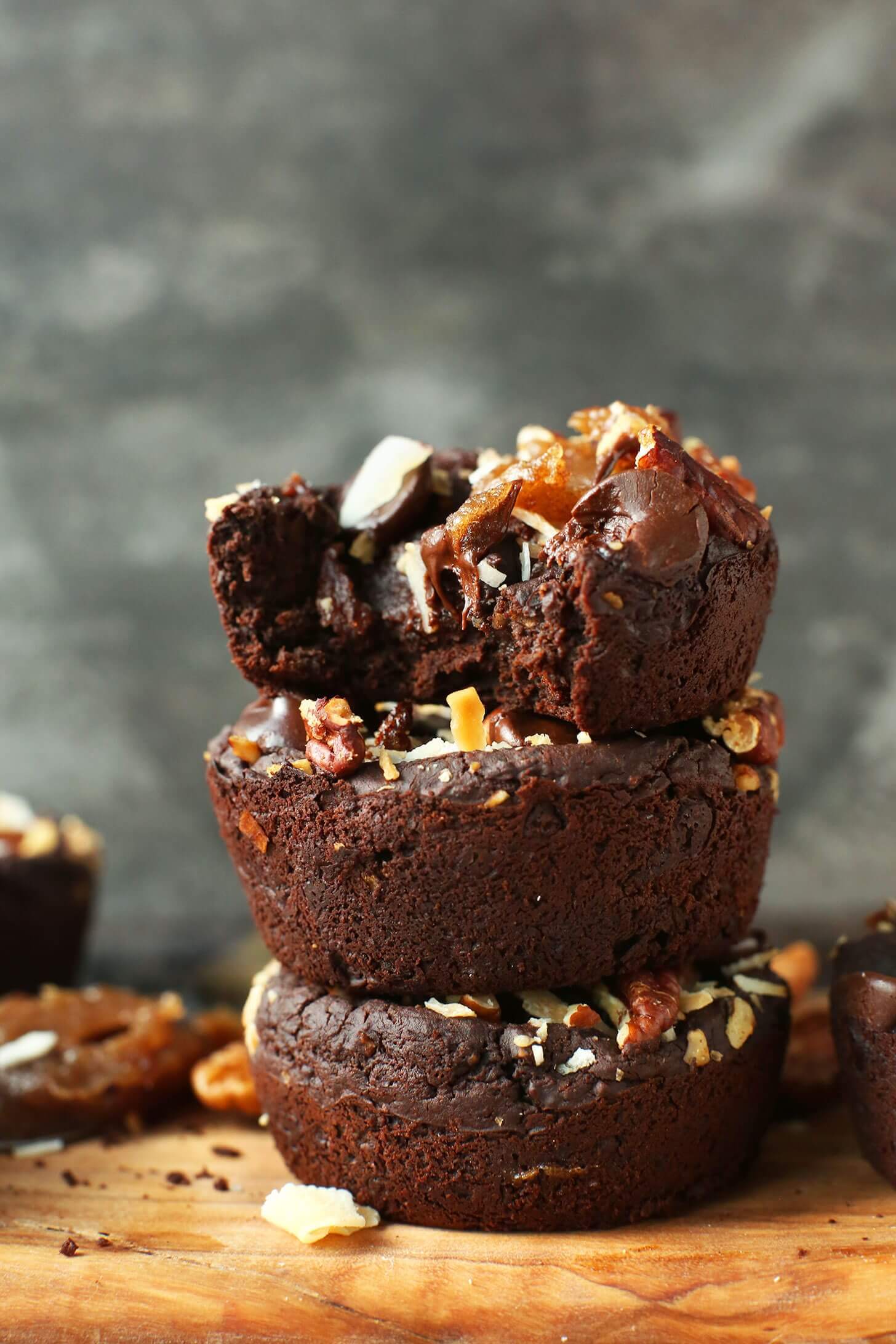 Here's another recipe with just a few nutritious ingredients that will help you satisfy your brownie cravings without worrying about too much sugar or calories. It offers a range for the amount of cocoa powder, which means you'll be able to make it as chocolatey as you want it. If you really want this gluten-free brownie recipe to come out perfectly, use a food processor to thoroughly mix up the ingredients. This will make the batter smooth so that it will bake nicely, and you won't have to worry about getting a big chunk of banana when you take your first bite.
24. 5-Ingredient Fudgy Flourless Protein Brownie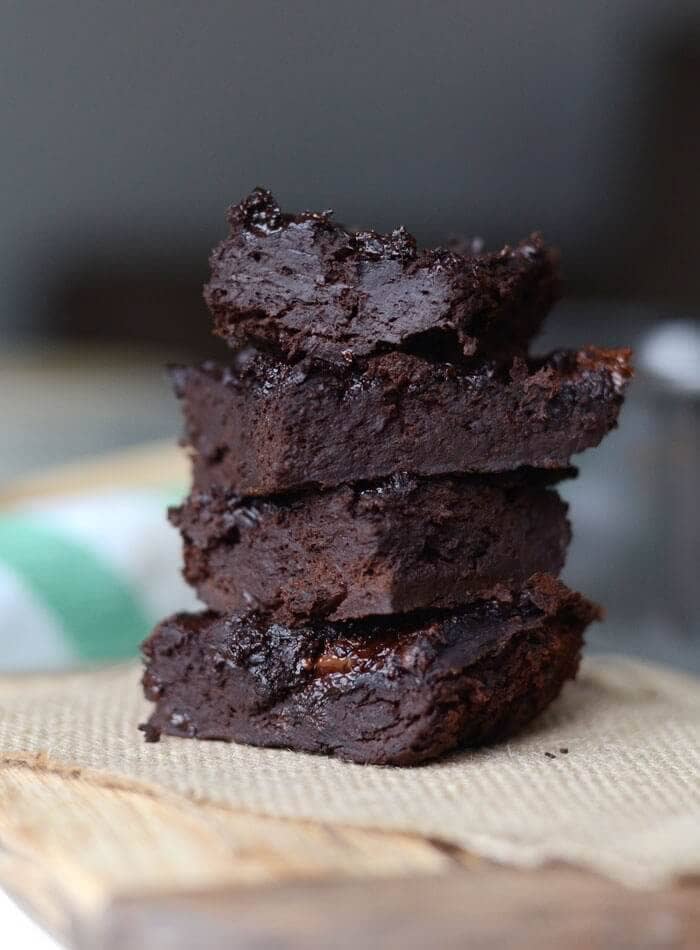 Just looking at the pictures for this fudgy brownie makes you think that this might be one of the best brownie recipes on our list. They're so gooey that you might want to eat them with a spoon. This recipe is great for two reasons. First, it's incredibly easy to make. You just have to blend the ingredients together and throw them in the pan. Second, without sugar, flour, or oil found in the ingredient list, a single serving of this delectable dessert is well under 100 calories. That means you might just want to use them as a quick grab-and-go meal idea.
25. Chocolate Philadelphia Brownies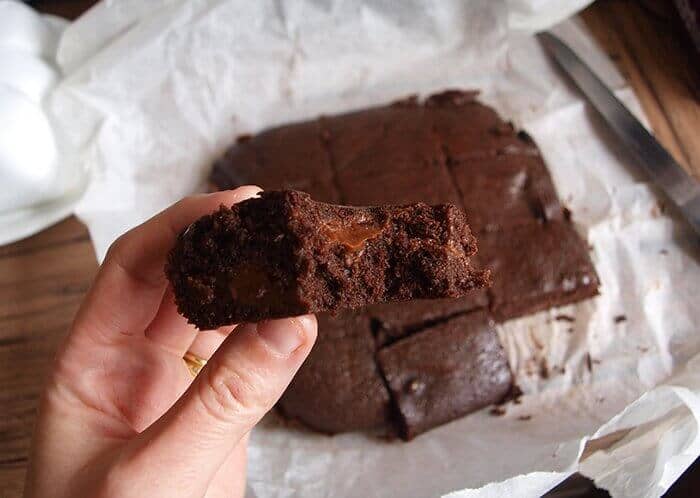 Philadelphia makes a chocolate-flavored cream cheese, and this gluten-free recipe makes use of it to impart a wonderfully unique chocolate flavor to the brownies. Aside from a store-bought gluten-free flour blend, it uses ingredients that are commonly found in most kitchens and easy to get at all grocery stores. This makes it a great recipe for those who need to bake something delicious for a guest who follows the gluten-free diet because you don't have to buy a ton of special ingredients. It's a crowd-pleaser that you can make with regular flour as well.
26. Healthy Flourless Zucchini Fudge Brownies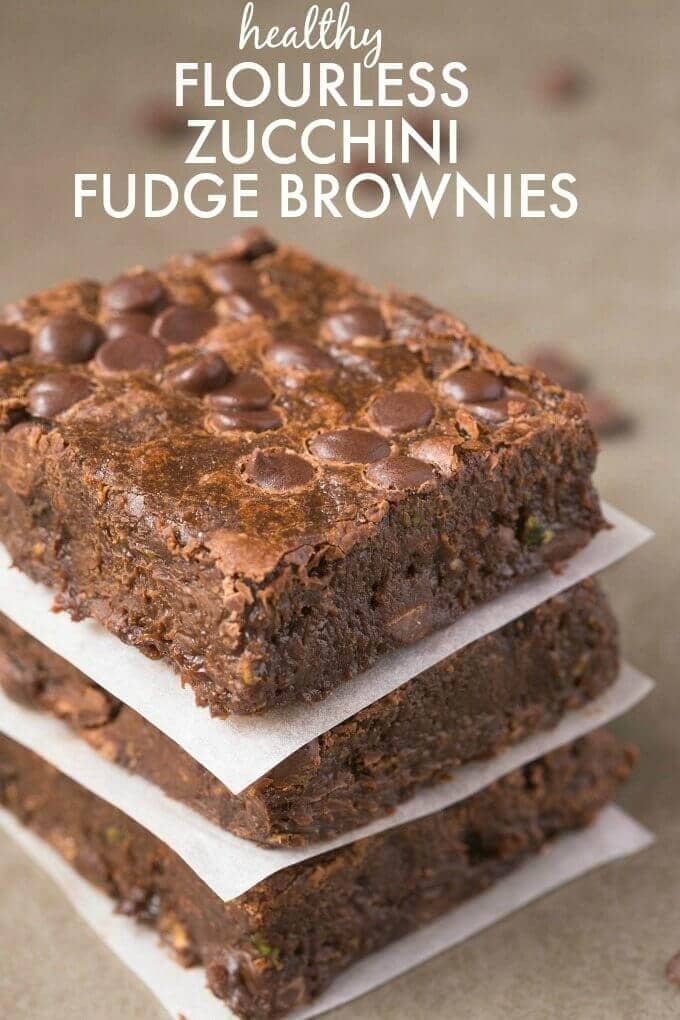 If your garden has become overrun with zucchinis, you'll find that these gluten-free brownies are a nice alternative to the ever-popular zucchini bread. Adding zucchini gives any baked good a nice moist texture, and it works surprisingly well in brownies. Though the chocolate chips on top are technically optional, you'll want to include them because they really make this dessert even yummier. Try these out if you're sick of begging your kids to eat their vegetables. They won't even taste the veggies hidden inside.
27. The Ultimate Unbaked Brownies

You don't have to heat up the kitchen to get the perfect-tasting brownie. This recipe uses dates as the main base, which will give the brownie some sweetness and just the right chewiness. However, adding the cocoa powder gives it the chocolate flavor you're looking for. Blending is the key to making this recipe come out just right because you don't want any chunks marring the taste. The frosting on top is really the best part, though. You're going to love this brownie made from good-for-you ingredients.
28. Fudgy Vegan Low-Fat Brownies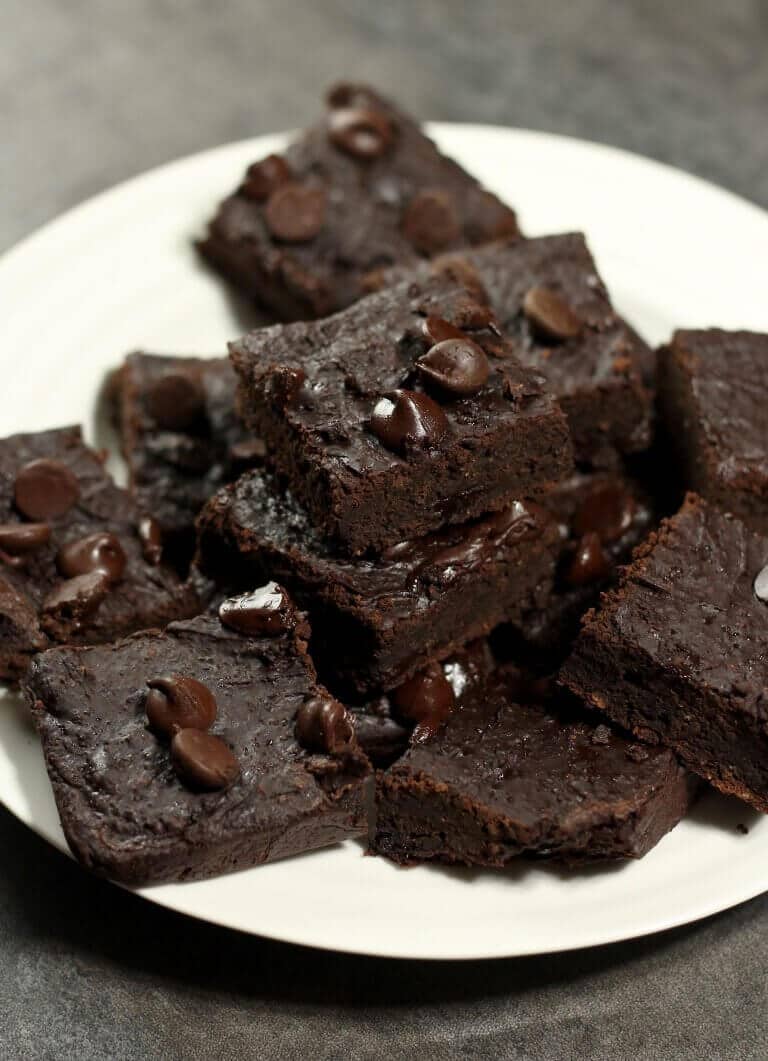 One of the biggest problems with brownies is that they're rarely low in fat and calories. Even when you make it more nutritious, they can still have a lot of sugar and oil. That's not true in this gluten-free brownie recipe. It uses applesauce instead of oil, and white beans instead of flour. There are plenty of other recipes that use beans to make baked goods, but the white beans tend to have a milder flavor, so the bean taste doesn't overpower the rest of the dessert.
29. Wholesome Epic Gluten-Free Brownies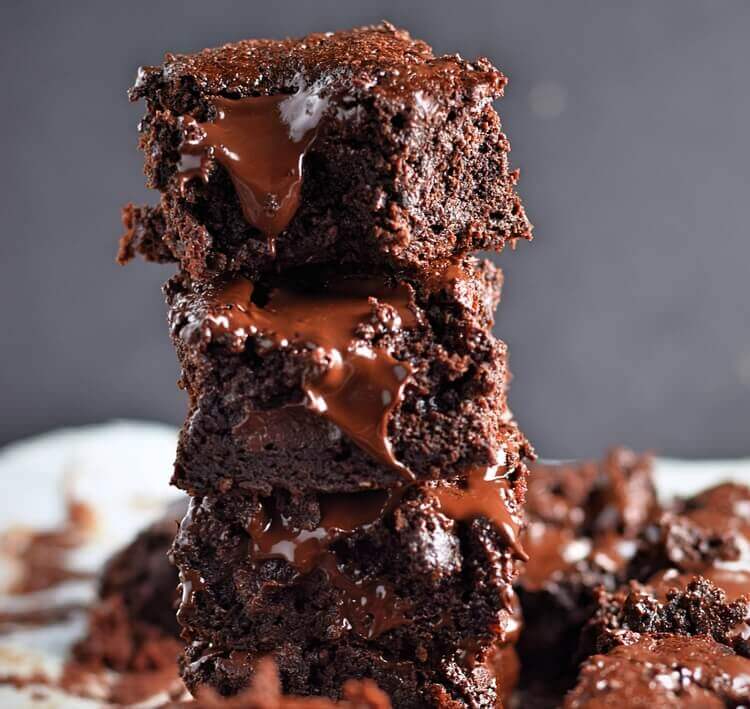 You're already reading a list of the best brownie recipes for people who on a gluten-free diet, so we know that you're all about the chocolate, but your mind is about to be blown with this decadent recipe. What makes these especially fantastic is the chocolate melted on top. Once you fill the pan with the brownie batter, you sprinkle chunks of semi-sweet chocolate on top. This makes for bigger pools of chocolate than you'd get if you used chocolate chips. For an extra-special treat, be sure to serve these warm so that the chocolate is really melty. Better yet, put a scoop of ice cream on top.
30. Gluten-Free Decadent Dark Chocolate Brownies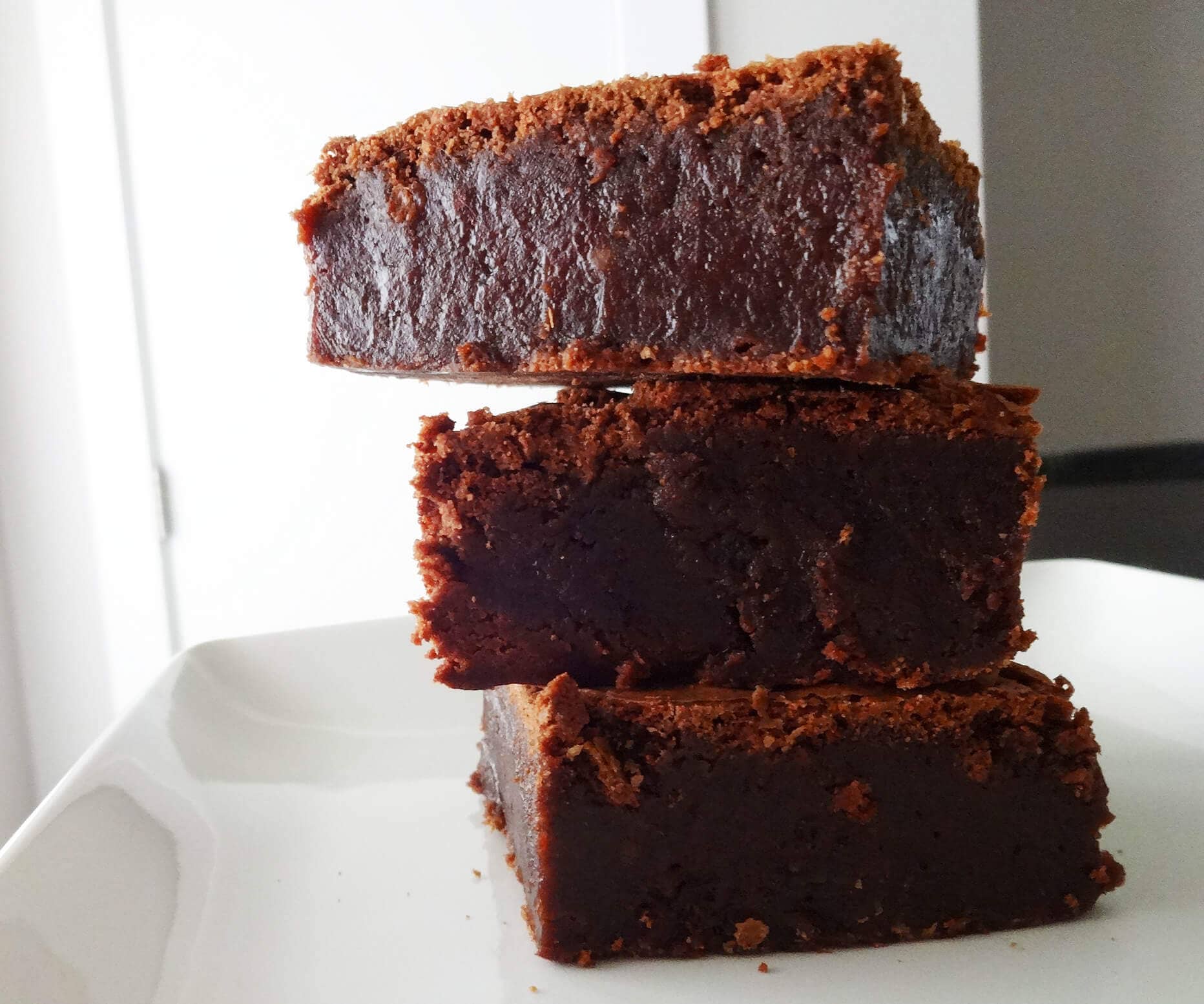 This recipe comes from the Bona Dea company, which makes a variety of gluten-free food mixes. It features they're all-purpose flour and makes a brownie that's perfect for anyone who loves dark chocolate. That gives them a taste that's quite different from most of the other recipes in this list. With a few substitutions, you can also make these brownies vegan if you have allergies or follow that type of diet as well.
31. Fudgy Flourless Brownies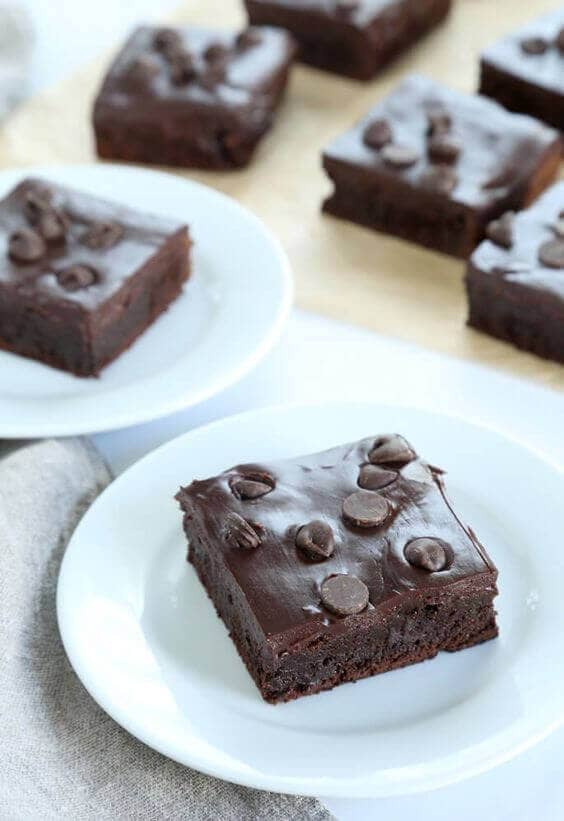 These gluten-free brownies have no flour at all – no gluten-free blend, no alternative flours, and no added starches. That makes for a dense brownie that tastes like you're biting into a piece of fudge. To makes these even more delightful, the blogger adds a chocolate ganache on top. It's a surprisingly easy recipe to make using many ingredients you probably already have in your kitchen. Despite this, it looks like it came straight from a fancy bakery and tastes just as great. No one needs to know that you didn't spend a lot of money on this dessert.
32. Paleo Double Chocolate Cookies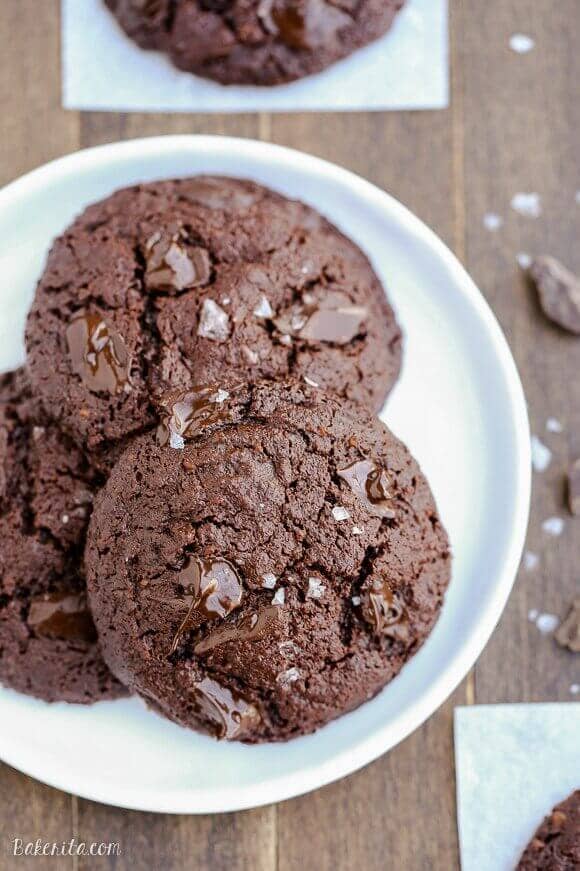 Here's another cookie that definitely tastes more like a brownie. It's a paleo-friendly gluten-free recipe that's chocolate taste comes from melted chocolate chips rather than cocoa powder. It uses coconut sugar instead of refined sugar, and has an interesting twist at the end of the recipe – a small sprinkle of salt. If you tend to like salted caramel, you're probably going to love this recipe just as much. However, don't be intimidated by the salt. That's not everyone's thing and you're not required to add it. The cookies will still taste great without the salt.
33. Nutella Bites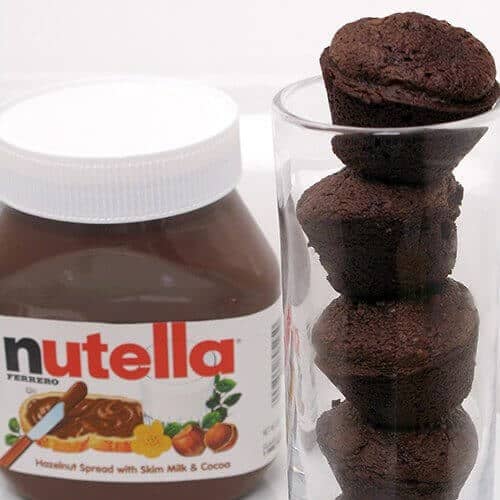 If you like chocolate, you probably love Nutella as well. Maybe you love it even more. In any case, the addition of Nutella in these little "bites" makes these gluten-free brownies a little bit different. Another nice thing about them is that you're supposed to bake them in a mini muffin pan, creating perfectly-portioned brownies. This way, you can't cheat by eating "one brownie" that's really the size of two or three. Ultimately, that's better for your diet. They're also cute when you need to bring a dish to pass at the next group potluck.
34. Double Chocolate Peanut Butter Cheesecake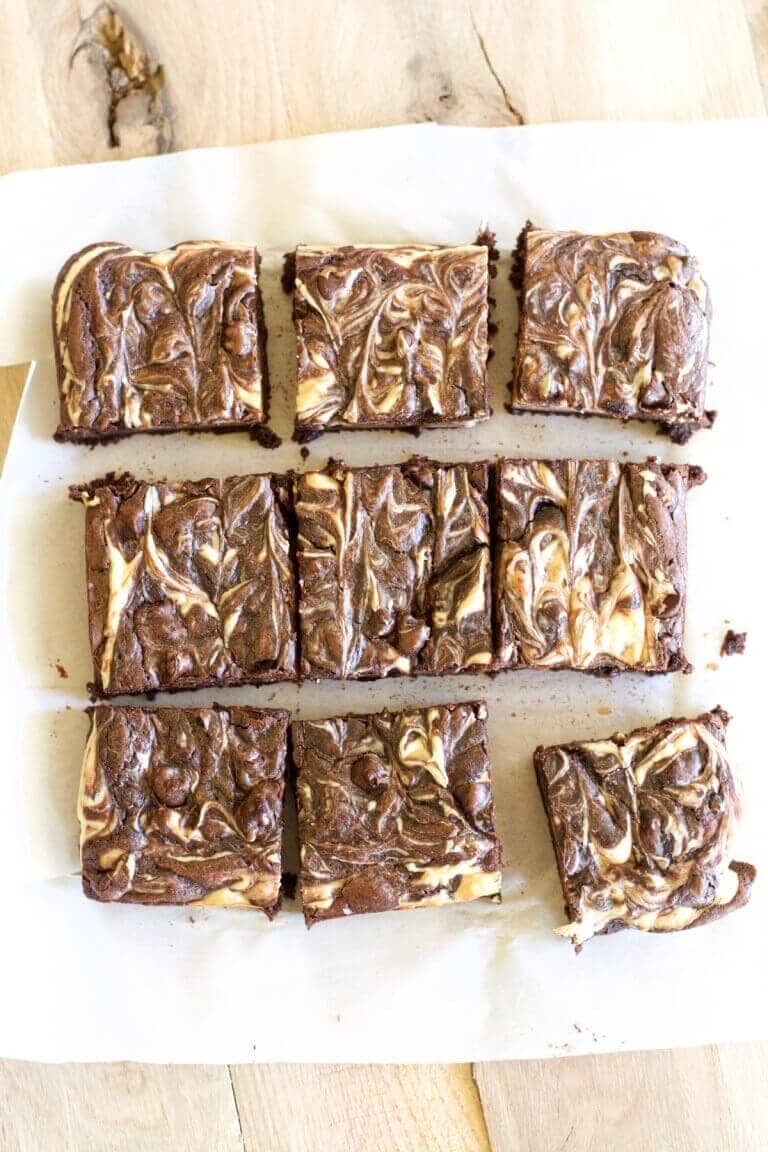 There's a lot to love about this brownie idea that's both easy and unique. It starts with a store-bought gluten-free brownie mix, which is easy to find and easy to make. Once you've got the batter, though, you swirl it with a rich mixture of peanut butter and cream cheese. This makes each bite dense with a cheesecake-like flavor that you're sure to love. The swirls also make these brownies look like they're a lot harder to make than they really are. People will think you've slaved in the kitchen for hours, but they only take a few minutes before you can slip them in the oven.
35. Gluten-Free Dark Chocolate Turtle Brownies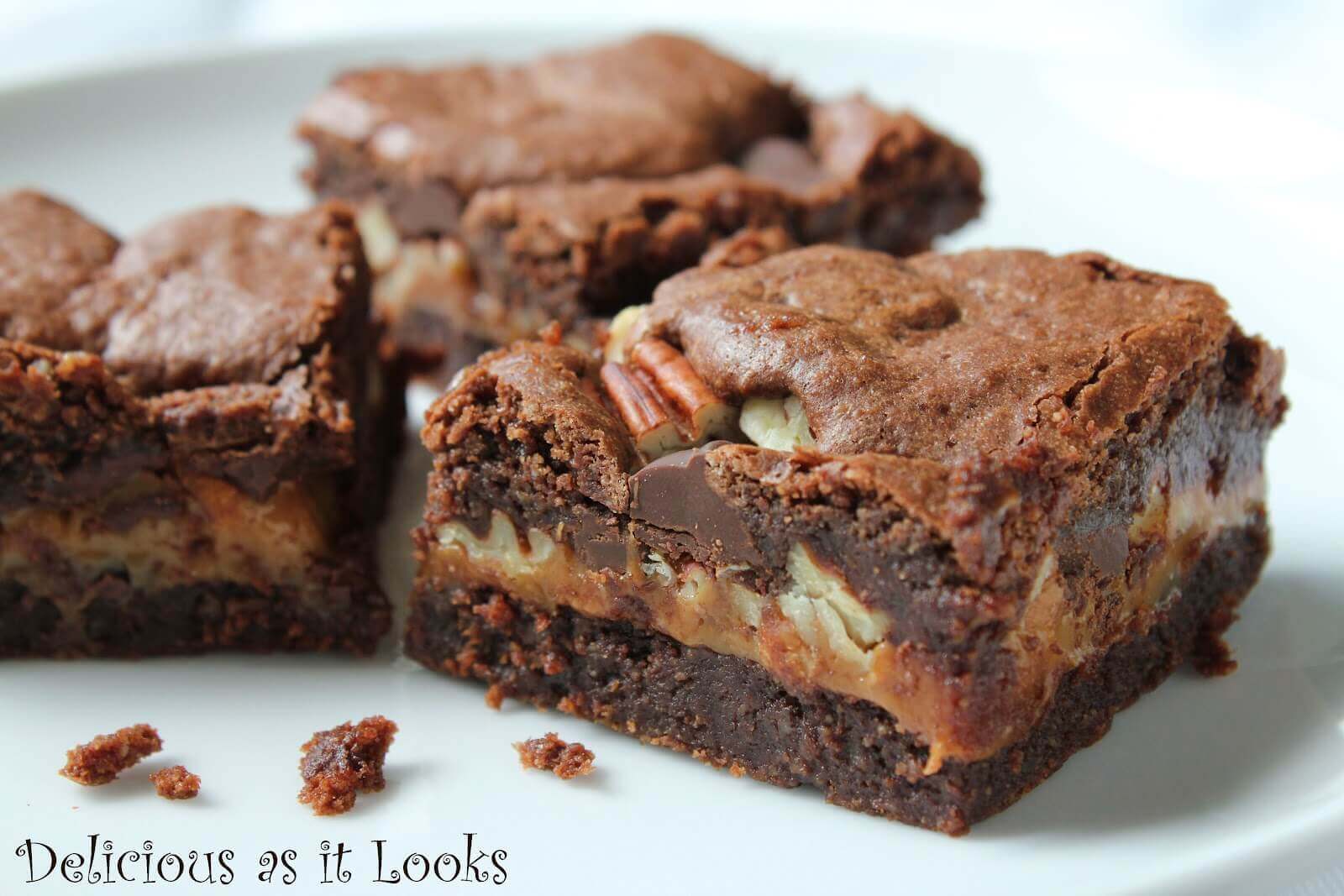 It's surprising that we've gotten this far into the list without having a brownie idea that includes caramel. If caramel's your thing, this is the recipe for you. It starts with an ooey gooey brownie on the bottom, then has a nice layer of caramel, pecans, and chocolate chips on the top. The crunchiness of the nuts offers a nice contrast to the chewy brownie, and since this recipe is so similar to traditional turtle brownie recipes, you don't miss any of the flavor you're expecting.
36. Emeril's Gluten-Free Vegan Brownies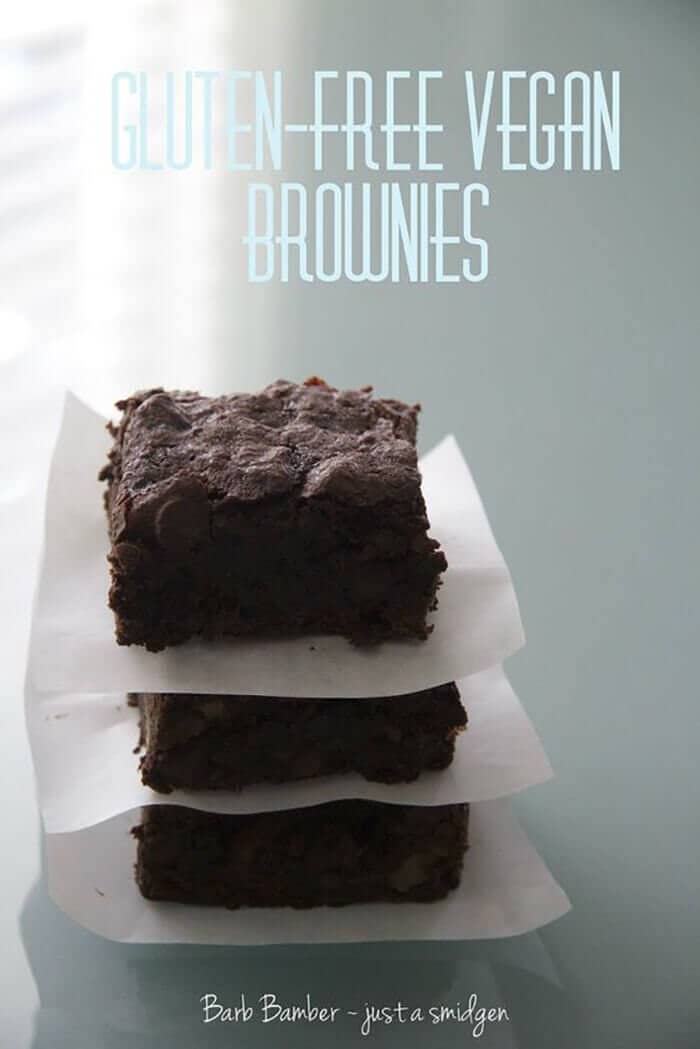 As you've seen in many of the other recipes, gluten-free recipes aren't necessarily nutritious or low-calorie. Sometimes, you want a treat that's good for you. Other times, you're willing to splurge a bit. There's nothing wrong with that. For those times when you're craving a real brownie that won't give you that gluten fog, use this easy recipe. It does use applesauce to cut back on the fat, but there's a big dose of sugar here. That's OK, though, because it helps make the recipe taste so delicious.
37. Healthy 3-Ingredient Flourless Pumpkin Brownies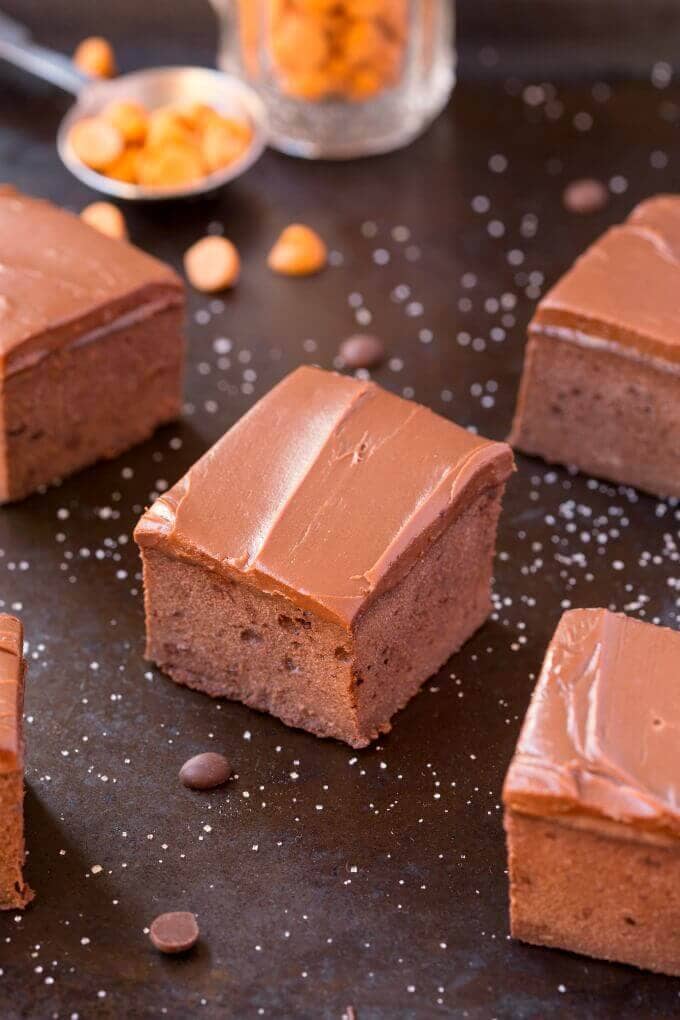 There's no doubt about it. This gluten-free brownie recipe is healthy. With just three ingredients – pureed pumpkin, cocoa powder, and almond butter – you don't find added fat, sugar, or gluten. Of course, that means that you can't expect these to taste like a traditional brownie. They don't, so if that's what you're expecting, you'll want to try any of the other recipes. However, this version is good to try if you're trying to lose weight but still want something that feels like a treat. It's a decent substitute for those who are committed to healthy eating, but it won't be fooling anyone.
38. Fudgy Gluten-Free Egg Free Brownies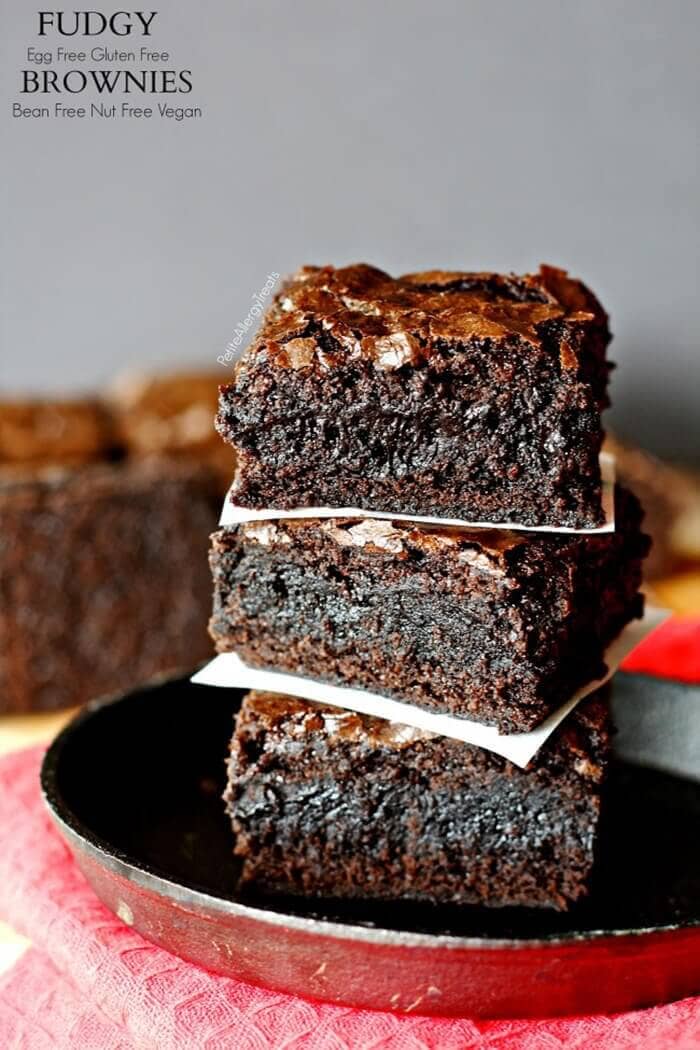 Look at that nice crackly topping on this brownie. Even though the recipe doesn't have wheat flour and doesn't use eggs, you'll still find that these gluten-free brownies have a lot going for them. They're fudgy and rich – pretty much everything you really want in a brownie. To make them, you'll need a gluten-free flour blend and tapioca starch. That's what will give it the flakey toping. Enjoy these brownies with an afternoon cup of coffee.
39. Gooey Gluten-Free Brownies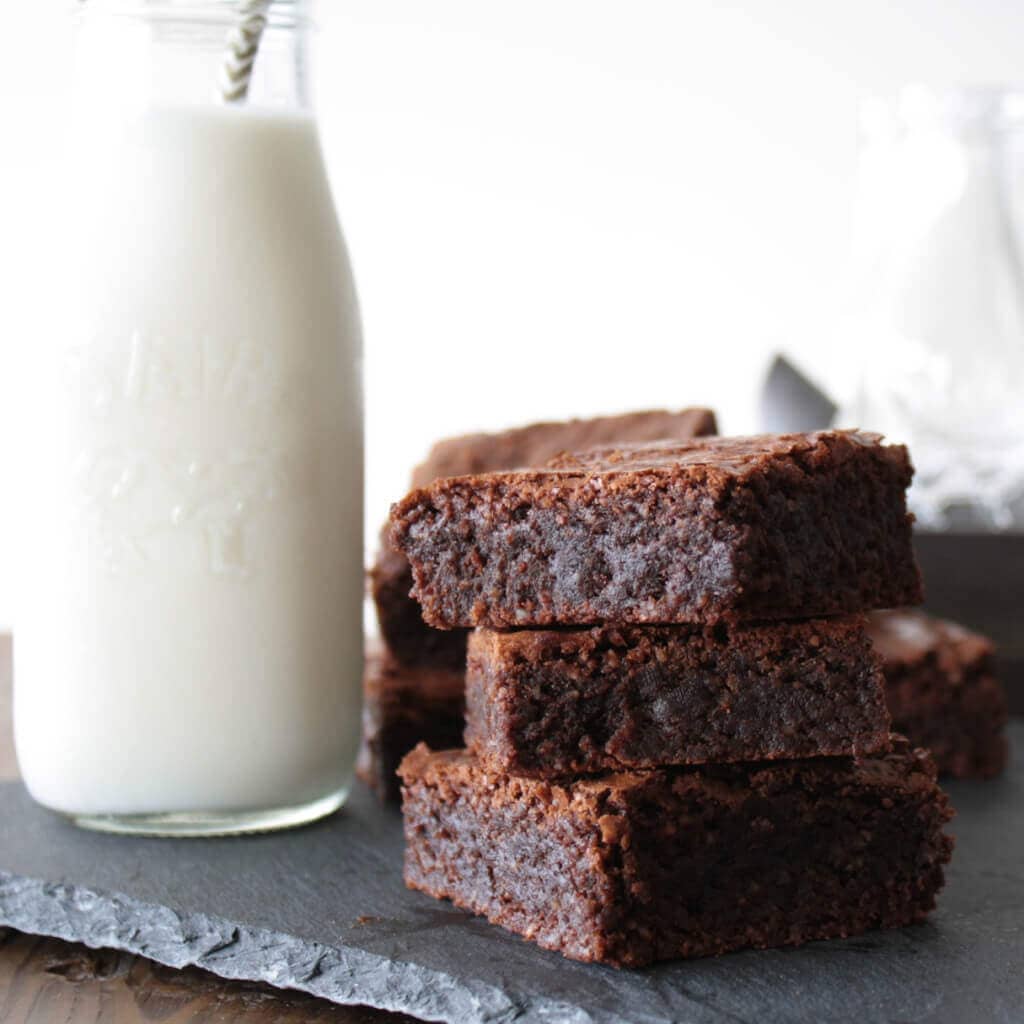 Try not to let the metric measurements deter you from making this gluten-free brownie recipe. It's easy enough to make the conversion, and you wouldn't want to miss out on the flavor. With a combination of almond powder and brown rice flour, the brownies you get are somewhat cake-like and would do well if you're looking for a bit of dessert for a party. Since this is such a basic recipe, you might want to add a little something else, like chocolate chips or nuts. For a surprise, try cinnamon-flavored chips.
40. Death by Chocolate Blender Brownies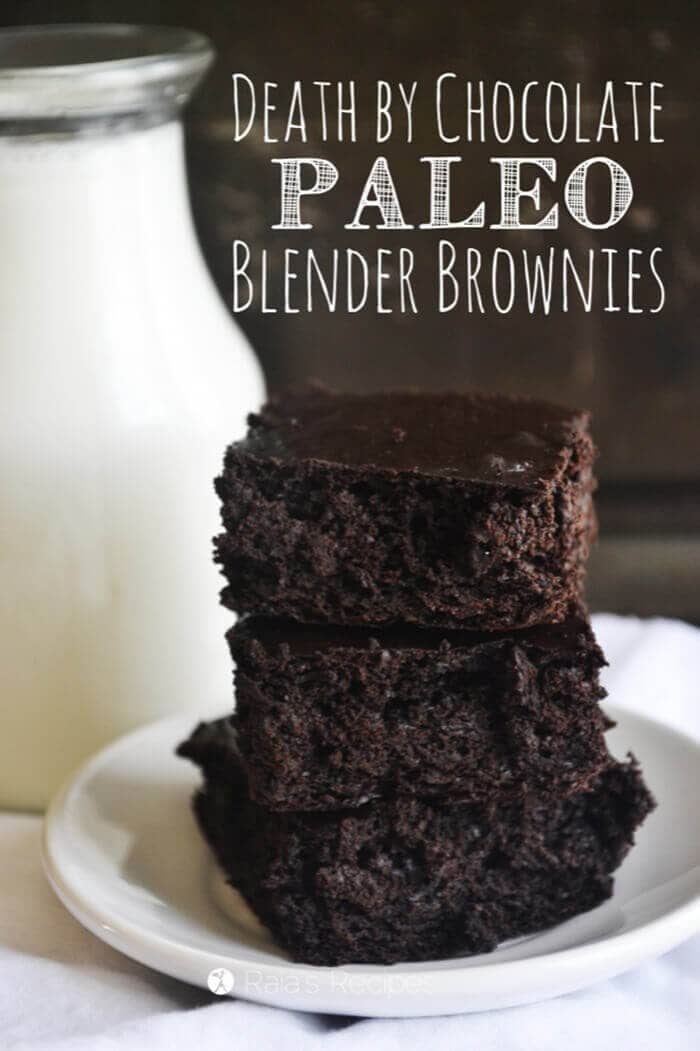 These paleo-friendly brownies are sweet enough to satisfy your sweet tooth but nutritious enough that you won't feel guilty about having a second one. This is such an easy recipe because all you need to do is add the ingredients into your blender for a few seconds, then pour the batter into the pan. You'll see that there's a banana included for its sweetness, but the good news is that the taste of the banana doesn't overpower the entire brownie. There's still a strong chocolate taste.
41. Low-Carb Cheesecake Brownies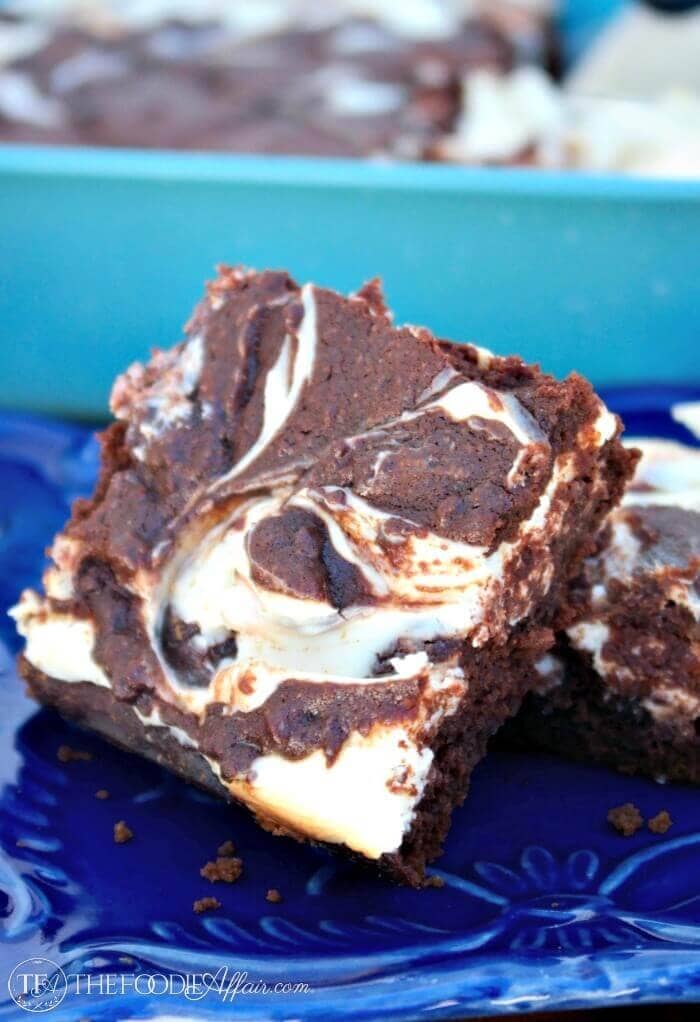 These low-carb brownies are just as yummy as they are pretty. Since they're low-carb, you won't find all the sugar that you see in most of the other brownie recipes. Instead, it uses Truvia for most of the sweetness. The stark white color from the cream cheese is a nice contrast to the dark color of the brownie, making these a treat to look at as well as eat. While the recipe calls for a blend of sweet and bittersweet chocolates, you can simply use the types of chocolate you have on hand. There's no need to buy special ingredients if you don't want to.
42. Paleo Chocolate Pumpkin Brownies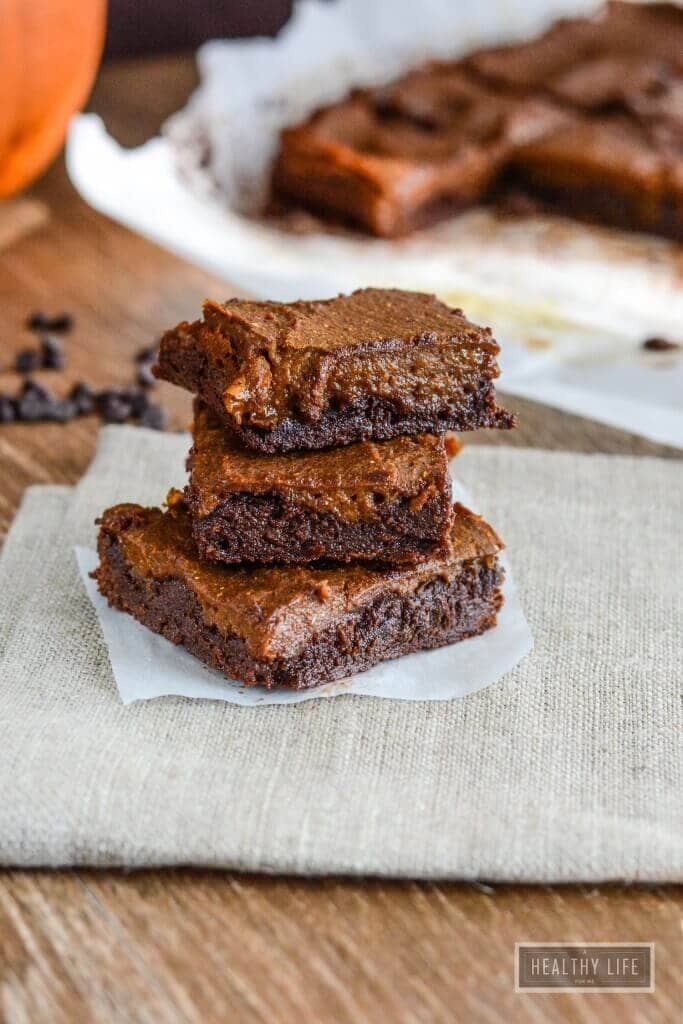 Here's a new recipe for those who are in favor of pumpkin spice-flavored gluten-free foods. Rather than try to hide the flavor of the pumpkin puree in this recipe, it's actually designed to highlight that flavor. These brownies start with a layer of basic brownies, but are then topped with a pumpkin puree that's lightly spiced and sweetened to perfection. It offers an incredibly unique twist on both brownies and the pumpkin-flavored foods. This might just be a new fall favorite for everyone in your family.
43. Gluten-Free Vegan Brownies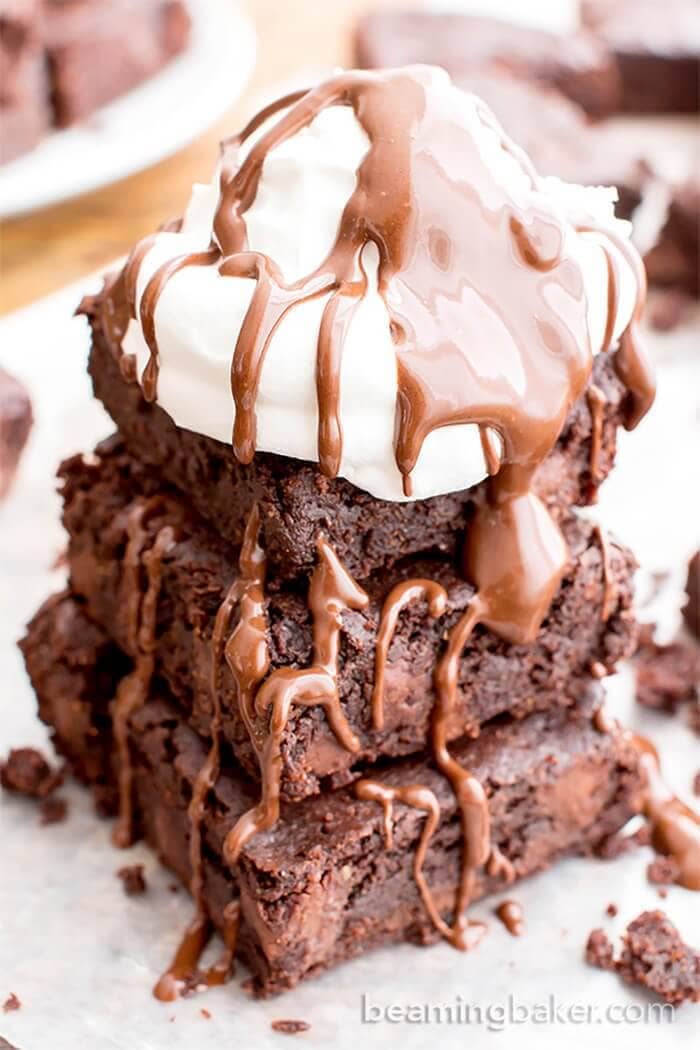 Being both gluten-free and vegan makes this a nice recipe for times when you're dealing with several allergies. You'll find that it has a nice flavor that everyone will love. This uses "flax eggs" which are made from flax seeds. They're a suitable substitute for real eggs, and the flax seeds provide extra fiber to boost nutritional content just a bit. Think about serving these with your favorite ice cream. Coconut ice creams are also vegan and would go well with these brownies.
44. Healthy One Minute Brownie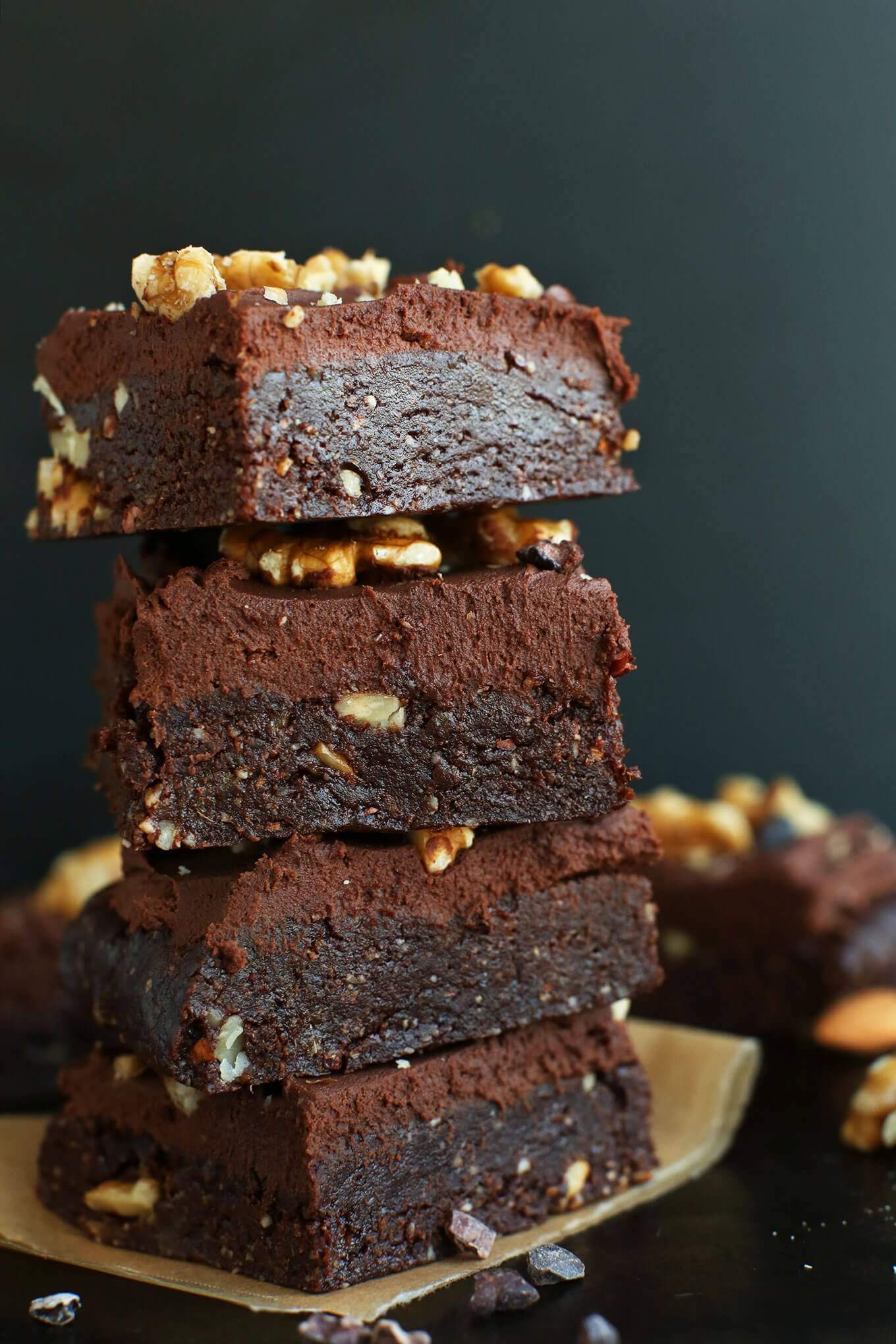 Turn to this gluten-free brownie recipe when you just want an easy sweet treat with a single serving size. You'll find most of the ingredients in a typical gluten-free kitchen, and it only takes a minute to make these up in the microwave. This recipe is nice because the blogger offers a few different substitutions to make the recipe fit different types of diets. This helps you to see that you can probably switch up some of the ingredients on your own if you don't happen to have a particular ingredient on hand.
45. Double Chocolate Banana Bread Oat Bars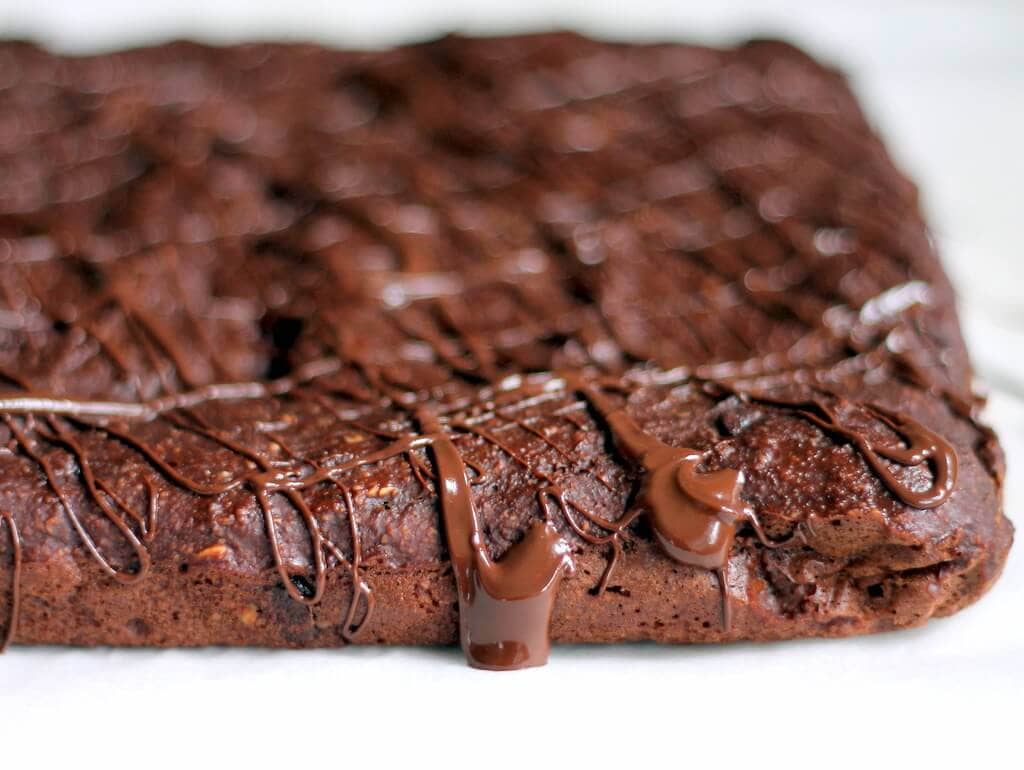 These are a bit more nutritious than some of the other brownies we've mentioned, but they sure look pretty. With bananas for sweetness and a base of oat flour, they sort of mimic a lot of those convenient health bars you can usually buy in the stores. The slight drizzle of chocolate adds quite a bit of oomph to a brownie that might otherwise be sort of bland. If you want, you can freeze these for an easy meal idea when you're on the run.
46. Mint Chocolate Brownies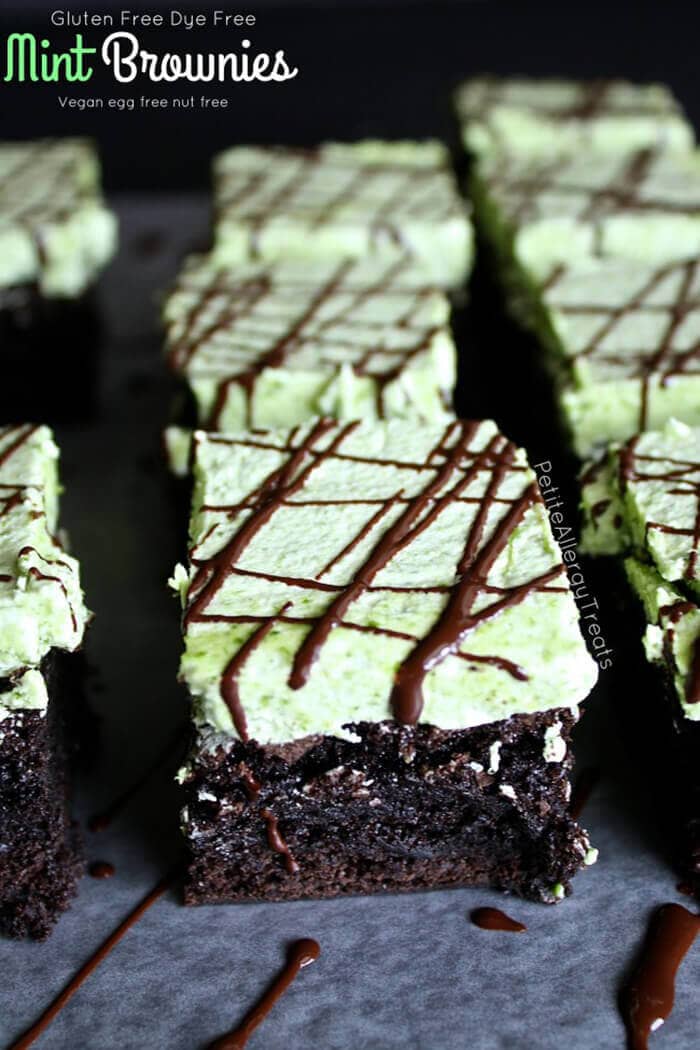 Mint and chocolate seem to go hand-in-hand, so these gluten-free brownies are not going to disappoint you. They're especially fun because the mint comes from the frosting, which has a slight green color. With the chocolate icing drizzled on the top, these brownies are extra cute and will be the perfect addition to the party table. Best of all, they're also vegan.
47. Gluten-Free "Little Debbie" Cosmic Brownies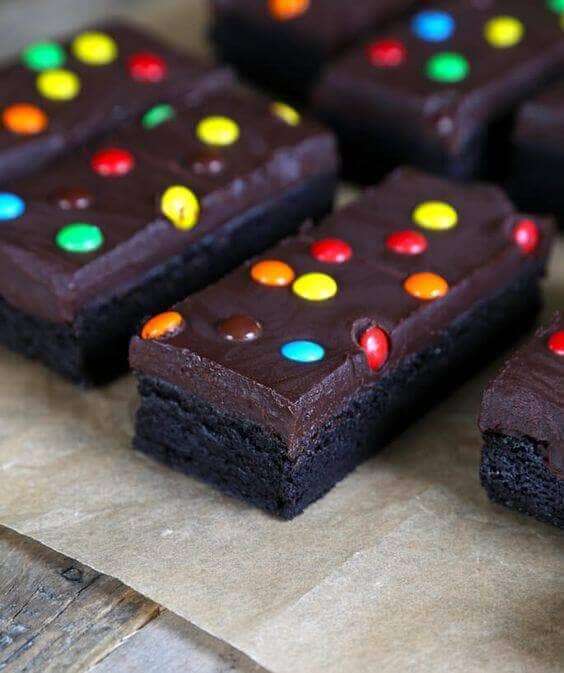 Little Debbie's Cosmic Brownies are a store-bought treat with cute candies baked into the brownie. They are cheap and look good, but the actual taste falls surprisingly flat, especially if you've gotten used to eating foods that are good for you. Turn instead to this updated version of the brownies. They look pretty close to the original, but they taste about a hundred times better. You do need to make it in layers, which can be a bit time consuming, but it's worth the effort. This is a great solution if you have a child with a gluten allergy who feels that he's missing out on some of the experiences that the other kids are having.
48. Peanut Butter Swirl Brownies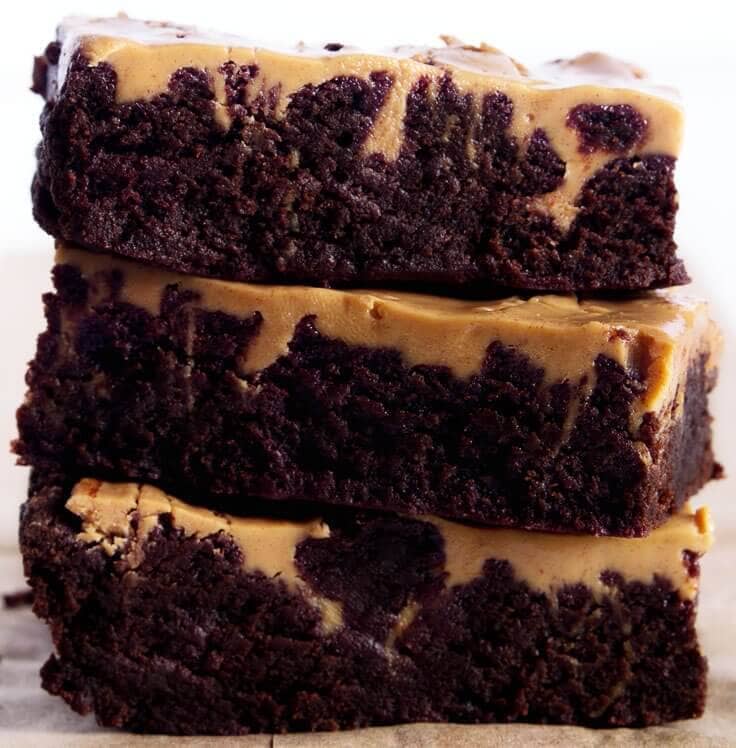 In this gluten-free recipe, you get the classic combination of chocolate and peanut butter in a delicious brownie. The peanut butter topping isn't mixed with a lot of sugar, so you'll find that it has a nice, strong peanut butter taste. Feel free to experiment with the amount of peanut butter. If you just want a slight peanut butter flavor, you can use far less than the recipe calls for. This will slightly alter the color balance, but they will taste great nonetheless.
49. Chocolate Skillet Brownies
For a change, try using a skillet to cook your brownie rather than the traditional pan. This gives a better "edge" texture over a larger portion of the brownie. The idea is also great for those who want to cook something with a smaller portion. Rather than cutting out individual portions, you can sit down to this with a spoon, digging into the warm and gooey dessert. It's best served warm with a bit of ice cream on top.
50. Gluten-Free Chocolate Brownies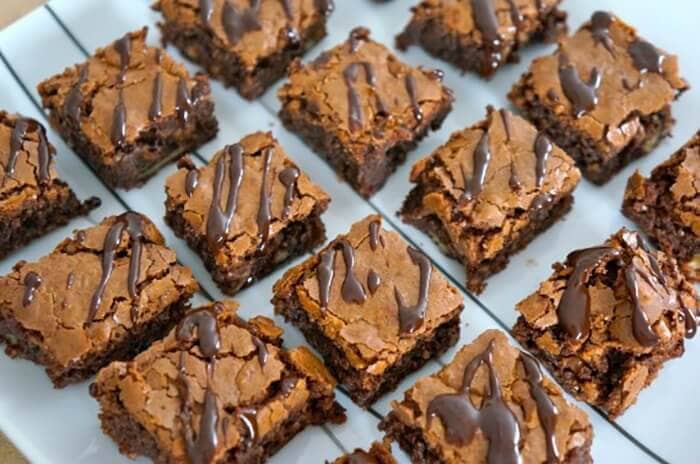 It's amazing what a little chocolate drizzle does to a brownie recipe. We've seen again and again how it really give the brownie a polished look that you don't always get from homemade brownies. It instantly transforms into something that looks professionally made. This gluten-free brownie recipe allows you to use almond flour or to just make your own from whole almonds. This substitution is nice if you're caught without almond flour on hand, and it's an easy recipe to make if you have a food processor.
50 Ooey Gooey Brownies that are Totally Gluten-Free
Following the gluten-free diet doesn't mean that you have to miss out on all the treats your friends get to enjoy. With a few simple tweaks, you can create recipes without gluten. No matter where your tastes lie, you've certainly seen enough of the best brownie recipes to tempt your taste buds for a long time. Now it's time to get baking.