50 Delicious Gluten-Free Banana Bread Recipes that are Impossible to not Love
Banana bread is among the most comforting and delicious of desserts — the warm, fruity flavors create a homey feeling that brings you back to the sweetest days of childhood. When you go gluten-free, however, it can be a challenge to recreate the perfect texture and moisture of your favorite banana breads. These recipes take away the hassle. Each one is packed with the rich flavors of traditional banana bread, all without wheat products. As an added benefit, many of these gluten-free banana breads are dairy-free and vegan-friendly, so you can serve them safely at brunch or friendly get-togethers.
50 Tasty and Gluten-Free Banana Breads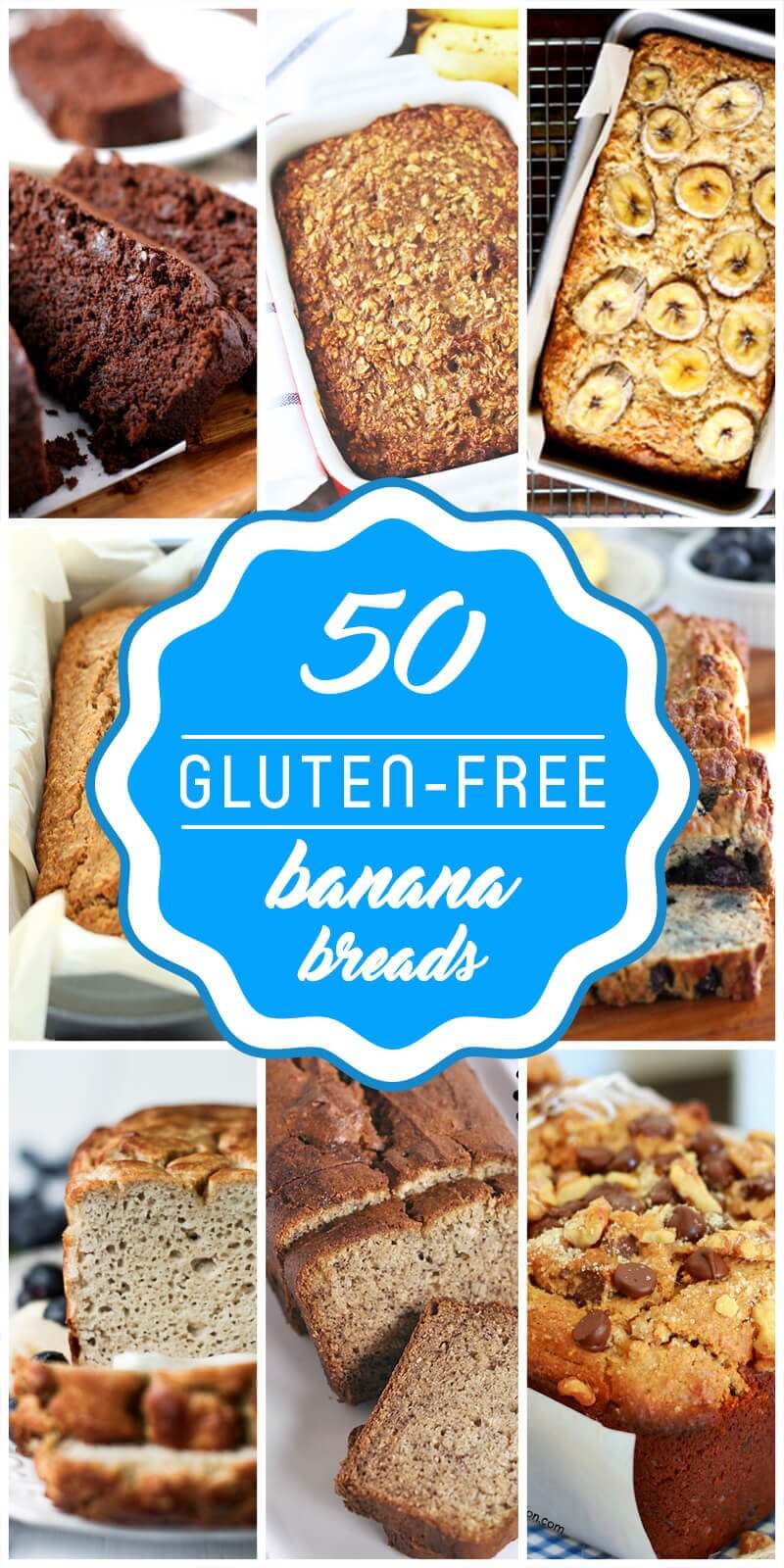 Each of these gluten-free banana breads embrace the exciting possibilities of gluten-free cooking, so you never have to look far for a creative banana bread idea. If you're feeling adventurous, opt for a recipe that blends different starches and gums; when you simply want a quick snack, take advantage of premade gluten-free mixes.
1. Flourless Banana Bread Muffins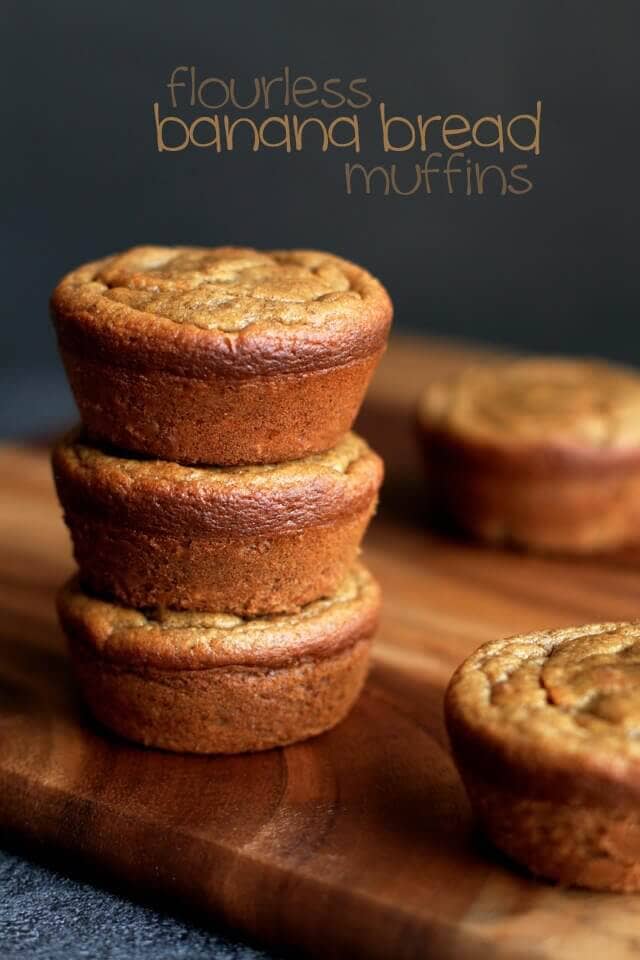 Curb your dessert cravings quickly with these flourless banana bread muffins, which take just five minutes to put together. Gluten-free ingredients, including almond butter and almond meal, give the muffins a rich, decadent texture with a hint of nuttiness. Two bananas add plenty of flavor; for great results, use bananas that are ripe and brown. Making these delicious muffins is a breeze: just toss all of the ingredients into a blender, and pour them into greased muffin pans. In just 10 minutes, you can achieve dense, flavorful muffins.
2. Chocolate Banana Bread (Gluten Free, Vegan, Refined Sugar Free)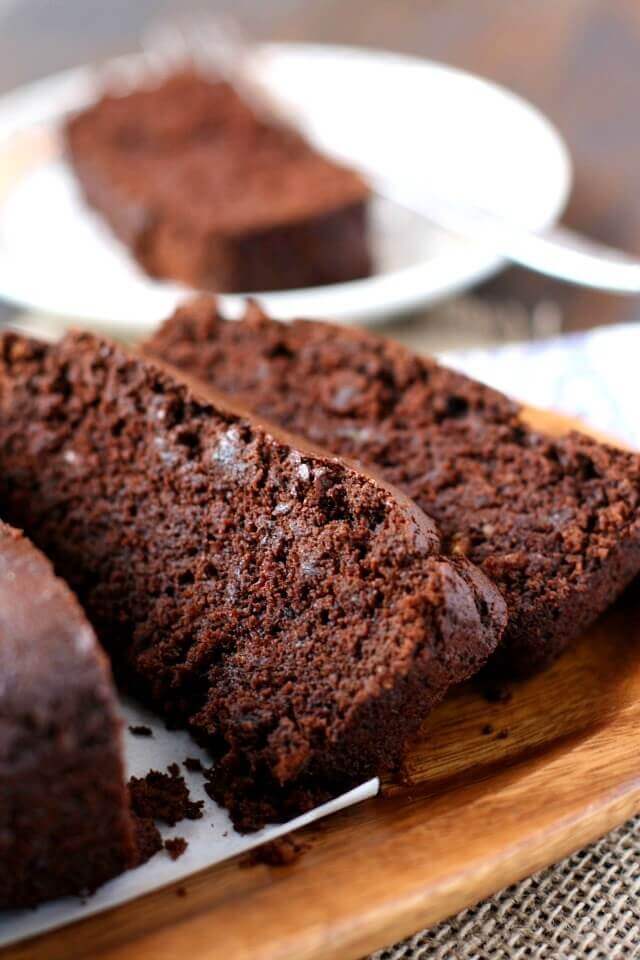 Thanks to its whole, natural ingredients, this chocolate gluten-free banana bread recipe is tasty enough for dessert but nutritious enough for breakfast. It uses coconut sugar and ripe bananas for flavor, so you can enjoy a dose of sweetness without refined sugar. A 1/2 cup of cocoa powder transforms the bread into a chocolate-lover's delight. Gluten-free flour ensures that the bread is safe for everyone in the house. The most exciting thing about this easy recipe? It's a breeze to customize — pour in chocolate chips for an extra bit of sweetness, add nuts for a crunch, or use less sugar to cut calories.
3. Healthy 4 Ingredient Banana Bread Muffins (Paleo, Vegan, Gluten Free)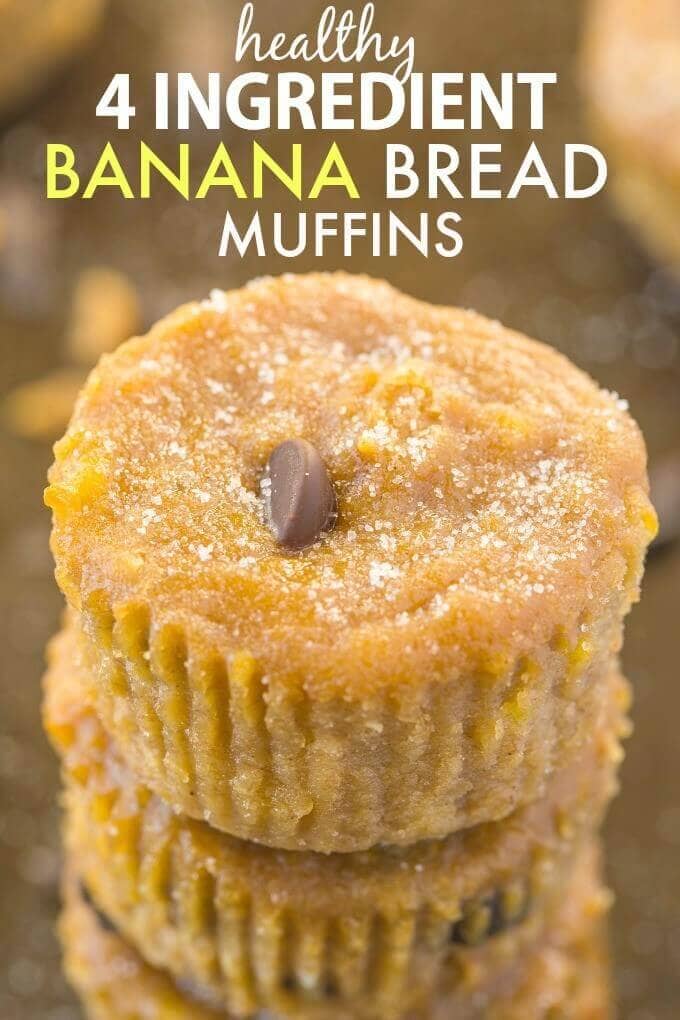 For days when you want a snack, but you don't have gluten-free food on hand or want to spend hours in the kitchen, this gluten-free banana bread recipe is the perfect choice. With only four ingredients — many of which are probably already in your cupboard — baking doesn't get any easier. Simply mix together bananas, coconut flower, almond butter and maple syrup, and pour the batter into muffin tins. For a sweet touch, top each muffin with chocolate pieces. Pop these individual banana bread muffins into a plastic bag or a gluten-free food storage container for a quick snack on the go.
4. Zucchini Banana Bread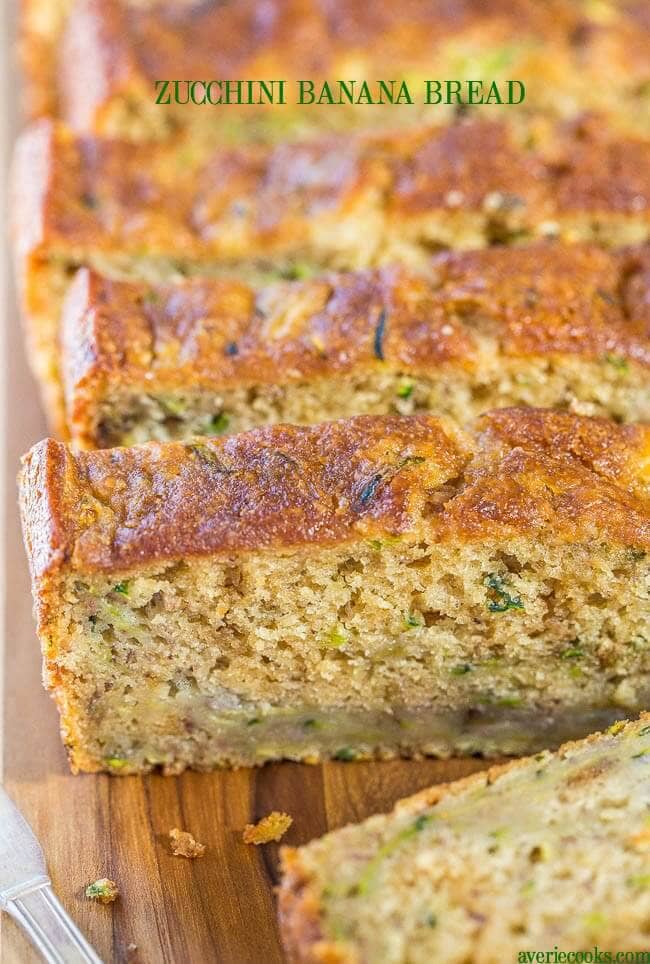 Use up the last of your garden harvest and sneak extra veggies into your gluten-free diet with this zucchini gluten-free banana bread recipe. Grated zucchini hides in the batter, blending effortlessly with the banana flavors and adding a pleasant chewiness. This easy recipe calls for all-purpose flour, but you can substitute your favorite gluten-free blend without affecting the moist, dense texture. Use Greek yogurt instead of sour cream for extra protein, and mix in nuts or raisins for a special touch. Prepping this bread requires just a bowl and a grater, so cleanup is fast and easy.
5. Moist, Gluten and Dairy Free Banana Bread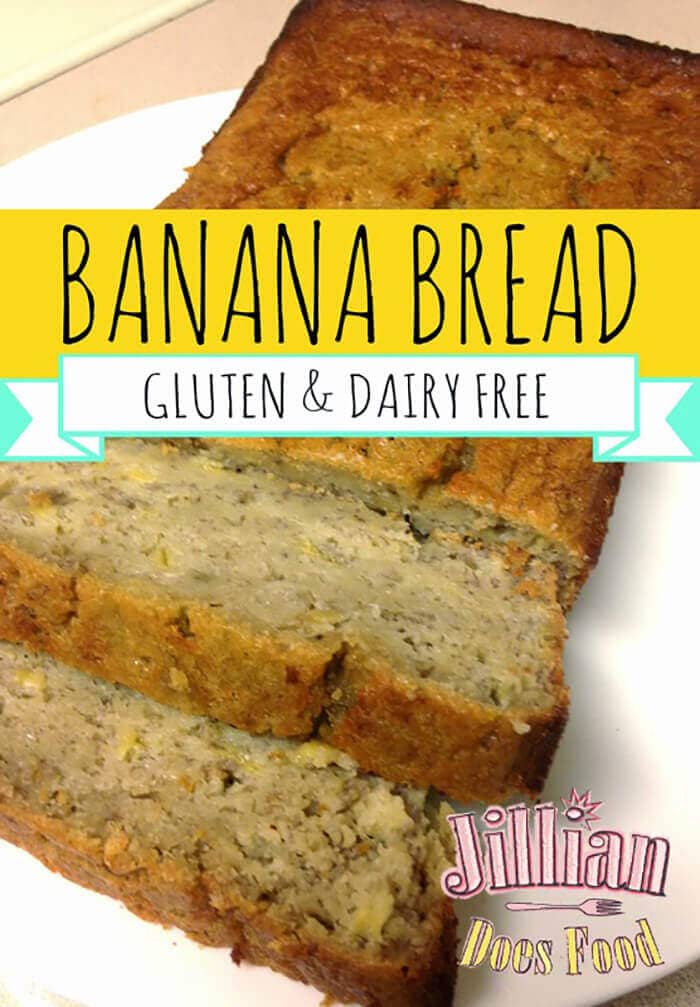 When it comes to gluten-free banana breads, dairy can be a sticking point If you're sensitive to gluten and dairy products, this simple banana bread recipe lets you enjoy dessert without a reaction. Applesauce, raw honey and coconut sugar infuse the bread with a light and fruity sweetness, so you can eat it alone or spread with butter. Eggs and banana help bind the gluten-free flour, creating a dense texture that holds up well under slicing. The bread bakes beautifully for a rich, golden-brown crust that adds a hint of texture. This tasty bread is delicious hot from the oven — or, enjoy it cold with a cup of coffee.
6. Banana Bread Baked Oatmeal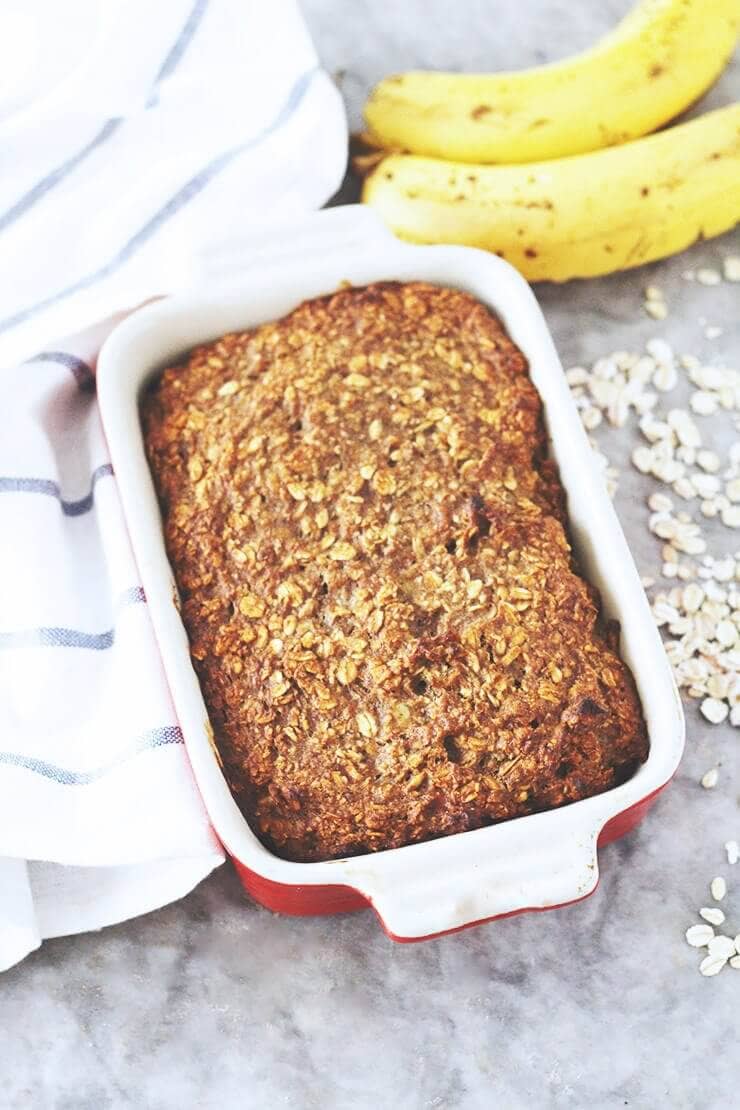 Don't worry if you don't have gluten-free flour on hand — create the perfect breakfast with this banana bread baked oatmeal recipe. Rolled oats serve as the base, adding a pleasant texture and enough bulk to keep you full until lunch. Maple syrup, cinnamon and vanilla blend perfectly with three bananas for a fragrant, comforting flavor. The easy recipe uses coconut sugar instead of refined sugar for a healthier, less-processed gluten-free food.
7. The Best Gluten Free Banana Bread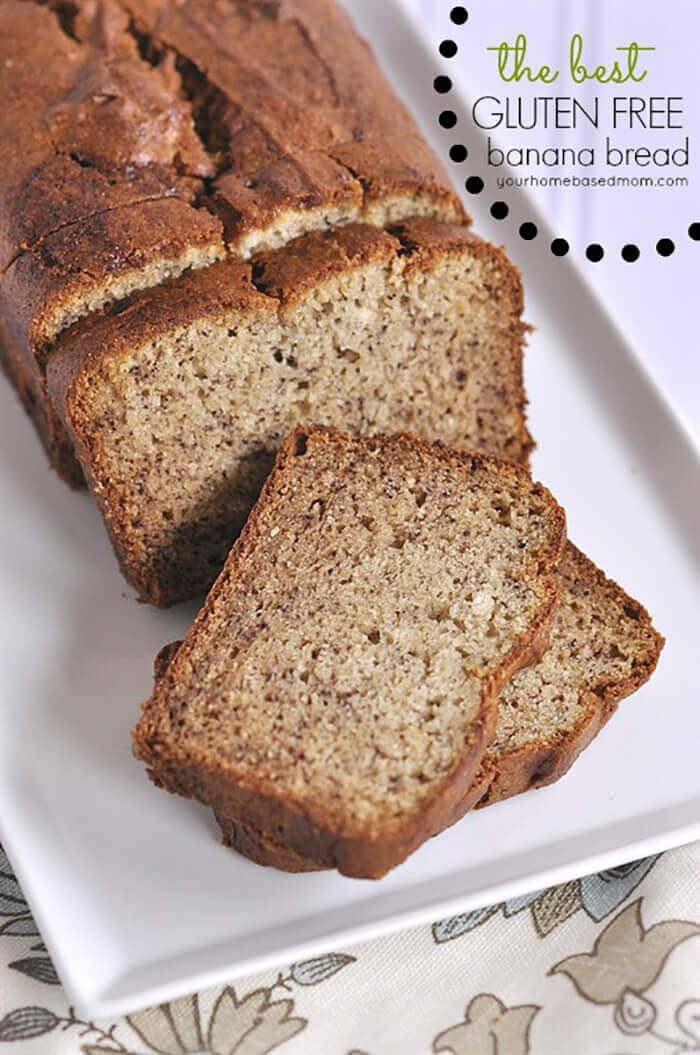 When you're looking for the best banana bread recipes, this gluten-free option is a top contender. This gluten-free banana bread recipe replicates the classic texture and taste of a traditional recipe. The bread uses a custom gluten-free flour mix, which combines coconut flour, oat flour, tapioca flour and rice flour. If you don't have time to make your own mix, simply use the same amount of your favorite premade mix. The secret, though is the small amount of xanthan gum; it adds volume, so the bread comes out with a light, cake-like texture. In fact, your gluten-tolerant family members won't know the difference. If you're dairy-free, make the bread with applesauce; otherwise, sour cream adds a subtle kick.
8. Banana Blueberry Breakfast Bread (Paleo & Nut Free)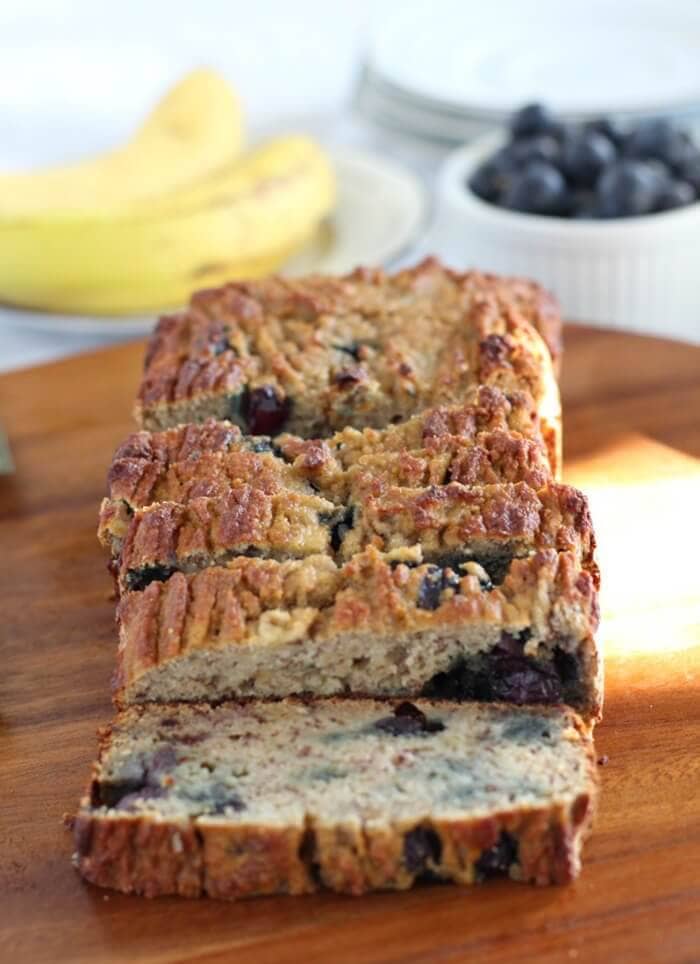 Be the star of your next brunch event with this banana blueberry breakfast bread. Loaded with fresh blueberries and sweet bananas, the bread creates the indulgent taste of gourmet pancakes, without the gluten. This easy recipe uses coconut flour and coconut milk for thickness and richness. While it bakes, the bread forms a slightly textured crust that pairs beautifully with yogurt or coffee. The base recipe is nut-free and fits into the paleo diet, but you can add nuts or additional berries for a special twist.
9. Coconut Flour Banana Bread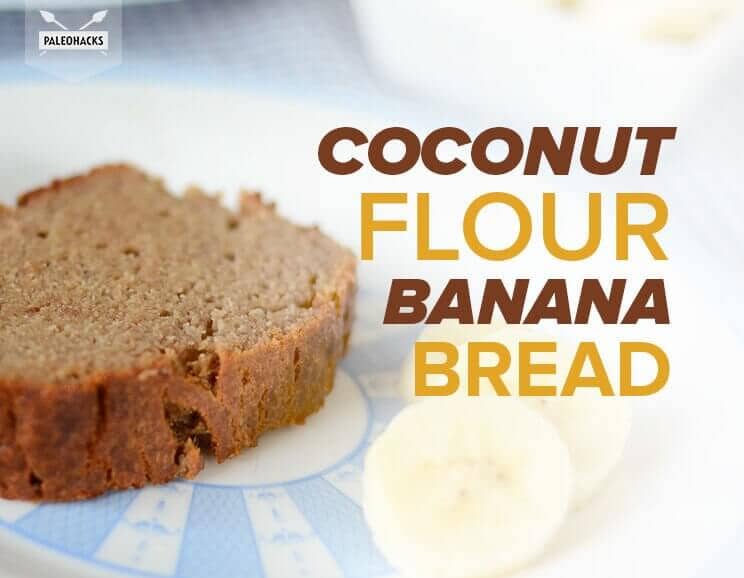 Made with coconut flour and arrowroot, this banana bread recipe is a low-carb alternative to classic gluten-free banana breads. You won't miss the grains, however — eggs, bananas, honey and coconut oil create a fluffy, moist texture. The bread fits into both paleo and nut-free lifestyles. In fact, since it contains no refined sugars, it's a safe addition to most gluten-free diets. The two-stage prep process takes just 10 minutes, so you can get the bread in the oven quickly.
10. Healthy Banana Bread Chocolate Chip Oat Breakfast Bars (Vegan & Gluten-free)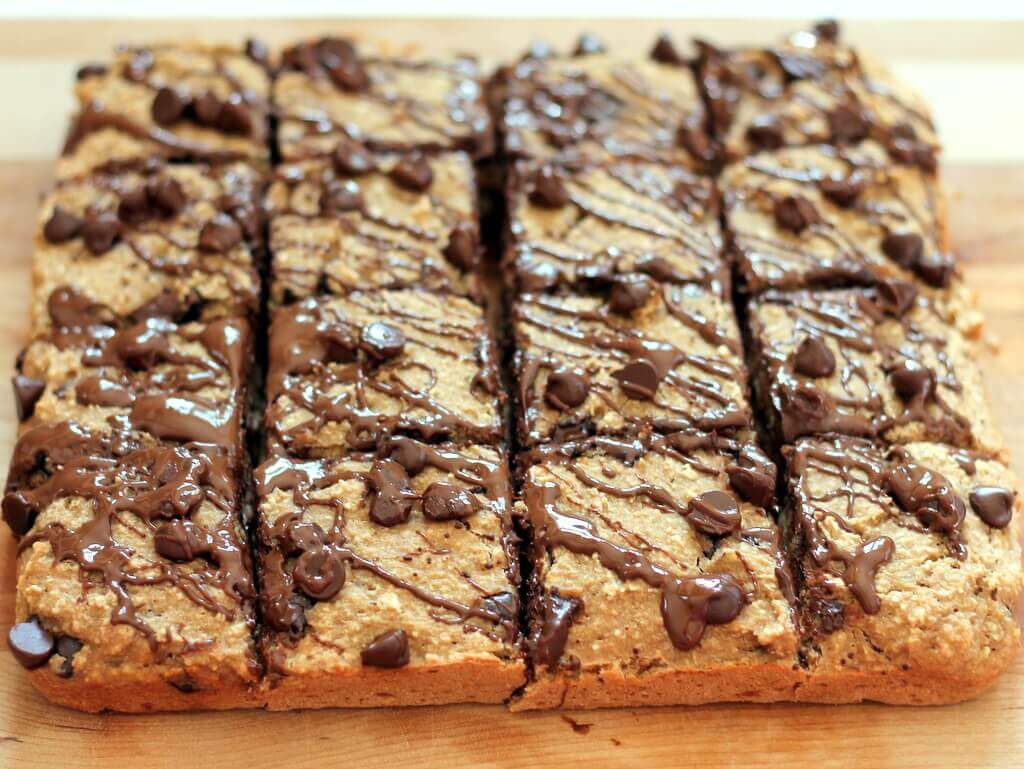 With these sweet banana bread oat breakfast bars, you can bid farewell to sugary granola bars. Oats, which are naturally gluten free, create the perfect chewy texture, while three bananas bring in a rich fruit taste. The secret to this gluten-free recipe, however, is the honey and cinnamon, which add a sweet warmth. On a diet? The bars use applesauce as a binder, cutting calories and saturated fats. Chocolate chips and a chocolate drizzle take these bars to the next level. Slice the dense bars into squares and store in the refrigerator for an easy meal idea or snack on the go.
11. Healthy 5-Ingredient Flourless Banana Bread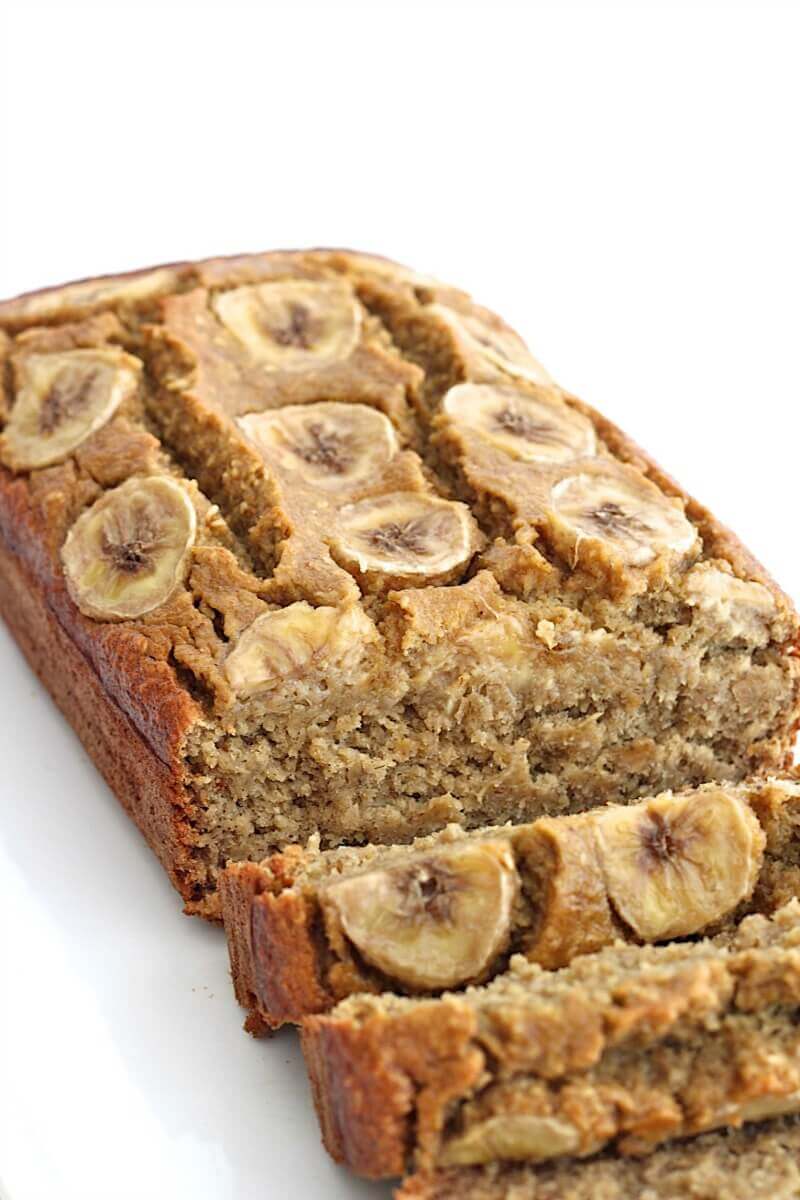 Gluten-free and good for you, this flourless banana bread is a healthy snack option. Prepping the batter takes less than five minutes — and, since it comes together in a blender, the bread has a smooth, uniform texture. Oats add a hearty weight to the bread, and maple syrup provides a natural sweetness without sabotaging your calorie-restricted or gluten-free diet. Top the bread with slices of banana while it bakes to amp up the banana flavor; the fruit caramelizes while it bakes, giving the final product a frosting-like effect.
12. Easy Gluten Free Chocolate Chip Banana Bread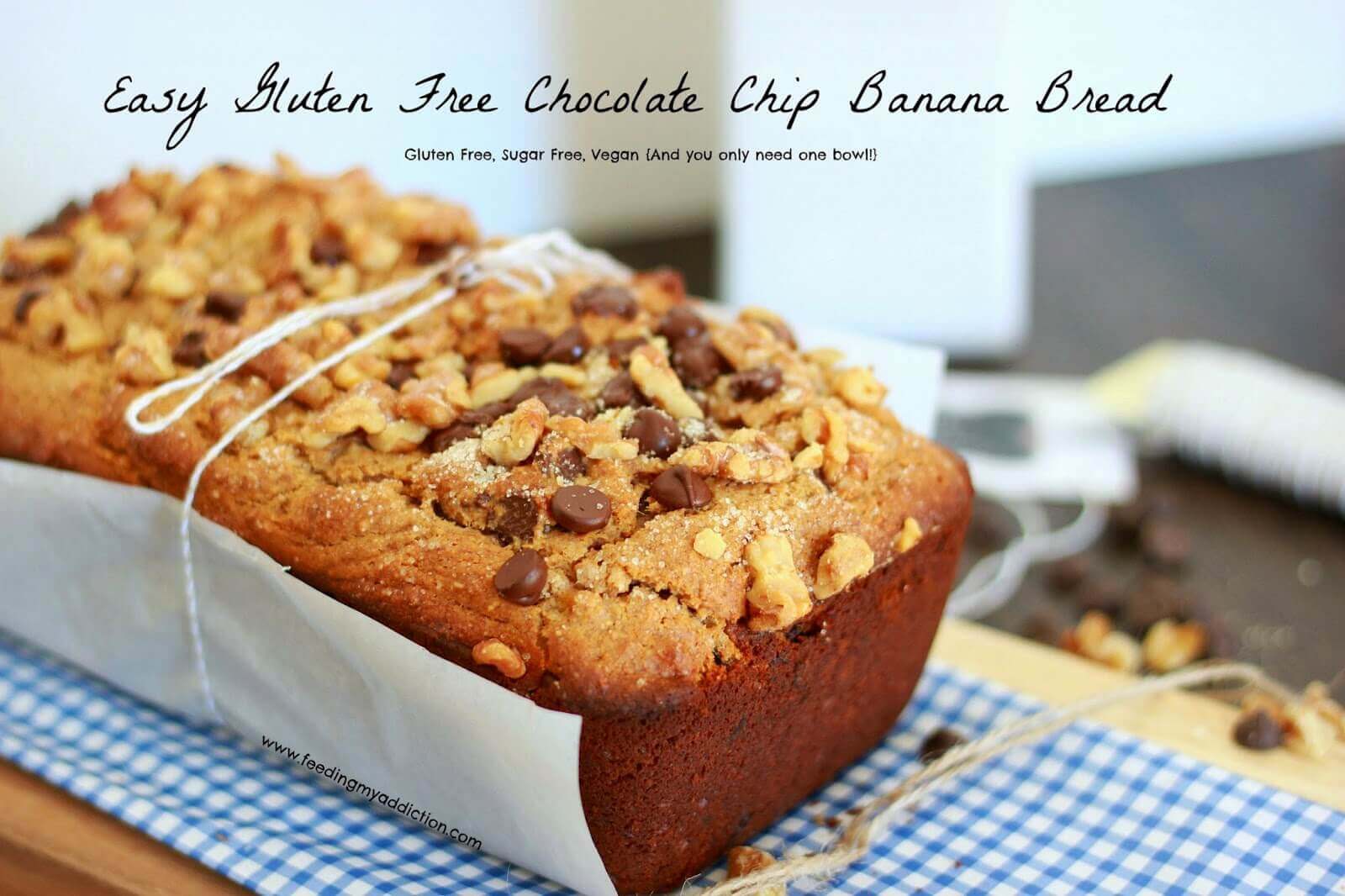 When you're looking for a light snack, look no farther than this fluffy chocolate chip banana bread. Dark chocolate chips create a delicate swirl of sweetness. Prep and cleanup are easy, since the recipe requires just one bowl. Coconut oil and peanut butter give the bread a rich, nutty flavor, and flaxseed adds a pleasant texture. The real star of this recipe is the topping of walnuts and chocolate chips; the mixture packs extra sweetness and crunch without adding too many calories.
13. Vegan & Gluten-Free Coconut Banana Bread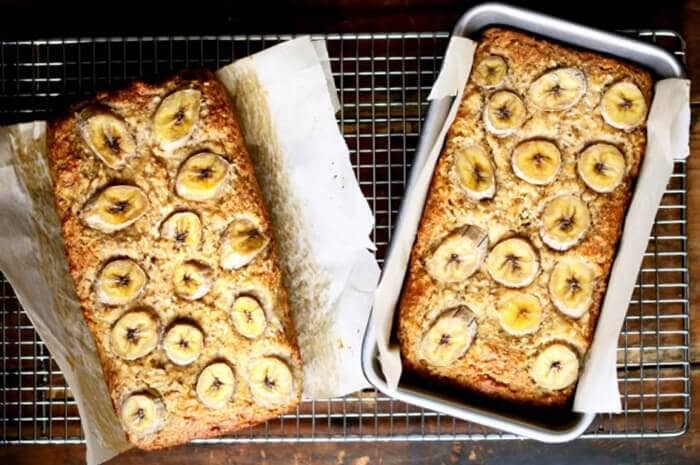 Don't worry if you've never baked bread before — this recipe is divided into wet and dry ingredients to streamline the preparation. A mixture of rice flour, millet flour and xanthan gum helps you achieve a classic bread texture, and coconut flakes bring in a slight chewiness. Eight bananas pack in a rich, bold flavor — for an extra punch, scatter sliced bananas on top. The easy recipe makes two loaves, so you can freeze one and serve one immediately.
14. The Best Ever Super Moist Gluten Free Banana Bread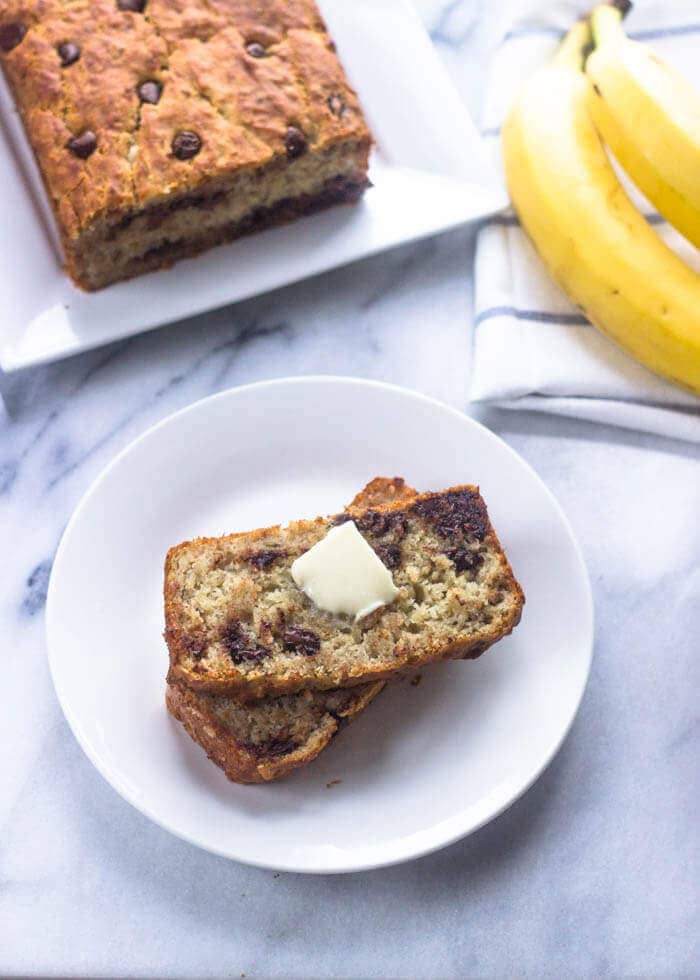 Moisture is key in this gluten-free banana bread, which uses four bananas, butter and eggs. As with many of the best banana bread recipes, this easy recipe calls for extremely ripe bananas, which means that you can use only a small amount of sugar without losing sweetness. In fact, the bread contains just 1/2 cup of sugar. If you want a dessert-friendly loaf, toss in chocolate chips; otherwise, leave them out for a classic banana bread. Achieve the perfect bread texture with a high-quality gluten-free flour mix. This sturdy bread can accommodate a variety of gluten-free food mix-ins, from chopped nuts to raisins.
15. Gluten Free Pumpkin Banana Bread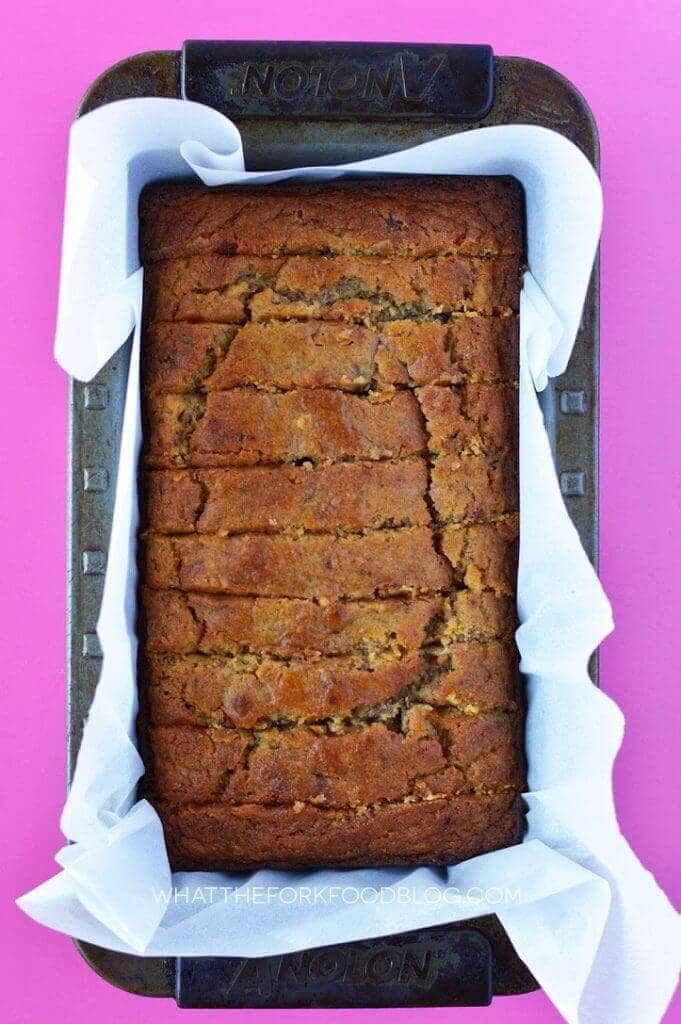 Get into the autumn spirit with this gluten-free pumpkin banana bread. Made with just 1/2 cup each of banana and pumpkin, the bread has a distinct, but not overpowering, fruit taste. The light flavor, which is accented with cinnamon and coconut milk, pairs well with coffee in the morning; when you need a quick meal idea, simply slather on warm cream cheese. This delicious bread requires a variety of ingredients, but the resulting cake-like texture is worth the extra effort.
16. Vegan Banana Bread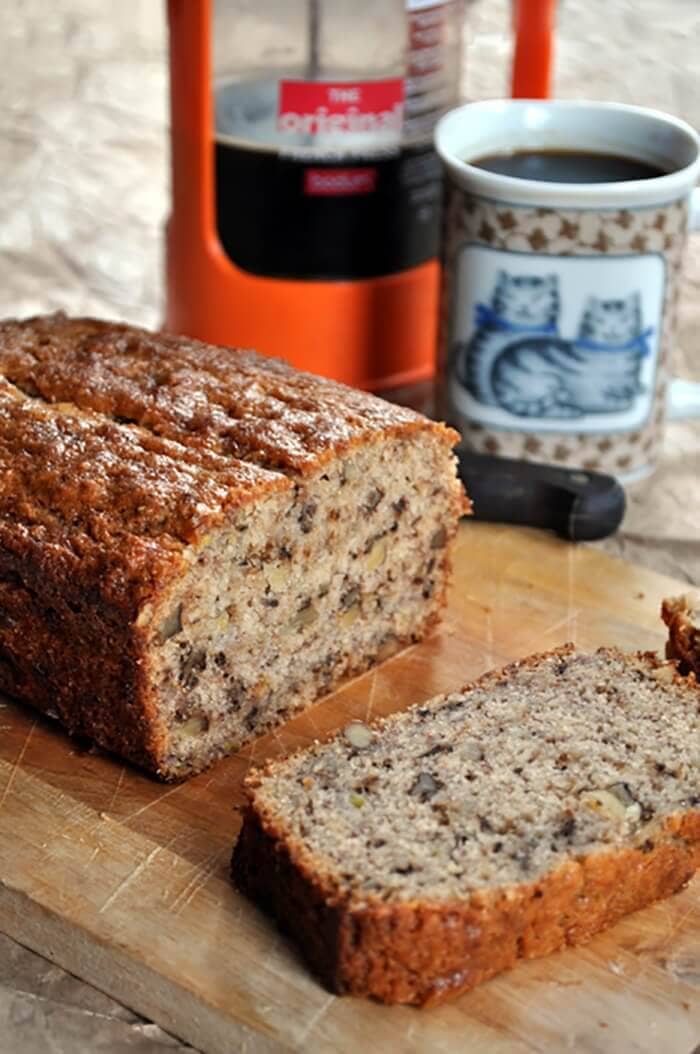 Finding snacks that are both healthy and vegan can be a challenge, but this gluten-free recipe has you covered. It works with your favorite vegan milk and butter products, so you can make it with whatever you have in the fridge. The nutmeg in this spicy recipe pairs beautifully with the ripe bananas to create a warm, comforting taste. The recipe calls for walnuts for a gentle crunch — you can leave them out if you're allergic without impacting the quality. Prepping and baking this bread takes time, but the moist final product pays off handsomely.
17. Healthy Banana Bread

This recipe proves that good-for-you snacks can feel indulgent — although it contains no processed butter or refined sugar, the bread tastes rich and sweet. The key is nut butter and almond milk, which infuse the bread with a complex flavor. Instead of wheat flour, the recipe calls for sweet white sorghum flour and oat flour, so it's safe for people with intolerances, wheat allergies or Celiac disease. Erythritol and Stevia add just the right amount of sweetness. And, since you can mix everything in a stand mixer, there's no need to dirty the whole kitchen.
18. Carrot Cake Banana Bread with Thick Cinnamon Cream Cheese Frosting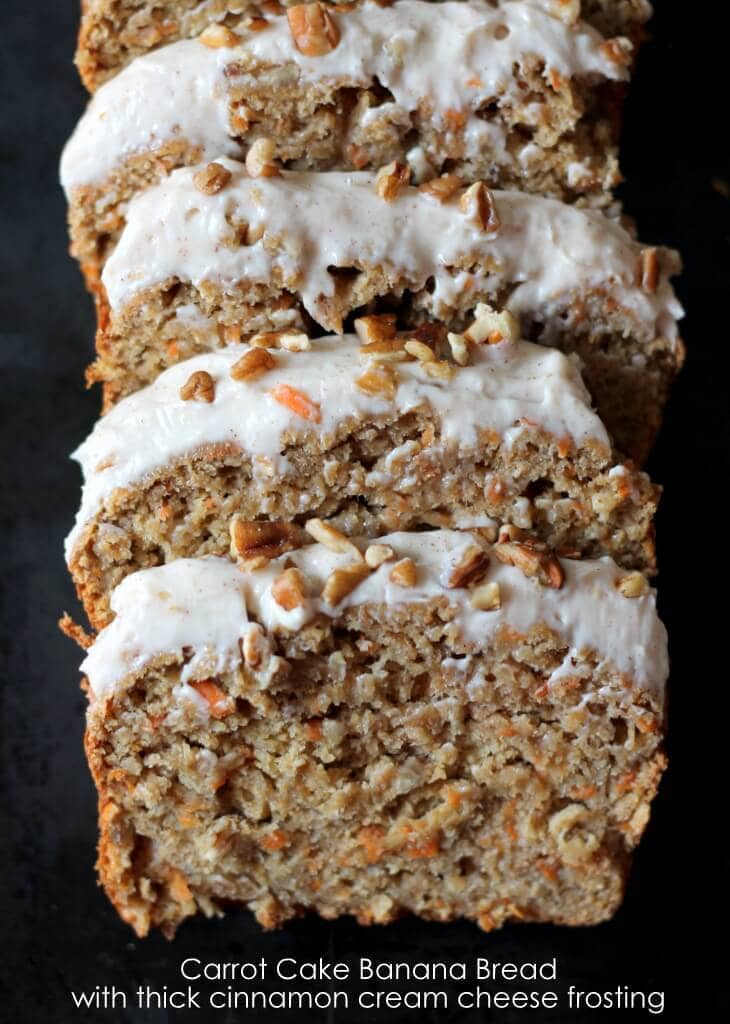 The most delicious qualities of carrot cake and banana bread come together in this easy recipe, which is sure to be one of your best banana bread recipes. The bread looks and tastes like a high-calorie treat, but contains a variety of good-for-you nutrients. Applesauce, bananas and carrots deliver vitamins, while a small amount of oats adds fiber and the perfect chewy texture. The recipe uses almond milk as a binder, but you can substitute any milk that you have on hand. The key, however, is the cream cheese frosting, which makes the bread feel like a high-calorie, high-sugar treat. Top the frosting with a sprinkle of nuts for extra crunch.
19. 5 Minute Paleo Banana Bread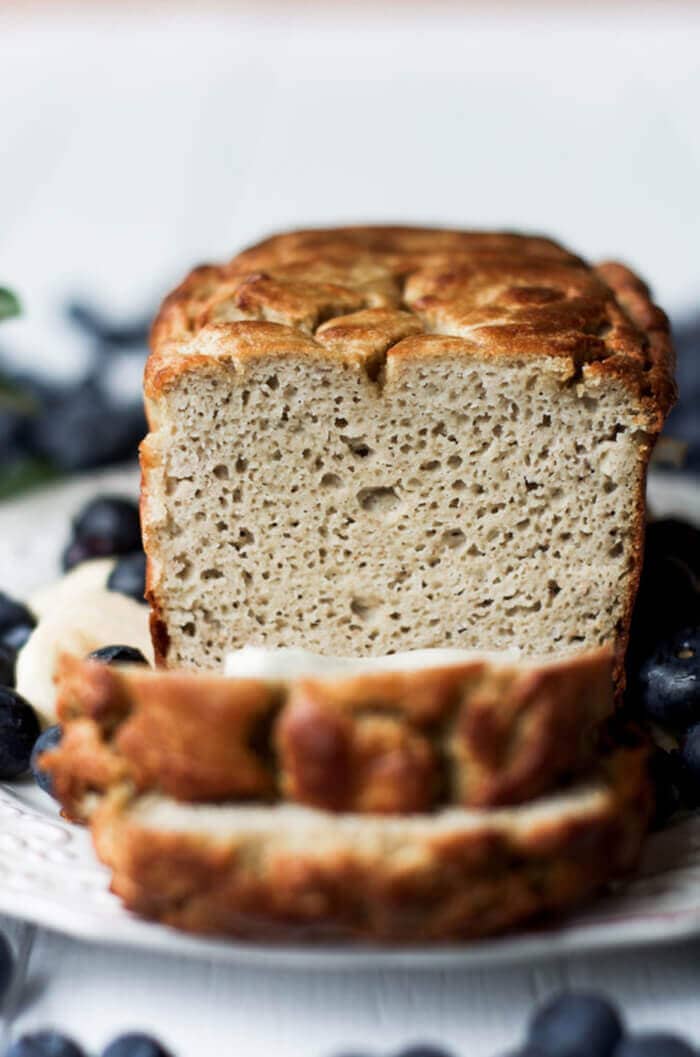 Whether you're Paleo or following a gluten-free diet, this Paleo banana bread can fill your carb cravings. It uses almond flour, so you won't miss the grains. A mere 1/8 teaspoon of liquid stevia brings a powerful sweetness that enhances the taste of the bananas. Making the bread is a breeze. Just toss everything into a powerful blender to create an ultra-smooth batter. The interior of the bread comes out with a light, even texture that's ideal for spreads. The exterior features a slightly crispy crust that provides a satisfying finish.
20. Banana Bread Overnight Oats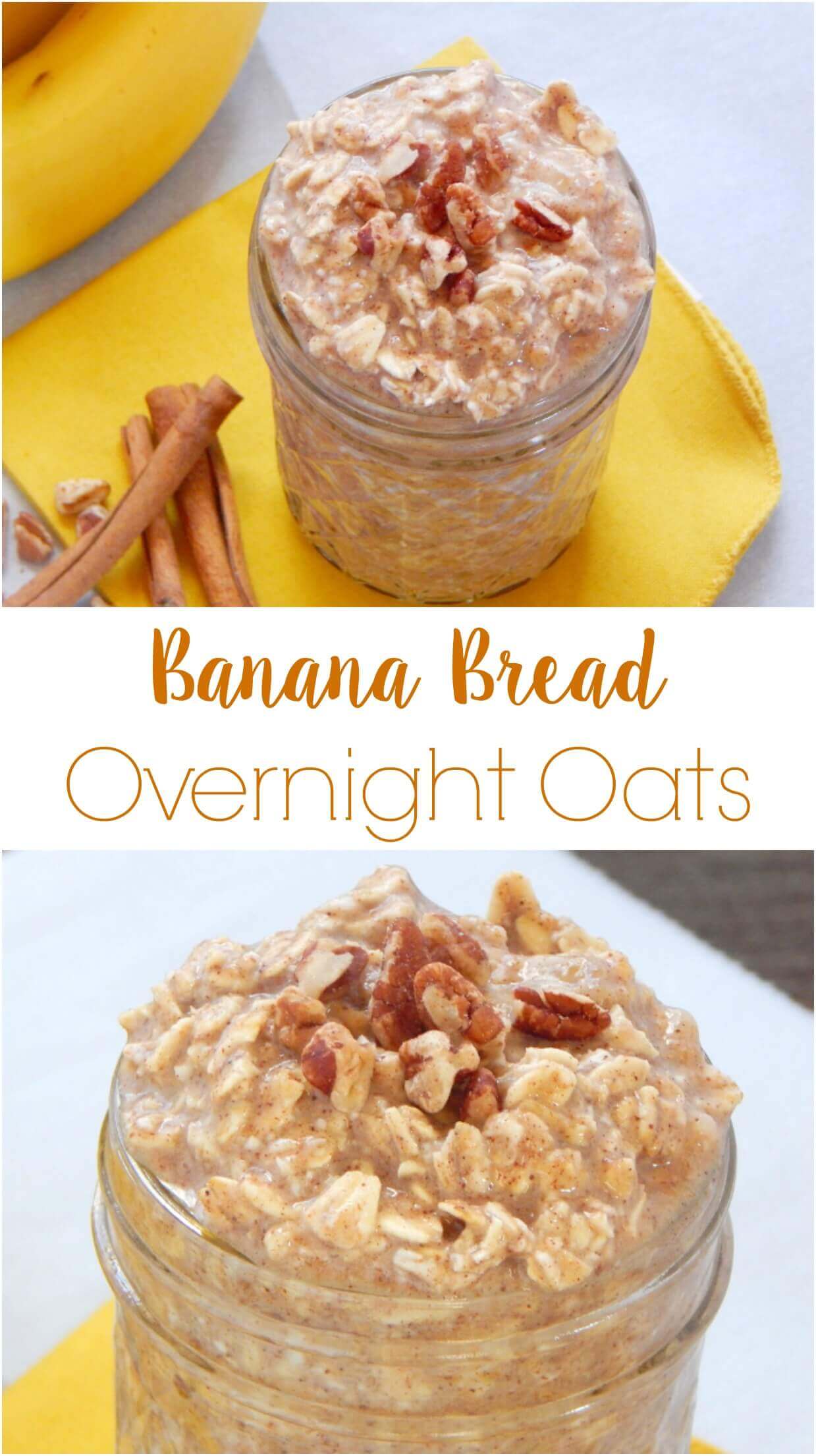 Jump on the overnight oats bandwagon with this banana bread flavored version. Like the best banana bread recipes, this delicious mix highlights the fruit flavor. Steel-cut oats, nuts and flax form a hearty base that keeps you full until lunch, while bananas, vanilla, cinnamon and maple syrup combine to create a comforting taste. Add nuts and milk for a pop of protein. This simple gluten-free food recipe comes together in minutes and requires no baking — just cover the bowl and put it in the refrigerator overnight to allow seamless flavor combination. In the morning, eat the oatmeal right out of the bowl or heat them up for a warm start to the day.
21. Almond Flour Banana Bread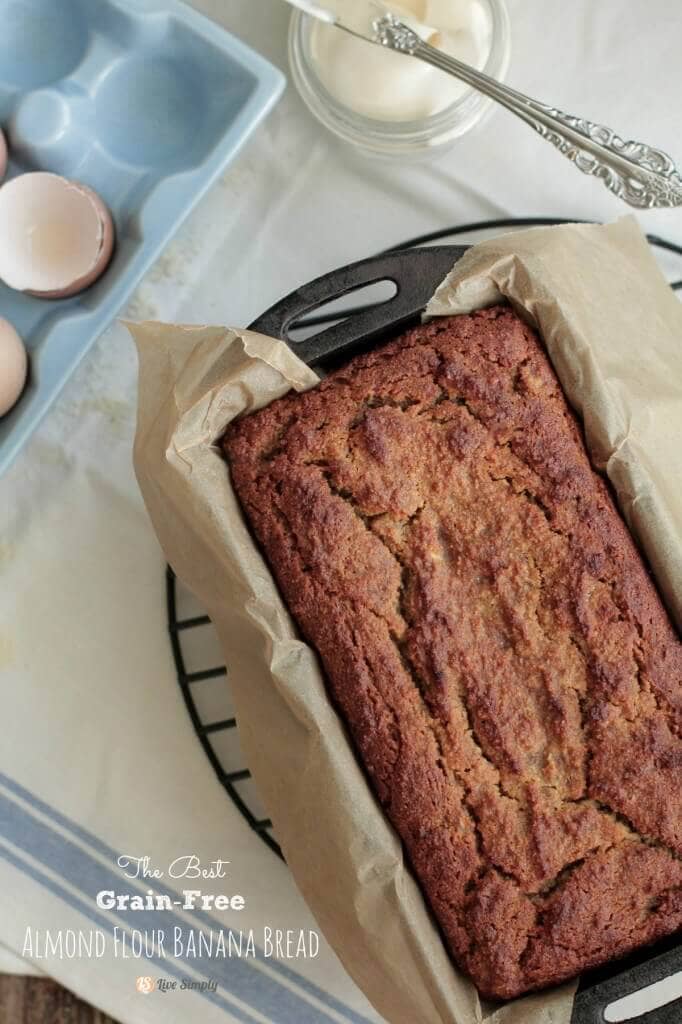 Almond flour is the star of this gluten-free banana bread recipe. The grain-free flour retains moisture as it bakes, so you never have to worry about dryness or crumbling. Eggs and whole-milk yogurt add protein and create a moist finished product. Since this recipe doesn't contain refined sugars, it's health-friendly enough to put on your family's breakfast table. The bananas and raw honey pack a powerful sweetness, while a blend of cinnamon, nutmeg and vanilla warm your senses. The recipe calls for walnuts; eliminate them or substitute your favorite nut.
22. Chocolate Chip Coconut Flour Banana Bread (Gluten-Free, Paleo)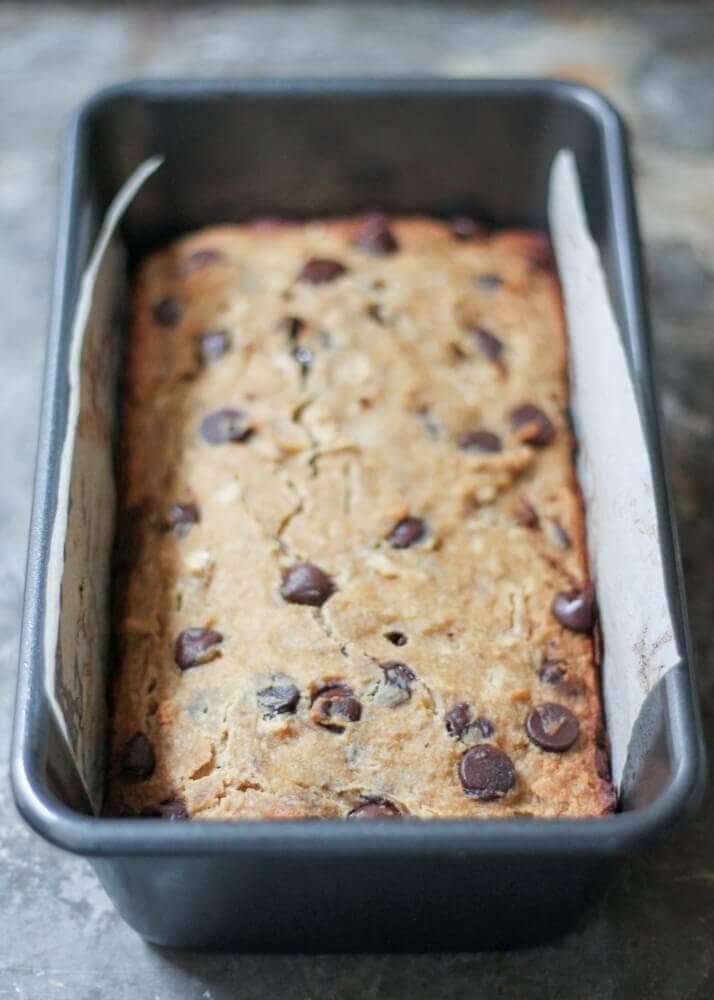 When you're avoiding grains and looking to reduce dietary carbs, this chocolate chip banana bread fits right into your gluten-free diet. It uses coconut flour, which acts like wheat flour but contains nutritious fats and a high level of fiber. The other ingredients are kitchen staples, so you don't need to run to the store. Eggs, bananas and almond butter create a light, moist texture, and vanilla extract brings in a hint of richness. The recipe includes chocolate chips for a pop of sugar. If you need a paleo meal idea or if you're cutting calories, simply leave out the chocolate chips.
23. Gluten Free Banana Bread (Dairy Free and Vegan)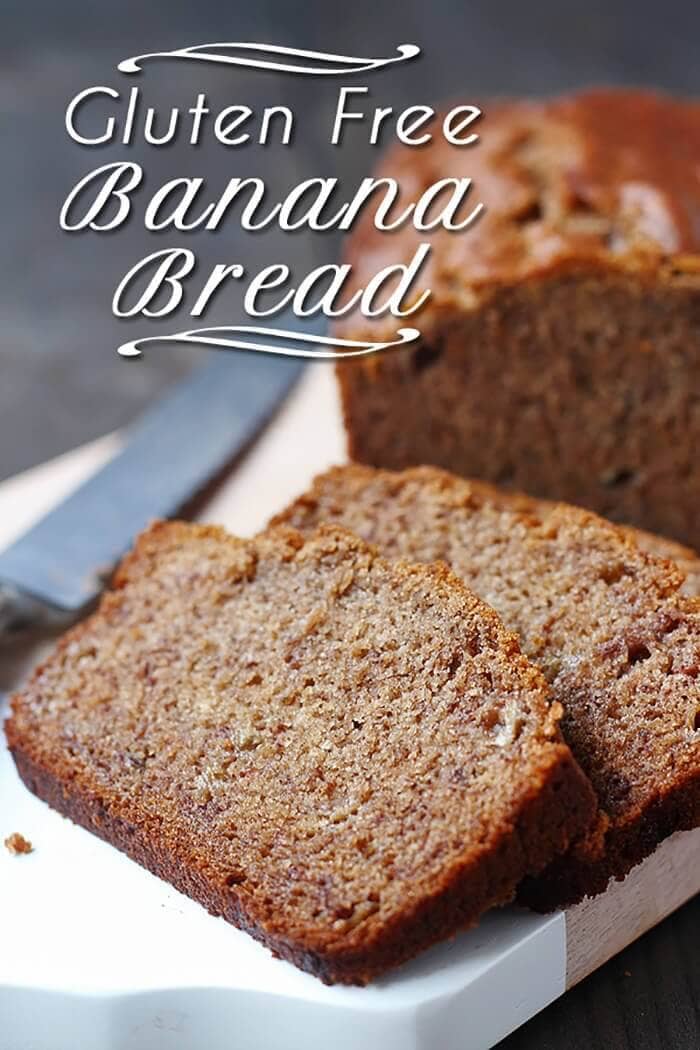 If you've ever tried gluten-free baking, you know that the flour blend can make or break a recipe. This gluten free banana bread recipe includes a recommendation for a custom blend that's been tested and approved — no experimentation necessary. The mix, which includes six different flours, can be made ahead and used for other breads and baked goods. Once you have this base, the rest of the recipe comes together in minutes. Bananas and brown sugar sweeten the batter, while cinnamon and sea salt bring depth. With just 50 minutes of bake time, you can start the recipe and get it on the table in an hour flat.
24. Gluten-Free Quick & Easy Banana Bread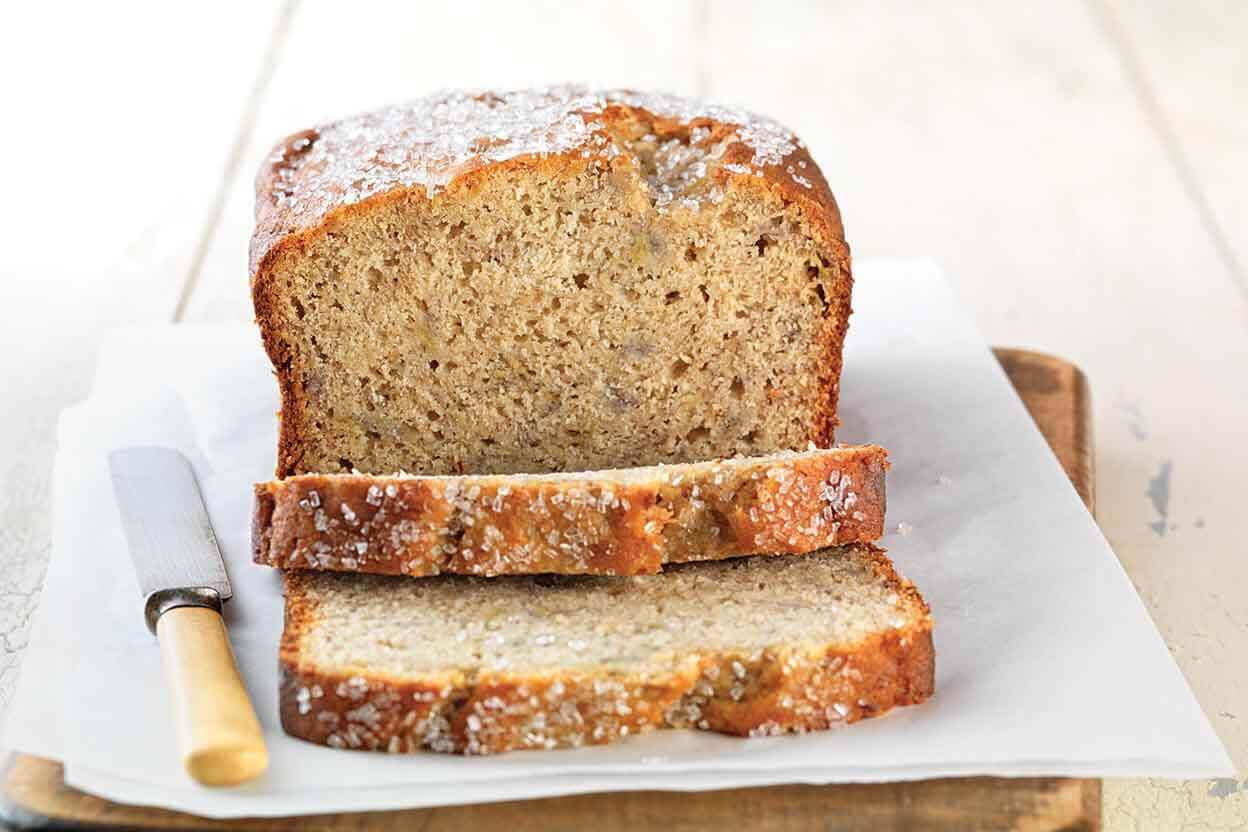 Gain confidence with breadmaking using this quick and easy banana bread recipe from King Arthur Flour. Since it is tailored to the King Arthur premade mix, you can rest assured that it will produce consistent results. This recipe falls firmly into the dessert category; it contains sugar, eggs, butter and nuts. It calls for a large number of bananas for a strong fruit flavor. For a truly special snack, don't skip out on the sparkling sugar topping; it caramelizes at it bakes and adds the perfect finishing touch.
25. Perfect Paleo Banana Bread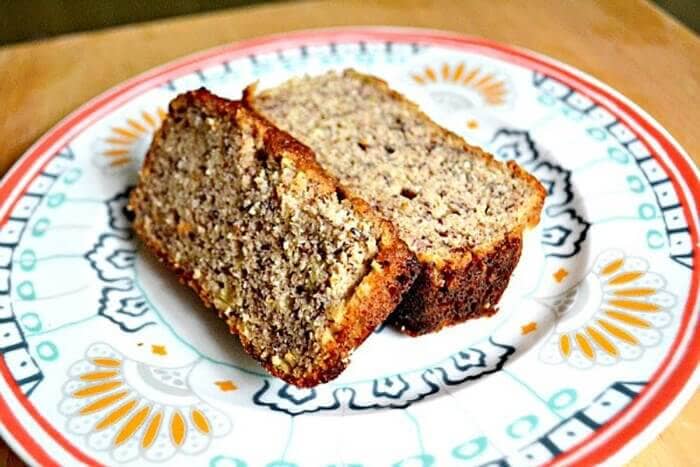 This banana bread recipe is gluten free and paleo-friendly, and nearly impossible to distinguish from traditional breads. It's no secret that gluten-free flours are dryer and more dense than grain flours, so this bread uses an abundance of wet ingredients to create a balance. In addition to the bananas, you'll need coconut oil, eggs, maple syrup and vanilla extract. Cinnamon and nutmeg give the bread a classic spice that blends perfectly with the sweet maple taste. Top the finished product with nut butter, or pop slices into the toaster for a delicious breakfast.
26. Naturally Sweet Banana Bread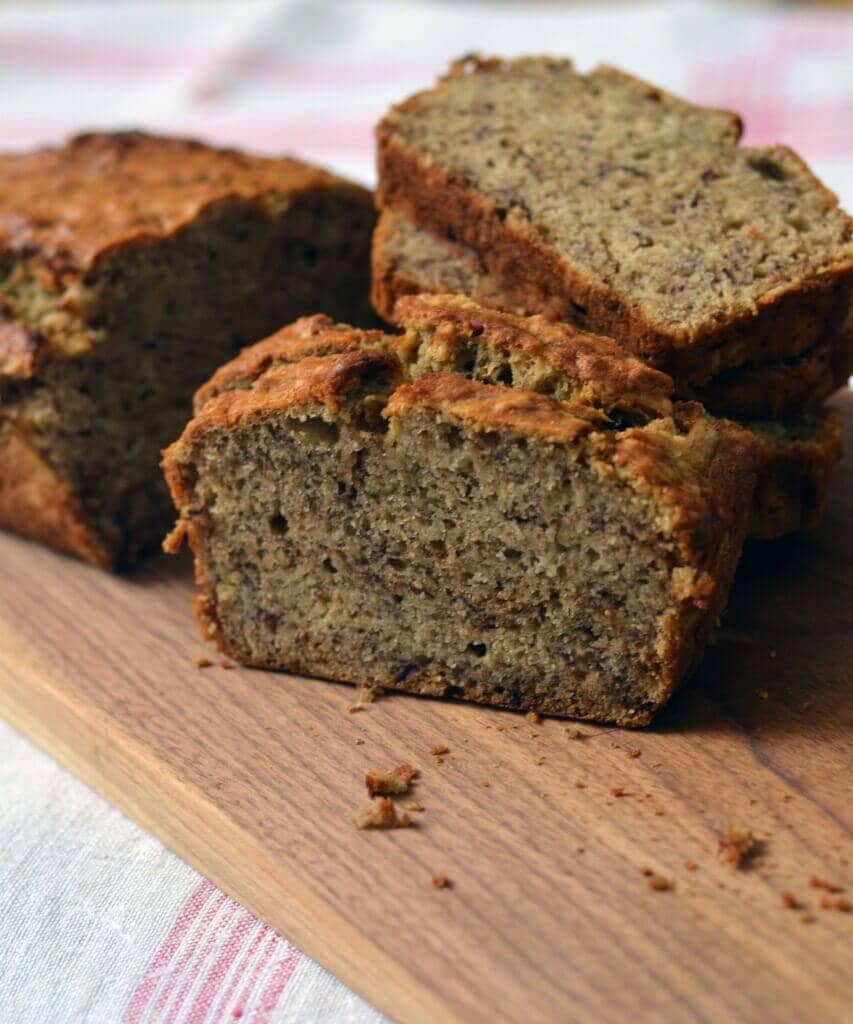 Bananas take center stage in this naturally sweet banana bread recipe, which is designed specifically to highlight the taste of the fruit. Maple syrup and cinnamon showcase the banana without overpowering it. The recipe contains just eight ingredients, most of which you probably have on hand. Substitute your favorite gluten-free flour blend for the all-purpose flour, and consider increasing the maple syrup or adding another egg to compensate. To get maximum flavor, use the highest-quality ingredients you can find.
27. Maple Banana Bread with Bob's Red Mill Rice Flour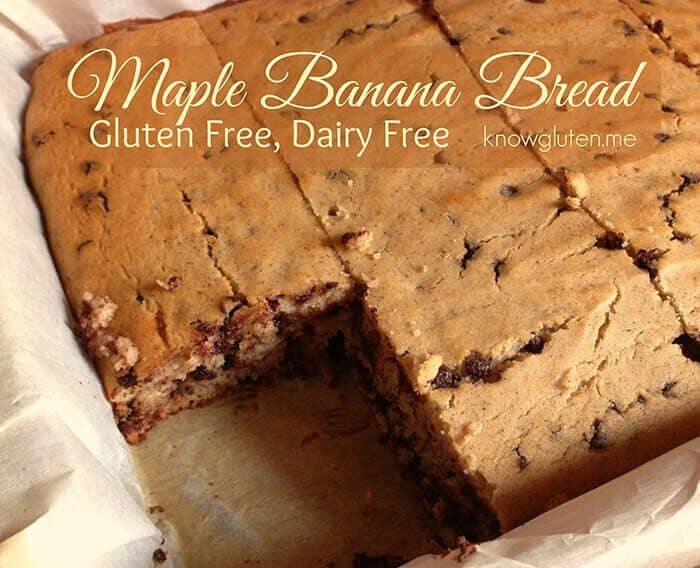 If you're not a fan of overly sweet breads, this gluten-free option strikes the perfect balance between sweetness and fruity flavors. The recipe uses just 1/2 cup of maple syrup; the author recommends reducing it to 1/3 cup if you prefer a more bread-like taste. The addition of Bob's Red Mill rice flour creates a fine texture, while oil and eggs keep the batter full of moisture. Mix in your favorite additions just before baking: chocolate chips, raisins, and nuts all blend well with the bananas.
28. Gluten-Free Banana Muffins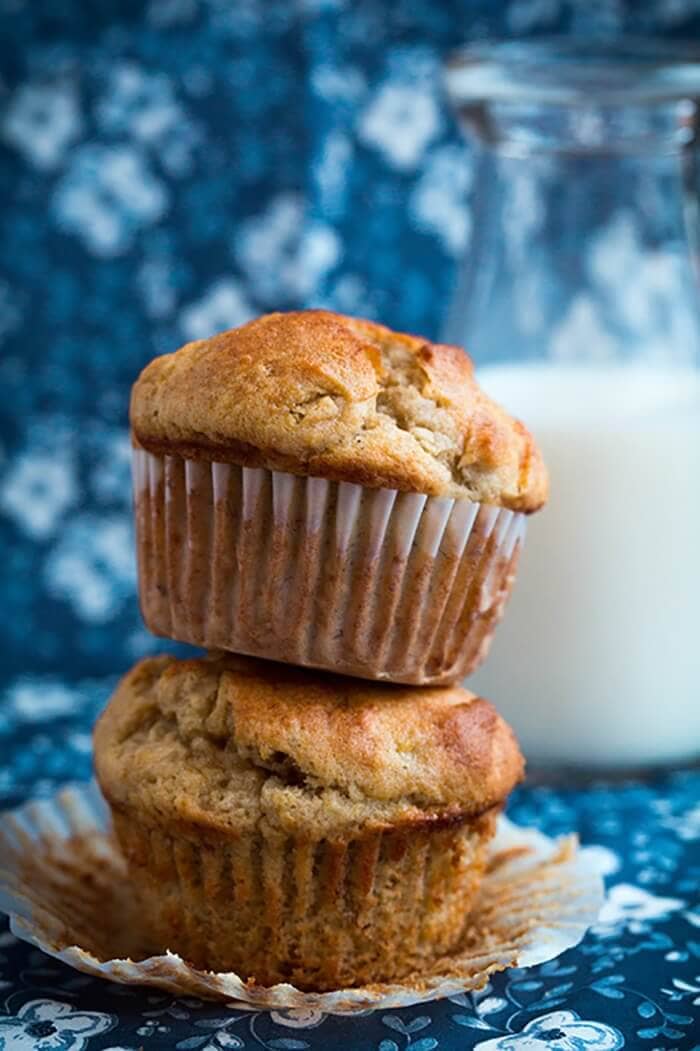 If you don't have a loaf pan, banana bread muffins are a convenient alternative. This recipe uses a variety of gluten-free ingredients to replicate the texture and fluffiness of bread made with wheat flour, so be sure to hit the store in advance. A mix of brown and white sugar packs in the sweetness. As the muffins cook, the tops brown perfectly; sprinkle on a small amount of sugar before baking to create a caramelized crunch. This versatile recipe serves as a delicious base, so you can eat it alone, stir in chocolate chips, or top it with pumpkin butter.
29. The Best Ever Banana Bread (Gluten-Free & Vegan)
The best banana breads are moist, dense, and packed with different textures, and this recipe achieves that goal without gluten or animal products. It uses creative combinations of gluten-free, vegan-friendly ingredients to achieve a luxurious result. Rice flour, potato starch, tapioca starch and oat flour take the place of wheat flour, and xanthan gum prevents the bread from flattening. Applesauce and baking powder eliminate the need for eggs. For the final touch, include the mix of chocolate chips or nuts for extra crunch and sweetness.
30. One Bowl Gluten Free Banana Bread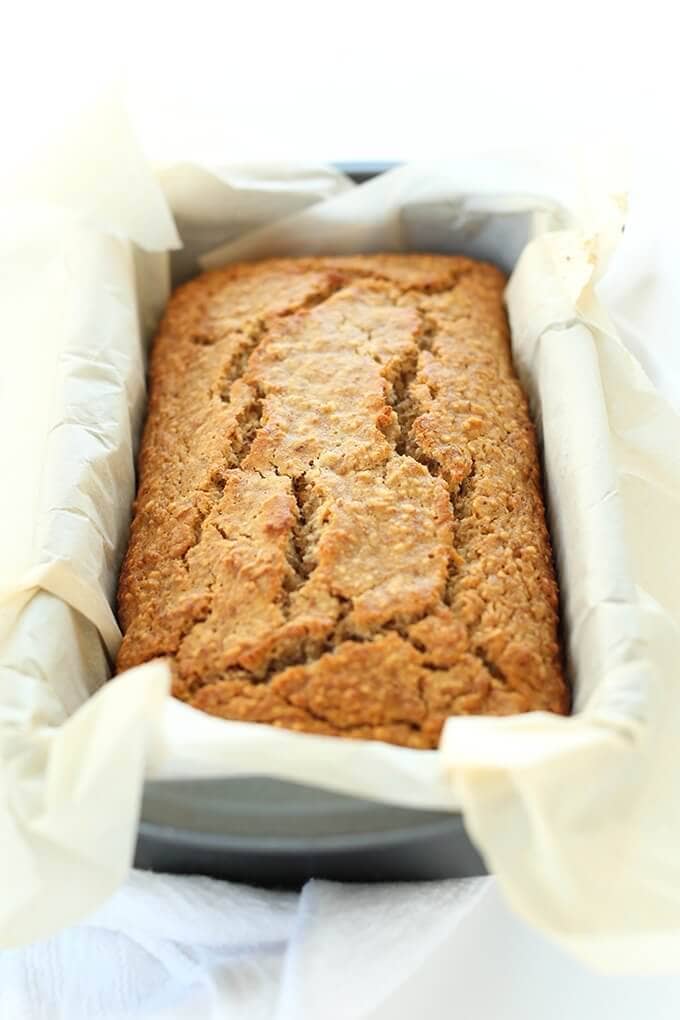 When you don't want to destroy a freshly cleaned kitchen, this one-bowl gluten-free banana bread recipe is an easy choice. As long as you have a gluten-free flour mix on hand, you can get away with a single mixing bowl and a loaf pan. This recipe stands out because of its unique blend of cane sugar, brown sugar and honey; the ingredients work together to create a variety of tastes in each bite. Plus, with the addition of almond meal and oats, you can enjoy a chewy, hearty texture.
31. Paleo Banana Bread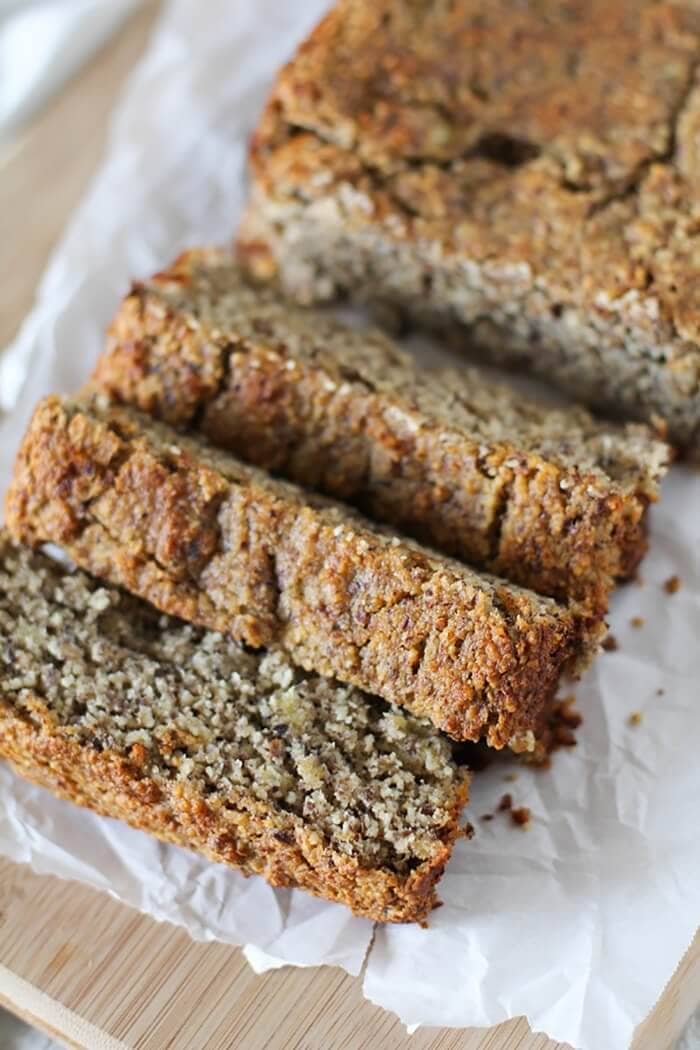 This paleo banana bread is gluten-free, vegetarian and versatile enough to serve as the base for a creative meal idea. The recipe uses almond flour, which gives the finished loaf a slightly nutty taste. A small amount of lemon juice cuts the richness and provides an unexpected zing. While you're preparing the batter, be sure to take the author's advice and beat the eggs with a stand mixer; this process integrates air, which helps the bread achieve a light, fluffy texture. The smooth batter makes an ideal base for experimentation. Add walnuts, pecans, dried fruit, fresh raspberries or chocolate for a special twist on this gluten-free food.
32. Gluten Free Banana Bread Recipe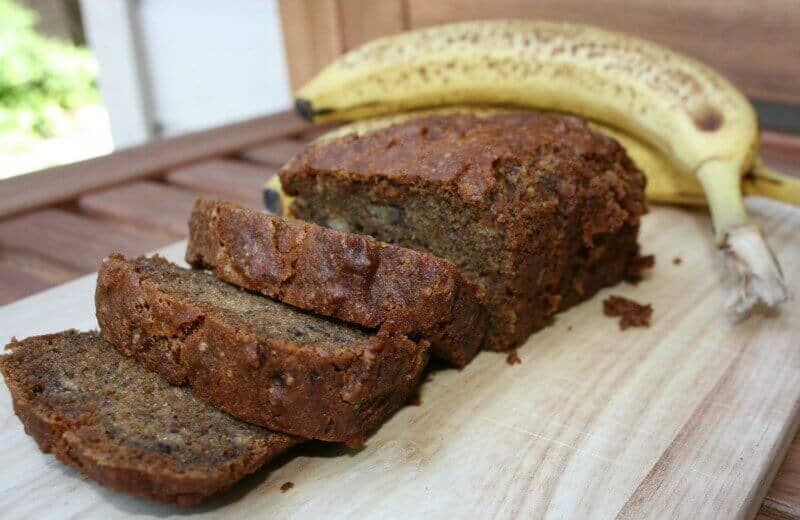 If you love the thick, moist texture of a Christmas fruitcake, this banana bread recipe is a tasty gluten-free substitute. The secret is the size of the loaf pan — choose a small, shallow pan to allow the bread to cook evenly and quickly. This ensures a firm, but not dry, crust and a dense interior. If you're vegan, the recipe also includes an option for egg replacements. It's free of refined sugar and uses a high banana ratio for a strong flavor. If you plan to freeze the loaf, the author recommends slicing it in advance so you can remove individual slices for reheating.
33. Easy Coconut Flour Banana Bread (Paleo, Gluten-free, Dairy-free)
Get in and out of the kitchen in under an hour with this easy gluten-free banana bread recipe. The recipe is designed specifically to create bread with a smooth, even texture; if you follow the author's instructions, it's impossible to go wrong! Combine the dry ingredients separately to prevent clumps, and use an immersion blender to puree the bananas. Of course, if you like chunks of fruit in your bread, aim for a rough mash. The coconut flour base gives the bread a light, complex sweetness, which is accented by maple syrup — add more for an extra punch.
34. Gluten-Free Lightened Up Banana Nut Bread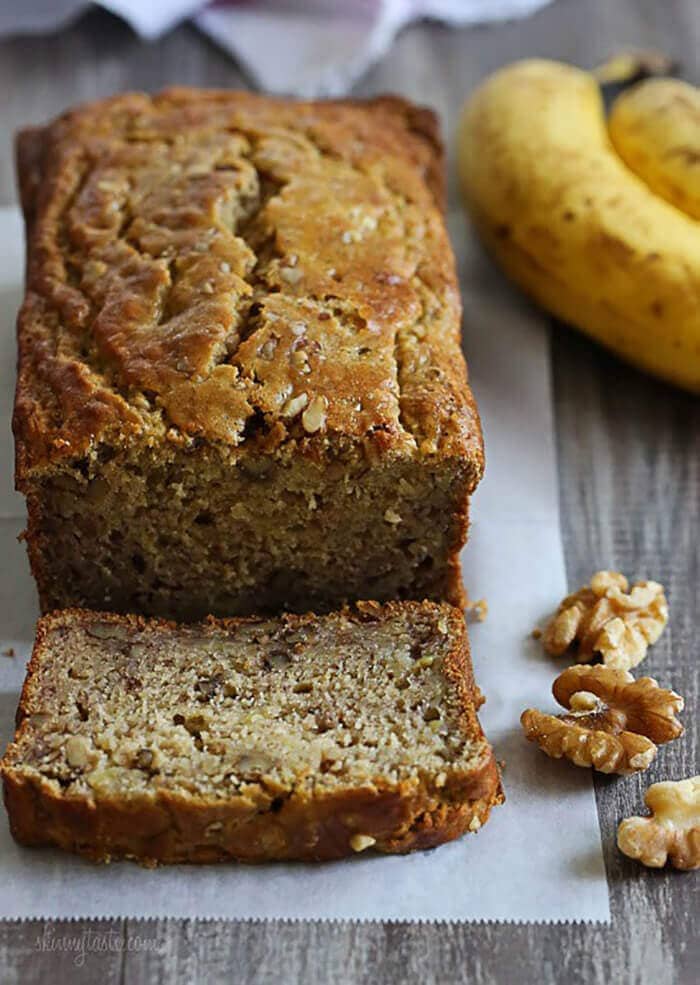 Nothing goes together quite like bananas and nuts, and this banana bread idea achieves the ideal tasty ratio. Although the recipe calls for both applesauce and brown sugar, the final loaf is relatively low in calories. This recipe works with two different gluten-free flour options. If you prefer a fluffy, cake-like texture, go for the rice flour; for a denser, more traditional banana bread texture, opt for the Bob's Red Mill all-purpose mix. Best of all, the large recipe makes two loaves, so you can eat one immediately and freeze one for later.
35. Gluten-Free Coconut Banana Bread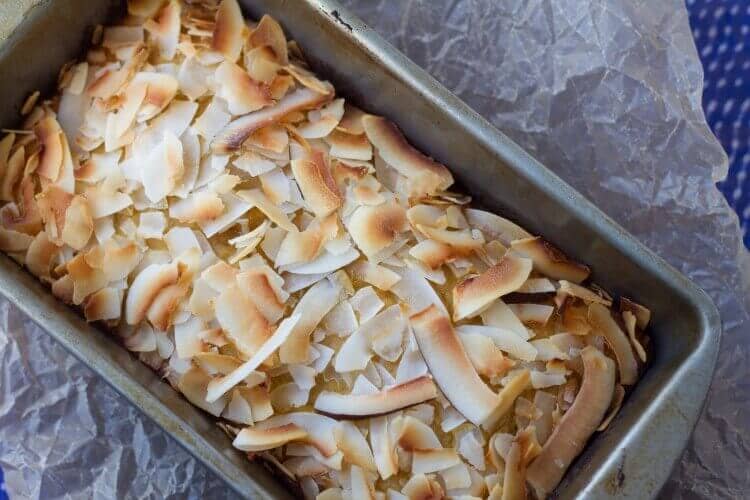 This coconut banana bread tastes deceptively rich and sweet — your guests will be shocked to learn that it's low-calorie and made from natural ingredients. Raw honey and agave deliver an ultra-sweet flavor, while lemon zest creates a pleasant zing. To accent the complex flavors, the recipe calls for almond extract, sea salt and coconut flour. The finishing touch is a handful of shredded coconut, which browns in the oven and lends a satisfying crunch to each slice. This delicious bread is best served on its own; if you want to serve it for dessert, slather it with a fruit butter for a cake-like effect.
36. Zucchini Banana Bread (No Flour Required)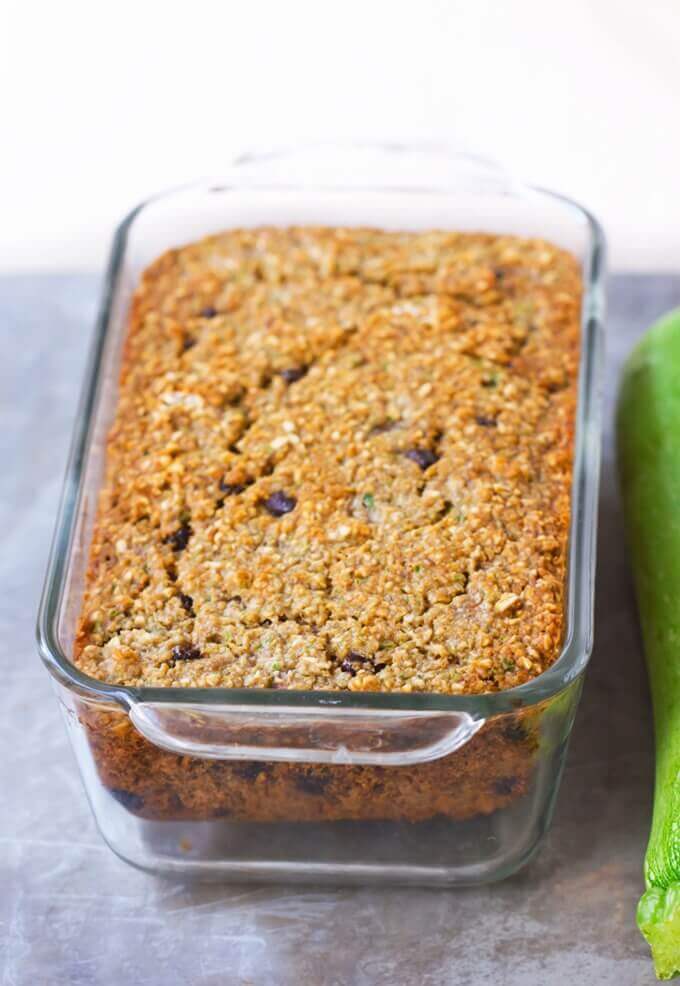 Packed with nutrients, this zucchini banana bread is a delicious sweet banana bread idea. It uses oats instead of flour, so the final product has the satisfying chewy texture of baked oatmeal, but can be sliced like a loaf of bread. The addition of grated zucchini adds an extra bite. The recipe comes with multiple ingredient options, so you can customize it to suit any dietary need. Choose from maple syrup, agave or honey as a sweetener, and use make the recipe with oil or milk, depending on your calorie needs; the bread turns out beautifully no matter what you choose.
37. Gluten-Free Banana Bread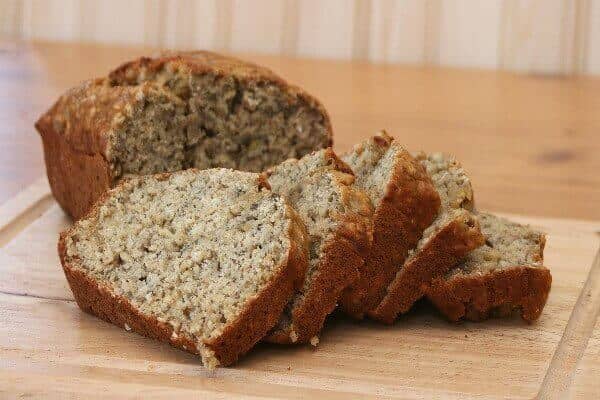 This gluten-free banana bread is made with traditional pastry techniques, such as creaming together butter and sugar, so it has a fine, light texture. The gluten-free recipe uses ingredients that are staples of any wheat-free baker's pantry: flour mix, turbinado sugar and maple syrup, to name a few. The real trick behind the bread's sweet flavor, however, is six ripe bananas. The powerful fruit taste means that you can eat a slice with no toppings – for a truly indulgent snack, pair it with a simple pat of butter.
38. Toasted Coconut Blueberry Banana Bread (Gluten-Free, Low Fat)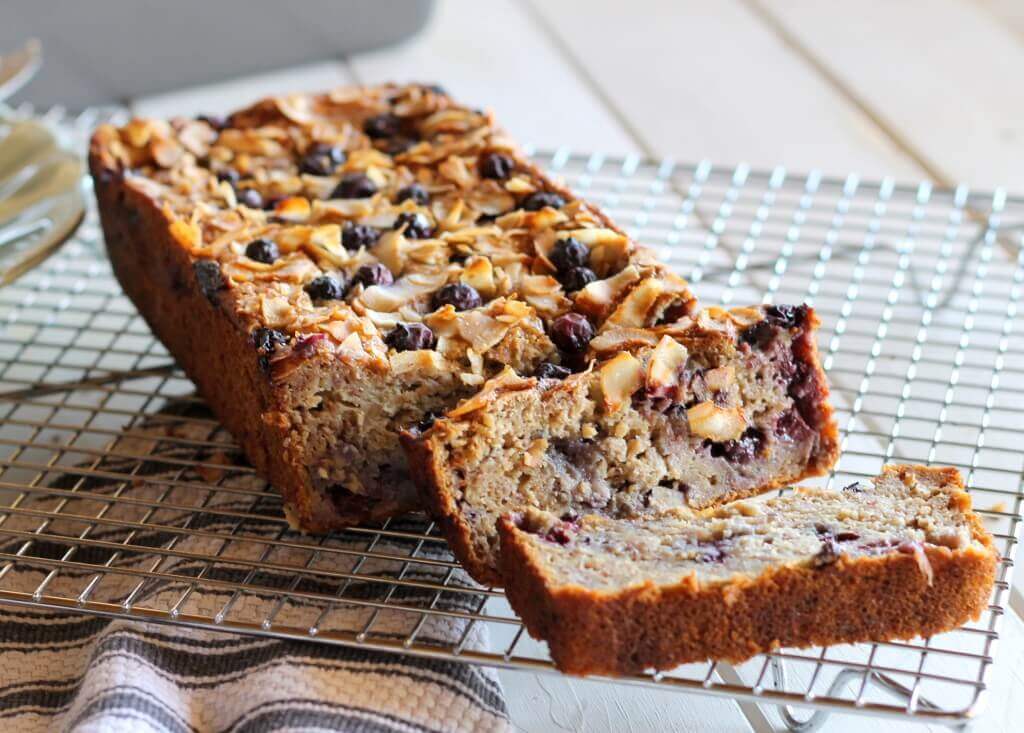 With its bold mix of flavors and textures, this toasted coconut blueberry banana bread idea is sure to be a favorite at family breakfasts. The recipe uses an oat flour base, which is convenient if you're just starting out with gluten-free recipes – if you don't have any on hand, just pop oatmeal into the blender for a quick substitute. Juicy blueberries bring bright pops of flavor to the rich banana-oat mixture, and toasted coconut flakes bring in an exotic sweetness. The real kicker is the coconut and blueberry topping, which turns the bread into a work of art.
39. Paleo Banana Bread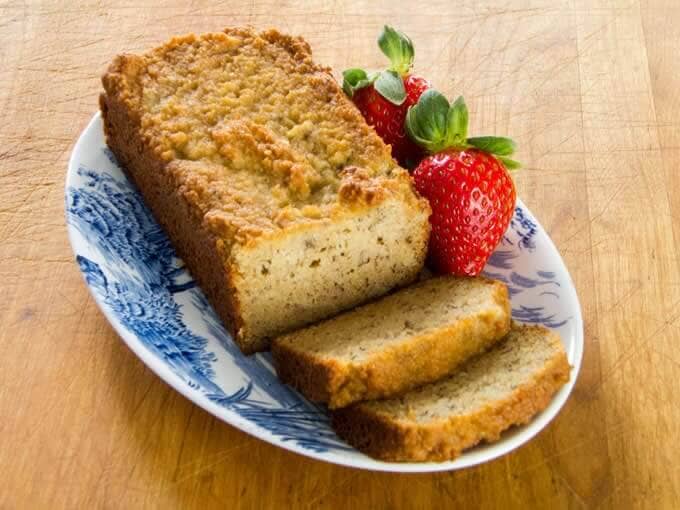 Paleo-friendly breads have a tendency to be dry or overly dense, but this recipe breaks the mold. It's rich and super-moist, thanks to bananas that are just on the cusp of being too ripe to use. For best results, wait until the banana skins are almost all brown. The rest of the bread consists of gluten-free ingredients including almond meal and eggs – as a result, it makes a super-filling snack. Need a new meal idea? Pair the bread with cheese or a nut butter. And, since you only need to use a blender, cleanup takes just minutes.
40. Vegan Chocolate Banana Nut Bread (Gluten-free, One Bowl)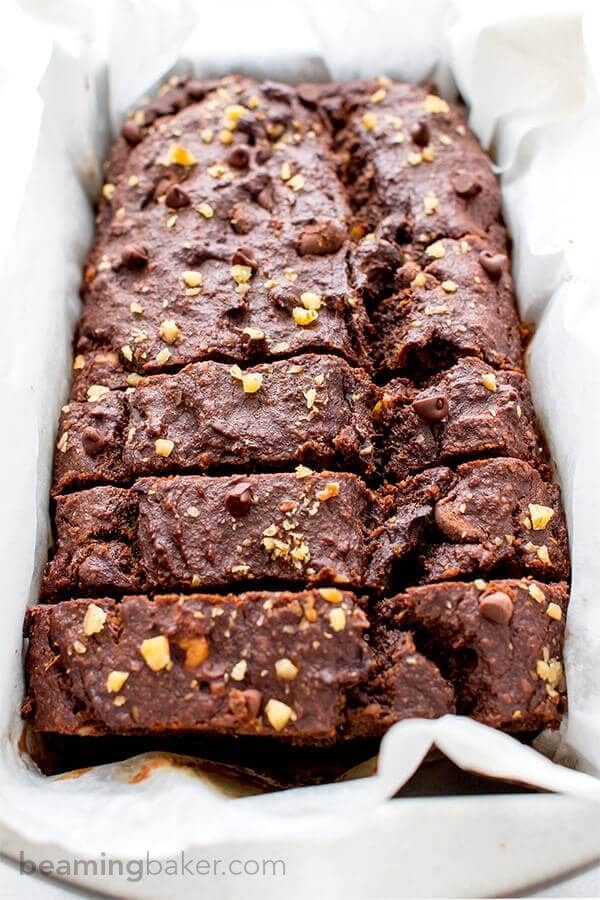 A mouth-watering hybrid of brownies and banana bread, this vegan chocolate banana nut bread is a chocolate-lover's dream. Cocoa powder infuses the loaf, and folded-in chocolate chips bring a satisfying sweet taste to every bite. Try a slice fresh out of the pan to enjoy the still-melting chocolate chips, or store the bread in the refrigerator for a satisfying chocolate crunch. Walnuts add a gentle nutty taste, and coconut sugar rounds out the flavor profile. Don't have time to spend in the kitchen? This one-bowl recipe can get you in and out with minimal dish-dirtying.
41. Vegan Banana Bread with Walnuts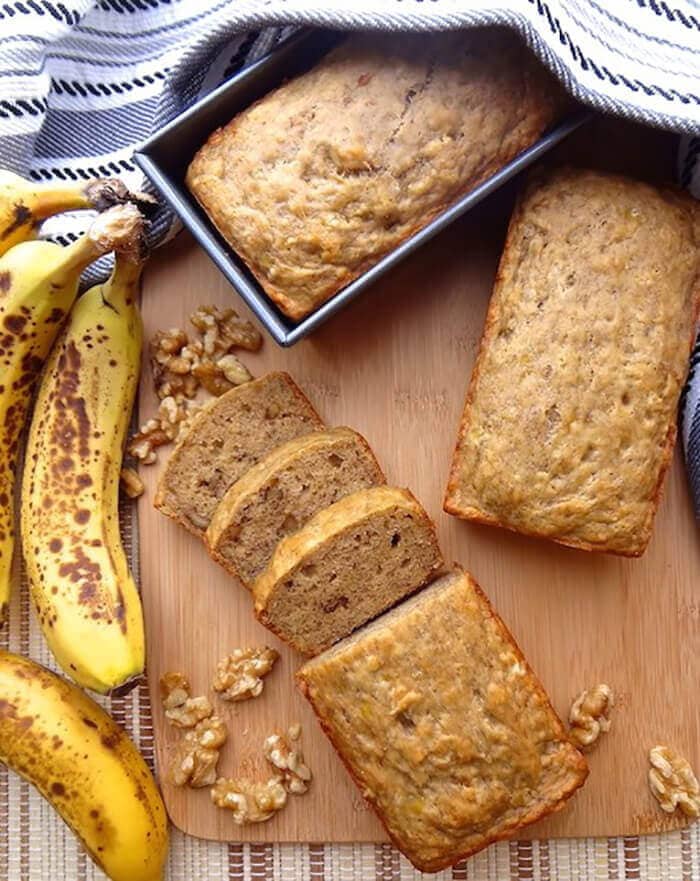 Streamline family breakfasts with this vegan banana bread recipe. Each slice is loaded with ripe bananas and walnuts, giving you the energy and nutrients to tackle your day. Simply substitute a gluten-free flour mix for the all-purpose flour, and the recipe suits vegetarians, vegans and wheat-free eaters. The bread uses both coconut oil and coconut sugar, so the final product has a light, slightly exotic taste. Spice things up with dried cranberries or fresh raspberries, or leave the bread as is for easy topping with cream cheese or pumpkin butter.
42. Simple Gluten Free Banana-Coconut Bread (Made With Rice Flour)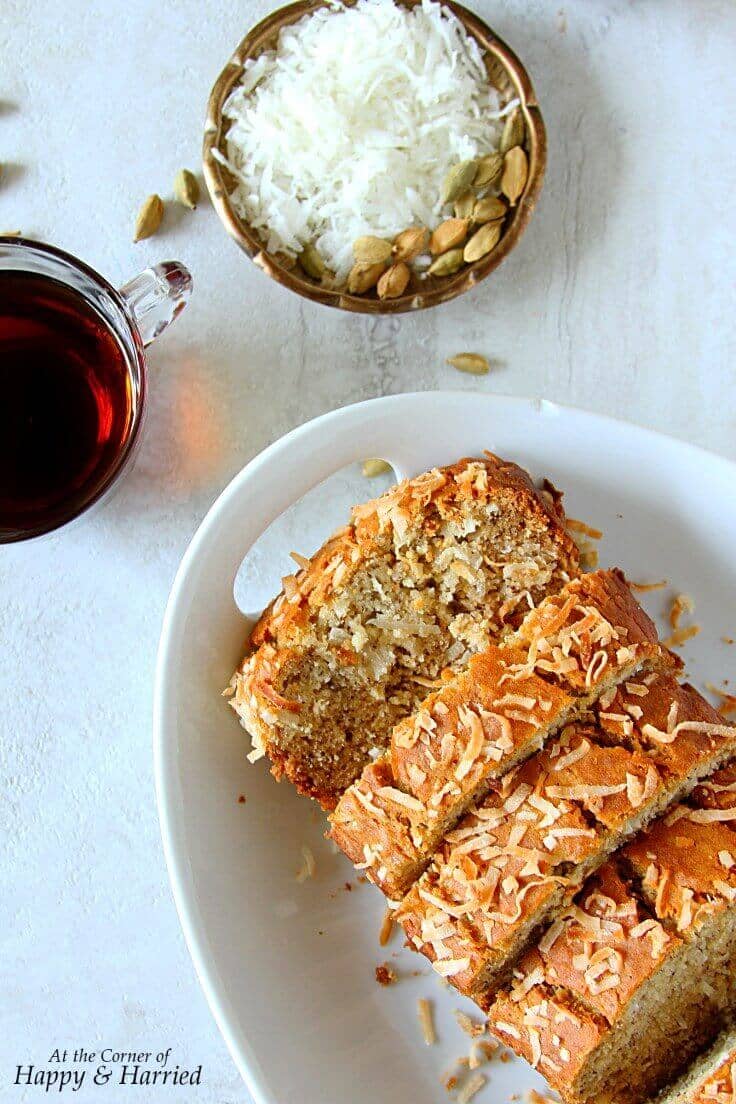 If you're new to gluten-free recipes, you might not have xanthan gum or tapioca flour on hand. Not to worry – this gluten-free banana bread recipe simply replaces standard all-purpose flour with rice flour, making shopping a breeze. The bread uses buttermilk to create an appealing tang, which is balanced by the unexpected addition of cardamom. Coconut flakes in the batter bring a slightly nutty sweetness; don't forget to sprinkle a few tablespoons on top for a crunchy finish.
43. The Best Paleo Banana Bread Muffins (Gluten-Free, Low-Carb)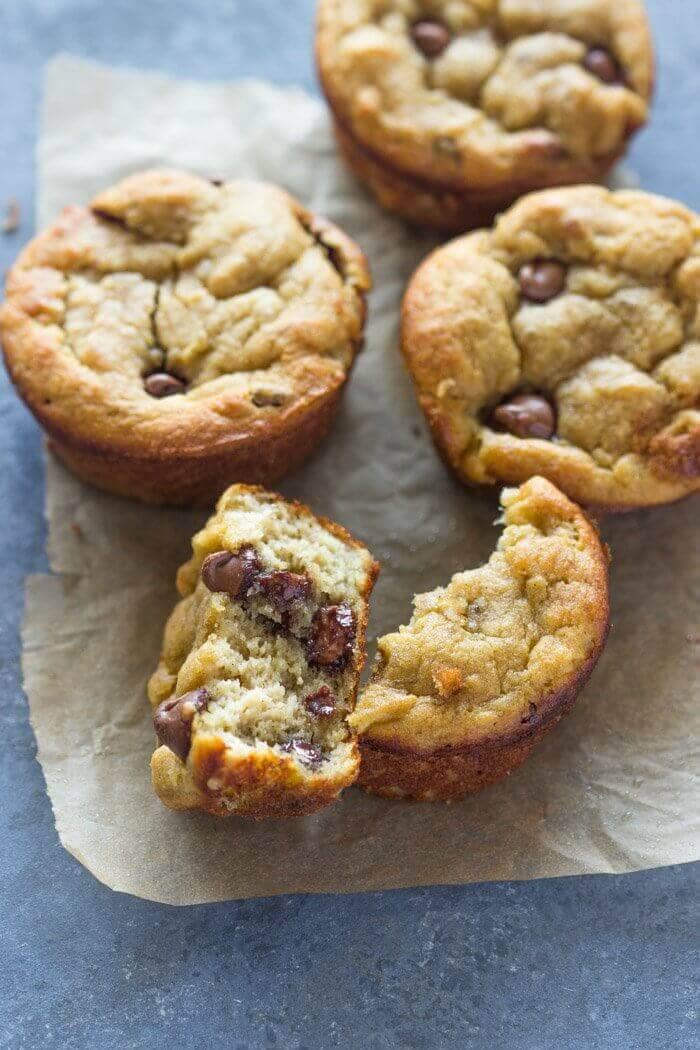 Whether you're Paleo, gluten-free or simply watching your carbohydrate intake, these banana bread muffins are a decadent treat. The combination of bananas and almond butter infuses the batter with rich flavor, and chocolate chips take the mixture over the top. Instead of wheat flour, the recipe calls for coconut flour, which is low in digestible carbs and packed with good fats. For the fastest bake time, use muffin tins – in less than 20 minutes, you can enjoy a hot banana bread muffin. The recipe also works with a loaf pan or a waffle maker, so you can adapt it to the tools you have on hand.
44. Amazing Gluten-Free Banana Bread Recipe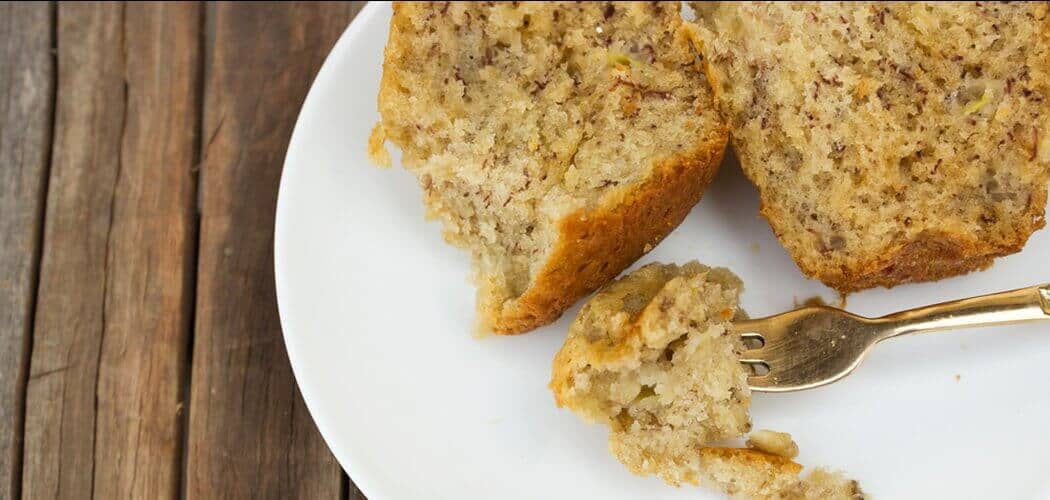 When you want a spicy, autumn-friendly twist on banana bread, reach for this gluten-free recipe. The ripe bananas are highlighted by a mix of sweets and spices, including applesauce, agave and cinnamon. Flax seeds give the bread a gentle texture that's similar to poppy seed muffins, and chopped nuts provide a satisfying crunch. Thanks to the use of gluten-free flour, the bread is safe for wheat-free eaters; use a flax egg instead of an egg to cater to vegan restrictions.
45. The Best Vegan Gluten-free Bnana Bread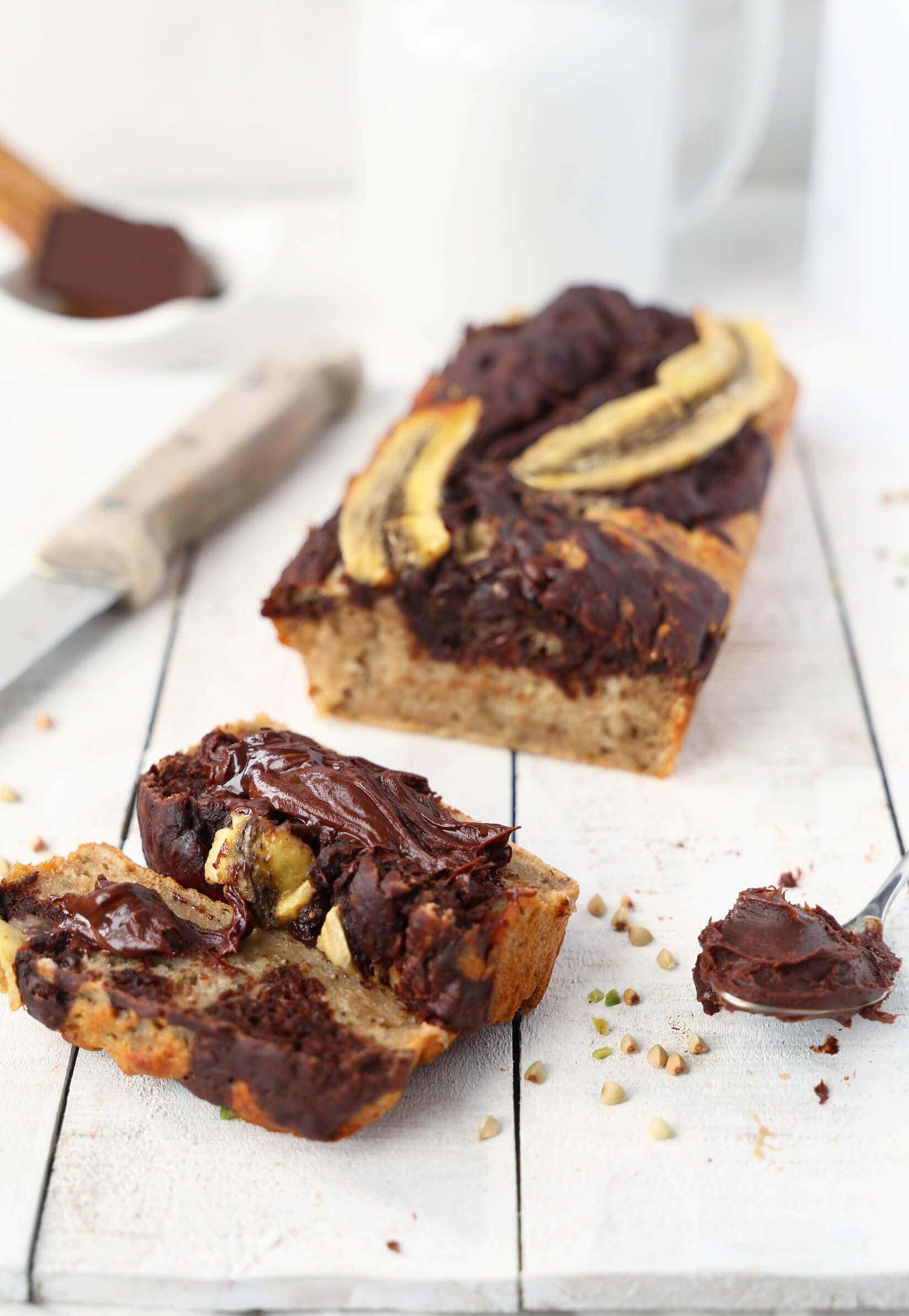 Made with an enticing mix of coconut milk, cinnamon, cocoa powder and agave, this gluten-free banana bread is a delight for the senses. Each of these flavors stand out in the unique half-and-half batter – half contains cocoa, while the other half is a traditional banana bread mix. The result is a stunning marbled loaf that stands out on any brunch table. When you bite into a slice, cacao nibs, chia seeds and small banana chunks deliver a thrilling mix of textures, taking this simple bread to a gourmet level.
46. Blueberry Banana Bread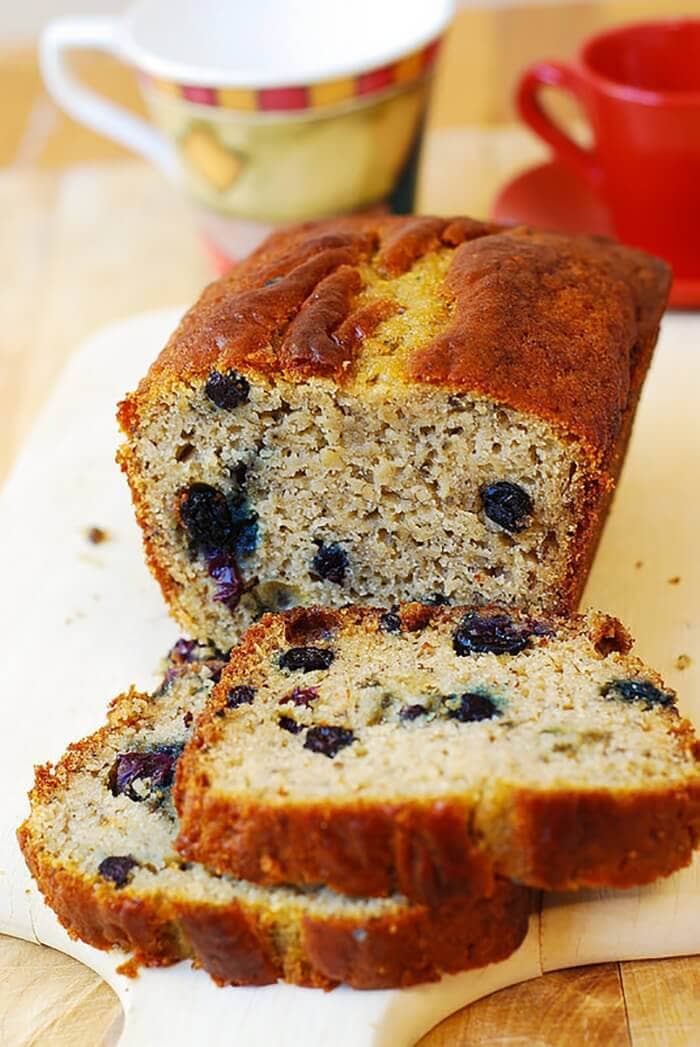 Juicy blueberries dot this light banana bread loaf, creating a refreshing, summery taste any time of the year. The secret to the fluffy texture is fresh fruit: ripe bananas and blueberries add moisture to the gluten-free flour mixture, so each slice is gooey and chewy. Chia seeds, eggs and yogurt add protein and bind the bread, reducing crumbling and enabling effortless slicing. For the perfect loaf consistency, be sure to use the recommended King Arthur gluten-free multi-purpose flour, which is free of xanthan gum. Although the baking and cooling processes take time, the delicious result is worth the wait.
47. Gluten-Free Banana Bread Donuts + Honey Cream Cheese Drizzle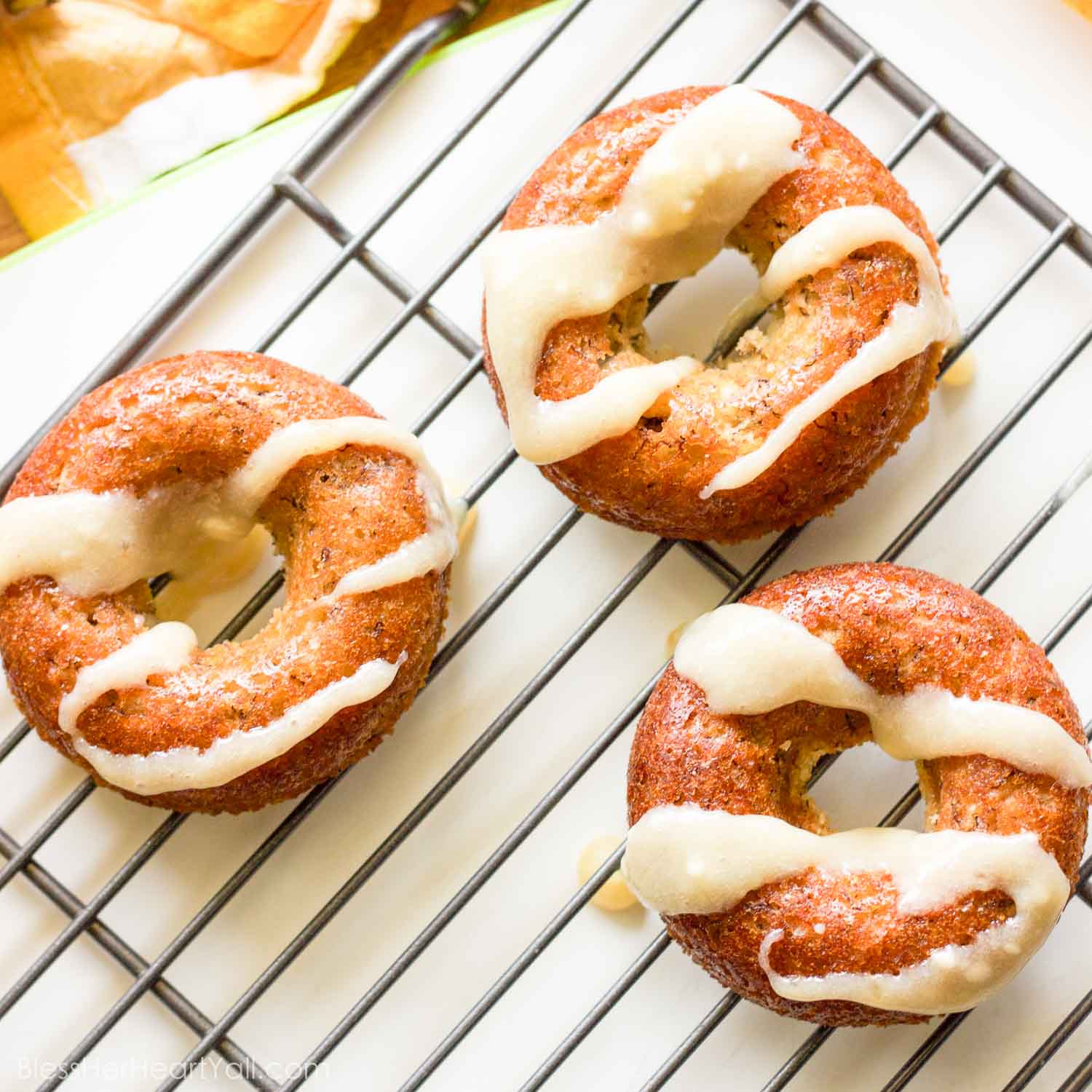 If you've been longing for donuts since going gluten-free, this creative banana bread idea will make you forget that you ever missed traditional bakery options. The recipe uses multiple wheat-free flours, along with eggs, butter and sugar, to create a light and airy mix. The batter is baked in a donut tin, which increases the surface area and delivers more golden-brown crust per serving. Resist the temptation to eat the baked rings right out of the pan, however – the recipe comes with a special cream cheese drizzle that tops the donuts with an irresistibly sweet and tangy flavor that will have you coming back for seconds and thirds.
48. Date-Sweetened Banana Bread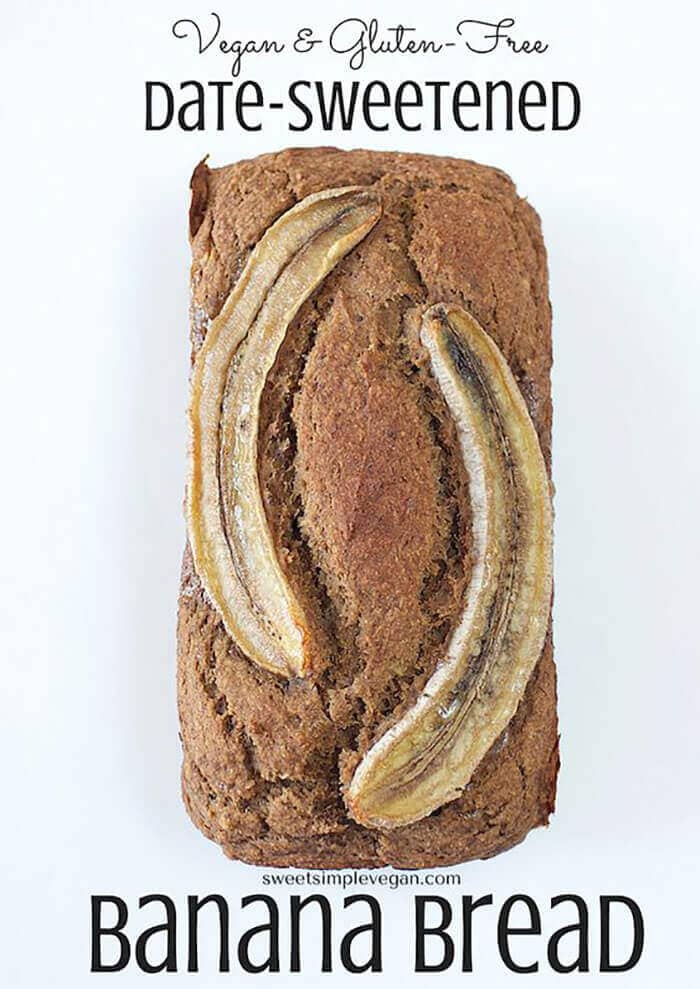 With their natural sugars, dates are the darling of the gluten-free baking world. This gluten-free banana bread recipe combines super-ripe bananas with rich, fruity dates, eliminating the need for any other sweeteners. The complex fruit flavors blend with chewy oat flour, cinnamon and vanilla to create a comforting result. Instead of eggs, the dry ingredients bind with an innovative mix of flax seeds and water. Make your table more beautiful by baking banana slices into the top of the bread; the fruit caramelizes as it cooks, giving each slice a creamy, frosting-like topping.
49. Gluten free Banana and Walnut Bread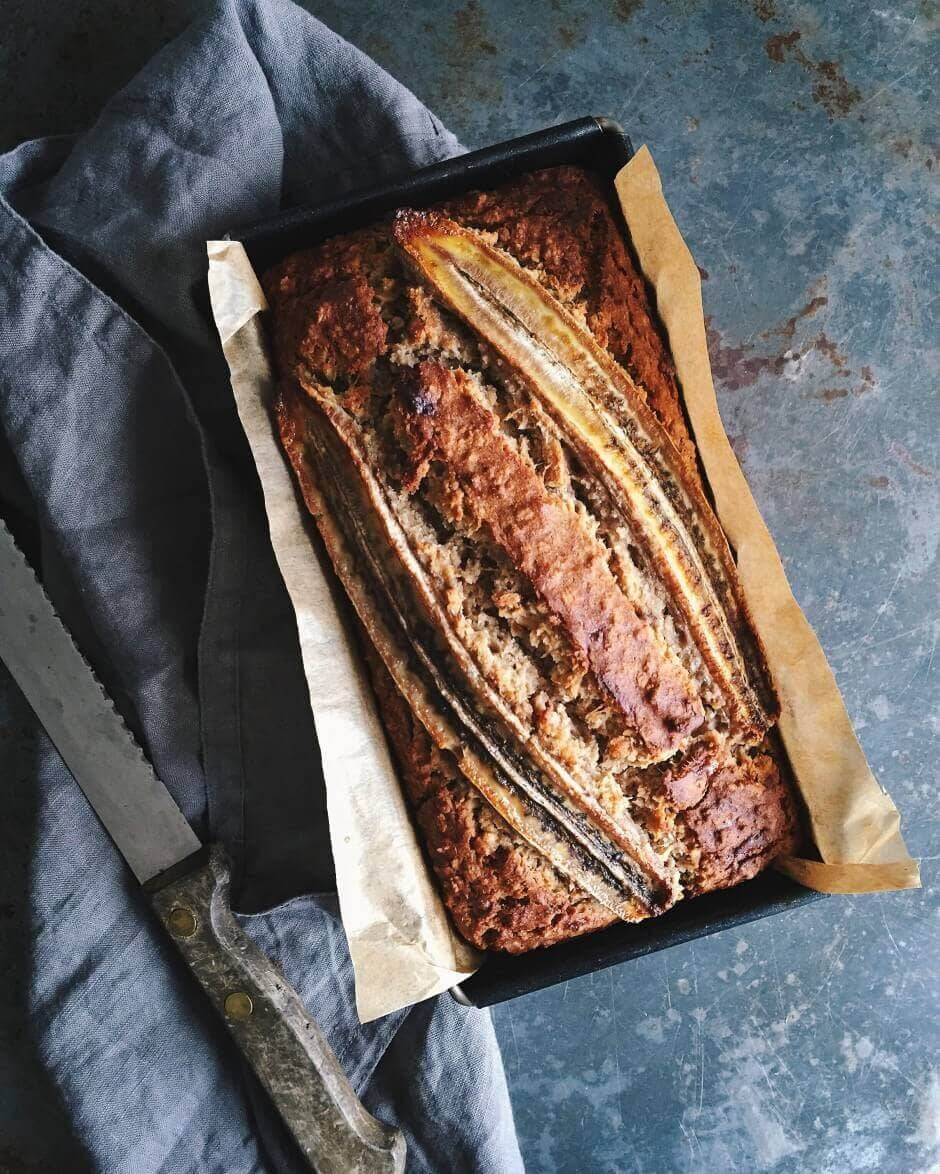 Sticking to your gluten-free diet is a breeze with this banana walnut bread recipe. Each bite of this loaf explodes with beautifully balanced banana and walnut flavors, so there's no need to add extra calories from butter. Oat flour, almond flour and buckwheat flour bind with coconut oil to create a chewy, satisfying texture. As it bakes, the bread fills your home with the mouth-watering fragrances of vanilla, maple and cinnamon. The key to perfect slices? Allow the bread to cool completely before cutting into it to reduce crumbling.
50. The Best Fluffy Banana Bread Chia Seed Muffins
With their fluffy texture and gentle sweetness, these banana bread chia seed muffins can curb your cake cravings in an instant. They're also packed with whole ingredients such as chia seeds, steel-cut oats and walnuts, so they keep you full for longer. And, since this gluten-free recipe calls for six ripe bananas and a small amount of brown sugar, you don't have to worry about overloading on calories. All of the ingredients blend together in a single bowl, so you can prep and bake the muffins in less than an hour before breakfast or whenever you want a nutritious snack.
Whether you're new to gluten-free baking or an old pro, these recipes offer the perfect starting point. Each one includes specific instructions, so you can bake a delicious loaf on the first try. Once you're comfortable with the best banana bread recipes for your family, take the time to put your own spin on each recipe. Try different gluten-free flour blends, or mix in your family's favorite treats. No matter what you try, these gluten-free banana breads are sure to be sweet and satisfying.